Whether you are visiting Nashville or live in the Music City and want to discover more things to do, there is a huge amount going on and a lot of places to discover.
The home of country music and well known for its food and music scenes, Nashville has a rich cultural heritage to explore.
Featuring amazing parks, lakes and outdoor activities, top sports teams and amazing neighborhoods, here are our 41 best things to do in Nashville.
Sights and things to do in Nashville
1. The Nashville Parthenon
You really can't miss the Parthenon in Nashville's Centennial Park. It was built in 1897 for the Tennessee Centennial Exposition and is a full size replica of the Parthenon that overlooks Athens in Greece.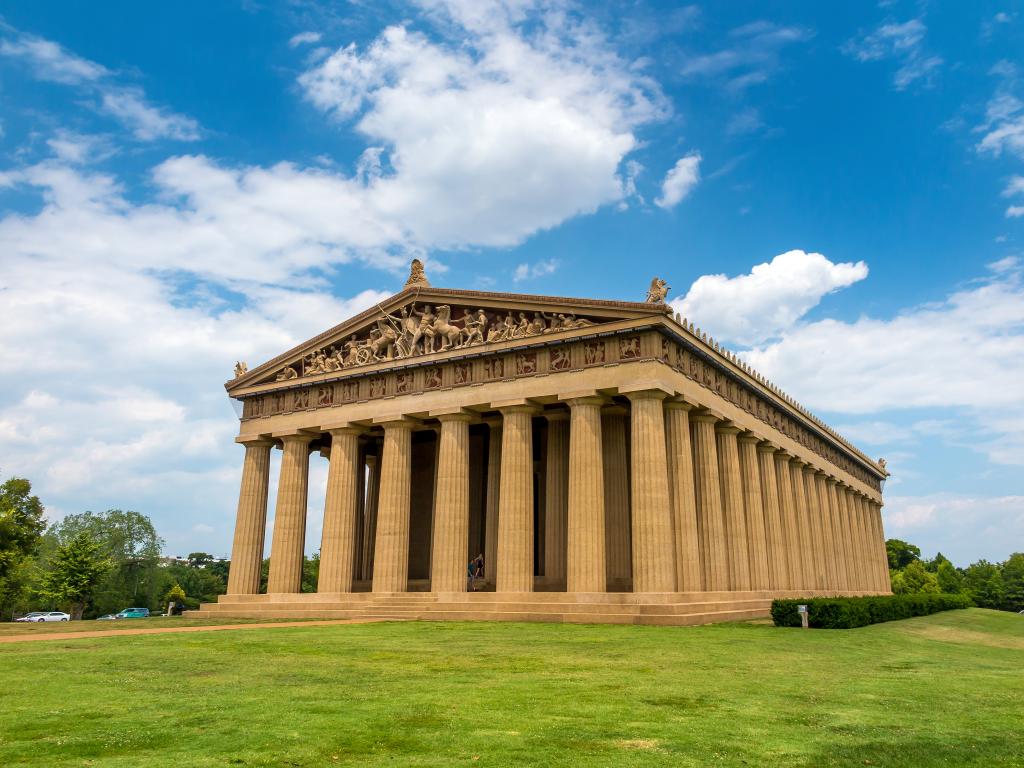 f11photo/Shutterstock.com
Inside, the Parthenon functions as a museum. There is a selection of 19th and 20th century American art that you can explore, but the main thing to see is the statue of Athena Parthenos - a reconstruction of the original in Greece.
Another exhibit is an exact replica of the famous Parthenon Marbles - these were cast directly from the originals that are held in the British Museum in London and are also displayed in the Naos - the room with the Athena statue.
The museum frequently holds temporary exhibitions from other museums around the country or visiting art displays.
Opening hours: Tuesday to Saturday - 9am to 4:30pm, Sunday 12:30pm to 4:30pm, closed on Mondays
Price: Adults - $6, Seniors (62+) - $4, Children under 18 - $2, Children up to 4 go free
2. Ryman Auditorium
The Ryman Auditorium first opened its doors in 1892 but it was not until the 1920s that it became known around the country as the host of the Grand Ole Opry.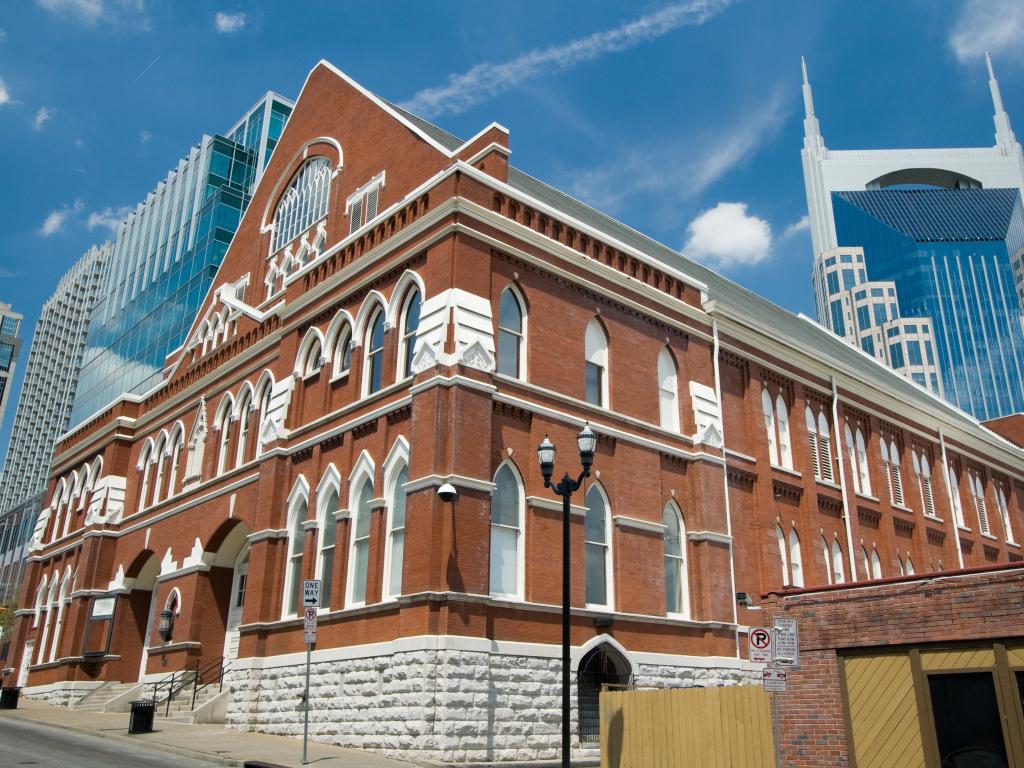 Dave Newman/Shutterstock.com
The famous country music show was broadcast on radio to 30 different states and became so popular it outgrew the studio from which it was broadcast and the two Nashville theatre venues it then moved to before making the Ryman Auditorium its home in 1943.
Over the years, the connection between the Ryman Auditorium and the Grand Ole Opry continued with the show continuing here through to the sixties when it was renamed the Grand Ole Opry House. In the 70s the Grand Ole Opry show moved to a brand new location, but the association continues through to today with seasonal shows coming back to the theatre venue every year.
You can tour the auditorium building to see the backstage areas and you can even record your own song in the recording studio if you want to!
Opening hours: Check the schedule for shows on in the Ryman Auditorium. Tours run from 9am to 4pm daily.
Price: Self-guided tours are $24.95 for adults and $16.95 for children under 12, Guided tours that include the backstage are $34.95 for adults and $26.95 for children.
3. Visit the Belle Meade Plantation
About 15 minutes drive from downtown Nashville is the Belle Meade Plantation. Today it is a large museum with a number of outbuildings and a newly constructed winery and visitors' center.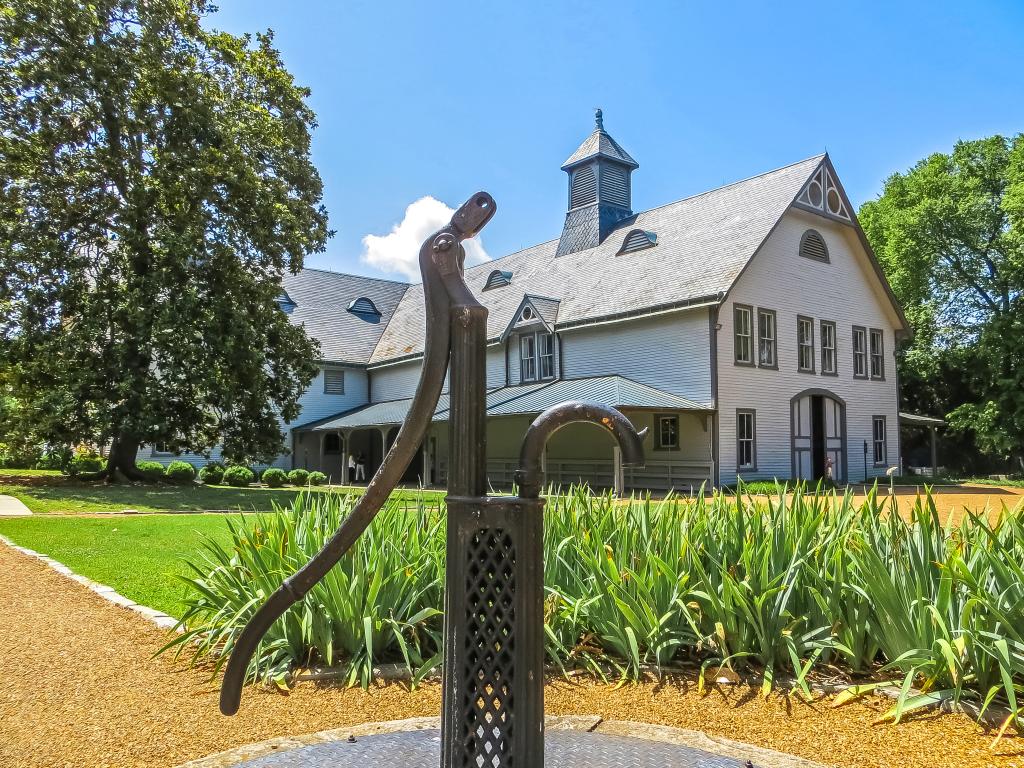 legacy1995/Shutterstock.com
The Belle Meade Plantation was founded in 1807 with the buildings you see today built in the 1820s. Many extensions and upgrades were added over time, all the way through to the beginning of the 20th century.
The Mansion Tour will take you around the Mansion and some of the historic outbuildings. At the end of the tour you can do a bit of wine tasting (included in the admission!) and visit the gift shop.
Alongside the standard Mansion Tour, there are other tours available. One is the Journey to Jubilee - a history of African slaves that were brought to the plantation and the history of over 100 years of them working here (same price as the main tour). Note that this tour is not available to children under 12.
For $50 (or $60 at weekends), you can go on the Belle Meade Bourbon experience. You won't see the mansion, but instead go and relax in a leather chair in the 1820s ice house to find out about the history of bourbon in Belle Meade and Nashville, try out some local cocktails and have a go at making them yourself. You've got to be 21 or over for this one of course.
Opening hours: Daily 9am to 5pm, Tours start at 9:30am with the last one at 4pm
Price: Adults - $24, Seniors (65+) - $20, Children up to 18 - $13, Children 5 and under - free, Children's backpack (with activities) rental - $10, Adult and Senior tickets have a $4 surcharge Fridays to Sundays
4. Go to the Tennessee State Capitol
The Tennessee State Capitol in Nashville is the acting hub of the state's political life with the Governor's office and the Tennessee General Assembly being based here.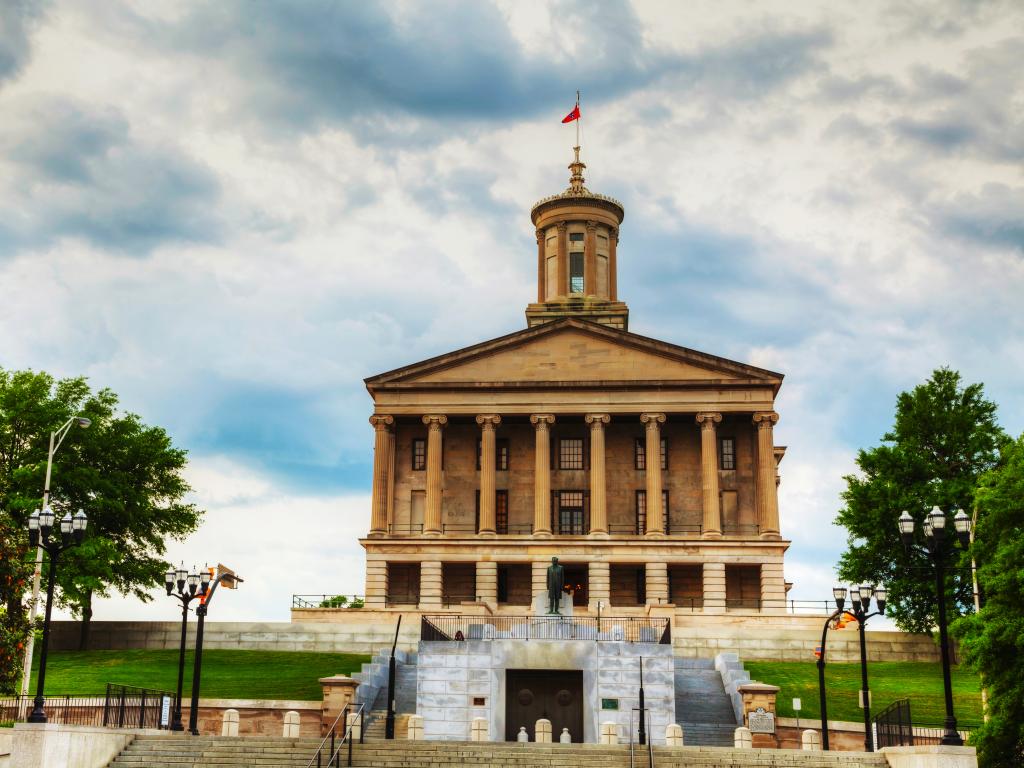 photo.ua/Shutterstock.com
Construction of the Capitol took place from 1845 to 1859 and along with some other Nashville buildings, it is built in the Greek Revival style which means it doesn't have a dome, like most state capitol buildings.
To get into the State Capitol building, you will need to go through metal detectors and show an appropriate photo ID.
If you visit during a Legislative Day, you can watch the proceedings from the public gallery. You can get to these via stairwells on the second floor.
Opening hours: Monday to Friday 8am to 4pm, closed at weekends. Guided tours run from 9am to 3pm except for the 12pm slot
Price: Access and guided tours are free
5. Walk over the John Seigenthaler Pedestrian Bridge
The John Seigenthaler Bridge was built in 1909 and is an exclusively pedestrian bridge offering some of the best views of Nashville from anywhere in the city.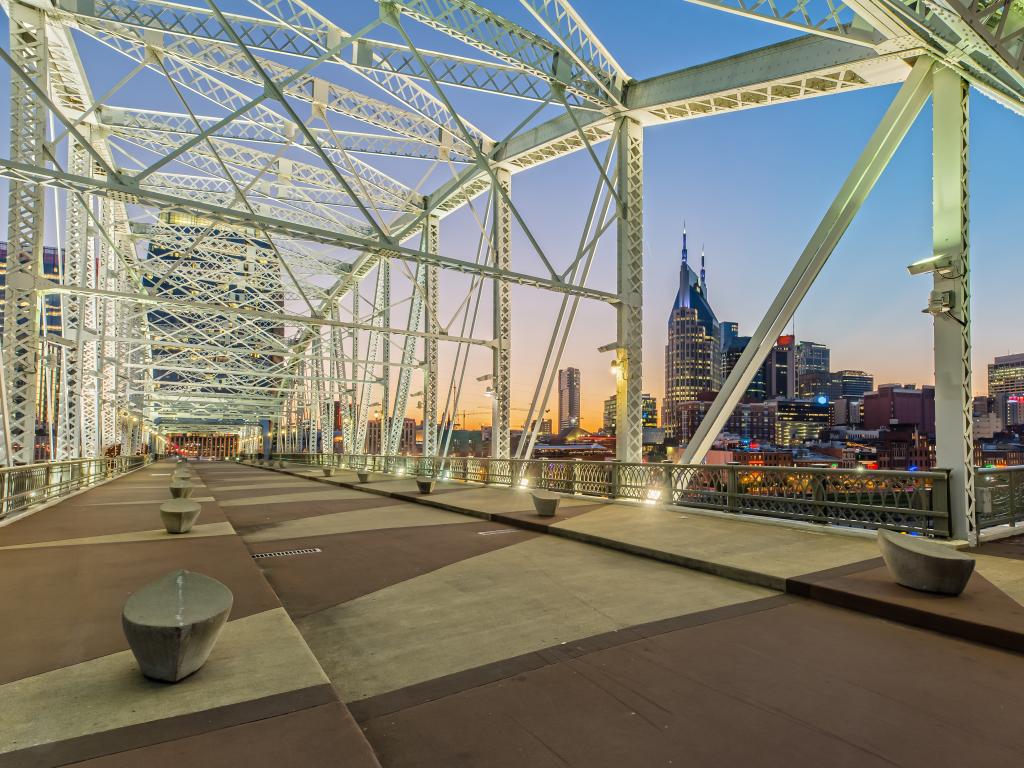 Susanne Pommer/Shutterstock.com
Originally built to carry cars, the bridge was one of two almost identical bridges that were put up across the Cumberland River in Nashville and was called the Sparkman Street Bridge.
The bridge's structure had to have a number of expensive repairs before it was decided it could no longer support traffic in 1998 and the bridge was formally closed. Instead of demolishing it, it was decided to make it an exclusively pedestrian bridge instead and in 2014 it was renamed as the John Seigenthaler Pedestrian bridge after a prominent local civil rights advocate.
You can get amazing views of the city from the bridge - it's a great thing to do during the day to admire the Nashville skyline. Located just off Broadway, it is close to everything else in the city and is the best way to reach the Nissan Stadium if you go to see the Nashville Titans (see below).
Opening hours: Access 24/7
Price: Free
Museums to visit in Nashville
6. Country Music Hall of Fame and Museum
The Nashville Country Music Hall of Fame is the place you have to come to learn about the history of country music and the culture of Tennessee and further afield.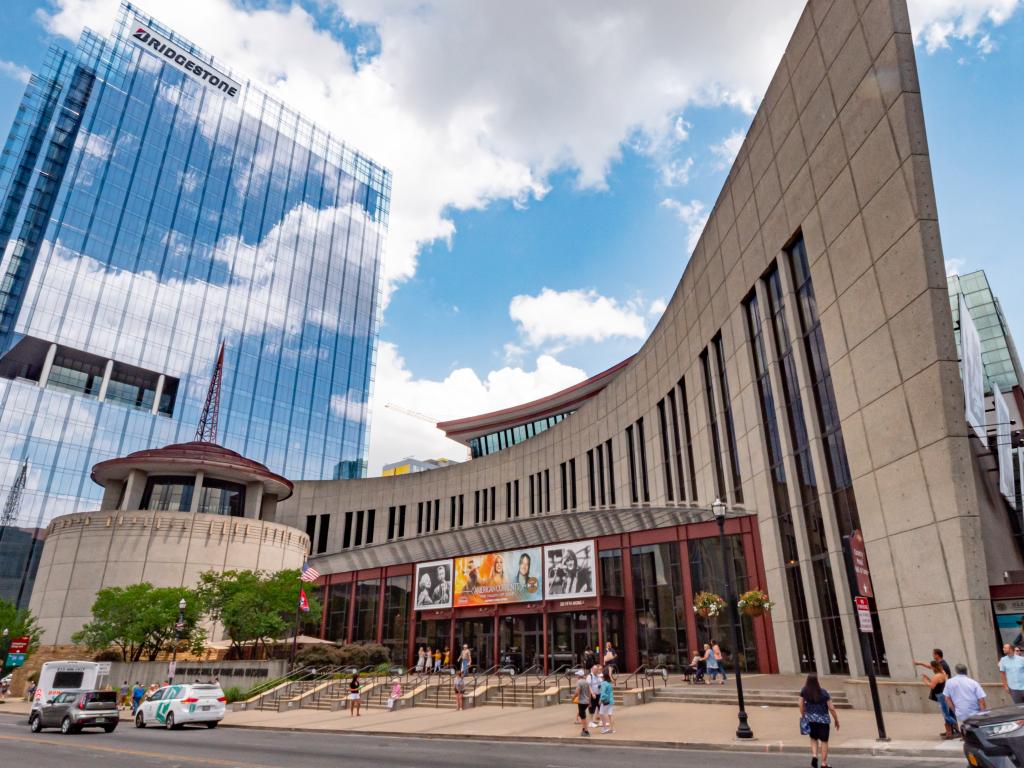 4kclips/Shutterstock.com
The museum moved to its current brand new building in 2001 and is famous for having a collection of 200,000 country songs with 98% of all pre-WW2 songs available. The building itself is amazing and is shaped as the bass clef looking from above.
The museum is hugely interactive and has a lot of audio and visual experiences throughout the exhibition making it a perfect thing to do as a family.
For fans of memorabilia, there is a huge collection of clothes and instruments from some of the most famous country stars from across the ages.
The Museum experience adds an audio guide or you can visit the poster printing Hatch or the Historic RCA Studio B alongside your visit to the museum.
Opening hours: Open daily from 9am to 5pm, open from 8am from Memorial Day to Labor Day
Price: There are several different ticket options. Note that children 5 and under go free
General Admission: Adults - $25.95, Children 12 and under - $15.95
Museum Experience: Adults - $27.95, Children 12 and under - $18.95
Hatch Experience: Adults - $40.95, Children 12 and under - $28.95
Studio B Experience: Adults - $40.95, Children 12 and under - $30.95
7. Frist Art Museum
The Frist Art Museum is an unusual art museum housed in the Art Deco ex-U.S. Post Office building in central Nashville.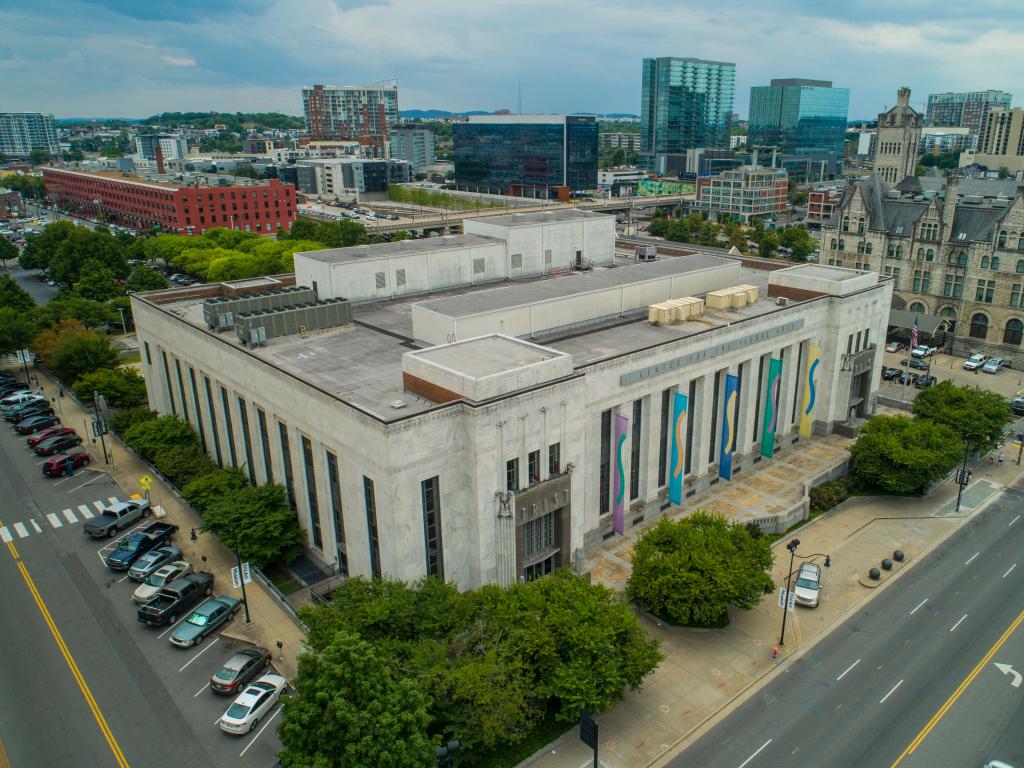 Felix Mizioznikov/Shutterstock.com
The museum does not have a permanent collection and does not collect its own art.
Instead, the museum is continuosly used to present different collections, visiting exhibits and other displays sourced from all over the world. Check the Frist Museum website for information on what the upcoming exhibitions include.
Some exhibits only last a week or even less while some of the larger collections will be on display for months at a time.
Opening hours: Monday to Wednesday and Saturday - 10am to 5:30pm, Thursday and Friday - 10am to 9pm, Sunday - 1pm to 5:30pm
Price: Adults - $15, Seniors and college students - $10, Active Military - $8, Children up to 18 - free
8. Andrew Jackson's Hermitage
The Hermitage is located on a plantation 10 miles east of downtown Nashville. It was famously owned by President Jackson from 1804 until 1845 when he died at the plantation.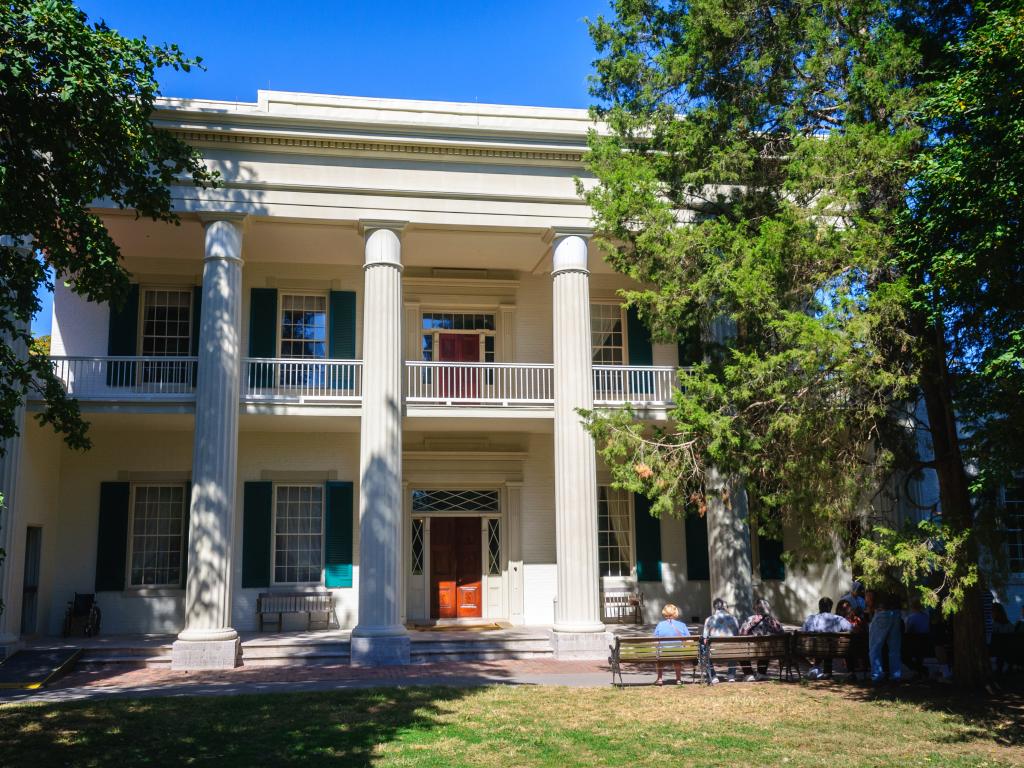 Zack Frank/Shutterstock.com
The Hermitage building was only built in 1835 - the plantation previously had wooden cabins followed by a brick building that eventually burned down.
Your visit to the hermitage will be a mix of a guided tour of the main mansion with the opportunity to roam around the grounds and various outbuildings by yourself.
The President's Tour includes an extra gadget that has a lot of information and photos that add to what you can see in front of you - worth getting to enhance the experience.
For $12 extra you can ride in a horse-drawn wagon around a small part of this 1,000 acre plantation.
Opening hours: Mid-March to Mid-October - 8:30am to 6pm, Winter - 9am to 5pm
Price: Adults - $22, Seniors (62+) and Veterans - $19, Children up to 18 - $17 Children up to 12 - $12, Active military and children under 5 - free; Add $5 for the President's Tour
9. Adventure Science Center
The Adventure Science Center is a science museum that is specially designed for children.
The museum has existed since 1945 and offers mostly interactive learning-style displays that teach children about physics, biology, chemistry and everything in-between.
The museum displays are interspersed with play areas and other children-oriented activities to help break up the visit and engage younger kids.
The Sudekhum Planetarium has a few shows at set times through the day so plan your visit to catch at least one. The BlueMax is the only of the exhibits that you have to pay extra for - it's a jet simulator that offers an anti-gravity experience with a cockpit that responds to your control in a virtual reality world.
Opening hours: Daily 9am to 5pm, Every second Saturday of the month open until 9pm
Price: Depends on whether you are visiting the Adventure Science Center, the Planetarium or the BlueMax
General Admission: Adults - $18, Seniors (65+) and Military - $16, Children up to 12 - $14, Children under 2 - free
Planetarium: Adults - $8, Children up to 12 - $7
BlueMax: $6 for everyone
10. Belmont Mansion
The Belmont Mansion is a historic Victorian home that was originally built by Joseph and Adelicia Acklen in 1853.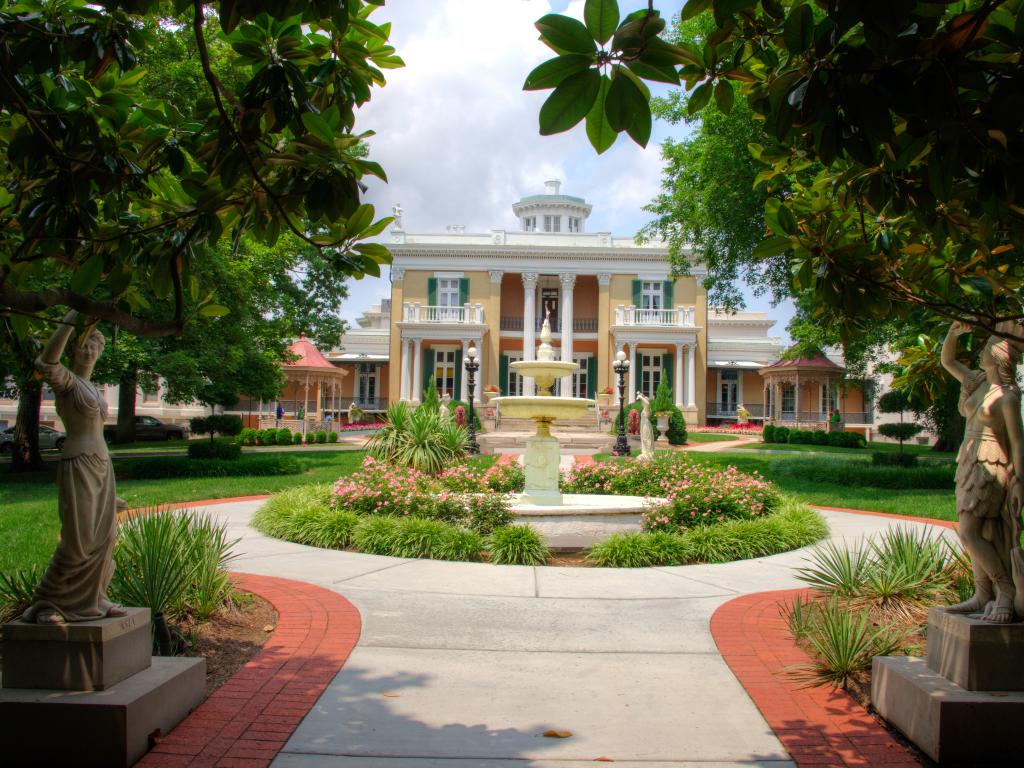 Wichai Cheva Photography/Shutterstock.com
You can visit the mansion by getting a ticket for one of the guided tours. The tour will walk you through the building with furnishings and decorations from the 19th century.
The focus is the social aspects of society at the time - the role of men and women and the life and work of Adelicia Acklen. The guides are really knowledgeable and encourage questions so that you can make the most of your visit.
You can walk through the beautiful gardens before or after your tour and explore the walkways and the fountain in your own time.
Opening hours: Tours take one hour and run from 10am to 3:30pm Monday to Saturday, 11am to 3:30pm on Sunday
Price: Adults - $15, Seniors (65+) and Military - $14, College students - $10, Children 13 to 18 - $7, Children 6 to 12 - $5, Children up to 5 - free
11. Fort Nashborough
Fort Nashborough was the original stockade established along the Cumberland River that would eventually grow into the city of Nashville.
Today you can visit a smaller replica of the original wooden fort, complete with all the key features and right next to where the original one once stood.
It might not be a huge attraction and we'd advise you visit on your way around town to other attractions, but there is a reasonable amount of information about the original fort and the early history of Nashville. Plus it's completely free making it a perfect thing to do on your way around Downtown Nashville.
Opening hours: Daily 9am to 4pm
Price: Free!
12. Tennessee Agricultural Museum
The Tennessee Agricultural Museum is a 25 minute drive from downtown Nashville to the south.
Located in the Ellington Agricultural Center area, the museum shows what life was like for local farmers at the turn of the 20th century.
Set up as a mini settlement, there is a farm house, log cabins and even a tiny school. Then there is a blacksmith's shop, wagons and a real steam engine to give you a proper feel for the times.
You can explore some of the work done using instruments and in the style of the farmers of the time such as wood ornaments.
The complex is set around a field creating a relaxed atmosphere and is great for a day out. They even have stables where the local police keep their horses to add to the atmosphere.
Opening hours: Monday to Friday 9am to 4pm, closed over weekends
Price: Also free!
13. George Jones Museum
George Jones is one of the all time greats of country music with more songs in the charts than any other country artist and this Nashville museum celebrates his life.
The museum has colorful displays of his guitars, outfits, awards and other kinds of memorabilia.
You have the option to have a go at recording one of his songs or taking a photo in the big chair.
The George Jones building is, however, a lot more than a museum - the George Jones Smokehouse is a well liked place for your BBQ needs and the rooftop bar is an amazing place with different areas where you can listen to live music, watch sport or just enjoy the sights across Nashville and the Cumberland River.
Opening hours: Daily 10am to 8pm, Rooftop bar open 11am to 10pm (1am on Friday and Saturday nights)
Price: Adults - $17, Military - $12, Seniors and Students - $10, Children age 6 to 15 - $7, Children 5 and under - free
14. Johnny Cash Museum
The Johnny Cash Museum is in the SoBro (South of Broadway) neighborhood and is the largest museum dedicated to the life and work of Johnny Cash in the world.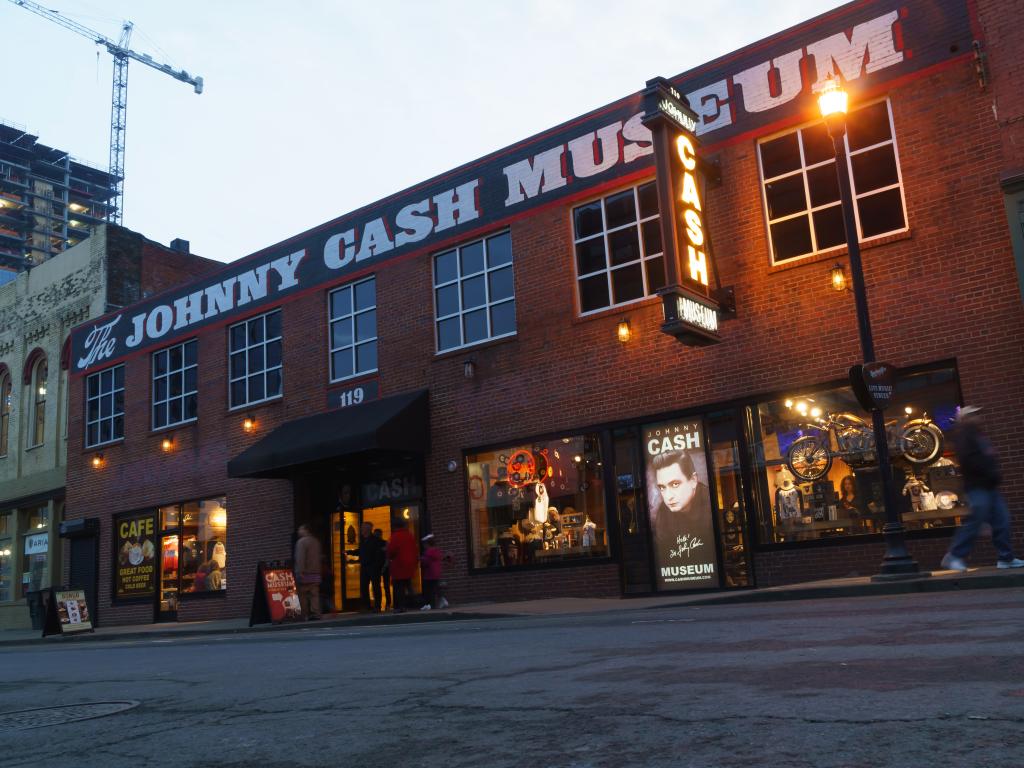 Konstantin L/Shutterstock.com
Johnny Cash, also known as the Man in Black due to his outfits is one of the best selling and best known musicians of the 20th century.
He recorded music in different styles and found success in all of them - he has been inducted into the Country Music Hall of Fame, Gospel Music Hall of Fame and even the Rock and Roll Hall of Fame among others.
Inside the museum you will find a huge collection of exhibits about the life of the musical legend. A refurbishment in 2016 has added a lot of interactive and visual displays where you can learn more about his performances and his music.
The museum recommend you book in advance to avoid standing in the queue - you can do so and print your ticket at home, but you'll pay an extra $2 per ticket for the privilege. Queues can get long so the choice is yours!
Opening hours: Daily 9am to 7pm
Price: Adults - $19.95, Students, Seniors and Military - $18.95, Children 6 to 15 - $15.95, Children up to 5 - free
15. Tennessee State Museum
The Tennessee State Museum is a large and completely free museum located near the State Capitol building in Nashville.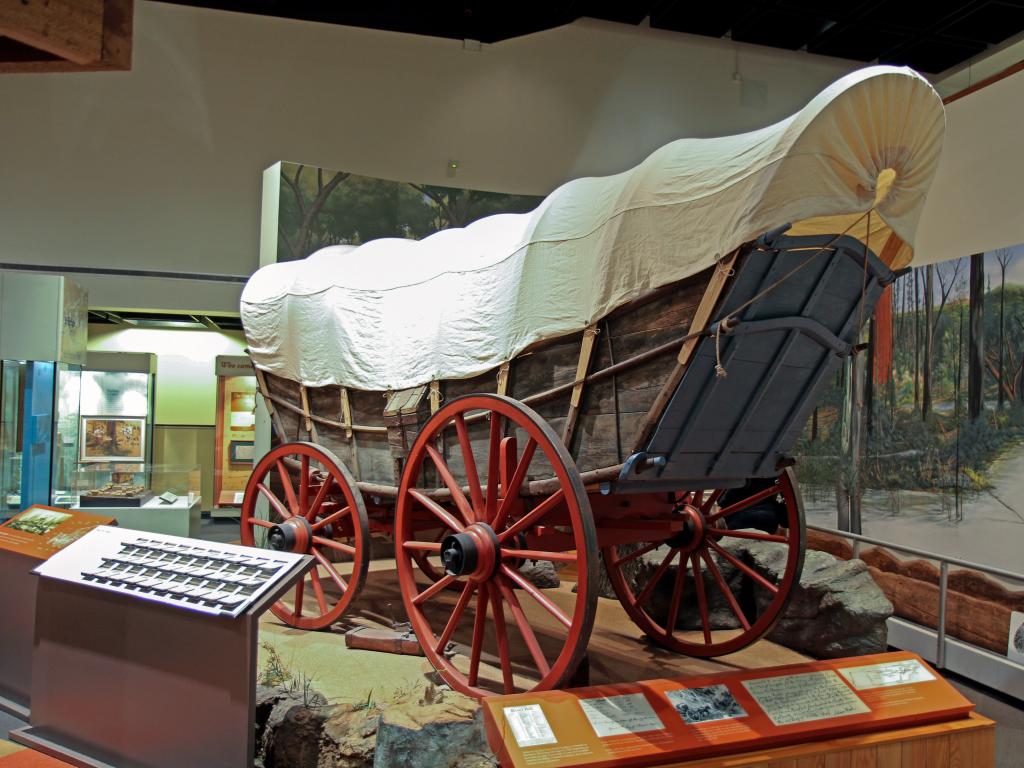 Roman Korotkov Shutterstock.com
The museum has a permanent collection which tells the story of the state of Tennessee from natural history and first peoples exhibits to modern times.
The collection includes sections devoted to local Native Indian tribes, the Civil War and the state's transformation after the Second World War.
Temporary collections often focus on cultural aspects and last for several months at a time - you're likely to find collections about Tennessee music, art and food.
The Tennessee Time Tunnel is the best bit about the museum - you get a comprehensive information board-based display of the state's history as you walk along bringing the different sections of the museum together.
Opening hours: Tuesday, Wednesday, Friday, Saturday - 10am to 5pm, Thursday - 10am to 8pm, Sunday - 1pm to 5pm, closed on Mondays
Price: Free Admission
Best places to listen to music in Nashville
16. The Grand Ole Opry
The Grand Ole Opry is the longest running radio show in US history and plays a selection of live country music performances in the evening.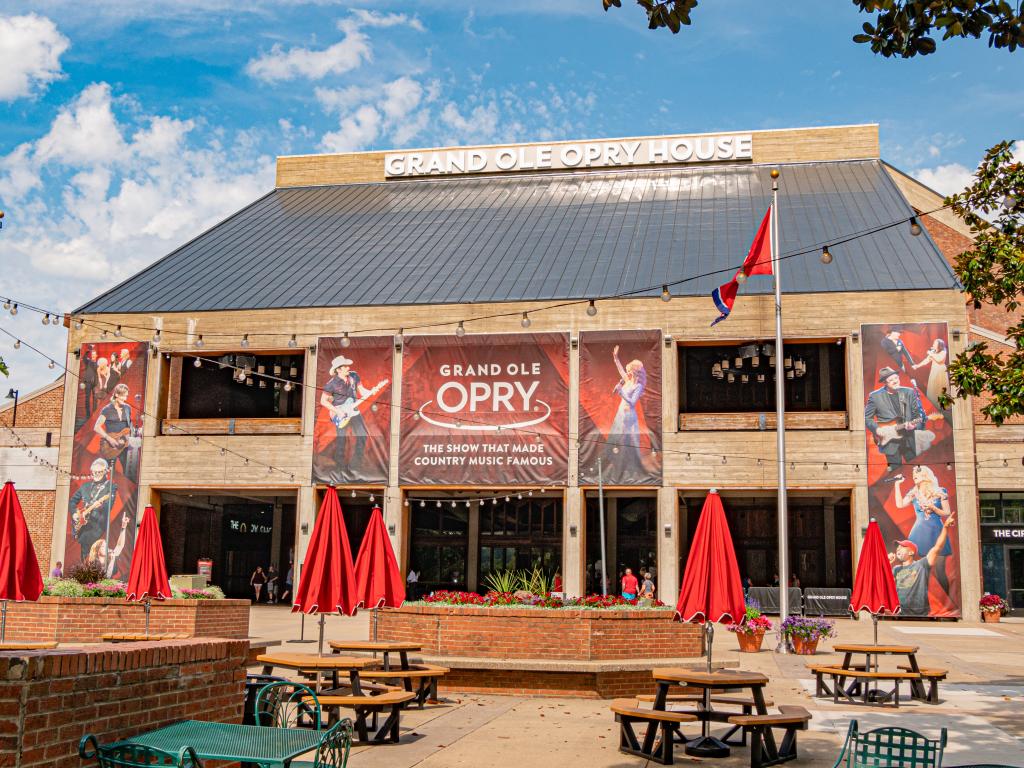 4kclips/Shutterstock.com
As the show goes out live on radio, this is not your usual concert - the start time (7pm on the classic Saturday nights) is the exact time music will start - don't be late! The atmosphere is good, but it's not rowdy like some concert venues and the theatre setting helps with this.
This is the one thing you have to do in Nashville so make the most of it and arrive early - there is plenty of photos to take and space to explore when you get here. On weekdays, there are often two 2-hour shows in the evening with the first one starting at 7pm and the second at 9:30pm. You will only be let in just before the start for the second slot as they have to do a full change over inside.
The Grand Ole Opry shows run on Friday and Saturday nights throughout the year. Tuesday nights run in all months other than January and there are occasional seasonal shows that take place on Wednesdays and Thursdays.
When to go: Saturday night shows start at 7pm or go to the Friday Night Opry instead
Price: Tier 2, Tier 3 and Standing tickets - $40 to $55, Tier 1 tickets - $75, Premium tickets for best seats - $100 to $110
17. Songwriters-in-the-Round Show
A number of bars and music venues around Nashville host songwriters' shows which offer a unique way to get an insight into the local country music culture in Nashville at a whole new level.
These writers write some the biggest hits for some of the biggest stars in the business and these shows give them an opportunity to play the songs as well as talk about the history of the songs and the quirks of working with famous musicians.
Look for these shows at music venues such as the Commodore Grille, the Listening Room Cafe or the small, but maybe the best one - the Bluebird Cafe.
Some songwriter-in-the-round shows include young budding musicians which is often a great way of hearing great new music on a small stage.
When to go: Music nights differ but you can usually find something Tuesday to Saturday
Price: A lot of these shows are free or basic cover charge as long as you're buying the drinks
18. Tootsie's Orchid Lounge
This is arguably the most famous and most original of the music venues in Nashville and one where some of the most famous country musicians of all time started their careers.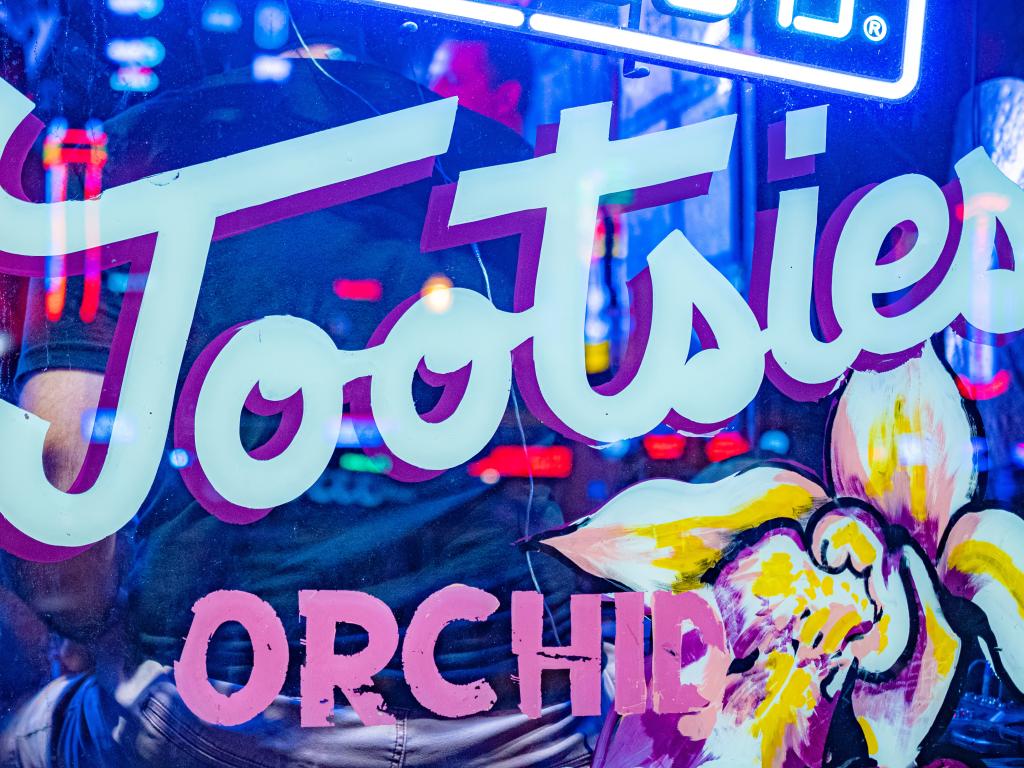 4kclips/Shutterstock.com
Tootsie's Orchid Lounge has 3 different performing stages with live music playing. It is famous for giving a lot of young up and coming artists a chance with international stars such as Willie Nelson and Terri Clark being first discovered here in the past.
The place can get really busy so it's a good idea to come early to get a good spot or come during the week when there's less people here.
Tootsie's has been going since 1960, so there is a huge amount of history in these walls which you can check out on their hall of fame listing the large number of successful artists that came through their doors.
When to go: Live music is on a lot through the week, but Friday and Saturday nights are always reserved for the best
Price: No entry fee - the rest is on you!
19. Catch a concert at the Bridgestone Arena
The Bridgestone Arena is home to the Nashville Predators (see below) and hosts a lot of concerts throughout the year.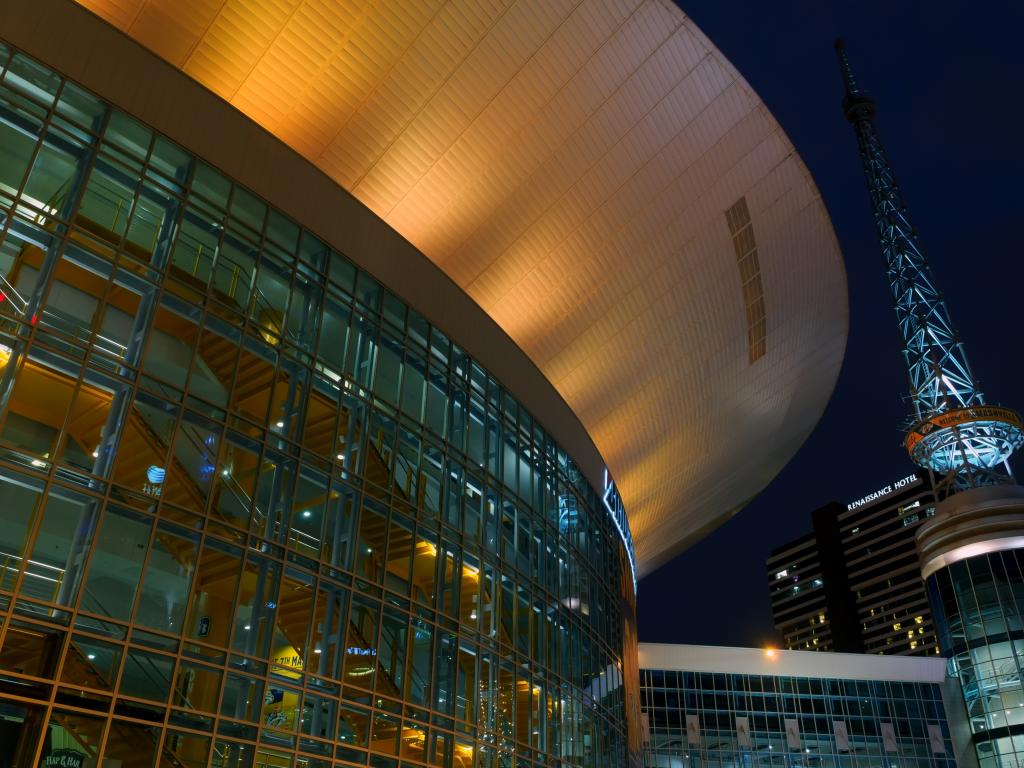 Konstantin L / Shutterstock.com
The arena is fully covered and depending on the concert is either laid out with the stage taking the place of the ice or a stage is set at one end.
Alongside popular artists ranging from Ariana Grande to Elton John, there are comedy performances, WWE and even big music award nights that take place here including the CMA and CMT recognizing country music performers.
The biggest and most popular events can get sold out quickly so check ahead of time for what's on - the arena only has 18,500 or 20,000 seats depending on the layout and the best ones can be gone months in advance.
When to go: All year round - check the Bridgestone Arena website for the event schedule.
Price: Regular concerts will cost $20 to $150 depending on your ticket choice. Premium one-off events can be pricey with tickets starting at $350 and going up to over $1,000.
20. Listen to Bluegrass at Station Inn
The Station Inn is a famous music venue where you can find some of the best music in Nashville every day of the week.
Best known for Bluegrass, you will find country music, general Americana and other styles on different days.
Usually music starts at 9pm and keeps playing until 11. With doors opening at 7pm, it's a good idea to arrive early on busier nights and get some food before the show starts.
The absolute best time to go is on Sunday nights when the Station Inn hosts its weekly Bluegrass Jam session. This is what real music is all about - amazing musicians get together to play mandolins, fiddles, banjos and a lot more without knowing each other and completely for free. If you can go and watch, we'd highly recommend it!
When to go: Music on every night, 7 days a week - the choice is yours.
Price: Entry fee ranges from $10 to $15 depending on the night, the drinks and food are reasonable.
21. Robert's Western World
Robert's Western World probably has Nashville's most famous neon sign on the outside - the bright guitar and Honky Tonk Grill have become synonymous with the Nashville music scene.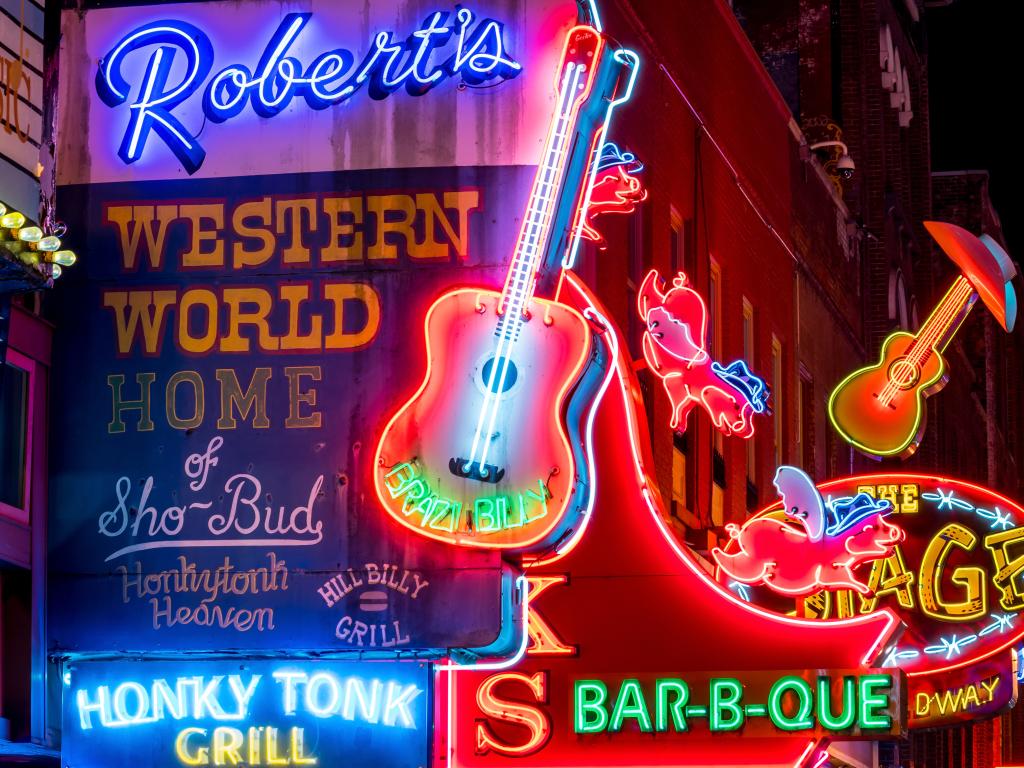 f11photo/Shutterstock.com
Music plays here pretty much around the clock with live music on every day of the week from 11am until the early hours.
This Broadway joint does not charge a cover fee although the bands will collect tips during intervals which we highly encourage you contribute to.
Unlike a few other establishments nearby, this place is hugely popular with the locals and there is more country music played so if you're wondering what to do at 11:30am on a Monday morning, you can do worse than catching a live gig at Robert's Western World!
When to go: Any time, any day - quite literally
Price: No cover charge - you just have to buy the drinks
22. Ascend Amphitheatre
The Ascend Amphitheatre is a new venue right in the heart of Nashville where you can go to an open air music concert during the warm parts of the year.
The amphitheatre was built in 2015 after the failure of several development projects for the derelict piece of land that once used to be a power plant.
You will find concerts taking place a few times a week during the summer months with occasional gigs in the spring and fall, but the venue is not used much in the winter.
While world famous performers such as Blink 182, Bryan Adams, Bastille and even Snoop Dogg have performed at the venue since it opened, the majority of concerts are by well known country music artists.
The total capacity is just 6,800 with only 2,300 seats so if there's a show you want to see, get your tickets booked right away!
When to go: Concerts generally take place in the summer months. Check the schedule at the Ascent Amphitheatre website.
Price: Tickets typically start at $30 and go up to anything from $80 to $300 depending on the concert.
Nashville neighborhoods you must visit
23. Germantown
Germantown is Nashville's oldest neighborhood named after the original settlers who moved here in the 19th century.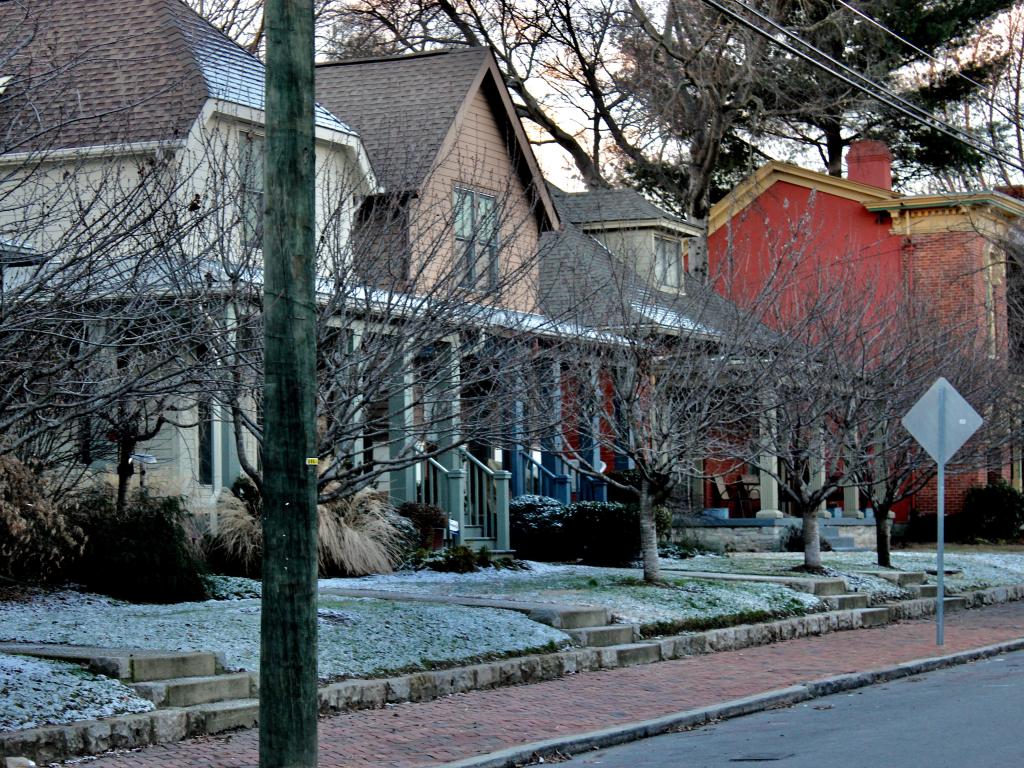 jimmy vestal/Shutterstock.com
The area has a really great vibe with a touch of hipster about it - grand old buildings and wide streets are home to a number of cafes and great small restaurants.
Most of the streets are lined with trees making the neighborhood perfect for a weekend walk.
Located to the north of Jefferson Street, it is right next to the Bicentennial Park and the Tennessee State Capitol which makes it a desirable place to live. It certainly didn't always feel this way, but the area has transformed over the last few decades.
The Nashville Oktoberfest brings lights, people and beer to the streets of Germantown, celebrating its German roots so if you are visiting in September, you are in luck!
24. Music Row
There are two streets that are well known for their number of music venues in Nashville and the two can easily get mixed up if you're visiting for the first time.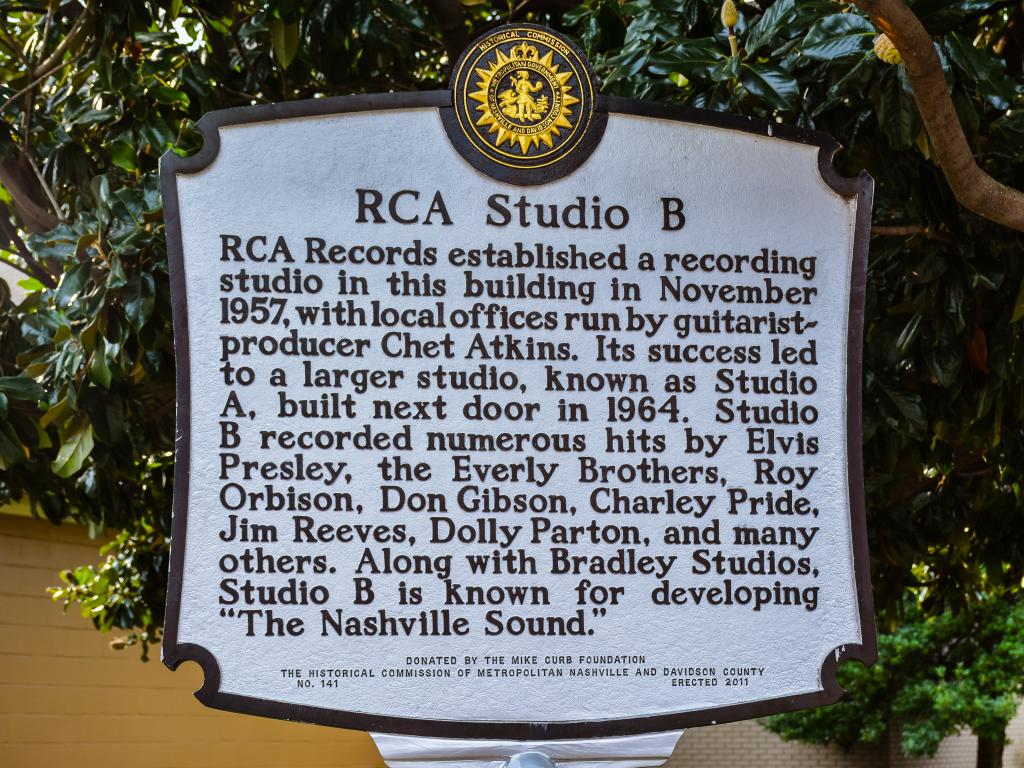 jejim/Shutterstock.com
Music Row is the one that is a mile and a half outside downtown and is known as the heart of Nashville's music industry. A number of recording studios, record labels, offices of producing firms and music licencing companies are based in the small area centered around the 16th and 17th Streets.
The main sight that you can visit is the Studio B recording studio - there is a lot of interesting memorabilia here from stars that recorded here from Elton to Dolly Parton.
Other than that, the neighborhood is mainly known for the music venues that come alive at night. The music is loud and the area gets busy with a mix of students, residents and tourists. And there are a lot of students - the Vanderbilt and Belmont University campuses are right on the edge of the Music Row neighborhood.
25. 12th Avenue South
12th Agenue South is actually a very small neighborhood that only spans around half a mile of the long road after which it was named.
It's best known for an eclectic mix of restaurants, bars and dives - mainly located along 12th Avenue South itself with everything from family lunch places to Edley's Bar-B-Que to the delicious lebanese food at Epice.
Coffee shops are something the area has a lot of and is known for. Frothy Monkey may be the best known with arguably the best coffee in town and great snacks to have with it.
On Tuesday afternoons in the summer, you can visit the 12th Avenue South Farmers' Market. Here you'll find every kind of fruit and vegetable as well as cooked foods and beer.
26. The Honky Tonk Highway
The Honky Tonk Highway is not a neighborhood, so we are cheating slightly by having it here, but this stretch of Broadway is so iconic, it deserves its own mention.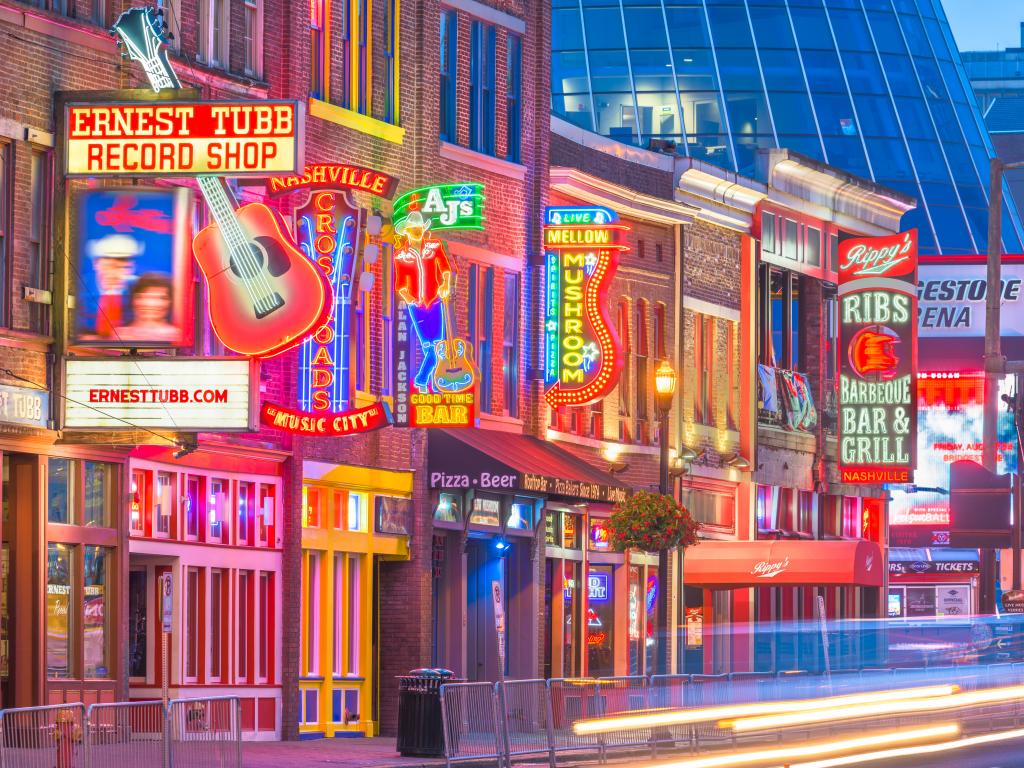 Sean Pavone/Shutterstock.com
The Honky Tonk Highway is best known for its lit up neon signs for the various bars and dives where you can listen to live music. A Honky Tonk is traditionally a bar where live music doesn't stop and that's certainly the case with a number of the places you will find along Broadway.
Robert's Western World is one of the best known (see above), but there are other honky tonks that are open from morning until late and you really can find live music at any time on any day of the week.
Located in the heard of downtown Nashville, the Honky Tonk Highway is close to a number of other sights and restaurants so you can easily combine a dinner or a Predators game with a follow up drink over country music.
27. Marathon Motorworks
Marathon Motorworks is a funky small part of downtown Nashville that has a mix of eclectiv shops and restaurants set in a number of old factory buildings along Clinton Street.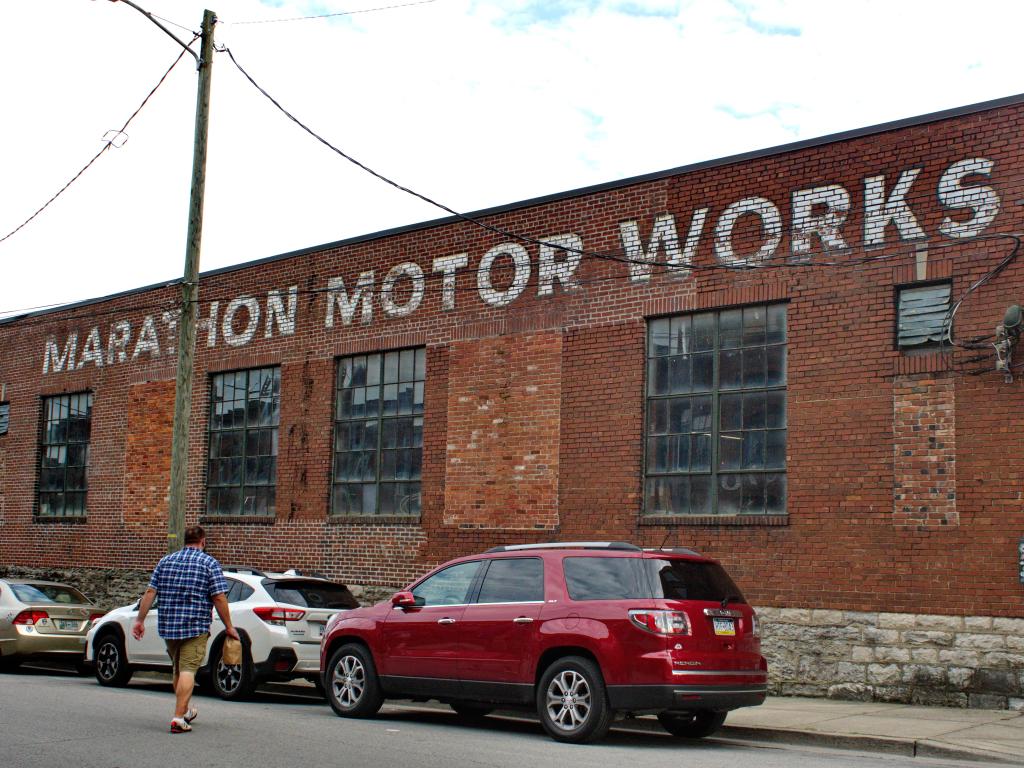 Angela N Perryman/Shutterstock.com
Marathon Motorworks was one of the first major car manufacturers in the United States, making cars from 1907 to 1914 after repurposing from producing general industrial engines.
The company went bust in 1914, but the buildings and the area have survived to become a hotbed of Nashville's shopping and dining.
The complex is today known as Marathon Village and has a number of interesting shops and restaurants to visit.
One of the best known shops is the Antique Archaeology store made famous by the American Pickers TV series.
If you like a drink, you're in luck - you can taste anything from gin to rum at the Corsair Artisan Distillery or try a selection of great wines at the Grinder's Switch Winery at the opposite end of the building.
Best things to experience in Nashville
28. Barista Parlor
The Barista Parlor is a top Nashville coffee shop that is quite unlike any other you will have been to before.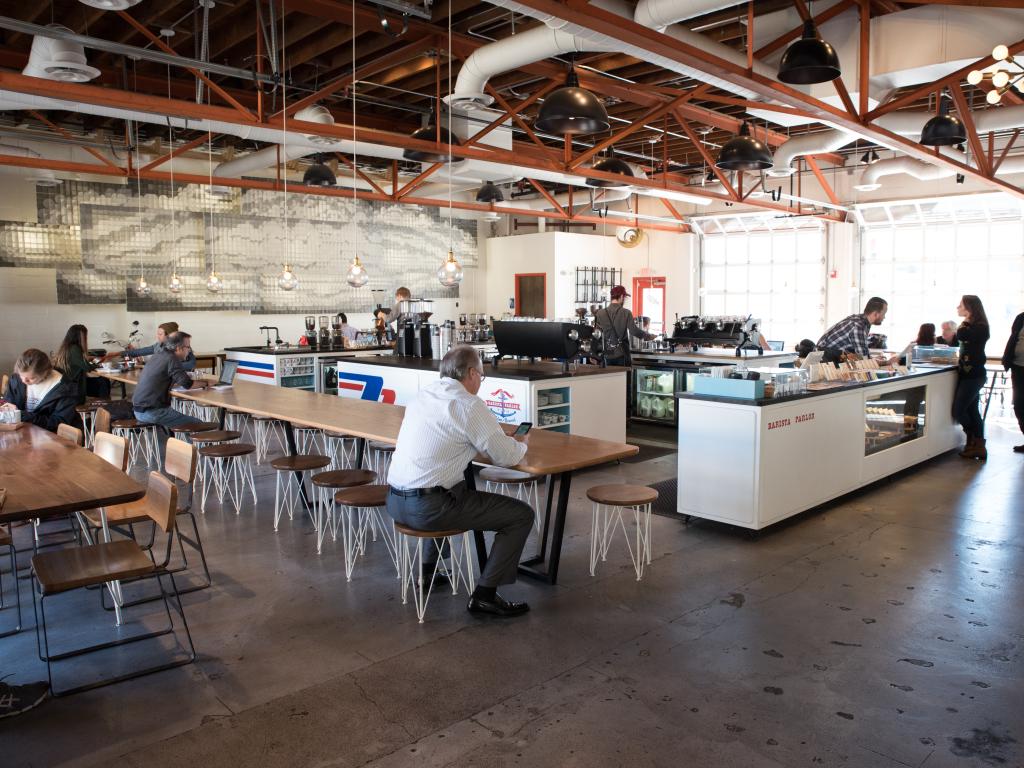 Jeremy Pawlowski/Shutterstock.com
The original Barista Parlor (they have opened a few other locations around town since!) is located in a huge converted car repair garage at 519B Gallatin Avenue.
The location gave the place a hipster industrial look and feel. There is a lot of space to sit down and enjoy the coffee which, by the way, is excellent.
If the original east Nashville location is a little out of the way, try the one in Germantown or in the Gulch. The new locations were intentionally set up in similar open spaces to retain the Barista Parlor vibe.
Opening hours: Daily 7am to 6pm
29. Hattie B's Hot Chicken
Hattie B's is a local favourite chicken restaurant chain that has expanded to 7 locations across 4 different states.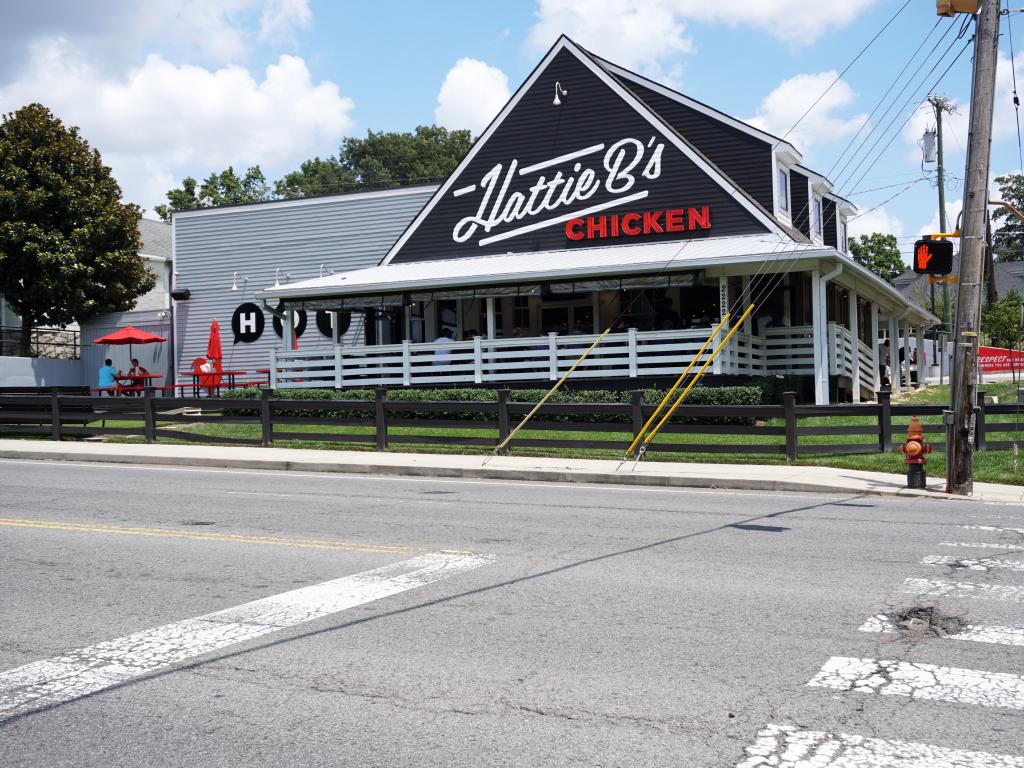 Josiah True/Shutterstock.com
The family restaurant was founded by the father and son duo Nick Bishop Sr. and Nick Bishop Jr. There appears to be a theme with names in the Bishop family - 3 women in the family are all called Hattie B, with the restaurant inheriting it as well.
Hattie B's serves hot chicken in different spice levels. If you're not a spicy chicken pro, the mild option will come plenty hot enough but if eating a mouthful of burning lava sounds good, you should go for the hot option. (No, seriously, you probably shouldn't!)
With 3 locations around town, there is a choice although the Broadway original venue is the way to go if you want to see where it all began.
Opening hours: Monday to Thursday - 11am to 10pm, Friday to Saturday - 11am to midnight, Sunday - 11am to 4pm
30. General Jackson Riverboat Cruise
The General Jackson Riverboat Cruise will take you along the Cumberland River where you can listen to live music while having a 3-course meal.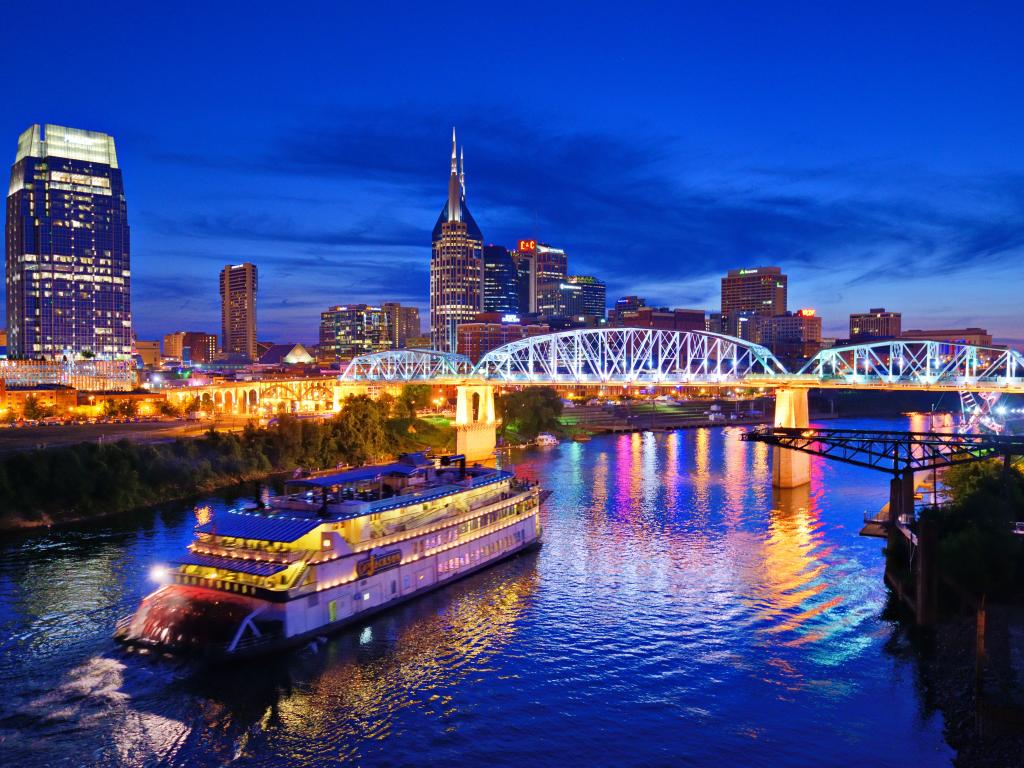 Sean Pavone/Shutterstock.com
There are a lot of basic riverboat options if you just want to go on a boat during the day but the experience you really want to try is the evening cruise on the General Jackson showboat.
It's a unique way to experience the finest of what Nashville has to offer with great music and food coming together while you sail up and down the river. You might just find yourself pleasantly surprised by the food - make sure you don't go for the No Meal option - you'll get the worst seats and the meal is kind of the whole point of going!
The cruise takes 3 hours which means you get back at 10pm or an hour earlier on a Sunday. Make sure you get to the pier early. Boarding starts 45 minutes before departure - you don't want to miss out!
Cruise times departure time: Monday to Saturday - 7pm, Sunday - 6pm
Price: Adult tickets - $90, Children under 12 - $60. Add tax and a processing fee. Ticket prices vary slightly based on tier and you can upgrade to the Captain's table for $30 extra per person.
31. The Patterson House
If you want to go for a drink with a difference, the Patterson House in Nashville might just be the place for you.
This unique speakeasy is hard to find so arm yourself with a map - there won't be any obvious signs. Best time to arrive is a little before 5pm so that you can get a table when the place opens. Later on you might have to wait a fair bit.
This is not your regular bar - there are no TV screens and there is no traditional drinks menu.
But don't let that put you off. Ask the hosts for their suggestions and try the amazing craft cocktails that they are so well known for. The cocktail prices may be slightly on the expensive side, but they're definitely worth it!
If you're hungry, you can order bar foods such as sliders or deviled eggs but don't expect much - these are only there to accompany your drinks.
Opening hours: Sunday to Wednesday - 5pm to 1am, Thursday to Saturday - 5pm to 3am
32. Tennessee Titans NFL
The Tennessee Titans play at the Nissan Stadium - right across the river from Downtown Nashville.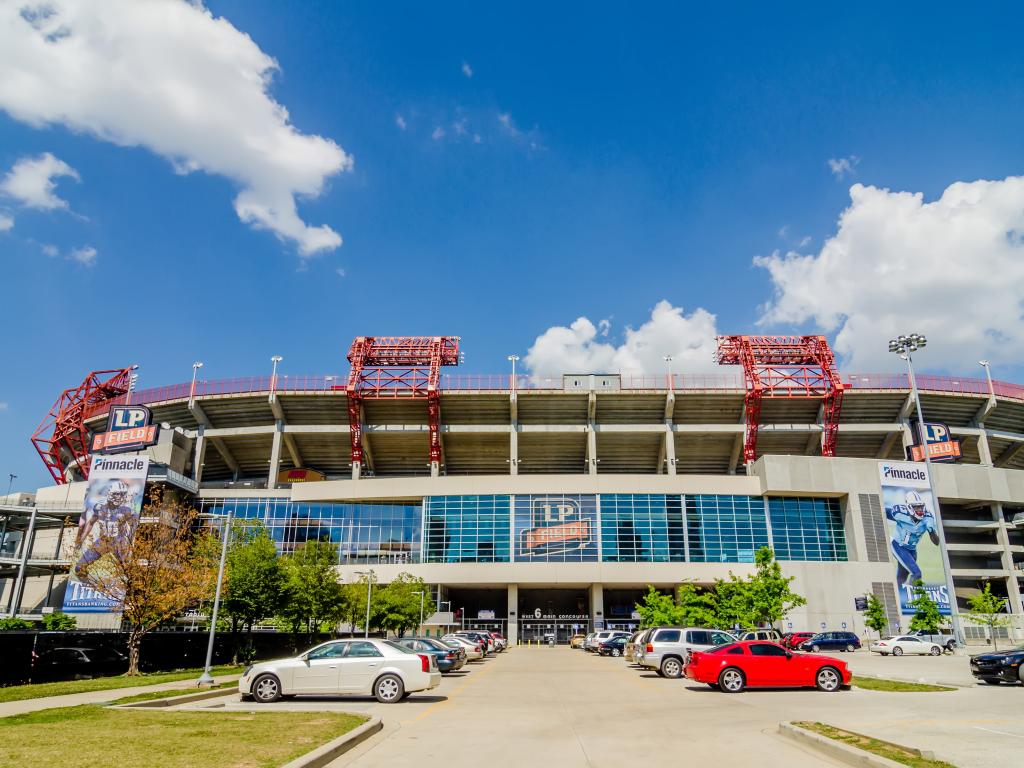 digidreamgrafix/Shutterstock.com
The franchise moved to Nashville after playing in Houston for almost 40 years where they were known as Houston Oilers.
In 1999, a year after they moved in, the team changed their name from Tennessee Oilers to the Tennessee Titans they use today.
The Nissan Stadium is an impressive place to watch a football game - known as the Colloseum when it was first built, it holds a 69,000 capacity crowd which creates an awesome atmosphere.
If you want to save on the tickets, avoid games against the Houston Texans and Jacksonville Jaguars - ticket prices are double due to historic rivalries.
When to go: The NFL season runs from September to January - check the Titans schedule for their upcoming games.
Price: Tickets for premium games are between $50 and $300, others can cost $20 to $150 depending on seats
33. Lane Motor Museum
The Lane Motor Museum in Nashville is a large classic car collection displayed in a large warehouse.
The collection was originally started in 2002 with 70 cars from the private collection of Jeff and Susan Lane. Since then it has grown to over 500, but only around 150 are on display at any one time.
All the cars in the collection are from Europe and there are a lot of unusual examples ranging from microcars to one off prototypes to propeller-powered cars and even a huge army L.A.R.C. vehicle with huge wheels and thick armor plates.
It's not a large museum, but the cheap tickets and engaging display make it perfect for a family day out or those who love their cars.
Opening hours: Thursday to Monday - 10am to 5pm, closed on Tuesdays and Wednesdays
Price: Adults - $12, Seniors (65+) - $8, Children 6-17 - $3, Children 5 and under - free, Parking is also free
34. Watch the Nashville Sounds at the First Tennessee Park
The Nashville Sounds may be a Minor League Baseball team, but if you love baseball or want a great afternoon out, a trip to the First Tennessee Park can be perfect.
With 3 league titles under their belt, the Sounds are a decent Minor League outfit but the new AAA affiliation with the Arlington-based Texas Rangers means they are likely to play a number of amazing up and coming stars over the next few years . The Rangers have won the West Division title 4 times in the last 10 years!
Named after the local music scene, the Nashville Sounds have a giant rooster mascot called Rooster. That is how much the locals love Nashville hot chicken - if you haven't already, you should try it at Hattie B's (see above)!
When to go: The baseball season runs form April to early September
Price: Tickets are usually in the $14 to $40 range
35. Go to the Nashville Predators at the Bridgestone Arena
The Predators may be one of the newer franchises in the NHL, first formed in 1998, but they are fast becoming one of the most exciting as well.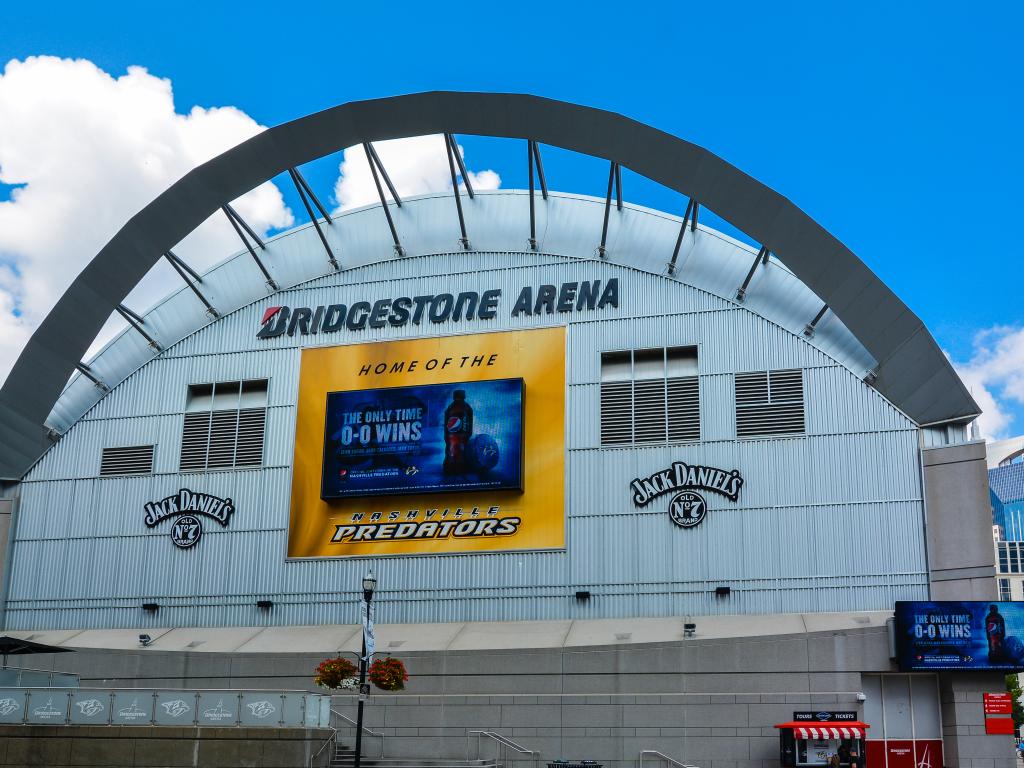 jejim/Shutterstock.com
The Predators play at the Bridgestone Arena which holds just over 17,000 fans - it's really easy to get to with its central downtown location just off Broadway.
The atmosphere at the arena is amazing - it frequently tops the charts for the loudest fans in the NHL and one of the local traditions involves throwing a catfish onto the ice at occasional games for no apparent reason.
In recent years the Predators have seen a lot of success with two consecutive Division championships, one Conference championship and an appearance in the Stanley Cup Final game where they lost to the Pittsburgh Penguins.
If you like ice hockey or just want a great afternoon out, you're guaranteed a high quality game.
When to go: The NHL season runs from October to March - check the schedule for upcoming games
Price: Tickets for regular NHL games are usually $30 to $180 depending on seats. Expect to pay a premium to sit right by the ice or when big name teams visit Nashville
Things to do in Nashville outdoors
36. Centennial Park
The Centennial Park is in Nashville's West End neighborhood, near the Vanderbilt University and Music Row.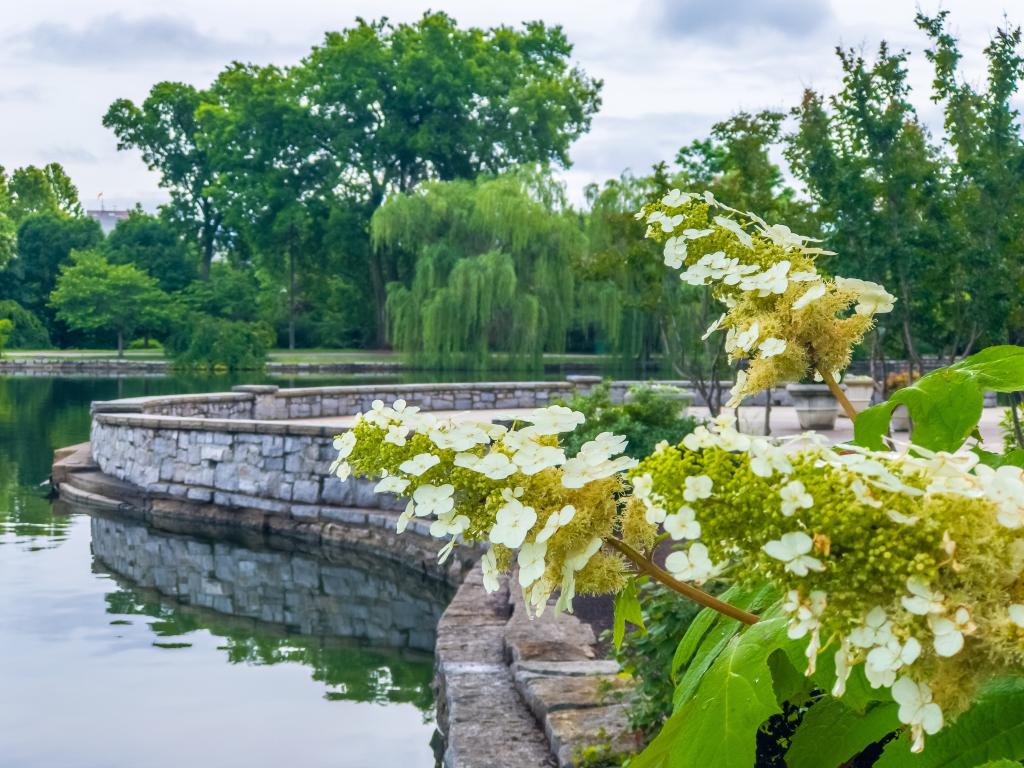 JPDworld/Shutterstock.com
Best known for the Nashville Parthenon (see #1 in this list), the park is a great place to get away from the hussle and bustle of nearby downtown Nashville.
If you like a jog or just want to stroll, there are plenty of paths criss-crossing through the park. For the more adventurous, you can try paddle boating at the small lake.
If you just want to chill, there are plenty of benches and you can bring your picnic. The park even has free wifi throughout to make sure your phone notifications keep on coming!
Opening hours: Open daily from dawn until 11pm
Price: Access and parking are free
37. Nashville Zoo
The Nashville Zoo at Grassmere is a hugely popular zoo located 6 miles southeast of Downtown Nashville.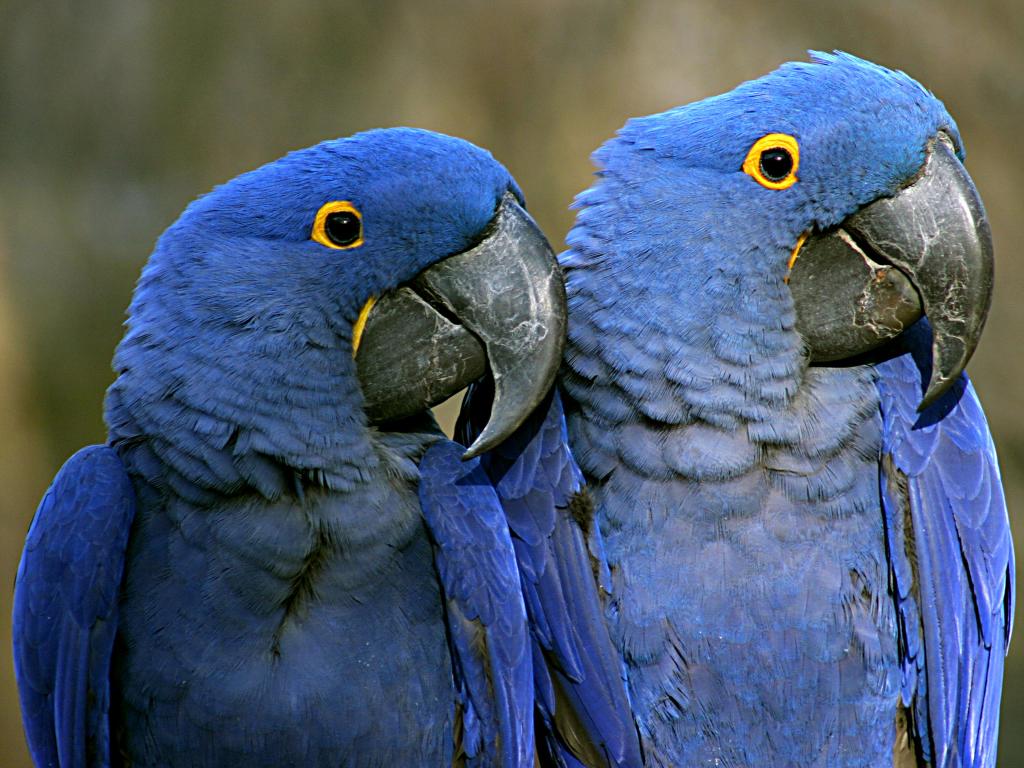 KennStilger47/Shutterstock.com
The Zoo has been based at its current site since 1997 when it moved to the 300 acre property that used to function as a slave farm in the 19th century.
Widely regarded as one of the best zoos in the country, the Nashville Zoo will take a few hours to walk around. There are over 6,000 animals from close to 350 different species to see!
The layout is not split into large georgraphical regions like some other zoos and you will find a mix of animals across the whole park.
Some of the most interesting animals are in the furthest corners - make sure you don't miss out on seeing the cougars and Andean bears.
Alongside seeing the animals, there are a number of attractions you can try out. You can go on the carousel and the train or go down the zip line for an extra fee. You can also have a go at feeding lorikeet parrots or tortoises.
Opening hours: Mid-March to Mid-October - 9am to 6pm, Winter season - 9am to 4pm
Price: Adults - $17, Seniors (65+) - $15, Children 2 to 12 - $12, Children under 2 - free, Parking - $7; Add $1 per ticket on Friday and Sunday, or $2 for Saturday visits. Attraction tickets - $2 per go or $8 for the zip line.
38. Cheekwood Estate and Botanical Gardens
Cheekwood is a 55-acre estate located around 8 miles southwest of downtown Nashville.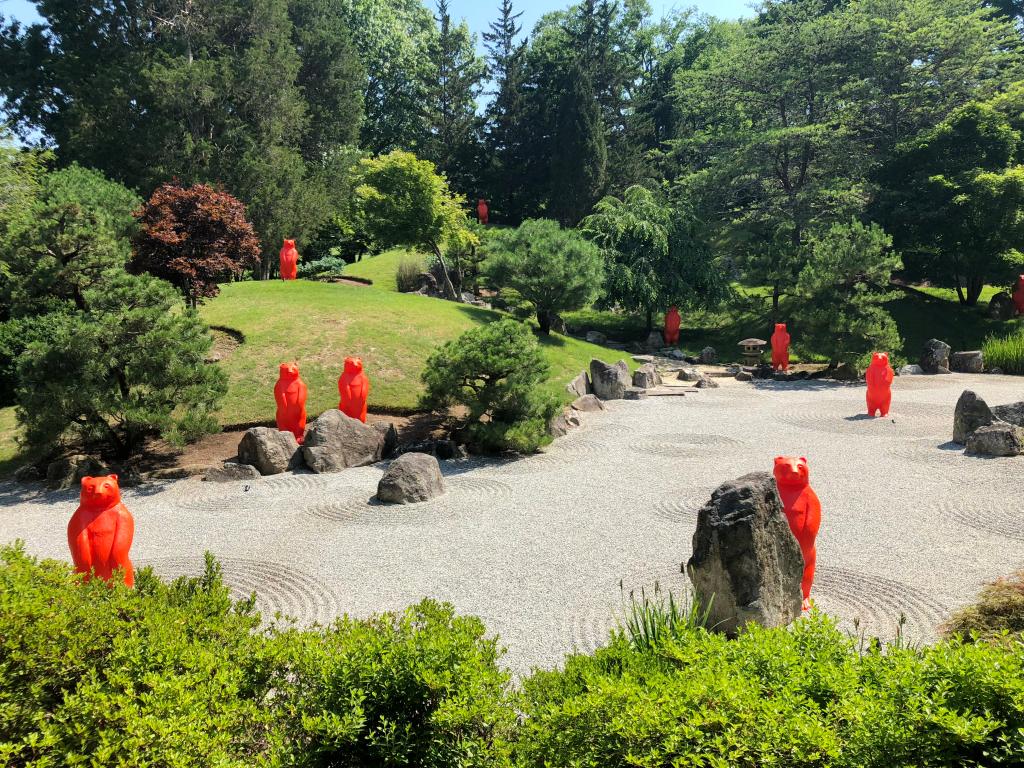 Jaclyn Ashley/Shutterstock.com
It was built by the Cheek family in 1929 after they sold their Maxwell House coffee business. The large Georgian mansion became a museum in 1960 and today houses a large collection of art including over 600 paintings and a large collection of porcelain.
As the museum ran out of space, some of the outbuildings were also converted and the contemporary art exhibition sits in the old garage and stables.
The grounds are an attraction in their own right - the entire area is dedicated as a Botanical Garden with a lot of native trees and plants and those from other parts of the world. Flowers on display include magnolia, daffodils and the dark red trilliums.
Opening hours: Tuesday to Sunday - 9am to 5pm, closed on Mondays
Price: Adults - $20, Seniors (65+) - $18, College students - $16, Children 3-17 - $13, Children 2 and under - free, parking is $5. Military and veterans get a 50% discount
39. Bicentennial Capitol Mall State Park
The Bicenteniial Capitol Mall State Park is a long green space right in the heart of Nashville that was first opened in 1996 to celebrate 200 years of Tennessee's statehood.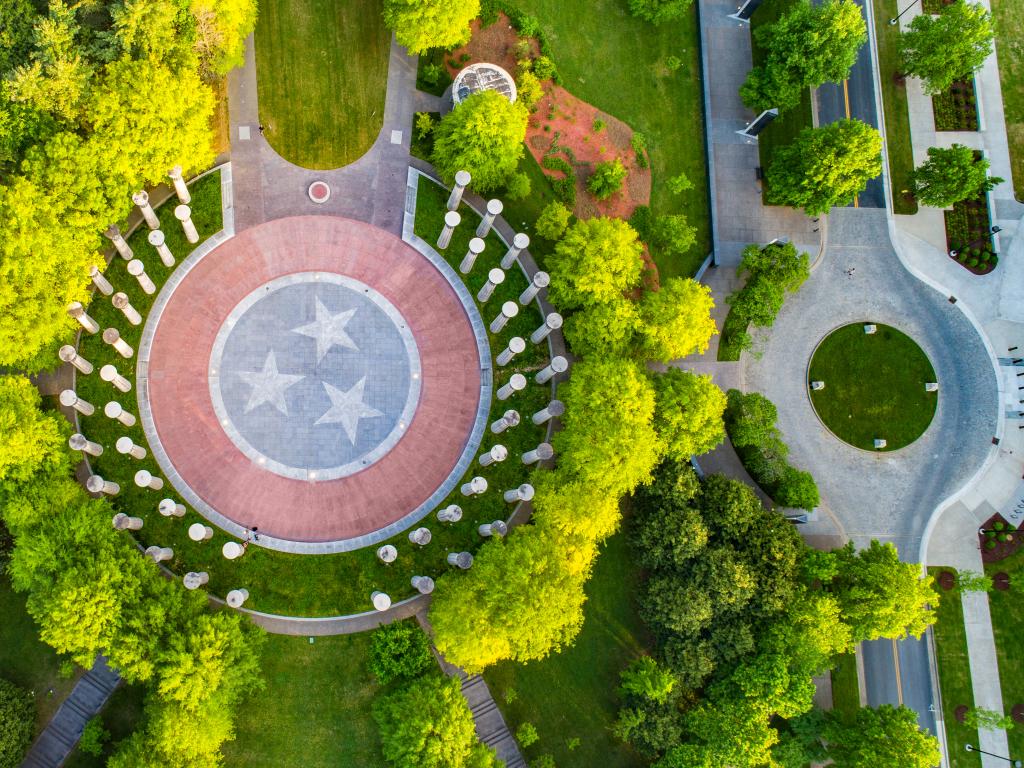 Kevin Ruck/Shutterstock.com
The park is located across the James Robertson Parkway from the State Capitol and the surrounding Victory Park. Throughout the park you will find monuments and mementos dedicated to the history of Nashville and the whole state of Tennessee.
At the south end of the park is a 200-foot granite map of the state, the Rivers of Tennessee Fountain and the visitors' center. At the north end is the Court of 3 Stars surrounded by 50 columns with 95 bells to represent the counties that make up the state.
The Nashville Farmers Market runs along the length of the park and the Tennessee State Museum (see above) is right next to it so it makes sense to visit all 3 if you have time!
Opening hours: Daily 6am to 10pm, Visitor Center open 8am to 4:30pm Monday to Friday
Price: Access is free
40. Warner Parks
Warner Parks is actually two separate adjoining parks called Edwin Warner Park and the Percy Warner Park, named after the Percy family who donated the land in 1927.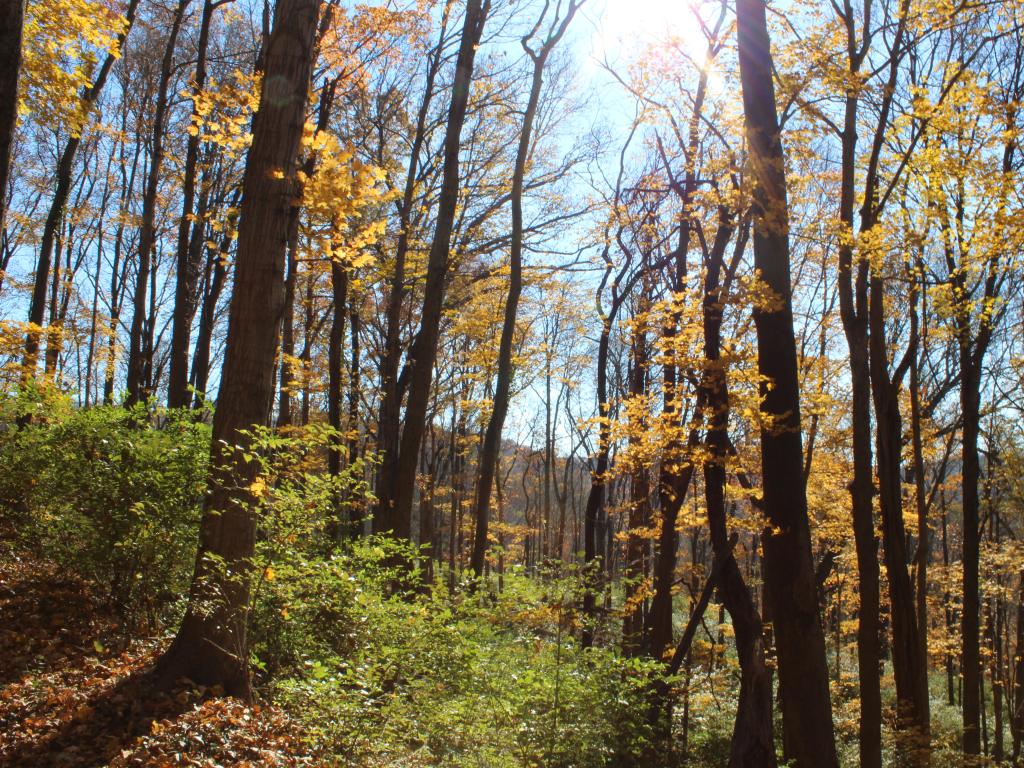 Joseph Guerre/Shutterstock.com
At over 3,000 acres after a recent expansion, this is the second largest municipal park in the United States - it will take you an hour and a half to two hours to walk straight through and with trails and paths meandering throughout, it is a perfect way to spend an afternoon or a whole day.
A lot of the park is covered by forest which offers a real feeling of wilderness despite being so close to downtown Nashville.
One of the best known features in the park is the Belle Meade Steps - this is the main way into the park if you are coming from Nashville and the views from the top are incredible.
Opening hours: Daily from dawn to 11pm
Price: Access is free
41. Percy Priest Lake
The Percy Priest Lake is about 10 miles to the east of downtown Nashville and is an artificial lake created in 1968 when the Percy Priest Dam was constructed on the Stones River.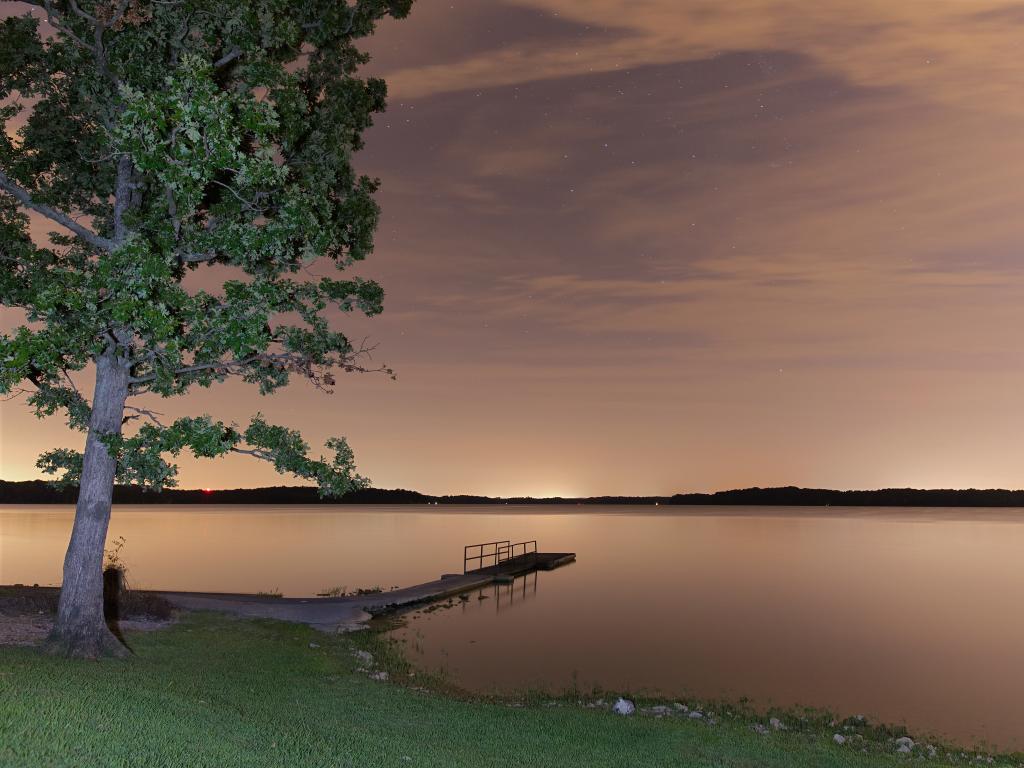 David Newbold/Shutterstock.com
Today the 42-mile long lake is a popular destination for all manner of water-based activities. From fishing to kayaking, sailing, wakeboarding and a whole lot more - you can do it all here.
There are a number of recreational areas and state parks dotted all around the lake where you can camp, enjoy hiking trails and explore nature.
Fishing is the most popular activity but you need to make sure you get a licence first - you can get the Avid Angler Package that covers you for whatever you catch online for $59.
Opening hours: 24/7 - individual parks and recreational areas vary
Price: Access is free (although some entrances will charge $5 per car) - the rest depends!