Can you drive through Jasper National Park?
By
Pat Dorri
| Published on 21 September 2023
Jasper National Park lies in the heart of the Canadian Rockies, a rugged wilderness that feels far from civilization, with incredible icefields and jagged mountain peaks. This picturesque outdoor playground is blessed with crystal-clear lakes, and an abundance of wildlife, and its many trails make it a hiker's paradise.
A journey through Jasper National Park is a 2-hour drive through 160km of stunning Alberta wilderness. Experience one of Canada's best road trips, taking in the Athabasca River, Jasper, Stutfield Glacier Viewpoint, and the Columbia Icefield and Skywalk
Whether you are a summer hiker, a winter sports fanatic or just love the splendour of this vast great wilderness, Jasper National Park is a glorious destination. Continue reading to discover ways to drive through the Jasper National Park and some of its finest attractions.
Can you drive through Jasper National Park?
The main ways to drive through Jasper National Park

| Route | Starting Point | Ending Point | Seasonal Availability |
| --- | --- | --- | --- |
| Main Route | Jasper East Cabins | Jasper National Park Icefield | Open year-round |
| Alternative Route | Yellowhead Pass National Historic Site | Jasper National Park Icefield | Open year-round |
You can drive through Jasper National Park and it is a stunning drive through this UNESCO World Heritage Site. The route itself is straightforward and the two main roads, Yellowhead Highway and Icefields Parkway, are well-surfaced and well-maintained meaning you can concentrate on enjoying the experience.
There are several visitor centres that are great places to learn more about the area, take a well-deserved break, and pick up any maps and relevant information to aid your drive through the park and guide you through the many trails that wind their way through the wilderness.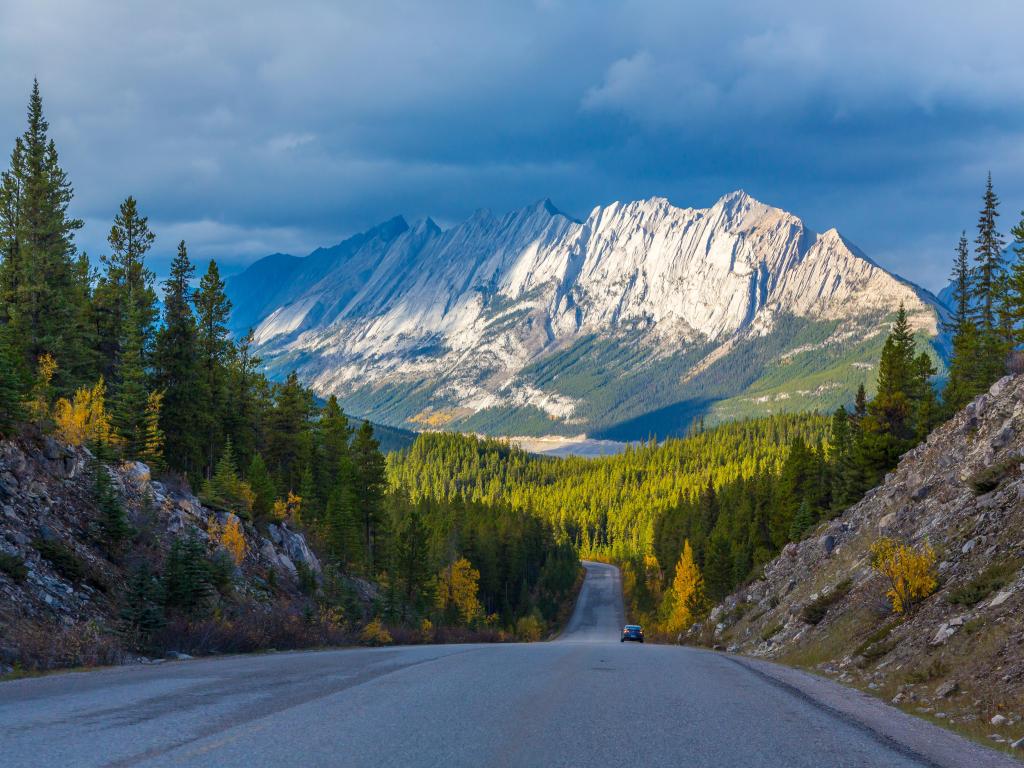 How to drive through Jasper National Park on the East Park Entrance Route
Entering Jasper National Park at the East Park Entrance leads you on a scenic route through the mountains of the Alberta Rockies with wonderful views and riverside drives. The journey begins at Jasper East Cabins and heads south along Yellowhead Highway running alongside the Athabasca River.
You'll soon pass Miette Upper Loop before arriving at Jasper House National Historic Site, a once busy trading post during the fur trade and a short stroll takes you to the viewpoint with an incredible panorama across the Athabasca River and beyond. The route is then sandwiched between the shorelines of Jasper Lake and Talbot Lake passing the impressive dunes before reaching Emerald Pond.
You'll cross the Athabasca River and the Morro Slabs Trail surrounded by the glorious peaks of Hawk Mountain and Pyramid Mountain before arriving at Jasper. Stop off here and take a ride in the Jasper Sky Tram taking you to a breathtaking viewpoint at 2,277 metres.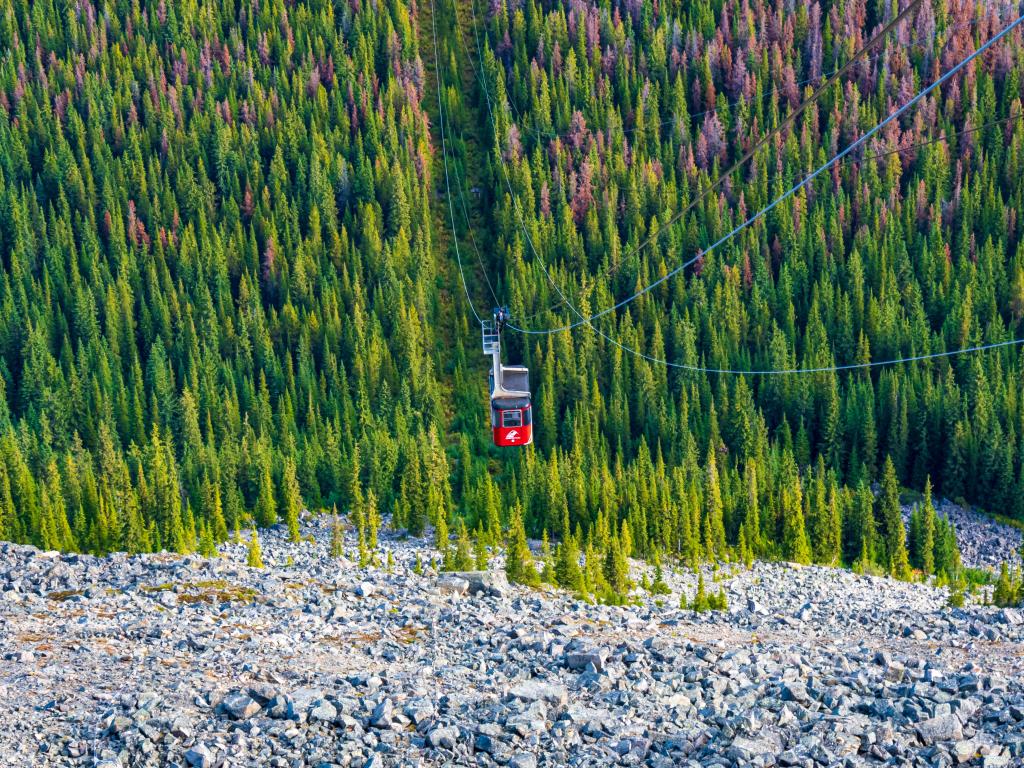 Leaving Jasper, you'll pass several popular campgrounds as the route heads south along the Icefields Parkway towards the Valley of the Five Lakes Trailhead before arriving at the Athabasca Pass Lookout.
This scenic lookout offers a fantastic photo opportunity of the majestic snow-capped peaks, before continuing to Sunwapta Falls.
It's a short hike from the car park to see the water cascading through the canyon and for another glorious photo for the album, before continuing south to Stutfield Glacier Viewpoint, and Tangle Creek Falls.
The route then leads to Columbia Icefield Skywalk where you can face your fears and take the 1km walkway to an incredible glass-bottomed observation platform with a 280m drop.
From here it's only a short drive to the end of the route at Jasper National Park Icefield, where you can take a guided tour of the the Columbia Icefield Glacier or take the Toe of the Athabasca Glacier Trailhead, an amazing experience with unparalleled views of the Glacier itself.
How to drive through Jasper National Park on the West Park Entrance Route
If you choose to enter Jasper National Park from its West Park Entrance, then the route begins near Decoigne at the Yellowhead Pass National Historic Site. From here you'll travel eastwards on Yellowhead Highway to Jasper before heading south along the Icefields Parkway.
From here the route is similar to the East Park Entrance route, with jaw-dropping scenery at every turn as you head past the many rocky mountain peaks and striking turquoise waters of the lakes that make the drive so memorable as you make your way to Jasper National Park Icefield.
Both our routes through the park are available to enjoy at any time of year, and as such, they both share the same precautions. Snow tires and chains are a must between November and April as the normally safe roads become more treacherous in wintery conditions.
However, there are no cliff edge drives or hairpin turns, and the road is well-maintained year-round.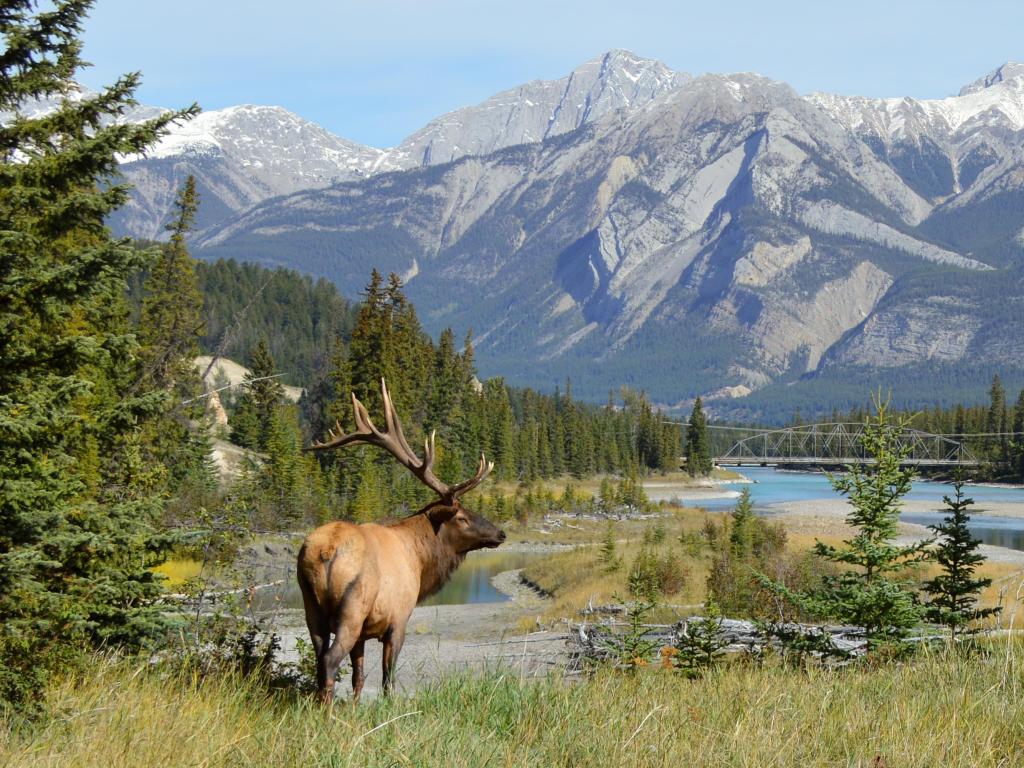 How long does it take to drive through Jasper National Park?
If you choose to drive through Jasper National Park without making any stops, then you can do so directly in around 1 hour 30 minutes to 2 hours. The shortest route to do so covers 130km along well-paved roads and is a straightforward drive in good weather.
The East Gate Entrance Route will take you around 2 hours and cover 160km, whereas the shorter West Gate Entrance Route will take 1 hour 30 minutes, covering 130km
However, the route is there to be enjoyed, and you'll want to stop at a selection of the viewpoints and overlooks that line the route and gaze out at the marvelous views that confront you.
Each stop will add time to the journey and that's before considering the excellent trail network that runs through the park, and the many outdoor activities that are on offer all year round, and of course you can't visit Jasper without visiting the incredible glacial icefields.
With so much to entertain you, Jasper National Park is worth exploring over several days, or even a week
Which entrance should you arrive at in Jasper National Park?
Comparison of travel times from major cities to Jasper National Park

| Origin City | Recommended Entrance | Total Distance | Total Time |
| --- | --- | --- | --- |
| Edmonton, AB | East Entrance | 320 km | 3 hours 30 minutes |
| Calgary, AB | East Entrance | 460 km | 5 hours 15 minutes |
| Vancouver, BC | West Entrance | 770 km | 8 hours |
| Seattle, WA | West Entrance | 890 km | 9 hours 20 minutes |
| Portland, OR | West Entrance | 1,170 km | 12 hours 30 minutes |
| Winnipeg, MB | East Entrance | 1,630 km | 16 hours 40 minutes |
Best places to stop on a drive through Jasper National Park
A visit to the incredible wilderness of Jasper National Park lets you embrace the elements and feel like you are a million miles away from civilization. What better way to extend your stay than by spending a night or two within the park, the second largest dark sky preserve on earth.
Here are some of our recommendations when considering prolonging your visit and having a stopover in the park.
Marvel at the mountain views in Jasper
Jasper is the only town located wholly within the Park and is an excellent place to stay, being close to both of the Entrance Routes, lying 59km from East Park and only 30km from West Park Entrance.
Originally established as a railway town during the heyday of the fur trade, Jasper is known for its cozy log cabins that have existed since the early settlers arrived.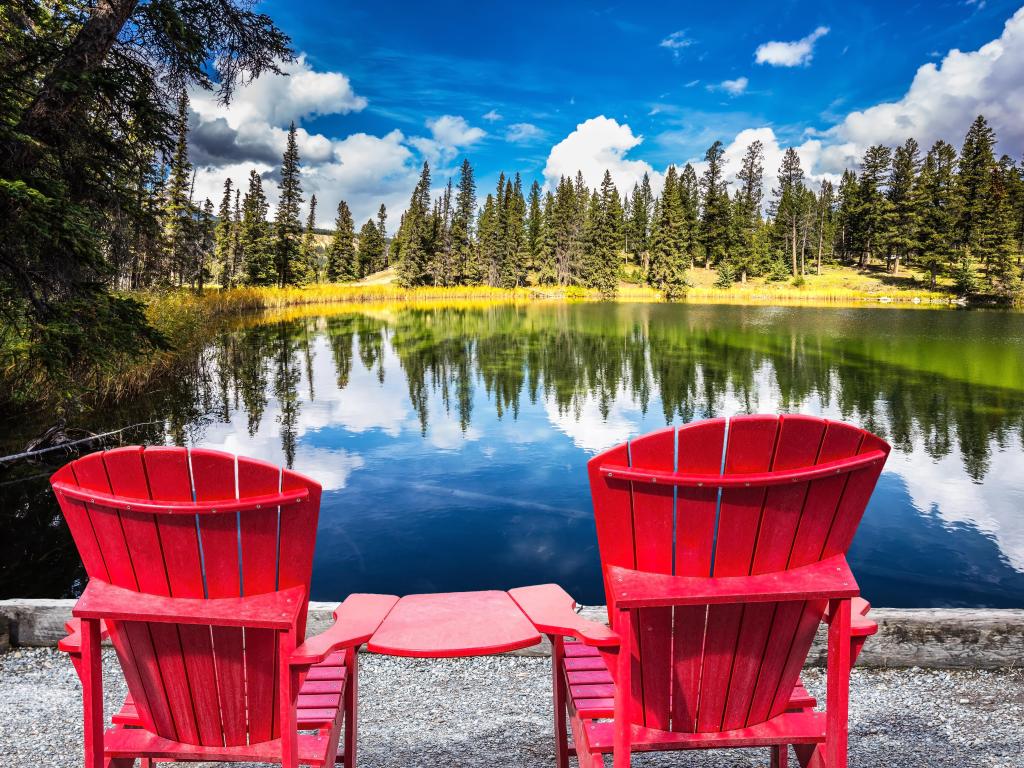 This charming, quaint town sits at the junction of the Yellowhead Highway and Icefield Parkway and has accommodation options available, with hotels, cabins, local inns, and several campgrounds to choose from.
Situated in the heart of the National Park, Jasper is the community hub with a selection of shops and restaurants to visit.
A stay at Jasper House Bungalows offers chalet accommodation full of rustic mountain charm befitting of the surroundings. The chalets offer panoramic views of the mountains and Athabasca River Valley on the town's outskirts.
You'll be ideally located to wake refreshed and ready to continue your adventure south along the Icefield Parkway after a relaxing night of stargazing.
Jasper is home to the SkyTram, a popular attraction taking visitors to the top of Whistlers Mountain to get a bird's eye view of the Park, and the area is a hive of outdoor activity, including whitewater rafting and kayaking in the summer, and skiing and snowsports in winter.
Enjoy an easy start in East Jasper
Our second recommendation for a night in the Park lies close to the start of the East Park Entrance Route, making it an ideal destination after travelling to the park, to rest and relax before beginning the drive through Jasper National Park.
Jasper East, in the heart of the Rocky Mountains is home to Jasper East Cabins, where you can relax away from the bustling crowds of Jasper to your own luxury mountain retreat, only 5 minutes from the Park entrance. The cabins are spacious, each with a stone fireplace and welcoming queen-size beds.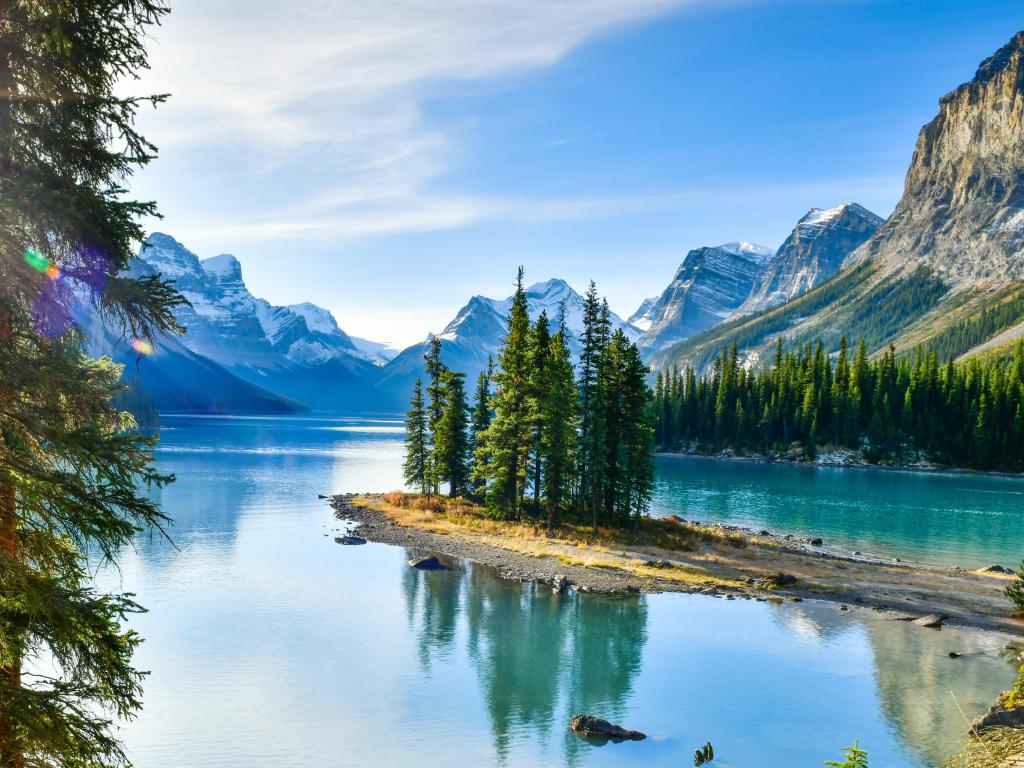 You can relax on the terrace and take in the glorious mountain views, enjoy delicious locally inspired cuisine at the Stone Peak Restaurant, and enjoy its award-winning international wine list. After dinner, you can enjoy a quality craft beer from the Folding Mountain Brewery, located a stone's throw from the cabins.
The on-site store stocks a selection of fine foods and a gallery showcasing exhibits from local artists. If you want to truly unwind in the wilderness, then you can visit the retreat centre for a spot of yoga.
The cabins offer a true escape in such a serene location, leaving you at one with the beautiful surroundings and ready to begin fully refreshed the next morning.
Where to camp in Jasper National Park
Jasper National Park is home to some of the most picturesque scenery in Canada, and camping beneath the stars in this infamous Dark Sky Preserve is one of the best ways to experience the outdoors.
The park has several popular Campgrounds, and some of the most popular are:
Pocahontas Campground
Honeymoon Lake Campground
Jonas Creek Campground
Wilcox Creek Campground
Snaring Campground
Kerkeslin Campground
Whistlers Campground
If you are visiting the park during the summer months, Whistlers Campground is our recommendation. Located at the start of Icefield Parkway, just over 100km from the Jasper National Park Icefield Information Centre, the route's endpoint.
The site is ideally placed for a stay in the park, given its proximity to Jasper, where you can shop for any supplies, and if you're travelling along the longer route, you'll have seen so much already and be ready for a rest before the drive south.
The campground was recently modernized and has washrooms, showers, electrical hookups, and over 780 pitches, meaning you have a greater chance of finding your own spot for the night. It also has wider roads to accommodate larger RVs.
If you are considering braving the weather and camping in the park over winter, then a stay at Wapiti Campground is a good option. Located close to the town of Jasper, Wapiti also offers Fire rings for warmth and has hot showers, which will be all-important at this time of year.
RVs are welcome, which may be preferable to outdoor camping at this time of year.
The site lies close to the Wapiti River for idyllic winter river walks, and being close to Jasper, you can enjoy all the winter sports on offer.
Things you need to know about driving through Jasper National Park
A drive through Jasper National Park is a spectacular journey that can be undertaken at any time of year, although the changing seasons bring their own challenges.
The summer months between June and August, see the park embrace over 1 million visitors, which naturally means the roads will be busier and parking at the viewpoints and popular attractions will be limited.
At some of the highest elevations along the route, the park can experience snow in the summer so it is always important to be prepared for whatever the weather has in store.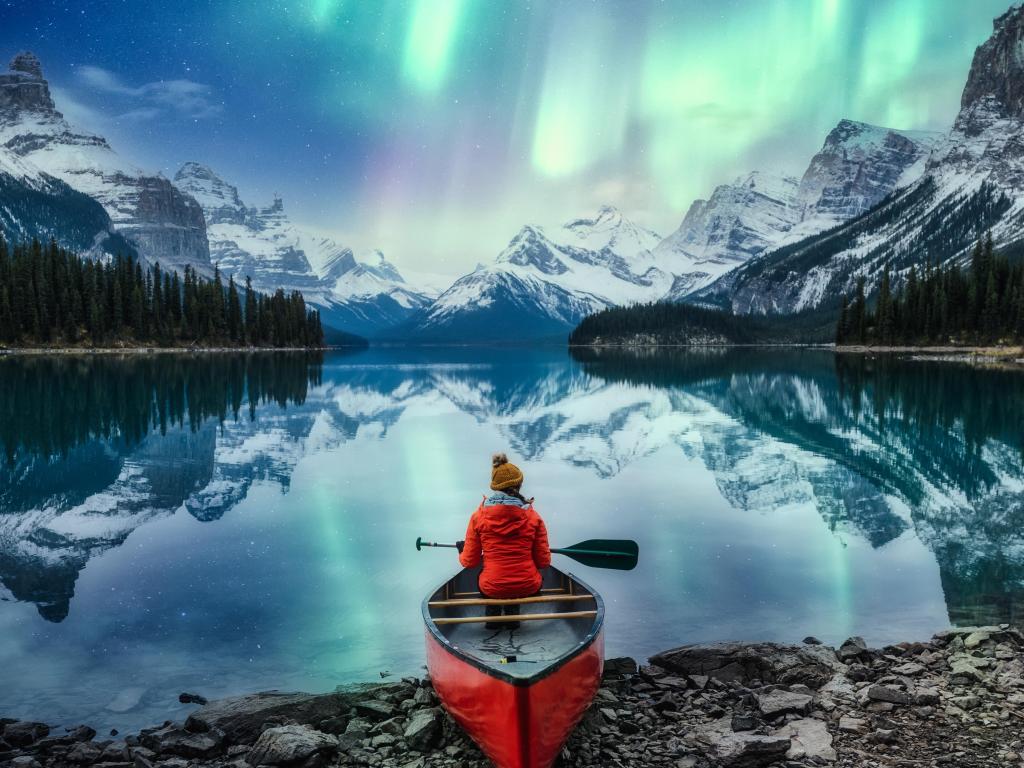 The Park in winter witnesses snowy conditions, as you'd expect in a mountainous region, and although the roads are ploughed daily, extra care is needed when driving.
Black ice is a hidden danger, especially when driving close to water, and snow flurries will limit driving visibility. Despite the tricky road conditions, the fantastic skiing and winter sports facilities in Jasper and nearby Banff mean the Park is extremely popular at this time of year.
The quietest time of year to visit is in the Fall, and as the leaves change and reflect their golden glow in the autumn sunshine, bargain hotel deals are available as visitor numbers drop off. Snow is possible and the weather can change quickly, so always travel prepared.
You will need a pass to drive through Jasper National Park. If you are entering from the East Park Entrance, you can purchase at the toll booth on Yellowhead Highway near Pocahontas.
If you are entering from the West Gate Entrance, you can purchase a pass on the Yellowhead Highway at the toll booth close to Decoigne.
NPS entry fees to Jasper National Park

| Ticket type | Provider | Adult fare | Car fare |
| --- | --- | --- | --- |
| Day pass | Parks Canada | $10.50 | N/A |
| Annual pass | Parks Canada | $72.25 | N/A |
*Prices are calculated at the time of writing; the annual pass is also called Discovery Pass.
Here are our top tips when it comes to preparing for a drive through Jasper National Park:
Fill up on gas before entering Jasper National Park. There is a gas station at Jasper if you need to refuel before embarking on Icefields Parkway
Beware of wildlife on the roads, especially in the morning and early evening when they are more active.
Expect changing weather, carry a shovel, blankets, warm clothing, and snow tires in winter.
Cell Phone coverage outside the towns is limited so don't rely on it, and have a map of the area in your vehicle.
Watch out for black ice near waterways.
Keep an eye out for cyclists - especially in the summer months when they are more prominent.
Make the drive before 10am to avoid crowds or at dusk to see the Dark Sky Preserve stars.
Vehicles must always stay on paved roads and remember to obey the speed limits.
Don't use a drone to take pictures; the maximum fine is $25,000!
Check in advance for weather conditions, road closures, and even bear warnings.
If you are travelling to Jasper National Park from outside Canada, you'll need a passport to enter the country.
Things to see on a drive through Jasper National Park
Covering over 11,220 square kilometres of sensational wilderness, you may be wondering where to start on your adventure to Jasper National Park. Here are some of our recommended highlights
Explore Maligne Lake - Hop on a scenic boat tour or hire a kayak to explore the deep blue waters of Maligne Lake. Photograph Spirit Island, only accessible by boat on the lake.
Hike to Athabasca Falls -It's accessible to Athabasca Falls. Here, you can see and hear the power of the Athabasca River flowing through narrow canyons with a mountain backdrop.
Visit Jasper SkyTram -Ride to the summit of Whistlers Mountain. On an uncloudy day, you'll have a panoramic and enchanting perspective on the expansive Jasper National Park.
Relax at Miette Hot Springs - Soak in the mineral waters of Miette Hot Springs. Said to have therapeutic properties you can unwind surrounded by lush forest after a strenuous day hiking.
Sunwapta Falls Adventure - The hike to the falls takes you on a journey along the Sunwapta River. Reaching your destination, you'll discover a wilderness with Sunwapta Falls cascading over a natural bridge.
Jasper's Wildlife - Keep your eyes peeled and your camera at the ready. Jasper National Park is known as a prime location for spotting bears, elk, deer, bighorn sheep, and a variety of bird species.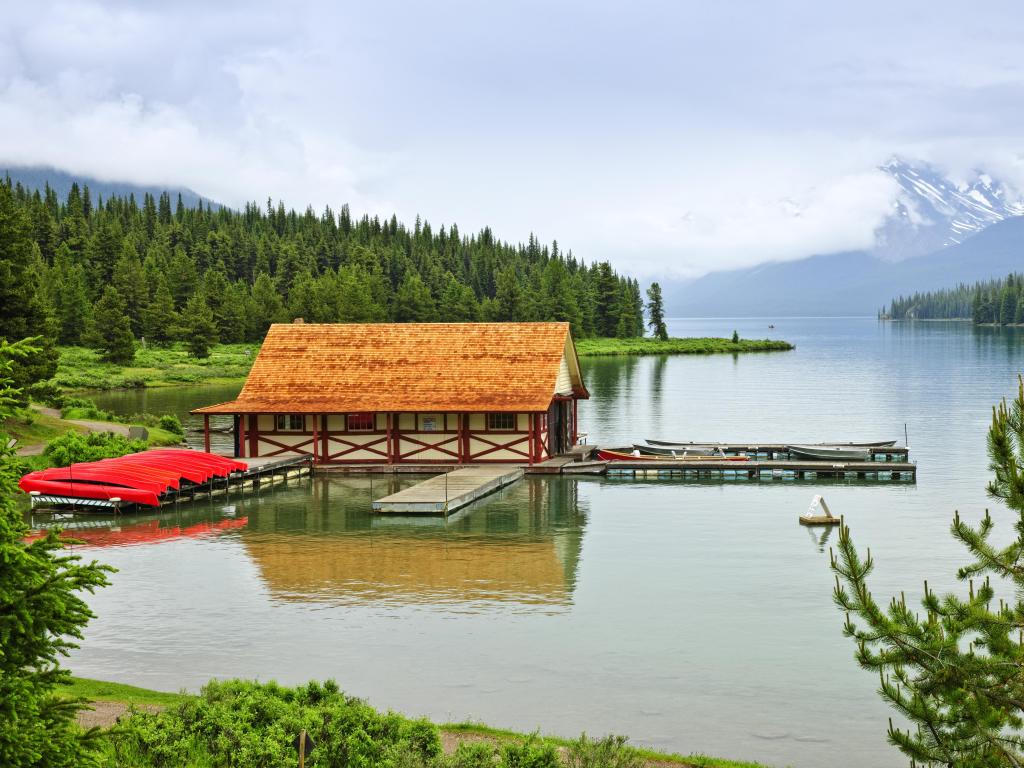 A journey through Jasper National Park is a magical trip through the marvels of nature. With its dramatic scenery, variety of wildlife, and range of activities, it's a road trip you will never forget.