15 Best Road Trips from Calgary
Calgary is an exciting and diverse Canadian city, founded around the railroad and oil industry. It sits on the base of the Rocky Mountains and offers incredible scenic natural beauty. If you enjoy exploring beautiful parks and natural green spaces, then Calgary is for you.
On top of all this, the city is considered the gateway to Banff National Park and the Canadian Rockies. Events are plentiful in Calgary, including the Calgary Stampede. This event brings cowboys and rodeo festivities to the "Cowtown" every July.
15 Best Road Trips from Calgary
Day trips (under 3 hours each way)
Canada is a country full of long drives through picturesque frontiers. Within 3 hours of Calgery, there are plenty of short drives that will take you into vast natural landscapes that feel like a world away.
1. Banff and Lake Louise, Alberta
1 hour 30 minutes from Calgary (130 km)
Why you should visit: Being the most iconic park in Canada, Banff National Park is famously home to towering mountain peaks, stunning crystal blue and even turquoise glacial lakes, glaciers, and an impressive variety of wildlife.
Get outdoors into the iconic scenery and explore lakeside trails, mountain hikes to see glaciers, or historic mountain towns for shopping and dining on this epic road trip from Calgary to Banff.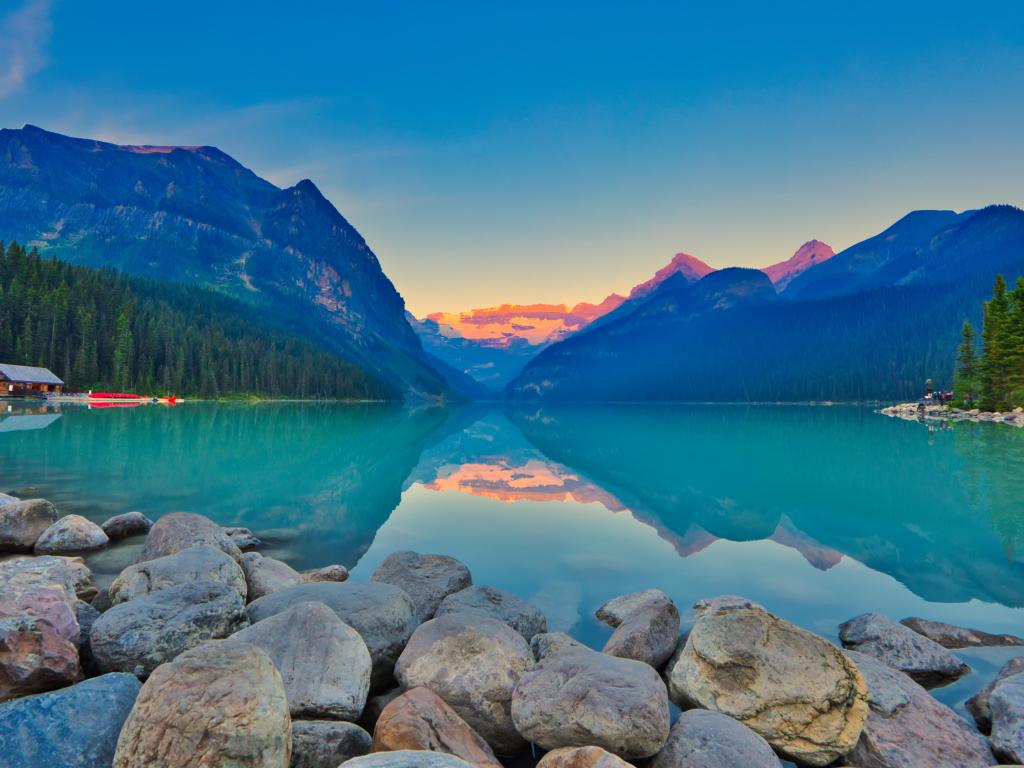 How to get there: Follow Trans-Canada Hwy/AB-1 W to Banff Ave/Lake Minnewanka Scenic Dr. The town of Banff is accessible from Banff Ave off Trans-Canada 1. To access Banff National Park, take scenic road 1A, and the Bow Valley Parkway through the park to access hiking trails and scenic stops.
Our highlights: Lake Louise might just be the most photographed spot in Alberta. The crystal blue water is easily recognizable from postcards and travel websites. To see the beautiful views of the surrounding mountains from up close, the best way is to rent a canoe.
In winter, the lake freezes, and you can skate on the lake. This is known as one of the world's most scenic and therefore most photogenic ice rinks.
Located just north of Banff, Lake Minnewanka offers a trail to walk around, picnic areas, boat tours and canoe and kayak rentals. The deep emerald-green, blue water of this lake is beautiful to see in person. In winter, you can also skate on the lake when it's not yet covered in snow.
The town of Banff has many sites and small walks to do, lots of options to eat, and shopping and larger hikes up Tunnel Mountain. The holidays are especially festive with lights and the Banff Christmas market.
One of the most striking destinations in this area is Bow Falls. Walk along the Bow River near the picturesque castle-like Fairmont Banff Spring hotel and see the picturesque Bow Falls.
Banff National Park is the most famous National Park in all of Canada. While here, make sure to see Lake Louise, Lake Moraine, hike to the teahouse, and drive the scenic 1A and highway 93.
Bonus: When it was built in 1888, the Banff Springs hotel was the largest hotel in the world. There are historical exhibits in the hotel that make a fun place to explore and grab a drink or bite to eat, even if you don't stay here!
Our travel tips: National Parks Pass needed for Banff, but you can drive straight through on Trans Canada 1 without a pass.
READ MORE - Road Trip from Calgary to Banff
2. Head-Smashed-In Buffalo Jump World Heritage Site
1 hour 50 minutes from Calgary (180 km)
Why you should visit: Experience 6,000 years of Plains Buffalo culture and heritage at this interpretive centre. This historical landmark is a UNESCO World Heritage Site and a perfect place to learn about these magnificent animals.
How to get there: Head south from Calgary on AB-2 S and exit west on AB-758 in Willow Creek
Our highlights: See the marked trails and camps of the native Blackfoot peoples where they hunted buffalo here by running them off the cliff to a waiting camp below. There is a tumulus where tons of bison skeletons can be seen from when aboriginal people hunted them.
This World Heritage Site Interpretive Centre offers educational panels, exhibits, events, concessions, and tours. Once you're done with your visit, check out the short hiking trail at the base of the cliff to walk and see the prairie.
Our travel tips: It is best to allow at least 2 hours to visit this site and interpretive center.
3. Smith Dorrien Trail
3 hours from Calgary (200 km)
Why you should visit: Take this scenic high-altitude road trip to view spectacular vistas of the Rocky Mountains and lakes. Take your time enjoying the leisurely drive along this scenic roadway. If you're feeling outdoorsy, take on one of the area's magnificent hiking trails.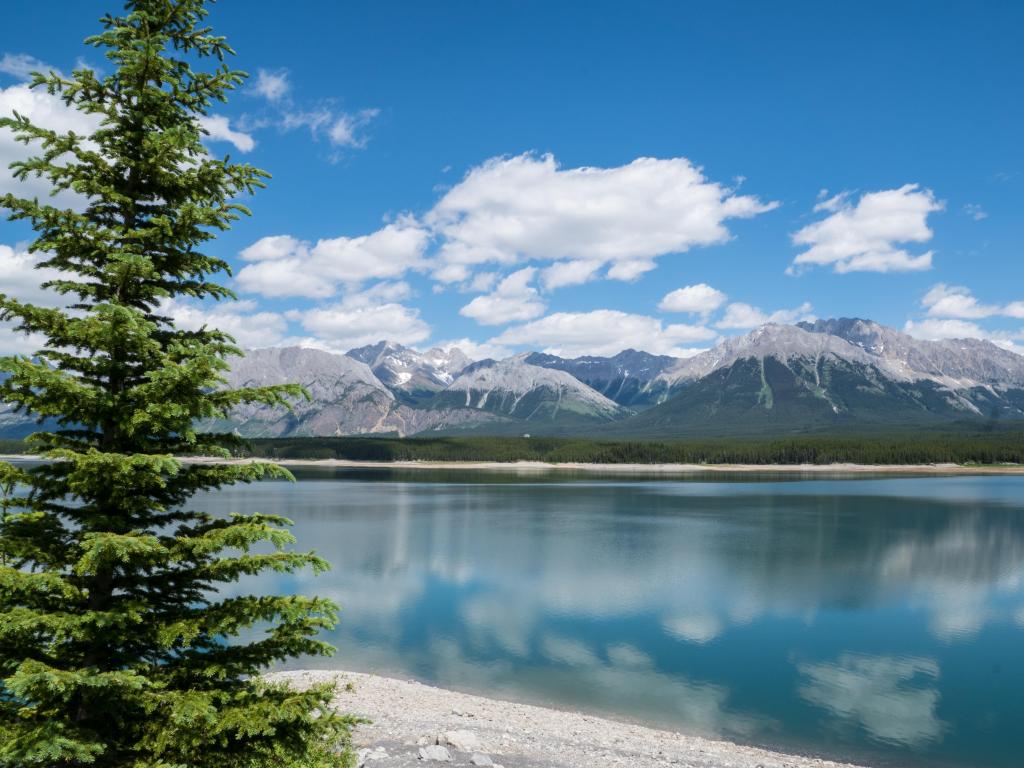 How to get there: Take Trans Canada 1 out of Calgary going west. Turn south on to the Smith Dorrien Spray Trail, also called Highway 742, in Canmore. Drive south until you meet AB-40 (Kananaskis Trail) to loop back north through Kananaskis Village and meet Trans Canada 1 back to Calgary.
Our highlights: Visit the charming town of Canmore. This scenic community is situated at the start (or end) of the Smith Dorrien trail and offers opportunities for a variety of short but scenic day hikes around the Bow River valley, a stroll around the downtown area to get a coffee and breakfast, or lunch after your drive.
In winter, the Canmore Nordic Center boasts kilometers of pristine ski trails, which transform into bike trails in summer. The town was also the site of the 1988 Calgary Olympics.
Come experience nature at its finest in Spray Valley Provincial Park. After driving the trail road for several kilometers, this park offers several mountain peaks to view from the road or hiking trails to break up the drive. We recommend seeing the Old Goat Glacier, Spray Lakes Reservoir, Buller Mountain, Mt Shark and Karst Spring.
Another beautiful must-see park is the Peter Lougheed Provincial Park. This park is on the south end of the trail. Walk across the Blackshale Creek Suspension Bridge, hike Black Prince Cirque, and visit Lower Kananaskis Lake.
Check out the Kananaskis Village on the way back to Calgary (or from). Stop by this quaint village with a view of Kananaskis Peak for dining, shopping, walking trails.
If you are lucky enough to be visiting in winter, you can cross-country ski here or head to the nearby Nakiska Ski Area for downhill skiing. Troll Falls is a nearby hike to waterfalls that is fairly quick and easy to see if you have time.
Bonus: If you drive during the summer, do this loop "backwards" and head north on the Smith Dorrien Trail Road Highway 742 to see the sunset to the west from the scenic vistas.
Our travel tips: Because this is a gravel road, it can end up being dusty. Keep in mind that winter brings high winds, which can make the drive tricky.
4. Yoho National Park
2 hours 20 minutes from Calgary (210 km)
Why you should visit: The star of the show here is the stunning Emerald Lakes of this beautiful national park. Many people say that it is equally scenic as Banff but much less travelled and crowded.
Located at a high elevation, this park is known for its scenic beauty, with majestic peaks, rugged ice walls, glaciers, wildlife, and lots of opportunities for hikes. In addition, this park is a great place to come up close and personal to stunning wildlife.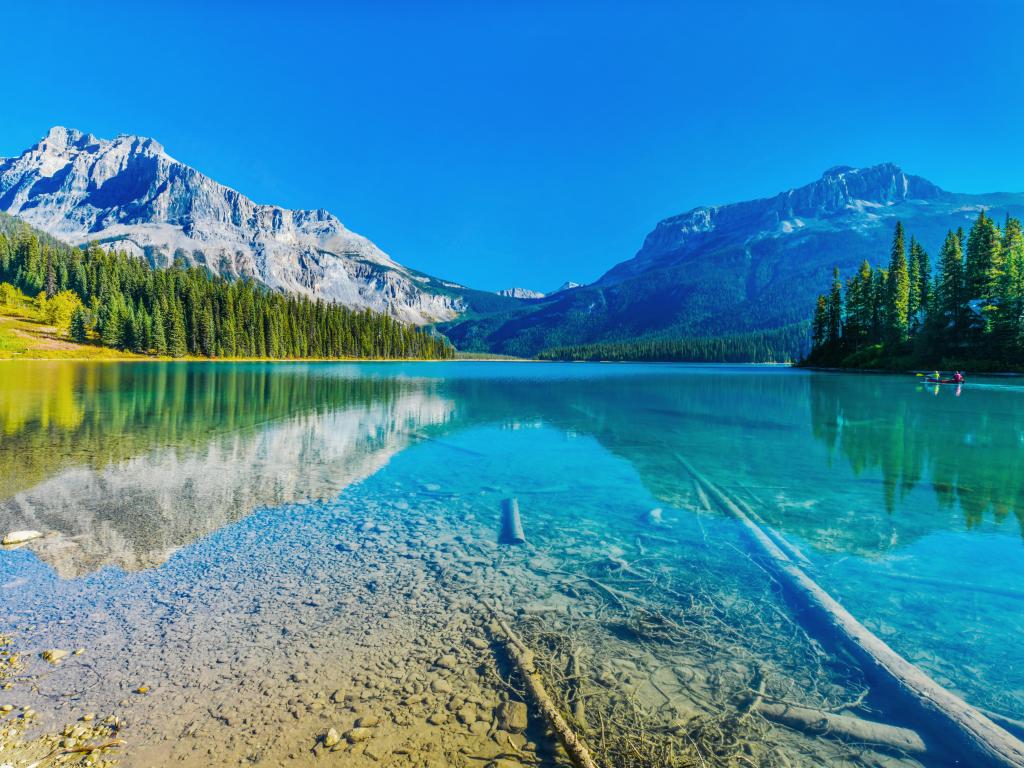 How to get there: Take Trans-Canada Highway 1 through Banff and Lake Louise. As the highway turns west, you can stop at the visitor centre in Field or access Yoho Valley Rd or Emerald Lake Rd for your visit.
Our highlights: The shining star of the park is the deep Emerald Lake. Here, experience the crystal emerald colour that rivals Lake Louise or Moraine Lake in neighbouring Banff.
You will find a café, perfect place to take a break, canoe and kayak rentals, hiking trails and even a lodge to stay at in the Emerald Lakes area. You can drive right up to the lake, so it is very easy to access.
Check out the Spiral Tunnels Lookout. This viewpoint is just off the highway. You can also view the Kicking Horse Pass National Historic Site from here. Watch for trains emerging from the tunnel.
Another stunning sight is Takakkaw Falls, which is one of the highest waterfalls in all of Canada. You can hike here via the convenient parking lot off of Yoho Valley Road. This is a very high waterfall with lots of intense water at the bottom.
Visit the Burgess Shale fossil site. It's a UNESCO World Heritage Site and world famous for its collections of fossils. Take a guided tour with the Burgess Shale Geoscience Foundation if palaeontology and natural history are your thing!
Bonus: "Yoho" means wonder and awe in the native Cree language, which you will see is a perfect way to describe the scenery in the park.
Our travel tips: This area (like most in the region) gets heavy snowfall, so make sure that your vehicle is equipped with winter tires and chains if you are travelling in winter.
5. Dinosaur Provincial Park
2 hours 30 minutes from Calgary (220 km)
Why you should visit: See palaeontological and geological history in this unique area of the country where you can hike in the Badlands valley and hoodoos and through the riverside grasslands.
This park is a must to learn about the rare, preserved dinosaur bone fossils and active palaeontological dig sites. The park is also a UNESCO World Heritage Site.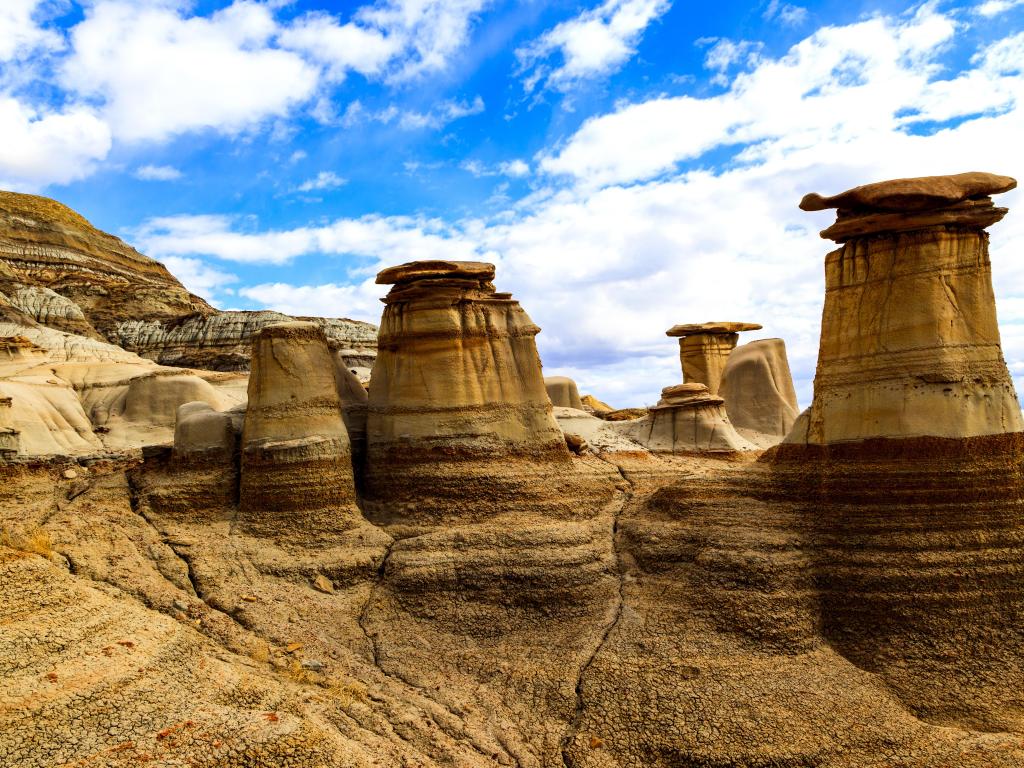 How to get there: Head east on Trans-Canada Hwy/AB-1 E. Turn left onto AB-36 N, turn right on AB-544 E in Newell County. Follow AB-544 E to PR 130 in Iddesleigh (turn at the large dinosaur statue).
Our highlights: Take a guided bus tour from the Royal Tyrell Museum Field Station. If you'd prefer to do it on your own, drive the scenic trail (or walk or bike) and see fossil display houses.
Trails to hike include the trail of the fossil hunters, the Badlands Trail where you can free hike and climb hoodoos.
There's also a fun visitor centre and café. There are also campgrounds if you want to stay overnight.
Our travel tips: Book guided tours in advance.
Click here to skip back to the top.
Weekend trips (3-5 hours each way)
Calgary is a perfect getaway for an entire weekend. If you want to get out of the city, there are plenty of amazing destinations within three to five hours away.
6. Edmonton, Alberta
Via the Boomtown Trail
4 hours 50 minutes from Calgary (420 km)
Why you should visit: Traveling along the Boomtown Trial to Edmonton follows the path early pioneers took and settled along their journeys. The Boomtown Trail follows in the footsteps of the area's early settlers and features valuable information on First Nations and 19th and 20th-century pioneer history.
Quite a few of the Boomtown Trail's beloved towns are preserved in their historical archetypes from the early 20th century and taking this leisurely way is a fun addition to an already enticing weekend trip to the city of Edmonton.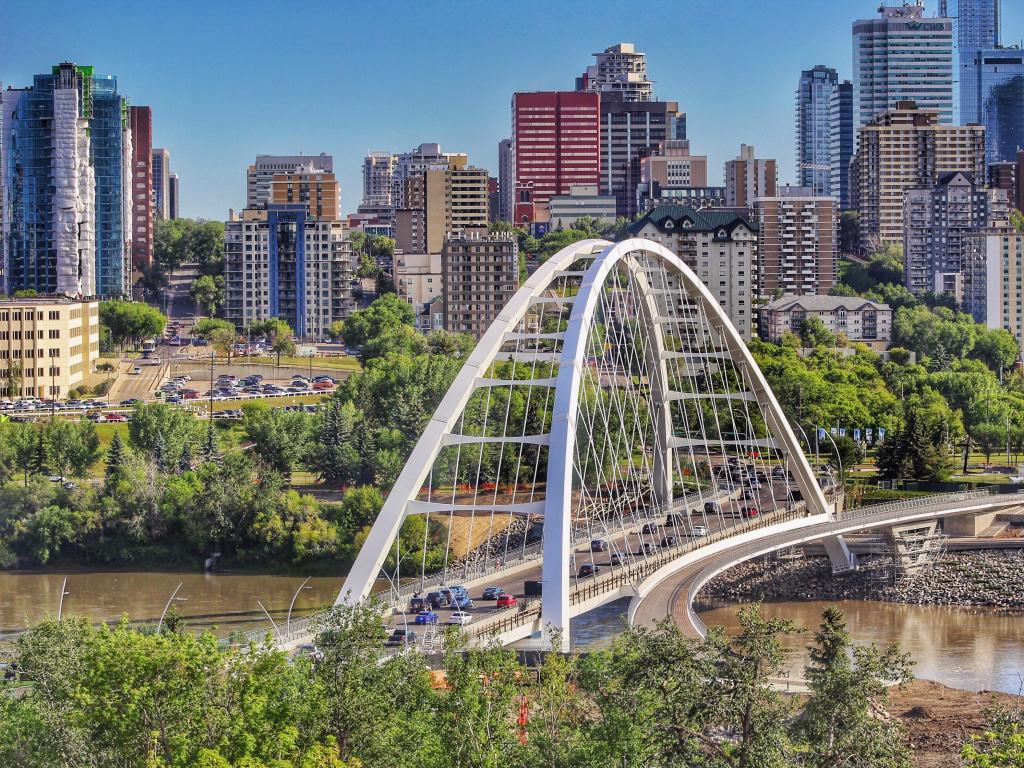 How to get there: Travel north from Calgary on AB-21 N and drive through the towns of Trochu, Delburne, Erskine, Stettler, and Camrose.
Our highlights: Visit the amazing Boomtowns. Every settlement on the trail will offer something a little different, and the offerings vary from quirky landmarks like Trochu's "world's largest golf tee", or Donalda's "world's largest lamp".
There are also historic buildings and sites (make sure to visit the Bailey Theater in Camrose), history museums, and natural sites such as Dry Island Buffalo Jump Provincial Park in Trochu and Buffalo Lake
Visit the Edmonton High Level Bridge. Take a historic vintage streetcar through the city and over the Saskatchewan River on this really high water crossing.
There are tons of amazing tours to keep you busy. Take a food tour, pedal car tour to breweries, a riverboat tour or a canoe tour.
The best destination for history buffs and railroad enthusiasts is the Alberta Railway Museum. Edmonton was founded on the railroad industry. This museum is the perfect addition to this trip after travelling through the Boomtowns on your way from Calgary.
Our travel tips: Avoid driving to Edmonton during rush hour as this city gets notoriously busy during these hours.
7. Golden and Kicking Horse, British Columbia
3 hours from Calgary (270 km)
Why you should visit: On the western side of the Rocky Mountains, you will find the town of Golden, a nature lovers' paradise with access to the Kicking Horse River, Yoho National Park and Kicking Horse Mountain Resort
This is a beautiful area to explore in any season. It offers different mountain views than the east side of the Rockies, closer to Calgary.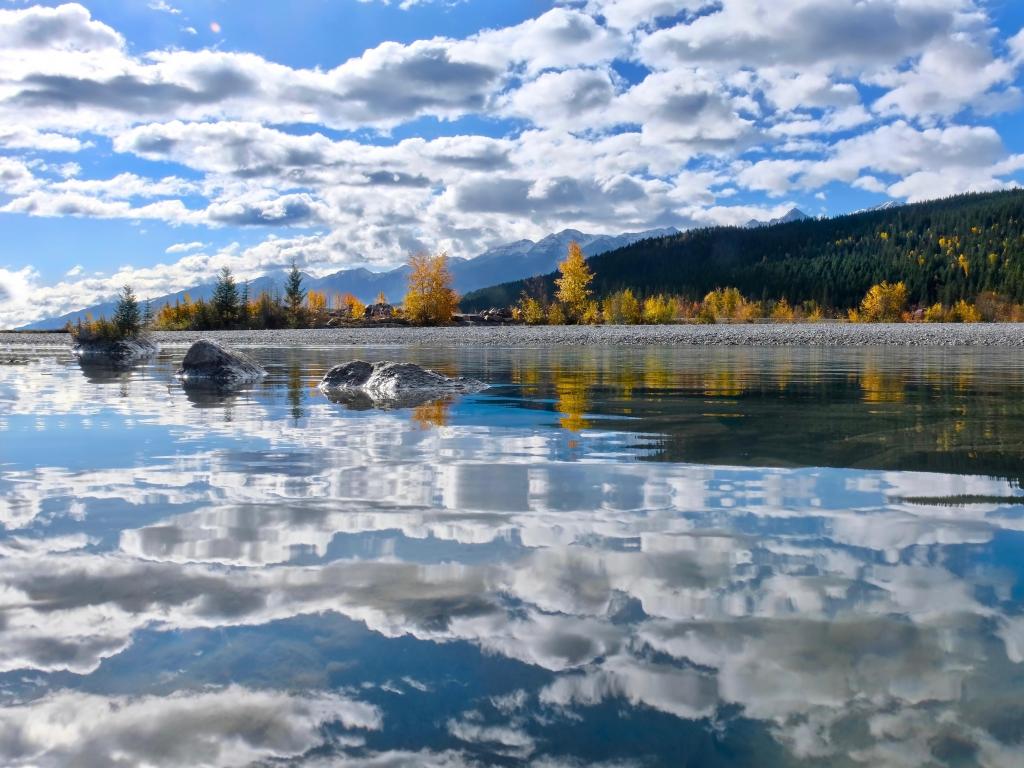 How to get there: Head west across the Rockies on Trans Canada Hwy 1 all the way to Golden
Our highlights: Visit the incredible Kicking Horse Mountain Resort. This beautiful ski and snowboard destination has several lifts, lessons, rentals, and Canada's highest elevation restaurant at the peak accessible by gondola.
In the other seasons, you can also enjoy this resort with biking trails, hiking, and the Whitetooth Mountain Peak.
Check out the Golden Sky Bridge. Walk across this scenic bridge over the deep canyon and see vistas of the surrounding mountains and river valley.
If you're feeling adventurous and love water sports, make your way to the Kicking Horse River. This is a popular site to go whitewater rafting. You can find many outfitters that offer many skill levels of rafting in the Golden area.
Golden is a beautiful town to visit and has many adventure outfitters for your recreation adventures. It also has dining and shopping with scenic views all around.
Our travel tips: There may be multi-day road closures between September and December. Be prepared for delays as you might need to make detours. There may be overnight closures on the roads as well.
8. Glacier National Park, Montana
3 hours 20 minutes from Calgary (350 km)
Why you should visit: Glacier National Park is renowned for its scenic mountains and is often difficult to get to for most Americans. However, coming from Calgary is pretty straightforward and easy to access this famous US National Park.
See towering peaks, glaciers, lakes, waterfalls, wildlife such as elk, grizzly bears and mountain goats, fish in the lakes for trout, and drive through this outstanding park.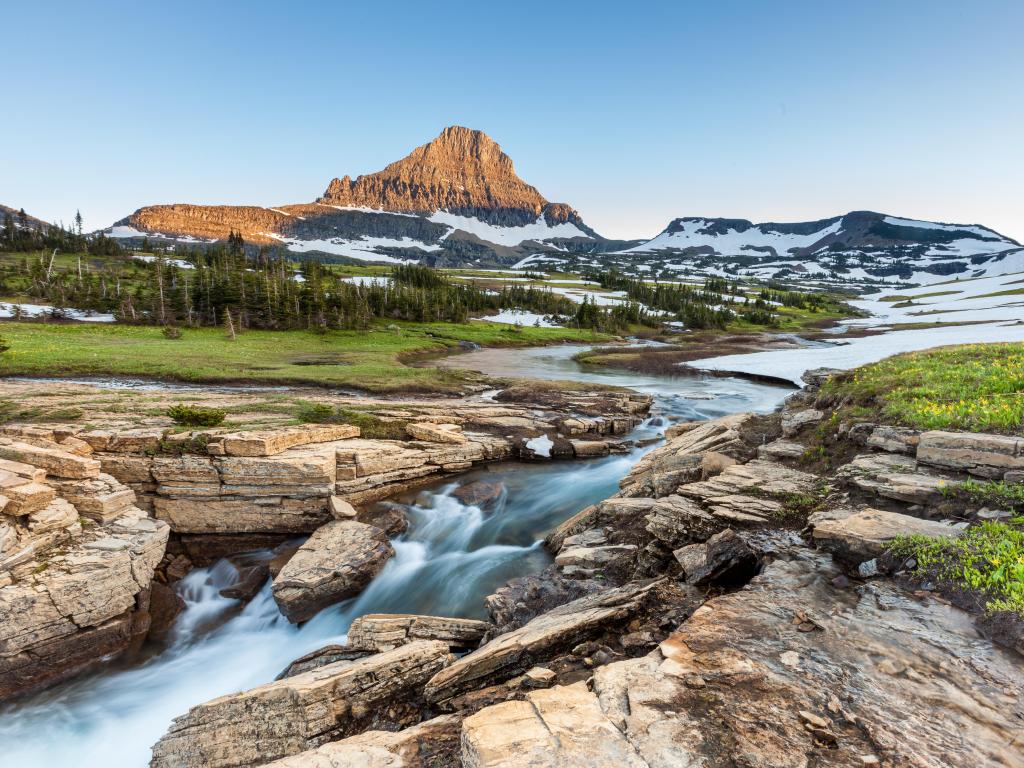 How to get there: Drive south on AB-2 through the international border crossing at Carway. Head south on Highway 89 and Turn right onto Glacier Route 1 Road/Going-to-the-Sun Road.
Our highlights: The highlight here is Glacier National Park. Drive through for scenic views off the Going to the Sun Road and enjoy the solitude and scenic beauty in these high-elevation mountains.
Lake McDonald is a popular spot in the park with the famously photographed colourful lake rocks below the cold water.
Check out the beautiful hiking paradise of Iceberg Lake. This is one of the best hiking trails in the park to a high elevation glacial lake (difficult hike).
Make your way to the Whitefish Mountain Resort. In the winter, this resort offers some of the best skiing in the area, with a full alpine village to stay in, have delicious meals, après-ski, and shop.
Bonus: Drive through the park in a vintage red bus called a Jammer, originally used by park staff in the 1930s.
Our travel tips: This stunning national park is also accessible in the winter but in a limited capacity. Check their website before visiting to see what parts are open.Also keep in mind that Glacier National Park implements a vehicle reservation system from May 26th to September 10th, from 6am to 3pm (at the time of writing). Before visiting, please check online to see whether you might need a reservation.
9. Jasper National Park
Via Athabasca Glacier
4 hours 40 minutes from Calgary (420 km)
Why you should visit: Jasper National Park is stunning - think a slightly more remote but less crowded Banff National Park! This amazing road trip will take you through the awe-inspiring Athabasca Glacier-one stone, two birds!
Drive the Icefields Parkway to the Athabasca Glacier and then onto Jasper National Park for spectacular views and experiences of the glacier first-hand.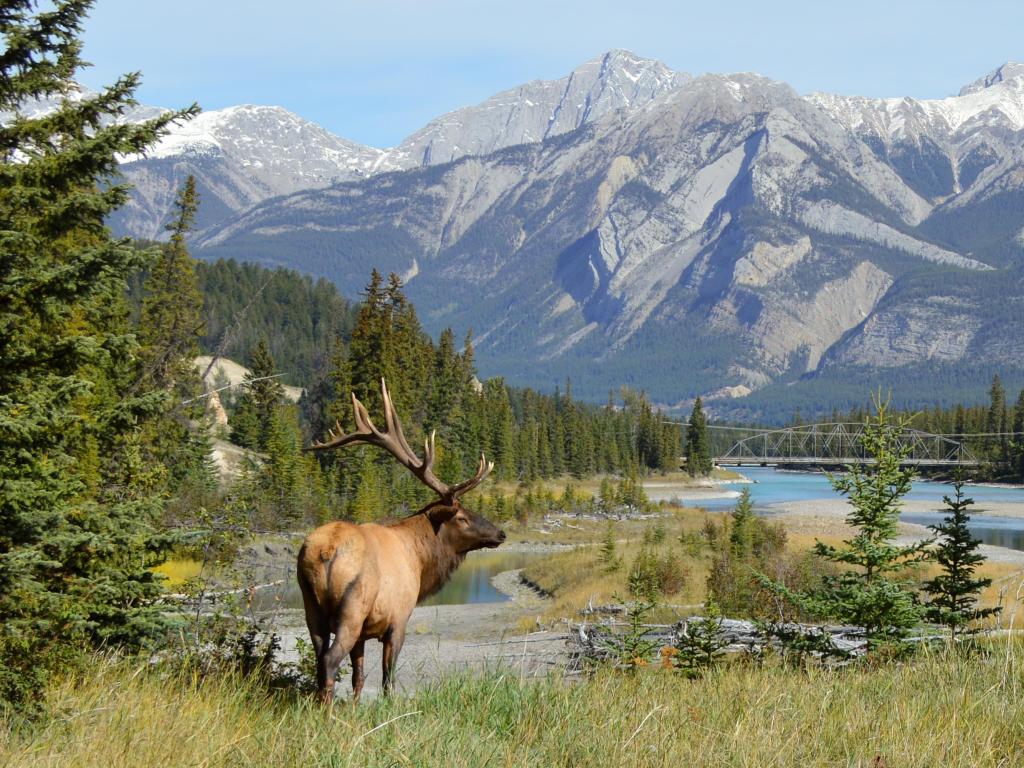 How to get there: Drive west on Trans-Canada Highway 1 to Lake Louise, then continue north on AB-93 (the Columbia Icefields Parkway) to Jasper.
Our highlights: Drive along the famous Columbia Icefields Parkway. This scenic road connects Banff to Jasper and has many vistas and mountain views along the way.
Stop for hikes to different lakes (Peto Lake is a favourite!) or stop and view the glaciers via the Columbia Icefield Skywalk suspended over a glass bridge high in the air! Also, take time to visit the Tangle Creek Falls and Athabasca Pass.
You can also drive through Sunwapta Pass on your way. This slight detour is a beautiful addition to your drive.
Another excellent place to see is the Athabasca Glacier. You can stop at this glacier and take a walking or driving tour on the ice.
Jasper National Park's top sights include hiking and viewing of Athabasca Falls, Maligne Canyon and Lake, Sunwapta Falls and canyon pass, Spirit Island boat ride and Mt Edith Cavell trail.
While in Jasper, make sure to visit the Jasper Sky Tram. Take the aerial tram above the Whistler Peak trail and get scenic views of Jasper and the beautiful landscape that surrounds it.
If visiting in winter, you can ski at Marmot Basin, ice hike and climb in Maligne Canyon and see frozen waterfalls.
Bonus: The glacier shrinks 16 feet every year due to global warming. See it before it's too late!
Our travel tips: This trip can easily be added to a few days in Banff for a longer trip. The Icefields Parkway connects them. Tours of the glacier run only from May to October.
READ MORE - Road Trip from Calgary to Jasper
Click here to skip back to the top.
Long weekend trips (5-8 hours each way)
Calgary has several world-class road trip destinations within five to eight hours away. From massive national parks and stunning glaciers to wilderness areas, there are plenty of adventures waiting for you.
10. Kootenay National Park
Via Crowsnest Pass, British Columbia
6 hours 50 minutes from Calgary (580 km)
Why you should visit: Kootenay is a beautiful national park and the route to get here from the south offers unique hot springs experiences. Here, you can see a different side of the Rocky Mountains with vast canyons, waterfalls, and hot springs.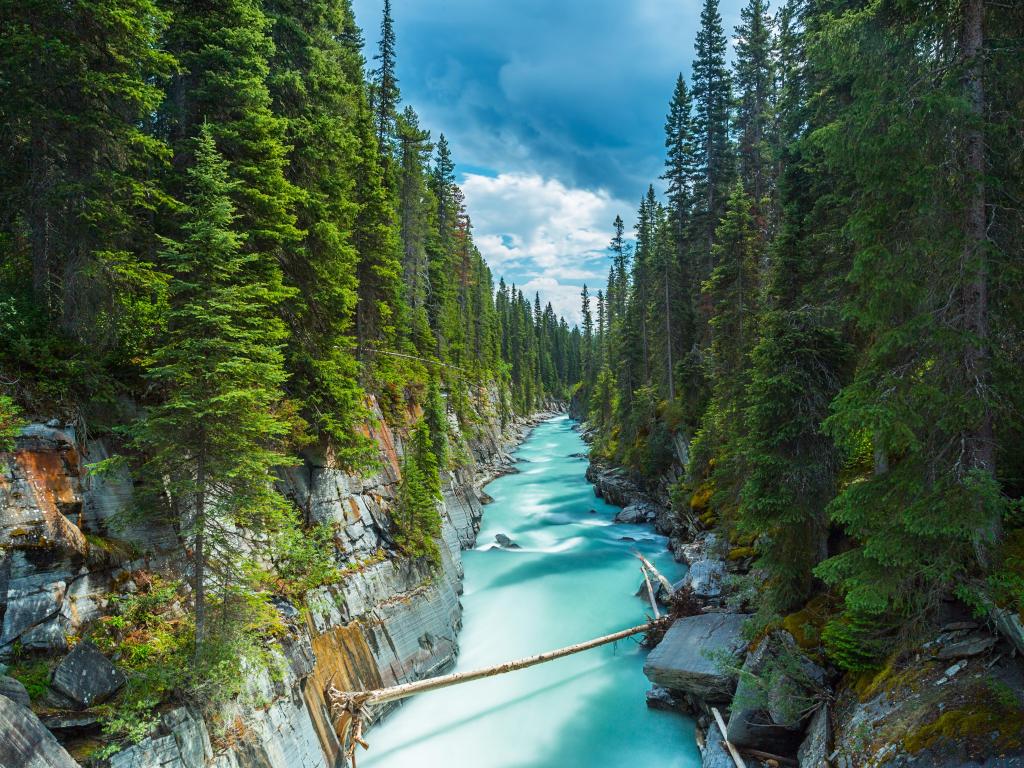 How to get there: You can get to Kootenay via Highway 1. However, we suggest taking the long way around south to loop in many more sites.
Head south out of Calgary on AB- 22 and turn west on AB-3 in Lundbreck towards Crowsnest Pass. Follow BC-3 W and BC-93 N/BC-95 N (Kootenay Highway) to your destination in East Kootenay.
Our highlights: Visit the gorgeous Crowsnest Pass. This area offers skiing in winter months and during other seasons you can see the Crowsnest mountain range on the Continental divide. Follow the Kootenay River back north on the west side of the mountains.
Fairmont Hot Springs, Invermere, and Radium Hot Springs are well worth a visit. On your drive north, you will pass through these resort towns that offer pools of mineral water for soaking and natural spa experiences to enjoy after your long drive.
Other Kootenay National Park highlights include Stanley Glacier Trail, Marble Canyon, mineral paint pots, Floe Lake Trail, viewpoints, and Cobb Lake. Mount Assiniboine Provincial Park is also nearby on this road trip route and is worth a stopover to see.
Bonus: This national park borders Banff and is pretty remote. This trip can be added to other National Parks as well.
Our travel tips: You can see Kootenay National Park by driving on the incredibly scenic 94 km Banff-Windermere Highway, but this would add an extra day to the road trip.
Click here to skip back to the top.
Longer trips (Over 8 hours each way)
If visiting some of North America's top cities and beautiful natural areas are on your list, then a road trip over eight hours from Calgary will be perfect. North America is famous for long drives because of its unbeatable scenery, expansive wilderness, and great amenities along the way.
11. Kelowna and Kamloops, British Columbia
10 hours 20 minutes from Calgary (880 km)
Why you should visit: This is a fantastic road trip to the Canadian wine region. These towns offer quaint solitude and vineyards to visit. Here, you can get away from the typical mountain setting and explore the picturesque wine valley of British Columbia.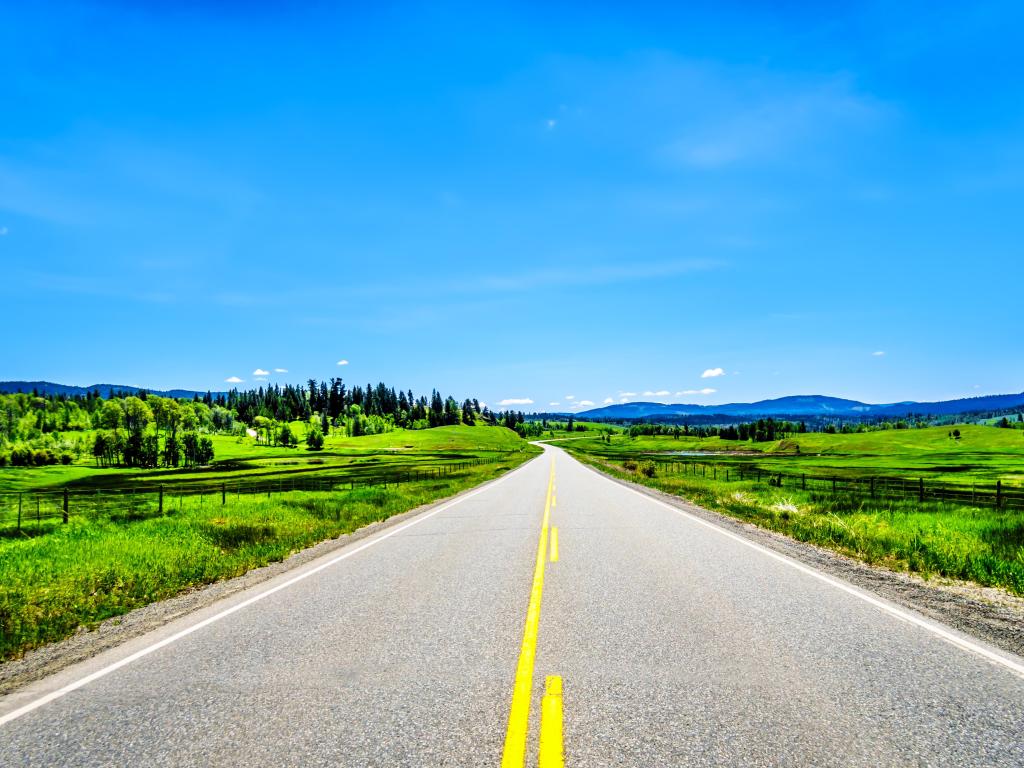 How to get there: Trans-Canada 1 will take you all the way west to Kamloops. To get to Kelowna after your visit, drive south from Kamloops on BC-97.
Our highlights: Highly recommended is the Kamloops Wine Trail. We especially recommend Privato Vineyard and Winery and Harper's Trail Estate Winery. You can also drop by multiple wineries and taste their offerings as you admire the stunning surrounding scenery of the mountains and South Thompson River.
Make sure to visit the Kelowna Wine Country. Enjoy a guided tour to multiple wineries in the region. There are several wine trails to choose from. Take your time and enjoy the scenery at a slower pace.
If you love Winter activities, then this area is for you. Visit the Sun Peak Resort (or other ski resorts) in Kamloops. You can ski, snowboard, tube, or other snow sports at one of several mountain resorts.
There are also over 100 lakes in the Kamloops area to ice fish on, go with an outfitter to set you up in an ice bungalow and try your hand at catching some big ones at Tunkwa or Edith Lakes.
Another great sight is Lake Kamloops hoodoos. See the North and South Thompson Rivers meet and Lake Kamloops clay hoodoos. You will find the remains of a 2,000-year-old village in the riverside Secwepemc Museum & Heritage Park.
Bonus: The Okanagan Valley spans this area and is known for its wine and fruit production, and has over 300 wineries
Our travel tips: Highway 5 that leads to Kamloops is a high mountain road that can be affected by adverse weather, so check ahead of time. The section between Hope and Merritt undergoes maintenance on occasion, which can mean delays in your trip.
READ MORE - Road Trip from Calgary to Kelowna
12. Vancouver, British Columbia
10 hours 30 minutes from Calgary (980 km)
Why you should visit: Vancouver has a spectacular mix of coastlines and bays with towering mountains surrounding it. This is a great city to visit from Calgary to explore multicultural dining, breweries and wineries, go whale watching, and see the ocean.
The city is quieter in the winter compared to the busy summer season. Vancouver offers a mild climate at sea level that is very enjoyable in the winter too.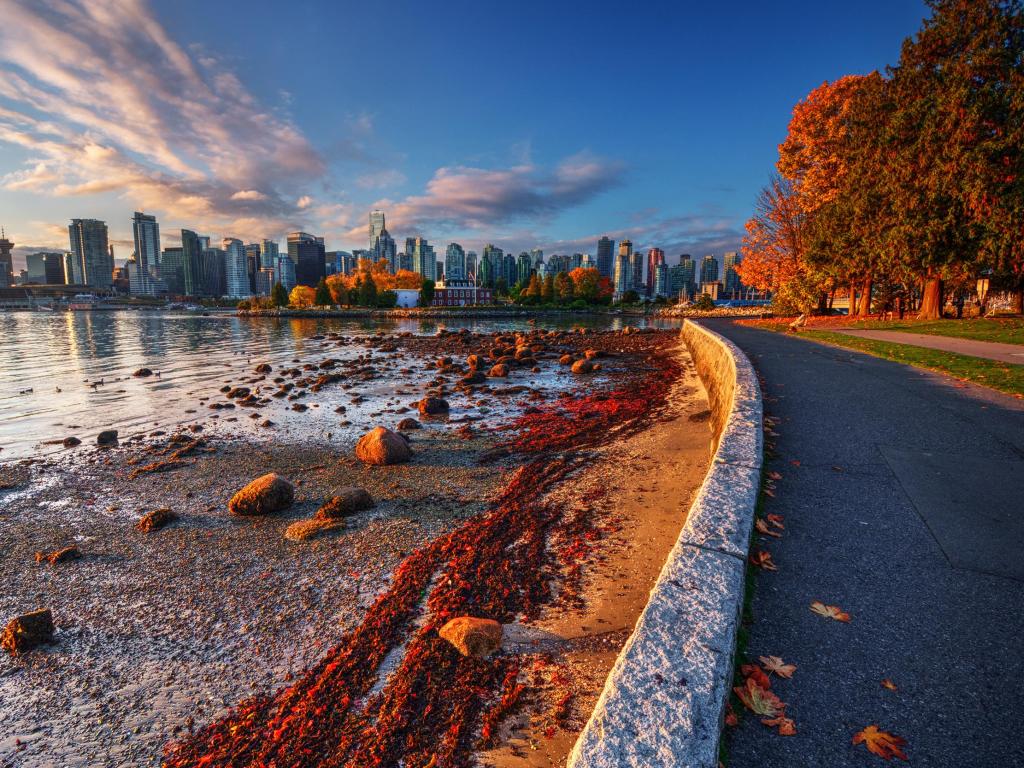 How to get there: Take the Trans-Canada Highway 1 from Calgary to Vancouver the entire way west, or you can turn south on BC-5 in Kamloops.
You can also take a northern route up through Jasper on AB-93 Columbia Icefields parkway and BC-5 S(see above). Or, you can drive south via Crowsnest on BC-3 W (see above).
Our highlights: Vancouver is famous for world-class science museums and art galleries. Some specific ones include Van Dusen Botanical Gardens, the Museum of Anthropology, Christ Church Cathedral, Vancouver Art Gallery and Science World to name a few.
Drive the Ski to Sky Highway to Whistler (Skiing in the winter!) for views of the coastline, waterfalls, and the Capilano Suspension Bridge among the evergreen treetops. Also take a ride on the Sea to Sky Gondola. Whistler also offers summer season activities including gondolas and hiking and spas with thermal spring waters.
Visit Grouse Mountain. Here, you can hike to the top up a steep staircase like trail or take the gondola to see panoramic vistas of the city and coastline at the café on the top.
Explore culturally rich areas of the city such as Gastown, Chinatown, or Granville Island (via aquabus), Richmond Night Market, and West End to feel like a local and find unique eats, drinks, and shopping experiences.
Take a boat or kayak tour in the bay, take a ferry to the Sunshine coast, or take a whale watching tour to spot the giants of the ocean in the water surrounding the city.
Bonus: You might be surprised that Vancouver is nicknamed the "Hollywood of Canada" so it's likely that you'll see the filming of a big-name movie or tv show while you're here. Tour the Hollywood North to see celebrities and movie stars or live movie sets.
READ MORE - Road Trip from Calgary to Vancouver
13. Seattle, Washington
12 hours from Calgary (1,130 km)
Why you should visit: The city is an urban Pacific Northwest city known for its recognizable skyline and Space Needle, being a tech industry center, home of excellent coffee (Starbucks), the origin of grunge music and culture, and its surrounding natural beauty.
How to get there: Take AB-22 south out of Calgary and turn west through Crowsnest Pass on BC-3W, cross the border at Kingsgate on US-95S through Idaho. Merge onto I-90W to take you through Washington to Seattle.
Our highlights: Make sure to visit the iconic Pike Place Market on this road trip from Calgary to Seattle. Inside, you can visit the original Starbucks and eat at over 200 vendors, catch a fish at the fish market, and see street performers.
See the famous Space Needle. Go to the observation level and take in the panoramic views of the city as well as Elliot Bay and the surrounding Cascade mountains.
No visit to Seattle is complete without seeing Olympic National Park. This National Park towards the coast is the only national park with rainforests, beaches, and mountains in one park.
See First Second Third Beaches near Forks and LaPush, and hike through the Hoh Rainforest. Also, see Marymere and Madison Falls and Sol Duc Fall canyon.
Stops along this route and road trip could also include Whitefish/Glacier National Park Montana, Spokane Washington, Manson and Lake Chelan, Leavenworth and Cashmere WA, Mt. Rainier National Park.
Leavenworth is an entirely Bavarian-style town in the Cascade Mountains, truly feels like you've stepped in the Alps!
Bonus: The Museum of Pop Culture is designed to look like a smashed guitar and has vibrant exhibits that cover the history of movies, music, sports, games, and many others.
READ MORE - Road Trip from Calgary to Seattle
14. Las Vegas, NV
19 hours from Calgary (2,000 km)
Why you should visit: Las Vegas is the entertainment capital where you will have hot desert weather, unique landscape views, and countless shows and entertainment options within the city.
The road trip to Las Vegas has many amazing stops along the way, including major US National Parks and unique cities. The journey there is worth the trip alone!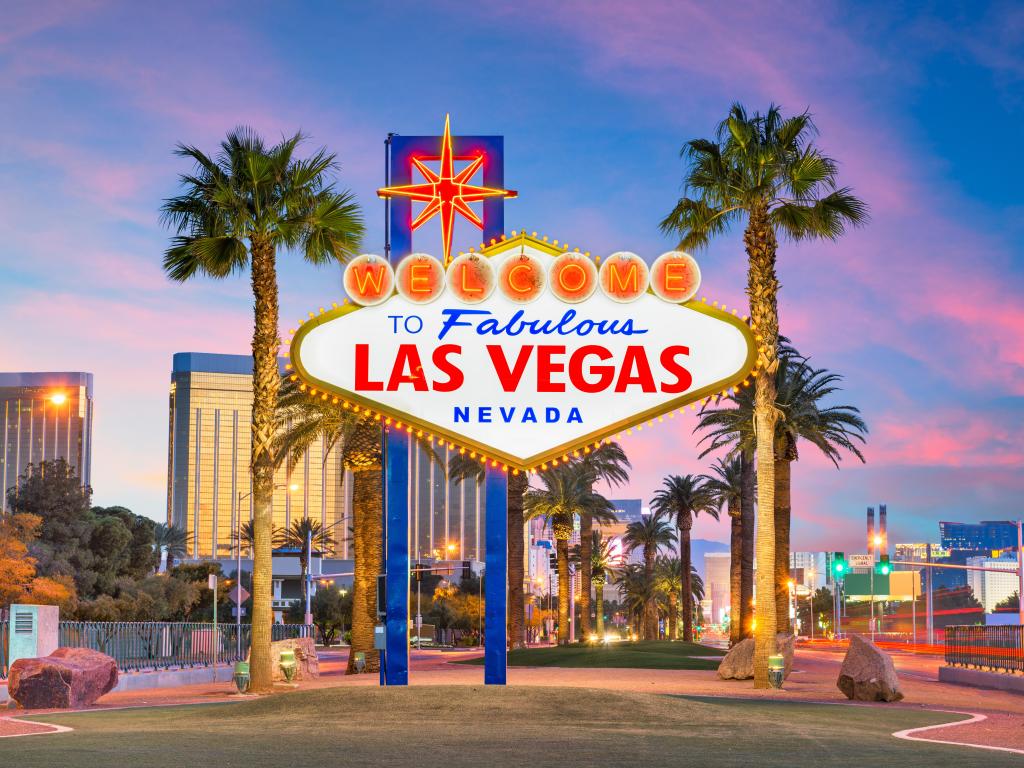 How to get there: The most direct way from Calgary is to head south on AB-2, to AB-4 and cross in Coutts. Take I-15 S through Montana, Idaho, and Utah, and then arrive in Las Vegas.
It is recommended to drive the eastern route starting in Montana, take I-90 east to Bozeman, then turn south on Highway 191 through Big Sky and Yellowstone National Park, continue south through Grand Teton National Park and Jackson Wyoming.
Link back to I-15 South near Salt Lake City, Utah and continue south. To Visit Bryce Canyon and Zion National Parks, take Highway 89 South via I-70 east out of Sulphurdale, Utah.
Our highlights:Visit the famous Las Vegas Strip. Within the city of Las Vegas, walk the strip to see all the famous hotels and casinos, eat at award-winning restaurants and play at the casinos. See numerous shows and concerts at the resident artist's theatres.
For an incredible historical visit, check out the Hoover Dam. This man-made wonder is not far from Las Vegas. You can drive here and see this amazing engineering marvel.
Nearby experiences in Las Vegas include Valley of Fire State Park, Red Rock Canyon, Lake Mead, and even the Grand Canyon!
As mentioned in the directions, the road trip down from Calgary can afford you the opportunity to stop at Yellowstone, Grand Tetons, Bryce Canyon, and Zion National Parks and many other natural scenic stops. You can experience the changing landscape as you drive south along the Rocky Mountains and cross into the desert.
Bonus: Elvis is probably the most well-known musician that represents Las Vegas. See the Elvis Presley Museum or catch many shows by impressionists.
Our travel tips: Sin City never sleeps, and as you can expect, Las Vegas is busy all around the clock. You will see crowds driving in and out all year. Consider not arriving and leaving during rush hour-traffic congestion after such a long drive might be the last thing you want!
You can also consider parking your car once you arrive and explore the city on foot or via public transport.
READ MORE - Road Trip from Calgary to Las Vegas
15. Toronto, Canada
35 hours from Calgary (3,400 km)
Why you should visit: This trip travels through four provinces to see the changing landscape of Canada through the prairies and the Great Lake region to the lakeside city of Toronto.
Toronto is known for being a vibrant and multicultural city. Toronto is the most economically advanced and influential Canadian city and hosts many large IT companies, financial centres, and industrial business centres. On par with other major North American cities, Toronto also offers endless options for delicious and diverse cuisines, sports events of every type, and a vibrant art and entertainment scene.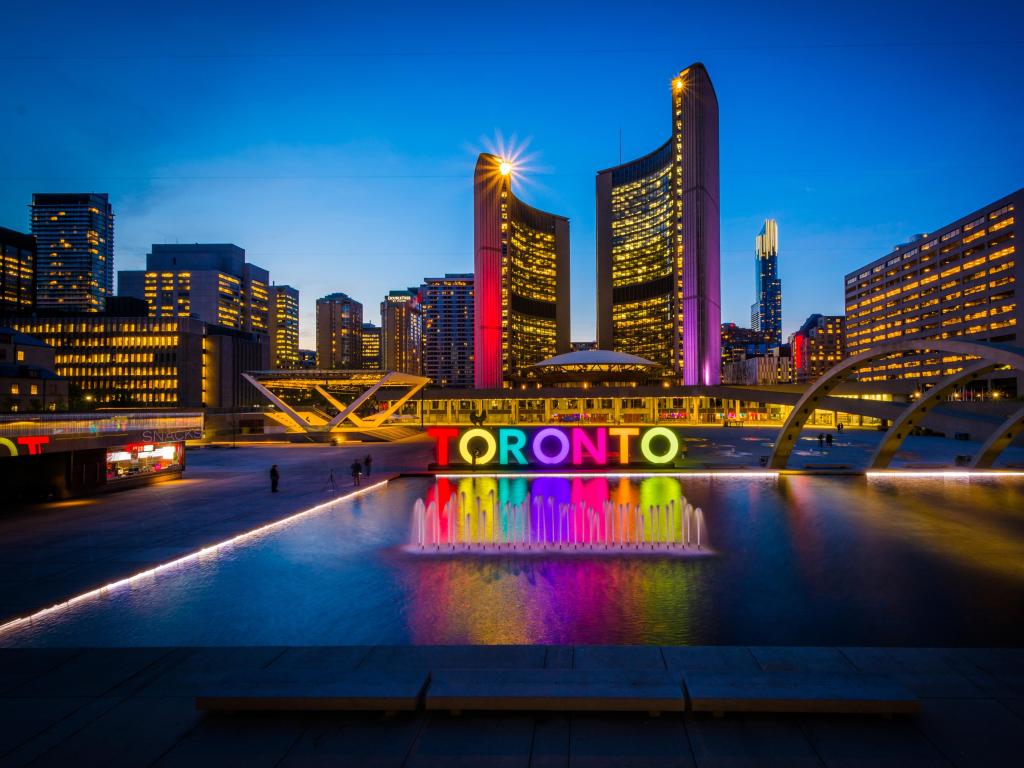 How to get there: Via Winnipeg, stay on the Canadian side for the route, head east from Calgary on Trans-Canada Highway 1 and continue through Winnipeg, Head into Ontario on ON-17 East (still Trans-Canada Highway) and finally ON-400 into Toronto.
Our highlights: Along the route, stop in Winnipeg to experience the history of Manitoba and walk around The Forks district for a bite to eat and shopping along the river.
Continue through the many lakes of the region of Kenora to Thunder Bay on the shore of Lake Superior. Follow the shorelines of the great lakes to see dramatic views of the lakes and experience a slower pace of driving and leisure.
Toronto offers countless entertainment and food and beverage experiences to choose from. Take a food tour, a brewery tour, catch a sports game, or see a concert on King Street in the Entertainment District.
Visit the world-renowned CN Tower. The iconic tower stands out in the Toronto skyline. You can view the city from the observation deck and take in the sights. Brave the glass floor observation deck to look down over the city.
Niagara Falls and Niagara wine region are close by and well worth a visit. This is an easy day trip to take from Toronto and is worth the drive to see this spectacular gushing waterfall. In the summer, take the Lady of the Mist boat ride to feel the mist up close!
Bonus: St Lawrence Hall was built in 1850 as a historic public meeting house and now you can walk through this indoor market to shop and eat from independent vendors and artisans.
Our travel tips: This is not the fastest route, but it stays on the Canadian side throughout the whole trip. If you want to cross into the US, take SK-39 S out of Moose Jaw, US-2 E through Grand Forks and Duluth, and down I-75 S in Michigan to meet I-69 E outside of Detroit.
You will then drive into Canada and Toronto via ON-403 East.
READ MORE - Road Trip from Calgary to Toronto