Road Trip from Winnipeg to Vancouver
A road trip in Canada is sure to be incredibly scenic and the journey between Winnipeg and Vancouver is a truly spectacular drive through the Canadian Rocky Mountains and countless options to visit glaciers, lakes, forests, mountains and canyons along the way.
The 2,530 km road trip from Winnipeg to Vancouver takes 27 hours to drive via Jasper, Banff, Kootenay, Glacier National Parks, Edmonton, Calgary and Whistler. Or swing south through Montana, Washington, Seattle and North Cascades National Park.
If you're looking for a really epic road trip where the drive is as rewarding as the destination, head out through the national parks and mountain passes that you'll find between Winnipeg and Vancouver - you won't be disappointed!
How far is Vancouver from Winnipeg, and how long will the road trip take?
Comparison of road trip routes between Winnipeg and Vancouver
Route
Distance
Driving Time
Northern Route


via Edmonton

2,530 km
27 hours
Central Route


via Calgary

2,460 km
26 hours
Southern Route


via United States

2,700 km
28 hours
Whichever way you travel, the road trip from Winnipeg to Vancouver is a long one. With long stretches of each route winding between mountains and around lakes, it's also relatively slow for the distance you'll cover.
The three routes we'd recommend taking between 26 and 28 hours to drive. The shortest, the Central Route, comes in at around 2,460 km and travels via Calgary.
Just a little longer by distance is the Northern Route, which covers 2,530 km and takes you through Edmonton and Jasper National Park of Canada.
The longest route of all, both by time and distance, is the Southern Route, which dips across the border into the United States and takes around 28 hours to drive 2,700 km.
Whichever route you choose, you're going to need to make at least 3 overnight stops. However, with so much to explore along the way, it would be easy to take at least twice as long and still find things to do.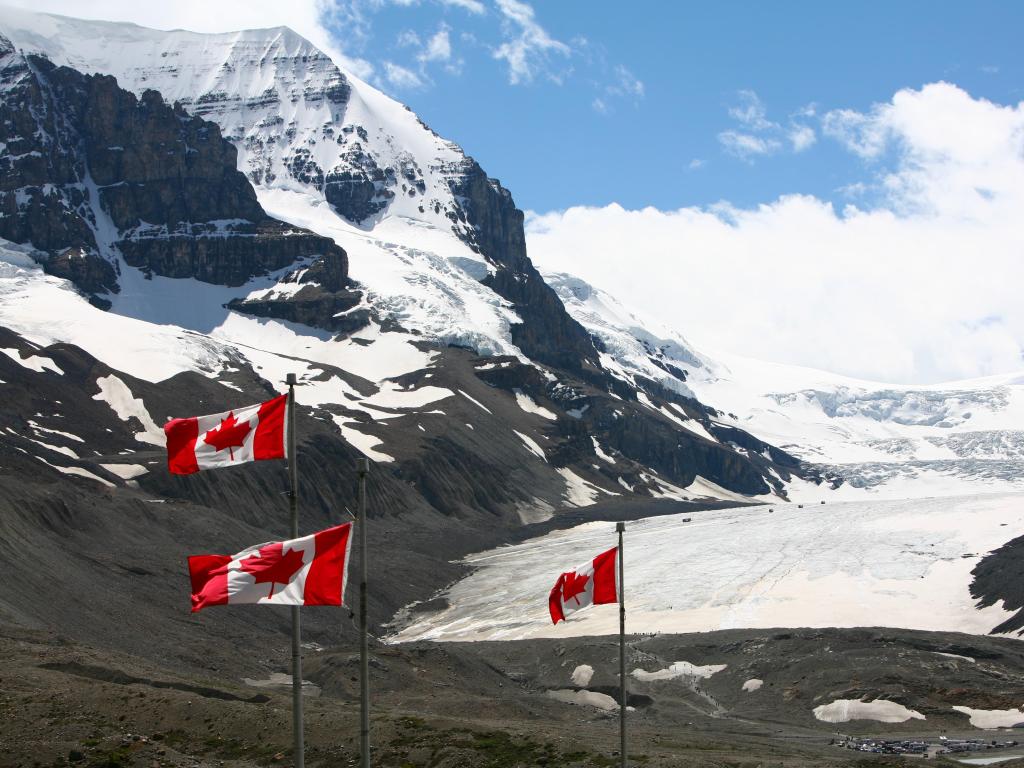 Best road trip route from Winnipeg to Vancouver
You're in for a treat whichever route you choose for your road trip between Winnipeg and Vancouver. They all include stunning mountain views, plenty of chances to stop and enjoy the slopes, and some vibrant cities.
The Northern Route crosses the Rocky Mountains and travels through beautiful mountain scenery and national parks. There are plenty of side trips on this route if time allows, but even if you're traveling directly, you'll still see some of the most beautiful parts of the Canadian Rockies.
Since this route takes you off the main highway, you might experience traffic delays when you're following smaller roads and making your way through all the towns you'll pass along the way.
The Central Route follows Trans-Canada Highway 1 for much of the way, so it's pretty easy to navigate. It takes you through part of Banff National Park then continues through the mountains towards Kootenay, Glacier and Mt Revelstoke National Parks.
The Southern Route will take you into the northern US, where you can see several major US National Parks including Glacier, and North Cascades. Scenic drives abound through the mountains and forests of the northern US states of Montana, Idaho, and Washington.
Since the Southern Route crosses the international border, you should be sure that you have any necessary travel documentation well ahead of time and allow extra time in case of delays at the border crossings.
The Northern Route (via Edmonton)
Leave Winnipeg via Trans-Canada Highway 1, then just after Portage La Prairie, turn right onto Trans-Canada Highway 16. You'll follow this road for over half of your journey, right the way across Saskatchewan and Alberta.
Along the way you'll pass many small towns, as well as the cities of Saskatoon and Edmonton, so you'll have plenty of opportunities to stop and stretch your legs as you travel.
After Edmonton, Trans-Canada Highway 16 takes you past Wabamun Lake and Chip Lake before turning southwest and following the Athabasca River into Jasper National Park of Canada. You'll get your first view of the Rockies now.
Approaching Tete Jaune Cache you'll follow the Fraser River for a short distance. After passing through Blue River, Clearwater and Chu Chua, you'll reach Kamloops, where you'll join Trans-Canada Highway 1 and follow it the length of Kamloops Lake and on to Cache Creek.
Here, follow the Cariboo Highway north and head towards Marble Canyon Provincial Park and Lillooet, then on through the mountains to Whistler.
You'll stay on the highway for the rest of your drive, passing through Garibaldi and Squamish, then enjoy the phenomenal views out across Howe Sound as you approach your destination, Vancouver, from the north.
The Central Route (via Calgary)
This route also sets out on Trans-Canada Highway 1 but continues to follow this same road all the way to Banff National Park. Along the way you'll pass Moose Jaw, Maple Creek and Medicine Hat, with a stop in Calgary just before you reach the national park.
Travelling through Banff National Park you'll follow the Bow River and make your way along the highway to Lake Louise. then backtrack a few km to Castle Mountain, where you'll change onto Highway 93.
This road takes you from Alberta into British Columbia, passing Vermilion Crossing and Kootenay National Park. When you reach Radium Springs, take a right onto Highway 95 which bears north again, following the Columbia River through the mountains.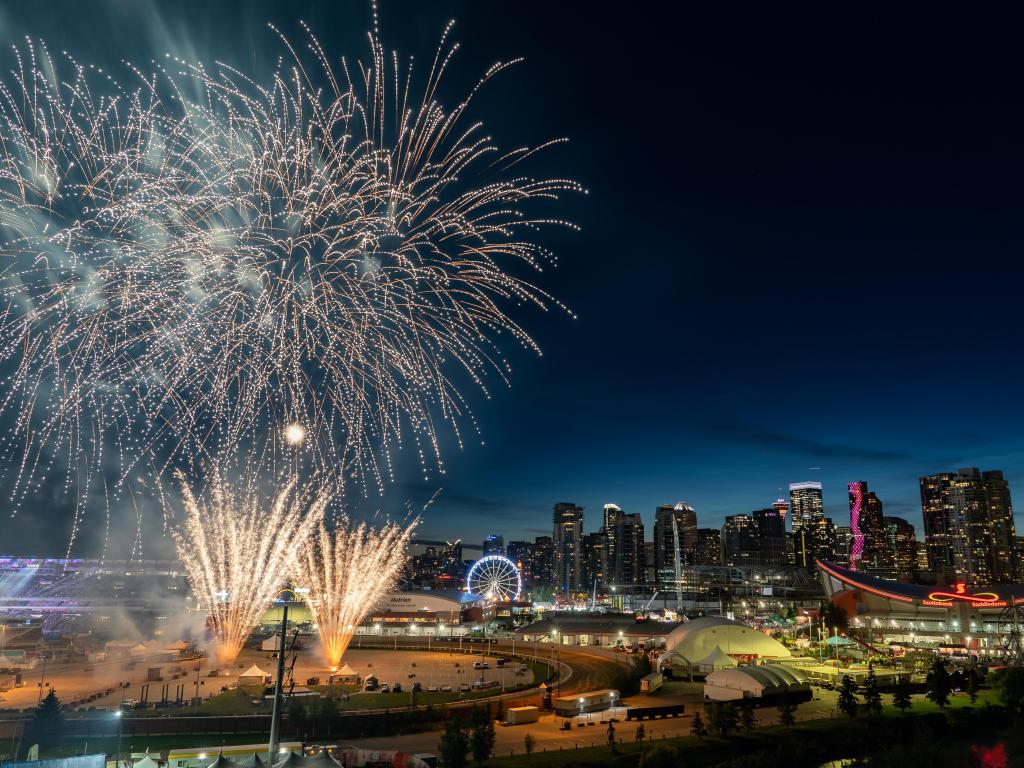 At Golden, rejoin Trans-Canada Highway 1. This next stretch takes you through Glacier National Park and Mt Revelstoke National Park.
From Revelstoke, continue along the highway, passing Sicamous and beautiful Shuswap Lake before you hit the suburbs of Kamloops. Then drive through Lac Le Jeune and Kingsvale.
This takes you alongside the Fraser River then on through Chilliwack and Abbotsford before crossing over the Fort Mann Bridge to take you into Vancouver.
The Southern Route (via the United States)
From Winnipeg, head towards Oak Bluff, where you'll pick up the Red Coat Trail, which takes you through Carlyle, Weyburn and Assiniboia before turning south towards the border after Instow.
After crossing into Montana in the United States, pick up Route 2 and follow it west through Shelby and into Glacier National Park. Then, as you approach Columbia Falls, turn onto Montana Highway 206 and follow the course of the Flathead River south past Creston.
Bear west again to skirt the northern end of Flathead Lake, then, keeping the lake on your left-hand side, continue on to Elmo, Niarada and Lost Pine.
From Perma, you'll follow the Flathead River again towards Quinns and Regis. This takes you onto Interstate 90 (I-90), so you can pick up the pace a little as you follow it right the way across Idaho, passing Coeur d'Alene National Forest and Lake.
Entering Washington state, stay on the interstate past Spokane and Moses Lake, all the way to Seattle.
From Seattle, you could follow I-5 all the way back into Canada, but we'd recommend a detour into North Cascades National Park along the way.
You'll cross the international border again at Blaine, then from here you just need to follow Route 99 all the way into Vancouver.
Best places to stop between Winnipeg and Vancouver
With such long distances to cover, and so many outdoor activities along the way, you'll need to make the most of your rest time on this road trip. So we've picked out some fabulous places where you can recharge your batteries before continuing on your epic drive the following day.
Wake up to mountain views at Golden, BC
About 3 hours driving past Calgary on the Central Route, you'll reach Golden (though allow a whole day to drive this stretch once you've allowed for a hike or two and several scenic stops).
At the base of the Rocky Mountains, Golden is near ski resorts, and you can enjoy hiking, glacier views and river rafting. It's less crowded than nearby Banff or Lake Louise, and it's well located to continue your journey quickly the following day.
It's also close to Banff National Park, Yoho, Kootenay and Glacier National Park of Canada, so if you wanted to base yourself in Golden for a little longer you could head out to explore the turquoise glacial lakes, mountain peaks and a host of outdoor adventures.
With mountain views and dining options, Ramada Limited Golden offers impeccable 24-hour service, meaning you can check in anytime, even late after a day of driving and adventuring, and beautifully appointed rooms for you to relax in.
For the ultimate unwinding, you can swim a few laps in the indoor pool, then have a well-deserved soak in the hot tub after a day of having fun on the slopes, if you are feeling adventurous!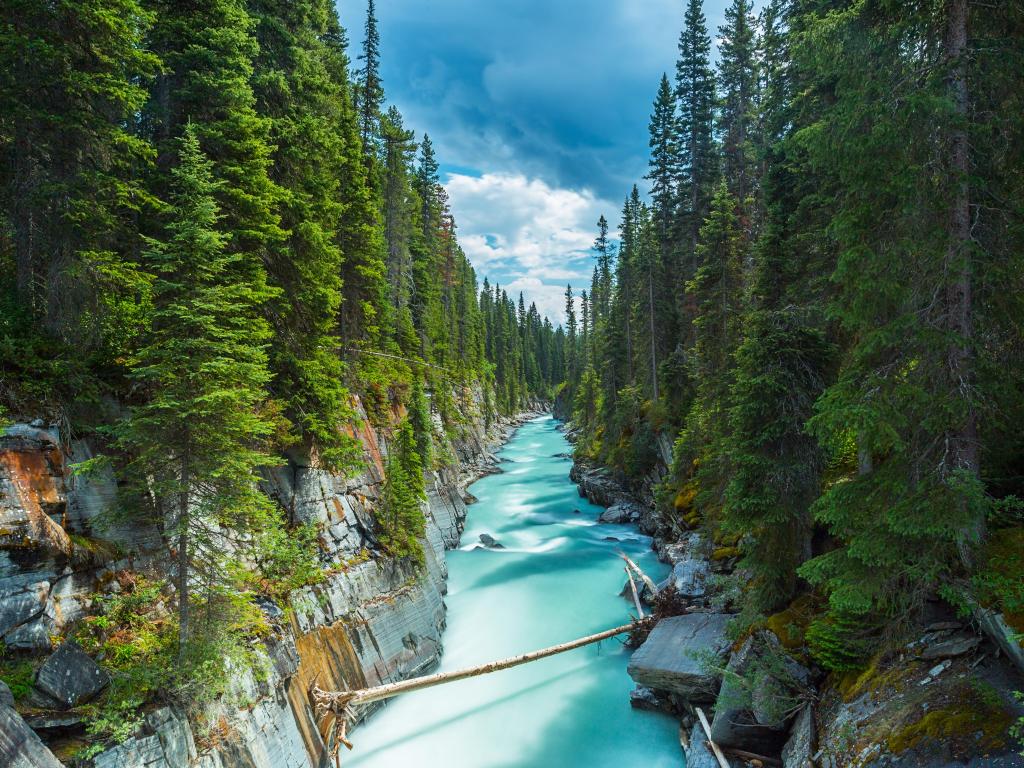 Hike to the hoodoos at Kamloops
Both the Northern and Central Routes pass through Kamloops. It's around six hours from Vancouver on both routes, so it is the perfect place to make one last stop to re-energise before you reach your destination.
Kamloops is known for resort hiking and bike trails, as well as Kamloops Lake. All around the scenic area, there are opportunities to spot wildlife, and of course, there are nearby ski runs in winter.
With a great location that's less than a 10-minute walk to major attractions, the Plaza Hotel a Trademark Collection by Wyndham is an ideal choice of accommodation in Kamloops. This hotel is the perfect place to base yourself in as you explore the city.
One of the best places for hiking and bike trails near Kamloops is Sun Peak, which hosts hundreds of races and tournaments a year. Closer to sea level, the historic area of South Thompson River is also well known for its fishing and recreation opportunities.
After an exciting day of sightseeing or enjoying the great outdoors, you can head to the hotel to enjoy a meal at the upscale on-site restaurant before you head to the room to recharge for the last leg of your trip.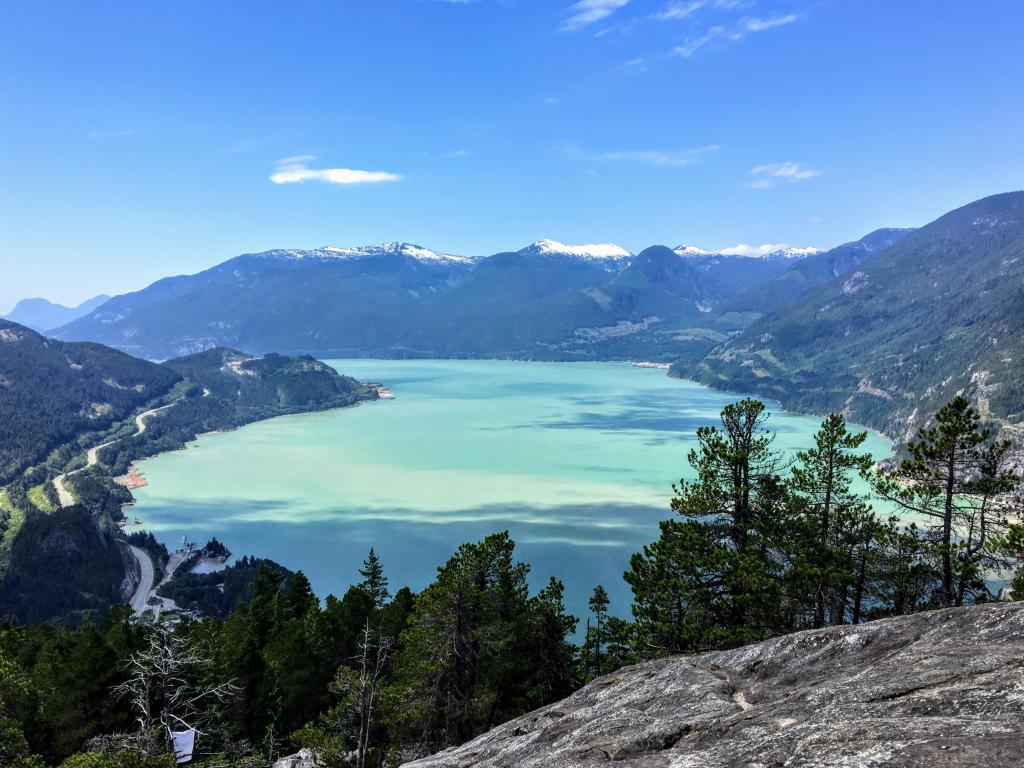 Feel the alpine vibe at Leavenworth, Washington
If you're taking the Southern Route, you'll find the Bavarian-themed Leavenworth in the Cascade Mountains, around 4 hours 30 minutes before you arrive in Vancouver. You'll truly feel like you've stepped into the Alps!
This is a really fun stop that's conveniently located between Glacier National Park and Cascade National Park or Mount Rainier, which sets you up in a great location to hit Seattle the following day. As you'd expect, the village is also a gateway to nearby ski areas.
If you're ready for a less demanding diversion, head to one of the area's award-winning wineries to enjoy local wine with a mountain view. In keeping with the Bavarian theme, you can also catch Oktoberfest in the fall or Maifest in the spring.
At the heart of the village, you'll find the Bavarian Lodge, which is perfectly located to get to nearby attractions and dining options, and also offers parking and a free hot breakfast, making it a stress-free and welcoming place to stay.
If you would rather relax and take it easy during your stay, the property houses its own in-house micro-pub, so you can enjoy a bite and a drink without ever having to leave the comfortable premises.
Where to stay when you reach Vancouver
After the long drive, you'll probably be looking to stay somewhere central when you arrive in Vancouver. Walkable to downtown as well as many restaurants and attractions, the Wedgewood Hotel & Spa delivers this in style.
It effortlessly combines classic style with modern comfort, and some of the rooms have great views out across the city.
The luxury lounge has a daily tea and cocktail hour, and there's a fabulous in-house spa, so you can really relax and treat yourself at the end of your road trip.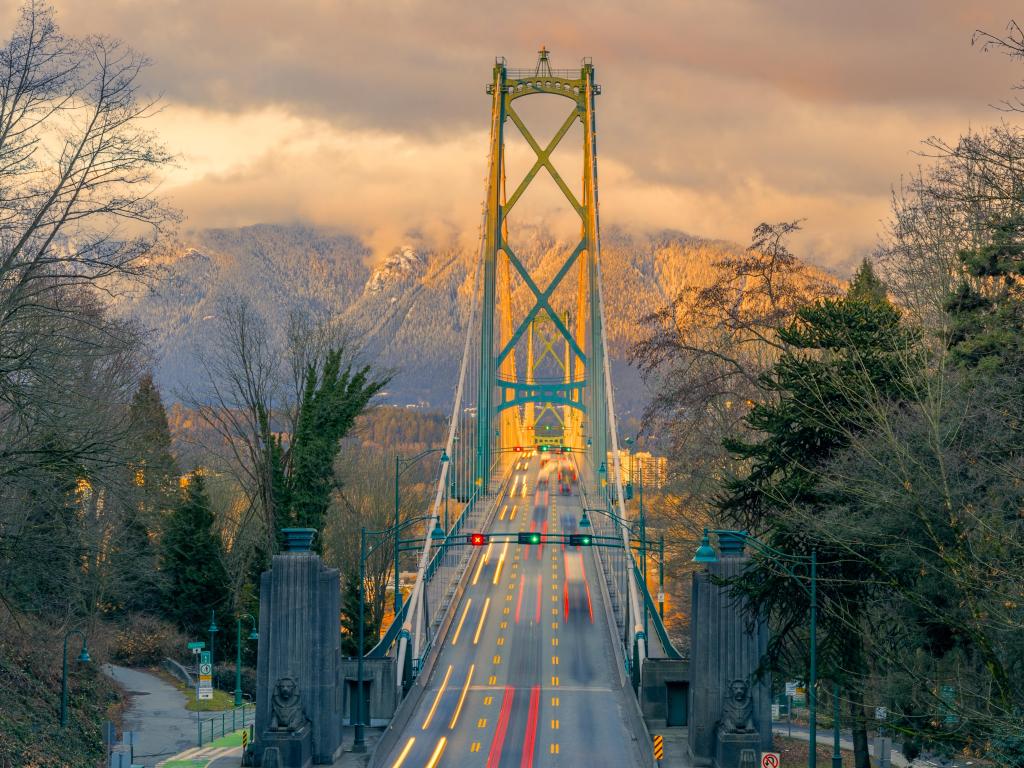 Things to see on a road trip from Winnipeg to Vancouver
You'll be spoilt for choice when it comes to choosing the best scenic views and enjoyable hikes on the road trip between Winnipeg and Vancouver.
It's not just about the mountains though - we've picked out some of the other attractions to help you plan your trip:
Northern Route
Riding Mountain National Park - This nature reserve with a scenic lake is a great place for outdoor activities, around an hour's detour from the route.
Manitou Springs Resort and Mineral Spa - Dip in the mineral pools for a relaxing and healing experience. Day passes are available for a quick stop.
Elk Island National Park - See the bison, elk, and lakes along the Yellowhead highway, as well as a Ukrainian cultural heritage village.
Edmonton - The city of Edmonton has much to offer, including the Art Gallery of Alberta, Royal Alberta Museum, Fort Edmonton Park and St Joseph's Basilica.
Jasper National Park of Canada - You'll find wildlife, scenic glaciers, lakes and mountains aplenty in this large national park, which is a great place for hiking or skiing.
Columbia Icefield Skywalk - Book a tour in advance to walk over the Columbia Icefields glacier.
Jasper Sky Tram - Take the aerial tram above the Whistler Peak trail and get scenic views of Jasper and surrounding peaks.
Mount Robson Provincial Park - See the Fraser River, Kinney Lake, White Falls, trails, and Mount Robson Peak.
Jackman Flats Provincial Park - The trails which start from this picnic spot run take you past areas of sensitive forest lichen and unique sand dunes. If you're lucky you'll spot deer and moose here too.
Pyramid Creek Falls Provincial Park - Stop here to hike to a beautiful waterfall just off Highway 5.
Duffey Lake Provincial Park - Kayak on the crystal-clear water of this beautiful lake framed by mountains.
Nairn Falls Provincial Park - This is another waterfall hiking trail, this time closest to Route 99.
Whistler - The largest ski resort in North America also offers summer hiking trails, scenic aerial trams, resorts, hot springs, the Olympic Park, and a chalet village.
Sea to Sky Gondola - Before reaching Vancouver, take this gondola over Howe Sound, see the water, mountains, and deep gorge of Shannon Falls Provincial Park.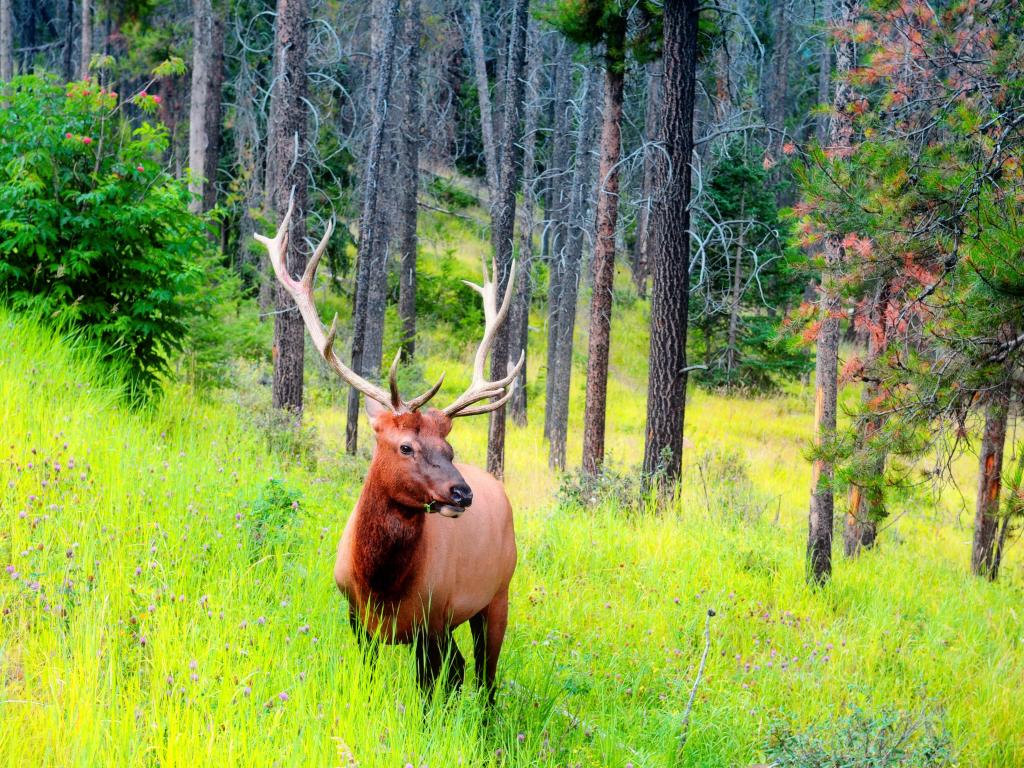 Central Route
Regina - The central town of Saskatchewan, with its museums, heritage castle and casinos, makes a good stopover for lunch.
Tunnels of Moose Jaw - This historic tunnel system was dug in 1908 and used during prohibition.
Dinosaur Provincial Park - Head here for a hike with a difference, and spot dinosaur fossils and the unique geology of this park.
Calgary - There's so much to see and do in Calgary, you could spend an entire extra day here. Calgary Tower, Zoo, Cowtown, and Calgary Stampede are just some of the highlights.
Canmore - Before getting to Banff you could stop in Canmore which is a beautiful setting at the base of the mountains. Canmore Nordic Centre is home to Olympic ski and bike park trails.
Peter Lougheed Provincial Park - Hike to Black Shale Creek Suspension Bridge for scenic views across the park.
Banff - The town of Banff is quaint and has many sites and small walks to do, lots of options to eat, and shopping.
Banff National Park - At Canada's most famous national park you can visit beautiful Lake Louise and Lake Moraine as well as enjoy many other hikes and outdoor activities.
Kootenay National Park - Marble Canyon is a real highlight here, plus you can enjoy hot springs or drive through Highway 93 to see the Continental Divide.
Yoho National Park - Seek out stunning views here, including Lake Emerald, Natural Bridge and Takakkaw Falls - the bonus is that it's not as crowded as Banff National Park.
Radium Hot Springs - Relax in the town's thermal mineral springs amid craggy slopes, plus a cool swimming pool with slides & a diving board.
Glacier National Park of Canada - More scenic mountains, high peaks and glaciers. Abbott Ridge, Peavey Rock and Hermit trailheads are particularly popular.
Mount Revelstoke National Park - The trails here run through temperate rainforest and are lined with wildflowers in late spring. Make sure to stop and enjoy the view towards Revelstoke city.
Southern Route
Cypress Hills Interprovincial Park - This scenic park just before you cross the US border from Saskatchewan has a lake and lookout points.
Shelby, MT - One of the larger cities on this route, stop for food and see the western cattle town. Nearby Sweet Grass Hills offer hiking and the chance to spot deer, antelope, elk, foxes, golden eagles and grouse.
Glacier National Park - This vast park is very popular in summer for its beautiful hikes and the chance to spot bears in the wild.
Lolo National Forest - This 2-million-acre forest stands out thanks to its beautiful scenery and wide assortment of bird, fish, and plant species.
Idaho Panhandle National Forests - Drive through the dense forests on 200, 95 south, or I90.
Riverside & Mt Spokane State Park - the two largest state parks in Washington offer beautiful sights and recreations, lakes mountains, trails, scenic stops.
Spokane - Another of the larger cities on the route, you can see the Riverfront and Manito Parks here.
Okanogan-Wenatchee National Forest - Pause to visit the beautiful Okanogan Valley and picturesque mountain landscapes next to Lake Chelan.
Mt Rainier National Park - Set around an active volcano, this park's unique blend of forests, grasslands, and elevated areas makes it among the most scenic in the region.
Seattle - See the Space Needle, Public Fish Market, the home of Starbucks and many other sites and attractions as you stop in Seattle.
North Cascades National Park - This gorgeous national park is worth the detour from the interstate. Drive along the Sagit River or enjoy hiking opportunities and view of glaciers, lakes and mountains.
Best time to go on a road trip from Winnipeg to Vancouver
Although there are fabulous ski options on these routes, to get the most out of this road trip we'd suggest avoiding the winter unless you're confident driving in snowy conditions.
In winter, temperatures can sit at 25 degrees Fahrenheit, for much of the winter in the mountainous parts of the route, and harsh snow fronts are common. It is a good idea to time your visit to the attractions during the early hours to enjoy the stunning surroundings.
Summer is peak tourist season, which might make it difficult to get into some of the parks and hotel reservations will come at a premium. Temperatures in the low 70 degrees Fahrenheit in the mountains can make for perfect hiking conditions.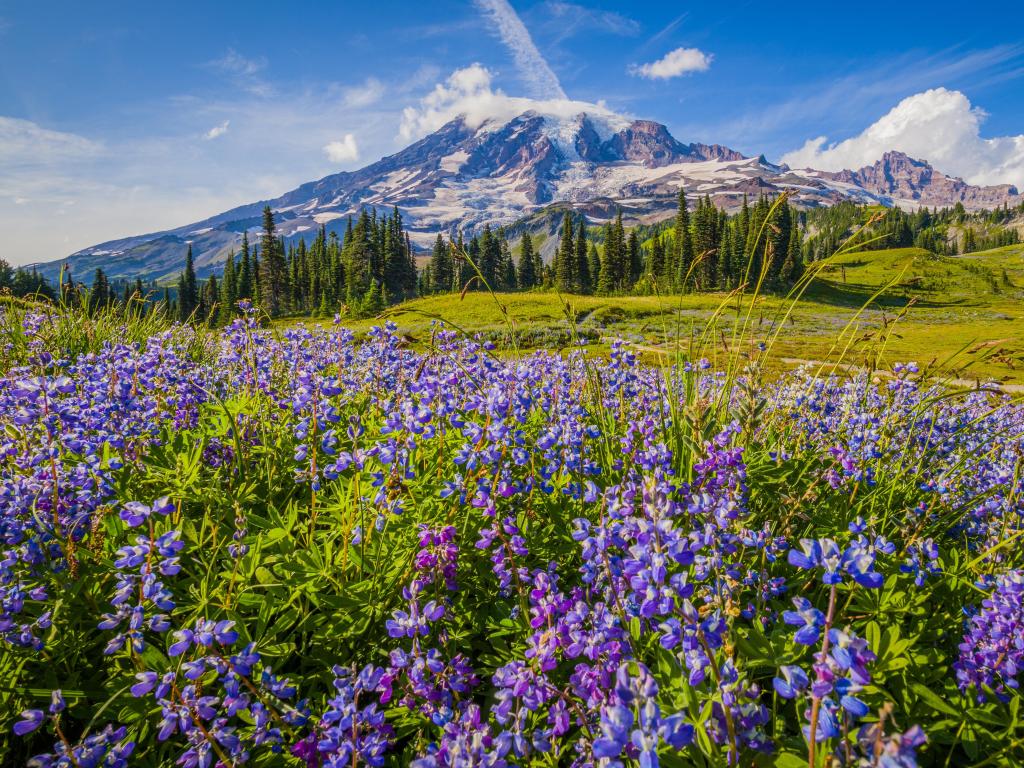 Out by the coast, Seattle and Vancouver are warmer, reaching the high 70s. You can also enjoy Shore Fest and the Celebration of Light firework show in Vancouver in July and depending on your route you might catch the Calgary Stampede rodeo and fair!
Shoulder seasons would be a wonderful time to visit to get good weather but also less crowds. You can still ski in March or visit later in spring when you'll enjoy blue skies and views of snow-capped mountains, with temperatures warming up to around 60 degrees to make for a comfortable hike.
Fall cools down quickly in the mountains, but with temperatures ranging from 50 to 60 degrees in September and October you can still enjoy hiking, just without the summer crowds. By November, daytime temperatures drop and the ski season starts to get going again.