Driving in Spain: Your guide to Spanish toll roads, rules and parking
Driving in Spain can be a true pleasure thanks to its sprawling, well-maintained motorways and scenic cross-country roads, making it the ideal destination for the ultimate road trip.
There are, however, a few practical things you should know before you set off to avoid any hairy moments or unnecessary fines, so read on and take note of our top Spain driving tips to make sure you're clued up before you get behind the wheel.
Etiquette
Typically, Spanish drivers can drive quite erratically in urban areas; think catching the lights at the last second before they turn red and driving very close to the car in front.
They also tend to have a lot of confidence on the larger roads (don't cruise in the outside fast lane unless you plan on hitting the upper end of the speed limit).
With these things in mind, be aware of the other drivers on the road.
Refrain from beeping your horn - it's actually prohibited in Spain except when used as a warning signal. In urban areas, this rule is even stricter except in an absolute emergency, so drivers flash their lights instead to indicate a problem or potential hazard.
Note that when large trucks or buses flash their left indicator it means it is not safe to overtake, and when they flash their right it is safe to, although be careful - they might just be about to make a right turn rather than sending you a signal!
Rules of the road
Brits take note: you drive on the right hand side in Spain (and the rest of continental Europe).
The general blood alcohol limit is 0.05% for drivers, however if your vehicle has more than eight passenger seats or if you've been driving for less than two years then the limit is 0.03%.
The use of mobile phones when driving is strictly forbidden. Hands-free sets are permitted, however use of earphones is not. In fact, anything with a screen must be positioned where you can't see it to avoid distraction (SatNavs are obviously an exception, however you are not allowed to touch them while the car is in motion).
Generally speaking, priority is always given to traffic approaching from the right unless otherwise indicated by a sign.
When overtaking, it's compulsory to indicate when you pull out and again when you return to your lane. Take extra care when overtaking in a right-hand-drive car.
Regardless of the rules in your home country, you have to be at least 18 years old to drive in Spain, and most car hire companies require you to be at least 21 and have been driving for at least a year to hire a car.
Roundabouts
Traffic flows anti-clockwise around roundabouts, and drivers who are already passing around have priority over vehicles that are approaching, so remember to pause and wait your turn to pull out.
What do I need in my car?
You are required by law to carry the following items in your car at all times in Spain, and could face on-the-spot fines if you don't have them:
A valid driver's license
Proof of insurance
Proof of ID
Reflective jackets (it's not strictly illegal if you don't have them in your car 24/7, but it's compulsory to wear one if you need to step out of your vehicle at any point on a road, so it's best to have them on hand)
Two warning triangles to be placed at the front and back of the car in the event of a breakdown
Headlamp beam deflectors
Crash helmet (for motorcyclists)
GB stickers or Euro plates (if applicable)
A spare pair of glasses if you need to wear them to drive
The following items are banned:
Wearing backless, open-toed, or high heeled shoes whilst driving is banned, and it's also illegal to drive barefoot, so make sure you have some sensible shoes.
Radar detectors are also prohibited (and incur a €200 fine), however SatNavs are fine to use.
Speed limits
The general speed limits in Spain depend on the type of road (note that these can vary so always check the signs).
On motorways (or autopistas) the limit is 120 km/h.
On dual carriageways with more than one lane in each direction (autovias) the limit is 100 km/hour.
On ordinary single carriageway roads the limit is 90 km/hour.
These limits are different in built-up and urban areas where the speed limit drops to 50 km/h unless there are signs to indicate otherwise. In residential areas the limit is likely to be 20 km/h.
Speed limit signs are circular with the number surrounded by a red ring, and minimum speed indications are displayed in white numbers on a blue circular sign. In short, red indicates the speed you shouldn't exceed, and blue the speed you must meet.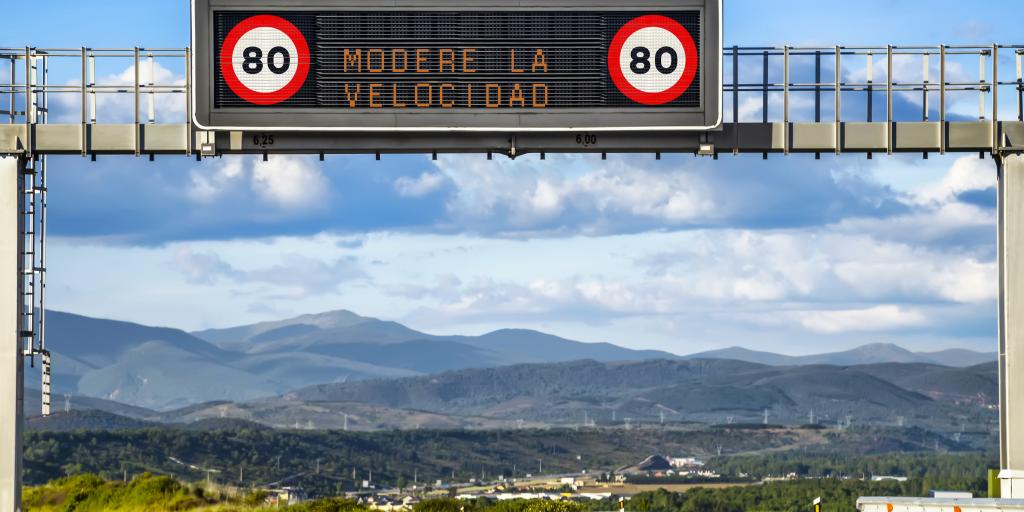 Tolls
Toll roads in Spain are known as autopistas and are labelled with the letters AP (e.g. AP-6) and cover about 20% of the motorway network, with free autovias (prefixed with an E or an A e.g. E-90 or A-5) and smaller roads covering the rest.
Generally speaking, it is possible to avoid the tolls if you want to by navigating the free E and A roads, which will ultimately get you to your destination, however more often than not the AP toll roads are quicker, quieter, and more direct, so we advise taking them if you can.
The toll roads are quite expensive (but incredibly well maintained), however it's hard to give a clear indication of what they cost as it all depends on how far you're going, which road you're taking, and the type of vehicle you're driving.
Expect to pay anywhere between approximately €5 and €30, either in cash or by card at the tolls.
Insurance
You must have a minimum of third party cover to drive in Spain, and it's recommended to also take out breakdown insurance so that you can call a tow truck if you get stuck or have an accident.
It's best to carry a copy of your insurance details in the car with you on the off chance that something goes wrong.
Parking
Parking isn't the easiest thing in the world in Spain, particularly in the bigger towns and cities. If possible, we'd recommend parking on the outskirts and relying on public transport, however various types of parking are available if you're willing to put a little time, effort, and cash in to use them.
On-street parking is forbidden in many areas of Spain's city centres, and is marked using a blue sign with a red line through it with either an 'E' on it or the words 'estacionamiento prohibido' (parking forbidden).
You should also look out for the colour of the kerb when trying to find a spot, as yellow, red, or white markings can all indicate no parking, and blue and white indicate that you can stop briefly without staying.
Blue zones (zonas azules) usually signify pay-and-display areas where you can buy a ticket from one of the machines and stay for a maximum of two hours.
In these areas you usually have to pay from 9am - 2pm, and 4pm - 9pm Monday to Friday, and from 9.30am - 2pm on Saturdays.
There are also multi-storey and underground car parks available in cities and towns which charge by the minute. Signs outside indicate if there are free spaces (libre) or if the car park is full (completo).
Disabled Parking
Each municipality across Spain issues disabled parking permits,, which are valid for one year, and allow drivers to park in loading and unloading areas, pedestrian zones, and some places where parking is marked by signs as prohibited.
The general disabled parking permit issued across the European Union is known as the Blue Badge and should be clearly displayed on/in a car when it is parked.
This permit is given equal recognition across the EU, meaning you are entitled to pretty much the same exemptions as in your home country (the privileges may vary slightly from zone to zone so look out for signs).
Fuel
There are loads of fuel stations dotted across the country, and the easiest way to plan the best pit-stops for your road trip is by visiting the Geoportal website, where you'll find a map plotting all the different stations around the country.
You can focus in on a particular area and save it as a PDF to print and take with you, so you don't need to worry about when you'll find your next top-up opportunity.
The majority of fuel stations have self-service pumps where you fill up then pay in the shop/kiosk next door, or pay-at-machine pumps where you insert your card before you start (particularly those are open 24 hours).
It's possible you could come across a couple of fuel stations where you'll get served by someone, but these are less common nowadays.
On the whole, fuel tends to be reasonably priced in Spain and the cost is government regulated, so you don't need to worry about shopping around for the best deals.
Credit and debit cards are widely accepted, however it's a good idea to have some cash on hand if you're topping up in an isolated rural area, just to be on the safe side.
Important phrases to know
Learn (or take a copy of) this list of Spanish keywords and phrases with you on your road trip so you'll be able to ask for directions, top up with the right fuel, and locate the car park like a local.
Izquierda = left
Derecha = right
Todo recto = straight on
Estamos perdidos = we're lost
¿Dónde está…? = where is…?
Gasóleo = diesel
Gasolina = petrol
Gasolina sin plomo = unleaded petrol
Autogas = LPG
Licencia de conductor = driver's license
Llanta desinflada = flat tire
Rotonda = roundabout
Un aparcamiento de vehículos = car park
Entrada = entrance
Salida = exit
Emergency phone numbers
Dial 112 from anywhere in Europe to be connected to the emergency services for police, ambulance, and fire brigade services. Operators will be able to answer your call in English.
There are also SOS telephones at two-kilometre intervals along the major motorways which will connect you to the emergency services.
Recommended road trips