Northern Spain road trip - The ultimate 10 day driving itinerary
Day 1: Bilbao - Arrive in the morning & head straight to the Guggenheim
Try to catch an early flight to Bilbao that lands in the morning.
There's lots to do in this vibrant Basque city - including countless cultural and culinary delights - no matter what time of year it is, so you'll want to take full advantage of the next three days before officially embarking on your north Spain road trip.
Getting from the airport to your hotel
As you're spending the first few days in Bilbao, you really don't need to pick up your car right away and pay for the extra days. You can pick it up in the city in a couple of days instead and set off from there.
Instead, it's super easy and cheap to get from Bilbao Airport to the city centre via public transport. Just find your way to the 3247 bus, which is operated by Bizkaibus, and purchase a €3 single ticket.
Buses leave for the city every 20 minutes or so throughout the year, and the journey takes about 25 minutes.
If you'd rather take a taxi, you can expect to pay between €20 and €30.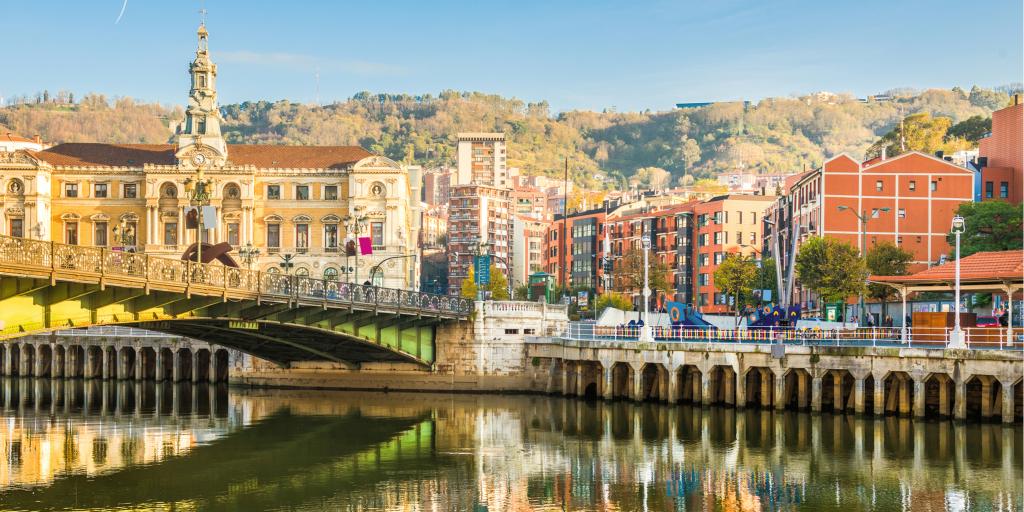 Best place to stay in Bilbao
The best hotel to stay in Bilbao is hands down the Gran Hotel Domine. It's located right in the middle of everything and next to the Guggenheim museum. It's a 5 star hotel so it can be a little on the expensive side, but it really is worth it with impeccable design and luxurious rooms that overlook the museum building.
If you do bring your car into the city, the hotel has valet parking for €25 per day, which is decent for the ease and peace of mind.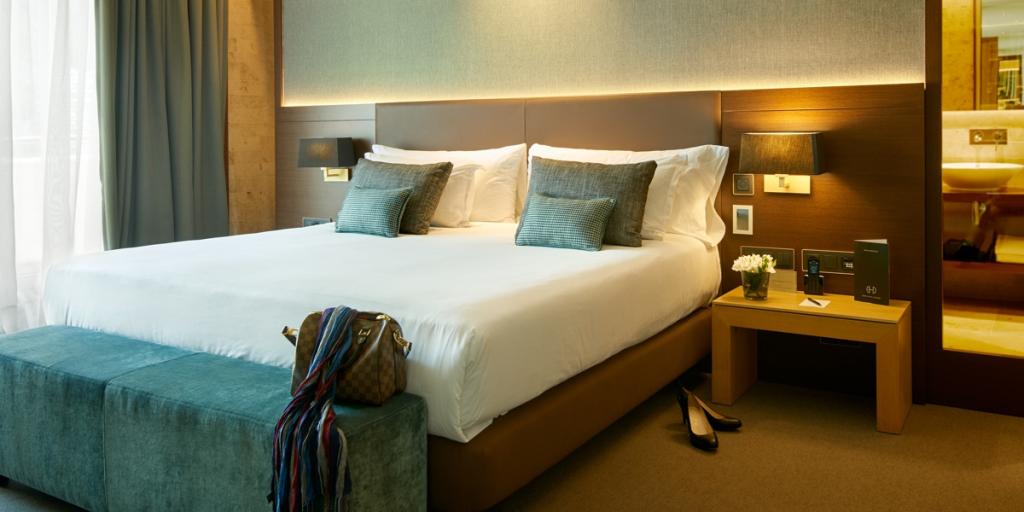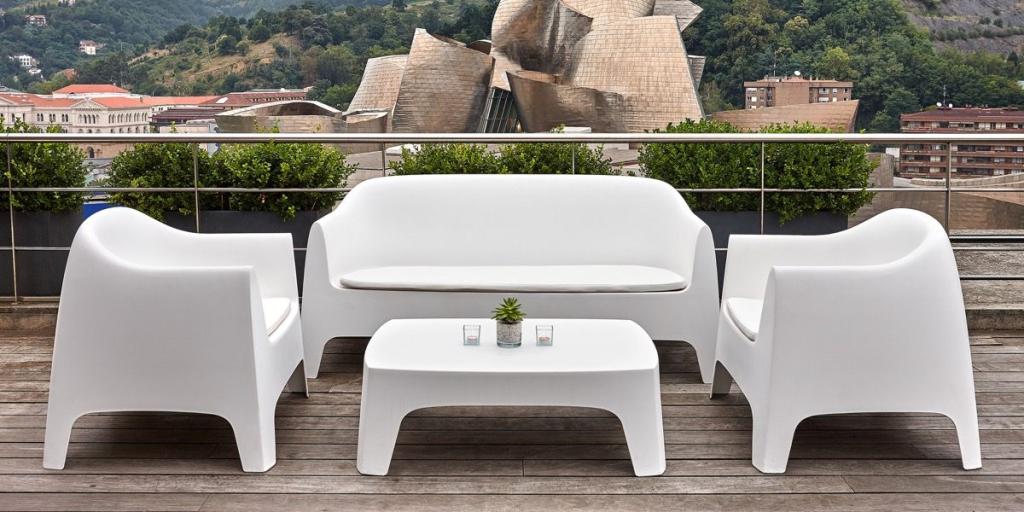 Get your art and culture fix at the Guggenheim
The main attraction in Bilbao is undoubtedly the spectacular Frank Gehry-designed Guggenheim Museum, which celebrated its 20th birthday in 2017.
This impressive titanium-clad landmark, which shimmers alongside the river under the Spanish sunlight, opened in 1997 and is now one of the most iconic buildings in the country.
Prior to the museum's opening, Bilbao was suffering from something of a post-industrial depression. This modern and contemporary art museum marked the beginning of a regeneration that essentially put Bilbao on the map thanks to the building's innovative, eye-catching design.
With thousands of works on display within and without, it's worth dedicating a few hours to visiting the museum.
Make sure you take some time to spot the creatures that stand guard outside the museum: a giant flower-covered dog named Puppy, created by Jeff Koons, and Maman - a 9-meter-tall bronze, marble and stainless steel spider sculpted by the late French-American artist Louise Bourgeois.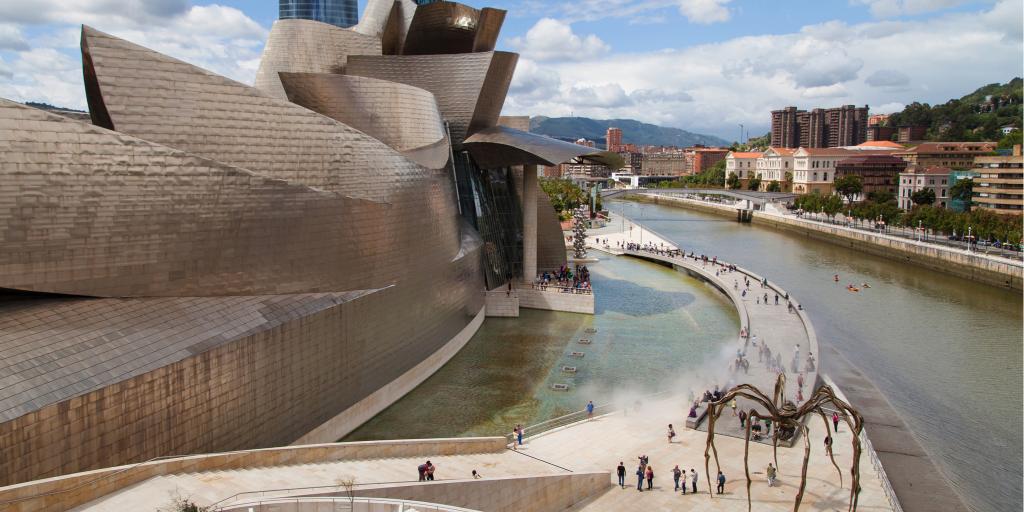 Snack on pintxos for lunch
After you've had your fill of art and culture, you will have most likely worked up an appetite. Luckily, Bilbao is arguably the gastronomical capital of Spain, so your lunch choices are practically endless.
A good place to get your fix for authentic Basque cuisine is El Globo tavern, just 15 minutes' walk from the Guggenheim.
This popular local haunt specialises in pintxos - essentially northern Spain's version of tapas. These small bites are typically served with toothpicks stuck in them to keep all the ingredients together.
There's lots of variety on the menu at El Globo, with everything from crab meat gratin and goats cheese with caramelised onion to warm, crispy octopus croquettes. They've also got a great selection and wine and beer, and it's high time you raise a glass to toast your holiday!
Expect a lively, busy atmosphere - the perfect way to immerse yourself in the Basque culture.
Head to Museo de Bellas Artes via Plaza Moyua
From lunch, make your way west to Plaza Moyua, one of the city's main squares and a hub of activity.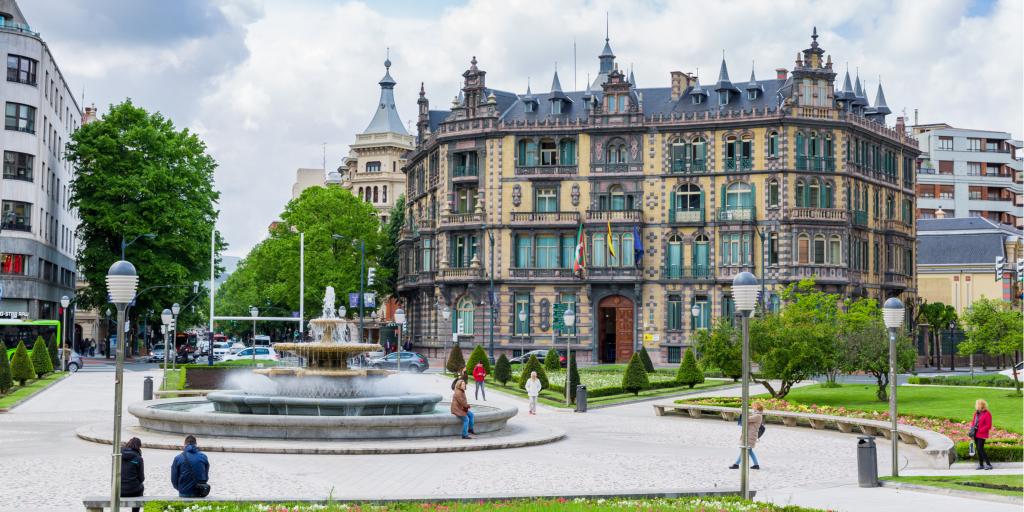 If you're doing your Spanish road trip in the spring or summer, you'll be greeted with rows and rows of colourful flowers blooming in the square, making for quite the beautiful sight.
In the wintertime, the plaza is transformed into a winter wonderland complete with sparkling fairy lights strung across the trees.
Then cross the plaza and walk northwest along Elcano Kalea until you reach the Museo de Bellas Artes - Bilbao's splendid fine arts museum.
Museo de Bellas Artes is home to a very well-curated collection of Basque, Spanish and European art from the Middle Ages up to today. Look out especially for masterpieces by the likes of El Greco, Goya and Francis Bacon.
Interestingly, a large chunk of the exhibition is organised alphabetically, but not by artist's name. Room R is for Retrato (Portraits), L is for Lluvia (rain), and so on, making for a fascinating way to take in these works of art.
Access to the museum costs €10 for adults and €8 for senior citizens. Those younger than 25 can go for free.
Travel tip: It's free to enter the Museo de Bellas Artes every day between 6pm and 8pm.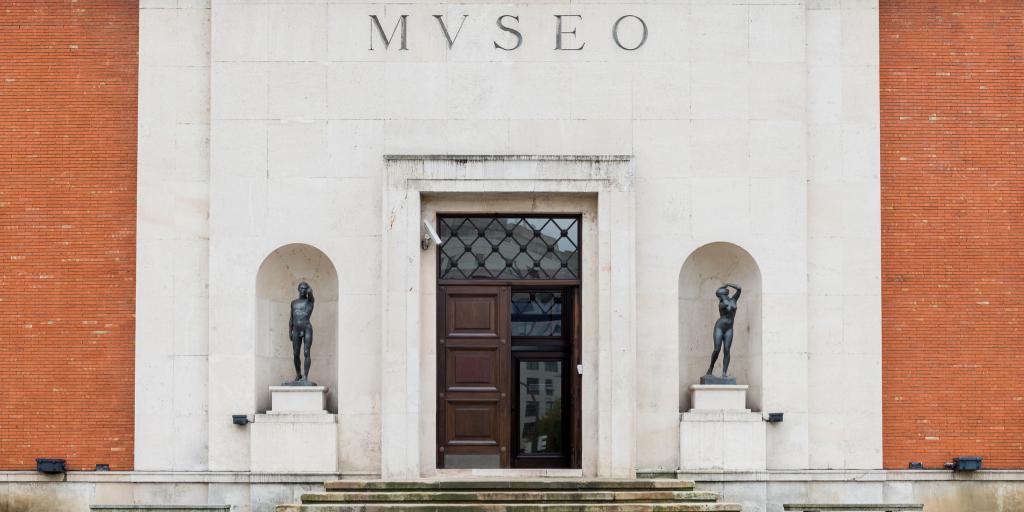 Rest up at your hotel, then go out for dinner
After you're done touring the museum, make your way back to your hotel and have a rest. Then head out on the town and find somewhere for dinner.
One popular eatery with a pleasant atmosphere and a top-notch and creative menu is El Perro Chico, which overlooks the Ribera market and Casco Viejo.
El Perro Chico is dog-friendly, which adds a fun, familial feel. It's also very reasonably priced, so you can expect to eat well without breaking the bank!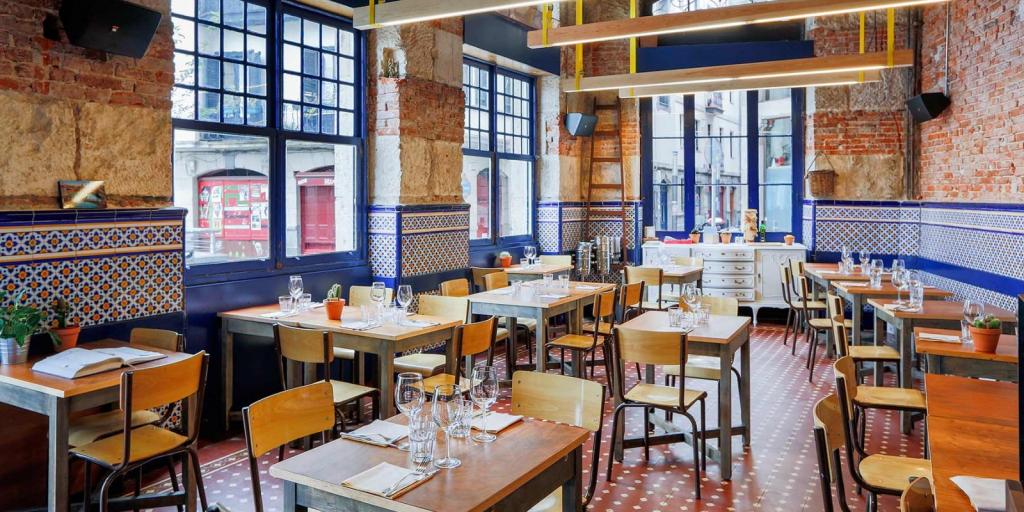 Day 2: Bilbao - Explore Old Town, lunch at a food market & cable car ride
Eat a typical Basque breakfast at Cafe Iruña
Kick off the morning of day two at Cafe Iruña - one of the most famous and historic cafes in the city.
This ultra refined cafe dates back to 1903, when it was opened by D Severo Unzue Donamaría. The stunning decor, awesome menu and delightful ambience constantly win over hungry locals and visitors alike.
Help yourself to some coffee, pastries, and freshly squeezed orange juice before venturing to Casco Viejo to explore Bilbao's old town.
Wander through old town (Casco Viejo)
The Old Quarter of Bilbao is a picturesque tangle of narrow pedestrianised streets and grand plazas lined with atmospheric patio restaurants and buzzing pintxo bars.
You would never guess it, but this entire area of the city had to be completely restored after devastating floods wreaked havoc in 1983, uprooting trees, destroying buildings and claiming the lives of several people.
These days, it's one of the most popular neighbourhoods to explore thanks to its abundance of independent shops, bars and cafes, and the famous Siete Calles - the city's original Seven Streets, which date back to the 1400s.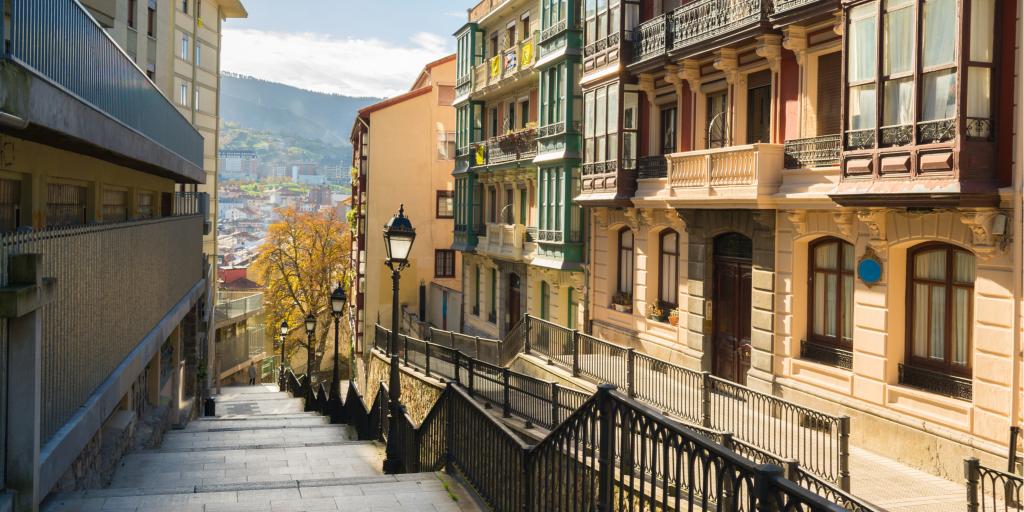 Admire Bilbao Cathedral from the outside
As you walk through Casco Viejo, make sure you stop by the 14th-century Gothic Catedral de Santiago, a splendid example of Renaissance architecture. Don't bother paying the €4 entry to inside; it's more than enough to admire it from the outside.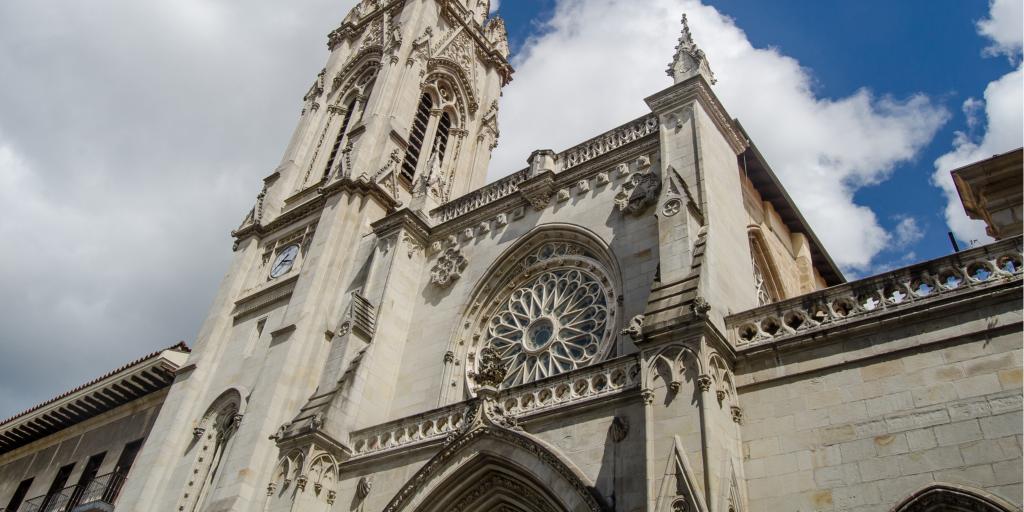 A few minutes north of the cathedral you'll find Plaza Nueva, a stunning 19th-century city square lined with grand Neoclassical-style buildings.
Take a seat on one of the ledges in the square, do some people-watching, feel the sun on your face and soak up the atmosphere. Then get ready to move on to your next stop: lunch!
Walk to Mercado de la Ribera for lunch
From Plaza Nueva, it's a six-minute walk south towards to river to Mercado de la Ribera, the largest indoor market in all of Europe.
With such a bold claim to fame, it's no surprise that the culinary offerings at Mercado de la Ribera are seemingly limitless, with stalls and stalls of vendors selling fresh seafood, local produce, ready-made pintxos and gourmet Spanish food.
The 10,000-square-metre market is housed in a beautiful restored Art Deco building right on bank of the Nervion estuary, with stunning stained glass windows adorning the walls and ceilings.
Take your pick from the dozens of lunch options available, and be sure to wash it down with a sizeable glass of Rioja. Most bars here will charge a mere €2 or so for an exceptional glass of wine - quite the steal!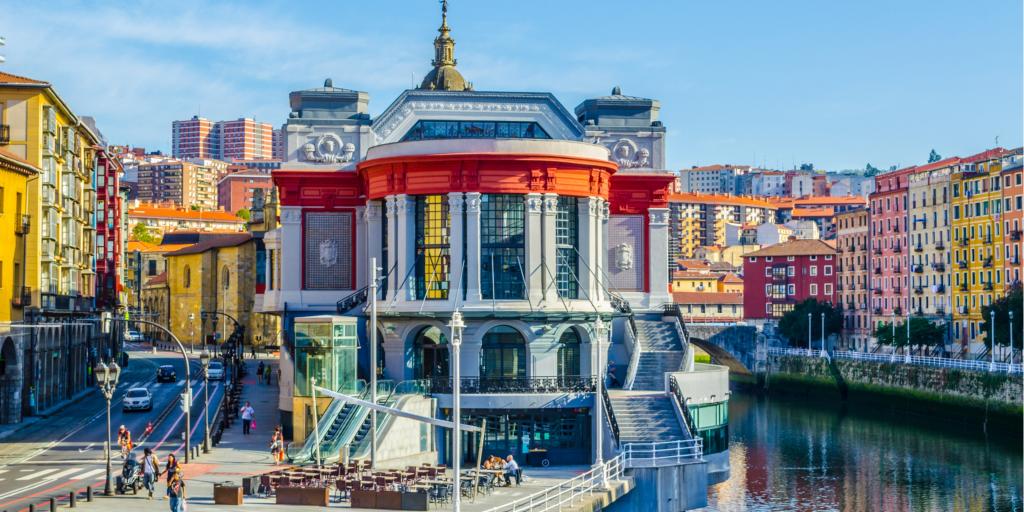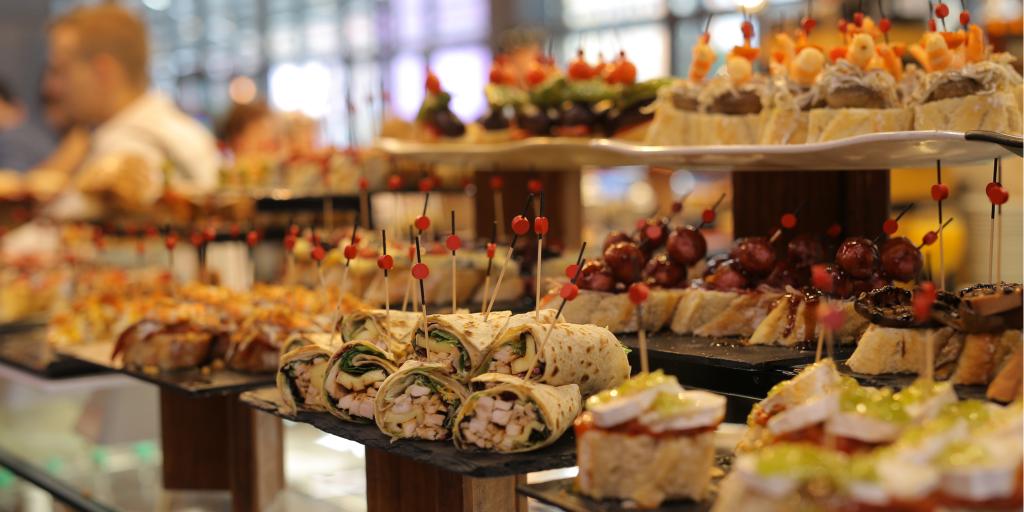 All aboard the Artxanda Funicular!
After lunch, head north along the river and find your way to the Artxanda Funicular for a ride to the top of Mount Artxanda.
No matter what time of year you've decided to do your Spanish road trip, this adventure is worth it for the sensational panoramic views you get from the summit.
Although the journey only takes three minutes, it covers more than 770 metres and reaches a maximum incline of 45°.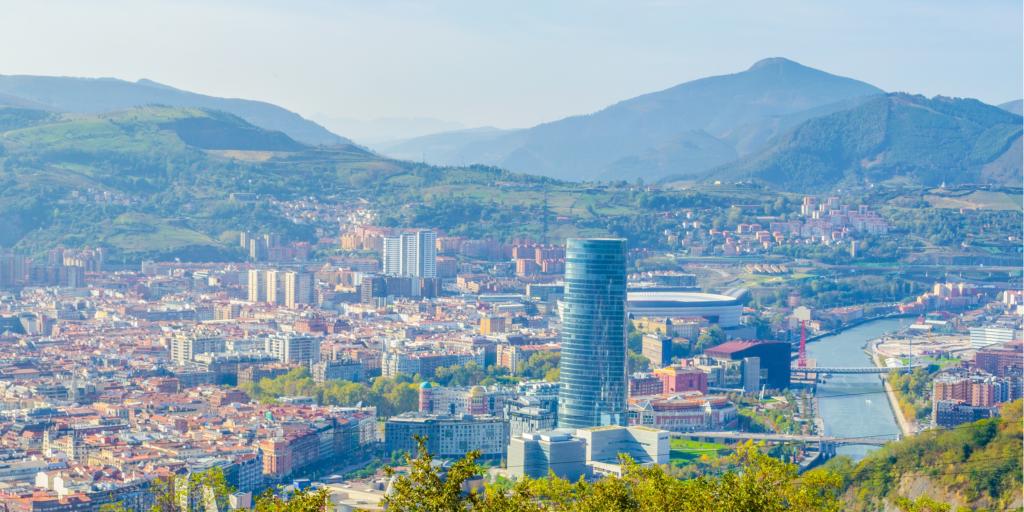 In the winter, you'll see snow-capped mountains in the distance, and in the summer, the rolling green hills and blue river slicing through Bilbao are an amazing sight to behold.
There's also a lovely restaurant at the top of the mountain if you feel like enjoying a bite to eat with a view.
Tickets to ride the cable car cost €3.25 for a round trip, or you could opt to pay less and get some exercise by walking back down instead.
Rest up at your hotel, then go for a Michelin-starred dinner
After you've taken some time to nap or read a book for a while back at your hotel, it's time to head out for dinner.
Tonight we recommend making the most out of this culinary city by nabbing a table at the Michelin-starred Mina restaurant on Martzana Kaia. It only opens for dinner from 9pm to 10:30pm, so you should definitely book ahead and you might want to neck a quick espresso before you get there!
The artful chefs at Restaurante Mina specialise in transforming local ingredients into inventive dishes, like bone marrow with spiced potato, cod in a red curry sauce, and smoked mackerel with rosemary and cauliflower.
If it's a special occasion or you simply feel like treating yourself, opt for the tasting menu, which is truly outstanding. A light tasting menu costs €74, ten courses is €85 and the full 14-course tasting menu costs €115 per person.
Day 3: Drive Bilbao - Santander
Miles: 61.5
Before you set off on your road trip across northern Spain, make sure you get enough caffeine in you to sustain you for the journey.
Finding a good cafe that's open before 9am is annoyingly difficult in Bilbao, which is only one of the reasons why Charamel Gozotegia is such a godsend.
Not only do they serve up scrumptiously sweet cakes and pastries, but the coffee is also strong and delicious and the service is super friendly.
Pick up your rental car and head to Santander
After breakfast, walk back to your hotel, pack up your things and check out. It's time to set off on your Spanish road trip adventure.
Good news - rental cars in Spain are pretty inexpensive, especially compared to some other European countries (*cough cough* Italy and UK).
Depending on the season, the make of the car and how far in advance you book your vehicle, you could be looking at paying as little as £9 a day.
And driving in Spain is relatively straightforward, with plenty of well-maintained highways and scenic roads to look forward to.
Load up your things and hit the road; it's a 1.5-hour journey west along the coast to your next destination: Santander.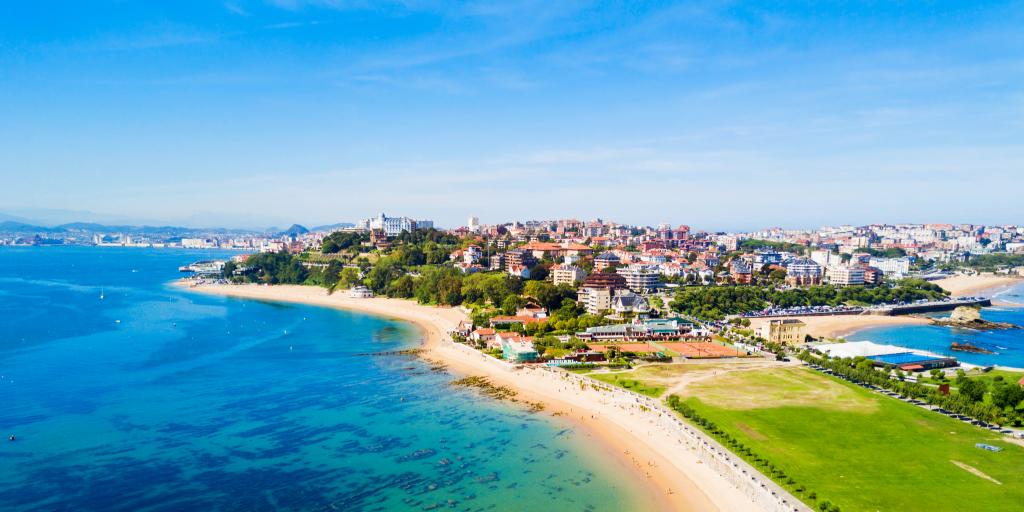 Check in to your hotel & go to Centro Botín museum
There are a few lovely hotels in Santander but our tip has got to be the Hotel Bahia Santander. Located near the coast, you can get rooms with great views of the sea.
The hotel has all the amenities you might want including a good restaurant and you can park your car at the hotel for €15 a day - about the same price as the public car park across the road.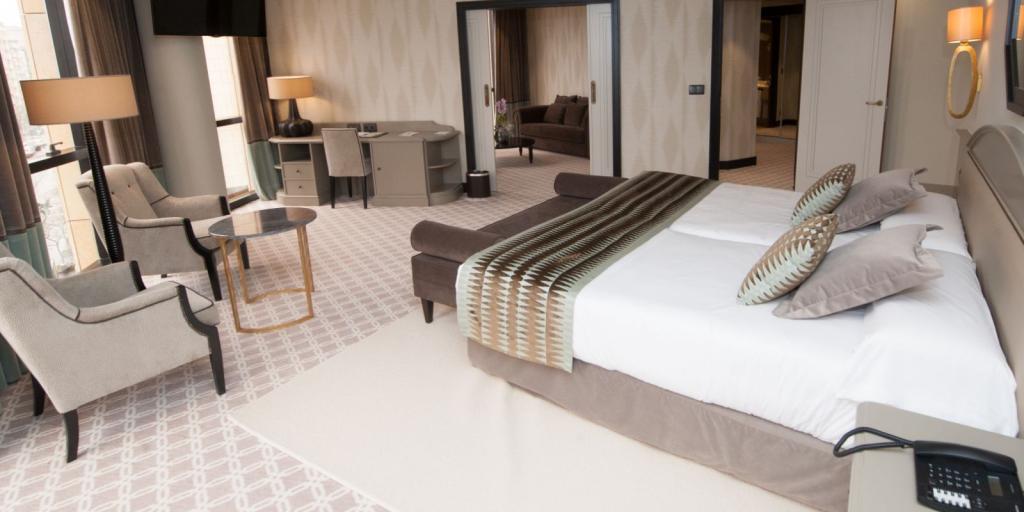 Once you're all settled at your hotel, head to the waterfront to check out Centro Botín - a brand new museum and art centre designed by famed architect Renzo Piano. It's housed in a futuristic building that looks like a spaceship levitating above the ground. You can't miss it!
Centro Botin is in its early stages still, so don't expect a huge collection of art within. But the main attraction is the building itself, and the spectacular views of the sea from inside.
At the moment the museum houses a selection of contemporary art displays, from video and sculpture to paintings and photography.
There's also a restaurant and a funky gift shop perfect for picking up some souvenirs.
Entry to the Centro Botin costs €8.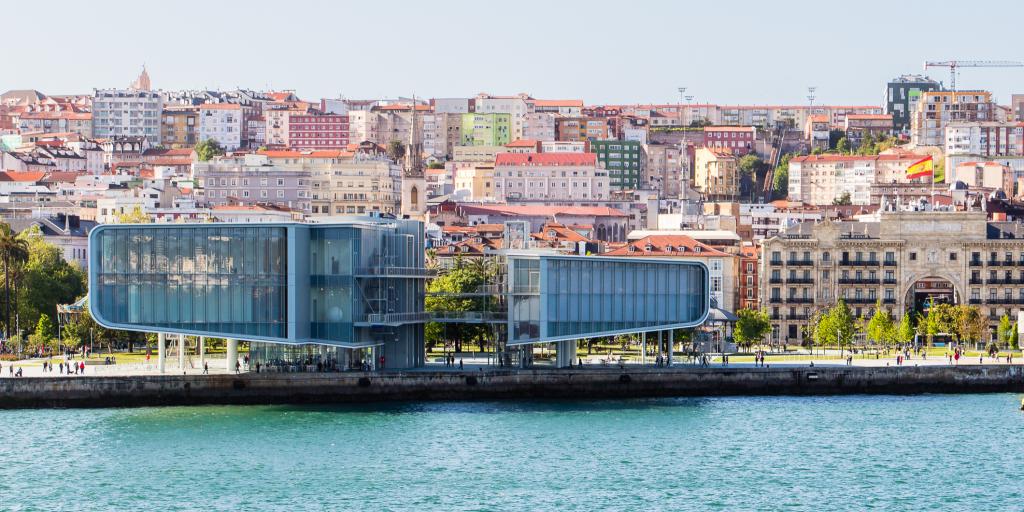 Spot Los Raqueros on the way to lunch
After exploring the museum and admiring the views, have a stroll eastward along the waterfront.
On your way to lunch, you'll pass Los Raqueros - an iconic set of four bronze statues depicting children diving into the sea.
This monument pays respects to a group of children in 19th-century Santander who scraped a living by salvaging things they would find in the bay - everything from items people threw in to objects recovered from shipwrecks.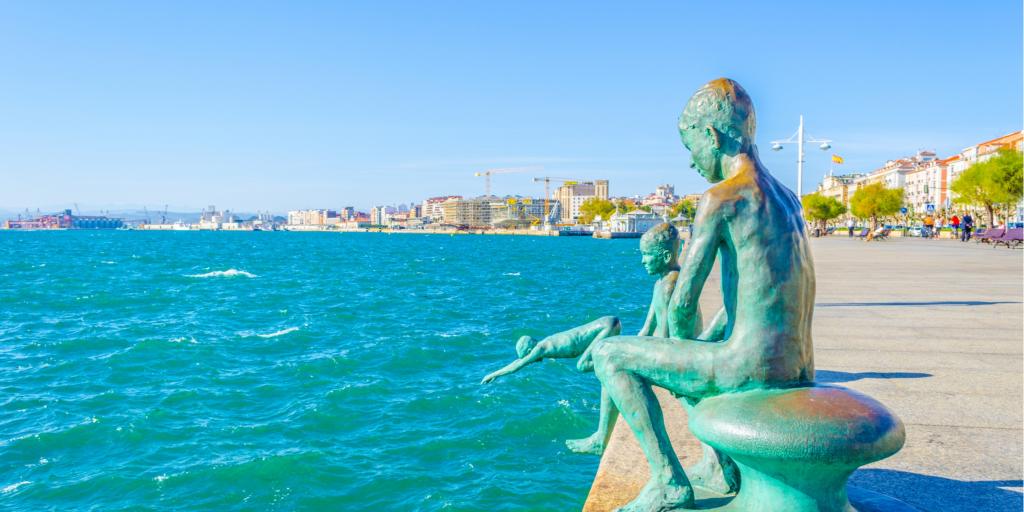 Have some tapas at Casa Lita for lunch
From there, walk up to Casa Lita, a low-key and super authentic tapas bar where you'll be having lunch.
This buzzy eatery has a huge variety of tapas and pintxos on offer at incredibly low prices. Grab an outdoor table if it's sunny, and wash down your meal with a glass or two of vermouth.
Note that Casa Lita is closed on Mondays.
Head along the water to Palacio Magdalena
Now that you've refuelled, it's time to move on to your next stop: Palacio Magdalena.
This former royal palace is perched on a cliff on Magdalena Peninsula, at the eastern end of Santander's waterfront promenade, making for quite the dramatic setting.
It's surrounded by 25 hectares of lush parkland and is open for viewing, allowing visitors to imagine what it would be like to call this their summer home.
Spend an hour or so roaming the gardens and admiring the eclectic architectural style of the palace. Thanks to its incredibly romantic atmosphere, it's a popular venue for weddings, so don't be surprised if you bump into a bride and groom posing for photos on the grounds!
Entry to the Palacio Magdalena costs €3.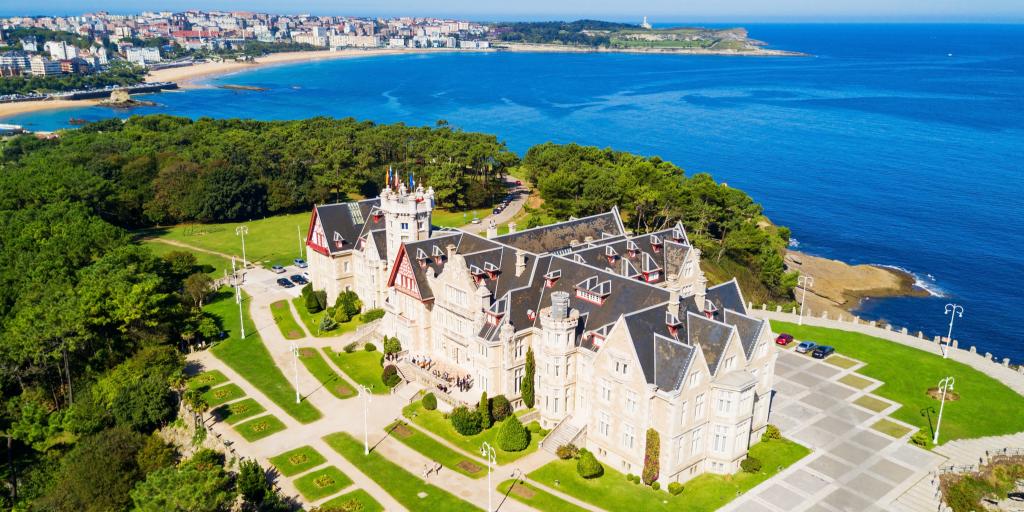 Pop into the Santander Cathedral
Before you head back to your hotel to shower before dinner, pop by Santander Cathedral on Calle Somorrostro.
This colossal Gothic church, which dates back to the 13th century and was once a monastery, is a beautiful sight that reflects the rich history of this part of Spain.
Venture down into atmospheric lower part of the cathedral, known as Church of El Cristo, to see the remains of a Roman hot spring resort.
Take a few minutes sitting in a pew admiring the ornate stained glass windows, centuries-old murals and lofty ceilings, which all create a sense of peace and serenity.
Entry to Santander Cathedral costs just €2.
Have a low-key dinner and cider in town
After you've put your feet up a bit at your hotel, head out on the town for dinner.
Sidreria Cachopo Centro Asturiano is a casual restaurant that specialises in Asturian cider, a favourite local tipple of these parts. We don't want to spoil the surprise, but the waiters here serve up cider in a unique way - nab a table here to see for yourself!
Day 4: Santander - Day trip to Santillana del Mar
Miles: 36 round-trip
This morning you're going on a day trip to one of the most perfectly preserved medieval towns you'll ever see, so have a coffee then high-tail it to your rental car.
Santillana del Mar is an easy 30-minute drive from Santander.
Wander around the 'prettiest village in Spain'
This idyllic little village is known as a 'live museum', with most of its houses built between the 14th and 18th centuries.
Spend some time ambling through the picturesque town centre, and you'll see for yourself why Jean-Paul Sartre described Santillana as 'le plus joli village d'Espagne' (the prettiest village in Spain).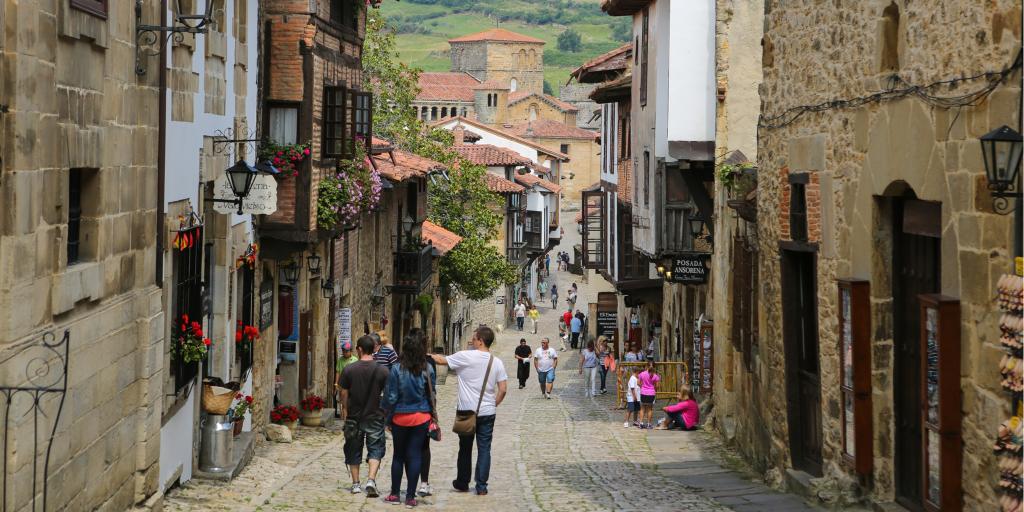 If you're in need of a caffeine kick before driving back to Santander, pop into Cafe Concana on Calle de los Hornos.
This quaint little cafe-bar serves up delicious coffee, milkshakes, pancakes and churros con chocolate in a pretty and historic building.
Drive back to Santander & spend the afternoon at the beach
After breakfast, hop back into your car and make your way back to Santander.
Park your car at the hotel, then walk up to your room to pick up a book and a towel and put on your beachwear. It's high time for some relaxation!
To get to Playa del Sardinero beach, walk along to coast on the east side of the city. This is Santander's main beach, and it consists of two beautiful big swathes of golden sand.
If you're the sun-worshipping type, hire a chair and an umbrella for €5 and spend the next few hours basking in its rays.
If you prefer doing activities, sign up for a private lesson at Escuela Surf Sardinero. For €50 (including the board, wetsuit and insurance), this surfing school will teach you how to tackle the waves like a pro.
Have dinner in Santander
Tonight, take your pick from the dozens of fabulous restaurants in Santander for dinner. Just make sure you have a relatively early night - you'll need all the energy you can get tomorrow!
Day 5: Drive from Santander - Picos de Europa - Gijon
Miles: 135
For today's adventure, you'll want to wear comfortable athletic clothes, and some sturdy walking shoes. Make sure you also have a water bottle and some snacks packed away in a backpack.
Drive to Picos de Europa national park
Pack up your things, check out of your hotel and hit the road. Your Spanish road trip is about to get epic.
The next stop on your driving itinerary is Picos de Europa - a spectacular 671-square-kilometre national park consisting of jagged peaks, glittering lakes, sprawling meadows and some of the most scenic and incredible walking routes in the world.
Nicknamed 'Spain's Dolomites,' this breathtaking mountain range will no doubt be the highlight of your trip to Northern Spain, so get your camera at the ready!
Set your Sat Nav for Poncebos, a teeny tiny mountain village in the northern tip of Picos de Europa which is about one hour and 15 minutes from Santander.
Park your car in the free street parking, grab your water bottle, and set off on the Ruta del Cares.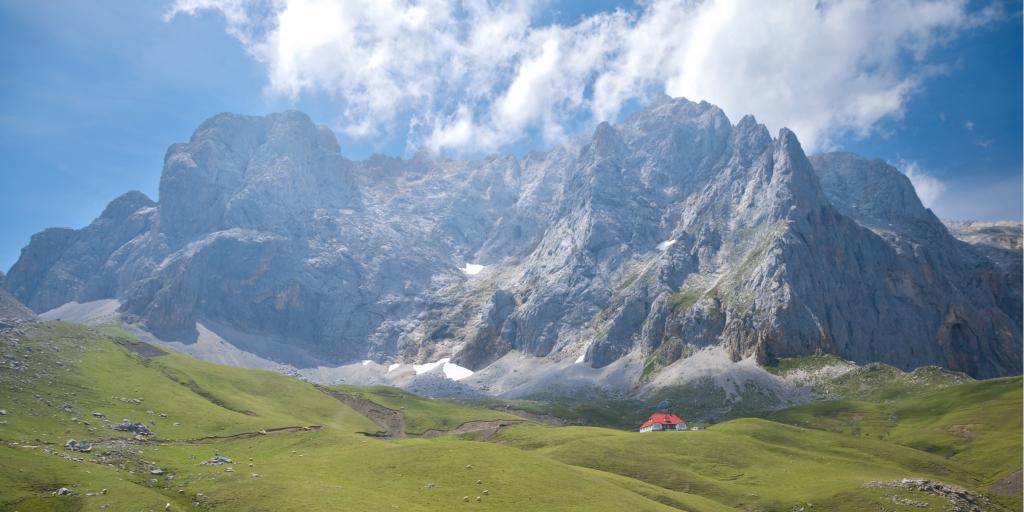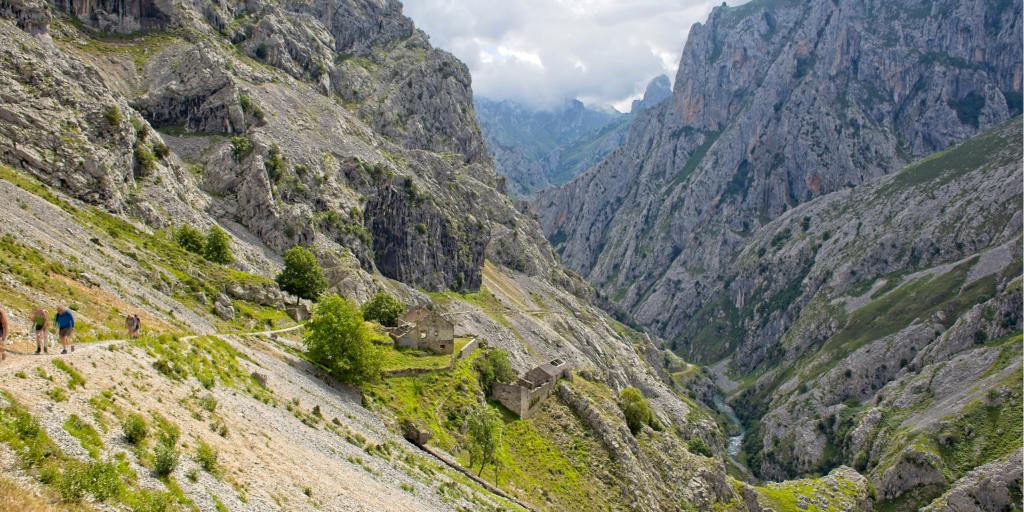 Embark on Ruta del Cares - the most popular and thrilling hiking route
The trek from Poncebos south to Cain is 12 kilometres, with the first two mostly at an uphill incline. Not to worry - it simply means the trip back this afternoon will be smooth sailing!
After the first two kilometres, it's pretty much a straight path to Cain, with some jaw-dropping scenery to gawk at along the way.
The Cares Gorge cuts straight through the central part of Picos de Europa mountain range, with an aquamarine river rushing right below you.
It should take you about three hours to hike to Cain, where you can relax for a while and enjoy a hearty lunch.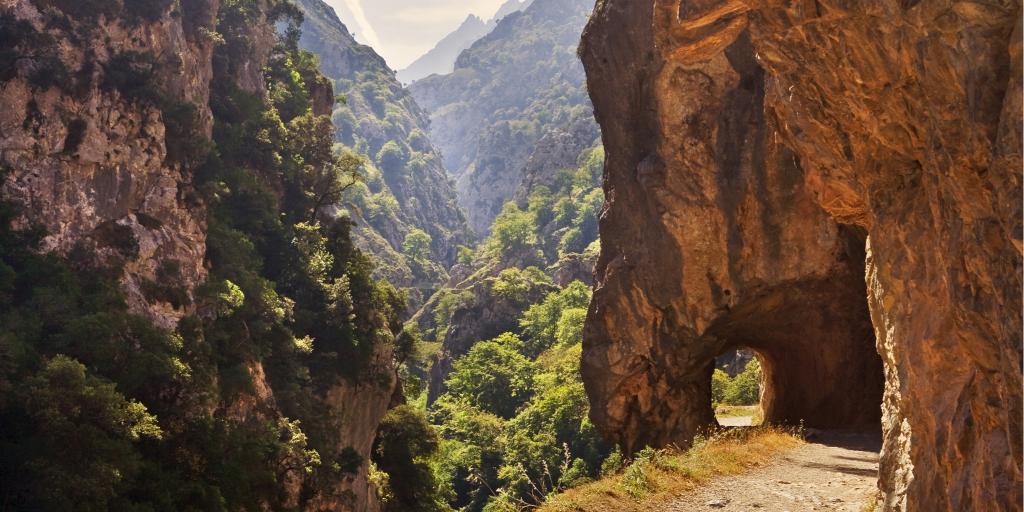 Arrive in Cain and have lunch at Casa Cuevas
Hurrah - you made it to the end of the trek! Now you just need to hike back the other way again…
But first things first: lunch. Grab a table at the quaint Casa Cuevas, where they serve up delicious home-cooked meals with views of the mountains.
You're probably in need of some serious energy after your long walk, so opt for the Menu del día, which costs just €12 and includes three courses plus bread and a drink.
Crucially, Casa Cuevas also have WiFi, so take a moment to email those breathtaking pics of the park to your friends and family.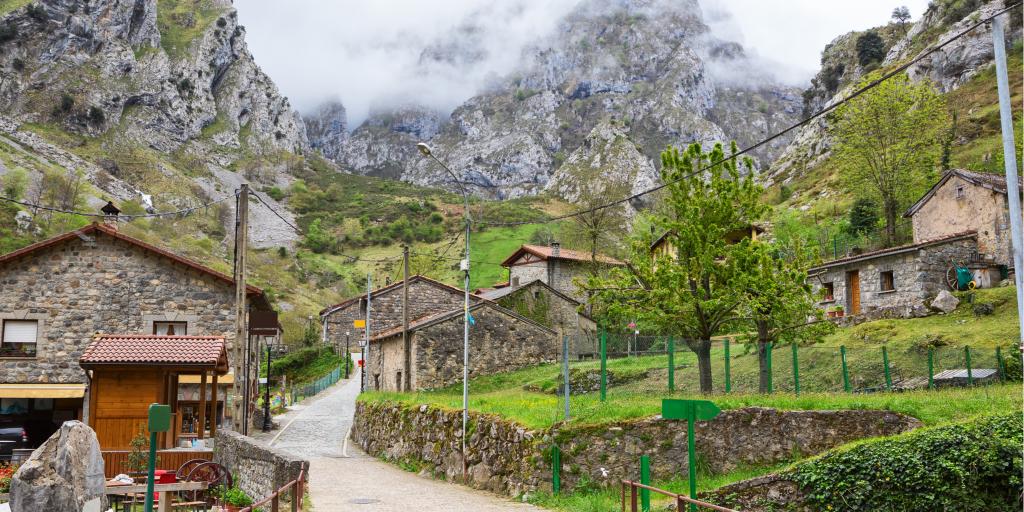 Trek back the other way to Poncebos & drive on to Gijon
As we said before, the walk back to Poncebos will be a cinch, and should probably take you about two hours.
Arrive back to your car before sundown, then hit the road towards the beautiful coastal city of Gijon, in Spain's Asturias region. The journey should take you about three hours.
The mini bar is calling your name - it's time to treat yourself to a glass of wine before going out to see what kind of culinary treats Gijon has to offer for dinner.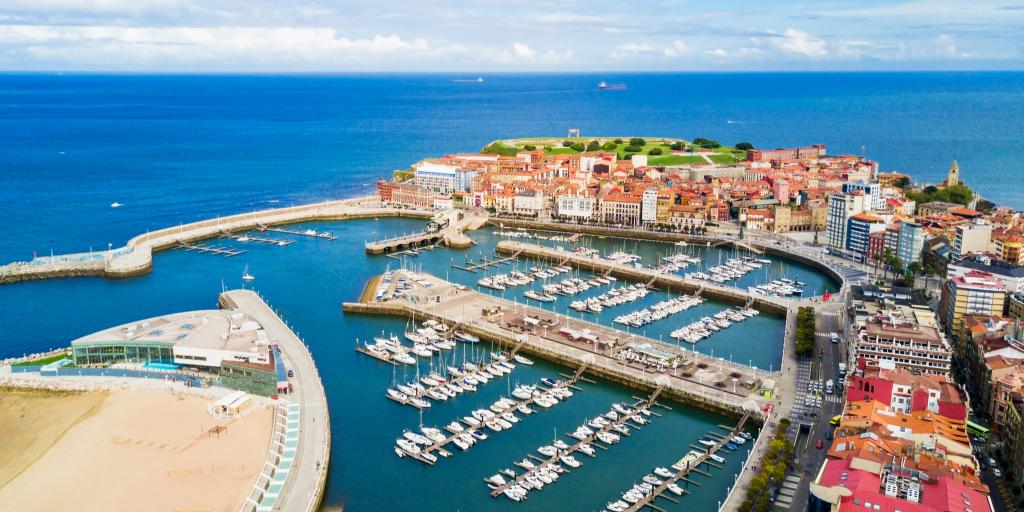 Where to stay in Gijon
Gijon has a smaller choice of hotels than Bilbao or Santander, and the Silken Ciudad de Gijon is a good choice. The rooms are great and you can relax in the swimming pool, jacuzzi and saunas after a long day.
The hotel has a secure car park which costs €9 per day which is a little easier than finding a space on the street and leaves you more time to get ready and go out!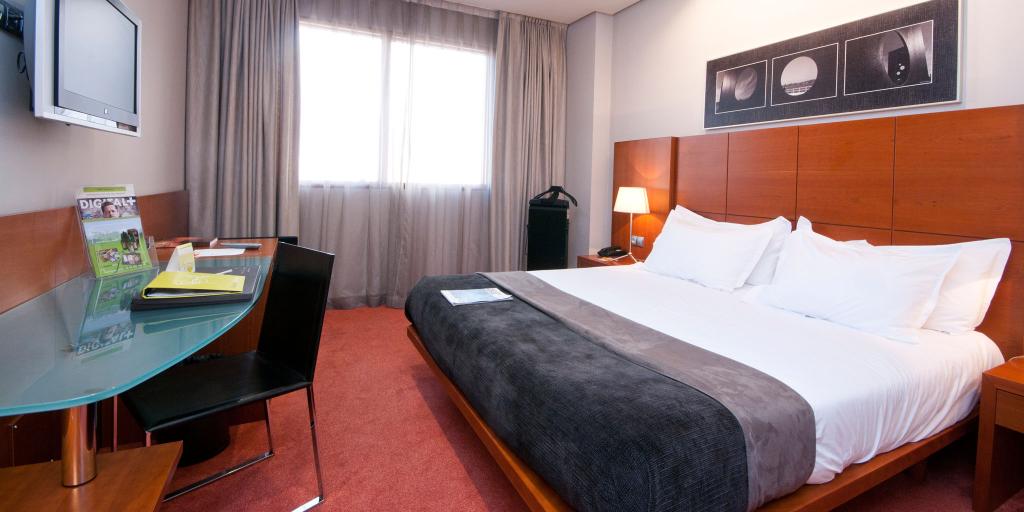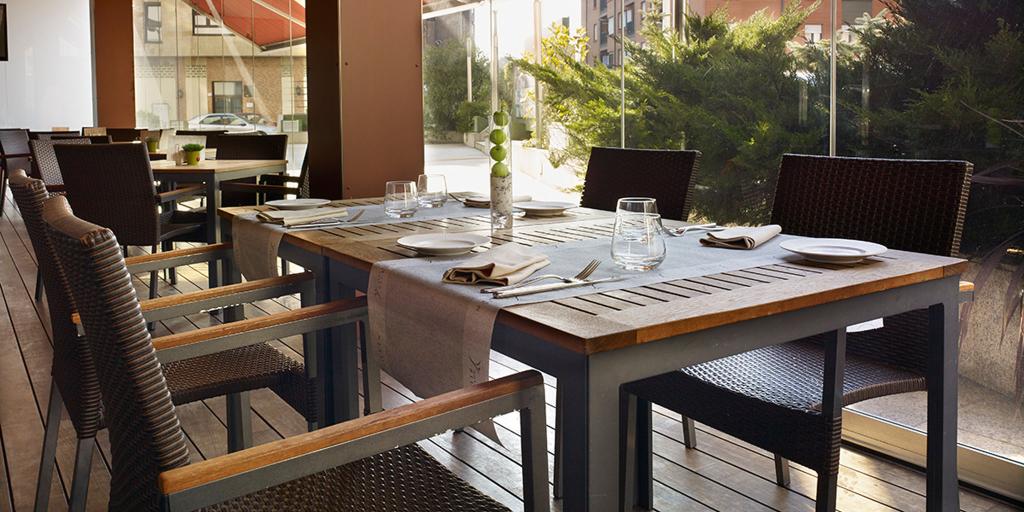 Head to Plaza Mayor for dinner and traditional Asturian cider
Gijon is known for its picture-perfect beaches, its plethora of bakeries (more on that in the morning) and its cider production, which is an important part of its cultural heritage.
In fact, the city hosts a Cider Festival every year, during which nearly 30,000 litres of cider are consumed!
Even if you're not a fan of drinking the stuff, you'll find that cider creeps into restaurant menus in all sorts of ways, often used as a cooking ingredient for cakes as well as savoury dishes.
You'll find lots of buzzing restaurants and bars in the Plaza Mayor area, so make your way there and enjoy a low-key dinner followed by a cider nightcap.
Day 6: Gijon - Pastries, museum visit & the old town
Feed your sweet tooth at breakfast
As you already know, Gijon is famous for being home to many, many patisseries (upwards of 65, at last count) which serve up delectable Asturian pastries and cakes.
Once you're dressed and ready for the day, head into town and settle into a bakery for breakfast.
We highly recommend trying a carbayone (almond pastry), or a tarta gijonesa - a classic local treat made with sponge cake and nougat.
Visit the Museum of Asturian People & Museum of Bagpipes
Your first stop today is on the east side of the city: Muséu del Pueblu d'Asturies (Museum of Asturian People).
Here, through informative exhibitions and interactive displays, you'll learn all about the cultural heritage of this region, including its somewhat surprising connection to the Celts.
The site is also home to a working cider press, a Bagpipe Museum and an old monastery, whose cloisters you can wander through.
Entry to the Museum of Asturian People is free.
Walk to the beach & try cachopo for lunch
Culture fix complete - time for more food!
It's a 40-minute walk west along the Río Piles and the bay to Playa de San Lorenzo beach, where you'll be chilling out for the better part of the afternoon.
There are lots of lovely and authentic family-run restaurants nearby on the waterfront, including the popular Taberna del Piano.
Enjoy Asturian dishes like grilled octopus, and cachopo - fried and breaded steak topped with cheese and a slice of ham. Now that's decadence!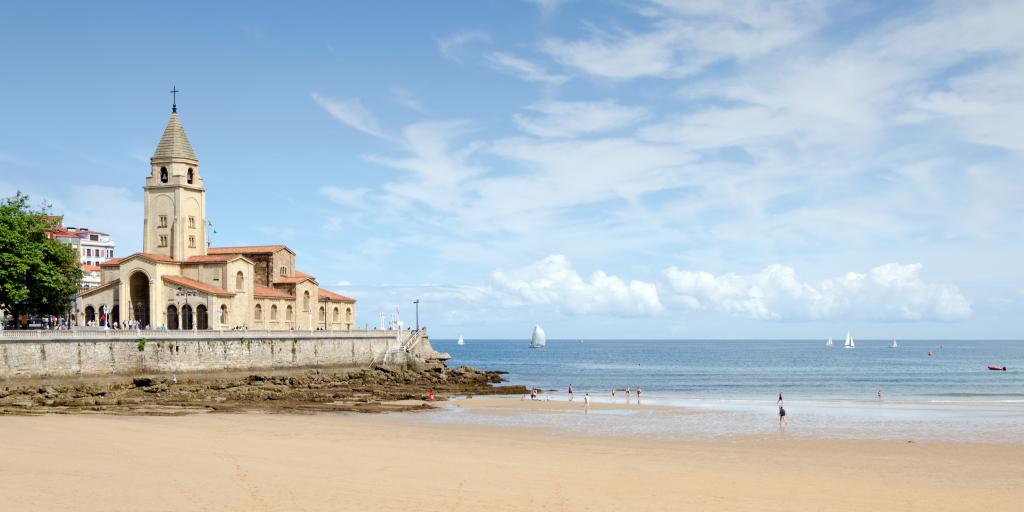 After lunch, waddle over to the beach and relax with a book for an hour or two. There's no need to rush anywhere; this is a holiday after all!
Admire the Eulogy to the Horizon sculpture
When you start to feel a bit restless, leave the beach behind and set your sights on Santa Catalina, the hill to the left of you as you look out at the water.
This is your next destination: the Eulogy to the Horizon sculpture, arguably the famous sight in all of Gijon.
It's not a steep hill, and it should take you just ten minutes or so to reach the summit, where you'll be greeted with sensational views over the sea.
The abstract Eulogy to the Horizon (Elogio del horizonte) was created by Baque sculptor Eduardo Chilliada in 1990, and since then has become an emblem of the city itself.
Stand below the arches right in the middle of the sculpture and notice how the sound of the waves is amplified, almost as though the sea is right above you.
Explore the historic Cimavilla neighbourhood
From the Eulogy to the Horizon sculpture, it's an easy walk to Barrio Cimavilla, Gijon's most historic neighbourhood.
Despite the compactness of this picturesque neighbourhood, it's positively filled with hopping bars, quaint restaurants and lovely cafes, as well as little independent shops.
Spend an hour or so exploring, then wander into La Galana in Plaza Mayor for drinks (cider, of course) and dinner. The braised ox cheek is particularly superb.
After you've stuffed yourself silly with tapas and treats, walk back to your hotel and crash for the night. Tomorrow, you shall continue on with your northern Spain road trip!
Day 7: Drive Gijon - Cabo de Peñas - Oviedo - La Coruna
Miles: 194
Detour to Cabo de Peñas - the northernmost part of Asturias
You'll be covering quite a big distance today, so try to get an early start.
The first stop on your trip is a detour to Cabo de Peñas - the northernmost tip of the Asturias province, which is about 30 minutes away from Gijon.
This stunning strip of protected headland features 19 kilometres of steep coastal cliffs that jut out dramatically over the Bay of Biscay.
On a clear day, you can see for miles - and you just might be able to spot migrating seabirds coming in to nest.
Even on a foggy day, the dense clouds add to the mystery and drama of the landscape.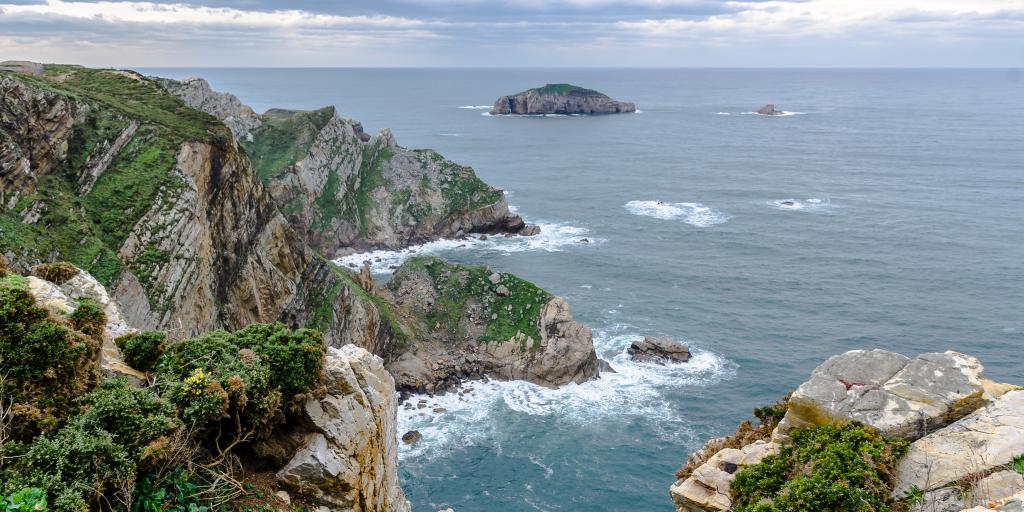 Drive to Oviedo in time for lunch
Seek shelter from the wind in your rental car, and start making your way further west to Oviedo - the culinary capital (and actual capital) of Asturias.
Expect the journey from Peñas Cape to Oviedo to take about 40 minutes.
Of all the towns you've visited so far on this road trip, Oviedo is probably the most well known for its gastronomic excellence - which makes it the perfect place to stop for lunch!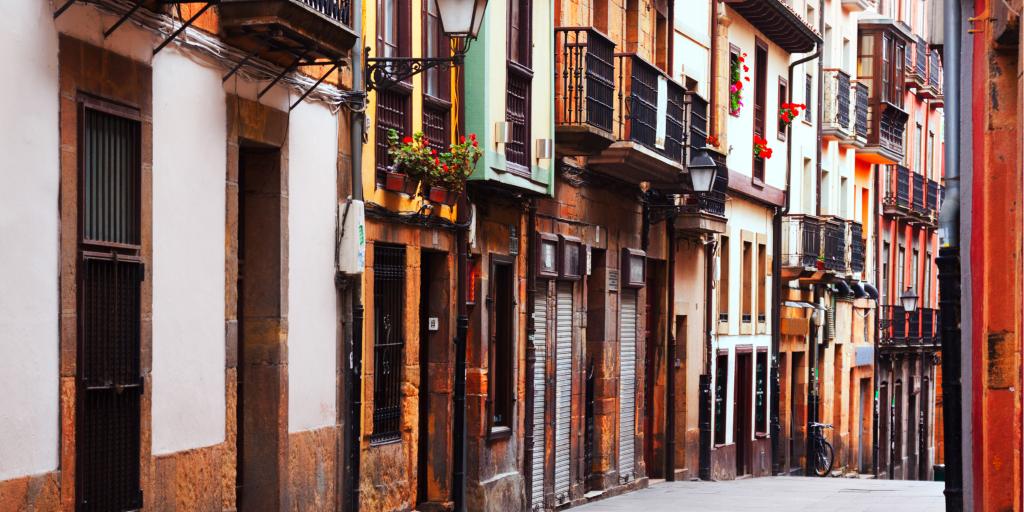 You can find all kinds of restaurant here, from low-key diner-style tapas bars to upscale Michelin-starred eateries.
El Boca a Boca (which translates to 'word of mouth') is one of the most popular options, especially among locals. The service is friendly, the food is fantastic, and the prices are more than reasonable. Sounds like the perfect recipe to us!
Other great options are the atmospheric Secreto a Voces, which has a creative menu filled with eclectic dishes, and El Gato Negro, a casual cider bar and restaurant with lots of character.
Wherever you decide to eat, be sure to stop by the Oviedo Cathedral on your way back to the car.
Entry to Oviedo Cathedral costs €7 for adults (€3 for children).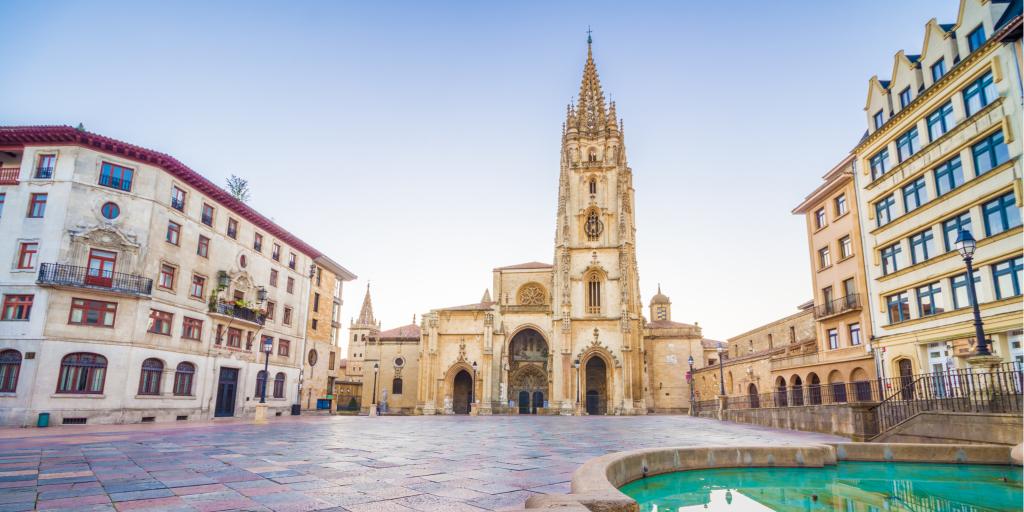 Drive to La Coruña
Head back to your car around 4pm or so and drive the rest of the way to La Coruña, in the Galicia region, which is about three hours from Oviedo.
You should arrive just in time to check in to your hotel, have a rest, and go out for a relaxed dinner. The port is a beautiful place to be in the evening, so go for a stroll alongside the water before hitting the hay.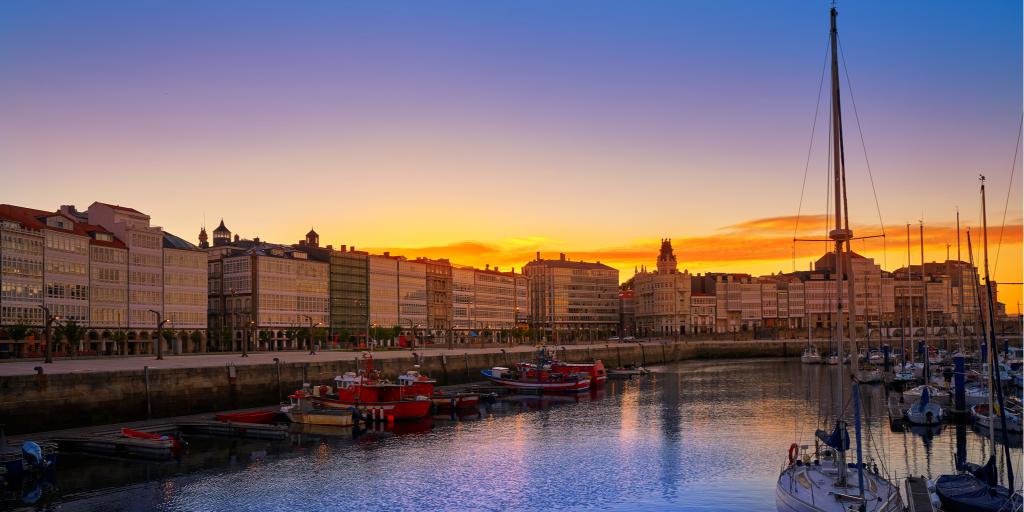 Where to stay in La Coruña
We love finding amazing places to stay and the Hotel Blue Coruña is a real gem. The rooms are modern with great beds, cool art and fantastic views.
The hotel only opened in 2014, so the rooms feel a lot more new and funky than some other hotels around the city.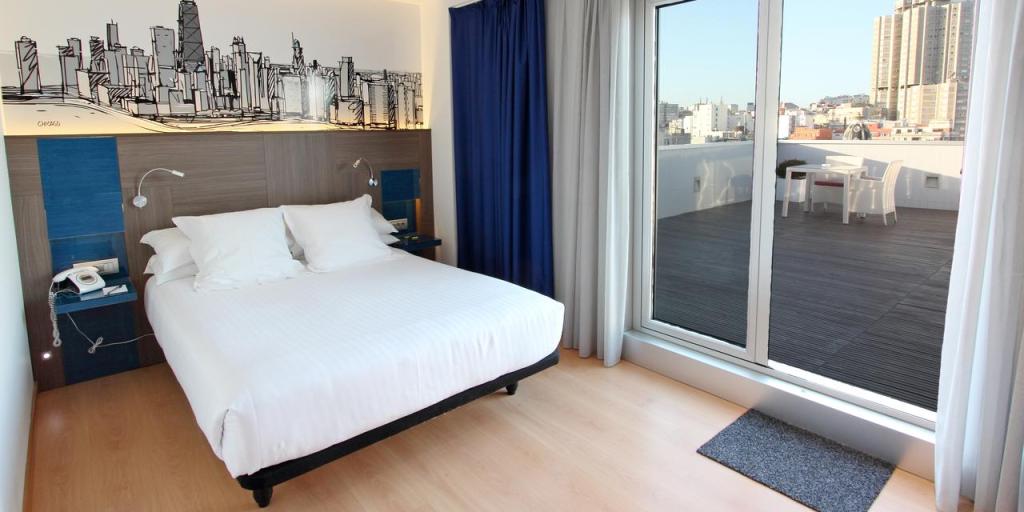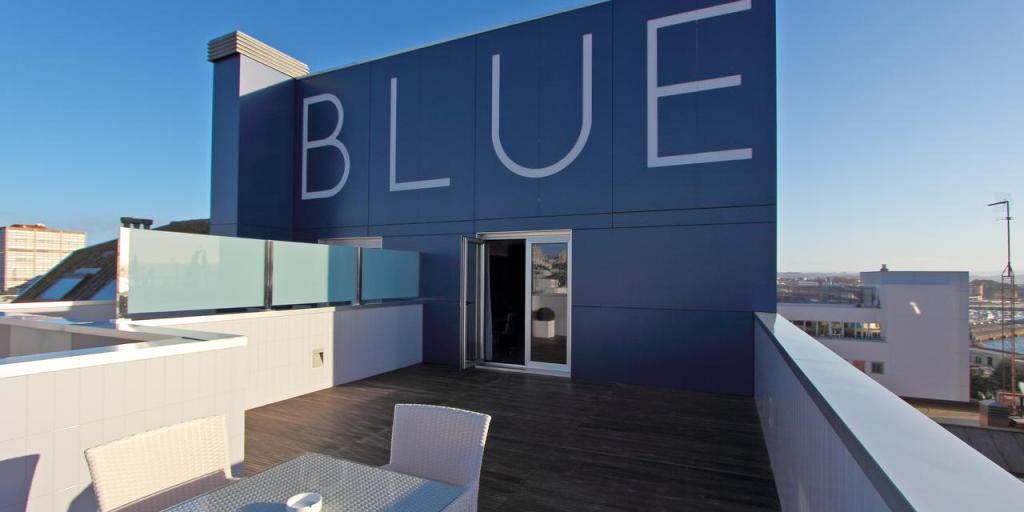 Day 8: La Coruña - Climb Hercules tower & visit the aquarium
Explore A Coruña
Often overlooked by travellers, La Coruña (or A Coruña in the local Galician language) is an enchanting port city with a Brighton-like feel.It sits on a rocky peninsula in an estuary of the Atlantic ocean, making for rather dramatic scenery (noticing a pattern in this region of Spain?)
One major point of pride for locals is the UNESCO-listed Torre de Hércules (Hercules Tower), the world's only functioning Roman lighthouse.
It's nearly 2,000 years old and offers unparalleled views of the city and seaside from the top.
After you've filled yourself up with coffee and breakfast, it's time to make your way to this splendid relic of ancient history.
Climb to the top of Torre Hercules - the only functioning Roman lighthouse in the world
From the port area of La Coruña, it takes about 40 minutes to reach the lighthouse.
If you intend to climb to the viewing platform at the top (and we highly recommend you do), don't forget to purchase tickets from the kiosk in the car park below.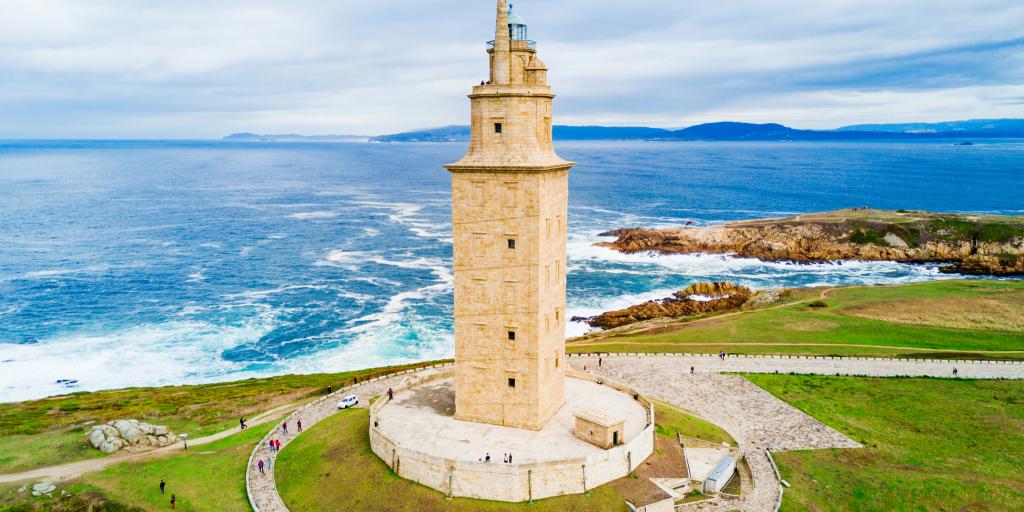 Spend the afternoon at the aquarium
Just a few minutes away from Hercules Tower is Aquarium Finisterrae ('aquarium at the end of the Earth'), La Coruña's unique indoor-outdoor aquarium.
Here you'll see sharks, eels, an outdoor sea lion enclosure and other wildlife as well as family-friendly interactive exhibits.
If you're travelling with children, and even if you're not, it's a fascinating insight into the local marine life. There's also a lovely cafe restaurant inside if you (or the little ones) are in need of a snack.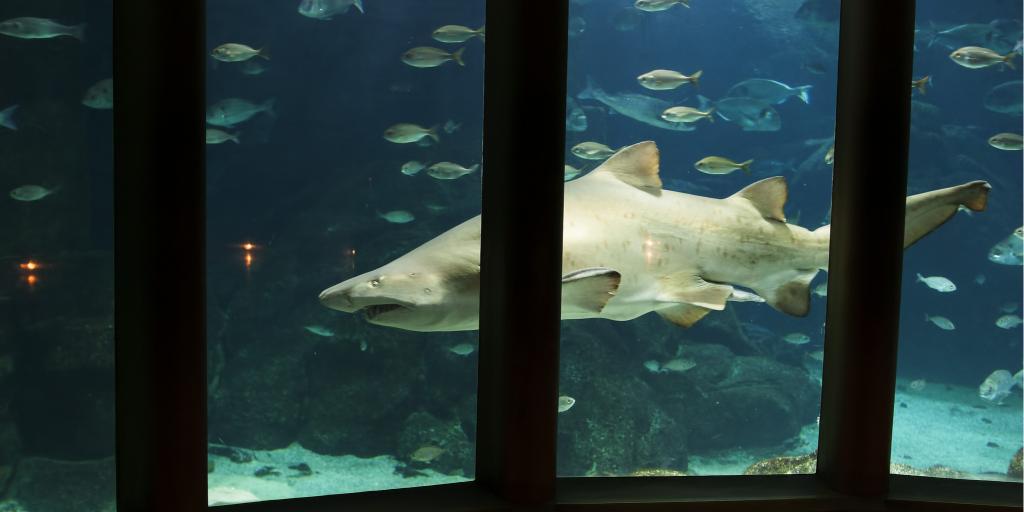 Travel tip: Don't forget to go downstairs to the underwater Nautilus room, where you'll find a recreation of scenes from Jules Verne's Twenty Thousand Leagues Under the Sea.
Choose octopus for dinner
Food is a major part of life in La Coruña, with tapas, empanadas and fresh seafood dishes making an appearance on most menus.
In particular, octopus is the speciality here in La Coruña, so seek that out on the menu of wherever you decide to go for dinner tonight.
The classic way to prepare octopus (known as pulpo a la gallega or pulpo á feira) in Galicia is boiled, seasoned with olive oil, paprika and salt, and served on a pile of boiled potatoes. Speaking from experience, it's positively delicious!
Your best bet is to walk around the cobbled streets of the Ciudad Vieja (old city) and explore the restaurants in the main square, Plaza de María Pita.
Day 9: Day trip from La Coruña to Santiago de Compostela
Miles: 90 round-trip
Drive to Santiago de Compostela
After your morning coffee, grab your rental car and hit the road towards Santiago de Compostela, which is an hour away.
Santiago de Compostela is famous for being the final stop on the epic Camino de Santiago pilgrimage trail, also known as St James' Way, a 500 or so mile-long walking route that winds through Portugal, northern Spain and France.
In Medieval times, Christians followed this path to reach Santiago de Compostela, where the apostle Saint James was reportedly laid to rest.
Today, hundreds of thousands of Christians and non-Christians alike embark on the route, taking days, weeks or even months to complete various parts of the walk.
Spend the day exploring this historic 'big village'
With a population of just 100,000, Santiago de Compostela is considered by many as more of a 'big village' than a city.
And yet every year, nearly 40,000 students descend here to spend years or semesters abroad, adding a lively, youthful vibe to the culture.
Spend your day trip ambling along the charming streets, admiring the architecture, and peeking into the various monasteries and churches. Keep an eye out for people carrying walking sticks and hauling big backpacks - a sure sign that they've just completed the Camino.
If you're curious to learn more about the pilgrimage, visit the Museo da Peregrinacions (Museum of Pilgrimage) on Praza de Praterías.
See the famous Cathedral & wander through Old Town
A trip to Santiago de Compostela wouldn't be complete without a visit to the famous cathedral, where the remains of Saint James are allegedly buried.
Built in the 1300s, this pristine example of Gothic and Baroque architecture is quite the sight to behold, commanding a prime position in the grand Plaza del Obradoiro.
Every day at noon, the cathedral hosts a mass; time your visit to coincide with this incredible event for a truly memorable experience.
You can purchase a combined ticket - which includes a guided tour of the Cathedral and a visit to the museum next-door - for €15.
Have lunch, then drive back to La Coruña for the night
It's your last night in northern Spain, so make the most of it! Embark on a tapeo (tapas crawl) along the streets around Praza Marqués de San Martín. Now's the time to try all the tapas and pintxos you haven't yet sampled!
Round out your night with a drink at El Pato Mareado (which hilariously translates to 'the drowsy duck'). Despite the name, this is a lively and popular bar with pleasantly kitchy decor, delectable cocktails and occasional live music. It's open til 2am on weekdays and 3am on Saturdays, so why not make a night of it?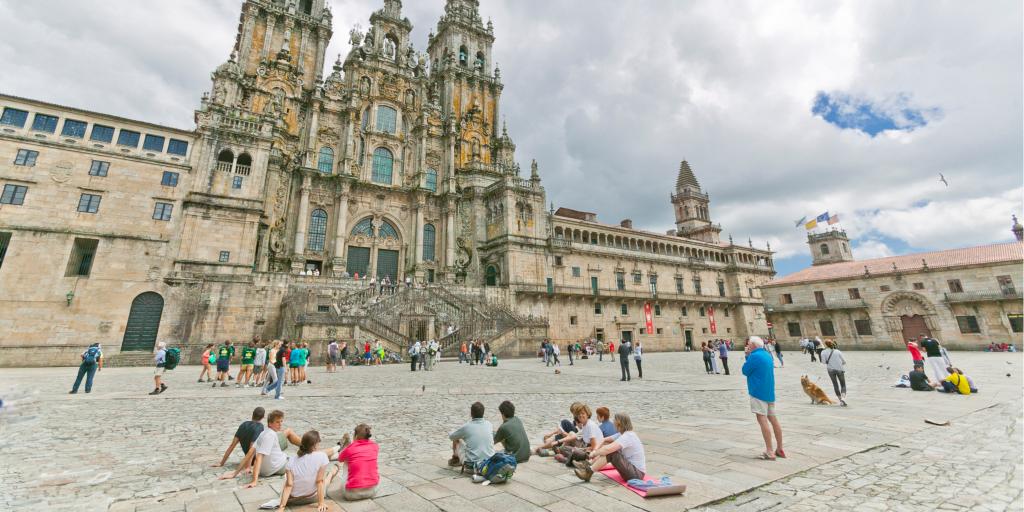 Day 10: Drive from La Coruña to Bilbao & fly back home
Miles: 336
Depending on what time you've booked your return flight for, you'll probably have to check out of your La Coruña hotel relatively early in order to hit the road back to Bilbao in good time.
The drive will take you between five and six hours, depending on which route you take. You could retrace your path along the coast, which is quicker, or travel further inland past Ponferrada, Leon and Burgos for a change of scenery. Up to you!
Make sure you allow enough time to return your rental car on the other side.