Seville weekend trip - The perfect city break itinerary
Day 1: Fly into Seville Airport
Seville is quiet on Sunday nights, so begin your Seville weekend trip on a Thursday night and plan to fly back on Sunday evening. Direct flights from London cost as little as £33 return, and the airport is an easy 30-minute bus ride from the city centre.
Head to your hotel or weekend apartment rental and freshen up before going out to grab some dinner. Note that dinnertime in Seville is probably later than you're used to - around 9pm at the earliest - so if you've got some time to kill beforehand, feel free to go for a walk through the town.
Start your long weekend in Seville right with traditional Spanish tapas
El Rinconcillo is probably the most famous tapas restaurant in Seville - and rightly so. This traditional eatery dates back to 1670 - which means it predates the invention of tapas themselves!
Expect classic Andalucian decor, from the wood-panelled bar and azulejo tiled walls to the cured ham legs hanging from the ceiling.
Go wild and order a bunch of different tapas for the table and pair them with a glass of sherry or vermut, two of Seville's signature drinks.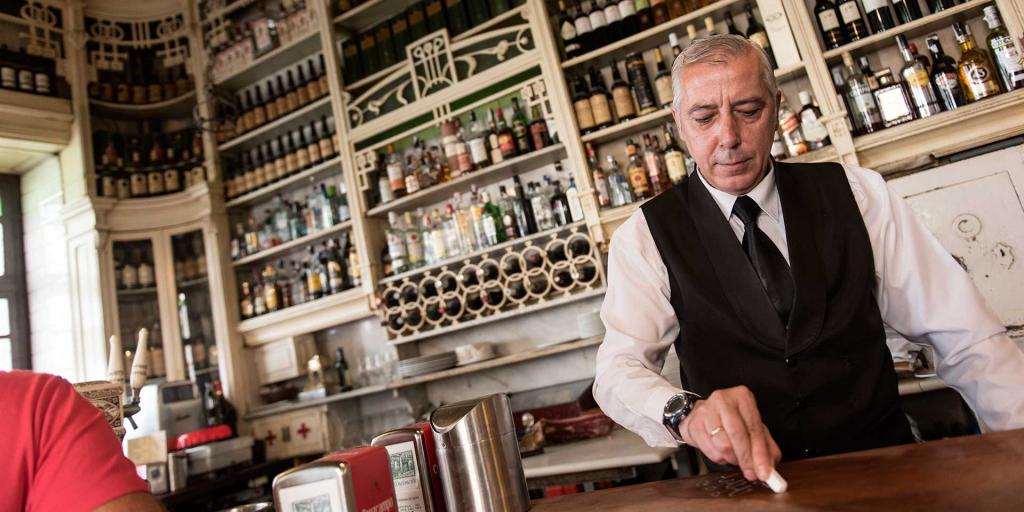 Day 2: Sightseeing & flamenco
Enjoy an authentic Andalucian breakfast
Buenos dias! Before you set off for some sightseeing, head to a tapas bar or low-key cafe (the more locals there, the better) and order a pan con tomate.
This classic Andalucian breakfast is light and simple, but oh so delicious and satisfying. It consists of toast topped with crushed tomatoes, olive oil, garlic and salt. Wash it down with a coffee and then set out to see the sights!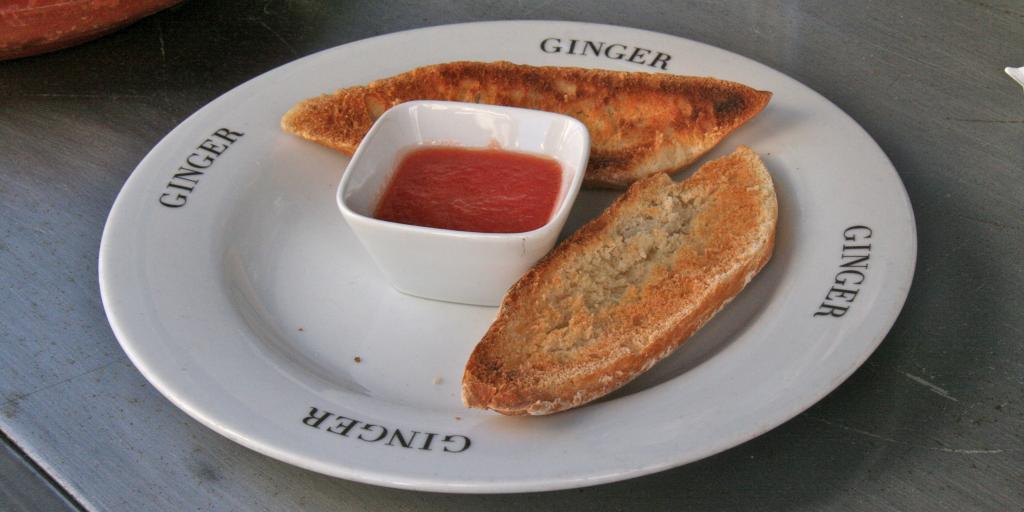 Visit the spectacular Seville Cathedral
Your first sightseeing stop of the day is the Cathedral of Saint Mary of the See, better known as Seville Cathedral.
This colossal icon of Seville is not only the biggest Gothic building in all of Europe, it's also the largest cathedral in the world by volume - so you'll definitely want to dedicate a couple of hours to seeing it in all its glory.
When construction on Saint Mary of the See was finished in the early 16th century (after about 100 years of building), it overtook Istanbul's Hagia Sophia as the largest cathedral in the world.
Today, the UNESCO World Heritage-listed building is one of the most popular tourist attractions in Spain.
Highlights include the central nave - which rises to a jaw-dropping 42 meters - the 80 side chapels, and the magnificent tomb of Christopher Columbus (or Cristóbal Colón, as he's known around here).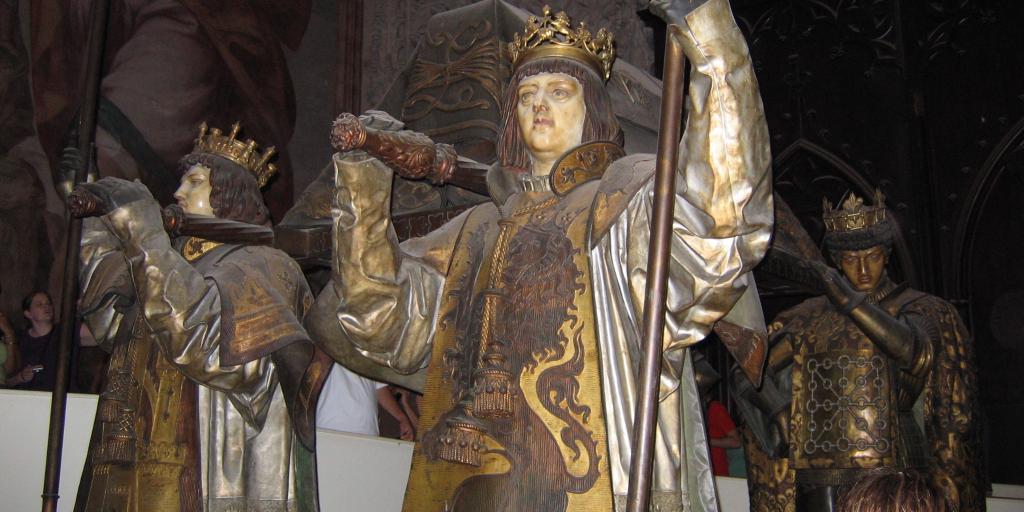 After you're done exploring the cathedral, walk out back to admire it from the Patio de los Naranjos, a landscaped space filled with colourful Sevillana orange trees and centred around an old fountain that dates back to the Visigoth period.
This garden is a serene oasis in one of the busiest parts of the city; take a moment to breathe in the fresh aroma of oranges before moving on to your next stop, which is right next door.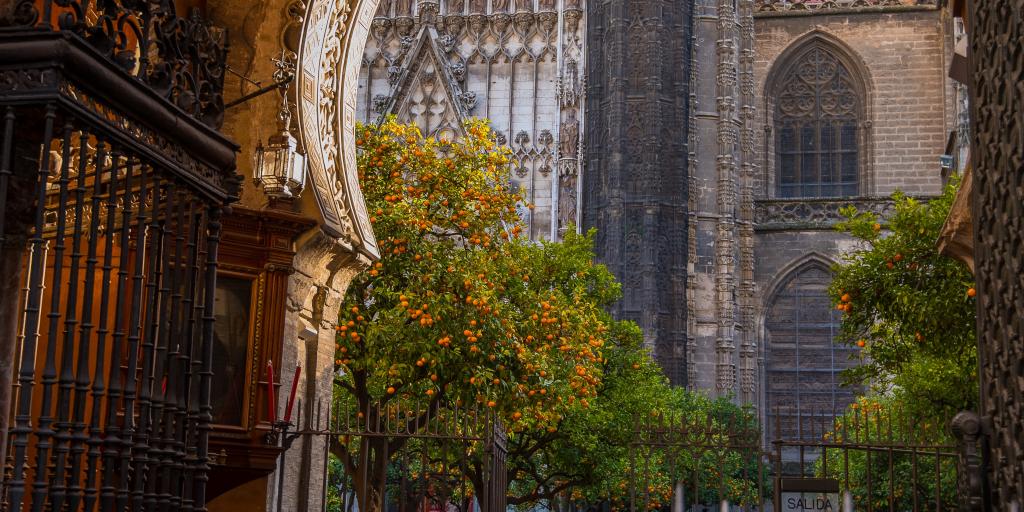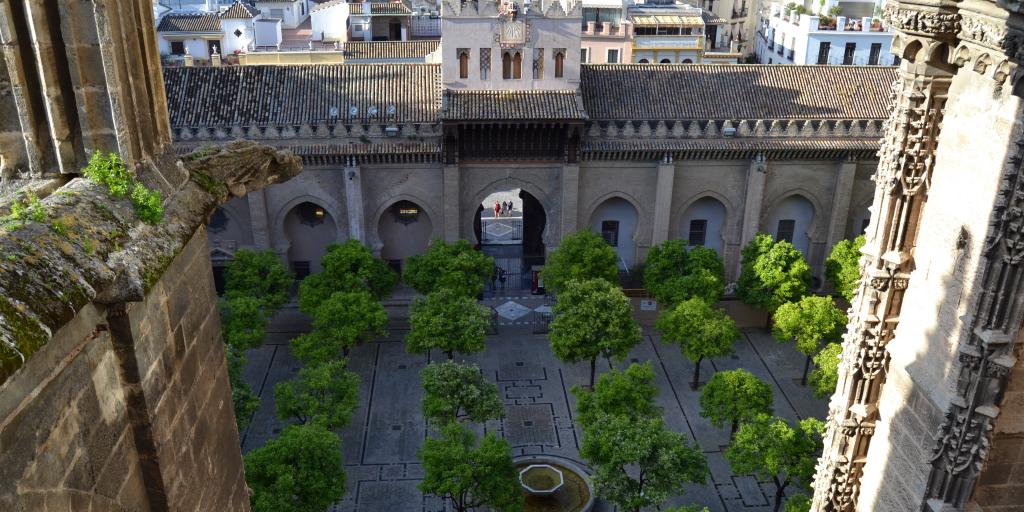 Climb up La Giralda belltower
Right alongside the Cathedral of Saint Mary of the See is the famous La Giralda bell tower, which looms over Seville like a protective sibling.
The 105-metre-tall tower was originally the minaret of a mosque that stood on the site of Seville Cathedral in the 12th century, when Muslims ruled over southern Spain.
As such, it's characterised by an intriguing blend of Moorish-inspired design and Renaissance architecture, reflecting the varied past of Seville.
We recommend buying a combined ticket to the Cathedral and Giralda and climbing the 35-ramp walkway up to the top of the tower. From such heights, you'll be treated to fantastic views of the entire city - and beyond.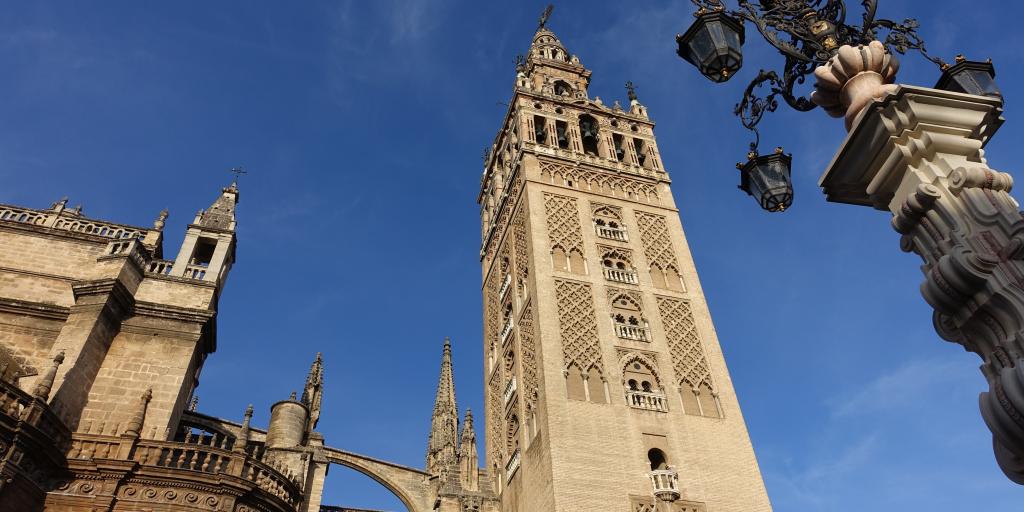 Head to Plaza de España
From La Giralda, it's a 15 to 20 minute walk to your next destination: Plaza de España.
Set within the sprawling María Luisa Park and flanked by canals and walkways, the semi-circular building that dominates the Plaza was built for the Ibero-American Exhibition Exposition of 1929.
It was constructed in the Renaissance Revival and neo-Moorish style by architect Aníbal González, with 48 small tiled pavilions surrounding the building, each one representing a province of Spain.
Come here to walk around the gardens, watch the horse and carriages parade by, or take in a spontaneous flamenco performance on the grounds. You can also rent a boat to float around the canal, if you so please!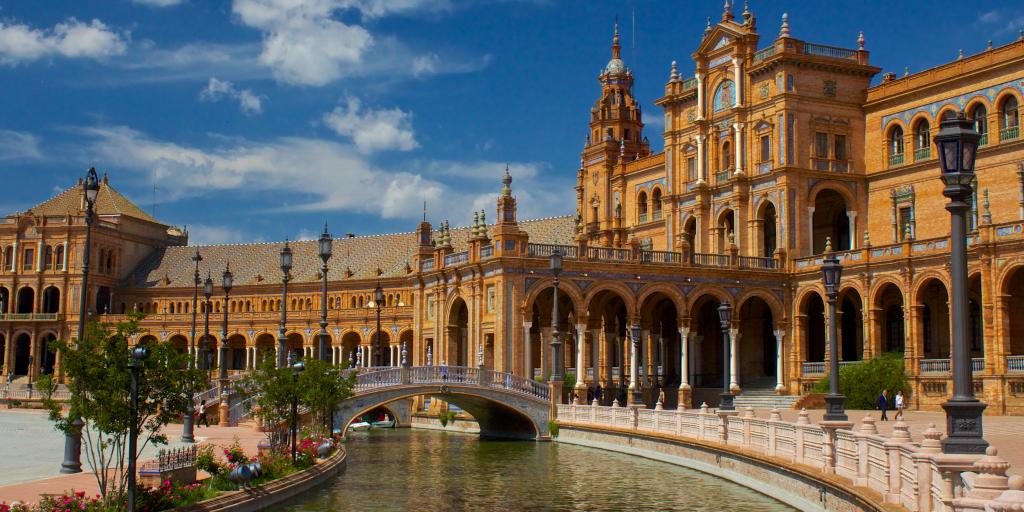 Lunch - the most important Spanish meal of the day
Fun fact: In the mornings, Spaniards greet each other with "Buenos dias" (good morning). Only once they've had lunch - which could be as late as 2pm or 3pm - does the greeting change to "Buenas tardes" (good afternoon)... which just goes to show how important lunch is in Spanish culture.
With that in mind, double back northeast and cut through the Jardines Murillo to Plaza Alfaro. Walk all the way up Calle Lope de Rueda, turning right at the end, and then make a left on Calle Sta Teresa.
From there, turn left on Calle Mesón del Moro, cruise past the Flamenco theatre, and hang a right on Calle Mateos Gago.
On your left you'll see La Fresquita, where you'll be having a well-deserved lunch break.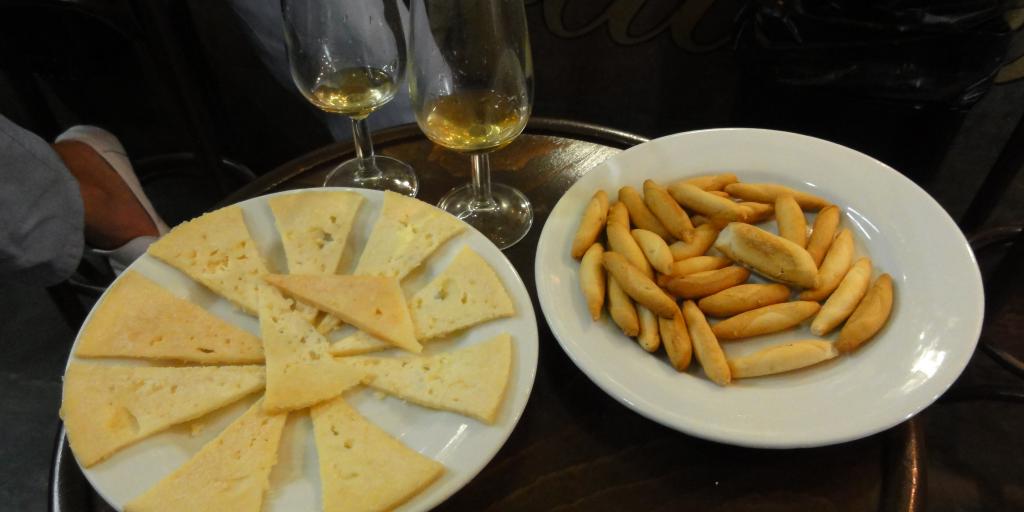 Taberna La Fresquita is a firm favourite restaurant among locals and one of the most atmospheric tapas bars you'll encounter.
Every inch of wall here is bedecked in photographs of old actors and bullfighters, paintings of Jesus and the Virgin Mary, and vintage posters presented in comically ornate frames.
And when you ask for a drink, the bartenders scrawl your order right onto the bar in chalk - a true Andalucian tradition.
Nab a table outside or grab a standing spot at the bar (there isn't much seating inside) and mingle with the locals while you try out some more local fare.
It's all about long, leisurely lunches here, so linger over those tapas and beers for an hour or two.
When in Spain, do as the Spaniards do. You're likely feeling a little sleepy after all those tapas, so take the opportunity to head back to your hotel room and have a siesta. There's more to come tonight, so you'll need to conserve some energy.
Take in a flamenco show
You can't possibly visit Andalucia without experiencing a flamenco show - especially in Sevilla, the city where that fiery, passionate style of dance and song was born.
And there's no better place to see it than at Casa de la Memoria, an intimate venue with nightly hour-long shows at 7:30pm and 9pm (tickets are 18 euros per person, or 10 euros per child).
If you've never witnessed flamenco before, and even if you have, the spectacle at Casa de la Memoria is sure to prove captivating, entertaining and quite moving.
Get there early to nab good seats, and remember to resist taking photos until the end of the show.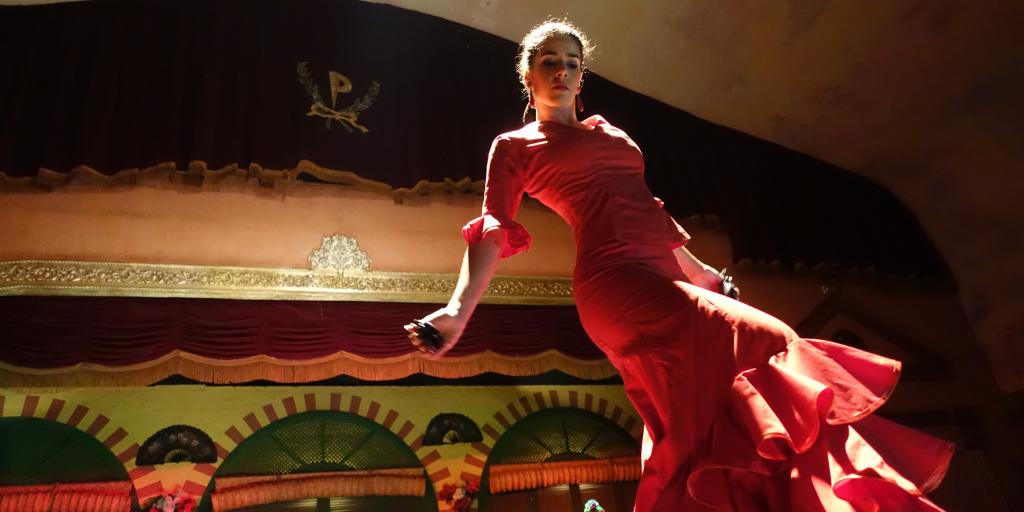 After the show, head out on the town and grab dinner at one of the tapas restaurants nearby.
Better yet, embark on a "tapeo" (tapas crawl) around the area; there are supposedly about 3,000 tapas bars dotted around Seville, so visit as many as you can before rolling back to your hotel room filled with boquerones fritos (fried anchovies), salmorejo (Andalucia's version of gazpacho) and tortilla de patatas (Spanish omelette).
Day 3: History, market & drinks with a view
Rise and shine at a reasonable hour today so you can tackle another one of the most famous sights in Seville, if not all of Spain: Real Alcazar.
Get lost in the gardens of Real Alcázar
Rivalling Granada's Alhambra in terms of grandeur and beauty, the Alcázar is a truly breathtaking sight as well as being a prime example of the Christian and Islamic architectural blend that defines this part of the world.
Originally built by the Moors in the 10th century, the magnificent palace complex at Real Alcázar consists of lush gardens filled with bubbling fountains, exotic plants and roaming peacocks as well as the palace itself, making it the perfect place to explore and get lost for a while.
Inside the building, it's all beautiful mosaics, coffered ceilings, intricate tile-work and gilded archways.
With so many nooks and crannies to discover - including the famous Baths of Maria de Padilla - you should really dedicate at least two hours to visiting the Alcázar.
Plus, Game of Thrones fans will recognise the palace as the Water Gardens of Dorne, which means a photo op is practically obligatory, for bragging rights if nothing else.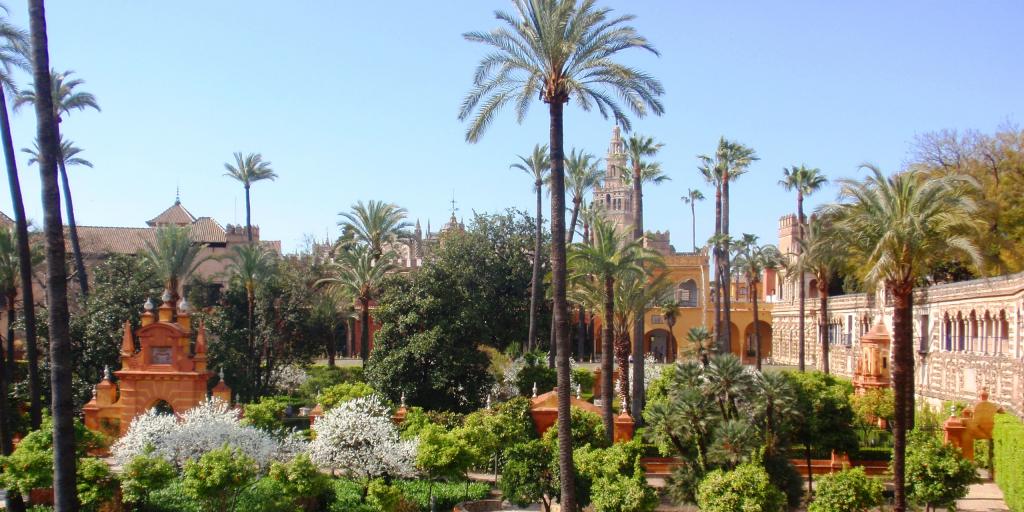 Check out the Torre del Oro
From the palace, walk west towards the river and Puente San Telmo.
Just north of the bridge you'll see a striking watchtower perched at the edge of the water. This is the Torre del Oro (Tower of Gold), a 13th-century former defensive tower.
Some say the Torre del Oro got its name from the golden reflection it casts on the river at sunset; others say it's because it was once used as a storage depot for precious metals, including gold and silver, that were brought back to Spain from the Americas.
The true story may never be known, but it's still worth paying the 3 euro entry to visit the small but super interesting museum inside, which details the naval history of Seville and the surrounding region.
The views from the top of the tower are pretty fantastic as well.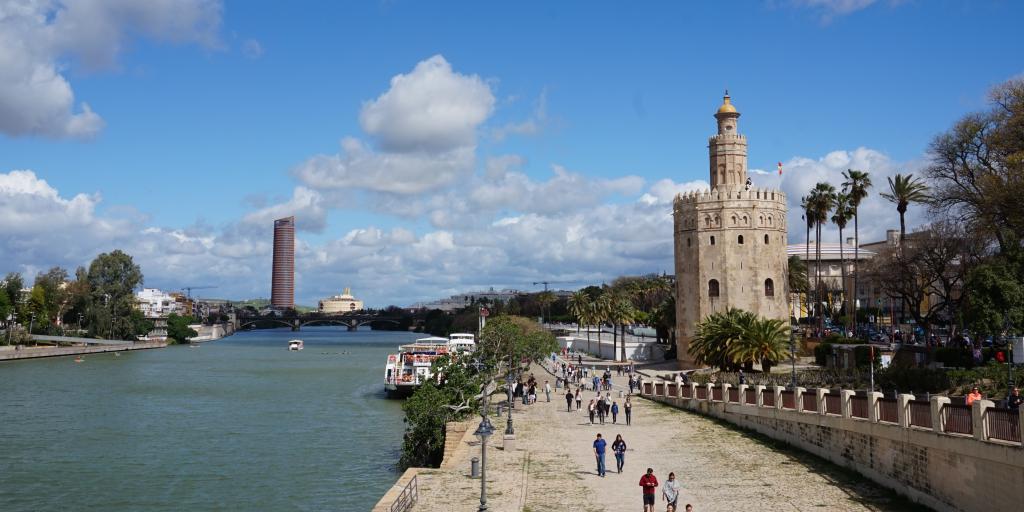 Get lunch at Mercado Lonja del Barranco
The vibe at the upscale Mercado Lonja del Barranco covered food market is quintessentially Sevillano - posh, put-together, and tending towards gourmet.
Wander through the stalls and discover local produce, artisan cheese, fresh seafood, cured meats and ready-to-eat dishes, plus cocktail bars and cafes serving up drinks, coffee and sweet treats.
The market is light and airy, with a sleek, clean design and plenty of seating. While the food is a little on the pricey side, it's still a great place to try out lots of local fare in a pleasant, cosy atmosphere.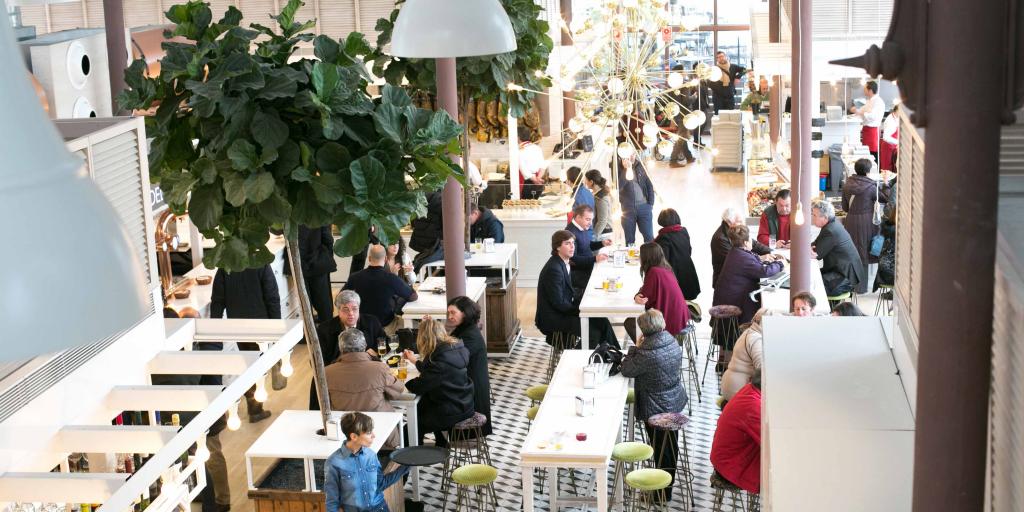 Wander around Seville and pick up some souvenirs
Once you've filled up on jamon and aceitunas (olives), spend the rest of the afternoon meandering through the tangle of streets in Seville's historic centre and doing some shopping.
Spain is of course the birthplace of many a familiar fast fashion name like Zara and Pull&Bear, but if you'd rather veer away from typical high street shops, you should head to Soho Benita.
This area, which consists of five streets between Plaza Alfafa and Metropol Parasol, is a bohemian haven.
Expect independent boutiques, holistic therapy centres, quirky cafes and intimate art galleries. (More info on Soho Benita can be found on the Andalucia tourism website).
When you start to feel peckish (as shoppers are wont to do), stop off at a cafe for a merienda (afternoon snack).
If you've got a sweet tooth, order some churros - those classic doughy snacks that are typically served with a hot chocolate dipping sauce. That should perk you right up!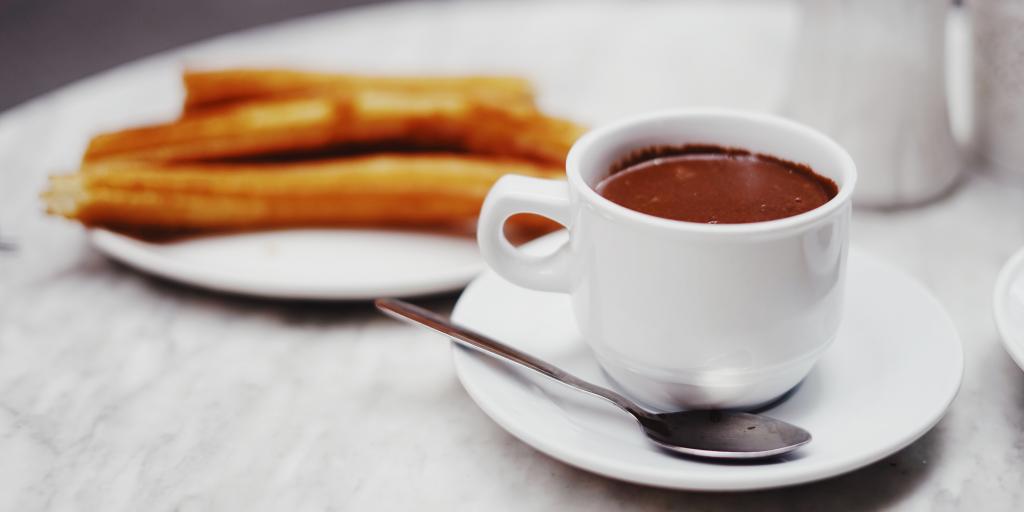 Have a drink on top of "the Mushrooms" of Seville
Standing out like a sore thumb against the historic buildings of Seville is Metropol Parasol - or "Las Setas" (the mushrooms), as the locals have nicknamed it.
As you can imagine, this giant futuristic-looking canopy, thought to be the largest wooden structure in the world, was somewhat controversial when it first opened in 2011. These days though, it seems to have blended into the city's landscape, providing shade in the summer and a unique meeting space year-round.
The structure's basement level houses the Antiquarium, a museum displaying Roman and Moorish ruins that were discovered on that very site. If you're in the mood for some history, it's well worth checking it out.
Otherwise, take the lift up to the roof terrace for a drink or two paired with spectacular views.
(Entry costs 3 euros and includes a drinks token).
While you're up there, take a stroll along the pathways that snake around the structure. It's a bizarre but truly unique way to experience Seville from up high.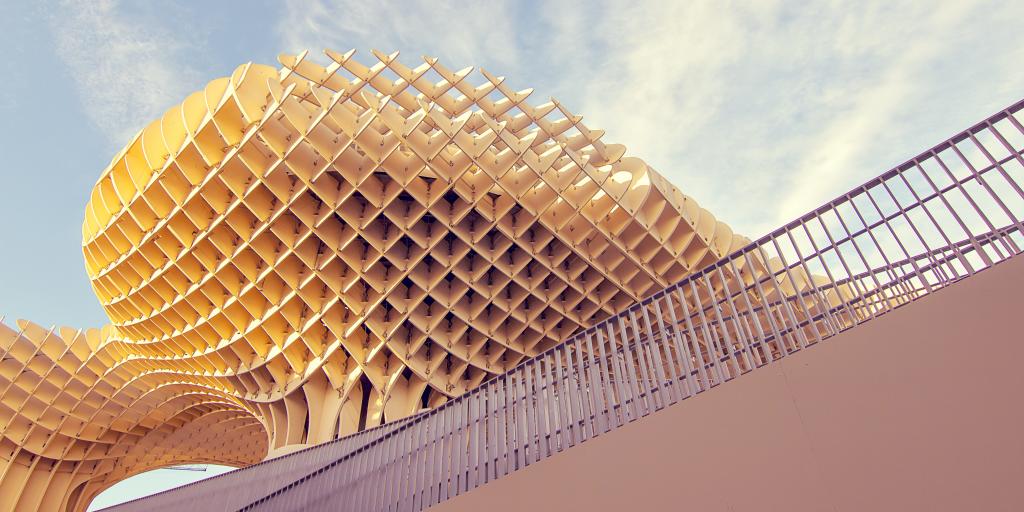 Dinner at El Pintón
Have a rest at your hotel and order a few drinks at the bar before heading out to dinner.
Tonight, we recommend nabbing a table at El Pinton, one of the newer top restaurants in Seville.
Housed in a former textile warehouse, with striking decor featuring white brick archways, marble columns, bright tiled walls and a hotchpotch of potted plants, El Pintón is picture perfect (read: an Instagrammer's dream come true).
Luckily, it's got the food to match it. This eclectic eatery specialises in modern takes on classic Andalusian favourites - like maki roll made with squid ink rice, and ox burger served with paprika mayonnaise.
Make sure you book ahead to avoid disappointment.
Day 4: Discover old Seville
On the final day of your short break to Seville, pack up your things so you're ready to go when the time comes. Then head out for one last hurrah.
Walk across Puente de Isabel II to Triana - the old gypsy quarter
If your hotel is on the right bank of the Guadalquivir river, walk across the beautiful Isabel Bridge to the left bank to check out Triana neighbourhood, Seville's traditional gypsy quarter.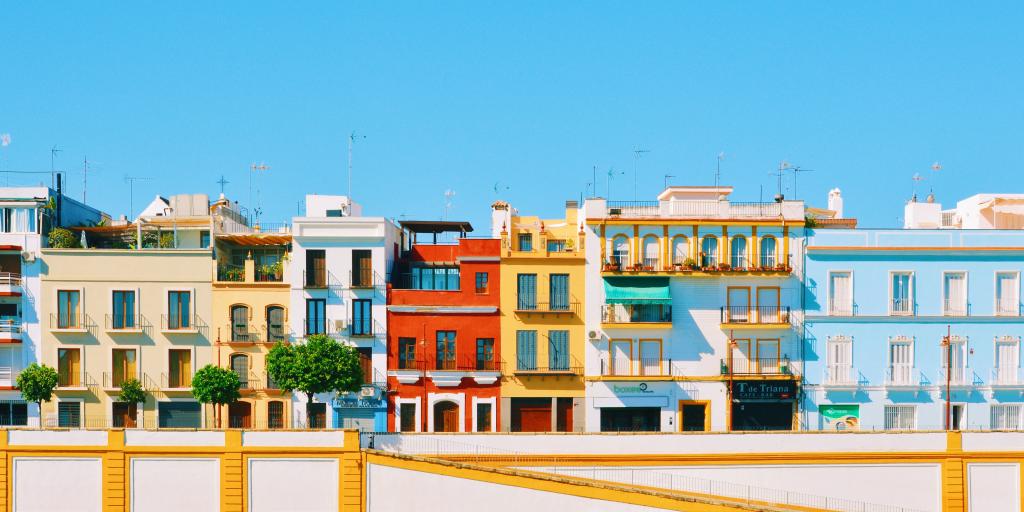 You'll probably notice right away that Triana is older and a little less pristine than other parts of the city, with narrow streets, modest houses, tiny bars, and lots of small but beautiful churches.
It's also somewhat off the typical tourist route, which means you can expect an overall more authentically Andalucian experience.
Residents here, who are known as trianeros, have a strong and distinct identity all their own, with a traditional pottery and ceramics industry, a vibrant flamenco culture, and spirited festivals - especially during the Semana Santa (Holy Week) period.
Get to grips with the culture by heading to the Centro Cerámica de Triana, a small museum detailing the history of ceramics in Triana.
Here you'll find old-fashioned kilns, ceramic sculptures and traditional tiles made in workshops using mud from the river bank.
The area around the museum - especially Calle Calao - has a number of ceramics shops where you can buy locally made tiles to bring back home.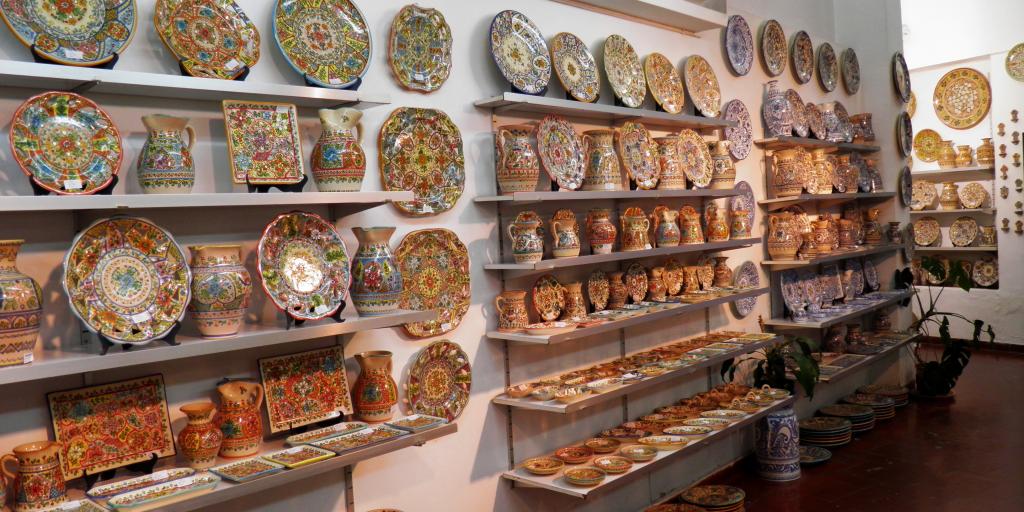 Have a light lunch on Calle Betis
Calle Betis, the street that runs parallel to the river, is a nightlife hotspot, with lots of bars on the waterfront where you can grab drinks with a view.
Seeing as it's still daytime though, pop into Enzima Juice & Coffee House for a smoothie, a kombucha or a latte to give you a boost before you head home. It's the bright red brick building with a brown and black sign above the door - you can't miss it.
Conscious travellers, you'll be happy to know that Enzima have plant milk options - a rarity in Seville - as well as edible straws, raw-pressed juices and locally sourced ingredients. Olé!
The end of your Seville weekend trip
Walk back to your hotel or apartment, pick up your things and make your way to the airport. We hope you've had a memorable trip; for now, hasta luego!