50 Best Things To Do In Barcelona
Barcelona is one of the most culturally rich and mesmerising cities in the world. Whether you are coming for 2 days or 2 weeks, there is a huge amount to do and see that will keep you busy.
The eclectic city offers something for everyone - the uniquely designed streets and neighborhoods are perfect for strolling and the amount of culture and history to experience is unbelievable.
We've put together a list of the 50 best things to do in Barcelona ranging from amazing architecture to museums and things to eat.
If this list doesn't quite feel like enough, check out our list of 40 day trips from Barcelona that you can add to your itinerary.
Our top tip is to get yourself a Barcelona Card - this offers free entry to dozens of Barcelona's best museums and discounts at a lot of those that are not included. You also get free public transport for your stay including the train from the airport!
A 3-day card costs €46 when you buy online. You can exchange a printout for the card at one of a number of locations around town or at the airport on arrival. You will save a lot of time and money - so get this card ordered!
Top 10 things to do in Barcelona
To start off with, let's cover the 10 things you absolutely have to do if you visit Barcelona. If you've not been before or are visiting for a short time, I'd really really suggest you cram in as much of this list as you can/like and add a few from further down depending on your interests.
1. Sagrada Familia
Price: Basic ticket - €17. Audio guide - another €8. Ticket with a visit to one tower and audiguide - €32. Discounts available.
Getting there: Take L2 or L5 metro lines from central Barcelona to Sagrada Familia or a long walk to Carrer de la Marina entrance.
When to go: 9am to 6pm all year, closing at 8pm in the summer months.
Top tip: Get the ticket that includes a visit to the top of the tower. You get a lift up and then walk down the stairs to the bottom. The views are spectacular and it's definitely worth it. The audio guide is an extra benefit. Book online or you might not be able to get to the towers or have to wait!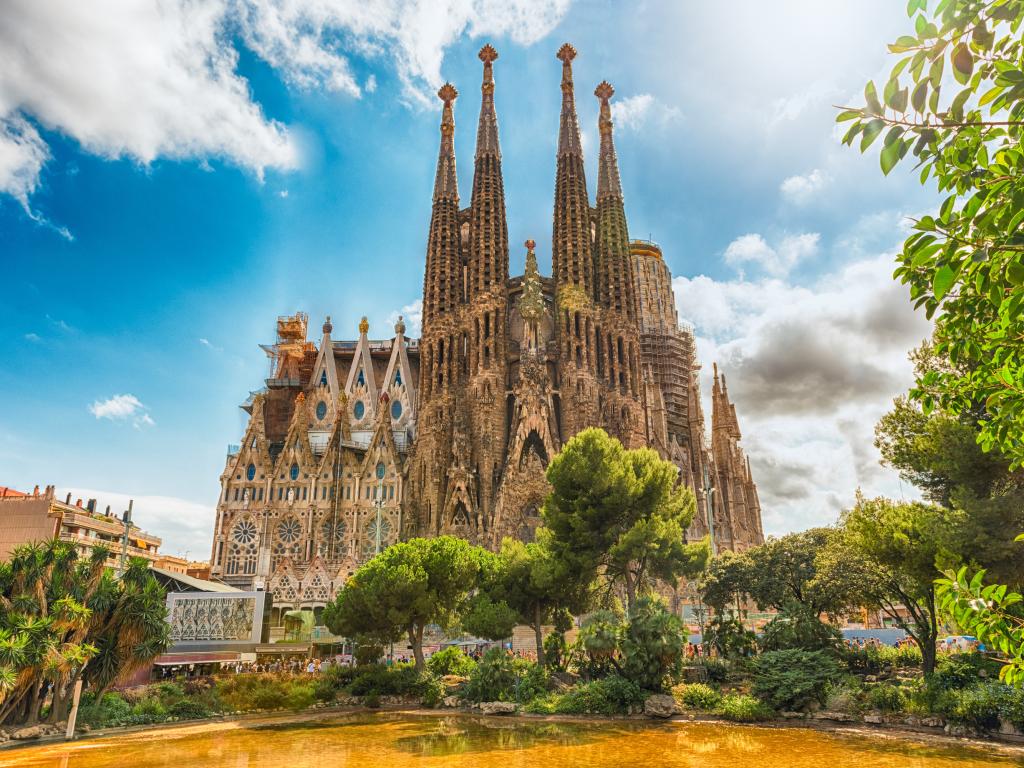 I don't know how this comes further down the list in almost every other guide, but there is no question in my mind that the Sagrada Familia has to be visited when you're in Barcelona. If this is your 10th time visiting, you should go see it again.
This stunning Cathedral that looks nothing like any other church you have seen anywhere in the world was designed by Barcelona's infamous architect Antoni Gaudi and construction started in 1882. Only 128 short years later its construction passed the halfway point in 2010...
With a lot more money being poured into the project and new construction techniques using computer design, it is hoped that the Sagrada Familia will be completed by 2026. 100 years after Gaudi's death.
The building is a stunning mix of Gothic and Art Nouveau architecture. Sagrada Familia divides the locals who see it as competing with the Barcelona cathedral and are unsure about the style. Its final design will include 18 spires with the tallest and most complex to build ones being worked on.
Once it is built, it will be the tallest church building in the world.
But height is not all there is to admire. The façade of the building is covered in sculpture and skeletal supporting structures. Inside, there is a crypt and a unique tree-like set of pillars and domes.
2. Casa Milà (La Pedrera)
Price: Basic ticket - €25. Night tour - €34. Discounts available.
Getting there: Passeig de Gràcia, 92, 08008, Barcelona - L3 or L5 metro lines to Diagonal
When to go: November to February: 9am to 6.30pm, March to October: 9am to 8.30pm. Night tours at 9pm.
Top tip: Book online to save €3 on the basic ticket price.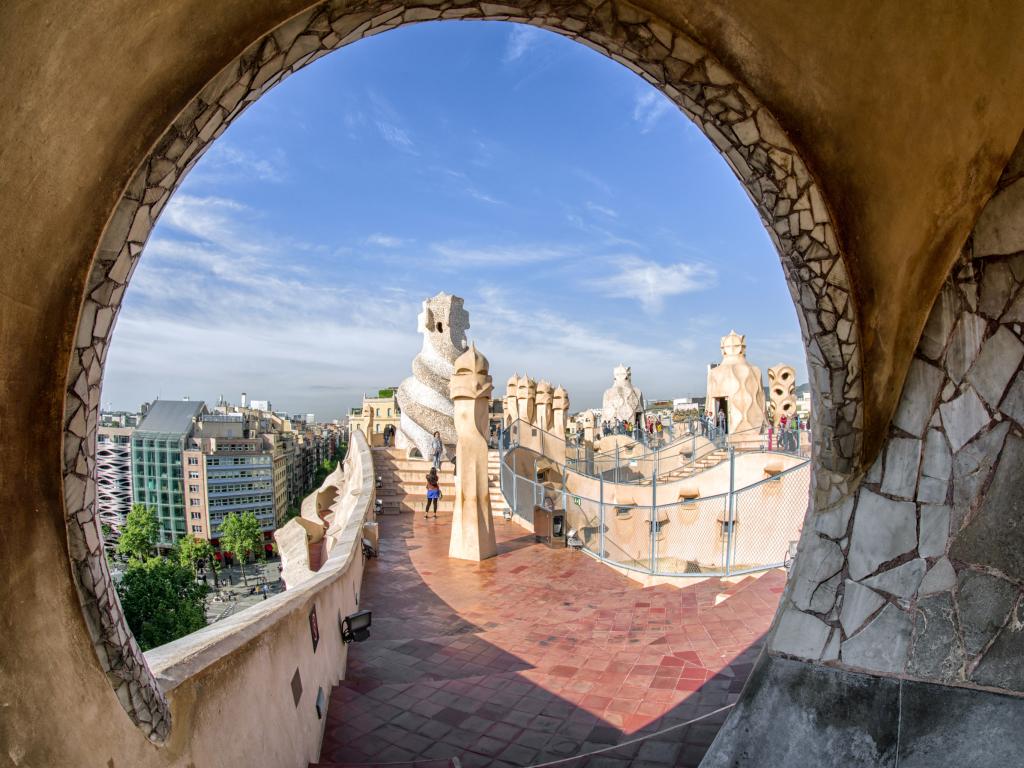 While we're on the Gaudi theme (you will see a pattern throughout this list), another masterpiece you really need to get to is the Casa Milà building which is alternatively locally known as La Pedrera.
This building was commissioned by a wealthy Barcelona family and Gaudi did not hold back on using his trademark skeletal external designs and waves. There isn't a single straight line that we could see in the building - all walls are curved, the staircase is wacky and the roof is shaped like a wave.
Inside you will find a set of apartments with early 20th century layouts and furnishings which are super interesting. You could spend hours on the roof - make sure you bring your camera for some great shots of the city's grid layout.
3. Climb the Montjuïc
Price: €5 for adults and €3 for reduced tickets
Getting there: Carretera de Montjuïc, 66 - Castle is at the top of Montjuic and can be reached by cable car
When to go: The mountain is accessible all day, but the castle is only open 10am to 8pm (6pm in the winter)
Top tip: Combine your climb up the Montjuic with a visit to one of the several different tourist attractions at the top. Check below for what these are. Alternatively, try going up as the sun sets - you'll get a super romantic view of Barcelona before heading back down for your tapas.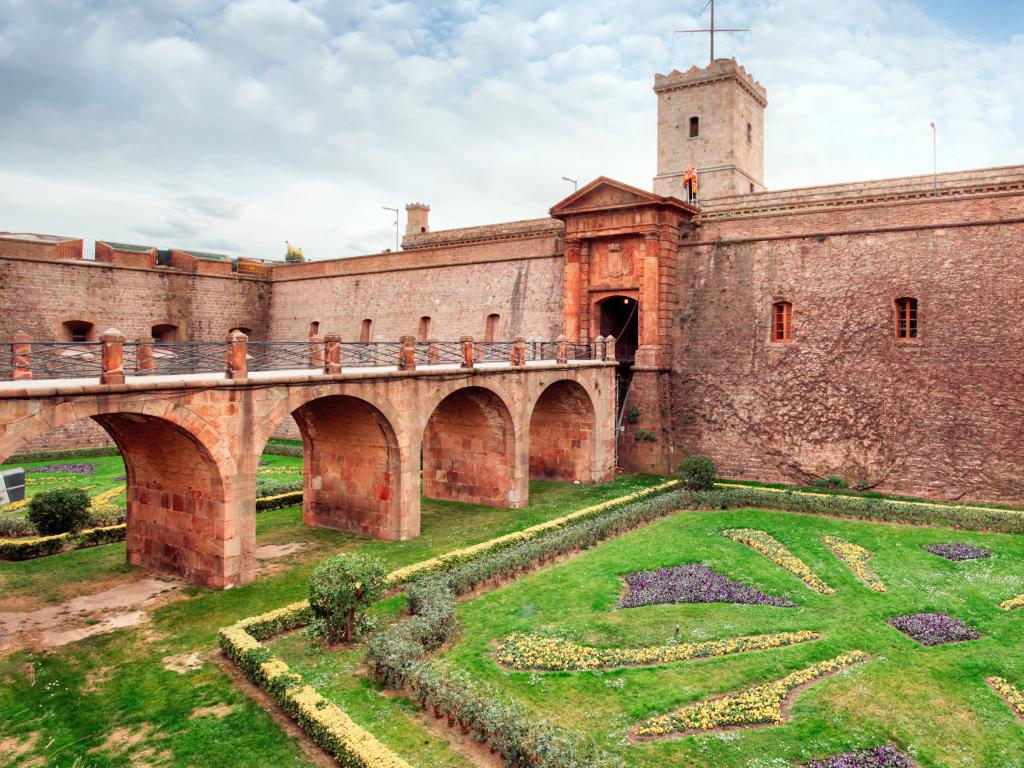 The Montjuic is the most well known and developed of three mountains surrounding the city of Barcelona. It's a big place and will take you a couple of hours of walking to get to the top from Barcelona below, but the walk and the views from the top are more than worth it.
The top is well known for housing Barcelona's Olympic events but there are also a few museums, the Font Magica Magic Fountain and an old castle.
If walking up is not for you, you can take the bus (Route 150) or the cable car. It's a lot more expensive, but the cable car is a great option for the views and experience as well as the ability to get on and off at the two stops at the top.
4. Take the cable car down from Montjuïc
Getting there: Avinguda Miramar, 30, 08038 - Take the L2 or L3 metro lines to Paral·lel station and walk across.
When to go: Opens at 10am. Closes at 9pm June to September, 6pm November to February and 7pm in spring/autumn.
Price: Adults - €12.70, children under 12 - €9.20, children under 4 - free
Top tip: Book online to save 10% on the ticket price.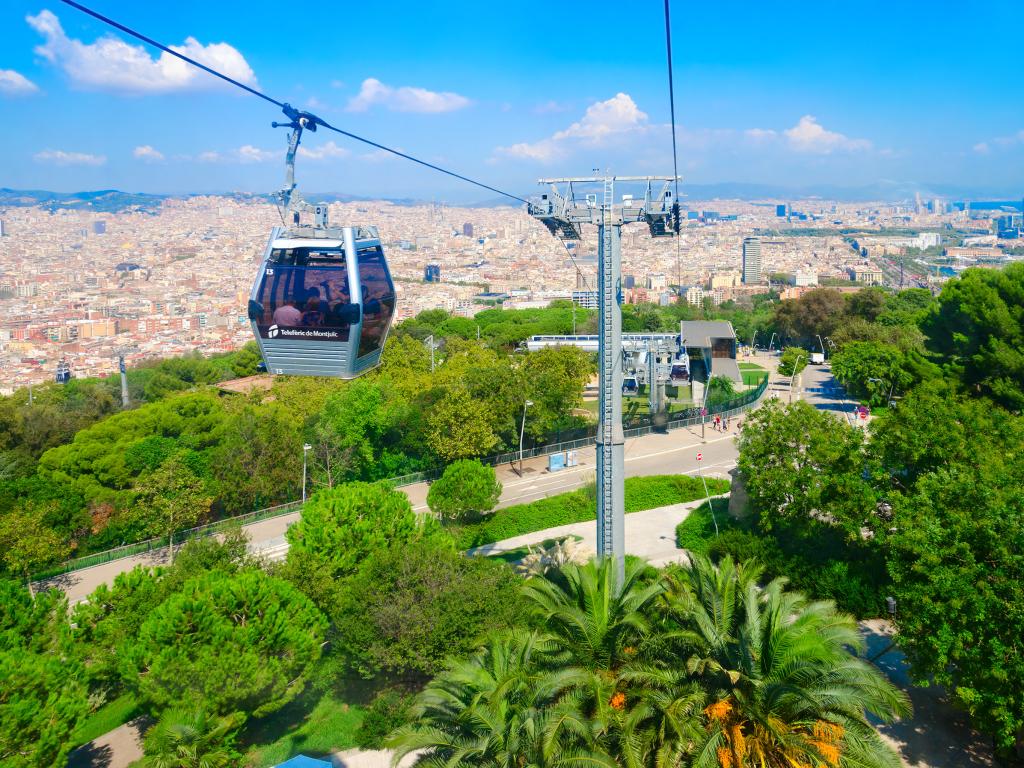 The cable car from Montjuic, also called the Teleférico de Montjuïc connects the city below with the sights at the top of the mountain. If you're coming back more than once to visit the Museu Nacional d'Art de Catalunya, Poble Espanyol or the Joan Miró Foundation, the cable car might be a better option than climbing the Montjuic every time!
The cable car has 3 stations - one at ground level at Parc de Montjuïc, one at the top (Miramar) and one at the castle (Castell de Montjuïc). You can hop on and off the cable car as you wish and the tickets can be used to go up and down.
If you don't fancy walking up, then make use of the fact that you are paying for return tickets, but if you can, the walk up can be a really great experience and we'd highly recommend it despite this. You can then reward yourself with the views of Barcelona and a relaxing ride down at the end of the day!
5. Take a stroll through the Gothic Quarter
Getting there: Get the L3 line to Liceu - the Gothic Quarter is right next to the station
When to go: Any time, all year round. Great to visit in the evening for food and drinks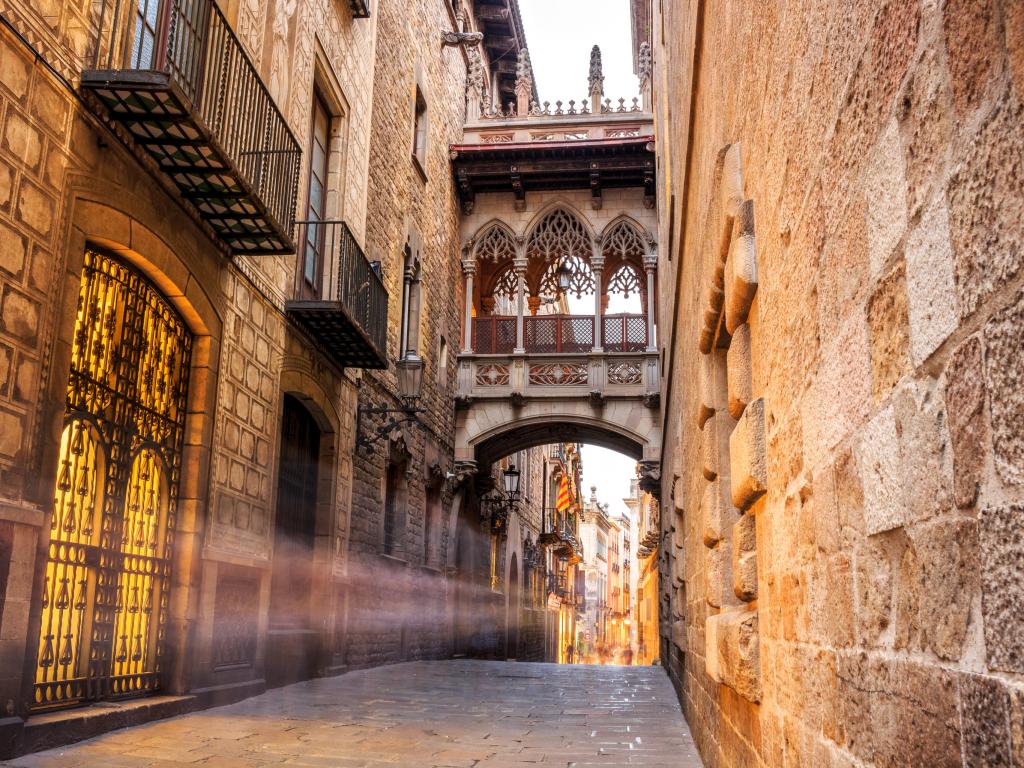 The medieval Gothic Quarter or Barri Gòtic is located right in the heart of Barcelona with the Barcelona Cathedral at its heart. This is a collection of narrow walkways and streets lined with beautiful stone buildings predominantly in the - you guessed it - Gothic style.
The Gothic quarter is primarily a spot for admiring the architecture, visiting some of the museums and churches and generally taking a stroll. One of the benefits is that it is not full of shops - you might even find yourself wondering through streets wondering why there is absolutely nothing there.
What the Barri Gotic does have a lot of is restaurants, bars and all kinds of ways to spend your time in the evening. So if you're not sure what you want to have and you like spending 30 minutes wondering around before making your choice, head to the Gothic Quarter and you will find some amazing restaurants tucked away in random alleys!
6. Barcelona Cathedral
Getting there: Take the L4 metro line to Jaume I or L3 to Liceu (slightly longer walk)
When to go: The Barcelona Cathedral is open from 12.30pm to 7.45pm. Opening hours can vary on Sundays and religious celebrations
Price: €7 which includes the roof and choir access
Top tip: If you want to avoid the crowds, try visiting in the evening - tourists are often bussed in at lunchtime and in early afternoon so the cathedral will be quieter and you can go for dinner in the Gothic Quarter afterwards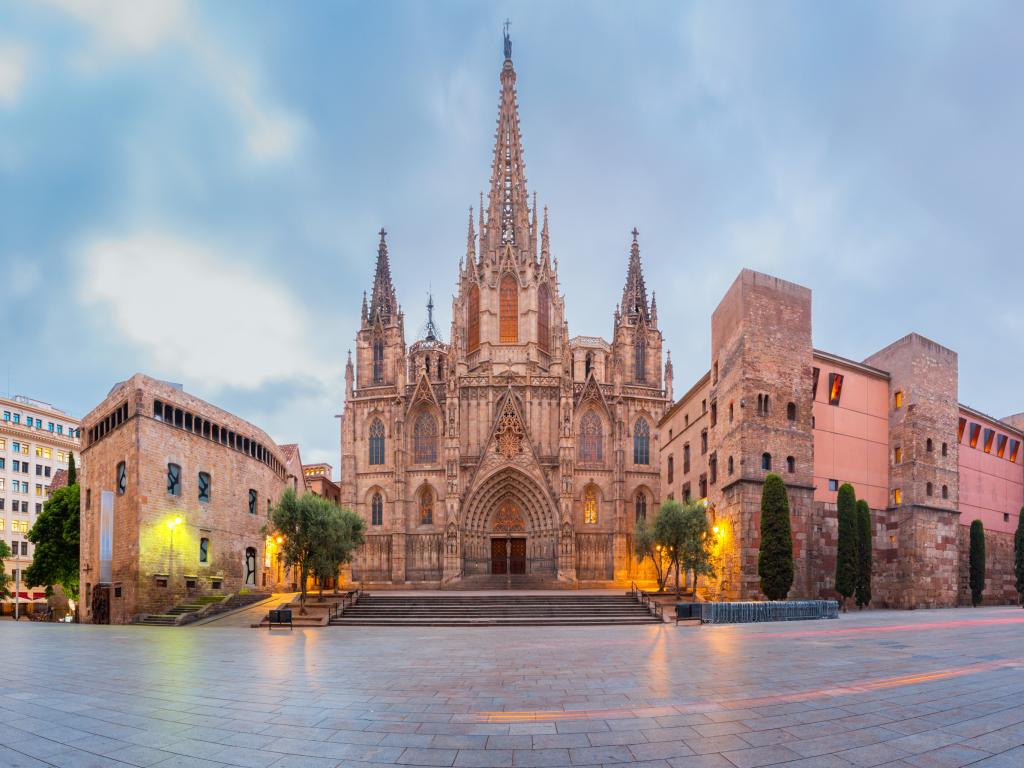 The Barcelona Cathedral is tucked away in the middle of the Gothic Quarter and is an amazing example of Barcelona's Gothic architecture. Not as talked about as the Sagrada Familia under construction, this is a stunning Cathedral in its own right.
Early Christians and Arabs built a number of different churches, cathedrals and religious buildings on top of the ruins of the previous one for centuries until the current cathedral began being built in 1298. It took 150 years to complete and the detail in many parts of this cathedral is amazing.
Make sure you visit the different parts included in your ticket - the choir and the crypt are a must and make sure you get onto the roof for the unique views of Barcelona's old Gothic Quarter. There is a lift to help you make up your mind!
7. Park Güell
Getting there: Take the L3 metro line to Vallcarca and walk across (about 10 minutes)
When to go: 8am to 9pm in the summer, 8am to 8.30pm in autumn/spring and 8.30am to 6.15pm in the winter
Price: Surrounding park is free. General ticket - €10, children under 13, over 65s and disabled visitors - €7. Children under 7 go free
Top tip: Visitors to the park are capped to 400 per 30 minutes and ticket entry times are time bound (you can stay as long as you like once you're in). To make sure you get into the park, get your ticket online in advance on the official Park Güell website.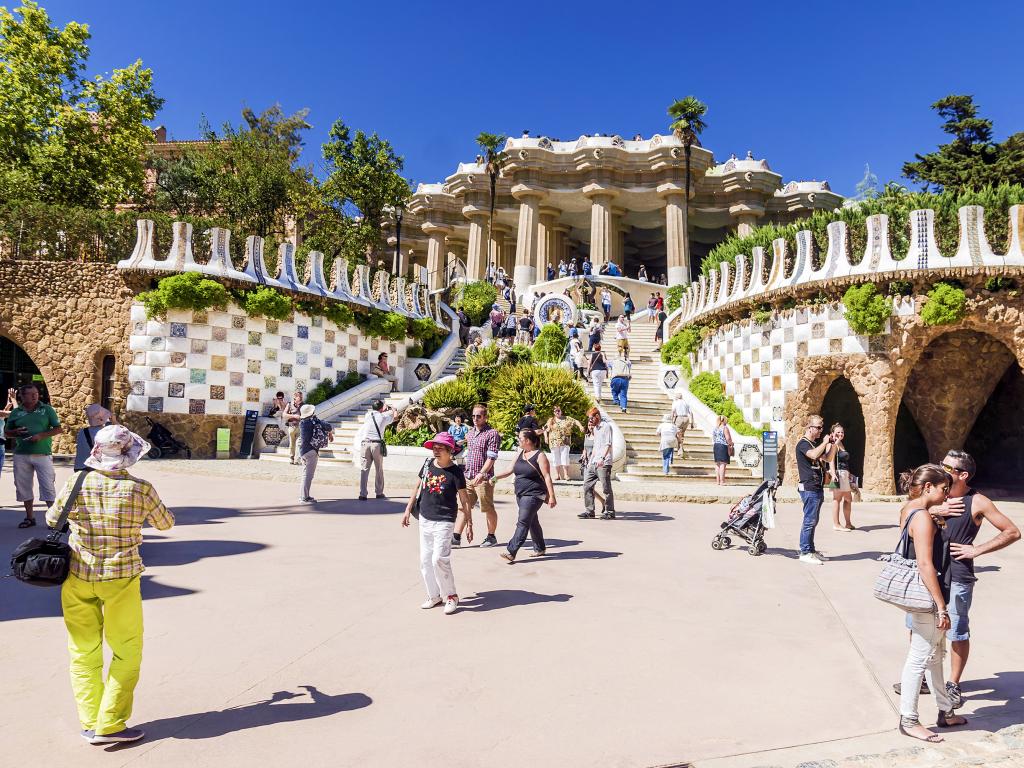 Barcelona's Park Güell is an amalgamation of Antoni Gaudi's architectural genius that you see dotted around the city.
Here you can see him really given the opportunity to put his thinking into a series of sculptures architecture and buildings that all come in his unique style.
The park surrounding the monument area is free to visit and offers great views of the city (it is raised slightly) and is great for a general stroll.
To enter the monument area which is where the all of the sculpture and design is, you need to make sure you get yourself a ticket. It wasn't originally designed to be a park, but was built to provide accommodation for the wealthy which makes it all the more fascinating. Gaudi himself lived in the park until his death in 1926 which is when it was first opened to the public.
Try to get to the park early in the morning to beat the crowds and the various street vendors all around it.
8. Museu Picasso
Getting there: Carrer Montcada, 15-23 - in the middle of the Ribera neighbourhood. Take the L4 metro line to Jaume I
When to go: 16 March to 31 October - 9am to 8.30pm (10am - 5pm on Mondays). Winter - 9am to 7pm (closed on Mondays)
Price: General admission: €12, Under-25s, students and over-65s: €7, under 18s go free
Top tip: The museum offers free tickets on Thursday from 6pm and on every first Sunday of the month. We'd advise you don't go during these times - the museum will get super busy and you have to buy tickets online in advance for a specific time slot.
Picasso had strong links to Barcelona - a city he kept visiting on numerous occasions after honing his craft here as an apprentice.
It was Picasso himself, who wanted his museum to be based in Barcelona and it opened its doors during his life in 1963.
The museum shows a history of Picasso's work starting from when he was still studying at Barcelona's School of Fine Arts. It then progresses and houses a number of famous pieces in his truly unique eclectic style.
Picasso himself donated a large number of his own works to the museum including the entire Meninas series (58 paintings) and 921 pieces of art his family previously held that he produced in his younger years.
The Picasso museum often has temporary exhibitions which you will have to pay extra to see.
9. Santa Maria del Mar Basilica
Getting there: Plaça de Santa Maria, 1 - a stone's throw away from the Picasso Museum in the Ribera district.
When to go: Monday to Saturday - 1pm to 5pm, Sundays 2pm to 5pm
Price: €5 for a regular ticket, €8.50 for a guided tour of the towers and rooftops, €10 for a full tour including the crypt and galleries
Top tip: Don't forget to visit the crypt - entry is included on all tickets. Also look carefully at the stained glass windows. They were largely destroyed and damaged during the Spanish Civil War in 1936 and when they were restored in 1960, FC Barcelona was asked to contribute towards restoration. They did on the condition their coat of arms is inserted into one of the windows which is still there today!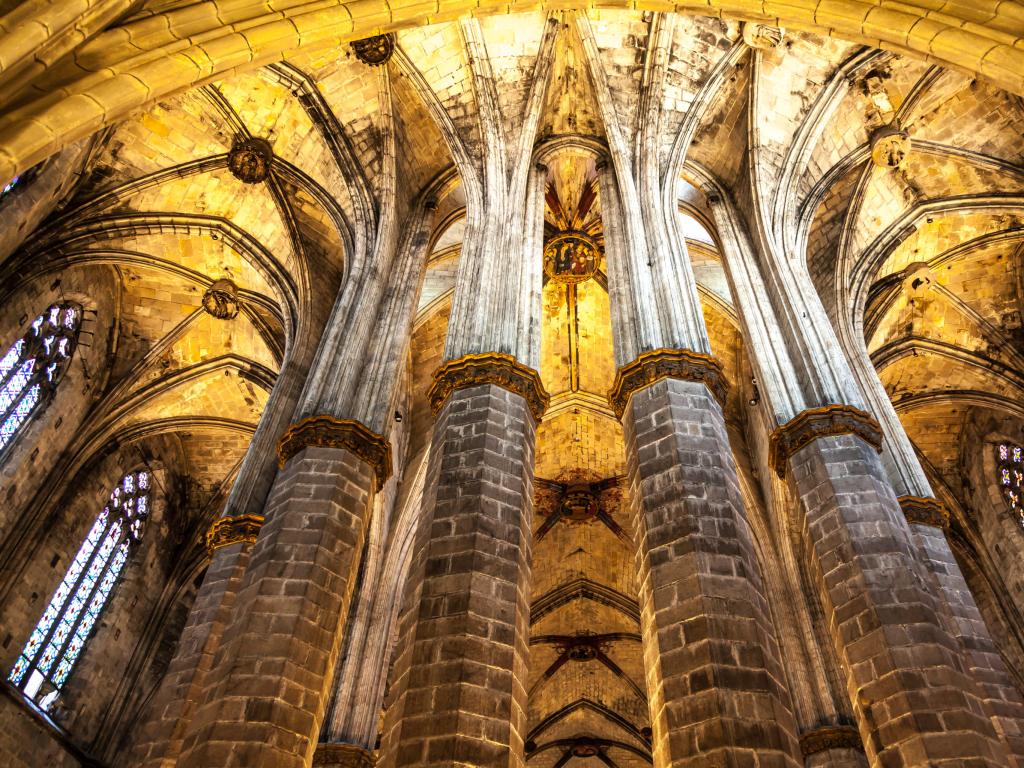 The Basilica of Santa Maria del Mar was built in the 14th century and embodies the predominant Catalan Gothic architecture that can be seen in so much of central Barcelona today.
It was built on a religious site that has housed churches since Christianity arrived in the area in the 4th century and was designed to serve the needs of the Ribera neighbourhood all around it.
As the Santa Maria del Mar is a functioning church, visiting times for the general tourist public are restricted to afternoons.
We would highly recommend booking the full guided tour in advance. It is only €5 more expensive than the regular ticket, but you also get access to the roof with amazing views over central Barcelona and a guide will take you around,
Remember that access to the towers requires climbing a lot of stairs so make sure you're ready for it!
10. Tibidabo Mountain
Getting there: Take the L7 metro line to Avenida Tibidabo, then switch to Tramvia Blau to Plaça Dr Andreu and take the Tibidabo funicular to the top.
When to go: Open from 11am - March to December on weekends, Wed to Sun in July and every day in August
Price: Amusement park tickets: €28.50 for a full ticket, €10.30 for children under 1.2m and free for children under 0.9m, 9 for over-60s. Cathedral is free other than €2 to go up in the lift. Transport up is €7.70 or €4.10 if you are also buying the Amusement Park ticket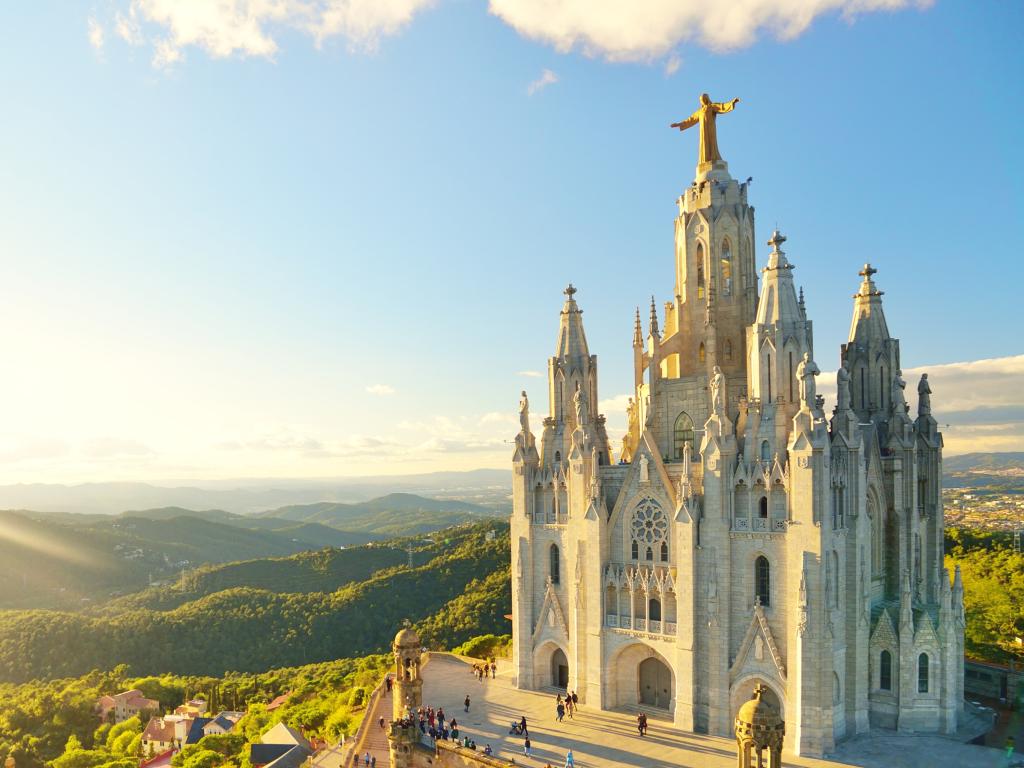 Tibidabo is the tallest peak within Barcelona's city limits and rises to 512m above sea level which offers really outstanding views all the way to the beach.
At the top is the Cathedral del Sagrat Cor - a modernist and neogothic church that was built between 1902 and 1960.
The mountain has a number of different attractions to see other than the views and the Cathedral.
For €2 you can get right to the top of the Cathedral in a lift and see the entire city of Barcelona sprawling behind the theme park.
Talking of theme parks, the Tibidabo Amusement Park is a fun way to spend a bit of time. It's relatively small and the main attraction is definitely the views, but if you've made it all the way up, why not enjoy a few thrills?
Best Museums to visit in Barcelona
11. Museu d'Historia de Catalunya
Getting there: Located right by Port Vell - get the metro L4 line to Barceloneta
When to go: Mon-Sat 10am to 7pm, Sun 10am to 2.30pm, Festivals and special days operate Sunday hours
Price: €4.50 (reduced tickets are €3.50). If there is a temporary exhibition, you can visit both for €6.50 (€4.50)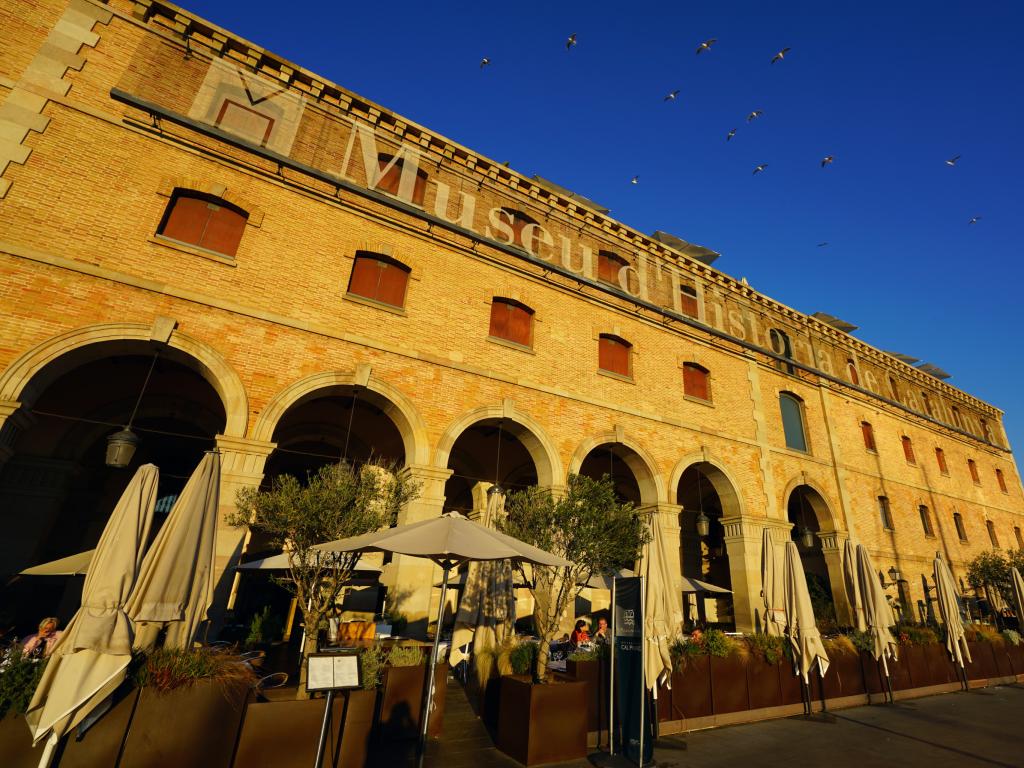 The museum is located in the Palau del Mar - a giant building that used to be a warehouse sitting right by Port Vell.
As the name suggests, the Museu d'Història de Catalunya covers the Catalan region's history from prehistoric times right through to the 20th century.
It's a great place to come with kids - a lot of the exhibition is very hands on and visual to give visitors a really good insight into how the region developed over time. You can see the medieval ruins of ancient dwellings that formed well before the city was established.
12. Poble Espanyol
Getting there: Get the L3 line to Plaça d'Espanya and walk 15 mins to the Poble Espanyol
When to go: Mon 9am to 8pm, Tue, Wed, Thu, Sun 9am to midnight, Fri 9am to 3am, Sat 9am to 4am (the Spanish!)
Price: Adult - €14, students - €10.50, over-65s - €9, children up to 12 - €6.30, children under 4 - free
Top tip: Book online and not only save time but get a 10% discount on the tickets.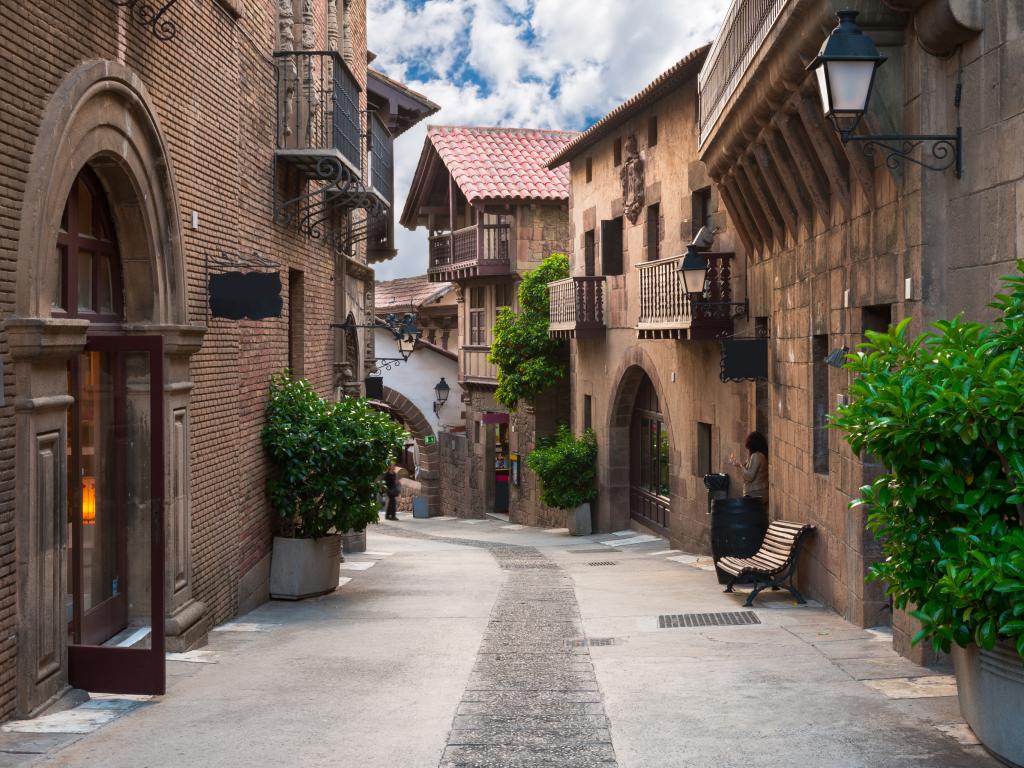 First built in time for the 1929 Barcelona International Exhibition, the Poble Espanyol is an amazing mini-town sitting on Montjuic near the Fountains.
Poble Espanyol was designed to showcase the very best of Spanish culture and heritage in one concentrated space so this village includes architectural elements from some of Spain's most famous cities.
As well as admiring the architecture, you will see local artists at work and be able to engage in a wide variety of cultural experiences, shows and music.
There are plenty of shops, restaurants and cafes to keep you entertained so make sure you add the Poble Espanyol onto your list when you're planning your Montjuic visit.
13. Museu Marítim
Getting there: Av. de les Drassanes - take the L3 metro line to Drassanes
When to go: 10am to 8pm
Price: €10. Reduced tickets - €5.
Top tip: The museum is free to visit from 3pm on Sundays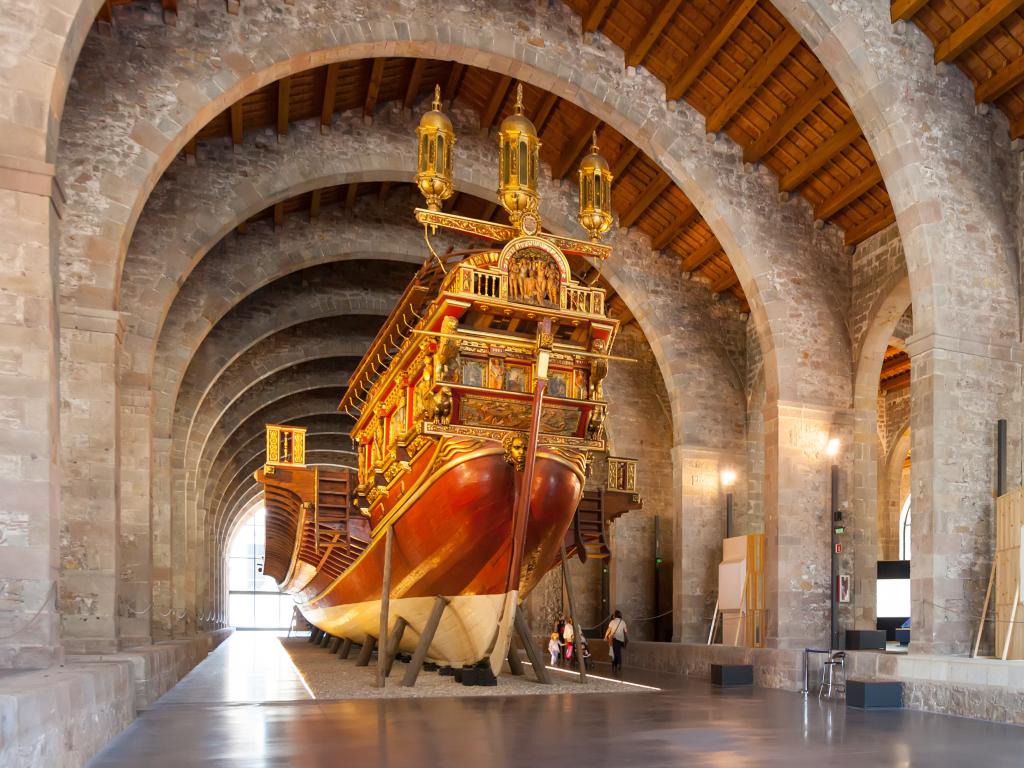 The Museu Marítim is housed in an old shipyard and is right by the beach at the foot of the Montjuic mountain.
This isn't one of those museums with lots of rooms and cases full of artefacts and trinkets. Inside you'll find a selection of boats that are fascinating to walk around. You will also find a lot of scale models of famous ships that you can study at leisure.
The shipyard has been in this location since 1283 although the building currently housing the museum was built on top of the old structure in the 16th century.
Don't miss the Columbus monument right outside the museum!
14. Hospital de la Santa Creu i Sant Pau
Getting there: Take the L5 metro line to Sant Pau or Dos de Maig.
When to go: April to October - 9.30am to 7pm, November to March - 9.30am to 5pm, closes at 3pm on Sundays.
Price: Normal ticket: €14, guided tour - €19, under-30s and over-65s - €9.80 and €13.30, children under 12 - free.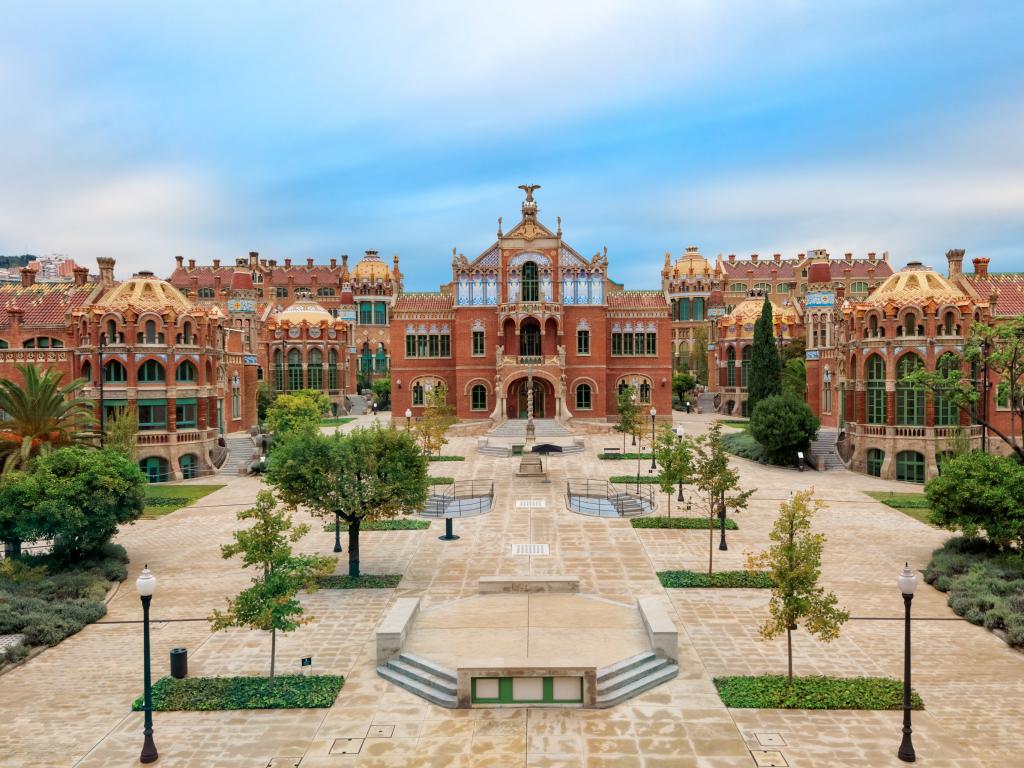 For more than a century, the majestic building of the Hospital de la Santa Creu i Sant Pau functioned as a hospital until it moved to a new facility in 2009.
After an extensive and long restoration, the site was converted into an Art Nouveau museum with additional uses as an old hospital document collection and an events venue.
The building looks every bit the part of the collection of interesting Art Nouveau pieces inside and
Guided visits cost a bit more and you can get onto the English speaking one at 11am Friday to Sunday.
15. Museu Nacional D'Art de Catalunya
Getting there: Take the L3 line to Plaça d'Espanya and walk up the steps to the museum. Alternatively get the Montjuic Funicular and walk across the top.
When to go: Open 10am to 8pm (6pm October to April). Closes at 3pm on Sundays and closed all day on Mondays.
Price: General entry - €12, students get a 30% discount, under-16s and European over-65s go free. €2 to visit the rooftop.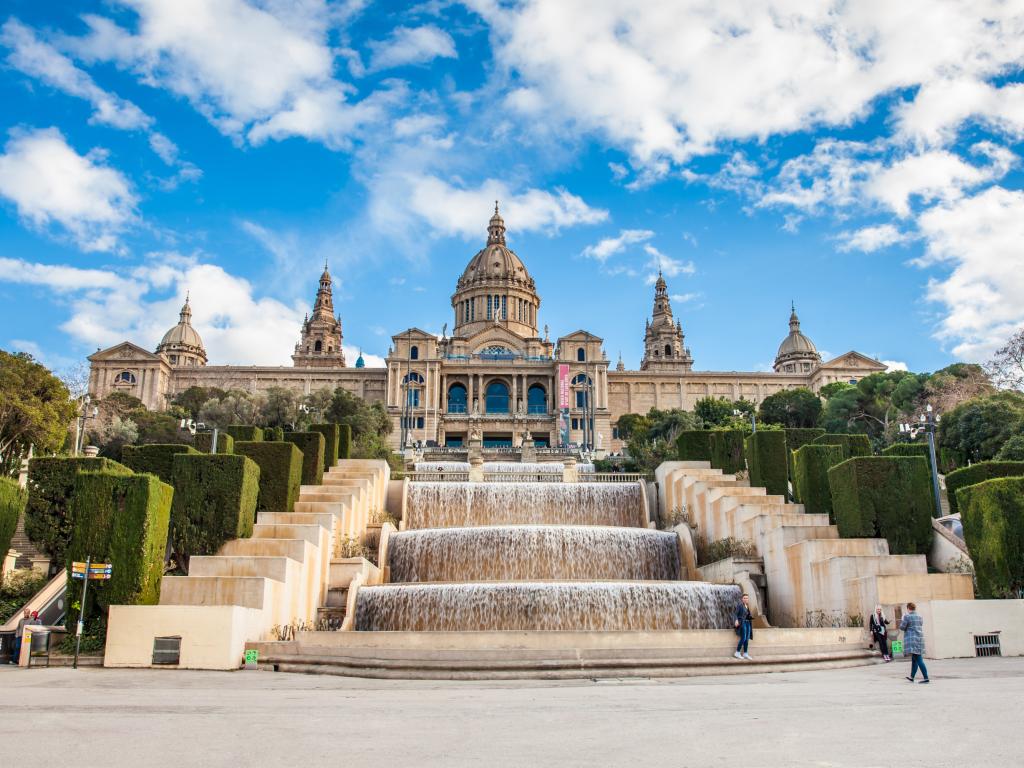 The Museu Nacional d'Art de Catalunya is perhaps the most well known building at the top of the Montjuic mountain.
Sitting in a grand Palau Nacional of Montjuïc building behind the fountain, it's a photo that is hard not to take.
The museum takes visitors on a journey through time showcasing local art ranging from the Medieval Romanesque period to Gothic, Renaissance, Baroque and Modern art.
The museum is large inside and there is things to do and things to see for everyone.
The Palau Nacional building is yet another that was constructed specifically for the 1929 International Exhibition and it has been open as a museum since 1934.
16. Fundació Joan Miró
Getting there: Top of Montjuic - walk up, take the cable car or get bus #150 from Plaça d'Espanya.
When to go: April to October - 10am to 8pm (6pm on Sundays), November to March - 10am to 6pm (3pm on Sundays), closed on Mondays.
Price: General admission - €13, students and over-65s - €7, children under 15 go free.
Top tip: As you make your way around, make time for a 15 minute video which covers the artist's life and some of his famous work.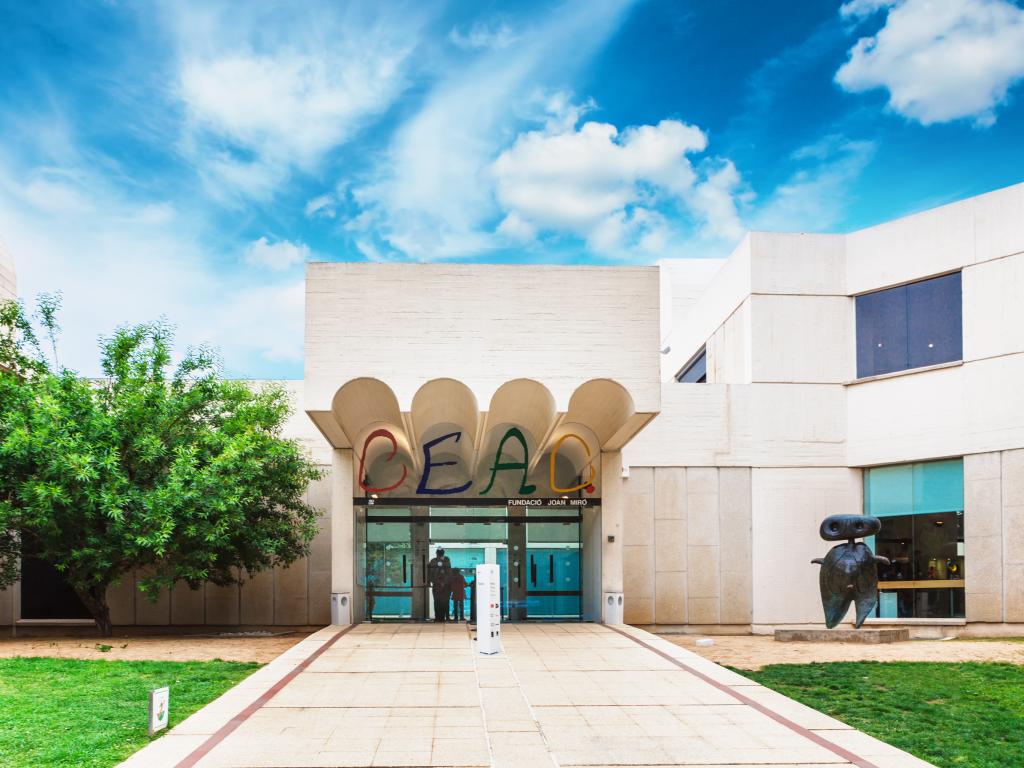 Joan Miró is an infamous 20th century Barcelona artist who worked together with the city of Barcelona and architect Josep Lluís Sert to create a unique museum building to display his work.
Interestingly, the various rooms around the museum represent individual collections owned by different people and entities - this means that you will keep jumping in time as you move around.
The museum is housed in a modern building with a lot of windows and light which is divided into a number of rooms displaying Miró's work from when he first started out to his latter pieces.
It is a big museum with 400 paintings and sculptures as well as some 8,000 drawings
17. Museu d'Art Contemporani
Getting there: Take metro L1 or L2 lines to Universitat or L3 to Catalunya, then a short walk into the Old Town.
When to go: Monday to Friday - 11am to 7.30pm (closed Tuesday), Saturday - 10am to 8pm, Sunday and public holidays - 10am to 3pm.
Price: Full ticket - €11, students and over-65s - reduced, children under 14 - free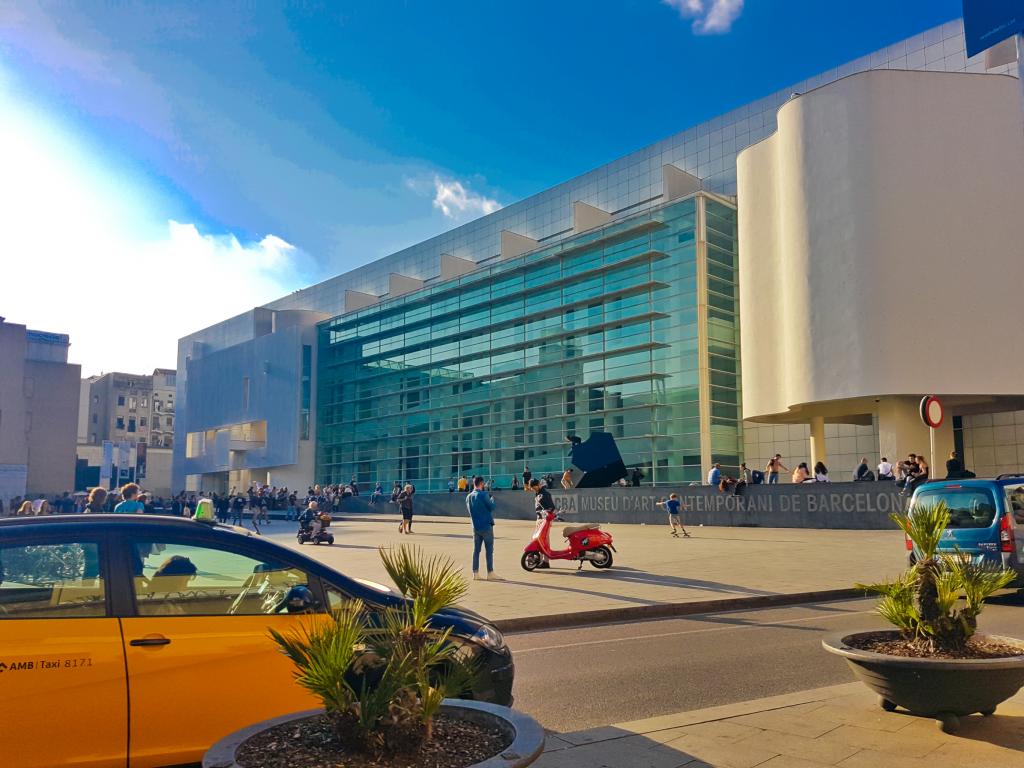 Situated in the El Raval neighbourhood of the Old Town (Ciutat Vella) and houses a large collection of modern art.
The museum opened in 1995 and was initially very controversial with local residents. There was no collection to house in the museum when it was first commissioned and it was built in the heart of one of Barcelona's oldest districts, a few blocks away from the Gothic Quarter.
Its design contrasts starkly with the surrounding buildings and streets. Today the museum is home to around 5,000 works of art from the middle of 20th century onwards. The majority of the display shows Catalan and Spanish art although a few international works can also be seen.
18. Museu d'Historia de Barcelona
Getting there: Take the L4 metro line to Jaume I - the museum is right outside.
When to go: Open 10am to 7pm (8pm on Sundays)
Price: General admission - €7, reduced rates for seniors and students - €5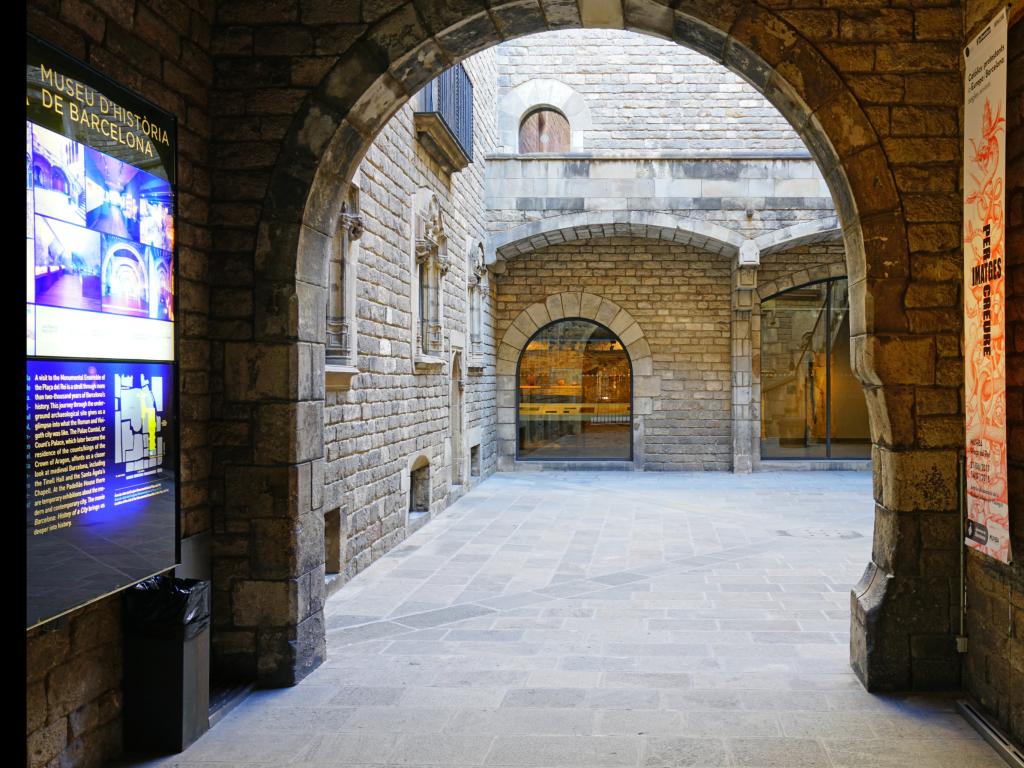 The Museu d'Historia de Barcelona (MUHBA) actually comprises a number of sites dotted around the city.
The main museum is located at the Plaça del Rei in the Gothic Quarter.
Founded in 1929 in time for the Barcelona International Exhibition in order to showcase the city's past, present and future, the museum has been housed in the same building ever since.
But not in the same location...
In 1931, the building was taken apart stone by stone and moved from Mercaders street a couple hundred yards away to its present location where it was meticulously rebuilt.
Inside you will find a lot of Barcelona's history including a whole quarter of the ancient Barcino settlement that was here before the modern city, medieval courtyards and often houses temporary exhibitions.
19. Museu de la Xocolata (Chocolate Museum)
Getting there: Take the L4 metro line to Jaume I and walk up the Carrer de la Princesa
When to go: Open 10am to 7pm (3pm on Sundays and public holidays)
Price: Adult ticket - €6, students and seniors - €5.10, children under 7 - free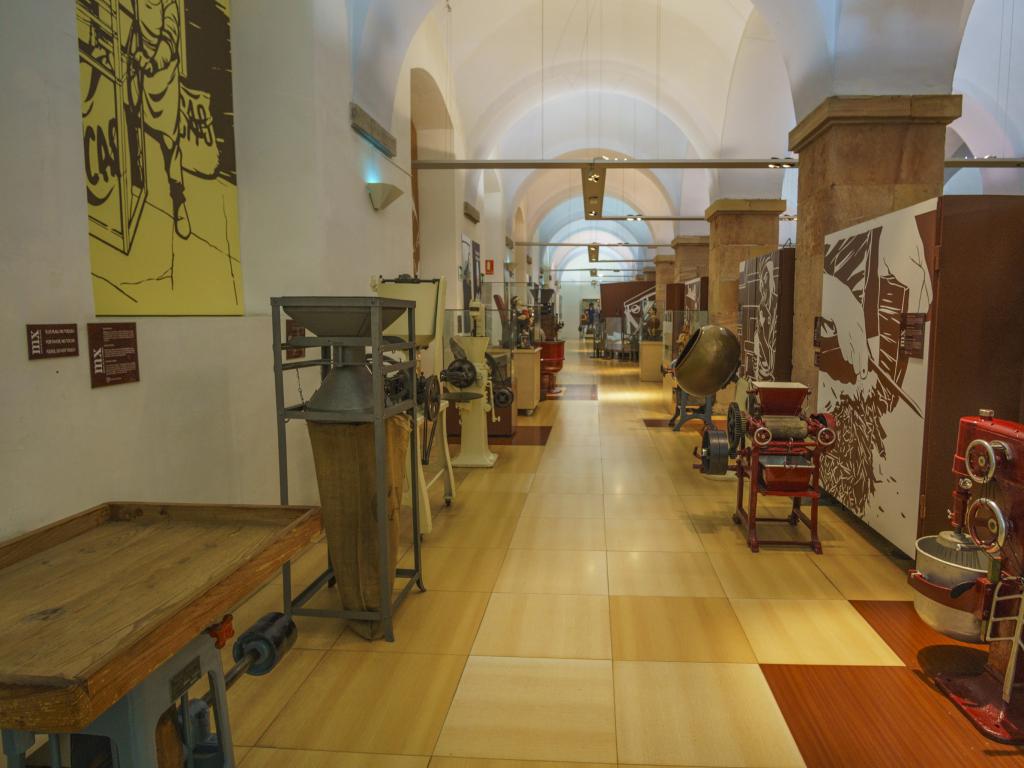 The chocolate museum is housed in what was the Sant Agustí monastery near the Parc de la Ciutadella.
Its largely funded by the Barcelona Confectionery Guild to promote local chocolate making.
A lot of the museum is dedicated to the history of chocolate, its introduction to Europe and Spain and aims to educate visitors about its properties.
You might think going to a chocolate museum is a little random, especially given that Barcelona does happen to be in Switzerland.
And we'd tend to agree.
But if you're coming to stay for a few days and you've seen just about enough of 14th century Gothic architecture or wavy buildings designed by Gaudi, this can be a great way to relax and see a different side to Barcelona.
20. Monastery of Pedralbes
Getting there: Baixada del Monestir, 9 - Take the L3 metro line or the T1, T2 or T3 tram lines to Maria Cristina, then walk 15 mins
When to go: April to September: Tue to Fri - 10am to 5pm, Sat 10am - 7pm, Sun 10am - 8pm, October to March: Tue to Fri 10am to 2pm, Sat to Sun 10am to 3pm, closed on Mondays
Price: General admission - €5, students under 30 and pensioners - €3.50, children under 16 - free
Top tip: The monastery has strict rules on what you can bring onto the premises - no backpacks, bags or bulky items (over 25cm x 25cm) will be allowed. You're also not allowed to bring food or drink or use flash photography. Make sure you're dressed appropriately as well!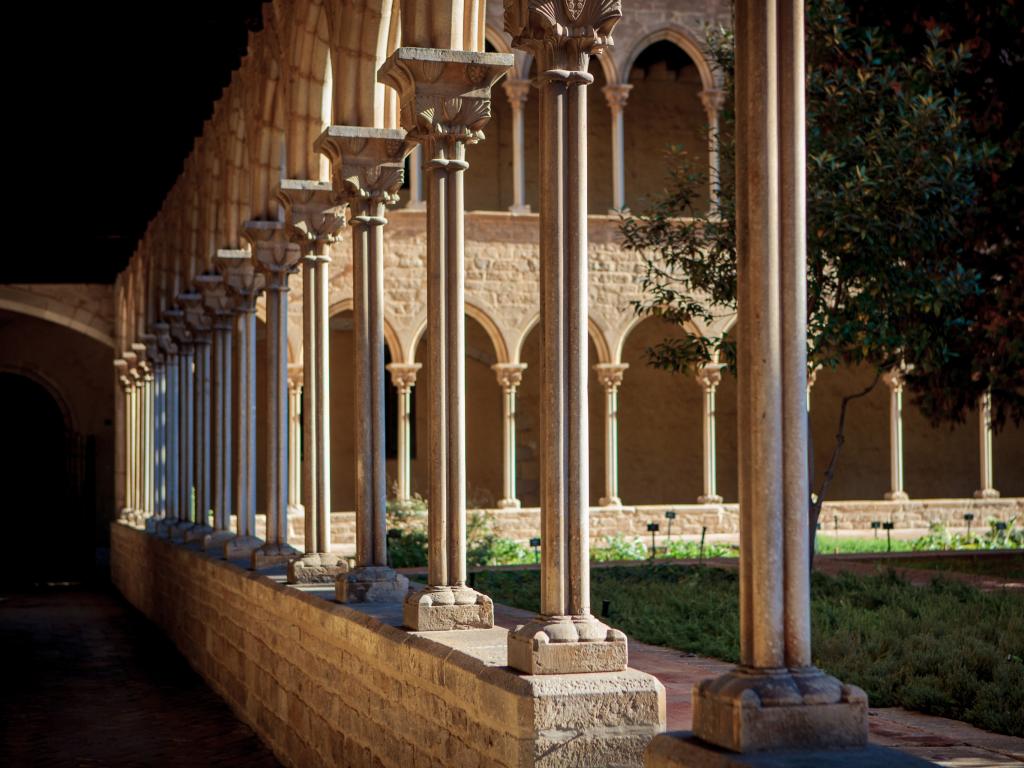 The Monastery of Pedralbes, also known as the Reial Monastir was founded in 1327 by Queen Elisenda de Montcada.
It was a functioning monastery housing the Poor Clare Order - the female branch of the Order of St. Francis until 1983.
Today it is a museum that showcases one of the most complete and awe inspiring examples of Catalan Gothic architecture. Inside are collections of religious art and relics as well as objects of everyday life showing how the monastery was run for hundreds of years.
Particularly interesting is a collection of 35 medieval choir books with beautiful calligraphy and the St Michael's Chapel interior including a number of murals.
21. Museu Frederic Marès
Getting there: Take the L4 to Jaume I - the museum is right next to the Barcelona Cathedral
When to go: Tuesday to Saturday - 10am to 7pm, Sundays and public holidays - 11am to 8pm, closed on Mondays
Price: Adults - €4.20, under-30s and over-65s - €2.40, children under 16 - free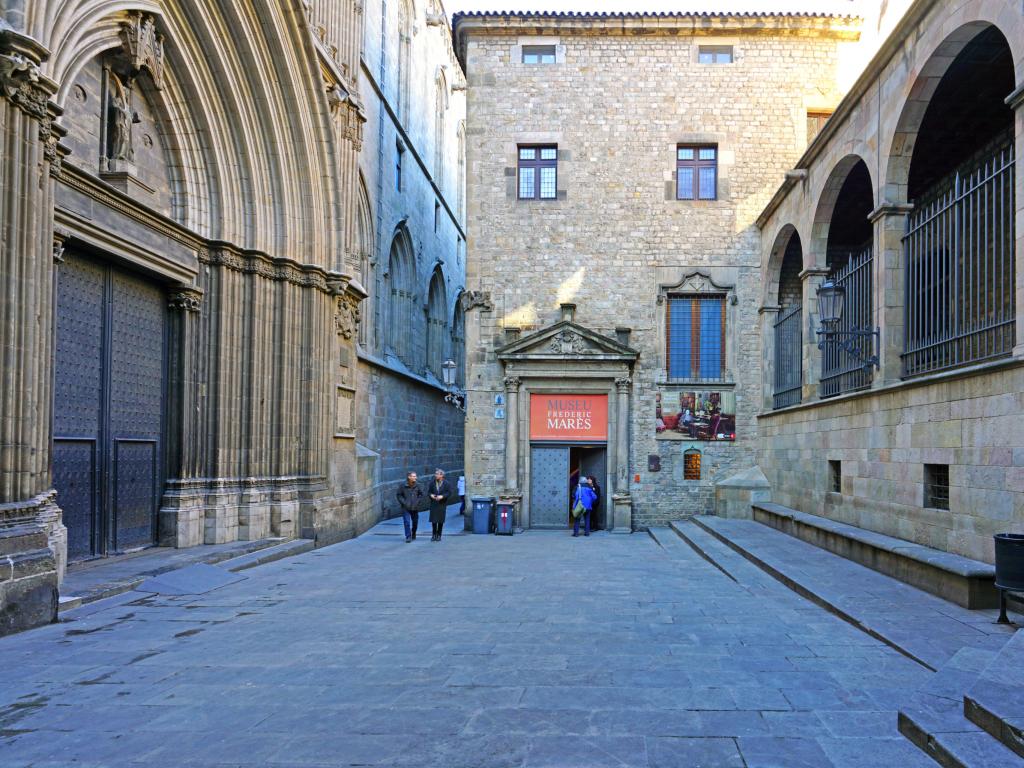 The Museu Frederic Mares is housed in the Palau Reial Major - a number of medieval Gothic buildings sitting next to the Barcelona Cathedral.
The museum has grown a lot since it opened its doors in 1946 and has collections of art ranging from Antiquity, Romanesque and Gothic to Renaissance and Baroque.
The most famous collection is a large amount of religious sculptures from across different time periods.
This museum is particularly interesting because it is arranged as a series of individual private collections - there are all kinds of unique collections including things like fans and pipes to see so you will definitely find a few of them interesting.
See beautiful nature around Barcelona
22. Barceloneta Beach
Getting there: Passeig Marítim de la Barceloneta - take the L4 line to Barceloneta and walk down past the port.
When to go: The beach is open and accessible 24/7
Price: Access to the beach is free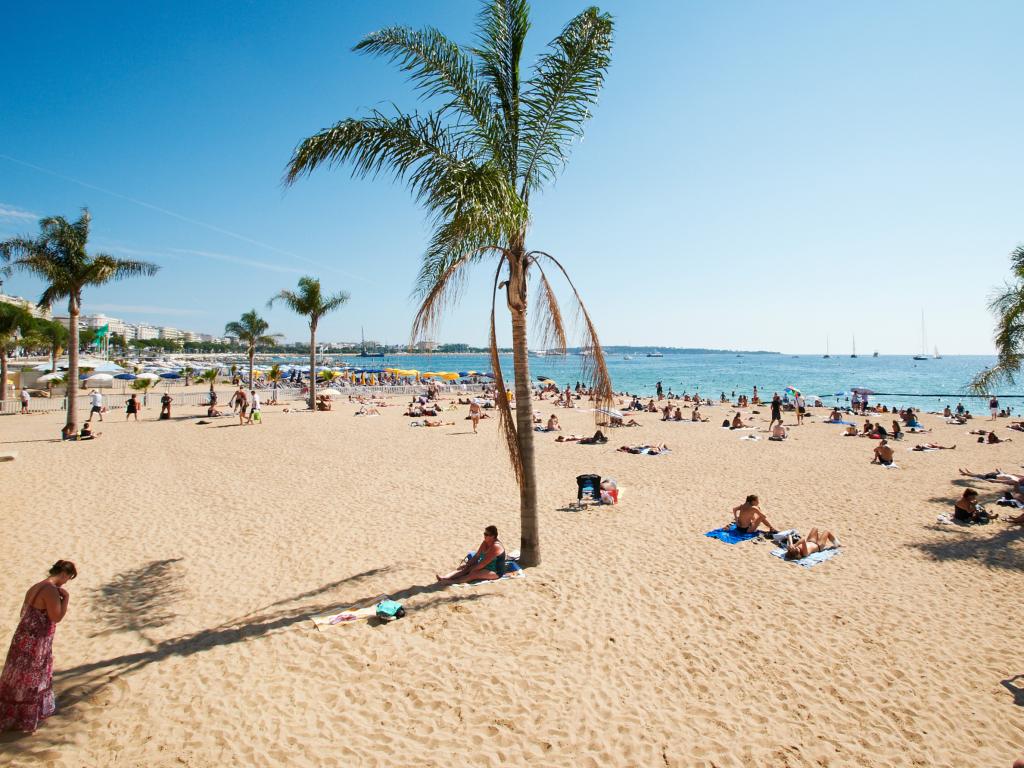 The Barceloneta beach is an old establishment right next to Barcelona's famous old port - the Port Vell.
Traditionally a place where fishermen plied their trade, the Barceloneta beach is now one of the locals' favourite things to do at the weekend or on a day off.
It is a really well established beach with a full range of services from life guards being present to sun loungers, toilets, ice cream stalls and even wi-fi.
So find some time to relax, feel the sand with your toes and maybe don't use that wi-fi for just a few hours? It can work wonders.
23. Parc de la Ciutadella
Getting there: Take the L4 line to Ciutadella Villa Olimpica (Zoo end) or L1 line to Arc de Triomf (Park end)
When to go: Park open 24/7, Zoo opens at 10am and closes between 5.30pm and 8pm depending on time of year
Price: Park is free, Zoo: Adults - €21.40, children up to 12 - €12.95, over-65s - €10.50, children under 3 - free
Top tip: Buy your tickets online in advance to save 10% on the cost (adult and children tickets only)
The Parc de la Ciutadella is a large public park located centrally, right next to Barcelona's La Ribera district.
The park was built after the military citadel that was in its place was demolished in 1869 and gave the park its name. Barcelona was preparing for the 1888 Universal Exhibition and wanted to look the part.
The park is great for a relaxing walk and there are a few sights along the way including the Castell dels Tres Dragons, the lake with the waterfall and the Catalan Parliament.
At one end of the Parc de la Ciutadella is the Barcelona Zoo that has been here since 1892. It's a great thing to do in Barcelona if you have kids or want something different to the museums and Gothic architecture.
It is a fairly standard zoo in terms of layout and the animals you can see. There are a number of activities through the day that are worth trying to get to including penguin feeding which is always great entertainment.
24. L'Aquarium Barcelona
Getting there: Take the L3 to Barceloneta and walk over past the Museu d'Historia de Catalunya.
When to go: Opens at 10am daily. Closes between 7.30pm and 9pm depending on time of the year.
Price: Adult ticket - €21, children 5-10 - €16, children 3-4 - €8, children under 3 - free, small discounts for families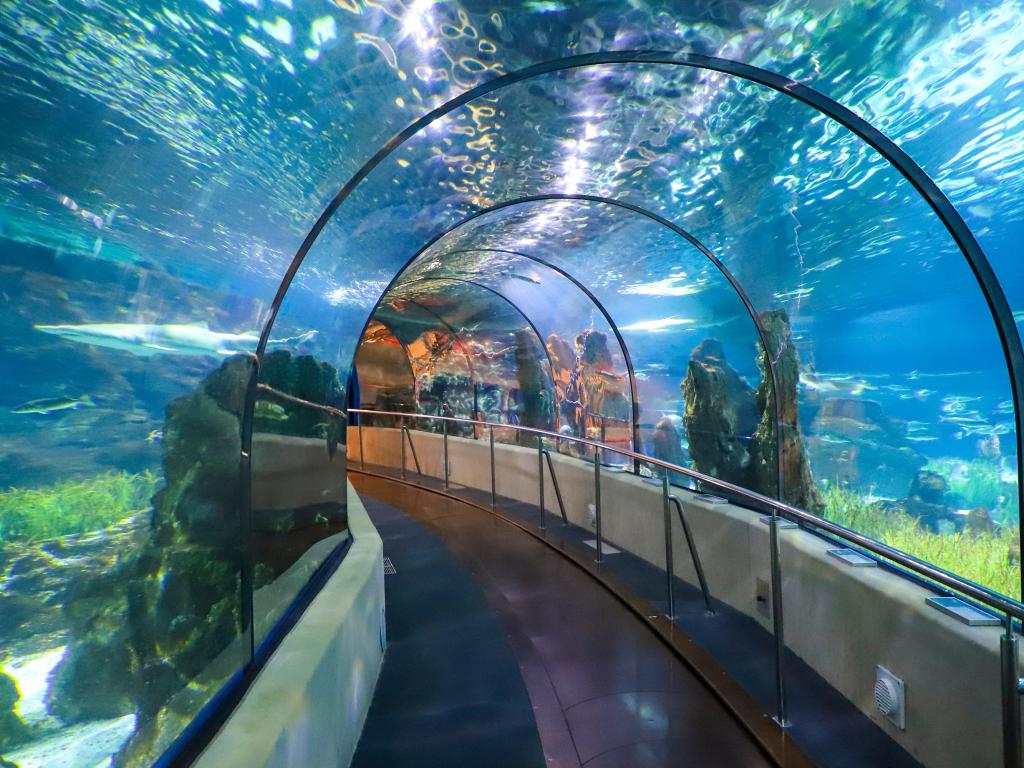 Barcelona's Aquarium is located on a pier in the Port Vell, right on the coast of the Mediterranean Sea.
A tad on the expensive side, the Aquarium can cost a family of 4 €72 (discounts are available for families). You might feel that the length of the walk and the amount you see is not as much as the fee would lead you to believe.
It is however, one of the largest facilities of its kind in the world and engages in a lot of preservation programmes.
Be prepared to have to queue to view parts of the exhibition and there can be a lot of people in the tunnel.
25. Parc del Laberint d'Horta
Getting there: Take the L3 metro line all the way out to Mundet.
When to go: April to October - 10am to 8pm, November to March - 10am to 6pm
Price: Normal ticket: €2.23, under-14s - €1.42, under-5s - free (did they just make these up? So random)
Top tip: The park is free to enter on Wednesdays and Sundays. If you have a Wednesday free, that's a great time to go!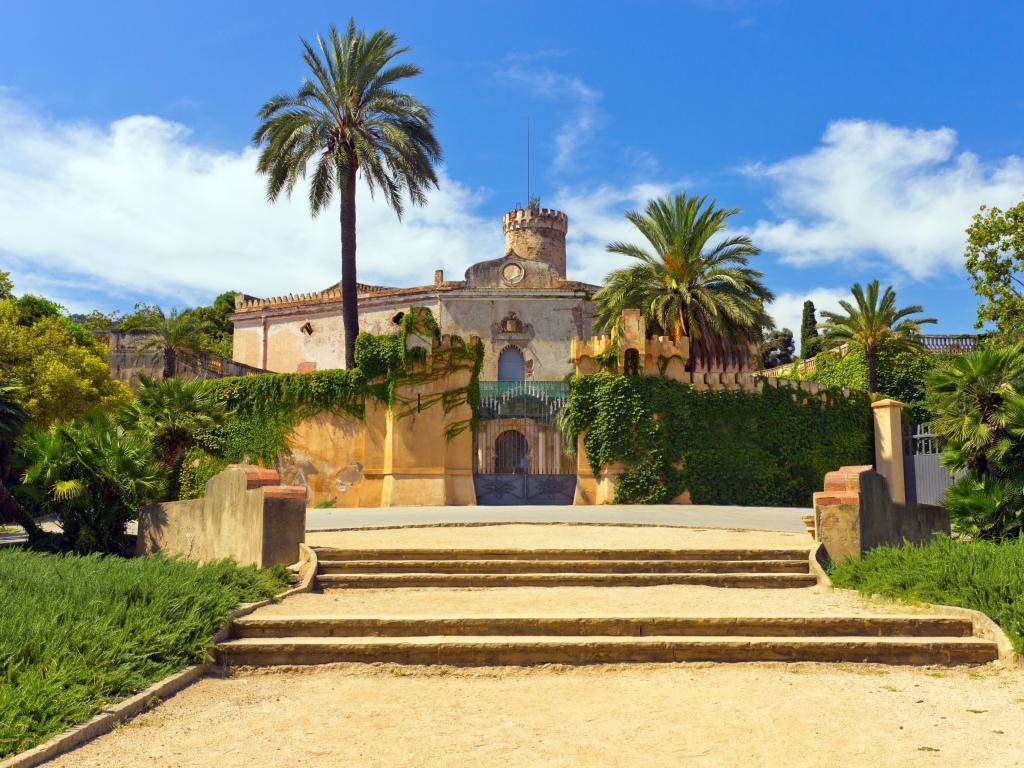 This is a park that is quite out of the way right on the outer reaches of the city although you can easily get here on the metro.
The park is divided into two distinct parts - a traditional park and a romantic garden.
The main reason to visit is that you won't run across hoardes of tourists and the park will surprise you with sculpted hedges, a couple of small temples to Artemis and Danae and a statue to Dionysus, very appropriately, the God of wine.
Originally built in the 18th and 19th centuries, the park has belonged to the city of Barcelona since 1967 and underwent extensive renovation in 1994.
26. Turó de la Rovira
Getting there: Take the L3 metro line to Penitents, then take the 22, 24 or 119 buses which take you to within 5 minutes' walk.
When to go: Public access - go any time - sunset is always a good time for the sensational views
Price: Free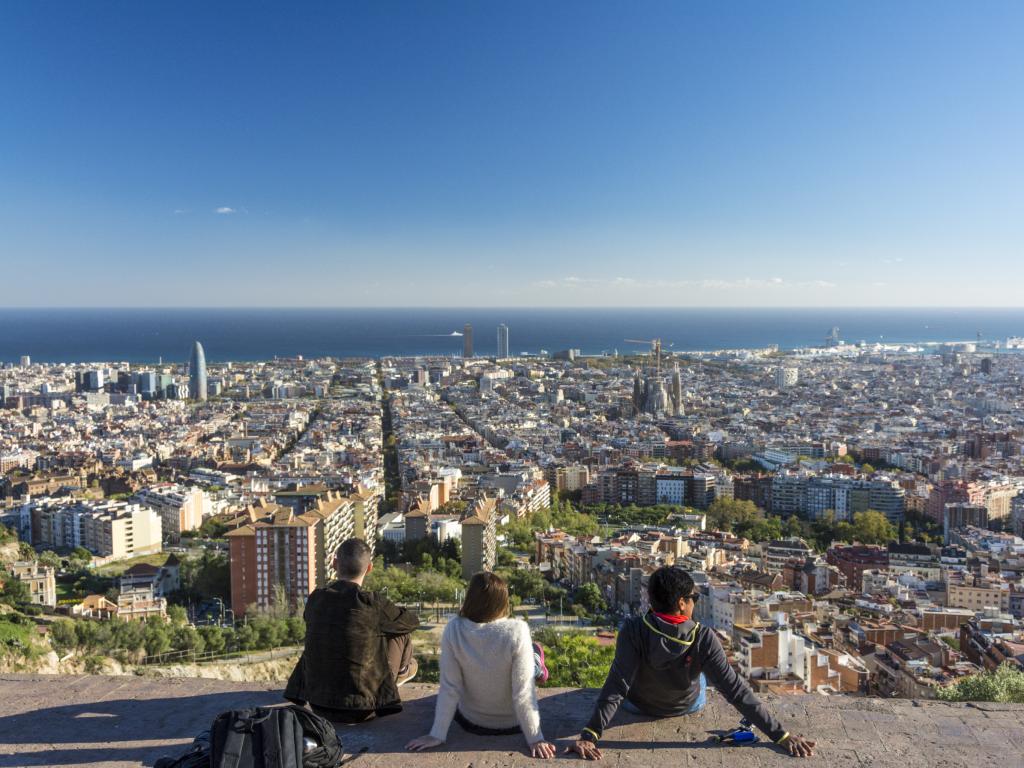 The Turo de la Rovira is a sight that most travel guides will not include. Because it really isn't a tourist sight at all which makes it all the better.
The Turo is set on top of a tall mountain overlooking the city of Barcelona from a height of 257m.
Unlike the Montjuic or the Tibidabo, Turo de la Rovira is located right behind the city with the sea directly ahead offering unparalleled views.
This spot housed anti-aircraft guns during the Spanish Civil War which is why the platform exists today. There are no shops, no refreshment stalls and no facilities so bear that in mind as you make your way up.
Notable Barcelona buildings and sights
27. Casa Batlló
Getting there: Take the L2, L3 or L4 lines to Passeig de Gracia.
When to go: Open 9am to 9pm 365 days a year.
Price: Adult ticket - €25, students, under-18s and over-65s - €22, children under 7 - free.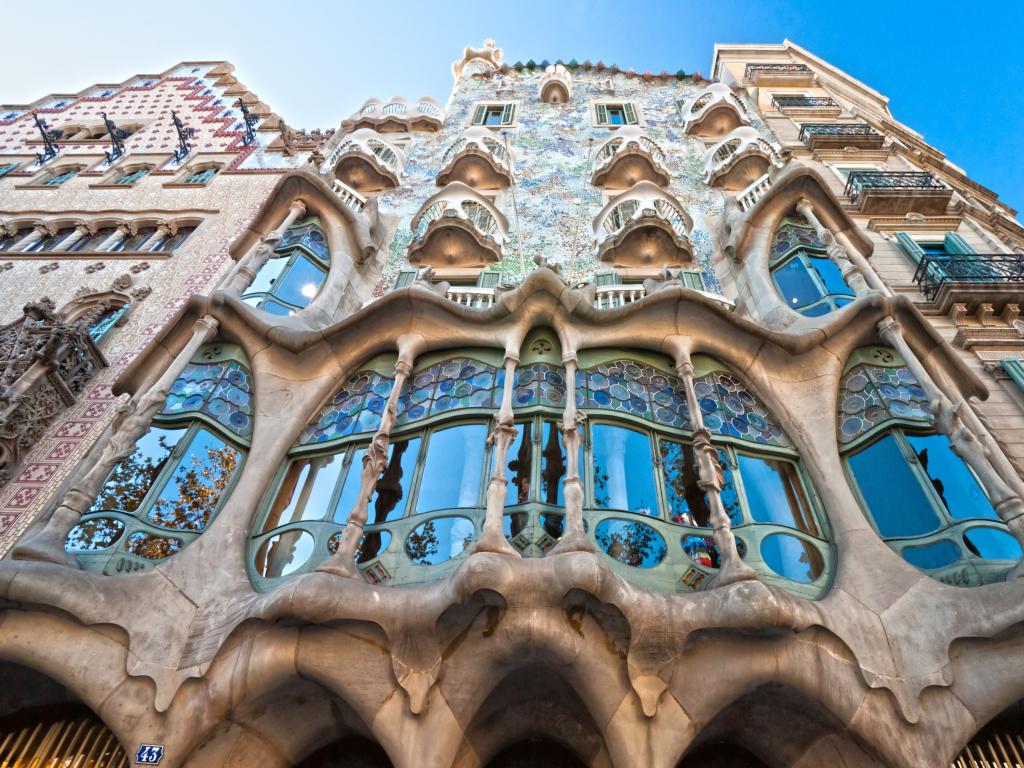 Casa Batlló is another famous building designed by Antoni Gaudi in Barcelona.
Unlike a number of his other creations, he didn't build this one. The building was built in the 19th century, but in 1904 the owners wanted to upgrade so Gaudi was hired to do a renovation.
Today you can visit this building to see what the Casa Batlló has looked like since that reconstruction was complete.
The new building looked nothing like the one that was being updated and both, the exterior and the interior follow a natural theme.
As you would expect, the building is full of curves with no straight lines in sight and the interior is a fine example of Modernist design.
28. Camp Nou (Barcelona FC Stadium)
Getting there: Take the D20 bus to Arezala - Les Corts or L3 metro line to Drassanes or L5 line to Collblanc - you won't miss it.
When to go: tours available any day - book in advance to guarantee a time slot and save €3.50. Games on match day
Price: tours start from €26 and go up to however much money you have in your wallet. Match tickets from €90 to €180 for typical games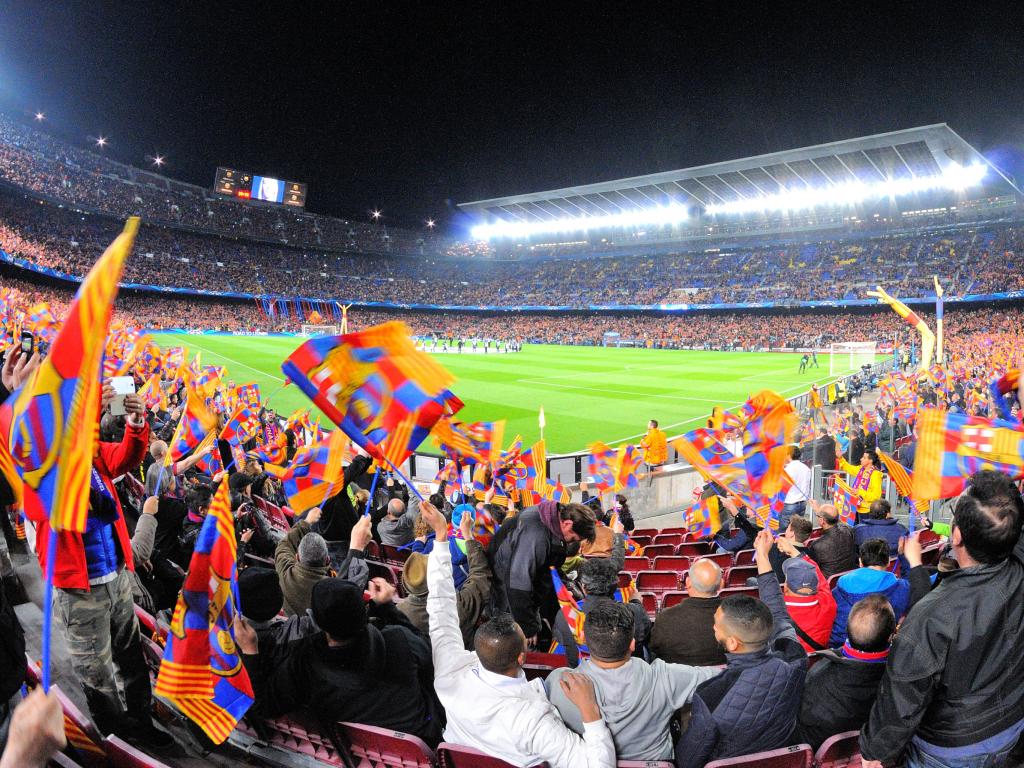 The Camp Nou is one of the most well known and largest football (that's what soccer is called in Europe) stadiums in the world.
It is home to Barcelona FC - an iconic football club that has had amazing success in Spain and in European competitions over the decades.
If you like football, there are few things better than going to a Barcelona game. The atmosphere of a stadium with 99,354 seats (largest in Europe and third largest in the world) together with watching arguably the best player ever to play the game in Messi can make for a seriously amazing experience.
If you want decent seats, prepare to pay for them - decent tickets for a league game will cost €150 and up. Champions League games are usually sold out so will cost more from resellers.
If you don't want to spend a small fortune or football is not your thing, you can visit on a tour with tickets costing €26, €36 and more depending on what your tour includes.
29. Casa Vicens
Getting there: Take the L3 line to Fontana
When to go: 10am to 8pm Monday to Sunday. Last entry at 6.40pm
Price: General Admission - €16, over-65s - €14, students under 26 - €12, children under 12 - free. Additional options for tours.
Top tip: You can stop for a drink in a cafe in the gardens of the building.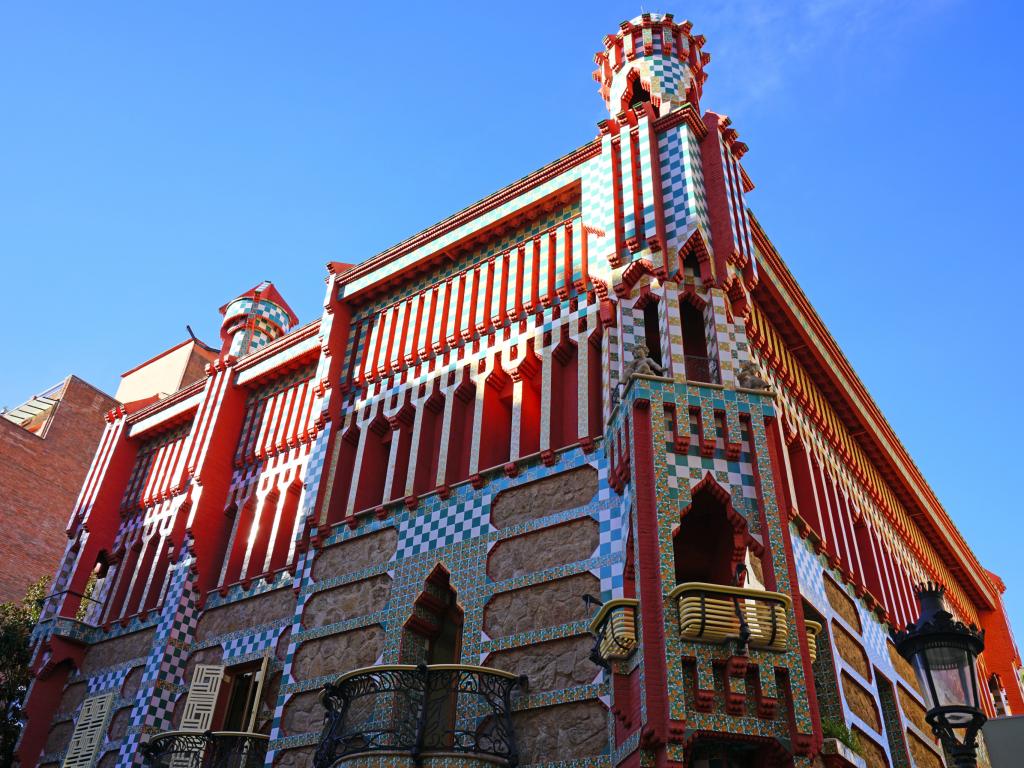 The Casa Vicens is a relatively new addition to the tourism circuit in Barcelona, only opening to the public in 2017.
It might not be as famous as Gaudi's other buildings dotted around town, but this is the one that started it all as it was Gaudi's first commissioned project when he was 30 years old. The client was Manuel Vicens i Montaner and the building completed in 1885 was designed as a private residence.
As with all of Gaudi's work, this house stands out on the street. It has unique Moorish influences that can be seen in the design of the facade and unusually for Gaudi, the building has a lot of straight lines and sharp angles.
As well as seeing the inside of the building with historic design and furnishings taking you through the last century, there are also temporary exhibitions shown here from time to time.
30. Palau Güell
Getting there: Take the L3 metro line to Liceu or Drassanes
When to go: April to October - 10am to 8pm, November to March - 10am to 5.30pm, closed on Mondays
Price: General admission - €12, students and EU citizens over 65 - €9, children under 18 - €5, children under 10 - free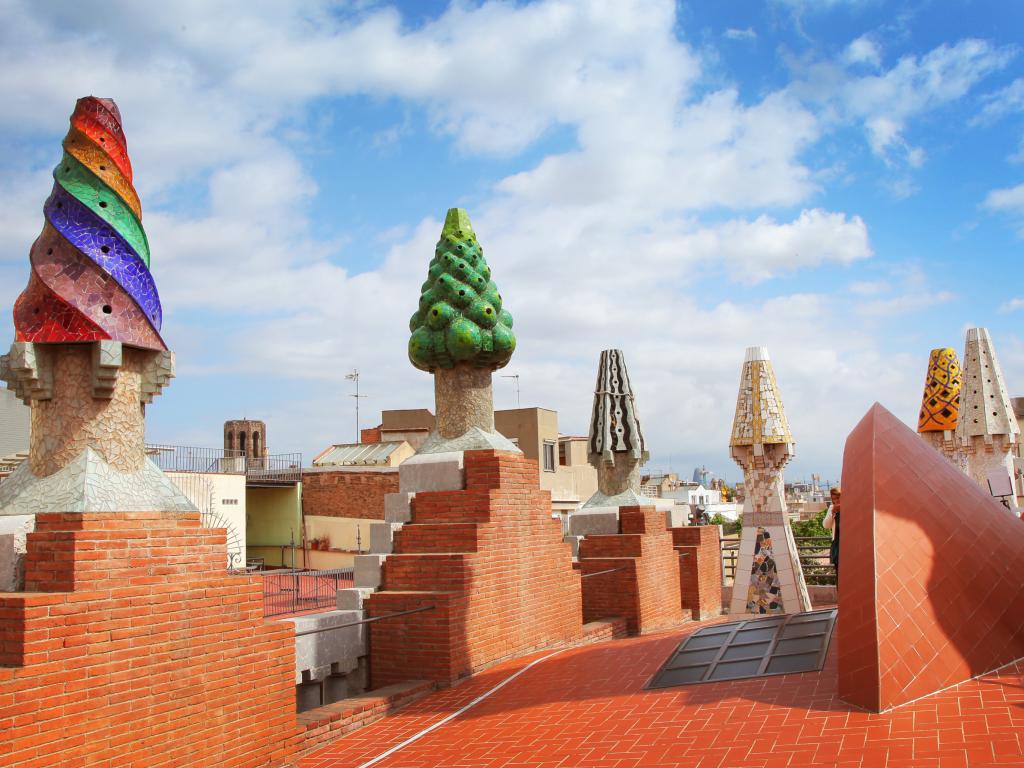 Eusebi Güell commissioned Gaudi to construct this urban palace when the architect was still young and starting out in his design career at 34 years old.
Construction started in 1886 and the building was complete in 1890. Both the exterior and the inside of this unique building show you a lot of the early signs of how Gaudi's vision for architecture would develop in the future and shares elements with his other works around Barcelona.
Located just off La Rambla, the Palau Guell is an interesting visit because this is where the Guell family lived and a lot of the rooms show how their lives were led over a century ago.
There is a terrace and a roof which are accessible with 6 chimneys combining unusual shapes and colours to a unique Gaudi effect.
31. Palau de la Música Orfeo Catala
Getting there: Take the L1 or L4 metro lines to Urquinaona.
When to go: Tours run every 30 minutes from 10am to 3.30pm. Easter and July - 10am to 6pm, August - 9am to 6pm.
Price: Basic guided tour - €20, over-65s - €16, students - €11, children under 10 - free.
Top tip: if you book at least 3 weeks in advance online, you can get save 20% on your tickets. Saves you missing out on tours with no availability too!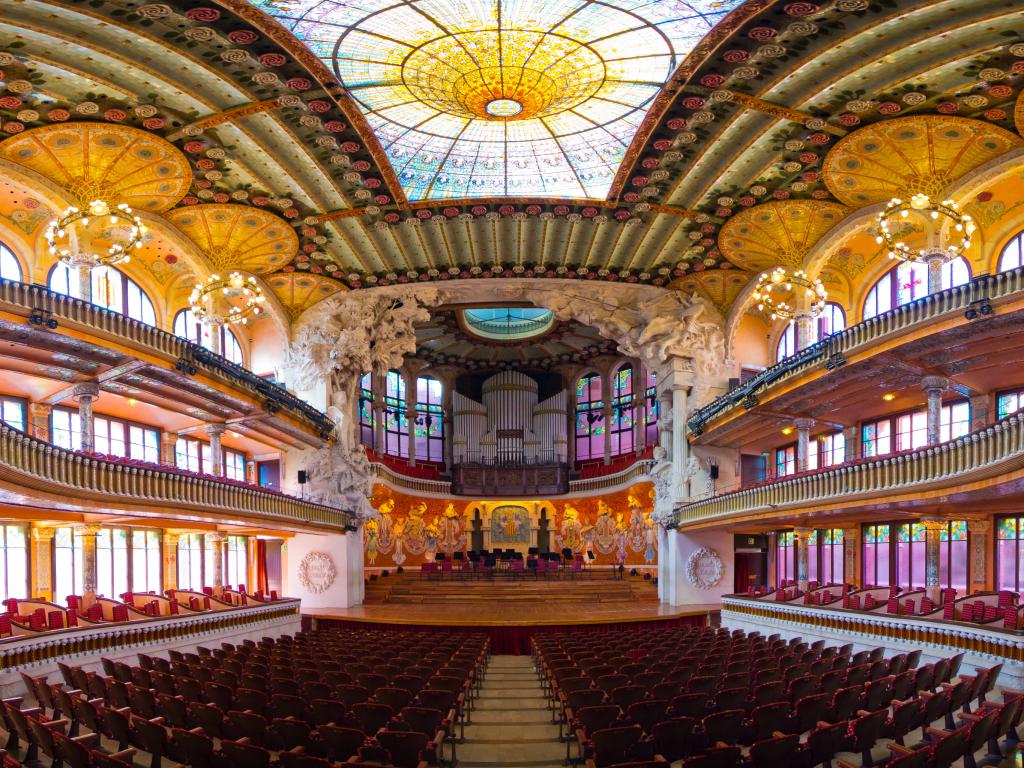 Visiting the Palau de la Musica Catala in Barcelona is not a thing that most tourists have on their itineraries.
This is a beautiful concert hall that still holds amazing concerts to this day - if there are good shows when you are in town, it might be a much better idea to go to that instead of doing a daytime visit.
The likes of Ella Fitzgerald and Norah Jones perform here as well as local and international bands, groups and popular artists.
The interior of the concert hall is opulent and unusually for this kind of venue has mosaic windows and a mosaic roof section in the main hall area.
Being so central in the Ribera district of Barcelona, you can easily combine a visit to the Palau de la Musica Catala with other activities in the area.
32. Casa de les Punxes
Getting there: Take the L4 and L5 line to Verdaguer
When to go: Open 10am to 7pm every day.
Price: Adult - €13, students, over-65s and disabled - €11.50, 18 and under - €10, children under 7 - free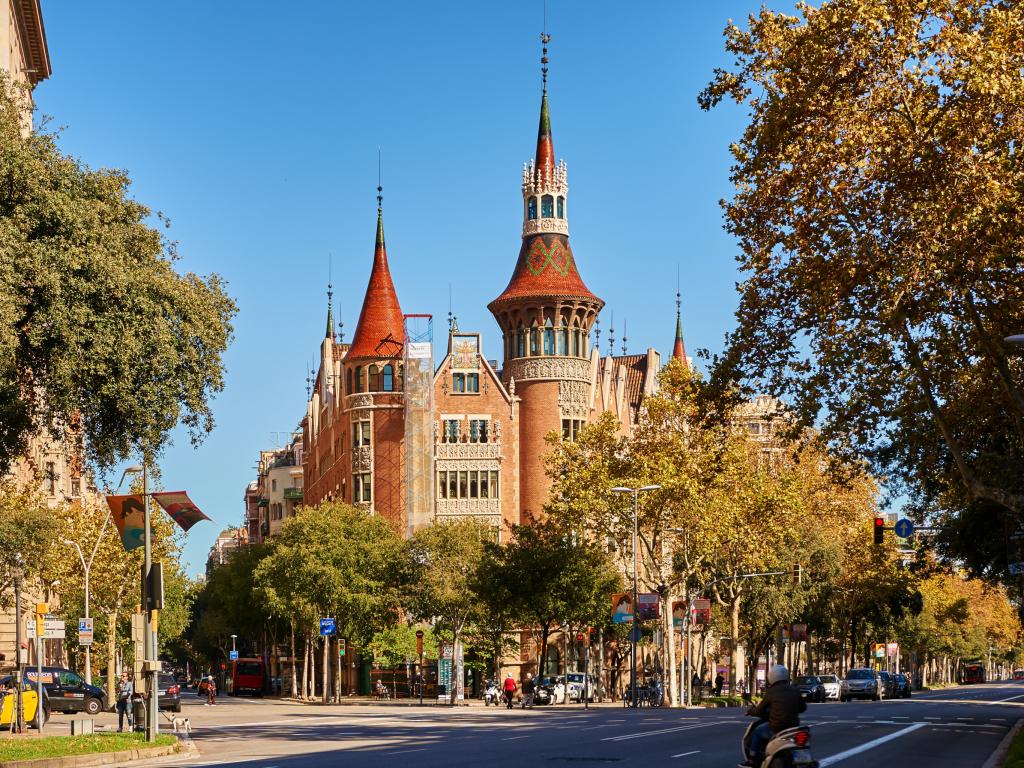 The Casa de les Punxes sits in Barcelona's Quadrat d'Or just off the avinguda Diagonal.
Technically called the Casa Terradas, it is more commonly known as Casa de les Punxes. The building is a great example of Modernist design and Art Nouvea.
Inside, the building has recently started displaying the culture and history of this building's 100-year history.
33. La Carbonería
Getting there: Carrer del Comte d'Urgell, 30 - L2 metro line to Sant Antoni or L1 to Urgell
When to go: La Carbonería can only be viewed from the street - at any time
Price: Looking is free!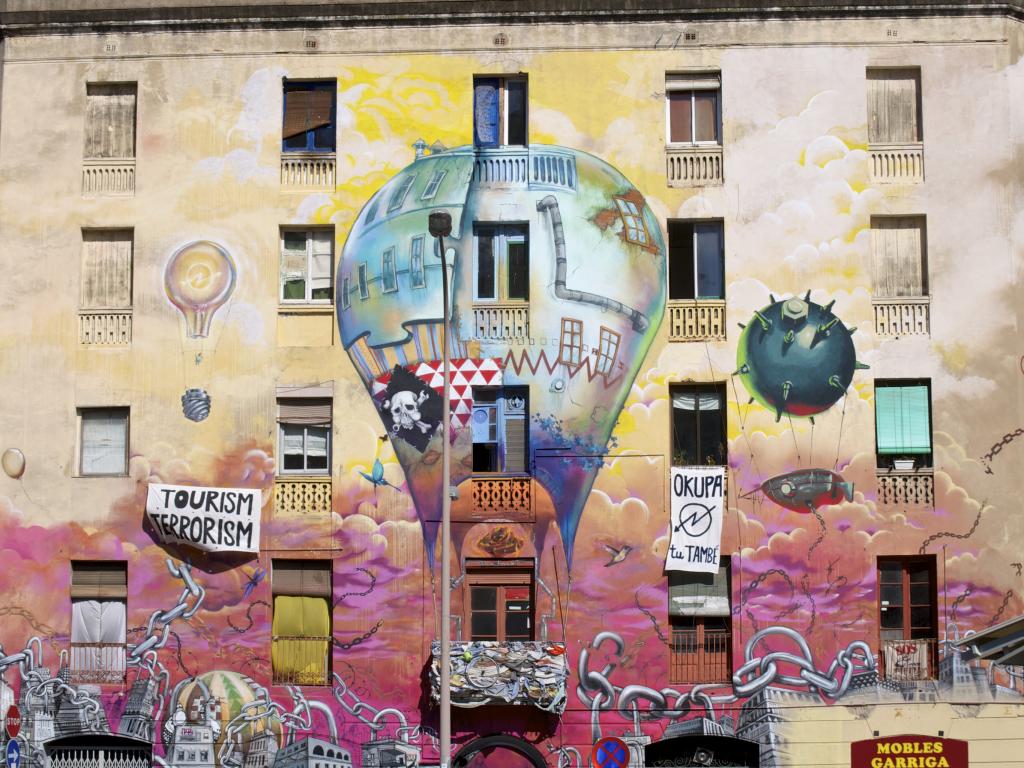 Built in 1864. La Carbonería is the oldest building in Barcelona's Eixample neighbourhood.
It does not have the unique design feature of buildings designed by Gaudi and it does not have a hint of Barcelona's 14th century Catalan Gothic architecture and yet this is allegedly the most photographed building in the city.
La Carbonería was a large squat from 2008 to 2014 after the historic building fell into disrepair.
While it was a squat, a lot of street art and graffiti made its way onto the walls including giant murals on one of the sides - often depicting hot air balloons.
The squatters may be long gone, but the building which was scheduled for demolition has been granted protected status by the city which means the owners can't bring it down or significantly alter the exterior.
Visit Barcelona's neighbourhoods
34. Gracia neighbourhood
Getting there: Take the L6, L7 or S7 metro lines to Gracia.
When to go: Any time is good. Why not head here for brunch and combine with a trip to Park Guell?
Price: Walking around is free, everything else depends!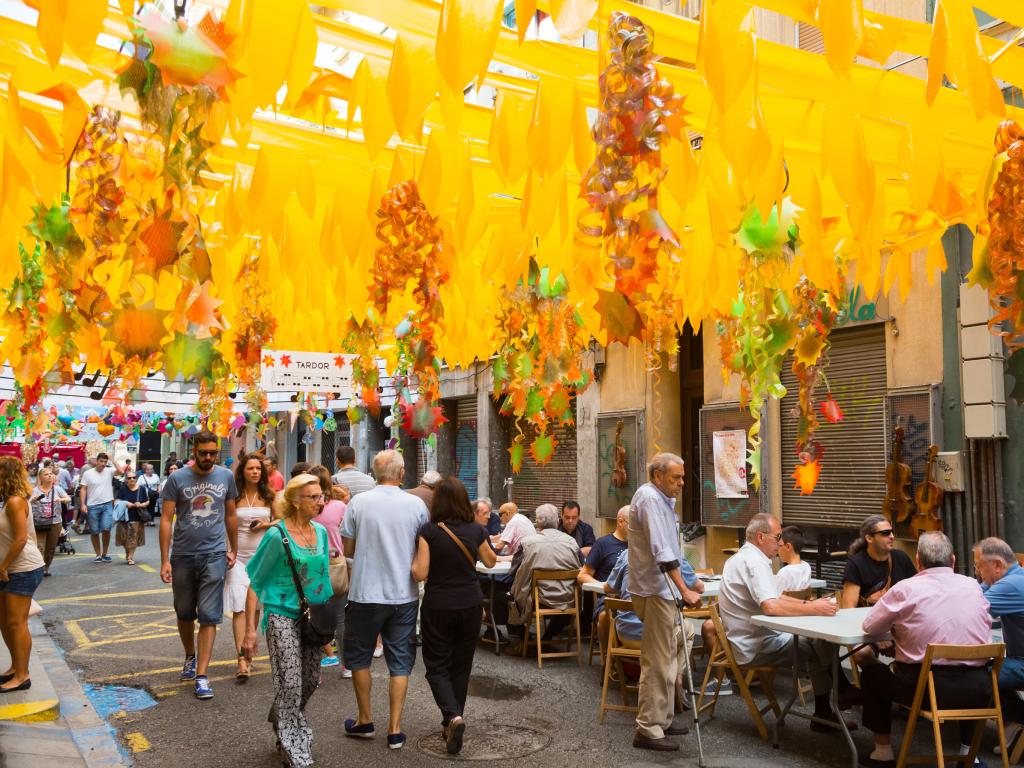 La Gracia is a relaxed neighbourhood with a local town vibe between the hustle and bustle of more central Barcelona and the Park Guell.
Home to a lot of small shops and restaurants and the famous Casa Vicens, the best part about the Gracia district is its relative lack of tourist attractions.
So come on over for a morning of sipping coffee in an artisan coffee shop, checking out small independent shops and avoiding the crowds of photo-snappers spilling out of buses.
35. Plaça de Catalunya
Getting there: Take virtually any metro line (L1, L3, L6, L7) to Catalunya or L2, L3 or L4 to Passeig de Gracia.
When to go: Any time is good. Daytime is great for a spot of people watching and evenings are great to see the square lit up.
Price: Square is open to the public - everything else depends!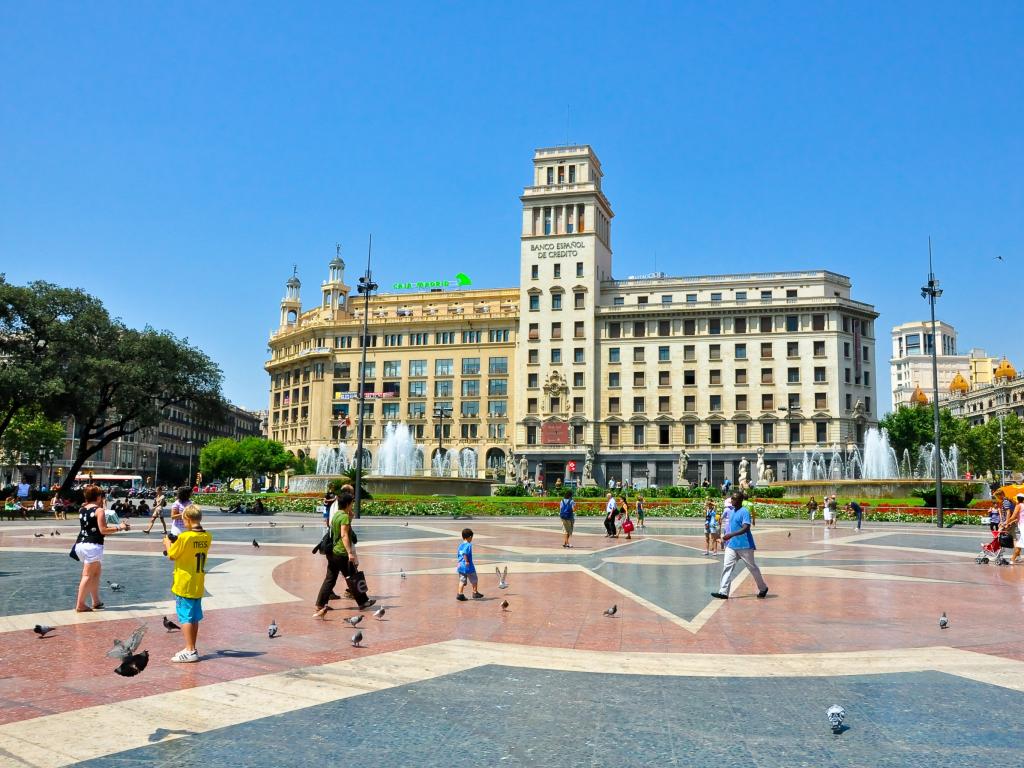 Barcelona's Plaça de Catalunya is the beating heart of the city, sitting between the Old Town (Ciutat Vella) and Eixample and at the top of the Barcelona's most famous street - La Rambla.
The square is a popular meeting spot for the locals because almost every metro line and other forms of public transport go through it and it's set right in the middle of Barcelona.
There are a lot of shops dotted around the perimeter of the square and the sculptures represent the 4 capital cities of Catalonia (Barcelona, Girona, Lleida and Tarragona), wisdom and labour.
There's a few cafes around the corners which are great for relaxing and watching people go about their lives - a good option for a brunch if you're heading further afield on your sight seeing.
36. Plaça Reial
When to go: Open all year round!
Getting there: Plaça Reial - get off at the Liceu stop on the L3 line of the metro
Price: Depends on what you're eating and drinking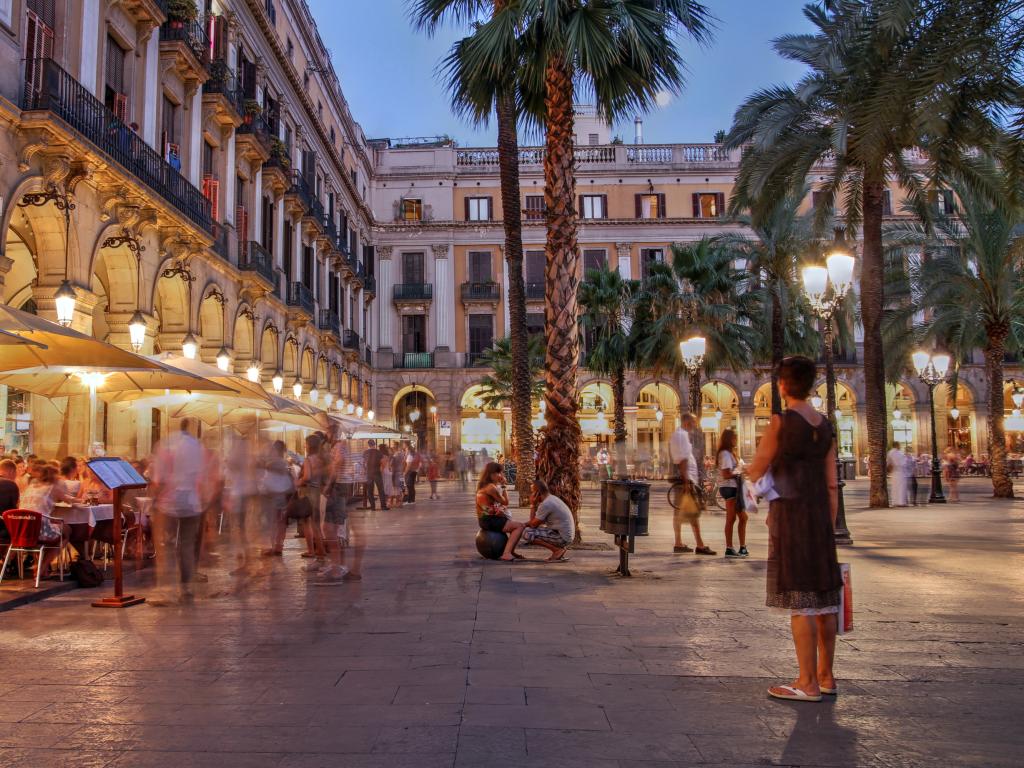 Plaça Reial is a square in the Gothic Quarter, close to La Rambla. We might have covered the Barri Gotic in our top 10, but this square deserves a special mention as it's a place you should come to in its own right.
The square originally housed the Capuchin convent of Santa Madrona, but it has been a popular gathering spot for the locals since its demolition in 1835. A lot of festivals have major events in the square but you really should visit whenever you are in the city.
And the best time to visit is at night.
As well as being home to a hotel, the square has a large number of restaurants and bars with outdoor seating. The ambience is spectacular so this is a great spot to have dinner one evening of your stay.
If you like to stay out later, there are a few popular night clubs on the same square - the Sidecar, Karma and Jamboree.
37. Font Màgica Fountain
Getting there: Take the funicular up and walk across or walk up from Plaça d'Espanya (metro lines L1, L2 and L8)
When to go: You can come to the fountain any time of day, Fountain show on at 9.30pm June to September, 9pm April to May and October and 8pm in the winter.
Price: free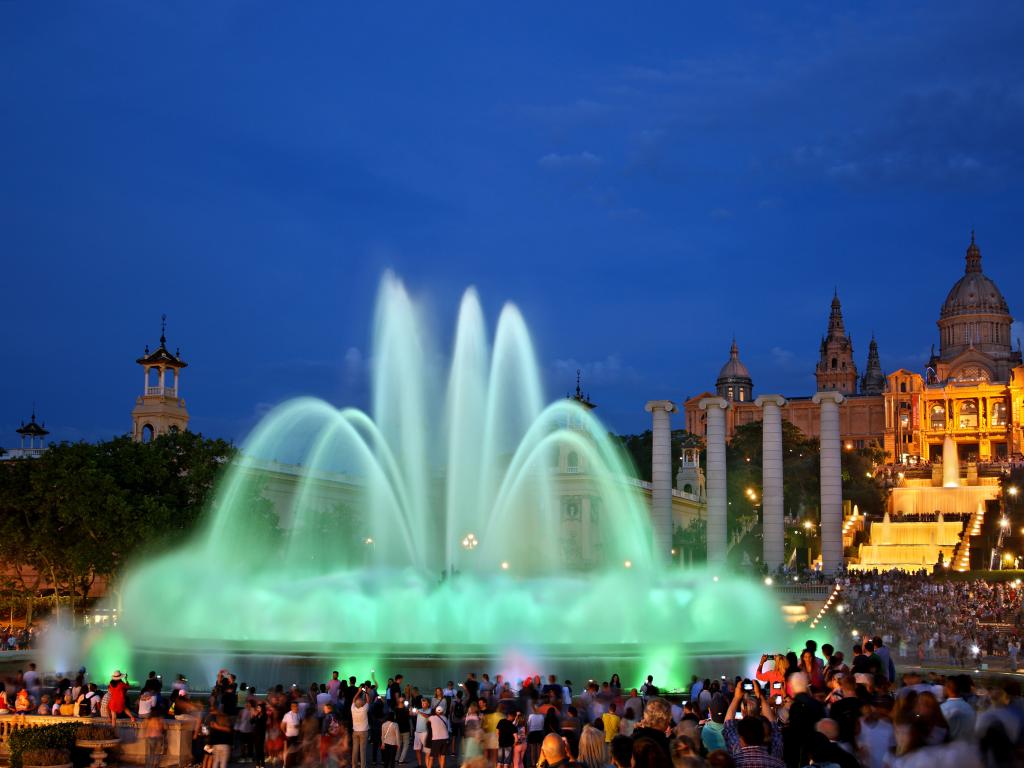 Barcelona's Font Magica is not a neighborhood, but is a small part of Barcelona you absolutely must visit on your way around the city.
The Font Magica fountain is on the Montjuic mountain was built for and first did a water show at the 1929 Universal Exhibition (much like so many of the city's sights).
It sits on Montjuic in front of the Museu Nacional d'Art de Catalunya.
A great idea is to combine a visit to the fountain with watching the sunset from the Montjuic. The shows are in the evening and although they may seem late, you will still have time to catch dinner - local restaurants are open late!
The shows themselves are a big combination of spectacular water effects, lights and loud music and a real must on your list of things to do in Barcelona.
38. El Raval neighbourhood
When to go: Open all year round - shops and restaurants open during usual commercial hours
Getting there: Sant Antoni stop on the L2 metro line will get you right into the Raval
Price: Depends on what you're buying!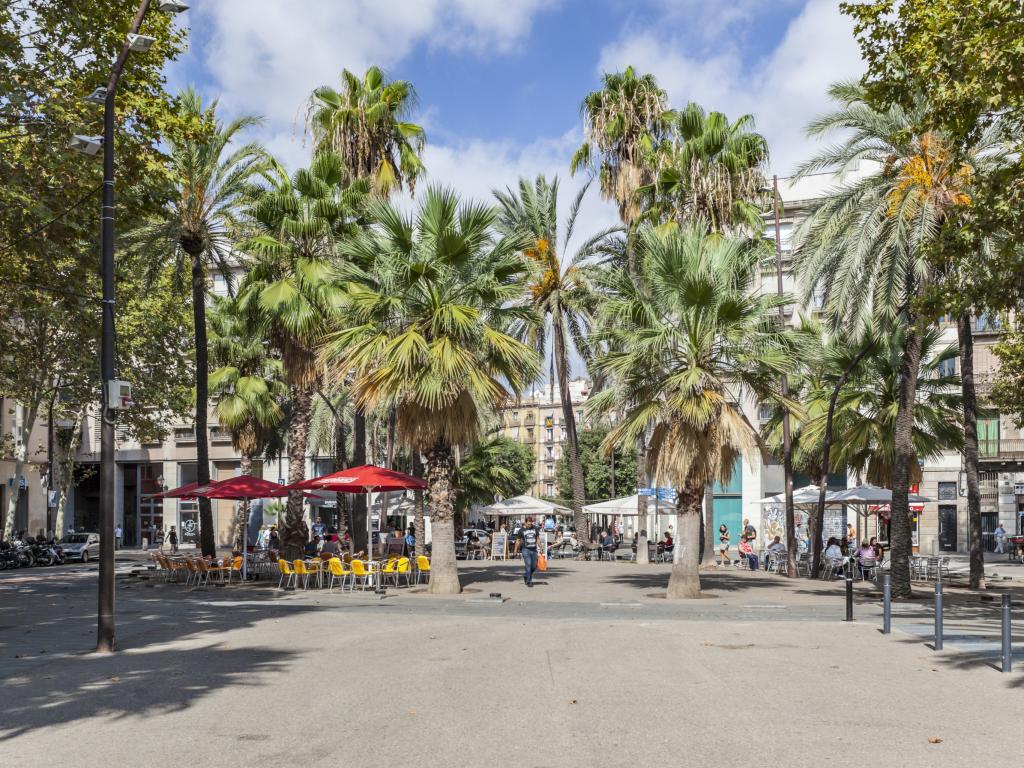 The El Raval neighbourhood is right in the heart of Barcelona sitting along the Las Ramblas. It is a fascinating difference to the bordering Barri Gotic - full of hip bars and funky restaurants, unusual art and design shops.
You will find Museum of Contemporary Art and La Boqueria market here as well as quirky design shops.
With the bohemian vibe, one great activity is to grab a coffee or orange juice in one of the street cafes and do a spot of people watching.
39. El Gat de Botero
When to go: You can visit your friendly giant neighbourhood cat any time of day
Getting there: Sant Antoni is the closest metro stop on the L2 line
Price: Access is free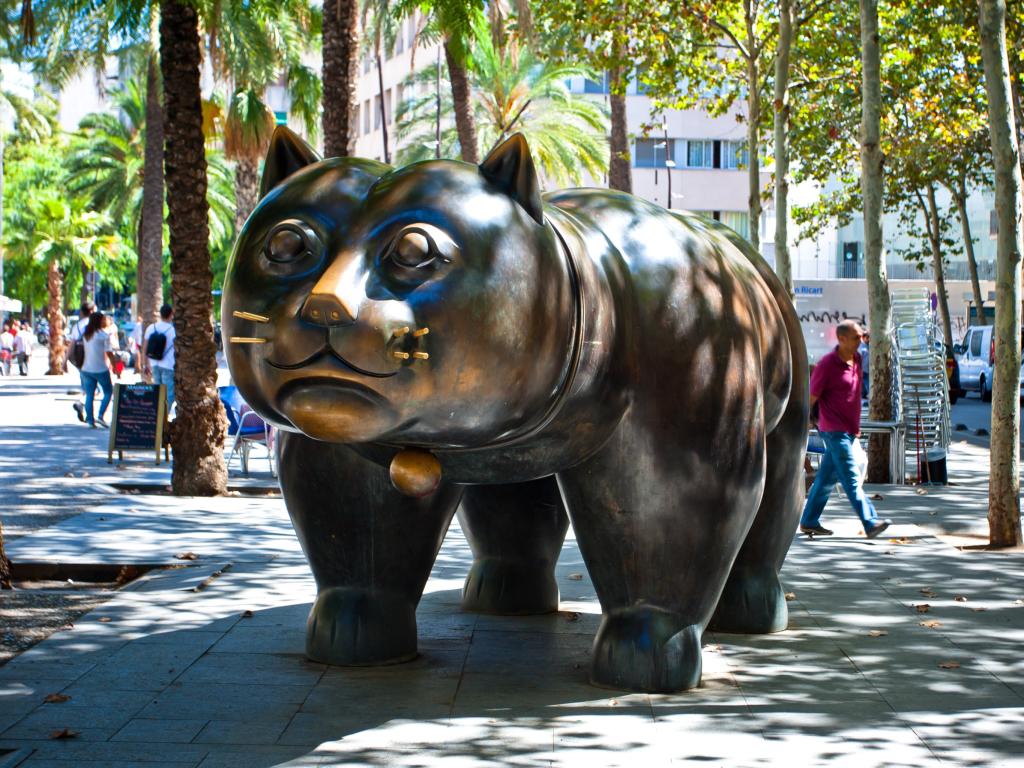 Snuck in the middle of the Raval district is El Gat do Botero. It might only be a small street sculpture but it really deserves an entry all of its own.
With a bemused facial expression, the giant cat is made of bronze and named after Fernando Botero who created it. From 1987 when the city of Barcelona purchased it to 2003, it was displayed in different parts of the city. From 2003 to today it permanently sits on the Rambla del Raval so make sure you see it on your way around the El Raval neighbourhood.
Go shopping in Barcelona
40. Mercat de la Boqueria
When to go: Market opens at 8am and gets super busy around lunch time. Try to get there in morning for brunch instead. Market closes around 8.30pm.
Getting there: Take the L3 metro line to Liceu.
Price: Generally food is expensive both at the stalls and tapas bars but you're not here to do your weekly shop!
Top tip: Try local hams and cheeses either from the stalls or sit down at a tapas bar. Don't buy fish on Mondays as Spanish fishermen don't go out on Sundays!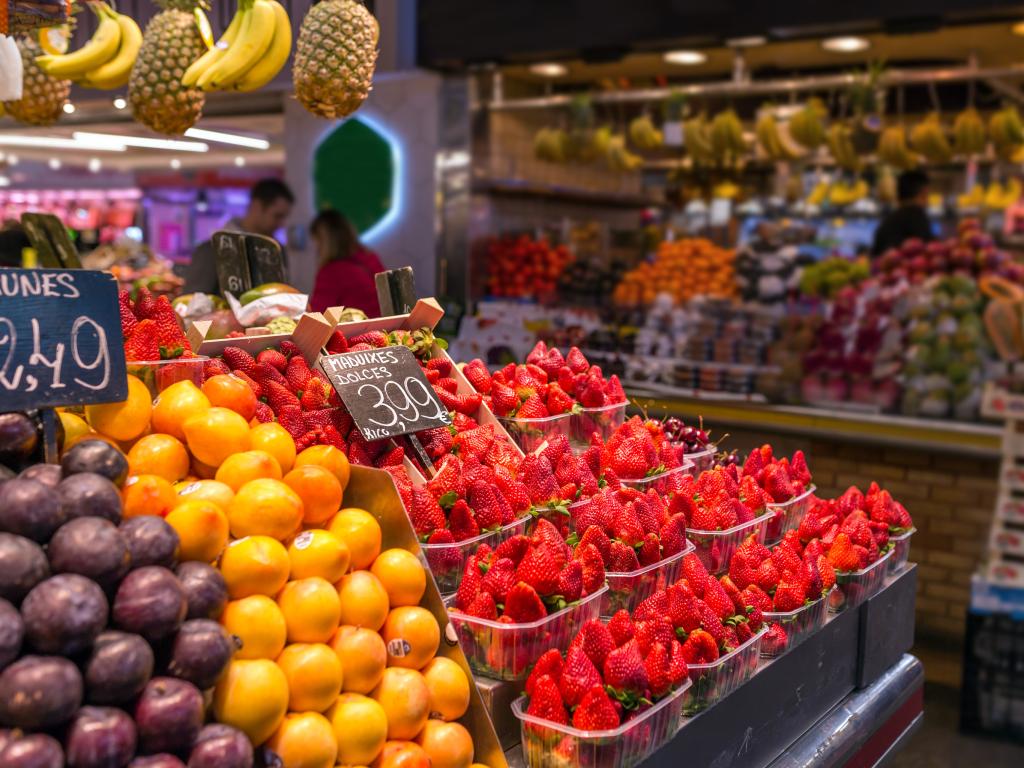 La Boqueria is amazing food market located in central Barcelona.
It is not the place locals come to buy their fruit and veg and the prices are not low - location, presentation and the reputation of being here are to blame.
That doesn't mean you shouldn't come though. The quality of food and diversity of the market stalls is fantastic as is the selection of tapas.
You can stroll around and find every kind of seafood, hundreds of varieties of ham and cheese and even entire stalls dedicated to slightly different versions of paprika.
41. L'illa Diagonal shopping
Getting there: Take the L3 metro line to Drassanes
When to go: During regular shopping hours!
Price: How long is a piece of string?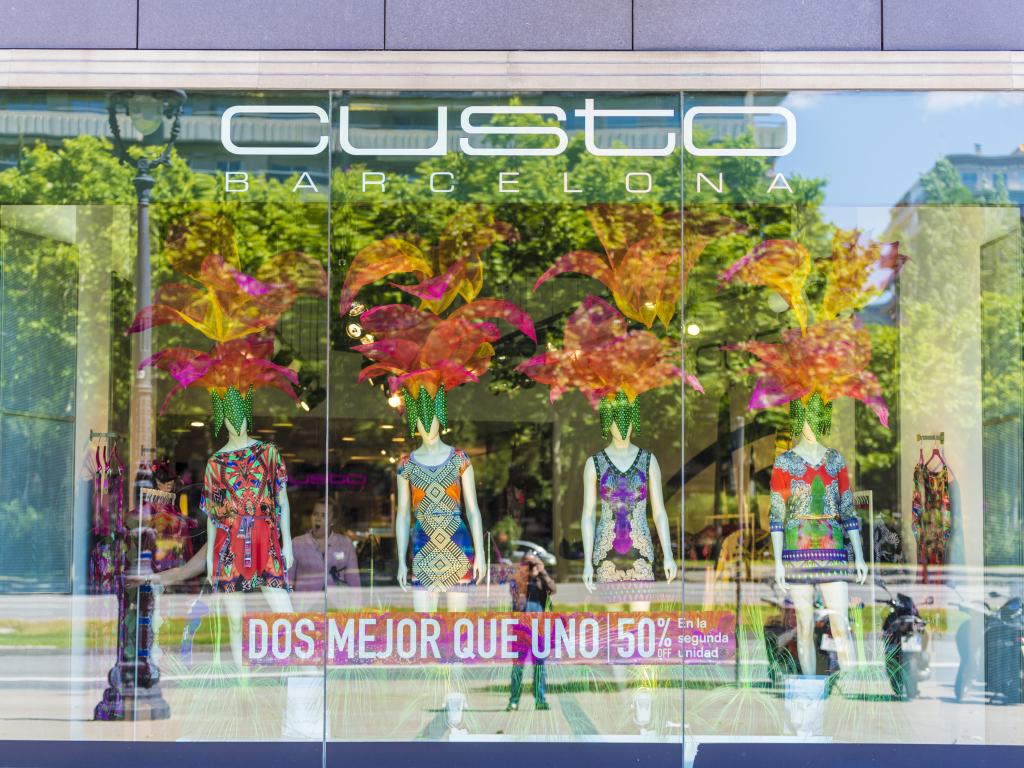 L'illa Diagonal is a large shopping mall on Diagonal avenue in Barcelona's Les Corts district.
There are over 170 shops, bars and restaurants here and from the outside the shops look a lot like Paris or New York. And that is no coincidence - it was modelled on central New York shopping venues like the Rockefeller Center.
L'illa means an island in Catalan and that's exactly what this shopping mall is. Inside it is a secluded shopping area with modern stores (opened in the 90s) that looks a world apart from the historic buildings and architecture on the outside.
The majority of shops here are global brands so don't expect to find local trinkets or small independent stores. If you're in Barcelona for a few days and want to spend an afternoon going to a shopping mall, this is the place to come.
42. Passeig de Gràcia
Getting there: Take the L3 metro line to Passeig de Gràcia - simple!
When to go: Shopping hours.
Price: How much are you buying?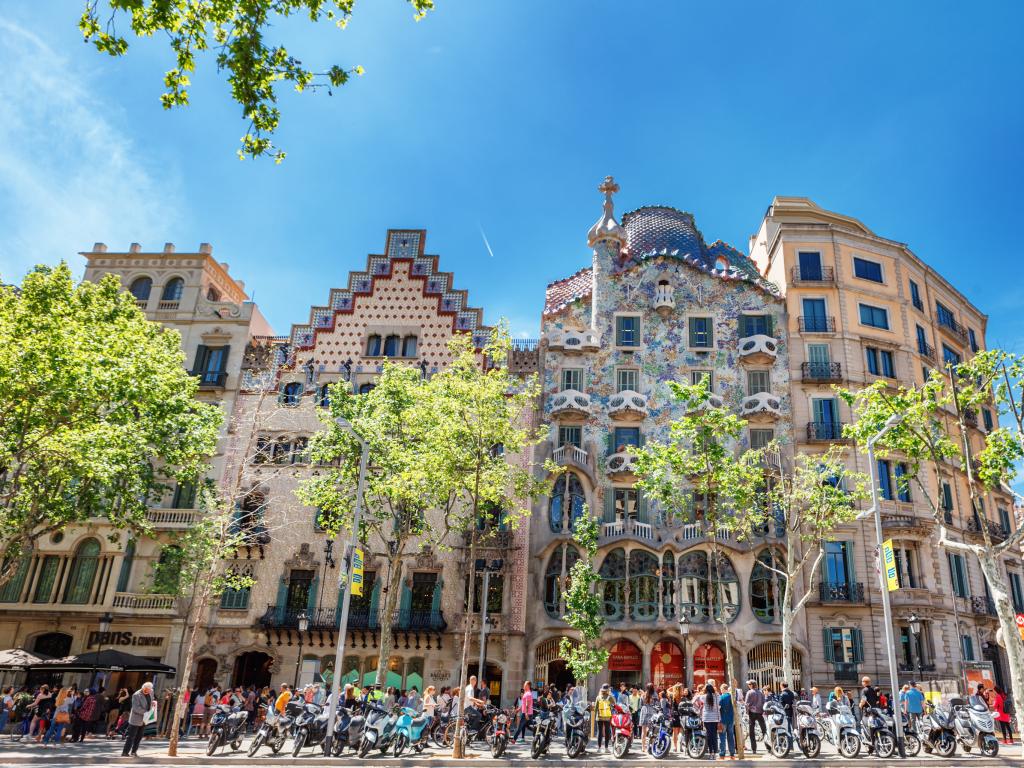 This is a street you're likely to keep coming back to during your stay in Barcelona.
The Passeig de Gràcia runs from the Plaça de Catalunya and connects Barcelona's Old Town to the vibrant Gracia neighbourhood.
Along the street you will find a really interesting mix. On the one hand this is the avenue on which major tourist attractions such as the Casa Mila and the Casa Batllo stand. On the other, there are a lot of boutique shops, fancy restaurants and cafes to be seen at.
Whether you're after designer gear or want to check out Gaudi's most famous buildings, Passeig de Gràcia is a must visit on your way around Barcelona, but don't just use it as a road to get to places - stop and look around as there is far more to see than museums and tourist attractions.
43. Mercat dels Encants
Getting there: Take the L1 to Glòries - the market is right by the station.
When to go: Open on Mondays, Wednesday, Fridays and Saturdays 9am to 8pm
Price: Cheap!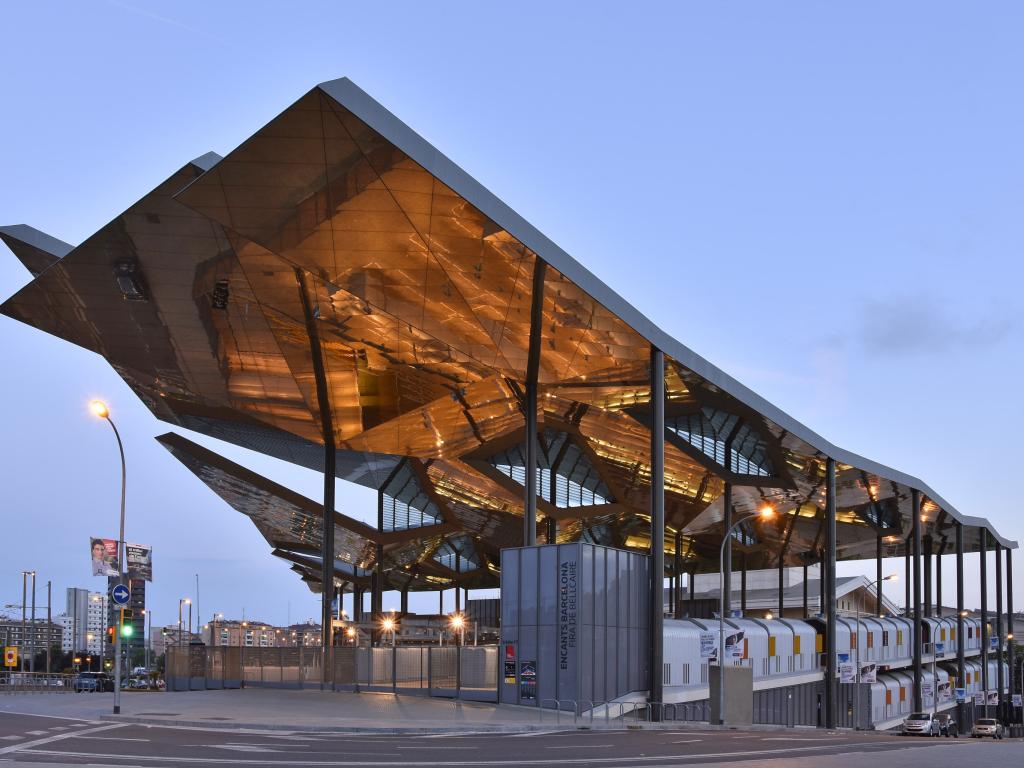 Barcelona's Mercat dels Encants, also known as the Mercat de Bellcaire dates back to the 14th century and is one of the oldest flea markets in the world.
The reason is that it doesn't look like your typical 14th century market building is that the market moved to a purpose-built facility on 2013.
There are some 500 individual stalls which sell all kinds of random items - if you love finding a bargain, this place is for you and there are tonnes of antiques, garage sale type stalls and random collections you can get your hands on.
44. Model Train Market at Estació de França
Getting there: Estació de França is a major railway station - take the L4 metro line to Barceloneta.
When to go: First Saturday of every month - check ahead!
Price: How good is your bartering?
This is definitely a thing to do for those who love activities off the beaten track.
Every first saturday of the month, the Estació de França (a major Barcelona rail station) transforms into a large market for model trains.
If you have kids or you just love the idea of building a model railway, there is not a place in the world that is better than this market for sourcing your parts. Every type of track, train and setup imaginable is on display and the stalls get really busy.
The train station is centrally located so you can easily combine your visit with a trip to Barcelona Zoo, a walk through Port Vell or an afternoon relaxing on Barceloneta beach.
Things to do for foodies
45. Taste Cava at Can Paixano (La Xampanyeria)
Getting there: Right by Port Vell - Take the L4 metro line to Barceloneta.
When to go: Monday to Saturday evenings
Price: Very reasonable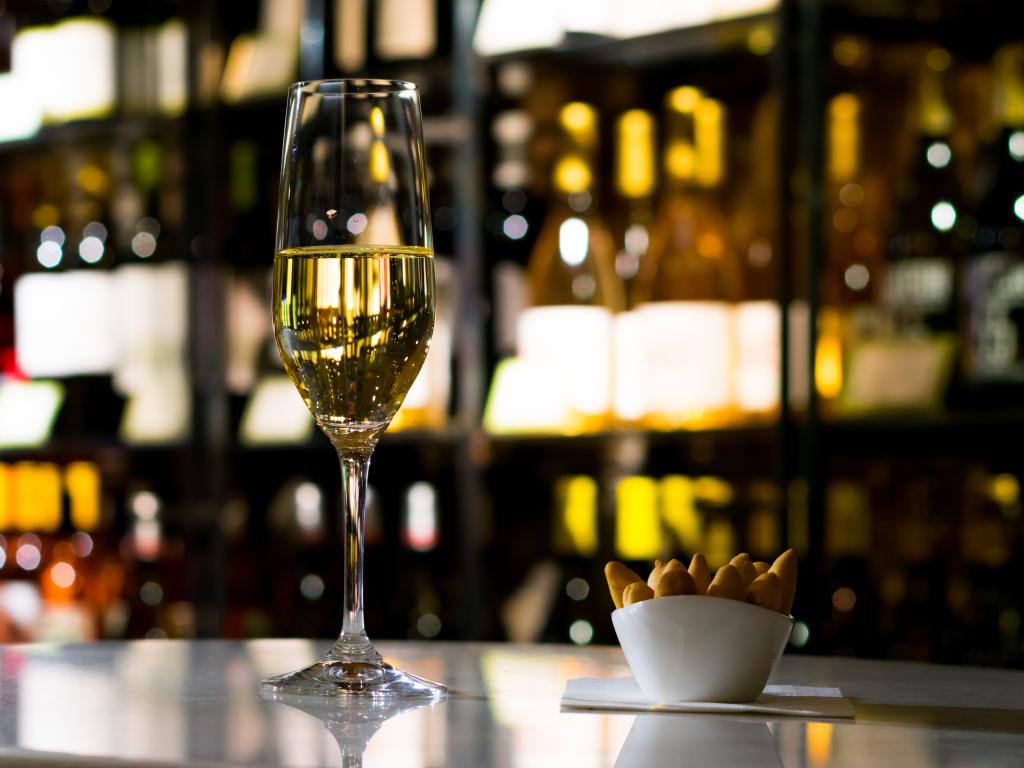 There are bars, specialist bars and then there is La Xampanyeria.
A bar like you've never seen, the menu consists of 5 different varieties of Cava. And that's it.
Sure -they'll serve nibbles and small tapas, but that's not what this place is about. Also you cannot have beer. And you cannot have wine. And you most certainly can't have other types of fizzy wines.
Sounds like a perfect way to explore the local produce? The locals love this place because not only is the Cava good, but the food is also decent and the prices are surprisingly kept low.
There are a lot of other great restaurants in the area so you can easily come for a glass or two before or after dinner.
46. Experience the Tickets Restaurant
Getting there: Take the L3 metro line to Poble Sec (You might want to get a cab back afterwards!)
When to go: Open Tuesday to Saturday.
Price: Time to remortgage your house.
Top tip: This is not the kind of restaurant you can just walk into. Tables are released online and you have to book in advance (during busy periods this will be hard!) If you don't show, you will be charged €50 per person.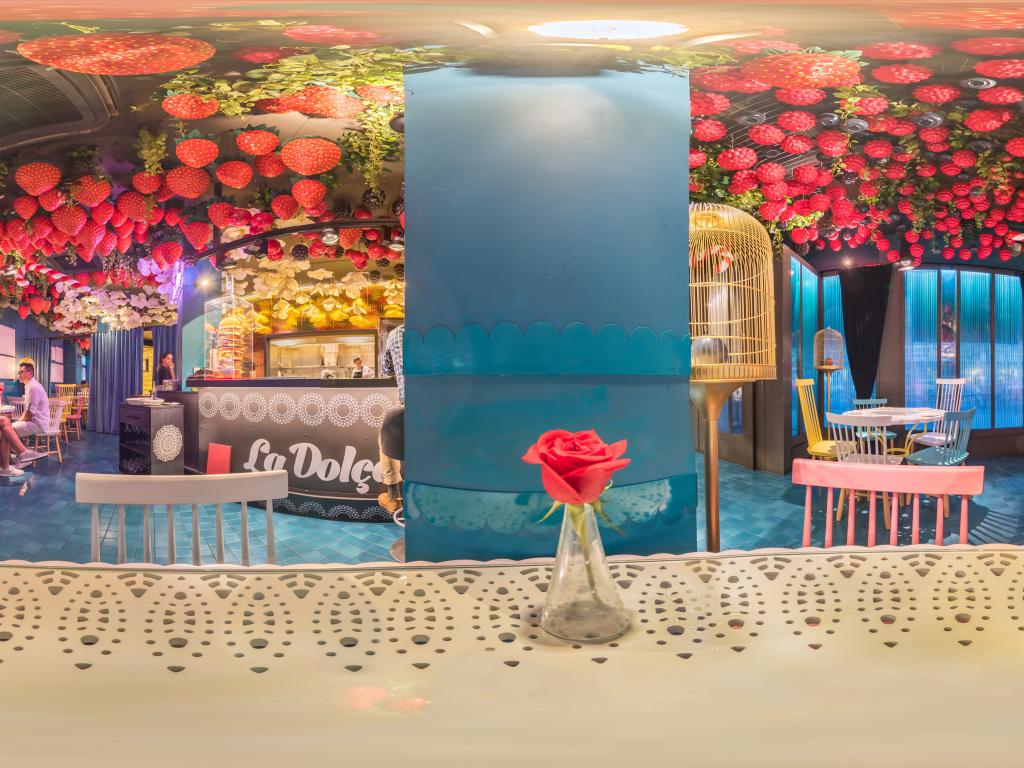 The Tickets Restaurant and its sister dessert venue La Dolca next door are very well known and have a mixed set of reviews. Primarily because this place is expensive. We're talking really expensive.
You get a 1 star Michelin dining experience - dishes will be small. You will have no idea what half the ingredients are and it will taste great.
There is even a great selection of wines for different budgets.
But whatever you pick, be prepared to pay €100 a head for the privilege. It ultimately comes down to whether you like this type of culinary experience - a lot of people just hate small portions and fancy food and there's no solving that so the value really depends on your taste buds!
47. Eat seafood in Port Vell
Getting there: Take the L4 metro line to Barceloneta and walk around
When to go: Any night - some restaurants do not open on Sundays and/or Mondays.
Price: A bit more expensive if you find a nice spot with a view.
Top tip: Ask for local seafood produce. Half of the things on the menu may come from the North Sea or North Atlantic so try to get something that was caught that morning instead!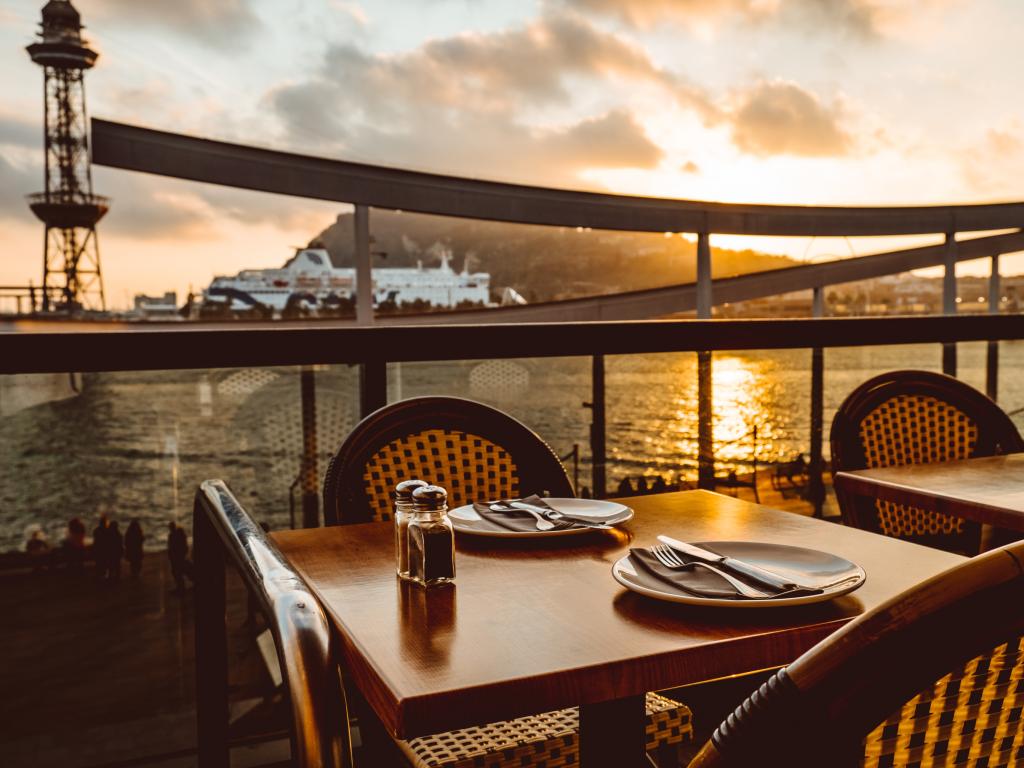 If you're not a fan of seafood, go ahead and skip this although your idea of seafood might be really different to the kind of food you can have in Barcelona's Port Vell.
Along the Passeig de Juan de Borgo and other streets near the port, there is a fantastic selection of restaurants as well as the opportunity to take a stroll in the sea breeze and admire the boats in the harbour.
Local seafood has a strong focus on prawn, squid and calamari dishes, a lot of grilling and batter.
If you are spending a few nights in Barcelona, make sure you dedicate one evening to seafood and white wine even if you're a steak and red wine sort of person.
48. Go for local tapas
Getting there: dozens of restaurants around town - take your pick!
When to go: Any evening. Or maybe every evening?
Price: Not bad
Top tip: don't wait and order two dishes of the green peppers. Otherwise you'll have to wait when you immediately finish the first.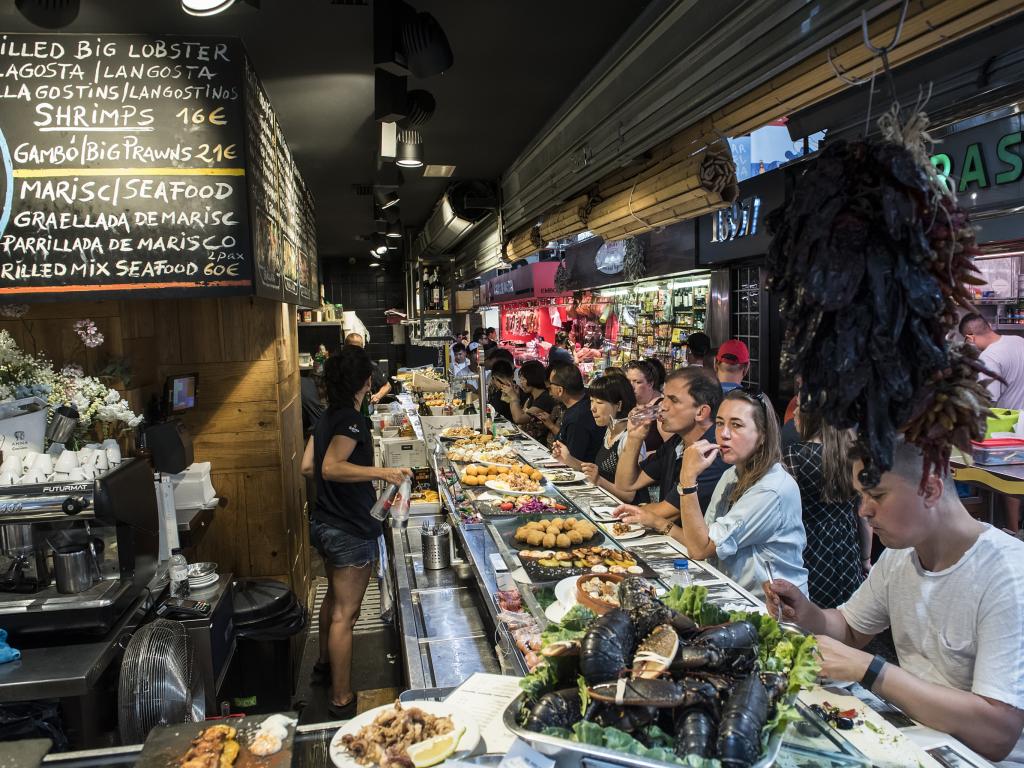 What trip to Spain is complete without indulging in tapas?
Barcelona is no different to this rule and with Catalonia being close to Spain's Basque region, there is a mix of Tapas and Pintxos on offer through the town (both essentially the same concept of serving a large number of small dishes with your drinks).
There are tapas bars with limited selections at a number of the city's top markets including La Boqueria and some of the bars will serve tapas for free as long as you keep buying the drinks.
In order to really experience a proper tapas experience, choose a dedicated restaurant - preferably somewhere near your hotel so you can crawl back when you've had way too much to eat.
Best bets for us are patatas bravas, gambas al ajillo (prawns cooked in oil), pulpo (squid), pimientos de padron (fried green peppers), chorizo and aged manchego cheese.
49. Try traditional Barcelona vermouth
Getting there: Bars dotted around town. Quimet i Quimet is in the El Poble Sec district and Bar Electricitat is near the Barceloneta beach.
When to go: Every night after dinner?
Price: Depends on your drinking habits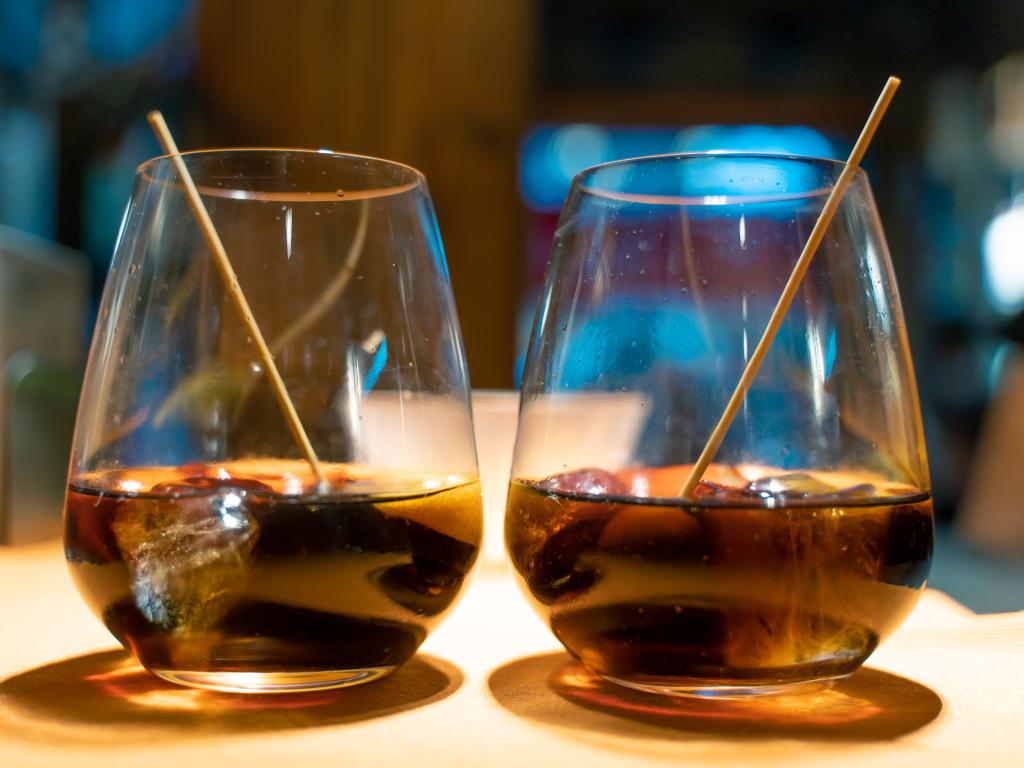 You might not know it, but Barcelona has a deep history of making and drinking vermouth.
A lot of trendy bars that have recently sprung up will have a few on offer, but what you really want to do is find an old Bodega where vermouth has been served for a couple hundred years.
Try the Bar Electricitat where you pour your own Vermouth from a bottle on your table and then tell the owner how many you've had or the Quimet i Quimet for some local charm (this one gets really busy too!)
50. Go to the Opera at Gran Teatre del Liceu
Getting there: Take the L3 metro line to Liceu
When to go: Pick your show!
Price: vary a lot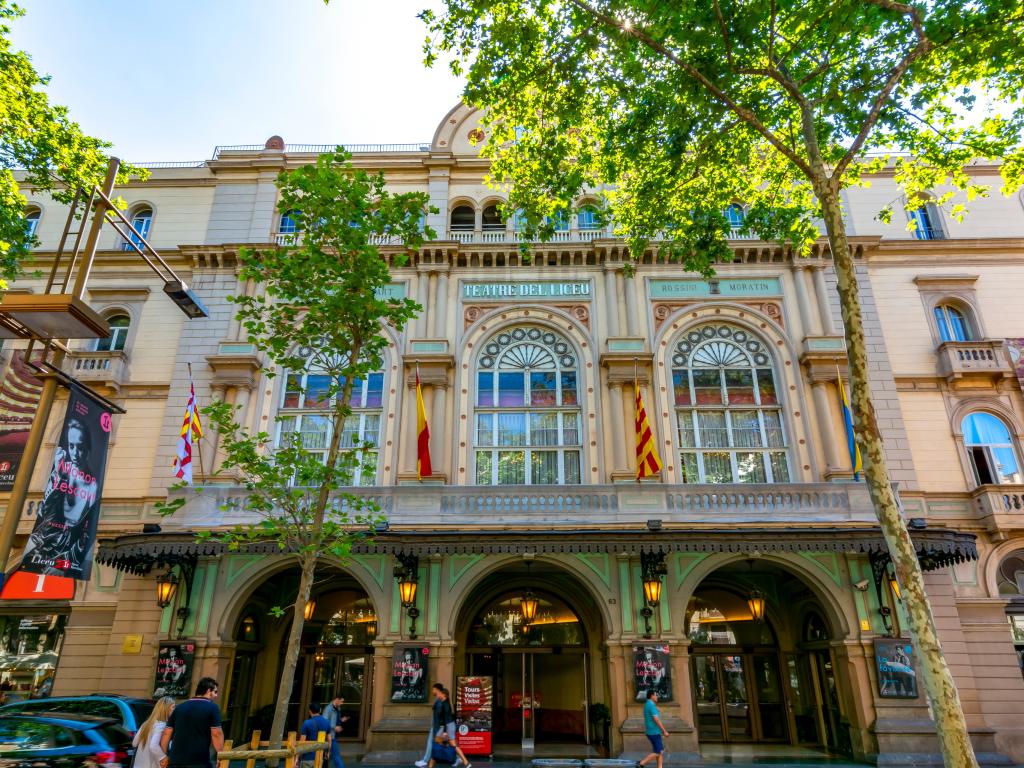 Ok - this is not strictly a Foodie thing to do in Barcelona, but Theatre and pre or post theatre dinners sort of go together.
Anyway - the Liceu theatre sits on La Rambla street and is Barcelona's main theatre. You can catch ballet and opera shows here as well as performances from popular culture artists and local musicians.
If you didn't think that Opera is the thing to do in Barcelona, think again.
One of the most famous, if not the most famous Opera singer of all time, Montserrat Caballé was born and lived a large part of her life in the city, performing at this very theatre.
Check ahead to see what's on during your stay in Barcelona and get your tickets booked!