How to road trip without a car: Cheapest and best ways to travel long distance
Trying to figure out how to do a road trip without a car? Whether you don't have your driving license, are on a tight budget, or want to minimise your impact on the environment, there are many reasons why you might want to travel sans vehicle.
While the image that springs to mind when you think of a road trip is probably a car cruising down a beautiful mountain road, or a cool convertible zipping around a coastal path, road trips are not reserved exclusively for those that can drive, or those that are willing to drive when on holiday.
Technically speaking, a road trip refers to any kind of trip that uses roads to travel around. This leaves you with lots of different options to consider that don't require you to drive hundreds of miles behind the wheel.
Doing a car-less road trip also allows you to forgo some of the intricate planning it takes to organise a self-drive tour, which means you get to save time and effort!
The best way to do a road trip without a car is to use public transport links, check out all the easy ride-share options, and - if you're up for it - get some exercise by using a bicycle to get from A to B, helping to save the planet while you're at it.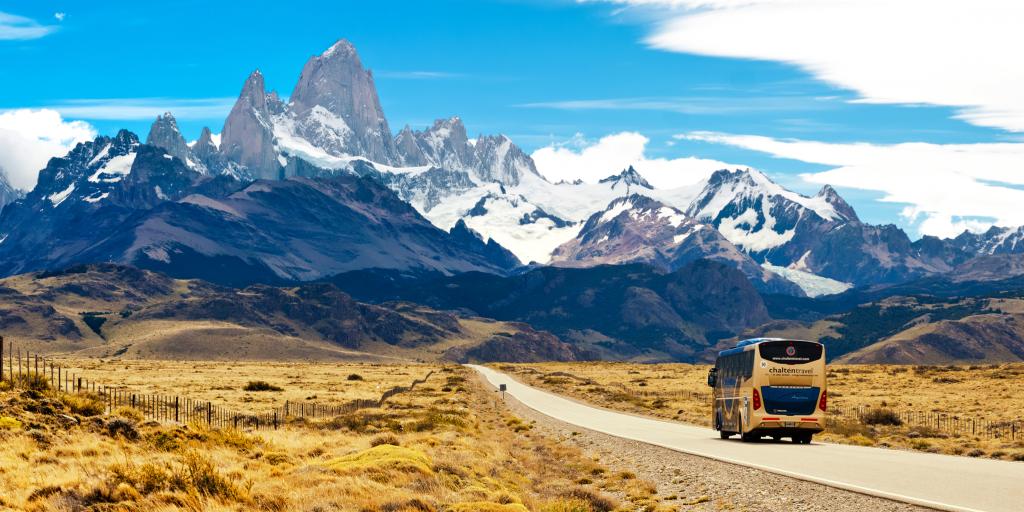 Take the train and enjoy the views
Taking the train is probably the most common and popular alternative to driving (at least outside of the U.S.) and can be a great way to enjoy a multi-stop trip that doesn't require a car.
Most countries, particularly those in Europe, have really well-connected rail links that are relatively inexpensive, making it easy to plan a full road trip itinerary that relies completely on the railway.
One of the biggest pros of train travel is that it's often far more relaxing than driving - all you have to do is book a seat, turn up, and catch the right train; no route planning, no refuelling, no toll roads... the dream!
By eliminating the need to drive you're also upping the quality time you can spend with your travel companions to play some road trip games, as well as freeing up a precious few hours to get deep into your new book and make the most of the stunning views outside (true for any public transport).
The views are another huge plus point of opting to take the train - you'll often get to travel via super scenic routes that cars can't take, such as over a breathtaking bridge like the Glenfinnan Viaduct in Scotland, or through snowy peaks on the unforgettable Glacier Express in Switzerland.
When you're travelling by car, only the passengers get to swivel around in their seats to watch the awesome views go by. But on a train, everyone is free to look around as much as they want.
Trains are also often much more economical than driving, not only in terms of fuel but also because you can comfortably travel non-stop overnight (with blankets and beds often available).
This means there's no need to book a hotel room, and you can effortlessly cover a long distance while getting some rest at the same time.
On top of all these great advantages, travelling by train is also much more sustainable than taking the car, allowing you to take in those breathtaking views while making minimal impact on the environment - a win-win.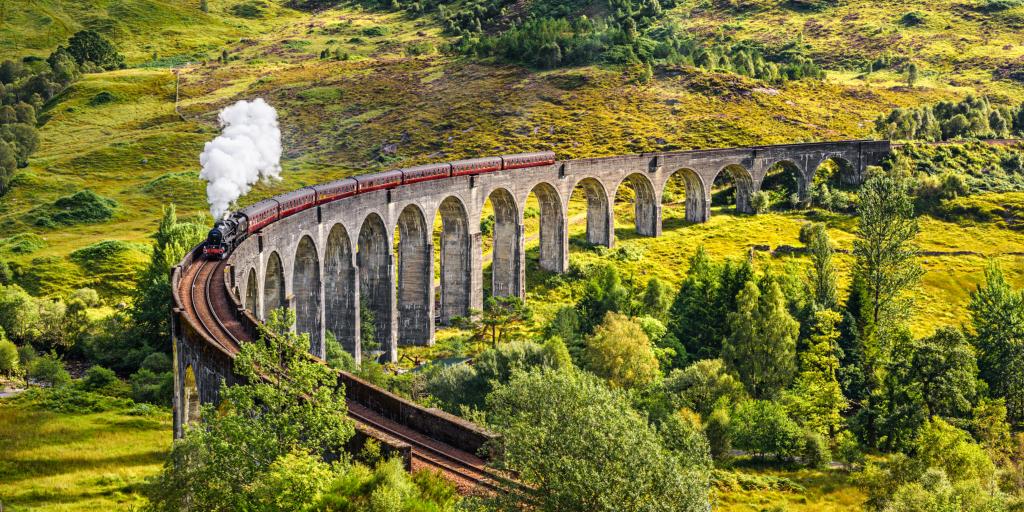 Save money by riding on a bus
Travelling by bus or coach is another great use of public transport if you're looking for ways to road trip without a car, particularly if you're keen to stick to a budget.
Buses are often the cheapest way to travel in any country, with some unbelievably low fares available if you're organised and book in advance. This applies internationally too, so you could even take the bus from home rather than fly if it's doable, saving even more money.
Links between London and other cities in Europe are plentiful, with the possibility of getting to Paris, Amsterdam or Brussels direct from the centre of the city - way easier than getting to the airport!
One reason some people choose not to take the bus is because they believe they're a little shabby and uncomfortable, but this simply isn't true!
Many buses nowadays have added perks such as free WiFi, charging ports, air-conditioning, and sometimes screens for you to enjoy movies and music as you travel (speaking from experience, you'll also find this on some routes in Spain).
If you're nervous about the comfort level, you can always bring along a travel pillow to make your bus road trip that more luxurious.
Bus services also tend to be really generous with their luggage allowance, often letting each passenger bring a large suitcase plus a smaller bag regardless of weight.
And although these are the standard guidelines, more often than not bus operators are pretty relaxed and will let you bring more if there's space.
Unlike airlines, which often charge an arm and a leg for extra baggage, on a bus, everyone can bring their big bag on-board. Plus, by avoiding the car, you don't have to spend hours playing suitcase Tetris trying to squeeze all your bags into the boot.
Admittedly, once you're all loaded onto the bus, the ride does tend to take longer than it would've done in the car.
However we think this is a positive that travellers should embrace; you're likely to stop in small towns and see places you wouldn't have otherwise visited, and pass through really remote, beautiful places, meaning you'll get even more out of your road trip.
Save the planet by opting for a car ride-share
Finding someone to ride-share with is definitely the best option if you want that classic car road trip feeling minus the driving.
Generally speaking, this form of glorified hitchhiking is completely legit, safe, and comfortable if you know which tools to use.
Many companies and apps offering ride-share services let you view drivers' profiles and choose who you want to travel with based on their rating and previous passengers' experiences.
One of the best companies to use for this carpooling service is BlaBlaCar, which allows members to arrange carpool trips all over the world. All you have to do is say where you're leaving from, where you're heading, and when, then pick a ride that works for you - easy.
You're also fully insured when riding in a BlaBlaCar, so you don't have to worry about accidents on the road.
Not only is this form of travel really affordable (you just contribute towards fuel), it also has the added benefit of being better for the environment than a plain old road trip.
By sharing a ride, you're simply filling a seat in someone's car who'd be driving that route anyway, avoiding the need to put another car on the road unnecessarily - which is always a good thing.
This is probably a better mode of transport for solo travellers and couples rather than big groups (unless you find a driver with a massive car!) and is a fantastic way to meet some friendly locals, have a chat, and get insider tips on where you're going.
If you're travelling somewhere in the hopes of learning the language, it's also a great way to practice with a local!
Travelling in a local's car also eliminates any worries you might have about driving in a foreign country and being unfamiliar with all the rules and regulations.
You can be comfortable that your driver will get you safely to your destination, meaning no more failed attempts at deciphering foreign road signs, or sudden feelings of panic that you're driving on the wrong side of the road…
Cycle the most scenic road trip routes
The most active and adventurous way to road trip without a car is by cycling between your stop-offs - an amazing way to make the most of a place and really appreciate your surroundings.
Choosing a bike over a vehicle will allow you to go well off the beaten track where cars can't venture, including country paths, mountain tracks, and thick forests, giving you a completely different perspective than the one you'd get from being on the other side of a car window.
Of course, one of the major perks of a cycling trip is the health benefits for both you (you'll more than make up for all those indulgent holiday meals out), and the environment, seeing as bikes make next to no impact on your surroundings.
The good news is that e-bikes, which give you an electronic boost to make cycling a little easier, are also zero-emission. That means that even if you're not a very confident cyclist, you should give this form of road trip a go - you don't have to be super fit, we promise!
Mix and match with other transport alternatives
If the prospect of cycling your whole route sounds a little too daunting, the freedom of cycling means it's easy to mix and match the mode of transport you're opting for throughout the trip.
Why not break up the pedal-pushing with some sailing or kayaking to make the most of a country's waterways, or book a bike-friendly train to give your legs a rest?
Cycling tours are becoming ever more popular, which means you'll have access to loads of great information on the best routes to suit your ability, and great suggestions on how to make a cycling road trip a little more doable than it might sound.
Definitely give cycling a go. You'll have to travel much lighter and it's a little more tiring than driving, but it's so much more rewarding knowing you got yourself to your destination without relying on an engine, and will most certainly make for a super memorable trip.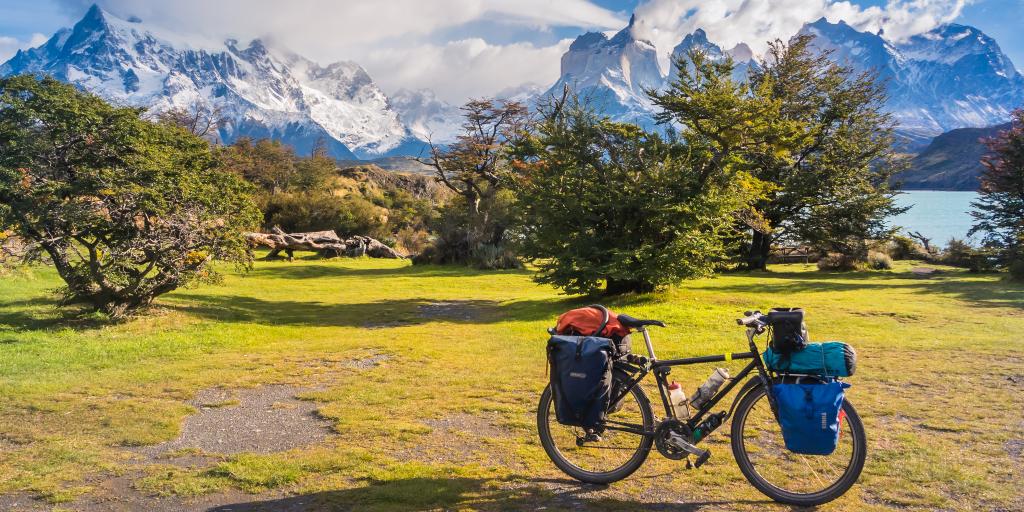 No matter where you're going or how long it takes to get there, it's not as hard as it sounds to do a road trip without a car.
If you plan ahead, do your research and are prepared for a little physical exercise, you just might find that this type of road trip is even better than driving.