Driving in France: Car checklist, road rules and essential tips
If you're planning a road trip in France, the most important things you'll need to know are the rules of the road. Here's a complete guide to getting your va va zoom on when driving in France, including a list of the items you're required to carry by law, how to use toll roads, what to expect at a fuel station and a few words to help you along the way.
Rules of the road
Like most of Europe, France drives on the right hand side of the road.
France has very strict drink driving laws, with the limit set at 0.05 for normal drivers - that's equivalent to one small beer - and 0.02 if you passed your test less than three years ago.
Using your phone while driving in France is a big no-no. Not only is using it while moving illegal, you actually need to park up properly first - just stopping at the side of the road is not enough, unless you're using hands-free. Hands-free devices that require an earpiece or headset are banned full-stop, as are Bluetooth devices.
Seatbelts must be worn by everyone in the vehicle, and the driver is personally responsible for ensuring under-18s wear seatbelts.
On hills, vehicles driving uphill have priority.
Always overtake on the left.
Horns are for emergencies only, and can only be used to alert or give warning to other road users. In built-up areas, horns can only be used in the case of immediate danger. After sunset the horn shouldn't really be used at all, with a quick flash of the lights doing the job instead.
Speed camera detectors are illegal and if your GPS system has one built in then you are required to disable it.
The minimum age for a foreign individual to drive in France is 18, and this is the case regardless of whether the legal driving age is lower in your home country. Most car hire companies will not rent vehicles to anyone under the age of 21.
When do you need to have your lights on?
You must use dipped headlights during the day if visibility is poor, and at night. Although not compulsory, it is recommended by the French government that you have dipped headlights on at all times.
Roundabouts
Vehicles already on the roundabout have right of way, not those entering. Note that traffic flows anti-clockwise.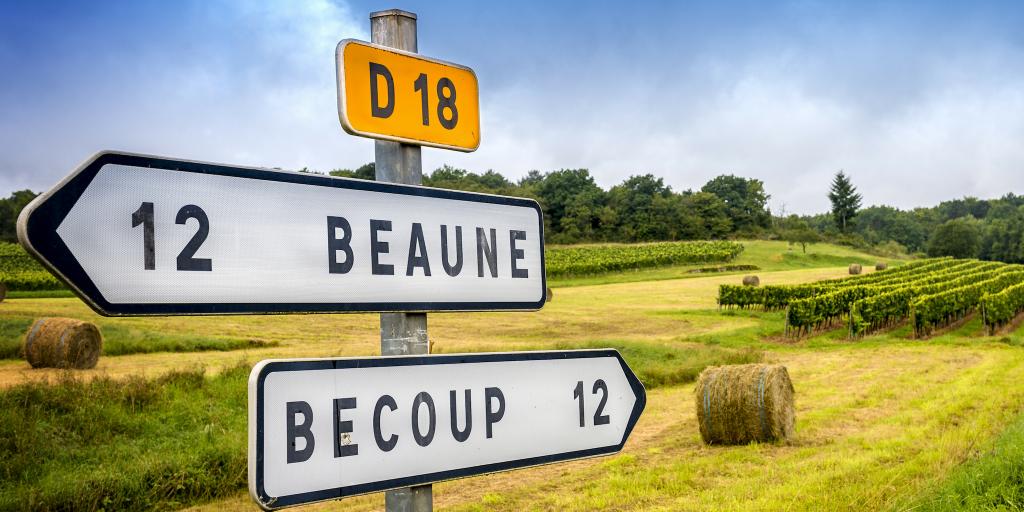 What do I need in my car?
France has a list of things that you're legally required to carry in your car at all times:
Full and valid driver's licence
V5C form to show who the registered owner of the vehicle is
Proof of Insurance
Passport or national ID
Two breathalysers
Reflective jackets for all passengers
Warning triangles
Headlamp beam deflectors
Stickers identifying your car's country of origin if it is from outside of France.
In certain areas of France it's also compulsory to carry snow chains during the winter, which are to be fitted when using snow-covered roads - practice at home before you go.
What else should I carry?
It's always useful to carry change for toll roads, gloves to stop your hands freezing while fitting those snow chains and a head torch.
Speed limits
France enforces variable speed limits, depending on weather conditions and the size of the road; on motorways, for example, the speed limit is 130 kmph but drops to 110 kmph if it is wet or snowy. Watch out for any changes during your journey.
Speed limit signs are red and white circular signs, with the kmph number inside in black writing.
Driving licence and insurance requirements
France requires third-party (or above) insurance
You'll need third-party or above insurance to drive in France. Check your home car insurance policy to check if it covers you to drive in the EU - if not, most insurers will allow you to extend it for a fee.
Etiquette
The French love a bit of tailgating, even on motorways, so don't take it personally if someone's sitting up your backside for your entire journey. Likewise, don't be surprised if the driver behind starts honking at you within 0.03 seconds of a traffic light turning green - for a nation famous for its long, relaxed dinners, the driving can be surprisingly impatient.
Despite the rules around overtaking, it doesn't mean they are necessarily followed.
While in many other countries flashing your lights at another driver is an indication of giving way, here it's a signal that you are coming through.
Parking
On-street parking is limited
Parking on the street is limited in built-up urban areas. In most cities there is some metered parking, which is marked by white lines and the word "Payant," with tickets usually purchased for time periods between 15 minutes and two hours from on-street machines. Your ticket must be visible on the driver's side of the dashboard.
Parking colour codes
Blue: In 'blue zones', which are marked by blue lines, you can park for free for up to one hour on Monday - Saturday, providing it is between 09.00-12.00 or from 14.00-19.00. There is no limit on Sundays and public holidays.
Yellow: Curbs marked in yellow are reserved for official vehicles only and so general motorists must not park there, although you may pick up and drop off passengers along yellow dotted lines.
Red: No parking is permitted on red routes, at any time.
Disabled parking
France complies with the European Model Parking Card, although this is applied in different ways in different areas. In general, it allows cardholders to park in spaces marked disabled, so long as they pay and display their ticket, and stick to the time limits. In Paris, and in some other cities, it actually means that parking is free and maximum time may be exceeded.
Toll roads
Look out for the word Péage
Toll roads are known as autoroutes in France and are almost unavoidable if travelling over long distances. Autoroutes are marked with blue signs displaying the word "Péage."
How much should I expect to pay?
They work out to about €1 for every ten miles.
How do I pay?
On most routes you collect a ticket when you enter the toll section, then pay as you leave. Generally, different lanes will accept different forms of payment; while autoroutes do accept credit and debit card, it's probably best to pay in cash as not all foreign cards are accepted. Note that any lane with blue coins will accept cash, but that change will not be given.
Alternatively, if you are going to be driving in France frequently you may wish to order a Telepeage transponder for your car, which allows you to make automatic payments as you approach the gate. This is particularly useful as it avoids the awkwardness of handing over cash from a right-side drive car on a gate set up for left-side drive vehicles.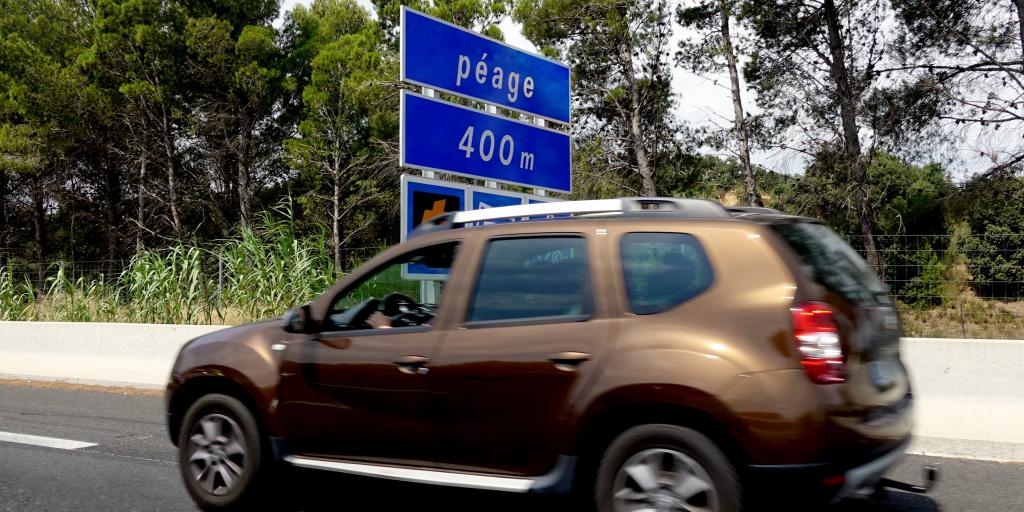 Fuel
How much does fuel cost in France?
At the time of writing, both unleaded and diesel were hovering at around the €1.50 a litre and had been for some time; expect to pay more on autoroutes than in towns.
How to pay
Fuel stations will accept cash, debit and credit cards, although not all foreign cards are accepted. Unmanned stations (more common during the night) will only accept card.
How to fill up
Unless otherwise indicated, you fill up your vehicle yourself and pay afterwards.
Fuel stations in France do tend to be spread further apart, so if you pass one it's worth having a quick look at how you're doing for juice and stopping if necessary. If you do run out on the road, call 112 for help - it will be brought to you, but you'll be charged an extremely inflated price.
Clean Air stickers
What are clean air stickers?
In 2017, in a bid to improve air quality in heavily polluted areas, France introduced new rules requiring cars to carry a clean air sticker - a Crit'Air vignette - when driving through certain cities. These colour-coded stickers, which span six levels, indicate how heavily polluting a vehicle is.
Clean air stickers are currently used in both permanent low emission zones (ZCRs) and temporary emergency low emission zones (ZPAs). ZCRs will not let certain sticker colours in at any time, and other vehicles face a fine if they do not have their sticker on display. ZPAs also require you to have your sticker on display at all times, but will only bar access during certain times.
Cities which currently require Clean Air stickers:
Chambéry
Grenoble
Lille
Lyon
Marseille
Paris
Strasbourg
Toulouse
More are expected to be added in the future, so always check before your trip.
How do I buy one?
You can buy a vignette online before you travel via the Crit'Air website - do not purchase it through third-party vendors. You will need to know your car's European Emissions Standard, which can be found here and it's best to check with your vehicle manufacturer if you are unsure.
How much do they cost?
For foreign vehicles, Clean Air stickers cost €3.11 + postage if ordered from abroad. Note that fines in excess of €68 are in place for vehicles that don't display a sticker. If your vehicle is too old to qualify for a sticker (usually cars registered before 1997), then you will not be able to drive in certain areas and will be fined for doing so.
In an emergency
Ring 112 for police, ambulance and fire services
If you break down
If you break down on a motorway, you can only be rescued by designated authorities and not by private companies - this service will set you back at least €120 or more depending on the time of day.
You request assistance by using the orange emergency telephones, which are located every 2km along the motorways and will allow you to reach the police or the area's official breakdown recovery service. If you can't get to one of these phones, call 112.
Until help has arrived you must sit outside of the vehicle, with the driver and all passengers wearing high-vis jackets.
Important phrases to know
Gauche - left
Droit - right
Sortie - exit
Cedez le passage - Give way
Priorité à gauche / à droit – Give way to traffic coming from the left/right
Sens interdit – No entry
Sens unique – One-way
Arrêt – Stop
Recommended road trips
See the best of France - including all the top places for wine and food - on our ultimate 10 day France road trip, which starts in Paris and winds its way south to the Riviera, Montpellier, Toulouse and Bordeaux.