10 Epic Spain Road Trips - Maps, Itineraries and Tips
Want to experience an amazing Spain road trip but not sure where to go? Choose from these 10 stunning routes for your road trip in Spain with our guides, detailed itineraries and insider tips.
Whether you're looking to relax in the mountains off the Costa del Sol, navigate the narrow streets of Toledo or take a stroll down Barcelona's Las Ramblas, we can help you plan the perfect Spanish road trip for you.
Best Spain road trips comparison
We have driven up and down and across Spain a lot of times over the past 15 years. Before we dive into the ideas, here's the complete list of the best road trip routes with key information. Scroll down to see more detail on each one.
Road trip
Rating
1. Andalucia road trip


11 days, 518 miles

Relaxed

2. Drive Spain's Mediterranean coast


14 days, 1,385 miles

A bit of driving

3. Castille Leon - visit the heart of Spain


7 days, 345 miles

Lazy

4. Northern Spain road trip


10 days, 737 miles

Relaxed

5. Basque country and Pyrenees


7 days, 234 miles

Lazy

6. Driving tour of Catalonia


9 days, 520 miles

Relaxed

7. Historic central Spain - Castilla-La Mancha


7 days, 380 miles

Lazy

8. Galicia road trip


5 days, 322 miles

Lazy

9. Road trip around Mallorca


5 days, 175 miles

Lazy

10. The full circle - A complete road trip around Spain


35 days, 2,800 miles

Challenging
Whether you want a relaxing drive along the coast or drive around the entire country of Spain, here are the 10 amazing options for a Spain road trip to pick from.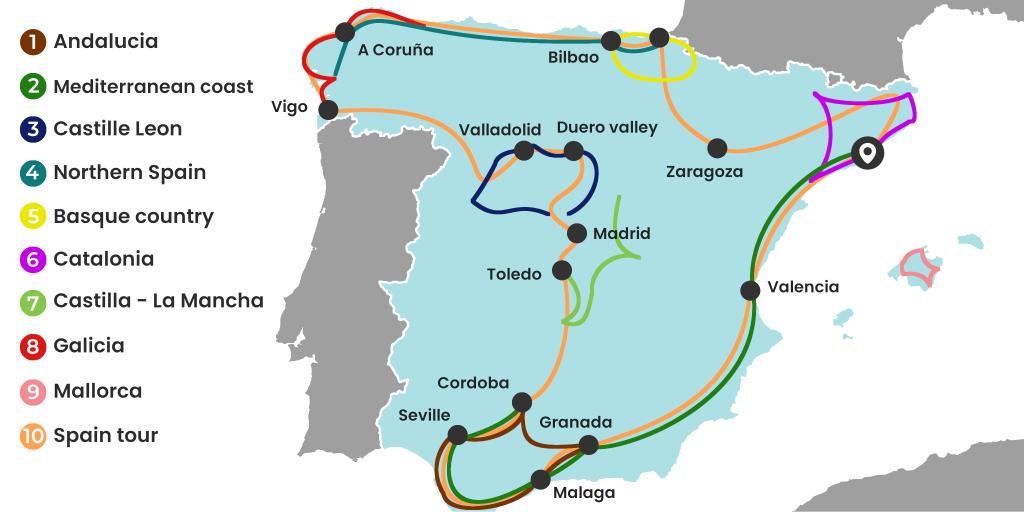 1. Andalucia road trip
A perfect way to explore Spain is to drive around Andalucia. If you love the sun, beaches and perfect mountain hideaways overlooking the sea, Andalucia is the place for you.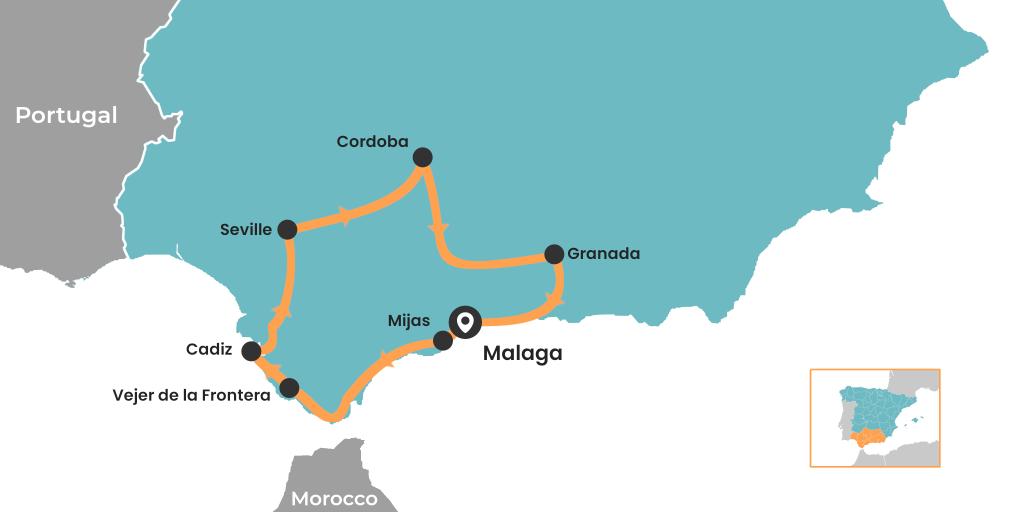 If you are more into culture and love grandiose cathedrals, medieval fortresses and jaw dropping architecture, Andalucia is also a place for you.
If, however, you just want to walk around historic towns and love traditional hearty Spanish food, you guessed it - Andalucia is your perfect destination.
The perfect Andalucia road trip will take you on a loop including coastal destinations such as Nerja, Malaga, Marbella, Gibraltar and Cadiz before going inland to discover Ronda, Seville, Cordoba and Granada.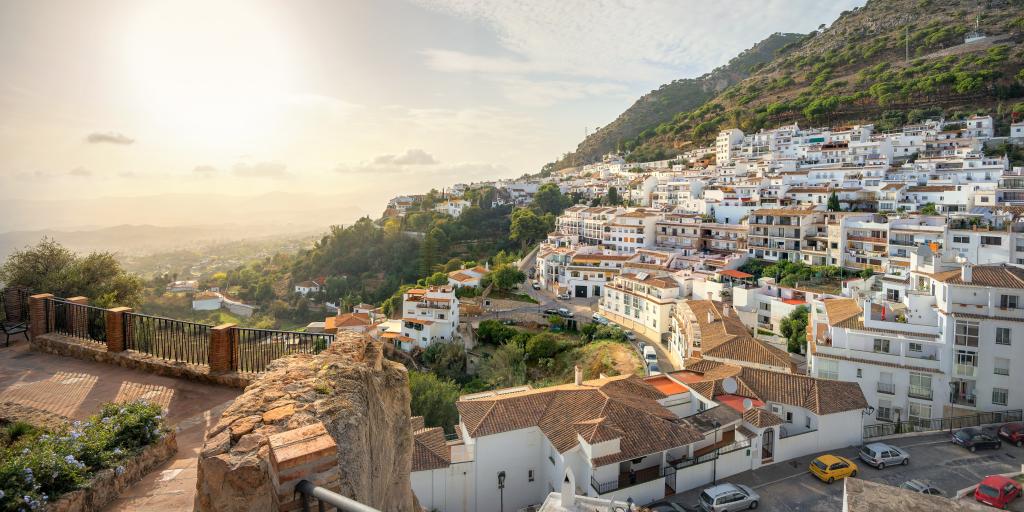 This drive will scale mountains with breathtaking views and take you to the mesmerising Mezquita cathedral in Cordoba and the unique Moorish Alhambra complex in Granada.
You'll relax in the world famous Andalucian white villages of Mijas, Benahavis and Casares and mingle with new money in Puerto Banus' marina full of expensive supercars, people with too much plastic surgery and the world's biggest yachts.
Road trip length: 11 days
Total distance: 518 miles
2. Drive Spain's Mediterranean coast
Spain's Mediterranean coast is perfect for a Spanish road trip - just make sure you put sun screen on your left arm if you're driving - the sun gets hot!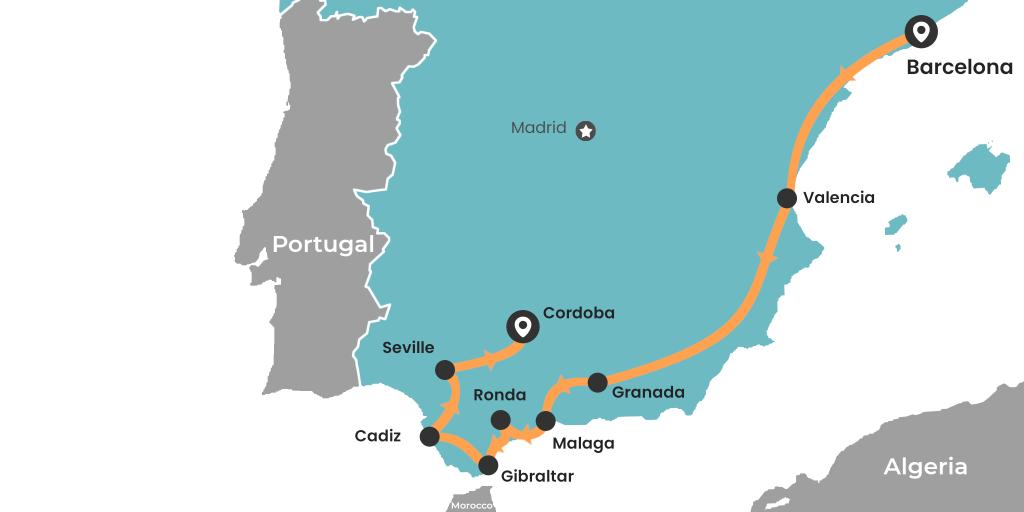 Start your road trip with a mini-break in Barcelona where you can visit sights such as La Sagrada Familia, Las Ramblas and unique buildings designed by Gaudi. There are few cities that offer as much as Barcelona so it's a perfect start to the Mediterranean coast trip.
Next leg takes you south to Valencia - a seriously underrated Spanish city that offers culture, food and sunshine aplenty with an amazing historical centre.
Once you've crossed over the Sierra Nevada mountains, your trip continues to Granada, Costa del Sol, Seville and Cordoba.
You will do an abridged version of the Andalucia road trip above, but get a much broader view of Spain having driven from one corner to another.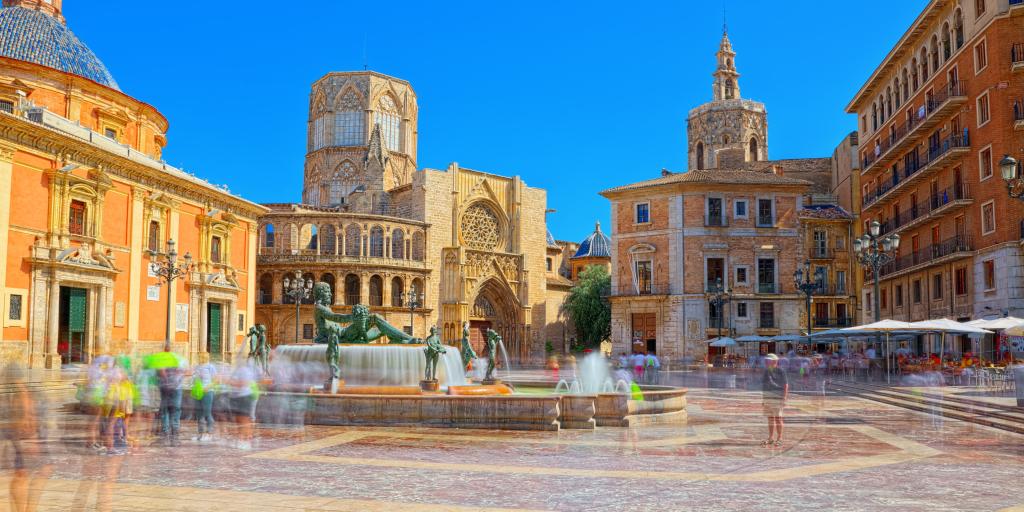 Hugging the coast for virtually the entire trip means that you are always a few minutes away from a beach - something that can provide welcome distractions on your way.
This road trip is a perfect mix of culture and relaxation so if you want to blend the two, give it a go. You will see the world's finest architecture in Barcelona, La Mezquita in Cordoba, the Seville Cathedral and Granada's Alhambra fortress but have time to relax in Puerto Banus, lay on the beach in Nerja and roam the narrow streets of Andalucian white villages.
Road trip length: 14 days
Total distance: 1,385 miles
3. Castille Leon - visit the heart of Spain
If you're flying in and out of Madrid, the Castille and Leon road trip can be an amazing way to explore Spain without having to drive all the way to the coast or spend weeks on the road.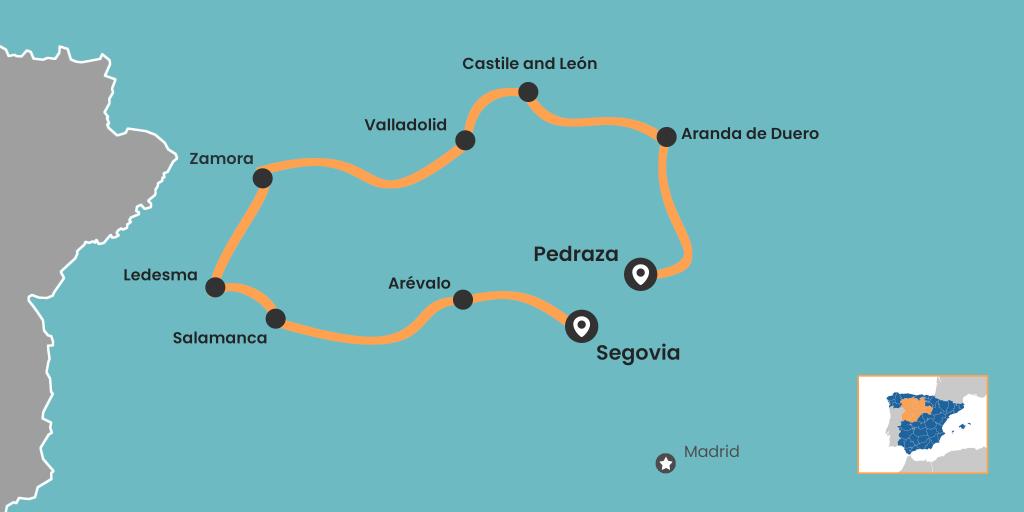 This road trip through Spain's heartland comes in a loop that starts and ends in the Segovia province.
You will start in the historic city of Segovia itself - famous for some of Spain's best architecture and declared a UNESCO World Heritage site.
After a day of exploring, the route heads west towards Salamanca via Arévalo. Arévalo is a small historic town famous for its Mudejar architecture and art giving it a special protected status in Spain and Salamanca is an ancient city with two cathedrals - the New one (it is actually called that) began construction in 1513!
From Salamanca, you can check out other beautiful historic towns of Ledesma and Zamora before a stop in Valladolid - the assumed capital of the Castille and Leon province. Its medieval history can be seen throughout the city - the Spanish Monarchy even made Valladolid their home in the 17th century!
After a visit to the city that shares its name with the Castile and Leon region, the trip ends with a drive through the Ribera del Duero wine region - hugely underrated relative to Rioja and the Portuguese Douro wine further down the same river valley.
The end of the trip gets you to Pedraza back in the Segovia province before taking a short drive back to Madrid's airport.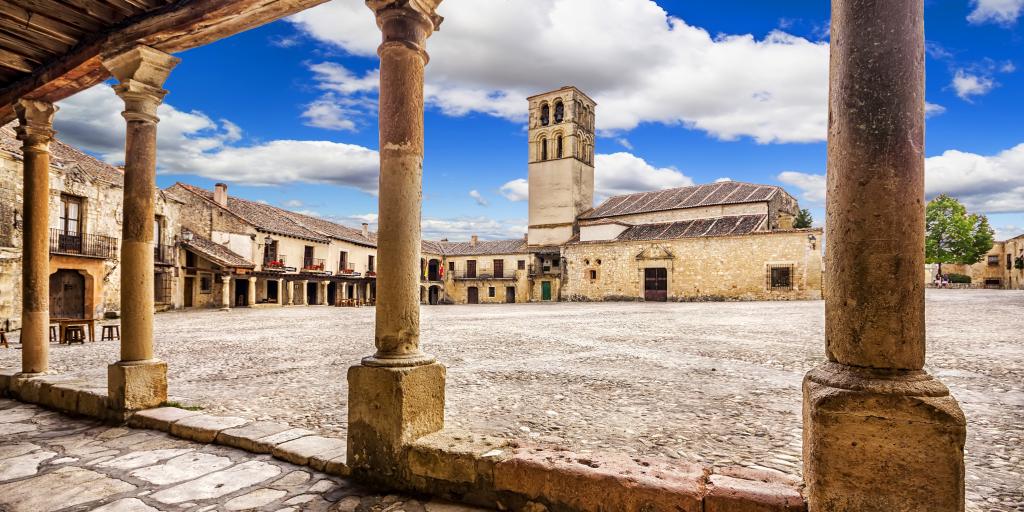 You can extend this road trip to include the historic Spanish cities of Leon and Burgos in the north of the province, but that will add a lot of mileage and time to your trip and southern Castille and Leon has a huge amount to see already - you can easily spend 2 weeks exploring this part of Spain and see new places every day.
Road trip length: 7 days
Total distance: 345 miles
4. Northern Spain road trip
So often overlooked in favour of Costa Brava, Costa del Sol or Costa Blanca, Spain's northern coast makes for an amazing road trip exploring the mix of cultures, fantastic food and rocky shore scenery.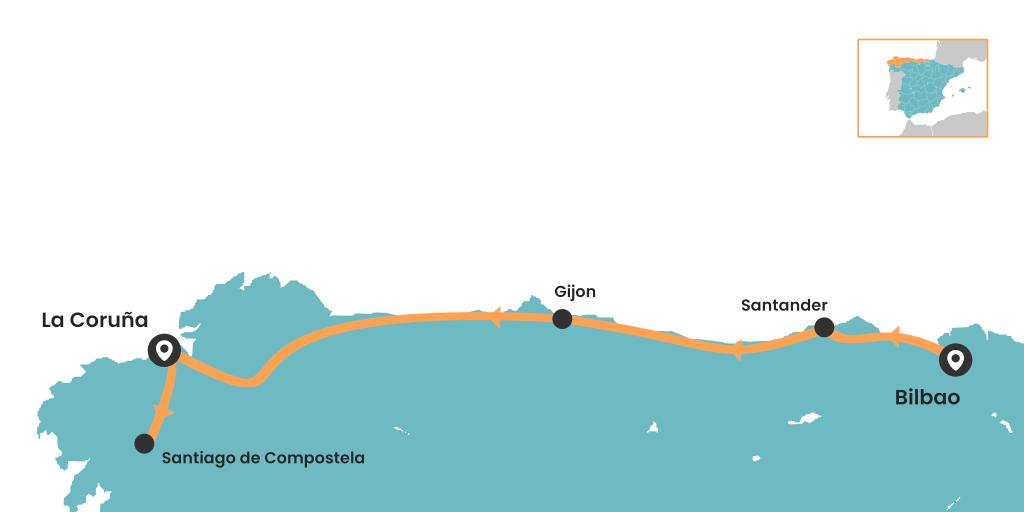 The road trip starts in the capital of Spain's Basque country - Bilbao. This is a place worth spending a couple of days in to explore its old historic centre, the surrounding mountains and the spectacular world-famous Guggenheim museum.
There is something for everybody in Bilbao with superb pintxos in street bars and michelin-starred restaurants, medieval streets and modern boulevards.
The road trip then moves west along the coast to Santander, before further stops in Santillana del Mar, the Picos de Europa national park and Gijon.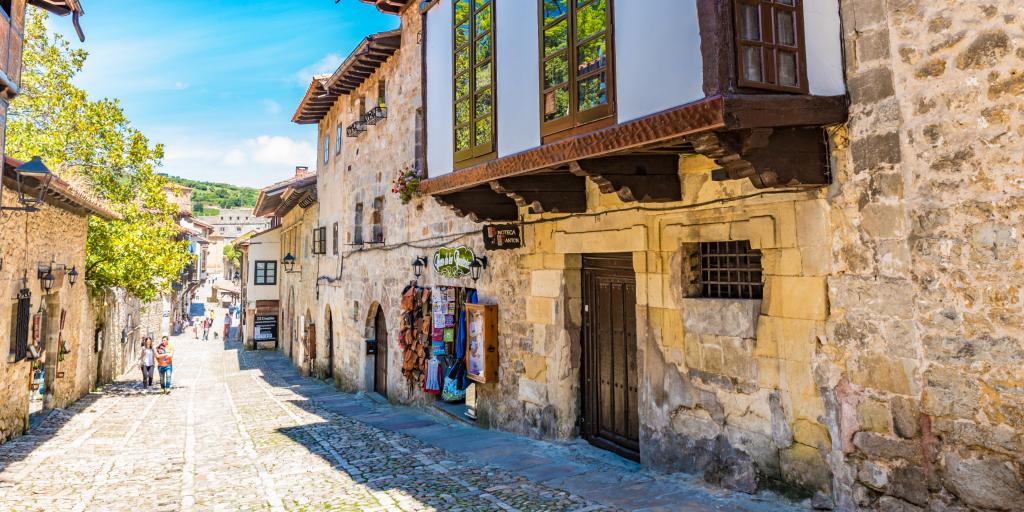 This trip includes a mix of beaches, historic Spanish cities and exploring nature - a perfect mix for a Spanish road trip!
Once you've hiked amazing gorges and filled yourself with pastries, it's time to hit the road and drive on to Oviedo and La Coruna.
Finishing off with a day trip inland to Santiago de Compostela, you will travel the entire length of Spain's Bay of Biscay coastline with everything to see along the way.
Depending on your flights, you might have to do a drive back along the coast to Bilbao or down to Porto or Madrid - this is one heck of a trip that you won't find in many recommendations or guides!
Road trip length: 10 days
Total distance: 737 miles
5. Basque country and Pyrenees
Spain's north-west corner lying on the Bay of Biscay and bordering France is full of history, tradition and... mountains.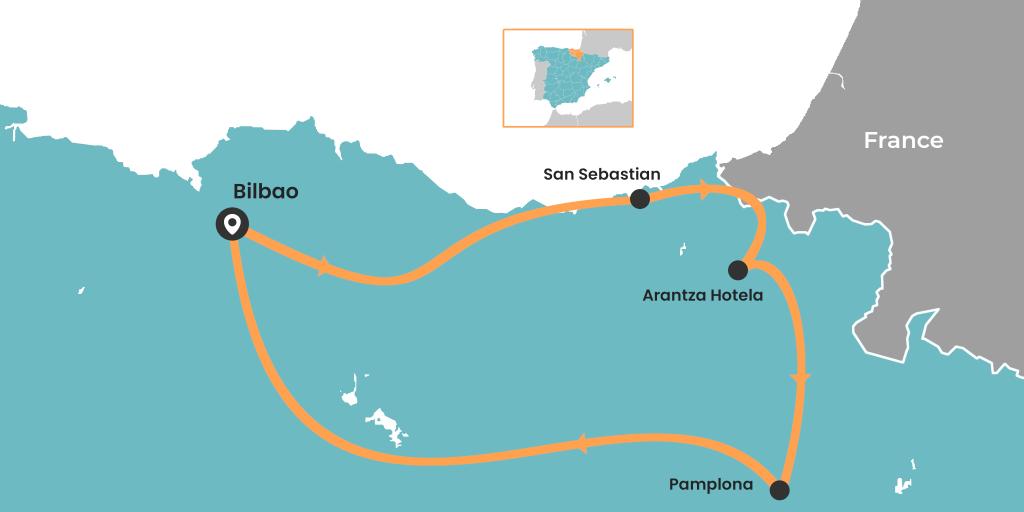 The Basque country is a unique part of Spain - they have a prominent local language, cities that make up two prominent medieval kingdoms (Basque and Navarre) and a unique link to the Pyrenees. In medieval times, Basque country spanned the mountain range, including parts of France on the other side.
Today the region fervently focuses on its culture. As you travel in major cities such as Bilbao, San Sebastian and Pamplona, you will get to try the local pintxos tradition. In some ways similar to tapas popular in the rest of Spain, pintxos are smaller bite-size snacks served in bars and charged by number or by plate.
If you get out of the tourist areas, you will find local pintxo bars where the snacks are free as long as you keep buying the drinks!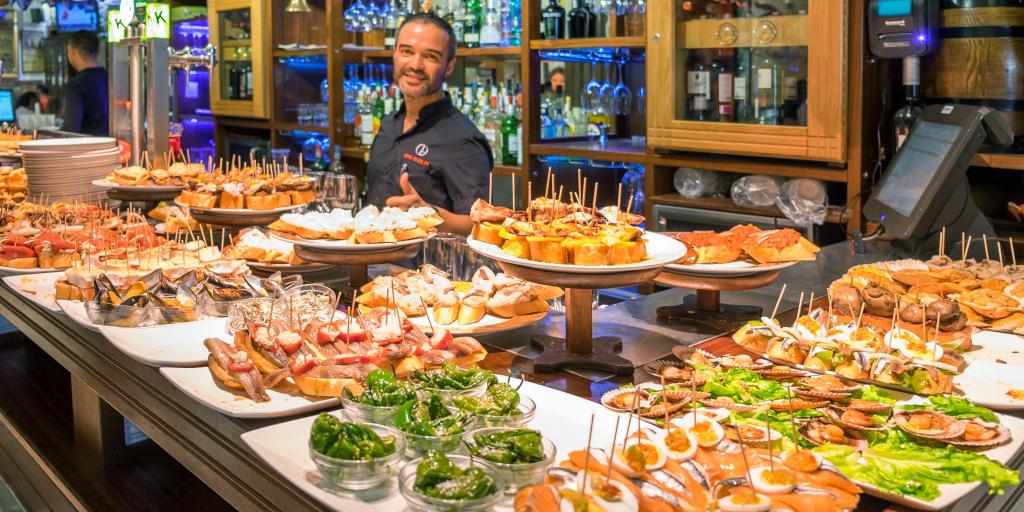 The Pyrenees are an amazing mountain range that is not high on many tourists' radars.
Often overlooked in favour of trips to the Alps or even Sierra Nevada further south in Spain, the Pyrenees are an older mountain range with a lot of peaks over 3,000m above sea level.
The roads through the Pyrenees are fantastic and can make for really great road trips with the added bonus of hardly any other cars as you drive around. There are some fantastic hotels if you want to really relax and go off the grid for a few days - we have stayed at The Arantza Hotela in the foothills of Pyrenees and cannot recommend it highly enough - it is expensive but super luxurious and worth it!
A small number of rooms have stunning views of the surrounding hills with morning fog climbing towards the peaks and you can relax in a jacuzzi looking out over the landscape before having an amazing dinner in the hotel's gastro restaurant.
After a few days of luxuriating, it's time to drive down from the mountainside and make your way to Pamplona - a historic city famous for its July bull running festival has far more to offer than the medieval tradition. Narrow streets, beautiful stone buildings and fantastic local coffee shops are great for unwinding in late morning.
The drive back to Bilbao airport is a little under 2 hours to get you back home!
Road trip length: 7 days
Total distance: 240 miles
6. Driving tour of Catalonia
There is a whole lot more to Spain's Catalonia region than Barcelona. You can spend weeks travelling around the area and still not see dozens of amazing villages, secret beaches, mountain waterfalls or quirky museums.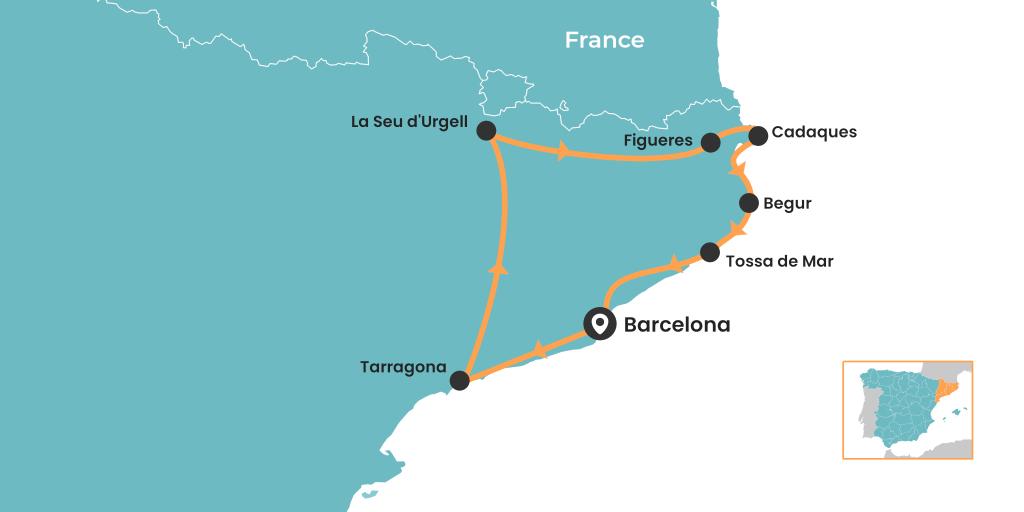 If you want to base yourself in Barcelona, instead of going on a road trip, check out our 40 day trips from Barcelona for inspiration on where you can get to!
A great route around the region can start and end in Barcelona to make it easy with flights.
From Barcelona, head south along the coast to Tarragona with a stop in Sitges and the option of relaxing in one of a few great beaches along the way.
From Tarragona, this trip goes inland towards Montblanc and all the way to La Seu d'Urgell in the Pyrenees via Solsona.
On your route across the north of Catalonia, you are spoilt for choice with the Garrotxa volcanic national park and the village of Santa Pau worth visiting, a detour into Andorra and towns like Besalu and Castellfollit de la Roca all great options before you arrive in Figueres.
After some cultural sightseeing, head on to Cadaques on the coast - there are some great beaches and a Salvador Dali House Museum.
The rest of the road trip follows the Costa Brava back down to Barcelona. There are tonnes of great places to stop including Roses resort, the canals of Empuriabrava, L'Escala and Begur. A drive inland to Girona is optional before you make it down to the relaxation end of the journey with beach stops in Tossa de Mar and Lloret de Mar on the menu.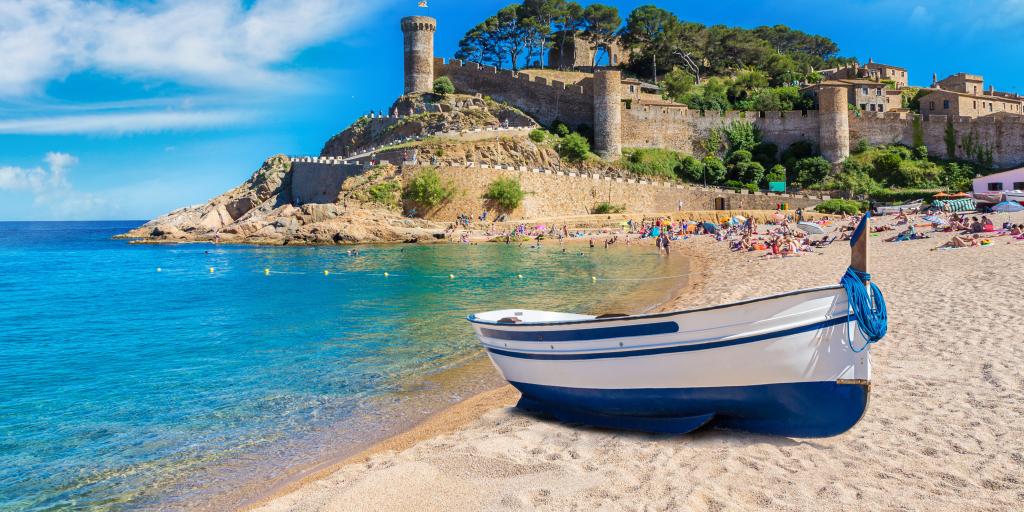 There are few parts of the world which have so much to see in such a compact region both culturally and in nature. If you love the mountains, hiking and being off the beaten track, a road trip around Catalonia is definitely the best choice in Spain.
Road trip length: 9 days
Total distance: 520 miles
7. Historic central Spain - Castilla-La Mancha
Castilla - La Mancha is one of the largest regions of Spain and also one of the least well known by tourists.
Hidden away in plain sight right next to Madrid, it stretches almost as far as Valencia and Murcia in Spain's south east.
Exploring this region brings a mix of natural sights and beautiful historic Spanish cities. As with the Castille Leon trip, it's easy to start and finish in Madrid if that's where you can get easy flights to.
This Spain road trip starts in the most famous city in the La Mancha region - Toledo. Toledo is famous as a blend of Christian, Muslim and Jewish religions and cultures. It was the capital city of the Visigoth Empire, Spanish Moors and later of Spain at some points during the course of history.
After a couple days of sightseeing, it's time to hit the road and head on south to Ciudad Real via Consuegra and Daimiel.
There is a lot to see in this part of Spain including the infamous windmills made famous by Miguel de Cervantes' Don Quixote. The majority of the region is set on a plateau with occasional barren hills.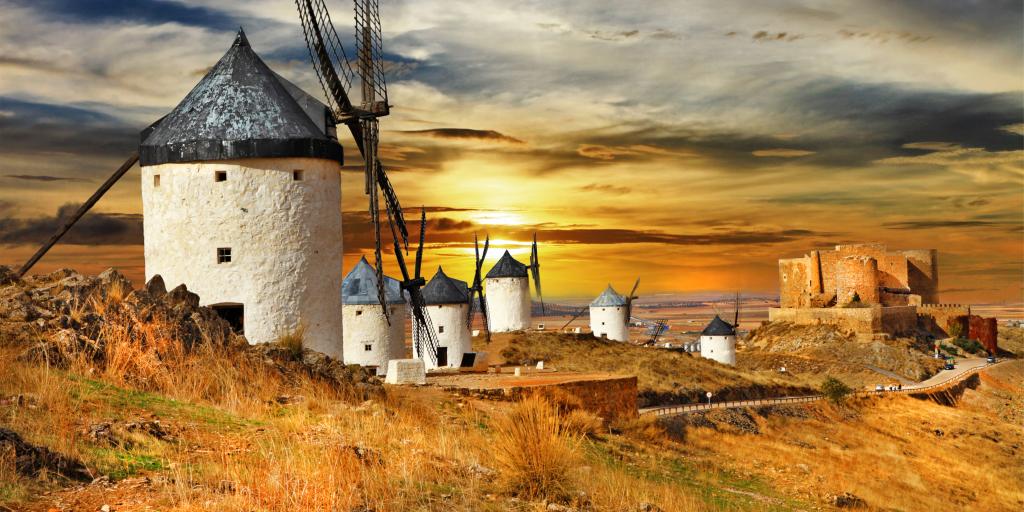 The trip continues east to Cuenca and Siguenza - both stunning towns but in completely different ways and both very different from a lot of typical Spanish destinations.
If you're feeling adventurous, there are a number of national parks on the way where you can stretch your legs on a hike or just take a scenic detour.
Road trip length: 7 days
Total distance: 380 miles
8. Galicia road trip
If you love scenic drives along spectacular coast lines, lighthouses and seafood, this is the trip for you.
Getting to and from the region can be tough so you might have to adjust the route depending on where you're travelling from.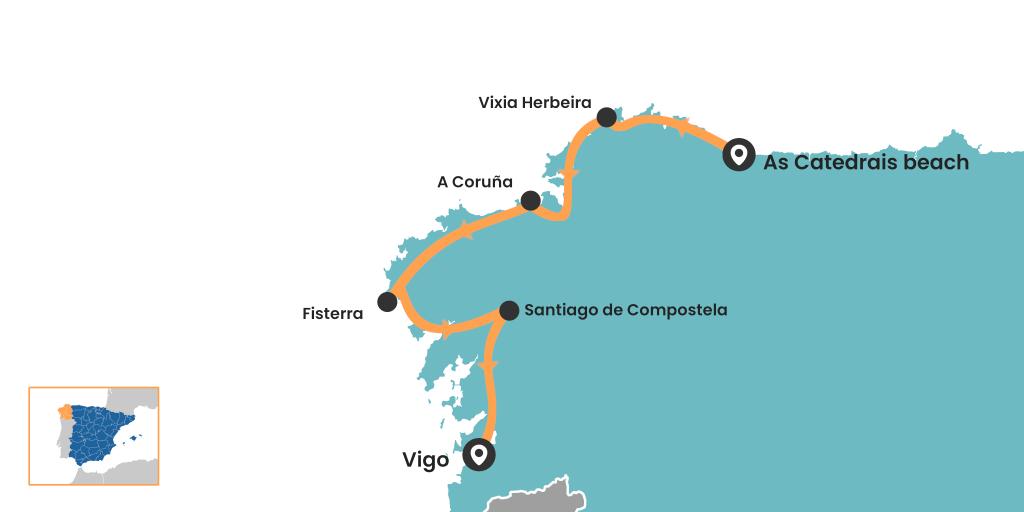 The plan with this road trip is to go all the way round the Galician coastline starting from As Catedrais beach. If you don't know it by name, you've definitely seen pictures of giant rocks and archways on the sandy beach before.
Although this trip is only 5 days long, you'll spend a few of these driving along small coastal roads. Our tip is to ignore the navigator which will send you inland along faster roads. Keep the sea to your right as you go and you're unlikely to go too far wrong.
After passing the Vixia Herbeira cliffs, you'll arrive in A Coruña. Other than the Hercules Tower, the main sight here is the light house. Naturally.
Take a day to see the city and its surroundings - seafood here is amazing as it's a functioning port supplying much of the region and beyond.
The trip then continues around the coast to Santiago de Compostela. You can take the direct short cut but you will miss out on a whole lot of stunning scenery, ocean-facing cliffs and spectacular locations for light houses - on the shoreline, on cliffs and even on their own islands.
After exploring the historic and religiously important city, the route goes back towards the coast and passes Pontevedra on the way to the pretty town of Vigo.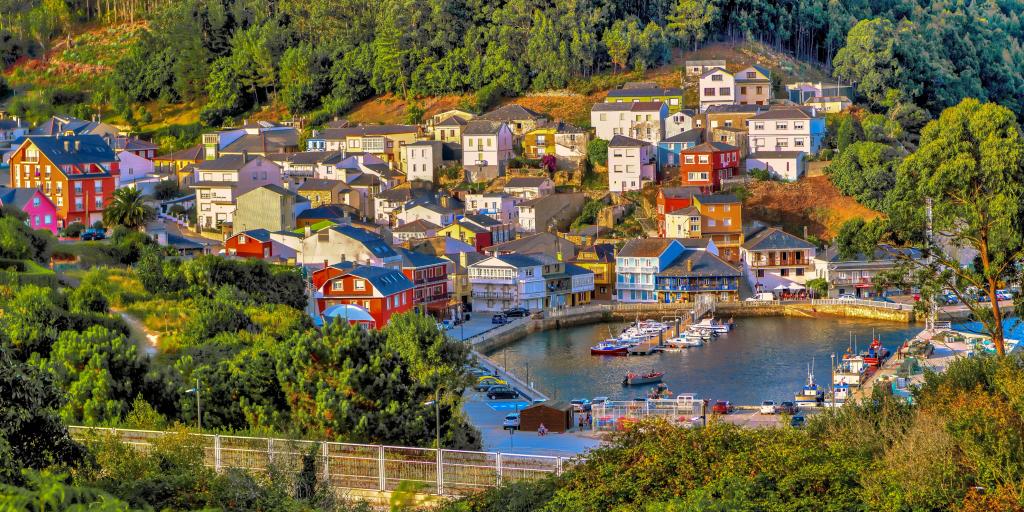 This might not be so much of a Spanish road trip as a gentle breeze along the coast (and there will be a lot of breeze!), but it's definitely one to keep in mind if you want to unwind and keep yourself away from the tourist traps around Spain.
Road trip length: 5 days
Total distance: 322 miles
9. Road trip around Mallorca
Many don't associate Mallorca with a road trip, but the island has a huge amount to offer beside the beaches and clubs.
Flying in and out of Palma means that's a great place to start and finish your trip.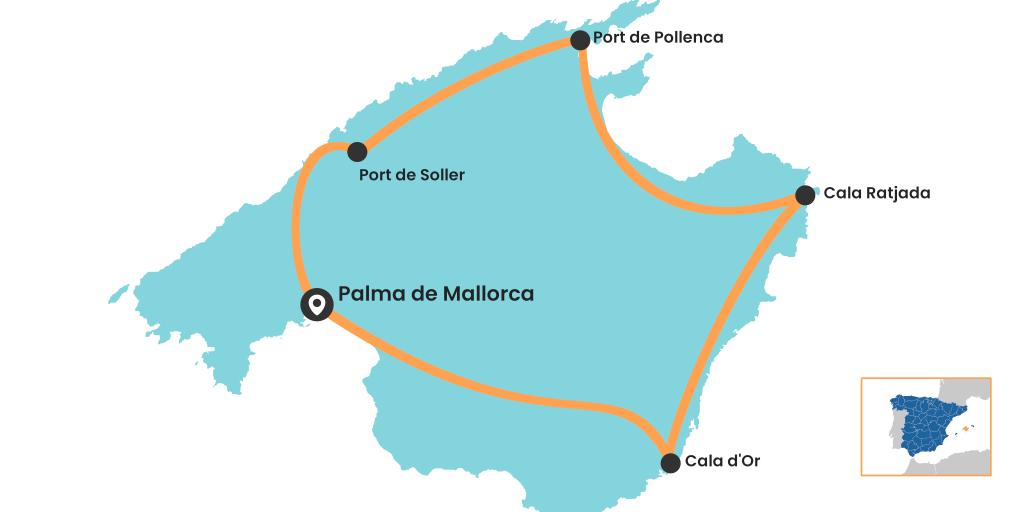 Palma is the capital and often overlooked by visitors who go straight from airport to their preferred corner of the island. The city actually has a lot to offer so it's great to spend the first or last night here depending on your flight times.
Make sure you check out the huge Cathedral (you really can't miss it) and the part of the city around the market (only open in the morning).
Once you set off, the best way to see the island is to drive all the way around.
Start by heading along the narrow cliff roads along the coast to Valdemossa and Soler - the two very popular destinations to the north of Palma. After that the road trip continues all the way to Port de Pollença before heading across the island to Cala Mesquida.
Once you've navigated the tourists, a short drive down the coast takes you to Cala Agulla where the beaches are empty and the sun is just as hot for some relaxation.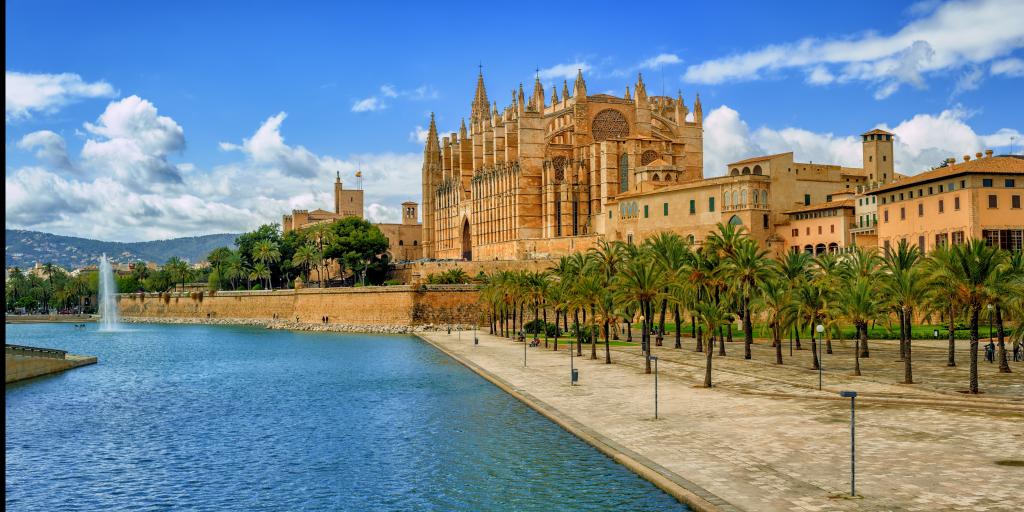 To wrap up the trip, you've got to stop off at the resort town of Cala d'Or before making your way back to Palma.
A short trip with a lot of breathtaking views and cliffs in the north and resorts with fantastic beaches on the south can be the perfect way to unwind on a short break!
Road trip length: 5 days
Total distance: 175 miles
10. The full circle - A complete road trip around Spain
If you have time on your hands and feel adventurous, a road trip around the entirety of Spain can be an amazing way to delve into the culture, see all the corners of this amazing country and really get immersed.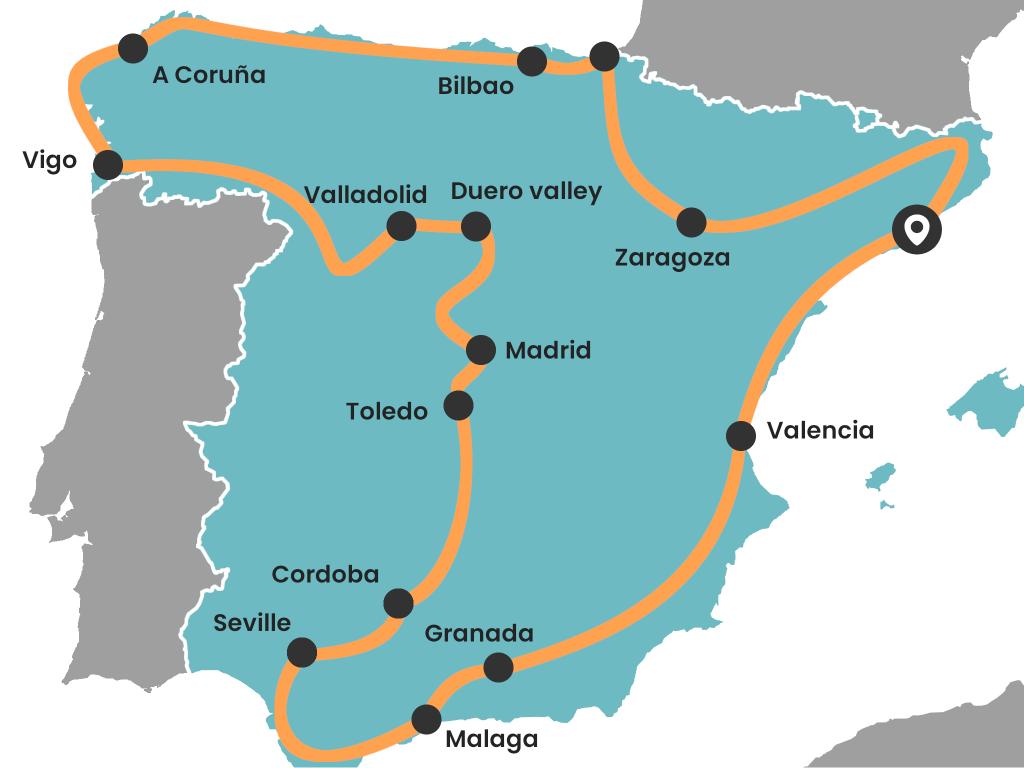 One key disclaimer is that while this one sits high on our list of bucket list trips, we haven't actually done the full trip - it's a long drive!
But if you're brave enough, you can start wherever along the route you like as you it goes in a loop.
Barcelona and Madrid are likely to be the best hubs for getting in and out of Spain and the route cycles down through Valencia to an Andalucian tour before heading back north from Cordoba.
After exploring central Spain with stops in Toledo and surrounding towns and a tour of Madrid, the drive continues into Spain's Duero valley, Valladolid and on to Galicia's Vigo, Santiago de Compostela and A Coruna while taking in breathtaking views of ocean-facing cliffs and huge waves.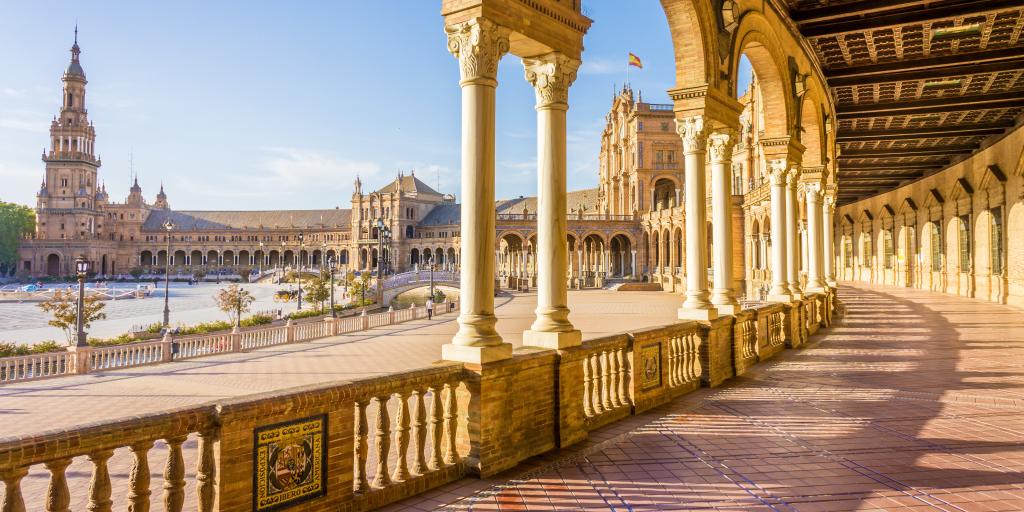 The trip continues along the north coast stopping off at Santander, Bilbao and San Sebastian before detouring off into the Pyrenees and the historic cities of Pamplona and Zaragoza. A mini Catalonia tour to end the trip wraps up the route that will take at least a month to complete if you want to do things other than driving.
If you do end up doing this one, please let us know! We'd love to see how you get on!
Road trip length: 35 days
Total distance: 2,800 miles