These are the road trip safety tips you need to know
Whilst the majority of your road trip is likely to be adventurous and light-hearted, it's impossible to escape the fact that with any long drive comes some risk, so it's important to be prepared.
Although it's impossible to predict everything you'll come up against along the way, it's definitely better to be safe than sorry when it comes to planning for a long drive.
For us, having some road trip safety tips to follow as you're preparing to set off is the best way to make sure you haven't missed anything and are on track for the safest drive possible.
Although there are many different measures you can take to keep you safe during a long drive, the general idea is to make sure your car is prepared for the road, you're clued-up on your destination's rules and regulations, the car is stocked with the appropriate supplies, and the driver is kept focused and alert.
Follow our essential checklist of road trip safety tips to make sure you're fully prepared for your next long drive and ensure that everyone in the car has an enjoyable journey - after all, you are on holiday!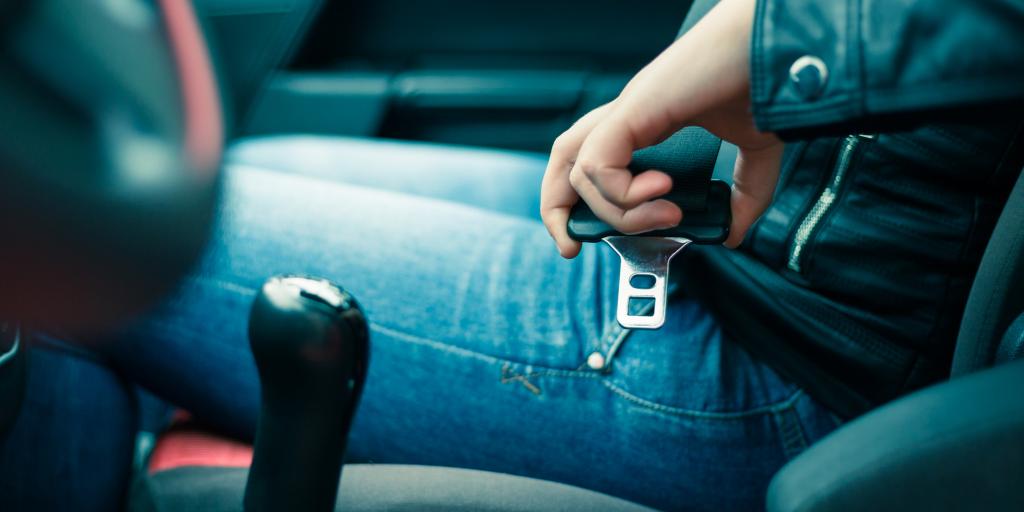 Make sure your car is in good shape
This should go without saying really - it's important to check that everything in and on the car is in working order before you set off on your trip; this goes for hire cars too - always check them over before you sign the contract.
Not only is there nothing worse than getting a few hours into your trip and breaking down on the side of the motorway, but it's also really important to double check that the car is safe and prepared to travel long distances.
As well as sticking to your car manufacturer's advice on how often to get the car serviced, there are a number of simple checks you can do yourself before you set off.
These include:
Checking your tyre pressure (ideally you should do this every two weeks)

Checking your oil levels and topping up if needed

Making sure you coolant level is between the 'min' and 'max' lines, and top up your anti-freeze if you're travelling in winter

Replacing your windscreen wipers if you haven't done so in the last year to prevent smearing and reduced vision

Making sure all your lights are in working order (look for blown bulbs, and cracks and dirt on the lenses)

Checking the bodywork for any damage or rust
Have a spare tyre handy and know how to change it
Having a spare tyre on hand is one of the simplest ways to up the safety of your car before your road trip.
If you end up with a flat tyre on a busy motorway, it's important that you have the means to change it as quickly as possible to limit the time you have to spend on the side of a dangerous main road.
Research how to change a tyre before you set off if you don't already know, and make sure you have the appropriate tools with you in the car to get the job done as quickly as you can.
Wear a seat belt at all times
One of the most basic rules of any car journey: wear your seat belt at all times.
Even if you're just going down the road to a restaurant or popping to the shops after you've reached your destination, it's still vital to wear your seat belt to protect you in the case of a crash.
It's also worth checking whether the country you're visiting has any particular rules regarding seat belts, for example in France it's the driver's personal responsibility to ensure that all passengers under 18 are buckled in.
Never risk going without, always help children to secure theirs before setting off, and don't undo your seat belt at any time whilst the car is in motion - three simple rules that are easy to remember.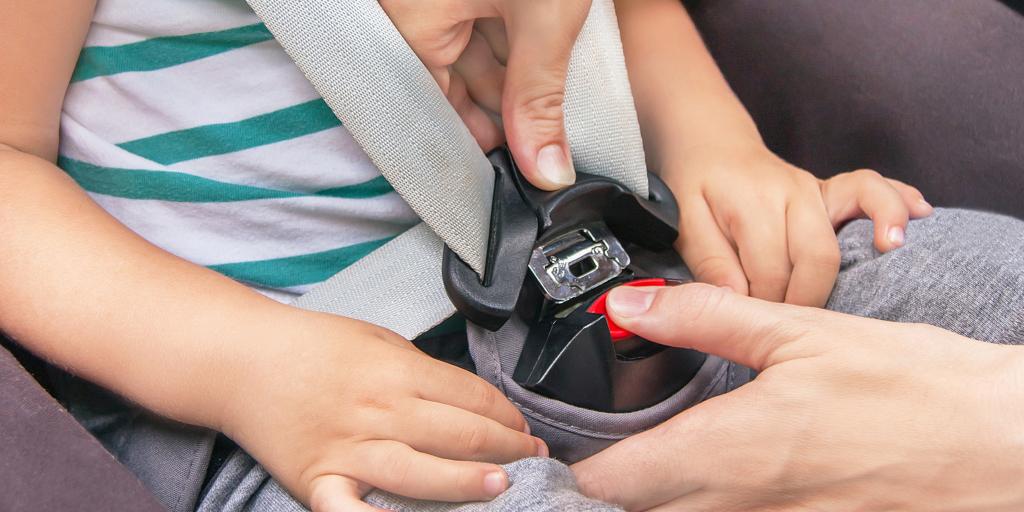 Make sure the driver is well-rested
Kicking off your trip with a fresh-faced driver is so important to ensuring they can maintain maximum concentration, and are alert enough to face a long drive.
Although knocking back a couple of espressos is a good short term fix if you're feeling a little tired, nothing beats a good night's sleep the night before you set off to make sure you're ready and raring to go.
If possible, we'd recommend avoiding nighttime drives all together as this is when you'll be at your sleepiest, however if it's unavoidable, make sure you've at least had a long nap before you hit the road so you can make it safely through the night.
Take regular breaks
Linking to the importance of getting enough sleep, it's recommended that every two hours the driver takes a break of at least 15 minutes to re-group, get some fresh air, and make sure they're alert enough for the next leg of the journey.
As tempting as it is to just plough through and get to your destination as quickly as possible, this can put the driver, the passengers and another other cars in danger.
Without the chance to have a rest, it's possible that the driver could lose concentration, have reduced reaction times to what's going on around them, run out of fuel, and even fall asleep at the wheel.
You don't need us to tell you that it's definitely worth lengthening your journey by an hour to arrive safely, rather than recklessly driving without stopping and endangering multiple lives in the process.
For some more detailed information on this point, take a look at our article on how often you need to stop on a road trip to make sure you arrive safely at your destination.
Bring a paper road map as well as your sat-nav
We've all had a dodgy sat-nav experience, be it being taken the super long way round, being taken the wrong way entirely, or just the voice getting unbearably annoying to the point where you think you might throw it out the window.
The solution? Dust off that old paper road map and bring it along too, just in case your sat-nav fails you and you need a back up.
Although this isn't necessarily one of our biggest safety points, it can still get pretty dangerous if you end up stuck in the middle of nowhere; you could run out of petrol, food and water, or someone could fall ill and you'd be unsure where to go.
Granted, these are pretty extreme scenarios, however it's a good thought to have in the back of your mind just in case.
Our advice? Let your GPS and road map work together. Input your destination, double check the route it's giving you against your map, and have a vague idea of where you are throughout the drive in case anything goes wrong.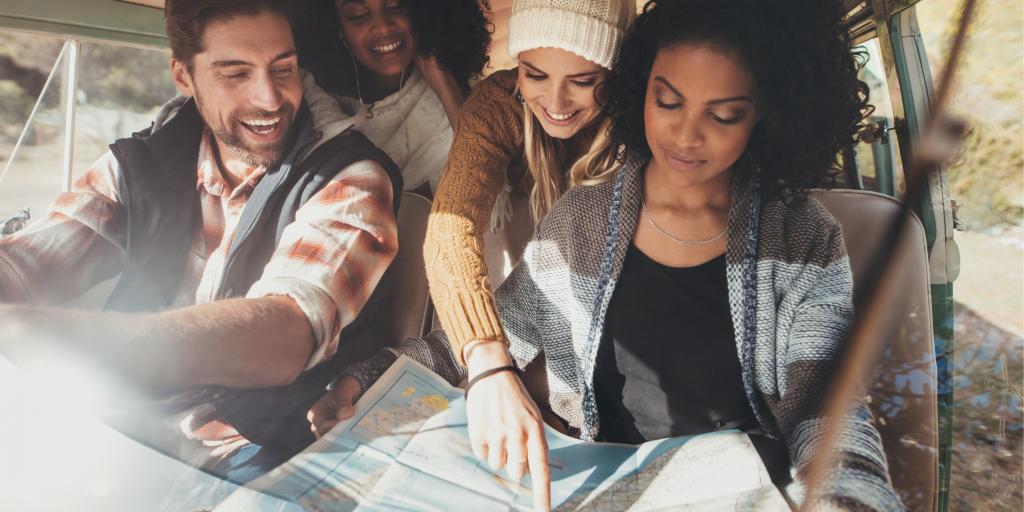 Make sure you know which side of the road to drive on
This sounds like the most obvious thing in the world, but humans are creatures of habit and it can be pretty hard to get to grips with driving on a different side of the road.
The good news is that the majority of countries drive on the right-hand side so chances are you won't have to worry about doing something different from what you're used to, unless you're a Brit that is.
The UK, Ireland, and ex-British colonies including India and Australia, all drive on the left, so if you're going to (or coming from) one of these places be aware that you might have to switch sides.
Be aware of the items you need to carry with you in the car
When driving in a specific country, there's often a list of compulsory items you have to carry in your car and a lot of the time they're needed to keep you safe.
For example, in France, Spain and Portugal you must carry reflective jackets to wear in case you have to get out of the car on a busy road, and warning triangles to place at the front and back of your vehicle in case of a break down.
Both of these items are there to keep you safe and visible if you end up stuck on the side of the road - so it's really important to look these checklists up and make sure you stick to them.
Equally important are the prohibited items. For example, in a number of countries, including Germany, France, Spain, Portugal, Norway, and Croatia, and in some US States, it is illegal to use radar detectors when operating a moving vehicle.
This is a key safety measure that stops drivers knowing where the speed cameras are, encouraging people to safely drive the correct speed in the hope of keeping them, and other nearby drivers, much safer.
Have a look online before you leave for your road trip (there's loads of great advice available), and make sure you've got what you need and have left behind what you shouldn't have, to make your journey even safer.
Make sure any kids travelling with you have the appropriate car seat
With kids in the car, one of the most important things to get right is the car seat that they are travelling in.
Children under a certain height need to be boosted up (hence the name 'booster seat') so that they are sitting high enough for the seat belt to safely restrain them.
Without a car seat in the event of a crash, a seat belt made for an adult can actually cause further injury, so investing in a car seat is super important.
Besides, most countries have laws concerning the age and height a child must be before they can travel car-seat-free.
For example, in France all children below the age of ten or shorter than 135cm must use a UN R44/R129 approved child car seat. In Italy, all children below 150cm in height must use a car seat, regardless of their age and weight.
Be sure to check ahead to see what your destination's policies are, and make sure the seat is fully secured and installed correctly before you set off.
Oh, and don't forget to activate the child locks on the windows and doors if you're travelling with young kids - you don't want them figuring out how to escape!
Have a first-aid kit on hand
Another great thing to carry in your car is a well-stocked first aid kit.
As well as being handy if someone in the car cuts their finger, gets a headache or starts to feel motion sick, having a first aid kit can really help in more serious situations, i.e. if you, or someone nearby, is involved in a car accident.
It can often take a little while for the emergency services to reach the scene of a crash, so it really helps if you've got supplies on hand to help treat any minor bumps and scratches whilst you're waiting for the ambulance to arrive.
Obviously your portable first aid kit can't do much in the event of a major accident, however by packing one you've always got the option to offer help to anyone on the scene that might need it, potentially helping to save their life.
What should your first aid kit contain?
Adhesive plasters

Painkillers

Antihistamine tablets

Car sickness tablets

Sterile gauze, bandages, and dressings of various sizes

Antiseptic wipes

Sterile tape

Disposable gloves

Sharp scissors and tweezers

A thermometer

A torch (plus spare batteries)
We'd also recommend including a list of emergency contact numbers, including the emergency services of the country you're visiting, your family doctor, and a next of kin contact.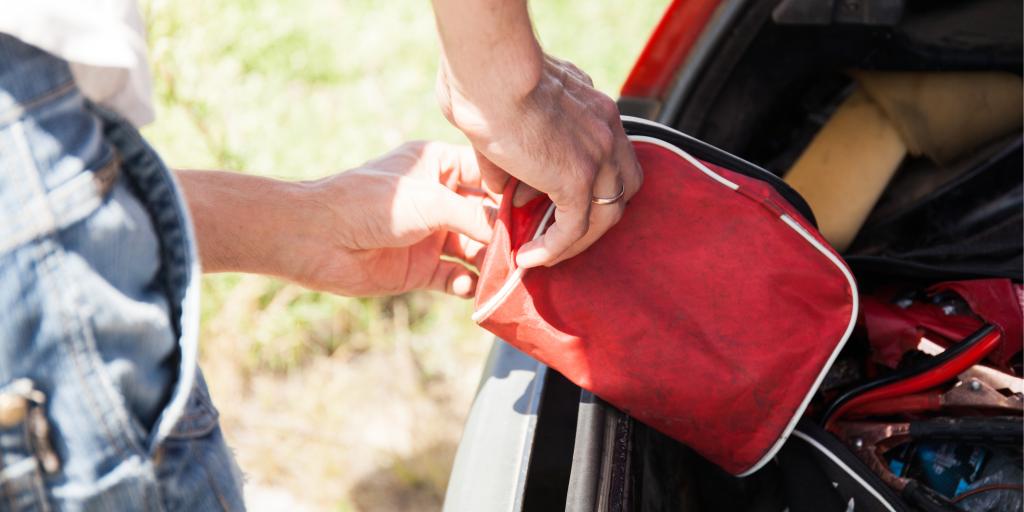 Stock up on supplies
On top of the first aid kit, we'd recommend stocking the car with various supplies to keep you going if you get into difficulty (or just if you get hungry).
If you break down on the side of the road at night and the engine's off, it's likely to get cold pretty quickly (well, unless you're in a tropical country or it's the height of summer), so packing some warm blankets is definitely a good idea.
Packing a powerful torch, tools to get your car started again, and a fully-charged mobile phone are also all essential to making sure you survive a night time break down.
On a less serious note, packing plenty of snacks and sandwiches to satisfy those on-the-road hunger pangs is also a must to save money whilst on the road, and make sure you're prepared if you find yourself in a remote area with no shops for a couple of hundred miles.
Provide in-car entertainment to avoid distracting the driver
There's nothing more distracting for the driver than a chorus of "are we there yet?" coming from the back seat every five minutes, and distraction is never safe when you're driving.
To combat this, it's always best to be prepared with as many different forms of entertainment as possible (kids get bored easily so you'll want to be able to switch it up regularly), so that the driver can concentrate on the road.
Having a range of road trip games up your sleeve is definitely advisable, with loads of different ideas out there for you to try. Why not check out our top 25 road trip games for inspiration?
Having said that, music and conversation are actually really good for the driver to engage in to keep them alert and help them focus on the road, so don't exclude them from all the fun!
Why not club together with your fellow passengers and make an epic road trip playlist before you set off? A great way to beat the boredom and up the safety.
Put your heavy items on the bottom of the load
This is one that probably gets overlooked in the panic of making sure the actual car is ready for the trip, but it's just as important for your safety inside the car during your drive.
Make sure you're methodical about packing your car, putting all the heavy things like suitcases and tents right at the bottom, so that the light things like pillows and coats can rest on top.
This will mean that in the event of a sudden stop the only things that could fly forward from the boot are objects that aren't going to hurt anyone, as opposed to a heavy case catapulting forward which could be disastrous.
We'd recommend organising your things into the order you want to put them in the car whilst your still at home, laying the heaviest objects the closest to the door so that you remember to pack them first.
Not only is this an important safety precaution, but it will also make you ten times more organised, and help you to use every inch of space in the boot so you'll definitely have room for everything.
You could always also invest in a safety net to string up between the boot and the back seats to be extra safe, to stop anything escaping, and make sure no one risks getting hurt.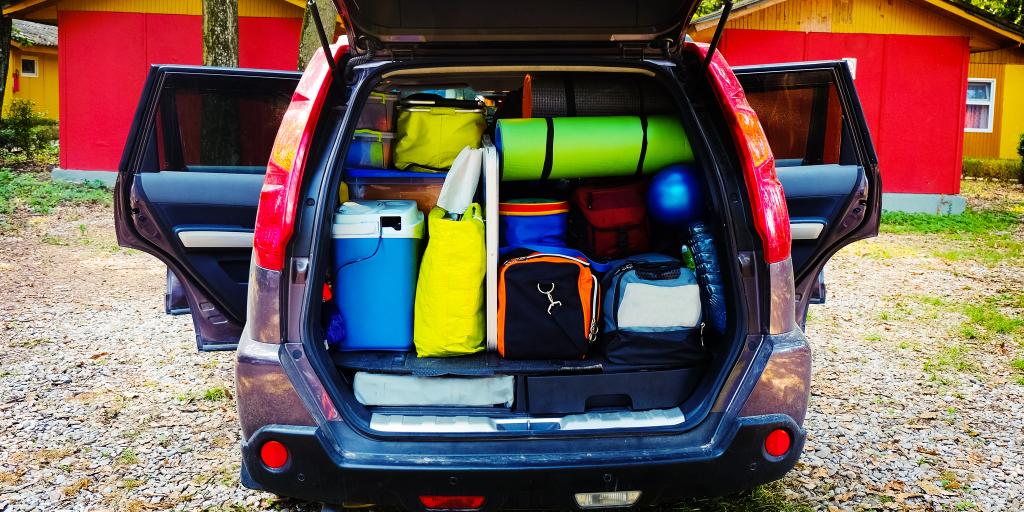 Keep the driver's phone out of sight
Although it's perfectly legal to talk on the phone if you're going hands-free in most countries, just focussing on having that conversation can be dangerous.
It's thought that the of region of your brain that focuses on moving objects can decrease in activity by up to a third if you're concentrating on someone speaking at the other end of the phone - a scary statistic that should definitely be better known.
Think about it: if you're talking on the phone whilst watching a football game, you're likely to miss something sooner or later as you're not devoting your time to the match - it's the same principle when driving.
Stick to chatting to your fellow passengers; you're in the car with them so you won't have to work as hard to hear what they're saying, and they'll be able to judge when you need a few minutes of quiet to do a tricky manoeuvre or navigate a particularly winding stretch of road.
Leave your phone safely out of reach in your bag or with one of the passengers so that it's completely out of sight and not connected to the car's Bluetooth.
That way, you're taking away the urge to answer any calls that come through, and making your driving a whole lot safer.
Enjoy the journey!
Last but not least, remember to enjoy the drive!
Although this isn't technically a proper safety point, f all the passengers in the car are happy and relaxed, the driver should be too which will make it much easier for them to get everyone smoothly from A to B - pretty important, we think.
We know it takes some of the fun spontaneity out of the road trip, but investing in just a little more planning ahead will help achieve this.
If everyone's clear on the routes your taking, where and when you're going to stop, what time you should arrive at your destination, and when you need to check into your hotel, the general atmosphere in the car is going to be much calmer and stress-free.
By doing your best to create the best car environment possible, and checking off all the above points from your road trip safety checklist, we're confident you'll have a great, hassle-free time hitting the road.
Safety + optimum enjoyment = a great road trip!