Road Trip from Atlanta to Baltimore
Set off on a journey through stunning mountains, historical cities, and endless nature on this road trip from Atlanta to Baltimore. You'll get to see some of the most breathtaking landscapes in America as well as the nation's historic capital, Washington DC.
The 730-mile road trip from Atlanta to Baltimore takes 12 hours to drive. Highlights along the way include Nantahala National Forest, Asheville, Blowing Rock, Roanoke, Shenandoah National Park, Charlotte, Greensboro, Raleigh, Richmond, and Washington DC.
There are two exciting routes to take depending on what you want to see and experience. Read on to find out the best routes, best highlights, and best places to stay along the way so you can make the road trip of a lifetime.
How far is Baltimore from Atlanta, and how long will the road trip take?
Comparison of road trip routes between Atlanta and Baltimore

| Route | Distance | Driving Time |
| --- | --- | --- |
| The Scenic Route | 790 miles | 16 hours |
| The Cities Route | 730 miles | 12 hours |
There are two spectacular routes that will take you from Atlanta to Baltimore. Depending on your agenda and time frame, each will take you on a memorable adventure through America's east.
On the Scenic Route, you'll cover 790 miles for 16 hours of direct driving time. This route will miss cities like Charlotte, Richmond, and Washington DC but will bring you through endless natural areas.
The Cities Route will take you 730 miles with 12 hours of driving time. You'll miss driving through the mountains, but you'll still pass lush forests and mountains in the distance.
Whichever route you choose, we recommend taking four days to complete the journey. This will give you enough time to experience the best each has to offer.
Best road trip route from Atlanta to Baltimore
With incredible mountains and historically interesting cities, this road trip gives you the chance to immerse yourself in nature as well as visit the nation's capital Washington DC. You can pass through some beautiful cities which feature interesting museums, or you can choose to drive on one of the country's most beautiful roads, the Blue Ridge Parkway.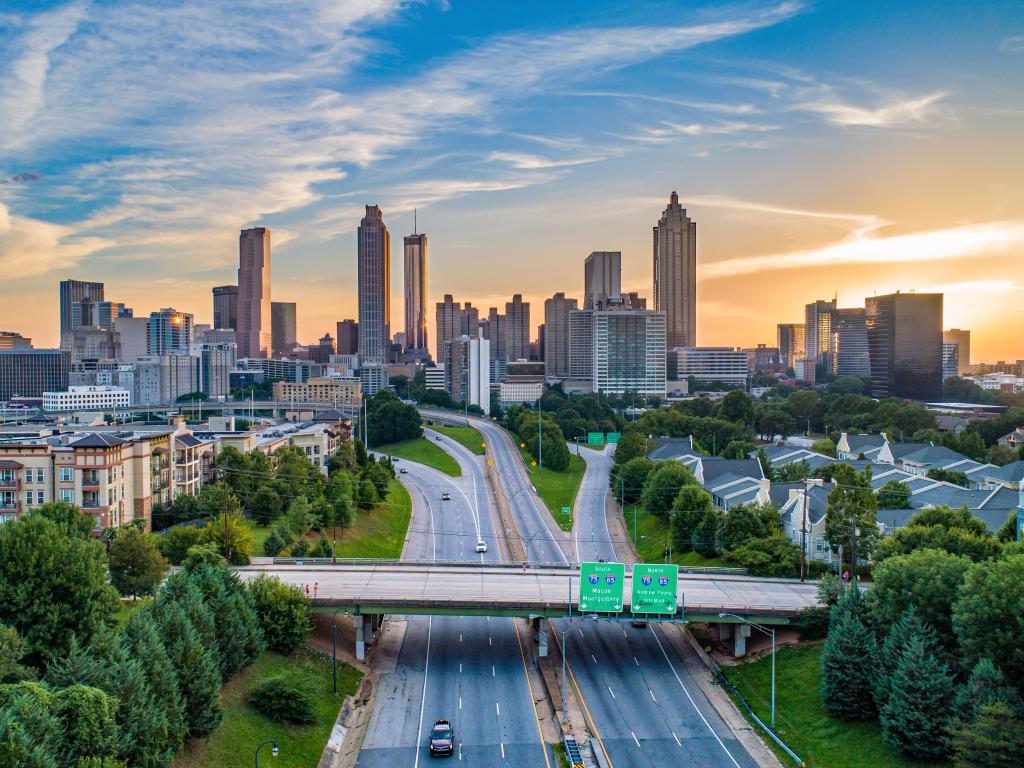 The Scenic Route is great for nature lovers. It will take you through the transforming landscapes of four different states. You'll drive through the famous Blue Ridge Parkway for beautiful mountain scenes and endless nature.
You'll pass through many beautiful viewpoints such as Blowing Rock which will give you the opportunity to try some incredible hikes of varying lengths.
You'll also pass through Nantahala National Forest and close by the renowned outdoor paradise, Chattahoochee-Oconee National Forest.
This route will take you through some historic towns such as Roanoke. You'll also have the option to visit or bypass Washington DC depending on how much time you have.
The Cities Route takes you through some incredible cities such as Charlotte, voted one of the best places to live in the USA. You'll also have the chance to visit the nation's capital, Washington DC.
This route is the perfect way to get a historical insight into the USA. It also passes through some National Forests so you can enjoy nature between cities. There's also a plethora of free and interesting museums in both Washington DC and Raleigh which will satisfy anyone interested in history and culture.
The Scenic Route
Starting in Atlanta, GA, head north into South Carolina and the beautiful Blue Ridge Mountains. Take the famous and unforgettably beautiful Blue Ridge Parkway up into Asheville, North Carolina.
After spending some time in Asheville, continue on through the mountain passes and charming towns into Blowing Rock. From this iconic mountain destination, continue on north into Virginia.
Make your way through the mountains and into Roanoke, VA. Experience the cultural highlights and historical places of this amazing city.
Next, continue north along the western mountains of Virginia. Make your way through the nation's capital and into your destination of Baltimore, Maryland.
The Cities Route
From Atlanta, head north on Interstate 85 (I-85) through northern Georgia and South Carolina. Continue on into Charlotte, NC. After seeing the sights of North Carolina's largest city, make your way east into Raleigh.
From beautiful Raleigh, head north into historic Richmond, VA. Drive through the rural landscapes of northern Virginia and into the nation's capital, Washington, DC.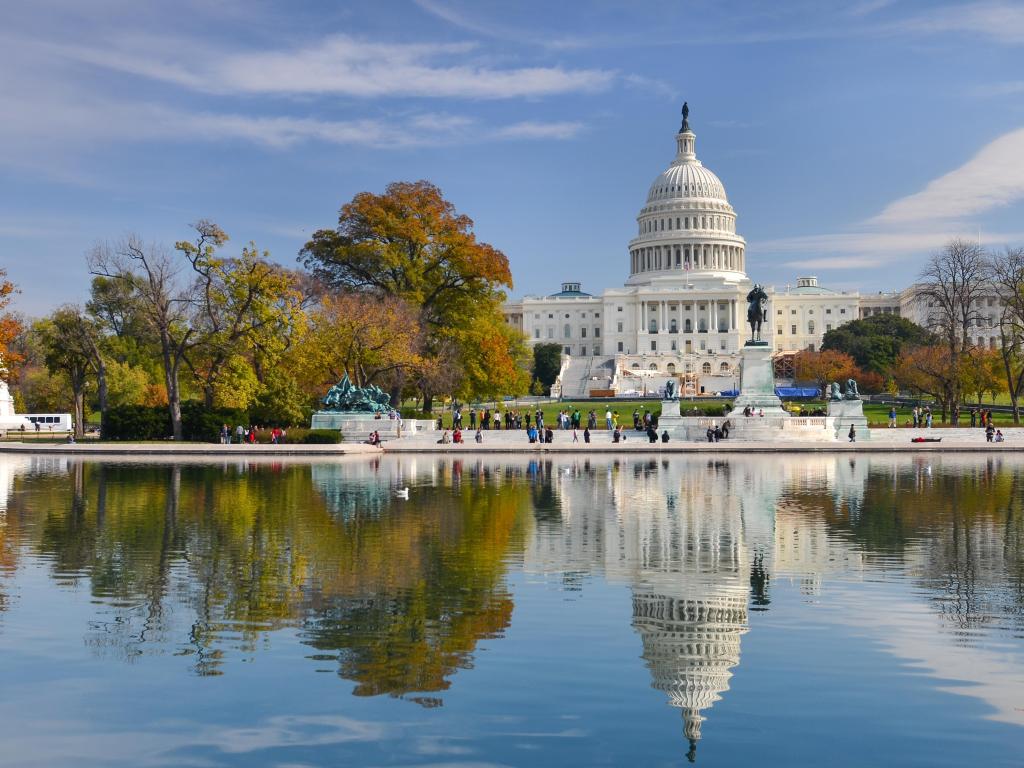 From Washington, drive north to your destination of Baltimore, Maryland.
Best places to stop between Atlanta and Baltimore
With so much to see and do, we've narrowed down our favorite places to rest. This way, you'll get to experience the best things these areas offer.
Experience unparalleled nature in Roanoke
Just over halfway on The Scenic Route is the city of Roanoke, known for its location amongst the beautiful mountains. Roanoke sits in the middle of the Blue Ridge Mountains, Appalachian Trail and Blue Ridge Parkway. There are incredible viewpoints, drives, and hikes in the area.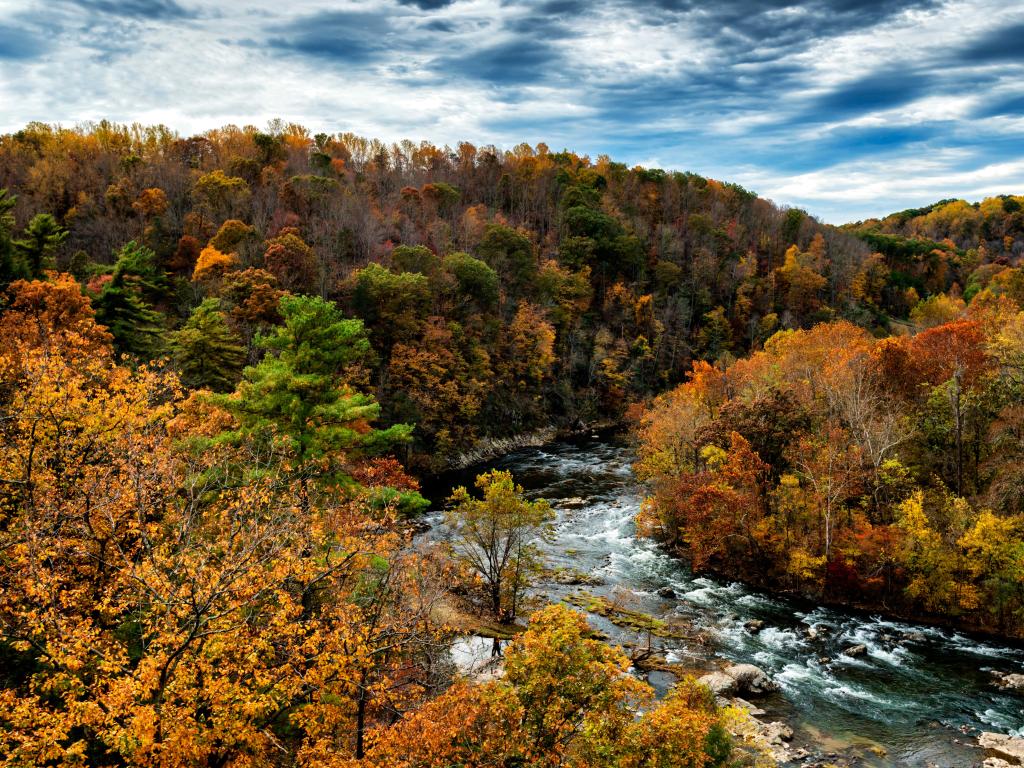 Art lovers should check out the Taubman Museum of Art while visiting this city. This is an incredible art museum with amazing galleries featuring classic and modern art from around the world.
Outdoor enthusiasts can hike a section of the Appalachian Trail. Known as one of the most beautiful treks in the country, you can experience this amazing trail by embarking on a beautiful day hike.
Take a drive along the iconic Blue Ridge Parkway. You can drive along a section of this road and experience some incredible viewpoints.
Another outdoor paradise nearby is Mill Mountain and the Roanoke Star. This large mountain park has miles of beautiful trails and offers viewpoints of the famous Mill Mountain Star, the huge shining star of Roanoke.
Once you reach Roanoke, we recommend staying at the luxurious Liberty Trust. This beautiful hotel offers everything you could need, including free parking, and a restaurant bar with a beautifully designed antique aesthetic. Liberty Trust combines old and new, with everything being shiny and clean, yet somehow maintaining its rustic feel.
The hotel is located just off the main highway that you will drive through, making it easy to access on your arrival and easy to rejoin your route on departure. It is within walking distance of the Virginia Museum of Transportation, the History Museum of Western Virginia and is within driving distance of the George Washington National Forest.
Have a royally good time in "The Queen City", Charlotte
Just over halfway on the Cities Route is Charlotte, North Carolina. Charlotte is a beautiful city with many things to do. It has historical architecture, culture, trendy bars and amazing food, making it the perfect stopover for anyone road-tripping in the area.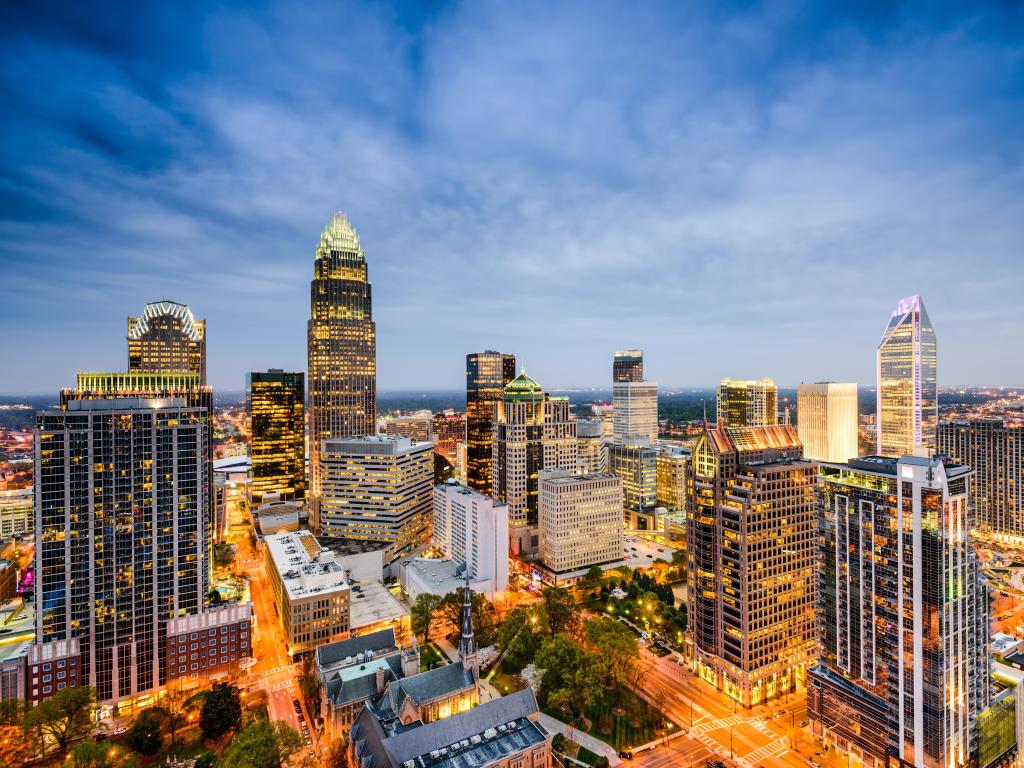 While you're here, visit the NASCAR Hall of Fame. For NASCAR fans, this is one not to be missed. This high-tech museum features many exhibitions on some of the world's greatest drivers, engineers and coaches.
Next, visit Freedom Park. This beautiful downtown park is the perfect spot for those wanting to stretch their legs in a lovely place. Situated around a pristine lake, it offers walking trails, viewpoints and many sporting facilities such as tennis courts and volleyball courts.
Nature lovers and adventurists can experience The US National Whitewater Center: This is the hub for adventure seekers. There are many options for exploring this incredible experience along the Catawba River. This place also boasts a man-made whitewater rafting area.
Once you reach your destination, consider staying at the luxurious The Ivey's Hotel. This gorgeous hotel is a boutique space with beautiful rooms and upscale common areas.
The restaurant on-site offers many locally sourced products, including delicious local pastries. And as an added bonus for road trippers, there's also free parking available on site.
The Hotel sits right in the city's downtown area with easy links to the main highway for departure and arrival. It is easy to walk to Blumenthal Performing Arts Center for those wanting to catch a show and is also very close to the Discovery Place Science. Besides this, it is right downtown, so there is a vast variety of food options in the area.
Where to stay when you reach Baltimore
Once you reach your destination of Baltimore, we recommend staying at the well-regarded and luxurious Sagamore Pendry Baltimore. This is an incredibly beautiful hotel with more of a resort feel to it.
It offers huge outdoor spaces and an outdoor pool and an open-air courtyard. There are many rooms with spectacular views of the outdoor areas and free parking on site. This hotel is the true meaning of luxury and is close to many of the city's destinations.
Many guests rave about the friendly staff and amenities on site. Also, the hotel is close to some of Baltimore's top restaurants, bars, and nightlife which are perfect after a long drive.
Things to see on a road trip from Atlanta to Baltimore
With so many incredible towns, cities, and natural wonders along the way, you'll have almost endless opportunities for fun and adventure. To hello you make the most out of your journey, we've included our top sights and destinations along the way.
On The Scenic Route
Don Carter State Park - Beautiful area full of hiking trails and options for swimming, boating and fishing.
Goats on a Roof - Although a little out of the way, this charming little place offers local shopping as well as the unique novelty of having goats living on its roof. You can easily feed them and then treat yourself to a locally-made ice cream.
Falls Park on the Reedy - Gorgeous park featuring many walking trails which lead you to waterfalls and over-suspension bridges.
Sliding Rock - A waterfall on a narrow incline that you can use as a natural waterslide and swimming hole.
Dupont State Recreational Forest - Another fantastic hiking area for outdoor lovers featuring many trails through the mountains which encounter waterfalls, lakes and lush forests.
BMW Zentrum - A BMW museum hosting vintage cars, motorbikes and information on the history of the company.
Chimney Rock National Park - Beautiful panoramic views of the lush green forests and mountains in the area. An interesting rock formation featured in many pictures.
Carter Mountain Orchard and Country Store - Fruit orchard with beautiful views and locally baked goods. There are also lovely walks in the area and speciality foods.
Monticello - The famous mansion of Thomas Jefferson which now houses a museum, cafe and various activities. Take a tour around the plantation and learn about the life of the ex-President as well as the history of the site.
National Museum of the Marine Corps - A great modern museum taking you through the history of the marine corps to the present day.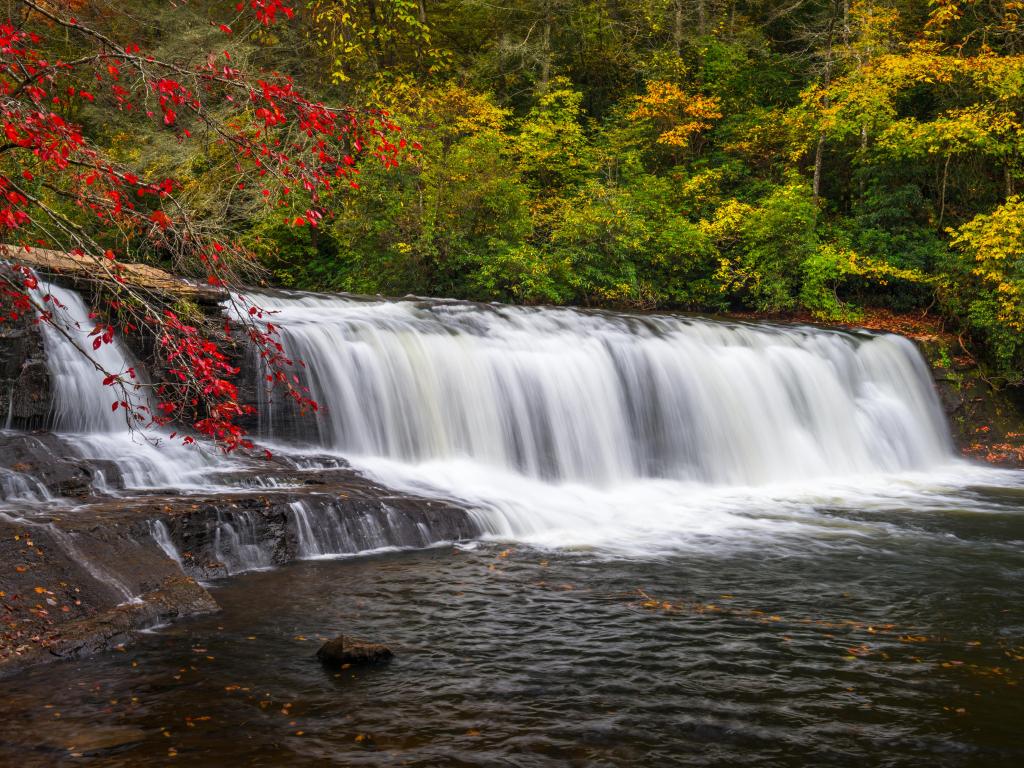 On The Cities Route
Carl Sandburg Home National Historic Site - The old home of the famous poet sitting on an old goat farm and house. You can take a tour around the area and learn about his life as well as how life on the farm works.
Lake Lure Flowering Bridge - This bridge was built in 1925 but was closed in 2011. After this time, they turned the bridge into a beautiful and unique flower garden.
South Mountain State Park - Full of hiking trails and epic waterfalls, this mountain park is magnificent for outdoor enthusiasts.
Kings Mountain National Military Park - A museum and monument sitting on a historic battlefield site from the revolution. There are also many hikes and viewpoints in the area.
Charlotte Motor Speedway - World-famous NASCAR racetrack and huge stadium. Visiting a NASCAR race here is an incredible thing to experience.
Greensboro Science Center - Incredible science museum featuring many interactive exhibits as well as a zoo, aquarium and 40-foot theater.
Sarah P. Duke Gardens - Public gardens with beautiful ponds, flower gardens, amphitheater and many walking paths.
Vollis Simpson Whirligig Park and Museum - More than just a park, this large area features many moving and interactive sculptures that are often wind-powered. It also hosts many events and markets.
Sylvan Heights Bird Park - See flamingos, parrots and toucans as you walk through the beautiful gardens and woods.
Historic Shirley - This large estate was the first plantation in Virginia and allows you the chance to experience what life was like back in the 17th century.
Virginia Holocaust Museum - A museum following the story of the survivors who came to Richmond. Entrance is free and it teaches you about what happened in the build-up to the holocaust and the events during and after.
The Poe Museum - A museum all about Edgar Allan Poe who lived just down the road from this site. Here you will learn about his life and view many old scribblings of his.
Lincoln Memorial - A world-famous memorial dedicated to Abraham Lincoln, which sits at the end of beautiful reflecting pools.
Smithsonian National Air and Space Museum - An incredible museum which takes you through the journey of the American Space program, as well as having many places and spacecraft.
Smithsonian National Museum of Natural History - This large museum teaches you all about natural history, from dinosaurs to humans.
National Cryptologic Museum - This museum is all about code-making and breaking. It shows you some of the greatest achievements in the field as well as various machines used and the great minds involved in the area.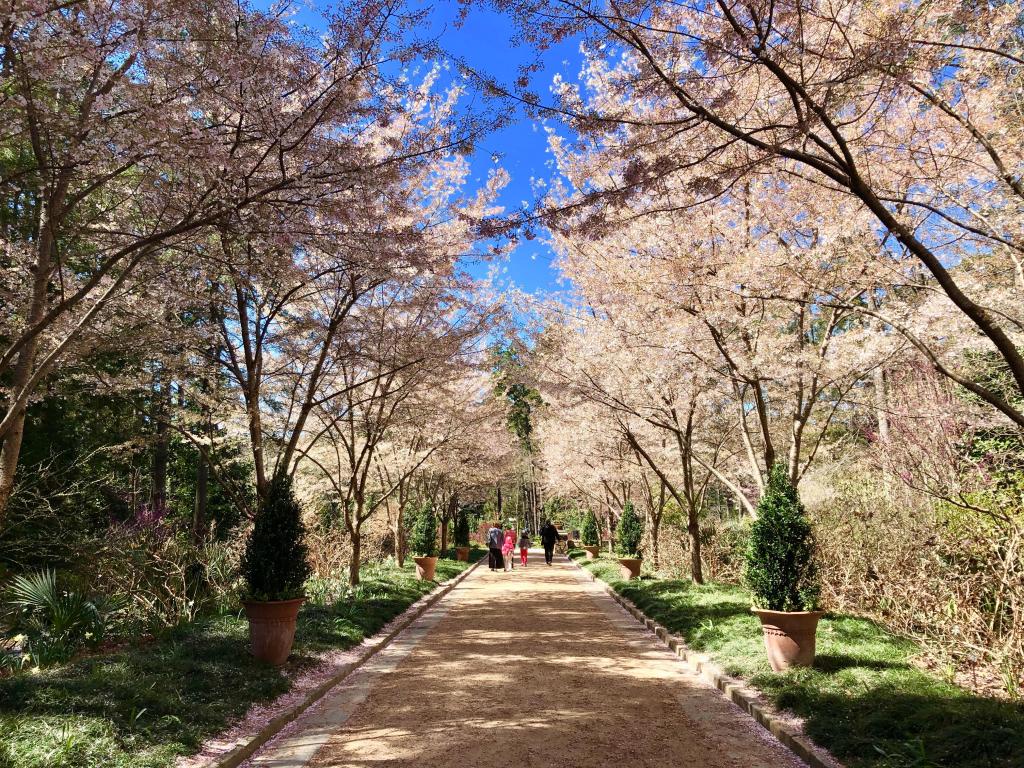 Best time to go on a road trip from Atlanta to Baltimore
Baltimore is a great year-round destination. Its climate is moderate and predictable, climbing and falling steadily throughout the year. It also offers events and festivals spreading all over the year.
Baltimore is a great destination in summer, with temperatures sitting between 73 and 88 degrees Fahrenheit. In the summer, you can easily walk the city and its parks as well as enjoy some of the outdoor activities in the area. More tourists arrive in this season but it won't feel overcrowded as the city is well spread out.
In winter, temperatures may get close to freezing but will rarely dip below this. You will often find the temperature sitting between 35 and 47 degrees Fahrenheit. With so many amazing museums, Baltimore is a great destination to visit in the winter. It also has a large Christmas market and is famous for its Christmas lights.
Fall and spring are possibly the best times to visit Baltimore with pleasant temperatures and not too many tourists. Temperatures will sit between 48 and 76 degrees Fahrenheit and there are many outdoor and indoor activities to enjoy.
There are plenty of festivals and events to enjoy all year long. In Spring, check out the Charm City Bluegrass Festival, Maryland Film Festival and the Kinetic Sculpture Race.
Summer sees AFRAM, Pride, Cherry Hill Arts and Music Waterfront Festival, and Hampdenfest. In the fall, check out September Artscape and the International Edgar Allan Poe Festival and Awards. Wintertime has the regionally renowned Miracle on 34th Street.