Road Trip From Atlanta to New York
If you love a scenic drive through mountains, forests, quaint towns and historic cities, the drive from Atlanta to New York is a great option for exploring some of the best parts of eastern United States.
The 860-mile road trip from Atlanta to New York will take at least 13 hours of driving going direct without stops. The route along Skyline Drive and Blue Ridge Parkway is one of the most scenic roads in the United States but will take several days.
So stock up on snacks, fill up your gas tank, and get set for one of the most stunning routes you can drive.
How far is New York from Atlanta and how long will the road trip take?
The fastest route to New York from Atlanta will take approximately 860 miles, with a driving time of roughly 13 hours.
Although for experienced drivers, and those who can split the driving through the day, this undertaking can be done in one sitting, we recommend making this trip over at least two days. With stops for breaks, food, and filling up with gas, you will easily spend over 15 hours on the road.
Route
Distance
Driving Time
Direct Route


(via I-85 and I-95)

870 miles
13 hours
Scenic Route


(Blue Ridge Parkway and Skyline Drive)

1,200 miles
26 hours
But if you're set on getting to New York as fast as possible, you really should have just taken a flight. Road trips, after all, are all about the journey and the drive from Atlanta to New York is one amazing journey indeed.
Passing through the historic cities of Washington DC and Philadelphia is a must as is exploring the culture of Charlotte, Baltimore and Princeton. Add in a few detours to places like Lancaster County or the Natural Bridge state park and your trip can easily take a week and you'll still feel it was rushed.
If you are planning a return road trip, you're best off driving the scenic route
Best road trip route from Atlanta to New York
There are two excellent routes you can take from Atlanta to New York. Both offer plenty of places to stop and things to see. If you have the time, and you don't operate on a strict schedule, you will have a blast on this road trip.
How to drive from Atlanta to New York
The map above shows our suggestions for the best road trip routes between Atlanta and New York. Keep reading for detailed descriptions of both routes, where to stay on either, and the best things to do on the way.
Direct Route
The direct route is also the fastest route from Atlanta to New York. This route is via the I-85 and I-95. With 860 miles in between, you will reach New York in roughly 13 without making any stops.
If you are on a fixed schedule, and you have a couple of people to split the driving between, this road trip can be done in one day, although we don't recommend that.
This route passes through Charlotte, where you can explore more of North Carolina. Then comes Washington DC, the great capital of the United States, where you can visit the White House.
Further down the road is Baltimore, and then Philadelphia. If you have the time, you can make a detour and see Atlantic City in New Jersey.
Scenic Route
The scenic route from Atlanta to New York packs in not one but two of the most stunning driving roads - the famous Blue Ridge Parkway and Skyline Drive.
From Atlanta, make your way through Chattahoochee and Nantahala National Forests up to Cherokee in the foothills of the Great Smoky Mountains.
If you thought the drive here was spectacular (and it is), you're in for a real treat. The 469-mile drive along the Blue Ridge Parkway all the way to Waynesboro in Virginia runs along the crest of the mountain range with stunning views of forest-clad mountains the entire way.
From there, Skyline Drive runs 105 miles north and south along the crest of the Blue Ridge Mountains in Shenandoah National Park and is the only public road through the Park. It takes about three to four hours to travel the entire length of the Park with some stunning scenery along the way.
After you reach DC, keep on going along the same route through Baltimore, Philadelphia and Princeton on your way to the Big Apple.
Best places to stop between Atlanta and New York
Like we mentioned before, you'll want to split this trip into several days. Since this is a relatively long drive, it's perfect for travelers that appreciate a longer trip and everything that comes with it. Here are some stops worth considering:
Drive the Blue Ridge Parkway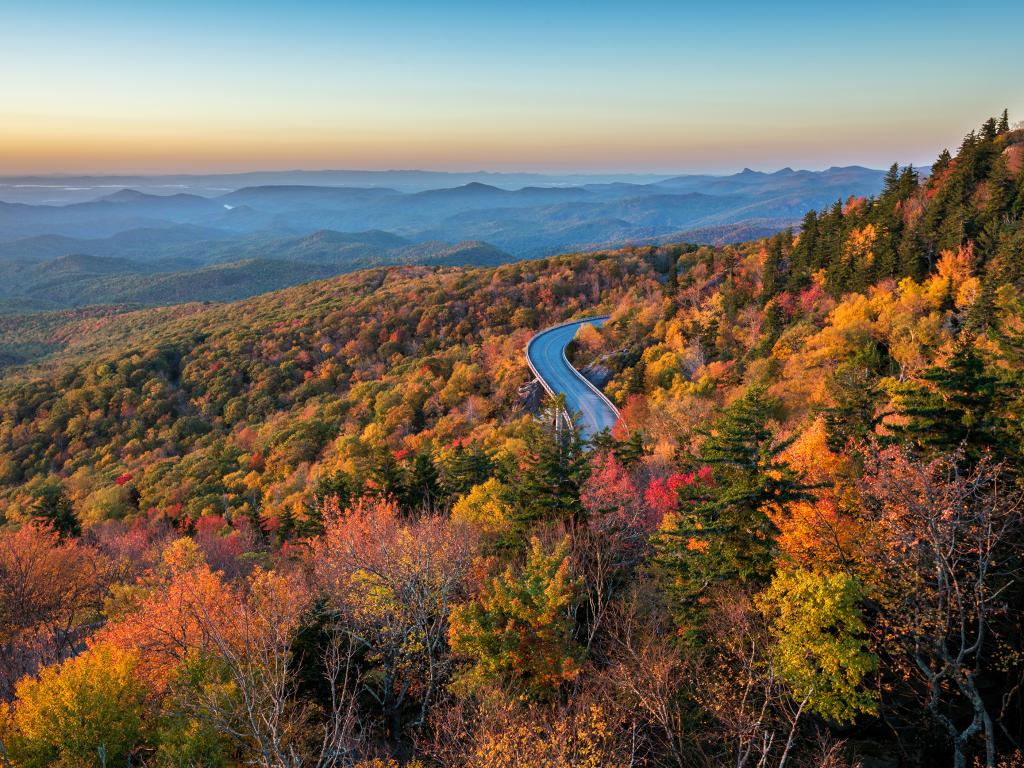 If you take the scenic route, the Blue Ridge Parkway offers much to explore. Driving the whole road takes a couple of days, which gives you enough time to take in all the sights and towns along the way.
The Humpback Rocks Visitor Center is a great start to your journey. Here you can visit the Outdoor Farm Museum which includes a tour and a few examples of farm life in the Appalachian Mountains.
The Blue Ridge Music Center is also a great attraction. Here you can visit a museum that is exploring the Blue Ridge Parkway heritage and its surrounding area. On top of that, there is an outdoor concert venue, where you can enjoy the music all day long.
Before you start tackling the twists and turns, spend the night in Asheville and explore the quaint town. To make the most of the night, you can stay right in the middle of everything in the chic Foundry Hotel in the historic The Block neighborhood.
Parking is a little awkward in a nearby lot with a steep hill to climb on the way back, but if you're only stopping for the night it means you're right in the heart of town.
Explore the history of Washington DC
From touring the White House and exploring the Capitol to concerts and cultural events, Washington is filled with things to see and do.
As you stroll on your way from the Library of Congress to the Lincoln Memorial, you will see more historic monuments, key sights, museums and culturally significant places than many see in their lifetime.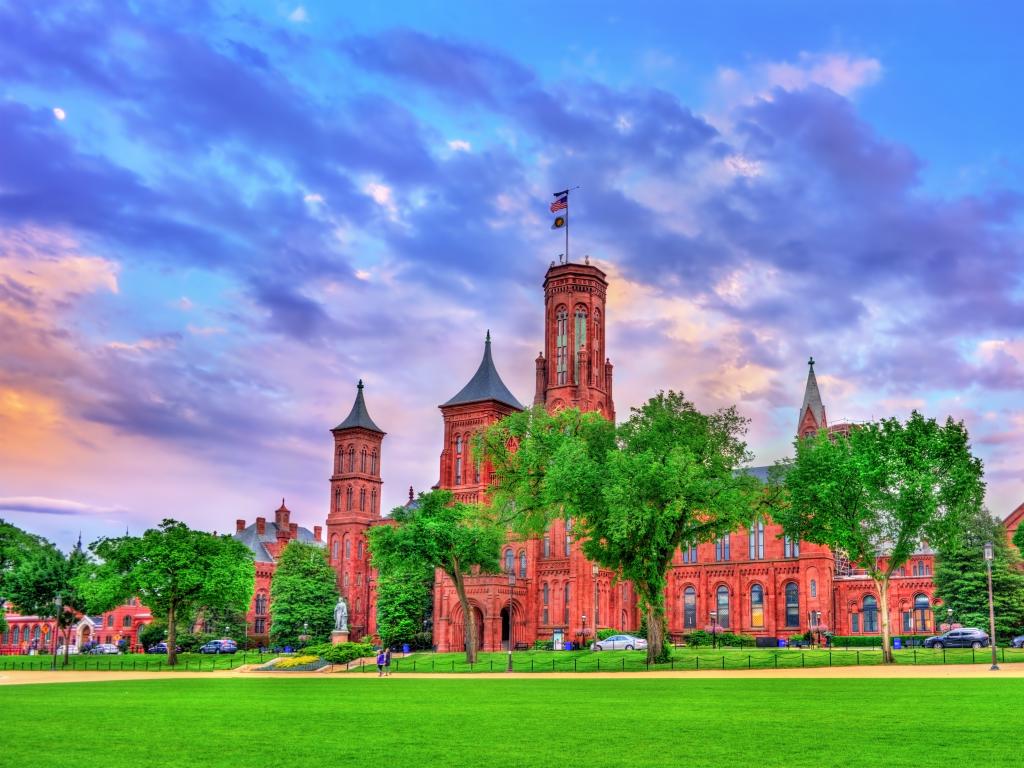 You can walk the halls of the many free Smithsonian museums, explore the city's history on a double-decker tour bus, or paddle on the amazing Anacostia and Potomac rivers.
To make the most of your stay, Jefferson Hotel is just 10 minutes' walk from the White House and right in the middle of everything. It's a perfect spot to spend a couple of days exploring the amazing history all around you.
Things to see on a road trip from Atlanta to New York
There's no shortage of amazing places this trip can offer that are worth checking. Here are just some of the places you should stop at on your road trip from Atlanta to New York.
Great Smoky Mountains National Park - The most visited national park in the United States and one of my favorites with its gorgeous rolling forests and that distinct morning haze.
Shenandoah National Park - This park has tons of wildlife, interesting mountainous terrain, and many waterfalls you can enjoy and take pictures. If you are up for an outdoor adventure, this is the perfect destination to explore. You will need an Old Rag Day-Use Ticket if you are planning to visit the Old Rag Mountain. Please check the national park's website for details.
Virginia Museum of Transportation, Roanoke - Here you can climb aboard the old steam locomotives, and learn all about steam, diesel, and electric locomotives.
Nascar Hall of Fame - if you are stopping by Charlotte, the Nascar Hall of Fame is a fun place to visit. This is an interactive entertainment attraction honoring the history and heritage of NASCAR.
Washington DC - the US capital city needs little introduction with endless historic buildings, world-famous museums, stunning parks and an endless list of sights to see.
Baltimore - This city is a bustling food and culture hub that is so underrated it makes it an even better place to visit without the tourist crowds.
Fort McHenry National Monument - built between 1798 and 1803 to command the harbor entrance, his is one of America's foremost historic sites. Fort McHenry is revered as the place that inspired the National Anthem.
Philadelphia - the place where the Founding Fathers signed the Declaration of Independence in 1776 is full of history and is one of the best places for a brief city break.
Princeton, New Jersey - best known for its world-famous university, Princeton is a quaint small town with mock European-style houses and a unique charm.
Ripley's Believe It or Not! Museum, Atlantic City - this unique attraction in Atlantic City features a collection of strange and bizarre exhibits from all around the world. The only place where you can see a spider made from scissors and knives, the world's smallest production car, or a roulette table made of over 14,000 jellybeans.
Best time to go on a road trip from Atlanta to New York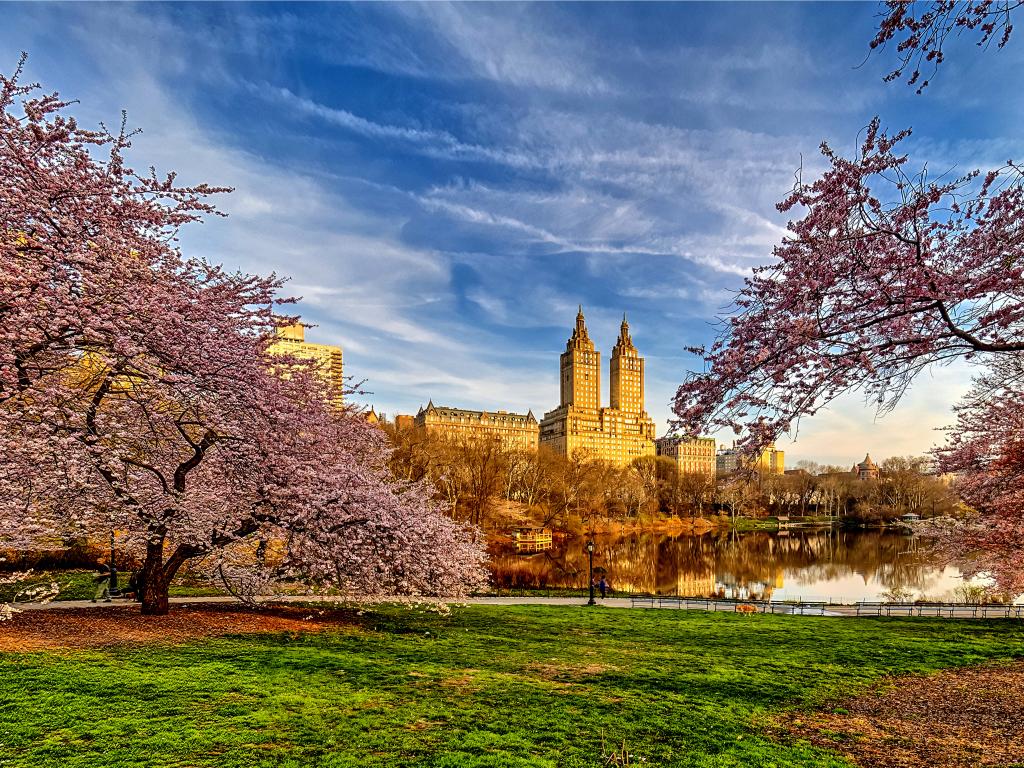 When it comes to visiting New York, most of the attractions, sights and things to do are open all year round, so each season can be a great time to visit in its own way.
A great time to embark on a road trip from Atlanta to New York is from March to June. Springs in New York are blessed with pleasant and warm weather, and tourist crowds are relatively small compared to the busier summer months.
During Spring, you can enjoy shopping at outdoor markets, visit Central Park, the incredible Botanical Garden, the Highline, or be part of some major events like St. Patrick's Day Parade, Easter Parade, the Ninth Avenue International Food Festival, or the Washington Square Outdoor Art Exhibit.
The national parks and the entire length of the Blue Ridge Parkway is perfect during spring and you'll meet less driver enthusiast groups that can be mighty infuriating as you try and enjoy the views at a leisurely pace.
Alternatively, driving to New York for the festive season in November and December is also a great option. During Autumn and early Winter, you can experience tons of events and attractions like the dressed-up Fifth Avenue and the Ice Skating rinks.
Remember that winters can be harsh in New York and along the road trip from Atlanta - especially if you plan on taking the scenic route through the mountains.
Although the Blue Ridge Parkway will remain open through most winters, an unexpected blizzard can both make the driving a lot more difficult and force the road to close.