Road Trip From Atlanta to Savannah
Besides being incredibly scenic, the road trip from Atlanta to Savannah will take you through some of the most historic and friendliest communities in North America. Road trippers often affectionately call Georgia "The State of Adventure", so pack your bags and find out why!
The 250-mile road trip from Atlanta to Savannah takes 3 hours 50 minutes. The trip's main attractions are Macon, High Falls State Park, and Indian Springs State Park, as well as Stone Mountain Park and Oconee National Forest on the alternate route.
There's a lot to see during this unforgettable road trip, so be sure to read until the end to learn everything there is to learn about this itinerary.
How far is Savannah from Atlanta and how long will the road trip take?
| Route | Distance | Driving Time |
| --- | --- | --- |
| The Macon Route | 250 miles | 3 hours 50 minutes |
| The Alternate Route | 265 miles | 4 hours |
Driving through Macon, the road trip from Atlanta to Savannah takes 3 hours 50 minutes and covers 250 miles, not accounting for the inevitable stops you'll be making along the way.
Although you could definitely do the trip in a single day or even fly to Savannah, a much better course of action would be to make frequent stops during this easy-to-drive interstate adventure.
What makes this drive unique is that it combines the beautiful valleys of the Piedmont region with a stunning 110-mile coast, located a hop and a skip from Savannah.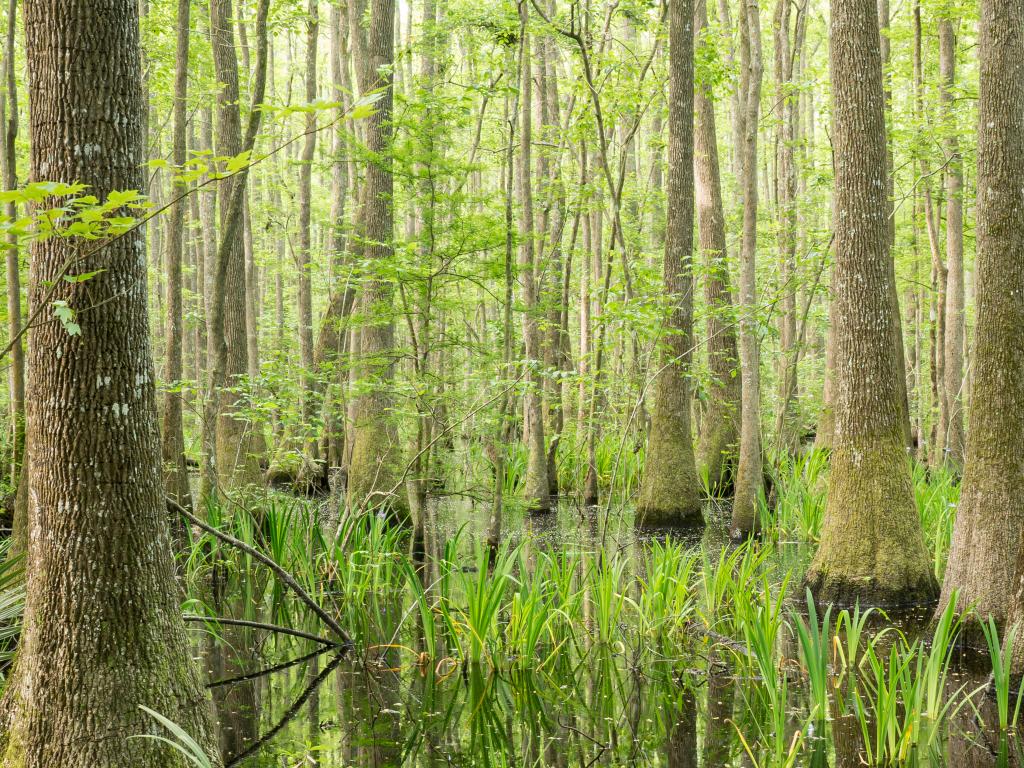 With that said, this route gets a little barren once you're past Macon and on Interstate 16, so an alternative route will have you leaving Atlanta via Interstate 20 before connecting to the quicker one in the final stretches of the trip.
Although traffic isn't a major concern for most of the drive, getting out of Atlanta and into Savannah can be difficult, especially on weekends. You should be ready to leave Atlanta early in the morning and make tactical stops on the way so you can pull into Savannah quicker.
If the trip from Atlanta to Savannah feels a little long for the time you have available, why not take a look at some alternative options in our guide to the Best Road Trips From Atlanta? We've got 20 hand-picked options to choose from!
Best road trip route from Atlanta to Savannah
You could make a case for either of the itineraries being the best road trip route from Atlanta to Savannah - the former is slightly shorter and incorporates Macon into your trip, while the alternative has more to offer in the second half of the drive before merging with Interstate 16.
The Macon Route
Leave Atlanta via Interstate 75, passing by Reynolds Nature Preserve and Clayton County International Park. Continue past Blacksville, then stop by Noah's Ark Animal Sanctuary just out of Locust Grove.
From High Falls State Park, you can take an optional detour to Dauset Trails Nature Center and Indian Springs State Park via Mt Vernon Church Road. Back on the route, follow the interstate through Forsyth and continue to Macon.
From there, detour to the Museum of Aviation in Warner Robins by taking Interstate 75 south, or continue along the main route by leaving Macon via Interstate 16. Drop by Ocmulgee Wildlife Management Area, then detour to Ocmulgee Wildlife Management Area near Twin City.
Consider doing a picnic at Mill Creek Regional Park near Statesboro, then return to the interstate and do one final stopover at Savannah National Wildlife Refuge before pulling into the city of Savannah.
The Alternate Route
Take Interstate 20 out of Atlanta, and visit Stone Mountain Park to the north of the interstate and a sequence of scenic parks to the south. After passing through Conyers, stop by Georgia International Horse Park and Hard Labor Creek State Park.
After taking a break in Madison, stop by Oconee National Forest and follow the interstate to Barnett. From here, follow Routes 278, 80, 296, and 1 to Swainsboro, then detour to Twin City and check out George L Smith St Park.
Back on the main route, leave Swainsboro via Route 57, and join Interstate 16 just past Stillmore - at this point, the route converges with the Macon one at Wild Georgia Safari Park.
Best places to stop between Atlanta and Savannah
There are plenty of amazing places to stop for a night during the road trip from Atlanta to Savannah, but there are a few that beat out the competition by a long shot. Try to find a room in one of the following resorts:
Vacation in style in beautiful Macon
A beautiful city with a distinctly European style, Macon never fails to make a good road trip even better. This is one of Georgia's major cultural hubs, so there are plenty of amazing hotels to look out for, but Best Western Riverside Inn definitely has the best swimming pool in town.
This hotel proves you don't have to go overboard to provide your guests with everything they need - the rooms are homely and comfortable, the pool area is quite spacious, and the exterior as a whole is green and easy on the eye.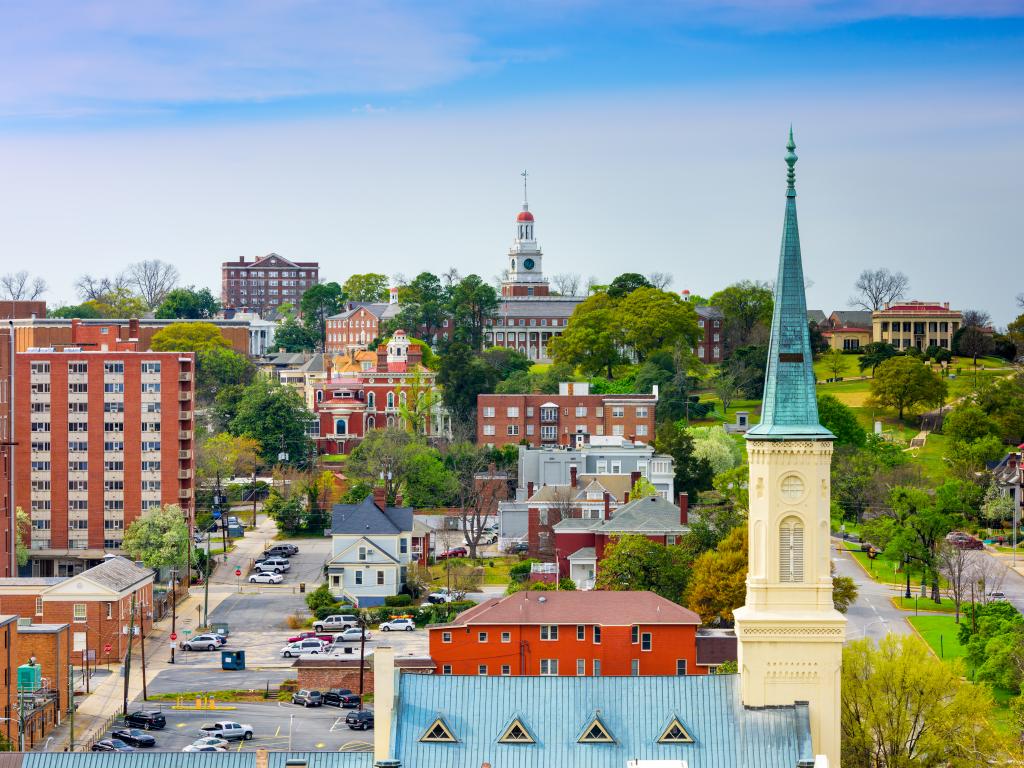 If you'd prefer to take your entertainment inside, though, you can always relax in the on-site bar and enjoy a game of pool or do karaoke as you mingle with your fellow guests, or if walking around the city doesn't tire you out, you can also spend some time in the fitness area.
Affordability is the Macon way, and this hotel is no exception - on top of being right by the beautiful Amerson City Park, the resort is very reasonably priced for how high-quality it is.
Admire the coastal landscapes of Savannah
While Macon is beautiful in a traditionalist kind of way, Savannah goes all-out in the luxury department with some of the fanciest hotels in all of Georgia. Although there are lots of great options, Perry Lane Hotel is the epitome of a five-star resort that has any amenity you could want.
The rooms at this hotel are as divine as they come, and the abundance of sunlight pouring in will have you waking up more refreshed than ever. The rest of the hotel is just as alluring, the lounge being particularly tranquil and inviting.
On top of the obligatory restaurant, luxury dining area, and amazing on-site bar, the hotel features a high-end gym, a spectacular swimming pool area, and some of the nicest open-air sitting areas you're likely to come across in Georgia or elsewhere.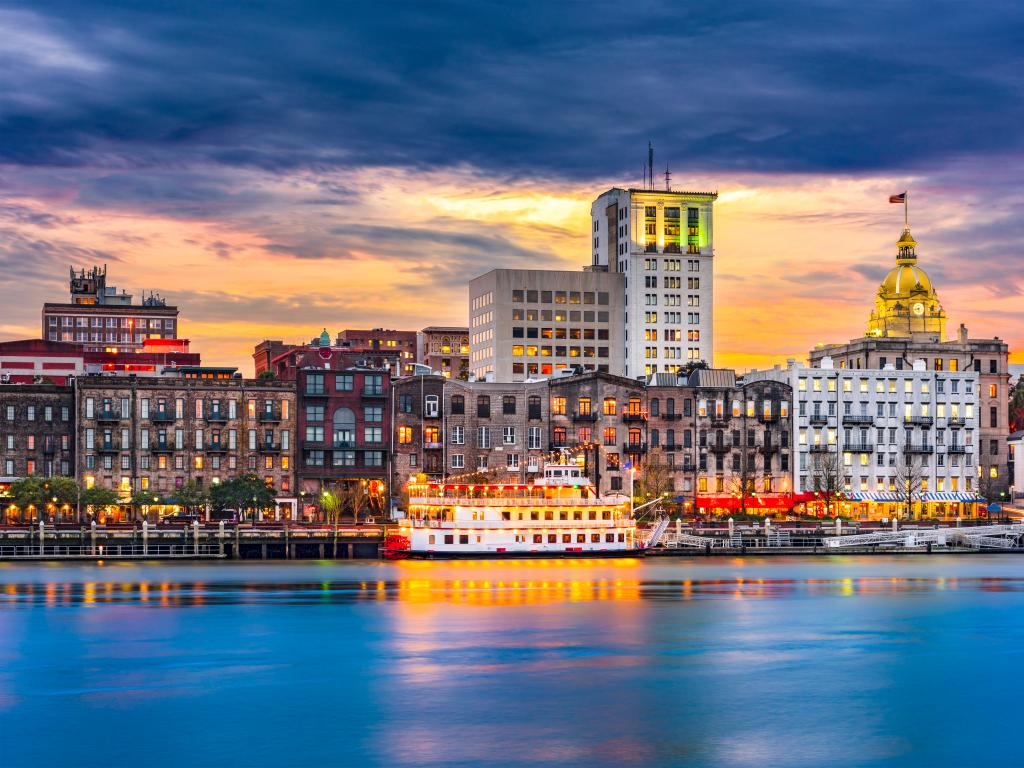 The cherry on top here is Perry Lane Hotel's idyllic location - many of the city's major attractions, including the City Market and Johnson Square, are all conveniently within walking distance.
You have to keep in mind that this is one of the most expensive hotels in the region, but it makes perfect sense for it to be pricey when you take into account all that it has to offer.
Things to see on a road trip from Atlanta to Savannah
For such a low-mileage drive, the road trip from Atlanta to Savannah makes for one of the prettiest drives in these parts of the States. It would be impossible to list everything there is to see, but these are some of the biggest landmarks on the way to get you started:
Clayton County International Park - one of Georgia's quintessential summer swimming and water sports spots
Noah's Ark Animal Sanctuary - animal lovers will get a kick out of the dozens of rare animal species that call this sanctuary home
High Falls State Park - this scenic park is home to one of Georgia's most beautiful waterfalls
Dauset Trails Nature Center - a wonderful nature center that combines stunning farm exhibits and an unforgettable animal trail to great effect
Indian Springs State Park - the Natives that once inhabited the premises of the park believed the springs' water had magical properties
Macon - centrally located in Georgia, this amazing city's lush parks and captivating museums are a must-see
Warner Robins - this city is perhaps best known for its iconic Museum of Aviation, located on the outskirts of town
Savannah National Wildlife Refuge - a stunning 30,000-acre refuge shared by Georgia and South Carolina
Stone Mountain Park - some of the best hiking trails, vistas, and group activity areas can be found in this incredible park
Hard Labor Creek State Park - this park is famous for its iconic golf course and 17-or-so miles of scenic biking trails
Oconee National Forest - Together with its sister forest Chattahoochie, this is a strong candidate for the finest forest in all of Georgia
George L Smith St Park - this park's distinguishing feature is its unique vegetation, doused in the waters of Watson Pond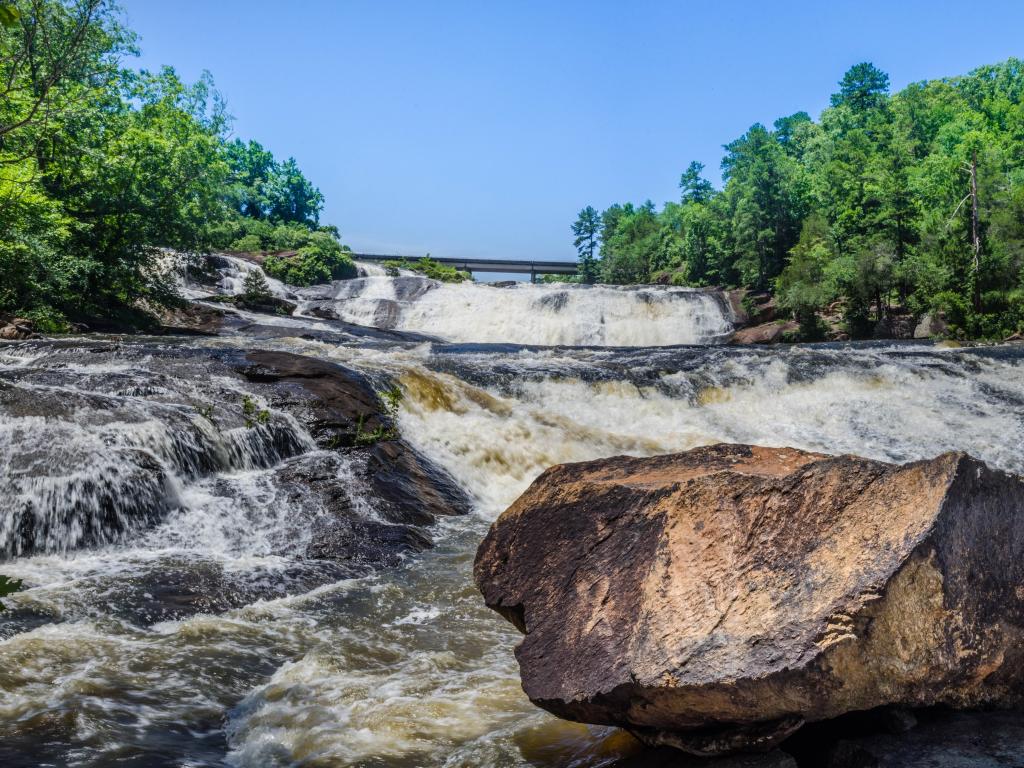 Best time to go on a road trip from Atlanta to Savannah
The road trip from Atlanta to Savannah is one of those trips you can do any time of year - your experience in Savannah will vary vastly depending on when you choose to visit.
Also, winters don't last very long in Georgia as a whole, and the state capitalizes on its amazing natural landscapes thanks to its warm climate. Much like your final destination, the drive itself is amazing no matter the season.
Owing to Ireland and Savannah's long-entangled histories, St. Patrick's Day is a major celebration in this Georgia city. Along with mild temperatures that average at around 70 degrees, Paddy's Day celebrations are the biggest reason lots of tourists flock to Savannah in March.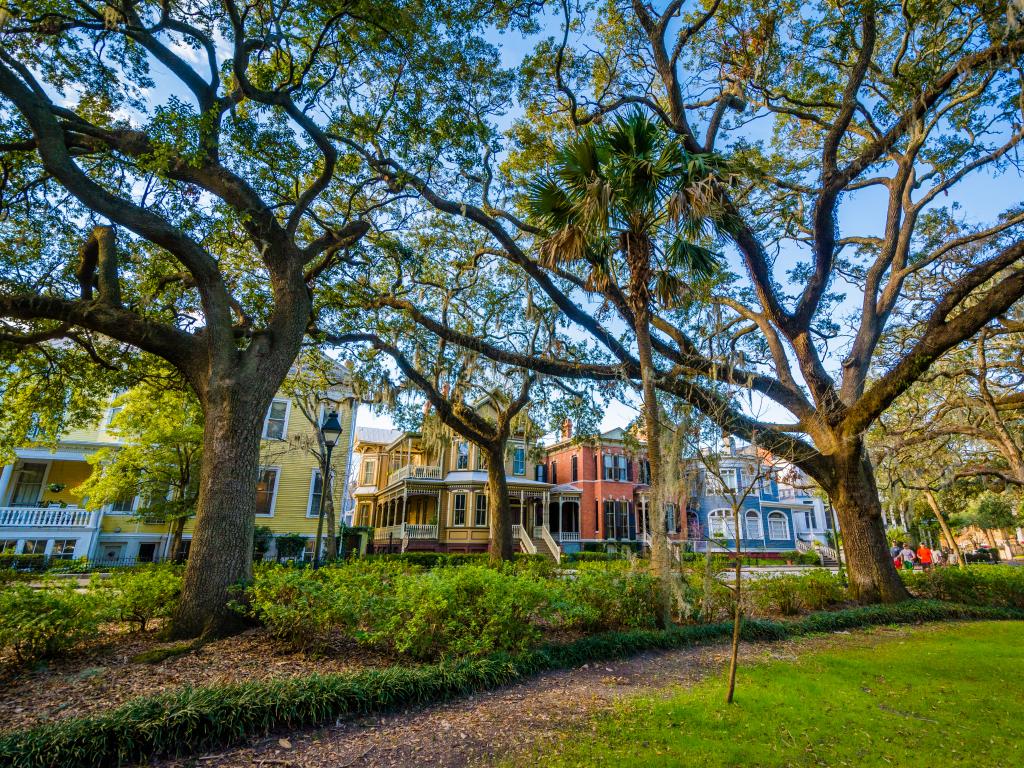 Following a long string of festivals in the spring, the jolly atmosphere in Savannah continues well into late fall, with July being particularly hot (around 90 degrees) and crowded.
Fall is an amazing time to visit since this is when the temperatures start to wind down, and the number of tourists gradually starts to decrease. Even so, Savannah goes all-out with food and music festivals this time of year.
Finally, winter is a great time to visit if you want a cheap stay and some relatively empty city streets. There aren't as many major events this time of year, though, so this season is better suited for people who just want to see as much of the city as possible.