Road Trip from Atlanta to Boston
This amazing road trip winds through several states to cross the distance between buzzing Atlanta to historic Boston. You can plot an urban adventure through some of America's most well-loved cities including the capital, or meander via several nature reserves and the magnificent Blue Ridge Parkway to take in some of the country's most iconic landscapes.
The 1,120-mile road trip from Atlanta to Boston takes 18 hours 30 minutes to drive. Highlights along the way include Washington DC, Philadelphia, and New York, or make a detour via Great Smoky Mountains National Park and Shenandoah National Park.
Either way, you'll end up in Boston, a vibrant city on the Atlantic Ocean full of history, culture and entertainment. Read onwards for a roundup of travel tips to make the most of this road trip.
How far is Boston from Atlanta, and how long will the road trip take?
Comparison of road trip routes between Atlanta and Boston

| Route | Distance | Driving Time |
| --- | --- | --- |
| The Urban Route | 1,120 miles | 18 hours 30 minutes |
| The Blue Ridge Parkway Route | 1,160 miles | 20 hours 30 minutes |
The most direct way to drive from Atlanta to Boston is the 1,120-mile Urban Route, which takes 18 hours and 30 minutes to complete. This route goes through major city hubs such as Washington DC and New York.
Around half of the route is on interstates, so the drive is fairly straightforward. While you'll cross some big cities off of your list, there are fewer natural landscapes to discover on this route.
The longer alternative is the Blue Ridge Parkway Route, which covers 1,160 miles and takes 20 hours and 30 minutes to drive. This more scenic route option allows you to view some of America's most-beloved landscapes including the Blue Ridge Mountains, but it may be necessary to drive somewhat more slowly along smaller roads.
We'd recommend spending 3 to 4 days or longer to give this trip the time it deserves, so you can soak up the city culture or spend time exploring some incredible natural wonders.
Best road trip route from Atlanta to Boston
The two route options show off different sides of America, so choose your vibe and start planning. Which route will be the best one for you will depend on what you'd like to see and do en route.
The Urban Route travels via some of the major cities of the easternmost part of the US, including Washington DC, Baltimore, Philadelphia, and New York.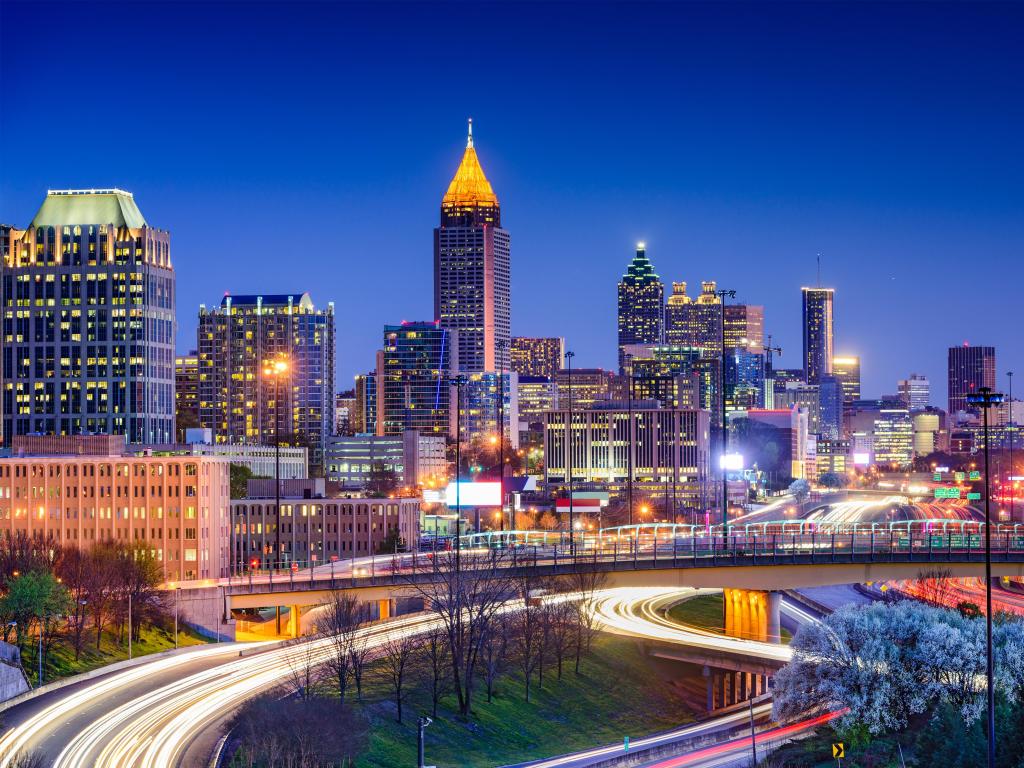 You'll cut straight through the Eastern Seaboard with the chance for some incredible nature stops, including the beautiful Uwharrie National Forest. You'll round off the trip with a taste of New England charm in New Haven and Providence.
The Blue Ridge Parkway Route allows you to drive the length of the Blue Ridge Parkway, the longest linear park in America that is famous for its breathtaking forests and mountainous landscapes.
The route takes you right past several National Parks, including the Great Smoky Mountains National Park and Shenandoah National Park. You can still enjoy culture and sightseeing in some of the bigger cities along the route, including Roanoke, Hershey, and New York.
The Urban Route
Take Interstate 85 (I-85) north out of Atlanta, then cross the Savannah River to cross through South Carolina and arrive in Charlotte. You can visit the NASCAR Hall of Fame here to learn about the history of auto racing. Continue on I-85, then take I-40 east to reach Durham.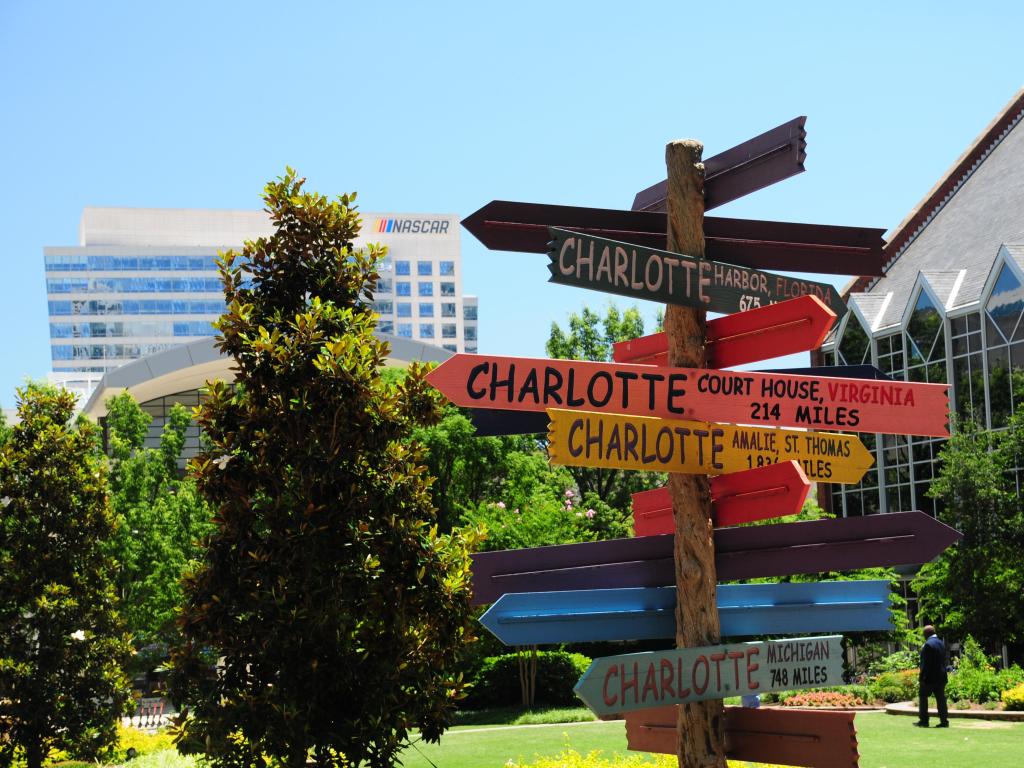 Head north on I-85 to enter Virginia, then take I-95 to pass through Richmon and arrive in Washington DC. Take some time out in the capital city to tick the iconic landmarks and government buildings off of your bucket list.
Take the Baltimore-Washington Parkway to drive via the Patuxent Research Refuge, which is a great place to spot wildlife. This road takes you to Baltimore, birthplace of the US national anthem.
Take I-95 north to pass through Delaware and arrive in Philadelphia. Take some time to explore the Philadelphia Museum of Art, which houses more than 200,000 art objects.
Continue on I-95 to cross state lines and arrive in New York. Catch a Broadway show while in town, or visit one of the city's many iconic museums. Follow I-95 along the coast of Long Island Sound to arrive in New Haven, home of Yale University.
Continue on I-95 to arrive in Rhode Island and take the exit for Providence. It's a college town, so there are plenty of trendy bars, restaurants and fun things to do.
Keep heading north on I-95, then take the Boston exit to join I-93 and arrive at your destination.
The Blue Ridge Parkway Route
Take I-75 north out of Atlanta, then follow GA-5 north to Blue Ridge. There are some gorgeous national forests to explore just off route, including Chattahoochee-Oconee National Forest and Nantahala National Forest.
Follow US-76 east, then take US-74 to reach Bryson City, the gateway to the Great Smoky Mountains National Park. Continue on US-74 and follow signs for Licklog Ridge Overlook. This scenic spot on the Blue Ridge Parkway is a great spot for a picture.
Continue winding through the mountains, with stunning vistas on either side. Take A40, then take exit 37 towards Candler. Follow NC-151 south via the Buck Spring Tunnel, which passes through the mountains at a height of 4,977 feet.
Continue on the Blue Ridge Parkway, then take I-40 east past Pisgah National Forest. Take US-64 east, then follow US-321 north to reach Blowing Rock. This mountain village boasts stunning scenery with views of the peaks.
Exit the Blue Ridge Parkway, then take NC-16 north to reach Virginia. Take I-81 north past George Washington & Jefferson National Forest to reach Hershey. Home of the famous chocolate, you can learn about the history of this sweet treat and even visit Hershey's ChocolateTownⓇ at the amusement park.
Follow I-78 east through Pennsylvania, with the option to take the exit for Manhattan, New York. Take I-287 N to circumvent the Big Apple, then get on CT-15 to head north via Hartford. Follow I-84, then get on I-90 east to reach Boston.
Best places to stop between Atlanta and Boston
Whichever route you choose, there are some distinctive cities to be discovered, as well as the chance to lose yourself in some of America's most stunning natural landscapes.
With over 1,000 miles to cover, you'll need to factor in some overnight stays to break up the driving. We've selected our favorite recommendations to help plan your stops.
Go landmark-hopping in Washington DC
About halfway along the Urban Route lies America's capital, which is a must-stop when driving up Interstate 95. Washington DC is home to iconic buildings and monuments with world-class museums and performing arts venues.
Whether you're a fan of architecture or history, it's worth visiting The White House, Capitol, and Supreme Court Buildings, which together host the three branches of the US Federal Government.
Within the expansive National Mall, you'll find several famous landmarks, including the iconic obelisk, the Washington Monument, the Lincoln Memorial, and the Constitution Gardens. If you head a bit further around the Tidal Mall you can find more monuments, as well as rows of beautiful Japanese cherry trees.
For a taste of the culture on offer here, try out one of the city's famed museums, such as the National Gallery of Art or the National Museum of American History.
Convenience is everything in the capital, so book a stay at Conrad Washington DC, which is located right in the city center. You can enjoy views over the White House and other DC monuments from the modern rooms or while sipping a cocktail at the rooftop bar.
You'll be within walking distance of famous sites including the National Mall, as well as within easy reach of shopping and fine dining. However, you don't even have to leave the hotel if you don't want to - there is a quality restaurant on site serving fresh seafood.
Soak up the scenery in Roanoke
This city is the biggest of The Blue Ridge Parkway Route and is filled with restaurants and cultural sights. It's the perfect stopover after having made the slow drive through the major National Parks of this scenic route.
Historically a major gateway to the American West, Roanoke has for long been an important industrial and transportation hub, halfway between Atlanta and New York.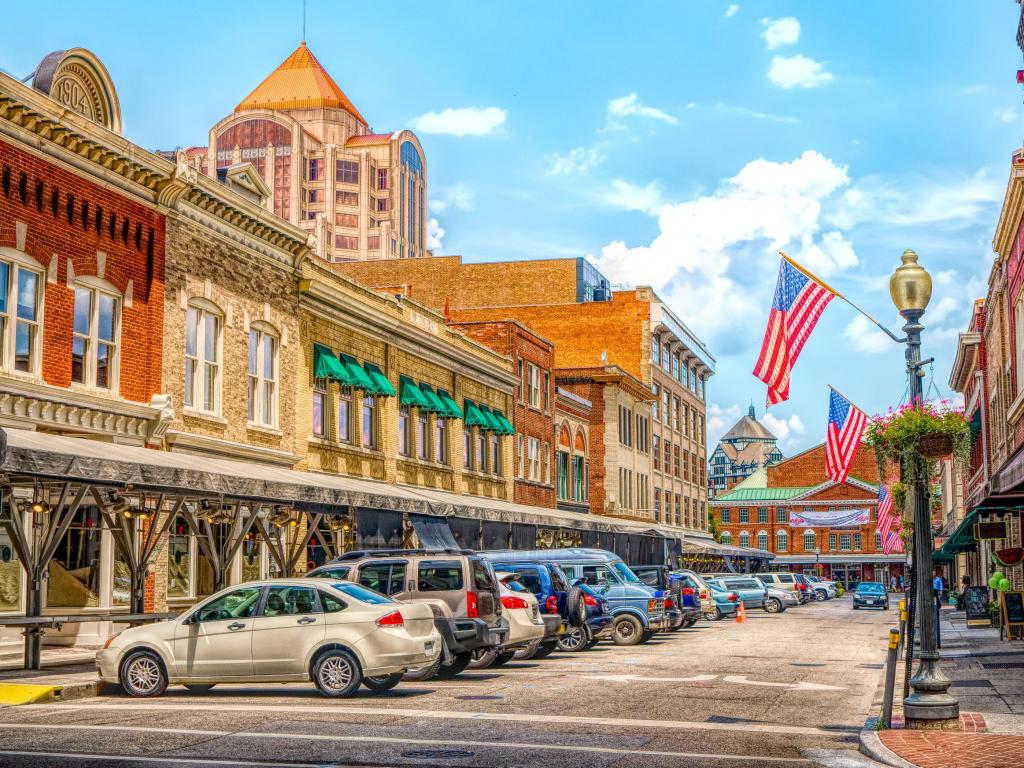 Roanoke is also a good base from which to enjoy the nearby National Parks. It is home to part of George Washington & Jefferson National Forest, where you can enjoy hiking trails, waterfalls, and beautiful picnic areas.
It has iconic city attractions, such as the Roanoke Star, an illuminated steel and concrete structure on a hill. A visit isn't complete without stopping by the Historic Roanoke City Market, which has been operating as a farmer's market since 1882.
For an elegant stay with plenty of atmosphere, try the Hotel Roanoke & Conference Center, Curio Collection by Hilton. Here you can relax at the Spa and Wellness Center, or take a dip in the outdoor swimming pool.
There is parking on site, and it's a short walk away from Roanoke's central restaurants, shopping areas and museums. Conveniently, it's close to the Interstate 81 that you'll be taking to continue on towards Boston.
Where to stay when you reach Boston
Once you reach Boston, get into the spirit of things with a stay at The Eliot Hotel. This historic hotel is housed in a stunning building in Boston's Back Bay neighborhood.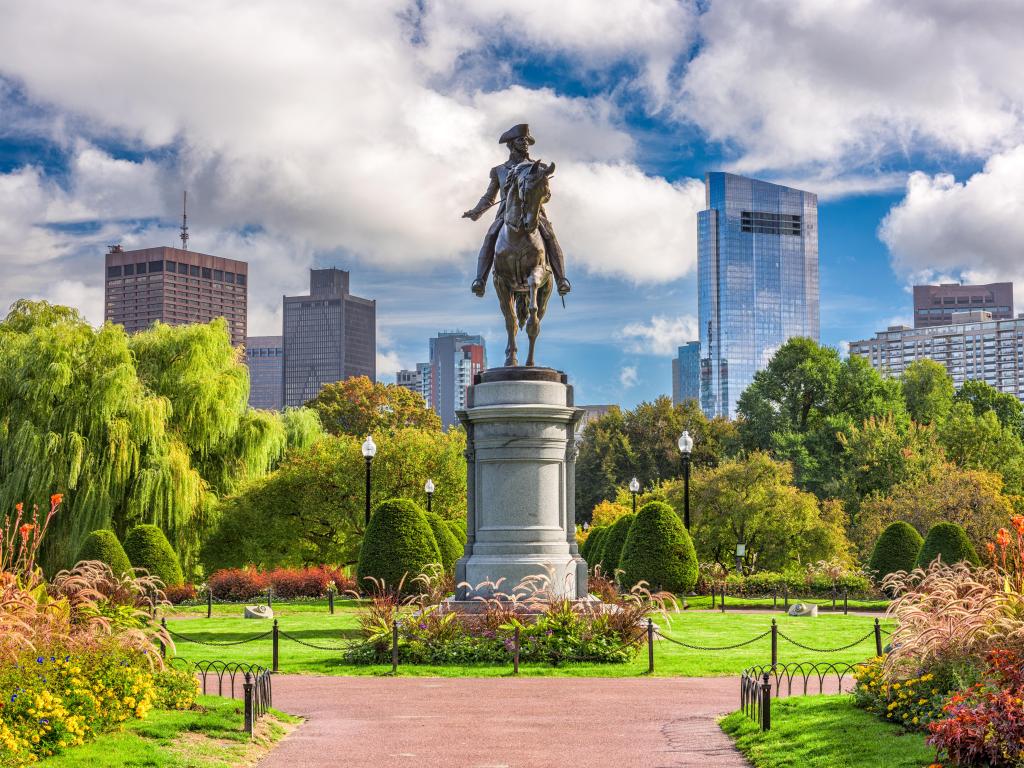 Expect ultimate luxury, with stunningly decorated rooms equipped with lush marble bathrooms.
There is a fantastic on-site sashimi bar for an upscale dining experience, and if you'd like to make that a romantic occasion for two, there is babysitting and pet-sitting available, conveniently provided by the hotel.
The location is unmatched - it's situated near Fenway Park, home of the Boston Red Sox, Prudential Shopping Center and the Newberry Street shops.
Things to see on a road trip from Atlanta to Boston
This trip paints a full picture of the diverse East Coast, so expect an exciting mix of cultural and natural activities to keep things interesting.
On The Urban Route
Charlotte - Have a coffee break in Charlotte, enjoy the local markets, or visit some of the city's museums including the Levine Museum where you can explore the post-Civil-War history of the South.
Uwharrie National Forest - Take a little detour to explore the lakes and hiking trails of the Uwharrie National Forest.
Greensboro - Greensboro has much to offer for the culture-hungry and nature-lovers alike; you can visit Greensboro Science Center to view exotic animals, learn about the American Revolution at the Guilford Courthouse National Military Park, or study the struggle for civil rights at the International Civil Rights Center & Museum.
Durham - Durham is a hub for technology and science, and has many museums and art galleries worth visiting.
Richmond - This city is a mix of culture, nature and history. Visit Virginia Museum of Fine Arts, take a walk through Church Hill Historic District, or discover some new plants at the Lewis Ginter Botanical Garden.
Washington DC - Visit the National Mall or Tidal Mall to see some of the country's most iconic monuments including the White House and the Lincoln Memorial, or visit the US Botanic Garden, one of the country's oldest. Head to Rock Creek Park just outside of the city where you can enjoy walking, horse riding or picnicking.
Baltimore - In Baltimore, take advantage of the city's many restaurants or museums, or take a short drive to Patapsco Valley State Park and enjoy this natural area's well-maintained trails and waterfalls.
Philadelphia - Visit the Philadelphia Museum of Art, see the sculptures at Philadelphia's Magic Gardens, or visit Liberty Bell, the site where the Declaration of Independence and Constitution were signed.
Providence - Providence is the home of Brown University, several museums including the RISD Museum of American art and silver, and the WaterFire art installation that lights up a body of water in the city.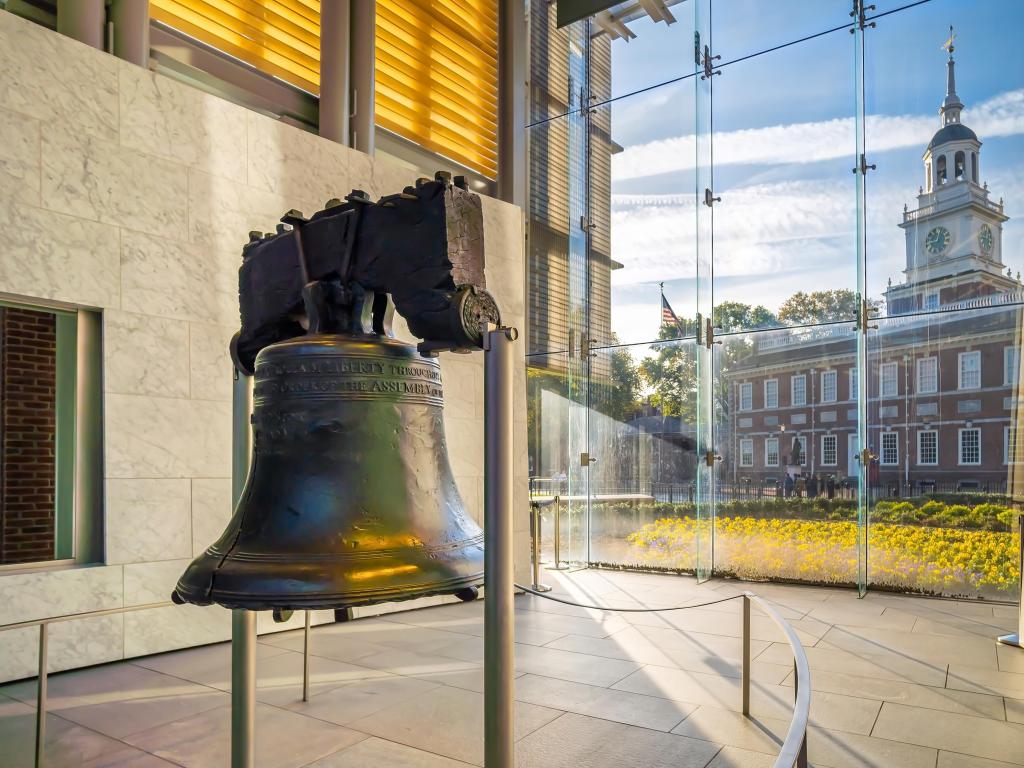 On The Blue Ridge Parkway Route
Blue Ridge - Enjoy local restaurants and craft breweries in this mountain town. Take a ride on an antique train along the Blue Ridge Scenic Railway, or have a walk along the trails of the Chattahoochee-Oconee National Forests.
Nantahala National Forest - A perfect spot for hiking and whitewater rafting.
Great Smoky Mountains National Park - Explore the trails, fishing, flora and fauna of this stunning National Park that denotes one end of the Blue Ridge Parkway Route.
Chimney Rock - Take a little drive off route to visit the famous Chimney Rock at the Chimney Rock State Park, south-east from Asheville.
Pisgah National Forest - This natural area has high peaks, waterfalls, and viewing points overlooking mountains and valleys. Stop off at the small local towns for a meal along the way.
Blowing Rock - Blowing Rock is a village named after a rock formation overlooking vast valleys and forests. You can view regional artwork at the Blowing Rock Art and History Museum.
Roanoke - Visit the historic town of Roanoke, the biggest city along the Blue Ridge Parkway Route and a wonderful base from which to explore the nearby natural surroundings.
Shenandoah National Park - The other end of the Blue Ridge Parkway Route, Shenandoah National Park consists of magnificent forests, beautiful walkways, waterfalls and picnic areas. You will need an Old Rag Day-Use Ticket if you are planning to visit the Old Rag Mountain. Please check the national park's website for details.
Hershey - Enjoy restaurants, Hersheypark and live music in this city that is also the home of the delicious Hershey's chocolate.
On both routes
New York - Take the time to visit some of the world-famous landmarks and monuments in New York, including the Empire State Building, the Statue of Liberty, Times Square, Central Park, or the Metropolitan Museum of Art, among many others.
New Haven - In New Haven you can visit art galleries and Yale Peabody Museum, where you can explore dinosaurs and the life of early mankind. Otherwise, take a walk and enjoy lunch by the seaside.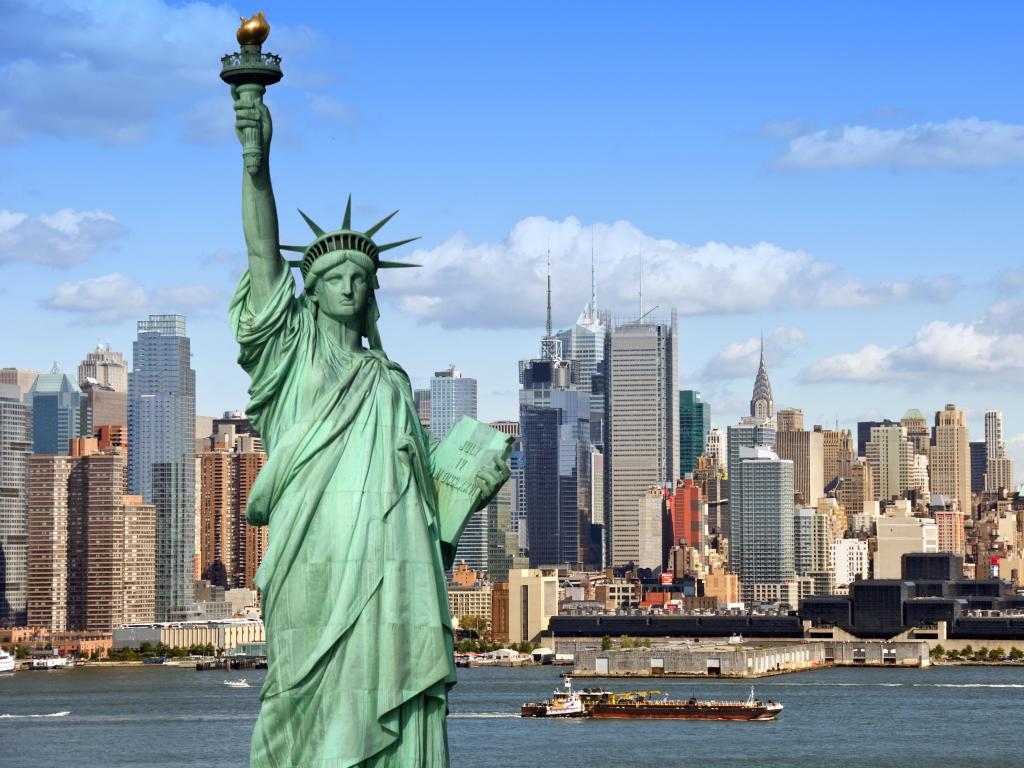 Best time to go on a road trip from Atlanta to Boston
Both routes are enjoyable to undertake all year round. However, during the winter months driving along The Blue Ridge Parkway Route especially may be impacted by snowy weather. Consider taking this road trip from spring to fall to get the best out of it.
Both routes are at their busiest during the summer months. However, don't let this deter you - the National Parks of The Blue Ridge Parkway Route are a pleasure to visit during the months from May to October in order to fully enjoy the walks, water-based activities and sights that this route has to offer.
The Urban Route includes some of the most visited cities in the United States. If you want to avoid traffic and greater amounts of tourists, you may wish to avoid the busiest summer months. In summer, you can catch Boston Harborfest, the yearly 4th of July celebration showcasing Boston's maritime and revolutionary history.
Both routes offer different views and activities in winter and in summer. Along The Urban Route, you can see famous cities like Washington DC or New York, under a light snow cover. The national areas along The Blue Ridge Parkway are also stunning under a coat of snow. However, be aware that the roads along this scenic route do sometimes get affected by snowfall.
There's plenty going on in winter - for 40 years, Boston has been the site of a traditional First Night/First Day New Year's festival. There are also Christmas tree lighting ceremonies throughout November and December.
Late spring or fall are probably the best seasons for doing this road trip overall. You will avoid the biggest crowds, temperatures are still favorable (around 59-68 degrees Fahrenheit), and you can still enjoy the natural landscapes, or the cityscapes, to their fullest.
In April you might see the Boston marathon speeding through town, or catch the Head of the Charles Regatta rowing event every October on the Charles River. October also sees the HONK! street festival, which brings the city to life.