Road Trip from Atlanta to Grand Canyon
A road trip from Atlanta to Grand Canyon will be an unforgettable adventure, filled with many photos and memories you will collect on the way. This epic journey will take you through some of the most iconic Texan cities as well as awe-inspiring natural sights on the way.
The 2,000-mile road trip from Atlanta, GA, to the Grand Canyon takes 31 hours to drive, passing Nashville, Memphis, Oklahoma City and Albuquerque. Or swing south through Texas to visit Dallas, El Paso, Phoenix, Coconino National Forest and Tucson.
This trip takes you through ever-changing landscapes, from the hills of Tennessee to the desert landscapes of Texas, Arizona and New Mexico. You'll encounter major cities with historical importance, cruise along surviving strips of Route 66, and drive along cactus-lined desert roads, making the journey as much of a feature as the must-see destination.
How far is the Grand Canyon from Atlanta, and how long will the road trip take?
Comparison of road trip routes between Atlanta and Grand Canyon

| Route | Distance | Driving Time |
| --- | --- | --- |
| The Direct Route | 2,000 miles | 31 hours |
| The Texas Route | 2,250 miles | 34 hours |
However you get there, there's no avoiding the fact that a road trip from Atlanta to the Grand Canyon is going to be a long one. The most direct route, which follows Interstate 40 for much of the way, covers 2000 miles and will take you around 31 hours to drive.
The alternative route through Texas adds 250 miles to the trip, and driving time increases to 34 hours accordingly.
With that many miles to cover, you'll need to set aside at least 4 days to make this trip. This will give plenty of time for rest stops and allow you to briefly encounter some of the places you'll pass along the route. However, if you'd like to explore the route in more depth, we'd suggest increasing this to 8 days so that you have time to really immerse yourself in some of the fantastic places you'll visit.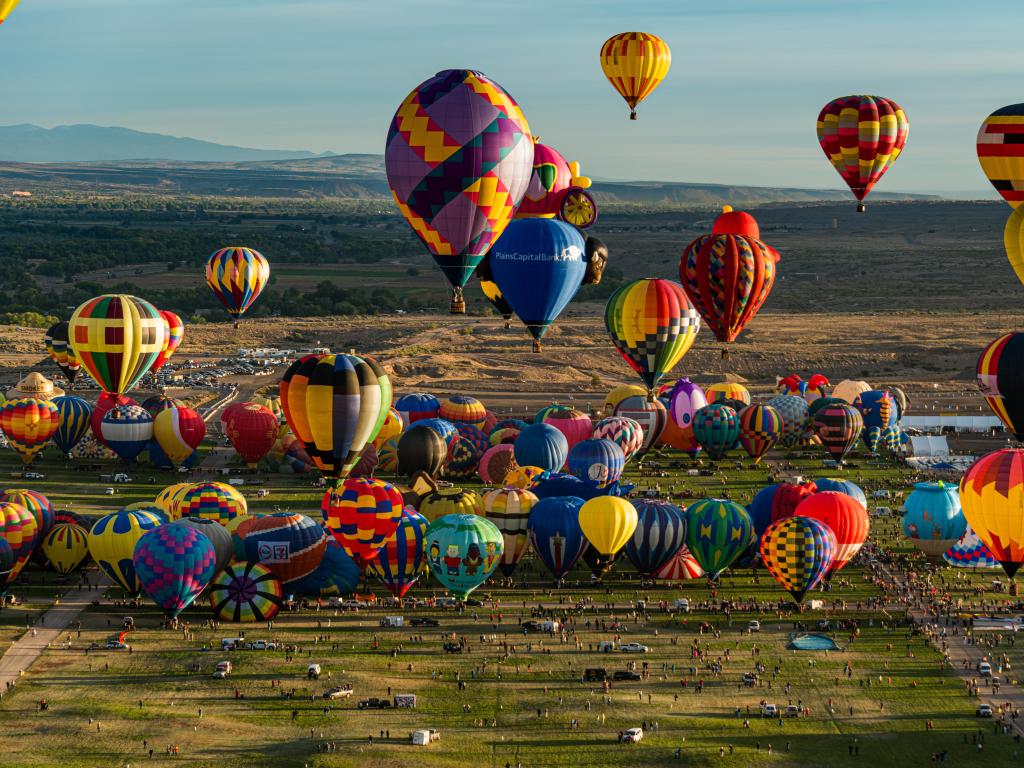 Best road trip route from Atlanta to the Grand Canyon
With both routes being so long, your choice of route from Atlanta to the Grand Canyon will probably be decided based on which cities you'd prefer to visit along the way.
The Direct Route takes you through major USA cities including Nashville, Memphis, Oklahoma City and Albuquerque, where you'll experience culture and nightlife. You'll see a noticeable change in scenery as you make your way west, from the lush green trees of Tennessee to the barren cactus deserts of Arizona.
Part of this route also follows the path of iconic Route 66, and there are several places along the way where you can explore the history of this legendary drive. If you take this option, try to time your journey to avoid rush hours in the major cities that the route intersects.
The alternative route through Texas travels the full width of the Lone Star State, and you'll encounter major cities and wide-open desert drives. On this route you'll visit Birmingham, Dallas, Tucson and Phoenix as well as enjoying some stunning desert landscapes.
As you reach El Paso, you'll be close to Mexican so can experience Spanish-influenced culture without crossing the border. However, be aware that as you drive close to the US-Mexico border you might face random checkpoints, which will add to your drive time.
Whichever route you take, you'll have long stretches on the interstate to cover, so allow ample time with plenty of breaks. Make sure your vehicle is ready for the hot conditions you're likely to encounter, and that you've got a suitably epic playlist to create the soundtrack to your unforgettable adventure.
The Direct Route
Head north out of Atlanta on Interstate 75 (I-75), taking a detour to visit Lake Blue Ridge before winding your way through the hills and past Lake Ocoee to reach Chattanooga.
Follow I-24 north out of the city, which will take you to Nashville. Here you'll join I-40, which you'll follow almost the rest of the way.
First, I-40 takes you through Memphis and Little Rock, then it follows the line of the Arkansas River in the direction of Oklahoma. Take a detour up into Ozark-St Francis National Forest if you want to stretch your legs in a truly stunning part of the state.
After Oklahoma City, continue west through Amarillo and Albuquerque. The road then takes you near El Malpais National Monument and Petrified Forest National Park, which are both well worth seeing.
When you reach Flagstaff, bear north onto the highway, making your way past Fort Valley as head for Grand Canyon Junction. Then continue north through Kaibab National Forest, and you will have reached your destination.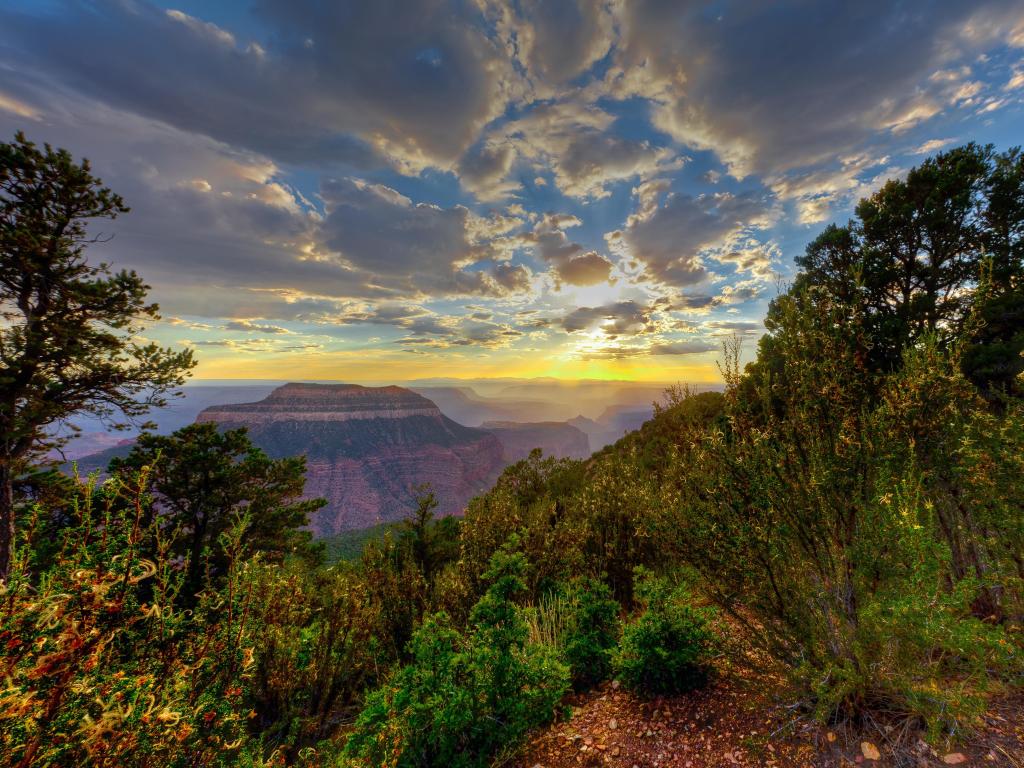 The Texas Route
Take the I-20 from Atlanta to Birmingham, passing Talladega National Forest. Continue on the interstate as it turns south to pass Meridian and Jackson before crossing the Mississippi River to enter Louisiana.
After nearly 6 more hours on the same road, you'll reach Dallas, Texas. From here, I-20 takes you across many miles of wide-open landscapes, past Fort Worth, Abilene and Odessa, before merging onto Interstate 10 in the direction of El Paso.
From El Paso you get the chance to take a break from the Interstate, jumping onto Highway 54 instead. This takes you up to Alamogordo, from where you can visit the stunning White Sands National Park. Also, if you're ready to cool down a little after the long desert drive, you can detour from here to visit Cloudcroft.
Make your way back to I-10 at Las Cruces, then continue west into Arizona. Just south of the interstate you can visit the town of Tombstone, then visit Coronado National Forest before you continue on the I-10 towards Tucson.
From Tucson you'll start to make your way north, passing through Phoenix. Take some time to explore Sedona and Coconino National Forest, your last major stops before you reach Flagstaff and make your way up the highway to Grand Canyon Junction and the stunning South Rim.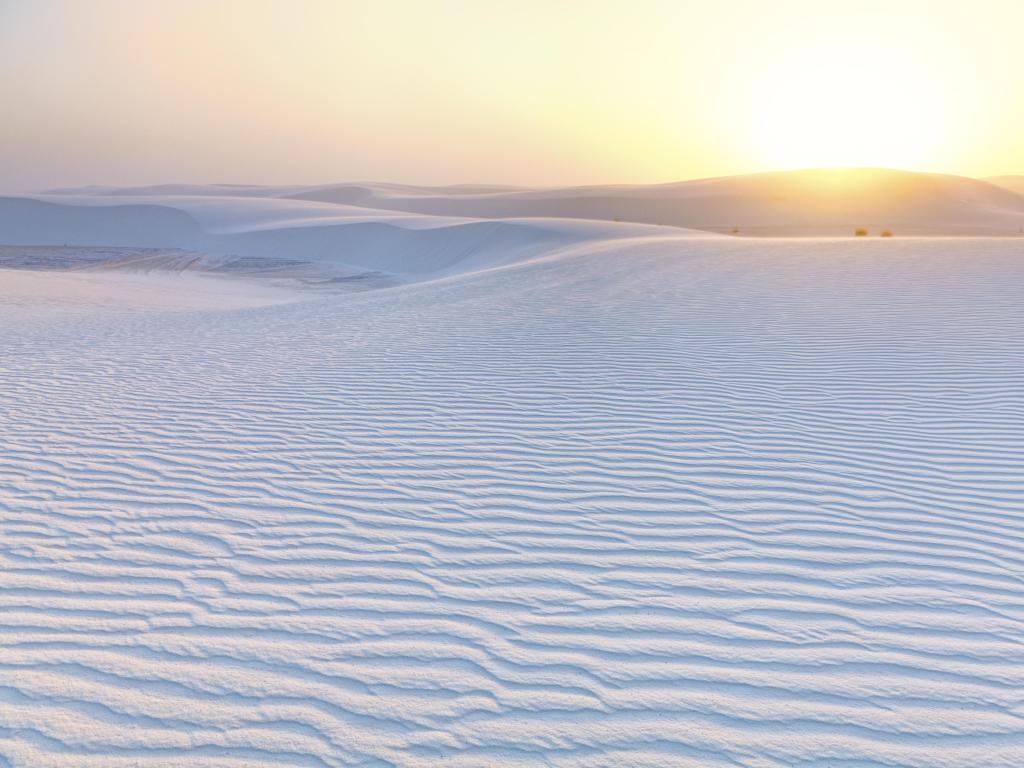 Best places to stop between Atlanta and the Grand Canyon
It's impossible to make the drive between Atlanta and the Grand Canyon without stopping overnight, but when you have the choice of such awesome cities to visit en route, breaking the journey isn't just practicality.
You'll want to make other stops as well, but here are some of the highlights to get you started.
Follow in the footsteps of cowboys in Oklahoma City
At the halfway point of the Direct Route, Oklahoma City is an ideal overnight stop. You won't find a dull moment surrounded by many attractions, and you'll uncover plenty of exciting adventures to enjoy during your stay.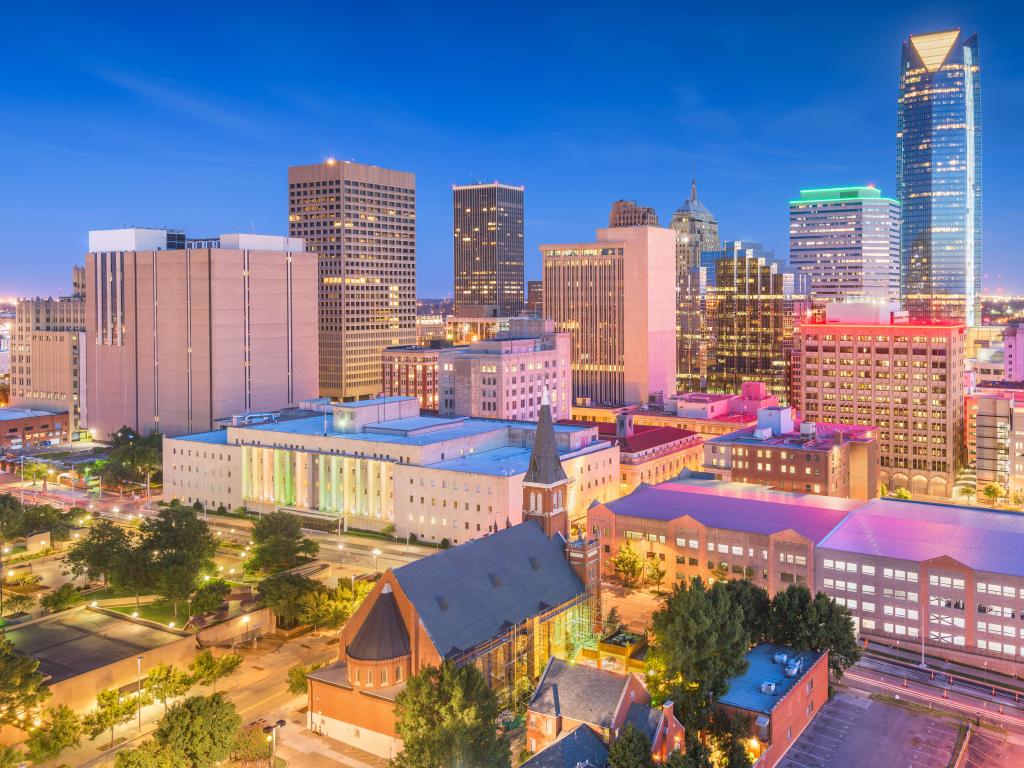 Oklahoma City is well-known for its Native American heritage and Wild West history. You'll find references to both during your stay, but for an introduction head to Stockyards City, where you'll find live music, rodeos and the National Cowboy and Western Heritage Museum.
Elsewhere, what used to be an urban landscape of warehouses is now the Brickworks. Full of entertainment, you can find restaurants, bars, and shops here, or relax on a boat ride through the district.
When it comes to finding somewhere to stay, walk into The National, Autograph Collection and you'll be greeted by opulent art déco design that makes this a really unique offering. During your stay, you can join one of the hotel tours or classes, where you can learn all about local culture.
Continuing on a culture and arts experience, you will find the Oklahoma City Museum of Art, a vibrant experience with a collection of both historic and contemporary art, only a short walk away from the property.
Visit the stockyards at Fort Worth
As you approach the halfway point of the Texas Route, you'll reach Fort Worth. Not only is it a convenient location to take a break from the road, but it's also a very walkable city, so you can leave your car behind for a day or two.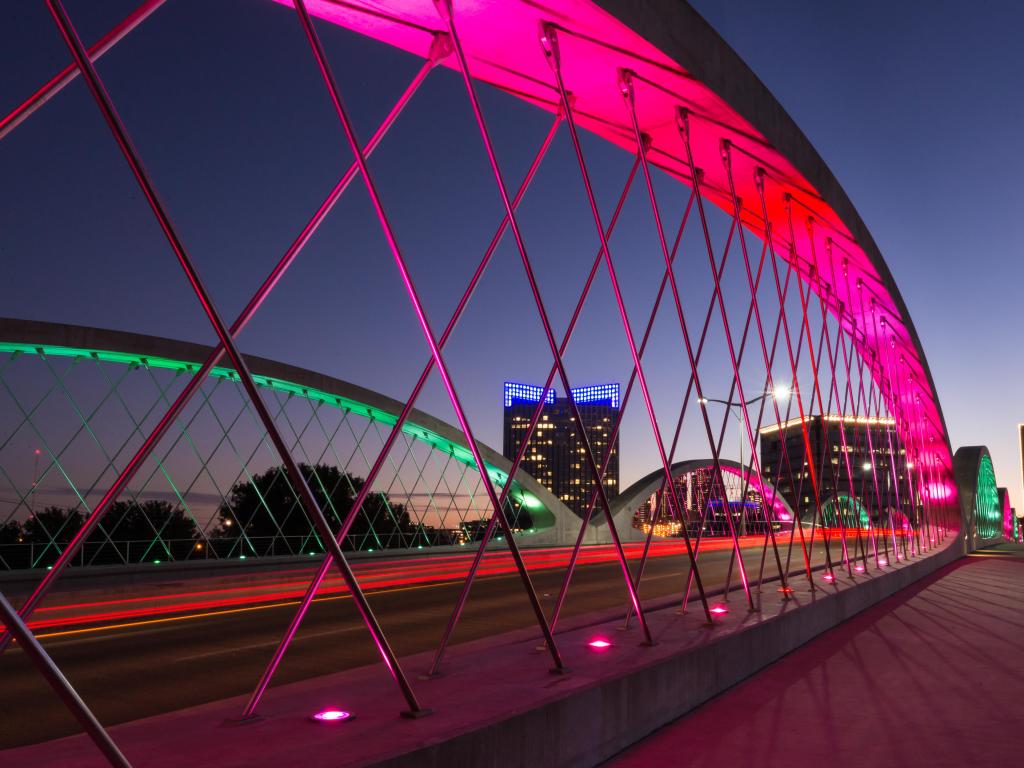 Start off your stay with a walk to Sundance Square. This downtown district has restaurants, sports bars, and shops where you can pick up some authentic Western wear.
Not far from here you'll find the Fort Worth Water Gardens. Here you'll stroll amongst water features for a relaxing visit loaded with unique photo opportunities.
If you're ready for some entertainment the next day, head to one of Fort Worth's art galleries. The Kimbell Art Museum is a highlight, where the collection includes works by Pablo Picasso, Claude Monet, and Joan Miro.
Centrally located right by Sundance Square, Hilton Fort Worth is a place of historical significance since, albeit under a different name, this is where JFK spent his last night before his assassination. The hotel honors its history with photographs of his stay.
In addition to its impressive history, this is also an extremely elegant hotel, with impeccable service as well as an on-site steakhouse where you can enjoy a meal in the comfort of your own space.
Where to stay when you reach the Grand Canyon
The nearest town to the Grand Canyon's South Rim entrance is Tusayan, AZ, and since hotels in the National Park itself are limited, this is the most practical place to stay when you reach your destination.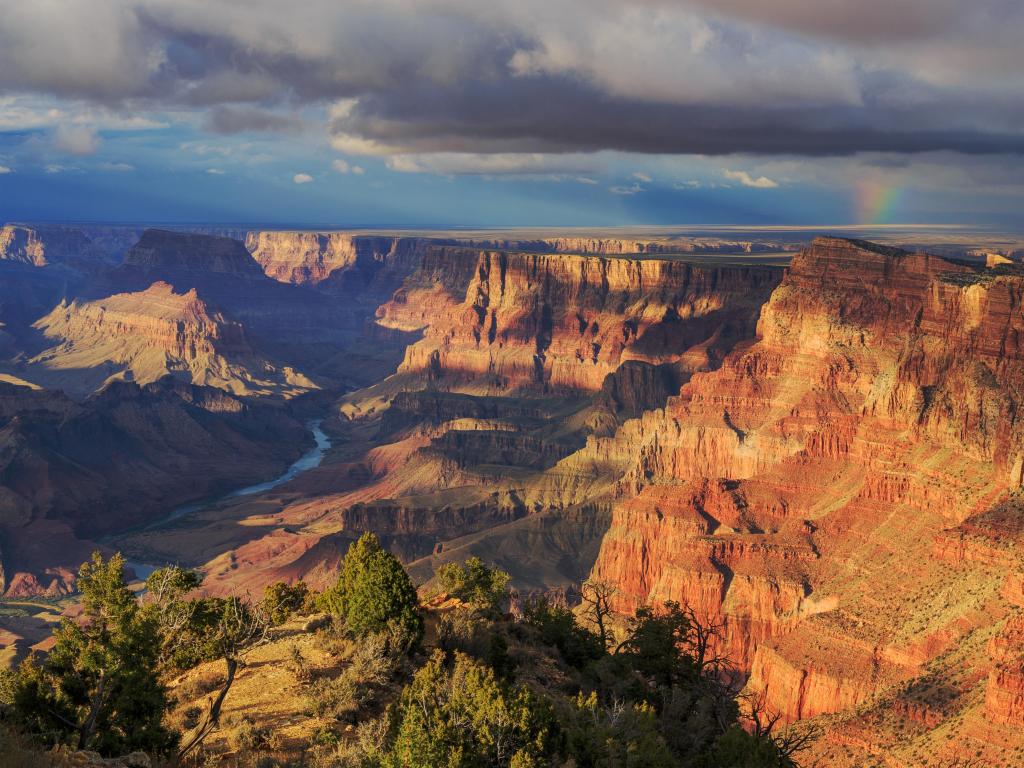 The Grand Hotel is one of the best in the area. There's free parking on site and an indoor swimming pool allows you to unwind.
While most people complete their trip to Grand Canyon in a day, staying another few nights allows you to further explore the park, with hiking and helicopter rides just some of the ways you can fill your time at this 277-mile-long natural wonder.
The Grand Hotel is ideal for this purpose because of its luxurious rooms and location to the South Rim entrance which is only 9 miles away.
Things to see on a road trip from Atlanta to the Grand Canyon
With so many miles to cover, there are plenty of fantastic places to visit as you make your way from Atlanta to the Grand Canyon.
We can't list them all, but here are a few of our top picks to help you get started with planning your once-in-a-lifetime adventure: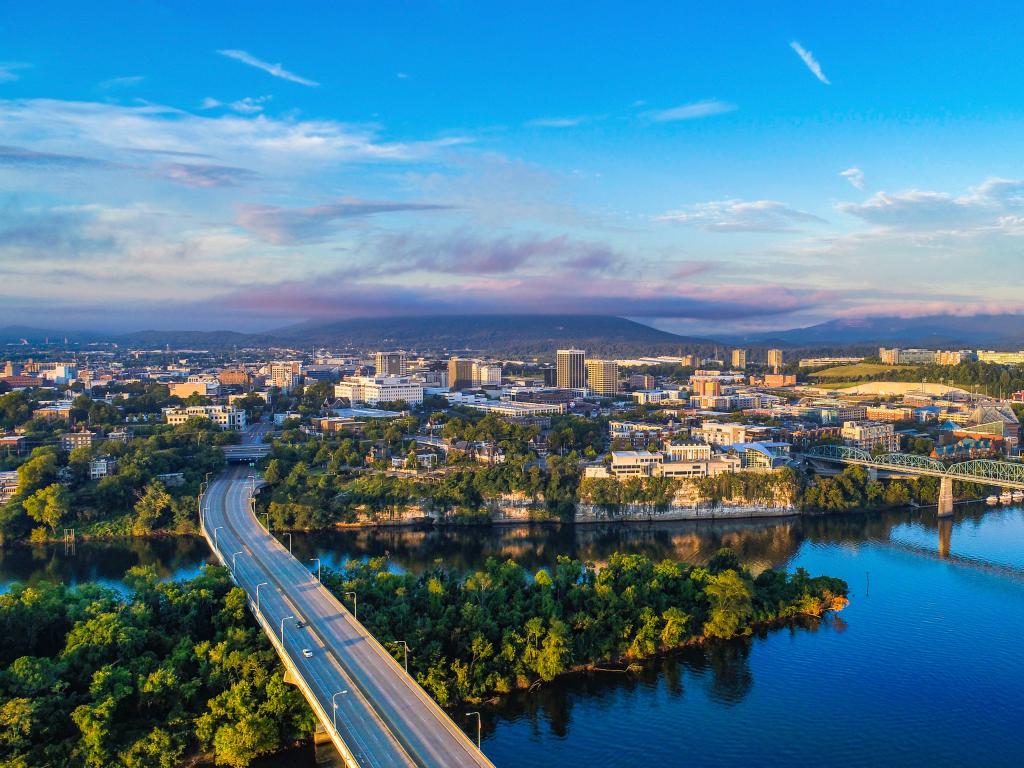 Direct Route
Lake Blue Ridge, GA - Stop here and enjoy a picnic in the scenic surroundings, where lakeside views are framed by the Chattahoochee National Forest.
Chattanooga, TN - Surrounded by nature, Chattanooga is a great stop to get your Tennessee nature fix. Ride on the Look Mountain Incline Railway for scenic views of the Tennessee Valley.
Nashville, TN - A prime candidate for your first overnight stop, you can enjoy live music on Broadway and take in the Music City landmarks such as the Johnny Cash Museum.
Memphis, TN - Let your hair down and enjoy Beale Street's vibrant nightlife, but don't forget to visit Graceland, the home of the King, Elvis Presley.
Little Rock, AR - For an upbeat flavor of the city, visit River Market. The cultural epicenter is reachable by streetcar, where you can enjoy live music, taste the cuisine and grab a drink.
Russellville, AR - Take a right at Russellville, AR to drive deep into the Ozark Mountains. You'll find hiking trails leading to outstanding scenery. Trails at Hagarville, AR leads to the spectacular Pam's Grotto.
Amarillo, TX - Before arriving in Amarillo, stop at the Big Texan Steak Ranch, an uprooted Route 66 attraction. You'll then go onto the actual Historic Route 66 where you get a taste of the Mother Road.
Cadillac Ranch - As you're leaving Amarillo, TX, don't forget to stop at Cadillac Ranch. Once a Route 66 landmark, it's now relocated and is a quirky landmark bound to create unique photos.
Albuquerque, NM - Delve into Old Town Albuquerque. Founded in 1706, there's historic architecture housing shops and restaurants. Another reason to stop is if you're a Breaking Bad fanatic. Take an RV tour through important show locations.
Winslow, AZ - As The Eagles sang in 'Take It Easy', "Standing on a corner in Winslow, Arizona." You can stand on the referenced corner and take trendy photos. As you leave Winslow, AZ, stop at the Meteor Crater for a mind-blowing experience.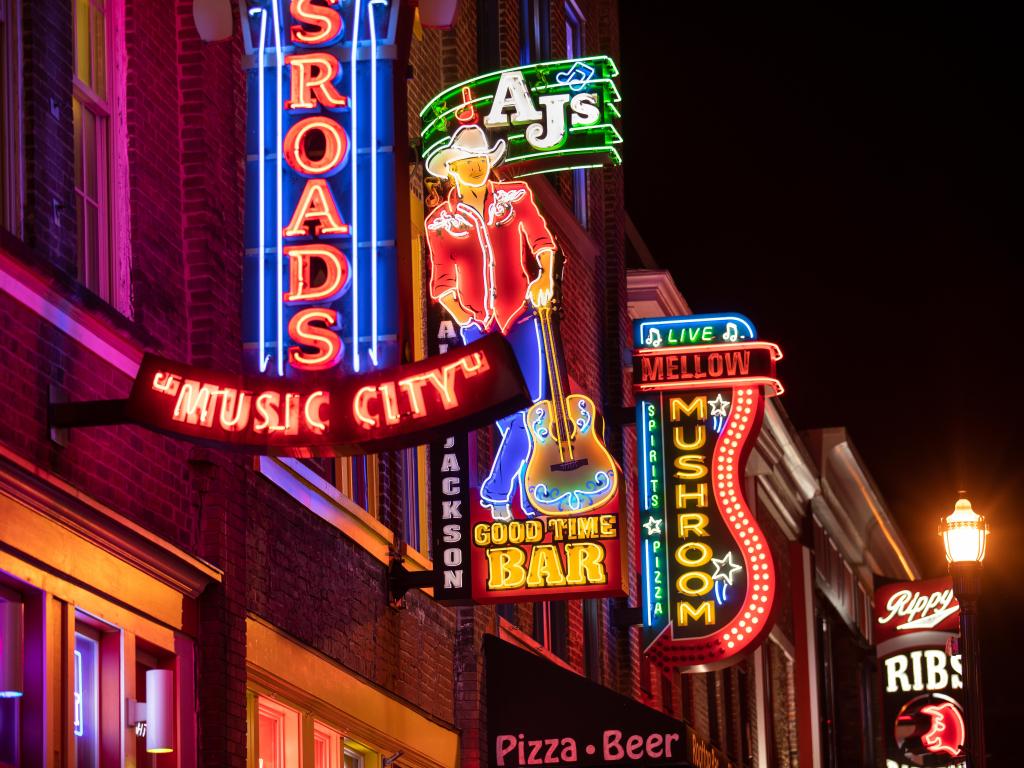 Texas Route
Six Flags Over Georgia - This exhilarating theme park can fulfil your thirst for speed with a collection of rollercoasters. While there, grab a fun selfie with cartoon characters.
Birmingham, AL - See the Birmingham Civil Rights Museum and learn about past human rights struggles. Then visit the Alabama Theater, the 1927 building is an insight into the past.
Jackson, MS - The Mississippi State Capitol is a great place to learn about Mississippi history, while the Mississippi Civil Rights Museum provides an interactive look into the state's fight for freedom.
Dallas, TX - The Sixth Floor Museum is where you'll learn about the assassination of JFK. Alternatively, for a relaxing stroll, walk through the Dallas Arboretum and Botanical Gardens for unique colorful photos.
El Paso, TX - This border city really is one-of-a-kind. The desert landscape has historic Spanish architecture dating back as far as the 1680s. Head to the Ysleta Mission on your drive-in for a closer look.
White Sands National Park - For iconic Instagram photos, stop at the White Sands National Park. The white sands are a natural wonder, and you can even take a toboggan and sled down the snow-like dunes.
Tombstone, AZ - Visit the scene of the O.K Corral at Tombstone, AZ. Known as 'the town too tough to die, the historic site takes you back to the Wild West.
Phoenix, AZ - There are many parks in and around Phoenix, AZ. Before entering the city, stop at South Mountain Park and Preserve for city views amid cactus desert landscapes.
Sedona, AZ - From its many overlooks and trails you can see red rock canyons and sweeping views. For an outstanding hike, try Schnebly Hill for a hilltop overlook. Or further along the route, Slide Rock State Park.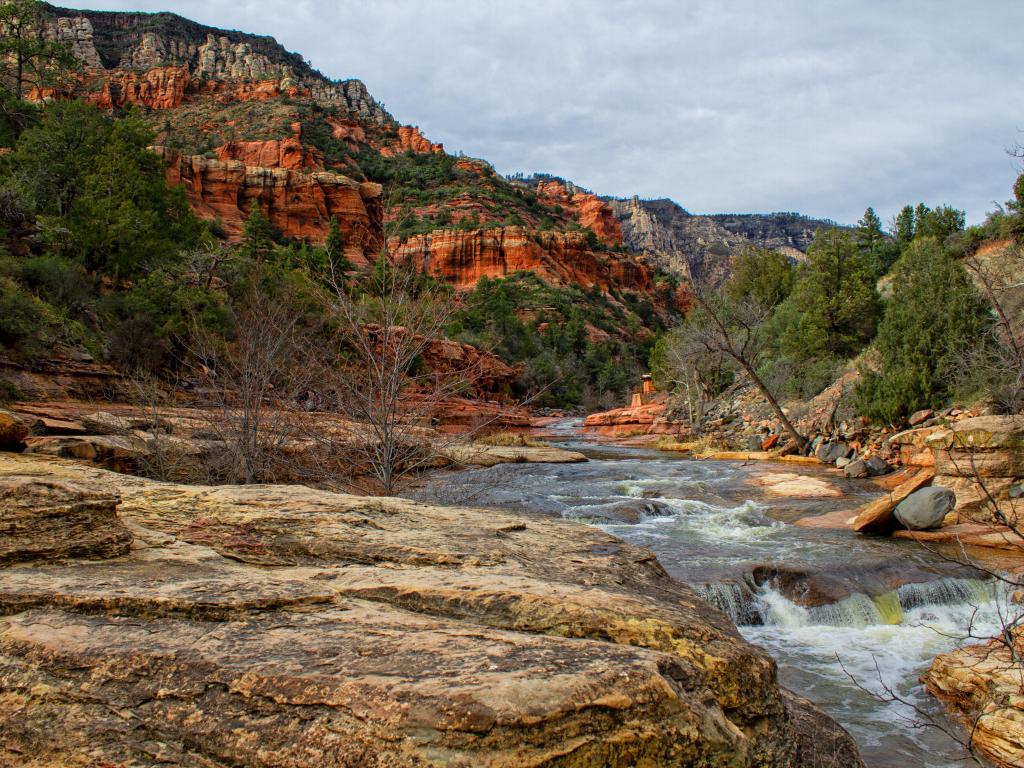 Both Routes
Flagstaff, AZ - Cruise along the historic Route 66 and take in the iconic signs and buildings of the Mother Road. Try the Museum Club for line dancing and live music.
Best time to go on a road trip from Atlanta to the Grand Canyon
The South Rim entrance of the Grand Canyon National Park is open 24 hours a day, 365 days a year, so in theory you can visit whenever you like. However, with both visitor volumes and temperatures rising at certain times of year, it makes sense to time your visit so that it meets all your travel requirements.
As well as being peak visitor season, June, July, and August are hot, with temperatures nudging up towards 100 degrees Fahrenheit. If you want to beat both the crowds and the heat, aim to arrive before 9 AM.
January and December are the coldest months. Temperatures at the Grand Canyon can dip below freezing, and it snows here on occasion, so while the South Rim trails stay open, you'll need to pack for these conditions.
As a treat, though, you might see daytime temperatures up to the mid-50s, making for a pleasant visit, especially as there are fewer crowds in winter.
Because of the altitude of the canyon, spring and fall are chilly, averaging 50 to 60 degrees on the South Rim by the time you hit May (the West Rim can be up to 20 degrees warmer). Spring break is a busy period, so we recommend avoiding it during this time.
September and October are similar in terms of temperature, with the nights are known to be chilly. You should get clear views across the Canyon in September though, so this can be a popular time to visit.