Road Trip from Atlanta to Key West
Are you looking for a road trip that takes you via subtropical landscapes, pristine white beaches, buzzing metropolises and exciting theme parks? Then the road trip from Atlanta, Georgia to Key West in the southernmost tip of Florida is for you.
The 960-mile road trip from Atlanta to Key West takes 17 hours to drive non-stop. You may travel via St. Augustine, Miami, Everglades National Park and the Overseas Highway, or via Gainesville and Tampa, and cross by ferry from Marco Island.
This road trip from central Georgia to southern Florida is a mix of coastal adventures, historical landmarks, and entertainment and attractions in cities. Read on to discover our recommendations for best routes to take, what to see and do along the way, and the best places to stay overnight.
How far is Key West from Atlanta, and how long will the road trip take?
Comparison of road trip routes between Atlanta and Key West

| Route | Distance | Driving Time |
| --- | --- | --- |
| Tampa Route | 640 miles | 10 hours 30 minutes |
| Miami Route | 960 miles | 16 hours 30 minutes |
The road trip from Atlanta to Key West is 960 miles long and takes 16 hours and 30 min to drive non-stop, when taking the Miami Route.
Alternatively, you can choose to travel along the Tampa Route, which is 640 miles long and takes 10 hours and 30 min to drive without stopping.
Seeing that both route options are full of amazing coastal towns and cities to visit, Spanish colonial history and architecture to learn about, and amazing wetlands and mangrove forests to explore, we recommend taking at least 3-4 days for doing this road trip.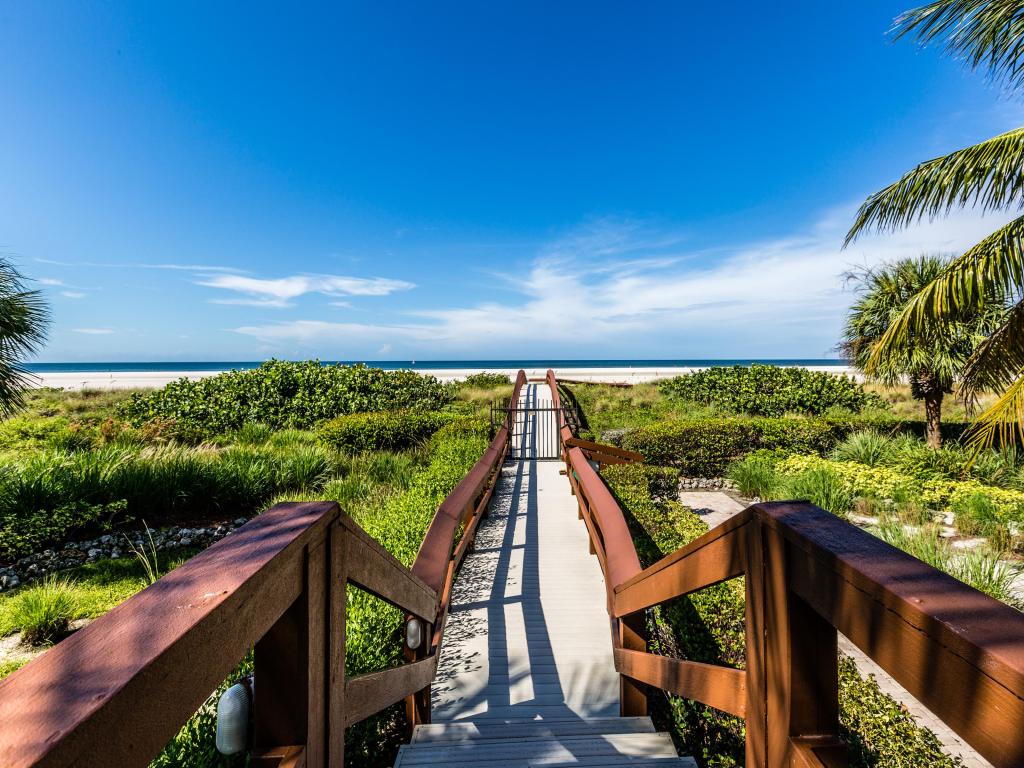 Best road trip route from Atlanta to Key West
Which route you choose depends on what you wish to visit and see. Both of our suggested routes allow you plenty of opportunities to swim on white beaches, visit attractions in vibrant coastal cities, and view alligators, manatees and other wildlife in stunning nature areas.
The Miami Route takes you south from Atlanta via the east coast of the peninsula. You'll travel through historically and culturally interesting towns and cities like Jacksonville and St Augustine and may visit attractions in popular metropolises like Orlando and Miami.
You can also explore the stunning Everglades National Park, home to unique mangrove forests and several endangered species. On this route, you'll cross over to Key West along the Overseas Highway.
Or take the Tampa Route south from Atlanta, through Georgia and the center of the Florida peninsula to its western side, by the Gulf of Mexico Coast.
Notable cities along this route include Gainesville with its rich music scene, Tampa where you can explore history and contemporary museums and attractions, and Fort Myers, a place of beaches, islands, and beautiful 19th century architecture.
You can also visit lovely nature areas, including Withlacoochee State Forest and Myakka River State Park. Taking this route, you'll get to Key West via a ferry from Marco Island.
How to drive from Atlanta to Key West
The map above shows our suggestions for the best road trip routes between Atlanta and Key West. Keep reading for detailed descriptions of both routes, where to stay on either, and the best things to do on the way.
Miami Route
To start your journey along the Miami Route, take Interstate 75 (I-75) and I-16 towards Savannah, Georgia. After visiting this beautiful city with numerous parks and buildings of antebellum architecture, drive south along I-95 to Jacksonville and St. Augustine.
After St. Augustine, take a turn onto I-4 at Daytona Beach, to reach the city of Orlando. Here you may enjoy visiting the many amazing theme parks this city harbors, or enjoy wonderful cultural attractions.
From there, drive east to Cape Canaveral on the Atlantic Coast. Afterwards, you'll drive south and will reach I-95 again that takes you all the way to Miami along Florida's east coast.
Finally, after Miami, you may visit the mesmerizing Everglades National Park, before driving along the Florida Keys via Overseas Highway all the way to Key West.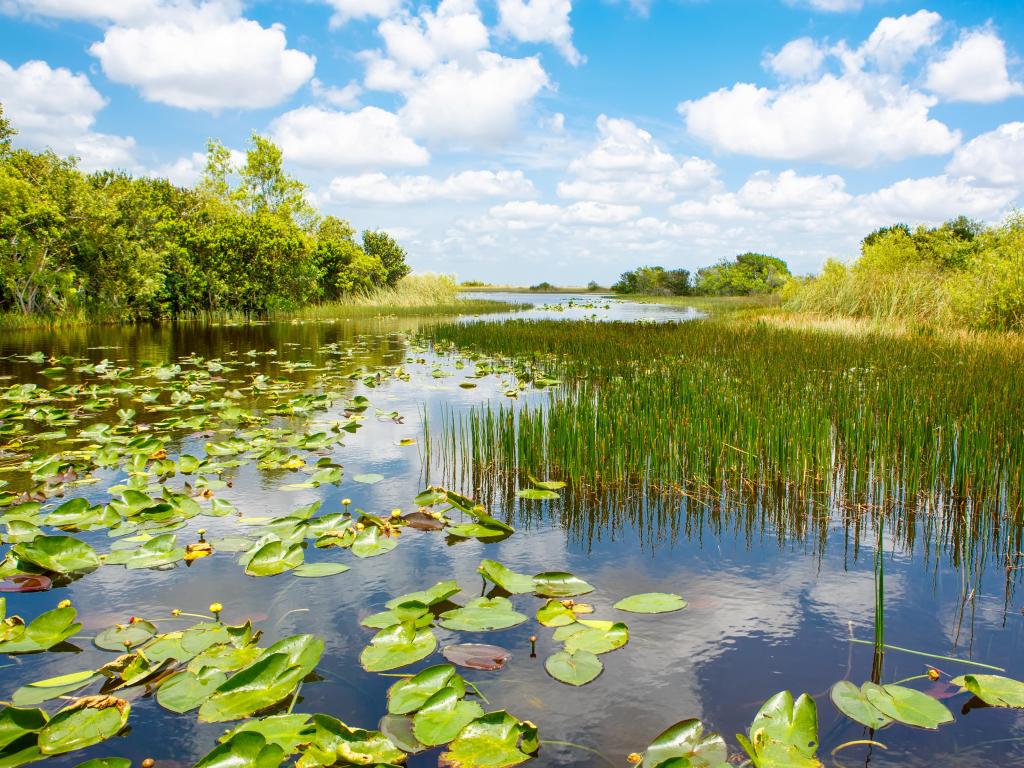 Tampa Route
Drive south from Atlanta along I-75. This highway will take you all the way down to the southernmost part of Florida. First you'll drive past Macon, and will then drive further southwards towards the charming town Valdosta in south Georgia, and Gainesville in Florida. Visit this city known for its rich music scene, then follow I-75 further south.
You may wish to stay over at Tampa on the Gulf of Mexico coast, where you can explore exciting theme parks and historic neighborhoods.
From Tampa, drive south to Myakka River State Park. Visit the alligators here by kayak or a boat ride! Then, drive further south to Fort Myers and Marco Island, all along the western coast of the Florida peninsula. From Marco Island you may travel by ferry to Key West.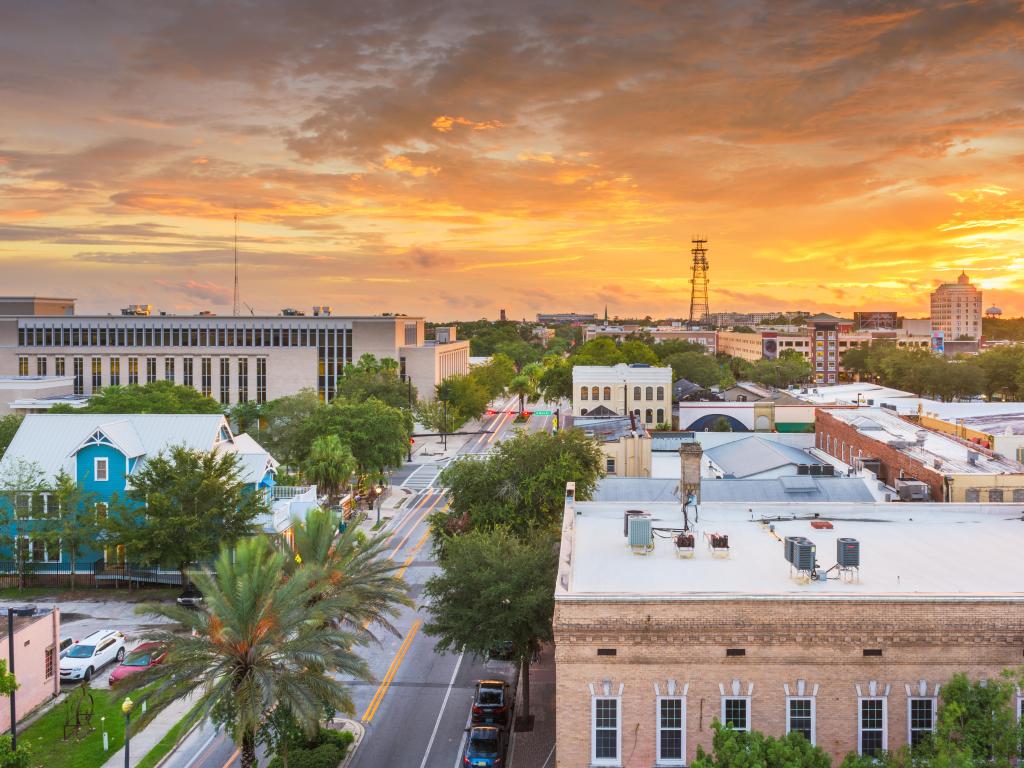 Best places to stop between Atlanta and Key West
This road trip is a subtropical adventure of note, with numerous exciting stops from centuries-old Spanish colonial towns with white, secluded beaches, to buzzing cities with skyscrapers and vibrant nightlife, as well as lush, green wetlands and mangrove forests on the shores of the Atlantic.
Carry on reading to find out our recommendations for the best places to stay overnight, what to do and see in these places, and our favorite hotel suggestions.
Explore the history of pirates and Spanish colonists in St Augustine
St Augustine on the Atlantic Coast is a truly special location about halfway along the Miami Route that harbors amazing beaches, historical attractions, and beautiful architecture.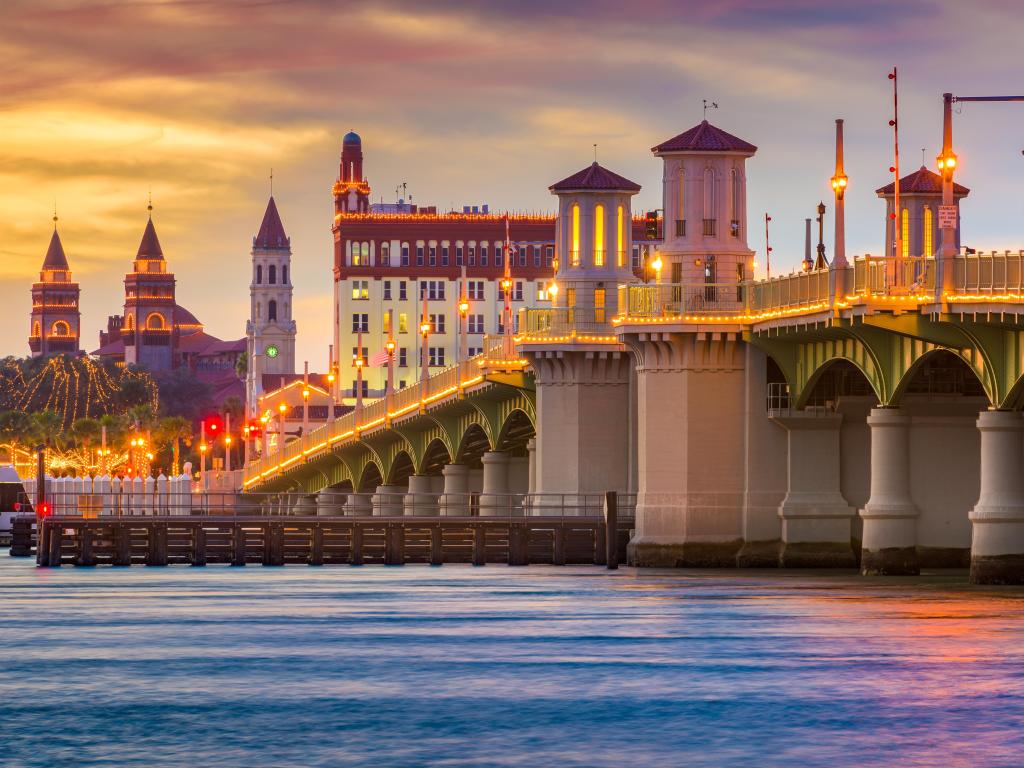 The city is especially known for its pristine, sandy beaches, and its Spanish colonial-style architecture. It is generally thought to be the oldest city in the US.
There is much to see and do in St Augustine. Take a walk in the historic town center to admire the local architecture and visit cafés and restaurants. Head over to Castillo de San Marcos National Monument, the oldest masonry fort in the US.
Alternatively, you might wish to visit St Augustine Pirate and Treasure Museum which has exhibitions devoted to pirate artifacts.
On the coast, you may walk along stunning beaches, or visit the St Augustine Lighthouse & Maritime Museum. It is found at the premises of the active lighthouse, a place at which some sort of maritime navigational aid has been provided to passing ships since as early as 1565.
While visiting St Augustine, we recommend staying at Casa De Solana & Victorian House Bed and Breakfast. This hotel offers beautiful rooms to rest in after a long day of driving, and a stunning floral courtyard for you to relax in.
Due to its central location, the hotel is a wonderful base for exploring the city on foot. Attractions within a 20-minute walk include Florida's Oldest House Museum, St Augustine Pirate & Treasure Museum, and Castillo de San Marcos National Monument.
And importantly, you're not far from the sea: the Anastasia State Beach Park is a mere 5-minute drive away.
Visit Tampa on the coast of the Gulf of Mexico
Tampa city is located about three-quarters of the way along the Tampa Route. It is a buzzing city and an important business center in the region. Tampa is known for its many cultural and historic offerings, as well as some amazing beaches and theme parks.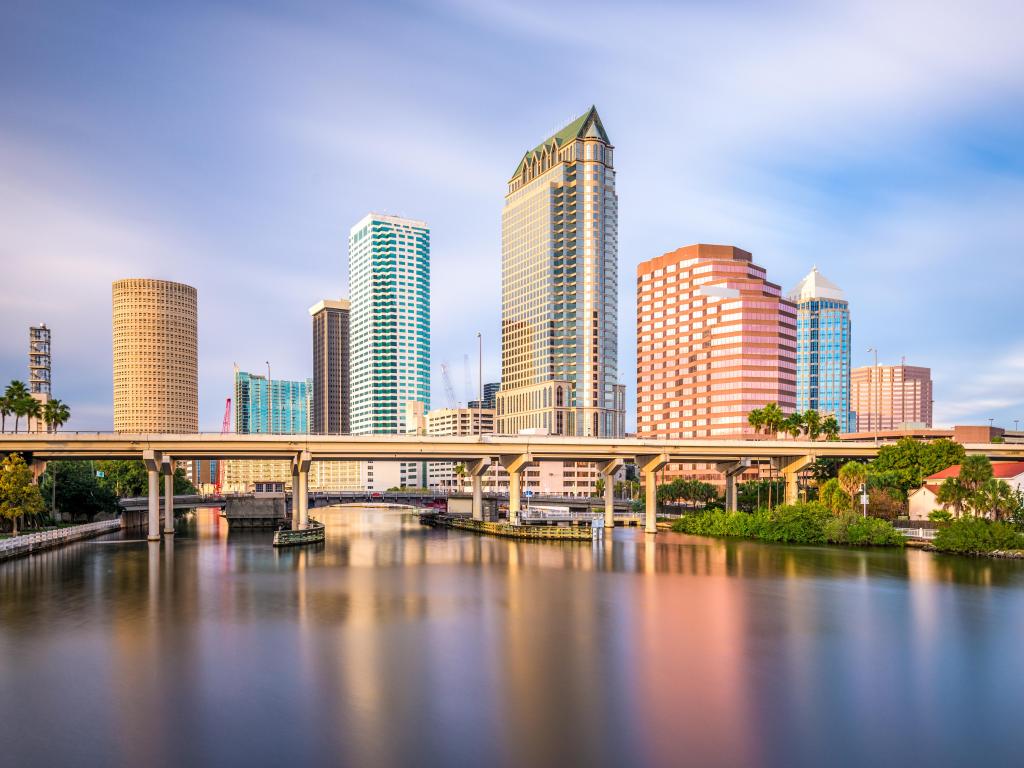 While visiting here, you may want to explore the Tampa Bay History Center which includes exhibits of 12000 years of the history of Florida.
Or, if you're interested in fauna and flora, head over to Busch Gardens Tampa Bay. It is an Asian and African-themed animal park, and a popular attraction in the city. Also, Florida Aquarium in Tampa harbors thousands of interesting species, a place well worth a visit.
You might also like to visit the unique Ybor City, a historic neighborhood with Cuban and Spanish influence, to explore the wonderful dining options and vibrant nightlife found in this area.
As a hotel recommendation, it is hard to beat Hyatt House Tampa Downtown. This hotel in central Tampa has lovely, large rooms and a beautiful terrace for you to enjoy. You'll find an outdoor swimming pool here, as well as private parking, a restaurant, and a fitness center.
Several wonderful attractions are found within walking distance from the hotel, including Straz Center for the Performing Arts, Florida Aquarium, and Tampa Bay History Center.
Where to stay when you reach Key West
Key West is an island city part of the Florida Keys archipelago and the southernmost tip of Florida, just 90 miles north of Cuba. The city is known for its beautiful coral reefs and a colorful, laid-back lifestyle.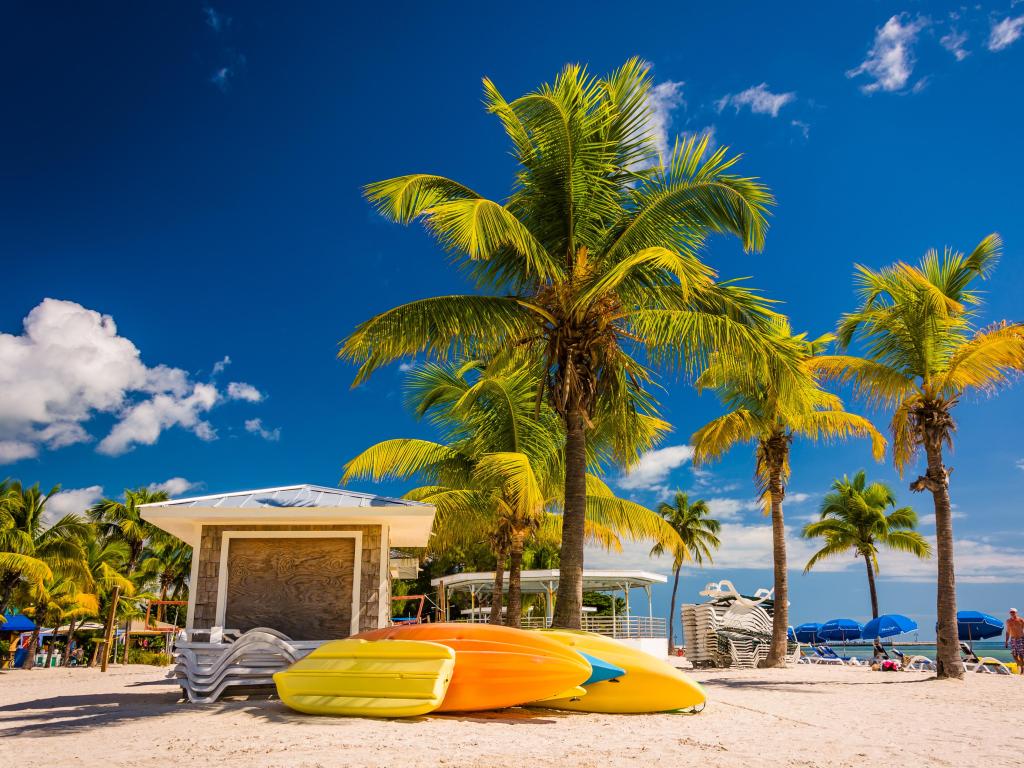 For a truly unique experience in Key West, stay at Old Town Manor in the Old Town area of Key West.
The hotel offers luxury accommodation in a building decorated in an elegant, historic manner. It also features an amazing breakfast, a courtyard, a lovely garden and a sun terrace.
You'll be within walking distance from most of the major attractions of Key West, including Ernest Hemingway Home, Mallory Square, South Beach, and Duval Street, a center of nightlife in Key West.
Things to see on a road trip from Atlanta to Key West
On this road trip you'll want to stop at every corner, for the routes are filled with breathtaking landscapes of the Atlantic Ocean or the Gulf of Mexico, mysterious coastal forests and marshes, and attractive cities full of culture and entertainment.
Continue reading to discover some of our recommendations for the best things to see and do during your road trip.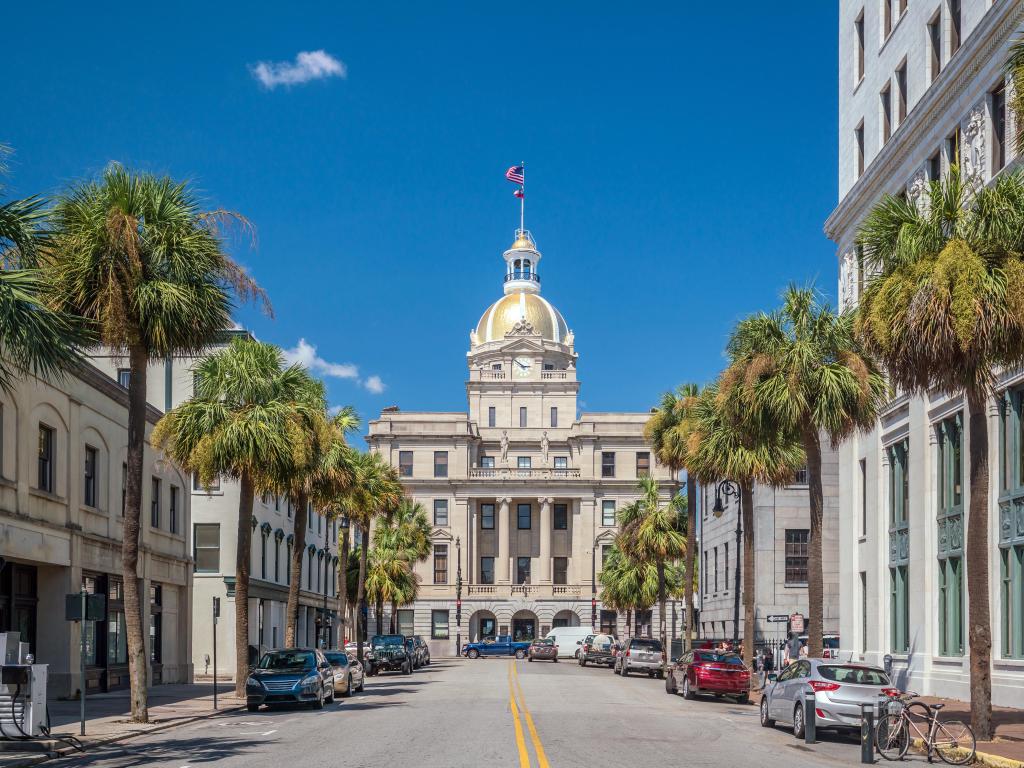 Miami Route
Savannah, Georgia - Savannah is a beautiful coastal city in Georgia. It is known for its many stunning parks, an interesting historic city center, and various buildings of antebellum architecture.
Timucuan Ecological and Historic Preserve, Florida - This is a natural area of wetlands and waterways just outside of Jacksonville. It contains several individual park sites, each presenting a different element of natural or cultural history, such as a fort firt inhabited by French colonialists in the 16th century, or Theodore Roosevelt Area with a trail to a bird observation platform.
Jacksonville, Florida - Jacksonville is said to have the largest urban parks system in the US - it includes state parks, nature areas and hundreds of city parks. During a visit here, you may enjoy visiting the city's many museums and art galleries, or for example Florida Theater, a historic movie theater now hosting movies and performances.
St Augustine, Florida - St Augustine is one of the oldest cities in the US, and is known for its stunning white beaches and Spanish colonial architecture.
Orlando, Florida - Orlando is a buzzing city where you may explore history at the city's many museums and landmarks, or visit the vibrant nightlife. Orlando also harbors more than a dozen theme parks, including Walt Disney World and Universal Orlando.
Cape Canaveral, Florida - Cape Canaveral on the Atlantic coast is best known as home of the Kennedy Space Center. You may visit rocket exhibits at Missile Museum and Air Force Space, or take a walk along the waterfront boardwalk of the Manatee Sanctuary Park.
Miami, Florida - Miami is a coastal metropolis known for a warm climate and pristine beaches. It experiences a strong Cuban influence, and boasts a vibrant nightlife and entertainment scene, as well as a historic city center in downtown Miami.
Everglades National Park, Florida - Everglades National Park is a large protected coastal landscape made up of mangroves, marshes and wetlands. Many endangered species find refuge here, including the leatherback turtle, Florida panther, and West Indian manatee.
Tampa Route
Valdosta, Georgia - Valdosta is a charming Southern city close to the border with Florida, known as "The Azalea City" for the blooming plants scattered around the town. Visit Lowndes County Historical Society and Museum, or Wild Adventures Theme Park to see animals, rollercoasters and a waterpark.
Gainesville, Florida - Gainesville is set in beautiful surroundings and contains lovely urban parks. It is known for its vibrant music scene over the decades, and also harbors fantastic museums and theaters.
Withlacoochee State Forest, Florida - You may spot plentiful wildlife, including osprey, hawks, alligators and turtles, when walking along the Withlacoochee River Trail in this state forest.
Tampa, Florida - Tampa city is home to numerous fabulous parks, museums, galleries and other attractions. These include animal park Busch Gardens Tampa Bay, Florida Aquarium and Tampa Bay History Center. Or, head over to Ybor City, with Cuban and Spanish influence, to explore the vibrant nightlife and dining options of this historic neighborhood.
John and Mable Ringling Museum of Art, Sarasota, Florida - This museum based in Sarasota contains 21 galleries that display paintings, sculptures, drawings and photographs from Europe, Asia and the Americas. Furthermore, the estate's several mansions, gardens and courtyards are also well worth exploring.
Myakka River State Park, Florida - One of the largest parks in Florida, Myakka River State Park is home to hundreds of wild alligators. Although swimming isn't encouraged here, you may explore the area by hiking, kayaking or taking a boat tour to view the alligators and other amazing wildlife, such as the rare roseate spoonbill, other birds and amphibians.
Fort Myers, Florida - Fort Myers on the shores of Gulf of Mexico has spectacular beaches and islands where, due to the natural characteristics of the area, you may discover more variety of sea shells than almost anywhere else in North America. Points of interest include Edison and Ford Winter Estates, Historic Downtown, and Murphy-Burroughs House.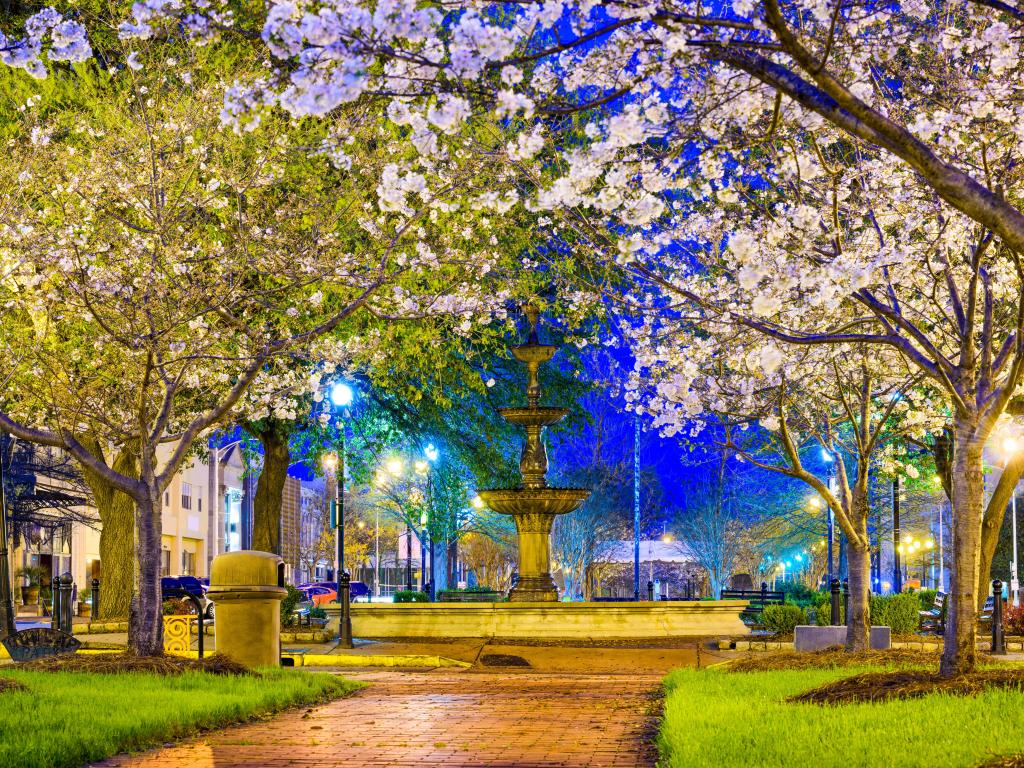 Both routes
Macon, Georgia - Macon in central Georgia is home to several wonderful attractions. These include the Ocmulgee National Monument that exhibits Native American and other history of thousands of years, Terminal Station building, and The Allman Brothers Band Museum.
Best time to go on a road trip from Atlanta to Key West
Key West has a tropical savanna climate and it thus has pleasant, warm weather all year round, though summers in general are the hottest time of the year and spring is considered the most favorable time to visit.
In summertime, temperatures range between 80 and 90 degrees Fahrenheit, although due to high humidity it may feel hotter at times. Summer-fall is the hurricane season, which makes summer not the most favored time to visit Key West.
Winter temperatures in Key West are still warm, averaging around 75-80 degrees Fahrenheit. Winter, after the hurricane season, is generally the busiest tourism season in Key West, and prices can be higher in this time.
March-May is considered the best time to visit Key West - temperatures are wonderful, crowds are a bit thinner than in winter, and there's usually no big rains or storms to speak of.
September-November sees probably the lowest prices of accommodation in Key West; however, it is also the season when it's most likely to experience thunderstorms and hurricanes here, which is something you may want to consider when planning the timing of your road trip.
Finally, you might also wish to consider the many amazing festivals and events that take place in Key West over the course of the year, when planning when to do this road trip.
For example, Key West is also known as the "Conch Republic'', and the Conch Republic Independence Day is actually celebrated in April. The festival takes place over ten days, and is filled with fun races and parties, to celebrate the community of Key West and the whole of Florida Keys.
In July, the city celebrates Hemingway Days, to commemorate the life and works of Ernest Hemingway, who spent many years of his life here, writing. The festival includes readings and discussions around the author's life, as well as a Hemingway Look-alike contest.
Key West Lobsterfest in August involves food, parties and concerts, all to celebrate the rich culinary history of seafood in this region.
Finally, one of the most well known events in Key West is Fantasy Fest that happens over one week at the end of October. Fun, festivities, parties and costumes can be enjoyed during this colorful festival ending with a grand parade in central Key West.