Road Trip from Atlanta to Memphis
Want to experience the music and renowned warm hospitality of the Deep South? If so, a road trip from Atlanta to Memphis is the perfect adventure for you. Not solely for the music fan, it's for nature lovers too as you'll drive through lush greenery and peer over scenic overlooks throughout the drive.
The 610-mile road trip from Atlanta to Memphis takes 10 hours and 50 minutes. Notable stops include Nashville, Corinth, Chattanooga, Muscle Shoals as well as the Blue Ridge Lake, Prentice Cooper State Forest and Chattahoochee-Oconee National Forest.
Read on for our top tips where you'll learn the best routes, where to stop along the way, and the best things to see and do. Not forgetting how to beat the crowds with the ideal time to go.
How far is Memphis from Atlanta, and how long will the road trip take?
Comparison of road trip routes between Atlanta and Memphis

| Route | Distance | Driving Time |
| --- | --- | --- |
| The Nashville Route | 610 miles | 10 hours 50 minutes |
| The Birmingham Route | 480 miles | 8 hours 10 minutes |
The road trip from Atlanta to Memphis spans 610 miles and will take you 10 hours and 50 minutes to drive nonstop without accounting for any detours.
That said, this route has a lot to offer from lush green mountains to the live music of Nashville, and we wouldn't want you to miss anything. So take your time. We recommend spreading the travel time over four days to make for a more relaxing journey.
The roads are, in general, well-kept and in good condition along this route. Yet, it's not the fastest because of a slight detour to Nashville, but those extra miles will be worth it once you're dancing the night away in Music City
However, if you're short on time, we have a shorter route alternative that goes through Birmingham and will cover 480 miles. This will get you to Memphis close to 3 hours faster.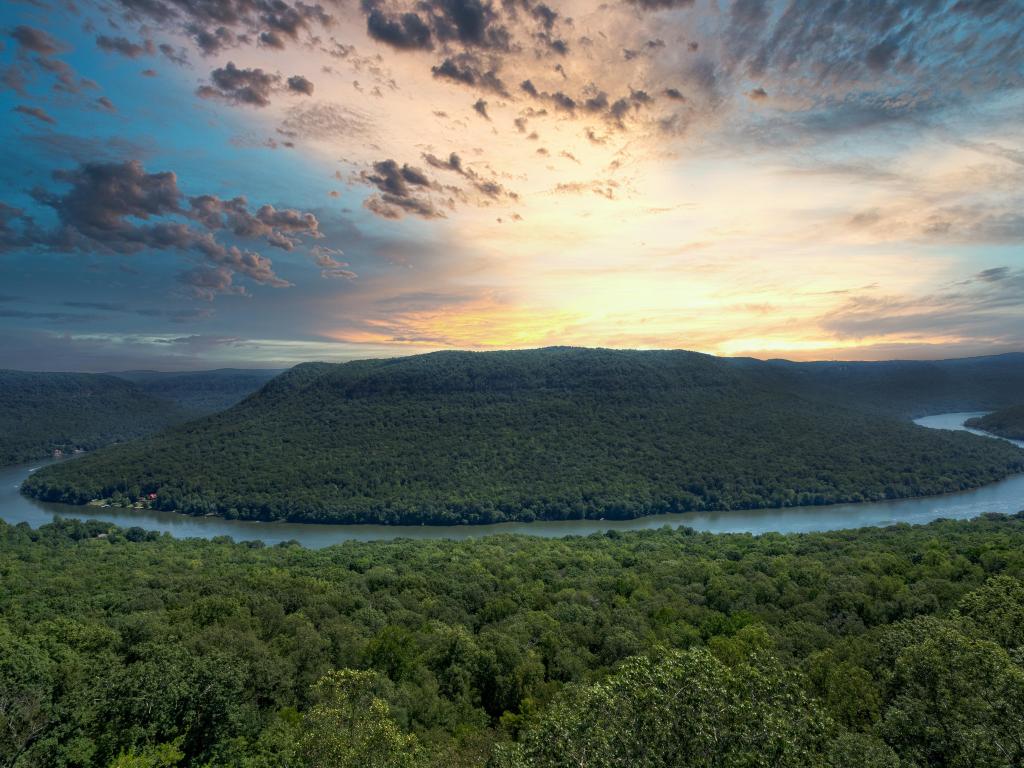 Best road trip route from Atlanta to Memphis
Which route you decide to take depends on you and your timescale as both of our recommended routes are great options. Nashville is a majestic city and a must-visit for any music fan. So, if this sounds like something you can't miss, then you'll want to follow the Nashville Route.
Nonetheless, the Birmingham Route isn't short of things to see such as the DeSoto Caves and the Birthplace of Elvis Presley, not forgetting it's quicker. If you've visited Nashville before or want a faster journey, follow the Birmingham Route.
Each route has unique cities and attractions. As such, a sound suggestion would be to follow one there and another on the way back if you're doing a round trip.
The Nashville Route
When leaving Atlanta, head north on Interstate 75 (I-75) and you'll hit Six Flags White Water Georgia. Continue on this road to visit the Kennesaw Mountain National Battlefield Park, a Civil War battle site.
Resume on the interstate before heading north. After the mountain town of Blue Ridge, you can turn off and enjoy picturesque views over Blue Ridge Lake.
Restart your journey to Chattanooga by heading on the US-74 W. It's a scenic drive with green forests surrounding the road. You'll meet Chattanooga in around 1 hour and 30 minutes.
But before you do, stop at a trailhead to take in the forest air in its full glory. We recommend the Brush Creek Trailhead after Ducktown.
The journey to Nashville is all on I-24 W. You'll know you are halfway between Chattanooga and Nashville when you reach Manchester. Leaving Music City, head south towards Pulaski. Turn left after the Giles Memory Gardens and cross into Alabama.
Before crossing the 'Bama State Line, stop at the State Line Lounge. There's a quiet spot for a photo next to a Sweet Home Alabama sign. Follow signs for Florence. After crossing the Tennessee River, you'll head towards Muscle Shoals.
The interstate then will take you to Mississippi. Head past Corinth, and not long after Mt Pleasant, you'll re-enter Tennessee.
Follow signposts to Memphis. As you'll be arriving in Memphis from the South, there's a great opportunity to tour the legendary Stax Museum of Soul before you hit downtown. As you continue North, you'll intersect the famous Beale Street.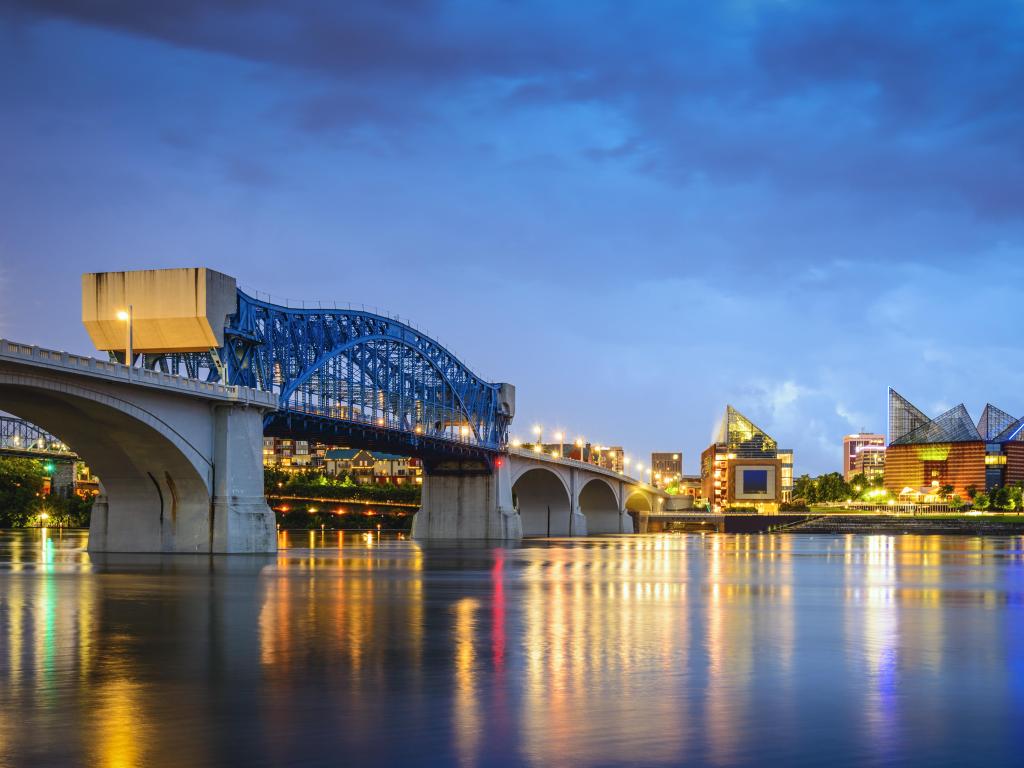 The Birmingham Route
From Atlanta, get on the I-20W and head towards Childersburg. Here you can adventure down the DeSoto Caves and marvel at the 120-foot high cavern known as the Great Onyx Cathedral. The US-20 will then take you to Birmingham.
Pursue I-22 past Jasper and Hamilton and follow signs for Tupelo. Take the time to stretch your legs here and don't forget to visit the Birthplace of Elvis.
As you drive along the US-278, you'll meet Oxford. It's a university town. So, it becomes vibrant at night here.
Before reaching Batesville, head north on I-55, passing Sardis and Senatobia. There are plenty of signposts for Tunica and the casinos that'll show you the way.
Once you've let your hair down at Tunica, follow the Blues Highway North to Downtown Memphis.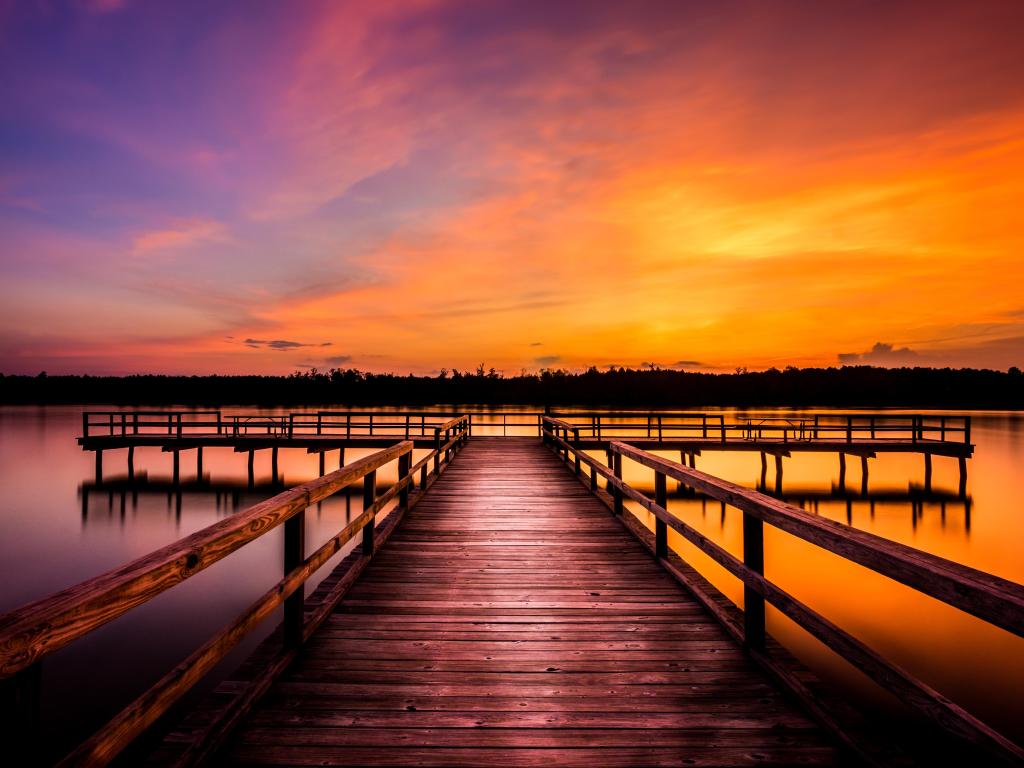 Best places to stop between Atlanta and Memphis
There's plenty to see and do along the route from Atlanta to Memphis. You'll encounter cities both big and small and landscapes of outstanding natural beauty.
To make the best of your trip and enjoy the unforgettable attractions and landmarks on the way, here are some fantastic places to explore and stop at.
Explore the famous Music City
At around halfway into the Nashville Route, Nashville is a convenient place to stop to break up your drive, but beyond that, it's the country music capital of the world as this iconic city is world famously known as Music City.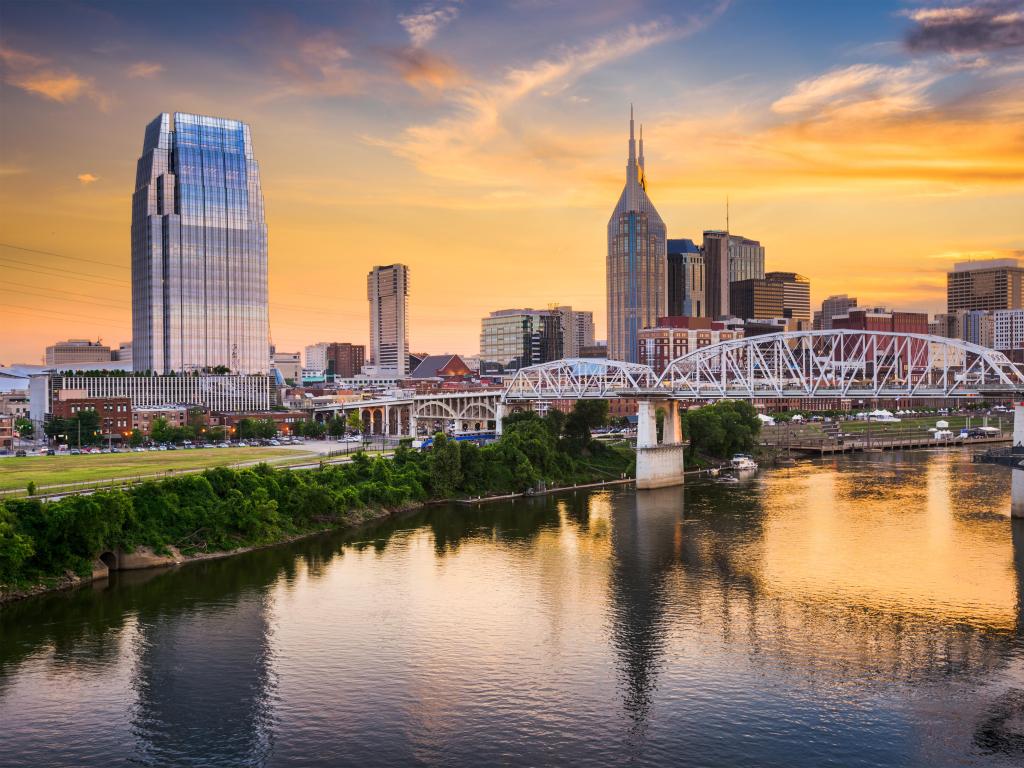 You can visit the world-famous home of country music, the Grand Ole Opry. Catch a show at the Ryman Auditorium. Plus, immerse yourself in all things country at the Country Music Hall of Fame. At night, Broadway awaits with its live music bars. Whatever night of the week, you'll be tapping your boots.
Nashville isn't short of hotels but none stands out more so than the Placemakr Premier SoBro. The stylish decor will make you feel like a country superstar.
Tired after the drive? Then take a plunge into the outdoor swimming pool. After a long day of exploration at the museums, the large comfy apartments will make you feel at home in Music City.
If you are feeling energetic, you can head to The Patsy Cline Museum, Johnny Cash Museum, Music City Walk of Fame Park, or Country Music Hall Fame, which are all just a short walk away from the hotel, meaning that you will get to experience the best that the city has to offer.
Learn about Birmingham's Civil Rights history
Birmingham is around 170 miles into your journey on the Birmingham Route, which means that by then, you'll be ready for an overnight stay.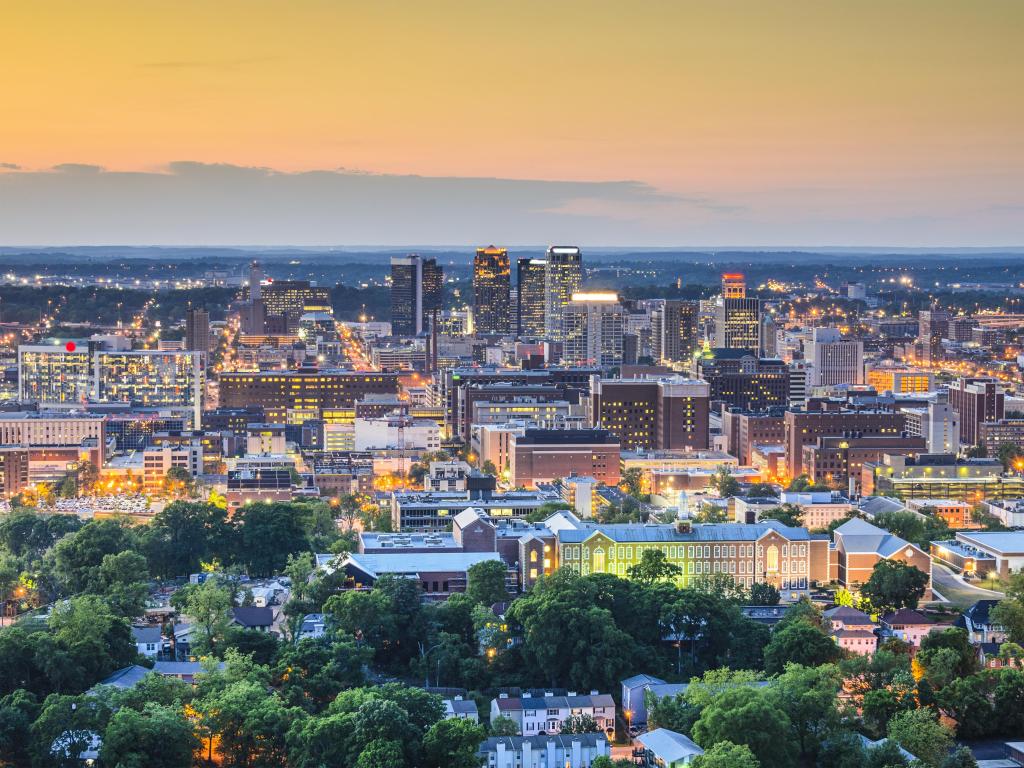 It's Bama's most populated city and you won't be short of things to do at night. It is the perfect place to stop if you fancy live music but don't have the time for our Nashville Route. You will be spoiled for choice of live music venues in Birmingham.
You can also fill your day by learning more about the city's impressive Civil Rights history. The Birmingham Civil Rights Institute is a real eye-opener. Here you'll find sobering artifacts like the jail cell door that Martin Luther King Jr. wrote 'Letter From Birmingham Jail' behind.
The Westin Birmingham is a great option for an overnight stop in the city. After driving for hours, you can lounge around the outdoor pool before indulging in comfort food at the on-site Todd English P.U.B restaurant.
If you want to explore Downtown, the Westin is at the heart of the action. There are bars and restaurants on your doorstep. If you fancy a walk to the Birmingham Civil Rights Institute, it is less than half an hour to reach on foot and you can stop off at the Birmingham Museum of Art en route.
Where to stay when you reach Memphis
Beale Street is where you'll find the party, this famed street is the beating heart of Memphis. Located on this vibrant street, The Hyatt Centric Beale Street Memphis boasts the perfect location and will be a great place to base your activities in during your visit.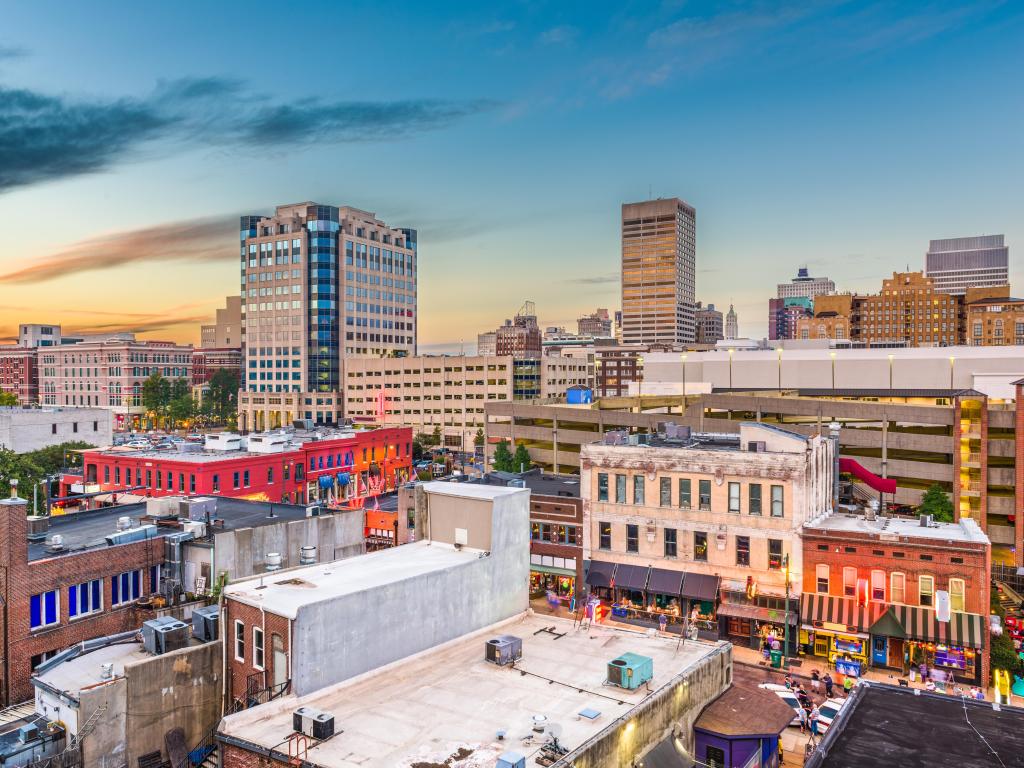 You can reach all the landmarks easily from the property. The Pyramid is just across the street by the Mississippi River. The scene of Martin Luther King Jr assassination is now the National Civil Rights Museum, this is walkable, as is the Memphis Rock N' Soul Museum.
While in Memphis, don't forget to visit Graceland and Sun Studios. Not forgetting to taste some BBQ food either!
The Hyatt Centric will make your stay unforgettable. Its industrial decor and lavish rooms make it the ideal hotel to finish your road trip. And if you need a day of rest after all that driving, then the rooftop pool makes sure you can spend some downtime relaxing.
Things to see on a road trip from Atlanta to Memphis
So what do you plan to see on your trip? There's so much to enjoy on this road trip from nature trails to music landmarks and small Southern city charm no matter which route you choose.
We've come up with standout places to stop for each route. If you haven't got time to do them all, you can pick where to stop to suit your preference.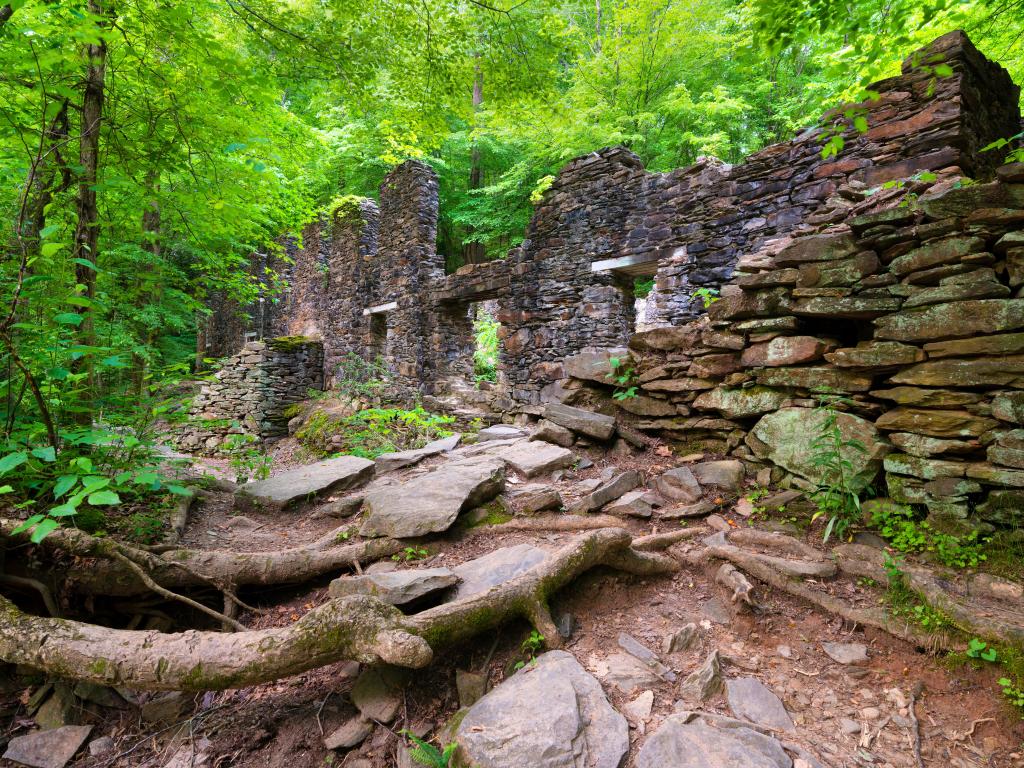 The Nashville Route
Marietta, Georgia - Marietta is a little city but full of art. You can pick up antiques from the Cobb Antique Mall. For energetic activity, visit Six Flags White Water.
Chattahoochee-Oconee National Forest - This forest provides great recreational and outdoor activities and is a popular place for hikers. You can also bike, camp and fish here.
Blue Ridge Lake - One of the most picturesque mountain lakes in Georgia, Blue Ridge Lake's turquoise waters make it a popular spot for water sports enthusiasts.
Chattanooga, Tennessee - Chattanooga is an incredibly scenic city that sits on the Tennessee River. Make sure to visit Ruby Falls and Rock City Gardens while visiting.
Prentice Cooper State Forest - This 6,000-acre state park is perfect for backpacking and camping. Alternatively, you can stop over for a scenic picnic on the way.
Earth Experience - Middle Tennessee Museum of Natural History - A popular roadside museum in Murfreesboro for anyone looking to get up close with dinosaurs! This is the only natural history museum in Tennessee.
Muscle Shoals, Alabama - Muscle Shoals is a small town, but it's where colossal hits came about. Tour the legendary recording studio where The Rolling Stones, Otis Redding, Lynyrd Skynyrd, Cher, and many more recorded in.
Corinth, Mississippi - Corinthians swear by a Slugburger. Try one during your stay. But there's much more than just dining. Discover the history, shopping, and nightlife in this friendly infectious city.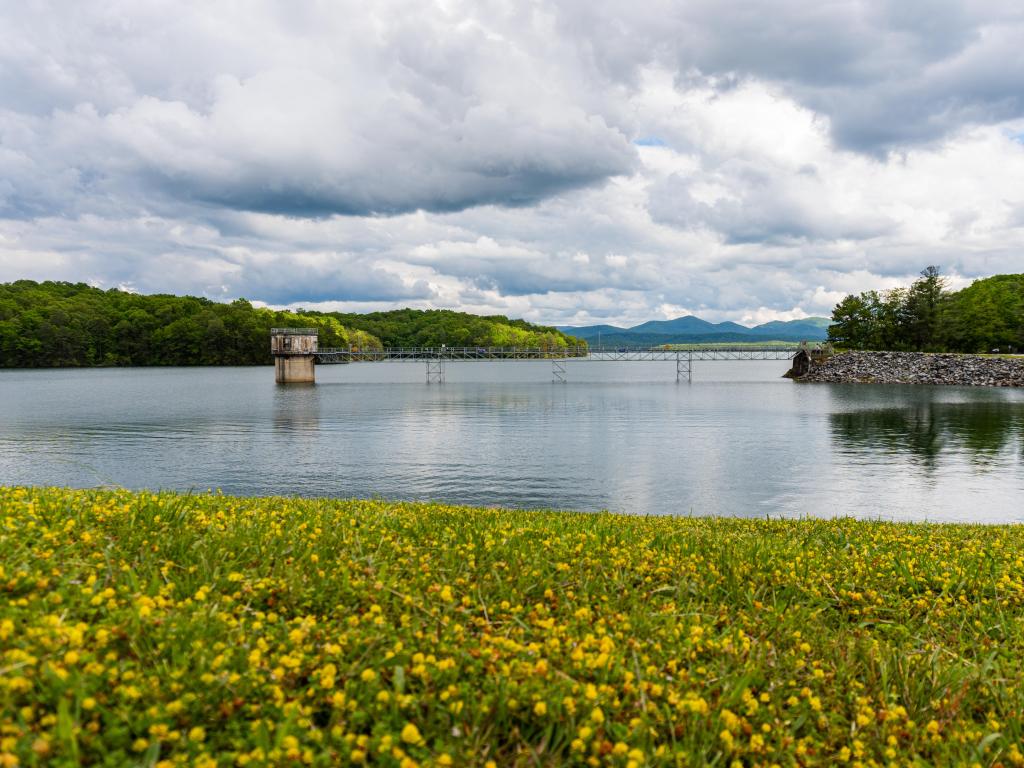 The Birmingham Route
Six Flags Over Georgia - With 14 thrill rides, you'll satisfy your need for speed at Six Flags in Austell. You can also meet the Looney Tunes characters for a fun selfie.
Anniston, Alabama - The Anniston Museum of Natural History offers a diverse collection, including an Ancient Egypt exhibit with a real mummy. There's also the Berman Museum and Freedom Riders Park.
Childersburg, Alabama - Childersburg is home to the DeSoto Caves, the first discovered cave in the US. It's a historic visit. Absorb local history and nature at the Kymulga Grist Mill.
Tupelo, Mississippi - As the birthplace of a worldwide icon, Tupelo is a place of huge significance in the music world. Visit where Elvis Presley was born and take photos next to his statue.
Oxford, Mississippi - Oxford inspires. William Faulkner, John Grisham, and more have ties to Oxford, MS. It's also the birth town of famed Blues musician R.L. Burnside. Enjoy live music here.
Tunica, Mississippi - Locals know Tunica, MS as 'Mini Vegas'. So ready to let your hair down? Stop off at Tunica, MS, and venture into the 6 casinos.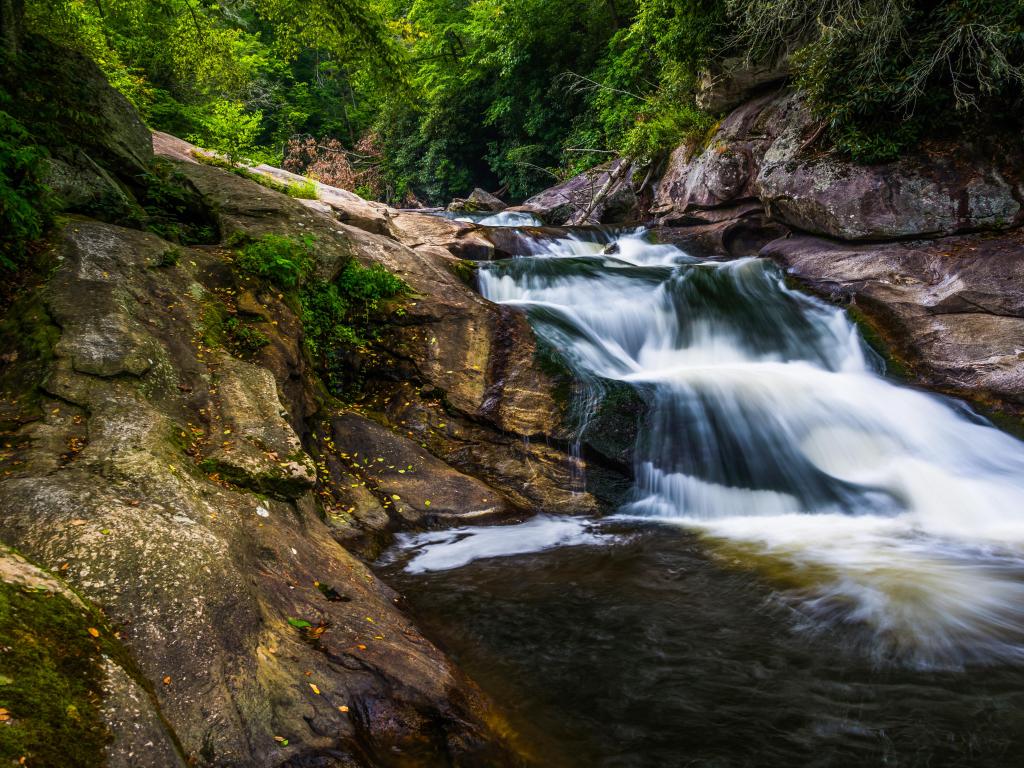 Best time to go on a road trip from Atlanta to Memphis
Memphis is an all-year-round destination. Summers are long and winter is brief. But whether hot and muggy or cold and wet, attractions are open, and the party doesn't stop on Beale Street.
July is the hottest month with an average temperature of 82 degrees Fahrenheit. June, August, and September are also hot, and the weather is muggy. To make the most of the weather, you can enjoy strolls along the Mississippi River at Tom Lee Park.
The winter is colder, with January, early February, and December being the months when the temperature drops in Memphis. These months have an average temperature between 40 degrees Fahrenheit and 44 degrees Fahrenheit with clear skies most of the days.
Despite the chilly weather, December is a great time to visit Memphis. Beale Street hosts a Christmas parade. Elvis even joins in on the fun as Graceland is lit up with his original Christmas lights.
March and April average between 53 degrees Fahrenheit and 63 degrees Fahrenheit so it's easier to explore the city than in the summer months if you struggle with the heat.
Watch out for the Beale Street Music Festival that takes place at the end of April. A major annual festival, it attracts the biggest names in music and thus many tourists. It's an exceptional time to visit and enjoy the festival atmosphere, but hotels are in demand.
Likewise, in August, Elvis Week draws Elvis fanatics from all over the world. So, if you want to visit Graceland during this week, expect to have company in the way of many Elvis impersonators.