Road Trip from Atlanta to Miami
Is it time for some sun in your life? Is the call of the sea getting louder, toes tingling for that soft sand? Give in to the temptation and jump in the car for a road trip from Atlanta to Miami. In no time you can indulge all those cravings and have exciting new experiences along the way.
The 815-mile trip from Atlanta to Miami takes 14 hours and 20 minutes to drive. Key stops include Savannah, Jacksonville, Daytona Beach, Orlando, West Palm Beach, Boca Raton, Blue Spring State Park, Universal Orlando and Walt Disney World Resort.
There is so much to experience on a road trip from Atlanta to Miami, so read on to get the specifics on distance, routes, stopovers, attractions, and best times to travel.
How far is Miami from Atlanta, and how long will the road trip take?
Comparison road trip routes between Atlanta and Miami

| Route | Distance | Driving Time |
| --- | --- | --- |
| The Eastern Route | 815 miles | 14 hours 20 minutes |
| The Western Route | 830 miles | 14 hours 30 minutes |
The shortest route from Atlanta to Miami can be done in under 11 hours, but for the full experience, our recommended routes will take you through places of interest that extend the journey to a little longer than 14 hours.
The road trip from Atlanta to Miami that follows the East Coast will take you about 815 miles and 14 hours and 20 minutes to drive nonstop. With a driving time of around seven hours a day, it will take you between two and three days to make this trip, not accounting for any detours.
There is an alternative route that follows the Western coast of Florida which will take you 14 hours and 30 minutes to drive, covering 830 miles. This route also offers optional detours to the Everglades National Park and North Key Largo, which will extend your trip by about 2 hours.
If you are visiting the Everglades and Biscayne National Parks on this route, it is important to note that these places are giant wetlands, so your car is necessary to get there, but you mainly explore the parks by water transportation after that.
The Eastern and Western Routes have tolls, with the Eastern Route traveling through some private road usage with possible restrictions (mainly on the diversions to places of interest), so make sure and check the route status before you go.
Best road trip route from Atlanta to Miami
Both Eastern and Western Routes are great options for the road trip from Atlanta to Miami. Your choice really depends on your preference; do you prefer a beachy vibe or traveling through diverse and exciting landmarks like the swamplands of the Everglades?
Our Eastern Route will take you through some of the most iconic cities of Georgia and Florida. This route also features some main Florida hotspots, like Orlando and West Palm Beach, where you can see Walt Disney World Resort or feast your eyes on the mansions of the stars.
The Western Route will take you past the gorgeous scenery of the Gulf of Mexico and through the heart of Southern charm before you reach the Southern tip of Florida in the Everglades National Park (if you choose to extend your journey there).
Whichever route you choose, there are lots to do or places to unwind at if you prefer a relaxing pace that will enhance your holiday experience.
How to drive from Atlanta to Miami
The map above shows our suggestions for the best road trip routes between Atlanta and Miami. Keep reading for detailed descriptions of both routes, where to stay on either, and the best things to do on the way.
The Eastern Route
Heading south out of Atlanta on Interstate 85, you merge onto Interstate 75 after about 4 miles. I-75 is your main road until you hit Bolingbroke and then Macon, where you continue on to Interstate 16, taking you on to Savannah.
While in Savannah, you will have the option to visit the beautiful Hilton Head Island by crossing into South Carolina and following SC-46 and then US-278.
If not making this detour, taking Interstate 95 south from Savannah will take you through Jacksonville and Daytona Beach. From there you take Beville Road to get on to Interstate 4 for Orlando.
Heading east out of Orlando takes you on to the FL-408 east highway, merging on to the FL-417 south, then the FL-528 East - taking you across the Indian River.
After the Indian River, the road becomes the Florida State Road A1A, taking you past Cape Canaveral, and south until you turn right on to FL-404 west just past Pineda Beach Park.
Turning left onto the I-95 south again just past Grand Haven, you keep on this road until your destination in sunny Miami.
The Western Route
This route can include an extended tour that goes around the southern tip of Florida instead of driving straight to Miami. Or the extended destinations (Everglades, North Key Largo) can be visited as excursions using Miami as a base.
The Western Route follows the same path as the Eastern Route except, on I-75, you turn right at Bolingbroke onto Interstate 475 South and follow the Bypass to I-75 south. You take Exit 99 for the GA-300 road south, the US-41 slip road, and then the GA-33 south.
At Sylvester, you head for GA-112 South, continuing on to GA-202 South. At Thomasville, you turn right to head towards US-319. You can keep on the US-61 for Tallahassee or turn east onto I-10 until Exit 296A and on to I-75 south again.
I-75 takes you past the University of Florida and then on to Tampa. From there, it's east again until you get back on I-75 south via the Selmon Expressway. Once past the Peace River, you take Exit 158 and head for US-41 South, taking you on to Fort Myers and Cape Coral.
Get back onto I-75 south one last time and take Exit 101 past Golden Gate for US-41, which turns east and fringes Big Cypress National Preserve, merging onto Interstate 595 and then the Florida Turnpike/I-95 south and Miami.
If you wish to make a detour to North Key Largo, following US-1 out of Miami will take you directly to the islands of Key Largo.
Alternatively, follow US-1 until you reach Homestead and keep on State Highway 9336 to visit Everglades National Park.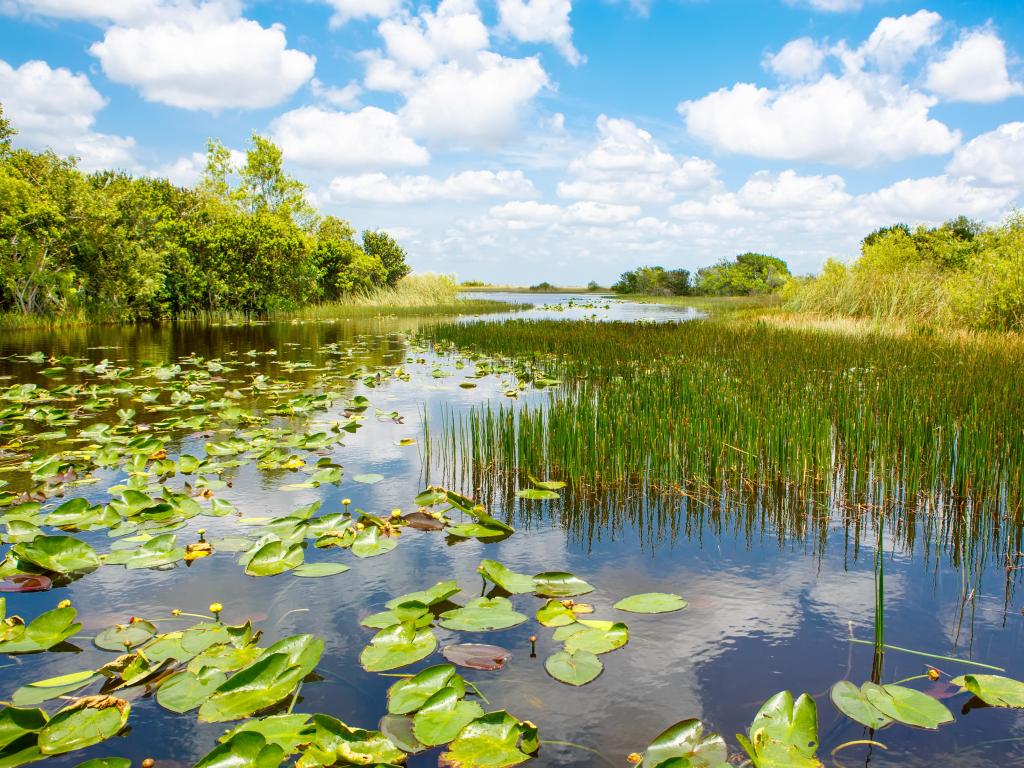 Best places to stop between Atlanta and Miami
On your epic road trip from Atlanta to Miami, there are many places to capture your attention; cities and swamplands, coastal towns, and beaches.
Therefore, your choice of place to stay is an important one, and here are some suggestions we think will enhance your holiday experience:
Thrills and chills at Daytona Beach
Along the Eastern Route, why not take your overnight stay in Daytona Beach, Florida - less than 8 hours from Atlanta halfway through your journey. This gorgeous city doesn't involve a huge diversion off your main route.
For a fabulous stay, we recommend Hard Rock Hotel Daytona Beach. With an oceanfront pool, waterfront stage, onsite cocktail bar, and an onsite spa, this resort will meet all your needs whether you are looking to relax by the poolside or go on party hopping.
You could happily stay in this 4-star resort without ever feeling the need to go out, but if you feel like a wander, give your toes that sand they crave, with the beach just a stone's throw away.
Known for its world-famous Daytona 500 NASCAR race, Daytona's main attraction is Daytona International Speedway. This racetrack opened in 1959 and also hosts Superbike, Motocross, and other types of races.
The Daytona Beach Main Street Pier, located nearby the resort, stretches from the boardwalk far out into the ocean and features a popular US seafood restaurant at the end.
Then there is the Ponce de Leon Inlet Lighthouse Museum just a 10-minute drive away, and the Ocean Center a short walk away from the hotel. Alternatively, you can relax by the quirky pool at the hotel with a cocktail in hand!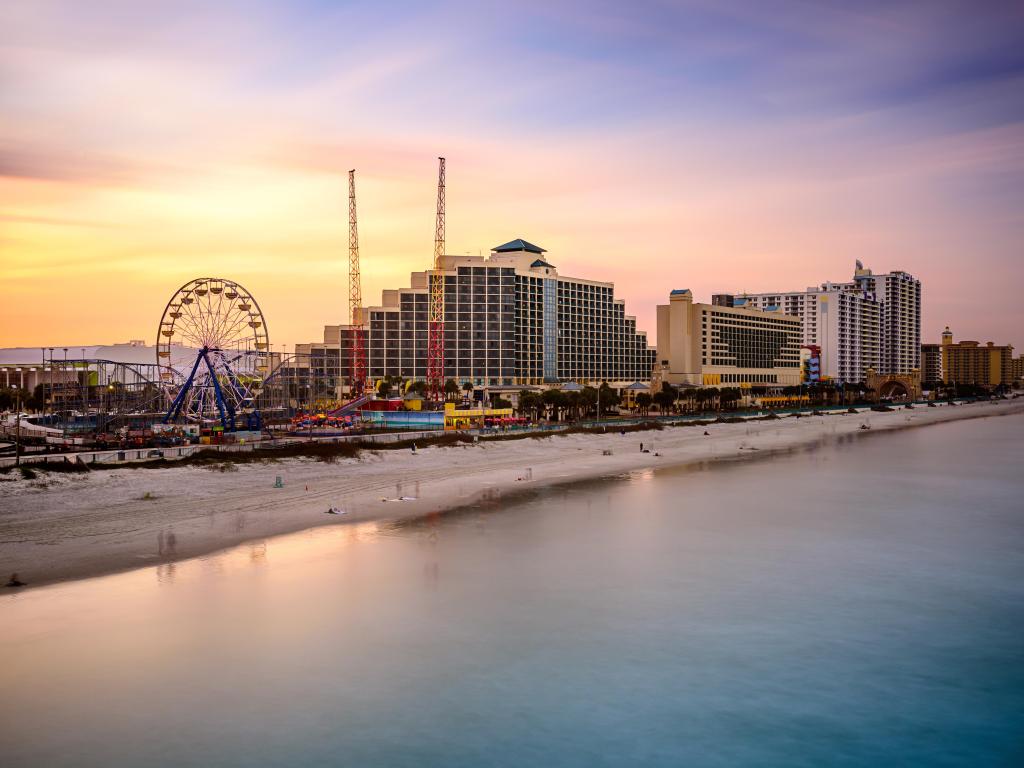 Time out in Tampa
Tampa is located a little over 4 hours from Miami on the Western Route, and this vibrant coastal city makes a great stopover with its museums and cultural life. The Sheraton Tampa Riverwalk Hotel is one of the top places you can stay in during your visit to this amazing city.
It's been a long day, you've driven well over halfway to Miami, and you deserve a much-needed break. Well, this is the perfect spot to relax with a good book on your balcony overlooking the Hillsborough River, or at the outdoor pool.
If your adventure radar is still pinging, take a peruse around Busch Gardens. This African animal-centered theme park sits on 335 acres in Tampa. This is the second most popular SeaWorld Park, behind only SeaWorld Orlando.
Alternatively, you can take a stroll along the Tampa Riverwalk. This 2.6-mile trail along the Hillsborough River in downtown Tampa is one of the city's most popular attractions, connecting parks, attractions, and hotels.
Located near the hotel is Amalie Arena if you'd like to catch a game or a show and the Florida Aquarium is a 5-minute drive away. In the morning, you can pick up where you left off feeling refreshed and energized to drive the last third of your road trip.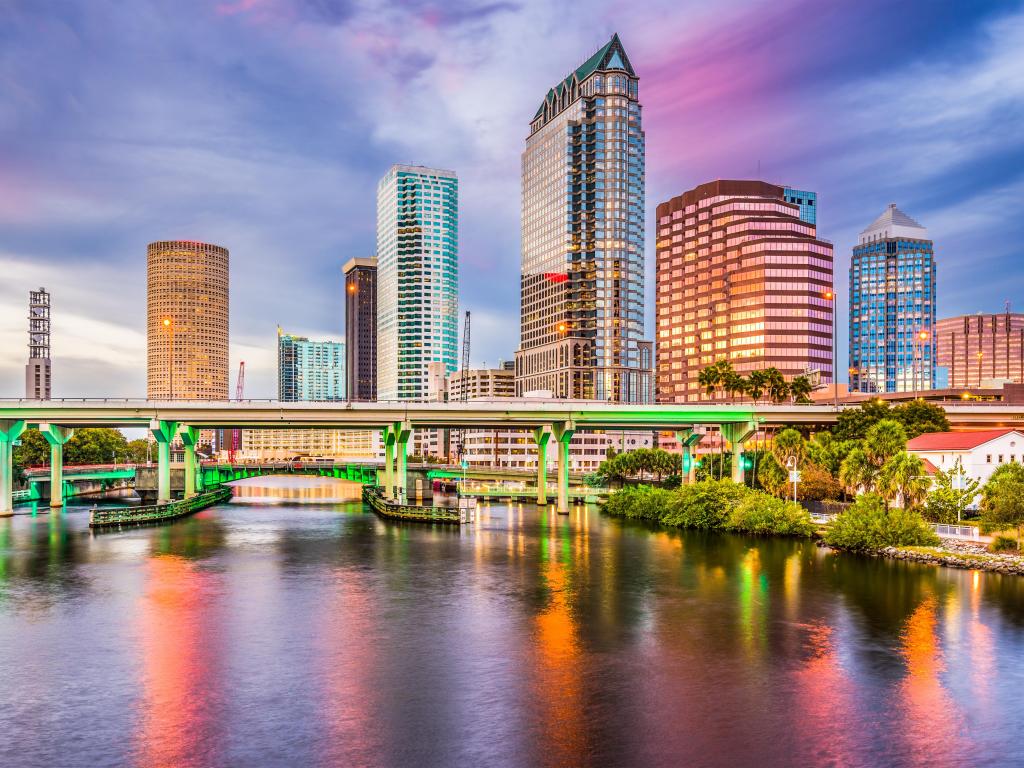 Where to stay when you reach Miami
Once you reach the dichotomy that is Miami, with its buzzing city, and beachy waterfront existing side by side, a stay at EAST Miami finishes your journey in style.
A super sleek, modern, luxury hotel in the heart of Miami, it has four pools, floor-to-ceiling windows, and a walk-in rain shower in the rooms. Its position lets you enjoy the stunning city views from the 40th-floor rooftop bar.
There is something for everyone in Magic City; Perez Art Museum and American Airlines Arena are located nearby the hotel if you would like to delve deeper into the cultural heart of Miami or catch a concert.
Then there's the South Beach nightlife, where the choice is mind-boggling and the entertainment truly enlivening, making a spectacular ending to your amazing adventure.
Things to see on a road trip from Atlanta to Miami
With such interesting and diverse geography between Atlanta and Miami, the range of places to explore is impressive. Scenery, coastline, and swampland combined with historical and cultural points of interest, all entice you to stop and look.
It would be easy to spend a whole week truly soaking up everything to see, but we have generated a list that will more than appease your curiosity in the two or three days you choose to travel:
Eastern Route
Hilton Head Island - Known for its Atlantic Ocean beaches and golf culture, this island is located in southern South Carolina, just across the Savannah River which shares a border with Georgia.
Savannah, Georgia - This coastal Georgia city sits right next to the border of South Carolina. It's known for its "old south" culture, with cobblestone squares and antebellum architecture.
Jacksonville, Florida - Located on the east coast of Florida, this is the most populous city in the state. Friendship Fountain is one of the city's most recognizable landmarks, located on the Southbank Riverwalk.
Daytona Beach - This city on Florida's east coast has lovely beaches and a boardwalk with rides and arcade games and the Bandshell that hosts free summer concerts. Oh, did we mention the Daytona 500 NASCAR race is held here every year?
Blue Spring State Park - This park boasts a cool-water spring on the St. Johns River that is popular with locals. Not as well known by the tourists, you can sneak away from the beaches; let the tourists have those and enjoy some of your time relaxing here.
Orlando, Florida - This city in central Florida isn't only home to Walt Disney World Resort, but over a dozen theme parks as well, including Universal Studios and the Wizarding World of Harry Potter.
Cape Canaveral - Located on the east coast of Florida is NASA's Kennedy Space Center, boasting shuttle launch simulations and astronaut memorabilia. Experience Manatee Sanctuary Park, a waterfront boardwalk, and the observation deck on Exploration Tower.
West Palm Beach, Florida - This picturesque city is known for its wealth, as well as its beaches, with many a celebrity mansion to have a peek at.
Boca Raton, Florida - Known for its golf courses, parks, and beaches, this city in southeast Florida features oceanfront Red Reef Park, Boca Raton Museum of Art, and Mizner Park Amphitheater, where concerts and events are held.
Fort Lauderdale, Florida - Also located on Florida's south-eastern coast, known for its beaches and boating canals. Attractions include the Strip, a promenade running along the beach, and the International Swimming Hall of Fame.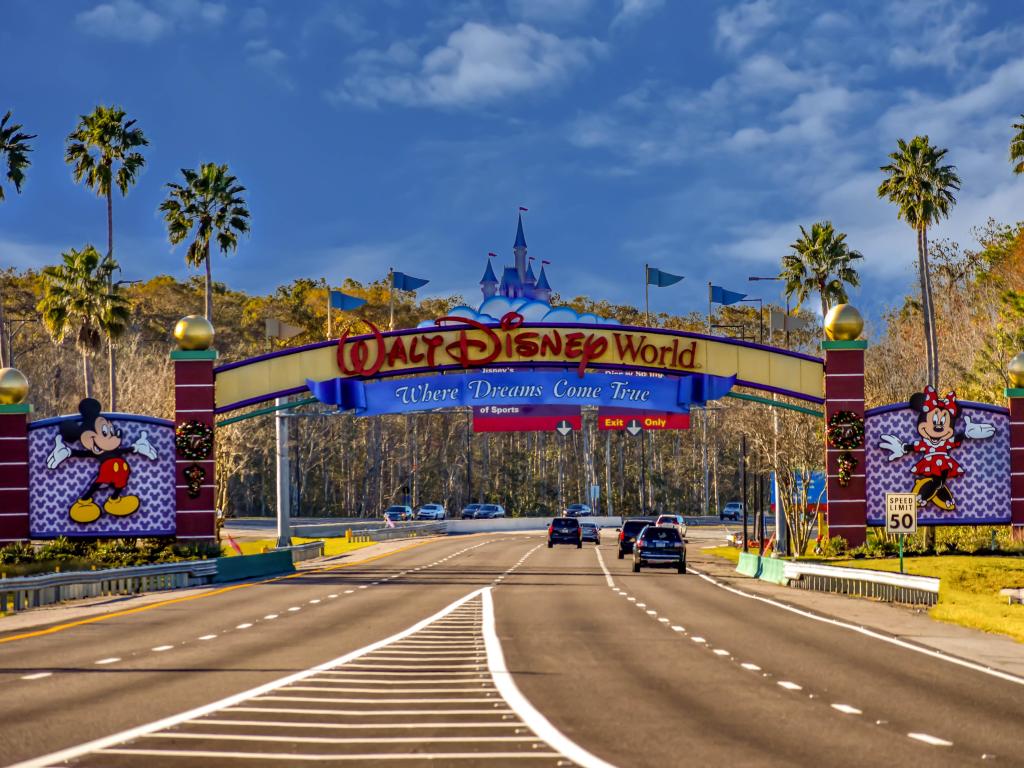 Western Route
Tallahassee, Florida - The capital city of Florida features sites like the Capitol Complex with the restored Historic Capitol, the Museum of Florida History, and the 1843 Knott House Museum. The Capitol tower has a 22nd-floor observation deck with spectacular city views.
The University of Florida - The well-known university in Florida is known for its sports program. The bright blue and orange colors are associated with the school all over the nation. The campus itself is worth a visit on your drive through.
Tampa, Florida - Situated along Florida's Gulf Coast is a city known for its museums and culture. Some attractions here include Busch Gardens and the Ybor City neighborhood.
Fort Myers, Florida - This city in southwest Florida has more sunshine hours than any other city in Florida, even Key West. Also, there are more shell varieties on Fort Myers' beaches than anywhere else in North America.
Cape Coral - This Florida city known for its many canals is home to manatees. Attractions here include Sirenia Vista Park, where you can take a kayak to Matlacha Pass Aquatic Preserve, and Four Mile Cove Ecological Preserve.
Naples Zoo at Caribbean Gardens - A short drive away from the main route, Naples Zoo at Caribbean Gardens features wildlife experiences to inspire guests of all ages. It also houses a beautiful botanical garden.
Big Cypress National Preserve - This vast swamp conserves over 720,000 acres and is essential in supporting the rich marine estuaries of Florida and the neighboring Everglades National Park.
Everglades National Park - Home to one of the largest wetlands in the world, this park offers close-up views of alligators and crocodiles. It's also full of unique plant and animal species not currently found anywhere else on the planet.
North Key Largo - Popular attractions here include Crocodile Lake National Wildlife Refuge and Grecian Rocks. The beaches are warm and shallow, perfect for a relaxing summer's day out.
Biscayne National Park - This one is a bit tricky! You can't actually drive to this national park because it's a giant wetland like the Everglades. But drive to the visitor center and take a boat from there then get up close and personal with the gators and crocs!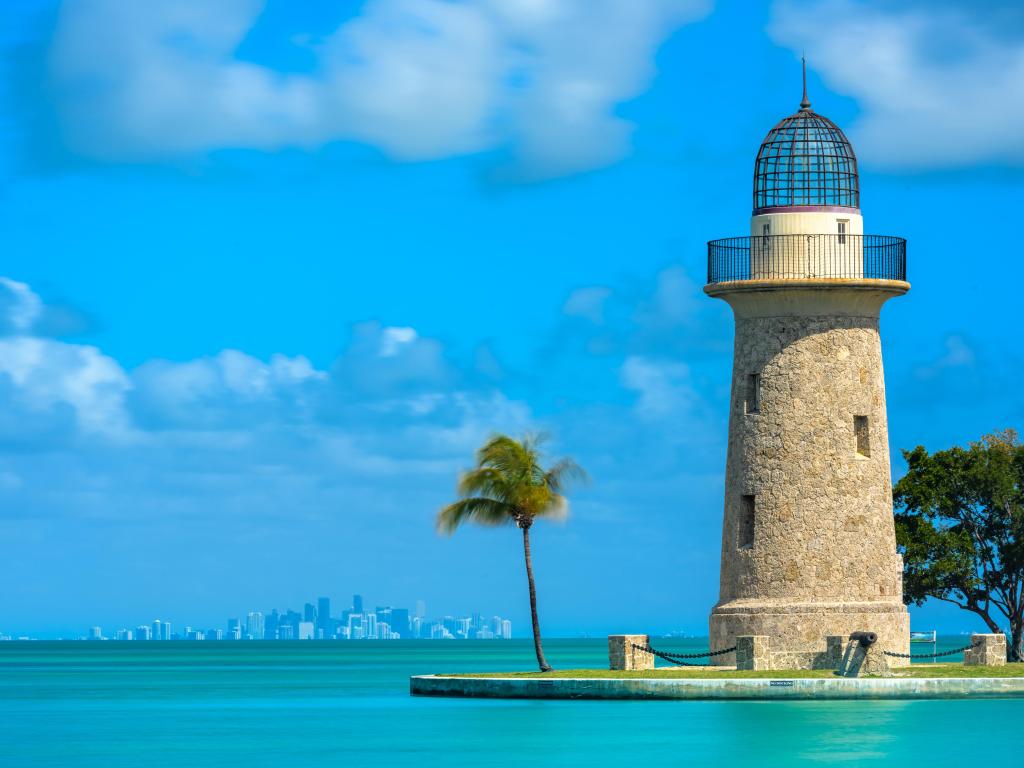 Best time to go on a road trip from Atlanta to Miami
The weather in this part of the US, both Eastern and Western Routes, is mild all year because it's a coastal peninsula close to the Caribbean.
Summer is the most popular time to visit Miami with the beaches being so handy and the weather so sunny. Temperatures reach around 90 degrees Fahrenheit, and the rain can be frequent, but the water is warm and shelter is only an umbrella away.
Fall is normally quite muggy, with average temperatures in the low 80 degrees Fahrenheit. However, this is one of the cheapest times to visit Miami as it is not the peak season, and this also means you will avoid the summer and Spring Break crowds.
In the winter Miami can get a bit chillier, but not at all the harsh temperatures you might picture in a temperate winter. Temperatures range from low 60 to mid-70 degrees Fahrenheit.
This means there's no reason Miami has to be avoided during the winter. You may not be swimming in the ocean but there's so much to enjoy that doesn't' require constant sun.
The Miami International Boat Show is one of the largest boat shows in the world and attracts over 100,000 people every February. Everyone is welcome, from boaters looking to purchase their next superyacht to everyday beachgoers looking to enjoy a nice day in the sun.
March is one of the most popular and expensive times to visit Miami as a lot of students come to party for Spring Break. If visiting during these months, expect higher accommodation rates.
If you are braving the crowds and the prices, you can enjoy the Calle Ocho Music Festival in March. This annual tradition is the largest Hispanic festival in the country and celebrates Miami's vibrant Latin and Caribbean cultures on the streets of Little Havana.