Road Trip from Atlanta to Nashville
Looking for a trip that encompasses stunning natural scenery and buzzing city life that can be accomplished in just a few days? A road trip from Atlanta to Nashville is just that, exploring majestic mountains, lush parks, American history, southern living, and musical heritage all in one.
The 430-mile road trip from Atlanta to Nashville takes over 8 hours to drive. You will pass by Knoxville, Pigeon Forge, Chattanooga, Blue Ridge Lake, Great Smoky Mountains, Burgess Falls State Park, Ruby Falls and Red Top Mountain State Park.
Whether you're seeking natural vistas or the charm of smaller southeast cities, there are plenty of options for a diverse road trip laid out below. Read on to find out about the best routes to take, amazing places to stay, inspirational things to see and when to visit.
How far is Nashville from Atlanta and how long will the road trip take?
Comparison of road trip routes between Atlanta and Nashville

| Route | Distance | Driving Time |
| --- | --- | --- |
| Direct Route | 280 miles | 5 hours 10 minutes |
| Scenic Route | 430 miles | 8 hours 10 minutes |
The driving time of the most scenic route from Atlanta to Nashville will be just over 8 hours and will cover 430 miles, not accounting for the places to stop at and detouring to multiple iconic National Forests and Parks.
For a shorter driving time, the Direct Route will cover almost half the distance at 280 miles. This faster route can be completed in 5 hours and 10 minutes while allowing you to enjoy both beautiful landscapes and cityscapes along the way.
You can easily complete this road trip in a day but then you would miss out on the unforgettable sights and experiences on the way. Instead, we suggest taking at least 3 days to complete this adventure.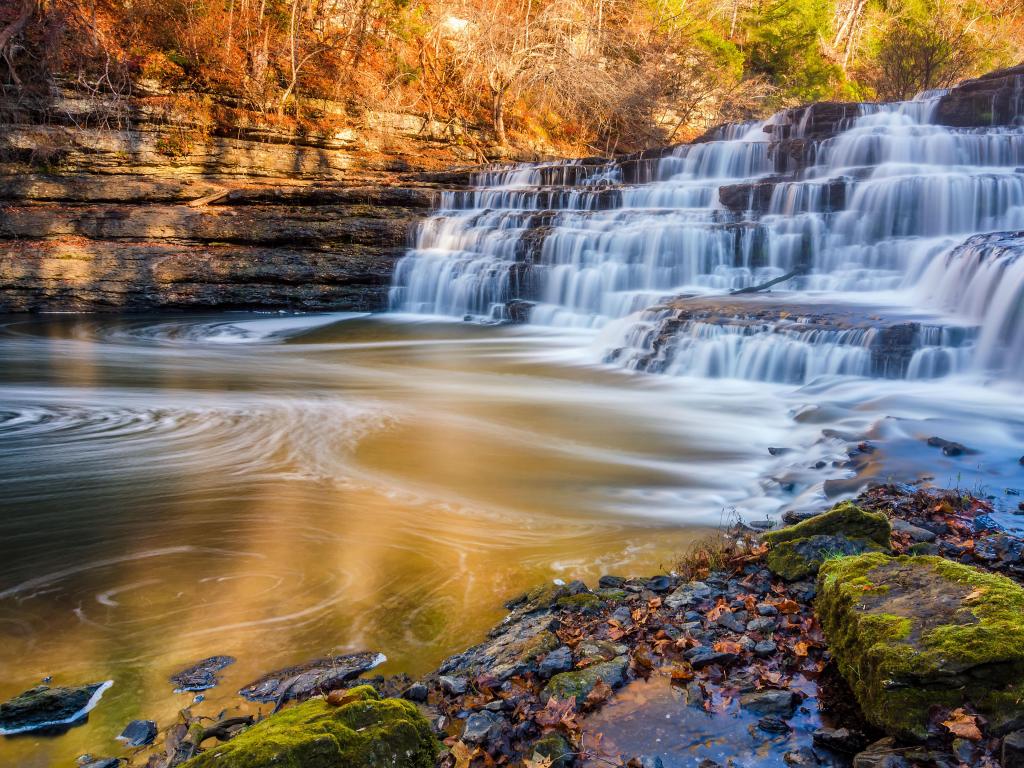 Best road trip route from Atlanta to Nashville
No matter which route you choose, you'll drive through the scenery of national forests and enjoy stops in popular southern cities, so the best route will depend on what you'd like to see en route.
Though longer in time and distance, our Scenic Route boasts views of the majestic Great Smoky Mountains and a stop in Pigeon Forge, the famous birthplace of Dolly Parton and now home to Dollywood.
If you are looking for a quicker option, the Direct Route cuts down 3 hours of driving and still offers premiere southern culture, outdoor adventure, and musical influence.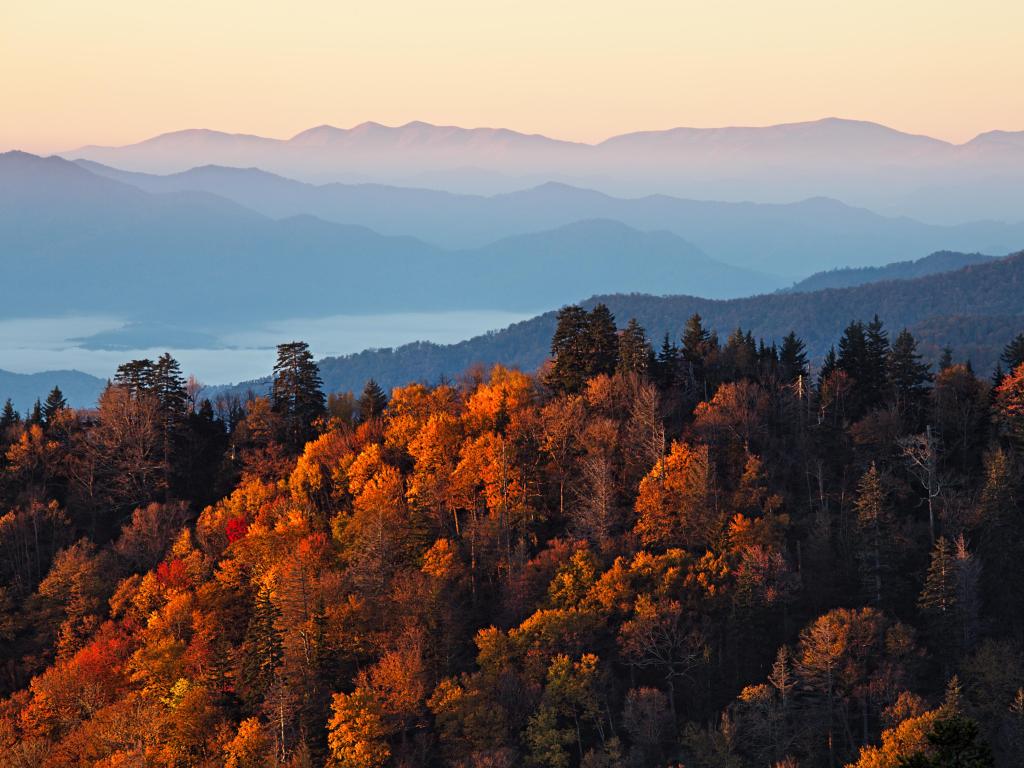 The Direct Route
Take Interstate 75 (I-75) north out of Atlanta towards Marietta, with the option to explore its historic square. Drive across Lake Allatoona and past Red Top Mountain State Park.
Soon after, you can make a detour to Chattahoochee-Oconee National Forests if you have time and enjoy a scenic hike. Otherwise, drive further to Chattanooga, where you can explore the local charm, hiking trails, and spend the night.
From Chattanooga, continue northeast through Franklin State Forest, where you can enjoy a leisurely stroll to stretch your legs before the final drive to Nashville.
The Scenic Route
From Atlanta, take Interstate 75 (I-75) North towards Marietta, where you may want to stop to enjoy local history. Head northwest towards Chattahoochee-Oconee National Forests.
Here you can enjoy a hike or a dip in Blue Ridge Lake before continuing on to US-74 East. You'll drive through Nantahala National Forest and the Great Smoky Mountains during this scenic portion of the trip.
Head to Pigeon Forge, worth making stops for a hike or a fun ride through the Dollywood amusement park, and Knoxville, where you can spend the night. Afterwards, continue on I-40 West to reach your destination in Nashville.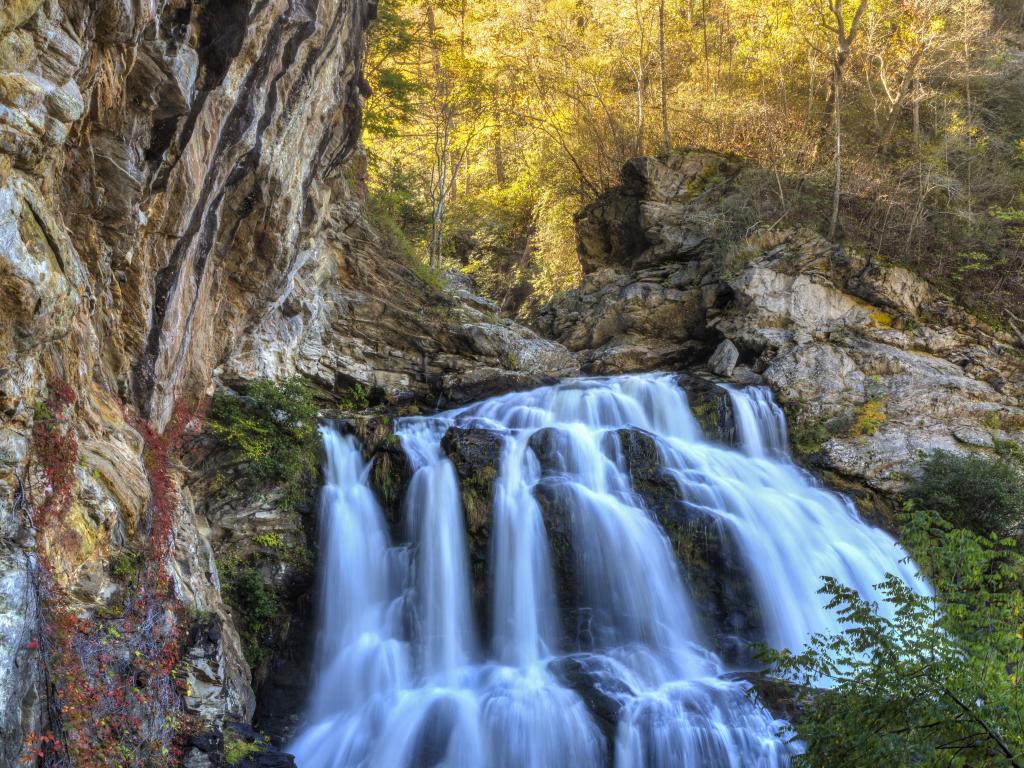 Best places to stop between Atlanta and Nashville
To make the most out of your few days on the road, we recommend making at least one stop en route as you'll want to rest up for another day of hiking and sightseeing with so many iconic landmarks and attractions to visit.
Explore the vibrant downtown in Knoxville
Only 3 hours east of Nashville, Knoxville is the perfect place to end an exhilarating day and still look forward to an easy drive in the morning. As a vibrant city perched upon the Tennessee River, Knoxville is a haven for art lovers and outdoor adventurers alike.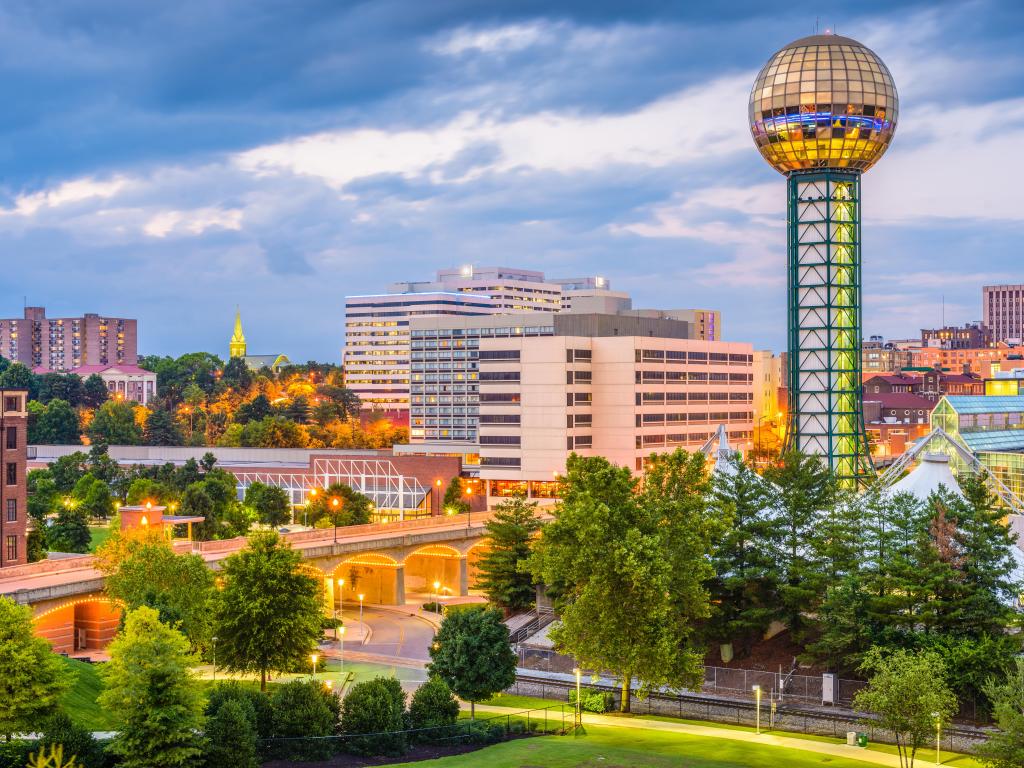 To enjoy all downtown Knoxville has to offer, spend the night in the heart of the city at The Oliver Hotel. This elegant boutique hotel is conveniently within walking distance of both cultural landmarks mentioned above and surrounded by downtown's best restaurants and bars.
And if you're tired after a long day of driving, enjoy dinner at the onsite restaurant, Oliver Royale. If you're up for more of an adventure, you can seek out Knoxville's only speakeasy, The Peter Kern Library, hidden behind the hotel lobby.
If you want to explore the city instead, head downtown where Knoxville's Market Square offers a vibrant collection of shops and stalls for a memento or a bite to eat.
If you have time, embrace southern culture by catching a show or simply visiting the historic Tennessee Theater, built in 1928 and still standing as the tallest building in the city before heading back to the hotel and calling it a day.
Find the scenic charm in Chattanooga
Halfway through the journey, the beautiful and scenic cityscape of Chattanooga will emerge among the southeast mountains. Though not as large and lively as the capital city, Chattanooga is proud of its historic beauty and the local community.
The outdoorsy city has plenty of adventure and relaxation alike. Take a stroll across the hallmark Walnut Street Bridge or hike up Lookout Mountain to the most popular view of the city, Sunset Rock.
If you are looking to explore the cultural offerings of this charming city, you can prepare for your upcoming stop in Music City with a show at the historic Tivoli Theater, home of the Chattanooga Symphony and Opera Association.
No matter what experience you're looking for in the city, a night stay in the beautiful Westin Chattanooga will add breathtaking views among the mountains and easy walking access to popular sites and restaurants.
There is also a fabulous restaurant on the property, so you might want to extend your stay and enjoy a day in! You can take a dip in the heated outdoor swimming pool before relaxing in the room by a real wood fire.
Explore the musical heritage of Nashville
After a drive through mountains and charming southern cities, Music City is calling! To truly experience all Nashville has to offer, enjoy your time in the luxury of the Grand Hyatt, conveniently located in the heart of the city.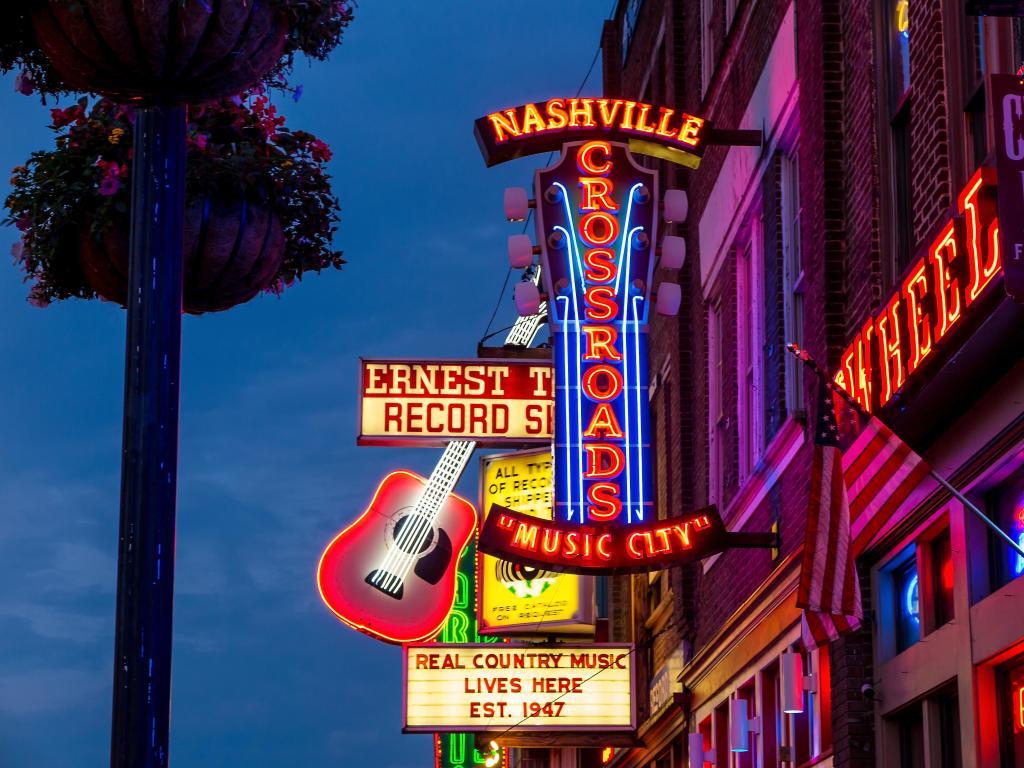 Perfectly situated on Broadway, the hotel is situated near musical havens like Bridgestone Arena, Ryman Auditorium and Tootsies Orchid Lounge and also neighbors popular areas like Midtown and Gulch.
The Grand Hyatt also features one of the city's highest rooftop bars, where you can take in the panoramic downtown views, listen to the sounds of the city, and relax with a leisurely dip in the sky pool.
Things to see on a road trip from Atlanta to Nashville
No matter the longer or shorter route, there are plenty of reasons to stop and take in the scenery en route. To make your planning easier, here are some of our suggestions for things to see on your journey:
Both Routes
Marietta Square - The city of Marietta showcases southern history, with the Square providing landmarks such as a fountain, a historic bell, and quaint shops.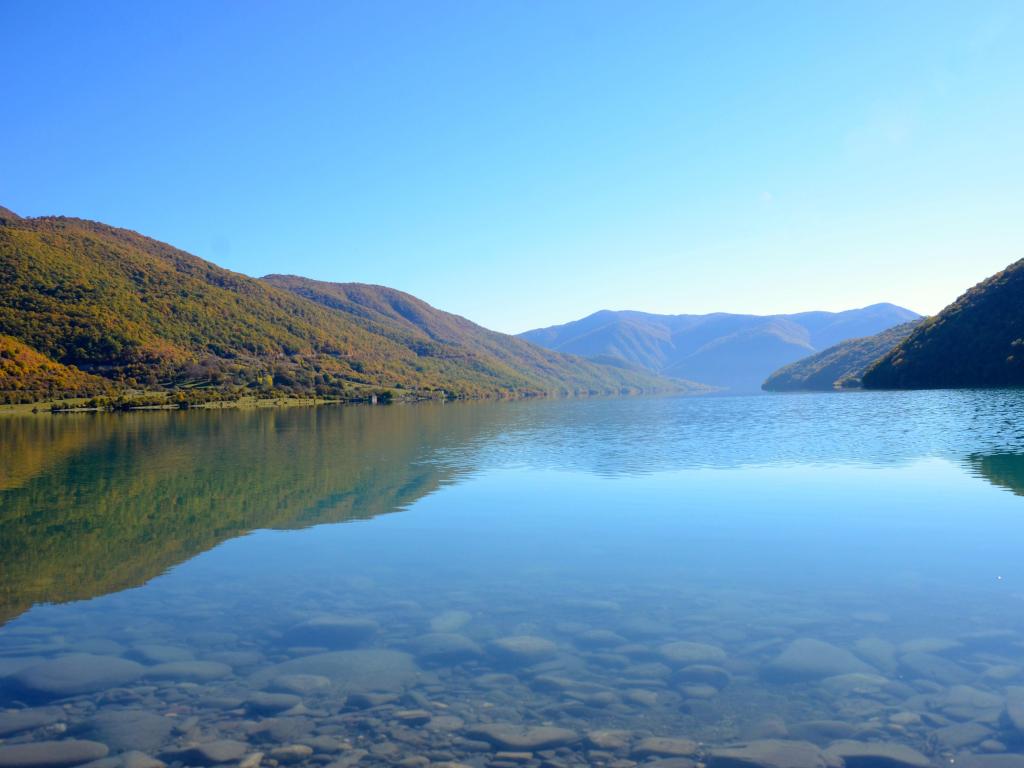 The Direct Route
Six Flags White Water - A huge water park spread across 40 acres consisting of slides, a tree house, and offering a great place for some family fun time and to let the inner adventurer in you free!
Kennesaw Mountain National Battlefield Park - A preserved site where a famous battle during the Civil War in 1864 took place. The park houses a center for visitors featuring artifacts and a film.
Red Top Mountain State Park - A fantastic location for beginner hikers, also offering water sports alongside cottages and campsites.
Booth Western Art Museum - A must-visit for fans of American Western movies, dedicated to stagecoaches, cowboys, and everything related to the gun-slinging West.
Tellus Science Museum - This museum exhibits include everything from dinosaurs, to aerospace, and even Star Wars! A fun interactive time for all science aficionados.
Chattanooga - This is the fourth largest city in Tennessee and sits along the Tennessee River. One of the most scenic places on this road trip, Chattanooga offers sweeping Cliffside views of the river, the nearby waterfalls, and museums.
Rock City Gardens - This is the best place in Chattanooga to get a panoramic view of 7 states at the same time-which is quite a unique sight, so make sure to bring your camera.
Ruby Falls - A 145-foot waterfall that is entirely underground, sitting inside a limestone cave, which is a sight to behold. It is a popular attraction and can get busy at times.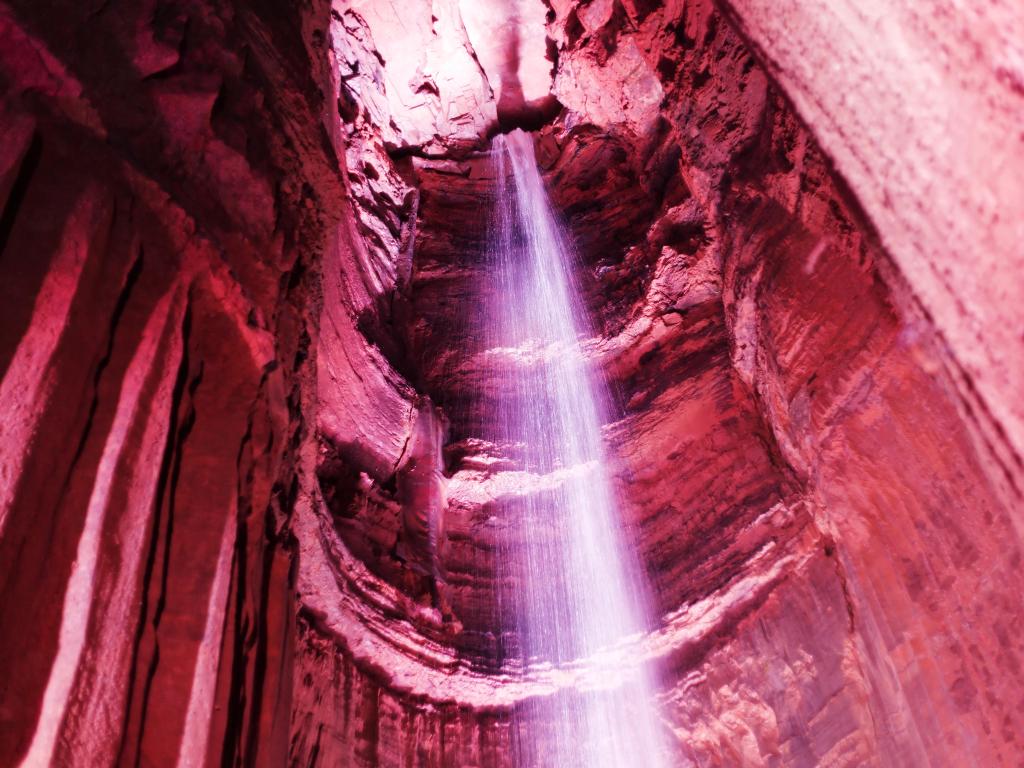 The Scenic Route
Blue Ridge Lake - An expansive lake nestled between mountains, take the time to hike around the marinas, campsites, and swimming areas.
The Island, Pigeon Forge - A fun marketplace featuring a Ferris wheel and cute shops, just a few notches down from the larger-than-life aura of Dollywood.
Great Smoky Mountains - as America's most visited National Park, this mountain range deserves a trip on its own. Enjoy an easy scenic walk at the start of Pigeon Forge.
Townsend - Known as the "Gateway to Cades Cove", this is a very small and well-knit town offering a quiet respite with a fantastic view of the mountains.
Stonehaus Winery - A refreshing family-run winery that offers tastings, tours, and a gift shop. This would be the perfect stop to bring a bottle home.
Burgess Falls State Park - This beautiful state park offers multiple foot trails with varying levels of difficulty, all leading to the reward of 4 waterfalls cascading to one pool.
Nashville Shores Lakeside Resort - No matter how old you are, you will have fun at the water park with water plumes, zip lines, and leisurely boat rides.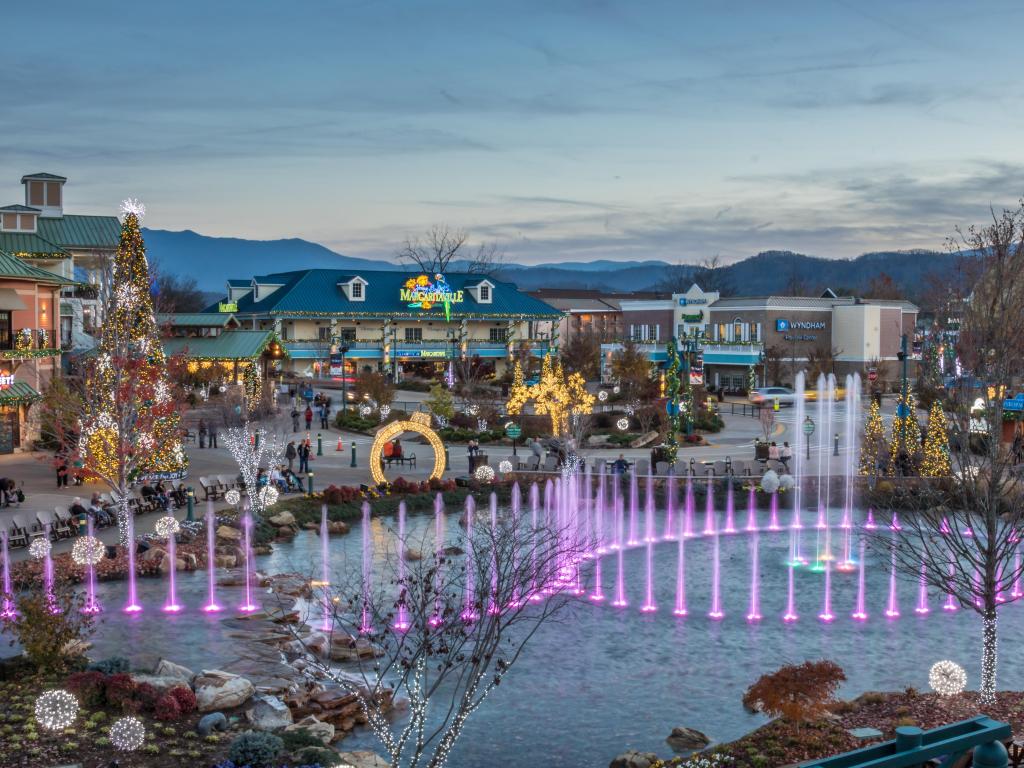 Best time to go on a road trip from Atlanta to Nashville
With milder weather in the southern states, you can find a good reason to take this road trip from Atlanta to Nashville no matter what the season. There are plenty of attractions both indoors and outdoors en route.
Though temperatures range from 30 to 50 degrees Fahrenheit in the winter, and in this season, you'll enjoy fewer crowds in the cities and in the national parks along the way. Nashville also offers many great indoor attractions, like shows at the Grand Ole Opry.
If you prefer milder, sunny weather, target April to June or September to October. The crowds tend to thin out during these off times since most major events have ended or are yet to begin.
If you choose the later months, you'll also enjoy the breathtaking fall foliage of the national forests along your drive, especially on the Scenic Route.
For a true Nashville city of music experience, pick from any number of major festivals happening mostly in the sweet heat of summer: CMA Music Festival, Musician's Corner, or even the Nashville Film Festival. Just keep in mind that crowds and prices will likely be higher during these times.