Road Trip from Atlanta to Panama City Beach
If you're looking for a varied journey that culminates with swaying palms, white-sand beaches and a great local craft beer scene, then look no further! A road trip from Atlanta to Panama City Beach takes you through a perfect mix of quaint rural towns, culturally-rich state capitals and relaxing beaches.
This fantastic 440-mile road trip from Atlanta to Panama City Beach takes just over 8 hours to drive. Places to enjoy en route include Tallahassee, Montgomery, Columbus, Mexico Beach, Senioia and Apalachicola National Forest.
This road trip is perfect for those who enjoy new experiences and unwinding at the beach. Keep reading to discover the most interesting routes, and discover the unique places to stop on the way.
How far is Panama City Beach from Atlanta, and how long will the road trip take?
Comparison of road trip routes from Atlanta to Panama City Beach

| Route | Distance | Driving Time |
| --- | --- | --- |
| The Columbus Route | 440 miles | 8 hours 5 minutes |
| The Montgomery Route | 500 miles | 8 hours 35 minutes |
There are two exciting routes you can take from Atlanta to Panama City Beach. Both journeys will take you through vibrant cities and gorgeous forests, inviting you to soak up new cultures and find peace in unique outdoor environments.
The most direct route - the Columbus Route - is 440 miles in total and will take you eight hours and five minutes to complete. The journey can take a single day, but by doing this you'd miss out on all the interesting opportunities on the way. Three days travel is advisable, to guarantee the trip of a lifetime.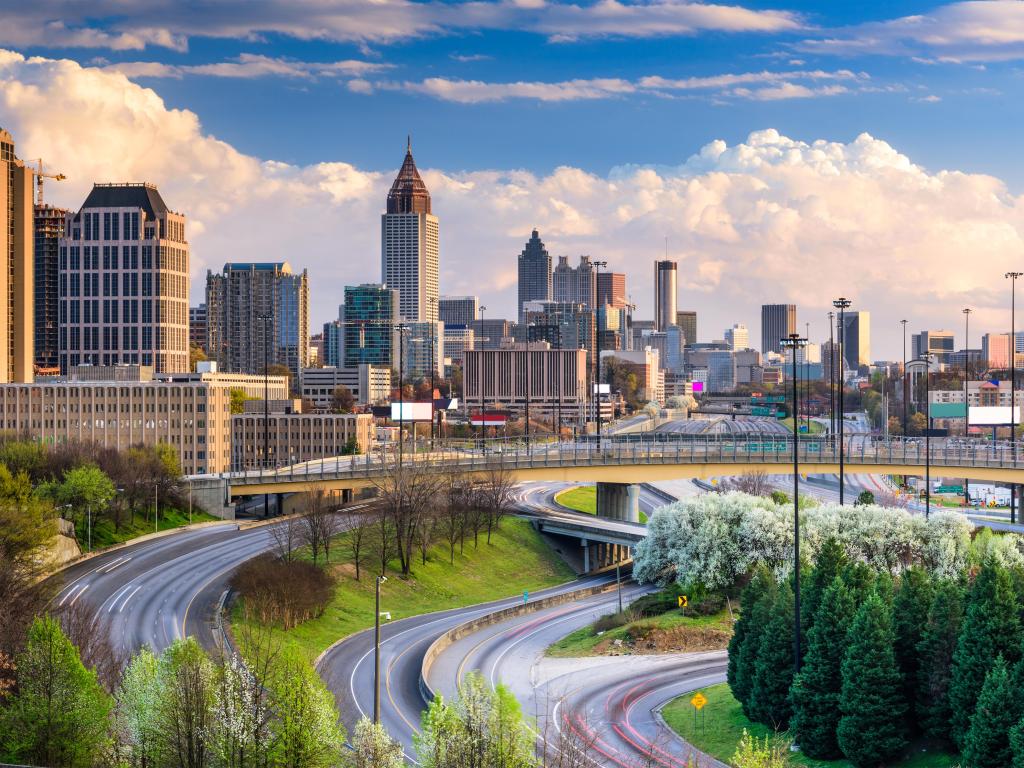 The Montgomery Route clocks in at 500 miles, adding an extra 30 minutes to your travel time. Total travel time on this route is eight hours and 36 minutes. Like with the Columbus Route, this journey is best enjoyed over the course of three days.
Best road trip route from Atlanta to Panama City Beach
Our chosen routes for this trip to Panama City Beach from Atlanta are both full of exciting places to explore. Whichever you choose, you're in for a treat.
On the Columbus Route, you'll have the chance to visit Tallahassee - the fun capital of Florida. There are also lots of outdoor activities near Columbus, making this route the perfect choice for nature lovers. It's a more direct route, heading straight down to Panama City Beach from Atlanta.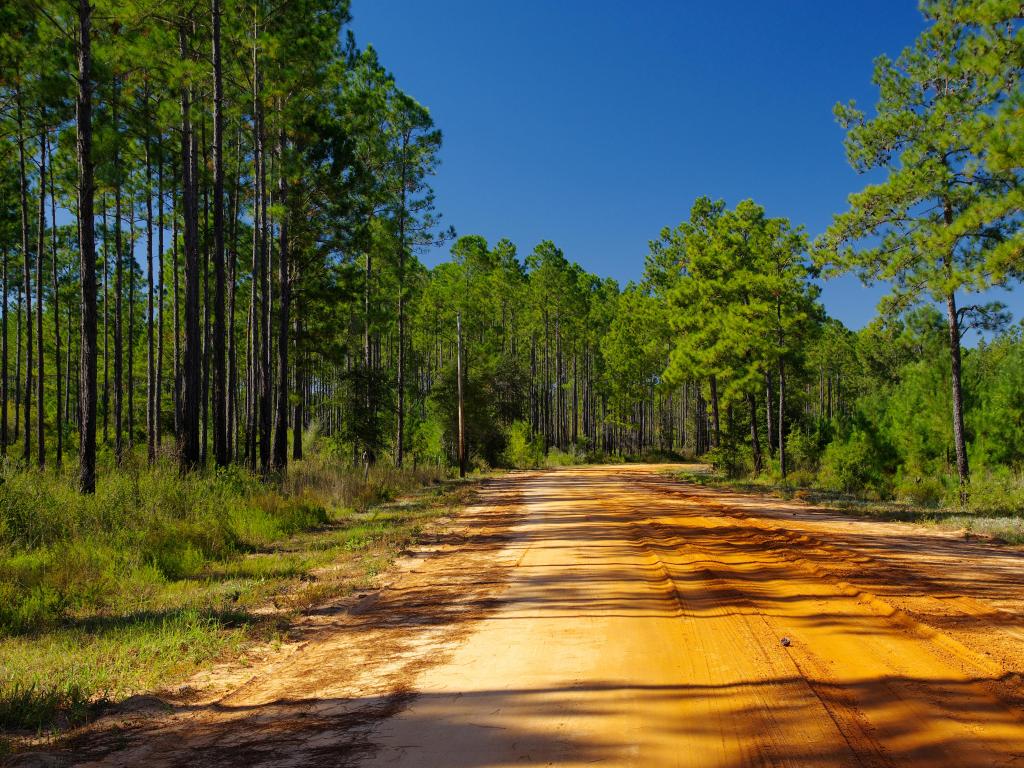 More of the Columbus Route is along the coastline, ensuring you see stunning ocean views. This route is more nature-heavy compared with the city-rich Montgomery Route, making it ideal for those looking to spot some local wildlife.
While the Columbus Route is more direct, the Montgomery Route arguably offers more for the culturally-curious, as it's dotted with cute small towns to stop at for a bite to eat.
The route you choose depends on your interests, and how quickly you want to reach Panama City Beach.
The Columbus Route
From the amazing city of Atlanta, head south past Newton and La Grange through to Columbus. Drive into the state of Florida, arriving at Tallahassee, which is known for its outdoor pursuits - and for being the hilliest place in Florida.
Now approaching the south coast, continue through Apalachicola National Forest before reaching Tate's Hell State Forest. Be sure to take in the beautiful forest landscape as it passes by your windscreen.
From here, you'll drive along the amazing southern coastline of America until you reach your destination - the sunny haven of Panama City Beach.
The Montgomery Route
From Atlanta, go west until you reach Birmingham in the state of Alabama. Changing course southwards, drive to Montgomery, where you'll find the National Historic Landmark of Alabama State Capitol.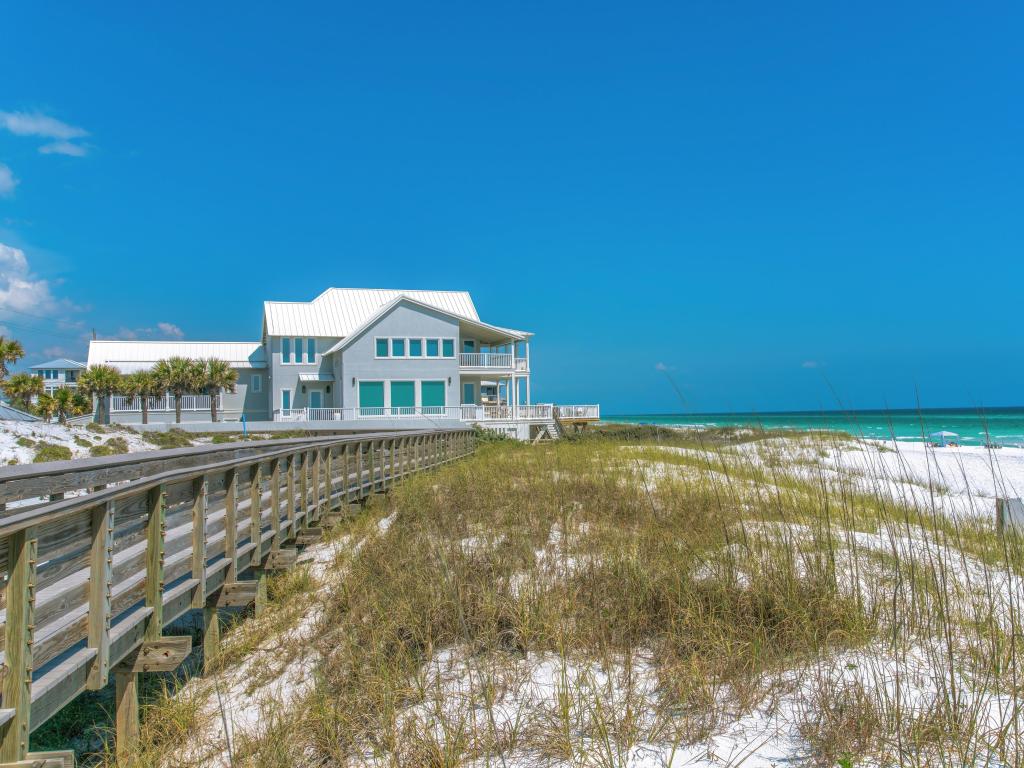 Continue your journey down through the beautiful peninsula near Pensacola and then onward to Destin. East from Destin, drive until you arrive at Panama City Beach.
Best places to stop between Atlanta and Panama City Beach
As a calm road trip from Atlanta to Panama City Beach takes longer than a day, you'll need a place to sleep. Read on to discover our favourite stops to stay the night.
Experience the rolling red hills of Tallahassee
Tallahassee is a great location on the Columbus Route to park up and spend the night. Tallahassee - the capital of Florida - is around two-thirds of the way along the route, making it a perfect place to relax ahead of the final stretch of driving.
By choosing this place to sleep, your last day of driving will mostly be spent travelling along the coast - where you'll be able to enjoy breath-taking views and spend time getting excited for your arrival at Panama City Beach.
Tallahassee is home to beautiful landscapes and rolling red hills, unique to this part of America. As the state capitol, it is rich in outdoor activities and steeped in history. The Tallahassee Museum is situated over 52 acres of flora and fauna, making you forget you're in a city at all.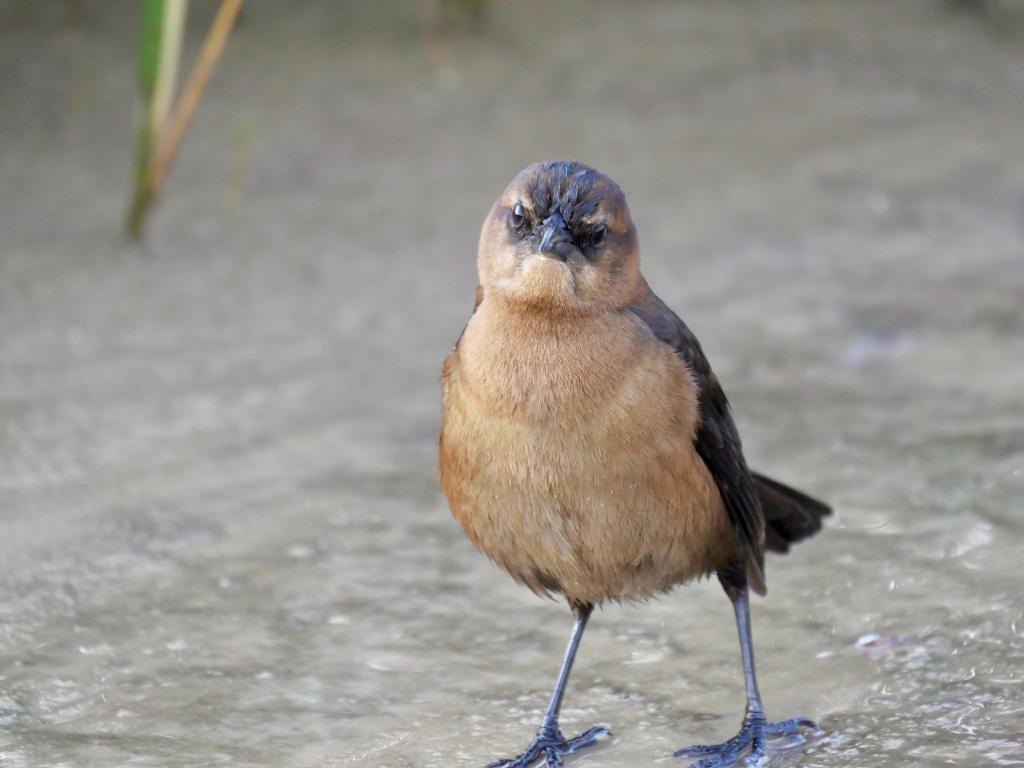 Architecture-lovers, this amazing stop on route answers your prayers - housing the third largest capital building in America. For travellers more interested in seeing unique animals, St Marks National Wildlife Refuge is one of the oldest in the country - responsible for aiding migratory birds in finding a winter home.
Alfred B. Maclay Gardens State Park is full of walking trails and beautiful structures decorated with plants and flowers, offering an escape from the familiar surroundings of the inside of your vehicle.
For a great stay, we recommend the quirky Clarion Pointe Tallahassee-State Capitol, which has a fun design and free parking for all guests. With free continental breakfast, cable television and a 24-hour front desk, you can sleep soundly knowing that you have everything you need on-site.
Plus, they're happy to accommodate your furry friends too. After all, why should your four-legged companions miss out on the trip of a lifetime?
The hotel is close to the Museum of Florida History, perfect for history students and families alike. The Florida Governor's Mansion is also nearby, as well as the Tallahassee Mall - a perfect place for picking up beach supplies.
The Clarion Pointe Tallahassee-State Capitol hotel offers the perfect stay. It's right on the highway you'll be arriving from and leaving on - meaning you can skip the stress of city traffic and get straight to enjoying everything Tallahassee has to offer.
Indulge in the artistic city of Montgomery
While only halfway through your Montgomery Route road trip, Montgomery is a perfect place worth a trip all of its own. As the capital of Alabama, the city boasts a lively art scene and an interesting history that impacts America to this day. It's known for being the centre of the Civil Rights Movement.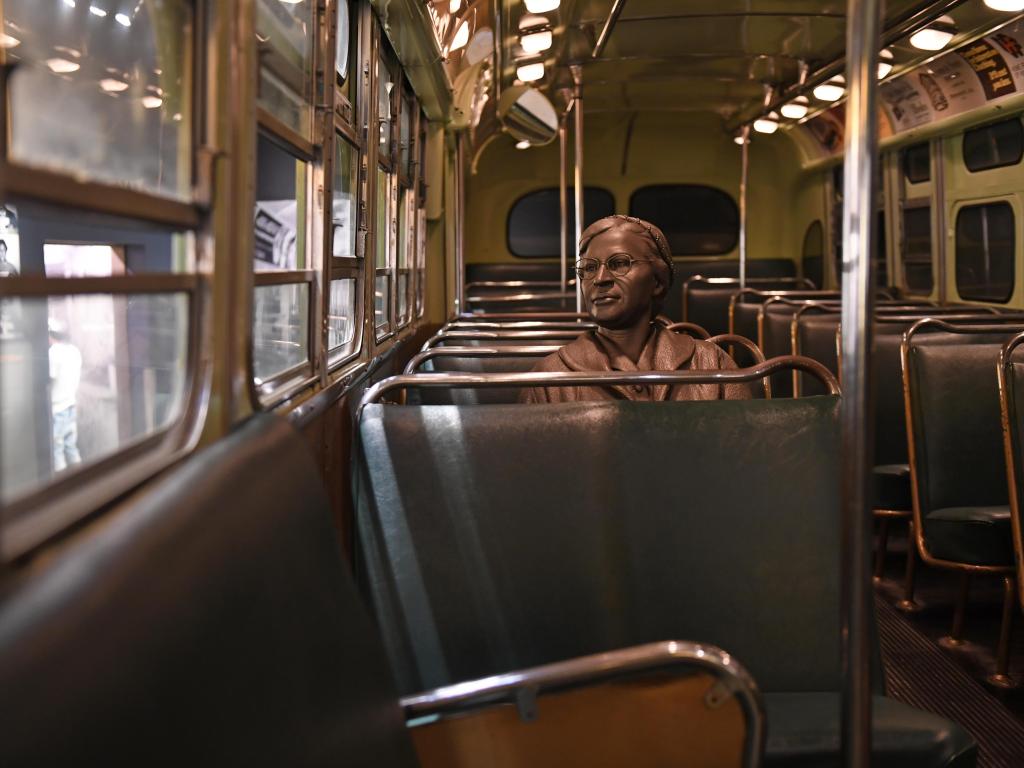 Major attractions in Montgomery include the Legacy Museum, where you can educate yourself about how African Americans were enslaved. The National Memorial for Peace offers an opportunity for further reflection, asking visitors to think about racism in America.
Rosa Parks Library and Museum is in Montgomery too, offering visitors the chance to discover more about the life of Rosa Parks and the story of the Civil Rights Movement. While most people know her brave act of defiance on the bus, there's a lot more to learn about the experiences and impact of the "first lady of civil rights".
Our hotel of choice is Renaissance Montgomery Hotel & Spa, with a beautiful rustic interior design and large open plan rooms. Rest assured: your car will be safely tucked away in on-site parking while you unwind in the hotel's spa and pool. There's also a gym for those keen to exercise before strutting their stuff at Panama City Beach.
Where to stay when you reach Panama City Beach
If you've taken the time to get to the beautiful Panama City Beach, why rush back home? You won't believe how much there is to explore. To ensure your days and nights are unforgettable, we recommend staying at Marriott's Legends Edge at Bay Point.
Being a large resort, Marriott's Legends Edge has everything you need for a great holiday, including the option to dine out or cook your own food in a state-of-the-art kitchen. The resort is close to the beaches and offers quick access to the main city and its many attractions, such as Pier Park.
With panoramic views of the water and fantastic all-round service, this is one place you'd regret not choosing.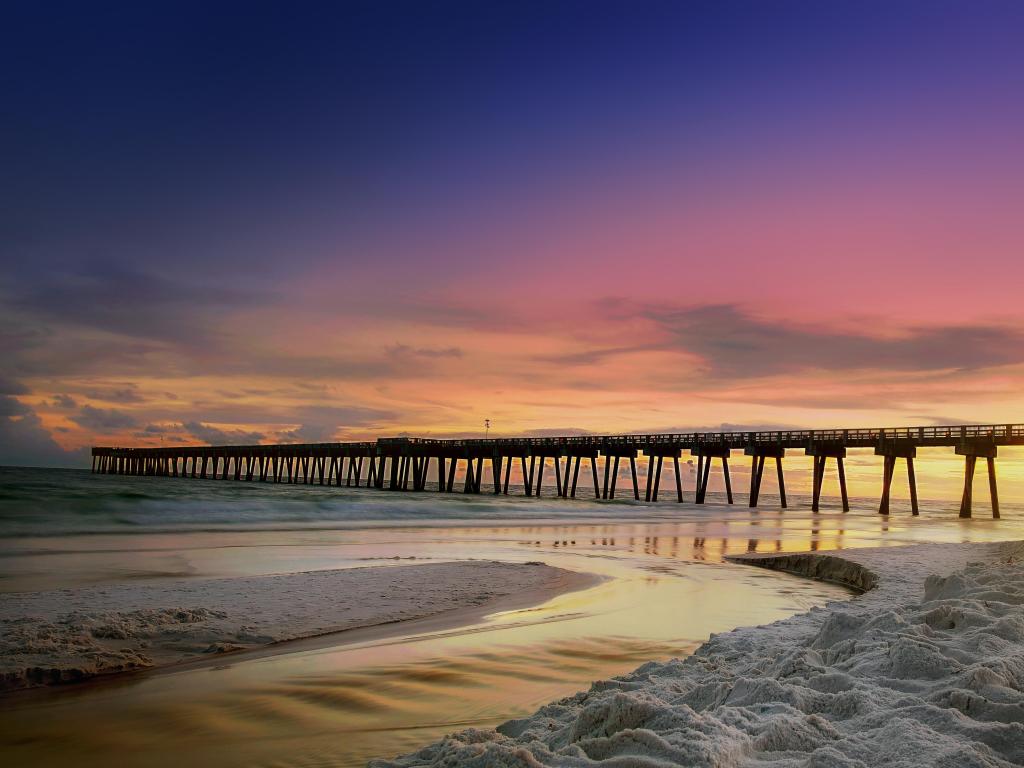 Things to see on a road trip from Atlanta to Panama City Beach
A great trip is as much about the journey as the destination, and with many unique experiences on offer on each route, it won't just be the beaches that amaze you. Here's a list of our top 20 things to see and do.
On The Columbus Route
Senoia - perfect for fans of The Walking Dead, this season three filming location offers tours and trivia of the area as well as merchandise.
Wild Animal Safari Inc - a classic drive-thru safari featuring 65 different exotic animals. Perfect for families, couples and those travelling alone.
F.D. Roosevelt's former home - the historic home of FDR, offering a vast expanse of hiking trails and information about the former President.
Apalachicola National Forest - packed full of spring-fed lakes, hiking trails, viewpoints and canoeing opportunities, Apalachicola is great for bird lovers and outdoor enthusiasts.
Florida Caverns State Park - take a guided tour around the expansive caves featuring freshwater springs and a gold course close by.
Water World - a perfect stop for children, Water World is a large waterpark with lots of slides and picnic spots.
Mexico Beach - if enjoying a beach before reaching Panama City sounds like an ideal plan, this beautiful spot is perfect for unwinding and relaxing.
T.H. Stone Memorial St. Joseph Peninsula State Park - fantastic for bird watchers, walkers and those who enjoy ocean views and sand dunes.
St. Andrews State Park - a large area offering beautiful beaches and boat tours.
Ripley's Believe It or Not - perfect for families, this amazing museum tells the story of many unbelievable feats of both humans and animals.
On The Montgomery Route
Six Flags White Water - great for families, this famous theme park owner offers a huge waterpark with many different slides.
Berman Museum - a small but quirky museum depicting world history. Perfect for those studying history.
Cheaha State Park - beautiful walking trails with lakes and a museum to explore.
Talladega Superspeedway - a great track for NASCAR fans.
International Motorsports Hall of Fame - a museum telling the history of motorsports, as well as information about the sports' most prominent figures.
Oak Mountain State Park - hosting waterfalls, hiking trails and lakes, Oak Mountain State Park is a perfect spot for those who love walking near water.
The First White House of the Confederacy - learn the history of the Confederacy while exploring the historic mansion home of Jefferson Davis during the Civil War.
Hank Williams Museum - a perfect museum for fans of Hank Williams and a great place to stop to stretch your legs.
Gulf Island National Seashore - a large sand beach, with incredible canyons and a historical fort to explore.
Air Force Armament Museum - the world's largest airbase hosts this incredible museum, and best of all - it's completely free to enter.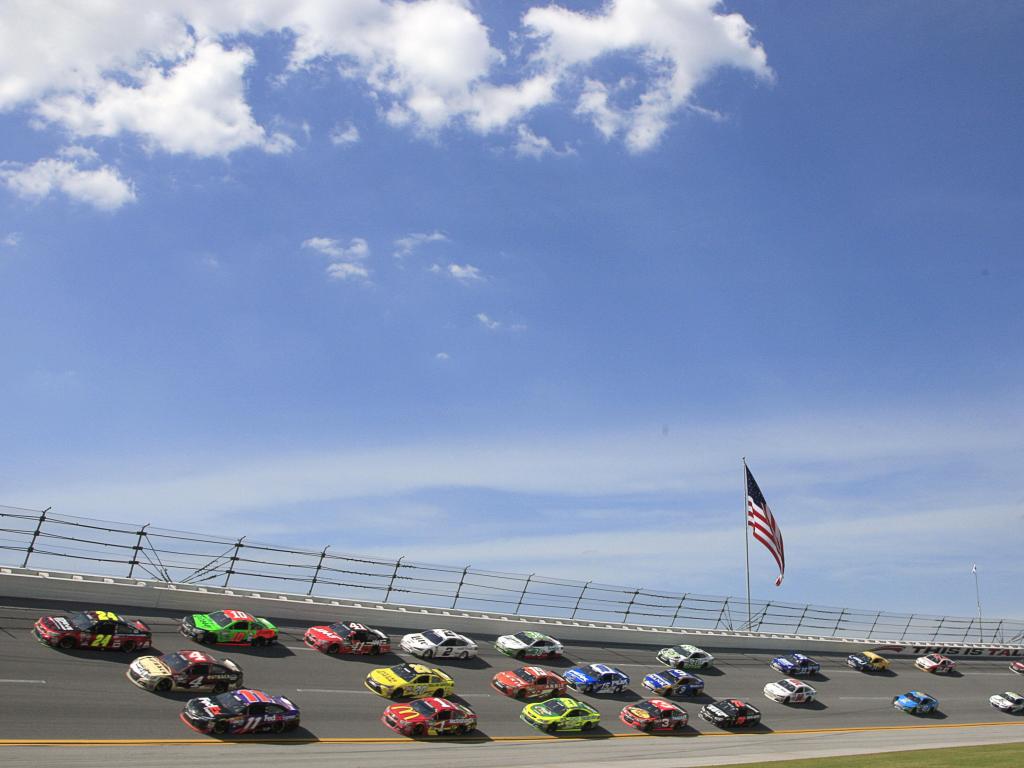 Best time to go on a road trip from Atlanta to Panama City Beach
The journey from Atlanta to Panama City Beach is achievable all-year-round. The destination enjoys warm weather throughout the year, and has lots of indoor activities for those occasional cooler days.
It's best to avoid the school holidays, as the beaches can be very crowded - which may hamper your ability to relax and unwind.
During winter, you'll find lots of great deals on tours and hotels - saving you money better spent on ice creams. The beaches and attractions remain open during winter, and temperatures will still be a lovely 46 to 63 degrees Fahrenheit. Craft beer and music festivals in February make this an ideal season to visit.
Summer at Panama City Beach is gorgeous, with temperatures averaging around 84 degrees Fahrenheit. The only downside to this ideal sunbathing weather is the large crowds, but you can simply drive down the coast a little until you find a quieter spot.
If you're looking for a middle temperature with some hustle-and-bustle, spring or fall are ideal seasons to travel to Panama City Beach. Spring is especially desirable, with April seeing the Seabreeze Jazz Festival roll into town. The water at this time of year is warm for swimming.
You might want to avoid visiting Panama City Beach during the holidays in spring, when hordes of students descend on "the Spring Break Capital of the World" in pursuit of a carefree escape. It really depends on your preferences!