Road Trip from Atlanta to Washington DC
For an exciting journey across America that takes in historic landmarks, scenic nature walks, vibrant art scenes and passes through some of the best cities it has to offer, the epic road trip from Atlanta to Washington DC is a real adventure that's sure to be memorable.
The 630-mile road trip from Atlanta to Washington DC will take around 10 hours to drive. Key stops include Richmond, Charlotte, Asheville, Greensboro and Roanoke, as well as Stone Mountain Park, Falls Park, Monongahela and Nantahala National Forests.
This great trip offers so much to see, from stunning national forests to breathtaking vistas along the famous Blue Ridge Parkway. To make the most of your journey, we've put together the best attractions, overnight stops to make on the way and the best time to make this epic trip.
How far is Washington DC from Atlanta, and how long will the road trip take?
Comparison of road trip routes between Atlanta and Washington DC

| Route | Distance | Driving Time |
| --- | --- | --- |
| The Direct Route | 640 miles | 10 hours |
| Blue Ridge Parkway Route | 780 miles | 11 hours 20 minutes |
The quickest route from Atlanta to Washington DC spans a distance of 640 miles and will take 10 hours to drive without stopping along the way.
A more scenic route, which encompasses the iconic Blue Ridge Parkway detour before arriving at Washington DC, is 780 miles long and will take closer to 11 hours and 20 minutes.
Given the distance and great opportunities on both routes to make exciting detours, our recommendation would be to split the trip between two and four days. By giving yourself longer to complete the journey, you'll be able to include a couple of satisfying overnight stops en route.
Best road trip route from Atlanta to Washington DC
There are two distinct options for driving from Atlanta to Washington DC. The quickest and most direct route is a great option if you have less time at your disposal. Despite being shorter, this option packs a punch and includes stops at Stone Mountain Park, as well as Charlotte.
Alternatively, if time isn't an issue, why not consider the Blue Ridge Parkway Route? While this route follows some of the above same roads, it also incorporates some stunning scenery, including Asheville and several popular national forests.
Regardless of which route you decide to follow, both trips contain plenty of interesting places to stop and explore. You could always follow one route to Washington DC and then follow the other on the return leg.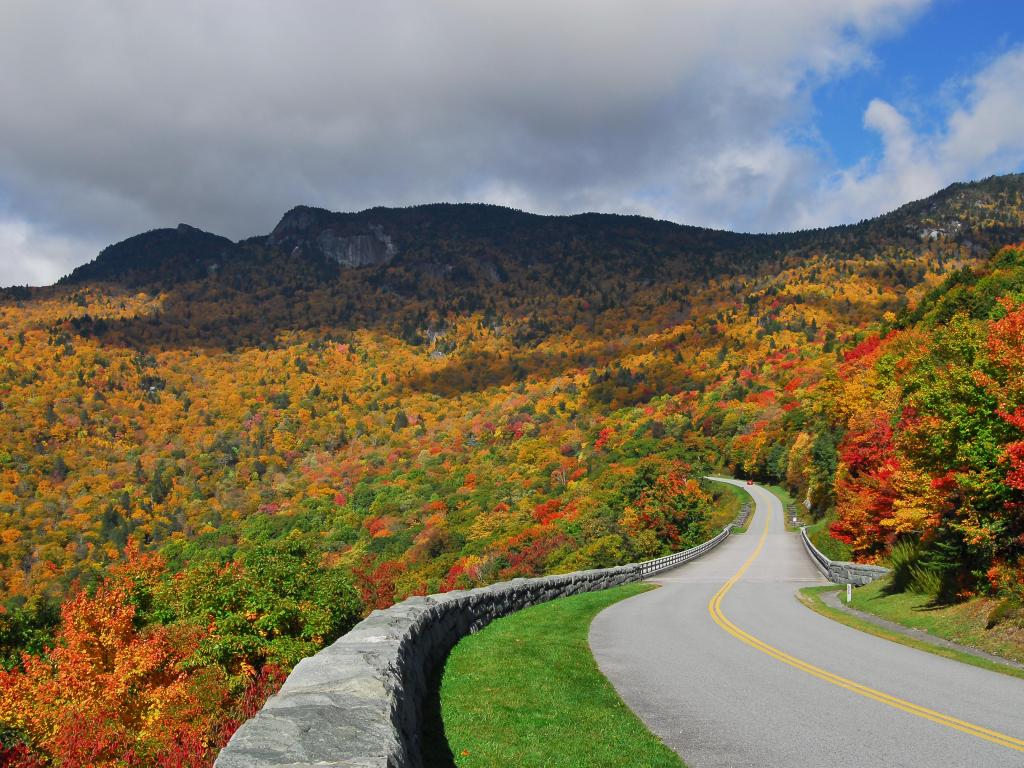 How to drive from Atlanta to Washington DC
The map above shows our suggestions for the best road trip routes between Atlanta and Washington DC. Keep reading for detailed descriptions of both routes, where to stay on either, and the best things to do on the way.
The Direct Route
The straightforward Direct Route will take you from Atlanta to Interstate 85. Make a quick pit stop at Stone Mountain Park before heading north, passing through the towns of Lavonia, Piedmont and Spartanburg.
From here you can take a detour to visit Francis Marion & Sumter National Forests or continue north on the interstate before arriving at Charlotte in North Carolina. As your first major city, this would be a good place to stop for a rest and enjoy the great attractions in this city.
After your visit, you will continue to follow I-85 north and pass a few more interesting towns, before you pass by Greensboro, another city that is worthy of a longer stop.
Next, take Interstate 40 and head east, before rejoining Interstate 85 just past Hillsborough and on the outskirts of Durham. Continue north to Petersburg, where you'll switch to follow Interstate 95 north all the way to Richmond in Virginia.
Continue following I-95 out of the city and head north, passing alongside the Potomac River. Follow signs to Interstate 395 which you will drive on a short distance before arriving at Washington DC.
The Blue Ridge Parkway Route
The more scenic and slightly longer route will see you leave Atlanta on Interstate 85 as you head north and change to follow US-23 through Gainesville, Cornelia and Clarkesville.
At this point, you can take an optional early detour to the stunning Chattahoochee-Oconee National Forests by following US-129 past Gainesville.
Continue on US-23 through Clayton, Dillard and Franklin as you pass by the great Nantahala National Forest. You could further explore this stunning scenery by driving on to the Great Smoky Mountains National Park.
Back on the main route, switch to US-74 before taking Interstate 40 east. Take Exit 53A for US-74A and then the Blue Ridge Parkway to Asheville in Georgia.
There are four main entrances to the Blue Ridge Parkway. As you are heading north, the best route for you to take is Milepost 382. By doing so you will experience the stunning scenic views Asheville has to offer and even have the chance to explore the Folk Art Center.
You can extend your drive along the iconic highway, or head between Cherokee National Forest and Pisgah National Forest on Interstate 26 west. You will pass Erwin before taking Exit 8B and following Interstate 81 north.
Continue on this stretch for a reasonable stretch, before taking a short detour off the interstate to stop at Roanoke in Virginia. This is a great destination for an overnight stop and to explore the stunning setting.
When you continue your drive, you will stay on I-81 past several towns including Harrisonburg, a great point to stop and explore the great Shenandoah National Park. Afterwards, carry on I-81 as far as Strasburg where you will take the exit to join Interstate 66 east.
Continue heading east for a short drive before driving through Fairfax and onto your destination in Washington DC.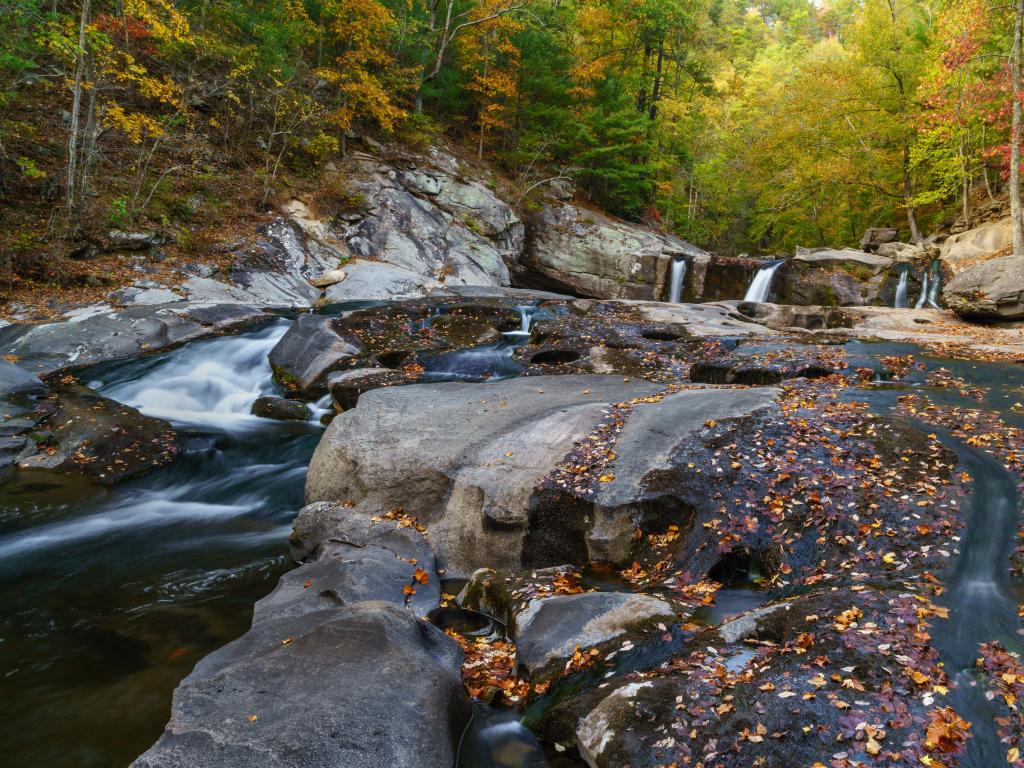 Best places to stop between Atlanta and Washington DC
Considering the length and scenic detours you're likely to want to take along the way, the trip from Atlanta to Washington DC is best enjoyed over several days.
Of all the fantastic stops along the way, these are some of the places you'll want to keep an eye out for:
Stay with the great athletes in Greensboro
A great place for a pit stop if you're following the fastest route is Greensboro in North Carolina. This city is located under 6 hours away from Atlanta on the Direct Route, making it a great place to stay if you're splitting your trip into a few days.
Not only is it the halfway point between Atlanta and Washington DC, Greensboro is also a city recognised for its athletic venues and rich history, guaranteeing you an educational and entertaining visit.
Known for its wealth of athletic venues, educational sites and rich history, there are also great nature walks in the surrounding area. Just some of the highlights include Greensboro Science Center and the International Civil Rights Museum.
To make the most of the great nearby attractions, a stay at the Marriott Greensboro Downtown is an excellent option. Located close to the best shopping and dining locations, with newly renovated rooms, this 5-star hotel is hard to beat.
Featuring an updated restaurant and bar to socialize and rejuvenate, this great hotel is close to both the museums and art galleries the city has to offer. To finish off, there's also parking available and great views.
A scenic stay at Roanoke
If you've chosen instead to follow the Blue Ridge Parkway Route, then a great halfway point is Roanoke in Virginia. This city is located between Asheville and Washington DC, making it an ideal place to stop and enjoy the scenery.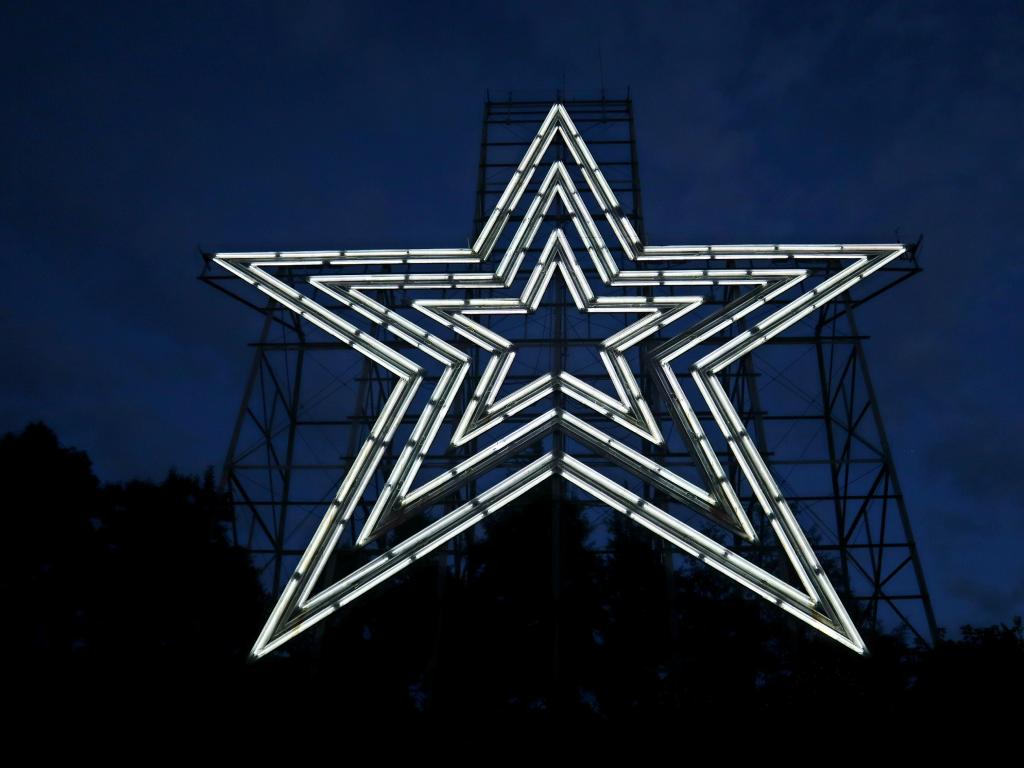 Known best for the Mill Mountain Star, the world's second-largest illuminated man-made star, Roanoke is also popular with attractions such as the Science Museum or Western Virginia, the Mill Mountain Zoo and the Taubman Museum of Art.
Set in the Blue Ridge Mountains of southwest Virginia, it's also an incredibly scenic place to stay and explore the nearby landscape, including the George Washington & Jefferson National Forest.
For hotels in this part of Virginia, one of the very best is The Hotel Roanoke & Conference Center - Curio Collection by Hilton. This modern and elegant hotel is within walking distance of the Science Museum of Western Virginia Hopkins Planetarium and the Civic Center.
The hotel itself is set in an idyllic and peaceful spot, offering a welcome outdoor pool and multiple dining options onsite. There are also spa services and a Salt Foot Sanctuary available for guests, which you might just need after a long day of hiking or exploring.
With parking available, a stunning outdoor terrace to enjoy a drink or two and spacious and comfortable rooms, The Hotel Roanoke certainly won't disappoint.
Stay in a former bank in Washington DC
Of course, once you reach Washington DC, there's so much left to see and do. The US capital, set on the Potomac River, is bordered by the states of Maryland and Virginia.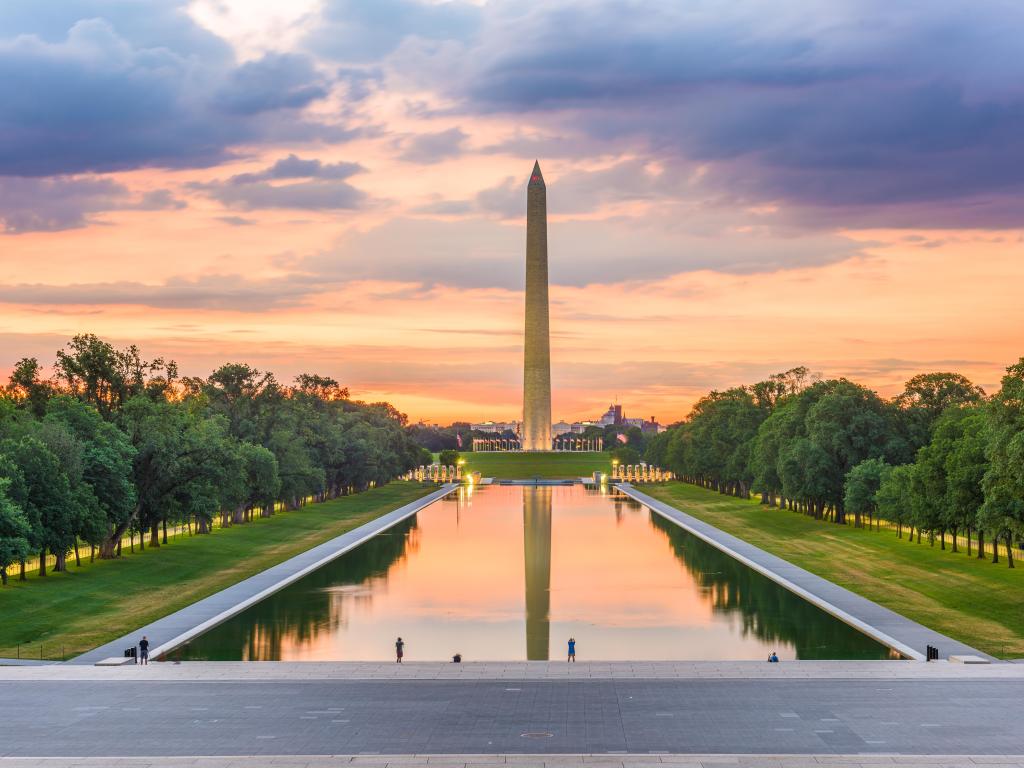 Famous for its neoclassical monuments and buildings, it's probably best known for its iconic buildings: The White House, United States Capitol and Supreme Court.
As well as the government buildings, Washington DC also has a number of fantastic museums to visit as well as stunning art venues like the Kennedy Center and of course, the striking Washington Monument.
With a great array of hotels in this city, you are spoilt for choice. One of the standout options is the Riggs Washington DC. This incredible 5-star hotel is located in the former home of Riggs National Bank and offers modern accommodation just a short walk from Gallery Place.
This iconic stay offers city views of Penn Quarter, great dining options including all-American cuisine, and a cocktail mixology bar that can be found in the original basement vault. This truly is a unique opportunity to get the celebrity treatment at a world-class hotel.
Things to see on a road trip from Atlanta and Washington DC
Regardless of which route you decide to follow, the trip from Atlanta to Washington DC takes you on a journey passing great monuments, forests, fascinating cities and pretty towns.
If you're pressed for time, here are some of the best things to see along the way: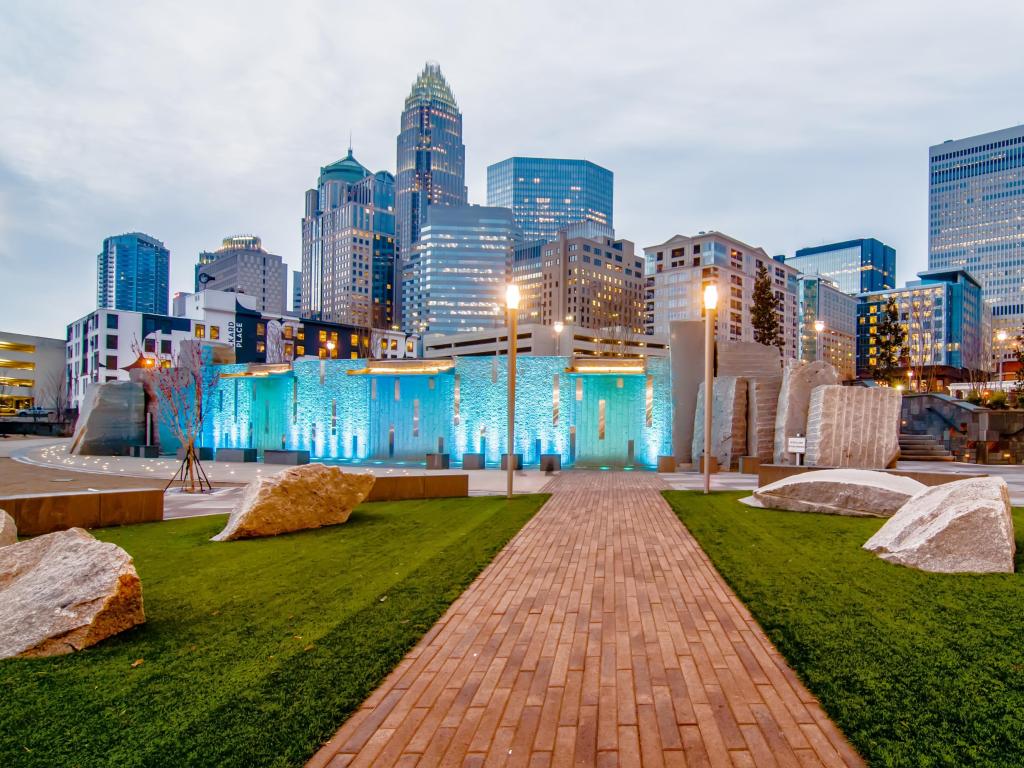 The Direct Route
Charlotte, North Carolina - Charlotte is the commercial hub of North Carolina and the home of the NASCAR hall of fame. A location which will enable you to take part in interactive exhibits and witness the finest moments in automobile history.
Carowinds - For thrill-loving adults as well as children, a detour to Carowinds will give you the adrenaline rush you crave. With plenty of roller coasters and sweet bites to sink your teeth into, this destination will keep you entertained before you move on to your next stop.
Greensboro, North Carolina - Not only is it the halfway point between Atlanta and your final destination, Greensboro will be the location to unwind and truly embrace the luxuries of road trip culture.
Richmond - Richmond is one of the oldest cities in America. Therefore, there are stories around each corner and in every building you will set foot in. Visit the museum of civil history and get to know the past behind the archaic capital of Virginia.
North Carolina Zoo - The North Carolina Zoo has 500 acres homing over 1,800 animals of more than 250 species. This is no doubt the ideal location for when you are in need of nature's company away from the bustle of touristing.
Falls Park, Greenville - This park provides you with several walking trails that will treat you to plenty of picturesque greenery and phenomenal waterfall displays. The iconic Liberty Bridge even has a stunning panoramic view of all the beauty Falls Park has to offer.
North Carolina, Museum of Art - This museum holds a fine collection spanning 5,000 years. Not only will you be in the presence of timeless creations, but you will also be educated about the compelling stories that led to their formations.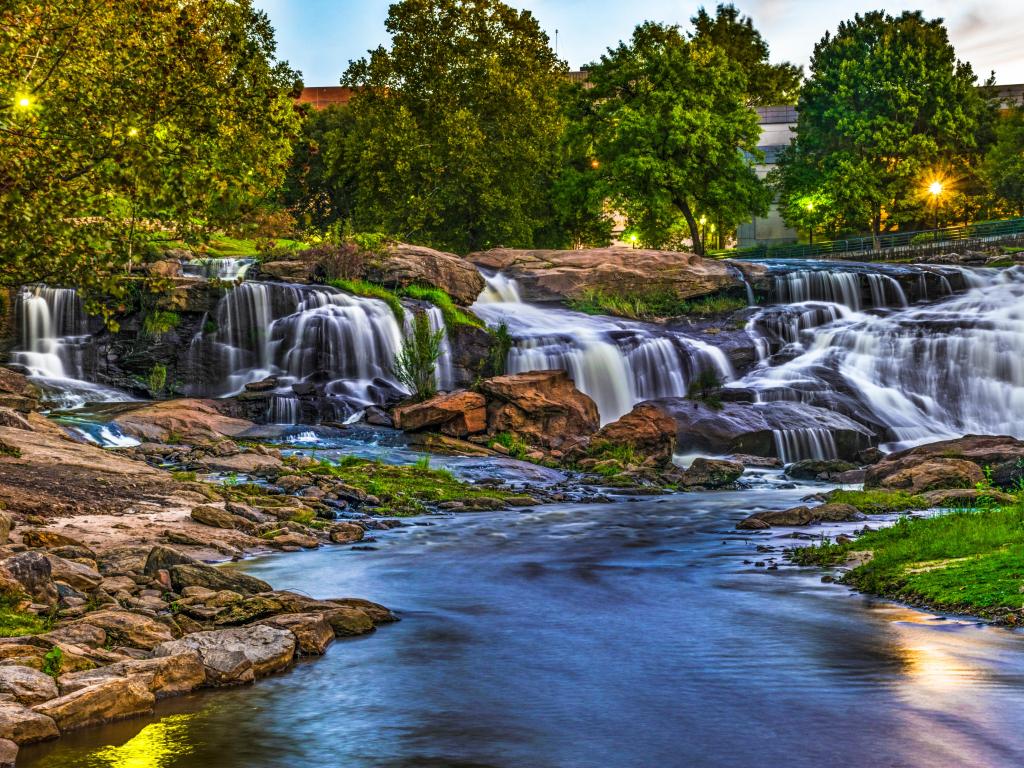 The Blue Ridge Parkway Route
Stone Mountain Park - This glorious mountain park has plenty of activities to keep you and the family absorbed in the depths of America's scenic beauty.
Cherokee National Forest - This Tennessee forest is divided into northern and southern sections by the Great Smoky Mountains National Park. Featuring 650,000 acres of forest, there's plenty of opportunities for hiking and wildlife spotting here.
Consolidated Gold Mine - This indoor attraction will place its golden history in your hands (literally!) by giving you the opportunity to pan for real treasure. Come and have a taste of the past just as the locals would have done hundreds of years prior.
Roanoke, Virginia - Allow yourself to catch a breath in a city that is packed with history, good food and culture. Roanoke is brimming with fun locations that are waiting to be explored. Not only will you be spoilt for choice, you will also be within walking distance to its main attractions if you choose to stay at the hotel we have recommended.
Blue Ridge Parkway - The Blue Ridge Parkway is a National Parkway noted for its scenic beauty. Running north and south from Asheville with plenty of long-range mountain views, spots for roadside picnics and breathtaking vistas, it's a much more than just a road!
Asheville, North Carolina - The wonderful city of Asheville will unquestionably live up to its attraction by spoiling you with its vibrant art scene and rich history. With so much to do, you will not want to leave.
Shenandoah National Park - Discover great camping sites, stunning scenery, mountain streams and star-studded skies, this national park in Virginia is a detour worth making. You will need an Old Rag Day-Use Ticket if you are planning to visit the Old Rag Mountain. Please check the national park's website for details.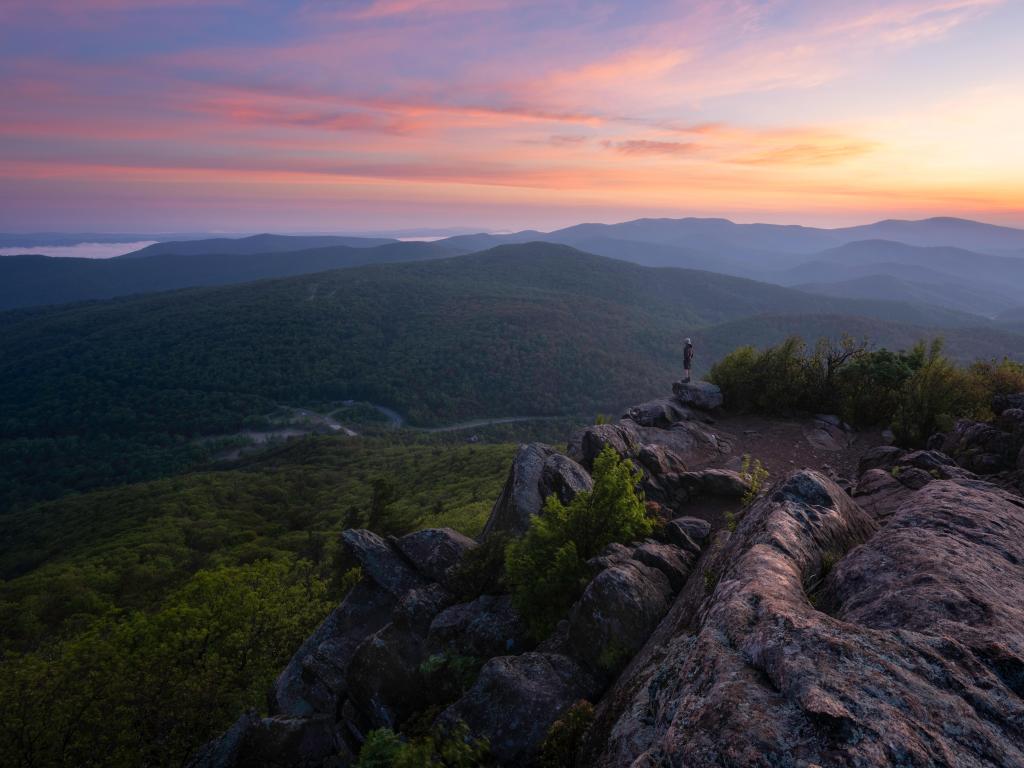 Best time to go on a road trip from Atlanta and Washington DC
You could plan a trip from Atlanta to Washington DC during any season, as each will bring something different to your journey. However, the best time to travel will largely depend on your preference for places to visit along the way.
While you might think that summer is best, the sweltering heat in Washington DC in particular can make this an uncomfortable time to travel. Coupled with large crowds and temperatures on average as high as 80 degrees Fahrenheit, you might find yourself retreating to the museums to keep cool.
On the polar opposite, the fresh snow and Christmas and New Year festivities make the city appealing in winter. It's also a great time to avoid crowds. While temperatures are milder than in northern parts, they can still reach 30 degrees Fahrenheit.
If ice skating at the National Gallery of the Art's Sculpture Garden doesn't appeal, then an ideal time for this trip would be between March and June. Although you may face unpredictable weather, you'll time your visit with the iconic Cherry Blossom season which kicks off in late March.
Other great festivals taking place in Washington DC that you might want to time your trip with are the highly anticipated Something in the Water music festival or the After Dark Sightseeing Tour, which takes you around Washington DC's stunning landmarks at night.