Road Trip from Barcelona to Valencia
Follow the paths of the Roman Empire, the Caliphates of Al-Andalus, and the Spanish Kingdoms in this incredible European road trip. This adventure of a lifetime is packed with history, culture, beautiful landscapes, and some of the best food on the planet.
The 370-km road trip from Barcelona to Valencia will take 4 hours and 30 minutes to drive nonstop. You'll visit Barcelona, Tarragona, Sitges, Sant Salvador, Reus, Castellon de la Plana, Sagunto, Montserrat Monastery, Lleida, Mora d'Ebre and Morella.
This incredible journey will take you through unlimited historical hotspots and cultural gems. Not to mention, some of the most picturesque landscapes in Europe. Read on to learn about the best routes, places to stay, and things to see and do along the way.
How far is Valencia from Barcelona, and how long will the road trip take?
Comparison of road trip routes between Barcelona and Valencia

| Route | Distance | Driving Time |
| --- | --- | --- |
| The Coastal Route | 370 km | 4 hours 30 minutes |
| The Inland Route | 570 km | 7 hours 50 minutes |
The city of Valencia is only a few hundred kilometers from Barcelona and there are two beautiful routes that will take you between the two cities if you have a little extra time to spend on the road.
The Coastal Route will take you along the stunning Costa Dorada (Golden Coast) of the Mediterranean Sea. You'll drive 370 km in 4 hours and 30 minutes.
The Inland Route is longer, at 570 km and 7 hours and 50 minutes. Although you won't be on the coast as much as the Coastal Route, you'll get to see 11th-century monasteries, ancient ruins, mountain vineyards, and epic Spanish towns surrounded by Mediterranean forests.
Regardless of which route you choose, we recommend spending at least two days on this journey. Continue on to learn more about the two routes, where to stay, and what to see along the way.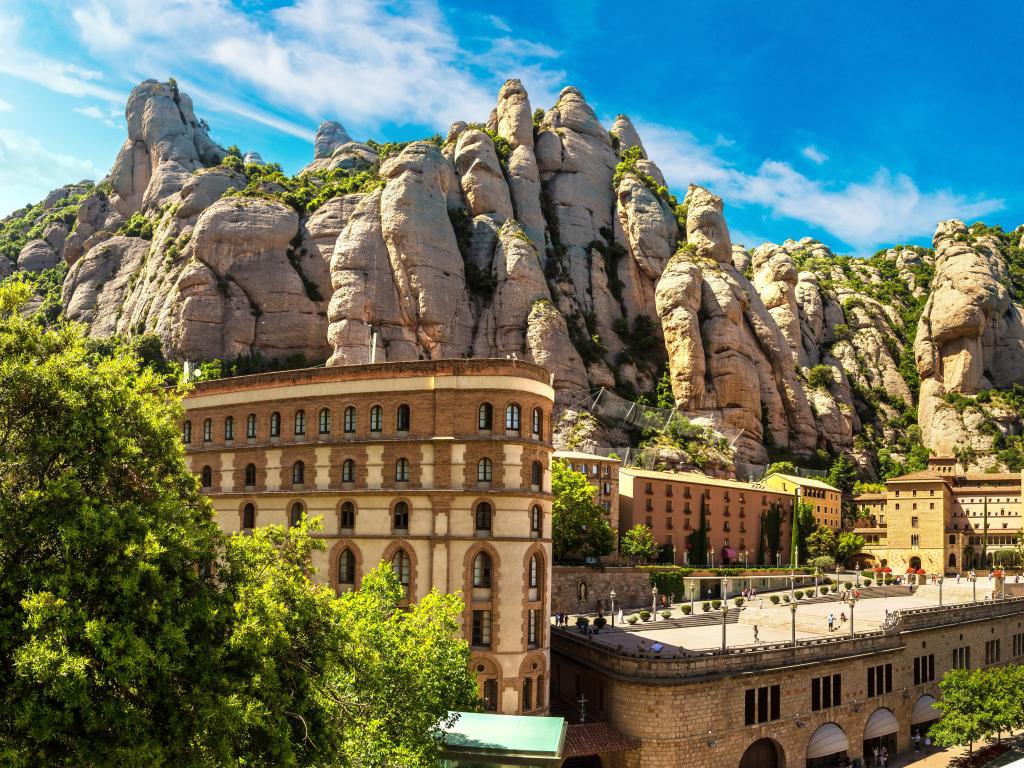 Best road trip route from Barcelona to Valencia
This trip is packed full of old and new cultures and beautiful scenery. In both routes, you will experience ancient Roman ruins and 11th/12th-century Monasteries, many of which are still active today, as well as huge cathedrals and basilicas.
Besides this, you will experience Catalan, Valencian, and Spanish culture and taste amazing cuisine that changes dramatically based on the region you are in. You will gaze at beautiful rocky mountains or incredibly pure and beautiful beaches, depending on which route you take.
The Coastal Route will take you down the famous Costa Dorada (The Golden Coast). It gets its name from the seemingly endless stretches of golden sand, warm waters, and incredible views.
You will pass through many small coastal towns such as the beautiful Sitges (a beautiful coastal town known to be a world leader in protecting LGBTQ+ rights and known as the gay capital of Europe), Villanova (known for beautiful coastal walks), and Sant Salvador. You will surely get an authentic taste of Spanish life.
The culturally rich Inland Route will take you through many amazing sites such as the 11th-century monastery at the top of a mountain known as Montserrat. Also along the way are epic cathedrals and churches and romantic Spanish towns and villages.
You will have time to experience some of the beautiful Catalan landscapes before heading south through many National Parks and rejoining the coast just before Valencia.
The Coastal Route
From the city of Barcelona, head south along the beautiful coastline of the Mediterranean Sea. Continue along the coast of Catalonia to the charming historic city of Tarragona.
Continue on through the orange tree and palm-lined coastline. Make a stop at the ancient walled city of Peniscola. After soaking up the historical charm of Tarragona, continue south along the coast. You'll pass charming towns and small fishing villages.
Continue on into the town of Sagunto. Drive further south until you get to your destination of Valencia.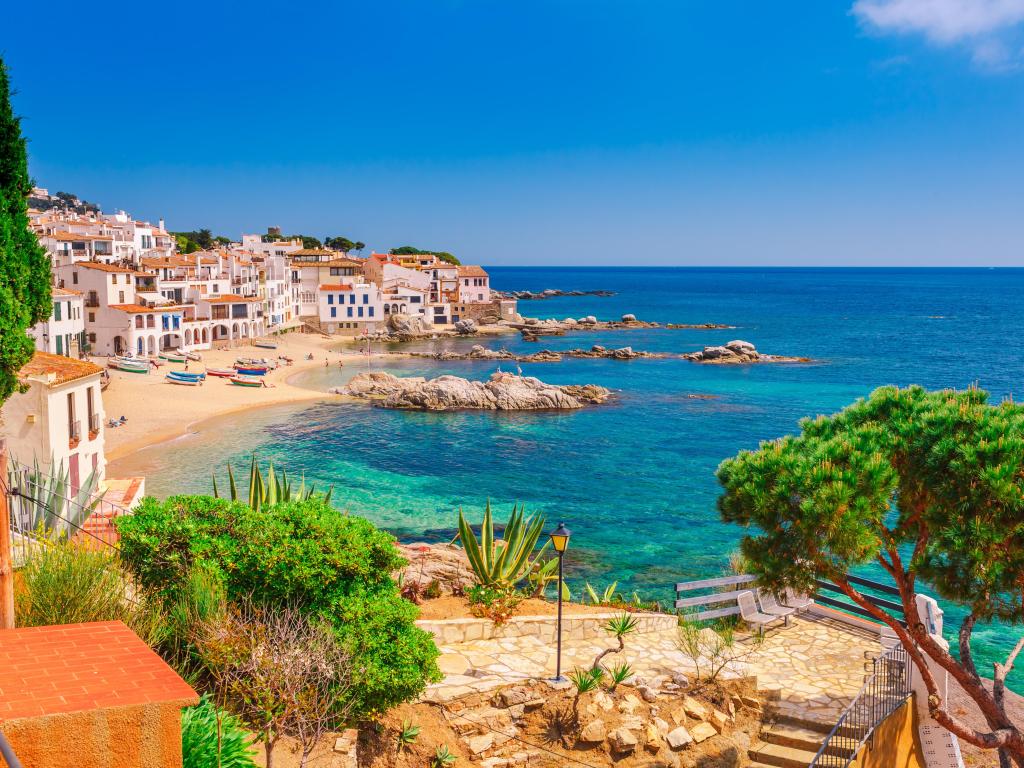 The Inland Route
From Barcelona, head west to the historic town of Lleida. Here you can marvel at the cathedrals and monasteries of old Spain. From here continue on through the windy mountains of Catalonia. Make a small detour to Mora d' Ebre.
Drive southwest through the mountains and forests of Park Natural du Ports. Drive further into the historic town of Morella.
Continue on through the twisting mountain passes of the old world mountain highway until you get to the modern A-23. Continue on to the coast and the fantastic and beautiful city of Valencia.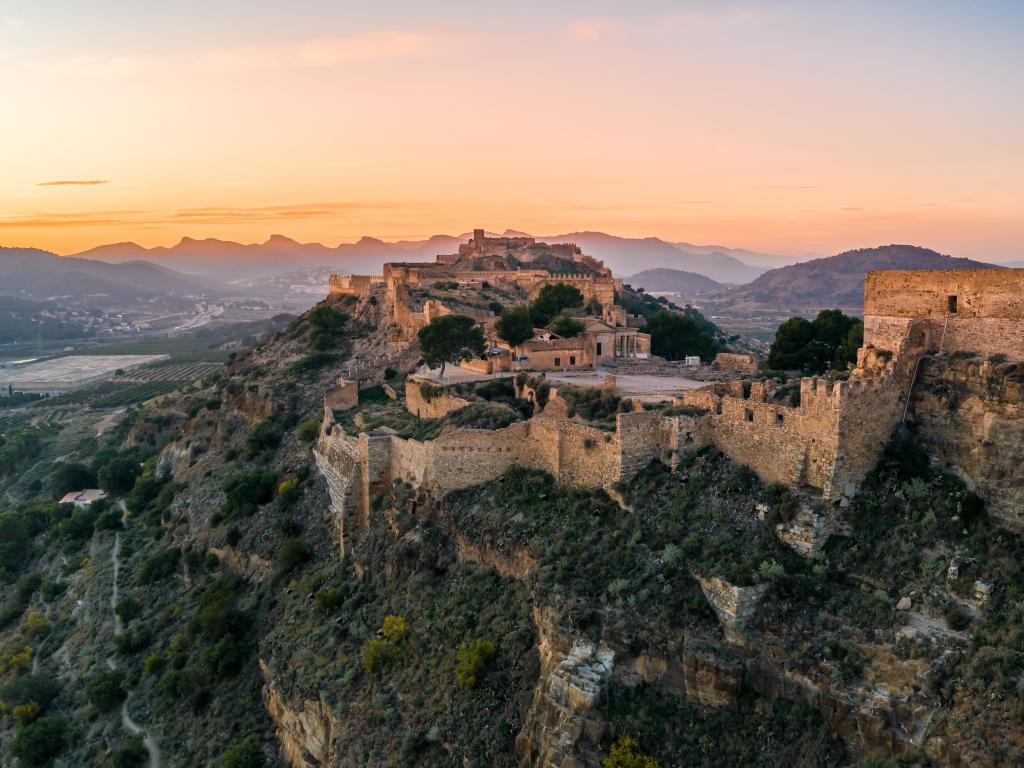 Best places to stop between Barcelona and Valencia
With so much to see and do along the way, you're sure to have a busy schedule and need a break. Below are our favorite places to stay the night and things to do and experience in them.
Escape into the history of Tarragona
About one-fourth of the way along the Coastal Route is the beautiful city of Tarragona. The location is great for breaking up the journey and hosts plenty of beautiful architecture, Roman ruins, and ancient culture.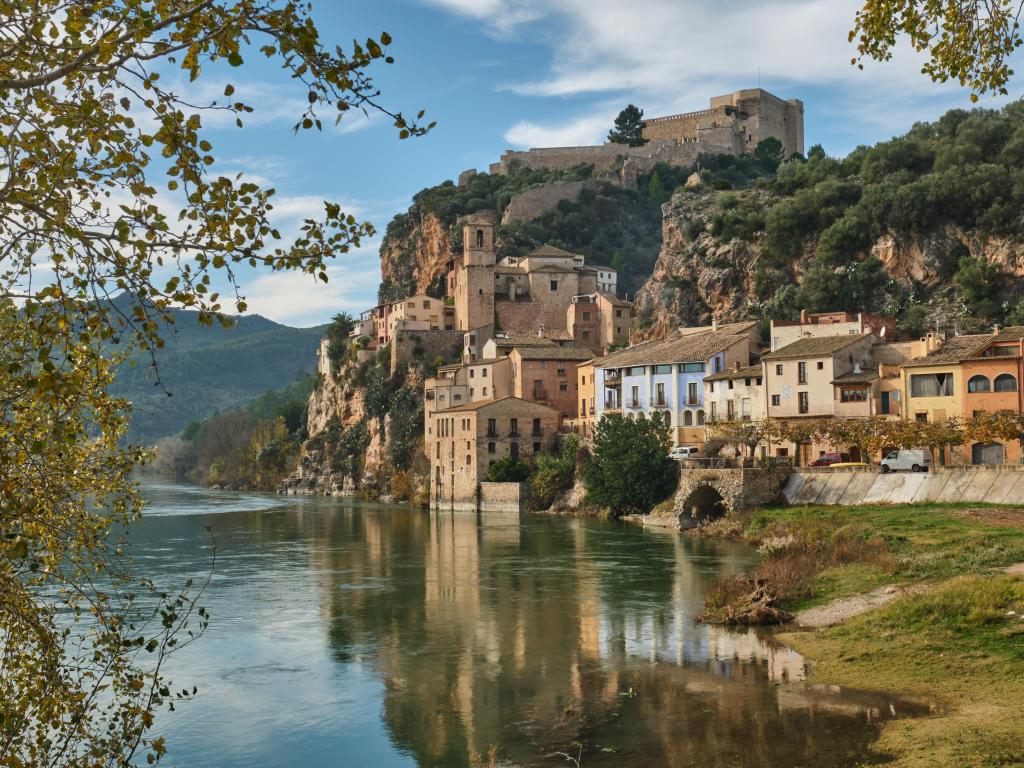 Tarragona is an ancient port city and famous for its delicious seafood, fun festivals, and incredible beaches that are considered some of the best in Spain.
There are plenty of museums and things to explore in the area. First off is the Amfiteatre de Tarragona, an ancient Roman amphitheater which is remarkably well-preserved.
Next up is the National Archaeological Museum of Tarragona. This is a must-see for those interested in Roman artifacts and art. Another historical gem is the Cathedral de Tarragona. Here, you can enjoy the beautiful Spanish-style cathedral with large rounded windows and beautiful sculptures.
Close by is the Mercat de Tarragona. This market is famous for being a classic Spanish indoor food market where you can taste local delicacies.
Once you reach Tarragona, we recommend resting at the luxurious Hotel SB Express Tarragona. This beautiful hotel has a modern design and easy parking close by so you can arrive and not have to worry about leaving your car behind as you explore this stunning city on foot.
Enjoy an excellent cafe, light meals, and breakfast on site before heading out to explore. The hotel is just walking distance to the historic center of the city. The Roman ruins are just 1 km away as well as PortAventura, the biggest Theme Park in Spain.
Take in the Catalan culture in Lleida
About 2 hours in on the Inland Route is the calming town of Lleida. This is a great place to stop after spending the day at Montserrat Monastery.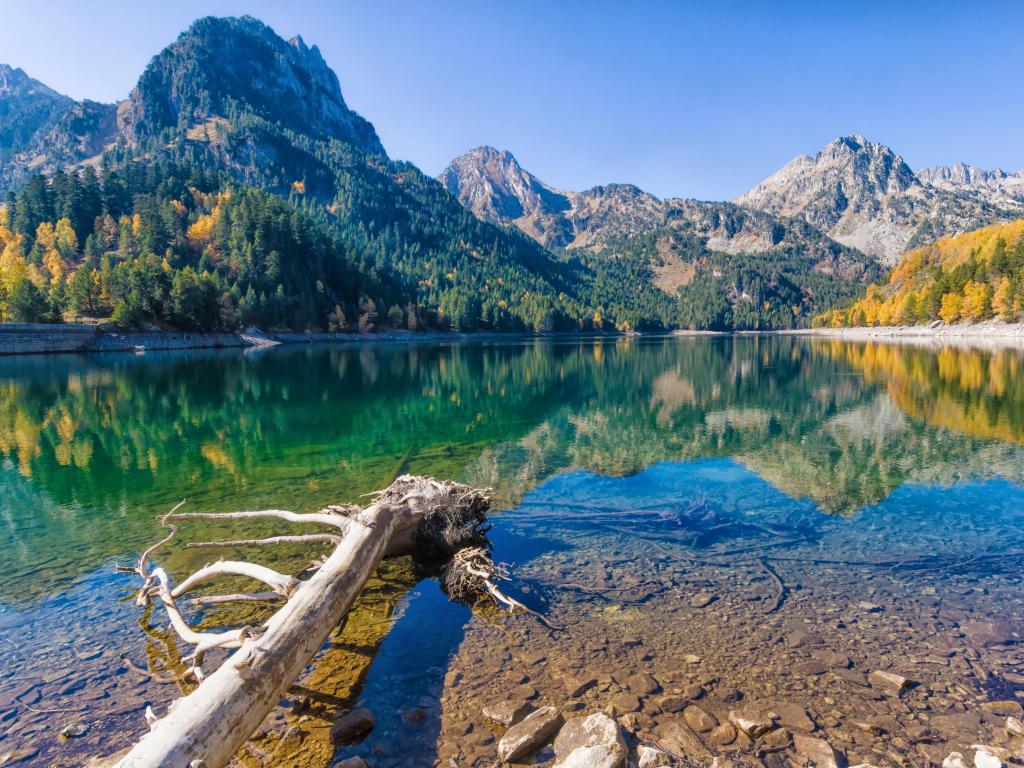 Lleida is a beautiful city with authentic Catalan culture and beautiful architecture. The city is famous for its agricultural and textile industries and wine. Here, you can cozy up with some Spanish wine and enjoy the beautiful scenery and various outdoor activities.
There are plenty of things to check out, like the La Seu Vella. This old cathedral still stands tall and proud today and towers over the city, providing excellent views of the surrounding area and a glimpse at the region's past.
If you love history, a visit to the Lleida Museum is in order. This interesting museum tells the story of the area through art, clothing, furniture and archaeological findings. Another historical treasure to visit is the Castell de la Suda.
Once you make it to Lleida, we recommend staying at Parador de Lleida. This luxurious hotel is set in an old 17th-century convent so you can immerse yourself in the culture of the area.
Inside, you'll enjoy exquisite Spanish architecture and comfortable amenities. There's private onsite parking available so you can arrive, park, and get straight to relaxing.
The hotel is close to the historic center of town and within walking distance to many restaurants, bars, and historical sites. You're also just a short distance away from the famous Caritas Internationalis, where you can immerse yourself in local culture and community projects.
Where to stay when you reach Valencia
Once you reach your destination, stay at the relaxing and luxurious Hotel Puerta Serranos. Enjoy the beautiful decor and city views in this highly rated hotel.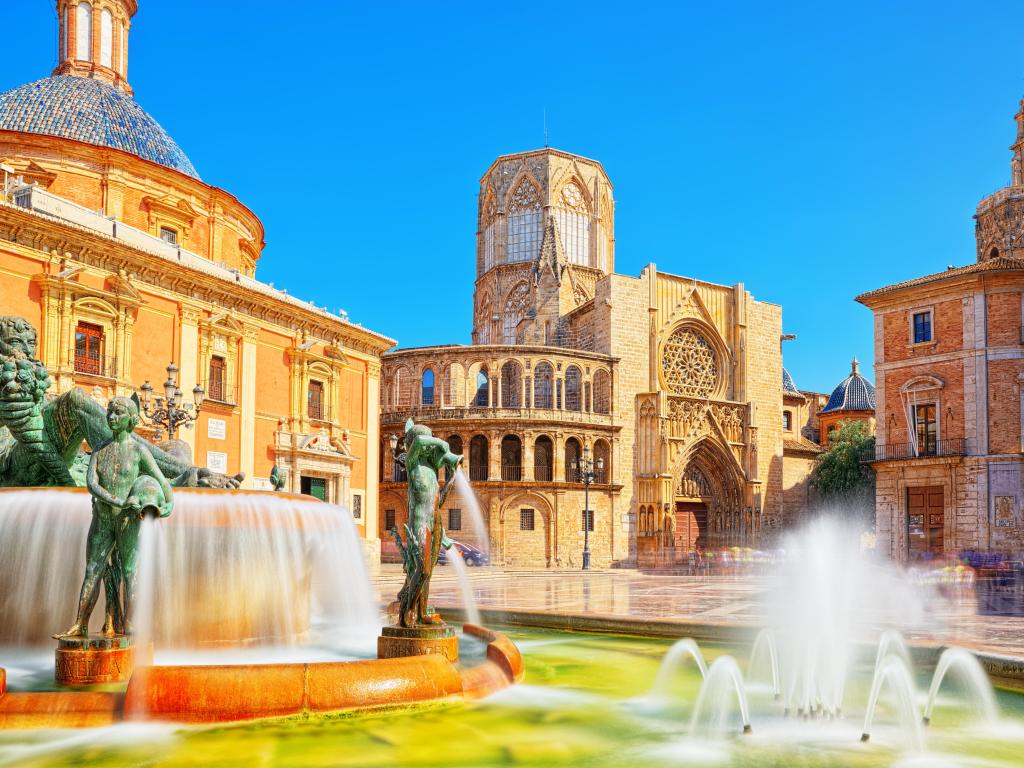 Take advantage of the hotel's amenities, including room service and continental breakfast. The friendly staff will make sure to help you plan your stay or answer any questions you have about the city.
The Hotel Puerta Serranos is close to major attractions like the Basilica de la Virgen de Los Desamparados, Jardines de Monforte, and Turia Gardens. You're also just a short walk from the city center and some of the most famous bars and restaurants in Spain.
Things to see on a road trip from Barcelona to Valencia
There will be plenty of things to see and do, including many small, non-touristy towns to explore, as well as places to experience Spanish traditional music and dance. You will also pass through many national parks and forests depending on which route you take.
Below, we've listed our top destinations for you to explore along the way to get the most out of this mesmerizing region.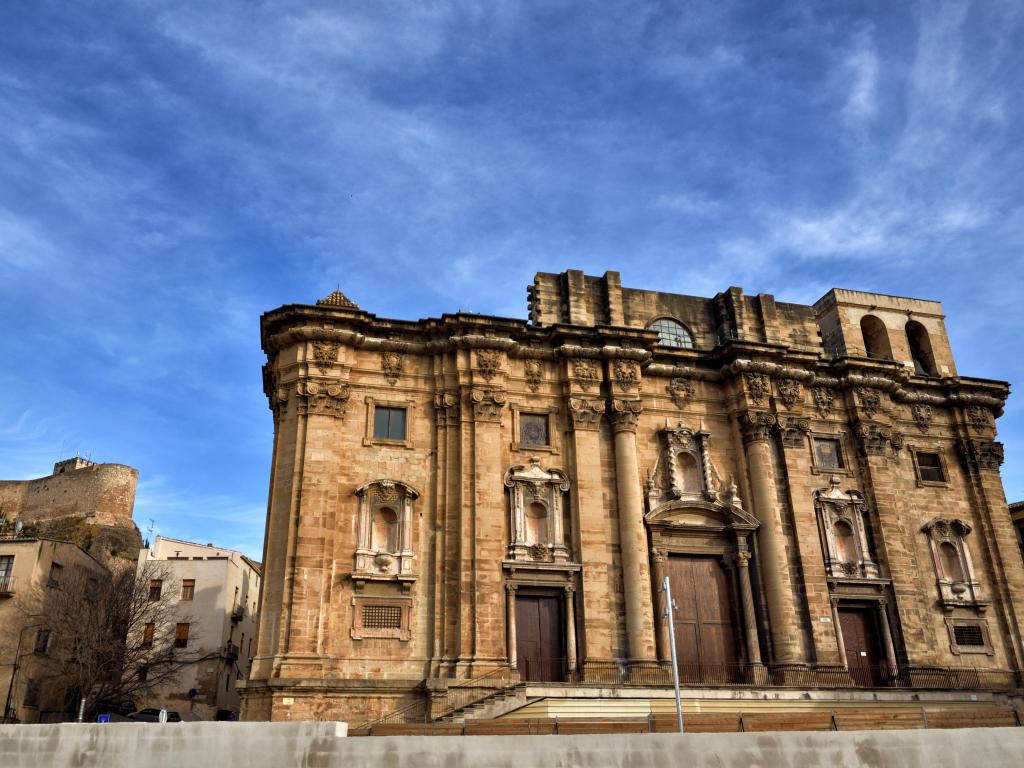 The Coastal Route
Roc de Sant Gaieta - This pretty little town is perfect for a lunch stop at the marina to break up your drive and to stretch your lef
Arc de Bera - Ancient Roman triumphal arch dating back to the 1st century BC. Make sure you bring your camera to take photos, as this arc is known to be very picturesque.
PortAventura World - The largest theme park complex in Spain and one of the largest in Europe. There are many parks within for anyone to enjoy.
Buho - A vibrant bar where they often host local music and flamenco dances
Platja del Torn - Perfect for those wanting to tan all over. This nudist beach is one of many along the coast and is a place you can feel safe to bare it all.
Ebre Delta - Take a cruise along the river to experience the beautiful landscapes of the delta and the wildlife and civilizations it provides.
Tortosa Cathedral - Gorgeous gothic cathedral that is worth going slightly out of your way for. A very different style from most cathedrals you may have seen.
Peniscola Castle - This is a gigantic fortress sitting right in the water. You can take a tour to learn the history, or just wander around and soak in the history/incredible ocean and city views.
La casa de las Petxines - This beautifully designed and eclectic building stands out from the rest of the area. This house has a very interesting history that will be fun for you to learn about.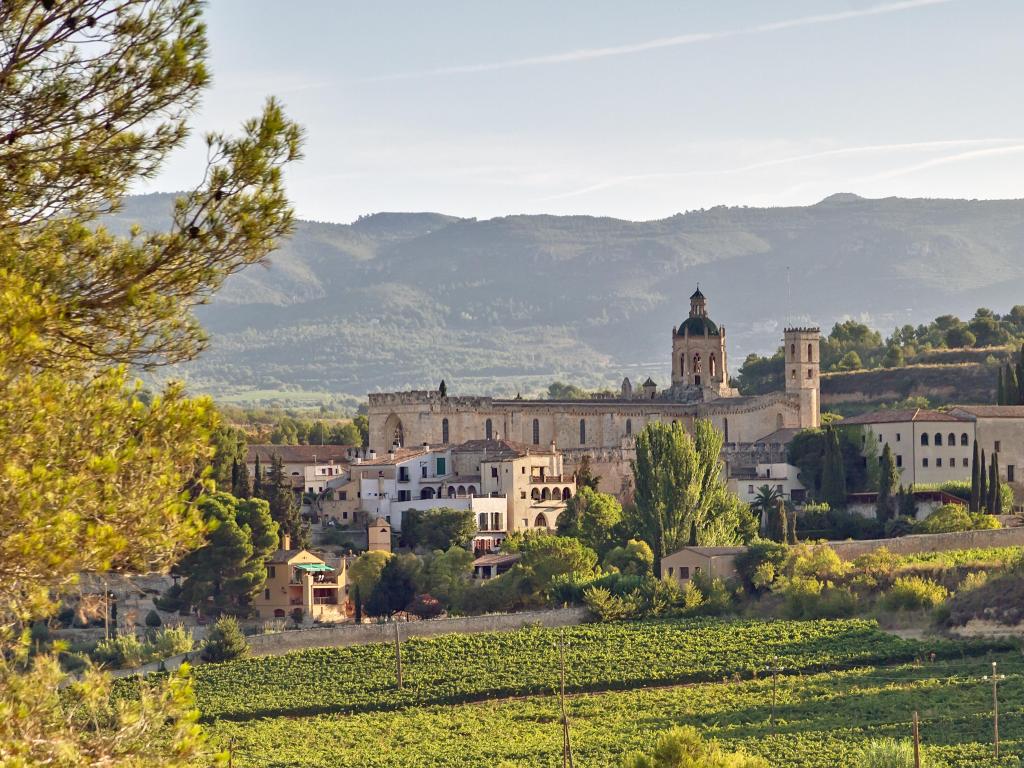 The Inland Route
Parc de Torreblanca - 19th-century garden with beautiful walking paths with a romantic feel and views of Barcelona.
Montserrat Monastery - Beautiful 11th-century active monastery sitting atop the mountain with the same name. From here you will experience stunning views of the surrounding areas. Can be done as a hike or you can take the funicular to the top.
Santes Creus - Large 12th-century Monastery Complex with beautiful architecture.
Monestir cisterna de Santa Maria de Vallbona - Beautiful monastery with incredible sculptures and detailed design.
Monasterio de Santa Maria de Poblet - 12th-century monastery with guided tours giving information on the history of the site.
Roca els Moros - Prehistoric art museum with various exhibits from both inside and outside of the area.
La Fontcalda - Natural spa with hot springs, perfect spot to stop for some relaxation and much deserved R&R,
Castell de Morella - Beautiful castle watching over the town from a large rock formation.
Esglesia de Santa Maria la Major - Basilica built in a traditional Spanish style with large archways and grand doorways.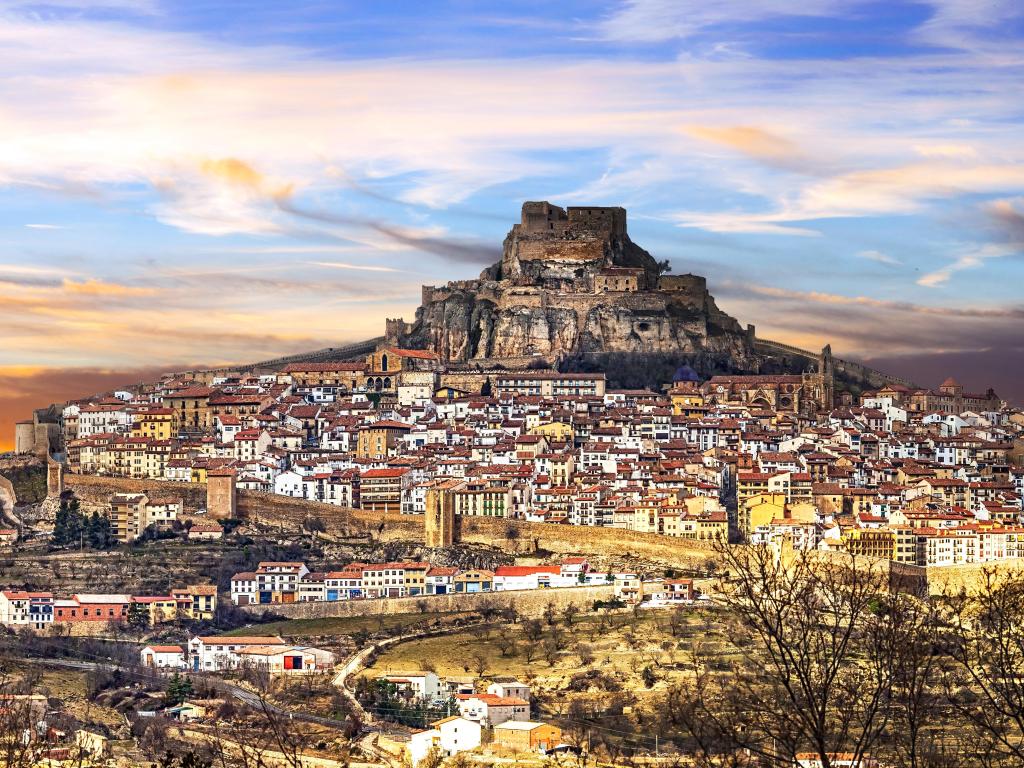 Best time to go on a road trip from Barcelona to Valencia
Valencia is the perfect year-round destination with very mild winters and pleasantly hot summers. There are many festivals happening all year and there are also many indoor activities for those rainy days.
Summers in Valencia are beautiful and the city really comes alive during this time of year, with events and festivals happening weekly. Temperatures sit from 20 to 30 degrees Celsius with some occasionally scorching days but mostly pleasant.
Valencia is very mild in winter, with temperatures sitting around 14 to 17 degrees in the day, and even some days reaching as high as 20 degrees. This season brings in many tourists to escape the winter frost in other areas of Europe, but it won't be too busy.
Spring/fall are great times to visit Valencia, with warm days and many activities. Temperatures will sit around 18 degrees Celsius and will slowly fluctuate as it approaches and departs from summer. Temperatures are steady and fluctuate little.
Spain is known globally to be a country that loves festivals, and Valencia is no different. There are literally hundreds of things happening throughout the year, with a unique event/festival almost every weekend. Here are some of the most important and popular festivals to enjoy throughout the year.
Las Fallas - the biggest 'fiesta' in the city, the largest street party in Europe and a UNESCO Intangible Cultural Heritage of Humanity. Mid-March (book hotels well in advance if traveling at this time, it is the busiest time of the year for tourism)
In winter, there is the Parade of the Three Kings in January. Spring brings the Maritime Holy Week and Easter.
Summer and Fall are when the city gets cooking. The Valencia Pride Festival is in June, the Great Valencian Fair in July, the International Festival of Pyrotechnics in September, and the Moor and Christian Festival in October.
The most famous summer festival is La Tomatina, the giant tomato fight close to Valencia. It happens every August and draws in thousands of visitors every year.