Road Trip from Barcelona to Madrid
This colourful road trip takes you on a journey through the cultural melting pot of Spain, from mediaeval fortresses and modern port cities to golden Mediterranean sands. You'll travel from the creative hub of Barcelona in the east to the vibrant inland capital of the country, Madrid.
The 650 km road trip from Barcelona to Madrid takes 7 hours to drive. On the way you'll pass through Parc Natural de la Muntanya de Montserrat, Zaragoza and Sigüenza, or take the coastal route to visit Valencia, Torre de Cañavate and Tarancón.
If you're after a blend of ancient and modern, mountains and beaches, then this is the road trip for you. Keep reading to discover the best travel routes, where to stay and what to see along the way.
How far is Madrid from Barcelona, and how long will the road trip take?
Comparison of road trip routes between Barcelona and Madrid

| Route | Distance | Driving Time |
| --- | --- | --- |
| The Zaragoza Route | 650 kilometres | 7 hours |
| The Valencia Route | 730 kilometres | 8 hours |
The Zaragoza Route is the most direct way to travel from Barcelona to Madrid, at a distance of 650 km. This route takes 7 hours to drive, not accounting for any stops or detours. You'll drive primarily along one of Europe's major West-East highways, so you can expect a smooth journey.
The Valencia Route is slightly longer at 730 km, which takes 8 hours to cover. This itinerary takes a more scenic route along the coast, with several opportunities to detour to explore the nearby mountains and areas of natural beauty.
Whichever route you choose, we'd recommend allowing anywhere from one to three days for the trip, to give yourself a chance to explore some of the stunning architecture, beaches and local culture to be found on the way.
Best road trip route from Barcelona to Madrid
Whether you dream of historic towns and cities or ports and beaches, this Spanish adventure has it all. Which route is the best for your will depend entirely upon what landmarks and attractions you'd like to see.
The Zaragoza Route takes you past Roman and mediaeval towns and cities, including folkloric Zaragoza and Siguenza, showcasing beautiful castles, towers, and fortresses.
Explore the ancient buildings or head out into the surrounding nature with limestone rock formations, trails and waterfalls. While this route doesn't wind around the coast, you'll get to hike or cycle around the unforgettable rocky landscapes of the Parc Natural de la Muntanya de Montserrat.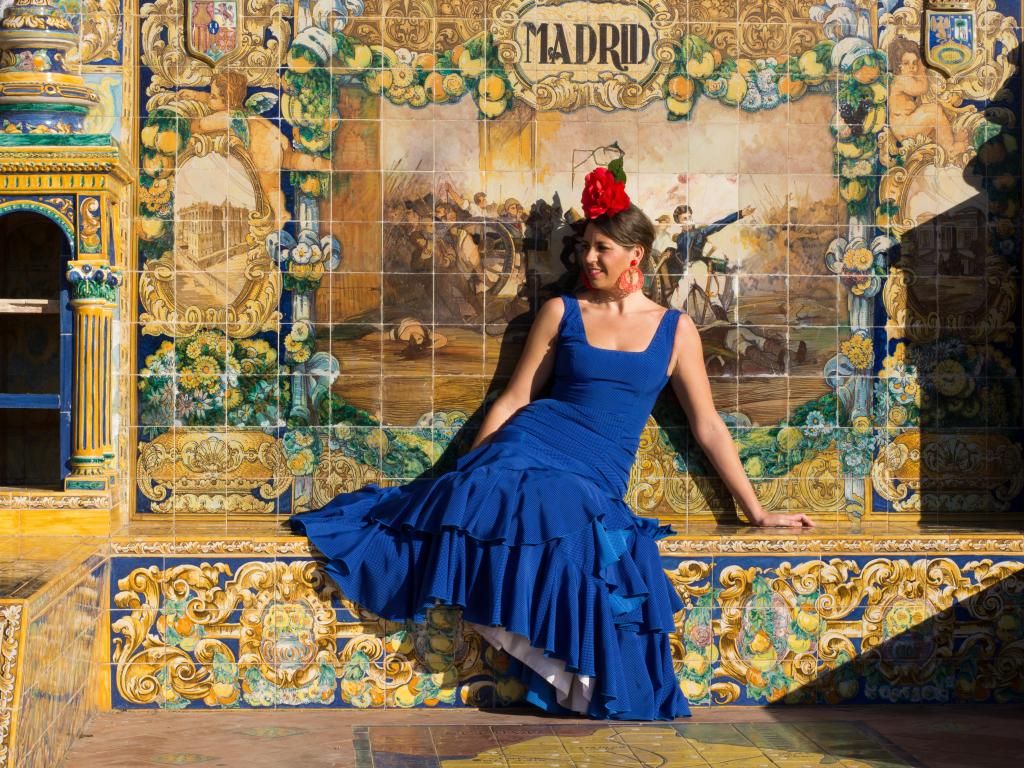 The Valencia Route shows off some of the Mediterranean's best beaches, with the chance to explore the buzzing port city of Valencia with its mix of ancient and modern architecture.
It's not short on natural beauty either - you'll get to take in the diverse scenery of River Ebro Delta and the mountains of Serra d'Espadà.
The Zaragoza Route
Head out of Barcelona on A-2, which takes you inland past the Cascada de Molins de Rei nature reserve. Follow this road to Parc Natural de la Muntanya de Montserrat, home to 212 peaks and with plenty of hiking trails to explore.
Continue on A-2, then take C-12 to head towards Lleida. The capital of the province, it has incredible mediaeval architecture, including the Knights Templar Castle of Gardeny.
Take AP-2 heading west out of Lleida, then take the exit for Zaragoza. The Mudéjar architecture of Aragon is a UNESCO World Heritage Site, so it's well worth taking a walking tour around the landmark buildings in the city centre.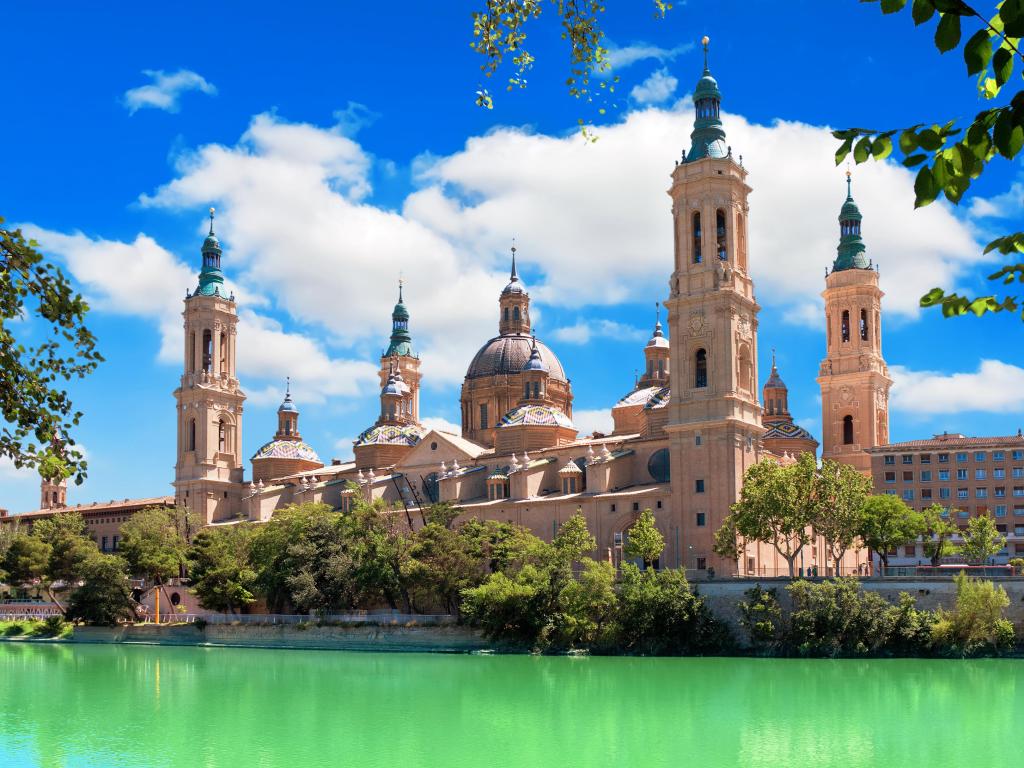 Get back on A-2 to cross into the province of Castile-la Mancha and pass through Alcolea del Pinar. This town is home to some interesting stone architecture, notably La casa de Piedra.
Continue on A-2 to and take the exit for CM-110 to reach Sigüenza. The Barranco del Río Dulce National Park just south of the city has stunning limestone rock formations and castles.
Take CM-1101 out of Sigüenza, then get on E-90. Take a mini detour to Guadalajara to check out the majestic Infantado Palace and the Pantheon of the Duchess of Sevillano. Continue on A-2 to arrive in Madrid.
The Valencia Route
Take B-20 out of Barcelona, then get on C-32 to follow the coastline along the outskirts of the 12,000-hectare Parc del Garraf.
Join AP-7 and take the exit to reach Tarragona. Check out the Roman ruins that are remarkably well-preserved in this port city, including the Amfiteatre Romà and the Necropolis.
Follow T-11 out of Tarragona up to Reus, the birthplace of Gaudí. Get back on A-7 and continue down the coast until you reach Parc Natural del Delta de l'Ebre.
Continue on E-15, passing by the Gothic Concatedral de Santa Maria in Castellón de la Plana. Take V-21 to arrive in Valencia. The city has a great cultural offering, but you can also head to the beaches in Albufera Park.
Follow A-3 out of Valencia, then follow CM-220 to reach Torre de Cañavate. Follow A-3 up to Tarancón, where you can check out castle ruins in the ancient Castillejo neighbourhood. Continue on A-3 all the way to Madrid.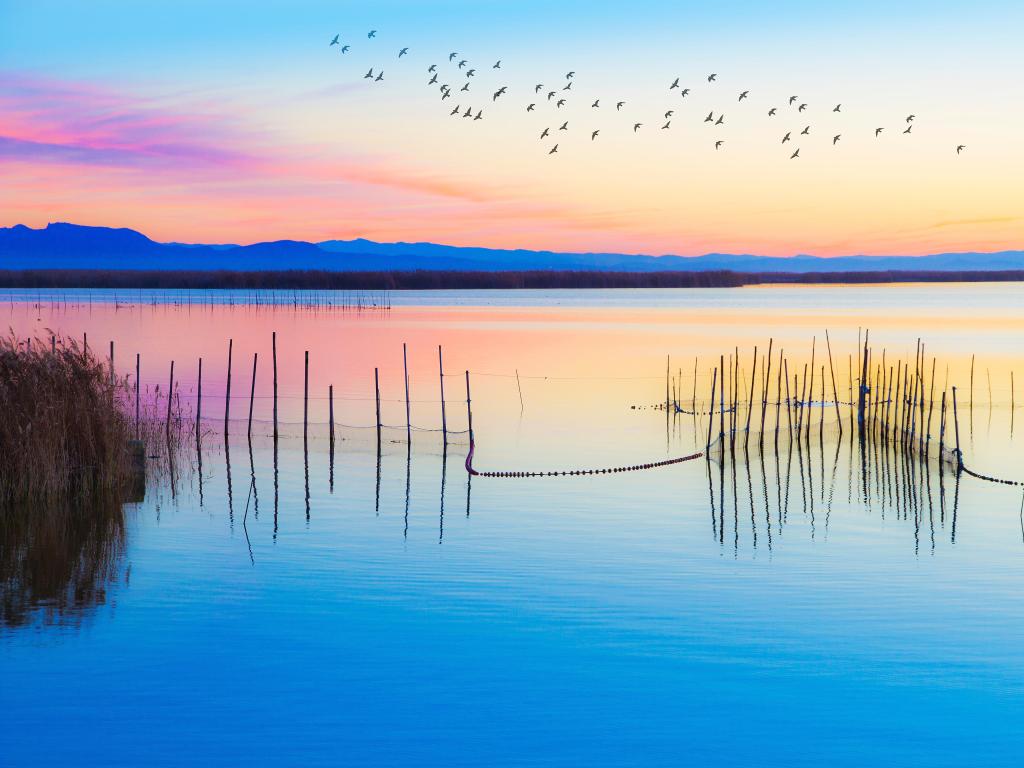 Best places to stop between Barcelona and Madrid
Both route options offer up a generous serving of dramatic natural landscapes, unique architecture and a chance to immerse yourself in local traditions.
We've selected some of our favourite spots with plenty to explore during an overnight stay, with local recommendations for what to see and do.
Marvel at traditional architecture in Zaragoza
The city of Zaragoza is a great stop-off about halfway along the Zaragoza Route, located in a beautiful spot by the River Ebro and its tributaries Huerva and Gállego. It is a fascinating place to explore, full of interesting architectural sites dating back to Roman times.
Zaragoza is known for its historical buildings and landmarks including the remarkable Basílica del Pilar, where in the first century, the Virgin Mary is believed to have appeared atop a pillar.
There are plenty of galleries which offer an artistic slice of the region, including the Museum of Fine Arts Zaragoza and Museo Goya, showcasing works by famous European artists from the last centuries.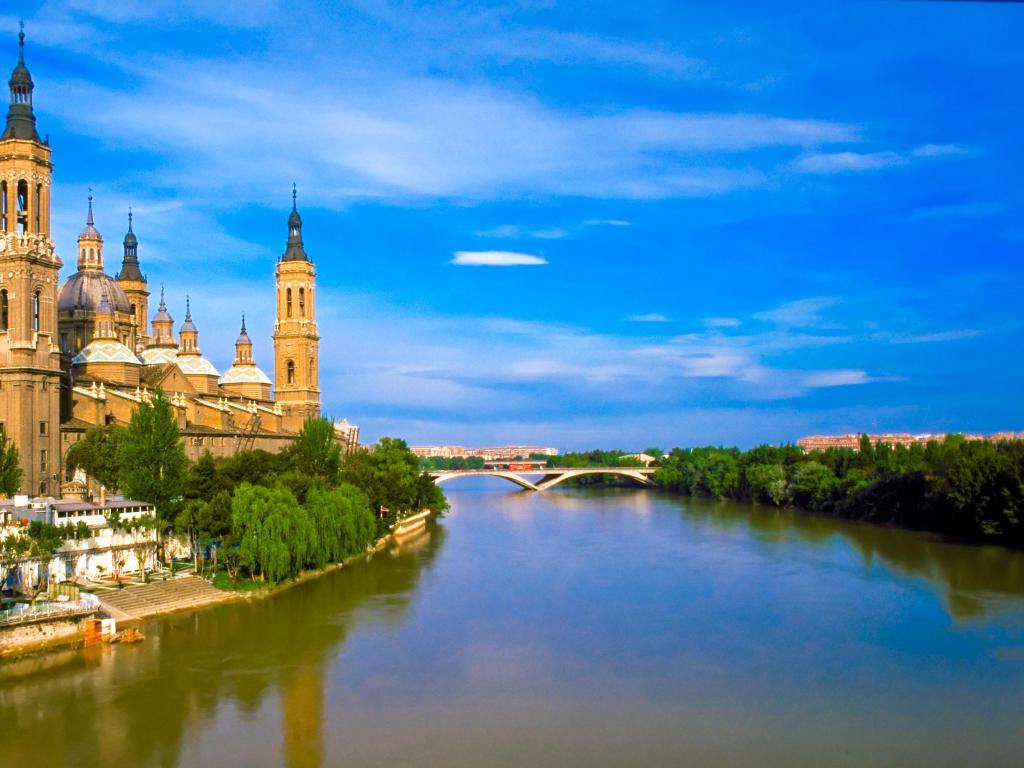 Walk along the River Ebro in the city centre and take in a view of the landmarks, bridges, and buildings in the traditional architectural style of the city, Mudéjar architecture of Aragon.
For a comfortable stay in the heart of the Old Town, book into Silken Reino de Aragón. This spacious hotel has a quality on-site restaurant serving local or modern dishes, and is within walking distance of plenty of local tapas bars.
The location is unmatched - you'll be staying near Basílica del Pilar, River Ebro and Puente de Piedra bridge, the main museums and other major attractions.
It's a great place to relax - you can have breakfast in your room, or enjoy a massage, and you can rest easy knowing that it's a straightforward hop back onto the A2 to continue your journey to Madrid.
Get a taste of Spanish culture in Valencia
Valencia is the perfect place to stop halfway along the Valencia Route. This important port city is one of the major urban areas on the European side of the Mediterranean and is home to a historic centre as well as interesting modern architecture.
The City of Arts and Sciences stands out for its distinctive modern look, making it a must-see architectural and cultural landmark. Inside you can visit the garden walkway, stop by the science museum or catch a show at the Imax cinema.
For an insight into old Valencia, it's worth stopping by Lonja de la Seda, a gothic style building and a UNESCO World Heritage Site, or the mediaeval Torres dels Serrans in the ancient city centre, along with Valencia Cathedral.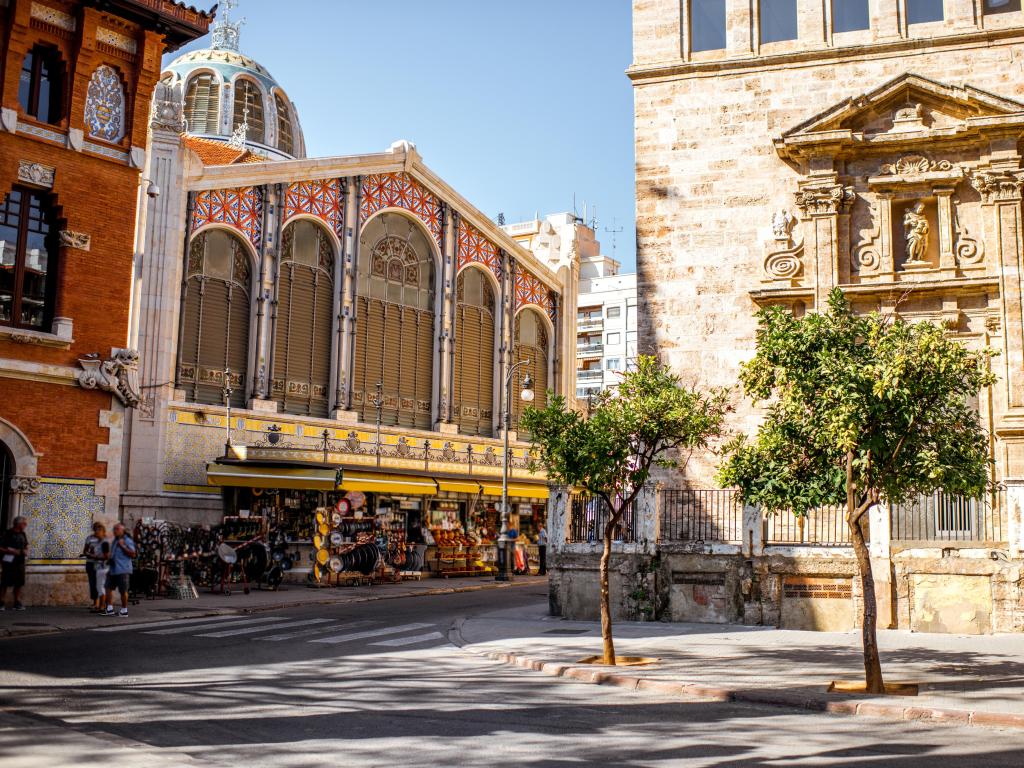 To get a more general feel for the city, take a walk on the Passeig Marítim, a promenade lined with palm trees on the north side of the port.
Don't forget to sample the local cuisine - the delicious rice dish paella has its origins in Valencia!
For a picturesque stay, try the Palacio Vallier 5*. A historical building itself, the hotel offers beautiful, spacious and immaculately kept rooms right in the heart of Valencia's old city.
The hotel has an outdoor terrace and private parking available, while it's known for its friendly staff and outstanding à la carte menu at the on-site restaurant.
The hotel is within walking distance of plenty of famous sites, including Valencia Cathedral and Valencia Botanical Gardens. Valencia is also known for its clubs and nightlife, and there are plenty of bars and restaurants nearby.
Where to stay when you reach Madrid
There is so much to see in Madrid, you'll want somewhere that's located close to the action. The Preciados is situated right in the city centre, close to the most-loved attractions, wonderful restaurants, museums and shopping areas.
With comfortable and modern rooms set in a 19th-century building, this hotel is a wonderful base from which to enjoy sightseeing in Madrid, including visiting the famous square Puerta del Sol, the cathedral Catedral de Santa María la Real de la Almudena and The Royal Palace of Madrid.
Things to see on a road trip from Barcelona to Madrid
The Spanish countryside is home to magnificent landscapes and wears its history proudly, with a wealth of architectural gems, cultural activities and incredible food to sample along the way.
The Zaragoza Route
Parc Natural de la Muntanya de Montserrat - View amazing tooth-like limestone formations, high plains and oak forests at this natural monument, or visit the nearby historic small towns.
Lleida - Lleida is home to amazing architectural gems, including La Seu Vella, a Gothic-Romanesque cathedral set in a hilltop fortress, and the 12th-century Castle of Gardeny. Enjoy shopping at the city's famous longitudinal Eix Comercial de Lleida.
Secans del Segrià i Utxesa - Stop for bird watching and admire the flowering of peach trees in spring at this beautiful nature reserve.
Zaragoza - Enjoy viewing historic buildings from Roman times to the modern day, and take a walk through the city centre along the river Ebro.
Alcolea del Pinar - Alcolea del Pinar and the area surrounding it is home to distinctive stone buildings, castles, and historical landmarks, such as Castillo de Almadeque and Bujarrabal.
Sigüenza - In this historic town you can view centuries-old architecture including Sigüenza Cathedral with its beautiful rose windows, Sigüenza Castle, and Sigüenza Plaza Mayor.
Barranco del Río Dulce National Park - This National Park south of Sigüenza harbours beautiful waterfalls, limestone rock formations, historic villages and castles.
Guadalajara - Located on the Henares River, Guadalajara is a fascinating little town full of interesting buildings and squares, such as Infantado Palace or the beautiful white Pantheon of the Duchess of Sevillano.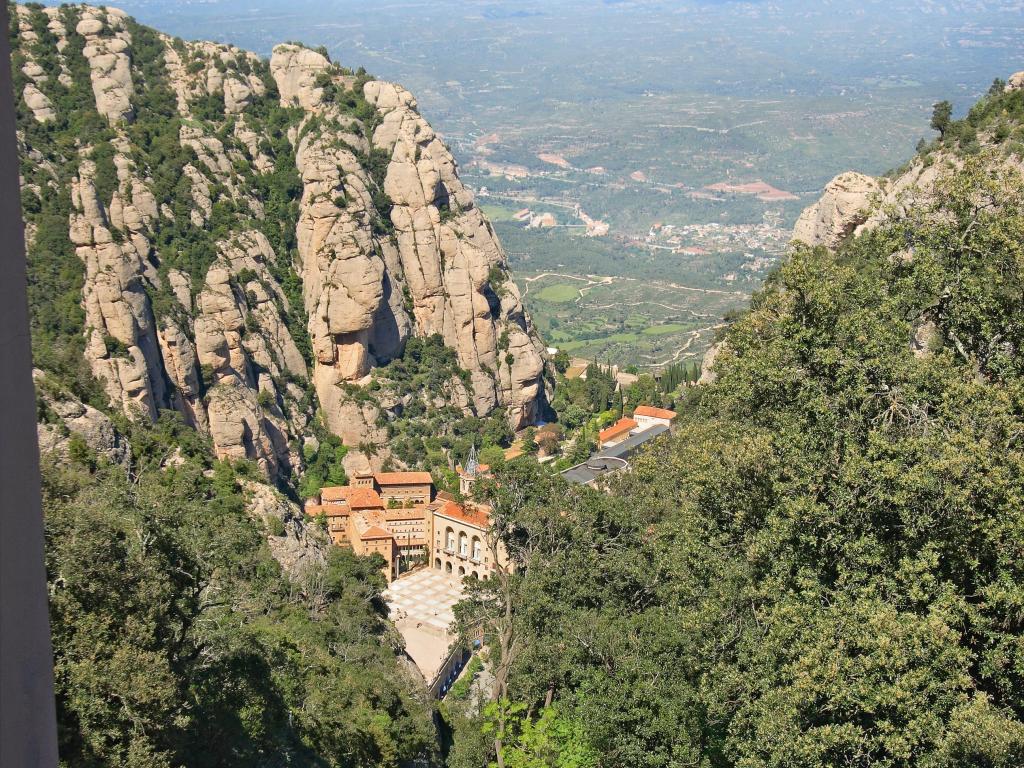 The Valencia Route
Tarragona - In this port city you can visit a mediaeval Old Town or visit Amfiteatre Romà, a 2nd-century historic site overlooking the Mediterranean.
Costa Daurada - This stretch of coastline south of Barcelona is a popular beach holiday destination, with Tarragona as its major city.
Reus - Reus is home to Gaudí Center, celebrating the life and works of the famous architect.
Reserva Natural Llaberia - This nature reserve is part of a coastal mountain range, offering stunning views over escarpments and valleys, along with beautiful hiking trails.
Parc Natural del Delta de l'Ebro - The largest wetland in Catalonia where you can view flamingos, explore amazing beaches, or take a cruise in the Ebro Delta.
Parc Natural de la Serra d'Espadà - In this natural park you can enjoy mountainous hiking trails and taste some of the best olives and olive oils in the world.
Valencia - A major port city of the Mediterranean, Valencia offers a wide range of activities to every taste, from mediaeval buildings to Roman historic landmarks, modern architecture, shopping and amazing nightlife.
Reserva Natural de las Hoces del Cabriel - Take in the rugged river gorges and sweeping vistas of this natural area.
Torre de Cañavate - This tower is an ancient ruin near the town of Alarcón, home to historic castles, churches, and art.
Tarancón - A beautiful town with a historic centre, plazas, and narrow streets to explore, so make sure to stop by to take in the sights and to stretch your legs en route.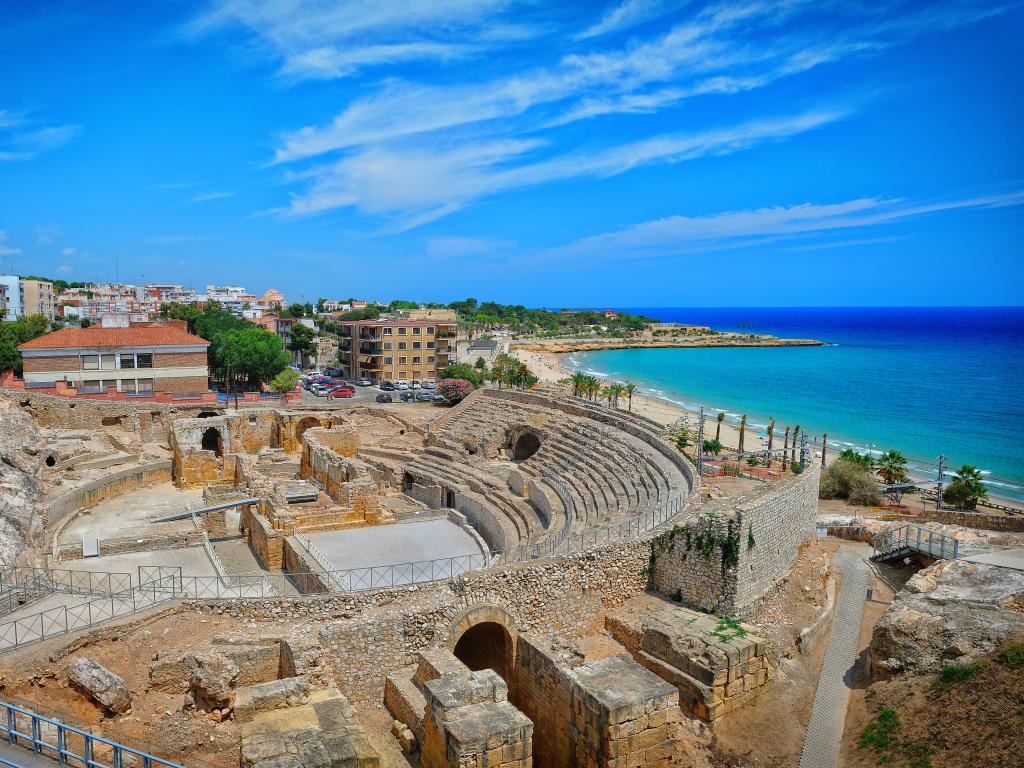 Best time to go on a road trip from Barcelona to Madrid
The whole of this part of Spain has a Mediterranean climate, with hot summers and cool winter months. Closer to the sea, winters are milder due to the sea's influence, and inland towards Madrid, winters are somewhat colder with occasional frosts and snowfall.
You can absolutely visit the area any time of the year, whether you prefer to avoid the biggest tourist crowds in the middle of summer, or in fact make the most of the summer months to enjoy the seaside and nature activities on offer.
In the summer, temperatures can rise up to 40 degrees Celsius in the Madrid region. The beach will be beautiful if driving along the Valencia Route, but be aware that bigger cities like Barcelona, Valencia, and Madrid especially get rather crowded with visitors in the summer months from June to August.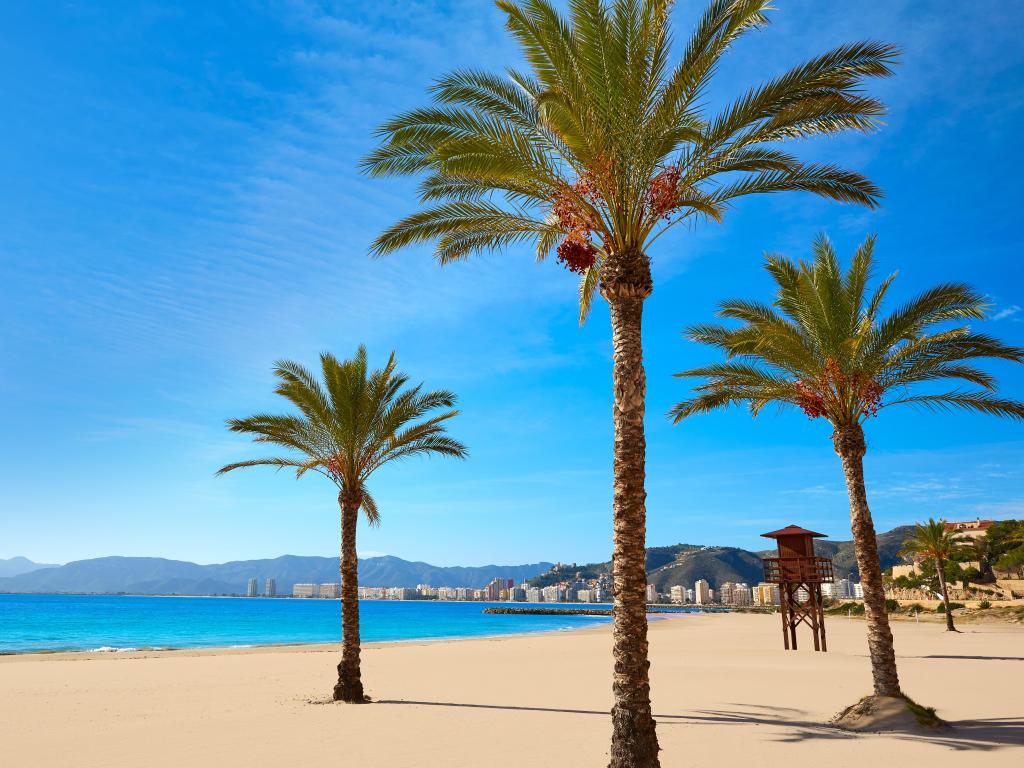 Winters in Madrid are much cooler, with temperatures sometimes dropping to -10 degrees Celsius. Many hotels reduce their rates in the winter months, which could make this an appealing time to visit.
Autumn, from September to November, or spring, from March to May, are some of the best times to visit Madrid if you want to enjoy comfortable temperatures and avoid the biggest crowds of midsummer.
Madrid plays host to incredible events year-round. Virgen de La Paloma is a festival that combines entertainment and fun with religious activities in August, while Festival Noche en Blanco celebrates cinema, art, theatre, and crafts in September.
The Carnaval Parade with fabulous costumes takes place in February, while Madrid Gastrofestival in May celebrates the region's food and culture.