Road trip from Paris to Barcelona
From the romantic city of Paris all the way down to the seaside metropolis of Barcelona, this road trip covers beautiful French towns along the way and is the perfect getaway. Savor some patatas bravas or enjoy a cerveza on the beach in your stunning, festival-filled destination.
The 1,430 km road trip from Paris to Barcelona takes about 16 hours to drive. Notable stops are Versailles, Lyon, Marseille, Aix-en-Provence, Montpellier, Carcassonne, Toulouse, Limoges, Nimes and Narbonne as well as Pyrenees and Andorra as detours.
A unique way to discover France and Spain, this road trip has a lot to offer in addition to the colorful city of Barcelona. Read on to discover places to stop overnight, things to do on the routes, and the best times to visit.
How far is Barcelona from Paris, and how long will the road trip take?
Comparison of road trip routes between Paris and Barcelona

| Route | Distance | Driving Time |
| --- | --- | --- |
| The Direct Route | 1,020 km | 11 hours 24 minutes |
| The Marseille Route | 1,430 km | 16 hours 16 minutes |
If you take the Direct Route for this road trip from Paris to Barcelona, you will cover 1,020 km in 11 hours and 20 minutes, passing through some of the bigger cities of central France.
But if you are not short on time and would fancy a more scenic drive along the sea, the Marseille Route will cover 1,430 km taking a total of 16 hours and 20 minutes to drive.
And if you are feeling more adventurous, you can opt for a detour to the Pyrenees Mountain Range that separates France from Spain, or the small country of Andorra famous for its duty-free shopping.
Since this road trip has much adventure in store, we recommend reserving 6 to 7 days to truly indulge in the adventures this road trip has to offer.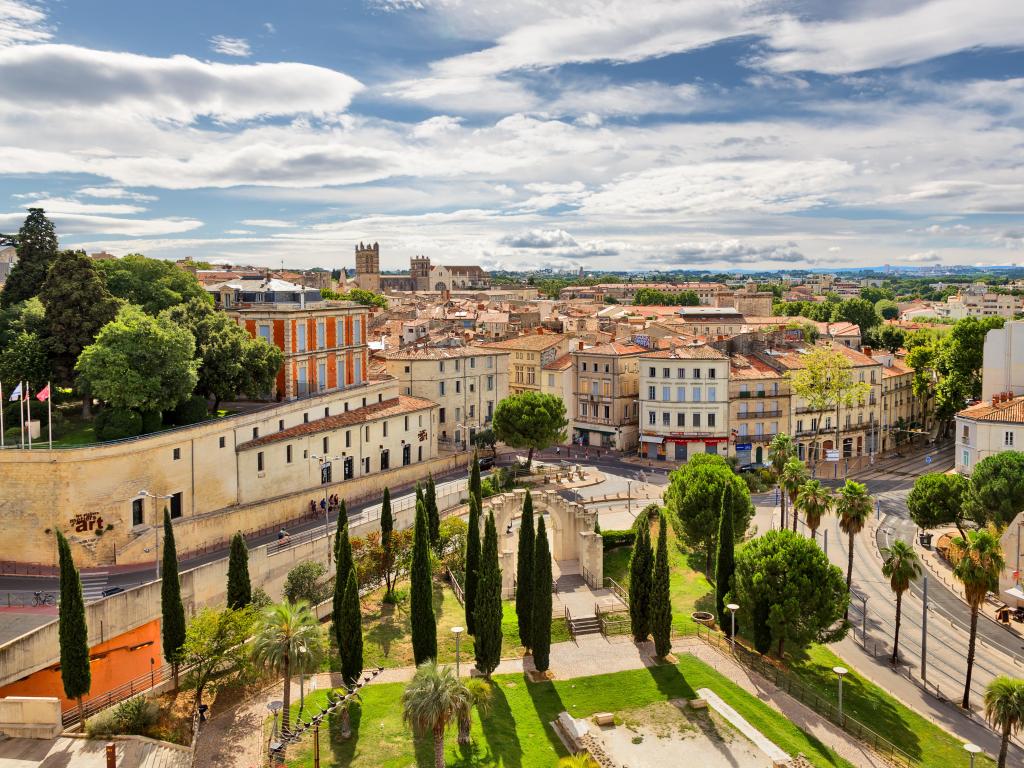 Best road trip route from Paris to Barcelona
Regardless of the route you take, you are in for some amazing sights on this road trip from Paris to Barcelona. The Direct Route will give you a chance to explore central France, taking in the breathtaking beauty of Causses du Quercy Natural Regional Park.
Scout the unique city of Foix on this route, anchored on a rock lined with prehistoric caves. You will also have the option to spend some time walking around and shopping in duty-free Andorra. With minimal stops, you will miss the chance of visiting the wonderful cities along the way.
The Marseille Route is the longer one, covering many small towns and exciting places, perfect for those who like to reach their destination while taking in as much as possible along the way.
This route takes you through the historical and architectural city of Lyon. Take your time leisurely driving along the Mediterranean Coast, the seaside going through Marseille, Aix-en-Provence, and Montpellier. You can also visit Carcassonne, a beautiful medieval fortress and popular tourist attraction.
The Direct Route
If you are tight on the timeline and want to reach your destination as fast as possible, get on Bd Périphérique and follow A10, into Causses du Quercy Natural Regional Park.
Even if you are not a fan of taking stops during the drive, we recommend stopping here to indulge in the various leisure sports activities including canoeing, climbing, caving or just relaxed strolls along the serene trails.
From there, follow Les Ponts Jumeaux to get to Toulouse. Stop here overnight and explore the nearby landmarks before resuming your journey and hitting the road again the next day.
From there, get on A20 and drive to Rue Saint-Jammes which will take you to the city of Foix. If you'd fancy another adventure, stop at this rock-anchored city or opt to take All. De Villote, D117 to reach your colorful destination of Barcelona.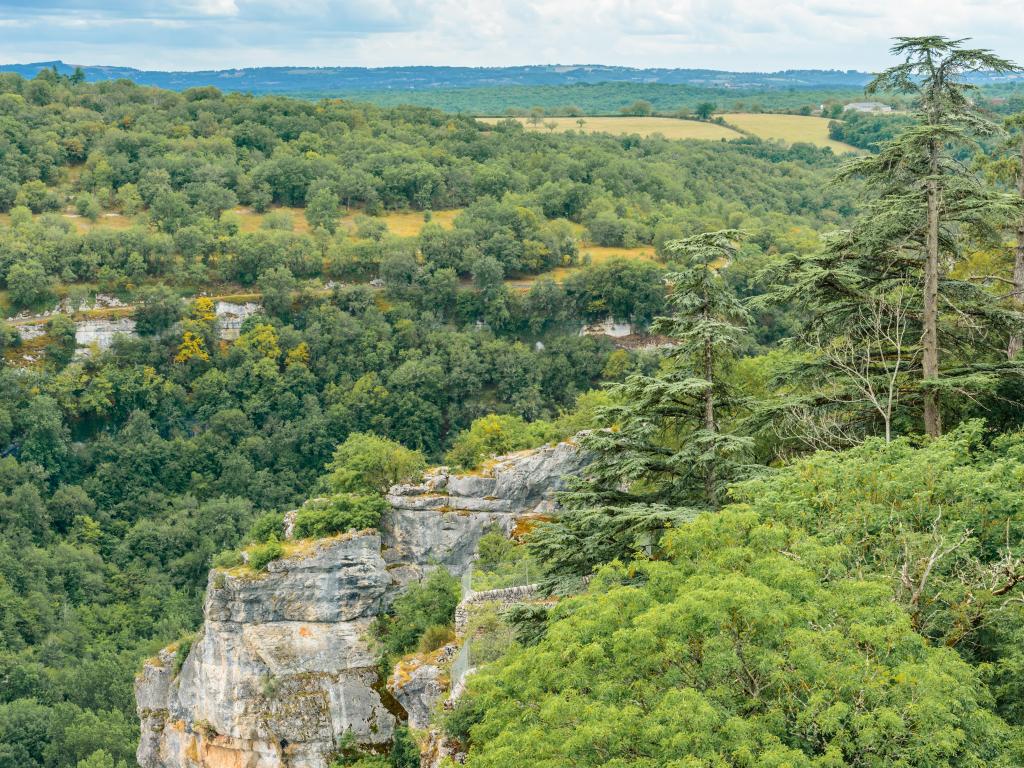 The Marseille Route
For a leisurely drive from Paris to Barcelona with lots of stopping points, the first step is the same as the Direct Route. Get on Bd Périphérique but instead of following A10, follow A6 this time to reach the culinary capital of Europe, Lyon which is the perfect place to stop for foodies.
From there take A7 to Chem. de la Beauvalle which will take you to Aix-en-Provence. Having covered half of your journey, stop here overnight to regain your energy and appreciate the wonderful artworks before resuming te next half of your journey.
Follow A57 and take Av. Camille Pelletan to reach the namesake of this route Marseille. Head west and continue onto Esp. de la Cathédrale and take D6113 into Carcassonne. Next, take Rue de Verdun and follow D119 into the historic city of Foix. This will be your last stop before following N20 to Barcelona.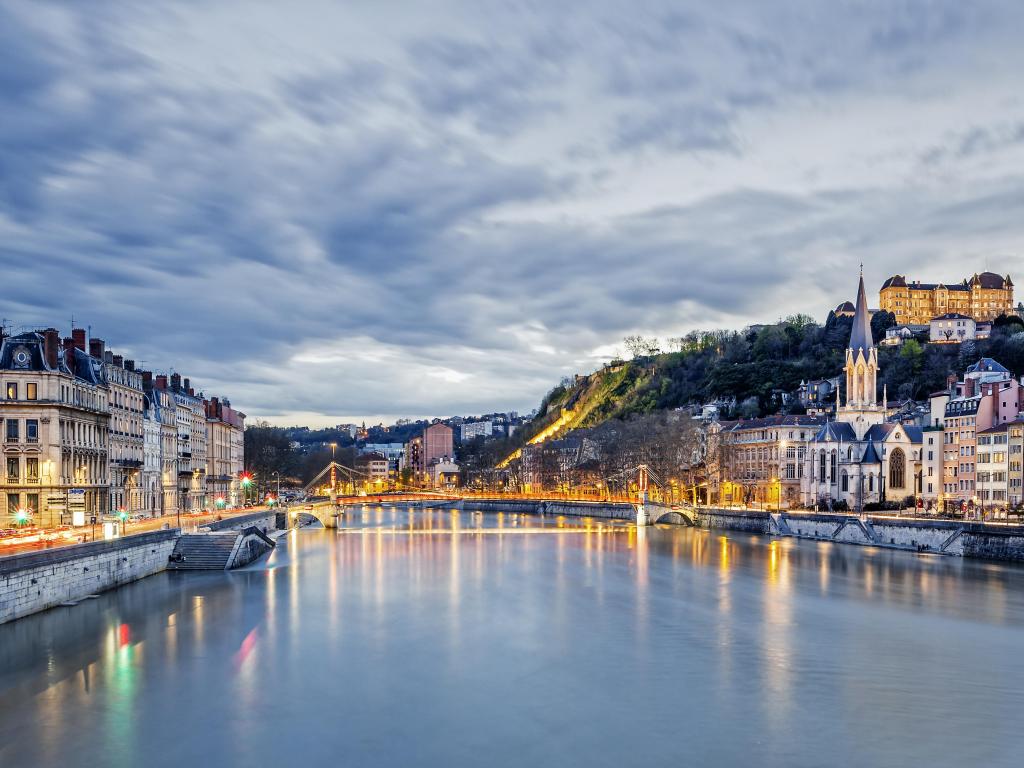 Best places to stop between Paris to Barcelona
To qualify a road trip as the true adventure of a lifetime, the places that you encounter along the way need to be just as exciting as your destination. We have curated the best places on this road trip from Paris to Barcelona for an overnight stay to relax and resume your journey refreshed.
Enjoy jaw-dropping views of The Pink City
About halfway to your destination on The Direct Route sits the city of Toulouse which is a popular city with a big student population, offering tons of attractions, including several historical museums.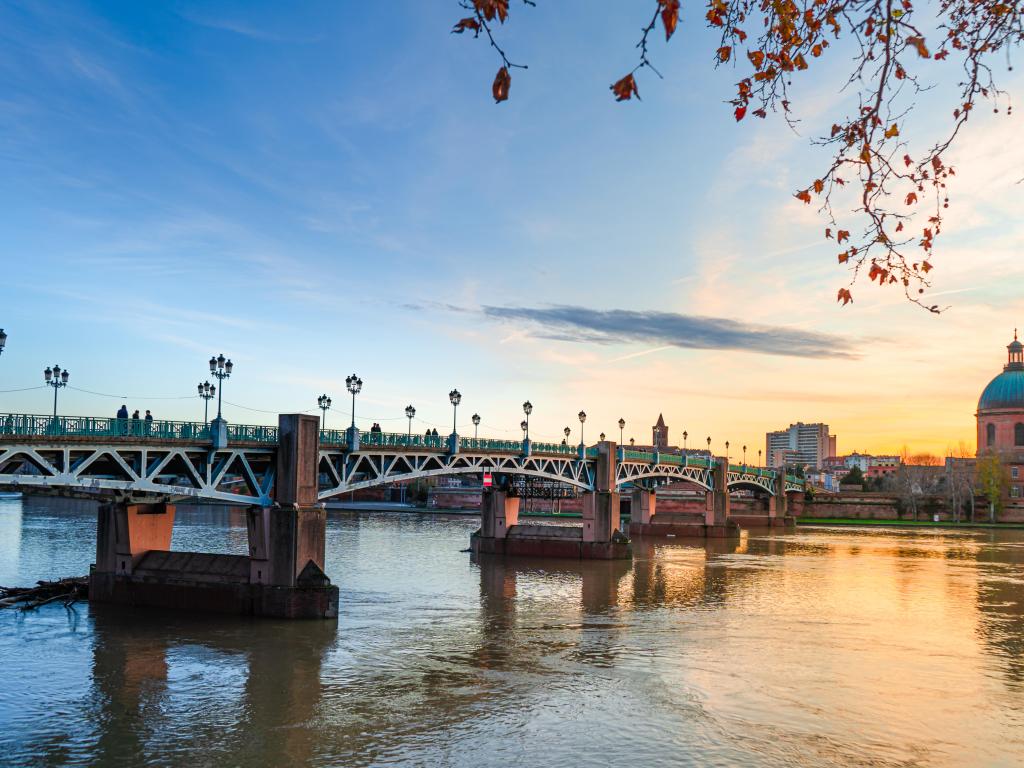 In Toulouse, you can admire spectacular views of the city famously known as "The Pink City" for the use of pinkish terracotta bricks in many of the city's buildings, especially downtown.
During your stay in this beautiful city, visit Les Abattoirs, the wonderfully curated contemporary art museum which boasts a serene statue-filled garden and a nearby lookout to the historic capital. Basilique Saint-Sernin is a great place to visit for any lovers of architecture.
A hidden gem in this dynamic city is Couvent des Jacobins, a haunting monastery giving you a chance to explore the southern French Gothic-style church. If you have time, stop by the square of Place du Capitole, home to a celebrated opera house and possibly the most-visited landmark.
For your overnight stay, we highly recommend La Cour Des Consuls Hotel and Spa, Toulouse. Boasting a central location, this hotel offers luxurious rooms with beautiful amenities, a stunning terrace, a serene, full-service spa and a fabulous restaurant on-site for a delicious meal prepared with local ingredients,
Highly rated and well-reviewed, this hotel is close to many interesting attractions of Toulouse including Zénith de Toulouse and Amphithéâtre romain de Purpan-Ancely, making it ideal for you to leave your car behind in the parking and explore the city on foot.
Take an artistic dip in Aix-en-Provence
Ideally located halfway on the Marseille Route is Aix-en-Provence, a great place to stop overnight on this route before covering the remaining half of your journey. Calmer than Marseille, this city offers tons of cultural events and beautiful nature landscapes.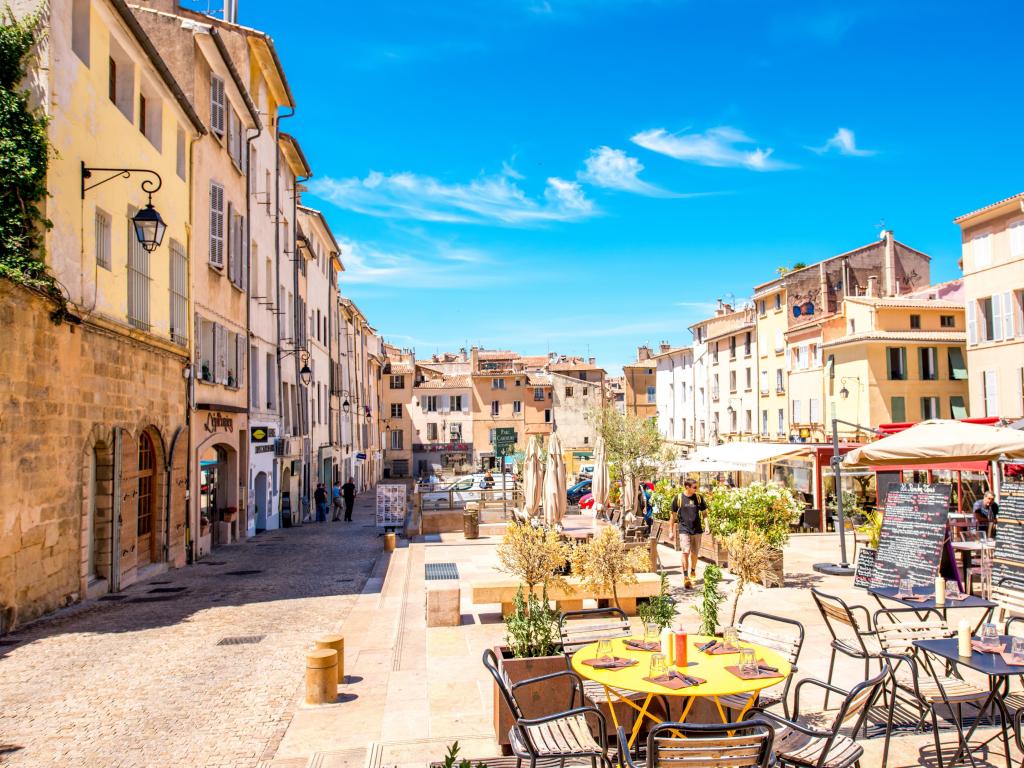 This city is home to Cezanne, the celebrated French artist and provides you with a chance to take leisurely walks along the trails that link to his childhood home and former studio. Visit Atelier de Cezanne which features real models used by the artist
This city doesn't run short of scenic sights either with Sainte-Victoire Mountain. Framing Aix-en-Provence, you will most likely recognize this mountain as the subject matter of many Impressionist paintings, including the famous one by Cezanne.
In the center of Aix-en-Provence rests the glorious Fontaine de la Rotonde, surrounded by restaurants and cafes, which would be a great area to visit for a relaxed day out. Musée Granet nearby is another fantastic museum boasting an incredible contemporary and historic art collection that you wouldn't want to miss.
For hotel recommendation, Renaissance Aix-en-Provence Hotel is our choice because of its luxurious amenities and central location. You will feel like a celebrity in this hotel with access to its fabulous, full-service spa with a heated indoor pool, steam room and fitness room.
Breakfast on-site with American, continental and buffet options make for an early start to the next half of the journey. It also has a bistro and a bar giving you the option to have fun inside the accommodation without having to leave.
Where to stay when you reach Barcelona
Hometown of the outstanding football team, Barcelona has various indoor and outdoor activities to offer, regardless of the season. To explore the sandy beaches, Roman architecture, vibrant nightlife and various restaurants of the "Paris of Spain" with comfort, you will need a comfortable yet luxurious hotel.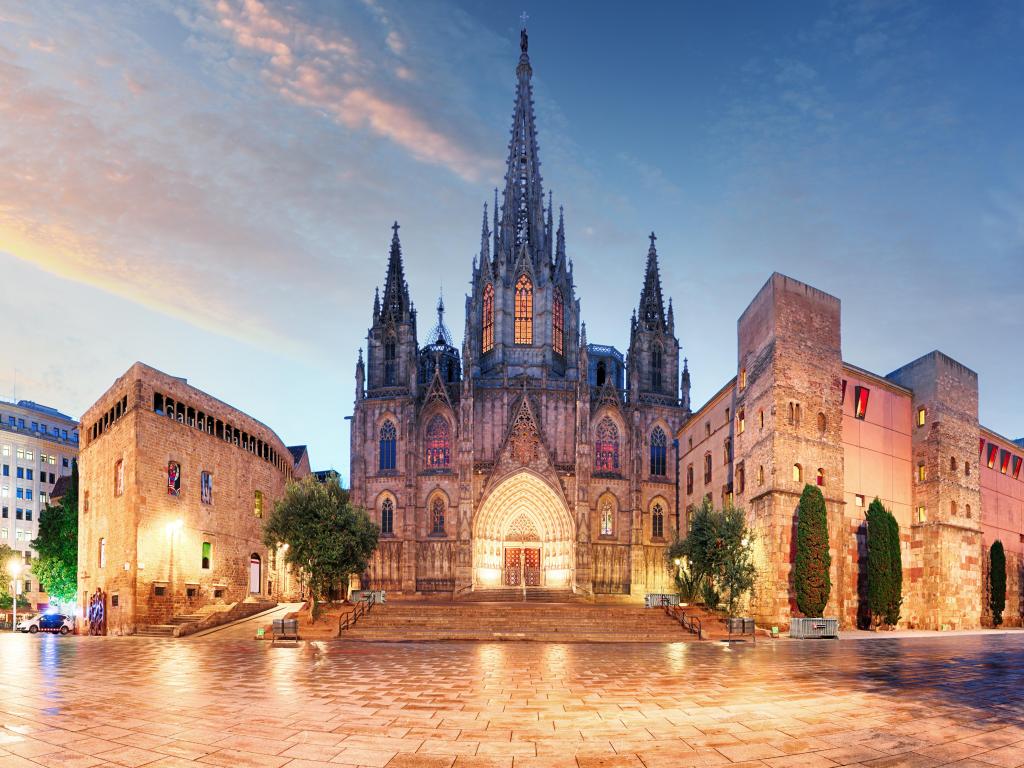 Our vote for accommodation is Barcelona goes to Nobu Hotel Barcelona. Being centrally located, it is just 400m from Sants Railway Station, making it easier to commute within the city. With concierge services and a five-star hotel experience, you will have access to all the amenities you may need.
If you want to rest upon your arrival and leave sightseeing and exploration for the next day, you can have a fantastic meal at the hotel's on-site restaurant.
When you are ready to venture out, this hotel will give you the chance to explore the Magic Fountain of Montjuïc and Casa Batló on foot, not forgetting access to the jaw-dropping views of the city!
Things to see on a road trip from Paris to Barcelona
With tons to do at your destination as well as on both routes, we have made a list of all the noteworthy places you need to stop at during the journey from Paris to Barcelona.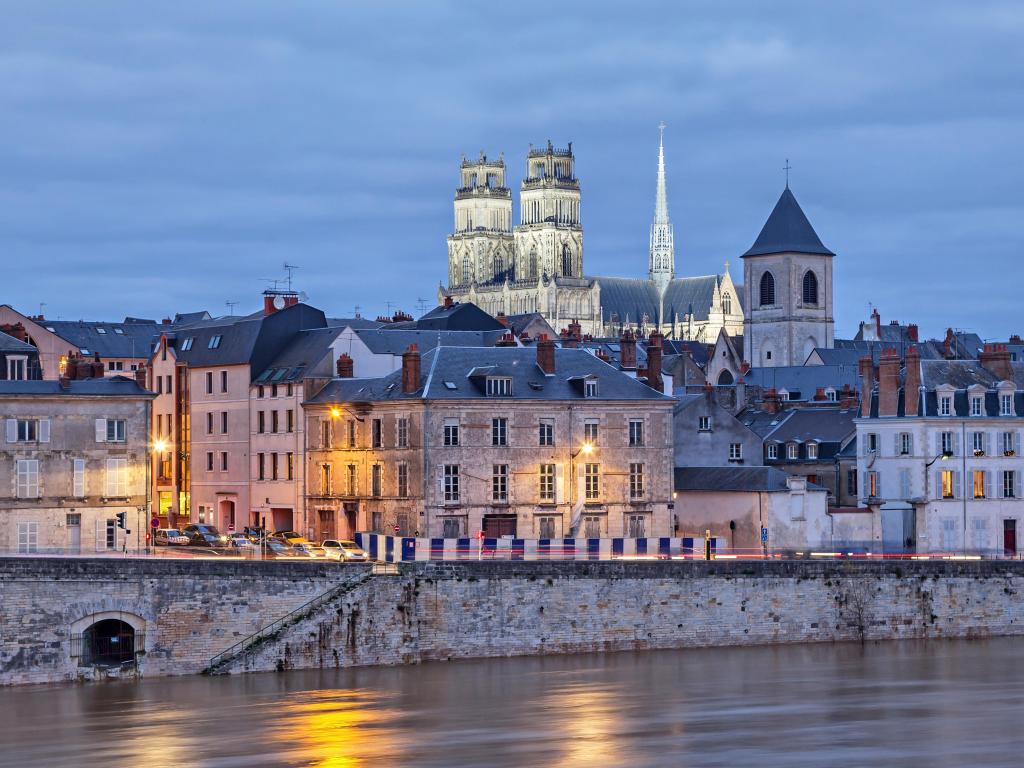 The Direct Route
Versailles – With over 60,000 artworks as well as jaw-dropping palace grounds, discover this iconic palace about thirty minutes' drive from Paris.
Orleans – Boasting a cathedral and a small-town vibe, this city is located within the stunning Loire valley and is a must-see on your list.
Limoges – With picture-perfect scenery in its surroundings, Limoges makes for an epic exploratory adventure, especially with its world-famous porcelain.
Causses du Quercy National Regional Park – Home to tons of trails and waterfalls, as well as gorgeous cliffsides and a serene river, this park is the perfect nature pitstop.
Montauban - Small but stunning, this town is known for its Place Nationale which is ranked one of the best squares in France.
Albi – With the largest brick cathedral in the world, this gorgeous small town boasts an amalgamation of Medieval architecture and urban ensemble.
Toulouse – Enjoy the bustling nightlife of Toulouse with its impeccable opera and many world-class museums.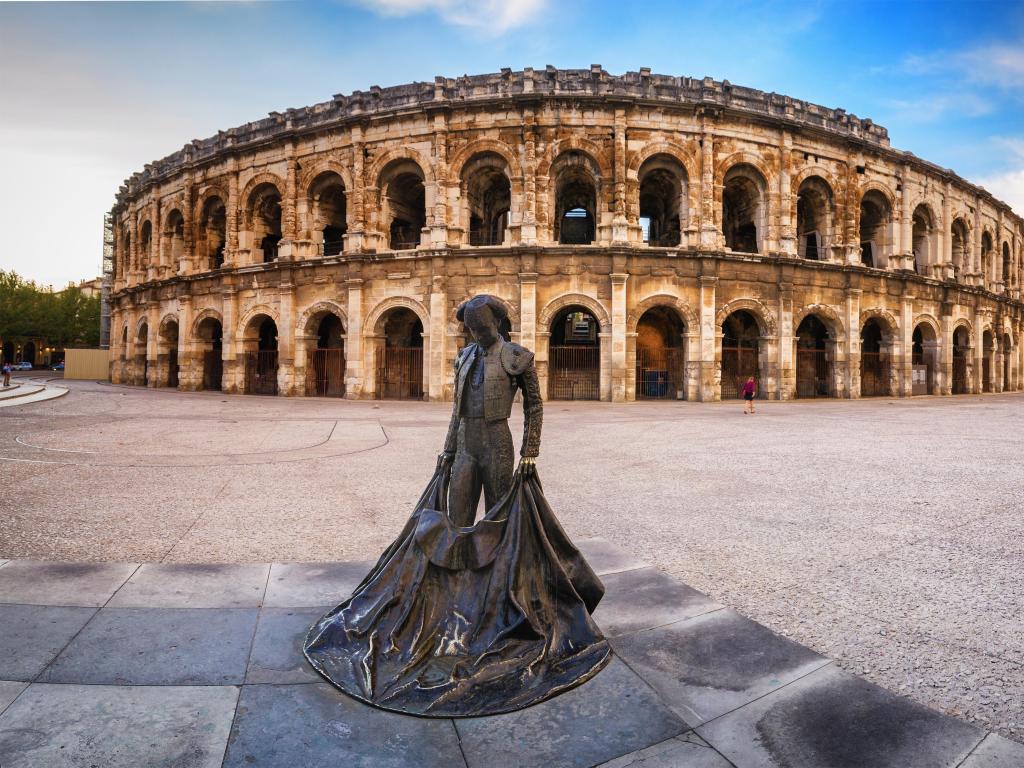 The Marseille Route
Lyon – Satisfy your inner foodie in the beautiful, culinary capital of Europe city of Lyon, located along two rivers – the Rhine and the Saone.
Aix-En-Provence – Visit the historic and beautiful city of Aix-En-Provence to attend the world-class opera performance it offers in the summer and explore tons of wonderful museums.
Marseille – With its stunning Basilica, Marseille is a busy port city which offers you a chance to visit the nearby Calanques National Park for breathtaking scenery.
Nimes – With tons of archeological wonders, the former Roman city of Nimes is a must-see place for history buffs.
Montpellier – Take a relaxing walk through the beautiful central square of Montpellier which boasts an active student population and renowned museums.
Narbonne – With a rich culinary scene and fresh food market, Narbonne is the sister city of Nimes with tons to explore.
Carcassonne – Offering a unique look at the medieval life in France, Carcassonne is a captivating restored medieval fortress and a popular tourist attraction.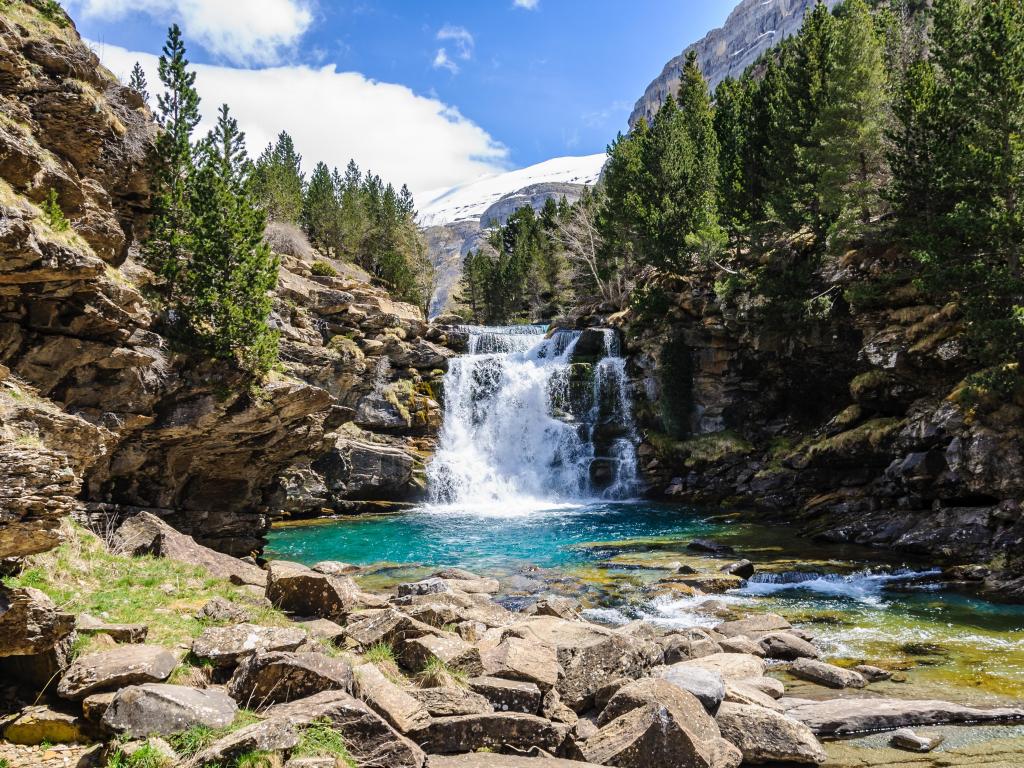 Both Routes
Foix – Explore the Chateau de Foix, dating back to the tenth century and dominating the city's landscape.
Pyrenees – Keep your eyes peeled for the mighty Pyrenean Mountains, a range which extends through Spain and goes up Western France.
Andorra – Fill your bags with souvenirs from this trip in the sovereign landlocked microstate between France and Spain known for its duty-free shopping.
Best time to go on a road trip from Paris to Barcelona
Being a big city, Barcelona has tons of activities to offer regardless of the time or season you are visiting it. Your decision on when to go on this road trip really comes down to what type of activities you prefer. For fans of the beach, outdoor dining and nightlife, there is no better time to visit than in summer.
With little rain and typically sunny days, summer in Barcelona makes for ideal weather for swimming in the nearby sea with temperatures averaging in the high twenties and sometimes dipping below 20 degrees Celsius. Summer is usually busier with tourists, especially during festivals in late May/early June.
Winters in Barcelona are very mild, with temperatures sitting between 10 degrees Celsius and 15 degrees Celsius. This season is ideal for people who want to explore the many museums and celebrated restaurants of the city and are not fans of huge crowds, as it is less busy except for the holidays.
Spring and fall are great times to visit Barcelona as the weather is typically mild with temperatures ranging between 15 degrees Celsius and 25 degrees Celsius with the occasional dip or spike. Spring is especially beautiful, bringing in tons of festivals and events.
Fall also has tons to offer as well, including the opening of exhibits and the classical concert season. Other festivals and events offered by Barcelona include Primavera Sound in summer where you can enjoy music and art and discover new artists.
Then there is La Merce Festival in September which is a religious festival celebrated in honor of the patron saint La Merce. In January, Dia De Los Reyes Magos also known as the "Three King's Day" is celebrated which is almost as important as Christmas.
The barbecued onion festival, Calcodata is celebrated just outside of Barcelona during the months of February or March. During the month of April, you can enjoy the festival of color, music and food, Feria de Abril with dancing and a fun fair.
But the list of festivals that Barcelona has to offer does not end there because in June you can attend the festival of Sonar which is the celebration of music, creativity and technology. So, if you are a fan of festivals and fun, Barcelona won't disappoint you, no matter what month you decide to visit in.