Road Trip from Barcelona to Malaga
Picture this: beautiful turquoise waters, white sandy beaches, delicious food, and endless views of the Mediterranean Sea. If you've been thinking about taking a road trip from Barcelona to Malaga along Spain's gorgeous east coast, now's your chance!
The 1,100 km road trip from Barcelona to Malaga will take 12 hours and 30 minutes to drive. Key places to see are Valencia, Madrid, Alicante, Lleida, Zaragoza, Granada, Cartagena, Caves of Nerja, Valencia Cathedral and Sierra de Andujar Natural Park.
From north to south, this trip takes you on an adventure filled with stunning architecture, natural beauty, and mouthwatering food. Keep reading for what to do, where to stay, and how to make the most of the Mediterranean sun.
How far is Malaga from Barcelona, and how long will the road trip take?
Comparison of road trip route options between Barcelona and Malaga

| Route | Distance | Driving Time |
| --- | --- | --- |
| Valencia Route | 1,100 km | 12 hours 30 minutes |
| Madrid Route | 1,400 km | 16 hours |
The Valencia Route spans about 1,100km, and the drive is about 12 hours and 30 minutes. This route goes along the Spanish east coast and passes through multiple historical cities like Tarragona, Valencia, Altea, and Murcia.
The Madrid Route is about 1,400km long and about a 16-hour drive. It will take you inland through the Spanish countryside. This route passes through major cities like Zaragoza, Madrid, Toledo, and Granada.
As there are so many things to do and spectacular things to see on each route, we recommend putting aside at least a week to enjoy this epic road trip to its fullest.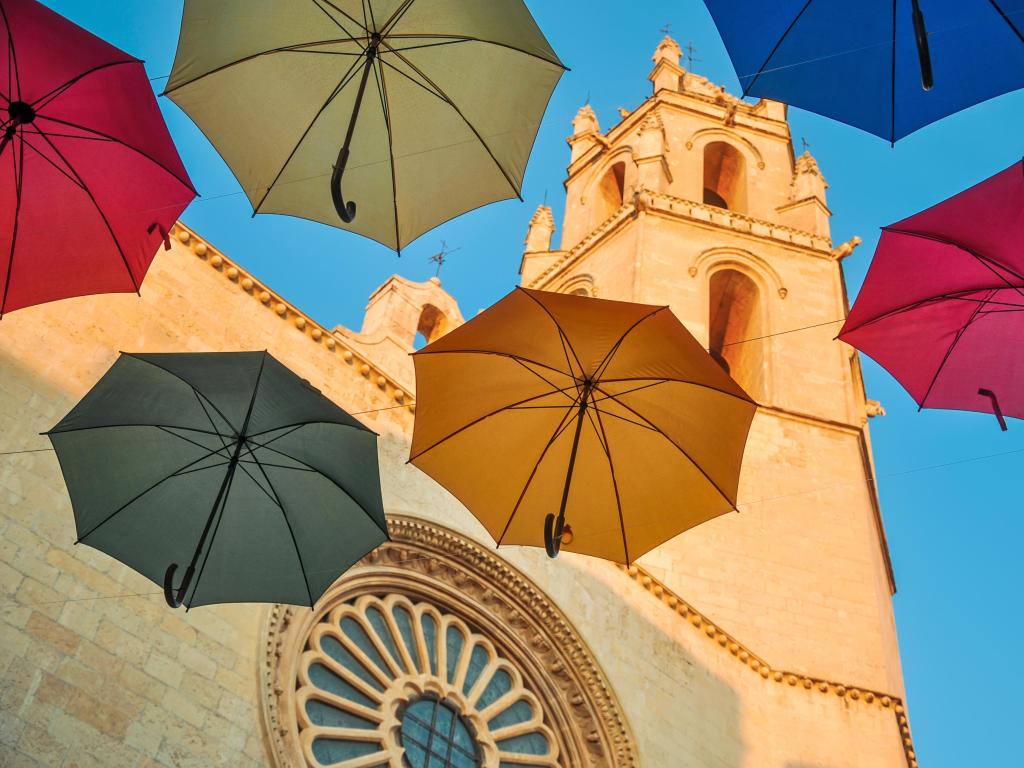 Best road trip route from Barcelona to Malaga
No matter where you find yourself in Spain, the scenery from Barcelona to Malaga is spectacular. The Valencia and Madrid Routes have natural landscapes, regional wine, and beautiful city skylines waiting for you.
On the Valencia Route, you will get to visit historic cities like Reus, the birthplace of the famous architect Antoni Guidi, with gorgeous views of cliffsides and coves of Cabo de Gata-Níjar Natural Park.
Going along The Madrid Route takes longer, but it is worth the effort. You will get to enjoy the baroque architecture of Zaragoza as well as stunning scenery such as the landscapes of Sierra de Andujar Natural Park.
Cities like Madrid have high traffic conditions, so try to arrive and leave early whenever possible. There are also anti-pollution laws to follow – keep this in mind for this route.
When choosing a route for your drive, you might want to think about the cities and regions you most want to see. Coastal or inland, you can explore as much as you like by following either route map.
The Valencia Route
Head out of Barcelona on C-32 and head towards Tarragona. Here you can make a short detour to Reus to see Antoni Gaudi's birthplace. This route will follow the coast almost all the way south to Malaga.
Drive towards Castellón de la Plana. If you have time make a detour to the stunning Serra d'Espadà Natural Park before reaching the stunning coastal hub of Valencia. From here, follow the coast and drive through Alicante and head slightly inland towards Murcia.
Driving through the dramatic scenery of Cabo de Gata-Níjar Natural Park, you will reach the Gulf of Almeria. Head west on A-7 and you will soon reach your beautiful destination in Malaga on the coast.
The Madrid Route
Drive inland from Barcelona, heading west. You will drive through the historic cities of Lleida and Zaragoza before heaving southwest towards Madrid, which is a fantastic place for a stopover.
Take AP-41 out of the city and turn south to drive through Toledo as you start heading towards the coast. Make sure to detour to Sierra Nevada National Park before visiting Granada.
Heading southwest, you will drive through the beautiful landscapes of Montes de Malaga Natural Park just before you reach your final stop, Malaga.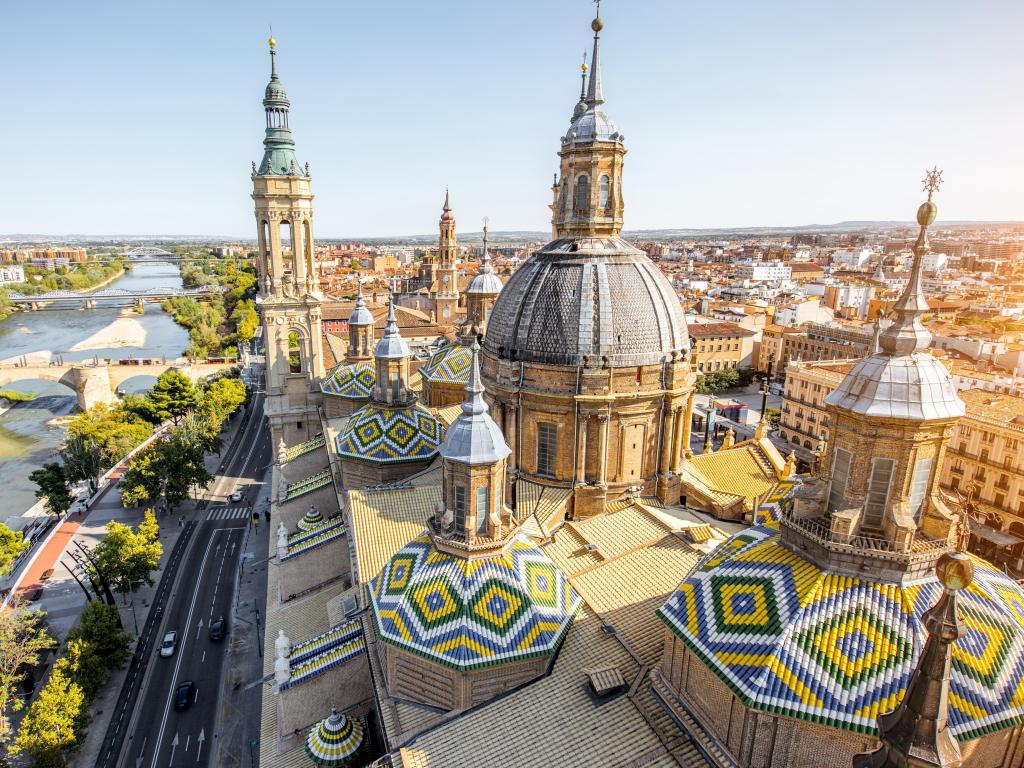 Best places to stop between Barcelona to Malaga
A trip between Barcelona and Malaga gives you the chance to explore Spain to your heart's content. Whether you take the Valencia Route or the Madrid Route, you will find yourself wandering along the city streets – never feeling lost!
The drive between Barcelona and Malaga is long, so an overnight stopover is necessary. You will want to be well-rested before hitting the road again. Check out these overnight stops and stays for this trip.
Enjoy delicious cuisine and historic sites in Valencia
Valencia is a beautiful city with a rich history, located, maybe unsurprisingly, on the Valencia Route. A stunning blend of the old centuries and the modern day, Valencia is known for its aromatic and delicious paella – so make sure you try this while you're here!
You will want to visit some of this vibrant city's major attractions, as this city is brimming with history. Valencia Catedral, dating back as far as 1262, is a must-visit. Even though disputed, the cathedral houses a Holy Chalice, allegedly the cup that Jesus drank from at the Last Supper.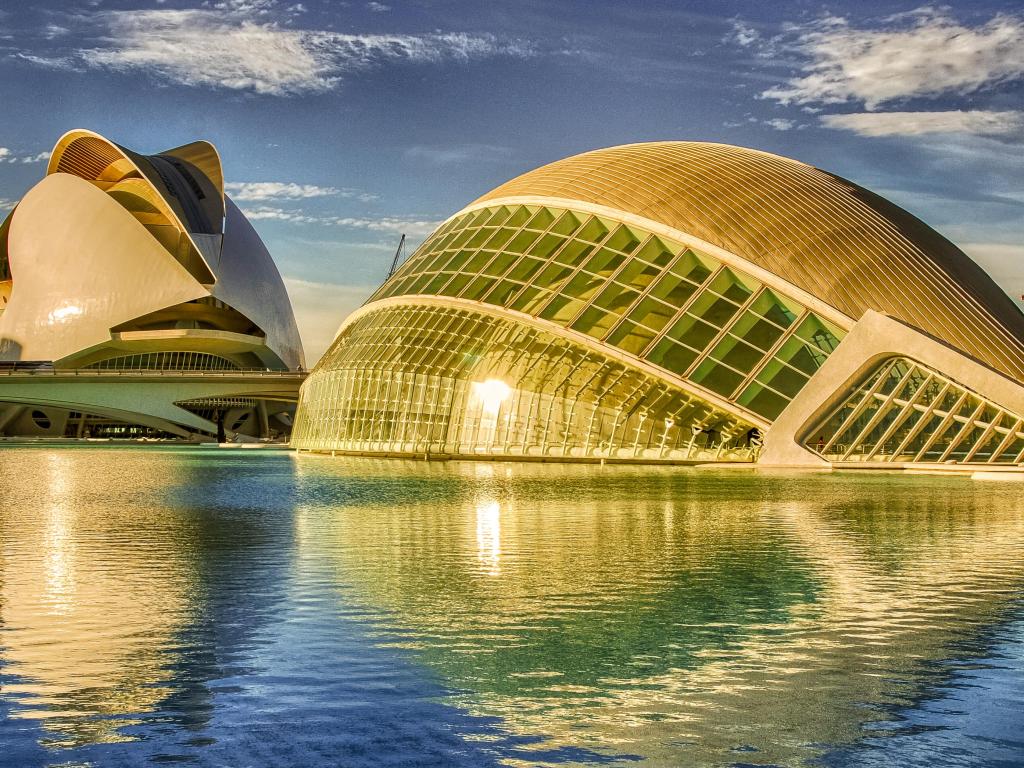 From there, head to Old Town Valencia, and take time to look inside the Gothic La Lonja, a UNESCO World Heritage Site. While wandering around in this beautiful city, keep an eye out for art galleries. A good place to start is the IVAM (Institute of Modern Art).
Valencia is quite popular, so there are several fantastic places to stay overnight. We highly suggest the Caro Hotel since it's near some key attractions. Valencia Cathedral and the City of Arts and Sciences are within walking distance, meaning you won't need to travel far while sightseeing.
The real attraction is the hotel itself; the interior has a modern Gothic design that is absolutely enchanting. Just standing under the arches will teleport you back to the 13th century! The rooms match the hotel's artsy and historic theme, and the rustic space is just as charming as the streets of Valencia.
There are restaurants and bars around the hotel, so you will have plenty of chances to sample the local cuisine. If you want to explore further, use the metro to get around.
A luxury holiday in the heart of Madrid
Madrid is a capital city that lives up to the hype on our route that is named after this city. The iconic football club is well-known, but there is so much more for visitors here. There are gorgeous 17th-century streets, delicious cuisine, and nightlife to enjoy.
Madrid is home to the Spanish Royal Family, and you can tour the Royal Palace and the grounds. The Gran Vía – one of the city's most famous shopping and dining boulevards – is a great place to get lost. There is also a lesser-known attraction: the oldest restaurant in the world, the Sobrino de Botin.
Madrid has some of the world's most top-rated hotels, but we recommend the URSO Hotel & Spa. An elegant stay, this hotel is situated in the heart of Madrid. There is private parking for a fee, convenient for road trippers who will likely be exploring the city on foot.
The hotel's grand architecture is stunning inside and out. You'll be pleasantly surprised by the modern suites and comfortable rooms with great night views of the city.
There's a water area, Hammam, massage service, and a gym in the spa so you can relax after a long drive. The hotel restaurant has a menu of traditional dishes and a massive wine cellar selection.
Where to stay when you reach Malaga
A beautiful city with picture-perfect views, Malaga is a popular holiday destination. With pale sandy beaches, never-ending blue sea, and coastal charm - it is no wonder people flock to this city in the summer.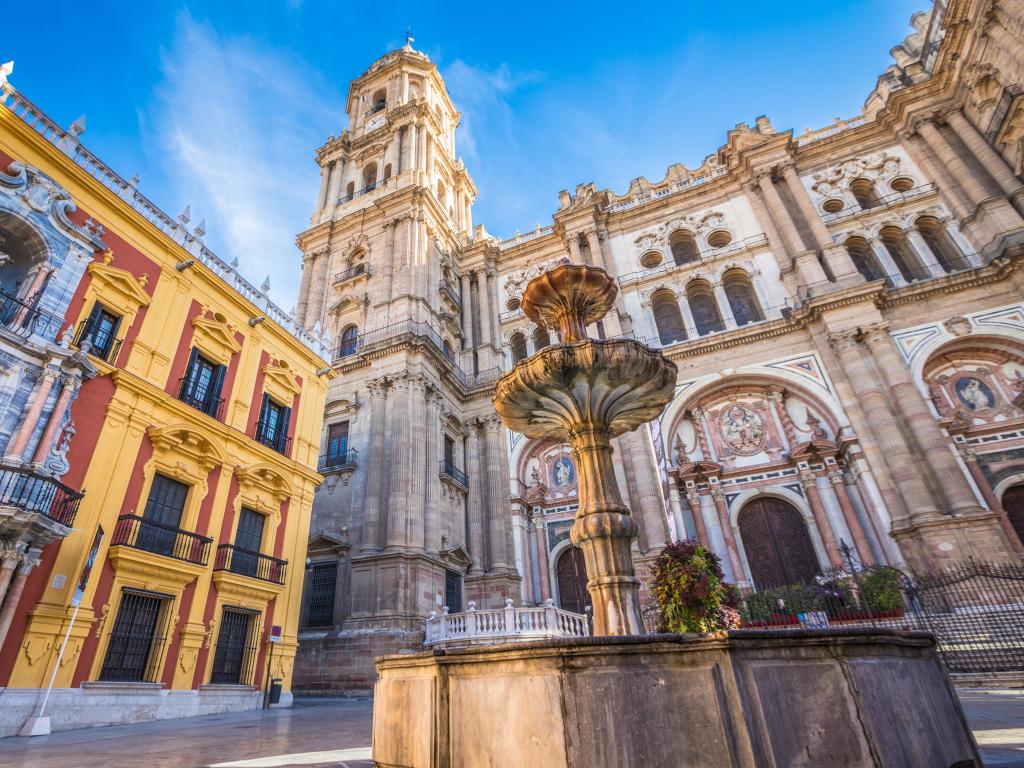 Since it's such a popular vacation spot, Malaga has tons of accommodation options. The H10 Croma Malaga is a great place to stay for this road trip. The hotel is close to San Andres Beach and is the perfect end to a long drive. There is private parking at the hotel.
A continental breakfast is available. While the hotel restaurant has a diverse international and local menu, there is no shortage of cafés and dining spots in this area.
Rooms at the H10 Croma have spectacular views of the city, with a terrace to enjoy your morning coffee. The suites are spacious, so a group reservation is welcome. All amenities come standard, with a rooftop swimming pool and fitness center on-site.
The stay is a little pricey, but with the convenient location, excellent services, and beautiful experience, it is a worthwhile spend.
Things to see on a road trip from Barcelona to Malaga
This road trip from Barcelona to Malaga is dotted with one historic site after another, as well as many beautiful cities, charming towns, stunning parks and awe-inspiring coastal scenery. You will be spoiled for choice as to what to see and where to visit.
To make your planning easier, here are our top suggestions for the amazing things you can see on this road trip of a lifetime.
The Valencia Route
Tarragona – A city rich with history and culture, this popular tourist destination is known for its many ancient Roman ruins like the Amphitheater of Tarragona: a 2nd-century arena overlooking the Mediterranean.
Reus – The birthplace of architect Antoni Gaudi, Reus has stunning old-century sites like the Plaza del Mercadal in the Old Town. It's also a great place to enjoy some vermouth.
Altea – The Altea mountains at Serra Gelada Natural Park have dramatic views of the Mediterranean. It is worth the rugged climb!
Alicante – Foodies will love this charming port city, which has a great selection of wine and tapas spots. Some other attractions also include the 9th-century Santa Barbara Castle.
Elche – A popular day trip from Alicante, Elche has beautiful parks of palm trees all around the city – said to be the largest group of palm trees on the continent.
Murcia – A great place to rest and take a stroll, you're welcome to sip coffee in this easy-going city. Visit the Cathedral of Murcia, enjoy the 14th-century facades and explore the market gardens.
Cartagena – This walled city is anything but closed off, and you will find yourself charmed by the views of the beautiful coastline. Take a stroll and visit the city's quaint restaurants and bars.
Cabo de Gata-Níjar Natural Park – Striking cliffsides, stunning coves, and a spectacular blue sea are what you can expect at this protected Mediterranean paradise. The beaches are secluded, and you can walk up to the Pilurico Tower for views of the beautiful horizon.
Almería – Almería is a quiet port city with lovely views from the beaches and promenades. The area has a great selection of tapas bars.
Caves of Nerja – A beautiful natural wonder just outside Nerja, the mysterious caves are worth visiting. One of the caverns even has natural acoustics that can convert into a concert hall!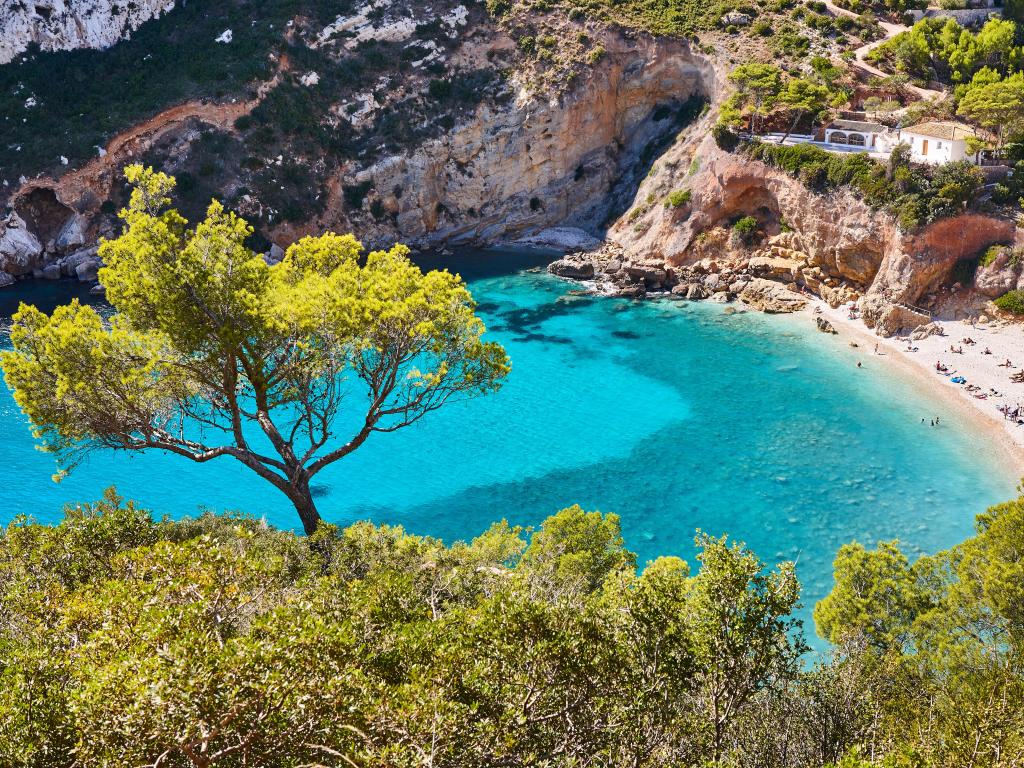 The Madrid Route
Lleida – Stroll around this ancient city and walk into the Old Town to see visit the 18th-century cathedral perched on top of a hilltop.
Zaragoza – Known for its baroque architecture, Zaragoza has cathedrals, palaces, and monuments seeping with history. It's also got a fine collection of the works of romantic painter Francisco Goya at the Museo Goya.
Santiago Bernabéu Stadium – Home of the Real Madrid soccer club, there are guided tours for visitors. Not only will you learn more about the club's history, but you will also have an opportunity to set foot on the famous pitch!
Toledo – A historic city, Toledo has a melting pot of cultures, specifically Arab, Jewish, and Christian influences. Toledo Cathedral is a stunning display of Gothic architecture, which you will find throughout the town.
Sierra de Andujar Natural Park - This beautiful nature reserve is home to a range of Mediterranean mountains. A hike around here will lead you to some natural water spots, and you may see common wildlife like imperial eagles and lynxes.
Jaen – A charming city known for its olive production; Jaen has some delicious varieties of Spanish cuisine.
Guadix – In this cathedral town, cave houses are a common sight. Take a trip to the End of the World Viewpoint and get stunning views of the white peaks of Sierra Nevada and the badlands of the Guadix Region.
Sierra Nevada – A popular ski resort from winter to spring, this gorgeous mountain range is a must-see no matter the season.
Granada – There's so much Renaissance, Baroque, and Neoclassical architecture in this glorious city you may have trouble deciding where to go! The Alhambra is one of Spain's most visited attractions and is a great place to start.
Iznájar – Narrow streets, white-washed buildings, and breathtaking views of the lake and reservoir are what you can expect in this prehistoric city.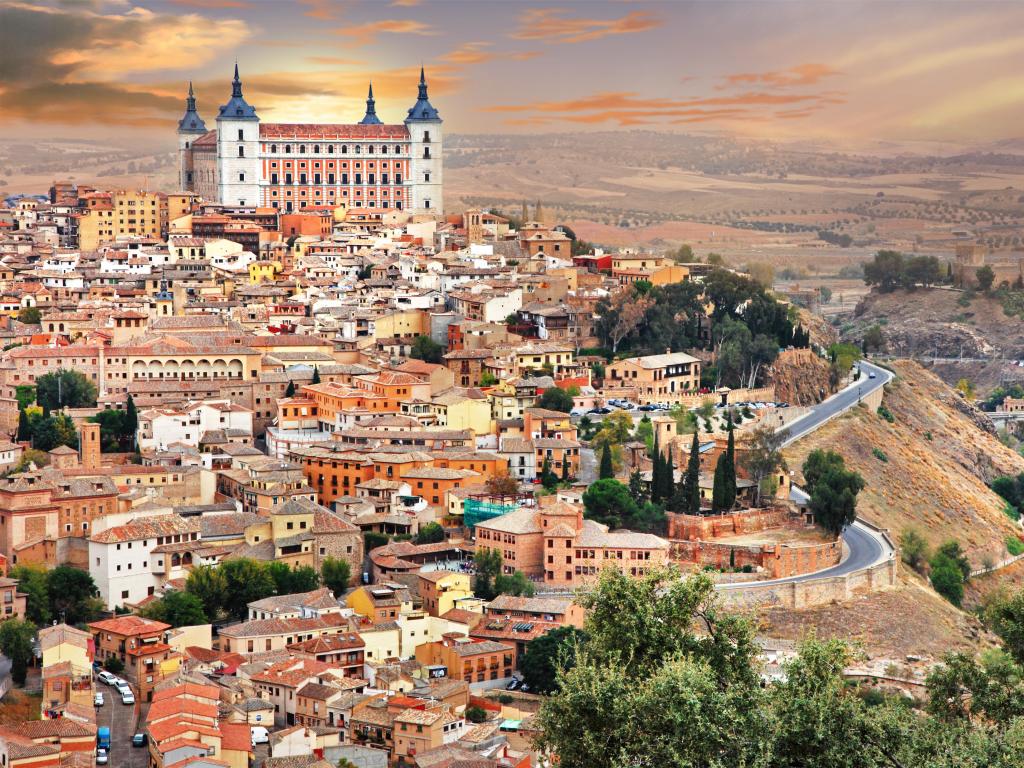 Best time to go on a road trip from Barcelona to Malaga
The Mediterranean climate makes traveling around Spain comfortable year-round. A drive between Barcelona and Malaga - across the countryside or along the coast - is always pleasant.
Remember: Mediterranean summers are hot, and temperatures in Malaga range from 26 to 30 degrees Celsius in July and August. Summer is a popular time for holidaymakers, and you might experience higher traffic during this season. Hotel rates will also peak, usually between June and September.
In winter, the temperatures are much milder, ranging between 13 to 15 degrees Celsius in November and December. It may drop to 12 degrees Celsius in January and February.
Despite the cooler weather, winter is not harsh in Spain, making conditions ideal for a road trip. Be cautious of rainfall in November and expect some cloud cover over the colder season.
Some travelers prefer visiting in spring, as the temperatures go up to a lovely 24 degrees Celsius around May. During March and April, expect temperatures between 14-19 degrees Celsius. There is less chance of rain at the end of May, perfect timing for the mild Mediterranean sun.
Spain has a full calendar of festivals and celebrations – all colorful and unique. If you visit in February, you will get to visit Malaga Carnival, a lively celebration of music, art, and dance. If you will set off on this adventure in fall, you can enjoy The Andalucia Big Festival, a popular music festival, in September.