Road Trip from Broome to Darwin
If you've ever wanted to explore the entire range of natural beauty that Australia has to offer, look no further. This road trip from Broome to Darwin lets you experience vast stretches of desert landscapes and outback scenery, whilst also making the most of the many National Parks, wetlands, gorges, sandstone formations and wildlife.
The 1,870 km road trip from Broome to Darwin takes around 20 hours to complete. On the way, you can explore Katherine, Lake Argyle, Berry Springs Waterhole, Bell Gorge, Keep River and Nitmiluk National Parks as well as Cutta Cutta Caves Nature Park.
Read on to choose between two suggested routes, select the National Parks that make your explorer heart skip a beat and find out what time of year will allow you to make the most of this trip of a lifetime.
How far is Darwin from Broome and how long will the road trip take?
Comparison of road trip routes between Broome and Darwin

| Route | Distance | Driving Time |
| --- | --- | --- |
| The Direct Route | 1,870 km | 20 hours |
| The National Parks Detour | 2,200 km | 23 hours 30 minutes |
There are a couple of options for getting from Broome to Darwin, although they both share the same directions for the majority of the drive. The most direct route will take you around 20 hours to complete and will cover 1,870 kilometres.
The National Parks Detour will take 23 and 30 minutes to drive, to allow for the extended distance of 2,200 kilometres without accounting for any stops of detours which you might want to make.
Considering how much distance you'll be covering and the many beauty spots and National Parks to explore, we suggest that you allow between 4 and 6 days to complete your drive.
Best road trip route from Broome to Darwin
Both of the routes we've chosen for this trip from Broome to Darwin take in plenty of desert-like, outback landscapes as well as lush greenery, wetlands, gorges and National Parks.
On the Direct Route, you will get to explore a variety of National Parks, Lake Argyle and the gorgeous town of Katherine. This route will allow you to experience many of Australia's lush forests and plenty of dry desert landscapes.
The National Parks Detour takes a scenic dive into the beautiful parks of the Northern Territory. Among the many parks you will drive past are Geikie Gorge, Keep River, Nitmiluk and Kakadu National Park with countless amounts of sandstone formations, gorges, wetlands, waterfalls and wildlife to explore between them.
Whether you want to take the more Direct Route or allow more time to experience a wider range of natural beauty depends on the amount of time you have to spend on the drive.
The Direct Route
The most direct route takes you simply along the Victoria Highway, Highway 1, with minimal stops. Head inland from Broome on Highway 1, towards the town of Willard. Stick to the highway, through plenty of outback landscapes.
Once you reach the Mueller Ranges area, you could stop at Mimbi Caves. Just a little further along you'll also find Mary Pool along the Mary River. A beautiful place to cool off and even get your wheels wet if you fancy, at the Mary Pool Crossing.
As you approach the town of Kununurra, there'll be plenty to explore including Molly Springs and the beautiful Lake Argyle.
Back onto Highway 1, and time to keep an eye out for the many lookouts by the side of the road, for those perfect holiday snaps. There are also some smaller National Parks dotted along the route, perfect for a picnic lunch.
The next bigger town you'll reach will be Katherine. The Nitmiluk National Park is worth exploring here as well as the Hot Springs.
The next leg of your journey along Highway 1 takes you into greener and more lush landscapes as you get closer to Darwin. Stretch your legs in Pine Creek before carrying on through quaintly named Tortilla Flats and Acacia Hills, followed by Humpty Doo a little further along.
As you approach Darwin, the possibilities for stops to explore hot springs and parks become almost endless. Berry Springs Waterhole is a great stop before finally arriving at your end destination.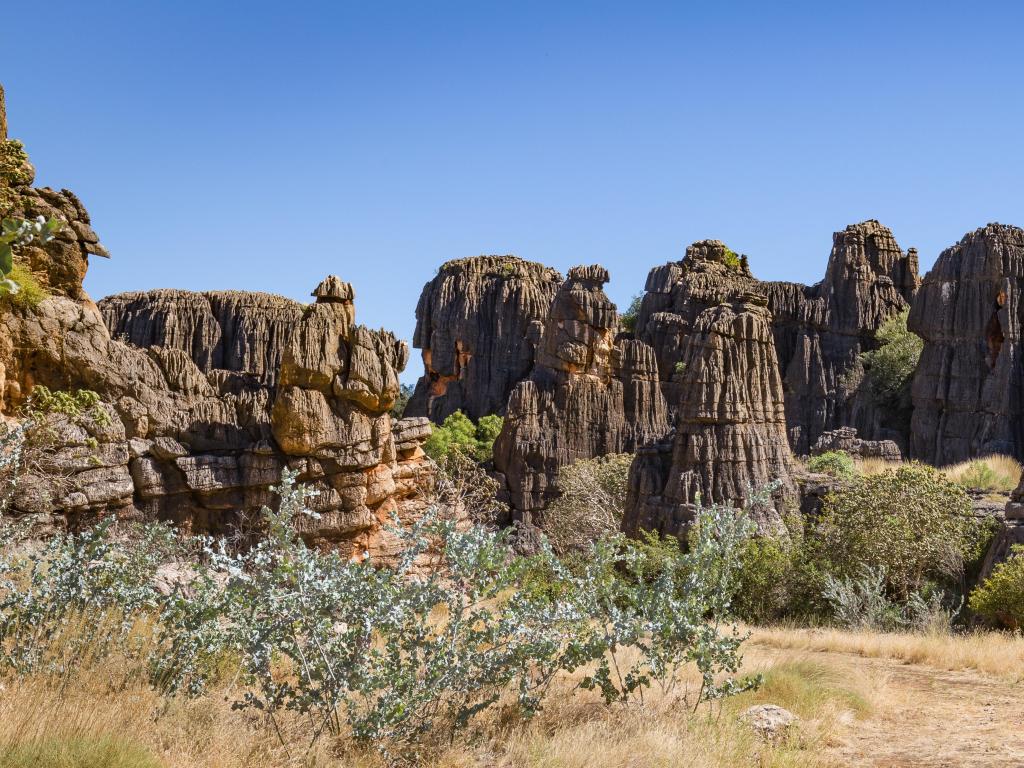 The National Parks Detour
This route shares the majority of the directions with the direct route, especially at the beginning of your drive.
You'll find the first detour as you arrive on Highway 1 from Broome in Fitzroy Crossing. Head along Geikie Gorge Road to the National Park of the same name where you can explore a stunning limestone reef.
Keep following Highway 1 until you reach the town of Katherine, where the main detour from the direct route begins. First, you'll be heading towards Katherine Gorge and Nitmiluk National Park.
Once you've had your fill of nature pursuits here, re-join the highway before taking Highway 21 in Pine Creek. This will take you to Kakadu National Park.
Here, you will also have the option of an additional stop at Yellow Water Cruise where you can participate in a range of watersports and cruises in one of Australia's celebrated wetlands.
Follow Highway 21 towards Jabiru, where you'll then head west on Highway 36 towards Mount Bundley, and ultimately all the way to Darwin.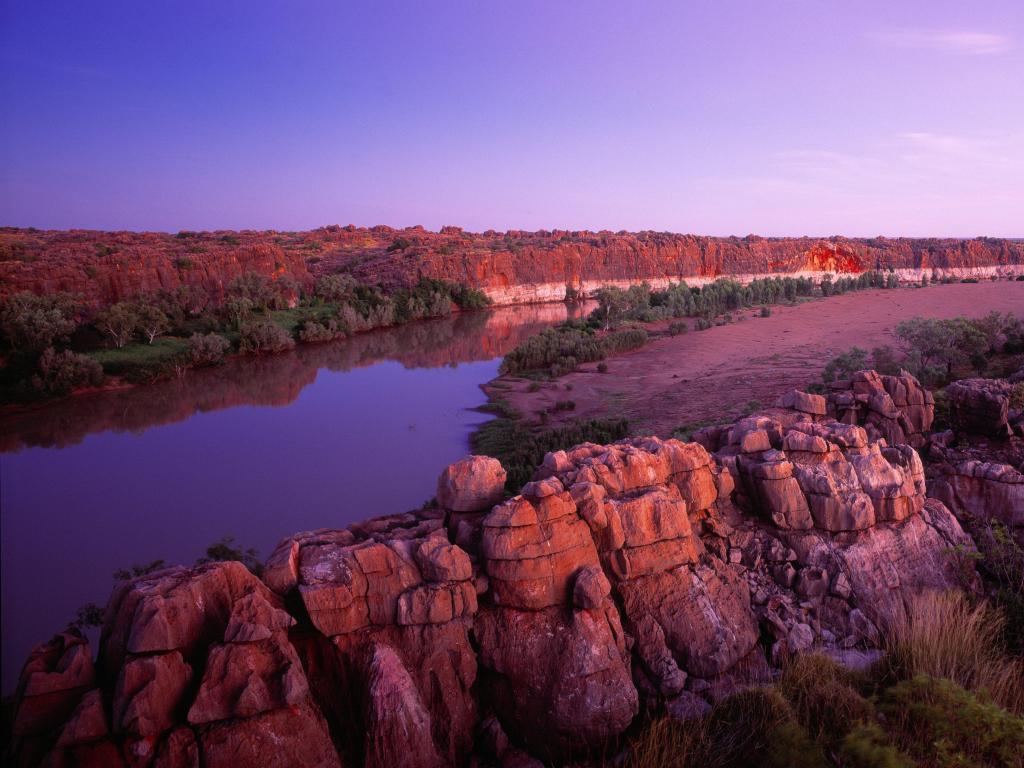 Best places to stop between Broome and Darwin
Since you're covering quite the distance on your journey, you'll want to plan in a few overnight stops to get the most out of your trip. We've picked a few conveniently located places that will allow you to both relax after a long day of driving and explore what Australia has to offer further if that's what you'd prefer. Both overnight options apply to either route so why not pick both!
Get pampered in Kununurra
Located halfway through your journey on both routes, the town of Kununurra is located near the beautiful Lake Argyle and right next to Lily Creek Lagoon. This charming town makes for a brilliant overnight stop and a base from which to explore many outdoor pursuits.
The Kimberley Grande Resort gets our vote for your overnight accommodation, being Kununurra's premier resort destination. It boasts modern and stylish décor that prides itself on reflecting the surrounding landscapes as well as a range of dining options on-site and nearby.
If you like to feel pampered, this is the place to get yourself booked in for some treatments and you can also make use of the spa suites and the outdoor swimming pool.
If you'd like to explore all the beauty that the area has to offer, the Lily Creek Lagoon nearby offers several lush green spaces and the town centre has much to offer, including the Waringarri Aboriginal Arts Gallery.
A short drive will take you to Lake Argyle, where you can take a lake cruise or simply enjoy stunning views from its Dam Wall. The hotel is located close to the Victoria Highway to seamlessly continue your journey when you're ready.
Find tranquility in Katherine
Another great place for an overnight stop, once again suitable for both routes, is the town of Katherine. This is one of the last larger towns you'll be driving through before you reach Darwin, around two-thirds of the way into your journey.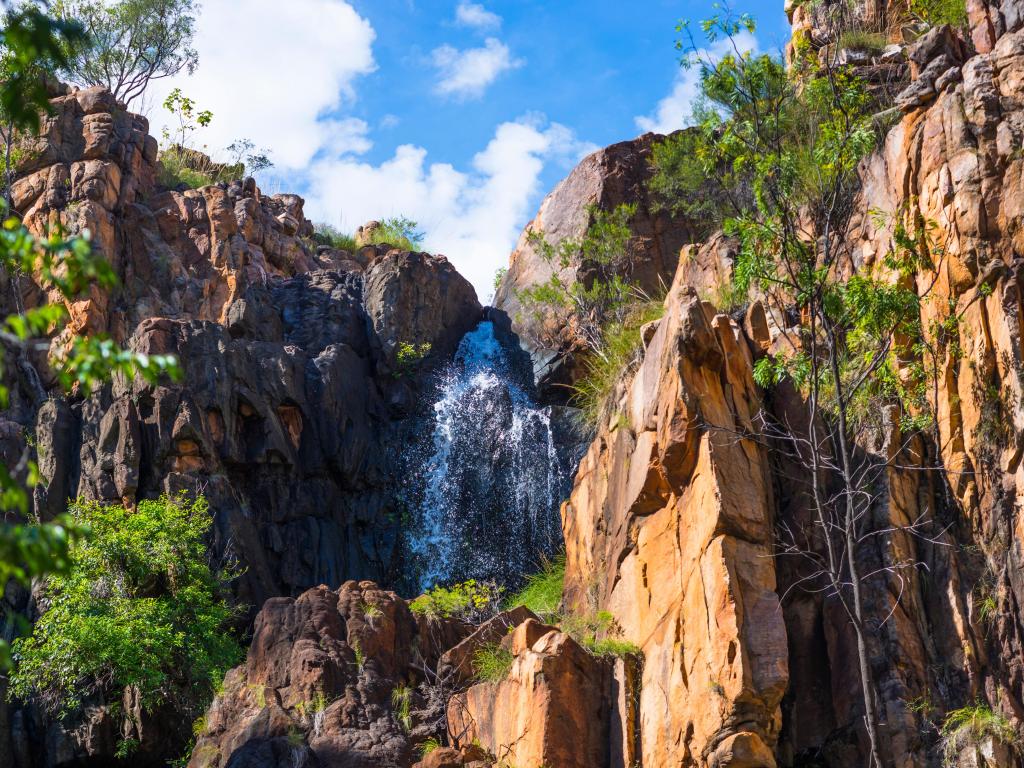 Katherine is charmingly known as 'the town where the outback meets the tropics' and is also home to the Nitmiluk National Park with plenty of gorges to explore on foot, by canoe, boat or even helicopter.
Although located a few kilometres outside the town of Katherine, our favorite is the Almost Off Grid Tranquility Guest House to stay at during your visit to the town. This hotel is surrounded by beautiful scenery and has easy access back to the highway when you're ready to complete your journey,
Each superbly appointed room offers its own patio and garden view. If you'd like to have your own quintessential barbecue experience, the hotel offers cooking facilities for its guests as well as a shared lounge and kitchen. Such a unique Australian outback experience!
The Nitmiluk National Park is located close by, or if you'd rather spend your time here unwinding, you could visit the Katherine Hot Springs to relax and recharge amongst its greenery and walking trails.
Where to stay when you reach Darwin
Once you reach Darwin, we recommend the Vibe Hotel Darwin Waterfront as your base from which to experience the city. It's brilliantly located to explore the waterfronts many shops, restaurant and bustling nightlife and offers rooms with harbour views.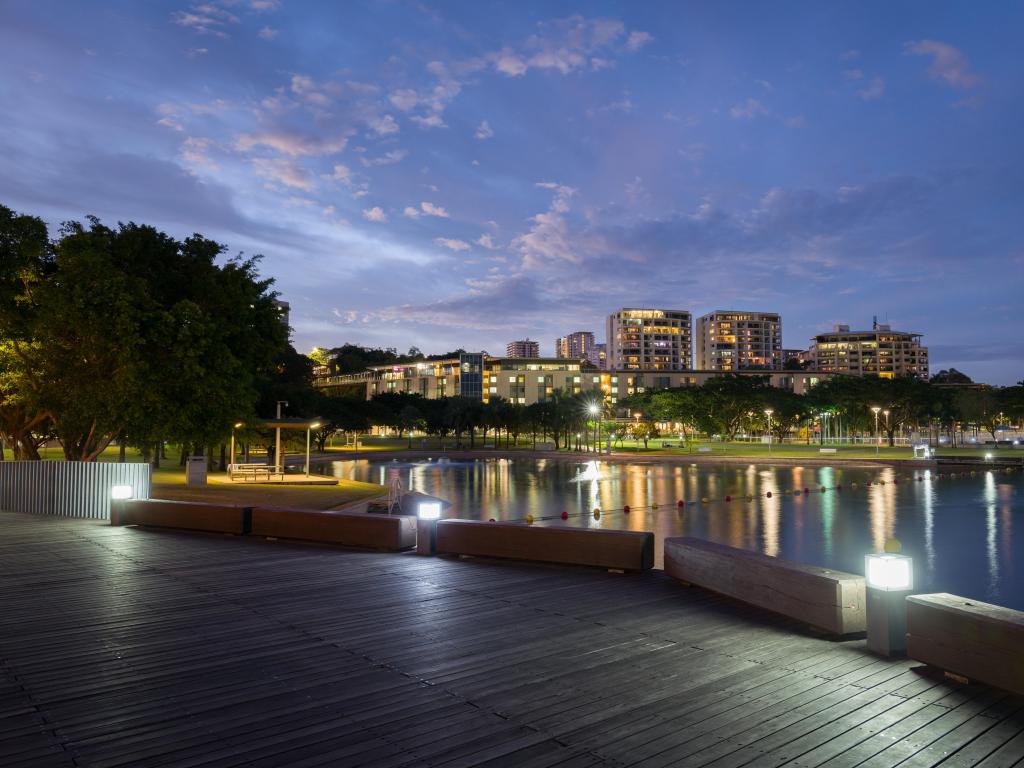 This waterfront district is a thriving part of the city and offers much in terms of recreational activities. The hotel itself has plenty of amenities to allow for a day or two of total relaxation after your long drive through the outback.
There is a semi-indoor pool, as well as a wave pool and a range of restaurants to dine at, so you will have the convenience of re-energise at your own pace after a long drive.
Things to see on a road trip from Broome to Darwin
There are so many things to see on an epic road trip like this, and you can break up your drive through the vast Australian outback with lush National Parks, rock formations, wildlife and Aboriginal history.
Since the second of our route options is simply a detour from the first, most of the attractions and activities suggested below apply to both routes, so read on below to find out our recommended things to see and do.
The Direct Route
Kakadu National Park – Known for its coastal plains and many Aboriginal archaeological sites across its sprawling 20,000 square kilometre size, this national park has been recognized as a World Heritage Site.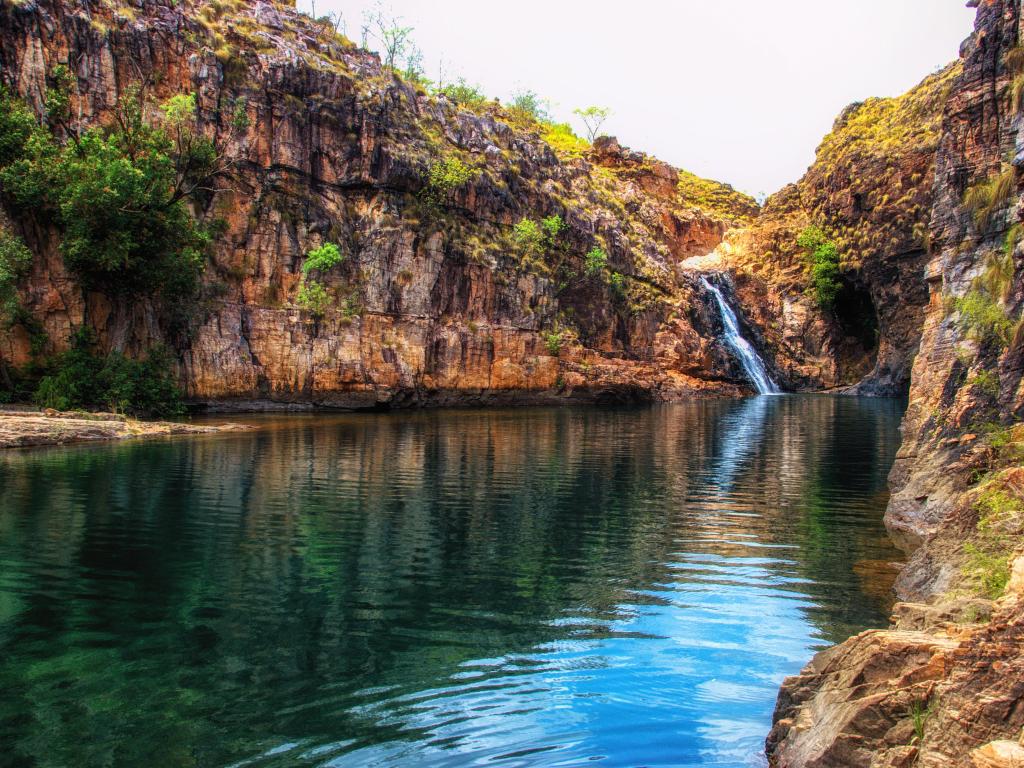 The National Parks Detour
Litchfield National Park – Experience the green lushness of this National Park before embarking onto the outback portion of your drive. With plenty of waterfalls, wildlife and walking trails to explore, you won't regret your stop here.
Both Routes
Dalmanyi (Bell Gorge) – About 30 minutes away from your driving route but absolutely worth it to see this stunning sandstone valley. You'll find walking trails, a gorge and a waterfall where you'll be able to swim and canoe.
Dimalurru National Park – Explore a creek-carved cave system featuring stalagmites, waterfalls and even nocturnal animals.
Mimbi Caves – Aboriginal expert tours of this 350-million-year-old reef system are a must-see along your route.
Purnululu National Park – A prime example of outback Australia's arid landscape, this national park will have you in awe of the sculpted sandstone rock formations which resemble beehives.
Lake Argyle – Western Australia's largest lake is a worthwhile stop for water-based activities such as a lake cruise, or to simply enjoy the tranquil lookout from the Argyle Dam Wall.
Keep River National Park – Striped sandstone towers line the edges of the hiking routes in this national park and sights along the way could include both Aboriginal art and rock wallabies!
Nitmiluk National Park – The string of gorgeous national parks continues! This particular one boasts thirteen beautiful gorges that have been carved out of sandstone cliffs over thousands of years.
Cutta Cutta Caves Nature Park – Guided tours are available at this nature reserve to make the most out of viewing the karst limestone caves, dramatic rock formation and roosting bat colony.
Berry Springs Waterhole – Natural swimming spot surrounded by both wetlands and monsoon forests as part of a park which is known for its aviary and floral offerings. (Please note that swimming may not be possible during the wet season October – April, check prior to arrival)
Howard Springs Nature Park – Make a final stop before hitting Darwin to take advantage of the hot springs and rock pools on offer in this beautiful park. Keep your eyes peeled for Australian wildlife, too!
Nightcliff Jetty – a small detour will take you to Nightcliff Jetty, which looks out on the Timor Sea and where you can enjoy a stunning sunset and refuel after your drive from a vast variety of food trucks.
Best time to go on a road trip from Broome to Darwin
With Darwin being the largest city in the Northern Territory, it's no surprise that there are plenty of indoor and outdoor activities accessible all year round. Add to that the consistent heat it receives throughout the seasons, you could easily make this trip at any time of year.
November and December mark the hottest months in Darwin with temperatures ranging between 28-32 degrees Celsius, which means these months are also prone to be the muggiest and wettest time of year.
The coolest months tend to be June, July and the start of August, meaning they tend to be the driest and clearest months in terms of weather conditions.
Temperature differs only by a degree or so between the 'hot' and 'cold' seasons with 32 and 31 degrees Celsius respectively.
The busiest time in terms of tourism is during the city's dry season, between May and October. Accommodation will be a little more costly, but if you're planning on taking advantage of the many outdoor pursuits on offer, you can pretty much guarantee that they won't be interrupted by weather events.
If you plan on taking in more cultural and indoor events, there is plenty to explore in Darwin all year round. There are festivals and events for every taste, as you would expect from a metropolitan city.
October brings the music festival Electric Storm, take your pick between the Darwin Fringe or the Darwin Show in July, or be spoilt for choice between music, theatre, visual art, dance, cabaret and comedy during the Darwin Festival each August.
Activities in the many National Parks along the route may be weather dependent so do check before you travel if your heart is set on a particular experience.