Road trip from Brisbane to Broome
Pack your bags and get your favorite playlist ready for the ultimate cross-country journey from Brisbane to Broome. This extensive journey will take you through some of the most quintessential Australian sights through either the vast Outback or past the scenic Great Australian Bight.
The 4,550 km road trip from Brisbane to Broome will take 51 hours to drive. The highlights en route include Toowoomba, Longreach, Winton, Mount Isa, Kakadu National Park, Wolf Creek Crater, Moree, Mount Grenfell, Port Augusta, Streaky Bay and Ceduna.
You'll experience endless excitement and see some of Australia's most stunning sights on this epic drive from Brisbane to Broome. Read on below to learn more about our recommended routes, top highlights, best places to stop, and the best seasons to travel.
How far is Broome from Brisbane, and how long will the road trip take?
Comparison of road trip routes between Brisbane and Broome

| Route | Distance | Driving Time |
| --- | --- | --- |
| The Northern Route | 4,550 km | 51 hours |
| The Southern Route | 5,620 km | 61 hours |
There are two distinct routes that will take you from Brisbane to Broome. Each one is full of adventure around every corner. The Northern Route will span approximately 4,550 km. You can complete this journey in roughly 51 hours of drive time with no major detours.
The Southern Route is lengthier, covering about 5,620 km and needing around 61 hours on the road to reach Broome.
This is a road trip of epic proportions, so we recommend setting aside two weeks or more if you'd like to make the most of it. This will give you plenty of time to experience all the wonderful nature, culture, and activities Australia is known for.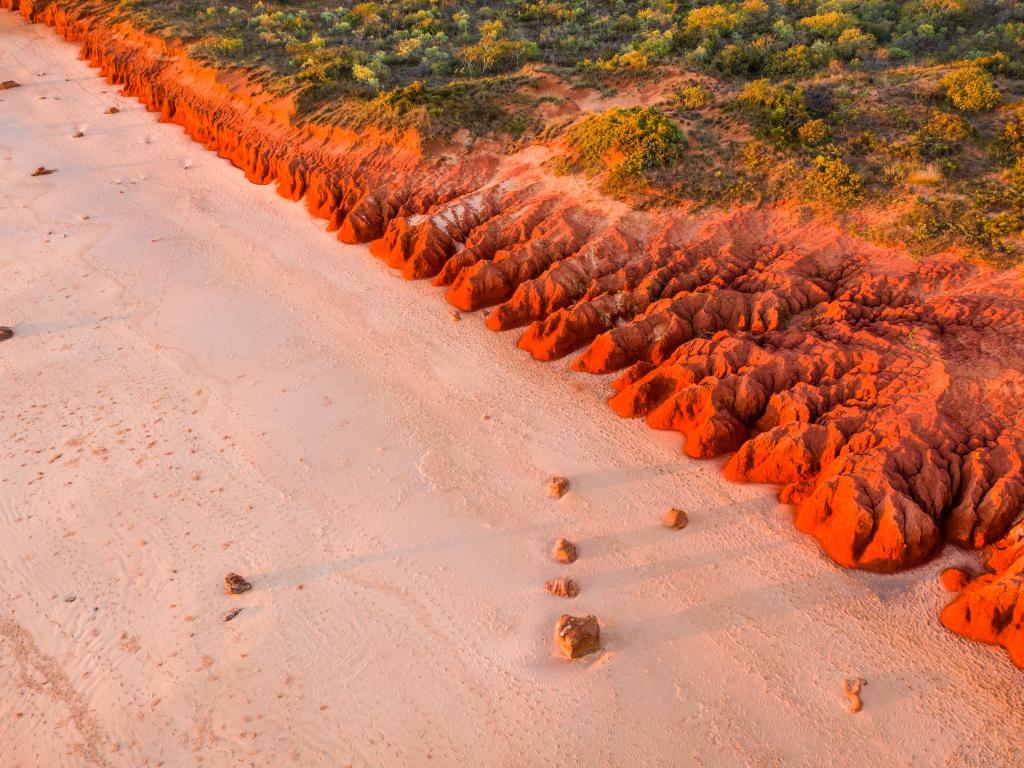 Best road trip route from Brisbane to Broome
While both routes offer endless Australian landscapes and attractions, they provide distinctly unique experiences. Which one you take will depend on what you want to see the most and which corner of the country draws you in more.
The Northern Route takes you through the vastness of the Australian hinterland and quiet rural towns. Here, you can experience the Australian Outback and how expansive the country truly is.
However, it's crucial to pack essentials and plan ahead, since services might be sparse. Further into your journey, post-Pamayu, the road steers you north towards Katherine, brushing close to Darwin.
As you approach, the climate transforms, becoming more tropical. Here, you'll be able to stop at the iconic Kakadu National Park.
The alternative Southern Route is perfect if you love big cities, coastlines, and romantic vineyards. As you journey between Port Augusta and Caiguna, the Great Australian Bight comes into view, with glimpses of the ocean and isolated, pristine beaches.
This route is peppered with nature reserves, especially as you transition from South Australia to Western Australia. National parks and natural highlights like the surreal Lake Torrens greet you along the way.
But perhaps the most iconic part of this route is the trek across the famed Nullarbor Plain, stretching between Ceduna and Eucla. Here, you'll experience Australia's most linear, level roadway and possibly even encounter some of the region's 100,000 wild camels.
How to drive from Brisbane to Broome
The map above shows our suggestions for the best road trip routes between Brisbane and Broome. Keep reading for detailed descriptions of both routes, where to stay on either, and the best things to do on the way.
The Northern Route
Starting in Brisbane, make your way west on Highway A2. Make a quick detour to highlights like Ipswich and Toowoomba Railway Station on the way. From here, continue on route. In the charming town of Morven, the highway veers north into more rustic terrain.
You'll travel all the way northwest through endless Outback terrain to Barcaldine. Here, the A2 will switch directions again and travel west to the historic town of Longreach.
Continue on route through the beautiful landscapes of northern Queensland to the stunning Outback town of Mt Isa. After exploring this beautiful area, head west into the Northern Territory. Continue driving on highway 66 to the iconic Tablelands.
From here, drive further into the Northern Territory and turn north to Pamayu. Keep driving north past Lake Woods Conservation Covenant and arrive in the historic town of Katherine.
From Katherine, continue west along the tropical plains of northern Australia. Keep driving to the community of Kununurra. You'll end up driving through incredible rural desert landscapes and wild conservation parks on your way to Broome.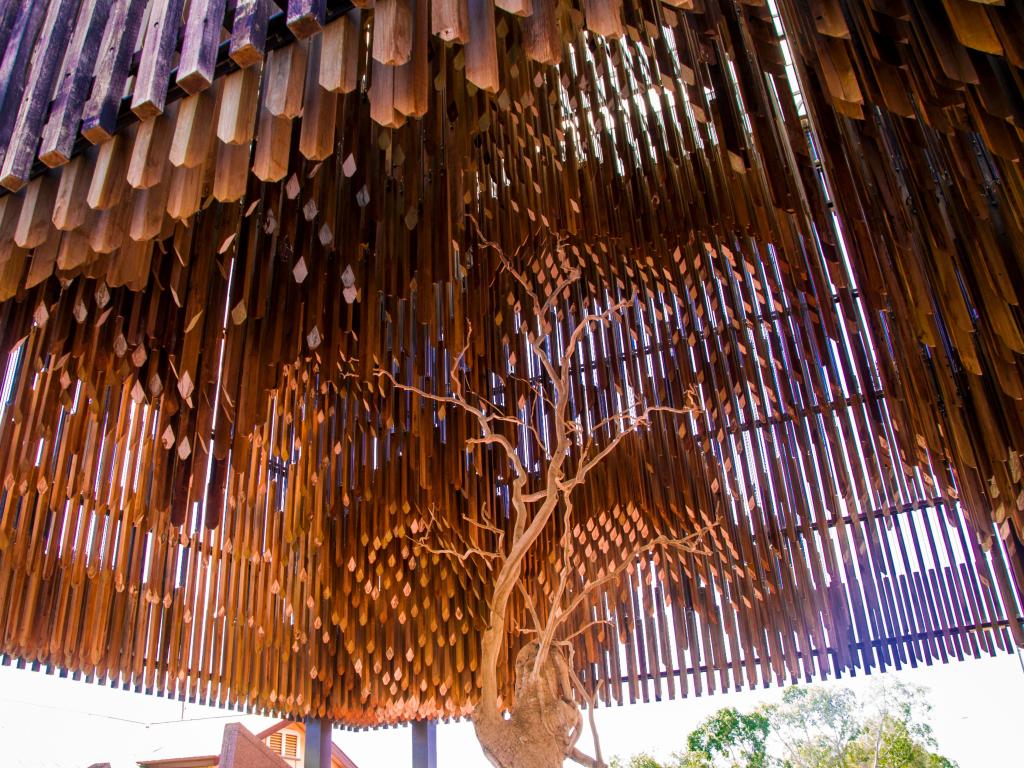 The Southern Route
Beginning in Brisbane, head west on Highway A2 to Toowoomba. From here, make the drive through epic wine country and forests as you enter New South Wales.
From here, you'll drive through impressive historical and cultural sites such as Terramungamine Rock Grooves, the Fort Bourke Hill Lookout, and Mount Grenfell Historic Site.
From here, you will start your journey through the start of the southern Outback to Port Augusta. From here, continue on route along the rugged South Australian coastline.
Soon, you'll arrive in Ceduna. After exploring his amazing coastal city, you'll get back on route and drive into Western Australia.
Continue on past Dundas Nature Reserve and the town of Norseman. From here, veer north and head through the pristine lakes and into the arid Western Australian desert landscapes. Continue on through the barren Outback until you reach your destination of Broome.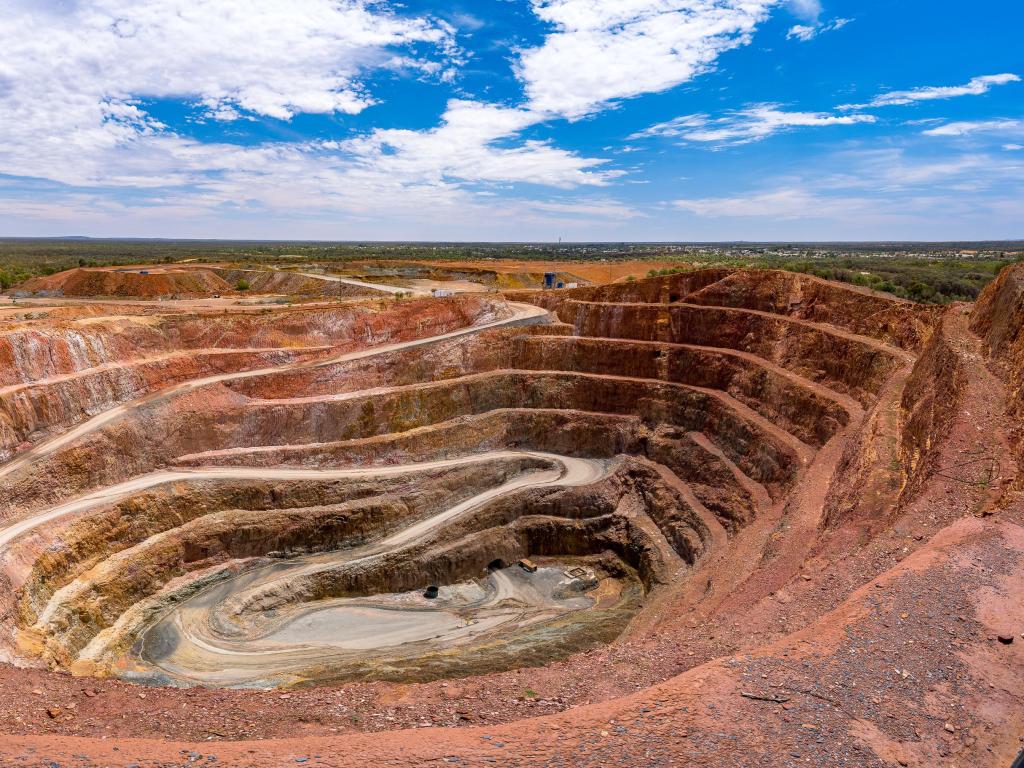 Best places to stop between Brisbane and Broome
With so much to see and do along the way, you'll want to stop at one of these amazing destinations below. This way, you'll get to take advantage of all the wonder and beauty this country has to offer.
Be one with nature in Katherine
Katherine is an ideal place to pause on your Northern Route from Brisbane, about 33 hours into your journey. Of course, you will have to make a few stops before you reach Katherine, but pausing here will allow you to recharge in style and comfort with so much to see and do.
The centrepiece of this stop is the breathtaking Katherine Gorge in Nitmiluk National Park. Often dubbed as a tropical gem of Australia's Northern Route, this gorge offers you the opportunity to enter its serene waters in canoes, surrounded by dramatic cliffs and wildlife.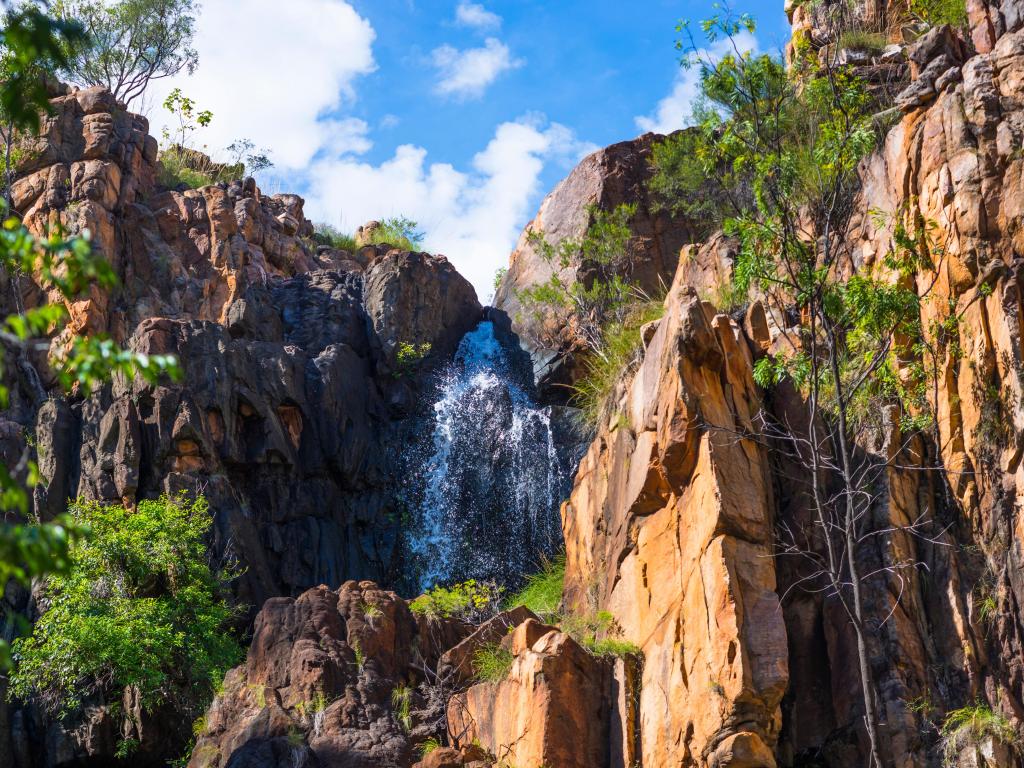 Another attraction is the Cutta Cutta Caves, a system of limestone caves that provide a glimpse into an underground world of stalactites, stalagmites, and unique cave-dwelling creatures. Wandering through these mystical caverns is like nothing else on earth.
During your stay in Katherine, we recommend the beautiful Cicada Lodge. This upscale lodge is a stone's throw from the heart of Katherine's attractions and boasts beautiful rooms with balconies to admire the surrounding area.
With incredible dining at its in-house restaurant and its pristine pool, it's a haven of comfort and luxury. You'll also love walking around its beautiful grounds to see all the plants and animals that live there in the wild.
If you're up for further exploration, both the Katherine Gorge and Cutta Cutta Caves are easily accessible from the lodge.
A coastal escape in Ceduna
Ceduna is a quintessential stopover on the Southern Route from Brisbane, nestled about 26 hours into the drive. This coastal town not only offers an immersion into Australia's rich Aboriginal heritage but is also your last rest before you enter the vast expanse of the Nullarbor Plain.
If you're fortunate enough to visit during the right season, the cliffs provide a vantage point for whale watching.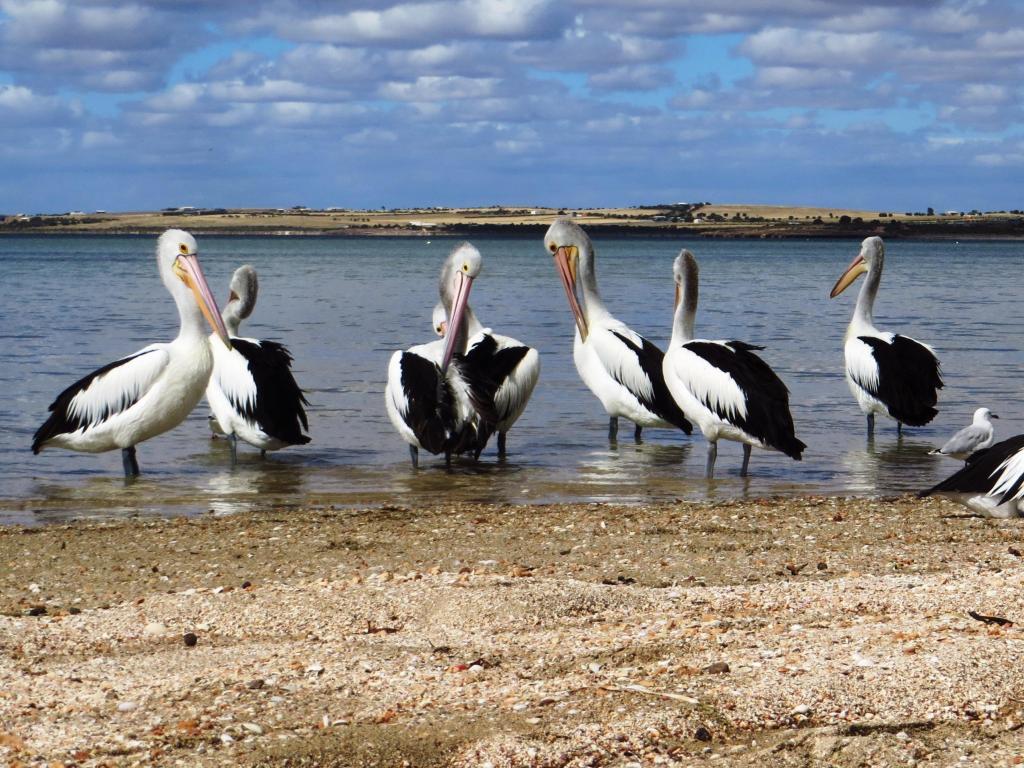 While in Ceduna, the BIG4 Ceduna Tourist Park stands out as an ideal stay. Situated in the heart of Ceduna, it's full of convenience and comfort, making it the perfect rest stop after your lengthy drive.
As the shimmering sunsets, if you've had a catch at Denial Bay, the dedicated crab and fish cooking bay at the park is ready for you. If you want to take a refreshing dip, a serene swimming beach is just a brief stroll away. The park has plenty of amenities, such as BBQ facilities and a kitchen.
Beyond the park, attractions like Denial Bay and Arts Ceduna await you. A short 15-minute drive takes you to the beautiful bay, while the arts centre, a hub of local creativity, is merely a 15-minute walk away.
Where to stay when you reach Broome
Broome is famous for its awe-inspiring beaches, often counted among the world's most beautiful. Its remote location in Australia only adds to the charm.
Cable Beach is the spot for beautiful beach fun, offering unparalleled views and clear waters. Roebuck Bay is another nearby beach and natural area that's stunning and full of beautiful views and calm waters.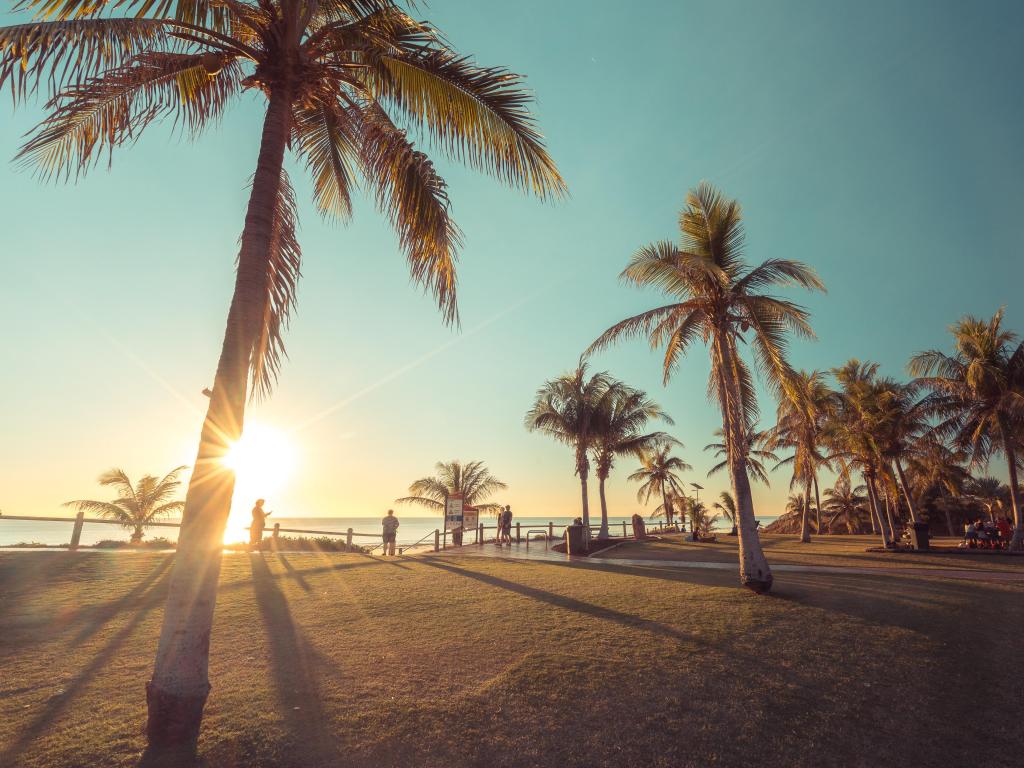 Just a stone's throw from these natural wonders is the highly-rated Billi Resort. This accommodation embodies Broome's calm and pristine spirit in every sense.
The tented rooms have a unique beach hut charm, creating an atmosphere of seclusion and intimacy. Beautiful trees and wildlife surround the outdoor pool area. There are also BBQ facilities available so you can have a traditional Australian cookout without leaving the building.
The resort takes Broome's laid-back ethos a notch higher. Fancy a day at Cable Beach? The free bicycles at the resort are available for a quick ride to the water.
The outdoor showers in select accommodations offer a refreshing take on bathing under the open sky – something every traveller should experience. Above all, The Billi Resort is peaceful and relaxing, something that you'll appreciate after your long journey across the country.
Things to see on a road trip from Brisbane to Broome
There's so much to see and do along the way from Brisbane to Broome. Below, we've listed our favourite highlights to help you plan a little easier.
Northern Route
Beenleigh Artisan Distillery - As Queensland's oldest registered distillery, Beenleigh Artisan produces premium handcrafted rum using traditional methods.
Ipswich - Ipswich is a city known for its rich history, beautiful parks, and burgeoning food scene. It seamlessly blends cultural heritage with modern attractions, making it a delightful Queensland gem.
Toowoomba Railway Station - An architectural beauty, the Toowoomba Railway Station showcases ornate historic design. As an operational train station, it connects passengers while retaining its vintage charm.
UniSQ Japanese Garden QLD - A symbol of Japanese and Australian friendship, this garden showcases traditional design elements, providing a serene escape in Queensland. The meticulously maintained landscape offers a tranquil setting for reflection.
Barcaldine - Recognized for its historical significance, Barcaldine played a crucial role in Australia's labour movement. Its Tree of Knowledge monument tells the story of this important part of Australian history.
Australian Age of Dinosaurs Museum - Located in Winton, this museum offers a deep dive into prehistoric times, boasting the world's largest collection of Australian dinosaur fossils. Visitors can explore exhibits, laboratories, and even participate in fossil digs.
"Hard Times Mine" Tour - This tour in Mount Isa provides an authentic underground mining experience. With hands-on activities and guided explorations, it offers insights into the life of miners.
Katherine Gorge - A natural masterpiece within Nitmiluk National Park, Katherine Gorge features dramatic cliffs and pristine waters. Activities like canoeing and boat tours allow visitors to explore its majestic landscapes.
Kakadu National Park - A UNESCO World Heritage Centre, Kakadu boasts diverse ecosystems, ancient rock art, and unique wildlife. The park offers a myriad of outdoor adventures, from hiking to bird-watching.
Douglas Hot Springs - These natural thermal springs provide a relaxing oasis amidst the Australian wilderness. The warm waters are perfect for a soothing soak surrounded by nature.
Bungle Bungles/Purnululu National Park - Famous for its iconic beehive-shaped domes, this park offers striking landscapes and hidden gorges. A symbol of the Kimberley region, its unique geology and indigenous significance make it a must-visit.
Wolfe Creek Crater - Formed by a meteorite impact over 300,000 years ago, this well-preserved crater is a geological marvel. Located in Western Australia, it's a testament to Earth's dynamic history.
Boab Prison Tree - An iconic landmark, this ancient boab tree was historically used as a makeshift prison. It stands as a stark reminder of Australia's frontier history.
Roebuck Bay - Famous for its rich marine life and dramatic tides, Roebuck Bay offers stunning coastal views. Visitors can witness natural wonders, like the Staircase to the Moon, and explore its diverse ecosystems.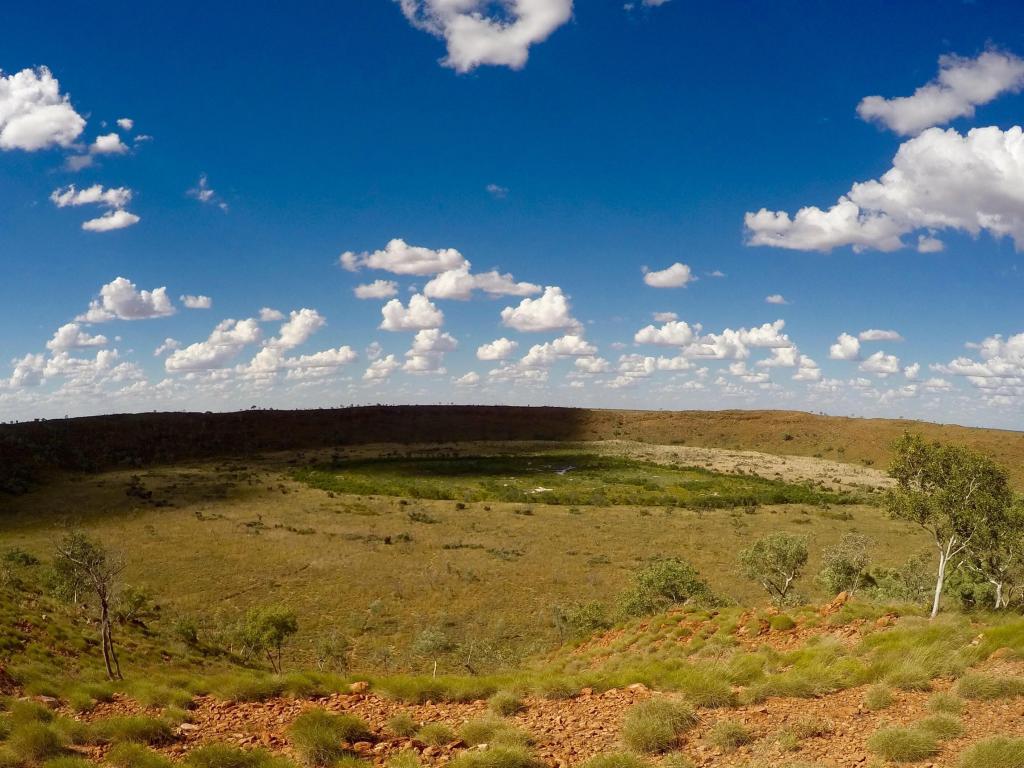 Southern Route
Goondiwindi Botanic Gardens of the Western Woodlands - A haven for nature enthusiasts, these gardens showcase the native flora of Queensland's western woodlands. The meticulously maintained pathways and displays offer a peaceful retreat.
Gunsynd Memorial - A tribute to the legendary racehorse, Gunsynd, this memorial celebrates the "Goondiwindi Grey's" achievements. It's a landmark for horse racing enthusiasts and local history buffs.
Moree Plains Gallery - Showcasing a diverse range of art, this gallery highlights local and indigenous talents. The rotating exhibitions offer a glimpse into the region's cultural tapestry.
Moree Artesian Aquatic Centre - Tapping into the natural artesian springs, this aquatic centre offers therapeutic baths. The warm mineral-rich waters provide a rejuvenating experience for visitors.
Terramungamine Rock Grooves - A significant indigenous site, these rock grooves bear evidence of ancient tool-making activities. It's a window into the life and customs of the traditional Wiradjuri people.
Fort Bourke Hill Lookout - Offering panoramic views of Cobar's mining landscapes, this lookout is a popular vantage point. The sweeping vistas highlight the region's industrial heritage and natural beauty.
Mount Grenfell Historic Site - This site is renowned for its Aboriginal rock art, providing insights into indigenous culture and spirituality. The paintings, set amidst the scenic landscape, offer a journey through time.
Line of Lode Lookout - Overlooking Broken Hill, this lookout and memorial pay tribute to the miners of the region. It offers a reflective space with panoramic views of the city and the vast outback.
Port Augusta - As a gateway to the outback, Port Augusta boasts a rich maritime history and natural beauty. From its iconic Spencer Gulf to the Arid Lands Botanic Garden, it's a diverse hub of attractions.
Matthew Flinders Red Cliff Lookout - This lookout offers breathtaking views of the gulf and commemorates explorer Matthew Flinders. It's a popular spot for sunset views and historical reflection.
The Water Tower Lookout - An iconic structure in Streaky Bay, this lookout offers 360-degree views of the bay and the town. Its elevated position provides unmatched coastal vistas.
Tcharkulda Hill - Known for its granite formations, this hill offers hiking opportunities and panoramic views. Its natural beauty and bird-watching prospects make it a favourite among nature lovers.
Ceduna Aboriginal Arts and Culture Centre - Showcasing indigenous art and craftsmanship, this centre celebrates the cultural heritage of the Ceduna community. Visitors can explore artworks, attend workshops, and learn about Aboriginal traditions.
Eighty Mile Beach - Stretching over 220 kilometres, this beach is renowned for its vast shoreline and rich marine life. From bird-watching to shell collecting, it offers myriad beachfront activities.
Best time to go on a road trip from Brisbane to Broome
Broome itself is a year-round destination, but your experience can differ depending on when you choose to travel. If you're taking the Northern Route, consider travelling during the dry season from May to October.
This period offers optimal driving conditions, especially up near Katherine. From November to April, expect rain that can disrupt access to some destinations.
When you're travelling through the vast expanses of the Northern Territory, be prepared. Phone signals can be elusive, and the distances between towns are significant. Always make sure you have essentials like a satellite phone, plenty of water, and well-treaded tyres, spare included!
Moreover, nature in the Northern Territory can be unpredictable, with national parks potentially shutting down due to flooding or even surprise crocodile visits.
The Northern Route has plenty of experiences, especially during the dry season. Make sure to check out the Toowoomba Carnival of Flowers in September and the culturally rich Barunga Festival in June.
On the other hand, if you're taking the Southern Route across the Nullarbor Plain, despite its well-maintained roads, the remoteness means carrying extra supplies like petrol, food, and water is a must. This vast stretch is more isolated than you might anticipate.
Additionally, the southern part of Australia experiences all seasons instead of dry and wet seasons. Keep an eye on the weather; heavy rain or even the occasional snow, particularly from June to August, can impact your journey and access to some attractions.
The Southern Route also has plenty of amazing festivals, especially during the fall and spring. Make sure to check out the delicious Ceduna Oysterfest in October and the Perfect Light Film Festival come March.
Reaching your destination, Broome, is like nowhere else in the world. From March to October, witness the mesmerising natural phenomenon, Broome's Staircase to the Moon. Also, you can plan your trip to line up with the Matsuri Festival of the Pearl in August and September.