Road Trip from Melbourne to Darwin
Have you been looking for a way to discover Australia's famous outback while also checking out some of this country's cosmopolitan centers, including Melbourne, Darwin and Adelaide? An epic journey through the arid deserts of the bush makes the perfect cross-country road trip.
The 3,750 km road trip from Melbourne to Darwin takes at least 39 hours to drive and will take you through Adelaide, Alice Springs, Lake Bumbunga, Rocket Park, Ballarat Wildlife Park, Cutta Cutta Caves Nature Park and have a detour option to Uluru.
This adventurous and relaxing road trip will cut straight through inland Australia, taking you from the Southern shores to the Northern city of Darwin. It's the perfect opportunity to get to know the various stunning landscapes of Australia! Read on below to learn more.
How far is Darwin from Melbourne, and how long will the road trip take?
Comparison of road trip routes between Melbourne and Darwin

| Route | Distance | Driving Time |
| --- | --- | --- |
| The Alice Springs Route | 3,750 km | 40 hours |
| The Uluru Detour | 4,290 km | 45 hours |
At just under 40 hours of driving time without considering stops along the way, the Alice Springs Route will cover 3700 kilometres.
We really recommend that you add Uluru to your route, which adds just over 500 kilometres and 5 hours to your journey. This breathtaking sandstone monolith is an Indigenous sacred site, rising 300 metres above the red deserts of the outback.
To take in everything you will drive past on this mammoth road trip, we recommend taking at least a week to enjoy all these epic sights and experiences.
Best road trip route from Melbourne to Darwin
There's no getting around it—the drive from Melbourne to Darwin is a bit lengthy, as you're driving vertically straight through the entirety of Australia. Luckily, you won't have to worry about decision fatigue when it comes to routes, as our route and detour suggestions are easy to follow.
There aren't many routes to choose from when crossing vertically through Australia and the Alice Springs Route makes the best of all the landscapes on your way to Darwin.
You'll first stop through Adelaide, a historic coastal town, before stopping in Alice Springs, a desert escape offering unparalleled outdoor sports experiences and crystal-clear night skies.
There also several smaller towns you can choose from along the way, including Cooper Pedy, Marla, Wintinna, and Davenport, to name a few.
We've also added in an optional detour through Uluru, which slightly extends your time on the road but a visit to this sacred heart of Australia is absolutely worth the extra mileage if you aren't short on time.
The Alice Springs Route
Beginning your journey in sunny Melbourne, you'll have to get onto the M8, which you can take to explore the lush countryside of the province of Victoria.
Once you've passed Ararat, you'll merge onto the A8 and follow this all the way past Victoria's border with South Australia. After Tailem Bend, you'll get onto the A1 and follow that to the M1, which you continue along until you reach historic Adelaide.
When you've had your fill of Adelaide, you can take the M2 out of town and merge onto the A1, which takes you along the coast of St. Vincent Gulf, a stunning body of water. If you want to get better acquainted with the Gulf, we recommend you make a pit stop at Port Wakefield.
You'll also pass by Port Pirie and Port August, both of which are along the Spencer Gulf; as this place is a bit further from the bigger coastal cities, you may find it slightly less busy than the St. Vincent Gulf.
From there, you're basically riding easy along the smooth roads of Stuart Highway, which takes you through the stunning desert landscapes of Australia's Outback.
Halfway between Port Augusta and Darwin, you'll reach Alice Springs. We absolutely recommend spending a night in this calming oasis; it's a favourite amongst locals and savvy travelers, known as being the spiritual heart of Australia.
Between Alice Springs and Darwin, you'll find a slew of parks within the Northern Territories that you can stop at to discover the gorgeous forests of Northern Australia.
The biggest (and most celebrated) park in this region is Kakadu National Park, a UNESCO World Heritage Site located just a little off-route and boasting 20,000 square kilometres of beautiful coastal plains.
If you're not looking to stop at Kakadu National Park, simply continue along Stuart Highway all the way to sunny and cosmopolitan Darwin.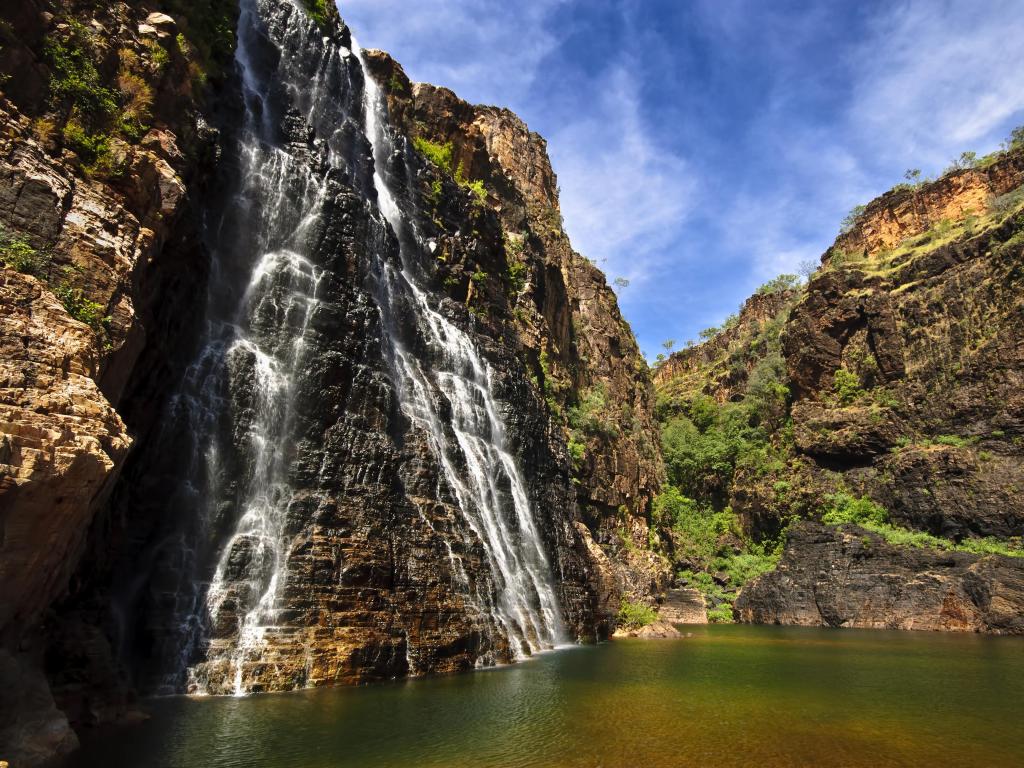 The Uluru Detour
A UNESCO World Heritage Site, Uluru is a stunning sandstone monolith is certainly worth a day or two's exploration. To get to Uluru, simply turn left onto Lasseter Highway/State Route 4 from Stuart Highway. You'll drive straight along this road for about 3 hours to get to Uluru.
When you're done exploring this sacred site, get back onto Lasseter Highway/State Route 4 and follow it to Stuart Highway. Turn left and you're back on route, ready to explore Alice Springs and, further ahead, Darwin.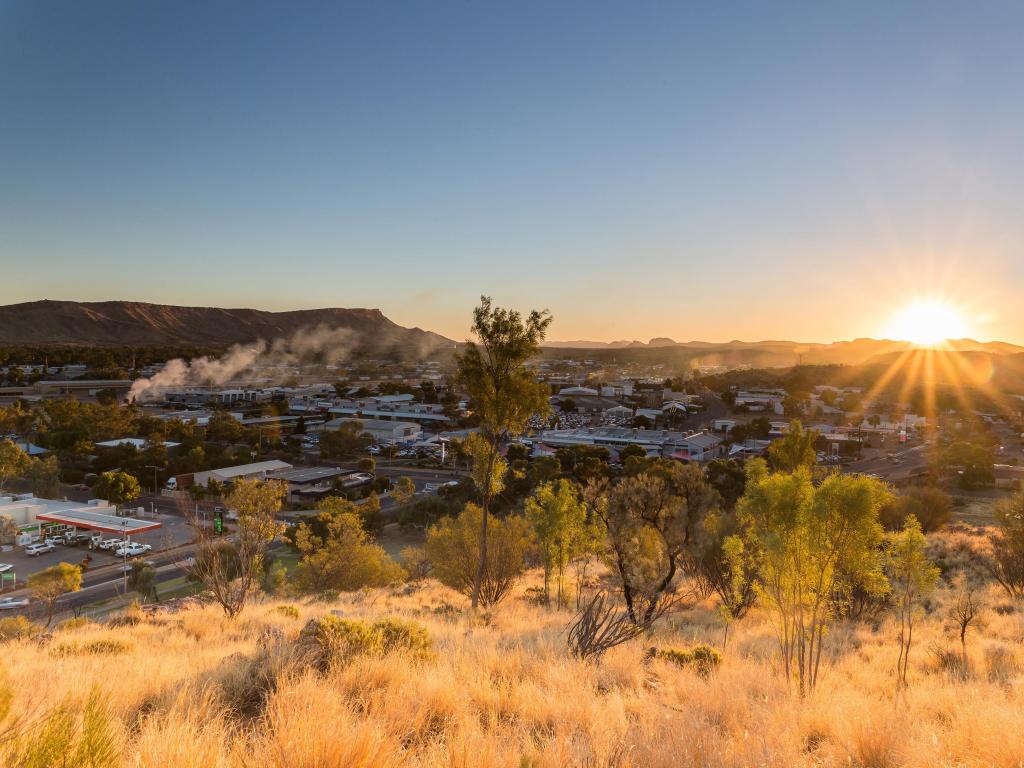 Best places to stop between Melbourne and Darwin
At just under forty hours of driving time, you'll definitely have to make several stops between Melbourne and Darwin. We recommend taking a week for this road trip, which will allow you enough time to rest between driving.
Below, you'll find a few options for stops you can make along your route which will definitely elevate this trip of a lifetime.
Enjoy a scenic stay in Adelaide
You'll find the historic city of Adelaide about a quarter of the way along the Alice Springs route. It's the last major city before diving into the deserts of South Australia and makes the perfect stop to get some culture in before heading into the Outback.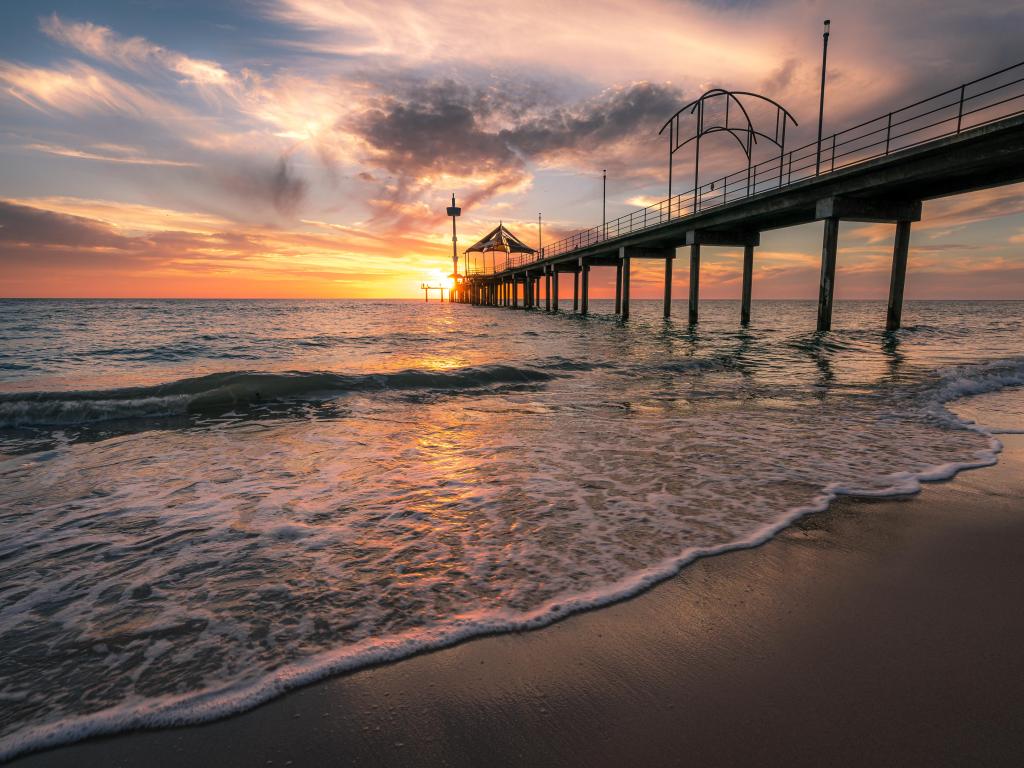 One of Adelaide's highlights is the Adelaide Central Market, one of the oldest fresh food markets in Australia and the perfect place to shop for fresh produce or enjoy a meal at one of the several cafes and eateries on offer.
If you're looking to take in some beautiful works of art, look no further than the Art Gallery of South Australia, boasting the second-largest state art collection in the country, with works from household names like Monet, Pissarro, and Renoir.
The Oval Hotel at Adelaide Oval is one of the city's most stylish accommodation options, offering world-class service and rooms overlooking gorgeous heritage-listed parklands. Despite its proximity to the busy city, the hotel feels tranquil due to it being surrounded by lush greenery.
You will be greeted with a complimentary welcome drink upon arrival in this elegant and contemporary hotel. Boasting a stellar location, the hotel is a short distance away from the Adelaide Zoo, the National Wine Center of Australia, and the Adelaide Botanic Garden.
Marvel at the sacred majesty of Uluru
Opting for the Uluru Detour? You'll find that this stunning natural wonder is surrounded by wonderful accommodation options that'll make your experience all the more amazing. Uluru—also known as Ayers' Rock—is about halfway along this route, so it's really an ideal spot to stop.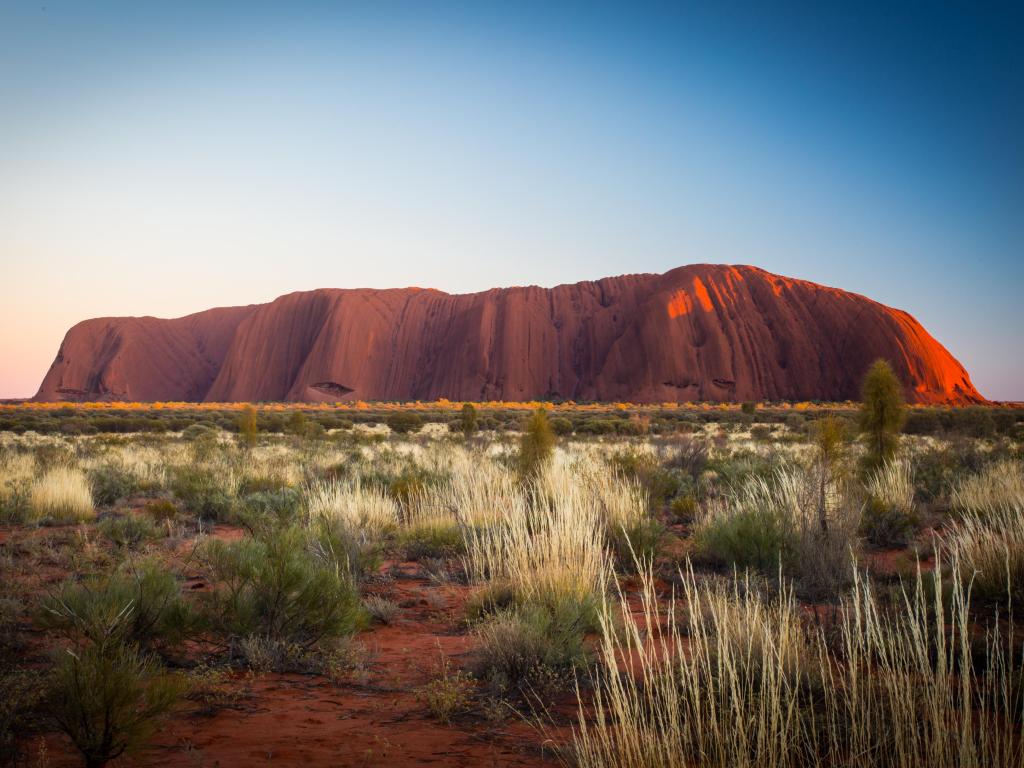 We recommend the Desert Gardens Hotel because it provides unparalleled views of the monolith right from your hotel window or balcony. Just make sure to book ahead and ask for a room with a view!
The Desert Gardens also offers air-conditioned rooms and an outdoor pool, where you can enjoy a poolside drink and relax after a day of exploration. The nearby spa facilities offer further relaxation options.
Feeling hungry after a day of driving? Grab a bite at the on-site restaurant, which offers traditional Australian cuisine.
The best part about this hotel is that it's located a mere 1.5 kilometres from Uluru Lookout, where guests can take in the majestic beauty of this Indigenous sacred site.
Where to stay when you reach Darwin
There are tons of wonderful hotels to choose from in Darwin, which is a busy metropolitan city with a stunning harbourfront. The Vibe Hotel Darwin Waterfront is our top pick, not least because it's located right along the water, so you'll be close to tons of shops, restaurants and an active nightlife scene.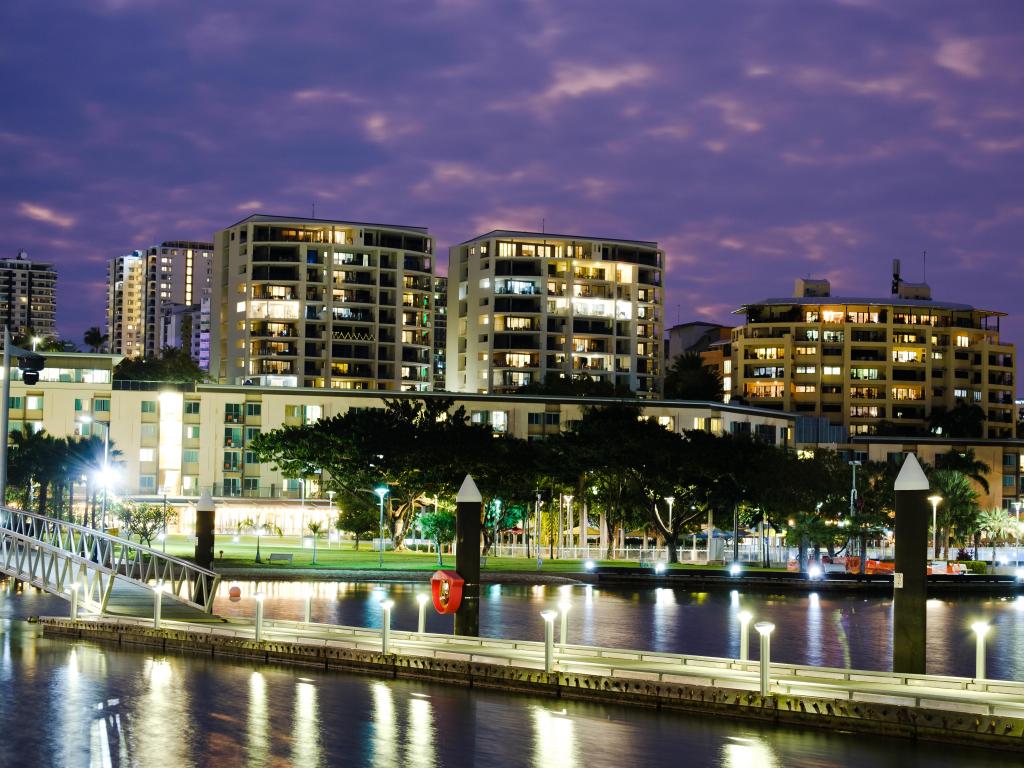 Some rooms at the vibe offer great views of the water. But even if you don't get an amazing view, you won't find a shortage of amenities to enjoy at this hotel.
For example, you could take a swim in the Vibe Hotel's wave pool or enjoy the soothing waters of its spa pool. You could also get a workout in at its fitness centre or enjoy some delicious food at its on-site restaurant.
We really can't think of a better place to enjoy Darwin's many amazing offerings and think this makes a great accommodation option regardless of how long you plan to stay in sunny Darwin.
Things to see on a road trip from Melbourne to Darwin
As you're crossing through the entirety of Australia, you'll definitely have no shortage of amazing things to see on your drive from Melbourne to Darwin. Keep scrolling for a list of our favourite attractions along the way.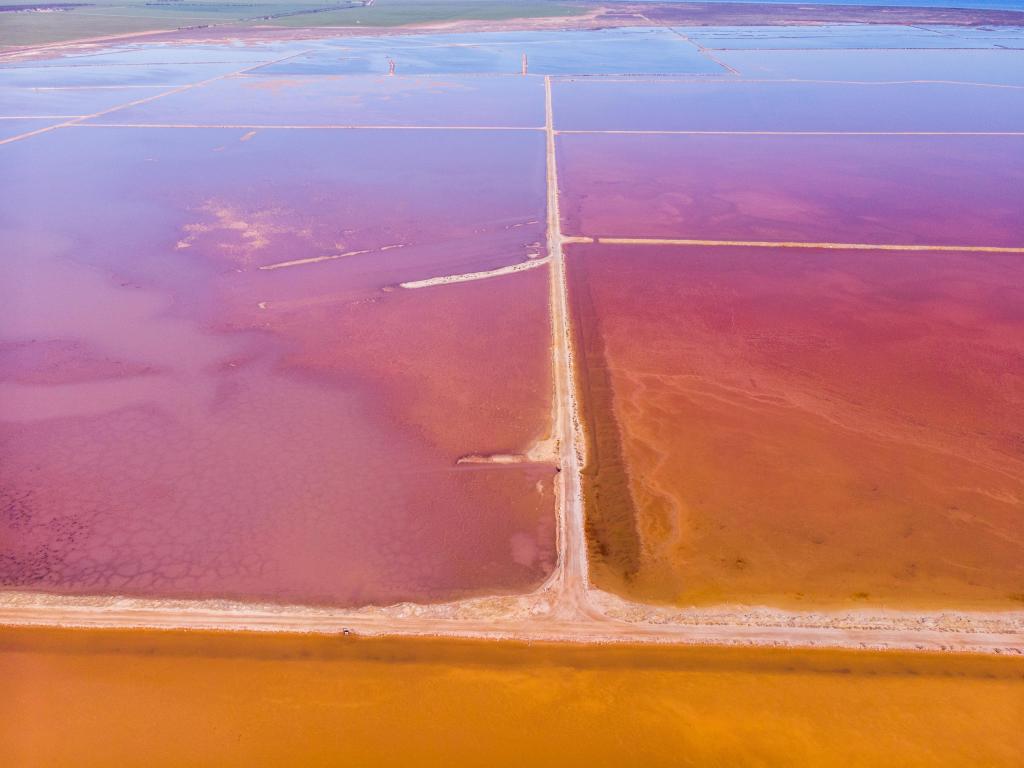 Both Routes
Serendip Sanctuary - Take in Australia's signature wildlife at this bird and wildlife sanctuary, which also boasts walking trails amid wetlands and woodlands. Adds about an hour to this route!
Melton Botanic Garden - This volunteer-run garden boasts an arboretum, lake, plant nursey as well as guided tours; a wonderful place to stop for a stretch of the legs!
Ballarat Wildlife Park - For those that are curious about Australia's diverse wildlife, this park offers hands-on encounters with native mammals as well as a variety of exotic reptiles.
J Ward Museum - This creepy museum offers guided tours of cells and treatment rooms in an old hospital and former jail for the criminally insane.
Port Adelaide Lighthouse - Climb to the top of this 19th-century lighthouse where you can admire the stunning panoramic vistas of Adelaide and St. Vincent Gulf.
National Motor Museum - Just outside of Adelaide, you'll find this museum boasting a variety of rare and vintage vehicles as well as a gift shop.
Barossa Sculpture Park - Stretch your legs after a long drive and admire sculptures that adorn Australia's stunning landscapes. This park is about an hour off route.
Steamtown Heritage Rail Centre - This museum and heritage centre in Peterborough, SA, offers light shows and has Australia's only operational triple gauge turntable. This attraction adds about 2 hours to the route.
Mount Remarkable - Get in touch with nature at this beautiful national park that offers tons of green space, trails, and native wildlife.
Lake Bumbunga - This picturesque lake is famous for its changing hues, which change between white, blue, and pink depending on the level of water's salinity.
Rocket Park - This curious park in the middle of the Australian desert boasts dozens of statues and replicas of rockets, planes and missiles.
Cutta Cutta Caves Nature Park - Take a guided tour of this nature preserve, which features karst limestone caves, dramatic rock formations and roosting bats.
Berry Springs Waterhole - Swimming spot surrounded by monsoon forest and wetland, most well-known for its aviary and floral offerings.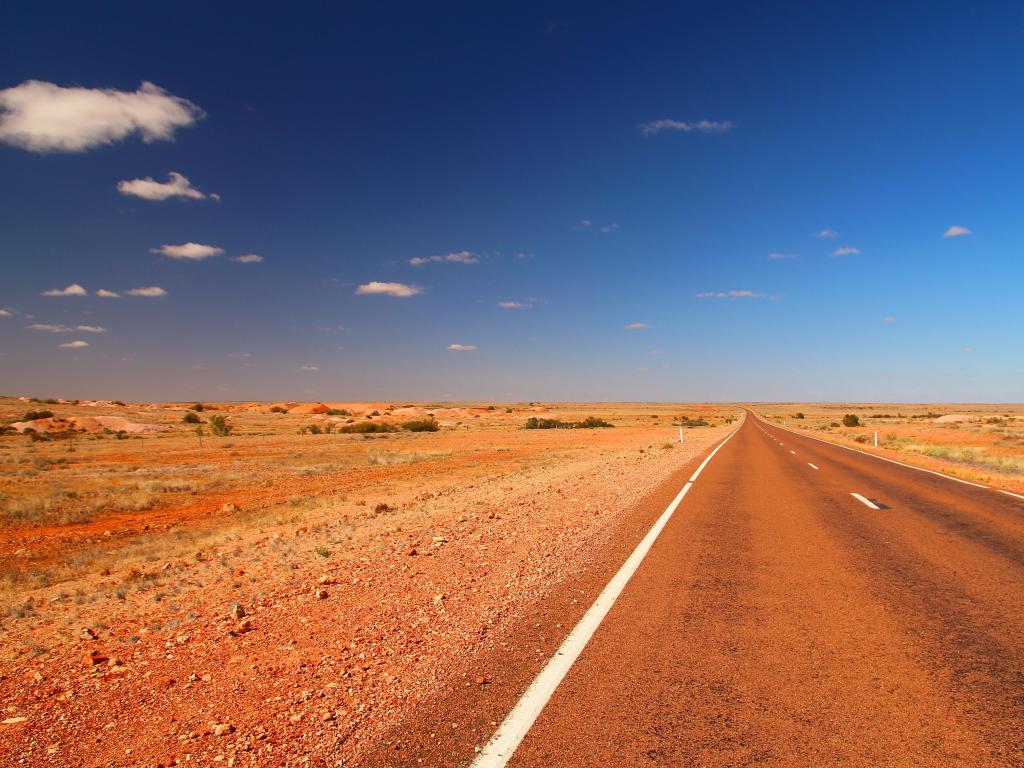 The Uluru Detour
Uluru - Also known as "Ayers Rock" this massive sandstone formation stands in the centre of Australia and is revered as a sacred spot by many. One of the most recognisable landmarks in Australia, it is well worth making a detour for.
Best time to go on a road trip from Melbourne to Darwin
The great thing about Darwin is that you can really visit it any time of year due to the consistent heat it receives throughout all seasons. The largest city in the Northern Territory, you'll find that Darwin has an impressive number of both indoor and outdoor activities.
Darwin typically only has two seasons: the hot season (November, December, and January) and a cool season (June, July, and August). Temperatures during the hot season average above 32 degrees Celsius, while the cool season's temperatures are below 31 degrees Celsius.
The hottest months of the year in Darwin are November and December, so if you're averse to heat, try to avoid visiting during these months. The colder months are June and July; if you visit during this time, you'll find that the days are dry and clear, but chillier than usual.
The best time to visit Darwin in regard to climate is late August, September and October, as well as in March, April and May. Visiting during these times will ensure that you will be able to enjoy Darwin's many natural and metropolitan offerings.
Try to avoid the busiest tourism season which falls between the months of May and October if you are looking for a good hotel deal.
Music lovers should try to visit during October or November when you'll find Electric Storm and the Northern Territory Caladium Festival offering some great tunes.
You can also catch the Tactile Arts Craft Fair in November; if you're visiting during the cool season, you can enjoy the Darwin Fringe Festival, the Darwin Show or the Darwin Festival, which draws big crowds annually.