Road trip from Sydney to Darwin
Looking for the most epic road trip adventure of a lifetime across Australia? The drive from Sydney to Darwin will be an unforgettable across states and territories all the way to the Timor see across the continent. You will get to admire the vast landscape of the outback and the stunning coasts of the Coral Sea.
The 3,950 km road trip from Sydney to Darwin will take 43 hours to drive. On the way, you can visit Gold Coast, Byron Bay, Brisbane, Yeppoon, Byfield National Park, Mackay and Airlie Beach on the shore, or Longreach, Mount Isa City and Katherine inland.
From iconic cities, endless beaches, to rugged natural monuments, you'll see Australia in all its glory. Read on below to learn more about our recommended routes, top highlights, places to stay, and the best seasons to travel.
How far is Darwin from Sydney, and how long will the road trip take?
Comparison of road trip routes between Sydney and Darwin

| Route | Distance | Driving Time |
| --- | --- | --- |
| The Direct Route | 3,950 km | 43 hours |
| The Coastal Route | 4,870 km | 52 hours |
The Direct Route takes you through remarkable destinations, covering ‌3,950 km, this route requires around 43 hours of drive time.
Alternatively, the Coastal Route will give you a more scenic yet longer journey. This picturesque drive spans 4,870 km and requires around 52 hours on the road.
The road trip from Sydney to Darwin will be one that you'll want to savor and take slowly, so we recommend taking a week to make the most out of this incredible drive.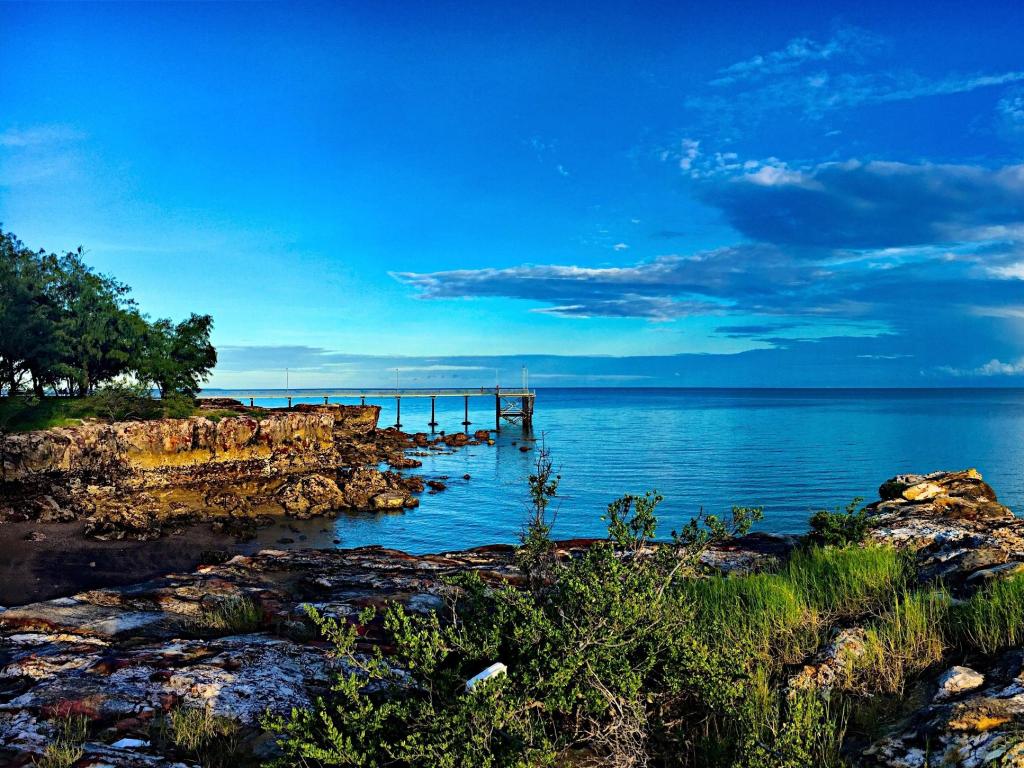 Best road trip route from Sydney to Darwin
Both routes from Sydney to Darwin are filled with unique attractions and sights, with the scenery shifting dramatically, depending on your choice. Which route you take will depend on what you want to see the most and how much time you have.
The Direct Route takes you into the heart of Australia. Departing from Sydney, you'll see national park panoramas extending up to Newcastle, with opportunities to visit Yengo and Wollemi National Parks.
As you head north, you're surrounded by detours such as Carnarvon National Park and Kakadu National Park.
Travelling from Narrabri to Queensland will take you through a portion of the Australian outback, dotted with quaint towns like Morven and Winton, where you can rest, rejuvenate, and enjoy the local hospitality.
As you edge towards the Northern Territory, expect a lush tropical environment, with plenty of jungles and hot weather.
The Coastal Route is a feast for the eyes, offering unparalleled coastal splendours. You'll see iconic towns celebrated for their sun-soaked beaches and famous surf spots.
Locations like the Gold Coast are magnets for elite surfers globally, while spots like Byron Bay, Brisbane, Yeppoon, and Airlie Beach are quiet and beautiful areas to hang out under the sun.
As you drive to Mackay, you'll see the land transform into dense forests. Continuing on, you'll enter the vast expanse of the Australian Outback and the Northern Territory.
While this route has breathtaking coastal views and experiences, ‌it adds an additional 10 hours to the journey. However, the scenery and experiences will be worth it.
How to drive from Sydney to Darwin
The map above shows our suggestions for the best road trip routes between Sydney and Darwin. Keep reading for detailed descriptions of both routes, where to stay on either, and the best things to do on the way.
The Direct Route
Starting from the world-famous city of Sydney, head north on M1 to Newcastle. From here, head northwest on A15 to the beautiful communities near Willow Tree.
Continue on north to the historic town of Narrabri. After checking out the town and its wonderful highlights, get back on route and drive north.
You'll wind your way into the wild Australian Outback and reach the town of Augathella. From here, take the A2 highway up to the town of Longreach.
In nearby Winton, make a visit to the Australian Age of Dinosaurs Museum. Continue driving through the desert landscape west.
Continue on route north to Mount Isa City. Soon, you'll enter the Northern Territory.
Make your way through the beautiful desert landscape of Warumungu. From here, veer north and make your way to the town of Katherine and rest in its famous natural hot springs.
From here, get back on route and make your way through the lush landscape and into Darwin.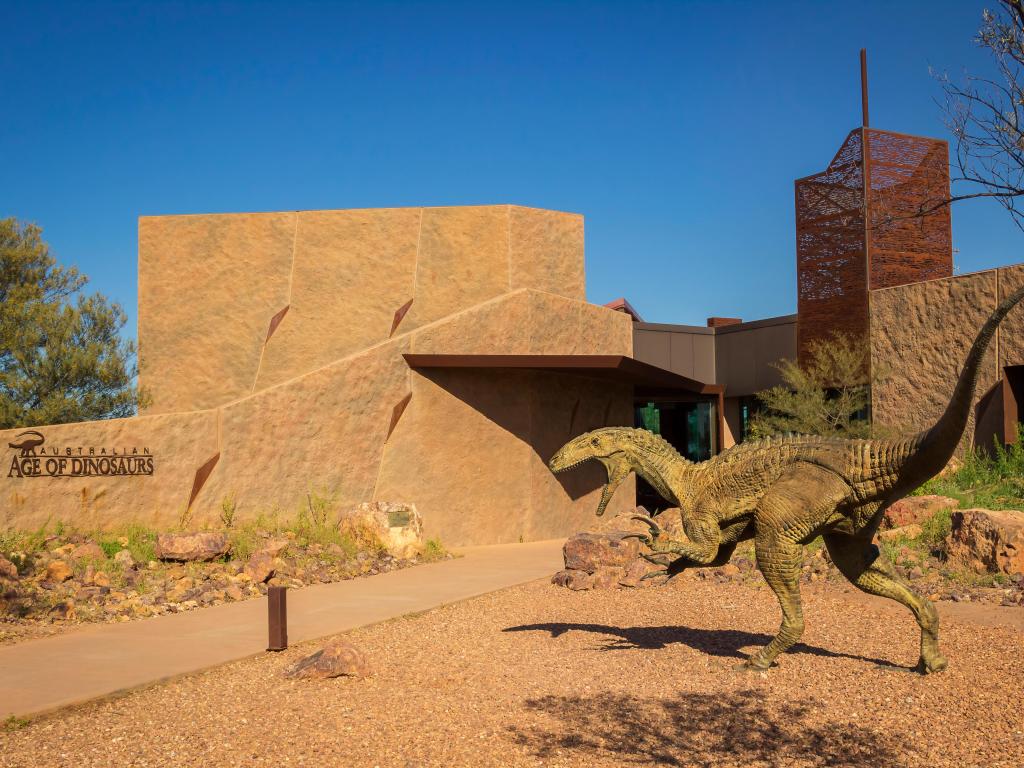 The Coastal Route
Starting from Sydney, make your way north to Newcastle. After seeing this surfing hot spot, keep driving along the route on A1 through the lush landscape and charming coastal towns of Eastern Australia.
Continue on north and stop at highlights such as Bulahdelah Mountain Aboriginal Place and Sugarloaf Point Lighthouse. Continue on to Byron Bay and then Gold Coast and relax at its pristine beaches.
Drive ‌further north to the beautiful city of Brisbane. After exploring the big city, make your way to the Sunshine Coast.
Keep making your way north on A1 and make a detour to the natural wonderlands of Yeppoon and Byfield. After hiking and enjoying nature, get back on route and head north to Mackay to enjoy the famous Bluewater Lagoon.
Continue back on route and drive north to Ayre and make a sharp turn west on A6 to Mount Isa City. From here, continue on through the edges of the Australian Outback and into the Northern Territory.
Continue north through the desert, and into the green landscape surrounding Darwin. As you approach your destination, make a stop at Litchfield National Park and continue on to the beautiful city of Darwin.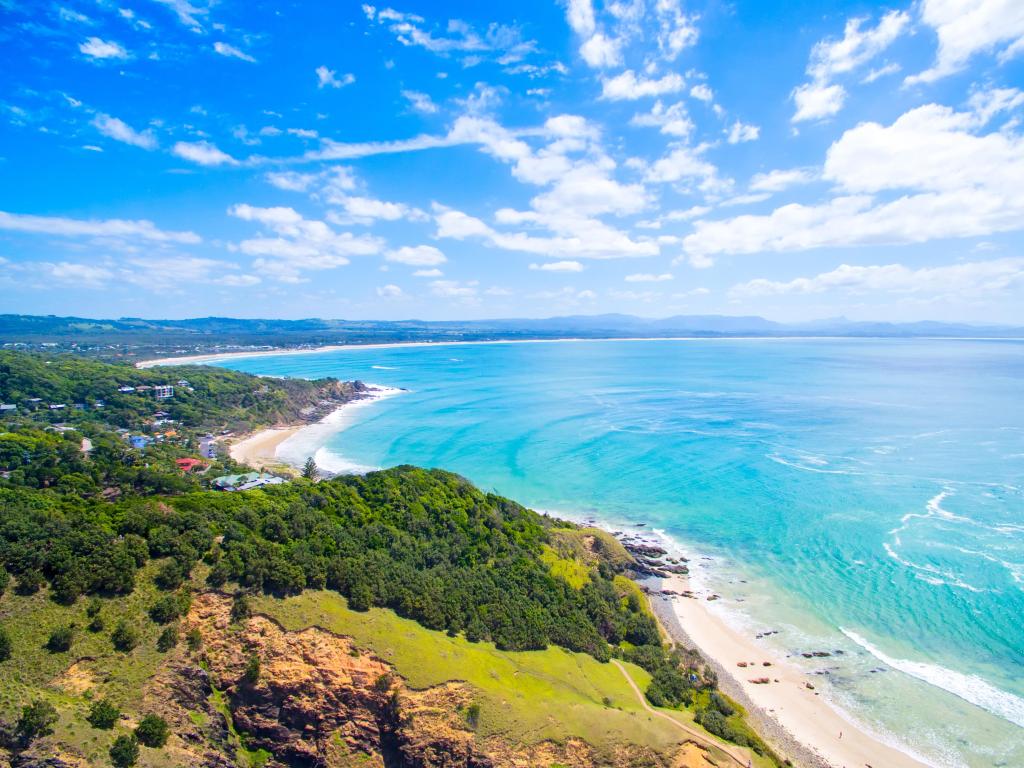 Best places to stop between Sydney and Darwin
With such a long and beautiful drive, you'll want to make a lot of stops. Below are our top recommendations for places to rest and explore on your way.
Learn about the rich aviation history of Longreach
Longreach is the ideal midway stopover on the Direct Route, positioned about halfway, about 19 hours into the drive. This quintessential Queensland town has a deep-rooted history that spans from ancient Aboriginal tales to the birth of Australia's leading airline.
Another major attraction is the Qantas Founders Museum. This establishment is a great way to explore the triumphs and challenges faced by the airline via exhibits.
If you're looking for an authentic outback experience, Outback Pioneers – Tours and Experiences are worth checking out. Here, you'll feel the heartbeat of the outback, its spirit, resilience, and enduring culture.
For your stay, we highly recommend the luxurious Mitchell Grass Retreat. Situated in the heart of Outback Queensland, this retreat offers luxury tents that come with modern amenities like power, air conditioning, and an ensuite.
What sets it apart is the uninterrupted, breathtaking views of the outback right from your tent, along with amenities like a saltwater pool to relax in.
You'll also be able to head out at night and enjoy the endless stars in the rural night sky. You'll also be able to set up a BBQ right outside your tent.
Both the Outback Pioneers - Tours And Experiences and the Qantas Founders Museum are just a 10-minute drive from the retreat.
Get back to nature in Byfield
Byfield is a picturesque stopover on the Coastal Route, about 17 hours into your drive. A mere 25 minutes north of Yeppoon, Byfield is popular for the lush Byfield National Park and the beauty of its surrounding forests.
The star of this route is undoubtedly the Byfield National Park and State Forest. This nature reserve has a vast ecological diversity, from rolling sand dunes and pristine beaches to rainforests, creeks, and rugged mountains.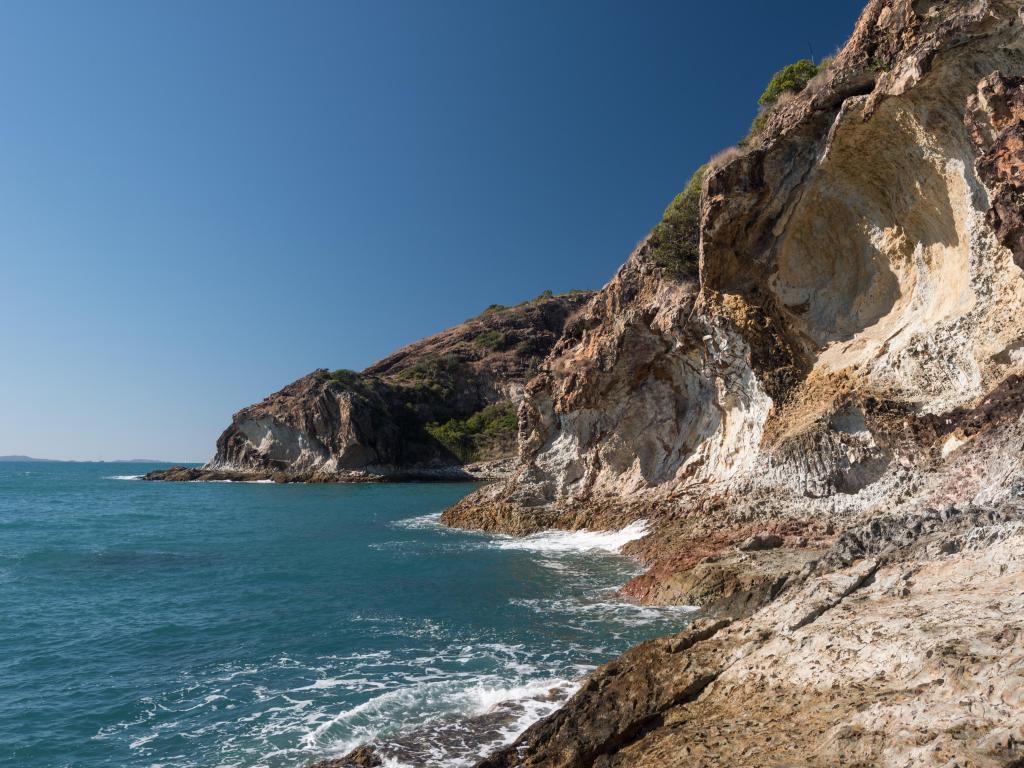 A must-visit attraction in the area is Stoney Creek. Another gem in Byfield's crown is Nob Creek Pottery, where art and craft come alive.
This being the wild Australian countryside, always keep an eye out for the estuarine crocodiles, especially around Corio Bay and the lower regions of Water Park Creek. Stay vigilant, heed warning signs, and ensure you remain croc-wise during your adventures.
For your accommodation needs, Castle Rock Farm is unparalleled. This eco-conscious farmstay blend will give you a relaxing and thrilling stay all in one.
Whether you're in the mood for a quiet walk, seeking out nature's hidden treasures, or ready to challenge yourself with a mountain climb or bike ride, Castle Rock Farm has it all.
You'll have a kitchen and BBQ facilities so you can cook as much as you want and spend most of your time outside if you like. You can also relax by the comfy outdoor fireplace for the perfect late afternoon or evening experience.
If you're looking to explore the surroundings, attractions like Nob Creek Pottery and Waterpark Farm & Eco Tours are both just 7 km away.
Where to stay when you reach Darwin
Darwin is famous for its endless summer ambiance, with a climate untouched by winter. This tropical capital of the Northern Territory boasts a harbour that dwarfs Sydney's in size.
If you're keen to get up close and personal with Darwin's crocodile residents, make your way to Crocosaurus Cove. However, do remember that in Darwin, the number of these reptiles surpasses the human population!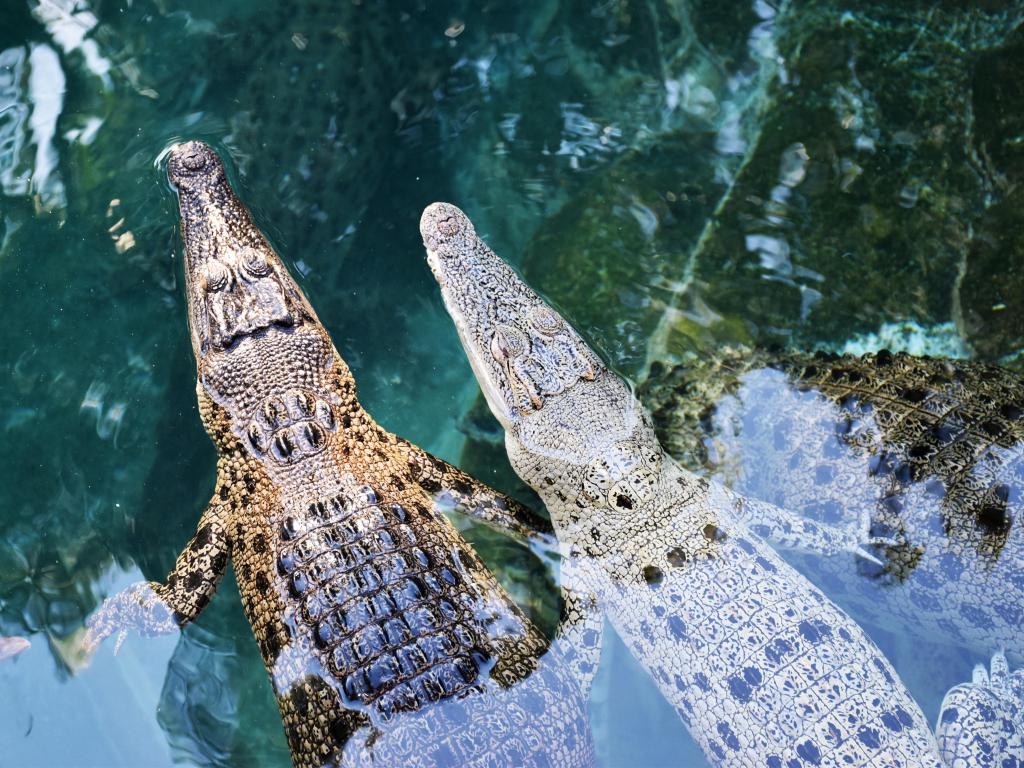 For a serene retreat, check out Berry Springs Nature Park. Here, you'll see a ton of plants and animals native to the region.
For your stay, we highly recommend the popular Elsey on Parap. Touted as Parap's most spacious serviced apartments, this gem welcomes you with an inviting outdoor pool. Every apartment exudes elegance with superior features, state-of-the-art appliances, and chic décor.
Whether you're preparing a meal in the full kitchen, doing laundry, or simply unwinding on your private balcony adorned with outdoor furniture, you'll have everything you need for an amazing stay.
For the ultimate relaxing experience, you can visit the local Sailing Club to take a sailing voyage out to see the incredible sunsets.
And, if you're in the mood for some retail therapy or a gastronomic adventure, the famous Parap Village is nearby. Home to the renowned Saturday morning markets, here you'll discover a delightful mix of specialty shops, from boutique supermarkets to bakeries.
Things to see on a road trip from Sydney to Darwin
Get ready for unlimited adventure. To help you plan your ultimate Australian getaway, we've listed our top highlights to make your job easier.
Direct Route
Darling Harbour - A bustling waterfront destination in Sydney, Darling Harbour boasts attractions ranging from the SEA LIFE Sydney Aquarium to an array of restaurants and shops, making it a must-visit for both locals and tourists.
Watagans National Park - Nestled in New South Wales, Watagans National Park is a verdant retreat with majestic rainforests, serene walking trails, and panoramic views, making it a haven for nature lovers.
Pepper Tree Wines - Located in the heart of Hunter Valley, Pepper Tree Wines offers a delightful wine-tasting experience amidst picturesque vineyards, showcasing the region's renowned wine culture.
Muswellbrook Regional Arts Centre - This arts hub in Muswellbrook displays a mix of contemporary artworks, offering a glimpse into the region's rich artistic heritage.
Pensioners Hill Lookout - Providing sweeping views of the town of Gunnedah and its surrounding landscapes, Pensioners Hill Lookout is a prime spot for sunset admirers and photographers.
Narrabri Old Gaol and Museum - A historical landmark in Narrabri, this old jail turned museum showcases the region's intriguing past through its preserved structures and exhibits.
Yaama Gann Gallery and Café - Situated in Moree, this gallery and café is a celebration of Indigenous culture, displaying a collection of Aboriginal artworks and offering authentic Indigenous-inspired cuisines.
The Unique Egg - Located in St. George, this attraction showcases intricately hand-carved emu eggs, reflecting a unique blend of artistry and tradition.
Meat Ant Park and Sculpture - In Augathella, this quirky park is famous for its giant meat ant sculpture, reflecting the town's history and the significance of the meat ant.
Tambo Teddy Bear Workshop - An iconic workshop in Tambo, visitors can witness the crafting of traditional sheepskin teddy bears, a delightful souvenir from the region.
The Black Stump - Positioned in Blackall, this landmark represents a historical point which was once used as a meridian for navigation, giving the phrase "beyond the black stump."
Australian Age of Dinosaurs Museum - Located in Winton, this museum offers an enthralling journey into prehistoric times, displaying some of the world's largest dinosaur fossils.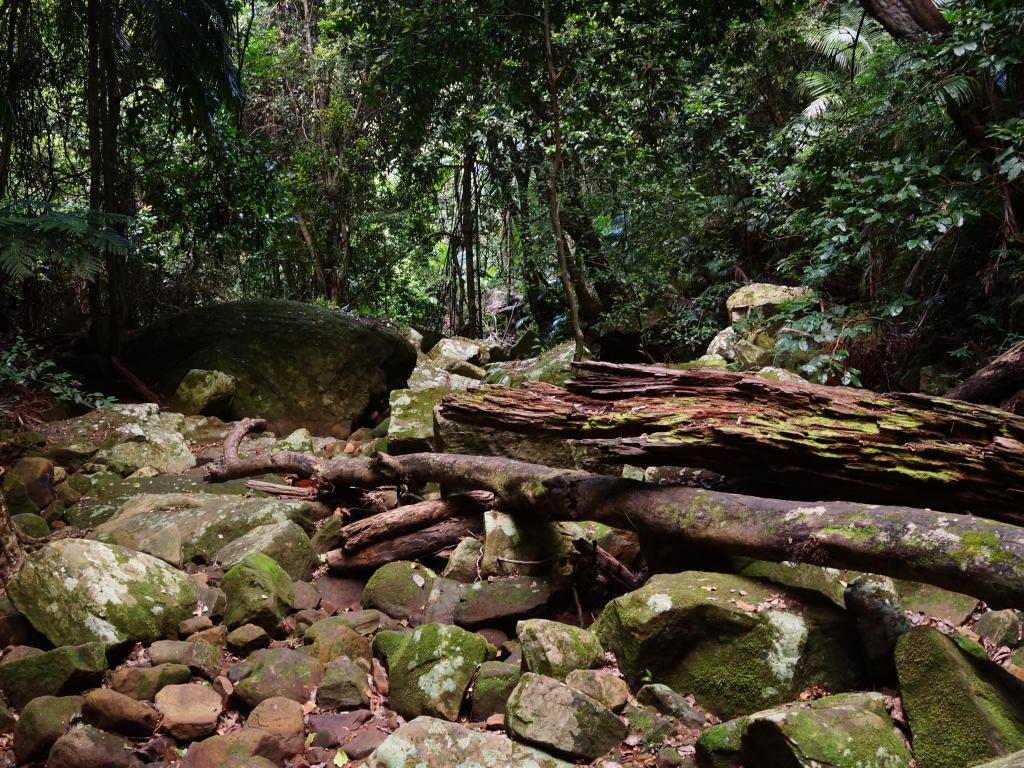 Coastal Route
Palm Beach - A pristine beach located in Queensland, Palm Beach offers golden sands and azure waters, making it a popular spot for sunbathing and water sports.
Hunter Botanic Garden - Set in Heatherbrae, this botanic garden showcases a diverse array of flora, offering peaceful walking trails amidst its landscaped gardens.
Bulahdelah Mountain Aboriginal Place - A significant site for the Worimi people, this place offers insights into Aboriginal heritage, set amidst scenic vistas.
Sugarloaf Point Lighthouse - Standing tall in Seal Rocks, this iconic lighthouse offers panoramic views of the coastline and is a beacon of maritime history.
Koala Hospital - Located in Port Macquarie, this dedicated hospital rescues and rehabilitates injured koalas, playing a pivotal role in their conservation.
Sea Acres Rainforest Centre - This centre in Port Macquarie offers elevated boardwalk tours amidst lush rainforests, providing a glimpse into the area's diverse ecosystem.
Captain Cook Lookout - Offering panoramic views of Copacabana Beach in New South Wales, this lookout point is named after the famous explorer Captain James Cook.
Coffs Harbour Butterfly House - A tropical haven in Coffs Harbour, visitors can walk amidst hundreds of vibrant butterflies, making it a magical experience.
Solitary Islands Marine Park - Located off the coast of Coffs Harbour, this marine park is home to diverse marine life, including vibrant corals and various species of fish.
The Big Banana Fun Park - A famous attraction in Coffs Harbour, it offers a range of activities from toboggan rides to ice skating, all centred around the iconic giant banana structure.
The Forest Sky Pier - Offering breathtaking views of Coffs Coast and the hinterland, this pier in Coffs Harbour is an architectural marvel suspended above the rainforest.
Wategos Beach - A tranquil cove in Byron Bay, Wategos Beach is renowned for its gentle waves, making it ideal for swimming and paddleboarding.
Currumbin Wildlife Sanctuary - Located on the Gold Coast, this sanctuary offers close encounters with Australian wildlife, from kangaroos to koalas, in a lush setting.
Surfers Paradise Beach - A hotspot on the Gold Coast, this beach is known for its golden sands, skyscraper backdrop, and a lively promenade filled with cafes and shops.
Beenleigh Artisan Distillery - Situated in Beenleigh, this distillery offers an insight into the art of crafting spirits, complete with tastings of traditional Australian rum.
Gympie Gold Mining and Historical Museum - Located in Gympie, this museum showcases the region's rich mining heritage, offering a journey through its gold rush era.
Capricorn Caves - A natural wonder in Rockhampton, these limestone caves offer a network of tunnels and chambers, some of which are filled with fascinating cave formations.
Bluewater Lagoon - Located in Mackay, this lagoon offers a series of interconnected pools surrounded by landscaped gardens, making it an ideal spot for relaxation and family fun.
Cedar Creek Falls - Set amidst the Whitsundays, these cascading waterfalls offer a serene spot for picnics and swimming, surrounded by lush rainforest.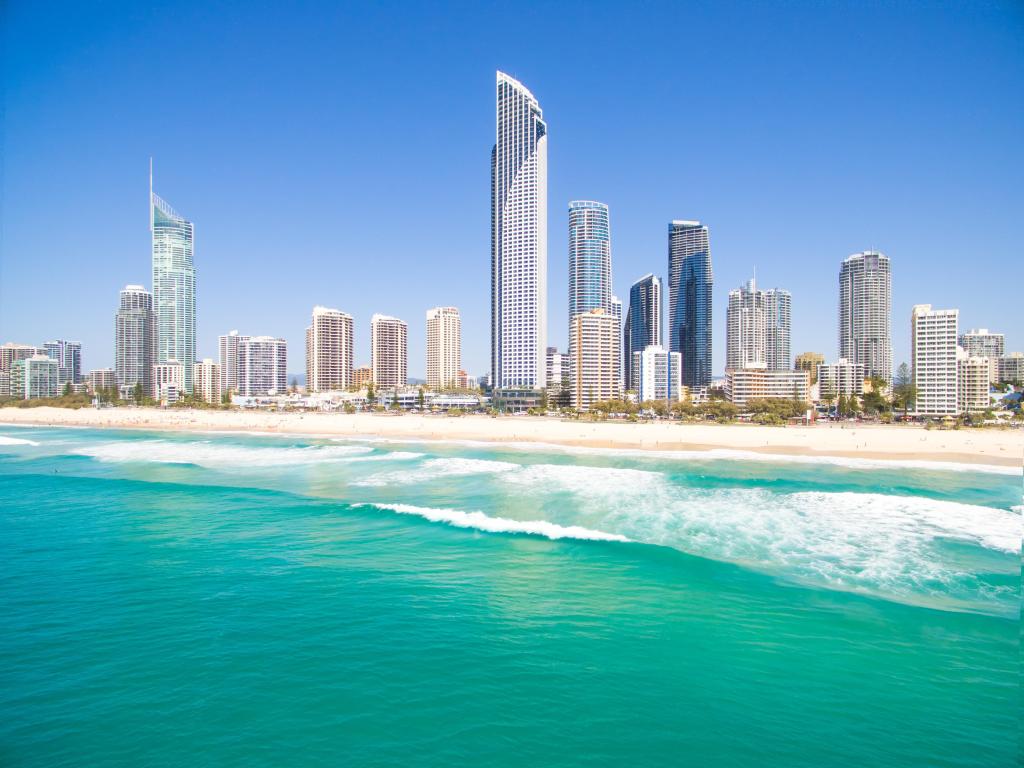 Both routes
'Hard Times Mine' Tour - Situated in Mount Isa, this immersive tour offers a deep dive into the life of miners, exploring the challenges and thrills of the mining world.
Mataranka Thermal Pool - This natural thermal pool, set amidst the tranquil settings of Mataranka in the Northern Territory, offers a relaxing retreat with its warm, crystal-clear waters.
Katherine Gorge - Located in Nitmiluk National Park, Katherine Gorge comprises a series of breathtaking sandstone gorges carved by the Katherine River, perfect for canoeing and boat tours.
Douglas Hot Springs - Nestled near Daly River, these natural thermal springs offer a serene spot for relaxation, with both hot and cold water pools surrounded by the wilderness.
Best time to go on a road trip from Sydney to Darwin
Darwin, the tropical capital of the Northern Territory, will give you a warm holiday vibe throughout the year. However, the time you travel will depend on what events you want to experience and if you want to avoid the heat as much as possible.
The Dry Season, especially between May and September, will offer you pleasant temperatures between 20 to 30 degrees Celsius. The clear skies and comfortable temperatures make it ideal for enjoying the outdoors.
As you drive, make sure you're prepared for service stations and fuel, as they may require slight detours into small towns roughly every 100 kilometres.
The Direct Route will take you through brutally hot landscapes, especially around the interior communities, even during the dry season. That said, you'll be able to attend events like Vivid Sydney in May-June and the Mount Isa Mines Rodeo in August.
Choosing the Coastal Route in these months will offer similar temperatures. However, if you travel between December and March coincides with North Queensland's wet season, be prepared for temperatures ranging from 25 to 33 degrees Celsius and plenty of rain in some parts.
The torrential rain showers can put a damper on some outdoor activities because of the humidity, but they also amplify the beauty of the cascading waterfalls along the route.
Along the Coastal Route, you can attend the Noosa Festival of Surfing in March and the Airlie Beach Festival of Music in November.
Once you reach Darwin, you'll have plenty to experience, including the Darwin Festival in August and the Darwin International Film Festival in May.