Road trip from Adelaide to Darwin
If you're looking for a road trip with rare wildlife spotting and dramatic scenery, then why not make the drive right across the continent from Adelaide to Darwin? You'll cross the outback and enjoy some of Australia's most iconic landscapes, as well as visit some amazing towns along the way.
Darwin is a 3,030 km road trip from Adelaide, which will take over 31 hours to drive. On the way you can visit Lake Torrens, Alice Springs, Uluru, Davenport, Kati Thanda-Lake Eyre National Park Mount Isa, and Kakadu or Litchfield National Parks.
On this epic road trip, you can even take a detour to Uluru, to experience the iconic sandstone monolith, sacred to indigenous Australians. What are you waiting for? Keep on reading to start turning this idea into reality.
How far is Darwin from Adelaide, and how long will the road trip take?
Comparison of road trip routes between Adelaide and Darwin
Route
Distance
Driving Time
The Direct Route
3,030 kilometres
31 hours
The Uluru Detour Route


Detour on the Direct Route

3,780 kilometres
39 hours
The Mount Isa Route
3,460 kilometres
40 hours
However you look at it, Darwin is a really long way from Adelaide. The most direct route, along the Stuart Highway, is just about 3,030 km, which will take you around 31 hours to drive. That's before you factor in overnight stays, rest stops, and attractions along the route.
In case that's not long enough, you could also visit Uluru via the Direct Route. This detour adds 8 hours of drive time to your trip, and more than 700 km, so it won't be every traveller's first choice, but many people think it's worth the extra time to see magnificent Uluru.
The route that takes the longest to drive detours through Queensland to see more of Australia's fabulous national parks. This 40-hour route, via Mount Isa, is 3,460 km.
On paper, you could just about make this drive in 3 days, but that would hardly leave any daylight hours to enjoy the places you'll pass along the way. For this reason, we'd recommend allowing at least a week for this road trip.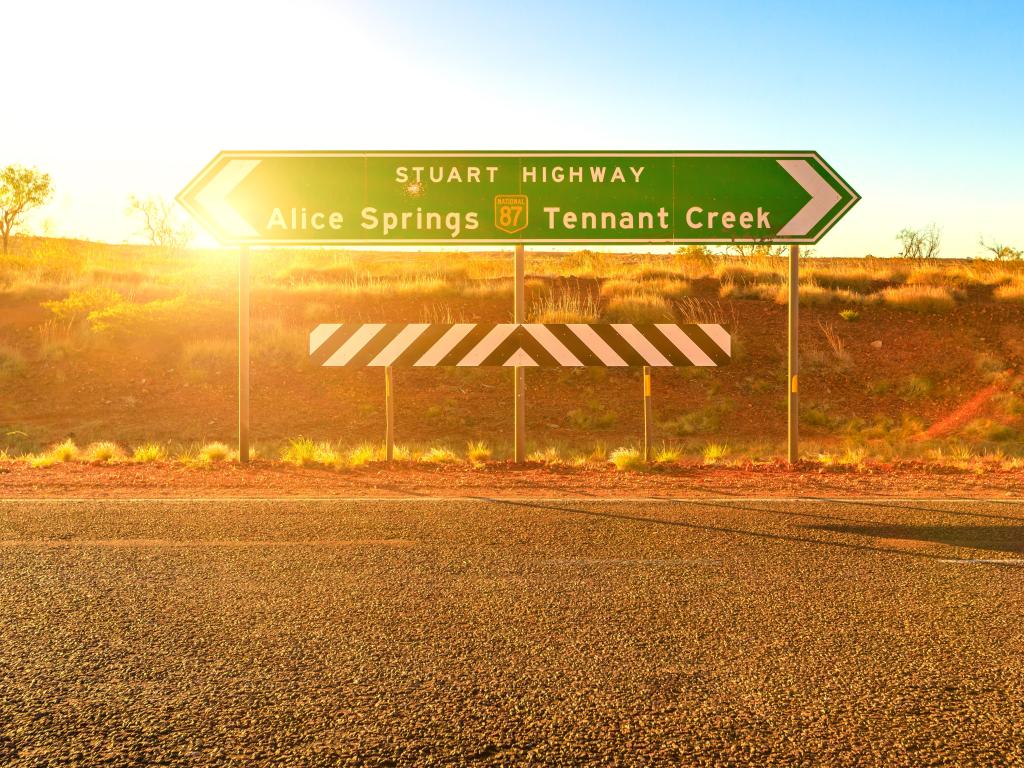 Best road trip route from Adelaide to Darwin
Whichever route you take, the drive from Adelaide to Darwin takes you from one end of the country to the other, through the arid wilderness of the outback, to the almost tropical Mataranka and Kakadu National Park.
On the Direct Route, you'll visit Alice Springs and observe diverse Aboriginal culture, as well as see huge saline lakes, cascading waterfalls, and crystal-clear thermal pools. Plus, if you take the detour to Uluru, you can visit the sacred sandstone monolith which is famous across the globe.
If you have time to spend even longer on the road, you could make your way through Queensland to see Mount Isa, and explore the diverse range of national parks that the centre of Australia has to offer.
From pink and orange salt lakes to fossil-rich rock formations, luscious gorges, and far-reaching cattle farms, this route is a treat for the eyes.
The Direct Route
Head north out of Adelaide and pick up the A1 which will take you to St Vincent Gulf and the Spencer Gulf as far as Port Augusta.
From here, the next 2,100 km along the Stuart Highway are pretty simple to navigate - just turn onto the A87 and keep on heading north. Along the way, you'll pass Coober Pedy and Marla before crossing into the Northern Territory around halfway along your drive.
There aren't many major towns along this long route, so take your time to enjoy Alice Springs and nearby Tjoritja/West MacDonnell National Park before continuing north through Davenport and Warumungu.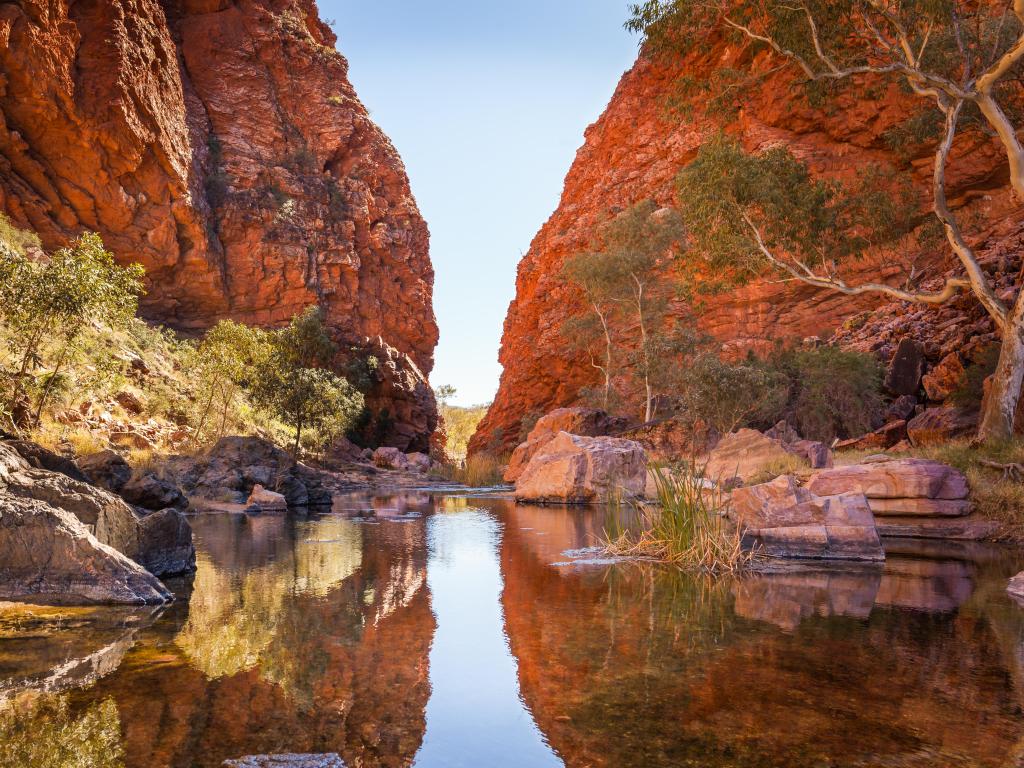 As you approach Daly Waters, the road merges with National Highway 1. Continue heading north past Mataranka, where you can break the journey with a hike through Elsey National Park to see Mataranka Falls, then head even further north past Katherine and Edith.
As you approach Darwin, you'll pass through the small town of Humpty Doo before finally leaving the Stuart Highway at Pinelands. From here, the A15 will take you right into the centre of Darwin, passing Charles Darwin National Park along the way.
The Uluru Detour
Most travellers making this long drive take the detour from the Stuart Highway across to Uluru, the magnificent natural monument right in the heart of Australia.
To reach Uluru, turn off the A87 at Ghan and follow the Lasseter Highway west until you reach the unmissable monument.
To rejoin the main route, simply return along the Lasseter Highway then take a left turn onto National Highway 3. After passing Watarrka National Park, head down to Kings Canyon then return to the highway to continue on towards Petermann, Mereenie and Hermannsburg.
The highway will eventually take you to Alice Springs, from where you can continue your journey north along the Direct Route.
The Mount Isa Route
There's a little more navigation required on this route option – make sure to bring your map as you'll be travelling along much smaller roads compared to the Direct Route.
Leave Adelaide via the M2 and A1, then turn off at Two Wells to follow Mallala Road towards the town of the same name.
From Mallala, follow the road towards Balaklava, where you'll turn right towards Halbury. As you approach Halbury, turn left towards Hoylton and Blyth, before briefly picking up the B82 (still heading north) out of Clare until you reach the B80 outside Anama.
Follow the B80 as far as Craddock, where it merges with the B83 to take you past Ikara-Flinders Ranges National Park. Then follow the Outback Highway across the wide-open landscape until you reach Marree.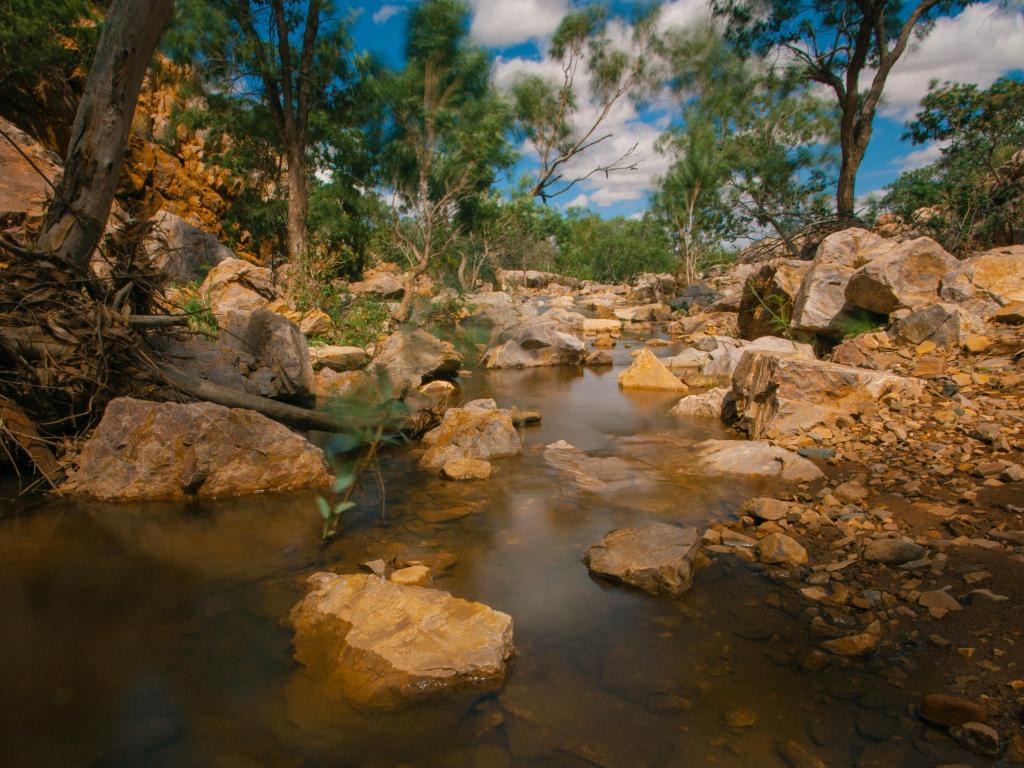 From Marree, take a right turn past Marree Station, then continue on past Mungeranie and into Queensland, where you'll pick up National Route 83 at Birdsville.
Keep following the same road past Bedourie and Boulia and eventually you'll reach Mount Isa. Here, cross the Leichhardt River and join the A2 Barkly Highway which swings west towards Camooweal and then crosses into the Northern Territory to become National Highway 66.
Continue past Ranken and Tablelands until you meet the A87, where you'll turn right and follow the Direct Route into Darwin, through Daly Waters, Katherine and Humpty Doo.
Best places to stop between Adelaide and Darwin
You'll need to make a few overnight stops as you travel from Adelaide to Darwin, but seeing as there are some fantastic places to enjoy along the route, that's an added bonus on this road trip.
Stay in the spiritual heart of Australia, Alice Springs
The Direct Route passes through Alice Springs around 16 hours out of Adelaide. Conveniently placed halfway between Adelaide and Darwin, Alice Springs is the gateway to the Red Centre - Australia's interior desert region - and you can combine a stay here with a visit to Uluru.
This beautiful location is situated amongst beautiful wild natural scenery, making it the perfect overnight stop after a full day of exploring Uluru (Ayers Rock), the spiritual heart of Australia.
Situated on the banks of the Todd River, Mercure Alice Springs Resort offers guests a relaxing swimming pool, a seasonal bar, and a delicious on-site restaurant. The award-winning resort has stylish and cool rooms, with river-facing rooms that are sure to wow.
This hotel is a ten-minute walk away from Alice Springs' Botanical Gardens - an oasis in the desert outback. Also close to the hotel is the dry Todd River, the Museum of Central Australia, Frontier Camel Farm, and Alice Springs Desert Park.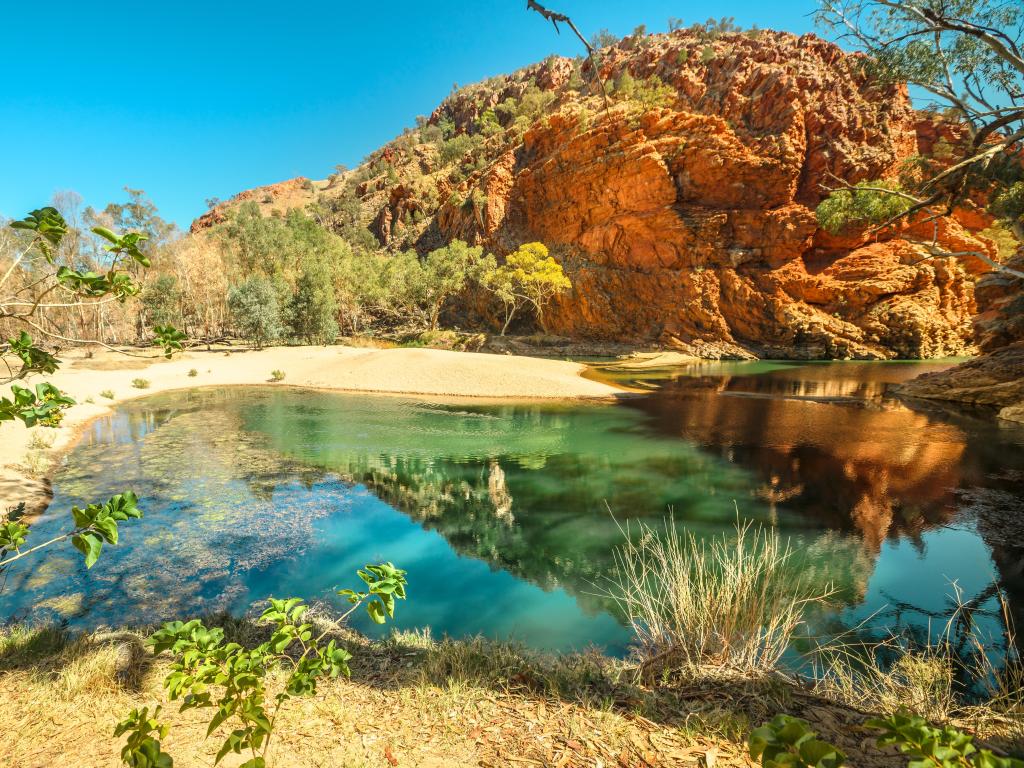 If you're feeling active, you can hike part of the Larapinta Trail nearby. This is a huge walking trail in the outback, reaching over 200 km, starting in Alice Springs and ending at Mount Sonder. Featuring chasms and gorges, MacDonnell Ranges is another fantastic location for both hiking and climbing.
Visit the desert oasis of Mount Isa
Mount Isa, 16 hours 20 minutes away from Darwin, is an oasis in the desert of the red Queensland Outback, just under halfway along the Mount Isa Route. Offering culture and industry, Mount Isa is known as a hub of successful mines, and for its fabulous natural attractions.
Head to Boodjamulla National Park, formerly known as Lawn Hill, to experience the emerald waters and lush vegetation of the gorge, known to attract an abundance of wildlife. This national park offers exceptional hiking and canoeing, with breathtaking views.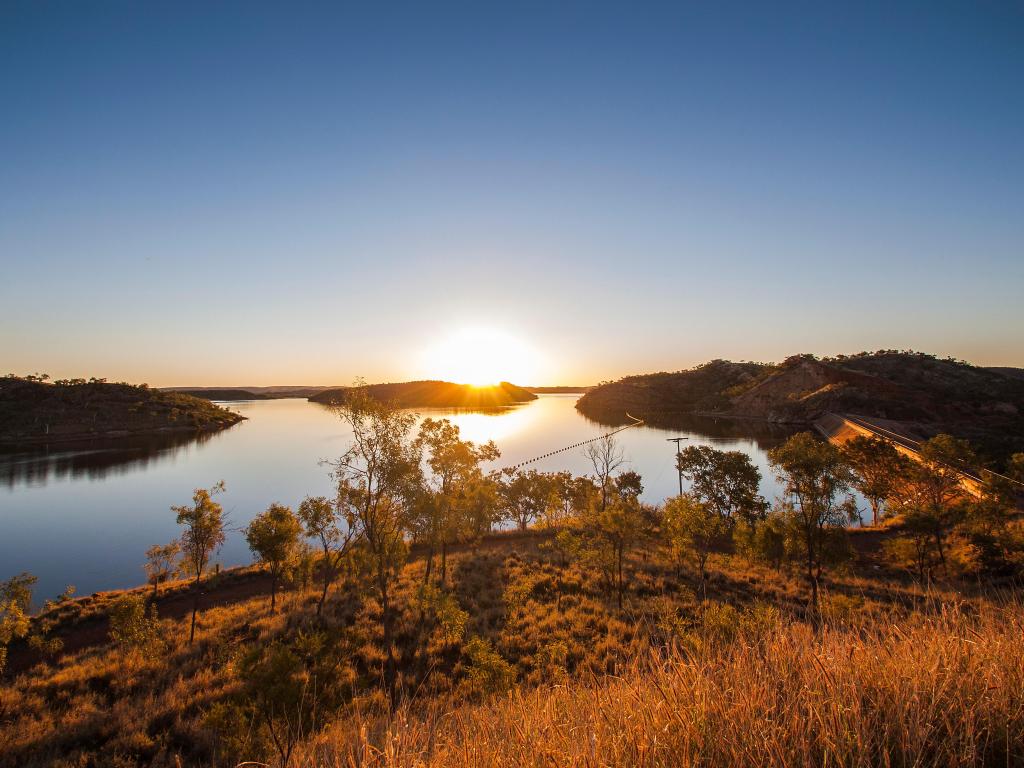 At Lake Moondarra you can swim, sail, canoe, and fish in this huge artificial lake on the Leichhardt River. There is an abundance of wild birds here, including pelicans, cormorants, and ducks.
For something a little different, visit Riversleigh Fossil Fields. Known as being in the top ten places to find fossils, come here to try your hand at palaeontology, and to learn from fossil exhibits, dioramas, and videos in the modern museum.
Tired road trippers can soak and chill out in the beautiful outdoor pool at Burke & Wills Mt Isa - there's nothing better after a day hiking in the outback!
Barbecue facilities are also available at this homey and comfortable hotel, which is right in the centre of Mount Isa. You can even take a break from driving during your stay, as the hotel is less than 20 mins from the rodeo on foot, and 10 mins from Riversleigh Fossil Fields.
Where to stay when you reach Darwin
When you finally reach Darwin, check into Palms City Resort, a luxurious oasis in the heart of Darwin's business district. Private cabins surround a landscaped pool, with lush vegetation and gardens providing a tranquil haven in the city.
Darwin city centre is a few minutes away by car, allowing you to dip in and out of city life as you please. Enjoy Darwin's vibrant shopping, dining, and entertainment, and relax on peaceful sun loungers in the tranquil hotel gardens.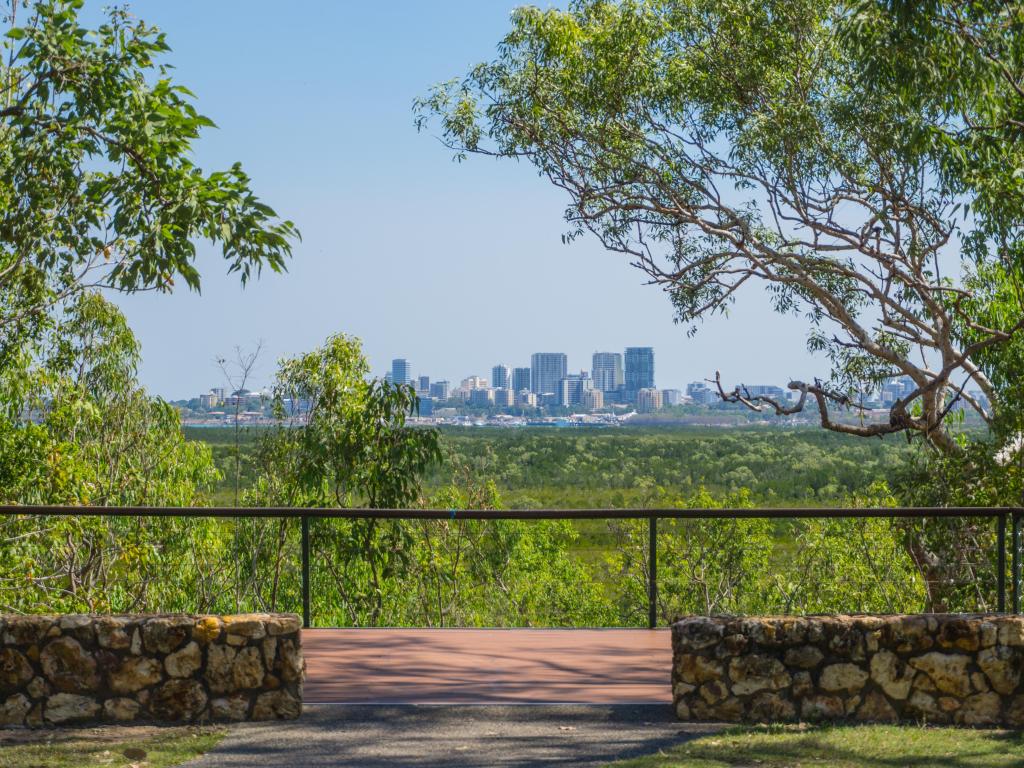 Things to see on a road trip from Adelaide to Darwin
With so many km to cover, you'll want to be sure that there's plenty to see and do along the way. The good news is that you won't be disappointed - this road trip takes you through fabulous towns, amazing natural areas, and stunning stretches of outback.
Here are our top picks of places to visit as you travel to Darwin from Adelaide:
The Direct Route
Port Pirie - With a dramatic backdrop of the southern Flinders Ranges, Port Pirie sits on the shores of Spencer Gulf. This historic seaport is home to beautiful heritage buildings, an interesting industrial history, and a quaint jetty to fish from.
Mount Remarkable National Park - Explore rugged mountain ranges, dramatic gorges, steep valleys with lush vegetation, and exposed red cliffs in this beautiful and wild national park.
Port Augusta - Home to Australian Arid Lands Botanic Garden and Wadlata Outback Centre, this city is well worth a stop for nature lovers.
Lake Gairdner National Park - This national park protects a large saline lake system surrounded by red sandy hills. Lake Gairdner is Australia's third-largest salt lake, and is a surreal sight.
Alice Springs - Known as the spiritual heart of Australia, stop here for contemporary and traditional art, and to explore the Red Centre of Australia.
Davenport Ranges - This is a paradise for adventurous four-wheel drivers. Set in the wilderness of the Northern Territory, this national park conveys a rich living culture of the Alyawarr, Wakaya, Kaytetye and Warumungu. There are fantastic swimming spots here.
Mataranka - This small pastoral town is famed for its sandy-bottomed crystal-clear thermal pool, with picture-perfect turquoise waters. This area was made famous by the novel "We of the Never Never" written by Jeannie Gunn.
The Uluru Detour
Glendambo - This is your last services stop for 254 km until you get to Coober Pedy. This is a friendly roadside town offering fantastic services to road-weary travellers.
Uluru - Also known as Ayers Rock, Uluru is a huge sandstone monolith, sacred to indigenous Australians. This national park is listed as a World Heritage Site and a tour of this landmark encourages you to immerse yourself in the land, nature, and culture.
Kings Canyon - One of the area's best spots for hiking, come here for breathtaking trails through canyons, cliffs, and colourful desert scenery. Home to towering red cliffs, rocky domes, lush vegetation, and an abundance of native birds.
Mount Zeil - Hike the tallest mountain in the Northern Territory. Standing at over 1,500 m above sea level, the summit of this peak offers spectacular views of the Red Centre.
West MacDonnell National Park - Explore 161 km of scenic outback beauty, hiking through cool gorges and riverbeds that provide refuge for plants and animals.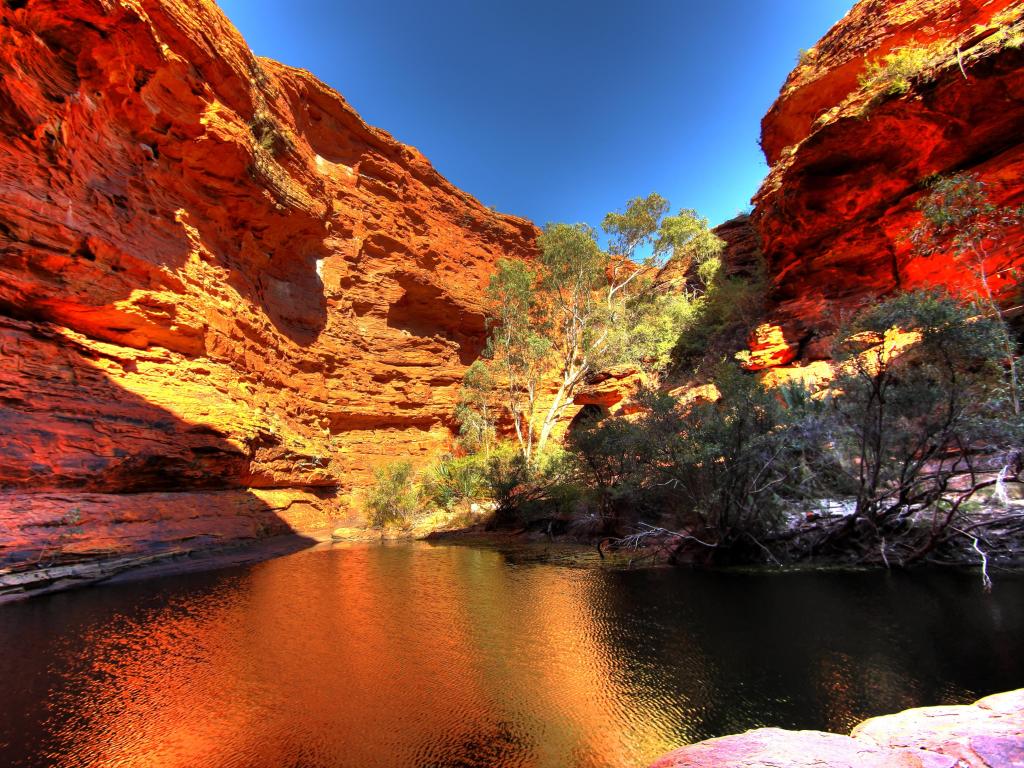 The Mount Isa Route
Ikara-Flinders Ranges National Park - Take a hike through ancient mountain ranges, idyllic tree-lined gorges, and a diverse array of wildlife. There are plenty of walks and hikes to choose from, to suit all abilities.
Lake Torrens - A paradise for photographers and geologists, Lake Torrens is a dry salt flat for most of the year, but thunderstorms transform this into an area with a variety of birdlife, drawn to the surface water on the lake.
Leigh Creek - Stop here for awe-inspiring natural scenery, surrounded by the Flinders Ranges looking like the bare bones of the land. This area boasts incredible fossil discoveries, and totally unique plants and animals.
Aroona Dam - Providing a stark contrast to the arid landscape, Aroona Dam has a 5.5km trail traversing through wetlands, mountain terrain, and red-gum lined creeks. Keep your eyes out for the endangered Yellow-footed Rock Wallaby.
Kati Thanda-Lake Eyre National Park - Stop at Australia's largest salt lake for mind-boggling breathtaking views. Witness the expanse of sparkling salt crystals that stretch as far as the eye can see. Desert rain floods the lake and transforms this into a shimmering oasis, bringing an abundance of wildlife and dreamy pink and orange hues on the water.
Munga-Thirri National Park - Covering a million hectares this national park is the largest in Queensland. Stunning natural scenery surrounds you in this park, with bare windswept crests, desert plains and shallow sands claypans supporting shrub lands of acacias, hakeas, and grevilleas.
Mount Isa - Explore incredible gorges, go fossil hunting, relax on the lake shores, and immerse yourself in the bustling culture of thriving Mount Isa.
Tablelands - Be wowed by big blue skies and far horizons of the outback contrasting with the green grasslands that stretch out towards Tennant Creek. Welcome to Cattle Country! Tablelands is home to the country's premier cattle farms.
All Routes
Katherine - Wander through the limestone Cutta Cutta Caves or relax in the Katherine Hot Springs for a totally different pace to the outback part of the road trip.
Kakadu National Park - A vast, biodiverse nature reserve, Kakadu National Park is home to over 2000 plants, saltwater crocodiles, flatback turtles, and birds. This national park also boasts Aboriginal rock paintings that date back to prehistoric times.
Litchfield National Park - This beautiful national park is home to pristine waterfalls, places to swim, scenic walks, and exciting 4WD tracks.
Best time to go on a road trip from Adelaide to Darwin
Darwin enjoys a year-round tropical climate, which means you can enjoy its waterfront attractions and surrounding national parks anytime you like.
Rather than hot and cold, Darwin weather is split into dry and wet seasons, each lasting for about 6 months. The dry season runs from May to October, and the rest of the year is the wet season. Each half of the year offers a distinctive experience, with varying wildlife and activities.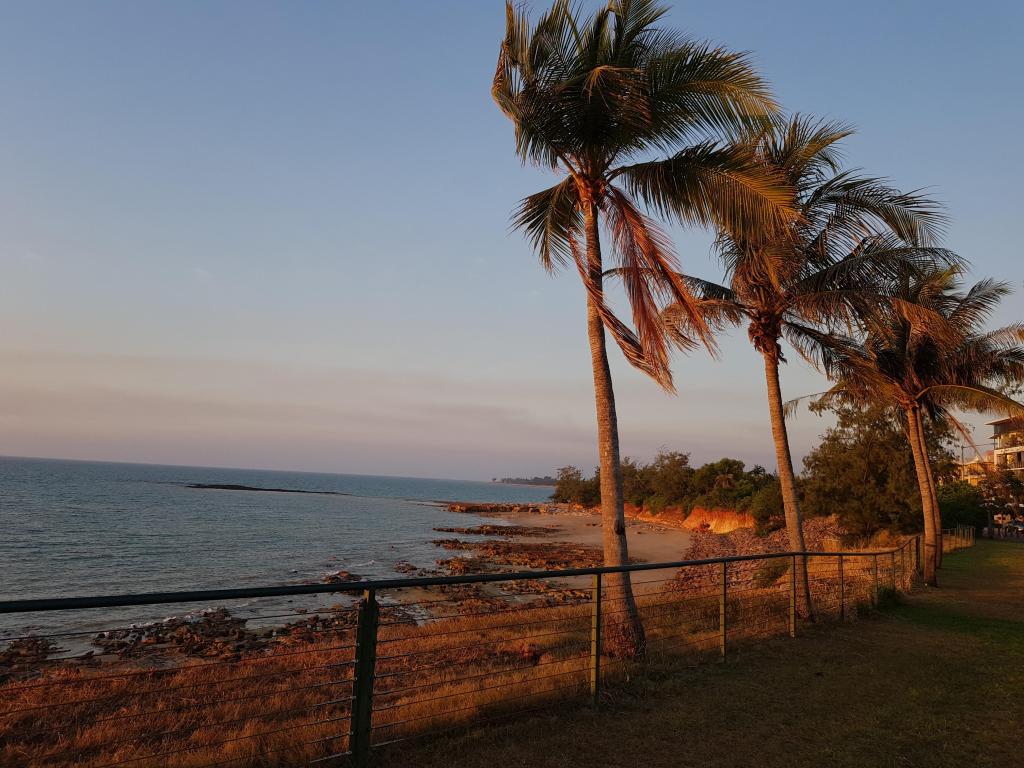 Through the wet season, temperatures generally range from 22 to 32 degrees Celsius, and humidity levels are around 60%. January and February are the heart of the wet season with monsoonal weather dumps and heavy overnight rain.
If you're arriving in Darwin during the wet season, you'll also be making the trip across the continent at the hottest time of year. With average temperatures in the high 30s, make sure you and your vehicle are prepared for the drive.
In the dry season, daytime temperatures remain high, usually around 30 degrees, but nights can be a little cooler, dropping towards 20 degrees.
Darwin springs to life in the dry season with the Darwin Festival, Barunga Festival, and the V8 Supercars all taking place during the drier months. This milder, drier weather can suit outdoor adventures more, with sunny skies giving you the perfect exploring weather.
Whatever time of year you travel, make sure that you're equipped for long stretches of driving without many places to stop. Keep your supplies of fuel and drinking water topped up whenever you get the chance. Then you'll be ready to hit the road and enjoy this unforgettable drive.