15 Best Road Trips from Adelaide
Few cities in Australia can compare to Adelaide for its beautiful scenery, famous architecture, and outdoor activities. Its festivals and events are famous all throughout the world and its wine is world-class.
If you're looking for a relaxing day trip and a break from the city further out into the countryside or an unforgettable drive longer weekend through the immersive Australian wilderness, there's a road trip from Adelaide sure to suit your needs.
No matter what type of adventure is calling your name, you are bound to find it on a road trip from Adelaide. To find out more about some of the best road trips, keep reading and discover our highlights about each.
Best road trips from Adelaide
Day trips from Adelaide (under 3 hours each way)
Australia is a land of long drives and expansive frontiers. Fortunately, there are plenty of incredible short drives from its major cities. Adelaide has several awe-inspiring places to see within 3 hours away that would make fantastic day trips.
1. Hahndorf, SA
30 minutes from Adelaide (30 km)
Why you should visit: Hahndorf is less than half an hour's drive away from Adelaide, making it a top pick for one-day trips. However, it has so many bars, restaurants, and other attractions, one day is almost never enough.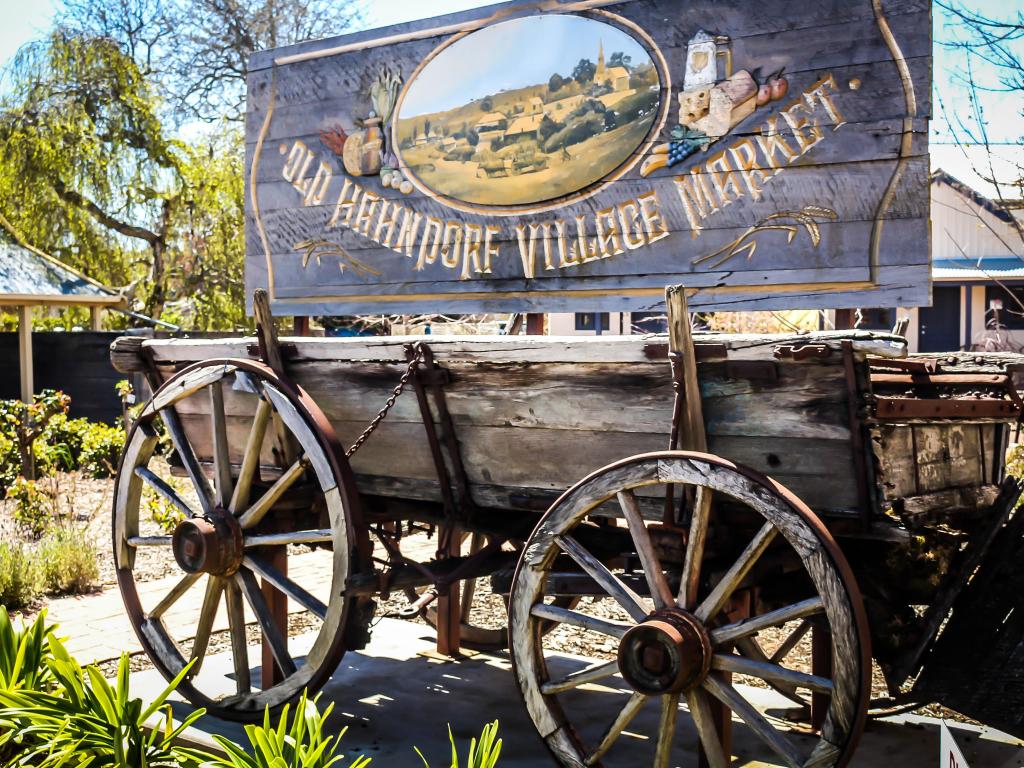 How to get there: Climb onto National Highway M1 from the city centre. From here, drive south-eastwards towards Crafers. Take the Handorf/Woodside/Birdwood exit and drive into town. Public buses are also available for Hahndorf from Adelaide. See routes 860F, 864, T843, 841F.
Our highlights: Hahndorf is a trip down memory lane. Prussian Lutherans settled here in 1839. Since then, the small artisan village has retained its German appearance - which is a sight to behold for any historical aficionados.
Hahndorf's main street has access to almost all the major attractions, so a stroll on it is a must. A great place for kids is the Hahndorf Candlemaker, where can bring your family and try your hand in making a candle in a jar.
Art fans must check out the 150-year-old Hahndorf Academy. See a grand collection of local heritage and arts. Some of the art is for sale which makes the perfect gifts or souvenirs.
For foodies, this town is full of exciting food and drink. Have a taste of the craft beer of the village at the Gulf Brewery.
Hahndorf is the oldest German settlement in Australia that still exists. In 1917, during WWI, the settlement's name was changed to Ambleside. In 1935, the name was reinstated and the town strived to preserve its heritage.
Our travel tips: Autumn is the best time for visiting since you can also enjoy the vibrant colours along the main street. The Gulf Brewery is only open from Fridays till Mondays.
2. Second Valley, SA
Via McLaren Vale, SA
1 hour 30 minutes from Adelaide (100 km)
Why you should visit: Second Valley is one of the most scenic beach spots in Southern Australia. It also has fantastic fishing spots for those interested. A host of ocean-related activities await at Second Valley. It includes scuba diving, snorkelling, as well as jetty fishing.
There's also plenty of amazing wine to experience in the region. If you take a detour to McLaren Vale, you will get to experience the wine capital of the state and sample some of South Australia's best wines.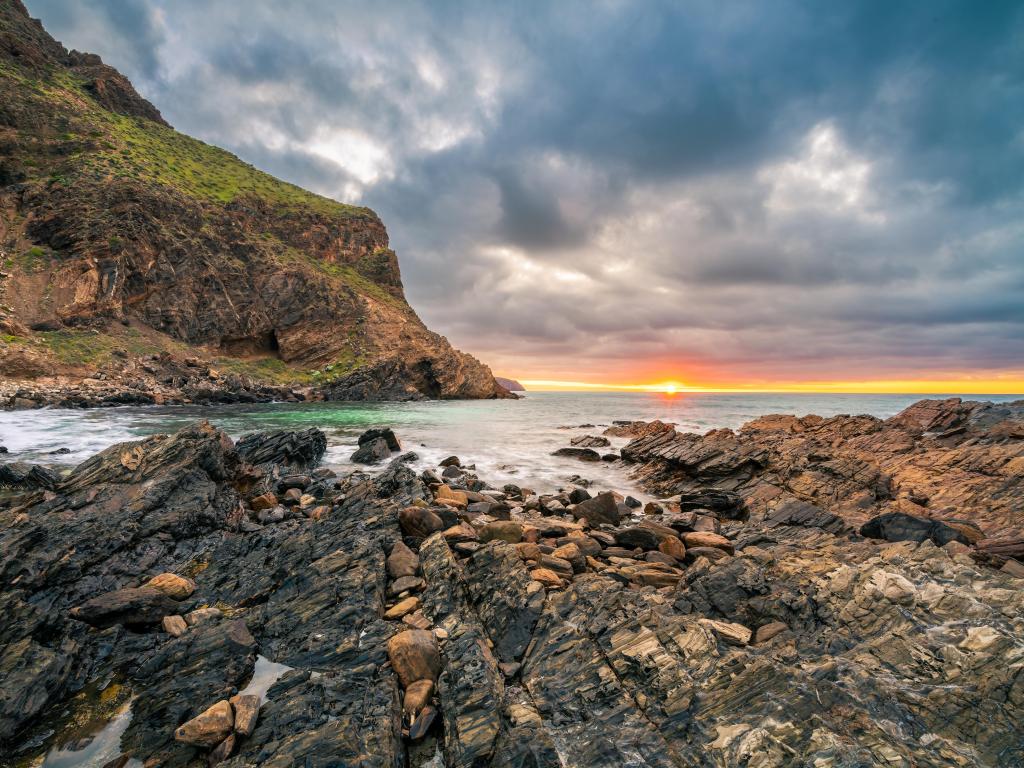 How to get there: Head to Anzac Hwy and get onto South Road/A2. Then drive onto M2 Expressway and continue on A13. To go to McLaren Vale, keep to A13. Continue to Main Road/B23 to head towards Second Valley
Our highlights: The Shiraz Trail at McLaren Vale offers a bicycle ride through rolling green vineyards. Within it, the d'Arenberg winery is an avant-garde design museum and winery, a combination unlike any other.
For ocean lovers, Second Valley Beach is a highlight of the area, so be sure to pack your swimming trunks. Also, the Encounter Marine Park, at Second Valley, will suit all your ocean adventure needs, like scuba diving.
Our travel tips: On the Shiraz Trail, you can choose to stop at the wineries and get a free taste. At Second Valley Beach, snorkelling is free if you bring your own equipment.
3. Lochiel and Bumbunga Lake, SA
1 hour and 30 minutes from Adelaide (130 km)
Why you should visit: Bumbunga Lake, or "The Pink Lake", famously changes colours throughout the year. The salinity of the water changes, making it go from pink to completely white. Lochiel is the closest town to Bumbunga Lake with a few quaint and fantastic restaurants and cafés.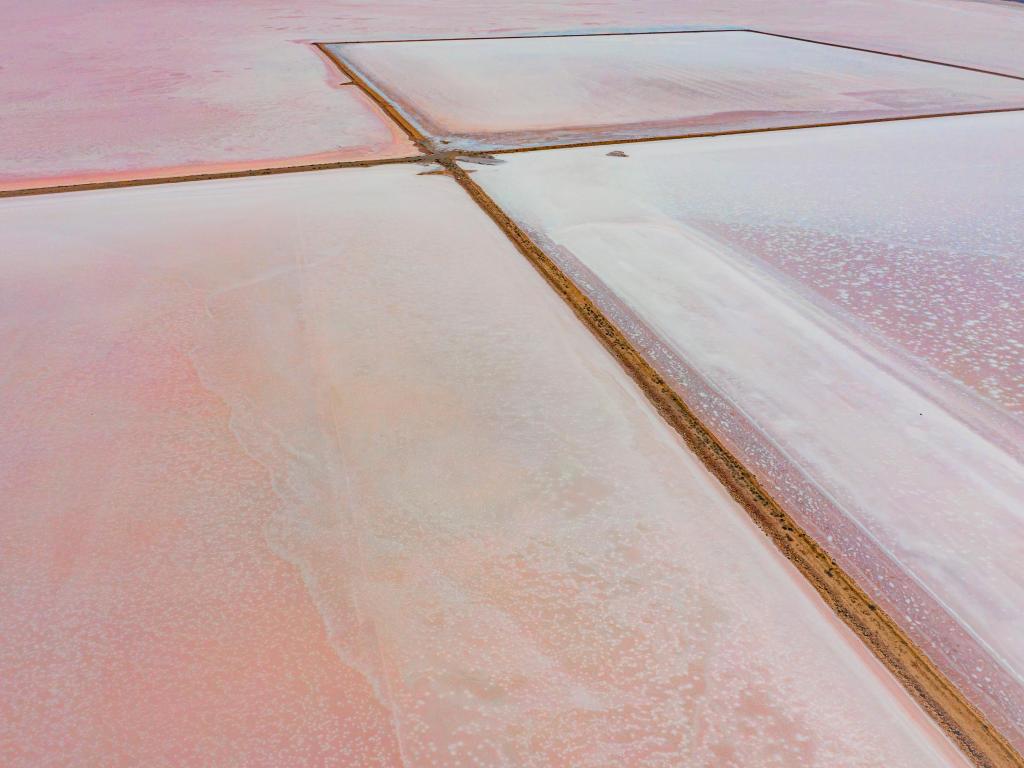 How to get there: Drive onto M2 and head northwards. Continue on A1 until you reach Lochiel. You can choose to drive a bit more and head to the Lake Bumbunga Lookout for a closer view of the bubblegum lake
Our highlights: Lochiel Town Centre is full of curios and antiques. There, make sure to visit the Jitter Bean Oasis, a popular café that offers light meals and splendid coffee. On the other side of the lake is Snowtown, another small town with great little cafés.
The Bumbunga Lake - Any travellers with an interest in geological phenomena are sure to get their interest piqued at the Bumbunga Lake. The town's only employer is the salt mines further up north.
The local myth says a monster related to the famous one in Lochness resides in the lake. The Loch Eel is said to mysteriously appear from time to time.
Our travel tips: The town hall is open on weekends. You may find local garage sales as well featuring old machinery if you go during the weekends.
4. Clare Valley, SA
Via Barossa Valley
2 hours 10 minutes from Adelaide (170 km)
Why you should visit: Clare Valley offers a one-day combination of exciting history, fine wineries, as well as beautiful scenery. The area is among the most historic in Southern Australia. So, expect a very close-knit community with rolling farmlands.
It has over two and a half dozen wineries, most with their cellars open. As a result, you will never exhaust all the things you can do in the region. Barossa Valley also offers a host of outdoor activities such as ballooning and cycling tours.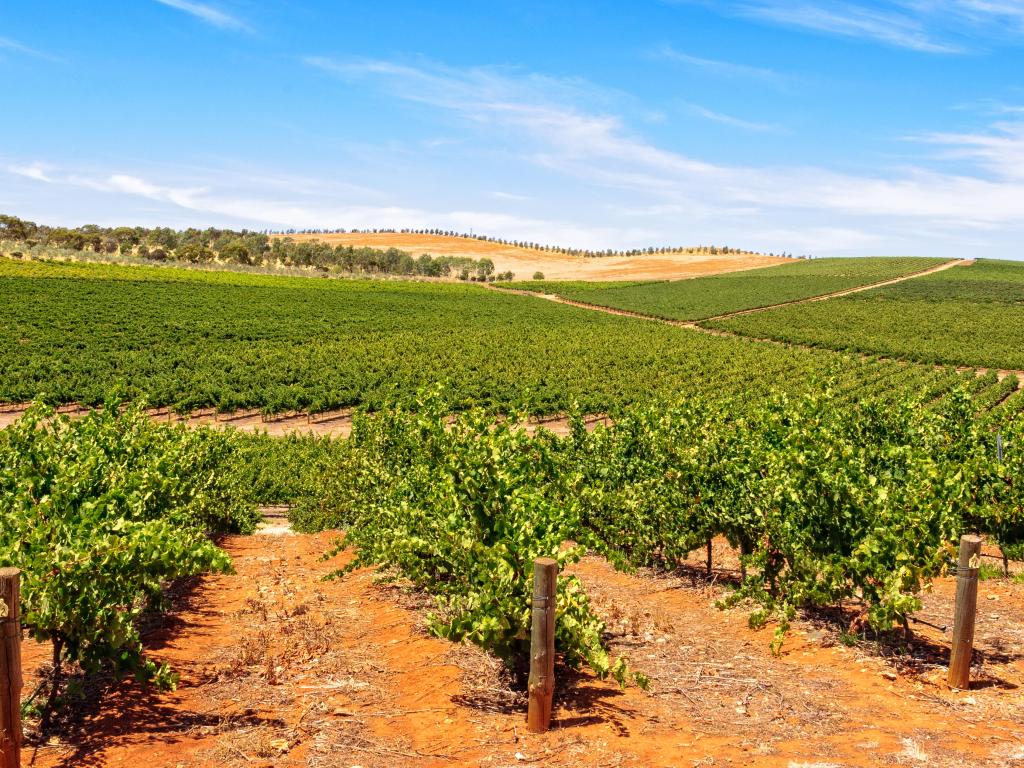 How to get there: Take the M2 and drive onto Gomersal Road to get to Barossa Valley. From there, drive to Freeling to get onto Thiele Hwy. Follow A32 and B82 to reach Clare Valley.
Our highlights: The Mintaro Maze - a perfect adventure through the annals of time, as over 800 conifers were planted back in 1995.
The Martindale Hall at Mintaro is a living and literal museum. Its enormous pastoral grounds are still a trip back to the 19th century.
Another excellent destination is Bungaree Station. It chronicles a history of over 180 years and the sheep farm still functions today. Take an interactive look into Australia's revolutionary history.
Nothing beats wine tasting in South Australia. You cannot go to Clare Valley and not spend any time in the 30 wine cellars. There is a service that will take you through the most famous vineyards.
Clare Valley is a collection of several small towns and settlements. The most famous wine in the area is made from Riesling.
Our travel tips: The wine-tasting tour has to be booked beforehand. In winter, be sure to have a coat handy.
Click here to skip back to the top.
Weekend trips from Adelaide (3-5 hours each way)
Adelaide is the perfect city for spending the entire weekend. However, there are plenty of destinations a few hours away that will amaze you and bring you into the heart of Australia.
5. Kangaroo Island, SA
3 hours 30 minutes from Adelaide (210 km)
Why you should visit: Kangaroo Island is a paradise for any nature lover that is easily accessible via a ferry. It boasts amazing coastal sights, lush farmlands, and exotic wildlife. There are not many other natural habitats where you can see seals and kangaroos live alongside each other.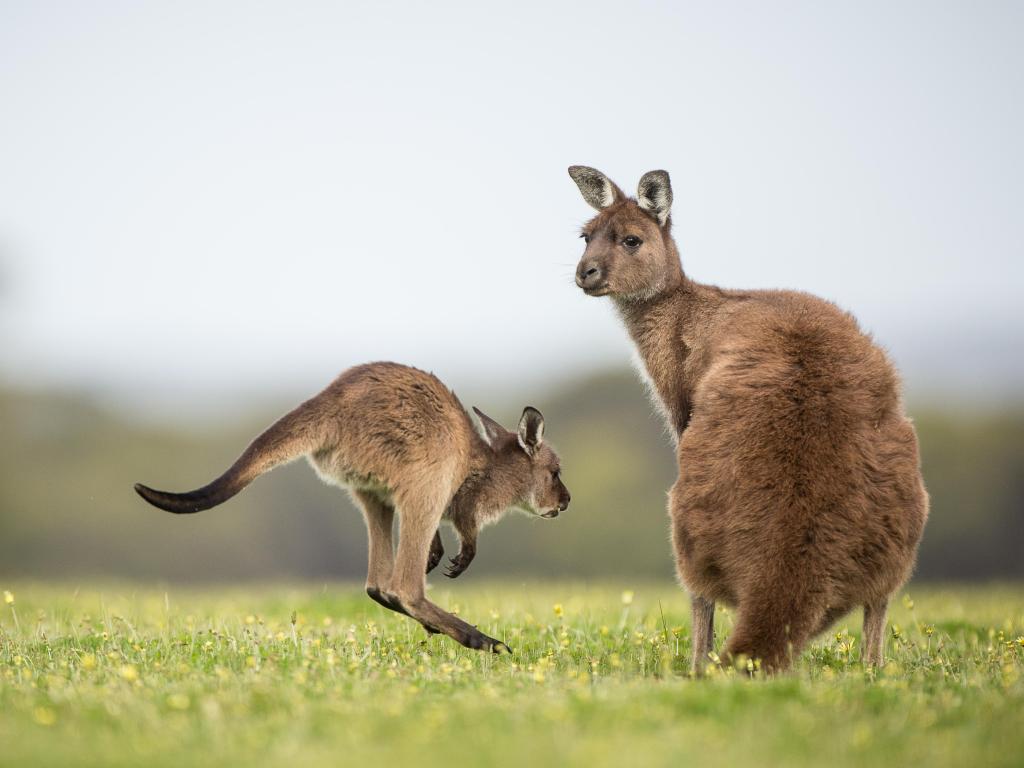 How to get there: On a road trip from Adelaide to Kangaroo Island, take the M2 and drive southwards to Cape Jervis, via the B23. Then, take the Cape Jervis - Penneshaw ferry to Penneshaw. Follow B23 to Cygnet River. Turn left onto Playford Hwy and drive straight to Stokes Bay Road.
Our highlights: Kangaroo Island is easily accessible by ferry. To learn more about which port to take the ferry from and where to arrive, please check our comprehensive guide.
When on Kangaroo Island, make sure to visit Little Sahara. This tiny desert has enough sand dunes to provide thrills like a toboggan ride.
Ocean lovers must check out Seal Bay. Aptly named, you can actually walk among the colonies of sea lions of South Australia.
Another epic highlight of Kangaroo Island is the farm at Emu Bay Lavender. The fully functioning farm has over 7,500 lavender flowers growing that will be used for essential oils. Enjoy lavender-themed restaurants and meals after a stroll.
Bonus: You can also find penguins, raptor owls, as well as kangaroos in their own conservation centres. More than 33% of the island is a protected natural reserve.
Our travel tips: There are a ton of activities available here from quad biking to eating tours. Almost all of them can be booked beforehand to have a more organised schedule, so be sure to look for prior bookings.
It's best to go here with a few days in hand since exploring the natural lands will take some time.
READ MORE - Road Trip from Adelaide to Kangaroo Island
6. Innes National Park, SA
3 hours 10 minutes from Adelaide (290 km)
Why you should visit: Presently known as the Dilba-Guaranda Innes National Park, it sits right at the top of Yorke Peninsula. Thus, it offers stunning coastline scenery ranging from rugged cliffs to sandy beaches.
The National Park is open to everyone and is a great area for outdoor activities like hiking. There are even historic shipwrecks on display, apart from fantastic fishing and surfing spots.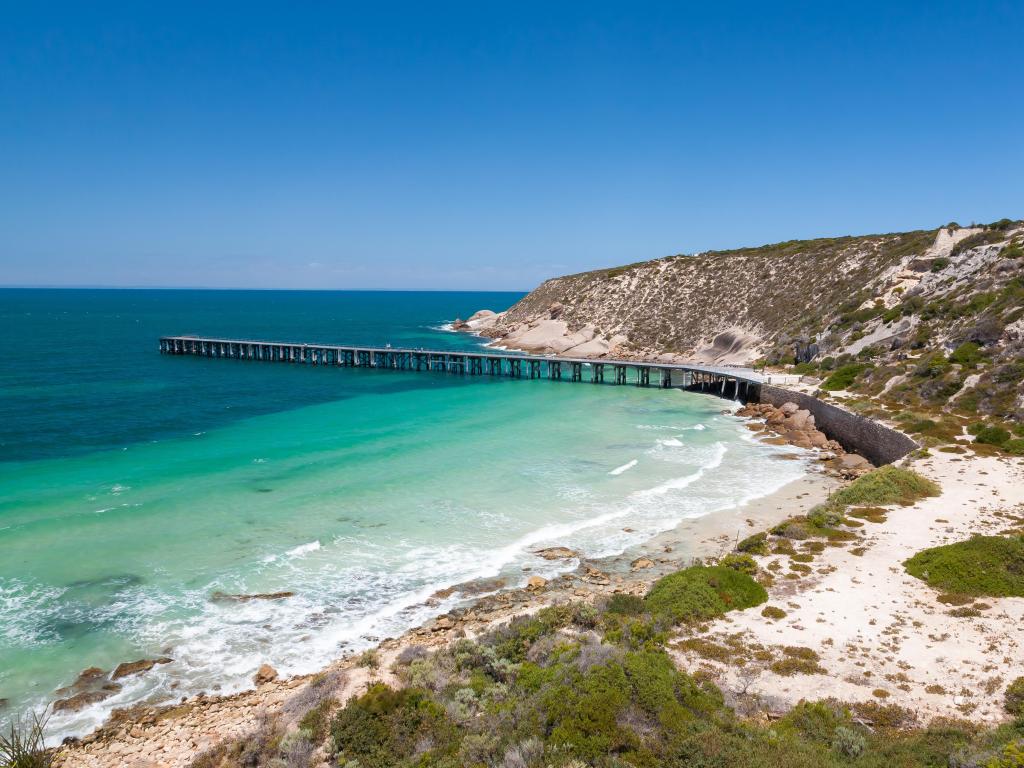 How to get there: Take the M2 and drive northward to get onto the A1. Drive straight on the A1 till Port Wakefield. Then go onto B85 to get onto B86/Yorke Hwy. Drive straight on B86 till you arrive at the National Park.
Our highlights: Make sure to visit the Cape Spencer Lighthouse. It's a relatively new lighthouse (built in 1950) but offers a fantastic view of the sea.
Another must-visit stop is The Ethel Wreck. This large steel ship ran aground at this spot in 1904. It still lies there, the hull slowly rusting away.
For fans of haunting scenery, check out the Inneston Historic Village. This small village existed from the 1880s till about the 1970s. Today, deserted buildings are preserved for viewing and even staying in.
Of course, who can forget to mention the incredible wildlife? Your best chances of catching a glimpse of wild Emus are high. Moreover, near dusk, you may also see some Tammar wallabies.
Bonus: The Inneston village was built to support a gypsum mine and had around 500 people in its heyday. Tammar wallabies had gone extinct in the area in the 1920s but were reintroduced in 2004.
Our travel tips: Be sure to carry enough water and food supplies for a day, because you won't get any shops within the park and download maps marking campgrounds and the park in general beforehand.
You will have to purchase an entry pass if you are in a vehicle. You can do so online or from the booking agents usually present along the way to the entry.
7. Flinders Ranges, SA
4 hours 40 minutes from Adelaide (430 km)
Why you should visit: This is one of the entries into the quintessential Australian Outback. In the car, you will see red and dusty roads, and cliffs and craters running almost surrounding you.
It is a geographical and cultural treasure trove. You will get to see enormous natural amphitheatres as well as experience a glimpse of the Aboriginal lifestyle.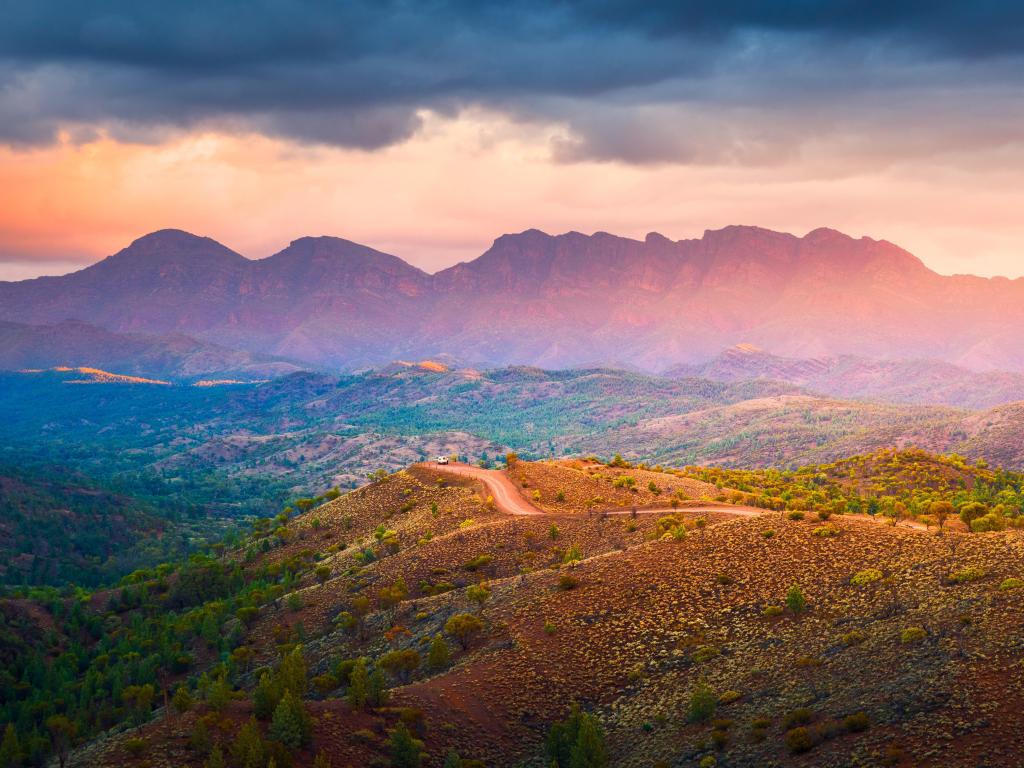 How to get there: Take the M2 and A1 northward to reach Mallala Road in Two Wells and navigate to Balaklava Road/B84 to Horrocks Hwy. From there, take R M Williams Way/ B80 and Moralana Road and follow Moralana Road until you reach your destination in Flinders Ranges.
Our highlights: Outdoor enthusiasts should check out the Tanderra Saddle, St Mary Peak. It is the tallest peak in the Flinders Ranges and is worth a try, regardless of your experience in hiking.
For a history lesson, visit the Blinman Mine Tour. Filled with stories about the people working in the copper mines in the 19th century, it is a chance to experience the past.
Nothing beats the incredible views from the Razorback Lookout, perhaps the most famous viewpoint in the entire Ranges. Try to get there in time to view the sunrise and/or sunset.
Make sure to visit Arkaroo Rock. Here you can gaze upon ancient history at the well-preserved collection of Aboriginal rock art. They look just as vivid as they did centuries ago.
Bonus: The landscape at Flinders Ranges dates back well over 600 million years. There are some places where you can find fossils and stones from that era.
You can also drive further north to Arkaroola to enjoy another natural reserve. It is 260 km from Flinders Rangers (an additional 3 hours and 40 minutes).
Our travel tips: The Aborigines are very active here, and there are tours that they conduct as well. Please be respectful of their rules and guidelines regarding their land.
The Blinman Mine Tour needs to be pre-booked as it is quite popular.
Click here to skip back to the top.
Long weekend trips from Adelaide (5-8 hours each way)
Adelaide has several world-class road trips within 5 to 8 hours away. From breathtaking wildlife adventures to vineyard-rich countryside, there is something exciting around every corner.
8. Port Lincoln, Eyre Peninsula, SA
7 hours 10 minutes from Adelaide (650 km)
Why you should visit: Port Lincoln is home to thriving aquatic wildlife, offering a thrilling twist on the usual coastal adventures, which makes it one of the most adventurous road trips from Adelaide.
There are tours here that can bring you up close and personal with great white sharks! You can also experience fresh seafood catches and dine next to a sparkling coastline.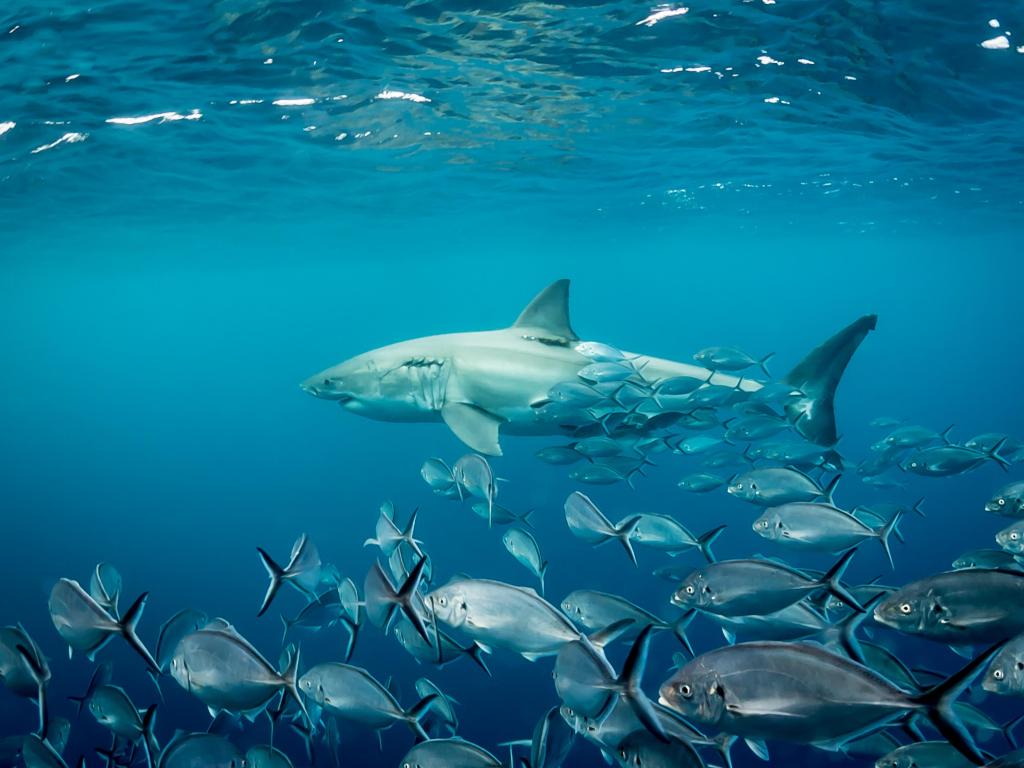 How to get there: Get onto National Highway A1 and drive northward all the way to Port Augusta. Keep driving until you switch to Lincoln Highway/B100. Drive southward on B100 till you reach Port Lincoln.
Our highlights: The Eyre Peninsula officially begins from Port Augusta. Port Lincoln is the biggest city in the region. Port Lincoln's traditional landowners are the Bangaria who call it Kalinyalla, meaning 'place of sweet water'.
Check out Tumby Bay, a quaint seaside town that is famous for its town-wide colourful murals and make sure to bring your camera with you to document your findings!
Another must-see sight along the way is Hopkins Island. If you are looking for adventures on your journey, then you have to experience diving with sea lions here.
Greenly Beach is among the world's most stunning beaches, it is also less crowded. Enjoy beautiful rock pools and even a night out camping under the South Australian stars.
For a spectacular experience in nature, head out to the Head of Bight. Witness the annual migration of about 5 dozen breeding Southern Right Whales, like a scene out of a nature documentary.
Our travel tips: There are tons of tours available all throughout the region, and we highly recommend booking them beforehand. The best time to visit the Head of Bight is from June 1st till October 30th.
READ MORE - Road Trip from Adelaide to Port Lincoln
9. Melbourne, VIC
8 hours from Adelaide (730 km)
Why you should visit: Melbourne is Victoria's coastal capital and the hip and happening metropolis is famous for being the world's most liveable city so why not set off on a road trip from Adelaide to Melbourne to see why yourself?
The multitude of laneways and cultural diversity provides a unique city environment. Plus, the combination of the natural lush greenery and mountains just outside the city adds dramatic natural scenery.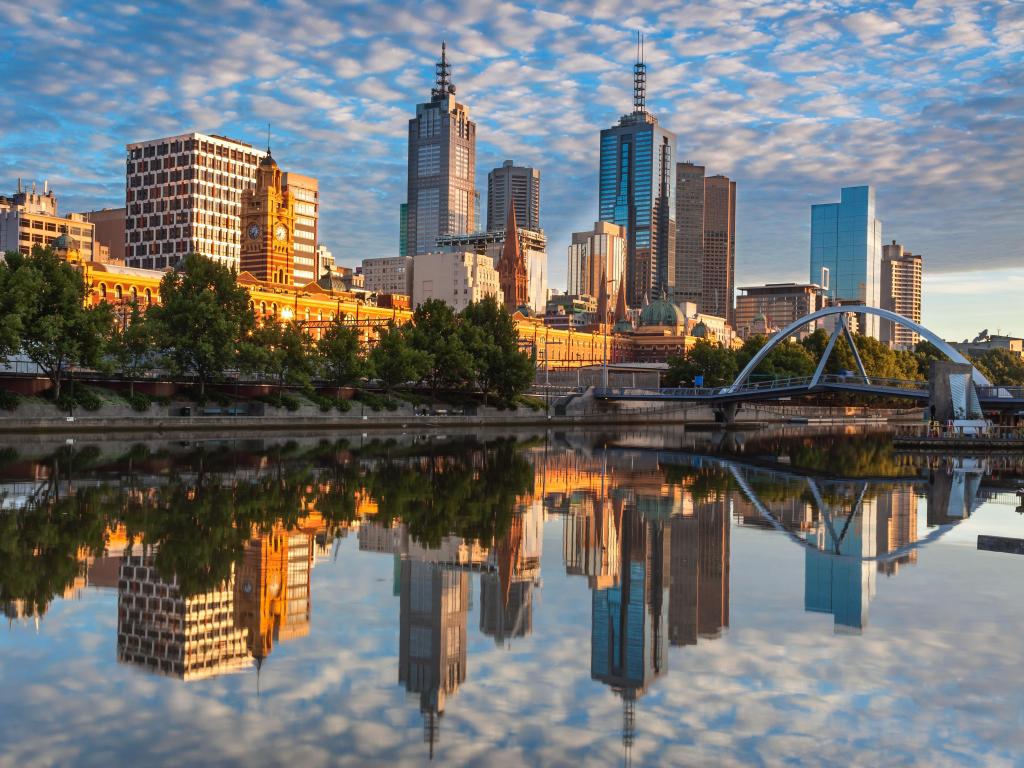 How to get there: Get onto M1 from Glen Osmond. Drive along M1, A8, and M8 to reach West Melbourne. Take exit W4 to enter M2. Take exit 3 on M2 to enter State Road 32 and reach Melbourne central.
Our highlights: When in Melbourne, sample the coffee. The city's coffee is world-famous and, according to many, is the best in the world. Hop into any café and try a sip.
Visit Flinders Street Station. This station is the busiest railway station in Australia and is also a very popular picture for postcards.
Sports fans should check out the MCG. This stadium is a must-visit. It has been witness to plenty of sporting history.
Make sure to experience The Carlton Gardens. This UNESCO World Heritage Site is easily accessible on foot from the city centre. Here you can feast your eyes on beautiful architecture while relaxing around lovely fountains and immaculate gardens.
Bonus: The coffee in Melbourne is so good that cafes in other global metropolises like London consider "Melbourne" baristas as an advertisement for premium products.
Our travel tips: Try to visit the city between March and May or between September and November as the crowds are comparatively lower, and the temperatures are more comfortable.
READ MORE - Road Trip from Adelaide to Melbourne
Click here to skip back to the top.
Longer trips from Adelaide (Over 8 hours each way)
If adventure and experiencing the raw beauty of South Australia are on your list, then a road trip over 8 hours from Adelaide is ideal. This region is ripe with unbeatable scenery and experiences that will inspire you on your road trip.
10. Coober Pedy, SA
9 hours from Adelaide (850 km)
Why you should visit: Coober Pedy is a mining settlement in the Australian outback. But it's not just any mining settlement, it's built under the desert!
The unique sun-scorched landscape makes it look like tourists are on the moon. Its main attraction lies in almost every underground house, shop, and hotel. The small outback town is largely unknown even among Australians.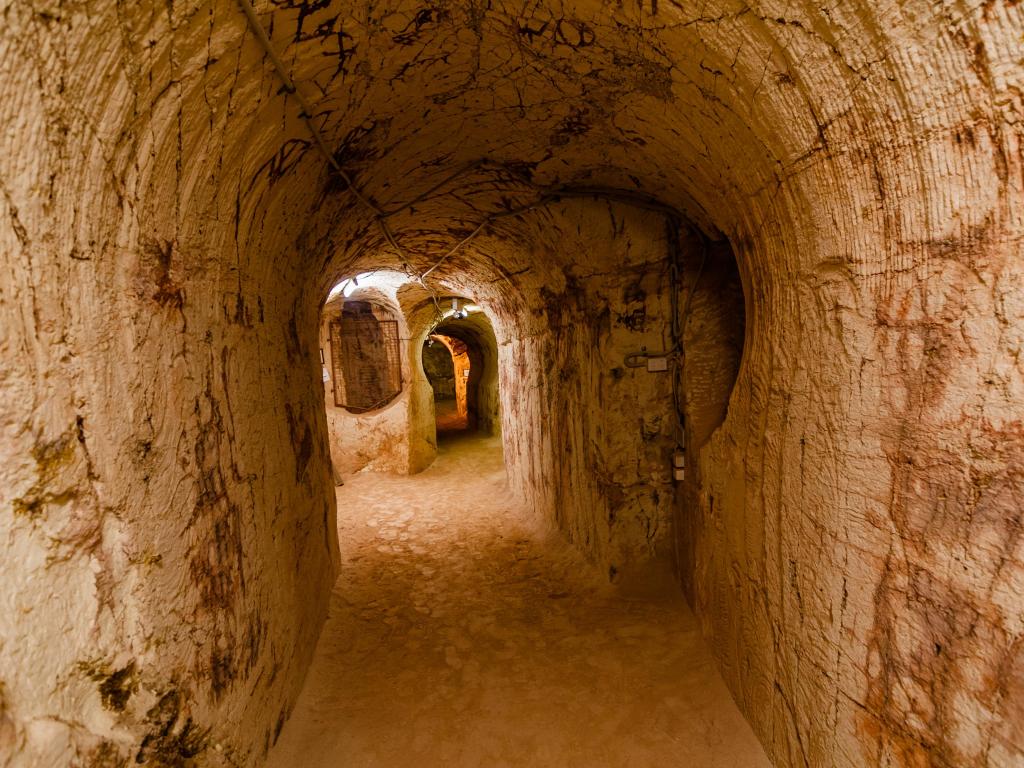 How to get there: Take National Highway A1 and drive northward. Keep driving northward on A87 and continue on until you reach Hutchinson Street. For a detour to Lake Gairdner, take Nonning Road on the A87.
Our highlights: Visit the incredible Umoona Opal Mine and Museum. Here, you can get to know all about opal mining, as well as fossils, and the history of European and Aboriginal settlements.
Nature lovers and fans of unparalleled scenery should visit the Anna Creek Painted Hills. Uncanny orange mountains stand among the rolling sand dunes, a remnant of an inland lake that existed 80 million years ago.
The ultimate Australian outback experience is to jump on board a desert tour. There are multiple types of tours through the desert on a 4WD, making this an adventure like no other.
The small outback town is largely unknown even among Australians.
You can also choose to take a longer detour through Lake Gairdner National Park. It will make the total distance between Coober Pedy and Adelaide 990 km. The driving time will be 13 hours and 50 minutes.
Our travel tips: Be sure to do a lot of research before booking your tour. Booking a tour is highly recommended since they usually include everything from lodgings to sights.
11. Canberra, ACT
Via Kosciuszko National Park, NSW
15 hours 30 minutes from Adelaide (1,310 km)
Why you should visit: Canberra is the capital city of Australia, and its attractions are usually centred on governmental institutions. It's a different kind of metropolis compared to Melbourne or Sydney.
Nearby is Mount Kosciuszko, Australia's tallest mountain. A fantastic trail covers a vast array of natural beauty in the area. Canberra may not feature a metropolitan experience like Melbourne and Sydney, but it offers intellectual stimulation unlike any other.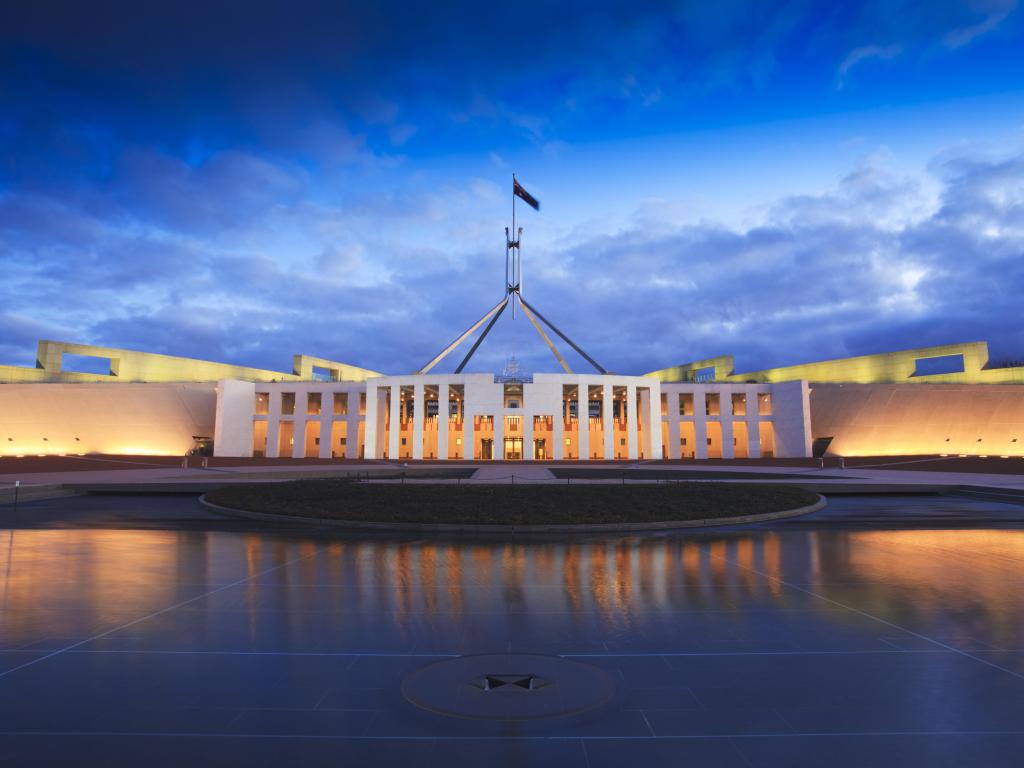 How to get there: Get onto the M1 via Glen Osmond Road. Navigate via M1, B12, B58, and B400 to reach Alpine Way (reach Mount Kosciuszko). Then drive to Kosciuszko Road and take B23 to reach Kings Avenue. Continue along Kings Avenue and Federation Mall to reach Parliament Dr.
Our highlights: A host of museums and one of the fastest-growing research universities in the world are located here. Canberra often shows off its intellectual prowess. The city is also known as the Bush capital for its natural scenery.
Our highlights include a visit to the Parliament House. Being the political seat of the country, you can explore and take pictures to your heart's content because of the regular tours.
Nature lovers will love seeing Namadgi National Park. Spend a day exploring the natural wildlife and landscape of the Australian State Capital in this protected area.
Another must-see for those who love nature is the National Botanic Gardens. A dream for any horticulturist, it is a great introduction to the flora of Australia.
Bonus: Aviation fans should check out a Jet Flight Simulator. This is a fun virtual reality experience where you can take off and land from about 22,000 virtual airports.
Our travel tips: The most popular period is between September and October. That's when the Floriade spring festival happens.
Mount Kosciuszko features outdoor activities in winter as well as summer. However, winter activities are usually more famous.
12. Sydney, NSW
Via Ouyen, Victoria, Wagga Wagga, NSW and Canberra, ACT
15 hours 40 minutes from Adelaide (1,460 km)
Why you should visit:This is a varied road trip from Adelaide including a quaint stop at Ouyen, a roadside hike in natural beauty at Wagga Wagga, and finally ending in the cities of Canberra and Sydney.
Sydney has everything to please even the pickiest traveler, from a vibrant and immensely historical downtown to natural scenery that is unrivalled.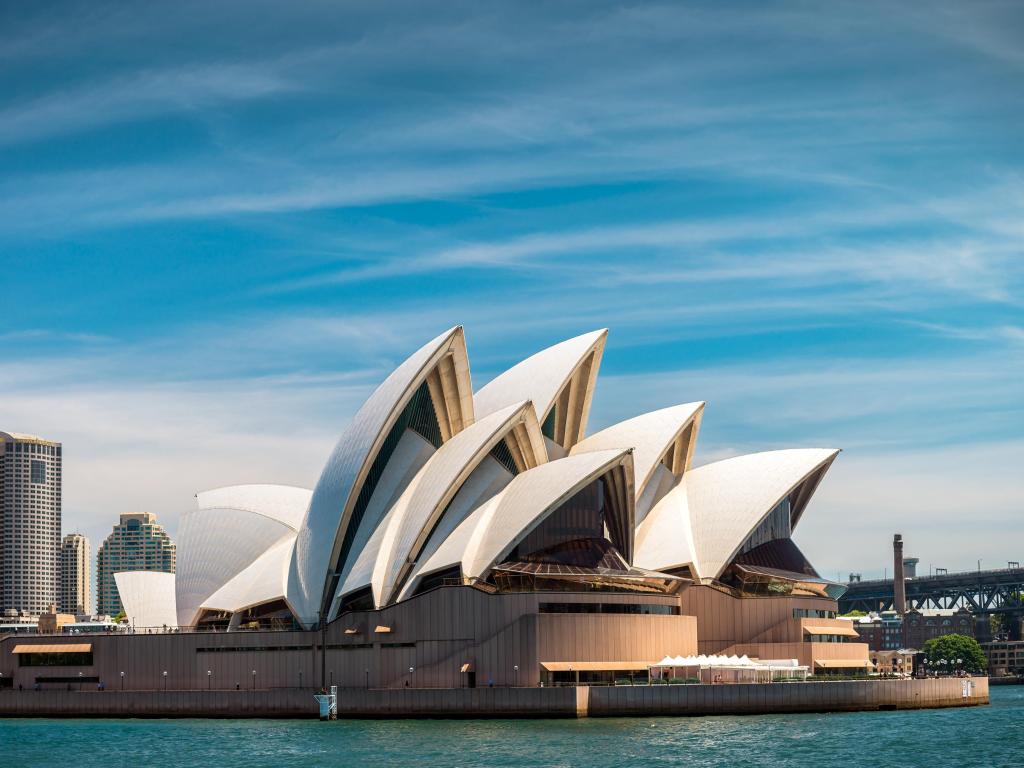 How to get there: Drive on M1 and B12 to reach Ouyen. From there, take the B12 and A20 to reach Kincaid Street and Wagga Wagga. Take the M31 and exit toward Parkes Way/City to head toward Canberra. Finally, travel via the M23, M31, and M5 to reach Sydney.
Our highlights: Visit Murray Sunset National Park, Ouyen. Apart from being the second largest national park in the state, its vast open spaces offer plenty of wildlife, and colourful unique "salt-resistant" flowers.
One of the most unique stops is the Wagga Wagga Botanic Gardens. The city may have plenty of public spaces and gorgeous parks, but these gardens are the best places to see the heat-resistant trees.
For fans of architectural marvels, a visit to the Sydney Opera House is a must. The iconic white structure has an inside that's worth touring.
For another movie-like experience, check out the Manly Ferry. Ride on this ferry and experience a scene straight out of a movie.
Our travel tips: Wagga Wagga and Ouyen are best experienced during the fall. Sydney wakes up pretty early in the day, so plan your city activities accordingly.
READ MORE - Road Trip from Adelaide to Sydney
13. Brisbane and Gold Coast, QLD
22 hours 10 minutes from Adelaide (2,030 km)
Why you should visit: Smaller than only Melbourne and Sydney, Brisbane is one of the most "interactive" cities in the world.
The city enjoys sunshine for nearly 300 days a year, making it a favourite for tourists. A road trip from Adelaide to Brisbane not only offers an enormous number of attractions all around but also stunning beaches to relax and recharge at the end of the journey.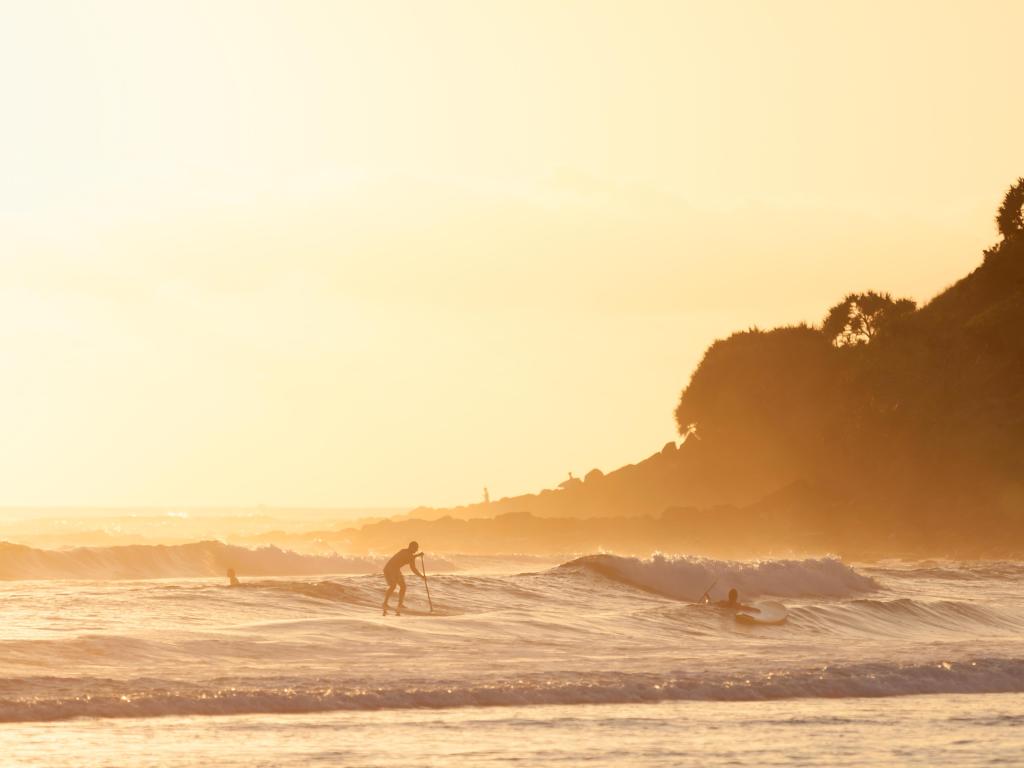 How to get there: Take the A32 and reach Moonagee Street in Nyngan. Navigate via Colane Road to get to B76. Drive alone B76, A39, A2 and M3. Then, take the Elizabeth Street exit on M3 to reach Brisbane.
Our highlights: Brisbane is also known as the "Tropical Capital" because of its jungle-like weather. Make sure to check out The South Bank. Choose between relaxing, walking, swimming, or riding the Brisbane Wheel while enjoying the warm sunlight.
Story Bridge is another sight to behold at night. A bonus is that you can climb all the way to the top to get a stunning view of the city in the morning.
View and hike the beautiful Mount Coot-tha, which means "Money Mountain". A short distance on the outskirts of the city, it is originally the land of the Yugarapul. The 287-metre hike has a fantastic view at the end.
Who would want to miss the Lone Pine Koala Sanctuary? You cannot visit Australia and not look at this unique creature. However, these are rescued animals, so maintain your distance.
Our travel tips: The Riverfire Festival is an amazing fireworks display you can experience near the end of September.
READ MORE - Road Trip from Adelaide to Brisbane
14. Perth, WA
via Esperance, Albany and Margaret River, WA
35 hours from Adelaide (3,270 km)
Why you should visit: A series of coastal sceneries await you on this trip from Adelaide to Perth, from pristine beaches to towns built on two riverbanks.
Perth, as a city, is ideal for beachside relaxation. The vibe is perhaps the most laid back among all of Australia's major cities. The other stops along the way on this trip will add on some beautiful, natural and man-made sceneries.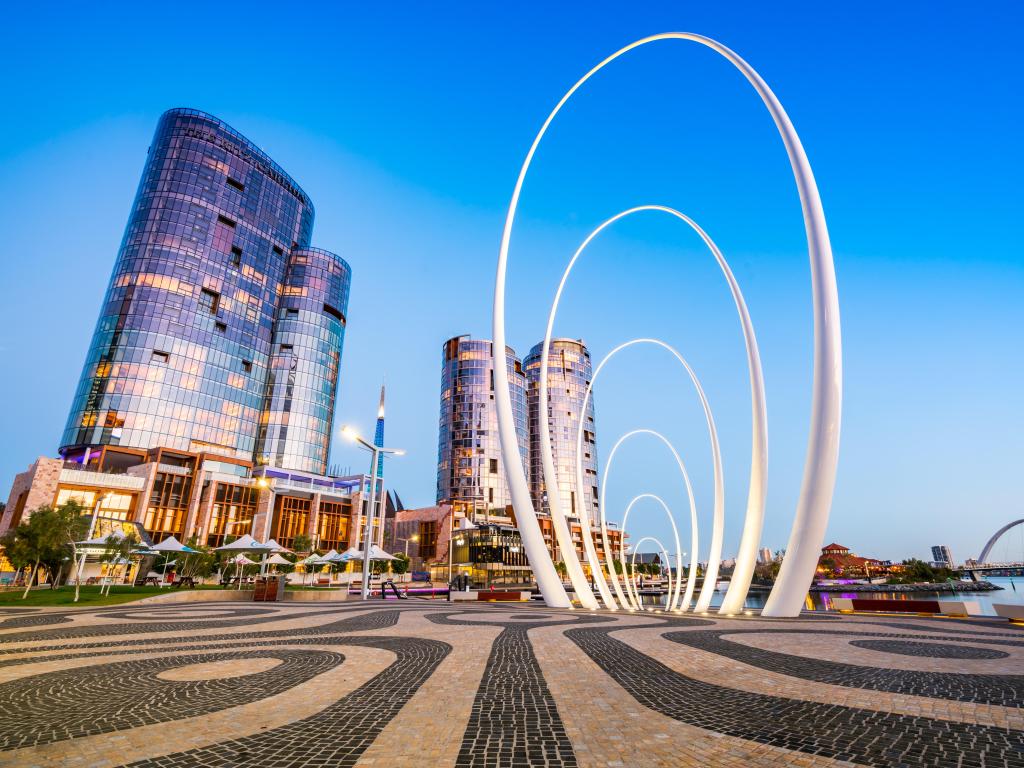 How to get there: Drive westward along A1, National Hwy 1, and National Route 1 to reach Dempster Street via Norseman Road. From Esperance, take National Route 1 to reach York Street in Albany.
Once you're in Albany, drive via National Route 1, State Routes 30, 102, and 10 to reach Wallcliffe Road. From Margaret River, take State Route 10, National Route 1, and State Route 2 and 53 to reach Perth.
Our highlights: Experience Esperance's Great Ocean Drive, a 40 km drive exhibiting an absolutely stunning coastline on this road trip.
Experience a magical cave at Margaret's Lake Cave. This place is a crystal chamber that is completely under the ground. There are very few natural phenomena that can compare to this.
For an unforgettable natural river cruise, enjoy Perth's Swan River Cruise. Take a day to visit Swan Valley upriver, the oldest grape-farming region in the country. You can also view the posh villas lining the coast.
According to the local Aboriginal people, "Waugal", a rainbow serpent, created the Swan River.
Bonus: Margaret is one of the stops on the Surfing World Championship Tour. Try to time your visit to see the world's best surfers take on the massive waves at this iconic reef.
Our travel tips: Do your best to time your visit between September and November since you will see the city in all its spring vibrancy.
READ MORE - Road Trip from Adelaide to Perth
15. Darwin via Uluru and Alice Springs, NT
36 hours from Adelaide (3,520 km)
Why you should visit:The journey from Adelaide to Darwin is the longest trip on this list. You will be driving from the southern tip of the country to the northern tip. It will be a once-in-a-lifetime experience.
This is perhaps one of the few places in the world where you will get to experience a meeting of the tropics and the outback.
Alice Springs and Uluru-Kata Tjuta National Park offer amazing geographical sights.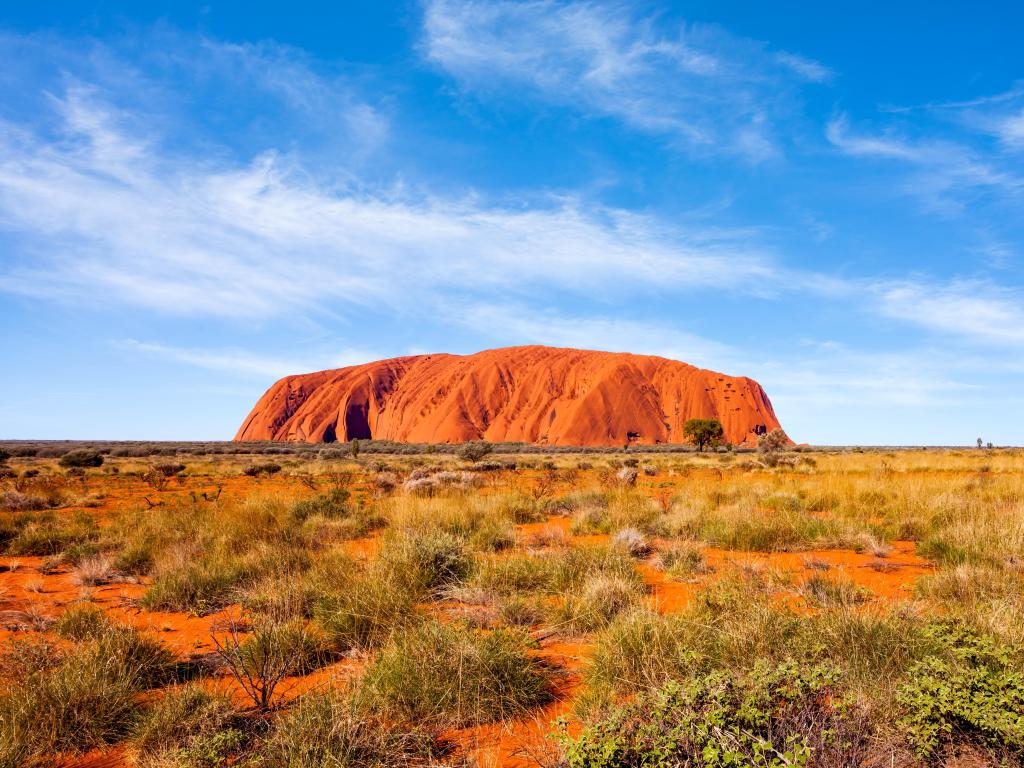 How to get there: Drive northward on the A1 and State Route 4 to reach Uluru-Kata Tjuta National Park. From there, drive back on State Route 4 to get onto National Hwy A87.
Follow A87 and exit onto Parsons Street to reach Alice Springs. From there, get back to A87, and drive northwards along A87 and A15, to reach Bennett Street in Darwin.
Our highlights: You cannot miss The Uluru Walk. Take your pick from the 6 pre-established routes that will retrace the footsteps of the ancestors of the Aborigines.
Another significant cultural sight is the Simpsons Gap in Alice Springs. The Arrente people consider it to be extremely spiritual. It is one of the most accessible photographic gaps in the West McDonnell Ranges.
Animal enthusiasts should visit Crocosaurus Cove. Crocodiles are the icon of NT, and there's no better place to experience it than here.
History buffs will love a visit to the Defence of Darwin Experience. Look back at the history of one of the few cities in Australia that was directly involved in WWII.
Bonus: There are many crocodiles in Darwin. So much so that some beaches are unsafe and do-not-swim signs spring up whenever crocs get close!
Our travel tips: The trip is a long one, so make sure you have plenty of days at hand.
The Uluru Walk is wheelchair accessible.
Winter (July) is typically the best season to visit Darwin.
READ MORE - Road Trip from Adelaide to Darwin