Road trip from Milan to Switzerland
Set off on an amazing journey from the stylish city streets of Milan to the gorgeous Alps and historic castles of Switzerland on this road trip, which takes you from Italy's most ornate city to the beautiful town of Basel, celebrated for its artistic offerings and beautiful riverside landscape.
The 490 km road trip from Milan to Switzerland will take 7 hours and 30 minutes to complete. You will get to visit Lake Como, Zurich, St. Moritz, Bern and Chur, and the picturesque towns of Saas-Fee, Gruyères and Montreux, nestled in the Swiss Alps.
Keep scrolling to find out what routes you can choose from, where to stop for an overnight stay and what you should expect to see on this fabulous trip.
How far is Switzerland from Milan, and how long will the road trip take?
Comparison of road trip routes between Milan and Switzerland
Route
Distance
Driving Time
The Quick Route


via Zurich

500 kilometers
7 hours 30 minutes
The Alpine Route
770 kilometers
11 hours
We've picked two of our favourite routes to get you from the stunning city of Milan through Switzerland to Basel. So, whether you'd prefer a leisurely drive through the mountains or a city-forward trip through Zurich, we've got you covered.
Our first suggested route is the Quick Route, which will take you on a relatively direct track past Lake Como. This route should take you about 7 hours and 30 minutes, traversing just under 500 kilometers.
The Alpine Route is a more leisurely trip that puts focus on getting the full Swiss Alp experience throughout the 770 kilometers, which should take you just over 11 hours to cover.
No matter which route you choose, we recommend sparing at least 3 or 4 days for this incredibly picturesque road trip.
Best road trip route from Milan to Switzerland
You really can't go wrong with picking between the Alpine Route and the Quick Route (via Zurich); both have tons on offer when it comes to attractions and natural beauty, and the cities along both routes make for wonderful exploration destinations.
Both routes offer some options for detours; for example, you could add a visit to Liechtenstein, one of the smallest and wealthiest countries in the world, if you take the Quick Route. And for both routes, you could add a Lake Como cruise that takes you to the stunning town of Bellagio—an unforgettable experience!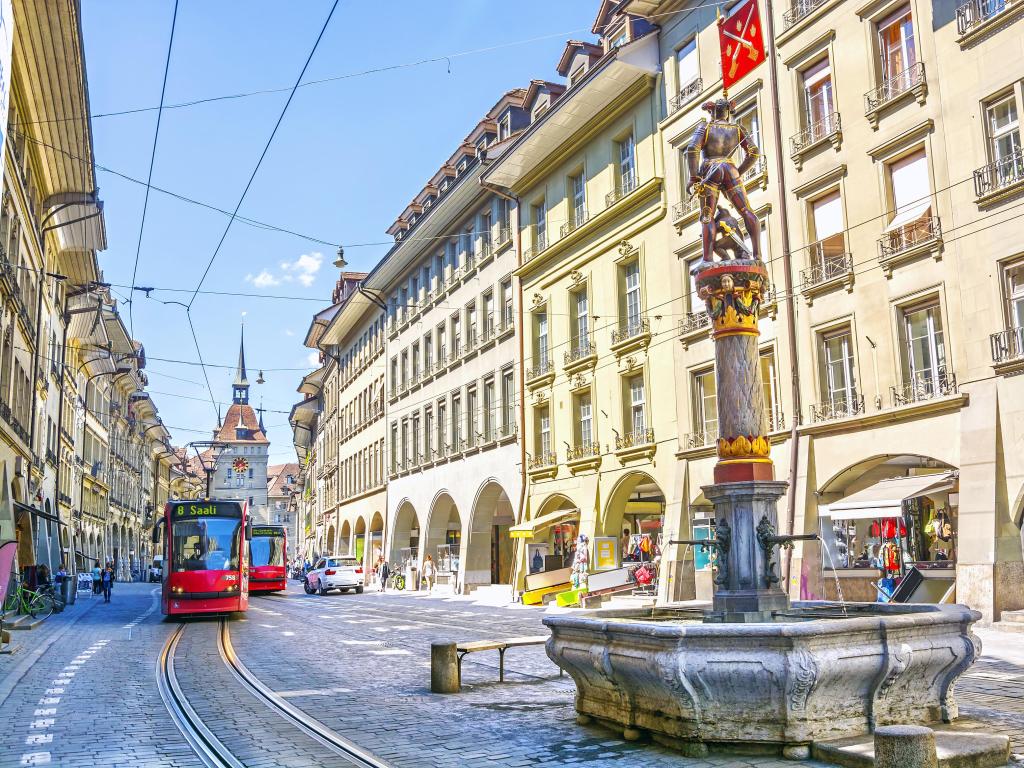 The Quick Route is shorter and more direct, so it's ideal if you're feeling a little pressed for time but still want to discover all the beauty that Switzerland and Northern Italy have to offer.
You'll have a stop in Lake Como as well as the Palazzo Pestalozzi, before crossing into the eastern side of Switzerland, where you'll make stops in fabulous St. Moritz, historic Chur and bustling Zurich.
If mountains and nature are more your thing, you might enjoy the Alpine Route for all the gorgeous views you'll get of the Swiss Alps. Enjoy a stop in gorgeous and quaint Bern, as well as visits to smaller but beloved towns like Gruyères, Saas-Fee, Montreux and Como, on the Italian side.
This route is really the ultimate way to discover the beauty of Switzerland's mountain region.
The Quick Route (via Zurich)
Shorter and more city-centric, the Quick Route will take you out of Milan via the A9 (also known as the Motorway of the Lakes), which you can follow until you've reached Lake Como, at which point you'll hop onto some smaller, lake-side roads towards Palazzo Pestalozzi.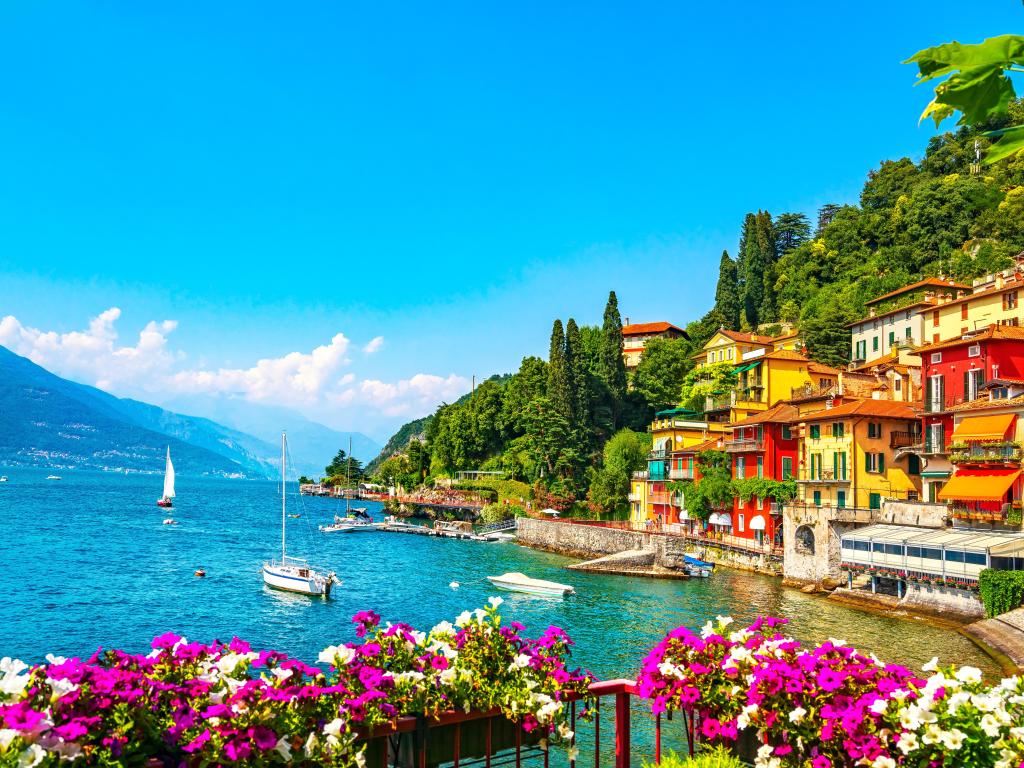 At that point, you'll enter into Switzerland, with the first stop being St. Moritz. Once you've explored this beautiful town, you'll hop onto Route 3 and merge onto the A13, which you can take to Chur, the oldest town in all of Switzerland.
From Chur, take the A3 and Route 4 to Zurich; we recommend spending a night in this wonderful city, after which you can hop onto the A1 and A3 and continue driving until you've reached Basel.
The Alpine Route
Our Alpine Route is slightly longer than the Quick Route, but it starts much the same way, with a trip down the Motorway of the Lakes towards Como. From the lake, you'll cross directly into Ticino, the southernmost and largely Italian-speaking canton of Switzerland.
Taking Route 2, you'll drive past Lucerne and several pristine lakes until you've reached Lauterbrunnen, which is known for its gorgeous waterfalls, cliffs and winter sports offerings.
From there, you'll continue weaving through the beautiful Swiss mountain range, stopping in Saas-Fee, Montreux and Gruyères, smaller but no less picturesque towns.
Your final stop, reached via the 12, is Bern, a wonderful town and perfect to grab lunch before continuing on your journey to the beautiful city of Basel.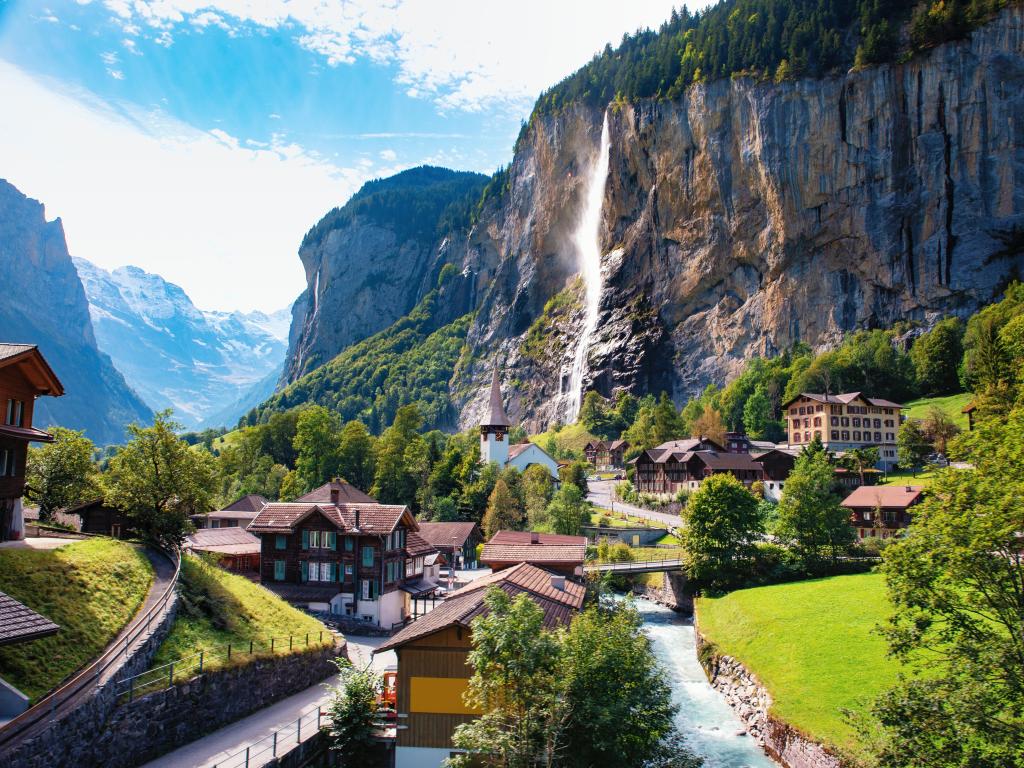 Best places to stop between Milan to Switzerland
We highly suggest stopping for an overnight stay regardless of what route you end up choosing because while both could be traversed in a day's drive, you'll get to enjoy beautiful Switzerland all the more if you plan for at least one overnight stop. Luckily, we've got a couple recommendations for the best cities and hotels for a rest along your route. Keep scrolling for our top picks!
Enjoy a luxurious stay at Zurich
If you're taking the Quick Route, there's really no better spot to stop for a night or two than in the beautiful city of Zurich, Switzerland's largest and boasting tons of unique attractions and sights.
The city of Zurich is known as a European and worldwide financial hub, home to dozens of banks as well as a celebrated financial district; the downtown area is absolutely stunning, well-maintained and boasting several stunning gilded churches.
As Zurich is such a financial powerhouse with a lot of business traffic and tourists passing through, you'll find no shortage of luxurious hotels, restaurants, and spas to enjoy.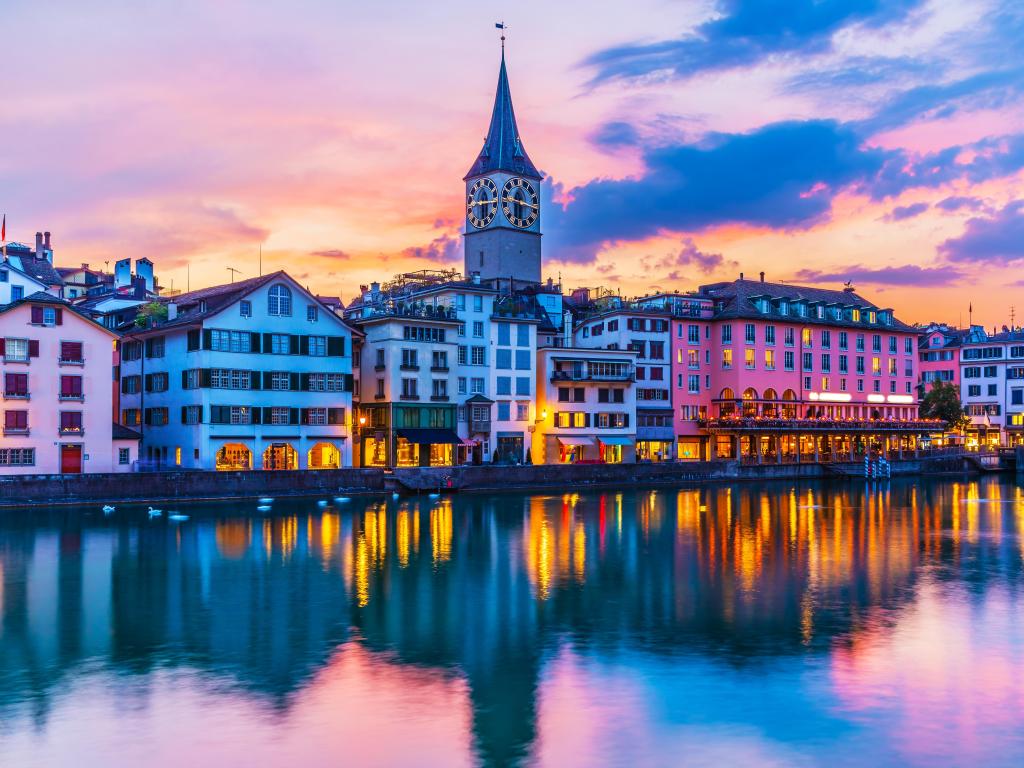 While it's hard to narrow down what exactly to see in a day's visit, we recommend starting with the Kunsthaus, Zurich's leading fine art museum that boasts a jaw-dropping collection of artworks, ranging from modern creations to centuries-old masterworks.
Near the museum, you'll find Zurich's Opera House, located along the Zurichsee and dominating the large central square. Try to catch a ballet, theatre or opera performance at this gorgeous theatre. And close by, you'll find the Chinagarten Zurich, another signature attraction of this city that showcases traditional Chinese architecture and garden designs.
If you're looking for a place to stay during your visit, we've got you covered with the Opera Hotel Zurich, located steps from the Opera House and Kunsthaus, and practically on the lakeside.
This luxurious hotel includes a complimentary breakfast buffet, contemporary rooms with chic décor and an on-site restaurant and café. It's ideally located, near most of the city's attractions, with equal access to indoor activities and the beautiful outdoor spaces for which Zurich is celebrated.
Admire the views of Lake Geneva in Montreux
If you're choosing the Alpine Route, we recommend stopping in the beautiful town of Montreux, nicknamed the Jewel of the Swiss Riviera. The Montreux Riviera is perfect for an overnight stay, where you can enjoy the gorgeous mountains and nearby Lake Geneva before heading out on the final leg of your journey to Basel.
Montreux is known for being a haven for artists; Chaplin, Mercury, Stravinsky, and Prince all frequented this town. It's famous for the Montreux Jazz Festival amongst several other festivals and offers tons when it comes to natural landscapes.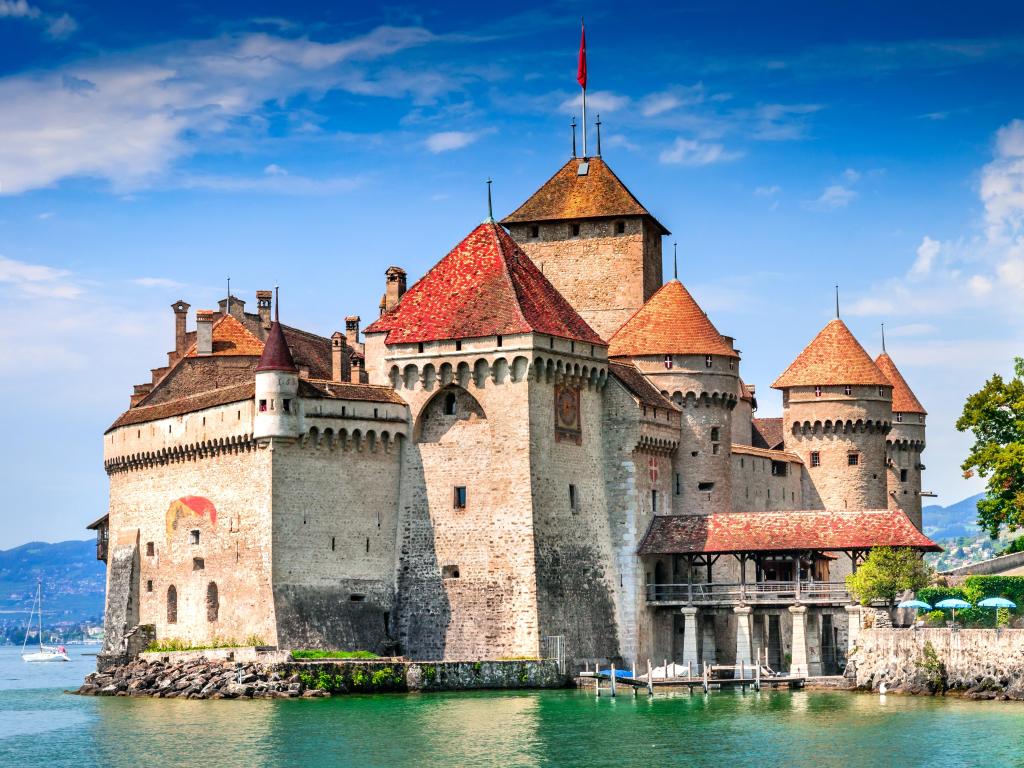 The city doesn't skimp on attractions either, including the beautiful medieval Chillon Castle, gorgeous views from the top Rochers de Noye (reachable by train) and the immersive Chaplin Museum, Chaplin's World.
When it comes to finding a good hotel, we recommend the Fairmont Le Montreux Palace. Located on the shores of Lake Geneva, this fabulous and luxurious hotel is a once-in-a-lifetime accommodation experience, dating all the way back to 1906.
The Hotel Fairmont offers refined dining spaces as well as gourmet food at one of its many restaurant options; the hotel also offers a complimentary breakfast buffet.
When it comes to relaxation, you needn't look anywhere but this hotel, which offers an impressively luxurious spa, a fitness and health center, which also comes with a fabulous outdoor pool, open during the summer.
Best of all, the hotel is located in the heart of Montreux, close to most of the town's attractions and close to the highway you'll take out of town when you continue towards Bern and, further, Basel.
Where to stay when you reach Switzerland
It might be hard finding a place to stay for a longer period in Basel, which we hope you'll take a few days to explore!
Our recommendation is Hyperion Hotel Basel, located in Basel's tallest habitable building close to the Old Town and next to the Basel Messe trade fair center. The hotel boasts a sauna and fitness center, a celebrated restaurant as well as two bars, and has been highly rated and reviewed.
Best of all – the hotel provides all guests with free public transport tickets for guests, perfect for if you're tired of driving and don't want to worry about driving your car in the city.
Things to see on a road trip from Milan to Switzerland
There are endless attractions along both the Quick Route and the Alpine Route; here's a selection of some of our favourites.
The Quick Route
Segantini Museum - Located within the city of St. Moritz, the Segantini Museum is nestled in the mountains and home to the largest Segantini collection in the world.
Parc Ela - The largest nature park in Switzerland, Parc Ela offers an unparalleled experience exploring the stunning Swiss Alps and gorgeous green valleys of this region.
Aargau Jura Park – Explore this wonderful regional park, which is known for its many hiking and biking trails, taking you through signature Swiss forests.
Swiss Museum of Transport – Take in this interactive museum, featuring a celebrated façade and known for its extensive Hans Enri collection.
Liechtenstein - Cross Liechtenstein off your bucket list; the world's wealthiest country offers picturesque views of the Rhine and the Alps and is located right along your route.
Zurich Succulent Plant Collection - For the plant fans, make sure to stop at the Zurich Succulent Plant Collection, which boasts dozens of adorable cacti, on your way into the city.
Habsburg Castle - This colossal medieval fortress is located in Habsburg and was recently transformed into a museum offering tours, exhibits and more.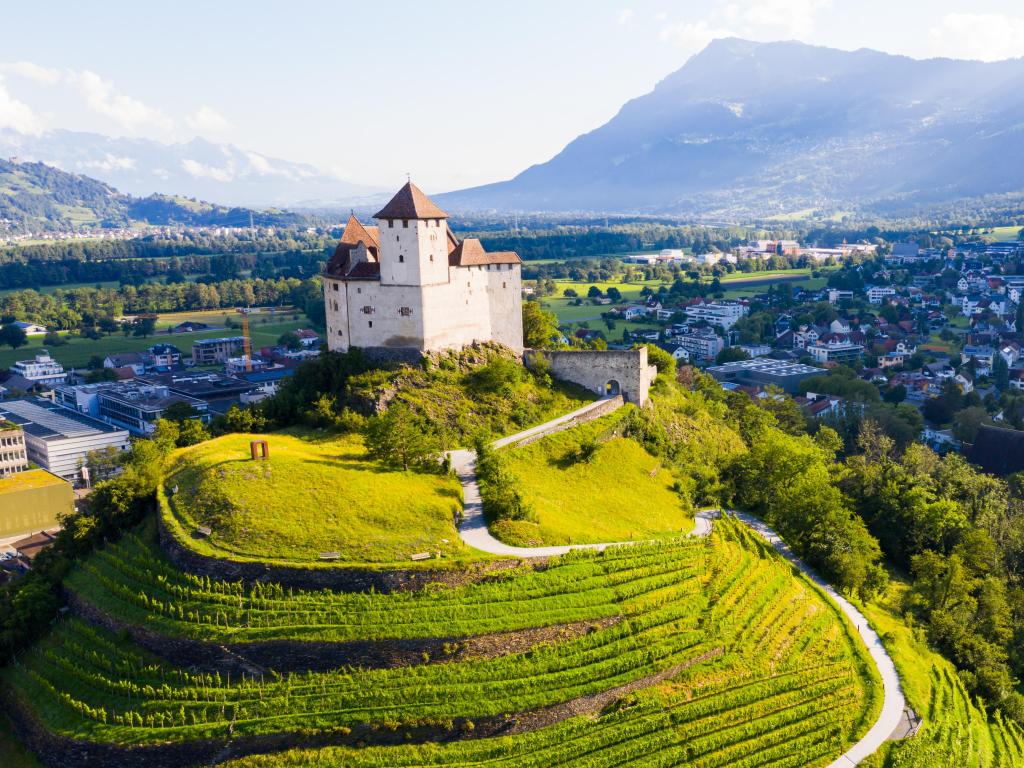 The Alpine Route
Lauterbrunnen - Boasting glacial waterfalls, dozens of hiking trails and adorable villages, the Lauterbrunnen Valley is a must-visit along this route.
Gruyères - Perhaps best known for their cheese, the town of Gruyères also offers a gorgeous medieval center and historic museums.
Diemtigtal Nature Park – Discover this gorgeous park, located within the stunning alpine valley and best known for its many winter and outdoor sport offerings!
Zentrum Paul Klee – Take in the art of Paul Klee, a celebrated painter, at this art museum offering two exhibition halls dedicated to the artist.
Museum of Fine Arts Bern – This museum on the banks of the Aare river boasts a wonderful collection of works by household-name artists like Oppenheim and Picasso.
Käfigturm – This tower, dating back to 1644 and measuring just under 50 metres, features a stunning clock and bell and is found right in Bern's center.
Chateau de Chenaux - Stretch your legs with a visit to this beautiful chateau, located on the banks of the Neuchatel Lake. Adds about an hour to your route!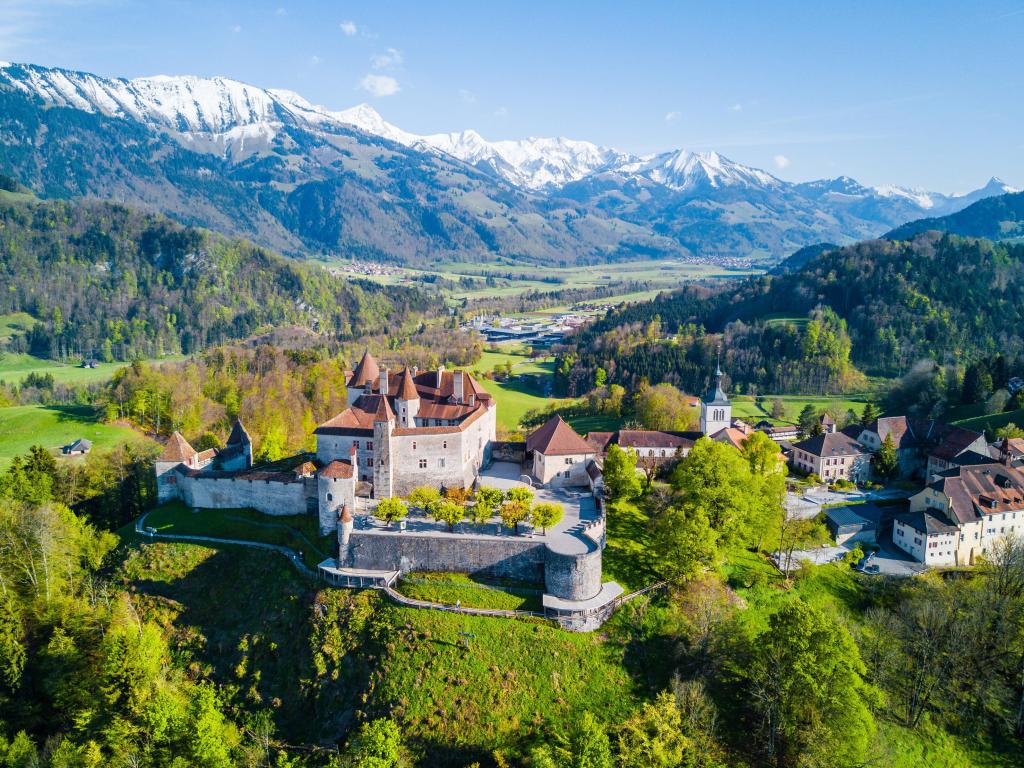 Both Routes
Lake Como - Discover the celebrated blue waters of Lake Como, the most profound lake in Italy and home to dozens of stunning villas. Best explored by cruise!
Bellagio - You can get to Bellagio via cruise or by car; we recommend the water route, so you can see the stunning town from Lake Como.
Best time to go on a road trip from Milan to Switzerland
One of our favourite things about Switzerland is that it's great to visit any time of year. The country is celebrated for its many natural offerings, including stunning alpine landscapes and valleys; these areas are just as beautiful in the winter, covered in ice and snow, as they are in the summer when the snow melts to reveal gorgeous greenery.
If you're visiting in the summer, you'll be in for relatively mild temperatures, ranging between and rarely exceeding 18 and 28 degrees Celsius.
Summer happens to be one of the busiest for this country when it comes to tourism, so be ready for higher accommodation costs in some of the bigger cities during this time. If you're not a fan of crowds, we recommend visiting in the winter or fall!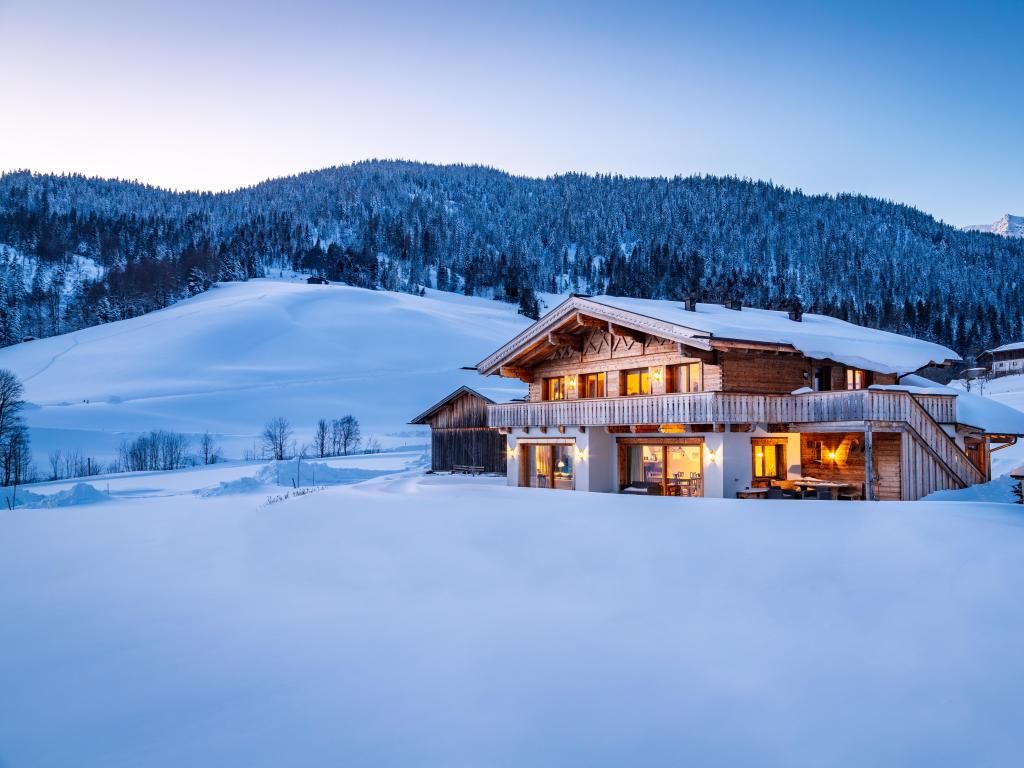 Visiting Switzerland in the winter is truly a unique and special experience. While the winters can be cold, ranging between -2 and 7 degrees Celsius (depending on the city and altitude), the beautiful snow makes it all worth it.
Because the country is a favourite travel destination for winter sports fans, prepare for an influx of tourism during this season in the skiing villages within the Alps.
Spring and fall are wonderful seasons to visit Switzerland, as the temperatures are milder than in the summer or winter, and the tourism rates are generally lower. Temperatures during these periods range between 8 and 15 degrees Celsius, region and altitude depending.
If you're looking for a festival or event during your visit, fear not: there are tons! Some of our favourites include the ZüriCarneval, Bern International Jazz Festival and Zurich Spring Festival in the spring, the Caliente and Bol D'Or Mirabaud in the summer, and the Bern Carnival in the winter and spring.
Regardless of when you visit, or which you route you choose, we're sure you'll have a fabulous time exploring the gorgeous country of Switzerland.