Road Trip from Paris to Switzerland
This once-in-a-lifetime European road trip journeys through the lush Burgundy region of France and the stunning Swiss Alps, with stops in Switzerland's major cities and chocolate-box towns. You'll get to sample iconic wines and cheeses at their point of origin and discover picture-postcard landscapes.
The 880 km road trip from Paris to Switzerland takes 11 hours to drive. On the way you'll pass through Dijon, Lyon, Auxerre, the forests of Bourgogne-Franche-Comte, the Swiss Alps, Zürich, Bern, Geneva, Lucerne, Andermatt, Lausanne and Saas-Fee.
If fresh mountain air and snow-capped peaks spark your imagination, this is the trip for you. Read on to discover the best travel routes and what to see and experience along the way.
How far is Switzerland from Paris, and how long will the road trip take?
Comparison of road trip routes between Paris and Switzerland
Route
Distance
Driving Time
The Zurich Route


(from Paris to Saas-Fee, via Zurich)

880 kilometers
11 hours
The Geneva Route


(from Saas-Fee back to Paris, via Geneva)

840 kilometers
9 hours 50 minutes
The Entire Round Trip
1,720 kilometers
20 hours 30 minutes
The Zurich Route from Paris to the Swiss Alps is 880 km in length and takes 11 hours to drive, not accounting for the time spent at any stops along the way. It's the best route to take you through France and through the mountains, taking you via the big cities on the German side of Switzerland.
The Geneva Route picks up where the Zurich Route ends and takes you via the lake-side cities of French Switzerland and back through the Alps into France. This route is 840 km long and takes 9 hours and 50 minutes to drive.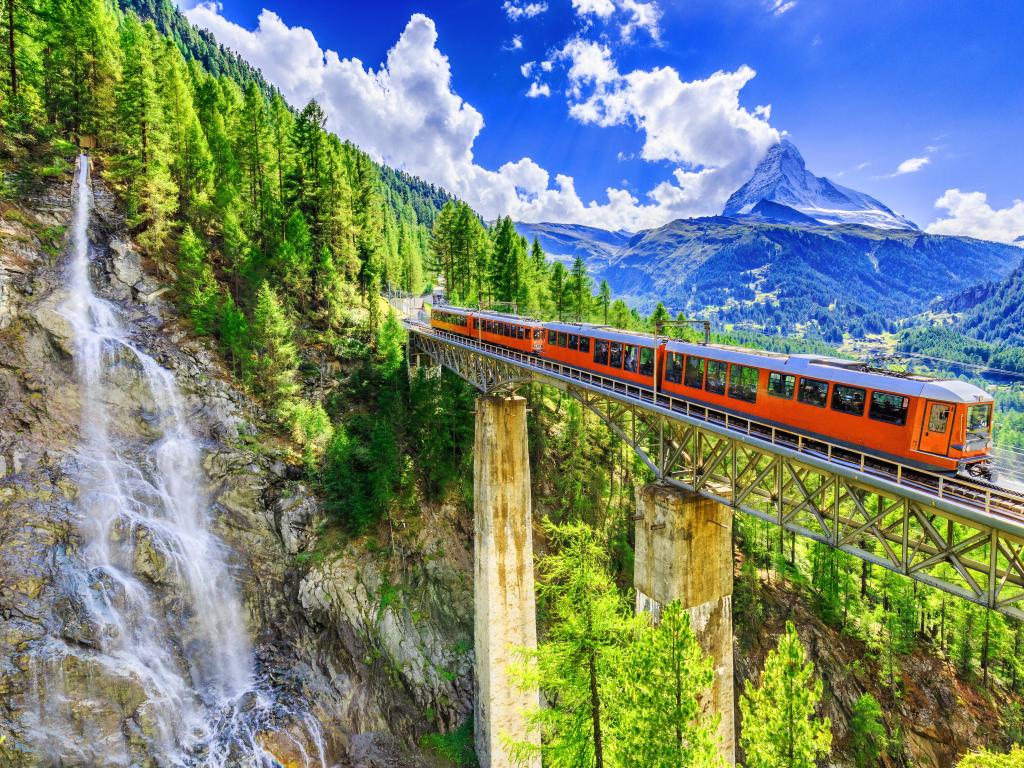 To cover the entire round road trip of 1,720 km will take 20 hours 30 minutes of driving, and we'd recommend giving yourself 7-8 days to do the trip justice. That way, you can dedicate enough time to relaxing in the gingerbread chalets, lakeside sun loungers and mountain cabins along the way.
Best road trip route from Paris to Switzerland
Whether you're driving one of half the route or completing the whole circuit, you're in for an incredibly scenic ride through mountain vistas, lush green valleys and picturesque towns.
The Zurich Route winds via the vineyards of beautiful Bourgogne, celebrated for its delicious wines and local speciality Beef Bourguignon.
You'll pass through the sky-scraping Alps and into the German-influenced side of Switzerland, stopping in major cities such as Lucerne and Zürich as well as the smaller resort towns of Andermatt and Saas-Fee.
The Geneva Route starts in the Alpine village of Saas-Fee, and loops through the stunning lake-side cities of French Switzerland, including Lausanne and Geneva, before continuing back to Paris.
You'll get to enjoy the stunning mountain drive from your starting point to beautiful Bern, home to the Lindt chocolate factory and boasting magnificent historic architecture.
What does the entire round trip route look like?
This is a road trip with plenty of options: you could head for Zurich, via Dijon and Basel, and then continue to the Swiss Alps if you wish. Alternatively, there's an option to arrive at Switzerland via Geneva and venture on to the Swiss Alps from there.
Both options are wonderful in their own right. However, to get the most out of your visit to Switzerland, we recommend touring Basel, Zurich, Andermatt, Saas-Fee, Bern, Lausanne and Geneva on and epic round trip, before heading back to Paris.
The Zurich Route
From Paris, get on the Boulevard Périphérique and follow A6 south through Gâtinais Français Natural Regional Park, which has great hiking and biking trails.
Rejoin A6 and take exit A38 towards Dijon. Follow A38 and continue on D905 to arrive in Dijon, home of the famous mustard named after the city. Take A39 out of Dijon and make a short detour to Auxonne to sample their Burgundy wines.
Soon, take the turning for A36. Merge onto E25 to cross the Swiss border and enter the art town of Basel. Keep left to continue on A3, then follow signs for Route 1 just after you cross the Aare River. Continue on Route 1 to arrive in Zurich.
Follow A3 south from Zürich and continue onto A4. Keep left to join A14, then take Route 2 to arrive in Lucerne. Get on A2 and wind through the mountains to Andermatt. Once you've tried your hand at a few of their famous ski slopes, take Gotthardstrasse to Route 19 and follow signs for Saas-Fee.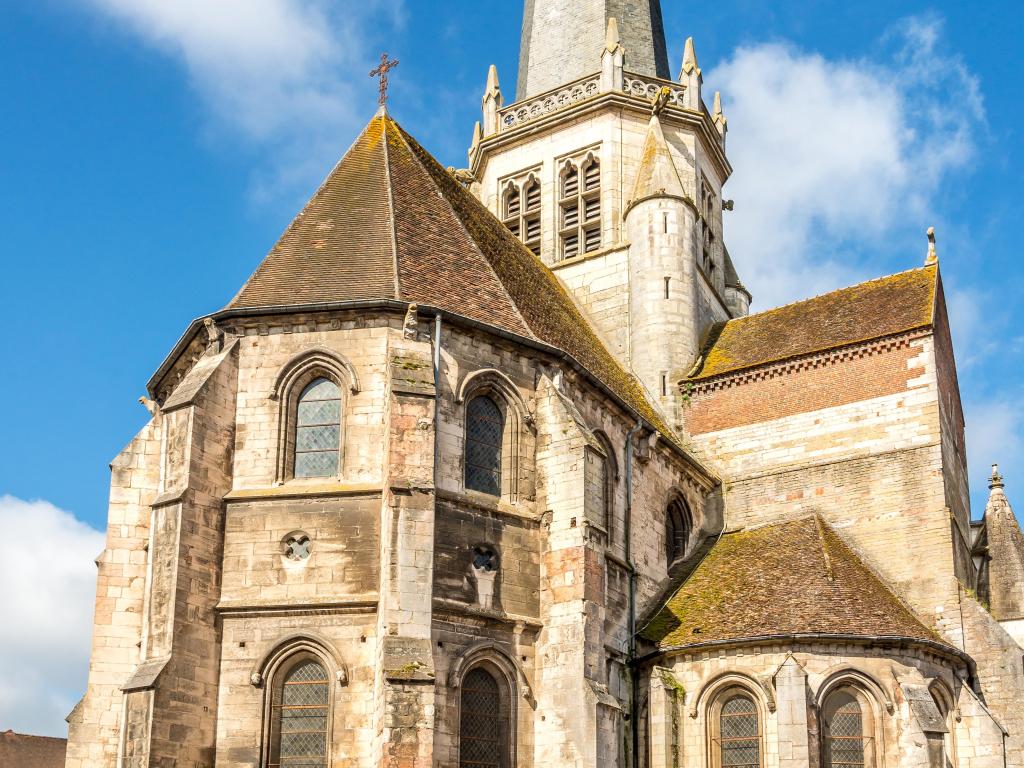 The Geneva Route (back to Paris, from Switzerland)
From Saas-Fee, follow signs for the Lötschberg Tunnel train to Kandersteg. Once you're transported handily to the other side of the mountain, follow signs for A6 and continue on this road to reach Bern.
With your car stocked full of Swiss chocolate, follow A1 to the shores of the incredibly scenic Lake Geneva to reach Lausanne. Hug the shores of the lake to continue on A1 and take the exit for Geneva.
Follow signs to A40 as you cross the French border and subsequently the Rhine. Continue on A40 and merge onto A6 as you cross over the Seine and continue north towards Paris. Take the exit toward Paris-Centre from Bd Périphérique.
Best places to stop between Paris and Switzerland
Both parts of the route take in a generous amount of glorious mountain scenery, and there is a myriad of impossibly picturesque towns and villages along the way.
We've selected a few of our favourite locations to park up and explore, though you'll definitely want to leave time to make a few unplanned stops for stunning viewpoints and toasty hot chocolates.
Discover the arts in Zürich
A little over halfway along The Zurich Route lies Zurich, Switzerland's largest city which definitely deserves a night (or two) of exploration. Walking through the city, you'll see stunning gilded churches and luxury shopping, as well as some great high-end dining.
You won't miss the beautiful Opernhaus Zurich - located right along the Zürichsee, Zurich's opera house dominates a large central square and boasts world-class opera, ballet and theatre performances. Why not see if you can catch a show?
It's worth devoting a few hours to Kunsthaus, a museum with an unrivalled collection housed within a grand bronze building. Here you'll find works by household names as well as young Swiss talent.
Stretch your legs at the Chinagarten Zurich, a unique park and garden which takes pedestrians on a walkable journey through traditional Chinese architecture.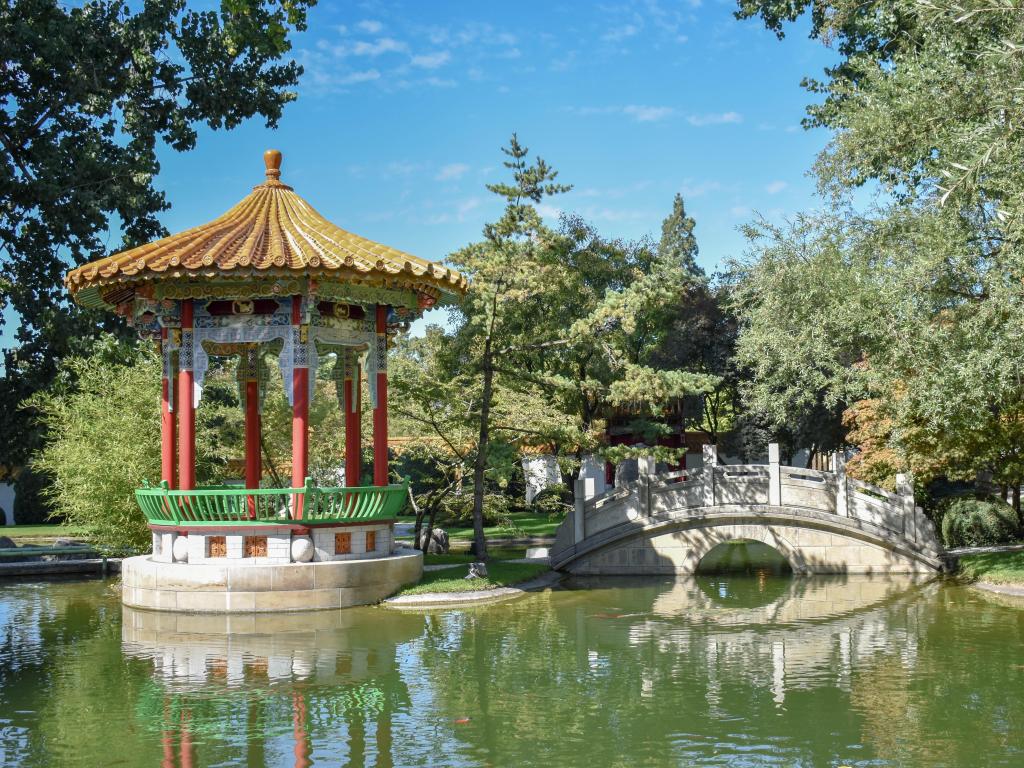 Lean into the luxury at Opera Hotel Zurich, a world-class hotel facing the stunning opera house and just a few minutes' walk to the lake. All reservations include complimentary access to a large breakfast buffet, and there is also an on-site restaurant and café.
This hotel is ideally located right in the center of Zurich, within the affluent Seefeld district, and is within walking distance of top attractions including the Bahnhofstrasse shopping area and several museums. It also has easy access to Zürich's public transportation system if you want to travel further outside of the city.
Enjoy lakeside luxury in Geneva
About halfway along The Geneva Route is the last Swiss city on this itinerary before entering back into France. Geneva is a historic and stunning lakeside city that definitely merits a visit.
It's known as the capital of luxury watches and jewellery and is home to some of the world's largest organisations, including the World Health Organization, World Trade Organization, Red Cross and the UN.
It's impossible to miss the Geneva Water Fountain, a dramatic water jet shooting high into the sky straight out of Lake Geneva. Another local landmark is the Flower Clock, an outdoor timepiece made entirely of flowers.
It's worth popping into St Pierre Cathedral, which dates back to the 12th century and boasts wonderful Roman Catholic architecture. Bonus - it's free to visit.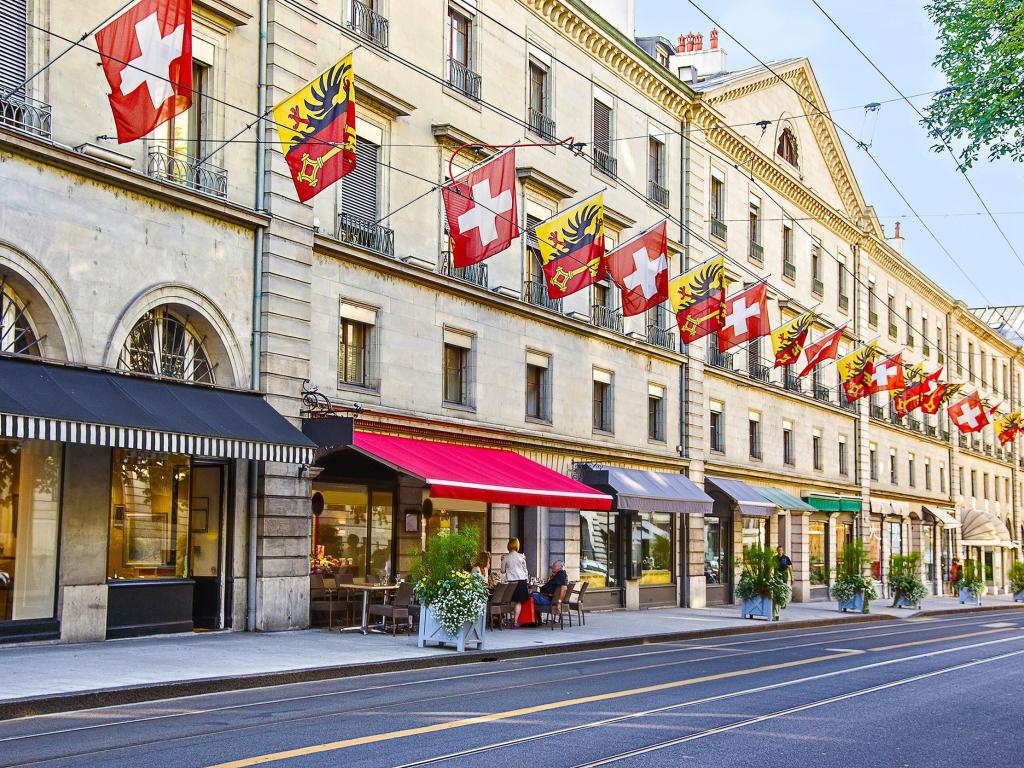 For a luxurious stay to match the surroundings, Hotel Metropole Geneve is a 5-star establishment with panoramic views over the lake. It has a great on-site restaurant offering modern cuisine from nearby Italy, and an on-site lounge during the summer where you can sip decadent cocktails with a view.
The hotel is situated on Geneva's ancient fortifications and is therefore right in the heart of the city, surrounded by tons of unique attractions, including the Patek Philippe Museum.
A luxurious stop at Lausanne
On the way back, you may want to spend the night in Lausanne before making the long drive back to Paris. The Royal Savoy Hotel & Spa is located in the beautiful city center, just a 5-minute walk from Lake Geneva and the Fine Arts Museum.
The stylish hotel is a landmark in itself - the Savoy Wing is housed in an Art Nouveau-style building with lake views, while the Park Wing is located in the midst of a city park and offers rooms with private balconies.
The facilities here are unmatched - with a 24-hour fitness center and 2 full-service spas, there is also a separate spa area for female guests who prefer privacy. Breakfast is included, and there is an on-site restaurant, bar, terrace bar and cigar lounge.
Things to see on a road trip from Paris to Switzerland
The traditional French countryside is home to a wealth of churches and markets, while Switzerland offers up scenic parks and fine art museums. You'll get your fill of cultural activities and eat some delicious local cuisine along the way.
The Zurich Route
Palais des Ducs et des États de Bourgogne - Located in Dijon's centre, this medieval palace boasts a wonderful collection of artefacts dating back to the Middle Ages and the Renaissance.
Les Halles Market - Take in this traditional French market, boasting tons of delicious produce and products typical to the Burgundy region. Make sure to visit in the morning!
Maille Dijon Mustard - If you're a fan of the famous Dijon mustard, you'll want to check out this small store located within the city's shopping district, where you can enjoy free samples and create customised mustard pots.
Consortium Museum - Discover unique contemporary art exhibits at the Consortium Museum, where you'll also find a cool library housing small-batch art books.
Lake Tille - Open during the summers, Lake Tille is a great place for a dip or to enjoy a delicious picnic.
Sanctuaire Notre Dame de Mont Roland - Visit this stunning church, which is beautifully lit in the evening.
Mulhouse, France - Stop by Mulhouse, located near the Swiss and German borders and boasting a stunning 12th century Gothic Temple.
Aargau Jura Park - Take a walk through this regional natural park, which boasts tons of hiking and biking trails through stunning Swiss landscapes.
Swiss Museum of Transport - This interactive museum features an iconic facade and boasts works by artist Hans Enri, as well as a planetarium.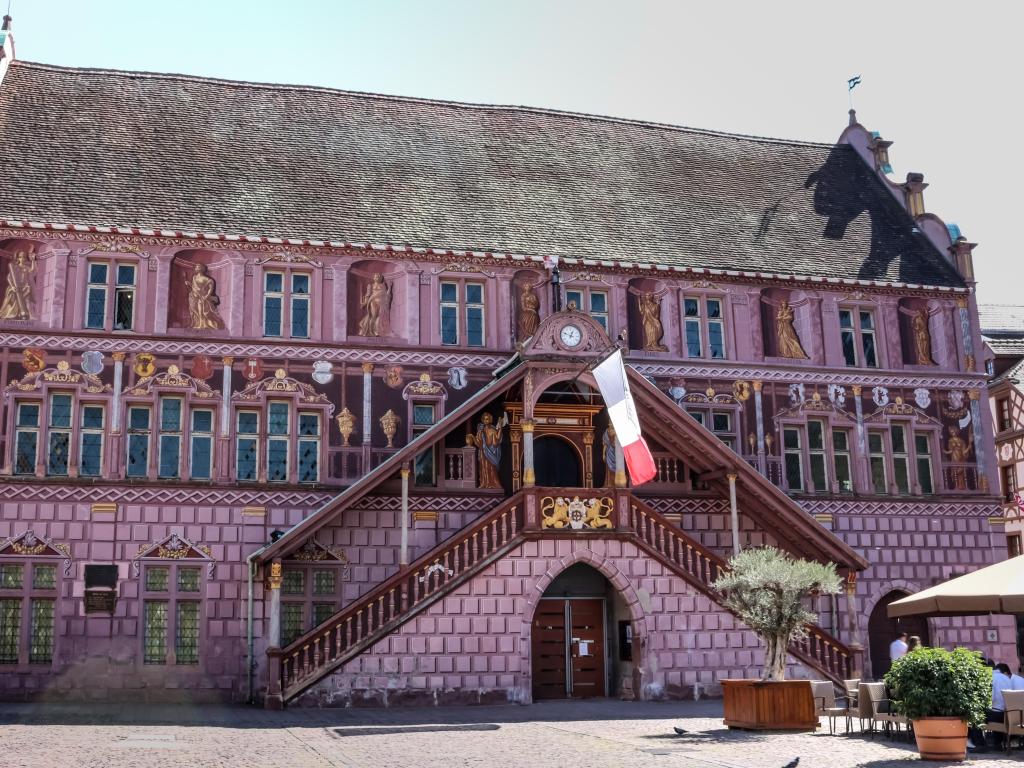 The Geneva Route
Diemtigtal Nature Park - Explore this picturesque park, located within a stunning alpine valley and known for its winter activity offerings.
Zentrum Paul Klee - Discover this signature Bern attraction, an art museum with two exhibition halls entirely dedicated to exploring the works of Paul Klee.
Museum of Fine Arts Bern - Located along the Aare river, this museum was opened in 1879 and boasts works by household-name artists like Oppenheim and Picasso.
Käfigturm - Dating back to 1644, this 49-metre baroque tower features a beautiful clock and bell and is located in Bern's centre.
Papiliorama - Located about 15 minutes off-route, this animal park and butterfly habitat boasts tons of insects and nocturnal animals.
Chateau de Chenaux - Take a break from your drive and walk through the grounds of this beautiful chateau, located on the banks of the Neuchatel Lake.
Lausanne Cathedral - This massive Gothic cathedral was built in the 1100s and is celebrated for its ornate painted portal and vibrant rose window.
The Olympic Museum - Located in the heart of Lausanne, this Museum offers permanent exhibits about Olympic athletes and architects.
Vufflens Castle - This picturesque castle is the perfect pit-stop, located 15-minutes off-route and boasting beautiful gardens.
Annecy, France - Add about an hour to your route and discover this stunning lake-side town. You can take a bike tour of Annecy Lake or hop in its cool clear waters for a swim!
Lyon, France - In a few hours you can add this beautiful historic city to your itinerary, known as the "Gastronomical Capital of the World"!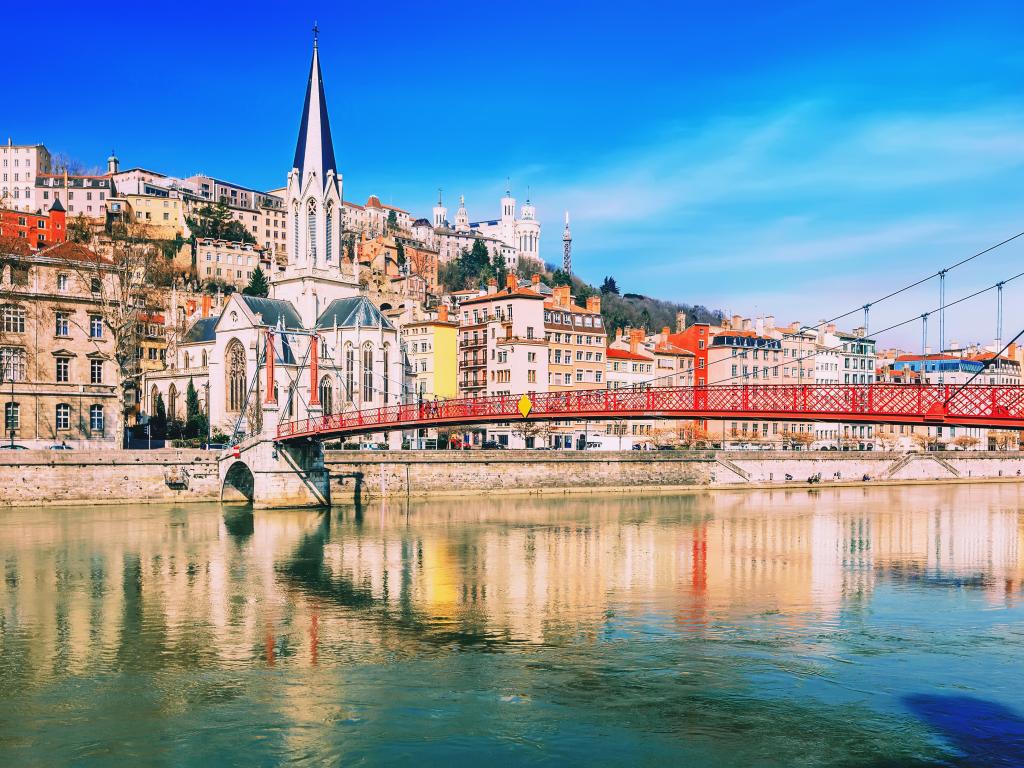 Both routes
Gatinais Francais Natural Regional Park - Take a bike ride through this beautiful park, boasting large expanses of forest and sandstone as well as historic buildings.
Ile de France Prehistory Museum - Located in the small commune of Nemours, this museum is surrounded by forest and boasts 600,000 years of excavated relics from Ile de France.
Auxerre, France - Discover this small town known for its Burgundy wines, canal walks and historic architecture, a great spot to stop for lunch.
Best time to go on a road trip from Paris to Switzerland
Switzerland is a great country to visit any time of year. Celebrated for its natural offerings, including mountainous landscapes and alpine valleys, Switzerland is equally as beautiful covered by a layer of white snow as it is during the green summer months.
In the summer temperatures are pleasant, ranging from 18 degrees to 28 degrees Celsius. Summer is Switzerland's tourist season, meaning that you can expect higher accommodation costs in the bigger cities during this time.
Avoid this season if you prefer to visit when there are smaller crowds, or if you're looking for a wintery Swiss escape, as you won't be able to do much skiing.
If you visit in the summer, you may also visit the Zurich Festival, Zurich Pride Festival, Bol D'Or Mirabaud and Lausanne Dance Festival.
Winters in Switzerland are cold, with temperatures ranging from between -2 and 7 degrees Celsius, though this varies a little depending on the area.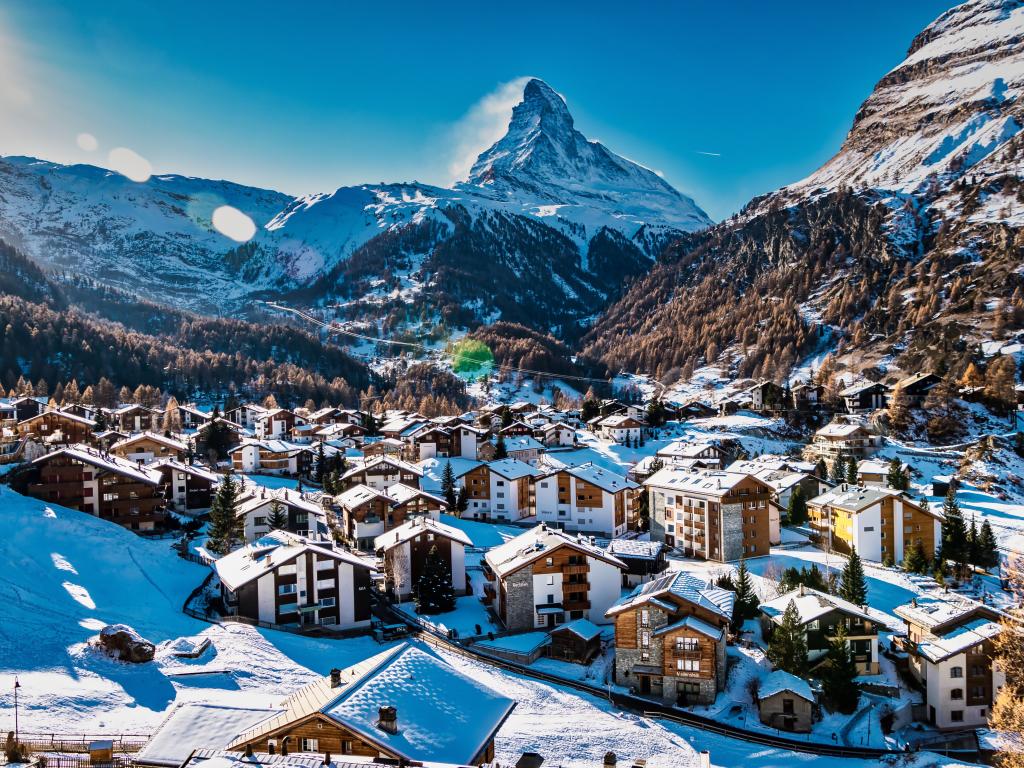 Switzerland is world-renowned for its alpine skiing offerings, so there's an influx of tourism during this season to the skiing villages in the Alps. Winter festivities include Fête de l'Escalade, Lausanne Bach Festival and Prix de Lausanne.
The shoulder seasons can be a good time to visit, as the weather is pleasant with temperatures falling between 8 and 15 degrees. It may also be possible to find cheaper accommodation during these times.
In spring, you can catch Zürich Spring Festival, Bern Carnival and Bern International Jazz Festival, while in the autumn Zürich Film Festival takes place.