Road Trip from Nashville to Gatlinburg
Full of wonders, excitement and inspiration, the road trip from Nashville to Gatlinburg deserves serious consideration. Whether you are a beginner or an expert voyager, this thrilling adventure is bound to astound you with its beautiful natural and urban scenery.
The 295-mile road trip from Nashville to Gatlinburg takes 5 hours to drive. Popular sites include Great Smoky Mountains National Park, Cherokee National Forest, Fall Creek Falls and Cloudland Canyon State Parks as well as Chattanooga and Knoxville.
This is only a small selection of the many landmarks and attractions you can see on this deceptively short journey. Keep on reading to learn about the best road trip route, where to stay along the way, and the best time to take your road trip.
How far is Gatlinburg from Nashville and how long will the road trip take?
The best and most scenic road trip route from Nashville to Gatlinburg will take around 5 hours of driving and will cover 295 miles. In order to make the most out of this exciting trip, it is advisable to make as many stops along the way as possible.
The drive is straightforward, and chances are you won't run into any traffic until you reach Gatlinburg. There are plenty of possibilities for exciting detours, some of which can extend your trip up to a couple of days, such as those to Atlanta and Huntsville.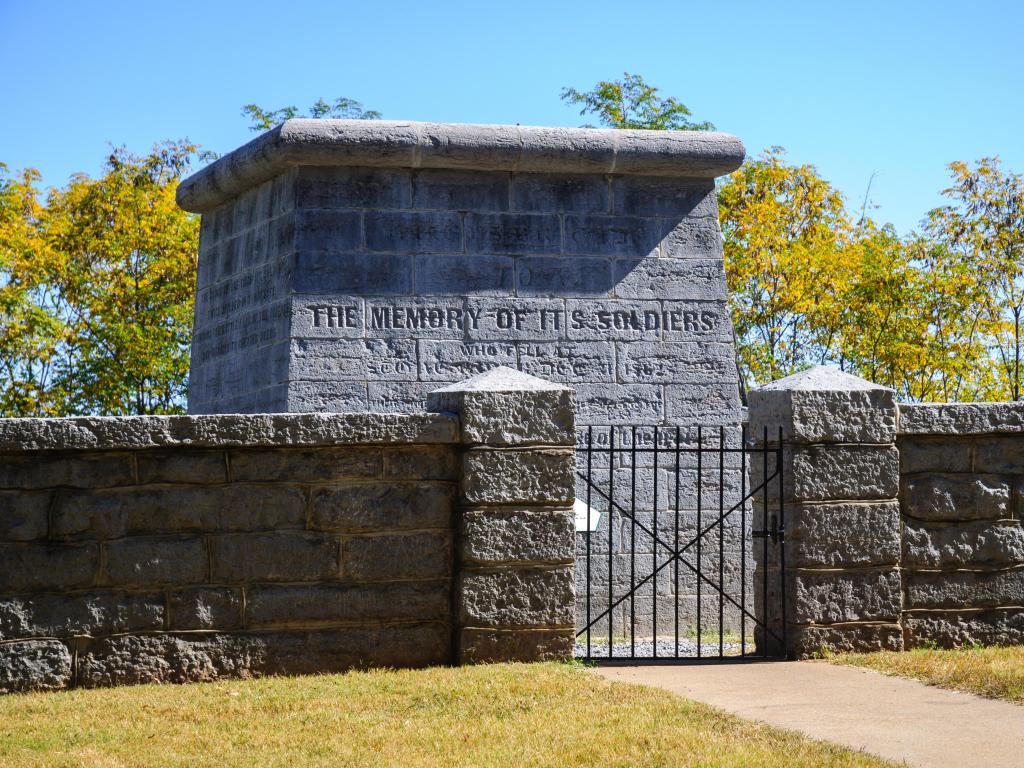 The drive is overflowing with unforgettable sites, gorgeous landscapes and scenic attractions, such as Old Stone Fort State Archeological Park, The Lost Sea Adventure, Nantahala National Forest and many more.
Even though you could do the trip in less than a day, it is best to devote two to three days to the road trip alone and appreciate the mountainous landscapes of East Tennessee.
Best road trip route from Nashville to Gatlinburg
A road trip from Nashville to Gatlinburg is a fantastic and easy drive through some of the most interesting attractions and landmarks of Tennessee. You will be mostly driving through interstates and main roads, which makes this scenic drive also a smooth one.
Depending on the season, you might run into some traffic or run into some closed out routes, which shouldn't be a problem as long as you inform yourself beforehand.
Road trip route from Nashville to Gatlinburg
While leaving Nashville, take Exit 53 and hop on to Interstate 24 (I-24) towards Murfreesboro, where you would want to stop for a tour at Stones River National Battlefield.
After your visit, continue northeast towards Manchester where you can find the Old Stone Fort State Archeological Park.
On your way out of Manchester, you could immediately make a long detour to Huntsville by taking Exit 127 for US-64, which will merge onto TN-121 before taking you to Huntsville in Alabama.
If not making this detour, follow I-24 and detour later on, before crossing Nickajack Lake by following US-72. Back on the main route, stick to the interstate until you reach Chattanooga, there you could detour northward to Cloudland Canyon State Park.
After you have decided whether or not you would like to rest up at one of the resorts in Chattanooga, you should consider driving to Atlanta for an exciting adventure in this dazzling city.
To make this detour, take Exit 185A for Interstate 75 South (I-75) which will take you directly into the city past Marietta. Follow the same interstate north back after your visit.
You can also make a detour to Chattahoochee-Oconee National Forests here by following US-74 past Cleveland.
Otherwise, take Interstate 75 (I-75) towards Knoxville where you can take time to explore the city. Follow Interstate 40 (I-40) out of the city and take Exit 407 towards TN-66.
Drive past Douglas Lake, through Sevierville and Pigeon Forge where you can visit Dollywood and TITANIC Museum Attraction. Follow US-441 towards your final destination – Gatlinburg.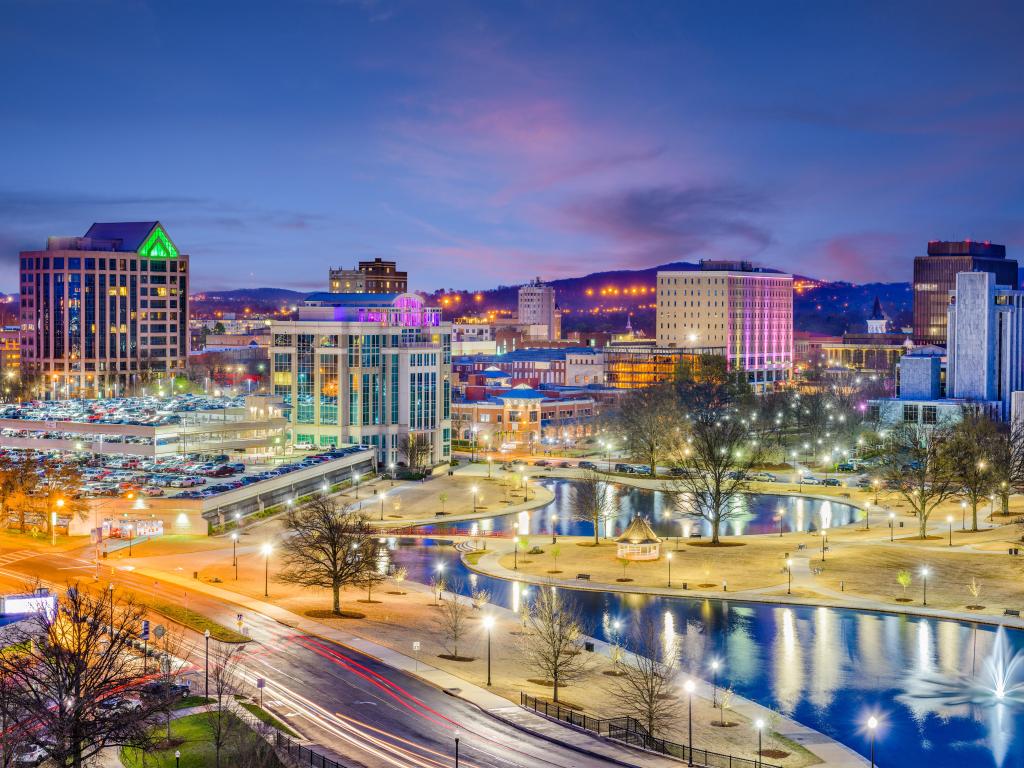 Best places to stop between Nashville and Gatlinburg
The straightforward and laid-back nature of the road trip from Nashville to Gatlinburg will make your journey feel seamless. That being said, it won't hurt to extend the trip by a day or two for some additional relaxation at one of these great resorts along the way:
Get in touch with nature at Chattanooga
Named the "Scenic City", Chattanooga, located 2 hours from Nashville, is known for its beautiful scenic surroundings, perfect for outdoor activities. The abundant kayak routes, hiking and climbing trails will make for a great vacation and so will a night at The Read House.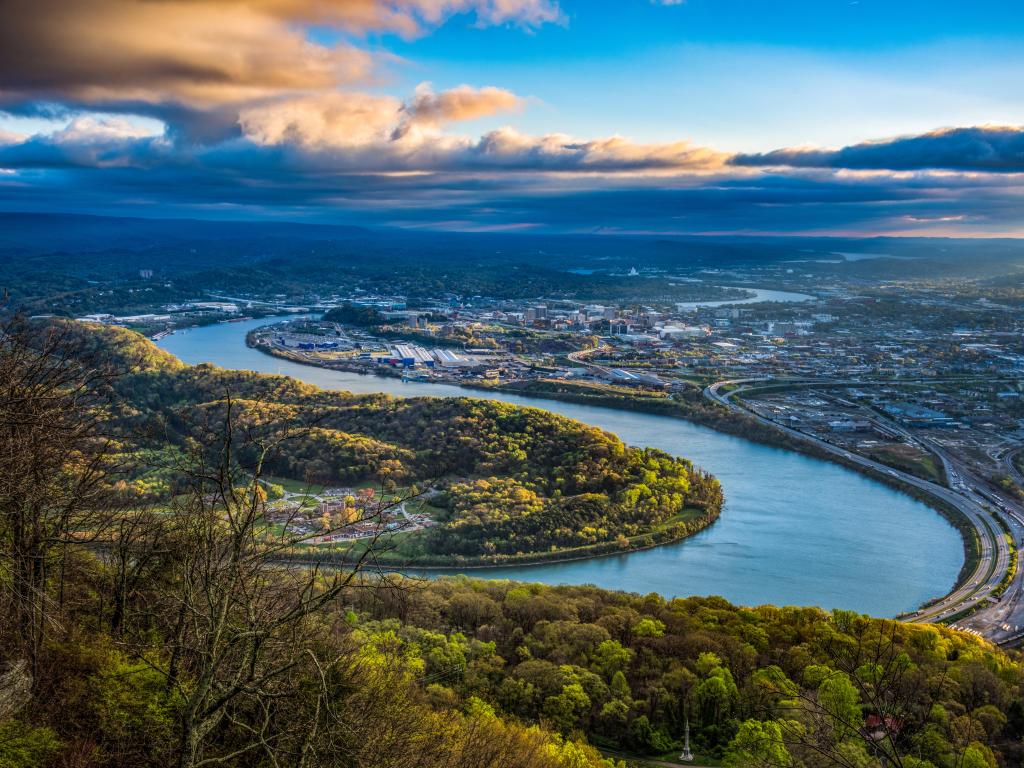 The Read House is an excellent resort with luxurious, atmospheric chandeliers and dark wooden décor that strongly contributes to the classy and elegant ambience. The hotel boasts impressive amenities and a fabulous indoor pool you might not want to leave.
If you do, the hotel is located downtown so you will find many attractions such as the Tivoli Theater, Tennessee Aquarium, and Ross's Landing which boasts incredible views of the Tennessee River within walking distance.
If you aren't short of time, driving to Ruby Falls and taking a hike around Point Park around Lookout Mountain is a great opportunity to reconnect with nature.
Whether you decide to relax at the hotel or spend a day cruising around Chattanooga, you shouldn't miss the opportunity to dine at the fashionable Bridgemans Chophouse on-site.
Where to stay once you reach Gatlinburg
The events, sights and activities shift in-between seasons, yet a vacation to both Gatlinburg and the Great Smoky Mountains is absolutely stunning all year round. A few things can make your stay at Gatlinburg even sweeter and one of those is a weekend at Margaritaville Resort.
Hotel Margaritaville is an eccentric paradise for those who enjoy bright colors, coastal themes and the welcoming feel of a quirky décor. The quality service, amazing location and spacious rooms will shape up a unique getaway.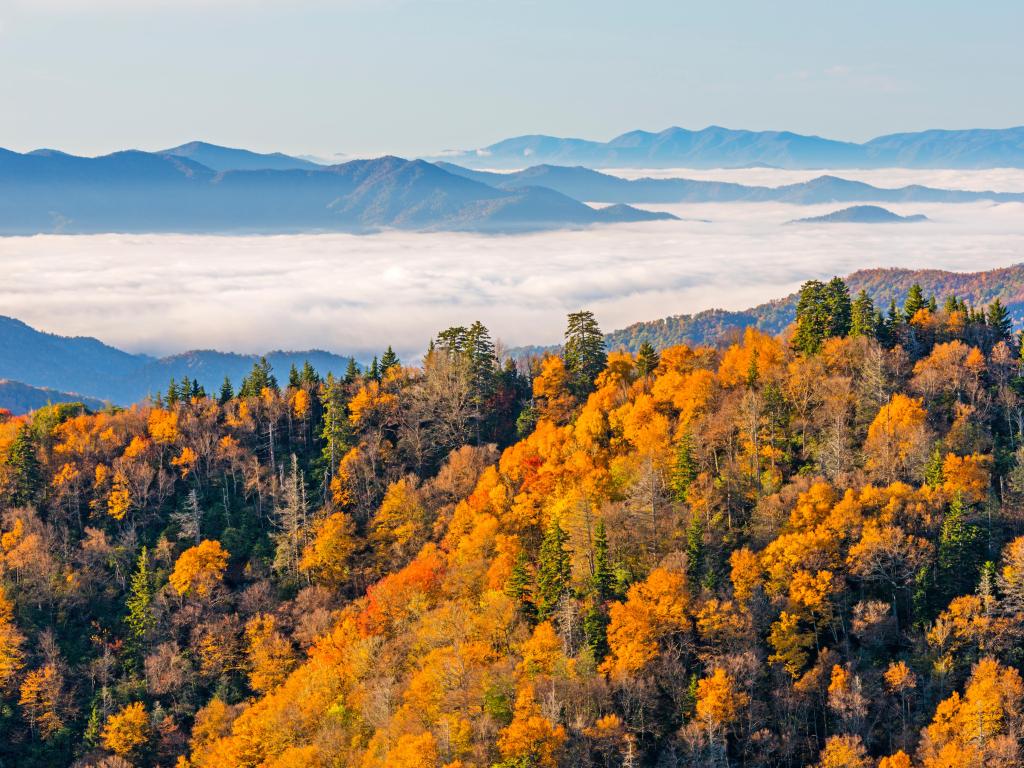 Located within a short walking distance from the hotel, you will find Ripley's Aquarium of the Smokies, a hugely popular attraction, and Gatlinburg Space Needle.
The breathtaking hills and peaks of the Great Smoky Mountains are only a 5-minute drive from the resort and the outdoor recreational opportunities in this national park are endless, spanning from hiking and bicycling to waterfall and wildlife viewing.
After spending a full day outdoors, you can relax at the hotel's decadent spa or fabulous outdoor pool before heading to the on-site restaurant for a meal on the exceptionally manicured garden patio, if the weather allows.
Things to see on a road trip from Nashville to Gatlinburg
The road trip from Nashville to Gatlinburg might seem like a short one, but it is packed with many attractions on the way for a memorable adventure. To help you decide, we compiled a list of our top suggestions as to what to see and do.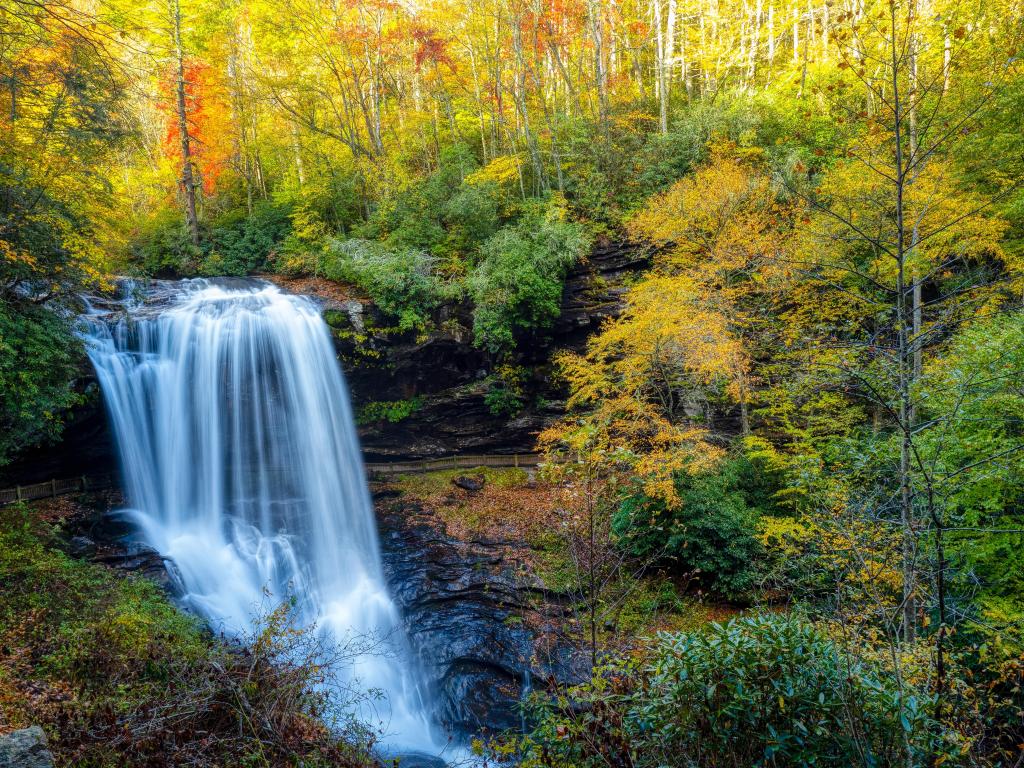 Stones River National Battlefield, Murfreesboro – Learn about one of the bloodiest human conflicts of the Civil War, the historical layers behind it and the important Union achievements during The Battle of Stones River.
Old Stone Fort State Archeological Park, Manchester – Home to an abundance of dramatic scenery, graceful waterfalls and museum exhibits, the Old Stone Fort State Archeological Park is a great site for tourists and history enthusiasts alike.
Huntsville, Alabama – Huntsville is a well-known city for its hardworking scientists that develop military and aerospace technology at the U.S Space & Rocket Center. The other exciting attractions include the Huntsville Botanical Garden and Monte Sano State Park.
Cloudland Canyon State Park, Rising Fawn – Enjoy a unique hiking Georgia experience, laced with steep cliffs, daring views and overall gorgeous scenery.
Raccoon Mountain Caverns and Campground, Chattanooga – Raccoon Mountain Caverns consists of over 5.5 miles of underground passageways, through which you can tour with an expert guide while enjoying the wonderful formations.
Chattanooga, Tennessee – This charming city bursts with gorgeous views, stunning nature and tons of majestic sights. Make sure you don't miss out on any of the memorable attractions in and around Chattanooga.
The Lost Sea Adventure, Sweetwater – Explore the largest underground lake in the northern hemisphere, through an intricate cave system and learn about the amazing story behind the lake's discovery.
Atlanta, Georgia – The beautiful city of Atlanta is rich in history, culture and has a massive art scene. "The Big A" is packed with many terrific and exciting attractions, offers a vibrant nightlife and is overall a great tourist destination for friends and family vacations alike.
Chattahoochee-Oconee National Forests, Georgia – This colossal forest features nearly 867,000 acres, thousands of miles of streams, rivers and overall rich natural scenery, as well as dozens of campgrounds, picnic areas and a whole bunch of recreational activities.
Knoxville, Tennessee – The alluring city of Knoxville provides a comforting blend of bigger town amenities and the peace and quiet of the mountainous area of the Great Smoky Mountains.
Nantahala National Forest, Bryson City – Named the "land of the noonday sun" in the Cherokee language, the Nantahala National Forest is a formidable place where the majestic sights are sure to leave an impression.
Great Smoky Mountains National Park, North Carolina and Tennessee – You will discover a plethora of plant and animal life blooming amidst ancient mountains, roaring falls and splashy mountain streams.
Cherokee National Forest, Elizabethton – Scenic mountain views, over 700 miles of trails and seven whitewater rivers are what you'll find at the heart of the Cherokee National Forest.
Cumberland Mountain State Park, Crossville – Located around a man-made lake named Byrd, the Cumberland Mountain State Park provides countless recreational activities and interpretive programs along with numerous options for overnight accommodations.
Fall Creek Falls State Park, Spencer – This park boasts 30 cabins and over 200 campsites and offers a variety of activities, environmental education and additional art and crafts programs.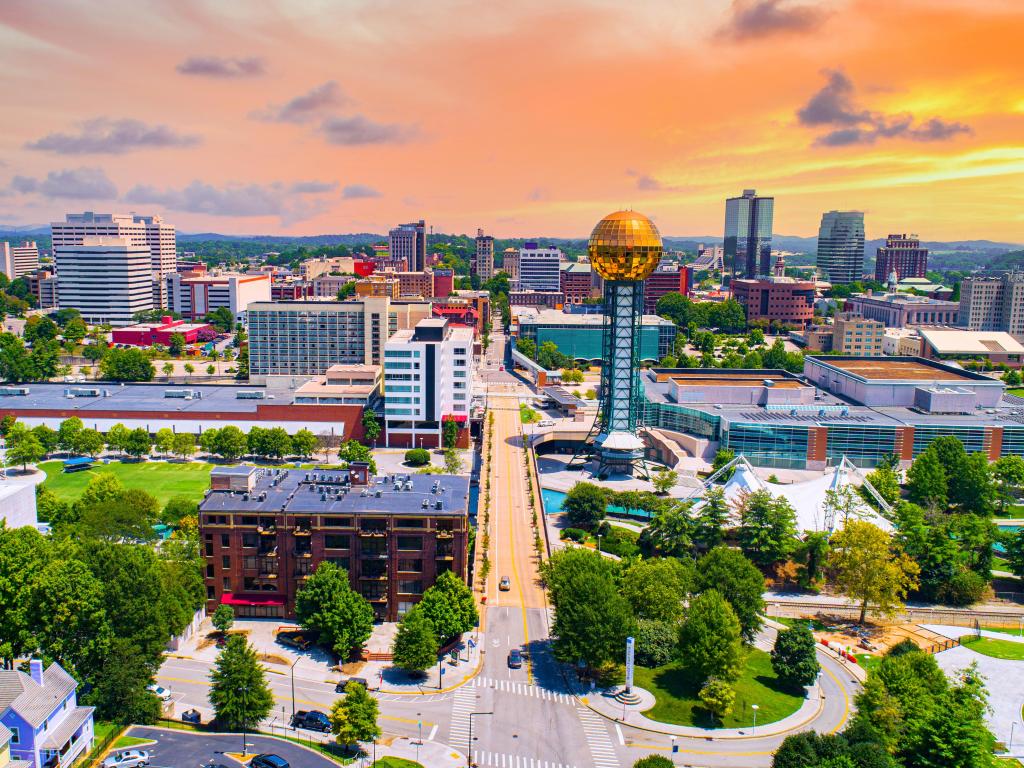 Best time to go on a road trip from Nashville to Gatlinburg
Whether you are a fan of colorful fall foliage, fluffy snowy scenery or bright and warm sunny days of July, the road trip from Nashville to Gatlinburg is exceptional all year round.
That being said, you might find the atmosphere in Gatlinburg especially appealing during its peak seasons – summer and fall. Note that, at the beginning of October tourist rates skyrocket and subsequently, you will definitely run into higher prices and crowded attractions.
Outdoor enthusiasts would find September to be the best time to visit, especially during weekdays when rates drop to offseason lows and attractions are less crowded. The weather is particularly pleasant as well with temperatures around 75 degrees Fahrenheit.
Due to the high elevation of the city, even the busiest seasons are susceptible to rapid and unpredictable weather changes. Even if you plan your vacation according to the weather forecast, it is essential to pack an additional layer of clothes, just in case.
The peak tourist season is summer, when temperatures are usually soaring in the 80s, sometimes even above that. Although a trip to Gatlinburg might sound very appealing from June through August, you should reserve hotel rooms or cabins up to a year in advance.
The temperatures tend to fall downwards to 30 degrees Fahrenheit accompanied by snowfall in winter, so make sure to check road and weather warnings, especially if visiting the Great Smoky Mountains National Park.
If you choose to brave the weather and visit in winter, make sure to check out the festive New Year's Eve Ball Drop and Fireworks Show, which is the highlight of the holiday season in Gatlinburg.