Road Trip from New Orleans to Chicago
A road trip from New Orleans to Chicago is an unforgettable travel experience, offering a sumptuous selection of cultural and scenic places to visit along the way. This adventure from the south to the north of the US is guaranteed to leave you with lasting memories even before you reach your final destination.
This 1,000-mile road trip from New Orleans to Chicago takes 15 hours to drive. Highlights en route include the Mississippi, Talladega National Forest, De Soto National Forest, and the cities of Memphis, Jackson, St. Louis or Nashville, and Indianapolis.
Read on to find out how to make the most of this fantastic drive, including our preferred route options, the best places to stay to break things up, and the best time of year to make the trip from New Orleans to Chicago.
How far is Chicago from New Orleans and how long will the road trip take?
Comparison of road trip routes between New Orleans and Chicago.

| Route | Distance | Driving Time |
| --- | --- | --- |
| Nashville Route | 1,000 miles | 15 hours |
| Memphis Route | 980 miles | 13 hours and 30 minutes |
Driving to Chicago from New Orleans takes around 15 hours and covers approximately 1,000 miles. Both the Nashville and Memphis routes are roughly the same, with the Memphis route being about 20 miles shorter, and just minutes quicker.
The drive is lengthy but relatively straightforward. Without taking into account any of the detour options, you barely have to stray from the highway or interstate.
Both routes take you through some of the more urbanized parts of the American south, such as Nashville, Louisville, and Indianapolis, or Jackson, Memphis, and St. Louis. Depending on the season, like in any city, there is the possibility of traffic congestion.
The Nashville route includes Talladega and De Soto National Forests, Spring Mill, Brown County and Turkey Run State Parks as well as a great number of attractions suitable for younger generations.
The Memphis route has comparable attractions with lakes, parks and forests as well as the deeply historical and important cities like Jackson and Memphis.
The road trip to Chicago takes a full day of driving as a straight route, so in order to appreciate the gorgeous landscapes, you should extend your vacation by at least two to three days to make the road trip truly unforgettable.
Best road trip route from New Orleans to Chicago
There are two truly great routes to choose from for a road trip from New Orleans to Chicago, taking you through some of the most memorable landscapes, sights, and attractions in the south.
One route takes the route through Nashville and the other through Memphis, giving you the option to visit the home of country music or the King of Rock n' Roll himself.
The Nashville Route
On your way out of New Orleans, get on Interstate 10 (I-10) and drive north over the Twin Span Bridge and Lake Pontchartrain.
You then have a couple of options for stops and detours to Fontainebleau State Park, INFINITY Science Center to the east, and further down the I-10 towards Gulf Islands Waterpark.
Back on the main route, switch to Interstate 59 (I-59) towards De Soto National Forest where you can either make a stop or continue further along to Hattiesburg.
Here, you could visit the zoo before continuing on to Meridian, taking Interstate 20 (I-20), and either driving on to Birmingham and enjoying some of the city's attractions. or detour to Talladega National Forest for a stop in nature.
Follow Interstate 65 (I-65) around Huntsville into Nashville where you could rest for the night and enjoy an exciting morning at some famous local attractions.
Once ready to leave, drive north towards Mammoth Cave National Park where you can detour, or continue a little further to Elizabethtown where you can visit the Abraham Lincoln Birthplace Historical Park.
After that, stick to I-65 until you reach Louisville where you can visit the zoo, the science center, and more local attractions.
Before you drive off towards Indianapolis, on the way there, you should definitely detour to Hosier National Forest to the west and to Brown County State Park further down the interstate.
Take some time to appreciate the amazing city of Indianapolis and some of the gorgeous sites around town, before you cover the last few hundred miles into your final destination – Chicago.
The Memphis Route
Coming out of New Orleans on the I-10 West, you skirt Lake Pontchartrain and skip over the Bonnet Carré Spillway Bridge onto Interstate 55 (I-55).
Follow the I-55 north through Joyce Wildlife Management Area, through Ponchatoula (where they have a strawberry festival in April, with music and activities, for fans of the delicious fruit!), and on to Summit, where you can detour to our suggested stop at Natchez.
Continuing on the I-55 north, you hit Jackson where you can decide if you wish to stop over. Otherwise carrying on the I-55, you can take a short detour to the beautiful Grenada Lake.
The route then continues again on the I-55 to the iconic city of Memphis. From here take the Interstate 40 (I-40) West to connect you back onto the I-55 which takes you all the way to St. Louis and on to Chicago.
Best places to stop between New Orleans and Chicago
Driving from New Orleans to Chicago cuts a path south to north of the US and covers a significant stretch. Given this, it's recommended to make several stops to find comfortable accommodation for a regenerating overnight stay.
Read on for a look at some of the best hotels:
Take a break in Birmingham
At just over 5 hours from New Orleans, Birmingham is an obvious candidate for your first stop en route to Chicago if you're taking the Nashville Route.
A visit to the Birmingham Civil Rights Institute is reason enough to make this city a stop on your itinerary. This monumental museum charts the journey of civil rights advocates throughout the 1950s and 60s, and their profound impact on American and Global culture, society and politics.
If you're planning a visit, the Elyton Hotel, Autograph Collection is an outstanding choice for your overnight stay. Not only is this hotel situated close to the Civil Rights Museum (as well as the Museum of Arts and Vulcan Museum), it is unsurpassed in the city in terms of style and luxury.
This old-world, historical building, located in the center of the entertainment and financial district, has been painstakingly restored. Its rooms and suites have a bright and open feel, with tall ceilings and massive view-enhancing windows - perfect to wake up to before resuming your journey to Chicago.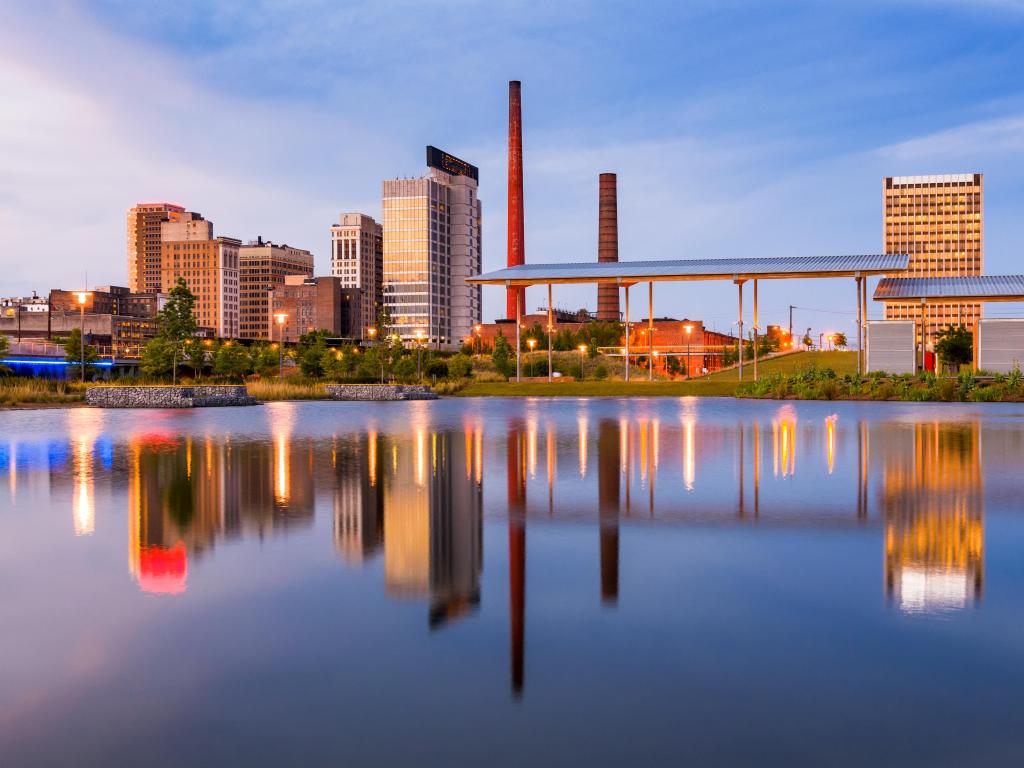 Feed the soul in Jackson
Heading out on the Memphis Route, you'd be wise to choose Jackson, Mississippi as your first stopover point. "The City of Soul" is famed for its excellent cuisine, a wealth of museums, and a deep sense of history.
And at just under 3 hours' drive from New Orleans, this choice sets you up for an easy first day on the road. If you decide to make Jackson your base for the night, Old Capitol Inn is an ideal hotel for your stay, situated downtown. This designer boutique hotel is intimate and welcoming, with quirky rooms themed around interesting events, places, and people of Mississippi.
The hotel is in ideal proximity to a plethora of historical attractions, ideal to give the traveler an intimate glimpse of US history with a visit to Medgar Evers Home; a pioneer and spearhead for civil rights.
Then there's the Museum of Civil Rights itself. Additionally, there's the Mississippi Museum of Natural Science, and for some urban downtime, LeFleur's Bluff State Park is close by.
Admire the beauty of Nashville
If taking our suggested Nashville Route you must, of course, stay in the world-famous home of country music. At 8 hours' drive from New Orleans, you could technically make this your first (or only) overnight stop, if you're in a hurry.
In any case, with its legendary nightlife - and much more culture besides - we suggest you plan this city into your road trip itinerary.
The Hyatt Centric Downtown Nashville is a great base for a short stay, with its excellent city views, chic design and a handy on-site coffee house with a sunny terrace to enjoy your beverage on.
If you decide to spend your time in downtown Nashville, the excellent location gives easy access to highlights of the city like the Johnny Cash Museum, Tootsies Orchid Lounge, and Bridgestone Arena.
And after a busy day exploring all that Nashville has to offer, don't forget the hotel's fabulous rooftop pool. Take the opportunity to cool off and relax before heading out for the night!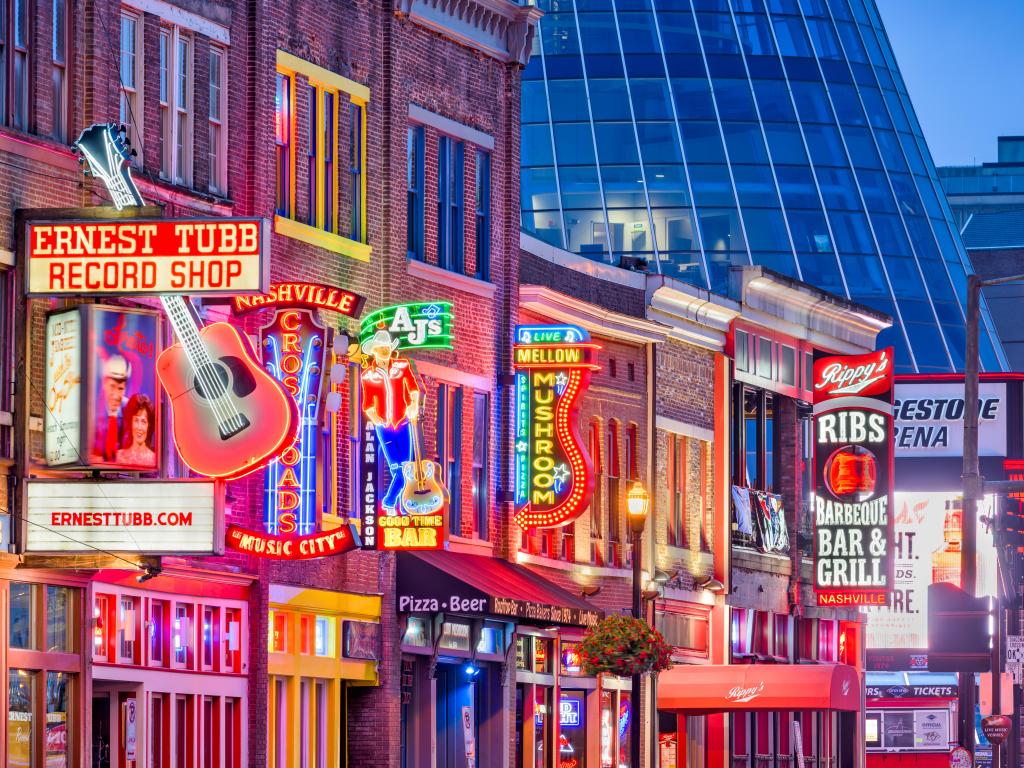 Submerge yourself in Memphis
You can't go on the Memphis route without stopping in Memphis! There is so much to see and do in this city, known the world over as "Home of the Blues and Birthplace of Rock 'n' Roll".
Spend quality time on one of Memphis' riverboat cruises, stroll through a Historic Memphis Guided Walk, or submerse yourself in the music scene with a visit to the world-famous Memphis Music Hall of Fame. Or simply hang out on Beale Street - one of the most iconic streets in America, with its plethora of buzzing bars and live music venues.
The lovely River Inn of Harbor Town is our recommendation for your overnight stay, with typical southern hospitality and a European aesthetic, it is close to the Mississippi River and most rooms look over the river itself.
You wouldn't want to visit Memphis and not visit the King of Rock n' Roll's house, Elvis needs no introduction, and his converted home at Graceland is now a museum to the south of the city.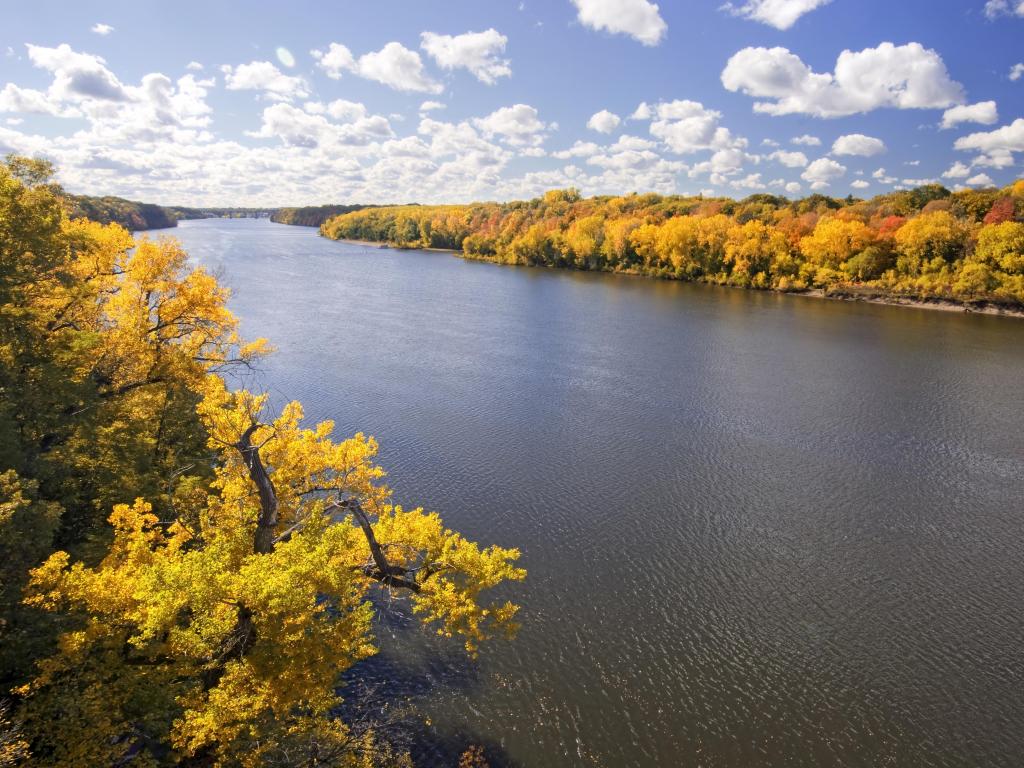 Things to see on a road trip from New Orleans to Chicago
The road trip from New Orleans to Chicago is best enjoyed over the span of at least two to three days, if not a whole week.
With all the excitement and exhilaration crammed into this trip, you should definitely spend at least a couple of days sampling some of the great places listed below:
The Nashville Route
Fontainebleau State Park – Here, as a nature lover, you can escape the fast city life, surrounded by lakes on all sides, amidst shrubbery and diverse wildlife. Fontainebleau State Park also offers activities such as biking, boating, and paddling.
INFINITY Science Center – Infinity Science Center is a museum dedicated to inspiring like-minded, young, and adventurous future scientists. Check out their newest and largest attraction – the mighty Saturn V, a first-stage booster, and its five giant engines.
Gulf Islands Waterpark – Spend a fun and thrilling afternoon at Gulf Islands Waterpark and go for a ride on some of the exciting water attractions accessible to both adults and children.
De Soto National Forest – Enjoy year-round recreational opportunities such as biking, canoeing, horseback riding, and for the fans of adrenalin-inducing experiences – ATV rides.
Hattiesburg Zoo – Head over to where grownups and kids alike can fulfil their unrealized dream of hugging a sloth! Here, you can also admire a multitude of exotic animals such as jaguars, prairie dogs, and many more reptilian species.
Talladega National Forest – Talladega National Forest covers around 400,000 acres through which you can either enjoy a quick scenic ride or better yet camp for a while and relish some peace and quiet.
Old Stone Fort State Archaeological Park – Admire the graceful waterfalls and dramatic scenery of the Old Stone Fort State Archaeological State Park, home to an important part of Native American history, and now hosts events & activities for visitors.
Nashville – Packed with a long list of museums, historical landmarks, and exciting attractions, Nashville is an amazing place to spend the better part of an afternoon.
Mammoth Cave National Park – Visit the longest cave system in the world and join the seemingly endless exploration of this beautiful naturalistic monument.
Abraham Lincoln Birthplace National Historical Park – Honor the humble beginnings of the 16th president of the United States – Abraham Lincoln, by visiting his birthplace and learning about what prepared him to lead the nation through the Civil War.
Dinosaur World – Dig for fossils and pan for minerals, just a short drive away from Mammoth Cave National Park.
Louisville –Besides the plethora of attractions, museums, and exhibits, there are plenty of places to escape the urban scene in Louisville.
Brown County State Park – Because the park resembles the Great Smokey Mountains, Brown County State Park has been nicknamed "Little Smokies". The magical park encompasses 16,000 acres of ridges, rugged hills, scenic vistas, and fog-shrouded ravines.
Indianapolis – Best known for annually hosting the world's largest single-day sporting event – the Indianapolis 500, the city is also known for its amazing zoo, botanical garden, and the world's largest children's museum.
Bowling Green – Home to the National Corvette Museum, the amusement park Beech Bend and the stunning Lost River Cave, this city is an excellent tourist destination.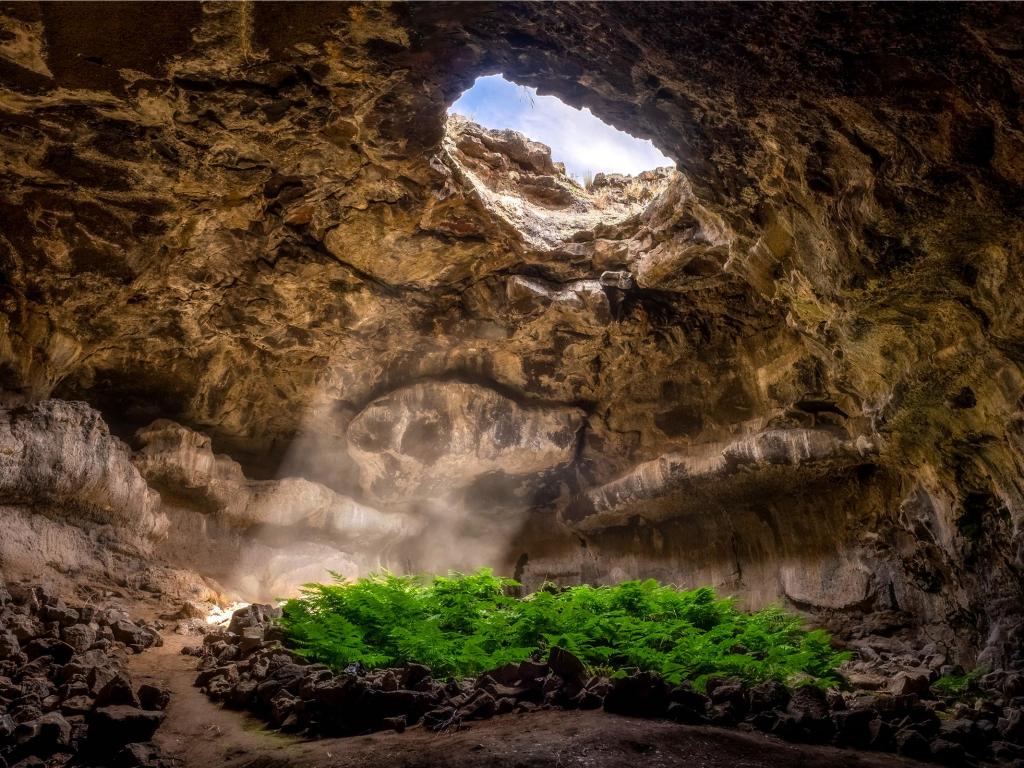 The Memphis Route
Joyce Wildlife Management Area - Take a "swamp walk" and experience the wildlife, eye to eye.
Natchez - An hour or so detour off the main route, this is worth a stop to view the palatial plantation mansions - this classic southern city has stories to tell in every brick.
Jackson - The state capital, steep yourself in history and atmosphere on the banks of the Pearl River.
Sardis Lake - A lovely stop at this lake that feeds into the Little Tallahatchie River. Take a walk along the waterside and view the dam, the marina, and even take a dip in Lower Lake Beach.
Arkabutla Lake - Take a walk along the Ark Trail at the Coldwater River Nature Conservancy and soak up the lush woodland.
Memphis, Tennessee - If you choose this as part of your stopover, you can soak in all the many attractions like Graceland, the legendary home of Elvis, a boat ride on the Mississippi River, and the Memphis Music Hall of Fame.
Mark Twain National Forest - This gigantic forest, named after famous Missouri author Mark Twain, has so many attractions, take your time and soak up experiences like Elephant Rocks State Park, Taum Sauk Mountain, and the Onondaga Caves.
Gateway Arch National Park - The famous Gateway Arch in St. Louis, is a must-see feat of architecture. The arch was built to symbolize the gateway to the west during the westward expansion in the 1800s.
St. Louis, Missouri - A wonderful city, and another potential stopover, well worth it as a base to visit the Gateway Arch and many other attractions like the St. Louis zoo and Cathedral Basilica of Saint Louis.
Springfield - Stop off at the home of President Lincoln and visit the Abraham Lincoln Presidential Library and Museum to keep your historical knowledge up to date.
Kankakee River State Park - A lovely stop in nature before the big city - home to Smith, Hoffman, Langham, and Willow Islands, great for fishing, biking, and hiking.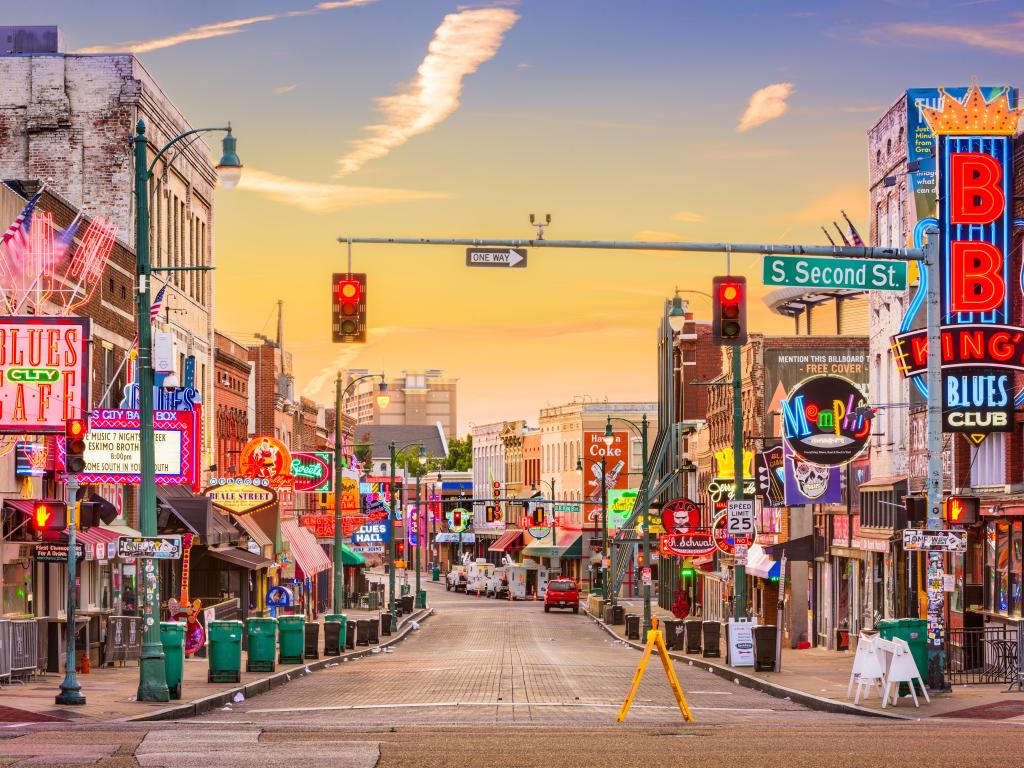 Best time to go on a road trip from New Orleans to Chicago
The road trip from New Orleans to Chicago is best enjoyed from April through May and from September to October. Fall and Spring are both preferable for a road trip because temperatures are pleasant and warm during both seasons.
During these time periods, tourism rates are lower, and prices are fair.
The most enjoyable period for such a trip would be from April through May. Average daytime temperatures hover between the high-50s and low-70s, perfect for all sorts of outdoor activities.
Occasionally, you might run into some rain clouds but with a few warm clothes on hand and an umbrella, it shouldn't pose a problem. Crowds are manageable during spring, so you shouldn't worry much about queues and delays.
Fall in Chicago is not only beautiful but is also packed with exciting and memorable events like the Chicago Jazz Festival in September. The weather conditions are perfect for exploring popular local attractions – maintaining enjoyable temperatures around the 70s during the day.
Temperatures can get a little colder in the evening, so come prepared with some additional layers.
It can be a challenge embarking on a summer road trip to Chicago. Average summertime temperatures range from the high-50s to the mid-80s, but fluctuation is to be expected due to passing heat waves, humidity, and strong breezes.
Visiting between June and August means organizing well in advance and booking around a month before, as hotel vacancies and deals are snapped up early. But it is certainly worth it to experience the multitude of distractions Chicago has.
From sampling its world-famous pizza, taking a boat trip on the Chicago River, to rocking out at the famous Lollapalooza and Chicago Blues Festivals, there's so much to soak in.