Road Trip from New Orleans to Destin
When you think about a road trip from New Orleans to Destin you may wonder what the latter has that the former doesn't. The answer: Destin is world-famous for its picturesque beaches on the stunning Emerald Coast of Florida, promising the epitome of fun in the sun.
The 250-mile road trip from New Orleans to Destin will take about 4 hours of nonstop driving. The notable stops include Biloxi, Mobile, Pensacola, Fort Gaines, Gulf State Park, Crab Island and National Naval Aviation Museum.
Check out the following sections for ideas on routes you can take as well as epic things to do and see. Don't forget your sunblock for this adventure!
How far is Destin from New Orleans and how long will the road trip take?
Comparison of road trip route options between New Orleans and Destin

| Route | Distance | Driving Time |
| --- | --- | --- |
| Direct Route | 250 miles | 4 hours 5 minutes |
| Coastal Route | 270 miles | 5 hours 40 minutes |
The direct route on Interstate 10 (I-10) will take you from New Orleans to Destin in 4 hours, covering 250 miles, passing through Mobile and Pensacola. However, you might be missing out on beautiful adventures on the stunning coastline on this route.
If you have more time to roam before settling into a beach chair in Destin, our longer route option will take you along the coast for some stellar views of the Gulf of Mexico in exchange for two more hours of drive time.
If you wish to follow a stunning 250-mile coastal route, you could be relaxing on a beach in as little as four hours, eating some of the best fresh seafood that the United States has to offer in a town aptly nicknamed the "World's Luckiest Fishing Village."
One important note is that these estimates do not include traffic, stopping for gas, or rest. Also, depending on the time of year, side roads or roads closer to the water may be more congested than they are off-season.
Best road trip route from New Orleans to Destin
Our recommended coastal route from New Orleans to Destin follows the beautiful turquoise coasts of Mississippi, Alabama and Florida before taking you to Destin's pristine beaches. Even better, this beautiful change of scenery is pretty much a stone's throw away from home.
This fantastic route promises some amazing experiences and scenic views along the way. All that you really need to decide is how much time you want to spend on the journey versus the amount you will spend in the beautiful town itself.
Depending on your goals and time constraints for the road trip, you can follow the direct route which will take you to Destin about an hour and 35 minutes sooner, but then you will be missing out on the best attractions this road trip offers.
Given this is on the shorter side of road trips, you can complete it in a day, but it is ideal to make two overnight stops and spend at least three days to make the best of the fabulous beaches and attractions on the way. Detours are highly encouraged.
You can choose to make a detour to the De Soto National Forest on your way back, giving you an opportunity to switch it up a little from white sand beaches to emerald-green forests to recharge in the tranquility of nature.
How to drive from New Orleans to Destin
The map above shows our suggestions for the best road trip routes between New Orleans and Destin. Keep reading for the detailed description of the Coastal Route, where to stay on either, and the best things to do on the way.
Coastal Route
From New Orleans, take Exit 240B and hop on US-90 up, which will take you through Gulfport, Biloxi, and Pascagoula. You'll hug the water almost the entire way, driving up and across the magnificent coasts of Louisiana, Mississippi, Alabama, and Florida.
Bouncing from small coastal town to small coastal town, spend a few hours at beautiful boardwalks like the one in Biloxi Beach, or historical sites like the LaPointe-Krebs House.
After driving past Pascagoula, you will have the option to detour to Dauphin Island by continuing onto AL-188 at Grand Bay.
Follow AL-193 North after your visit to reach the historic city of Mobile, where you can spend a day exploring the city and its many attractions like the famous USS Alabama.
As you reach Pensacola's southern edge, you will have the option to visit the National Naval Aviation Museum before visiting this city bustling with attractions and entertainment.
After reaching US-98 at Pensacola's southernmost edge, you'll only have a short drive before reaching Destin. During the last leg, the view to your right is nothing but the stunning green-blue water of the Gulf of Mexico, where you will drive past one stunning beach after another.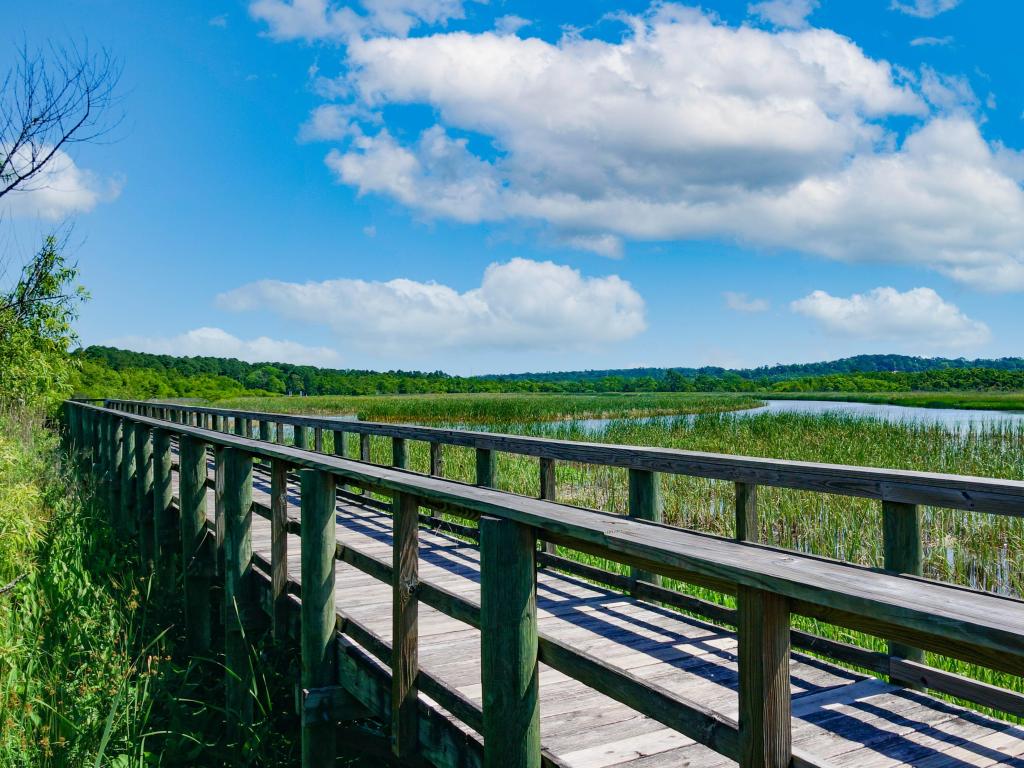 Best places to stop between New Orleans and Destin
In case you want to split the journey into two or three smaller stretches of driving and stay overnight somewhere along the way, there are a handful of good options available to you.
Combine these stopovers with fun things to do and incredible sightseeing opportunities as well–you can find these in the next section down.
Travel back in time in Mobile
If you're wanting to take a pause halfway through your adventure, Mobile is located 2 hours and 15 minutes from New Orleans. This makes "the Azalea City" a perfect place to take a break as the city offers a unique combination of exciting history and accessible natural beauty.
Centrally located in Mobile's city center, the historic Battle House Renaissance Mobile Hotel and Spa is a top choice for travelers visiting the birthplace of Mardi Gras in the United States. This luxurious hotel boasts elegant rooms and one of the most opulent spa facilities in the state.
As Mobile is one of the oldest cities in Alabama, founded 117 years before it became a state, it doesn't entirely come as a surprise that this stunning hotel was built on top of a site used as a headquarters by the American military during the War of 1812.
You will be surrounded by history during your visit to this amazing city. The History Museum of Mobile, USS Battleship Alabama Memorial Park, GulfQuest National Maritime Museum and Historic Blakeley State Park are a short walking distance from the accommodation.
Not only historic but also scenic, Meaher State Park is only a short drive away, where you can admire one of the most beautiful sunsets in Alabama over Mobile Bay before heading back to the hotel for a speciality martini cocktail and live music at the Royal Street Tavern.
Enjoy a luxurious break in Pensacola
If you are feeling like you need some true quality time away from all the hustle and bustle of New Orleans but still want to enjoy shopping and dining, then look no further than the Pensacola bayfront, located an hour from Destin.
Oyster Bay Boutique Hotel in Pensacola, Florida, is a stunning property that has a sophisticated aesthetic to it. This boutique design hotel is located in the Seville Historic District right across from the harbor, which means all the points of interest are within easy reach.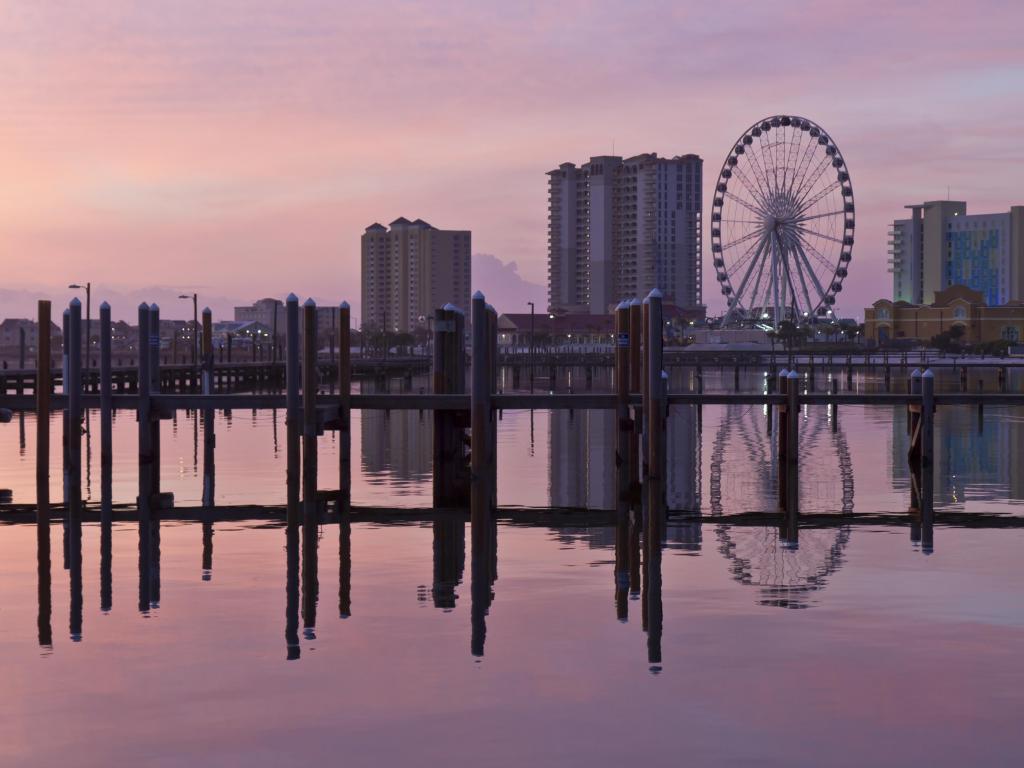 The heart of Pensacola, Palafox Street, is just a few blocks away making getting around a breeze. You will also find the Pensacola Museum of History and Pensacola Museum of Art in this area if you feel up for delving deeper into history and the arts of the region.
If you are in it for the pristine beaches, Langdon and Opal Beaches will not disappoint with their turquoise waters and white sands, only a short drive away from the hotel.
Where to stay when you reach Destin
Unsure of where to stay once you get to Destin? There are several great options that you can call home base in this gorgeous town. The iconic Henderson Beach Resort is one of the top choices for accommodation, which is perfectly located on Destin's beachfront.
Sitting atop one of Destin's most stunning stretches of beaches with private access, this stunning hotel boasts two fabulous outdoor pools surrounded by palm trees and a full-service spa to give its guests a chance to truly relax and bask in paradise.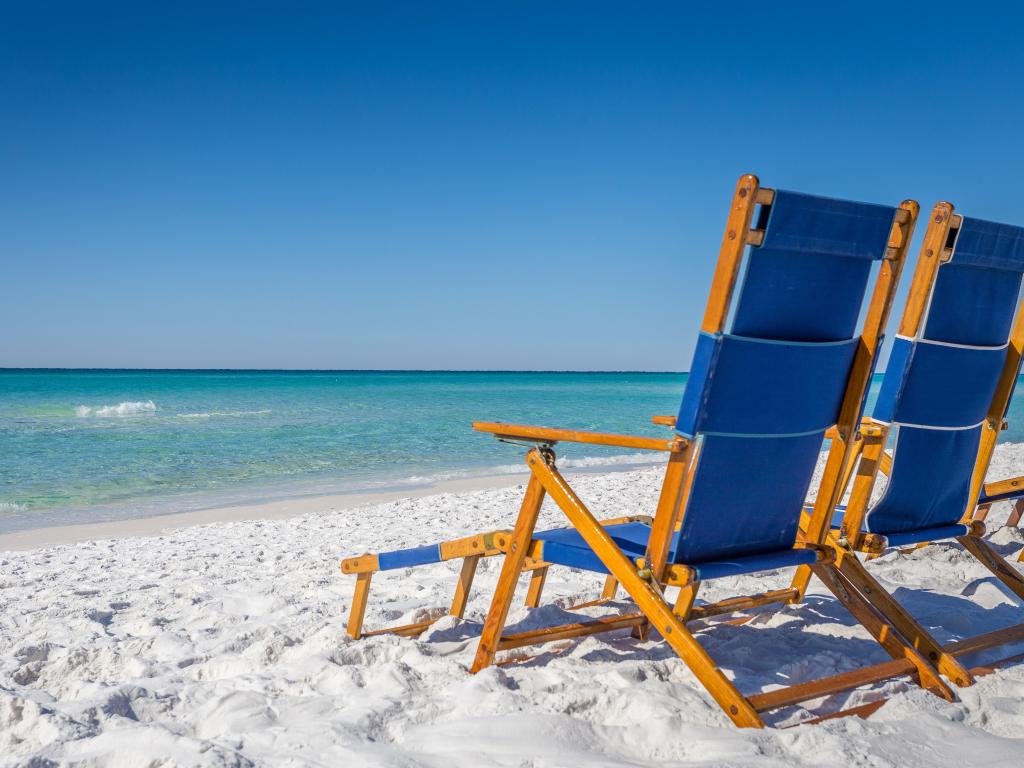 If you are looking to spend some time doing something else than sunbathing at the stunning beach, the hotel is located adjacent to Henderson Beach State Park, which will give you plenty of opportunity to admire the ocean views as you take a stroll or have a scenic picnic.
Big Kahuna's Water & Adventure Park is the perfect destination for adventurous souls, which is located a short distance away. You won't run out of rides or things to do in this largest water park on the Emerald Coast!
Whatever you choose to do, make sure to make a reservation for one of the restaurants at the hotel as they are extremely popular and tend to get booked quickly. If you are looking for a romantic meal, Horizons boasts panoramic views of the Gulf Coast for a memorable experience.
Things to see on a road trip from New Orleans to Destin
The road trip from New Orleans to Destin has plenty of landmarks and attractions en route. You will not want to skip out on the following sightseeing experiences of a lifetime. Sorted by order of appearance:
INFINITY Science Center, Pearlington - This non-profit science museum offers mind-blowing information on space, Earth science, engineering and technology content, mixed in with innovative programming.
Biloxi Beach, Biloxi - Known as the most famous beach in Mississippi, Biloxi offers recreational opportunities for fishing charters, kayaking, boat tours, and more.
Gulf State Park, Gulf Shores – Need a break from the turf, surf, or sand? Take a hike! Literally. Or rent a bike. There are several trails to be taken between the lakes Shelby, Middle, and Little in this gorgeous park.
Ocean Adventures Marine Park, Gulfport - You can have up-close encounters and adventures with dolphins, sea lions, stingrays, sharks and birds as you learn more about these fascinating species.
LaPointe-Krebs Museum, Pascagoula - LaPointe-Krebs House, which is now a museum, was built two decades before the American Revolution–making it the oldest standing structure in the entire state of Mississippi.
Fort Gaines, Dauphin Island – Built in 1821, this fort was a focal point for the Battle of Mobile Bay during the American Civil War. Union and Confederate forces clashed for three weeks, ultimately resulting in a Union victory.
Mobile, Alabama - Built 117 years before Alabama became a state, the historic city of Mobile is home to The History Museum of Mobile, USS Battleship Alabama Memorial Park, GulfQuest National Maritime Museum and Historic Blakeley State Park.
USS Alabama, Mobile – This famous battleship participated in some of the most critical campaigns in the Pacific theater during WWII and supported landing forces in the Battle of Leyte Gulf, which was the largest naval battle of the war (potentially in history).
Pensacola, Florida - Known for its beautiful beaches and beautiful downtown, you can visit the famous Palafox Street as well as Pensacola Lighthouse, Pensacola Museum of History and Pensacola Museum of Art while visiting this city.
National Naval Aviation Museum, Pensacola – Marvel at this museum's galleries, currently holding over 140 aircrafts with past lives in the United States Navy, Marine Corps, and Coast Guard. The museum also offers flight simulators. Prepare for takeoff!
Alligator Alley, Summerdale - Alligator Alley is a swamp sanctuary that is located right off the highway where you can take a guided walk to the elevated viewing platform, where you can see over 200 alligators.
Naval Live Oaks Nature Preserve, Gulf Breeze - One of America's oldest federally protected forests, this area features incredibly scenic hiking trails.
Gulf Breeze Zoo, Gulf Breeze - This zoo is home to more than 800 animals and spans over 50-acres in Florida's Panhandle. You can have safe encounters with hippo, sloth, giraffe, Galapagos Tortoise or Albino Alligators here.
Crab Island, Destin – A very popular sandbar frequently featured on television, this "island" allows tourists and locals alike to wade out into the emerald-green water. You'll need to use a boat or other watercraft to make it across to Crab Island.
Destin Harbor Boardwalk, Destin – A highly favored landmark in Florida's panhandle, the sunsets, shopping, and food options found here are some of the best around.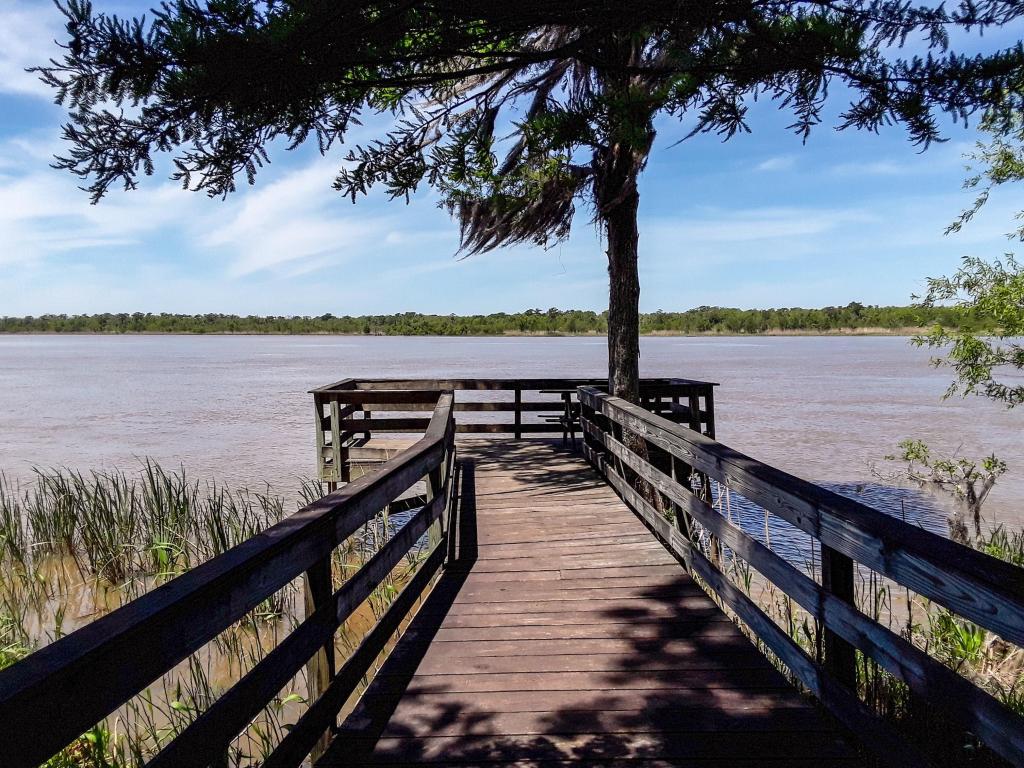 Best time to go on a road trip from New Orleans to Destin
The best time to visit the Sunshine State is pretty much year round. Of course, the peak season is March through July, especially during the Spring Break, when the temperatures are in the upper 70s and low to mid-80 degrees Fahrenheit.
Regarding hurricanes, September is the main month to keep an eye on with outlier storms falling in August or October. Keep in mind that while there is always a risk of inclement weather, hurricanes rated category three or higher are very uncommon.
No matter what, be prepared for the high temperatures and humidity, although if you are coming to Destin from New Orleans you are likely already acclimated to the local weather.
Traveling from another part of the United States? Be sure to stay hydrated with electrolyte-packed beverages, and bring appropriate skin protection. This is especially important during the hotter months when the temperature reaches 90 degrees Fahrenheit.
If you are traveling to Destin, the chances are that you are going there for its fantastic beaches. However, keep in mind that winters are pretty mild in the area with temperatures around 65 degrees Fahrenheit, which will make outdoor activities pleasant.
If you visit in February, make sure to check out the fabulous Mardi Gras Parada at the HarborWalk Village, which is one of the most festive occasions in Destin.