Road Trip from New Orleans to Miami
Miami is known for its amazing beaches and fantastic weather. If a trip to the city appeals to you, why not consider making it an adventure by going on a road trip from New Orleans to Miami? You won't be short of exciting things to do on this epic road trip.
The 970-mile road trip from New Orleans to Miami will take about 15 hours to drive. Notable stops on the way include Mobile, Gulf Coast Islands, Panama City, Tallahassee, Cape Canaveral, Fort Lauderdale, Boca Raton and Osceola National Forest.
If you like the sound of this road trip, keep reading for more information about where you should stay, what you should see, and the best time of year to travel.
How far is Miami from New Orleans and how long will the road trip take?
Comparison of road trip route options between New Orleans and Miami

| Route | Distance | Driving Time |
| --- | --- | --- |
| East Florida Route | 949 miles | 15 hours 6 minutes |
| West Florida Route | 958 miles | 15 hours 0 minutes |
A road trip from New Orleans to Miami will take you about 15 hours of nonstop driving, as the trip will cover 949 miles. We encourage you to take at least a week, if not more, for this trip so that you don't have to rush.
Your journey will take you along the stunning Gulf Coast before you head to the exciting cities of Tallahassee and Jacksonville. You will then head down the east coast of Florida, exploring its pristine beaches and vibrant cities.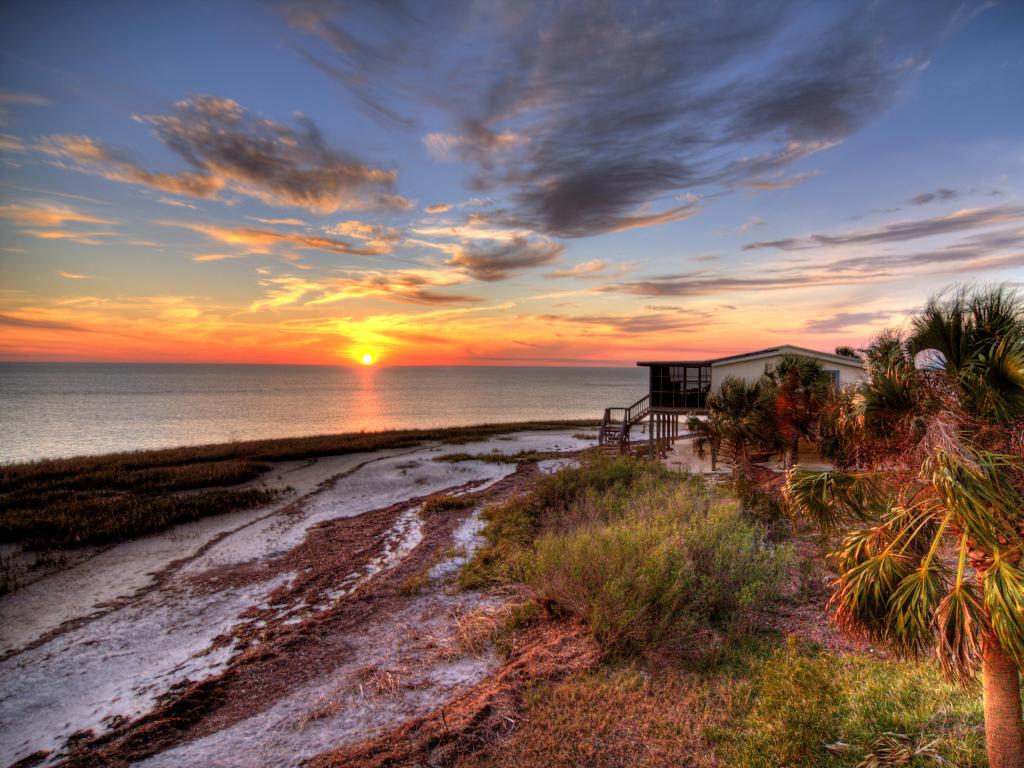 Another route option will take you to the Western coast of Florida past Tallahassee through the bustling cities of Gainesville, Tampa and Fort Myers. You will be driving through the beautiful sights of the Gulf of Mexico during this 958-mile road trip that will take 15 hours to drive.
Both routes feature a nice mixture of interstates and highways, making the driving varied and interesting. This also means you get to enjoy the journey, rather than just focusing on getting to Miami as fast as possible.
There are a few places where traffic could be an issue, notably around major cities on both routes like New Orleans, Tallahassee, Tampa, and Jacksonville. Try to time your arrival in these places to avoid rush hour as you get to Fort Lauderdale and Miami.
Best road trip route from New Orleans to Miami
A road trip from New Orleans to Miami will undoubtedly be a great adventure. Both routes are similar in distance and driving time, so the best route for this journey will depend on your preferences as to what to see and do.
You will drive through a number of great cities with lots to do on both routes. The East Florida Route features beautiful beaches and vibrant cities, presenting beautiful scenery as well as many attractions.
The West Florida Route will take you through historical landmarks, national forests and the beautiful coastline of the Gulf of Mexico, but feel free to adjust either route if there are specific places you want to visit. Read on for more details about the exact route and how you can follow it.
How to drive from New Orleans to Miami
The map above shows our suggestions for the best road trip routes between New Orleans and Miami. Keep reading for detailed descriptions of both routes, where to stay on either, and the best things to do on the way.
East Florida Route
From New Orleans join Interstate 10 (I-10) to begin your journey east. Soon after leaving the city, you will pass Gulfport, Mobile and Pensacola, which are vibrant cities brimming with Southern charm, so make sure you give yourself time to have a look around.
From Pensacola take Highway 98 along the coast, heading towards Panama City Beach. Along the way, you will pass the Gulf Island National Seashore and a number of spectacular beaches.
From Panama City cut across country roads to rejoin I-10. From the city follow Highway 231, then route 20, and finally route 12 to the interstate near Greensboro.
Lake Talquin and then the bustling college city of Tallahassee are your next main landmarks along the way. If you stay on I-10 you will actually detour around the outskirts of the city.
If you want to head into the city, use Highway 90, which will take you into the city center allowing you to explore everything on offer in Tallahassee.
After exploring Tallahassee, rejoin I-10 and continue your journey east. I-10 will now be leading you across the top of the panhandle, with your sights set on Jacksonville. Before reaching Jacksonville, give yourself time to explore Osceola National Forest.
Following I-10 will take you into the center of the city. Give yourself a few days to see the sights before joining Interstate 95 (I-95) heading south.
I-95 will take you near to the coast; however, you also have the option of driving down US-1 if you would prefer a slightly slower pace. If time isn't a big factor, then US-1 is recommended.
I-95, or US-1, will take you past Daytona which is famous for its NASCAR racing. After Daytona, your next landmark is Cape Canaveral, where you can visit the Kennedy Space Center and see where some of NASA's shuttles were launched.
Now is a good time to detour into Orlando, as it is only a short drive from Cape Canaveral into the city.
From Cape Canaveral and Orlando, you will then pass-through West Palm Beach, Boca Raton, and finally Fort Lauderdale before arriving in Miami.
West Florida Route
Follow the same directions as the East Florida Route until you drive past Tallahassee on I-10. Past Live Oak, take Exit 296A to merge onto Interstate 75 (I-75) towards Tampa.
I-75 will take you past Gainesville, which is a great city to explore as you head towards the West Florida coast. Keep following the interstate south, and keep right at the fork to continue on Interstate 275 (I-275).
Take Exit 45A to enter the city of Tampa. After your visit to this colorful city, follow Selmon Expressway and take Exit 15A to merge back onto I-75. Your next landmark will be Fort Myers.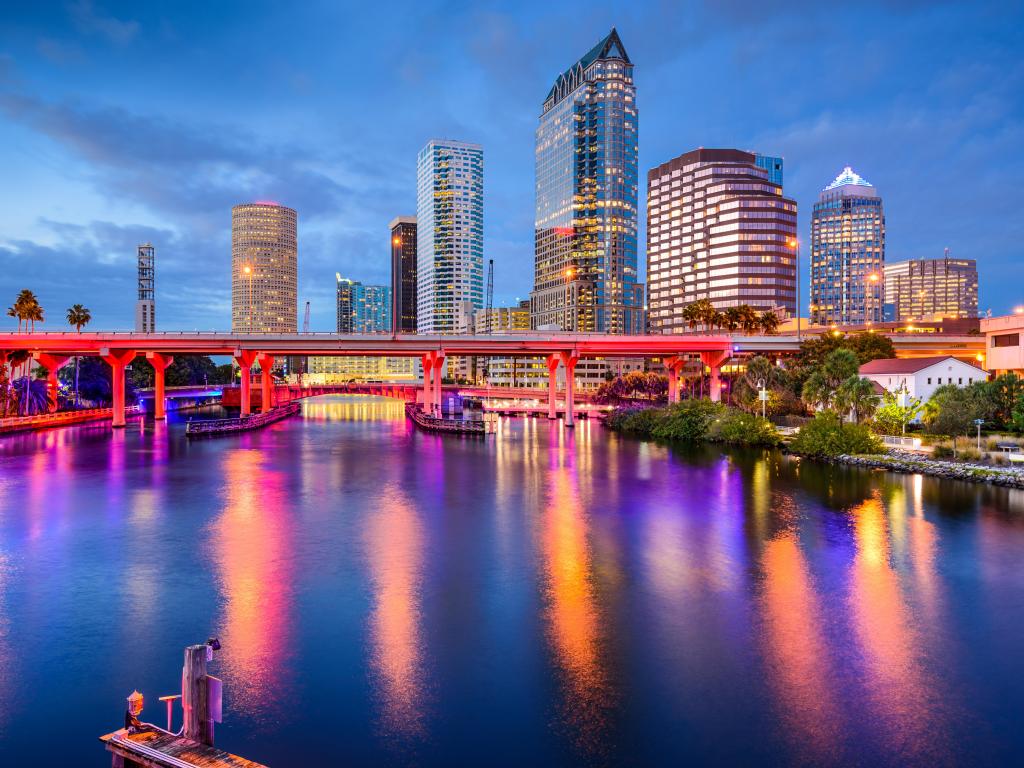 I-75 will turn inland and take you into Big Cypress National Preserve and the borders of the Everglades National Park, where you can stop to take in the stunning scenery and stretch your legs.
Drive past Weston and take Exit 19 for Interstate 595 (I-595) towards Fort Lauderdale. Taking Exit 8 will put you on Florida's Turnpike, and Interstate 95 Express (I-95 Express), which will take you directly to your destination, Miami.
Best places to stop between New Orleans and Miami
Your road trip from New Orleans to Miami will have to be split over a few days. We encourage you to plan a few overnight stops to make sure you aren't rushing your trip.
To help you plan where to stay, here are some of our favorite stops on both routes.
Enjoy the sunny beaches in Boca Raton
Located about an hour away from Miami along our East Florida Route, Boca Raton is a great destination in Florida offering some spectacular beaches, where you can relax and recharge before you embark on the exhilarating last leg of your trip.
The Delray Sands Resort is a fantastic place to stay if you don't need to walk very far to feel the sand and waves at your feet.
The resort is within moments of Highland Beach, and is also close to many other attractions including Sports Immortals Museum and Delray Oaks Natural Area.
The tropical designed rooms bring the outside in, and when you do head out you are spoilt with the choice of two swimming pools and pool jacuzzi to while away an afternoon or more.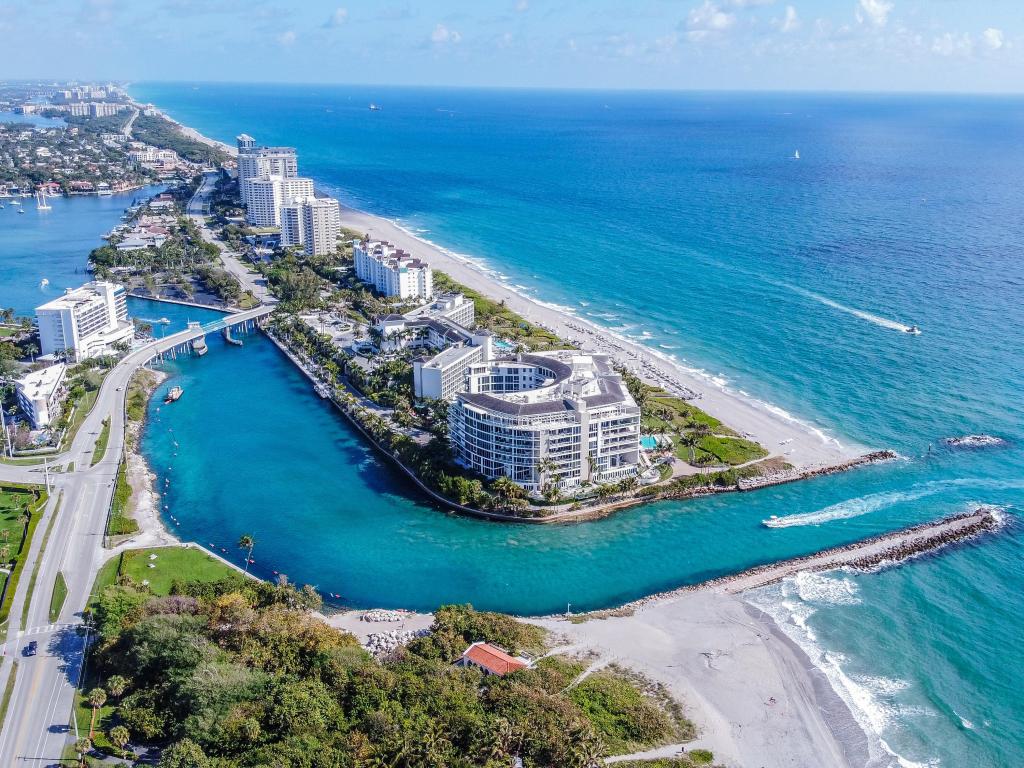 You can head to Gumbo Limbo Nature Center, which is a short drive away, if you would like to know more about the flora and fauna of the area, especially sea turtles. You can also visit their beautiful Butterfly Garden for a tranquil stroll.
Located in the heart of Boca Raton, you will have numerous options for eateries, but if you wish to relax in the comfort and luxury, the hotel's Waterstone Bar and Grill has a great menu of food and drinks, which specializes in delicious seafood and fabulous cocktails.
Hop on a thrill ride in Tampa
Known for its beautiful Gulf Coast beaches and world-class theme parks, Tampa is a great stop before you arrive in Miami, which is about 4 hours and 30 minutes away (via the West Florida Route). You will find an impressive array of different attractions in this eclectic city.
Famous Busch Gardens Tampa alone is a reason to visit this city; this African-centered animal theme park features epic roller coasters, which are some of the tallest and largest in the world, if you are feeling adventurous.
After a long day of adventure and thrilling rides, The CURRENT Hotel, Autograph Collection is the perfect place to kick back and relax in style. Offering luxurious rooms and top-notch amenities, this hotel is in the Tampa Bay Harbor district and boasts amazing views.
You don't even have to leave the premises if you fancy a staycation, but Tampa Bay History Center and The Florida Aquarium are less than half an hour's drive away from the accommodation.
If you would like to enjoy a spectacular sunset, you can take a stroll down the Curtis Hixon Waterfront Park or Tampa Riverwalk before heading back to the hotel to the lively rooftop bar for great wines and sharing boards, or to renowned Julians Restaurant serving up delicious American dishes with flair.
Where to stay once you reach Miami
Miami is famous for its stunning beaches and luxurious lifestyle offerings. You will be spoiled for choice when it comes to choosing accommodation in the Magic City, but the glamorous 1 Hotel South Beach is hard to beat with its stunning views of the Atlantic Ocean.
This historic oceanfront hotel features four stunning pools with incredible views and an adults-only rooftop pool, but if you prefer the waves of the ocean, there is also a private beach area where you can enjoy water sports activities.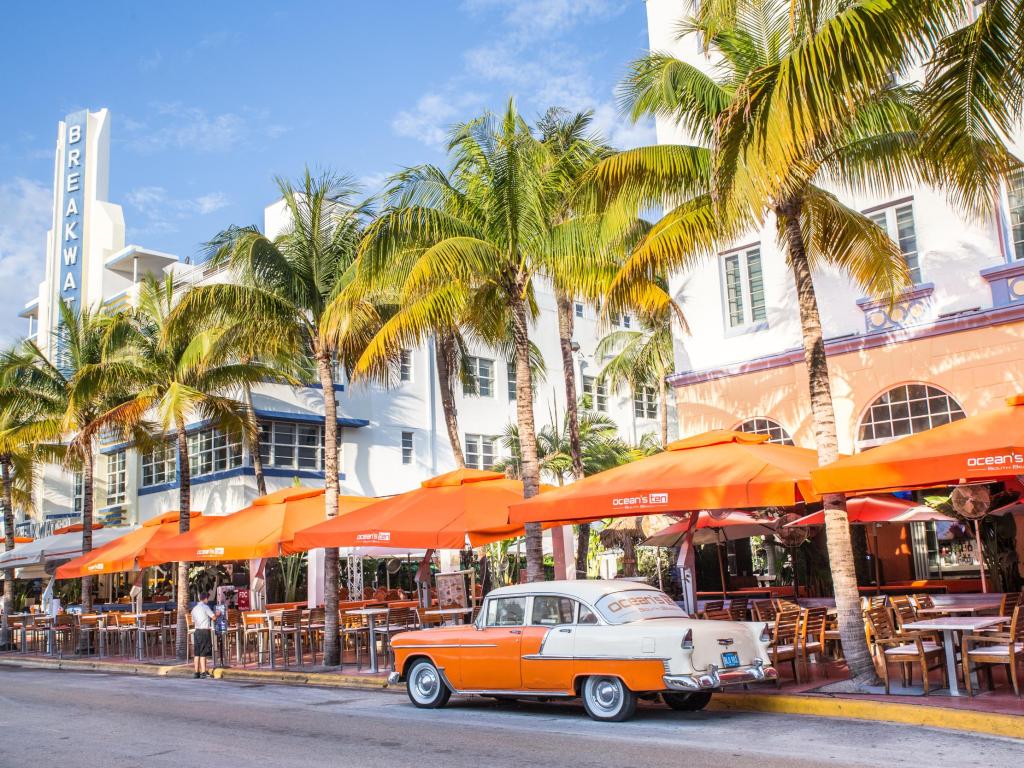 If you wish to get away from the crowds at the beach, you will find the urban oasis of Miami Beach Botanical Garden only a short drive away. After you admire the lush greenery of palms and native plants, you can take a walk down the Miami Beach Broadwalk on your way back.
Nightlife in Miami is world-famous, and there is a myriad of options for bars, clubs, and restaurants nearby, as the accommodation is located in the heart of South Beach. If you feel low on energy or want to enjoy a night in, there are also several high-end restaurants in the hotel.
You can have a nightcap at the cozy lobby bar or head to the spa for a massage for a restful night's sleep and to recharge for the next day's adventures in the city.
Things to see on a road trip from New Orleans to Miami
The options of things to see and do are endless on a road trip as epic as this one, but we have picked some of our favourites on both routes to help you decide.
Both Routes:
Gulf Islands National Seashore, Ocean Springs - This is a particularly pretty area of coastline that runs along the Gulf of Mexico. It has pristine beaches and sparkling azure water, definitely a place you are going to want to explore.
Gulfarium Marine Adventure Park, Fort Walton Beach - Learn more about the habits and habitats of marine animals as you watch dolphins leap and sea lions play.
St. Andrews State Park, Panama City - Only a few minutes from Panama City, St Andrews State Park is home to more beautiful beaches for you to soak in the sun on.
Tallahassee Museum, Tallahassee - This unique museum is an oasis close to the heart of downtown, and features breathtaking natural wonders, historic buildings, and animal exhibits.
Osceola National Forest, Sanderson - Osceola National Forest is only a few minutes from the interstate. If you enjoy immersing yourself in nature then you will love this national forest, which is home to lots of wildlife and quintessential Florida scenery.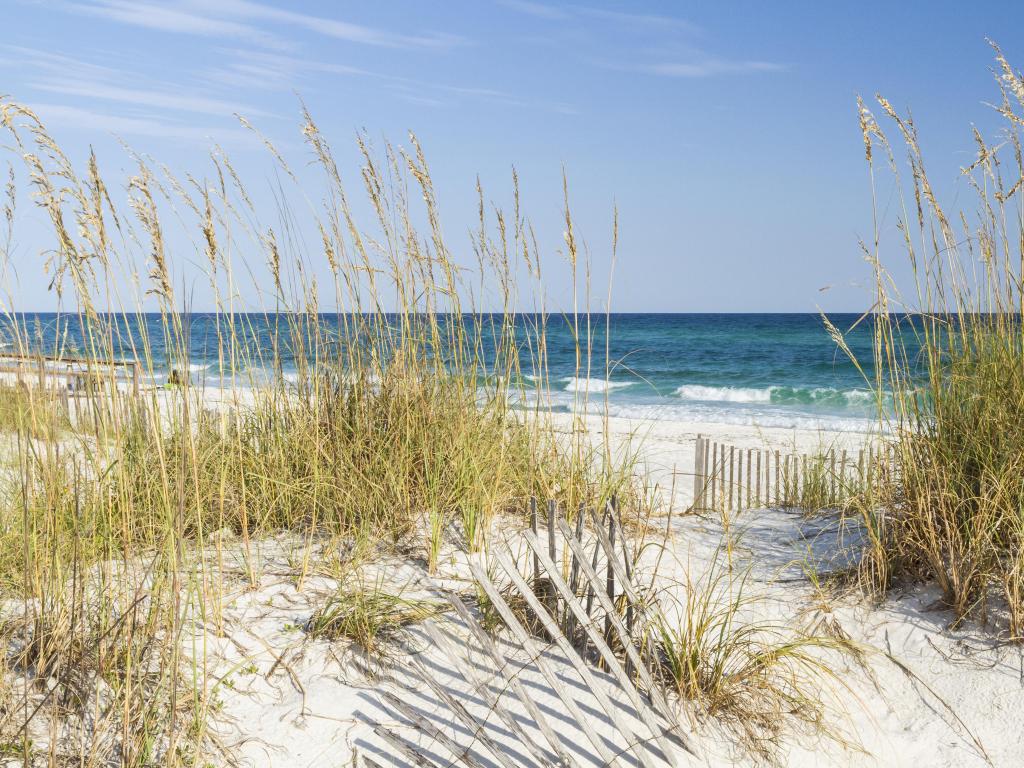 East Florida Route:
Jacksonville Zoo and Gardens, Jacksonville - Home to more than 2,000 rare and exotic animals, this zoo is known for its focus on animal wellness, raising awareness about the importance of better living conditions for these fascinating creatures.
Orlando Science Center, Orlando - If you get a little bit tired of Orlando's amusement parks, consider a trip to the science center where you will be impressed with the great exhibitions and displays.
Kennedy Space Center, Merritt Island - The Kennedy Space Center is a fantastic way to spend an afternoon while learning a little bit more about space exploration.
Jensen Beach, Hutchinson Island - Jensen Beach is only one of a few spectacular beaches on Hutchinson Island. You can reach the island with a short detour from the main route.
Downtown, West Palm Beach - Home to a vibrant nightlife with lots of bars and restaurants, something for those who enjoy more atmosphere and excitement.
Red Reef Park, Boca Raton - Red Reef Park is an artificial reef near Boca Raton, a perfect place to enjoy some snorkeling or other watersports.
Las Olas, Fort Lauderdale - One of the best beaches and boulevards in Fort Lauderdale, definitely a place to visit if you want to enjoy some sun and sand.
Biscayne National Park, Florida - Biscayne National Park can be a little bit difficult to access, as you can only get there by boat. But it is well worth the effort to enjoy crystal clear water and abundant marine life.
Gumbo Limbo Nature Center, Boca Raton - Learn about sea turtles in this educational nature center and take a stroll in their beautiful Butterfly Garden.
Boca Raton Museum of Art, Boca Raton - You can spend a whole day in this museum that features collections of contemporary art, photography, non-western art, glass, and sculpture.
South Beach Park, Boca Raton - This beautiful park features 3 swimming areas with crystal-clear water as well as fishing and bird-watching opportunities.
West Florida Route:
Ocala National Forest, Florida - Another opportunity to immerse yourself in nature. Ocala National Forest has great hiking and water sports opportunities.
Matheson History Museum, Gainesville - Learn about the history of Gainesville, Alachua County and surrounding environs in this museum complex which also houses the Matheson Library & Archives, the Matheson House, and the Tison Tool Barn.
Calusa Nature Center and Planetarium, Fort Myers - Enjoy this 105-acre natural oasis which features tranquil walking trails through pine flat woods and cypress wetlands as well as a Planetarium.
Florida Panther National Wildlife Refuge, Immokalee - This wildlife refuge aims to protect the core habitat for the endangered Florida panther and all native wildlife that coexists with this apex predator.
Big Cypress National Preserve, Ochopee - You can bike, canoe, kayak, hike and birdwatch in this vast swamp which spans over 729,000 acres.
Tampa Museum of Art, Tampa - Be inspired by the innovative exhibitions of this museum that focus on ancient, modern, and contemporary art.
Busch Gardens Tampa, Tampa - There is fun to be had for guests of all ages in this African-centered animal theme park which once housed the tallest and fastest inverted roller coaster.
Curtis Hixon Waterfront Park, Tampa - Take your picnic mats out of your trunk and enjoy an afternoon in this uniquely designed urban park. If you are lucky, you will get to see some performances by local artists here.
Peace Mound Park, Weston - Home to the Tequesta Trace burial mound learn about the Native American history of this park, where you can also bike and hike.
Everglades National Park, Florida - The Everglades lie slightly beyond Miami, but if you can spare a few days, we highly recommend organizing a tour. The Everglades is home to lots of wildlife and some amazing swamps, keep your eyes peeled for alligators!
Miami Beach Botanical Garden, Miami - Serene botanical garden and a tropical oasis in the heart of Miami Beach, you can get away from the crowds and enjoy lush plants as well as butterflies and turtles here.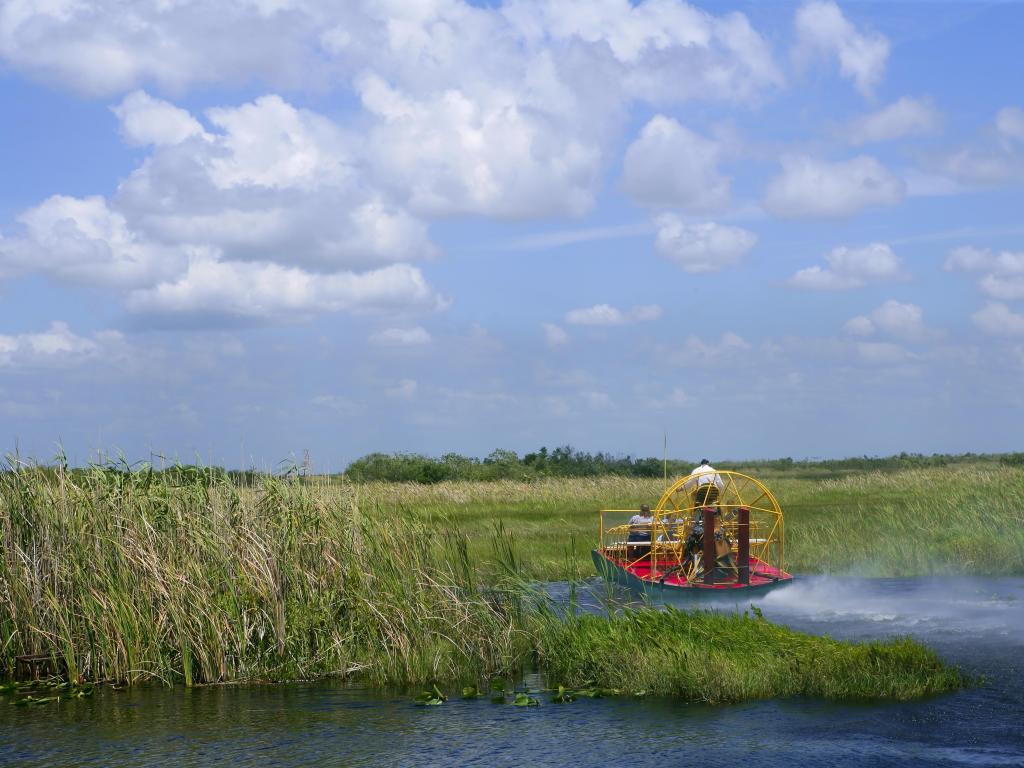 Best time to go on a road trip from New Orleans to Miami
Florida, and Miami in particular, is known for its subtropical climate. This means the summer temperatures can reach above 90 degrees Fahrenheit and sporadic rainfall is common. While this shouldn't put you off going at this time of year, you need to be prepared for the heat.
Summer is often the peak tourist season, which brings with it crowded beaches and increased hotel prices.
If you can, one of the best times to go is spring before the heat and rain of summer arrive and the temperature is still a lovely 70 degrees Fahrenheit. Couple this with more competitive hotel prices and you are in for a good deal!
Fall can also be a good time to go, as tourist numbers are lower, but temperatures are still pleasant at around 75 degrees Fahrenheit. However, you have to keep an eye out for hurricanes and other storms. The hurricane season runs from late summer into fall.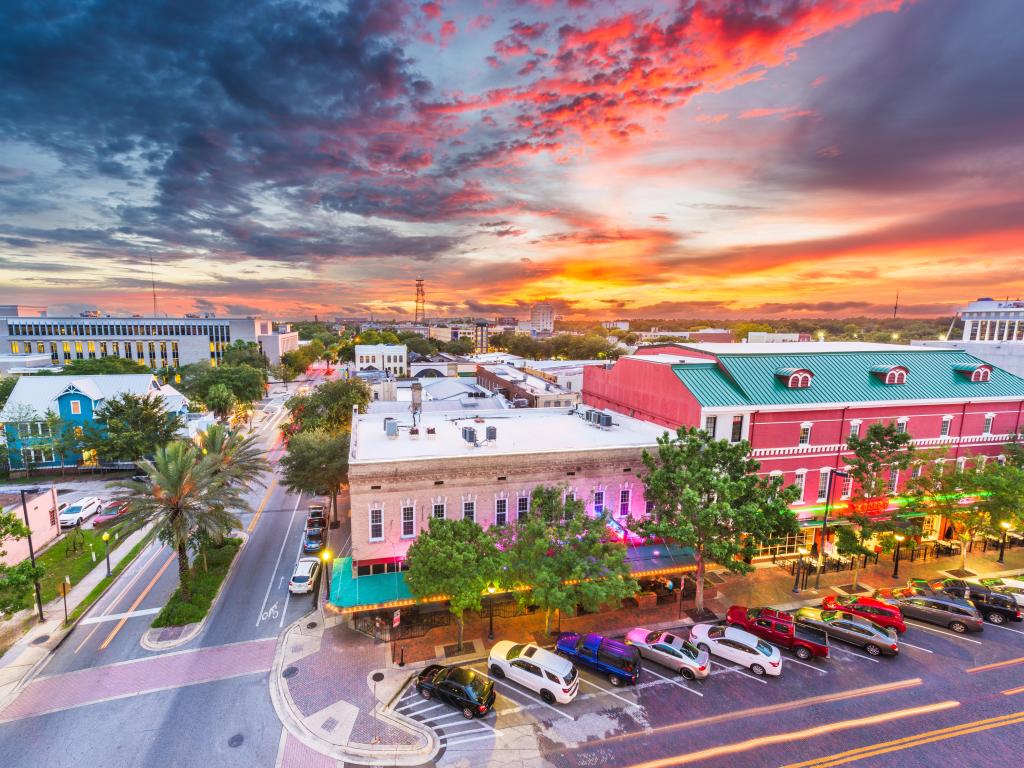 Winter is the quietest time of year to visit Miami, as most people go there for hot weather and sunshine. However, if you enjoy cooler weather and fewer crowds, it might be the perfect time for you to go. It is perfect for land-based activities, and better hotel deals.
If you are in Miami during January, make sure to check out the South Beach Jazz Festival and enjoy some groovy tunes by the beach.