Road Trip from New Orleans to Nashville
If you find yourself with some extra time on your hands and you would like to go on a memorable adventure, consider a road trip from New Orleans to Nashville. Along this straightforward route, you will come across plenty of historic sites, beautiful national parks and much more.
The 530-mile road trip from New Orleans to Nashville takes 8 hours to drive. Depending on the route, attractions include Laura, Myrtles, Whitney and Oak Valley Plantations as well as Birmingham, Huntsville, Vicksburg, Baton Rouge and Memphis.
There are some fantastic places to visit on this epic trip, so read on for our best routes and places to stop along the way.
How far is Nashville from New Orleans and how long will the road trip take?
Comparison of road trip routes between New Orleans and Nashville

| Route | Distance | Driving Time |
| --- | --- | --- |
| Eastern Route | 530 miles | 8 hours |
| Western Route | 680 miles | 12 hours |
Taking the quickest route (our Eastern Route), the road trip from New Orleans to Nashville covers 530 miles and takes 8 hours to drive non-stop. Considering all the memorable places and cities you can visit, the trip can be extended over a 3-day period.
The simple drive takes you through some the American South's major cities, such as Birmingham, Huntsville, Baton Rouge and Memphis as well as various scenic attractions.
If you have some spare time on your hands, we recommend that you take the Western Route and follow the River Road out of New Orleans. This alternative route will add 150 miles to your journey and 4 hours of driving, but you'll see everything from state parks and zoos to swamps and safaris.
If you wish to make the most out of the trip and visit all the major attractions, consider taking the Eastern Route on your way to Nashville and the Western one on your return trip home.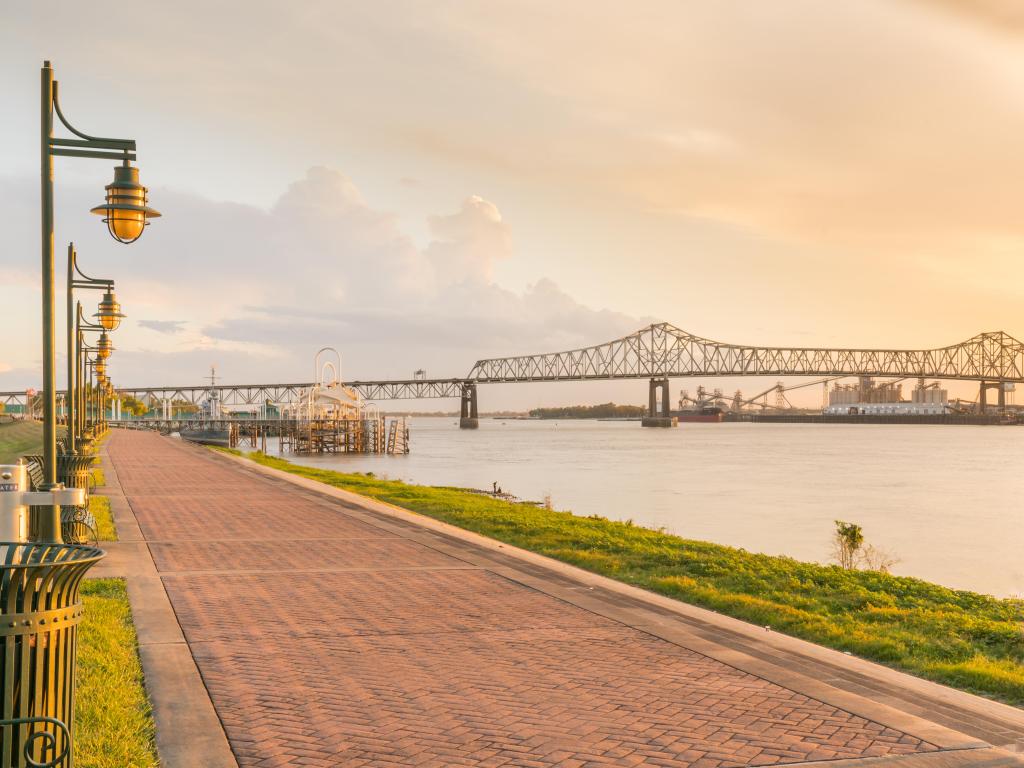 Best road trip route from New Orleans to Nashville
There is no best route for the road trip from New Orleans to Nashville. The Western Route takes you through Baton Rouge, Natchez, Jackson and Memphis and culminates in Nashville, while the Eastern Route passes Birmingham and a variety of scenic parks.
How to drive from New Orleans to Nashville
The map above shows our suggestions for the best road trip routes between New Orleans and Nashville. Keep reading for detailed descriptions of both routes, where to stay on either, and the best things to do on the way.
Eastern Route
On your way out of New Orleans take Interstate 10, drive east around Lake Pontchartrain and get on to the Twin Span Bridge. Consider a stop at the Infinity Science Center to the west, or Fontainebleau State Park in the east before continuing.
Next take Interstate 59 before reaching Pearl River, then continue further north. Drive to Hattiesburg, where you can detour to Paul B. Johnson State Park or spend some time in the city. Following Interstate 59, continue towards Meridian, where you can detour to Bienville National Forest or visit Bonita Lakes Park.
Continue on Interstate 59 after leaving Meridian and skirt around Tuscaloosa. Follow Holt Lake to Birmingham, where you should consider visiting some of the memorable attractions the city has to offer, before driving through Cullman and towards Tennessee River.
From here you can visit Wheeler National Wildlife Refuge, before entering Mooresville. Another great option is a detour to Hunstville. The rest of the route is fairly simple as you drive around Franklin before arriving at Nashville, Tennessee.
The Western Route
While exiting New Orleans, take Interstate 10 and drive west along the coast of Lake Pontchartrain. Before continuing, a memorable detour would be the River Road, where you can visit a number of historic plantations such as Oak Valley, Whitney, Laura and Destrehan Plantation.
Another option would be to visit Cajun Pride Swamp Tours and Maurepas Swamp Wildlife Management Area. Drive around Lake Maurepas and into Baton Rouge, where you can visit quite a few iconic places (many of which are included in our list below).
On your way out of Baton Rouge, take Route 61 towards Hardwood where you can stop at the Myrtles Plantation. Continue north towards Natchez, while driving around Homochitto National Forest.
Once you arrive at Natchez, drive perpendicularly to the Mississippi River towards Jackson, Mississippi, or make a quick detour to Vicksburg.
Next take Interstate 55 around Canton, Grenada Lake and Enid Lake until you reach Senatobia, where you can detour to Holly Springs National Forest and take a well-earned rest.
After exiting Memphis, take Interstate 40 until you get to Jackson, Tennessee, where you have the option for a detour to Tennessee Safari Park. Stick to the same route until you reach Pegram, take a detour to Montgomery Bell State Park, or keep driving until you reach Nashville.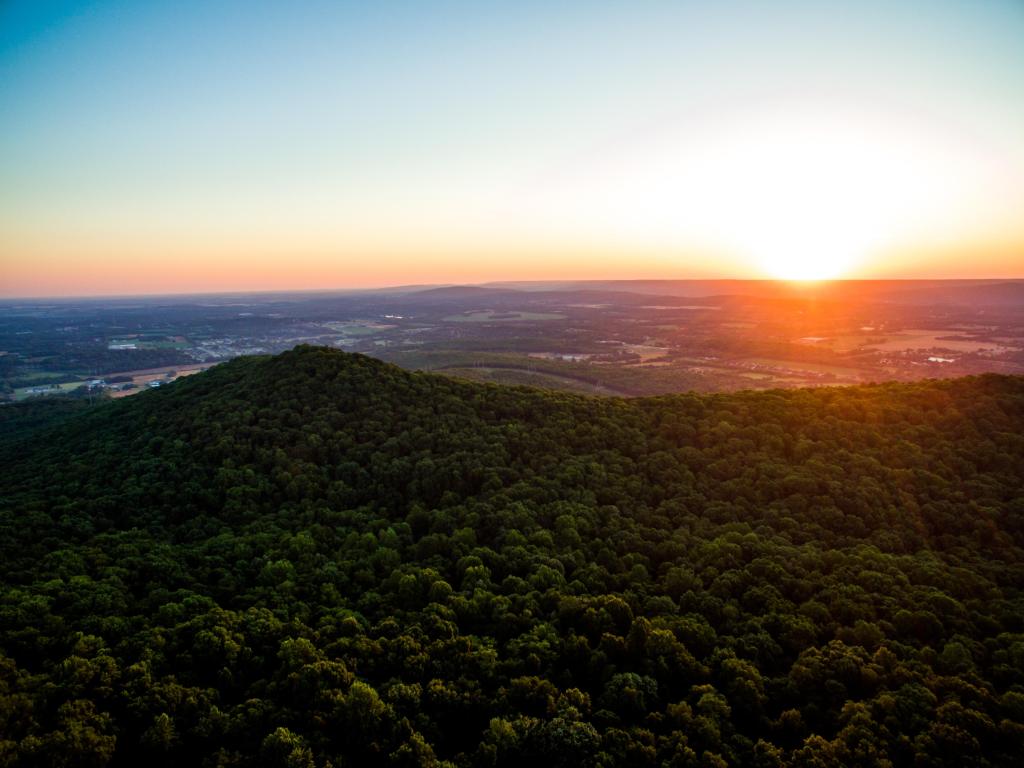 Best places to stop between New Orleans and Nashville
With all these spectacular sites queued up on your road trip from New Orleans to Nashville, you might want to take a break at one or more of the following resorts:
Visit "the home of the blues", Memphis
If you are taking the Western Route from New Orleans to Nashville, you'll reach Memphis around six hours into your trip, which is at the top end of our recommended daily drive time.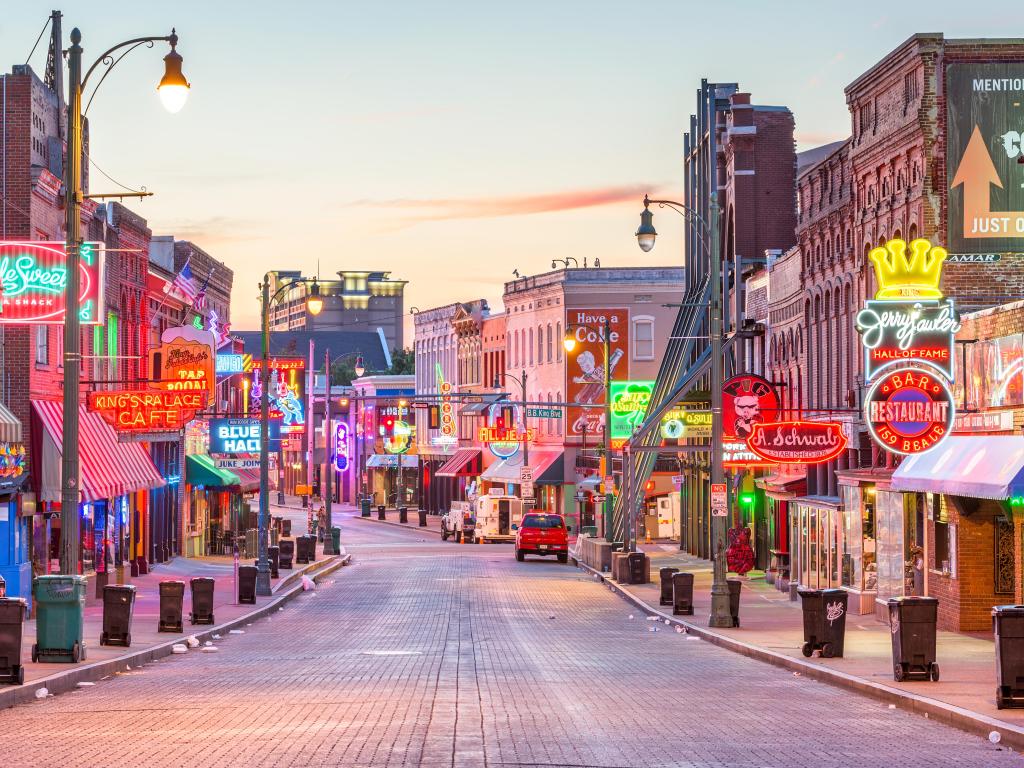 As a stopover point - or a destination in its own right - Memphis certainly won't disappoint. Famed for its rich musical history, this is the must-see city for fans of Elvis Presley, B.B. King and Johnny Cash. Delve into its rich past at the local museums or soak up the atmosphere at its many bars.
Located within the iconic Memphis Pyramid, the Big Cypress Lodge boasts great atmosphere and an eccentric and stylish layout. With beautiful views overlooking the Mississippi River and downtown Memphis, this hotel's stylish rooms will provide you with the rest you need.
An experience in its own right, the resort comes with fantastic wellness facilities, including a spa and even a 13 lane bowling alley within the site. After a long drive though, the appeal of a bath to soak in from the comfort of your room might be more exciting!
Situated 1.6 miles from the Orpheum Theater, this hotel is practical in both offering parking but also as a great base to explore more of what Memphis has to offer - it even has a shuttle service that takes you direct to downtown and Beale Street.
Relax in style in Birmingham
Birmingham is an ideal stop on the Eastern Route as it is almost halfway to Nashville. If you're looking for an overnight stop, the Valley Hotel Homewood Birmingham is an excellent choice. Serving as a splendid example of luxury and style, this modern hotel will certainly impress you.
Guests are accommodated with a terrace with a spectacular view, as well as a modern restaurant and onsite parking. Crucially the hotel is in a fantastic location, setting you right in the heart of Birmingham and just a short walk from the Vulcan Park and Museum and Birmingham Botanical Gardens.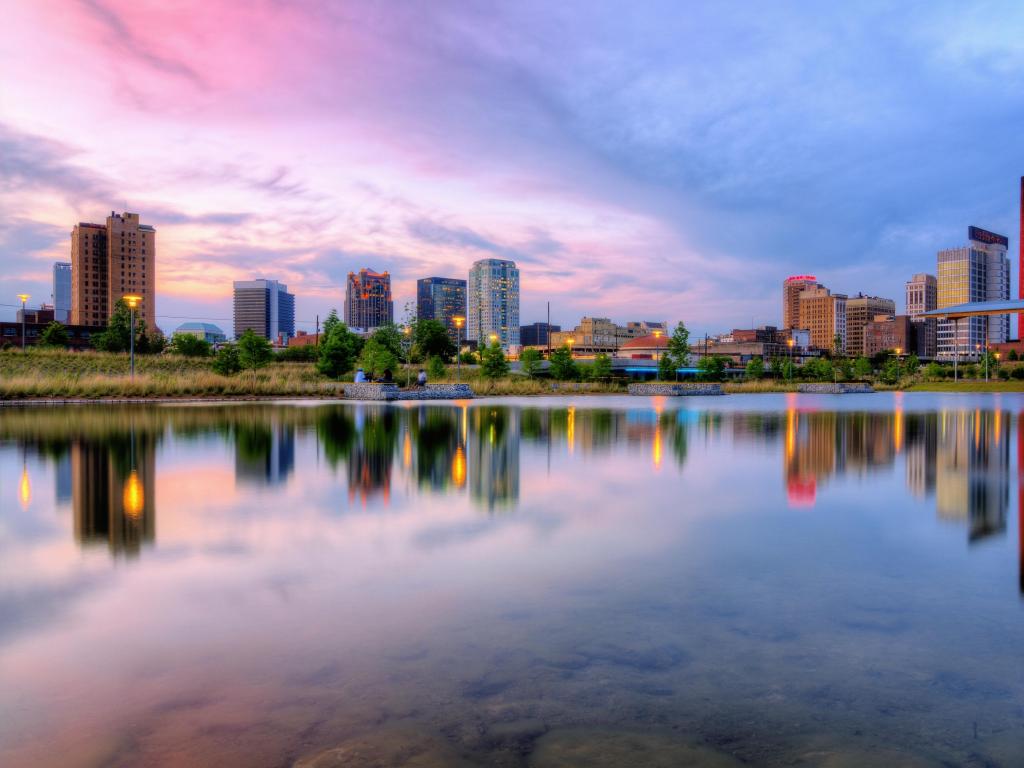 After exploring all that the city of Birmingham has to offer, why not indulge in a little stargazing from the shared outdoor terrace and keep warm near the fireplace with a drink in hand.
The resort provides exceptional value for money considering its luxurious layout and location. Surrounded by multiple attractions and sites, The Valley Hotel Homewood is undoubtedly the obvious choice when staying in Birmingham.
Receive the royal treatment in Nashville
Of course, this road trip isn't complete without spending some serious time in Nashville: the capital of Tennessee, known for its country music and historic buildings.
For a truly memorable stay in "the Music City", we highly recommend the sleek and stylish Grand Hyatt. Experience tranquility this grand, modern hotel and enjoy watching the sunset from either your spacious room or from the inside of the rooftop pool.
Guests have the choice of dining at the on-site restaurant or make use of being less than a mile from the center of Nashville and sample the many interesting and delicious nearby restaurants.
The Grand Hyatt provides numerous luxurious packages if a spot of relaxation if needed after the drive, alternatively you can spend the day relaxing on the sun loungers whilst taking in the incredible views of the city.
This without a doubt is one of the most luxurious hotels in the city, and that's definitely reflected in the price. However, between the spectacular service and ideal location, there is no better pick for a stop in Nashville.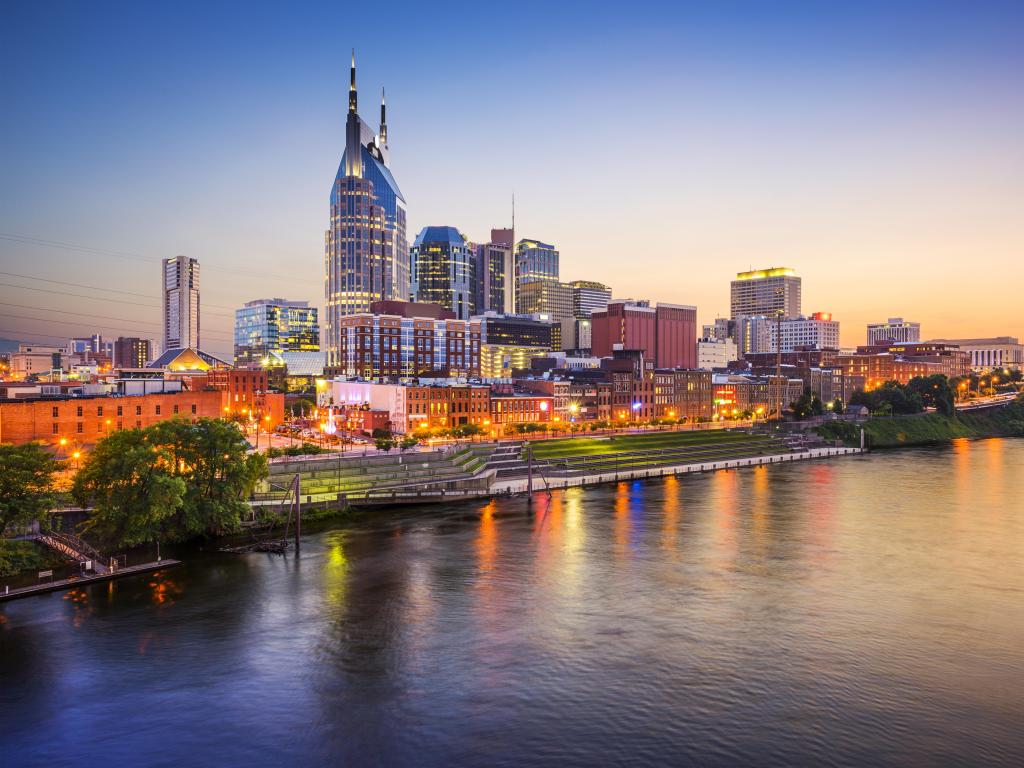 Things to see on a road trip from New Orleans to Nashville
The road trip from New Orleans to Nashville has a lot to offer no matter which route you take. Here are some of the places you want to keep an eye out for.
The Eastern Route
Infinity Science Center – Infinity Science Center is a museum dedicated to making space, engineering and technology science accessible for its visitors in a fascinating, exciting and fun way.
Paul B. Johnson State Park – Named after the forty-sixth governor of Mississippi the Paul B. Johnson State Park is a picturesque wonderland surrounded by pines, dogwoods and ancient oaks.
Hattiesburg Zoo – Offers its guests the unique possibility of hanging out and interacting up close with a variety of native African animals.
Birmingham, Alabama – The beautiful city of Birmingham has a lot to offer when it comes to memorable sites – Birmingham Museum of Arts, Vulcan Park and Museum, Birmingham Zoo, Birmingham Botanical Gardens and plenty more.
Destrehan Plantation – Destrehan Plantation is mansion in the French Colonial style where you will find yourself immersed into the rich history when the white gold of sugar drove the economy.
Oak Valley Plantation – Learn about some of the individuals who were kept on the plantations, their lives and the living conditions they endured throughout the slavery period.
Wheeler National Wildlife Refuge – Home to many species of migratory exotic birds, serving as a breeding ground for over 300 species of birds amongst other reptiles and mammals, the park is a great place to spend an afternoon.
Bienville National Park – An amazing place to camp and enjoy a multitude of outdoor activities.
Tennessee Safari Park – Acclaimed as a "drive-through zoo", you can pet over 80 species of animals from the comfort of the passenger's seat.
Montgomery Bell State Park – Serving as a peaceful destination for travelers, Montgomery Bell State park is a great place to soak up some sun while paddling down on of three lakes in the 3,850-acre park.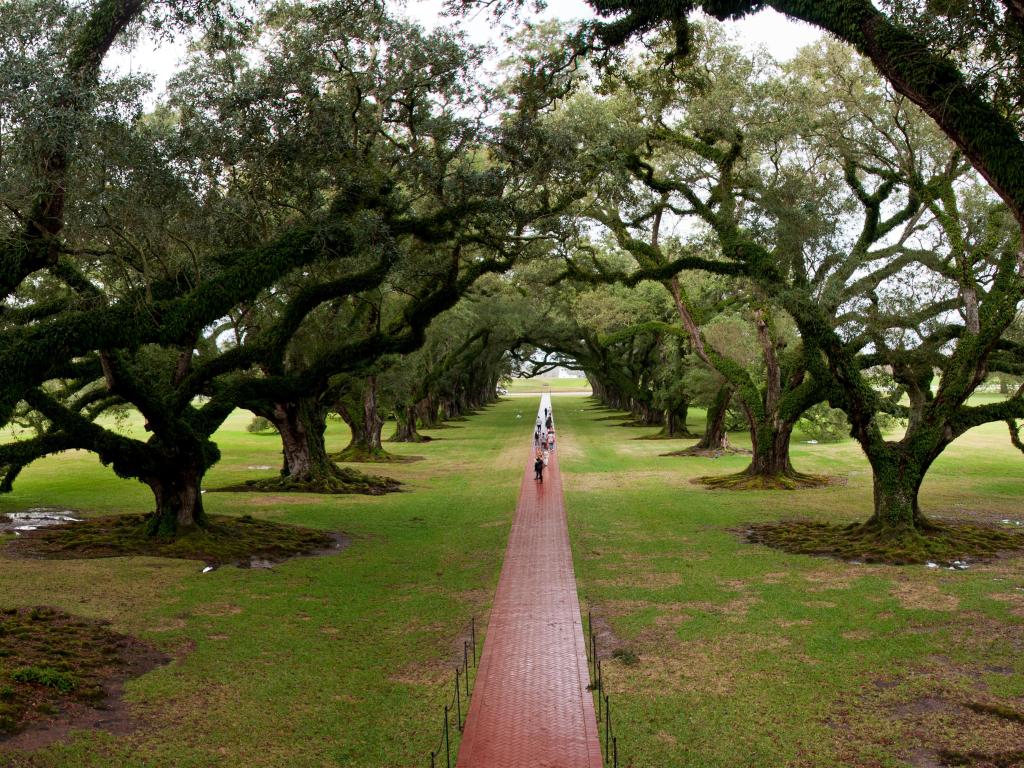 The Western Route
Fontainebleau State Park – The Fontainebleau State Park was once a sugar cane plantation and now is favored for its multi-colored nature trails.
Bienville National Forest – Visitors of Bienville National Forest can enjoy boating, fishing and hiking amongst majestic pine and oak trees.
DeSoto Caverns – Step into an adventure you will never forget at the DeSoto Caverns. Bear witness to the magnificent and beautifully lit mineral formations adoring this majestic cavern.
Huntsville Alabama – Huntsville is the home of some of Alabama's most prized attractions such as Huntsville Botanical Gardens, Monte Sano State Park and Lowe Mill ARTS & Entertainment, plus one of the world's largest collections of space memorabilia at the U.S Space and Rocket Center.
Whitney Plantation – Book a tour through the Whitney Plantation and learn about the horrors of slavery and the impact it had on the people held in bondage.
Laura Plantation: Louisiana's Creole – Book a grand tour over "The Big House" to the slave's quarters at the Laura Plantation and learn about the 4 generations of Laura's family.
Cajun Pride Swamp Tours – Experience up-close the exotic reptilian fauna and sail for a few hours around the authentic Louisiana swap.
Maurepas Swamp Wildlife Management – Maurepas Swamp is a great place for a hunting trip but if you prefer a more peaceful experience, birding and wildlife viewing are a solid option.
Houmas House and Gardens – Named "The Crown Jewel of Louisiana's River Road", the Houmas House has undergone 200 years of construction and remodeling and now showcases a multitude of styles reflecting its previous owners.
Baton Rouge, Louisiana – Baton Rouge is an excellent tourist destination packed with an abundance of prized attractions. Sites include USS KIDD Veterans Museum, BREC's Baton Rouge Zoo, Blue Bayou Water Park, L'Auberge Casino & Hotel Baton Rouge.
The Myrtles Plantation – Book a guided day tour at The Myrtles Plantation and learn about the intriguing history of the mansion or an evening mystery tour around the seemingly peaceful grounds.
Vicksburg, Mississippi – Located on the coastline of the Mississippi river, Vicksburg has plenty of sites to offer – Vicksburg National Military Park, USS Cairo Museum and Ameristar Casino Hotel Vicksburg.
Elvis Presley Birthplace – Admire the historical brass monument of "The King of Rock and Roll" and learn about the childhood of the rock star Elvis Presley.
Memphis – Whether you are interested in the history and heritage of Memphis, or you want to know about the role the city played in the foundation of music culture and art, be sure to visit so you won't miss out on a whole adventure.

Bonita Lakes Park – Enjoy a peaceful outdoor experience at Bonita Lakes Park while paddling, fishing or just listening to the rustling of the surrounding flora.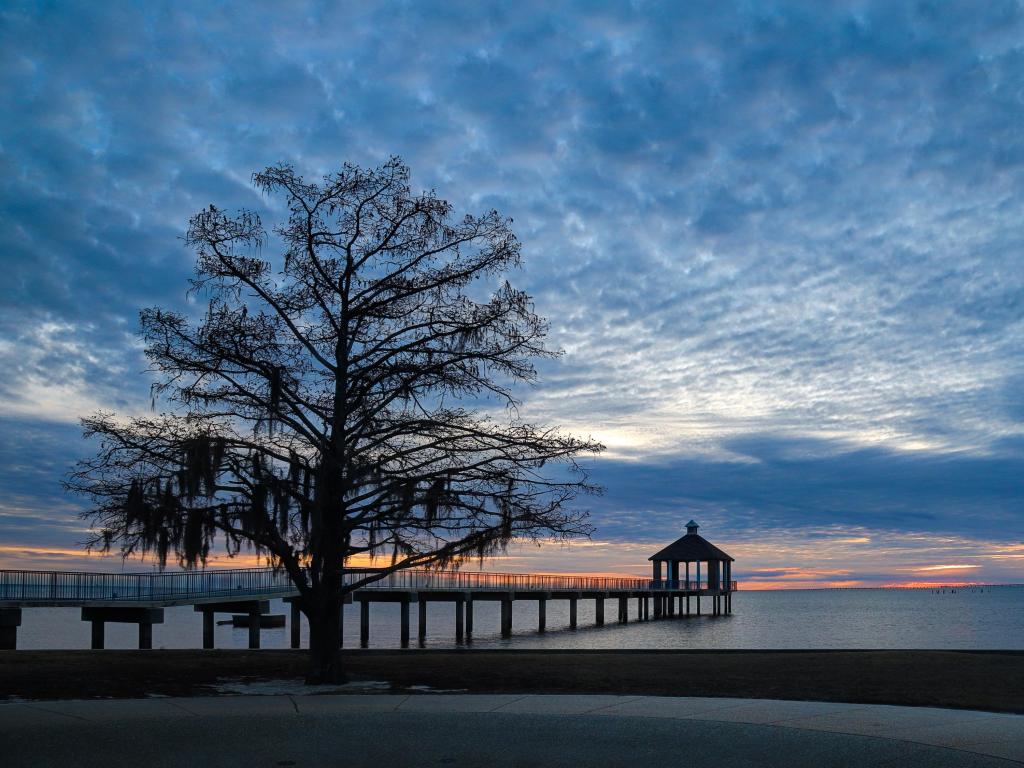 Best time to go on a road trip from New Orleans to Nashville
You can best appreciate the road trip from New Orleans to Nashville in late spring, summer and even early fall, when temperatures are pleasant and the weather is nicest.
There is a giant window of opportunity for visitors to enjoy Nashville from April to October, even though temperatures are considered fickle. The American South is widely known for being hot and humid throughout the summer, but there are still plenty of indoor and outdoor events.
If you want to experience Nashville at its bustling best - and get the opportunities to see some of the world's leading country music stars - then head to the city for its CMA (Country Music Awards) Fest in June. You'll find that hotel prices are higher during this busy period, but the atmosphere is well worth it!
If you'd prefer to avoid the crowds, spring is usually a solid option for a road trip to Nashville from the south. And although the weather is quite pleasant, temperatures at night tend to fall and it gets quite rainy during the day. There are plenty of things to see, so you should pack for all types of weather conditions to make the most out of the trip.
Unlike the summertime when hotel rates are high and prices are inflated, you will be able to strike good deals on local accommodation during the winter. From November to March the weather ranges from upper 20s to the low 60s, but you can easily warm up in the fantastic cities on the trip.