Ultimate Croatia road trip - Drive from Dubrovnik to Zagreb
Trying to plan the perfect Croatia road trip? With so much incredible diversity - sapphire coastlines, ancient cities, jaw-dropping landscapes and sensational cuisine, to name just a few - creating the perfect Croatia driving itinerary can prove to be something of a daunting task.
Not to worry; we've got you covered with the ultimate road trip plan starting in Dubrovnik and finishing in Zagreb. It features all the best places to see and things to do in Croatia, including island-hopping, sight-seeing, wine tasting, and visiting the stunning Plitvice Lakes National Park.
From wild peacock-inhabited beaches and secret gardens to quirky museums and top-notch restaurants with sensational views, here's how to spend 10 incredible days exploring this paradise on the Adriatic Sea - no matter what time of year you visit.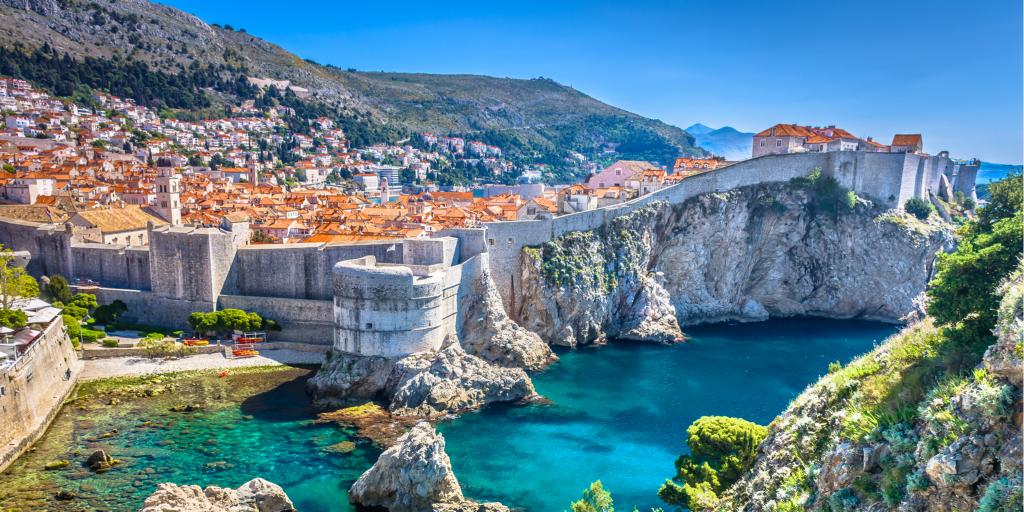 Day 1: Dubrovnik - Fly into Dubrovnik and explore the Pearl of the Adriatic
For ease of flying in, begin your Croatia road trip in Dubrovnik, famously described by Lord Byron as 'the Pearl of the Adriatic.'
The international Dubrovnik Airport has direct flights from cities all over the world including London, Madrid and Prague. Plus, it's just 15.5km from the city centre (that's a 30 minute drive or about 40 minutes by bus.)
Pick up your rental car from the airport and head west into town.
Note that there's no parking in the old centre, which is completely pedestrianised, but you should be able to find a spot in Gruz harbour for about 100 kuna (£12) per day.
For more detailed information about touring Croatia by car, check out our Driving in Croatia blog post, featuring info on tolls, roundabouts and general road rules.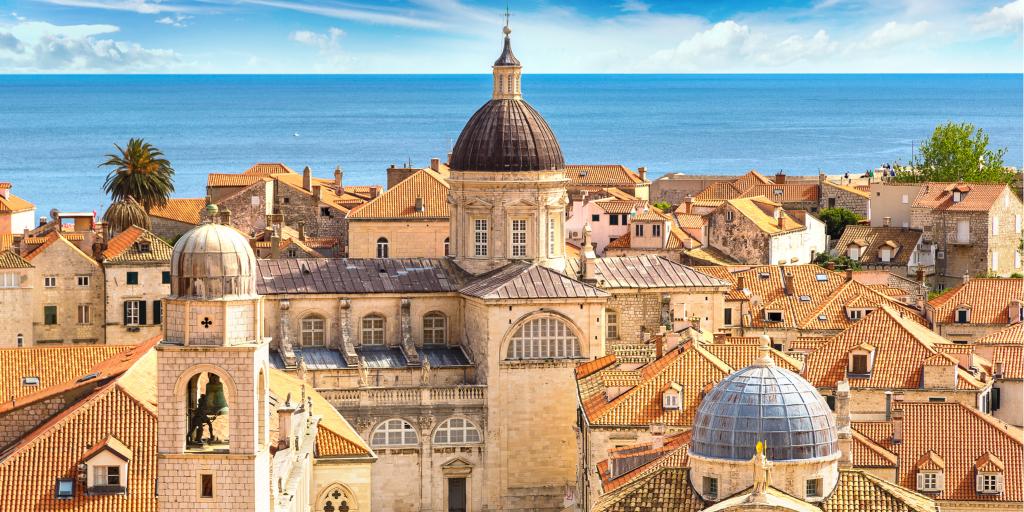 Walk around Old Town and spot the Game of Thrones filming locations
Once you've checked into your hotel and unloaded your things, it's time to explore - and the UNESCO-listed old town is a great place to start.
Have a wander around and keep your eyes peeled for sights and landmarks you recognise from TV (Game of Thrones fans - you know who you are!)
Top tip: If you're into museums and would like to see as many as possible during your stay, it might be worth purchasing a Dubrovnik city card.
Dubrovnik, which was first founded back in the 7th century, wears its history on its sleeve.
Around every corner you'll find ancient buildings like the Arboretum Tsteno, ornate 15th-century drinking fountains, and the remarkably well preserved medieval city walls.
Every little part of the city looks constantly poised for a picture, especially the impossibly shiny marble streets that are polished daily to preserve their sheen. In fact, Croatia is so famous for its marble that the USA imported the stuff to build the White House.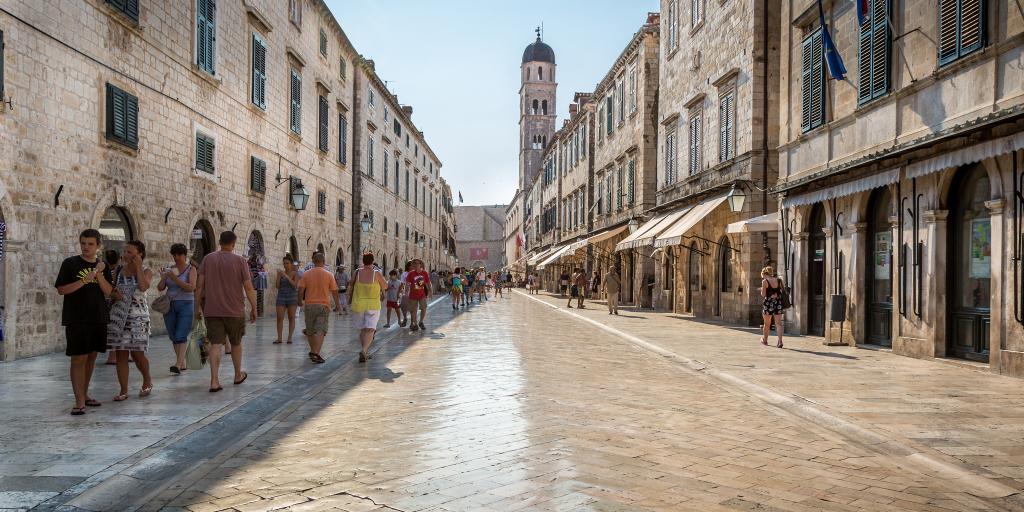 Marvel at the grand Rector's Palace
A massive earthquake in 1667 destroyed many of the Renaissance buildings in Dubrovnik, but a few still survive - including your first sightseeing stop, the Rector's Palace.
Flanked by grand marble pillars and and finely carved archways, this spectacular palace is quite the sight to behold and most definitely deserves to be on your Dubrovnik itinerary.
It was built in the late 15th century as a residence for the Rector, who governed the former Republic of Regusa, as Croatia was once known.
Due to multiple rebuilds and additions over the years, you'll be able to see a harmonious blend of Gothic, Renaissance and Baroque architectural styles.
And Game of Thrones will no doubt recognise the atrium, which was used to represent the Spice King's palace in the TV programme.
These days the Rector's Palace houses Dubrovnik's Cultural History Museum, featuring artfully restored rooms, portraits of Ragusan aristocrats, and the original keys to the city.
Thanks to its impressive acoustics, the palace also hosts super popular concerts during the yearly Dubrovnik Summer Festival between mid-July and late August.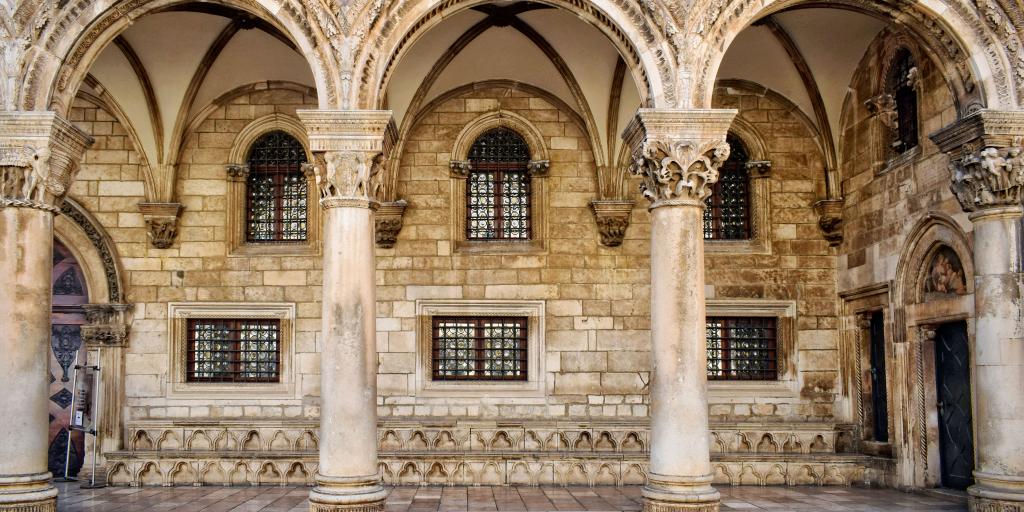 Head to Sponza palace
Once you've had enough of the Rector's Palace, wander north towards Sponza Palace.
On your way, at the very end of Stradun (the main street), you'll pass the iconic Clock Tower, a magnificent 31-metre-tall monument that dates back to the 15th century.
Every hour, two bronze figures that locals have nicknamed Maro and Baro chime the two-tonne antique bell, sending forth a pleasant tune.
It's worth seeing the clock tower in the daytime as well as the night, when it comes to life with lights.
Next, head into the main courtyard of Sponza Palace, which is free to enter. Don't bother buying tickets to enter the palace, as there's not much to see inside, but it's worth having a look around the tranquil courtyard for a few minutes of peace.
Get yourself some Croatian cuisine
No doubt you've worked up an appetite by now, so it's time to sample some delicious Croatian delicacies.
Fresh seafood, juicy oysters, rich black risotto and local wines abound in this part of the world, which means you can expect to eat very well over the next few days.
The intimate and super casual Barba restaurant is a Dubrovnik institution, famous for its fresh fish dishes and iconic octopus burger. It's a little pricey, but it's worth it for the atmosphere and unique experience!
Walk along the old city walls
Octopus burger - done. Now it's time to see more of Dubrovnik.
One activity that's pretty much obligatory in Dubrovnik is walking around the city walls, which provide ever-changing views over the sea and the old town.
The whole circuit is just over a mile long, so even the least fit among you should be up for it (just remember to bring some water with you, especially if you're doing it in the heat of the summer).
The city walls are open daily from 8am to 7pm in the summer and 9am to 3pm in the winter (admission fee is 100 kuna and includes a visit to the Lovrijenac Fort.)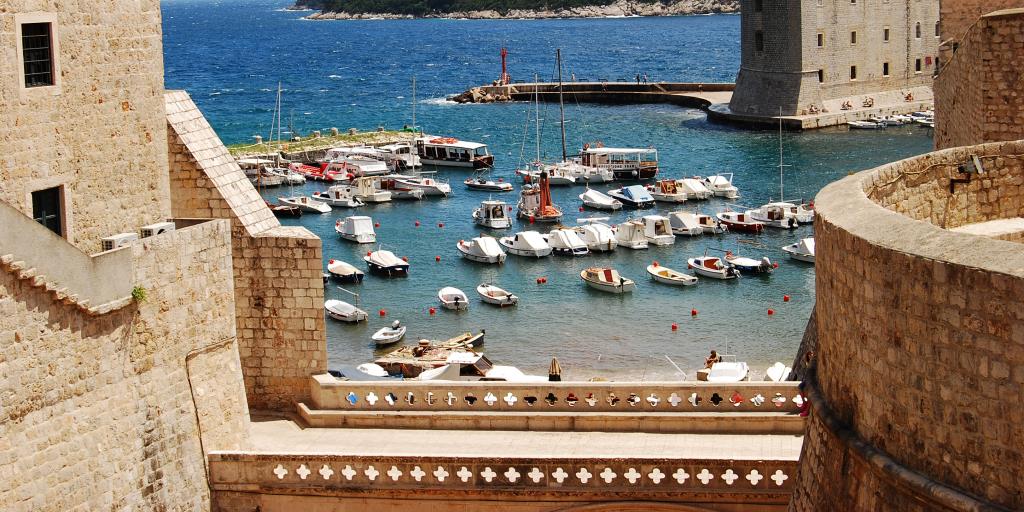 Go on a sunset funicular ride
Have a rest in your hotel room before heading out again to take in the sights at great heights aboard the Dubrovnik cable car.
The four-minute journey is quick and admittedly a tad pricey, but it's entirely worth it for the spectacular views of the blue Adriatic Sea - especially if you go at sunset.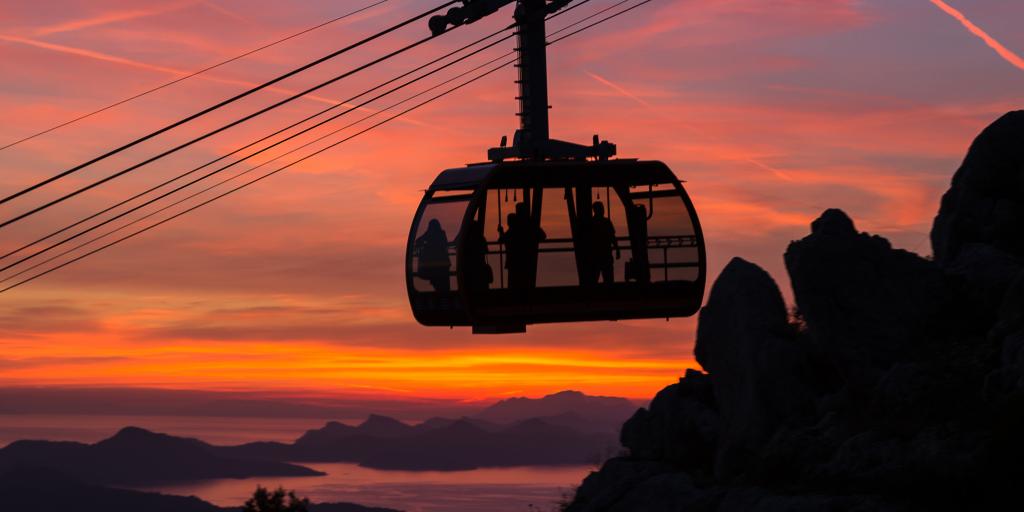 Dinner in Dubrovnik
For dinner, you have a whole assortment of options in Old Town ranging from authentic Croatian eateries to uber trendy bars.
At the friendly and intimate D'Vino Wine Bar, you can sample their selection of more than 60 Croatian wines, paired with tapas and delectable cheese boards.
If you're into your wine, here's a fun fact: It was recently discovered that the Zinfandel grape, which is widely grown in California, originates from Croatia. Why not order a glass of the real deal?
If it's a special occasion or you're just in the mood for dinner with a view, head to the Above 5 Rooftop restaurant.
You'll have to climb up quite a few stairs to get there, but the reward is fantastic views and even better food. Book ahead of time to avoid disappointment.
Day 2: Dubrovnik to Split - Go on a boat trip & start your Croatia road trip with a drive to Split
Miles: 142
Get stuck into the Croatian coffee culture
Today your Croatia road trip officially kicks off - huzzah!
But first things first: coffee.
Croatia has a very strong coffee culture and Dubrovnik is home to a happy mix of traditional streetside cafes and trendy third-wave roasters serving up fancy but delicious brews.
Today, wake up and get your caffeine fix at Soul Caffe & Rakhija Bar, which is hidden in a small side street like a delicious breakfast secret.
Catch a boat to Lokrum Island
Dubrovnik is great, don't get us wrong, but thanks to a swell in Croatia tourism recently it can get just a little bit overcrowded at times.
That's what makes Lokrum Island, just 600m off the coast, so very alluring. That, and the wild rabbits and peacocks roaming freely around the unspoilt beaches, of course.
Pick up some snacks and bottled water, pack your waterproof shoes and head to the Old Port to catch a ferry to Lokrum (these run every 30 minutes in high season and the journey takes 15 to 20 minutes).
The island is Dubrovnik's natural playground, where you can spend the morning swimming, hiking, picnicking and exploring the ruins of an old Benedictine monastery.
After enjoying your picnic lunch, pack up and hop on a boat back to mainland before the midday heat kicks in.
Then collect your things at the hotel and throw them into your car; it's time to drive to the next stop.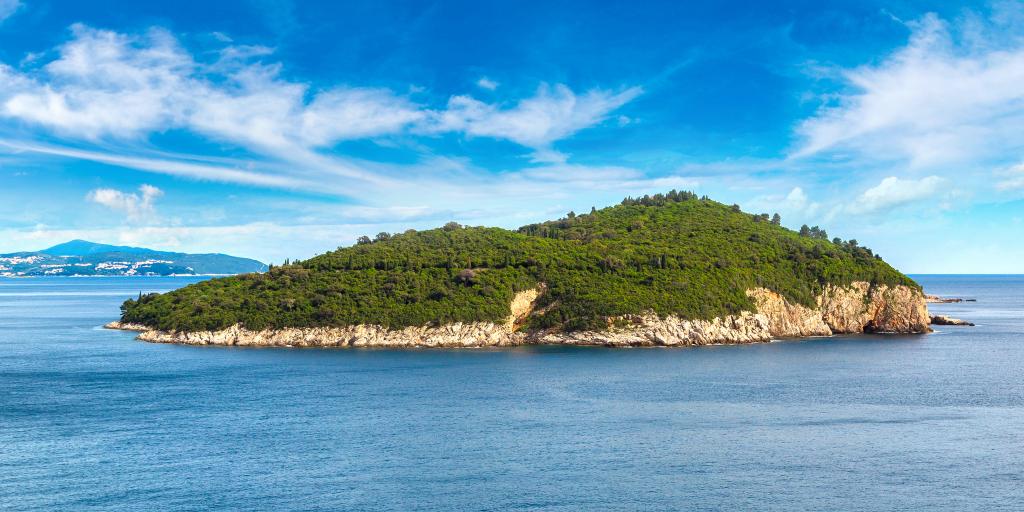 Drive from Dubrovnik to Split
A couple of things you need to know about driving from Dubrovnik to Split.
First, the journey passes briefly through Bosnia and Herzegovina, so have your passport ready to show at the border.
Second, the coastal route (known as the Magistrale) takes slightly longer - just over four hours - than the inland toll road, but it's lighter on the wallet and easier on the eyes. You make the call!
Split is often overlooked in favour of its better known neighbour to the south, but the second largest city in Croatia has a whole lot going for it.
Funky galleries, popular hiking paths and one of the most imposing palaces you'll ever see… these are the things that give Split its unique appeal.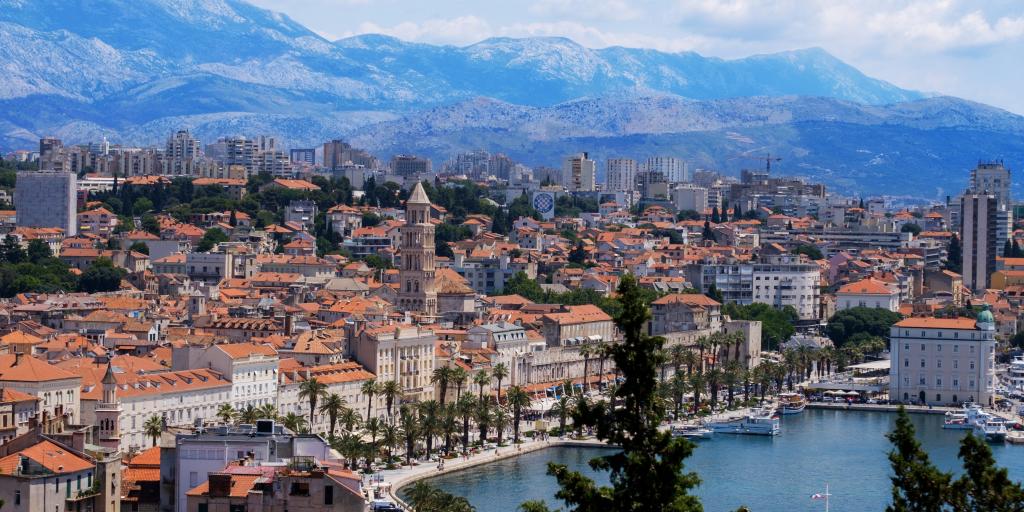 Parking in Split
The annoying thing about a Croatia road trip as that more often than not, finding a good, cheap and safe parking spot in these types of ancient, pedestrianised towns is a nightmare.
But lucky for road trippers like you, Split has a covered parking garage on Domovinskog rata Street in the city centre with ample spaces.
Drivers can leave their car in Acorus Garage for 1-3 days at a rate of 15 €/per day (in cash).
Head to the website in advance of your trip to reserve a spot.
Once you're parked, unload your suitcase, find your hotel and check into your room. Have a shower or a rest before setting out to explore this exuberant city on the scenic Dalmatian coast.
Dinner and drinks in Split old town
At night, Old Town Split teems with tourists and locals eating, drinking and walking around the labyrinthine marble streets.
Get stuck in straight away by grabbing a pizza at a terrace restaurant or seeking out some fresh seafood and Croatian wine.
For a taste of local nightlife, head to the bars that line the tangle of streets behind the 15th-century Diocletian's Palace, Split's main attraction.
The popular Gaga Caffe bar is known for its buzzing atmosphere and dangerously cheap cocktails, while the pleasantly kitschy Academia Ghetto Club has a bohemian vibe.
You could also get a sneak peek at tomorrow's sightseeing destination by heading to the library jazz club Marcvs Marvlvs Spalatensis, which is housed within the aforementioned palace.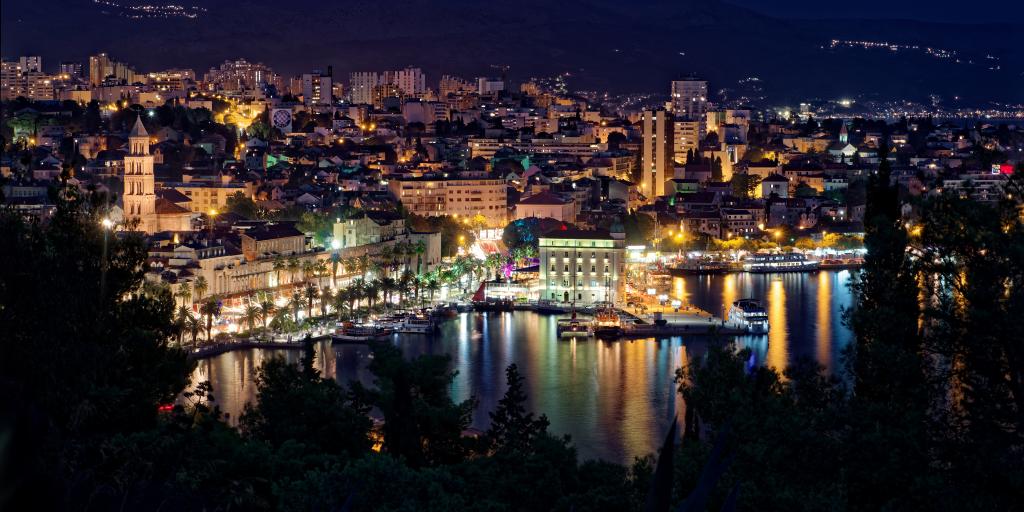 Day 3: Split - Hiking, sightseeing & beach
Start your day right with an early morning trip to the Green Market on Stari pazar, right next to the palace walls.
Here you'll find dozens of vendors hawking local produce, freshly baked bread and tasty Croatian snacks.
It's the perfect place for an al fresco breakfast before doing some exercise.
Climb up Marjan Hill - the 'lungs' of the city
Bring along a bottle of water and navigate to the bottom of Marjan Hill, Split's nature playground.
It's a three-kilometer journey to the top of the hill, but luckily most of the pathways are lined with lush trees that provide much needed shade from the strong Croatian sun.
It should take you about two hours round-trip, and you can follow up your excursion with a hearty lunch in the town centre.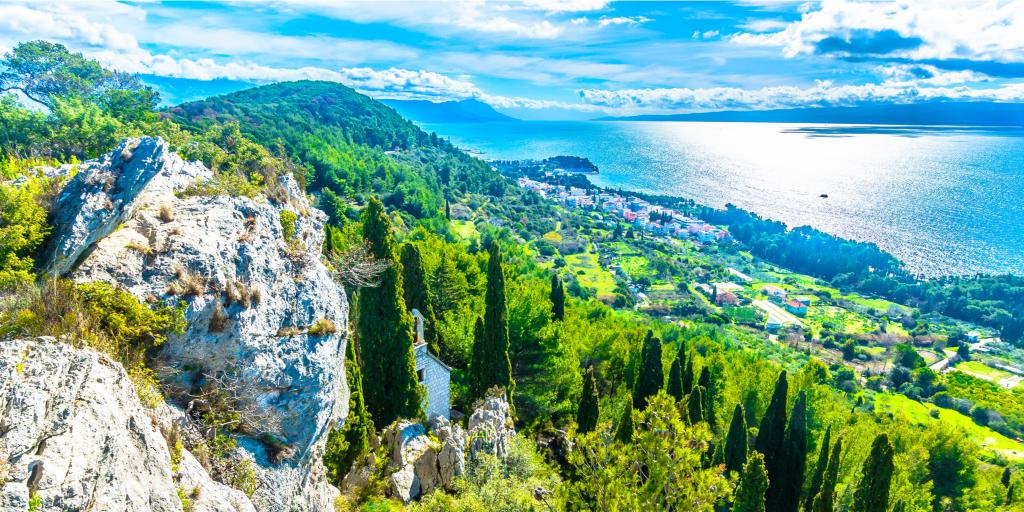 Step back in time at Diocletian's Palace
Next stop: Diocletian's Palace (in the light of day this time!)
The most amazing thing about Split's most popular attraction is that it's seamlessly integrated into the city itself, forming about half of the old town.
As such, most of it is free to roam around, although you do have the option of paying to climb the bell tower and access various other sections.
To get the full experience, buy a ticket that grants access to all areas of the Palace including the crypt, the treasury and the incredible St Domnius Cathedral, also known as St Duje's Cathedral.
The latter is a repurposed Imperial Roman mausoleum, originally built in 305 AD, with a distinctive octagonal shape.
The cathedral's bell tower, built much later between the 13th and 16th centuries, is a real highlight, and - as long as you're not claustrophobic - the climb to the top is worth it for the sensational views.
The wonderfully intact Temple of Jupiter, situated in the western part of Diocletian's Palace, is also worth peeping into.
Don't forget to look up at incredibly intricate design on the coffered ceiling.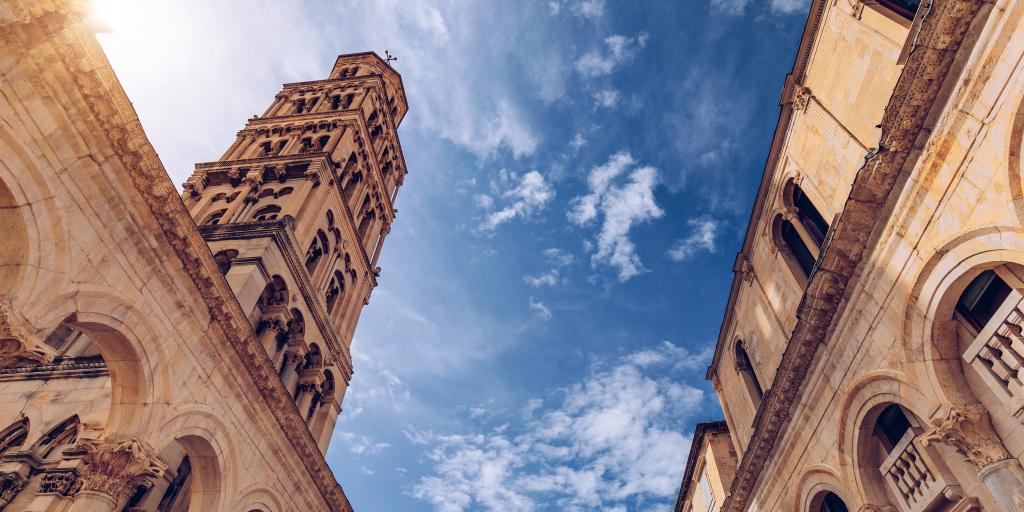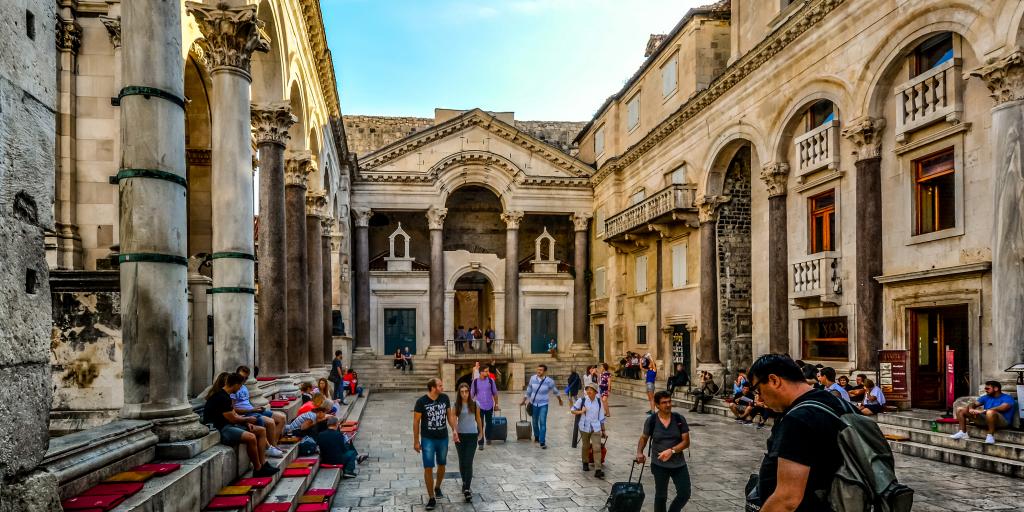 Head to Bacvice beach for an afternoon of leisure
Sightseeing over; time to chill out.
Beaches are not exactly Split's strong suit (compared to some other destinations you'll visit on your Croatia road trip), but the sandy Bacvice Beach is ridiculously convenient (about a 15 minute walk from the city centre) and this is a holiday, after all!
Rent a sunbed for 100 kuna and spend the rest of the afternoon lounging in the sun.
Keep an eye out for locals playing Picigin, a popular Croatian game where people stand in a circle in shallow water and bat a small ball around with their hands.
When you're ready to leave the beach, buy an ice cream along the Riva and get lost exploring the city's narrow pedestrian streets on your way back to your hotel.
Then treat yourself to a traditional Croatian dinner of octopus salad or a serving of crni rizot (black risotto).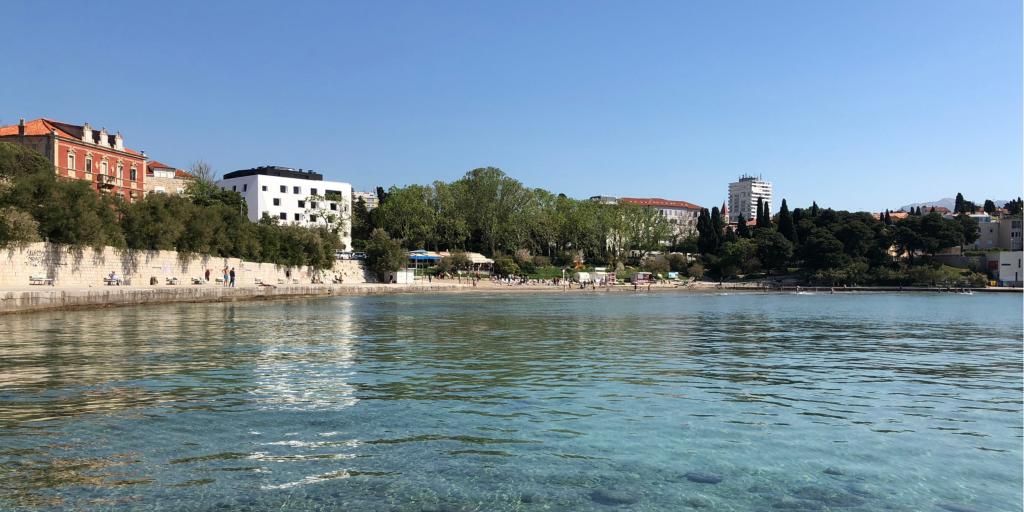 Day 4: Ferry from Split to Hvar
Miles: 39
Check out of your room, collect your car and make your way to the port to hop on a ferry.
With so many different beaches and sights to see on the island of Hvar, it's great to have your own car there so you can check them out at your own pace.
Car ferries go from Split to Hvar several times a day in both peak times and the off season, with the journey taking just under two hours.
Book your tickets in advance at the Jadrolinija website so you're good to go on the day.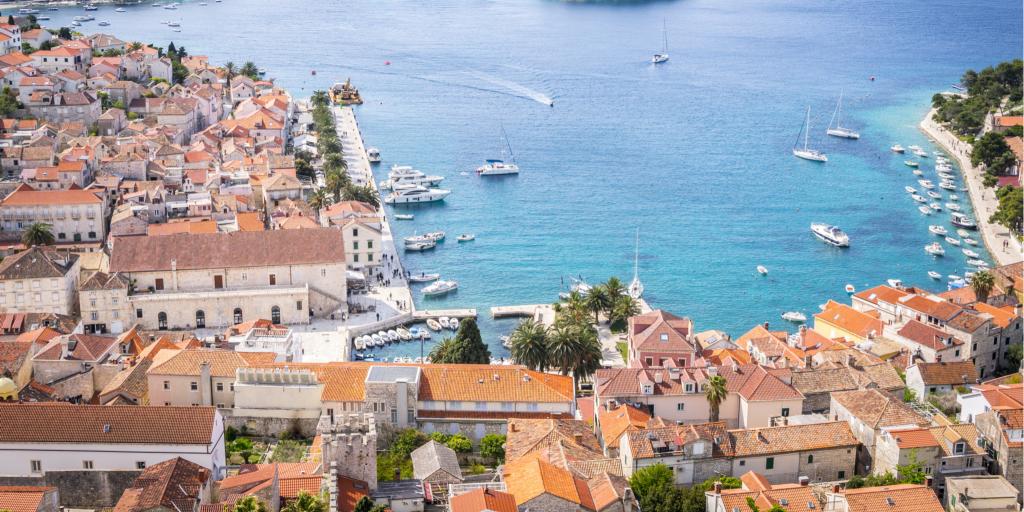 Take the car ferry from Split to Hvar island
Once you arrive on the island, breathe in the air; Hvar is world-famous for its fragrant fields of lavender, which come into full bloom in June and July.
Go for a drive around Hvar on your way to your hotel and check out the pristine beaches, elegant restaurants and unbelievable natural beauty that make this island the perfect holiday destination.
While beaches are not necessarily Split's strong point, they are most certainly one of the best aspects of Hvar.
Whether you're looking for serene and secluded coves or party-friendly beach bars, you'll find it on this island of dreams.
One particular seaside paradise is located in the village of Zarace, in west Hvar on the south coast. It's little and quiet, far removed from the bustling scenes around Hvar Town.
Bring your towel and waterproof shoes (it's a little bit rocky around here) and enjoy the crystal blue waters.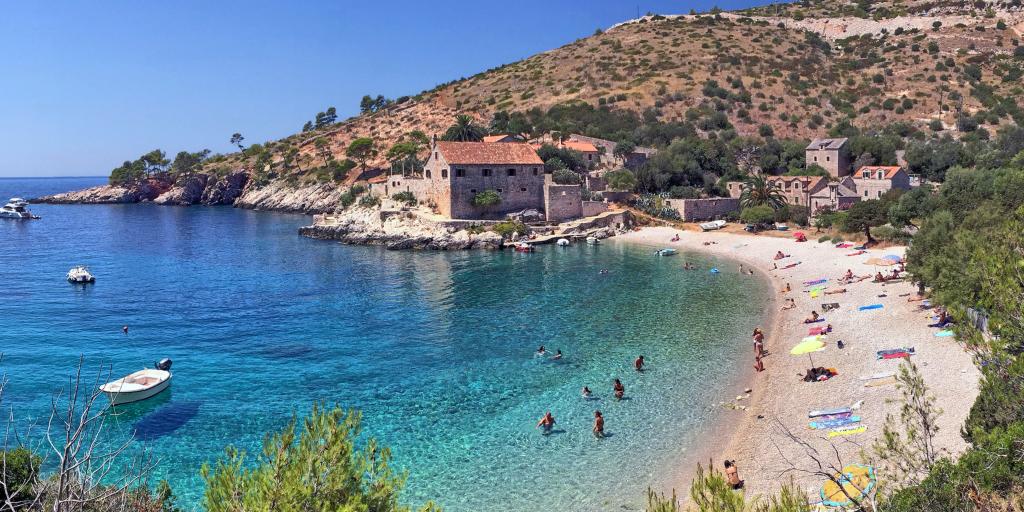 Dinner in Hvar Town
After a day spent sunbathing and swimming, you'll want to treat yourself to a hearty and happy evening meal. We're thinking seafood - Hvar's speciality.
Head to Hvar Town in the early evening, before the sunset casts a golden glow on the town's ancient stone buildings.
Most of the bars and restaurants are concentrated around St Stephen's Square, the main hub of activity.
Bunar restaurant in Hvar Old Town is super popular thanks to their menu of deliciously fresh seafood dishes and locally sourced ingredients. The ultra friendly staff and wonderful ambience are the cherry on top.
Round out the night with a drink at one of the many cocktail and wine bars in the area - or, if you're up for it, get your groove on in one of the lively late-night spots (Carpe Diem, we're looking at you!)
Prepare to get delightfully lost walking around the narrow stone passages that make up this centuries-old town.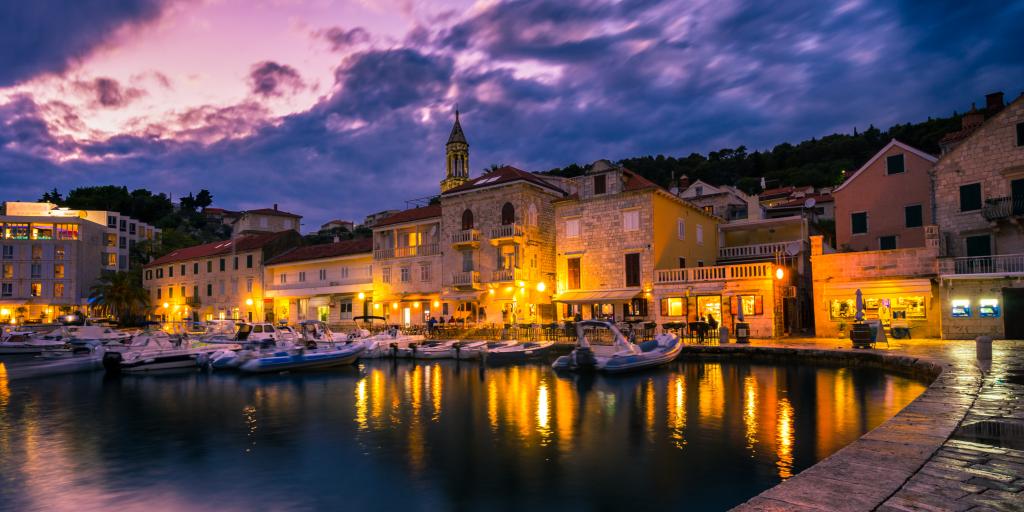 Day 5: Hvar - Hiking, winery and amazing dinner
Rise and shine! It's time for another day in paradise.
Grab yourself some breakfast, a strong coffee and bottled water at your hotel. Then slather on some sunscreen and strap on your walking shoes - it's time for some outdoor exercise.
Climb to Hvar Fortress for sensational views
Between the 13th and 18th centuries, Hvar was an important naval base as well as a centre for trade and culture.
The magnificent Hvar Fortress, aka Fortica, which stands proud at a high point overlooking the city, is a testament to the power and strength of the region during the medieval era.
The 20 minutes-or-so climb up to this scenic vantage point is half the fun!
It begins in the back streets of Old Town, winding gradually uphill through the forest along shaded pathways.
Once you reach the fortress, skip the entrance fee (there's not much to see inside) and instead check out the views from the cafe at the top.
Note: If you or your Croatia road trip companion has mobility issues, you can also drive up to the fortress - there's plenty of free parking at the summit.
Go on a mini Hvar road trip
You've got your own car at your disposal - today, let's use it.
So far you've seen the charms of Hvar Town, but there's a lot more to this Dalmatian island than just its biggest town.
Here are some great spots to include on your Hvar drive:
Stari Grad: Quieter and more laid-back than the buzzing Hvar Town, Stari Grad is all peaceful cobbled streets, blossom-covered buildings and inviting terrace restaurants - with a lovely harbour to boot.
If you've got time, visit the Renaissance-era Tvrdalj Castle, known for its pleasant shaded garden and the tranquil find inside.
Stari Grad is between 20 to 30 minutes away by car from Hvar Town.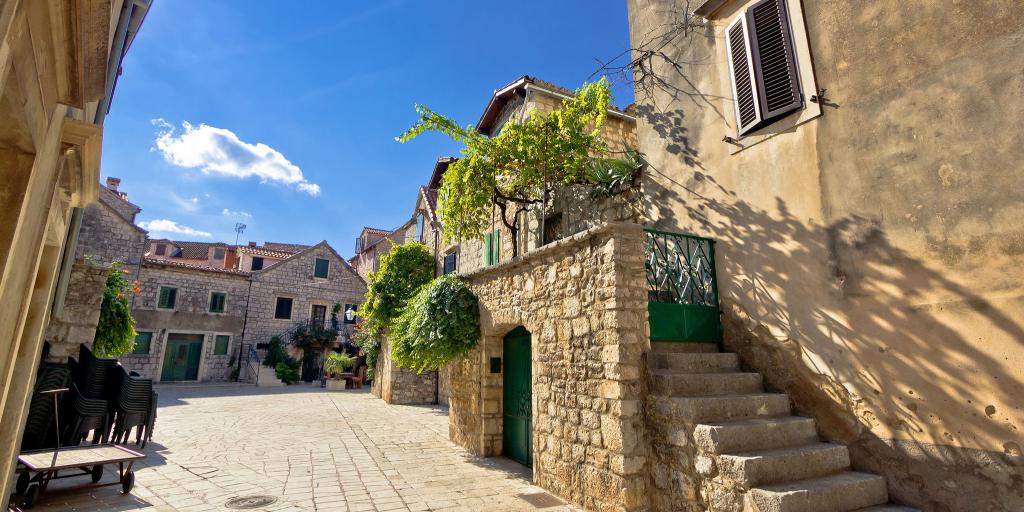 Tomic Winery: Hvar is famous for producing a particular red wine called Plavac Mali, and Tomic Winery, located in the town of Jelsa, is the place to go if you want to sample it.
Book a tasting in advance for the chance to sample the best of the best in Tomic's intimate underground Roman-style wine cellars.
Sveta Nedelja: You won't see many tourists in this tiny village in southern Hvar - and that's precisely its appeal.
Grapevines are interspersed with rosemary bushes and lavender fields, and the island's highest peak, St Nikola, stands guard in the background.
Pokrivenik Bay: On the north coast of Hvar, sandwiched between forested cliffs on either side, is the secret Pokrivenik Bay.
Keep your walking shoes or waterproof shoes close at hand, as this beach is a pebbly one!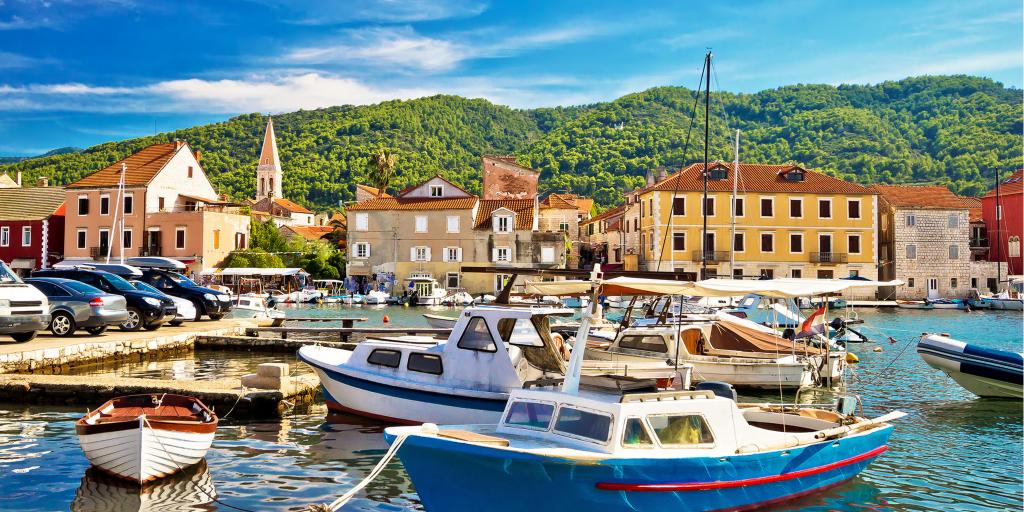 Dinner at the best restaurant in town
Once you've completed your Hvar road trip, head back to the hotel and have a relaxing bath or shower before going out to dinner.
Dalmatino, a steak and fish house, is widely regarded as the best restaurant in Hvar Town (book a table beforehand to guarantee a spot).
For a meal with a view, order some calamari and homemade pasta at Grande Luna, which has a fabulous open-roof terrace.
Day 6: Ferry from Hvar to Trogir
Miles: 54.5
Have a lie in this morning before treating yourself to a traditional Croatian breakfast of coffee, anchovies and bread with pasteta (paté).
Then pack up your things and get ready to continue on with your epic Croatia road trip.
Arrive at the ferry port early and ride on the boat back to Split. From there, it's a 45 minute drive along the Adriatic coast to the small island town of Trogir, known as the Little Venice of Dalmatia.
Often overshadowed by its better known neighbours, Trogir is most definitely worthy of a visit in its own right.
Sure, there's not much to do here except wander around the historic centre, sit in streetside cafes and marvel at the scenery… but really, what else do you need?
Once you've dropped your things in your hotel room, go out and enjoy a leisurely stroll around the UNESCO-listed medieval town, which is protected by remarkably well preserved 15th-century walls.
If you're feeling peckish, the area around the waterfront Riva has plenty of restaurants serving up fresh seafood, wood-fired pizzas and Dalmatian specialities.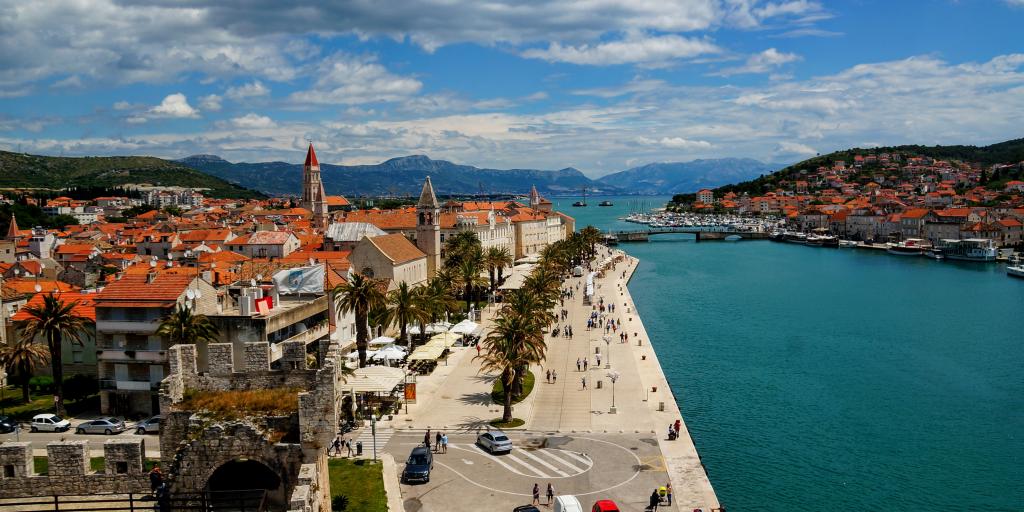 Visit St Lawrence Cathedral
Of course, if you're dying for some sightseeing there are a handful of places to see and explore.
As the tallest building in town, you can't possibly miss St Lawrence Cathedral, known among the locals as St John.
This impressive structure is a melange of architectural styles including Romanesque, Gothic and Baroque, reflecting Croatia's long and storied past.
Be sure to climb up to the bell tower on your visit for spectacular views of the surrounding area.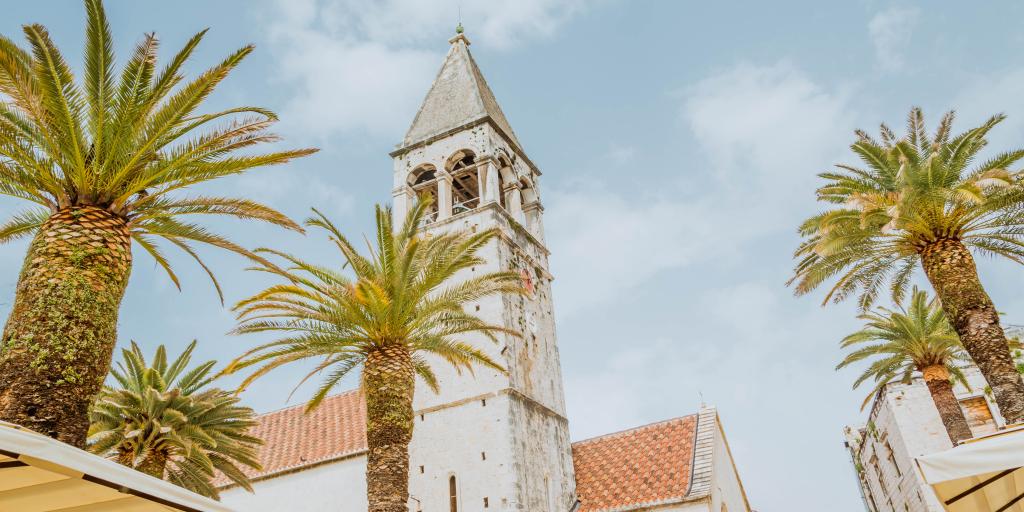 Just a few minutes' walk from the cathedral is Kamerlengo Castle, built by the Venetians in the 15th century. You can't go inside, but it's worth climbing up and doing a tour around the walls for views of the boats floating in the harbour below.
Spend the rest of the day relaxing and enjoying the delightfully laid-back atmosphere in Trogir.
Try to have an early night, as well; we have big plans ahead for tomorrow.
Day 7: Drive Trogir to Plitvice Lakes
Miles: 133
It's another early morning today! Wake up early, pack your things and hit the road.
It's a four hour journey to your next Croatia road trip stop: Plitvice Jezera, home of the famous Plitvice Lakes National Park,which is widely considered one of the most beautiful parks in the world.
You may recognise its stunning waterfalls from postcards and travel blogs, but even the photos don't do it justice. This place truly has to be seen to be believed.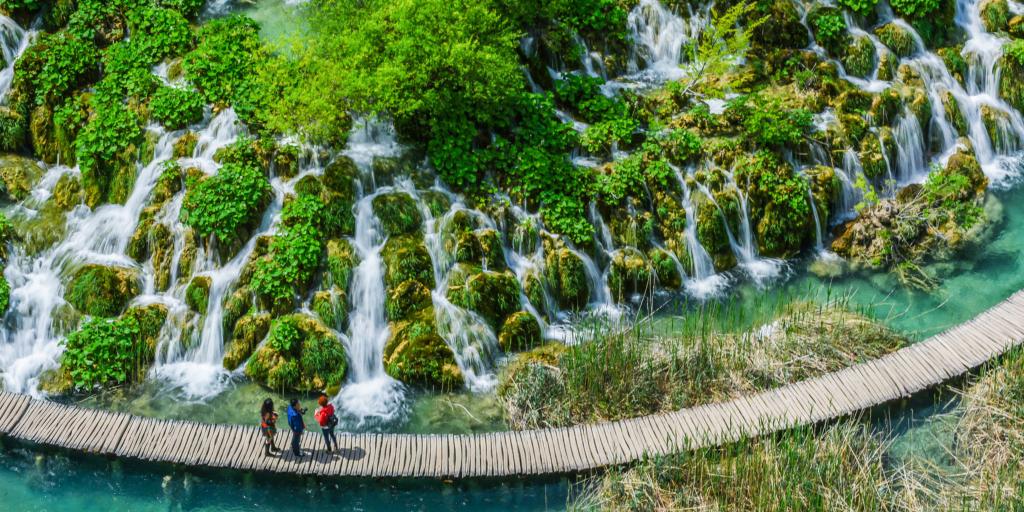 Spend the day at Plitvice Lakes National Park
Exploring the ins and outs of this spectacular 73,350-acre park will take all day, with 16 natural lakes and dozens of jaw-droppingly gorgeous waterfalls to discover.
Park your car in one of the parking zones for 6 euros, then wait for a shuttle bus to take you to the entrance of the park.
Be sure to take a selfie in front of the highest waterfall, Veliki Slap.
There are quite a few hotels in Plitvice that are reasonably priced and easy to get to after a day of lake-spotting.
Take it easy tonight and have a low-key dinner at your hotel before setting off tomorrow for more road tripping.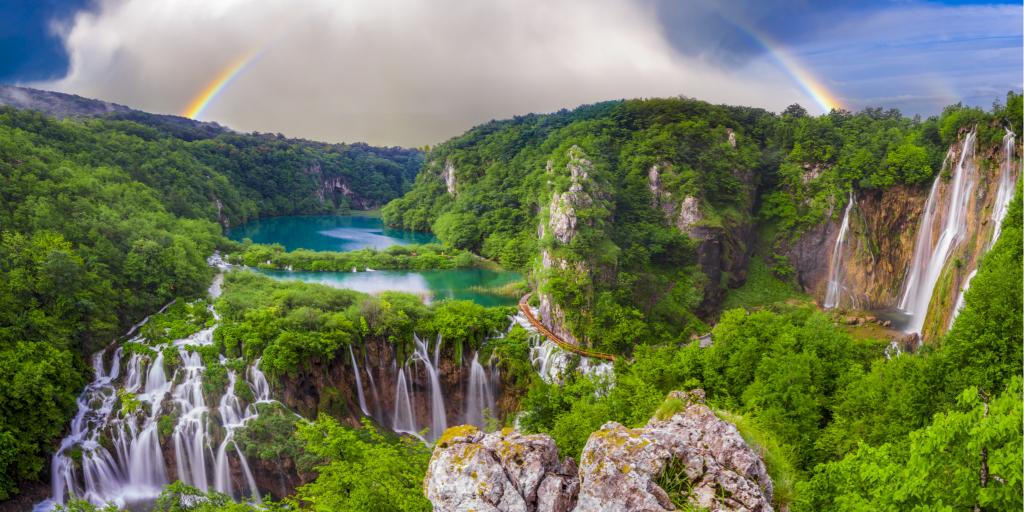 Day 8: Drive Plitvice to Rovinj
Miles: 149
Next stop on your Croatia road trip is the city of Rovinj, located on an egg-shaped headland along the western coast of the Istrian peninsula.
Once an old fishing town, Rovinj today is immensely charming, with its historic city centre and tangle of quaint cobbled streets attracting visitors year after year.
Spend the afternoon exploring Rovinj
Like Trogir, Rovinj does not have loads of museums, historic sites or tourist attractions - and that's exactly where its charm lies.
The best thing to do here is simply walk around and admire the cobbled streets and colourful pink and yellow houses rising up from the azure sea.
If you're visiting Croatia with your other half, it doesn't get much more romantic than Rovinj.
Explore the bohemian Grisia neighbourhood, filled with boutique shops and art galleries, for the best photo ops.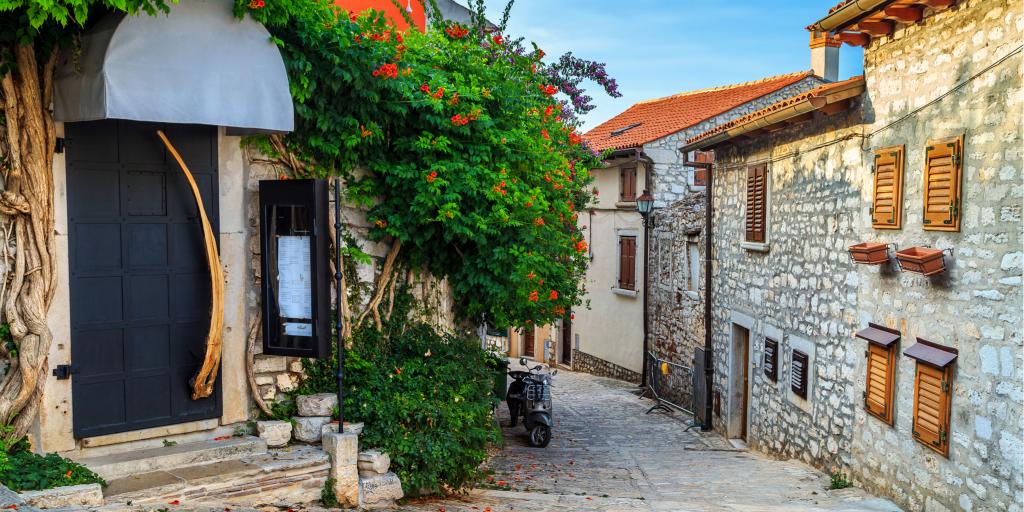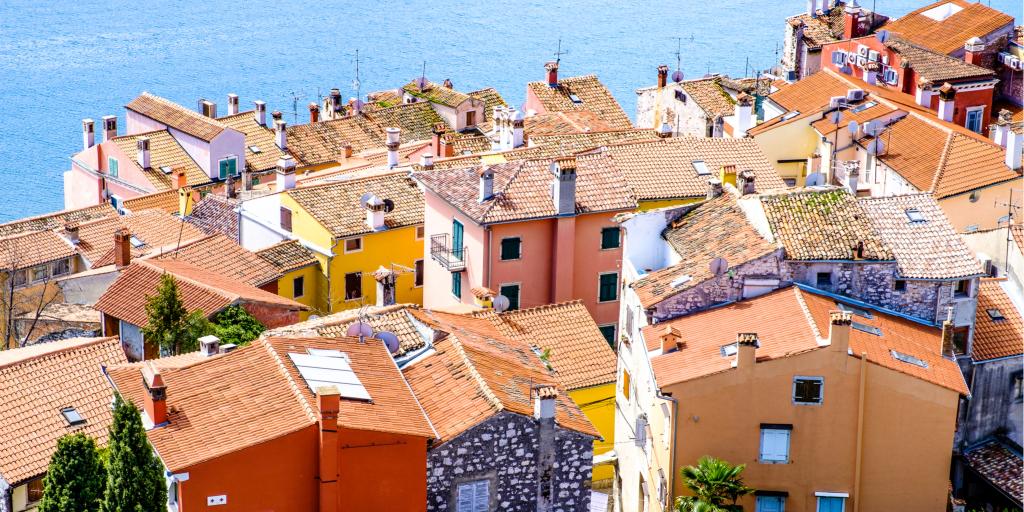 To get a taste for authentic Rovinj life, embark on a boat tour around the harbour in a batana - a traditional type of fishing boat that's been in use here for hundreds of years.
Head to the Batana House Eco-Museum to learn more about boat tour schedules.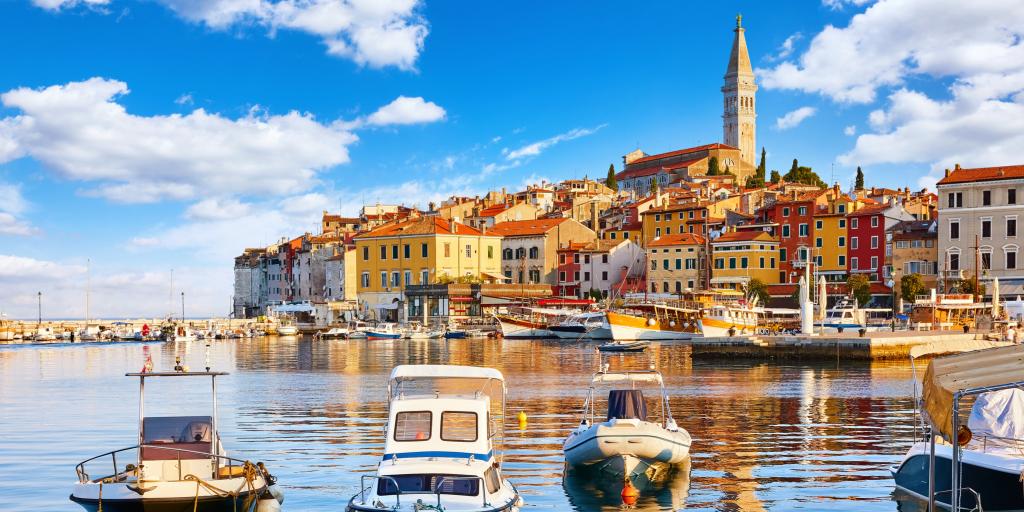 Feast on truffle-covered everything
What Rovinj lacks in tourist sites it more than makes up for in food!
Despite its small size, Rovinj boasts a truly incredible dining scene, with a pleasant mix of Croatian, Italian and Mediterranean cuisines.
In particular, this part of the world is famous for its penchant for (read: obsession with) truffles.
Head to any one of the restaurants and eateries in Rovinj, and you'll likely find truffles on the menu. Restoran Sante Croce is known for its fabulous location and signature truffle sauce.
Meanwhile, the nearby Monte restaurant was recently awarded the first Michelin star in the country.
P.S. If you're bonkers about truffles the way the Istrians are, consider booking a Wine and Truffle tour around the peninsula.
Truffle Hunting Croatia has a number of options, from bike tours to drives through the nearby Motovun forest.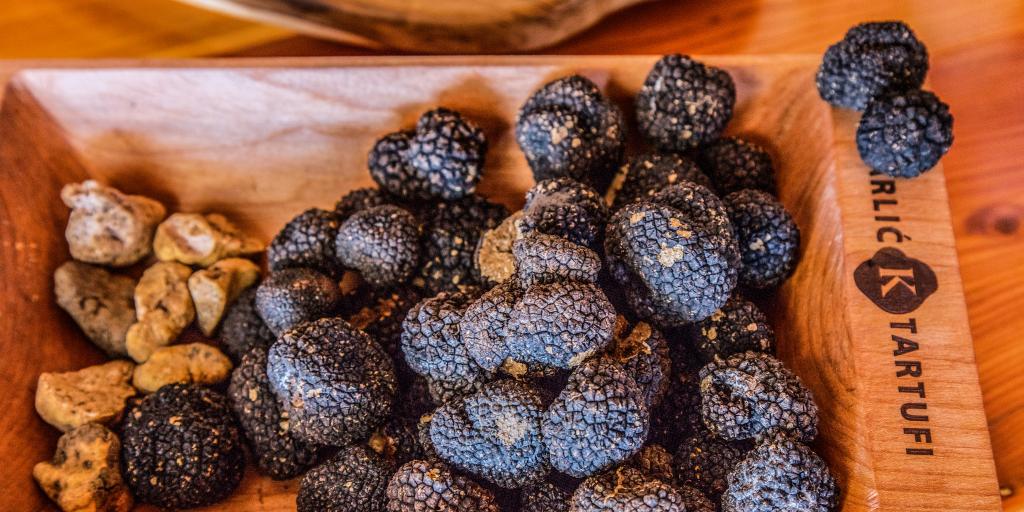 Day 9: Drive to Pula for a day trip
Miles: 45
Enjoy a strong coffee this morning before embarking on a day trip to Pula, about 45 minutes away by car at the southern tip of the Istrian peninsula.
You may know Pula as the location of the world-famous Outlook Festival, which is held in the ancient Roman-era Pula Arena and attracts thousands of music lovers every summer.
But there's countless other reasons to visit this delightful fishing port on the Adriatic, from its unspoilt beaches to its alluring wine-making traditions.
Catch a glimpse of the ancient Roman Pula Amphitheatre
Pula's proximity to Italy (it's a 3-hour ferry ride from Venice) can be felt not only in its classical architecture, but also its refined culture and its old-world feel.
Nowhere is this more apparent than at the 1st-century Amphitheatre de Pula - the sixth largest amphitheatre in the world.
The incredibly well-preserved monument, which once hosted gladiator battles and medieval fairs, is quite the sight, and when you see it, you can't help but feel like you've stepped back in time to ancient Rome.
Top tip: Don't bother paying the entrance fee to go inside; it's enough to see this masterpiece of architecture from afar as you meander through the city.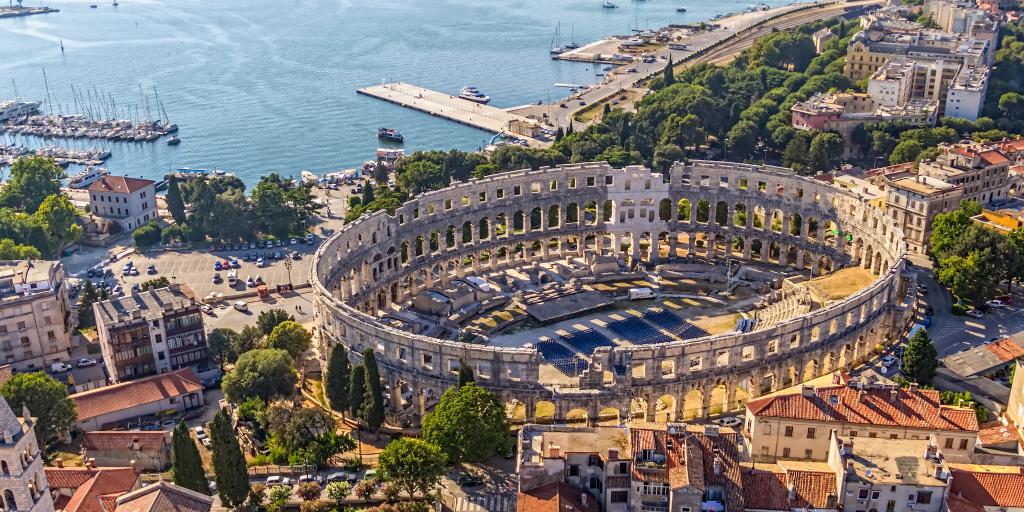 If you feel like an outdoor adventure, drive south another 30 or 40 minutes until you reach Cape Kamenjak nature park, at the very end of the Istrian peninsula.
The beaches here are sensational, with blue-green water that's popular among cliff-divers, snorkellers, kayakers and windsurfers.
There's plenty of parking available near all the best beaches, and the laid-back Safari Bar is the perfect place to unwind after a day in the sun.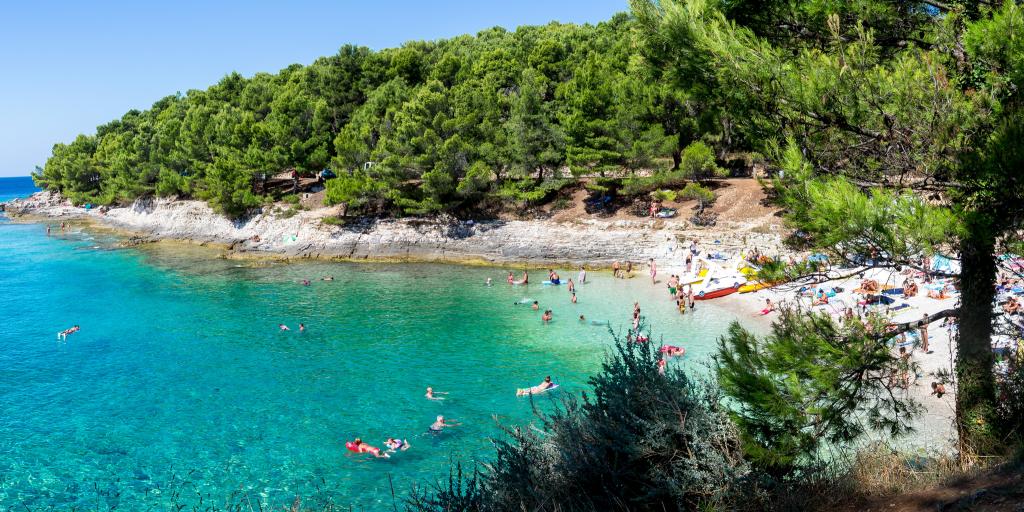 Dinner in Rovinj
Towel off and jump back in your car to head back to Rovinj for the night.
Satisfy that seafood craving with dinner at the cliffside La Puntulina restaurant, where the fantastic food is paired with even more incredible views.
Day 10: Drive from Rovinj to Zagreb & fly home
Miles: 157
Today is the last day of your Croatia road trip - but don't worry, there's still plenty more to do.
Get your caffeine and breakfast fix, then load your things into the rental car and set off towards Zagreb, the capital of Croatia.
This final leg of your Croatia driving itinerary takes between three and four hours, and you should be prepared to pay a couple of tolls along the way.
Make a quick stop in Optaija
If you're in need of a coffee or bathroom break en route, we recommend stopping in the lovely seaside town of Opatija, about 1.5 hours outside of Rovinj.
During the days of the Austro-Hungarian Empire, Opatija was considered the most chic seaside resort around, and these days you can see evidence of its glorious past in the stately belle époque villas dotted around the town.
For a gourmet treat, make your way to Plavi Podrum, a super romantic restaurant overlooking the water. You'll feel like royalty as you feast on exquisite fresh fish dishes. Wash it down with bubbles for an added bonus!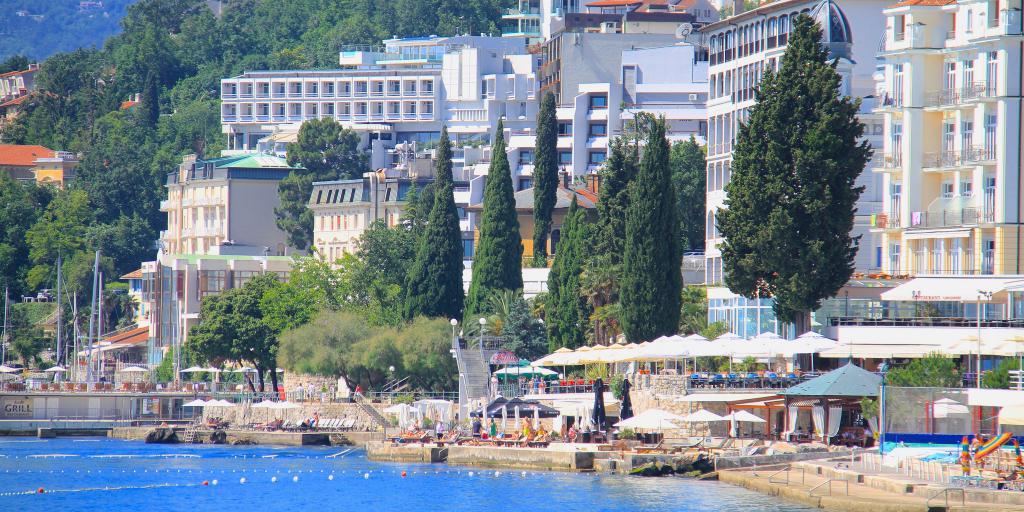 Arrive in Zagreb
Noticeably more cosmopolitan than Dubrovnik or Split, Zagreb is very much a capital city - and it has all the perks that come with it.
Funky shops, boatloads of top restaurants, a gazillion fabulous cafes, and - famously - a whole host of quirky and crazy museums, including your first sightseeing stop: The Museum of Broken Relationships.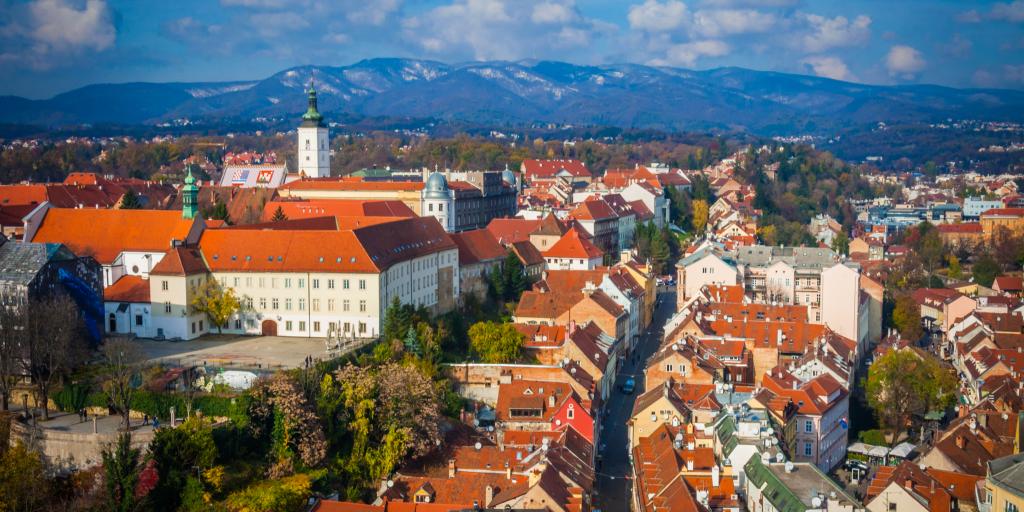 Remember former partners at the trendiest museum in Zagreb
The quirkiest museum of them all - and yet also somehow the trendiest - is the Museum of Broken Relationships.
At this offbeat attraction, the exhibitions feature relics of - you guessed it - broken relationships, from jilted lovers' belongings to mementos from friendships gone sour.
It may sound depressing, but it's oddly uplifting. If you've ever been heartbroken (and haven't we all?) this place will offer solace and just the right amount of humour.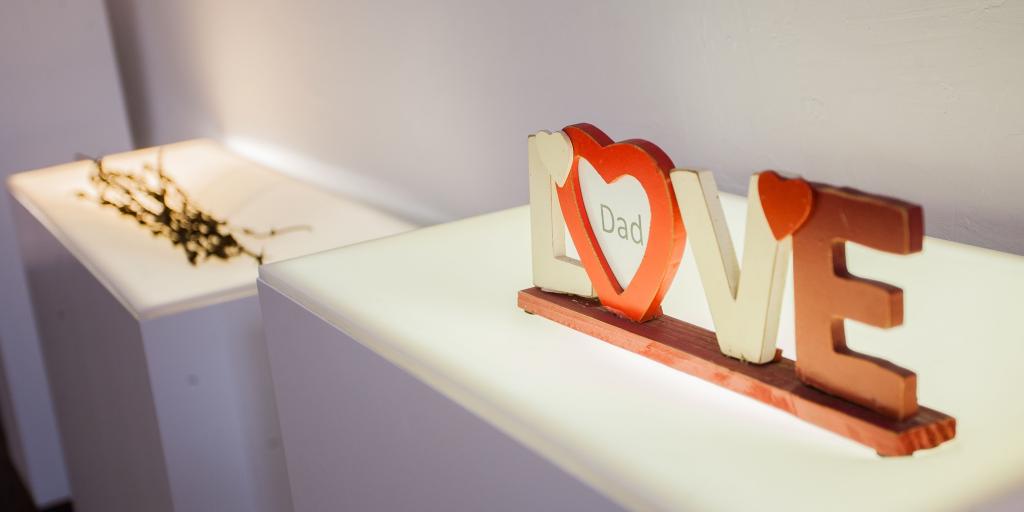 After leaving the museum, have a wander around the surrounding area, known as Zagreb's Upper Town (Gornji Grad), which is generally considered the most charming and lively area of the city.
You can stop by Dolac - the largest green market in Zagreb - for a bite to eat before taking the funicular down to the Lower Town.
Follow up your museum visit with a tour of Zagreb's famous green spaces.
Unusually for a big city, Zagreb is home to multiple lush forests and parks that give locals a place to walk, picnic, and generally enjoy the outdoors.
One of the best of these is the 50-acre Jelenovac Forest, located right near downtown at the foothills of Mount Medvednica. If you're up for it, follow hiking trail number 14 up to the top of the mountain for awesome views and crisp mountain air.
Sip on a cocktail in A Most Unusual Garden
Finish up your Croatia road trip with a gin cocktail (or two) at the delightfully whimsical A Most Unusual Garden, which truly lives up to its name.
The black and white checkered outdoor terrace is lit by fairy lights and overlooked by a treehouse, with colourful drawings adorning the walls.
By day, the vibe is relaxed and laid-back, and at night the garden comes alive with music and a buzzing atmosphere.
It's the perfect place to reflect on your epic road trip before heading off to the Zagreb airport and flying back home.