Top 10 most amazing day trips from Edinburgh
There's no shortage of things to do in Edinburgh, from visiting the Royal Mile and the historic Castle to checking out all the quirky shops and cafes in Grassmarket. But if you do fancy a day trip from Edinburgh, it's an easy drive from Scotland's capital to several fascinating spots and attractions. Here are our top ten places to visit near Edinburgh, all of which are less than three hours away by car.
1. St Andrews
Distance from Edinburgh: 51 miles (1.5 hours)
The seaside town of St Andrews just north of Edinburgh is known for its historic university, where Prince William and Kate Middleton famously met and fell in love.
But it's got a whole lot more going for it apart other than royal romance - from a sandy beach and the oldest golf course in the world to cathedral ruins that date back to the 12th century.
What to do in St Andrews
Swing a ball at the oldest golf course in the world
Old Course, the sprawling green space overlooking the North Sea, is generally regarded as the oldest golf course on Earth, with the first recorded game here in the early 15th century.
If you've got a handicap certificate and are happy to cough up £180, you can play a round here yourself; in our view, it's most certainly worth it for the experience - and the bragging rights!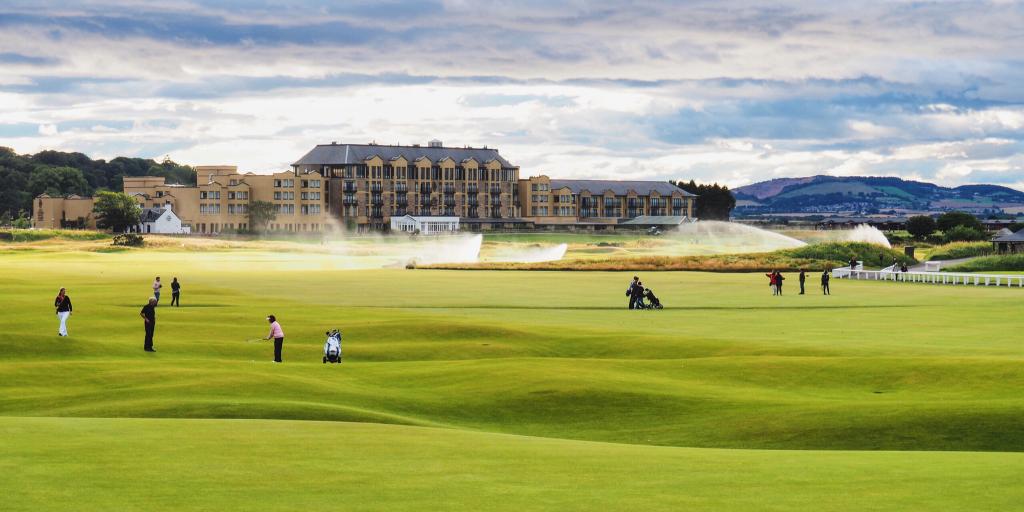 Walk along the beach
You may not think of Scotland as a beach destination, but West Sands Beach - which is only about a 15-minute walk from the town centre - is one of the best parts about a trip to St Andrews, no matter the time of year.
This two-mile-long stretch of soft sand is famously where the opening scenes of Chariots of Fire were filmed, and it's a popular spot for joggers, dog-walkers and families alike.
If you're feeling daring, you can dip your toes in the water - it only gets up to about 14 degrees Celsius in the height of summer! For longer swims, best come prepared with a wetsuit.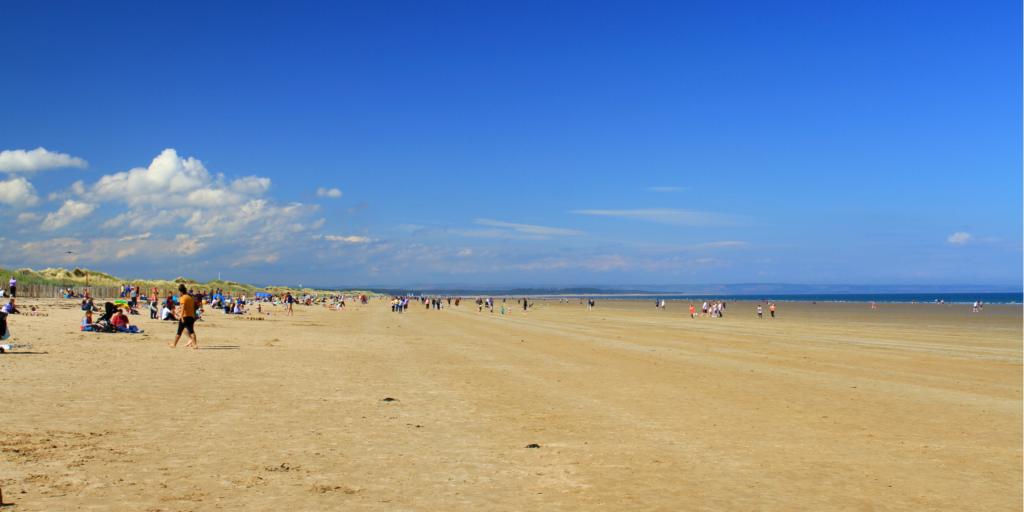 Tour the university
Founded in 1413, the University of St Andrews is the third oldest English-speaking university in the world, as well as being one of the most prestigious.
Visitors are free to walk around the grounds and admire the buildings that are so very steeped in history and tradition.
For an extra special sight, head to the quadrangle of St Mary's College on South Street. Here you'll find a thorn tree that was allegedly planted by Mary Queen of Scots herself back in 1565.
Visit the cathedral
At 119 metres long, St Andrews Cathedral was once the largest church to be built in Scotland. All that remains today, however, are the enormous ruins of its priory walls and towers, which loom over the town as a physical reminder of its rich history.
Tickets cost £6 for adults and £4.80 for children between 5 and 15. If you have a Young Scot card, tickets are just £1.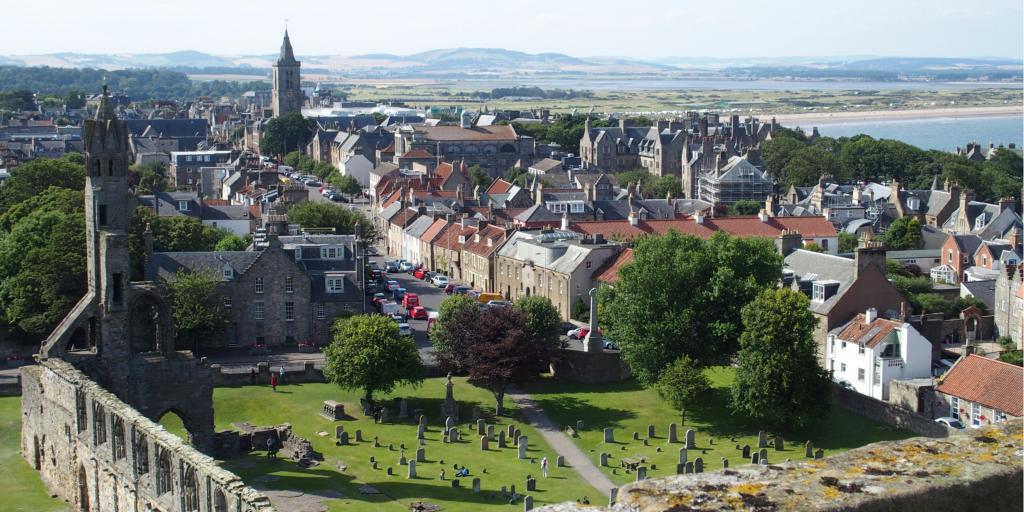 Where to eat
Tailend Restaurant and Fish Bar
Seeing as you're by the seaside, it's only right to indulge in some classic fish 'n' chips. Tailend is a cut above your average chippy, with an atmospheric and stylish seating area in the back. Plus, you can choose to have your fish grill, battered or breaded.
If you'd rather eat al fresco, ask for yours to take away and bring it to the beach.
Northpoint Cafe
This intimate cafe is supposedly where Wills and Kate first met - and it seems pretty much everyone has caught on. If you're visiting St Andrews on a weekend, expect it to be crowded, but it's well worth the wait.
The atmosphere is cosy, and the food is cheap and cheerful. Think creamy hot chocolates, fluffy pancakes, toasted bagels and an all day breakfast deal.
Jannettas Gelateria
In case your sweet tooth hasn't quite been satisfied, you can walk 2 minutes down the road to Jannettas Gelateria for a scoop (or two) of ice cream. There's a huge selection of flavours - over 100 to be exact - so even the pickiest of eaters will leave feeling satisfied.
Parking in St Andrews
There are some free on-street parking spaces in St Andrews, but these tend to fill up quickly. You'll have an easier time finding metered spots, so make sure you bring coins for the machines.
You can also find free parking in the car park near the Petheram Bridge roundabout, and in those along the East and West Sands beaches.
2. Inchcolm Island
Distance from Edinburgh: 19 miles (1 hour)
Sitting in the middle of the Firth of Forth estuary a quarter-mile from the shore is a tiny green island topped with a 12th-century Augustinian abbey.
This is Inchcolm Island, a relic of Scottish history that's perfect for exploring on a day out with kids or friends.
Not only do you get a unique perspective of the iconic three bridges that cross the River Forth, but you'll also have the chance to spot amazing wildlife like seals and puffins.
What to do
Take a boat to the island
There are two ferry services and one charter yacht company that provide trips to and from Inchcolm Island.
Both Forth Tours and Maid of the Forth offer three-hour excursions to the island, which include 1.5 hours ashore. You can also opt for the 45-minute guided tour option from Maid of the Forth.
Recorded commentary on the boat will give you an insight into the island's history and what you can see from the deck.
Adult ticket - £15 boat plus £6 landing pass
Child ticket (aged 5 to 15) - £8 plus £3.60 landing pass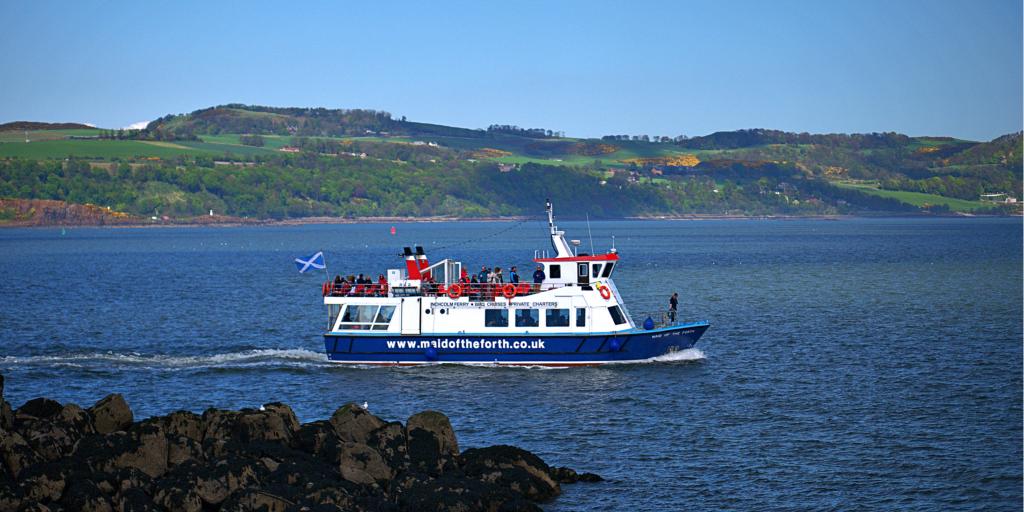 Explore Inchcolm Abbey
Founded by King David I in the 12th century, Inchcolm Abbey is one of the best preserved group of monastic buildings in the country.
During both World Wars it was fortified to defend Edinburgh and was home to 500 soldiers, whose mission it was to protect the Royal Navy's base at Rosyth. Today, it's completely uninhabited, except for its resident seals and birds.
Note that Inchcolm Island is closed in the winter season, from beginning of October to the end of March. Parts of the island may also have reduced access during nesting season (March to July).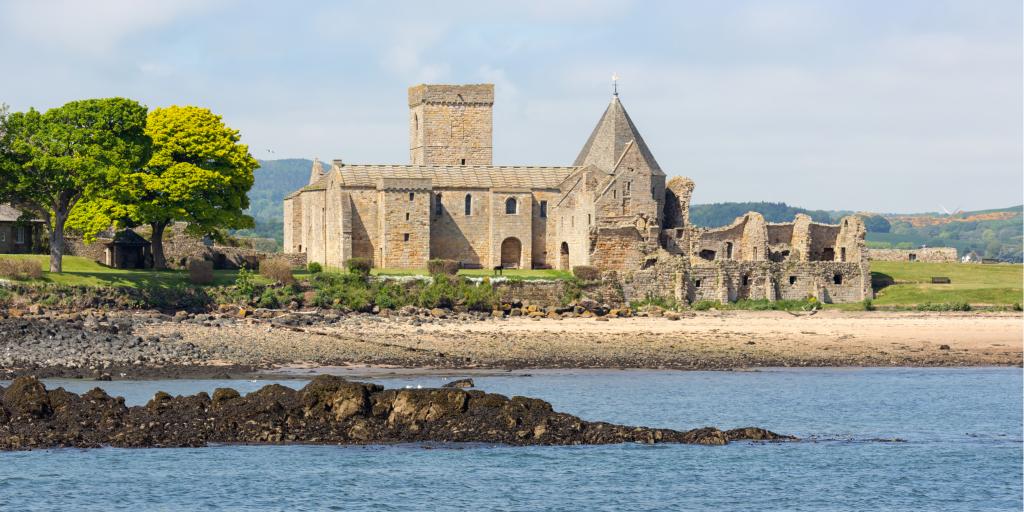 Where to eat
On board the ship
There are no restaurants on the island itself, but hot and cold drinks as well as light snacks are served aboard the ferry.
If you have kids in tow or tend to get peckish, we'd recommend bringing along some picnic food. There are a few benches scattered all over the Abbey grounds which are perfect for enjoying lunch with a view.
The Wee Restaurant
On your way back to Edinburgh, before you get onto the Firth of Forth bridge, pull off into the town of North Queensferry and head to the Wee Restaurant on Main Street.
This hidden gem has earned a reputation for being the best eatery for miles around, with excellent service to boot. The mussels, Iberico pork and roasted venison in particular have garnered rave reviews from former visitors.
As the name suggests, Wee is small - make a booking in advance to avoid disappointment. And note that the restaurant is closed on Mondays.
Parking near Inchcolm Island
There's plenty of free parking in the harbour where the ferry departs. If you head out on your day trip in summer, we'd advise arriving early to nab a spot.
3. Dundee
Distance from Edinburgh: 64 miles (1.5 hours)
With its creative spirit and growing urban development, the coastal city of Dundee is the very definition of an up-and-comer.
Often overlooked in favour of better known Scottish locales like Edinburgh and Glasgow, we can safely say that now is Dundee's moment to shine. Why else would Lonely Planet have included it as one of the best places in Europe to visit in 2018?
Whether you're after history, culture or innovative cuisine, Dundee has got it all. Plus, the city apparently gets more hours of sun than anywhere else in Scotland. The perfect place for a day trip from cloudy Edinburgh!
What to do
Visit the new V&A museum
The sparkling new V&A Dundee design museum opened in September 2018, promising to put Dundee on the map as a centre for culture and art. As the first Victoria & Albert project outside of London, this museum has a lot to live up to - and so far, so good.
The building itself is rather breathtaking: an ultra-modern concrete structure jutting out over the water, making for a striking old-meets-new contrast with the neighbouring RSS Discovery ship.
There are only a handful of exhibitions on at present (including a surprisingly fascinating one on ocean liners), but it's still worth having a look around the stunning interior and grabbing a coffee at the cafe.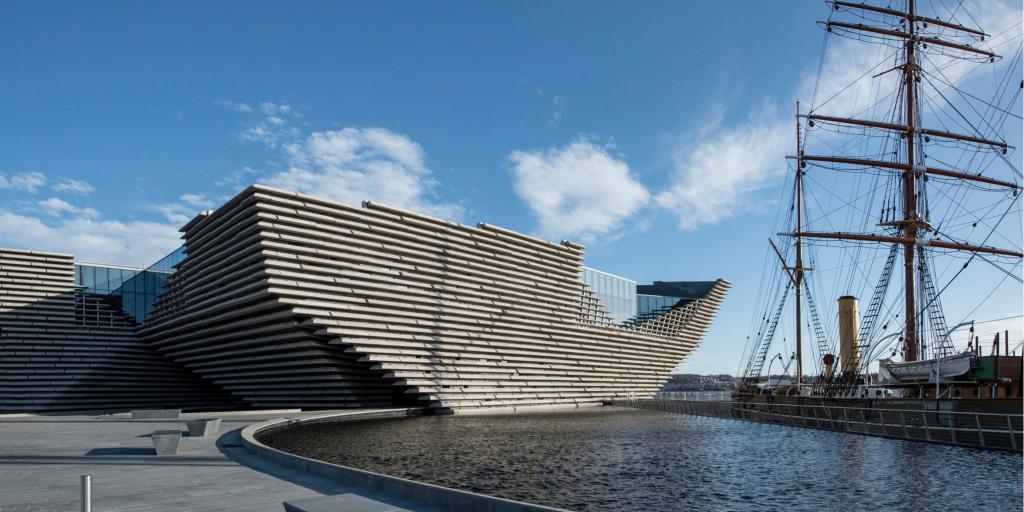 Climb aboard RRS Discovery at Discovery Point
Right next to the V&A Dundee is the legendary RSS Discovery, the wooden three-masted ship that took Scott and Shackleton to Antarctica more than 100 years ago.
Entry: £11.25
Head to the McManus: museum and art gallery
Dating back to 1867, this distinctive Gothic Revival-style building in the centre of town houses a popular museum and an incredible art collection.
If it's a rainy day or you just feel like getting your culture kick, we highly recommend paying a visit here. Plus, entry is free!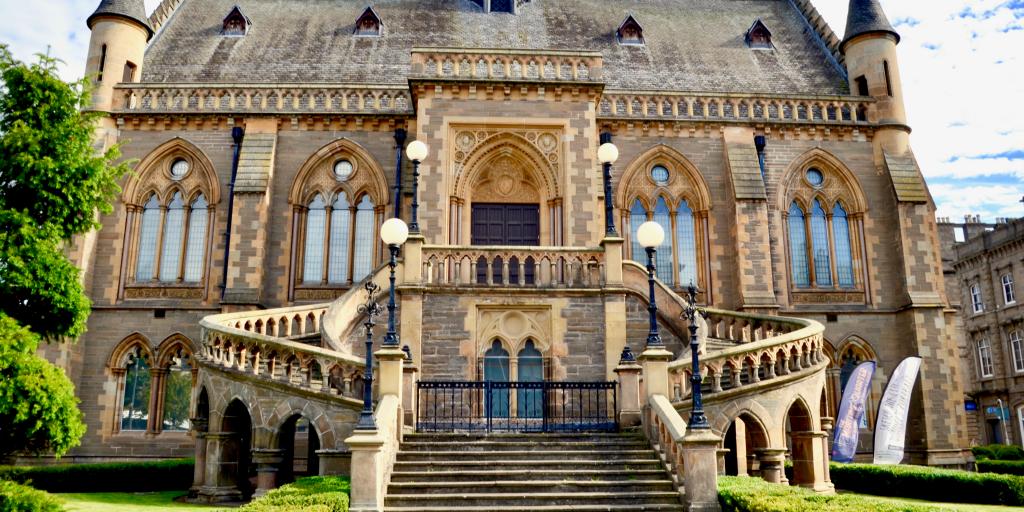 Where to eat
Palais Tea room
This delightful little retro cafe serves up heart-warming dishes like homemade soup and traditional Scottish fruitcake in a cosy setting.
Hot drinks are served in vintage china cups, and the walls are decorated in a twee 50s/60s style. It's the perfect place for a pleasant afternoon tea.
Gallery 48
This low-key tapas bar lets you enjoy your food while surrounded by works of art. The food is delicious and light, and the restaurant is a small slice of Spain right in the middle of Dundee.
172 At The Caird
This upscale pub/restaurant serves up light lunches and tasty cocktails in a calm and relaxing setting.
In the summertime, you can sit out on the terrace with beautiful views over the Tay. In the winter, a sparkling Christmas tree and comfortable sofas create a cosy escape from the cold.
Parking in Dundee
There are more than 500 on-street parking spaces in Dundee and around 5,000 spots in car parks around the Inner Ring Road. Most city parking starts at about £2.30 an hour.
Greenmarket Multi-Storey Car Park (DD1 4QB), which is a ten-minute walk from the V&A Dundee, charges £7.30 for 6 hours (Monday to Saturday from 8am to 6pm), which might be your best bet for a full day trip.
If in doubt, head to YourParkingSpace, where you can search for a spot in Dundee and book it online instantly.
4. Roslin
Distance from Edinburgh: 10 miles (30 minutes)
This historic village is a 30-minute drive from central Edinburgh along the A701.
According to legend, the town was founded all the way back in 203 AD by Asterius. In the 14th century, part of the First War of Scottish Independence took place in Roslin. And 100 years later, the splendid Rosslyn Chapel was built.
Roslin has played host to a number of famous figures over the years including William Wordsworth, who reportedly wrote a poem inside the chapel while escaping from a storm.
The poet's sister Dorothy once said of the town: "'I never passed through a more delicious dell than the glen of Rosslyn."
What to do
Visit Rosslyn Chapel
If you've ever read The Da Vinci Code, you'll be familiar with Rosslyn Chapel, the 15th-century church where the book's final scene takes place.
Generally regarded as one of the most remarkable buildings in all of Scotland, this majestic place was founded in 1446 by William Sinclair, first Earl of Caithness of the Scoto-Norman Sinclair family.
For a few decades now, theories have arisen that the chapel is associated with the Knights Templar and the Holy Grail - a fact that probably sparked Dan Brown's decision to use it in his bestselling novel.
Come here and see for yourself how many mysterious images and symbols you can spot carved into its walls.
Entry costs £9 for adults and £7 for students. Children can go for free.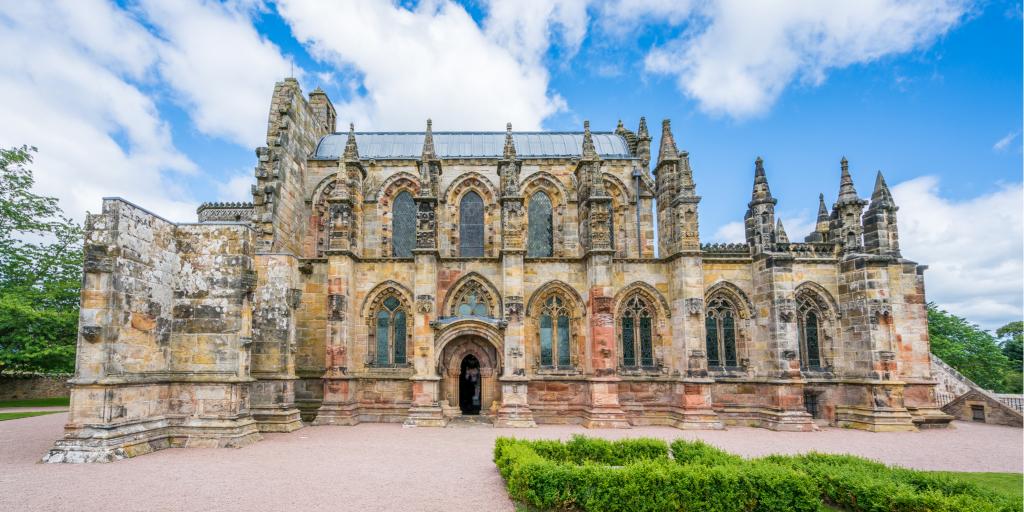 Walk through Roslin Glen Country Park
Surrounding the chapel is Roslin Glen Country Park, a verdant green space with many walking paths that wind through the woods.
In the autumn, it's a fantastic place to watch the leaves change colour, and in the summertime it's a beautiful escape into nature.
If you're making a day of it, bring a picnic and sit by a babbling brook as you enjoy the sounds of bird calls and leaves crunching underfoot.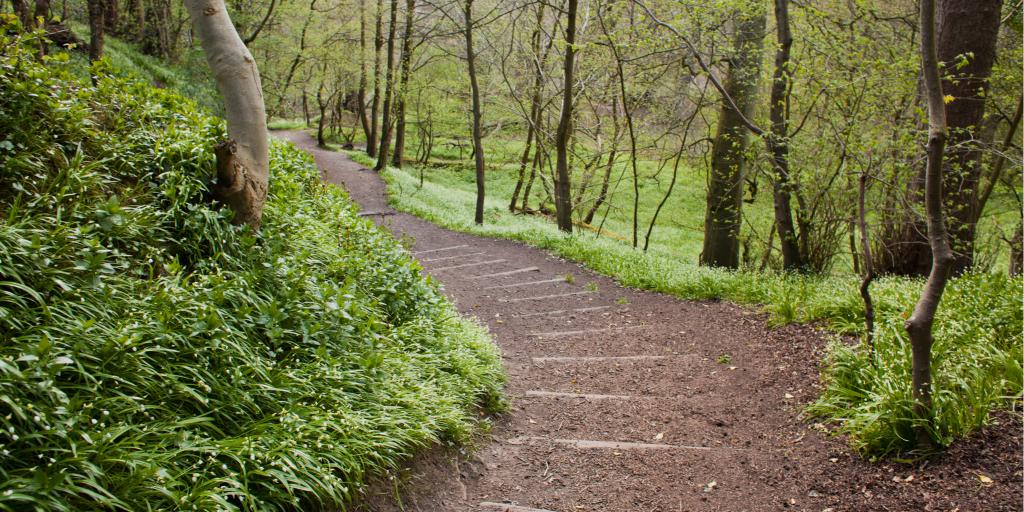 Where to eat
The chapel visitor centre has a lovely little cafe attached where you can buy hot drinks, light lunches and sweet treats, like delicious shortbread.
If you'd rather bring your own food, the park is a wonderful place to enjoy a picnic - just make sure you clean up after yourself!
Parking in Roslin
There's plenty of free parking available near the visitor centre, which it makes it easy to drive down from Edinburgh for a day trip.
5. Falkirk
Distance from Edinburgh: 26 miles (1 hour)
Sitting in the Forth Valley about 50 minutes northwest of Edinburgh is Falkirk, an oft overlooked Scottish town with an important history and some fascinating futuristic-looking structures.
It's compact and easy to navigate, making it the perfect day trip destination - especially if you've got a thing for modern engineering.
What to do
See the Kelpies
By far the most popular Falkirk attraction in recent times is the Kelpies - the largest equine sculptures in the world.
These two humongous 30-metre-high horse heads made of structural steel sit alongside the River Carron within the Helix, a new parkland project just outside the town centre.
Each horse sculpture weighs a jaw-dropping 300 tonnes - the equivalent of about 75 elephants!
The Kelpies are especially spectacular at night, when the sculptures are lit up in a multitude of colours. If you can, time your day trip so that you have a chance to see the Kelpies after nightfall.
You can visit for free, or sign up to the Kelpies guided tour for £7.50 (£6.50 for students). Children go for free.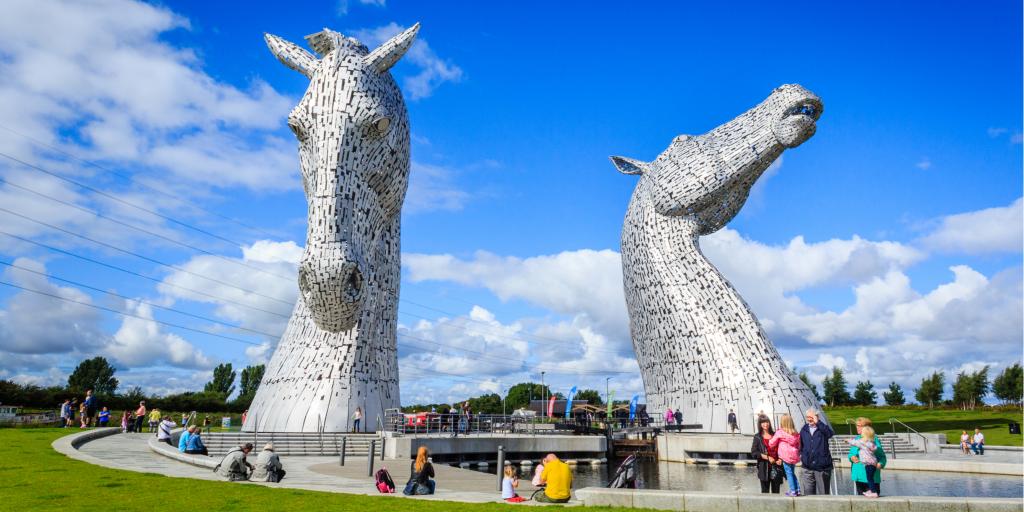 Marvel at the Falkirk Wheel
Connecting the Forth and Clyde Canal with the Union Canal, the 35-meter-high Falkirk wheel is a true masterpiece of modern engineering.
It's the only rotating boat lift in the world, and it works by raising boats 24 metres above the water and transferring them between canals.
Get the full experience by booking a boat ride, which takes you up into the wheel itself. You can visit the cafe and gift shop afterwards for a hot drink and some funky souvenirs!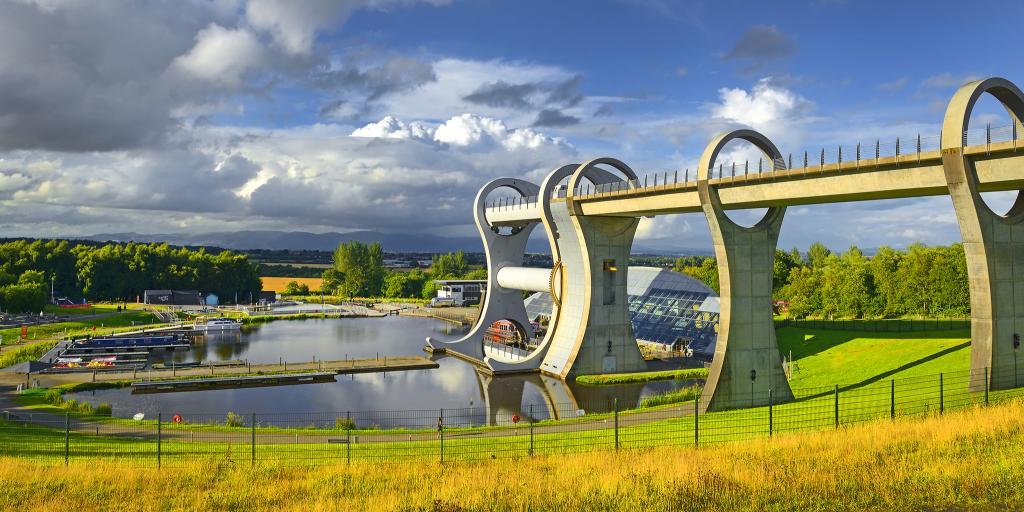 Walk in the footsteps of Outlander's Murtagh at Callendar House
This French chateau-style mansion, which dates back to the 14th century, is situated in Callendar Park, just outside Falkirk town centre.
Throughout the centuries, it has played host to many historical figures including Mary Queen of Scots, Oliver Cromwell and Prince Charles. More recently, it has gained popularity after having been used as a filming location for the TV series Outlander.
Visiting the house is a truly immersive experience, as the guards dress up in Georgian costume, the furniture is all original and the grounds are perfectly landscaped
If you've got children, consider visiting at Christmas time to experience the Christmas Adventure - a super popular interactive event that explores the traditions of Christmas.
Whatever the time of year, it's worth having Afternoon Tea at this magnificent place. Admission is free.
Where to eat
The Shore
This immensely popular restaurant specialises in upscale takes on classic pub food. The menu features traditional Scottish dishes like haggis and black pudding fritters, as well as some vegetarian options.
Coffee on Wooer
By far the more laidback option, C.O.W. is a quaint and welcoming hidden gem right in the centre of Falkirk town. The service is friendly, the food is delicious and there are vegan and vegetarian choices on the menu as well.
Parking in Falkirk
At the Kelpies - There's a car park along the canal with plenty of spaces. It's just a short walk away from the sculptures. In the off-peak season parking is free, otherwise it's £2 per car with no time limit.
At the Wheel - Parking here is easy and cheap (£3 normally or free during off-peak season).
At Callendar House - You'll find plenty of free parking on the grounds.
6. North Berwick
Distance from Edinburgh: 25 miles (45 minutes)
When it comes to scenic destinations within a short distance from Edinburgh, North Berwick most certainly tops the list.
This seaside town, which is just 45 minutes northeast of the capital city, is chock-a-block with cute cafes and quirky art galleries that make for a fun and activity-filled day trip.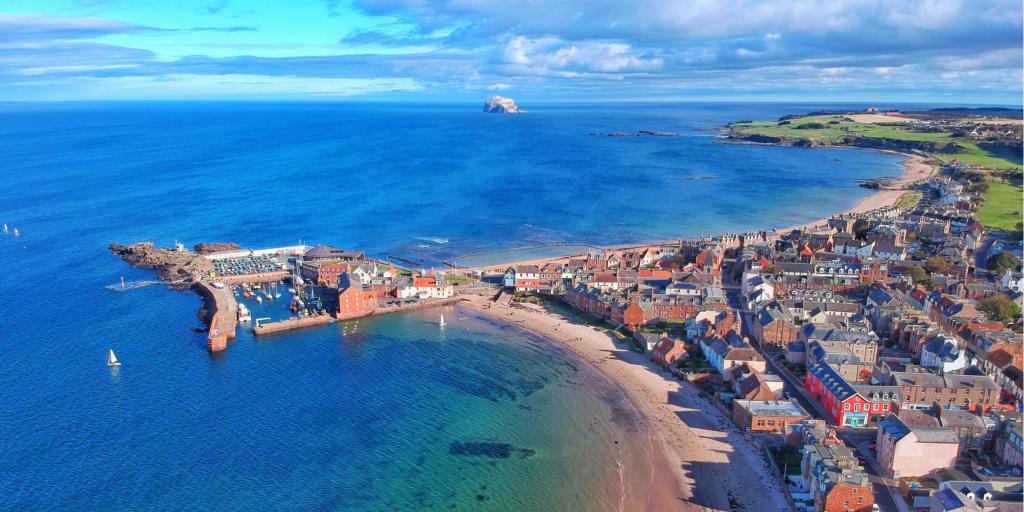 What to do
Walk along Seacliff beach
You may be able to see the sea from some vantage points in Edinburgh, but it's a whole different thing to actually feel the sand under your feet.
This peaceful stretch of beach just steps from town is great for romantic walks, solo excursions and family days out. It's dog-friendly, and occasionally you'll see horse riders trotting by, making for a truly idyllic sight.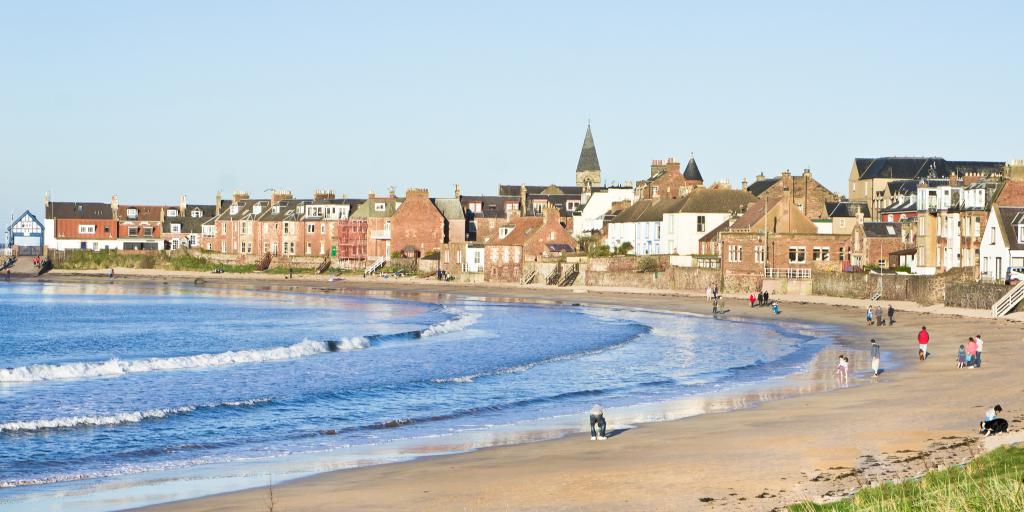 Visit the Scottish Seabird Centre
Perched at the edge of the harbour in North Berwick, this nature centre is the perfect destination for wildlife lovers and parents looking for ways to entertain their kids.
Here you can control interactive live cameras, check out the local wildlife and watch 3D films about the marine world.
Admission costs £8.95 for adults and £4.95 for children between 3 and 15 years old.
Explore Tantallon Castle
Step back in time with a trip to the 14th-century Tantallon Castle, which is 5km east of North Berwick.
This semi-ruined fortress sits high on a cliff edge overlooking the Firth of Forth. Unsurprisingly, it's a popular filming location and has appeared in numerous productions including Under the Skin, starring Scarlett Johansson.
Be sure to wear warm clothes, as it gets pretty windy up there.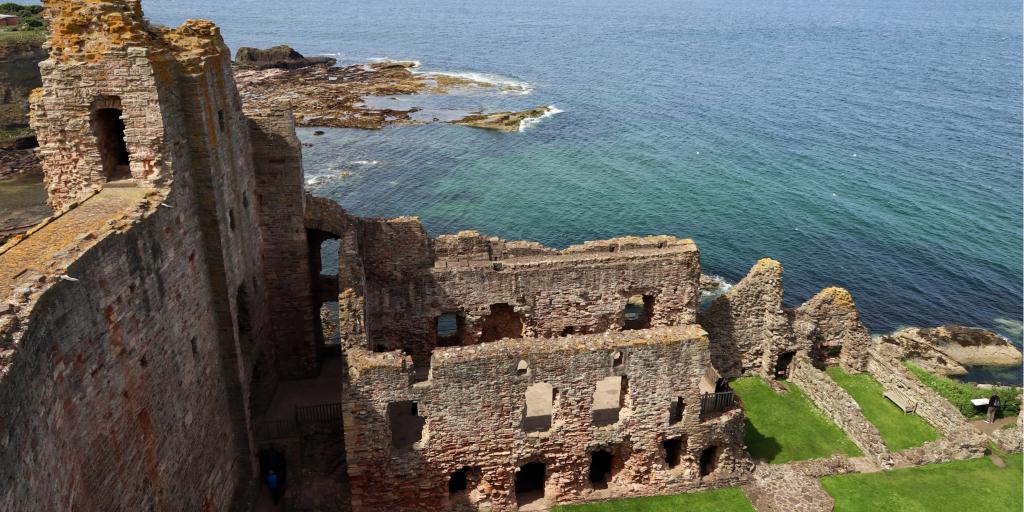 Where to eat
The Lobster Shack
This unassuming seafood shack is in a prime position right at the end of the harbour.
It's a busy and popular place for lunch - and for good reason. There's nothing better than snacking on freshly caught lobster while looking out at the sea.
The lobster isn't exactly cheap, but it's worth it for the whole experience.
Steampunk Coffee
This converted warehouse is a trendy choice for students and coffee lovers. The mismatching chairs and rustic furniture make for a striking contrast against the industrial-style building and big windows, which let in lots of natural light.
Here they proudly serve up delicious single origin coffee and mouth-watering authentic Swedish cinnamon buns, as well as toasted sandwiches, homemade soups and fresh salads.
Parking in North Berwick
In the summertime when there are more visitors, it can be tricky to find parking in North Berwick. Head to the official North Berwick Parking website for information on where to find spaces.
7. Glasgow
Distance from Edinburgh: 46 miles (1 hour and a quarter)
Glasgow, located on the River Clyde about 50 miles west of Edinburgh, is the largest city in Scotland and one of the most vibrant.
If you're a fan of amazing architecture, you're in luck. Glasgow is full of extravagant buildings, from Kelvingrove Art Gallery and Museum to the Clyde Arc bridge and Glasgow Cathedral.
Stroll through Pollok Country Park, walk through George Square and head up to the Gallery of Modern Art to see the Duke of Wellington standing out front.
If you're the shopping type, then Buchanan Street is for you - this is Glasgow's shopping strip.
What to do
Take in some culture at Kelvingrove Art Gallery
The newly refurbished Kelvingrove Art Gallery and Museum in Glasgow is one of the most popular free attractions in the city.
Set in a beautiful Spanish Baroque-style palace along the River Kelvin, the museum houses 22 galleries featuring around 8,000 objects and works of art.
Look out for everything from Ancient Egyptian relics and archaeological finds to viking swords and van Gogh paintings.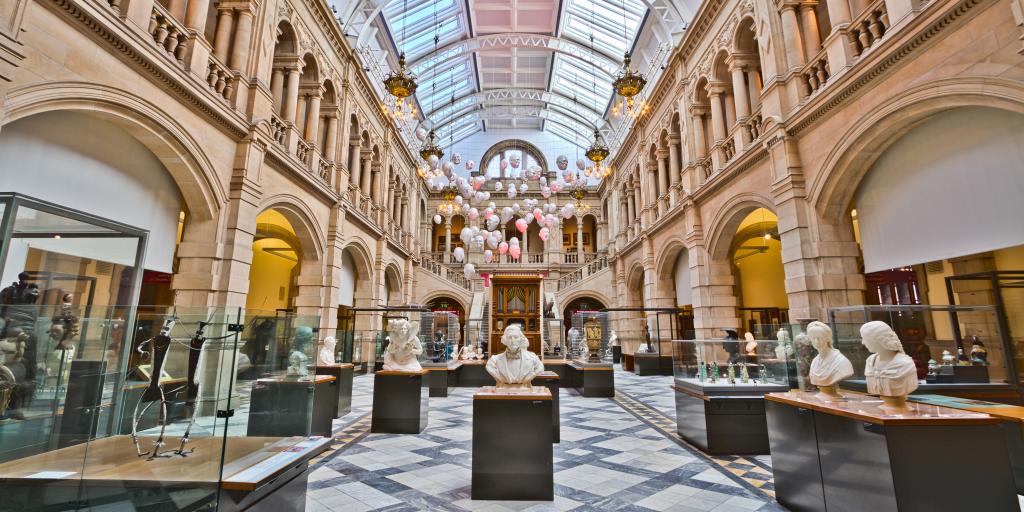 Peruse the shops and cafes on Ashton lane
This cobbled back street in Glasgow's West End has become something of an icon of the city.
Similar to Edinburgh's Rose Street, it's a popular area for students and locals, who flock to its quaint bars, classic cinema and highly rated lunch spot, the Ubiquitous Chip.
Even if you don't wander into one of the establishments on the lane, it's worth coming here to snap a photo of the incredibly picturesque street, with its ever-present fairy lights twinkling overhead.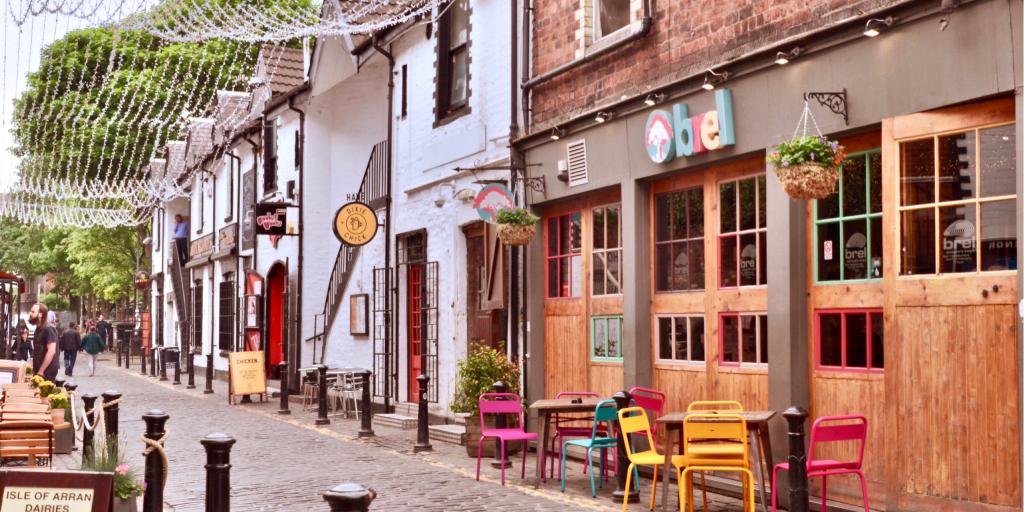 Tour the historic University & Cloisters
The historic University of Glasgow - the fourth oldest university in the English-speaking world - is a beautiful collection of more than 100 Gothic revival buildings, many of which are perched on a hill overlooking the city.
Soak up the history and incredible architecture on a tour around the campus. Make sure you include the Cloisters on your visit, which are particularly stunning.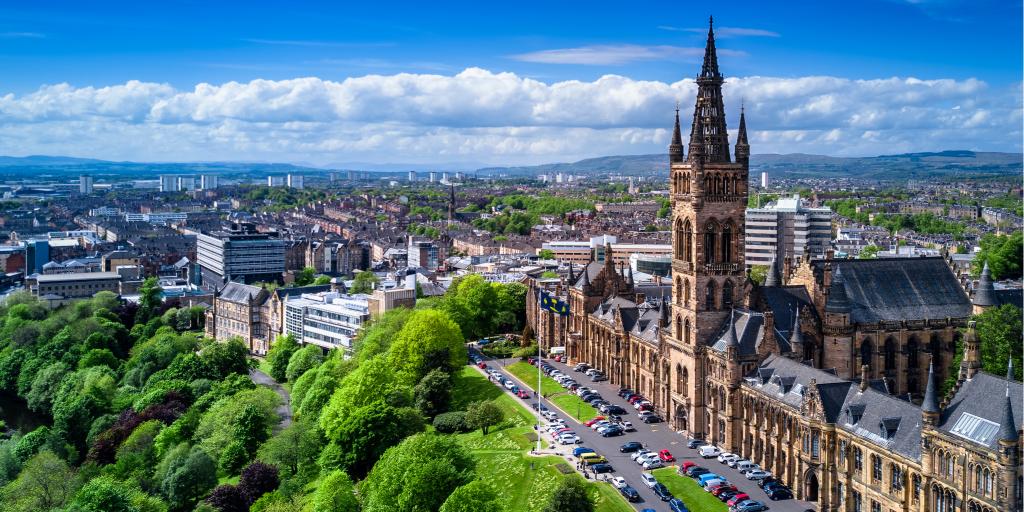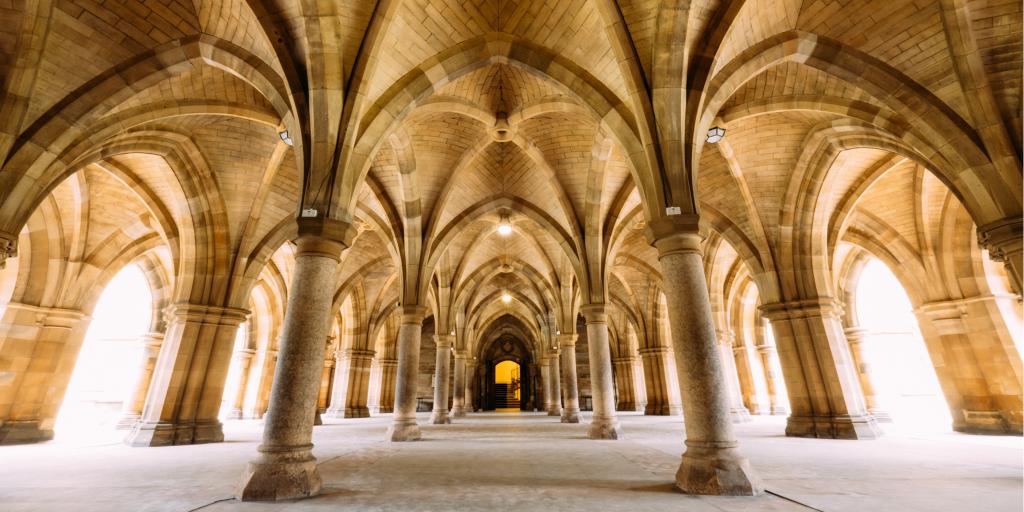 Where to eat
Ubiquitous Chip
This high-end eatery is a veritable symbol of the city. It was opened in 1971 and has been run by the same family ever since.
Expect modern twists on classic dishes, like pork belly with chorizo and roasted squash served on red quinoa. And make sure you save some room for dessert!
Hanoi Bike Shop
For something a little bit different, help yourself to some Vietnamese street food at Hanoi Bike Shop.
With lanterns hanging from the ceiling and bicycles mounted on the walls, it has a cool and relaxed atmosphere that's perfect for a laid-back lunch on your day trip to Glasgow.
Parking in Glasgow
Finding on-street spots in Glasgow can be a bit of a challenge, but it is possible. There's also plenty of off-street parking options available.
Head to the JustPark Glasgow website for real-time information before you go on your trip.
8. Stirling
Distance from Edinburgh: 37 miles (1 hour)
Known as the "Gateway to the Highlands," the riverside market town of Stirling was once the capital of Scotland and an important centre for trade and agriculture.
Today, the main attraction for visitors is the striking Stirling Castle, which looms over the town from its position on Castle Hill.
What to do
Visit Stirling Castle
You can't possibly visit Stirling without taking a tour of the magnificent Stirling Castle. This stunning palace, which sits on a craggy volcanic rock, was once the childhood home of Mary Queen of Scots.
Despite having been victim to eight sieges over the centuries, the castle is miraculously well preserved, and a fine example of medieval architecture.
Entry costs £15 for adults and £9 for children between 5 and 15 years old. Seniors and unemployed visitors can enter for £12, and children under 5 go for free.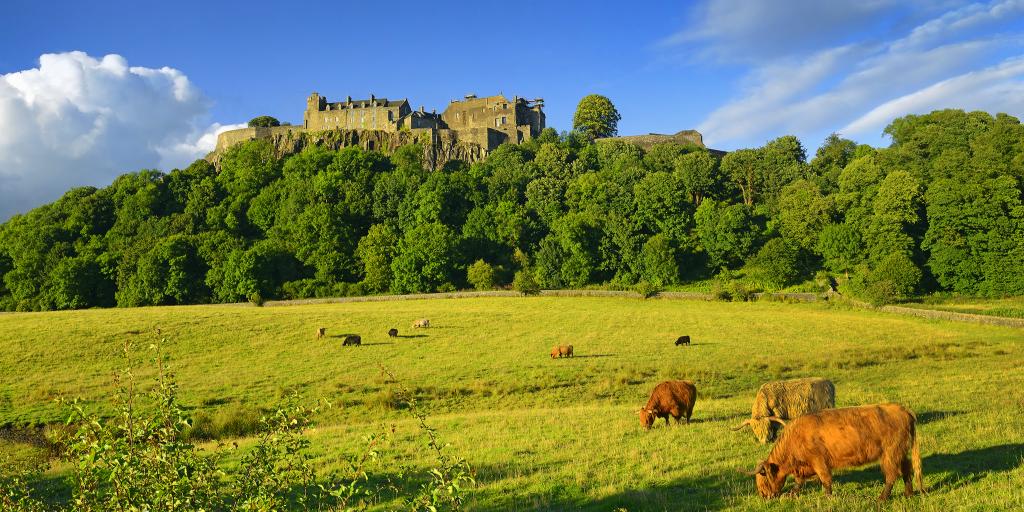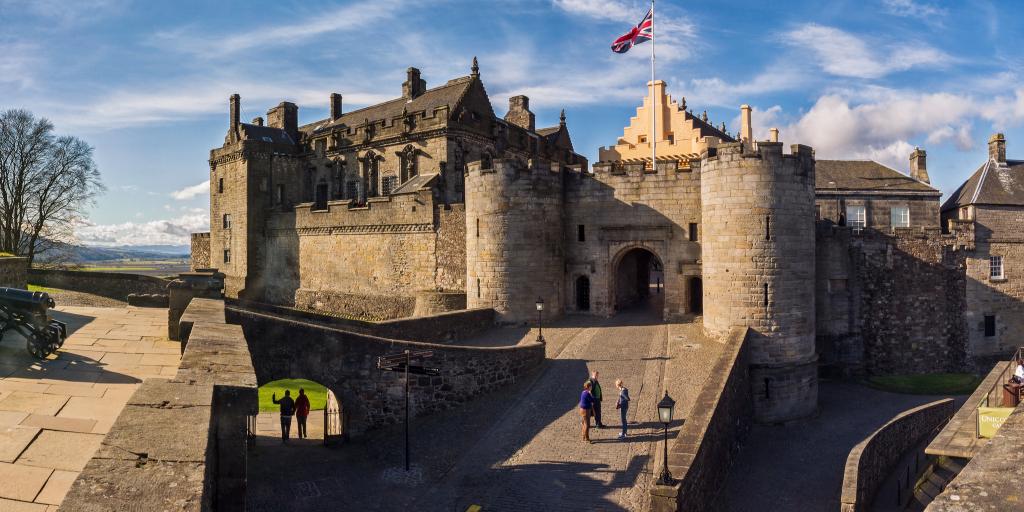 Where to eat
The Unicorn Cafe
For simple but tasty lunch fare in a historic setting, have a meal at the Unicorn Cafe, which is attached to the castle.
There's a nice variety of soups and sandwiches here, as well as freshly made cakes and scones. If the weather's nice, enjoy your lunch in the sun on the rooftop patio.
Napizza Stirling
If you'd like to venture into Stirling town, make your way to Friars Street and nab a table at Napizza Stirling, a favourite local haunt.
The pies here are cooked in a massive pizza oven and you can choose to add as many toppings as you want. BYOB makes it great value for money.
Parking in Stirling
Parking at the castle is allocated on a first come, first served basis - so arrive early if you're visiting in the summer months, as it tends to get busy.
9. Hadrian's Wall
Distance from Edinburgh: 115 miles (2.5 hours)
Two and a half hours southeast of Edinburgh is one of the most important historical landmarks in the country: Hadrian's Wall.
Built by a legion of 5,000 men in the 2nd century AD under the command of Emperor Hadrian, this 84-mile-long fortification marked the northwest frontier of the Roman empire for nearly 300 years.
Today, you can see the wall, visit market towns along the way and marvel at what was no doubt an astounding feat of engineering in its time.
What to do
Walk from the Roman Army Museum to Housesteads Fort
Obviously you can't walk the whole wall in a single day, but you can see some of the most interesting sections of it.
We recommend seeing the most intact part of the wall, between the Roman Army Museum and Housesteads Fort, which also happens to be surrounded by the most dramatic and breathtaking landscape.
The entire walk - which is about 9 miles long - should take you about 3 hours one way. You can then either retrace your steps, or hop on the AD122 bus back to your starting point (Walltown).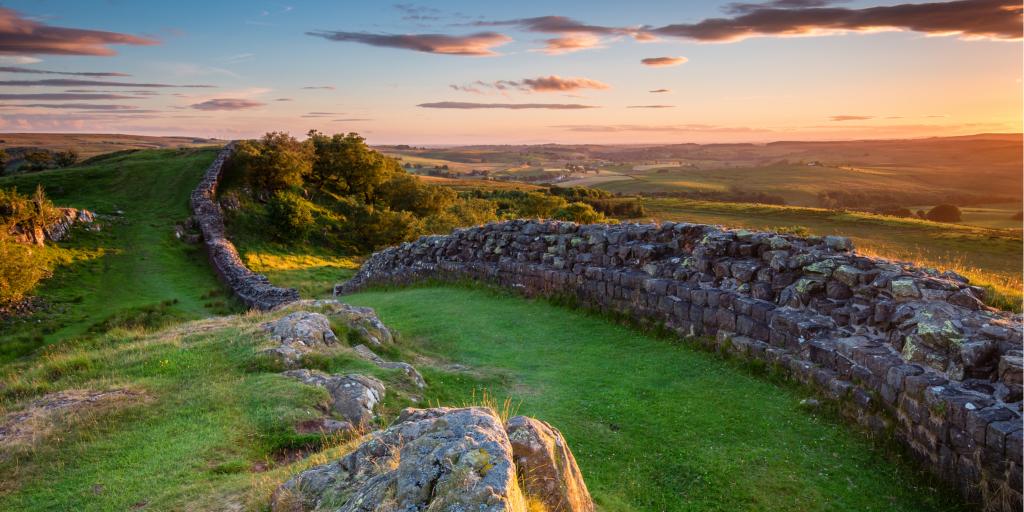 Where to eat
Blenkinsopp Castle Inn
After your long walk, you'll no doubt be dying for a hearty meal. At Blenkinsopp Castle Inn, which is just a 5-minute drive from the Roman Army Museum, you'll find just that: a menu featuring belly-warming dishes like steak and ale pie, beer-battered cod and chips, and curry of the day.
The restaurant is ultra cosy and decked out with fairy lights in the colder months, so you'll feel right at home. They've also got vegetarian options and a lovely afternoon tea.
Bite Cafe and Gallery
For something a bit different, drive on to Brampton (15 minutes away) and park up at the New Mills Trout Fishing Park.
Here you'll find Bite Cafe - an understated eatery specialising in home-cooked dishes made from locally sourced ingredients. Once you're done eating, head upstairs to check out the funky modern art gallery.
Parking at Hadrian's Wall
There's ample free parking just outside the Roman Army Museum.
10. Loch Lomond & Trossachs
Distance from Edinburgh: 68 miles (Just under 2 hours)
This destination is very much worth the drive - especially if you enjoy hiking and spectacular views (who doesn't?)
Loch Lomond itself is massive (about 72-square-kilometres) and surrounded by dozens of little towns and villages.
The best place to head to from Edinburgh is the town of Balloch, which sits at the bottom of the lake. It should take you about 1.5 hours to reach the village from Edinburgh city centre.
What to do
Walking & hiking
The principal reason for visiting this incredible national park is, of course, to get out into nature. There are numerous walking, cycling and hiking trails all around the lake ranging in terrain, length and difficulty.
You can start by following the 2.25-mile (2.5km) circular walk through Balloch Country Park, where you'll be treated to lovely views over the Loch. Or for a real challenge, drive an hour north to Ben Lomond and climb 1,000 metres to the top.
For more walking ideas in the area, head to the Walking Highlands website.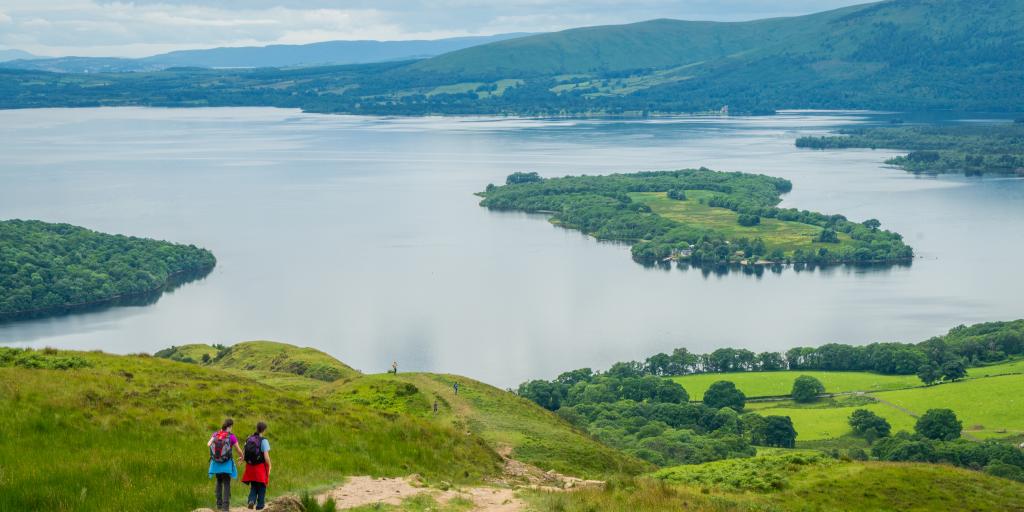 Go fishing
If you've got a fishing permit and you're a keen angler, try your luck at Loch Lomond, which has the largest variety of fish in the whole park - everything from salmon and sea trout to roach, chub and dace.
You can base yourself on the banks of the water, or rent a boat from Balmaha Boat Yard or Loch Lomond Boat Hire at Balloch.
Note that some species of fish, such as the powan, are protected, so if you happen to catch one you'll need to return it quickly to the water.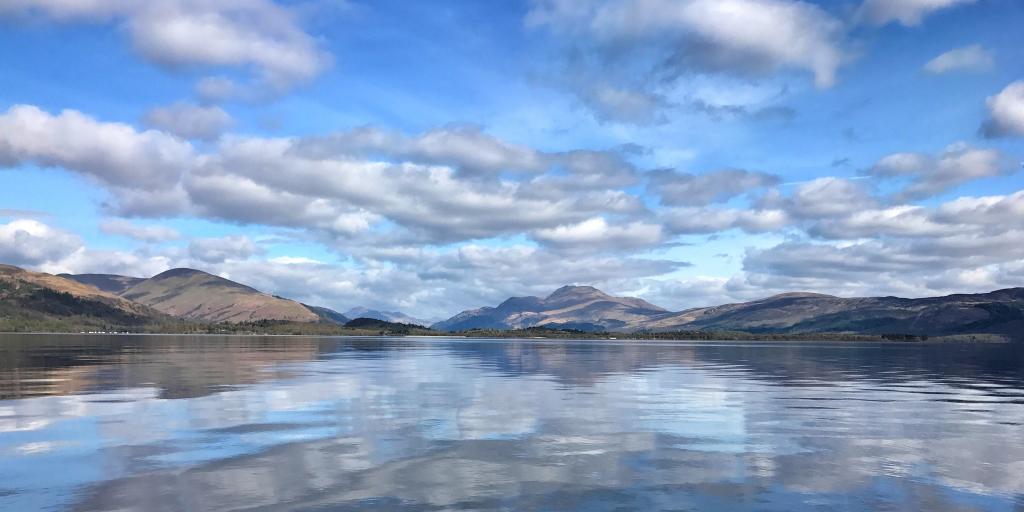 Hop on a water cruise to Luss
This scenic one-hour ride departs from Balloch and passes by the middle islands of Loch Lomand to the ancient village of Luss, which is home to a medieval church and a 6th-century graveyard.
Boats run from May to September, and an adult return ticket costs £19 (£16 for youths aged 12 to 15, and £10.50 for children under 13.)
Where to eat
Coach House Coffee Shop
Visiting this low-key cafe in the village of Luss feels like stepping into a friend's living room. Expect a roaring fire, cosy sofas and a warm welcome from friendly staff.
There's an amazing selection of drool-worthy cakes on the menu, as well as some hearty home made soups and sandwiches.
The Village Rest
After a long cold walk in Scottish weather, there's nothing better than settling down with a hot tea at The Village Rest. This understated dog-friendly eatery has a super cosy atmosphere and excellent service to boot.
Their afternoon menu consists of delicious yet simple dishes like sandwiches and wraps, mac and cheese, steak and mushroom pie and filled baked potatoes just out of the oven.
Parking near Loch Lomond
If you're spending the day in Balloch town, your best bet is to park your car at Balloch Railway station, which costs £3 for the whole day.
Alternatively, you could had to the car park at Balloch Castle County Park, which is free.