15 Best Hawaii Road trips
Many of us fantasize about that dream trip to Hawaii: lounging on a sandy beach by day and attending a fiery luau at night, spending hours in the warm ocean, and perking up with a tropical drink at the cabana.
Did you know that beyond the confines of a resort, the true splendor of Hawaii unfolds along its many roads? Though the Big Island at its biggest is only 93 miles across, between the seven inhabited islands of the vast Hawaiian archipelago, there are hundreds of miles of roads connecting some of the best beaches and tropical forests you will ever see.
On our list of the 15 best road trips around Hawaii you will cruise by vermillion cliffs with steep ridges brushing the ocean, tranquil beaches with powdery sand, and ancient temples venerating the gods that make these islands living magic.
Get ready for your road trip through paradise by reading our suggestions below on the best road trips in Hawaii. Let your own imagination run wild! Soon enough, you'll be parking your car next to golden sands and turquoise waves.
Some of our favorite Hawaii road trips
A selection of our best Hawaii road trips. Check out our full list of 15 trips below.

| Hawaiian Island | Some of our favorite road trips |
| --- | --- |
| Big Island | Drive from Hilo to Puukohola Heiau National Historic Site and take in the island's rich history; or marvel at the unique black sands of Kealakekua Bay |
| Oahu | Stop at picture-perfect Waimea Falls on a round trip of Oahu; or take a scenic detour along the quieter West Coast |
| Lanai | Cosy up to a feline friend at Lanai Cat Sanctuary in Lanai City; or visit the Garden of the Gods on your way to Polihua Beach |
| Maui | Traverse the agricultural heartland of Maui on a trip through the Upcountry; or drive the legendary Road to Hana |
| Kauai | Discover one of the most fabled coastlines in the world at Waimea Canyon; or take a beautiful hike along the North Shore's Na Pali Coast |
| Molokai | Explore a less-frequented part of the rugged Hawaiian coast with a trip along the South Shore of Molokai |
As you can imagine, there are incredible day trips you can do on each Hawaiian island. Almost all of them can be completed in less than three hours, but we understand if you'd like to take a little more time.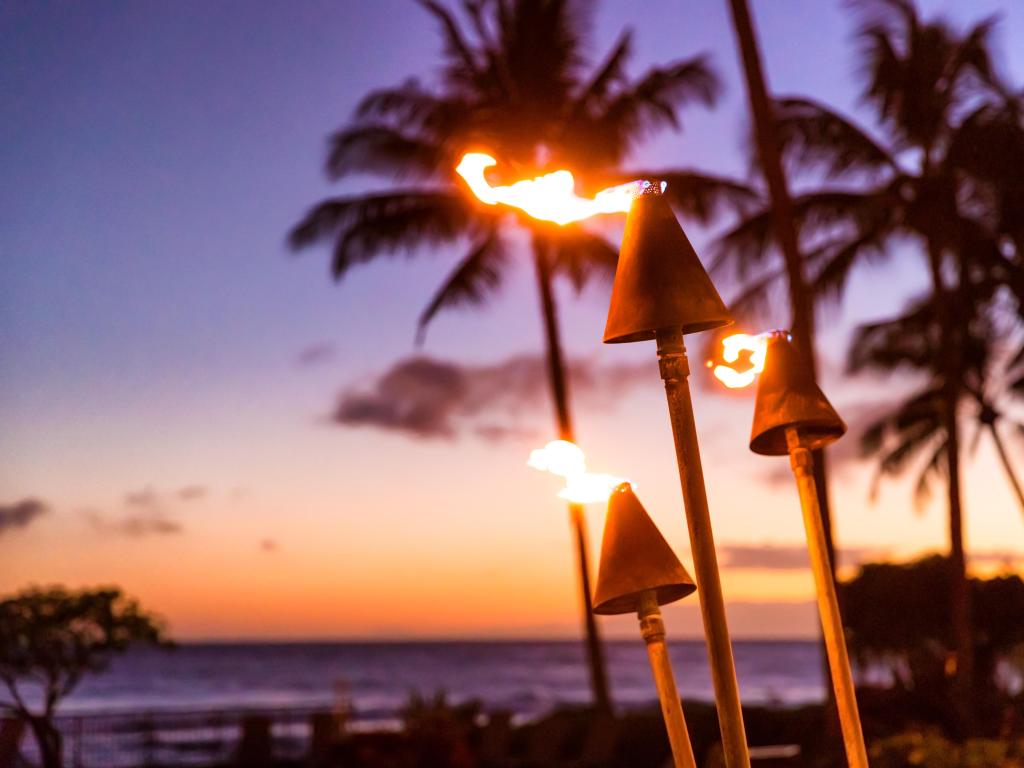 Be aware that there aren't any ferries between the islands, so you will have to fly between them and rent a new vehicle on each island in case you wanted to try several different routes on a single vacation.
1. Big Island (Island of Hawaii): South Kona Scenic Drive
20 mile road trip (50 minutes)
Why you should visit: A quiet escape on the Big Island, Kona is a coffee-drinker's paradise and bursting with history.
From typically idyllic Hawaiian beaches to ancient temples and rustic farms, there's a surprising amount to see, taste, and enjoy on this relatively short loop.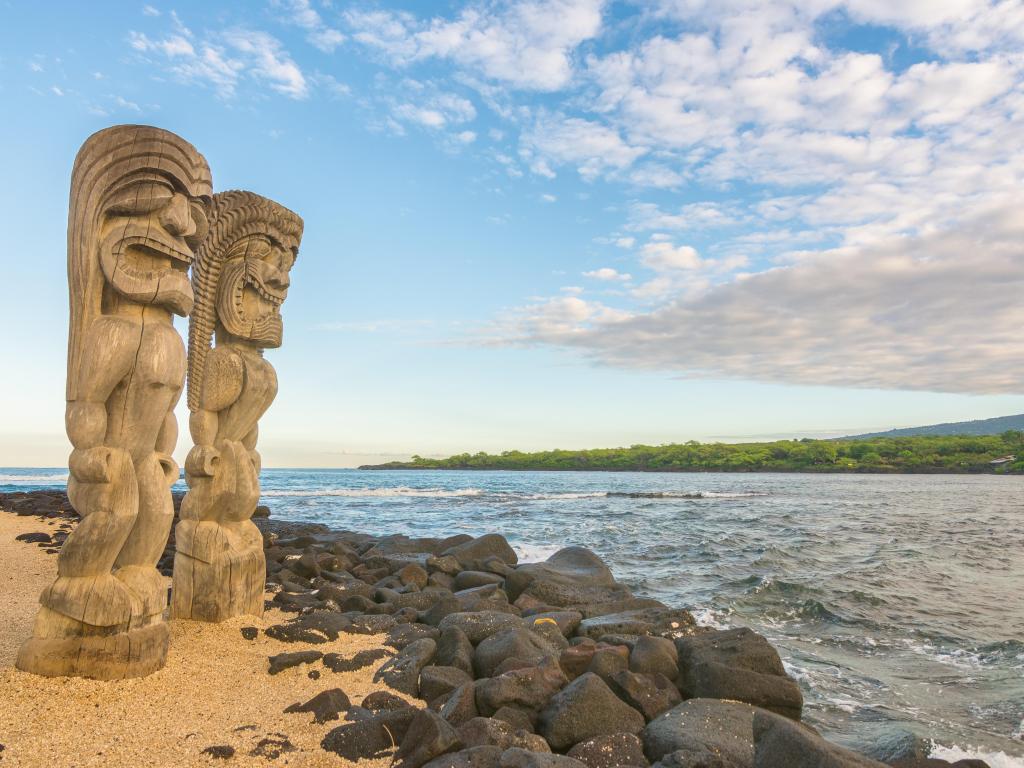 How to get there: Starting in Captain Cook, head west to Manini Beach via Route 160. From Manini, head south to Two Step, then head back inland to Keokea. Finally, head back north to Captain Cook via the Paleaku Gardens Peace Sanctuary, all along Route 160.
Our highlights: Kona is world-renowned as a coffee-producing region so while you're here, it would be worthwhile to explore the cultivation of this oh-so-aromatic brew. Just outside Captain Cook you can tour working farms at Hala Tree Coffee and the Kona Coffee Living History Farm.
Manini Beach wraps around the deep blue Kealakekua Bay, a short way from Captain Cook. This peaceful and secluded beach is the perfect place to relax after visiting busier parts of the Big Island.
Learn more about indigenous Hawaiian culture at the Puuhonua O Honaunau National Historical Park. Here they have a reconstruction of ancient villages with large, A-frame homes, as well as burial grounds and totemic sculptures, all along a pristine beach.
At the inland hamlet of Keokea (not to be confused with the other Keokea in Maui), you can tour one of the many small farms here, or at least refresh yourself with a smoothie from the local juice stand.
As you begin your way back to Captain Cook, stop in at the St. Benedict Catholic Church, also known as the 'Painted Church,' and admire its colorful interiors.
To see another eclectic and similarly spiritual place, head to the Paleaku Gardens Peace Sanctuary. Here you can wander a labyrinth in their botanical gardens and see a Native America medicine wheel.
Bonus: Just north of Manini Beach you can find Hikiau Heiau, a small, but deeply fascinating historical site that was once a great temple. It was here that Captain Cook met his demise after a failed kidnapping attempt of Kalaniʻōpuʻu, a local leader, in 1779.
2. Big Island (Island of Hawaii): From Kealakekua Bay to Kilauea
85 mile road trip (2 hours)
Why you should visit: The many different forms and results of the Hawaiian Islands' famous volcanism are on full display on this trip.
Wander long stretches of black sands, climb beneath a cinder cone, and explore ancient lava tubes on this fascinating and fiery trip.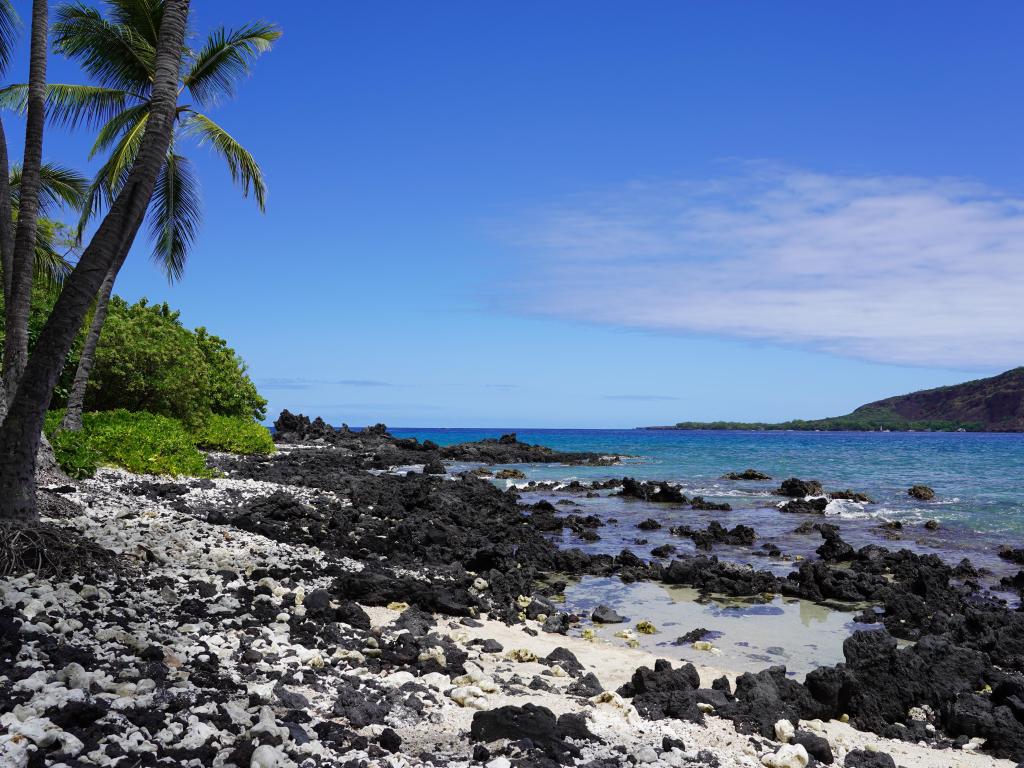 How to get there: Drive south from Kealakekua Bay along Highway 11 for 75 miles, following it back north to Kilauea.
Our highlights: Marvel at the black sands of Honomalino Beach, accessible via a narrow road from Highway11. Given its remote location, you'll largely have this remarkable beach to yourself to walk and take in the obsidian-hued beauty.
Punaluʻu Beach is the most famous black sand beach of the Big Island. Here you can lounge upon the midnight of lava fragments, sunbathing beside green sea turtles, then retreat to the welcome shade of the coconut trees surrounding the beach or the waters of the Punaluʻu Bay, which are also fed by underwater fresh springs.
Stand in awe of a natural wonder still treated as sacred by native Hawaiians at the Hawaii Volcanoes National Park. Here Kilauea and Mauna Loa, two of the world's most active volcanoes, continue to seep out glowing, molten, lava in the continuous process that has formed Hawaiian over millions of years. This is where deep geological history lives on in the present before your very eyes.
Surrounding the Volcanoes National Park, you can find many nature preserves and trails through landscapes otherworldly as well as lush. You can also go on guided tours of extinct lava caves strung about with tropical vines at the Kahaualeʻa Natural Area Reserve.
Drive or walk along the spectacular chain of craters road which runs from the raised sides of Makaopuhi Crater, through hardened fields of lava from previous eruptions, all the way to the ocean. On the way, take in the view of the charcoal landscape from the Mauna Ulu Lookout and be sure to snap a pic at the Holei Sea Arch once you get to the beach.
Bonus: Kilauea has been continuously erupting since 1983 and there are sometimes up to 10 vents where magma bubbles up from the depths.
Our travel tips: This route also passes by the Pu'uhonua O Honaunau National Historical Park.
You can buy your pass for Hawaii Volcanoes National Park online and passes are valid for 7 days, so you can plan to explore the park over several days.
Also check the park service website for closures due to eruptions and seismic activity.
Click here to skip back to the top.
3. Big Island (Island of Hawaii): From Hilo to Puukohola Heiau National Historic Site
100 mile road trip (2 hours 20 minutes)
Why you should visit: Enjoy the sheer variety of this trip which takes you from the familiar paradise-like beaches to the inland pastoral regions and sites linked with the Big Island's larger than life leader of the 18th century.
As you leave Hilo, be sure to roll down the windows and take in that sweet tropical aroma as you drive through scenic Pepeekeo to the north where King Kamehameha once ruled.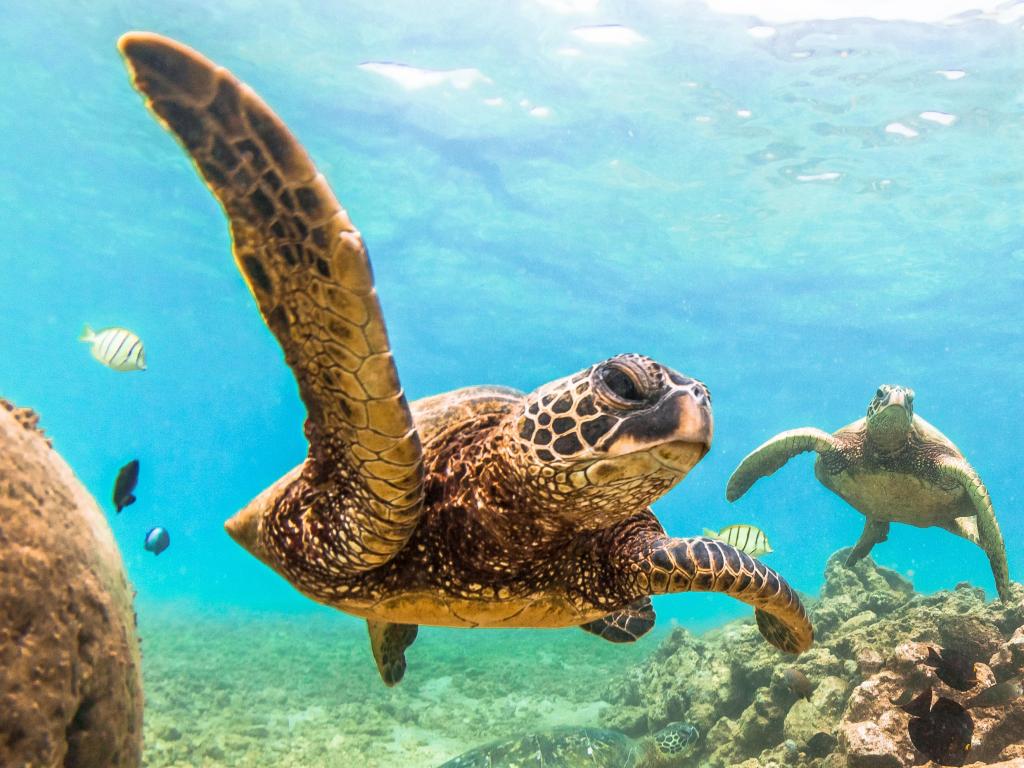 How to get there: From Hilo, head north on Hawaii Highway 19 and continue along the coast, then west inland, until you reach Waimea. There, look for Kohala Mountain Road/Highway 250 and drive 20 miles to the Statue of King Kamehameha. Finally, go west, then south, to the Pu'ukohola Heiau National Historic Site via Hawaii Highway 270.
Our highlights: If you have the time, don't rush through Waimea. This inland destination is famous for its Hawaiian take on cowboy culture, known as paniolo. There are green pastures surrounded by hills, historic ranches, and even the chance to adventure the surrounding countryside on horseback. In the town center you'll also find some delicious local restaurants and the Big Island Brewhaus.
At the center of Kohala stands the Statue of King Kamehameha, who reigned in the 18th century and was a great unifier among the islands. The stature here has a twin in the U.S. Capitol in Washington.
A little past Kohala, you can take a short drive to either Keokea Beach Park or Pololu Valley Lookout. Both places offer vivifying contact with the elements and the latter has a stunning view over dramatic coastal cliffs and harrowing trails into a gentle tropical valley.
At the Pu'ukohola Heiau National Historic Site you will come face to face with the legacy of King Kamehameha, who built this Heiau, or temple, in 1719. The stone base of the temple has been reconstructed and at the site there is a small museum with knowledgeable rangers.
A short drive south of Highway 19 will take you by some alluring places on the Big Island's resort hot spot, the Kohala Coast: Maulumae Beach, Hapuna Beach State Recreation Area, and Beach 69. Further south you will find the pebble-strewn shores of Kiholo Bay where you can see sea turtles enjoying the beaches along with everyone else.
Bonus: King Kamehameha built the last and largest of the recorded Heiau at Pu'ukohola. By building this under the instruction of a kahuna, or priest, and dedicating it to the god of war, that priest's prophecy was fulfilled and King Kamehameha united the Hawaiian Islands into a single kingdom.
Click here to skip back to the top.
4. Oahu: West Coast Drive
40 mile road trip (1 hour 10 minutes)
Why you should visit: The Waianae, or Leeward, Coast along the western shores of Oahu is the more rustic counterpart to Honolulu and Waikiki in the south.
With less-developed shores and stunning natural beauty, including the idyllic Makua Valley, this is a trip that calls to those who want to head out and discover something new about Oahu.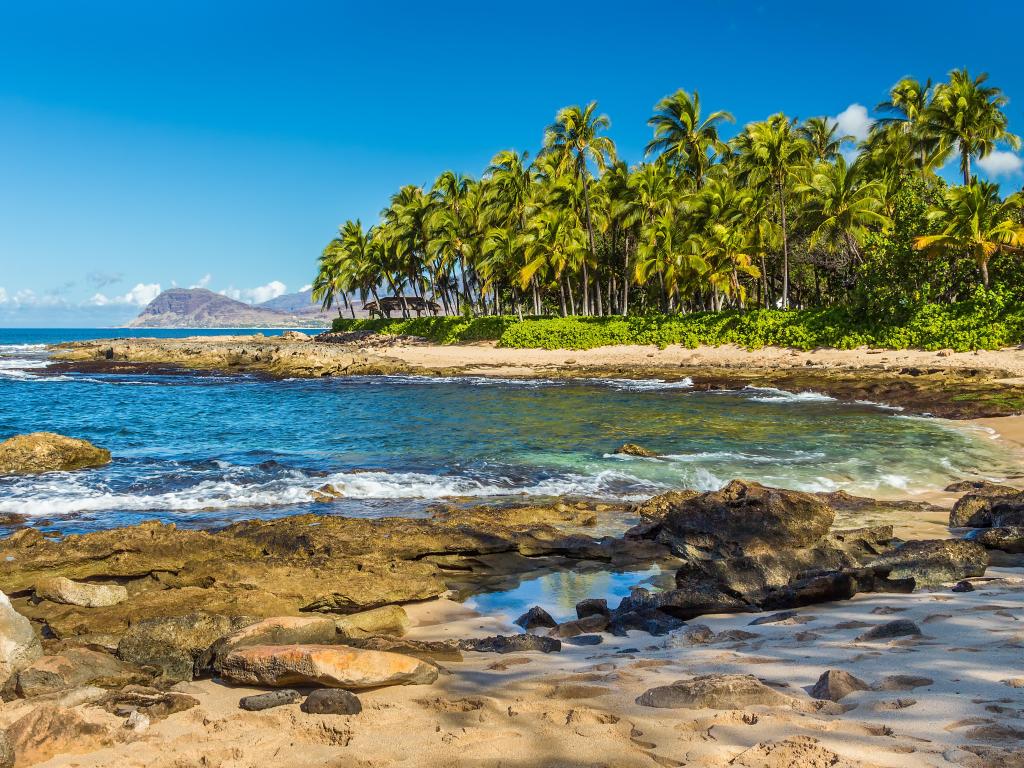 How to get there: From Honolulu head northwest on Hawaiian Interstate 201 then jump on Interstate 1 near Pearl City. Take this toward Kapolei, then head north on Farrington Highway/Route 93, which will take you 20 miles up the coast to Kaʻena Point State Park.
Our highlights: Hike the trails along Mt. Ka'ala, the highest peak on Oahu, accessible a few miles inland from Waianae. While you don't have to hike to the summit, if you like a challenge, there is a 7-mile trek all the way to the top with awe-inspiring views along the way.
Nurture your inner adventurer by visiting the 16th-century temple at Kaneaki Heiau, now buried deep within the jungle. This sacred site is constructed of local stone and is dedicated to the ancient Hawaiian god Lono. This is considered to be the best-preserved Heiau on all the islands.
Along the Farrington Highway just north of Ohiki-Lolo Beach, look out for the Kaneana Cave, also known as the Makua Cave. There's a bit of a hike up to this cave, which is an extinct lava tube that was long worshipped in connection with the Hawaiian creator god Kane.
At the end of the road, you'll find the thoroughly inviting Keawaula Beach. You're just as likely to find a few surfers as you are rainbows in this relatively isolated cove.
Finally, hike the rugged coastal trails of Kaʻena Point State Park. Starting from Keawaula Beach, you can reach Point Pillbox at the northwestern extreme of the island in under 3 miles, passing many eye-catching volcanic formations along the way.
Our travel tips: Some ways to the Kaneaki Heiau ruins are inaccessible due to a gated community, so try to find the access point via Makaha Valley Road and Maunaolu Street.
Be careful around Kaʻena Point State Park as a lot of the waters are rough and unsuitable for swimming.
Click here to skip back to the top.
5. Oahu: Windward Coast to North Shore
40 mile road trip (1 hour 20 minutes)
Why you should visit: For those who can't get enough of inspiring natural scenery and the wind in their hair, the beautiful beaches and lush hills of the Windward side of Oahu are waiting.
This is another trip that takes advantage of Oahu's many facets, covering a wild and less ventured side of the island.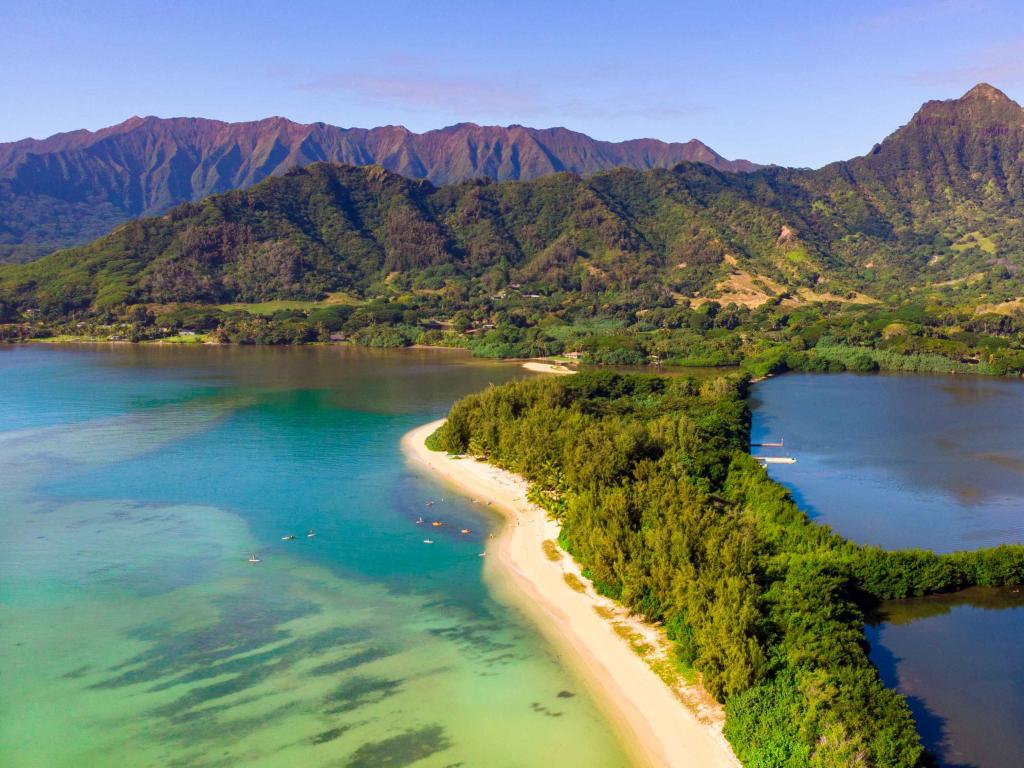 How to get there: Starting in Kaneohe on the east side of Oahu, head north on Hawaiian Route 83. Follow the coastal road for the entire route, all along the northeastern coast, before rounding the tip of the island and arriving in Haleiwa.
Our highlights: A must-see is the Kualoa Regional Park and Secret Island, about 10 miles north of Kaneohe. The large lawn and smooth sand of the regional park opens up to expansive views of craggy mountains covered in tropical jungle. From here you can also see the petite Mokoli'i Island, which looks like a hat dropped in the sea.
Set out on a steep hike up to Crouching Lion, a rocky outcrop from where you'll have fantastic views of Kahana Bay. This is not a hike for beginners but will become a favorite of those who love a more challenging trail, with amazing vegetation and ocean views in all directions.
Laie is a small town on Route 83 with lots to offer. At the Polynesian Cultural Center, you can learn more about the brave sea-faring people who first populated these islands, and at Laie Point walk along rocky cliffs with views up and down the eastern coast.
Just after Pupukea and through a wondrous garden filled with tropical flowers, you'll hear the trance-like sound of Waimea Falls. One of the most scenic falls on Oahu, here the cool waters of the highland flow down into a large pool where you can swim and really get the feeling that you're living the island life.
After so much scenery and innumerable natural delights, you will be welcomed by even more stunning beaches on the north shore near Haleiwa. Slightly more built up than the other hamlets on this route, there are some great restaurants and boutique shops in this northern hub for you to refuel and prepare for another day of exploring beaches.
Bonus: If some of the scenery around Kualoa seems familiar, it's because these unforgettably jagged and ruffled hills were the filming location of the blockbuster "Jurassic Park" and dozens of other films.
Our travel tips: This side of Oahu is a bit cooler and receives more rain than the western coast, so bring layers to keep warm and dry.
6. Oahu: Ultimate round trip from Honolulu
110 mile road trip (3 hours 30 minutes)
Why you should visit: Beyond the urban areas of Honolulu and Waikiki, the south, east, and north sides of Oahu are easily accessible by road and can give you that remote paradise feeling without having to island hop.
Rugged coasts contrasted with dreamy beaches and ample jungle trails are just a few of the stunning features of this exhilarating loop route around Oahu.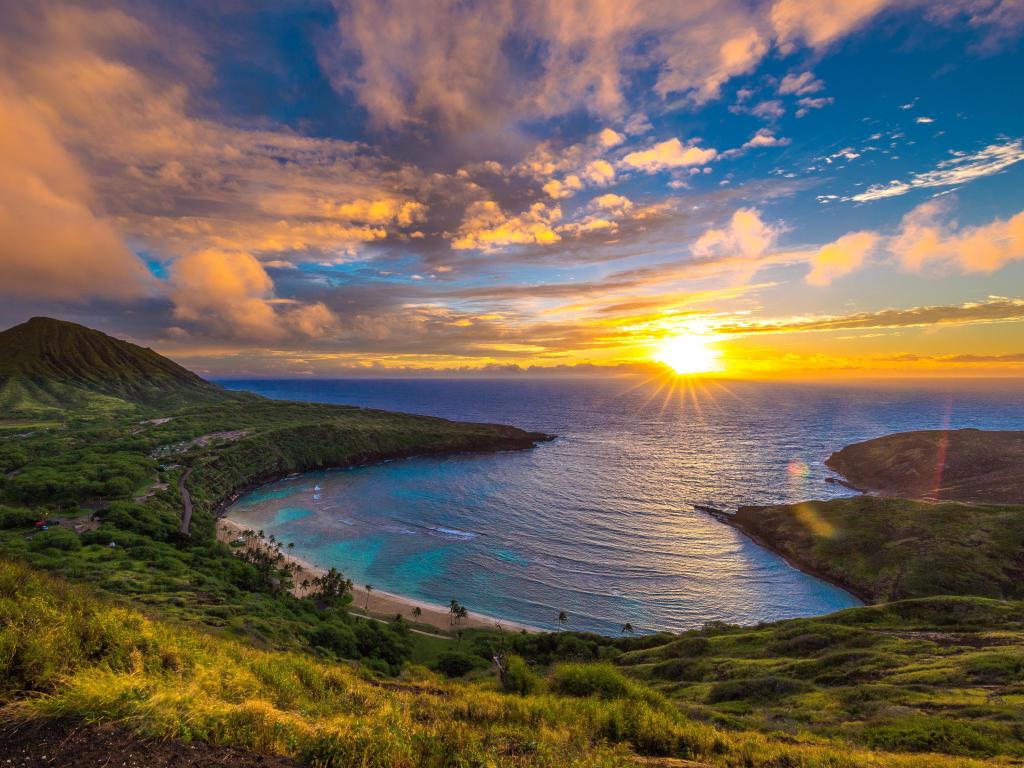 How to get there: Starting in Honolulu, drive south to Waikiki, then follow the coast along Hawaii Highway 72 to Hanauma Bay and Makapu'u Point, before starting north along the eastern shore.
In Kailua Beach, take Highway 630 to the Kamehameha Highway/Route 83, which will take you all the way north to Kahuku, before it curves along the northern shore to Haleiwa. From here, take the inland Highway 803, south through Waipio, where you can take Hawaiian Interstates H-2 and H-201 back to Honolulu.
Our highlights: In and near the Hanauma Bay Nature Preserve, you'll find countless lookout points and places to explore. Start with the lookout over the bay itself, then head to Lana'i Lookout nearby for amazing ocean views.
For a more dynamic way to explore the area, go snorkeling in the marine preserve or hike along the Koko Crater Railway trail. For even more coastal views, drive to the Spitting Cave or China Walls at the other edge of the peninsula.
A little further down the road, at the southeastern extreme of the island, there's a fabulous trail to Makapu'u Lighthouse, which follows the contours of the bushy hills to a stunning vista over the cliffs. Down at Makapu'u Beach, rent a surfboard or simply let the perfect waves carry your seemingly weightless body back to the sandy shore.
In Kailua, take the time to meander the laid-back Lanikai Pillbox hike to a set of graffiti-covered bunkers overlooking the blue gradient of Kailua Bay and the Ko'olau Mountains. This trail is as rewarding as it is accessible, with only a few steep spots, and it would be a great place for a picnic with a view. There are tons of great restaurants in town for takeaway poke or a rice plate.
In addition to being a long beach with warm, powder-like sand, Kailua Beach Park often tops lists of the best beaches in Oahu. Since it is protected by a reef and receives a fair amount of offshore winds, it is a popular beach for windsurfing and other adrenaline-boosting watersports. There are also bathrooms and nearby restaurants, making it convenient to visit for a few hours as part of a larger trip.
The stretch of ocean highway from Waikane to Kahuku is one of the most scenic in Oahu. On one side you have a series of small beaches interspersed with rocky coves and on the others the ruddy crests and folds of volcanic hills. You'll also pass by Kualoa Ranch, where parts of "Jumanji" and "Jurassic Park" were filmed.
If you'd like to see the tropical jungle and beaches of Oahu's northeastern shore, look out for some amazing zipline courses near Kahuku.
What would a Hawaiian road trip be without a waterfall? On the north shore, as you approach the northern hub of Waimea, look for a trail to the Waimea Falls, which also has a prime swimming hole down below and a stream leading to the ocean where sea turtles and other wildlife are often spotted.
Bonus: Even though Oahu doesn't have any active volcanoes, just south of Waikiki you can climb the weathered cone of Diamond Head State Monument, an extinct volcano that partially formed the island millions of years ago. In addition to some great views of Waikiki, there are also lava tubes and old bunkers along the way.
Our travel tips: While all beaches in Hawaii are open to the public, be careful about parking on private roads. Look to park in designated lots or along larger roads to avoid being towed.
In case you have a green thumb or simply would like to learn more about the unique plants and trees you've seen on Oahu, there are two botanical gardens along this route, one near Kaneohe, the Ho'omaluhia Botanical Garden, and the other in Wahiawa, a town you'll pass as you come back towards Honolulu along Highway 803, just before the Interstate H 2 intersection.
If you'd like to read more about driving around Oahu, be sure to check out our guide to road tripping around this fabulous island.
READ MORE - How long does it take to drive around Oahu?
Click here to skip back to the top.
7. Lanai: Lanai City to Polihua Beach
10 mile road trip (50 minutes)
Why you should visit: Even though Lanai is the smallest inhabited Hawaiian Island, it used to be home to the largest Pineapple plantation in the world.
This rugged tropical island should appeal to lovers of uncharted dirt roads, eerie geological formations, and cats!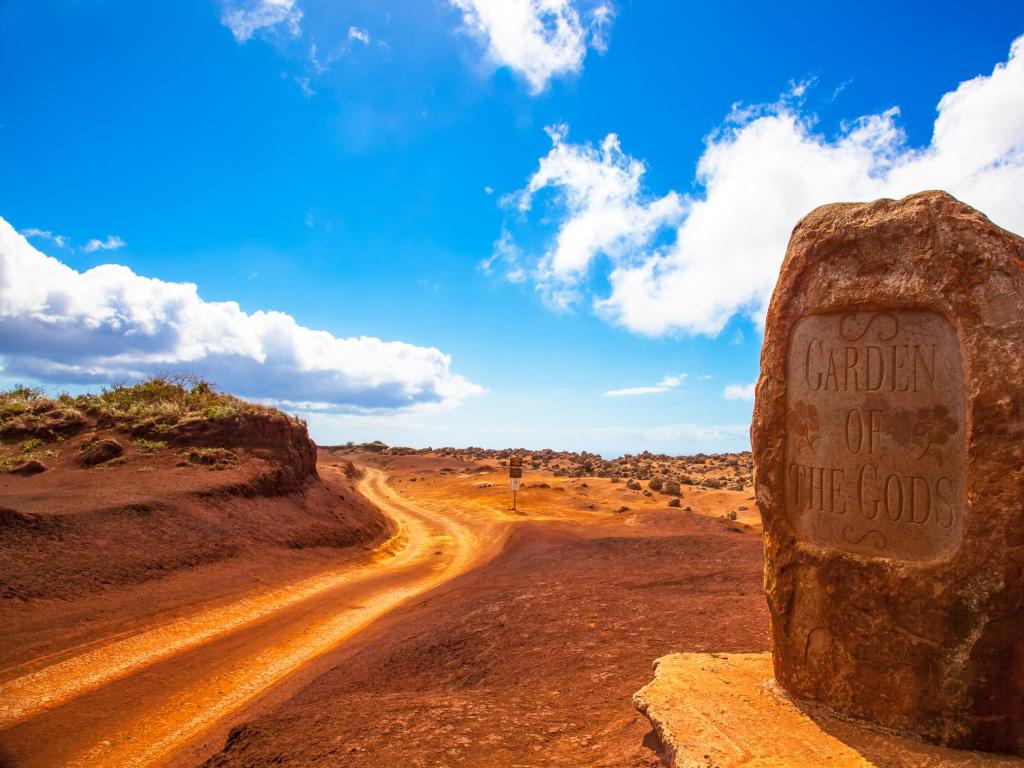 How to get there: The Kanepuu Highway connects Lanai City with Polihua Beach, passing the Garden of the Gods on the way.
Our highlights: Since everyone loves Hawaii, and many people love cats, it is only natural that there is a large subset of people who love both Hawaii and cats. At the Lanai Cat Sanctuary in Lanai City, people come all the way from Maui just to spend a day cuddling these cuties and watching them frolic in a large, open-air cat playground.
There's a treat for arts aficionados in Lanai City as well. Stop by the Mike Carroll Gallery to see beautiful paintings undoubtedly inspired by the tropical surroundings and learn more about the local art scene from Mike himself and his wife.
You'd be forgiven for thinking you've landed on Mars, once you arrive at the Garden of the Gods. This rust-colored boulder field is not quite the Hawaiian landscape many would expect, being more like the backdrop of a surrealist painting.
Once you make it over some jostling terrain, you'll feel like you're back on a tropical island along the unspoiled 1.5 mile long Polihua Beach. This is not a beach for the faint of heart, but a perfect escape from the crowds of Maui.
Bonus: In case you've ever wondered what an elusive billionaire's island is like, look no further than Lanai. Since 2012, most of its land is owned by Oracle co-founder Larry Ellison.
Our travel tips: There are no paved roads in Lanai, so you will have the chance to have a true off-the-beaten path experience. There are Jeep and ATV rentals on the island. Especially the road to the Garden of the Gods is quite rough.
Be careful to park your vehicle on the dirt leading up to Polihua Beach, rather than the beach itself, so you don't get stuck in the sand.
If you've brought plenty of food and water, as well as wind protection, also consider spending a night under the stars at the Polihua Beach.
Click here to skip back to the top.
8. Maui: Upcountry Drive
30 mile road trip (50 minutes)
Why you should visit: Out of sight of the coastal resorts, the thriving heartland of Maui beats with a living culture and thriving community spirit.
In addition to its majestic mountain views and charming towns, the nutrient rich soils give life to dozens of nurseries and farms that supply the local markets.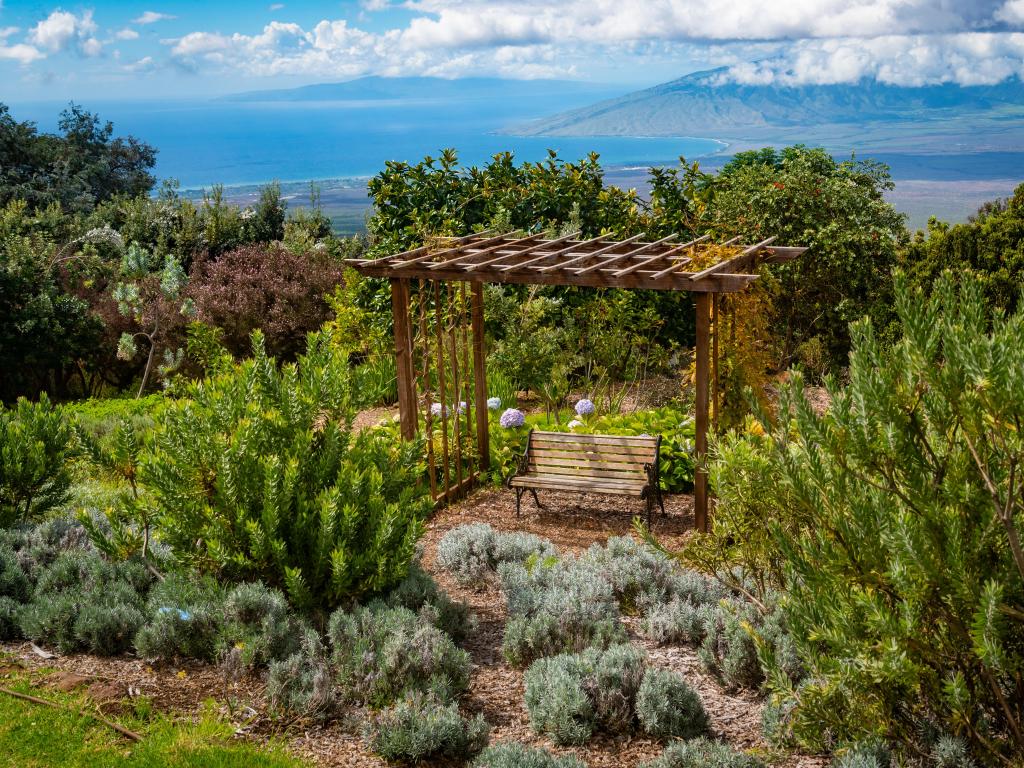 How to get there: Starting in Paia in the north, head south on Baldwin Avenue to Makawao, then take Makawao Ave to Highway 37. This passes through Kula and Keokea. You can even take it to Piilani highway to explore the south Coast.
Our highlights: Towards the beginning of your drive in Pukalani, look for the Upcountry Farmer's Market, held every Saturday morning until 11a.m. The taste of paradise is in every fruit, nut, and beverage you can find here, from pineapples and macadamias to probiotic preparations.
It doesn't take long in the Upcountry to appreciate the many farmers and artisans who work within these fertile valleys. Visit the Ocean Vodka Organic Farm and Distillery to taste a broad range of organic produce paired with fresh and imaginative cocktails, all while taking in the serene views.
Wander the scented grounds of the Ali'i Kula Lavender Farm, on the outskirts of Kula. Even though you are thoroughly relaxed from your time in Maui, it might be a good idea to bring back some calming sachets and oils to sooth the nerves once you get home.
If you'd like to get up close and personal with the unique tropical canopy of the Upcountry, head towards Skyline Hawaii. Located at the base of Haleakala just outside of Kula, this consciously managed zipline course is staffed by passionate and knowledgeable stewards of the surrounding landscape.
As you approach the south, near the border with the Kanaio Nature Reserve Area, look for the Triple L Ranch, where you can go on a guided horseback tour through the lush hills.
If you're still in a more laidback mood, a few miles before the Ranch you can sit and try some of the unique fruit spirits at MauiWine.
Click here to skip back to the top.
9. Maui: Honoapiilani Highway from Waikapu to Nakalele Blowhole
35 mile road trip (1 hour 10 minutes)
Why you should visit: Dramatic cliffs and the outstretched Pacific Ocean are the stars of this adventurous coastal drive.
Wonder at the rich, red, volcanic soils exposed along the edges of deep, verdant gulches that carry rain-fed streams out to sea.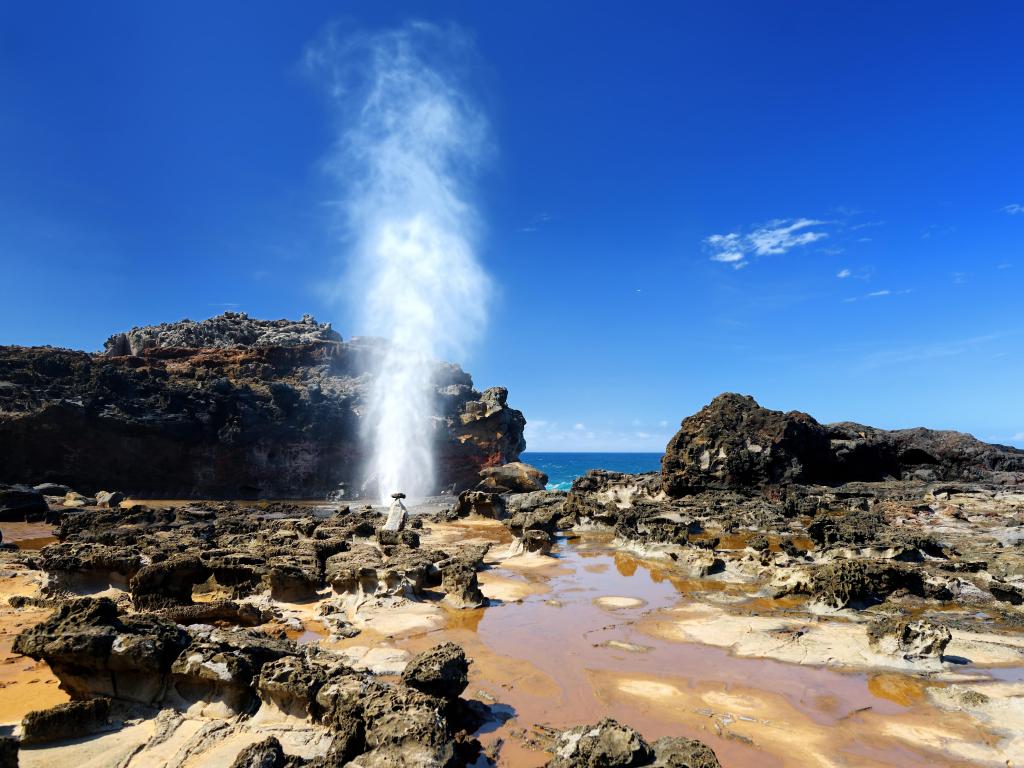 How to get there: This whole route follows Hawaiian Highway 30. You could also drive it as a loop all along the island's north coast, cutting back inland to Waikapu at Kahului.
Our highlights: From Maalaea to Kapalua along the coast, there are several places to pull over and look over the horizon. This area is well-known for whale watching, so bring some binoculars and catch a glimpse of the sea's most majestic migrants; McGregor's Point is a good place for whale spotting.
A little further on, take a break to enjoy the crystal-clear waters of Olowalu Beach or stand among the swaying palms at Launiupoko Beach Park.
In Lahaina ask around for Banyan Court. Here you will see the oldest living resident of Maui, a sprawling banyan tree with aerial tendrils inching their way down from every branch. It is truly a tree to remember and there are plenty of places to grab a snack or refreshment nearby.
If you'd like to stretch your legs, in Kapalua there is a lovely coastal trail. Partially paved, partially boardwalk, it takes you through tropical gardens and past tide pools teeming with life.
The Nakalele Blowhole is where the land and sea clash in a dramatic display of the ocean's power and the land's stubborn resistance. Mist and the occasional rainbow embrace the rugged cliffs of this popular lookout point.
Our travel tips: Be prepared for unbeatable views as well as narrow roads. Some sections are only one-way with a few pullouts for passing traffic, so be sure you are confident to tackle this drive and be sure to honk around any blind corners. The road gets significantly more challenging after the Nakalele Blowhole, so consider turning around there.
10. Maui: Road to Hana
45 mile road trip (2 hours 10 minutes)
Why you should visit: The Road to Hana has become legendary amongst visitors and locals alike as one of the most scenic and rewarding stretches of road on any of the Hawaiian Islands.
Maui is famous for its countless waterfalls carrying rainwater from the faces of towering volcanoes to the ever-accepting ocean. On the Road to Hana you will pass some of Maui's most idyllic tropical waterfalls.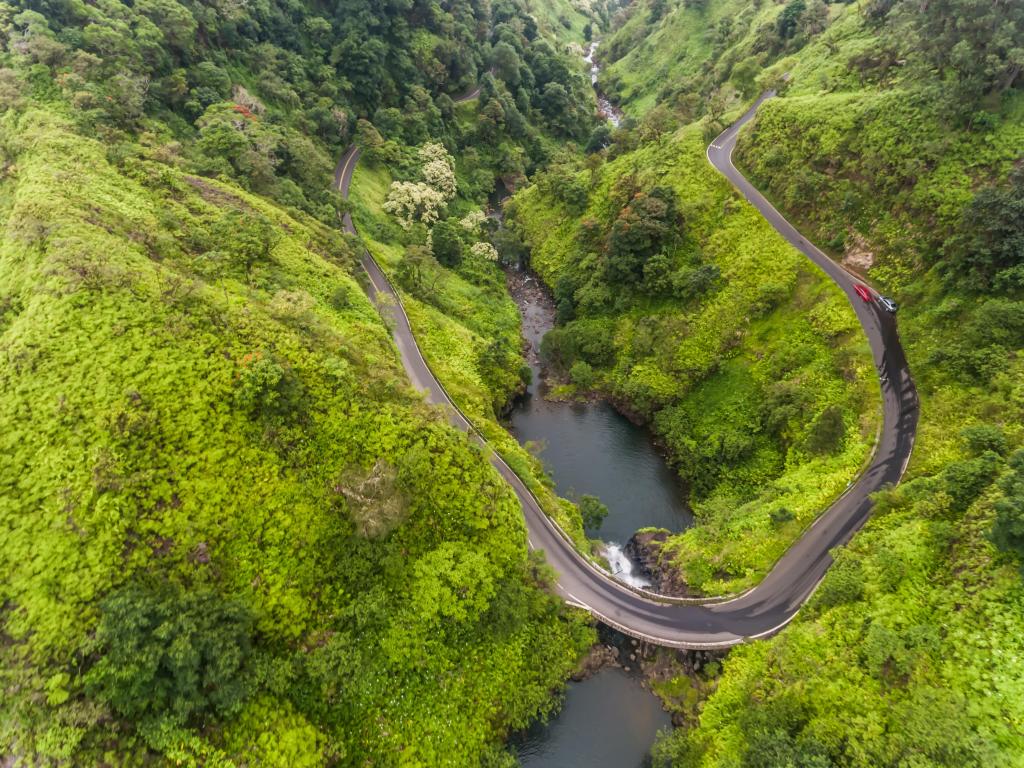 How to get there: The zero-mile marker of the Road to Hana stands in Haiku Hawaii. From here, take Hawaiian Highway 360, along innumerable curves, to Hana and even beyond. Our route leads all the way to Kipahulu on the south coast, 44 miles from Haiku.
Our highlights: Before you start out, in Haiku wander through a forest where the rainbows aren't only in the sky but emerging through the very bark of the eucalyptus trees in the Rainbow Forest. As if Hawaii needed anything to be more magical!
Leave ample time to stop at a few of the waterfalls along the way, like Twin Falls, Haipua'ena Falls, Hanawi Falls, and Upper Waikani Falls, where you can see three waterfalls emerge from the jungle. Some of the waterfalls are right by the road and others require a short walk. Many also have pools underneath where you can swim and enjoy the fresh waters.
Even though there's no extensive trail system at Waianapanapa State Park, it is well worth the visit to see long strands of charcoal-colored sand and emerald forest entwined around the purest azure ocean. The scenery is like something out of a fantastic adventure novel and you'll be glad you included this stop on your trip.
You'll truly feel like you're entering the underworld of some forgotten legend as you step inside the Hana Lava Tubes. A botanical garden and maze sit atop the tubes, but the real adventure lies in the Earth's bowels.
A step away from the obvious path in Hana will lead you down a much narrower one to the vibrant red sands of Kaihalulu Beach, which seems to be almost guarded by a ridge of rocks out in the ocean. This hidden gem has become many a tripper's favorite on their journey through Hana.
Further south on the coast from Hana you'll come along the stunning Wailua Falls and rugged ʻOheʻo Gulch opening like a chasm from the dense forest of exotic trees. In Kipahulu you can hike the Pipiwai Trail to an ancient banyan tree or relax in the gardens of the rustic church where Charles Lindbergh is buried.
Bonus: On this route you'll pass countless parks and trails. You can breathe a bit easier as you stop your car to explore knowing that there are no native snakes on Hawaii!
Our travel tips: Be forewarned: you need advanced reservations to enter Waianapanapa State Park due to limited parking and the need to protect the fragile environment from too many visitors.
Click here to skip back to the top.
11. Maui: The South Coast Drive
50 mile road trip (2 hours 10 minutes)
Why you should visit: Starting in the rustic Upcountry hub of Kula, this trip takes you through the rainforest, past deep gulches and waterfalls to the fabulous beaches of Hana.
Though the Road to Hana is a popular road trip, this route takes you there from the less-traveled south side and past many secluded gems.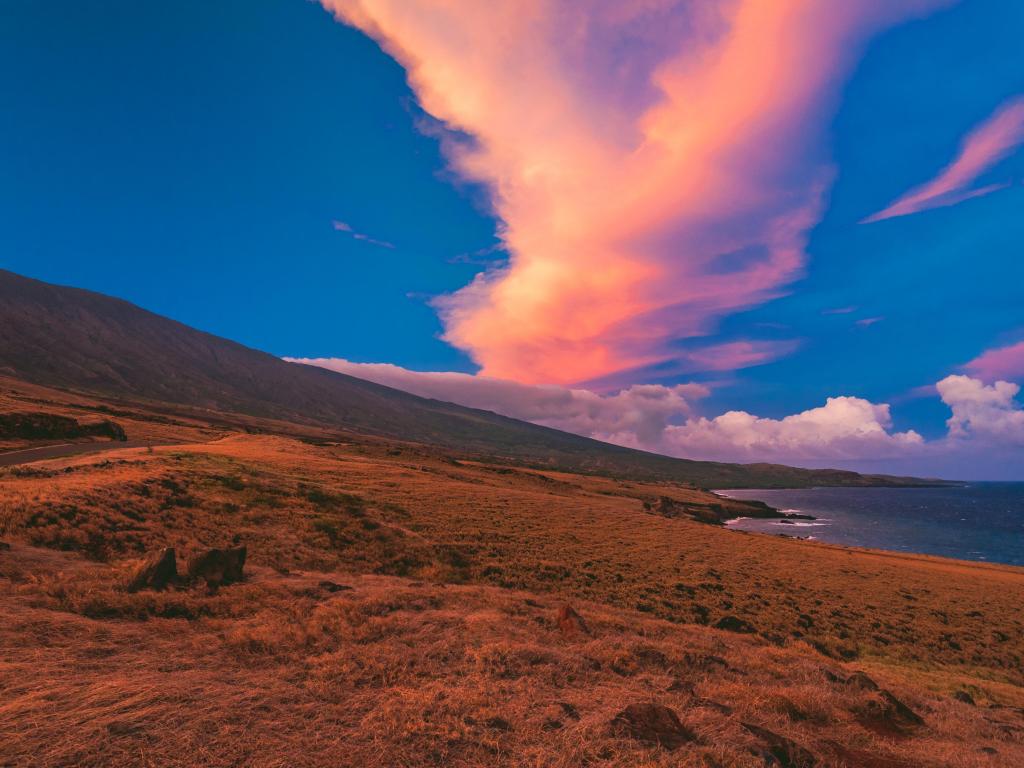 How to get there: Starting in Kula, drive south on Highway 37 for about 12 miles , before veering left onto the Piilani Highway, which follows the coastline. This route turns into Hawaiian Highway 360 after Kalepa Gulch and takes you all the way to Hana and Hamoa Beach.
Our highlights: As you cruise the coast, take time to admire the Manawainui Gulch and ʻOheʻo Gulch along the way. These gulches funnel the ample rain the island receives into the sea, leaving distinctive creases on the hillsides and giving life to an abundance of trees and flowers.
You don't want to miss the signs for Wailua Falls along Highway 360. This iconic, classically Hawaiian waterfall plunges 80 feet from a jungle cliff into a pool perfect for swimming a little downstream. It is accessible by a well-maintained path through a bamboo forest.
Stop by the mesmerizing Waioka Pond, also known as Venus Pool. This warm body of water beside the ocean is surrounded by lush vegetation and large rocks perfect for making a big splash.
Hamoa Beach is a frontrunner for one of the best beaches in Maui, with clear, aquamarine waves that are suitable for surfing and snorkeling alike. The edge of the beach has ample shade for relaxing and enjoying the picturesque scenery a little while longer.
Bonus: The man who pioneered trans-Atlantic flight, Charles Lindbergh's, found his final resting place in Maui after making the island his home for many years.
Whether you're an avid fan of aviation or not, his grave along Highway 360, just before the ʻOheʻo Gulch, is a peaceful place to admire the small wooden church surrounded by a tropical garden and horses.
12. Maui: Hana to Haleakala National Park
70 mile road trip (2 hours 50 minutes)
Why you should visit: The chance to travel above the clouds and see one of the most spectacular sunrises of your life awaits you at Haleakala.
At 10,032 feet, this dormant volcano's summit offers such unobstructed views that there's even an observatory here.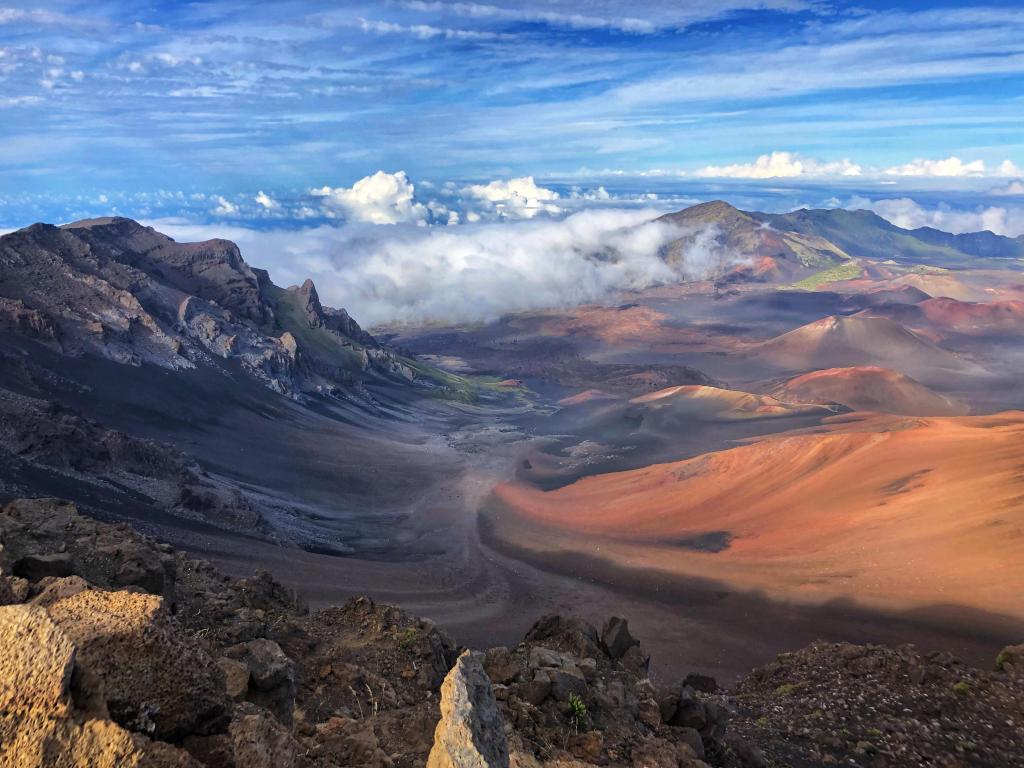 How to get there: From Hana, drive north on Hawaiian Highways 360, 365, and 377 until you reach Kula. There, look for the road into the park and the summit, Hawaiian Highway 378, and follow the winding route all the way up.
Our highlights: On your way to or from Haleakala from Hana, be sure to leave plenty of time to take in the many coves, waterfalls, and beaches along the breathtaking Hana Highway. Look out for the eye-catching cliffs of Ke'Anae.
Undoubtedly one of the most popular things to do at Haleakala National Park is to catch the summit at sunrise. This is a rare moment to connect with the awe that people have been feeling for thousands of years, as the sun rises over a sea of mist blanketing the ocean on all sides.
Not an early riser? A similarly dazzling experience is to visit the summit at sunset. You can even join a guided stargazing tour after dark.
In this massive and unique national park, there are also many trails and lookouts that give you a whole new perspective on this natural marvel. Try the Halemau'u Overlook Trail, which you'll see on the road to the summit, or look for signs to the Leleiwi Overlook, which is less than a half-mile hike from the road.
Bundle up and spend the night at Haleakala. There are two different campgrounds in the national park, one on the summit road and another closer to the coastal areas. Make a reservation beforehand on the park's website and bring all the supplies to need for a rustic barbeque and s'more session at night.
Bonus: "Haleakalā" means "house of the sun" in the local dialect, which just tells you how much people appreciate making celestial observations from this sacred spot.
Our travel tips: You might need to make a reservation to visit the national park during sunrise from 3-7am. Check the up-to-date website to avoid any disappointment if you'd like to enjoy a stunning sunrise.
Given that this is one of Maui's most popular bucket list experiences, you'll have to book a pass to drive the winding road up to the summit 60 days early on the park's website.
When the day of your visit finally arrives, be sure to hit the hay extra early the night before. Throughout the year, sunrise is from 5:30 to 7 a.m. so you should start driving from Hana around 3 or 4 in the morning to catch the sunrise.
13. Kauai: North Shore and Na Pali Coast
15 mile road trip (40 minutes)
Why you should visit: On Kauai you feel like you've found the land before time when the sun reveals the sharp shadows of the island's volcanic ridges.
This is an island more geared towards ecotourism. With unspoiled natural landscapes, innumerable waterfalls, and plentiful beaches, it is often called the most beautiful Hawaiian island.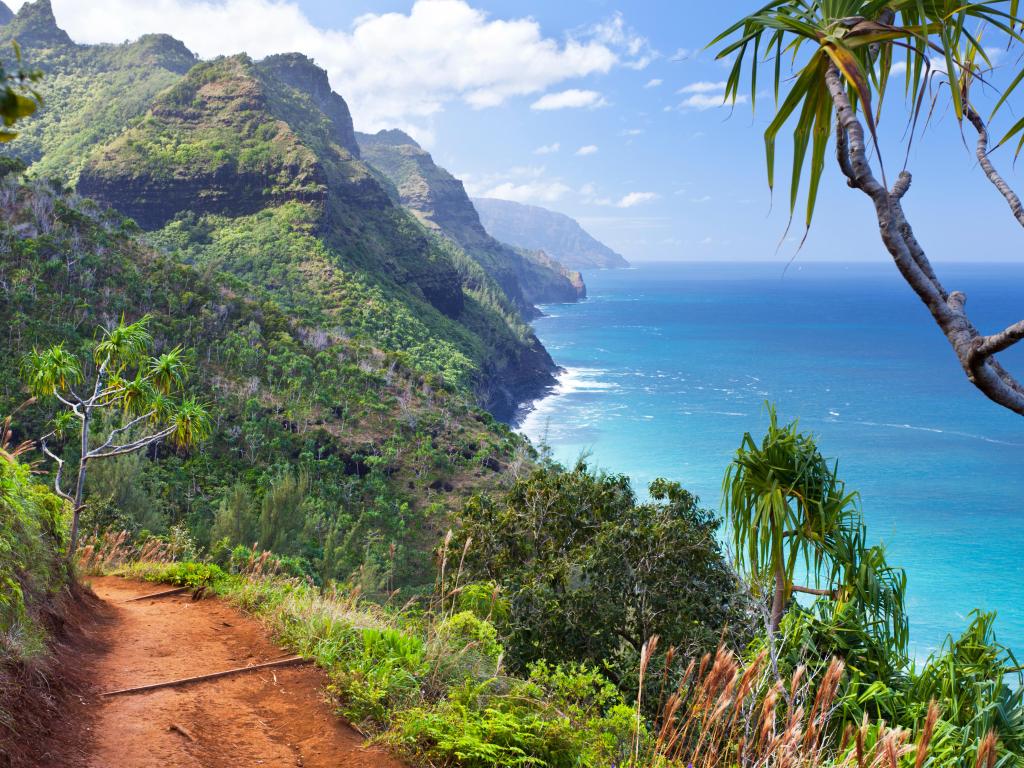 How to get there: Starting from Kilauea Point National Wildlife Refuge, take Highway 56 north for 4.5 miles to the junction with the Kuhio Highway/ 560 West just before the Hanalei Valley lookout, then continue for 10 miles on that road to Haena State Park.
Our highlights: Before you leave Kilauea see the lighthouse at the Kilauea Point National Wildlife Refuge. Here you can also catch a glimpse of rare marine bird species along the untamed beauty of the north coast.
Even though all of Kauai can seem like a botanical garden, at the Princeville Botanical Gardens, you can learn more about some of the exotic blossoms that you've been seeing around the island. They also offer chocolate tastings, yum!
As you approach the stunning Hanalei Bay, make sure to stop at the Hanalei Valley Lookout to get that postcard view of Kauai: patches of lush agricultural land edging up to towering mountains with corrugated sides casting dramatic shadows.
Further on you'll find Hanalei, an adorable beachside community. Consider stopping here for a delicious lunch at one of the local restaurants or walk along the dazzling Hanalei Beach. The waves look awfully inviting!
But Hanalei is only the beginning. This route features several stunning and isolated beaches, perfect for a picnic, snorkeling, or that romantic sunset. Waikoko Beach, Lumahai Beach, and Tunnels Beach are just a few of your options.
Once you arrive at Haena State Park, be prepared to fully embrace that tropical paradise vibe. The gorgeous Keʻe Beach has a protective reef great for snorkeling, but the sands are also ideal for lounging in disbelief that you're actually here.
While you need to register for a permit in advance to trek the entire rugged and remote Kalalau trail of the Na Pali Coast Wilderness, you can hike the first two miles of the Kalalau Trail to the breathtaking Hanakapiai Beach and waterfall without a permit.
Bonus: Kauai is the oldest inhabited Hawaiian island, formed 5.1 million years ago from a "hotspot" within the Pacific Plate. Like the other Hawaiian Islands, Kauai has rich volcanic soils that lead to a stunning abundance and diversity of natural life.
Our travel tips: To protect the many species and fragile ecosystems of Haena State Park, non-resident visitors will need to register for day use parking ahead of time via the park's website. You will not be able to enter the park without registration.
The Kalalau trail along the Na Pali coast offers an unparalleled tropical adventure, from along its seven valleys to remote and pristine beaches.
If you are an avid hiker, register for permits well in advance and check the weather reports as your trip approaches as extreme weather often prevents year-long access to the trail.
Click here to skip back to the top.
14. Kauai: Waimea Canyon and Kalalau Lookout
30 mile road trip (1 hour)
Why you should visit: Sometimes called the "Grand Canyon of the Pacific", the steep, red cliffs of Waimea have been drawing people to this remarkable formation for generations.
As if one natural wonder wasn't enough, this route takes you to the jaw dropping Kalalau Lookout which will have you feeling like you've reached the edge of the known world.
How to get there: From Lawai start driving west on Hawaiian Highway 50 until you arrive at the coastal town of Waimea, then start driving on Waimea Canyon Drive, through the canyon, for 18 miles until you come to Kalalau Lookout and the Na Pali Coast State Wilderness Park.
Our highlights: Before you officially come to Waimea state park, keep your eyes out for the Iliau Nature Loop, a short trail that can easily be covered in less than 30 minutes. Along the trail you'll find informative plaques about the flowers and plants that you see here, and only here, like the native Iliau itself.
On this route you'll pass two lookouts over the rust-colored canyon: Waimea Canyon Lookout and the Pu'u Hinahina Viewpoint. Have your camera ready at both, because once you leave here, you'll hardly believe that you came to such an otherworldly place.
If you're up for a challenging hike, take the Waimea Canyon Trail, which starts near the Pu'u Hinahina Viewpoint, down through the red rocks and occasionally dense tropical vegetation of the canyon. This leads to the top of the seasonal Waipo'o Waterfall which you can also see from the Waimea Canyon Overlook.
The Kalalau Lookout peers from 4,000 feet into the iconic Kalalau valley, with a two-mile wide floor and ruffled cliffs that have served as adventurous backdrops in films from "Jurassic Park" to "Mighty Joe Young." The mouth of this wide valley opens to the boundless seas, making a vista that is truly legendary.
While there's no way to get to Kalalau Beach on the famous Nā Pali Coast from the lookout, a few hundred feet from the lookout you can take the Awa'awapuhi Trail down into a parallel canyon with similarly inspiring views of the jungle and surf. This one's also for the more outgoing hiker who can handle some steep inclines.
Bonus: In the center of Kaua'i is Mount Wai'ale'ale, one of the rainiest places on earth. "Waimea" also means "sacred or reddish water", hinting at traditional observation of the area's saturated conditions that carved this island's unforgettable cliffs and canyons.
Our travel tips: When hiking canyons, be sure to save strength for the trek back up to the road. As this region received tons of rain, the trails can get muddy and hiking polls can come in handy.
Click here to skip back to the top.
15. Molokai: South Shore Drive
30 mile road trip (1 hour 10 minutes)
Why you should visit: The cinematic cliffs of Molokai are some of the highest in the world and beacon of the many treats this often overlooked island has in store.
After a relaxing drive along the south coast, passing several green gulches, feast your eyes and stomach on the abundance of the Halawa Valley.
How to get there: Starting in Kualapu'u, take Hawaiian Route 470 to the southern coast. Take a left onto the Mauna Loa Highway for a short drive to the Kamehameha V Highway, which will take you the remaining 27 miles to Halawa Valley.
Our highlights: A few miles south of Kualapuu look out for the Maunahui-Makakupa'ia trailhead. This dirt road can be driven by a sturdy off-road vehicle or you can walk a few miles through a gorgeous forest to an overlook of the Waikoku Valley.
The golden sands of Kumimi Beach make a welcome pit stop along the coast. Though there are limited amenities here, the clear waters are ideal for snorkeling or swimming.
Once you arrive in the eastern Halawa Valley, you will be spoiled for choice as you take in the majestic views on all sides. Hike to Moa'ula Falls or take a cultural tour of the remaining taro fields which have been traditionally cultivated for hundreds of years. This gorgeous and fertile valley also contains groves of avocados, passionfruit, cacao, and mangoes.
In addition to the ancient heritage of the Halawa Valley, there are also more recent historical landmarks like the Ierusalem Hou Church. This rustic wooden church sits in a quaint tropical garden that faces Halawa Park along a stream leading to the Ocean.
Bonus: It is believed that the Halawa Valley was first cultivated by Polynesian settlers in the 7th century A.D. Once you see all that this rich land produces, you'll understand why they chose it.
Our travel tips: Be sure to bring water, snacks, a beach blanket, and everything else you might need as there aren't too many stores along the way.