Can You Drive To Hawaii From Mainland United States?
Most people know that Hawaii is a group of islands a long way off the coast of the United States and unless your car can float and sail across the Pacific, you won't be able to physically drive to Hawaii, but are there other ways to get there using ferries, ships or a different route?
It is not possible to drive to Hawaii from mainland United States. You can ship your car over to Hawaii using a freight service or you can fly and pick up a rental car instead. Once you get to Hawaii, there are no car ferries between the different islands.
To find out exactly what your options are, check out the detailed explanation below.
Why you can't drive from the United States to Hawaii
Hawaii is a small group of islands lying right in the middle of the Pacific Ocean. It is about 2,400 miles off the Californian coast - that is almost as wide as the Lower 48 states so it's a long way to come if you want to bring your own car.
Obviously given the distance, there are no land connections between mainland United States and Hawaii, no bridges and no ferries. The Pacific Ocean is tough enough to cross for commercial ships with huge storms and big waves and ferries would not stand a chance.
On top of that, even if there was a ferry, at a typical average speed of 25 knots (29 miles per hour), it would take 3 and a half days to get to Hawaii even if the ferry had enough fuel for the long journey - that's one long ferry ride!
As a result, it is incredibly rare for anyone to bring their own car to Hawaii. There are no easy options to do so and the cost makes it a relatively pointless exercise.
If you do go to Hawaii and see cars with registration plates from other U.S. states, it'll usually be for one of two reasons: the main is that the United States military will often transport personal cars for its personnel so that the troops can use their car wherever they are stationed.
They even ship cars as far as Germany and other foreign outposts confusing the locals with American registered cars driving on their roads.
There's also a small number of wealthy people who may have particularly expensive exotic cars where money is no object and they may get their cars shipped over to drive around on vacation, although these will often arrive via air.
Your options if you want to ship your car to Hawaii and drive it there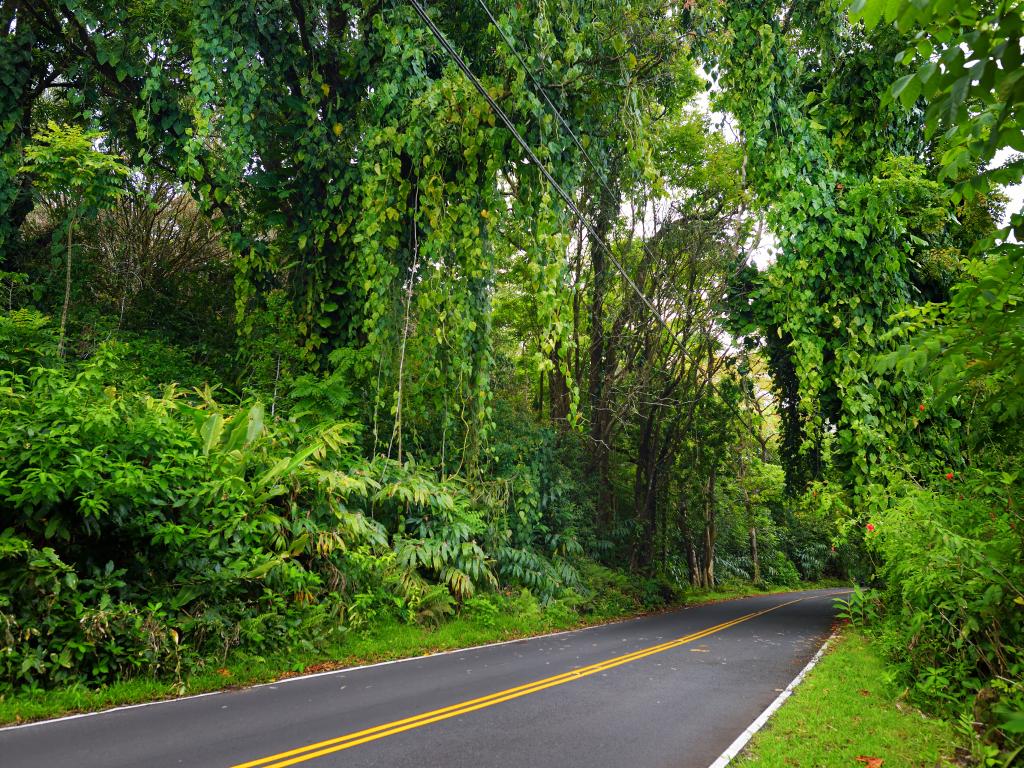 If you really must get your car over to Hawaii and drive it there, your only real option is to use freight shipping. The way this works is you'll need to find a shipping company that transports goods between mainland United States and Hawaii and buy a container or part of a container.
The cost of shipping a 20 foot container from the west coast of the United States will vary based on company, weight and other factors, but expect to pay a ballpark of $1,000 to $1,500 one way. If you're planning to come back, that's going to be one expensive process. If you have a particularly large vehicle like a Ford F-350, the 20 foot container will be too short, so you'll need to pay a big premium to upgrade to a 40 foot option.
The above doesn't include shipping the car from where you live to the port in Long Beach or elsewhere in California. If you live on the East Coast, that shipping can cost even more than the freight across the ocean on top.
The shipping will usually take 5 to 7 days from when the car arrives in the port and is loaded into the container so you'll need to plan ahead to get the car to the port and pick it up at the other end.
Another important point to note is that you might want to contact specialist car transportation firms. These will cost more than your regular container shippers, but they will often have specially set up car harness systems inside the containers which may be a lot kinder to your car as it gets loaded and unloaded from the cargo ship.
You'll also not be able to have any belongings inside the car at all - almost every shipping company will insist that the car is completely empty for the journey so if you were thinking of packing all your luggage inside, that plan won't work.
Alternatives to driving your own car in Hawaii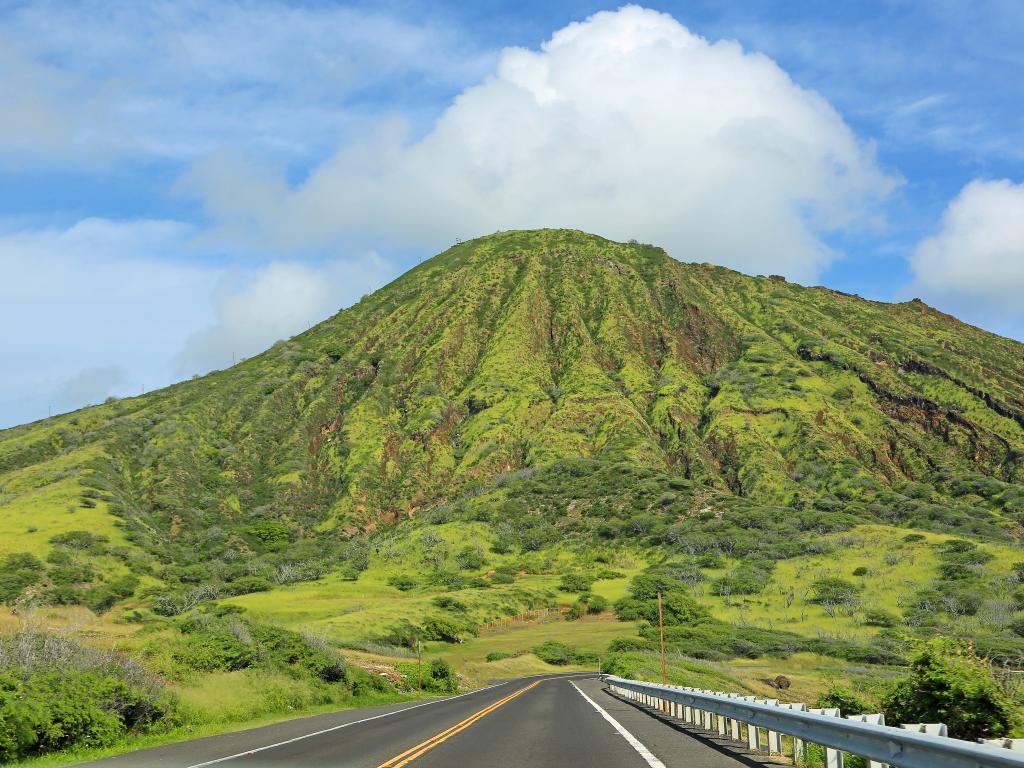 If you're going to Hawaii and want to drive, by far the best option is to fly over and pick up a rental car when you land.
In fact, public transport in Hawaii is limited, so you'll want to have a car when you're there and this is what a large number of tourists do all the time.
Virtually all major car rental companies can be found in Honolulu Airport or in the city itself with Hertz, Avis, Budget, Enterprise and Alamo all present. A little further out from the terminal building and in the city of Honolulu, you will find some more local companies which may be able to offer lower prices.
If you are going to travel on from O'ahu, the islands of Hawai'i, Maui and Kauai each have a good dozen rental locations with many of the big names present. Just remember that you'll need to hire a car on each island separately as there are no ferries between them, which brings us onto the last point.
You can't drive the same car on different Hawaii islands
Although the larger islands in Hawaii are not all that far from each other, the main way people go between the islands is by air.
When I say air, I don't mean large jumbo jets that take 2 hours to board - many of the planes that fly regularly between the islands seat less than 10 people and some of the local airports are pretty small.
Air travel has become popular and affordable as three local air companies have provided competition to Hawaiian Airlines.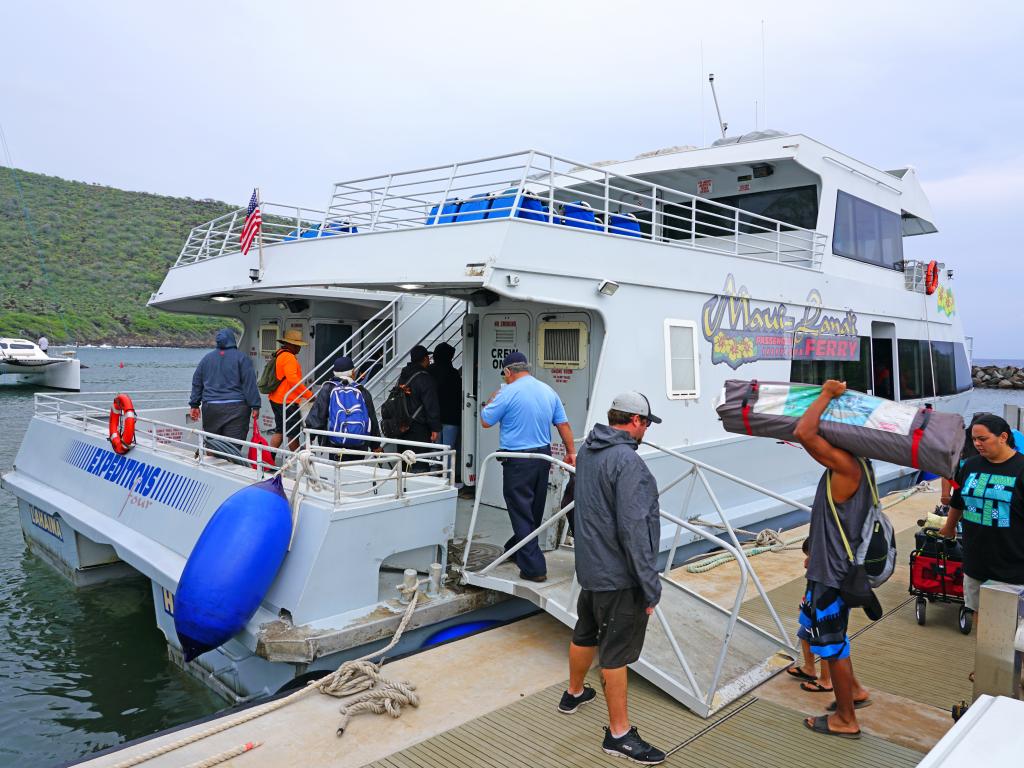 This has meant that ferries have never become a thing in Hawaii. There are only two ferry services that run between Maui and Lana'i, and Maui to Molokai but these are passenger only and don't take vehicles. All the other islands are only accessible by private boat or air only.
This means that if you choose to ship your car over to Hawaii, pick it up in Honolulu a week later and then want to go to one of the other islands, you're in for a whole load of headache sorting out transport to get it there. It really isn't worth it.
Even if you love driving fast cars and have a supercar parked in your garage at home, a quick search on the Hertz website for Honolulu rentals brings up options including the Chevy Camaro SS (that come in a distinct Hertz yellow), a Porsche Macan (in the Hertz Dream Car series), Dodge Challenger R/T and a Range Rover Sport. Jeep Wranglers, full size SUVs and everything in-between are also available.
You can see that you'd have to be extremely picky not to find something that works for your vacation.
A 2-week rental of something in the Hertz Adrenaline collection that also includes the Fort Mustang GT costs less than $1,200 all in - less than a one-way shipping cost from California for your own car.