Is the drive to Haleakala dangerous?
The Haleakala volcano makes up most of the island of Maui, part of Hawaii in the Pacific Ocean. The drive on Highway 378 takes you to Pu'u'ula'ula (Red Hill), the highest of the volcano's peaks at 10,023 feet. It offers stunning views across this varied and unique volcanic landscape.
The 20-mile drive up Highway 378 ascends steeply to the summit, and the 2-lane road has many tight bends and steep drop-offs. These features mean it can be dangerous if you don't drive cautiously, and some travellers might find this scary.
Much of the land around the slopes of the huge volcano is part of Haleakala National Park, so it's a stunning place for a scenic drive. If you're feeling adventurous, a popular way to experience Haleakala is to watch the sunrise from the summit, meaning you have to make the trip up in the dark.
Which route should I take to Haleakala?
The route to reach Haleakala

| Route | Distance | Drive time |
| --- | --- | --- |
| Highway 378 | 20 miles | 50 minutes |
Maui is the second largest island in Hawaii and has been voted Conde Nast's 'best island in the world' many times. The dormant volcano of Haleakala forms most of the land on the eastern side of the island and is largely designated a national park.
There's only one vehicle route to the summit at Pu'u'ula'ula, which is to follow Highway 378. Also known as the Haleakala Highway or the Crater Highway, this can be easily accessed from all across the island, as the distances to cover here aren't very big.
The peak (at the end of the highway) is around a 2 hour and 30-minute round trip from the island's main city, Kahului.
To access other parts of Haleakala National Park, it's necessary to return to the start of Highway 378 from where it's possible to make a circuit of the coastline which takes you to Kaupo, Hana and Nahiku.
If you like the idea of seeing this stunning view for yourself, keep on reading to find out how dangerous the drive to Haleakala really is, and what you can do to make your trip as safe as possible.
Driving the Highway 378 to Haleakala
To reach Pu'u'ula'ula (Red Hill) via Highway 378, head east out of Kahului then pick up HI-37 which takes you across the flatter middle part of Maui.
After passing Pukalani, take the clearly signposted left turn towards Haleakala National Park. Then, as the road starts to make its way up the lush, green hillside, turn left again onto Highway 378 towards the crater.
If you're hoping to drive up to Pu'u'ula'ula to watch the sunrise, you should note that reservations are required to pass this point before 7am - you'll find details of how to book via the National Park Service website.
Once you've turned onto Highway 378, simply follow the road up the mountain. You'll have to navigate a series of tight hairpin bends in quick succession, before travelling on a relatively straight section of the highway towards the Park Headquarters Visitor Center.
Next, just 8 more switchbacks stand between you and the summit. Some have parking, and as well as stopping to admire the views here you can also pull in to let faster vehicles pass, allowing you to continue the drive at your own pace.
Things to know that can impact the drive to Haleakala
Although the Haleakala Highway is a well maintained, paved road that's popular with visitors, a number of factors can make it more dangerous or challenging to drive than the average road.
The road takes you to the 10,023 ft summit and has a number of tight bends and steep drop offs so this isn't the ideal route if you're scared of heights. This road is unlit, making the summit a great place to look at the stars, but this does mean it's very dark at night - take the bends cautiously.
Parts of the road are really steep, with a maximum incline of 15%. From start to finish the road has the world record for "highest elevation gain in the shortest distance."
Also, with a total of 32 switchbacks/hairpin bends, some travellers report motion sickness due to the constant twists and turns. There are a number of blind bends on the route which some drivers might find scary so never take the road any faster than you feel comfortable.
Altitude sickness is also a possibility if you're spending time at the summit, for example hiking or waiting for the sunrise. Most travellers will be able to acclimatize but if you continue to feel lightheaded or disoriented then descend to a lower part of the mountain.
Traffic can get busy and when other drivers take the road at speed, some travellers might find this intimidating. However, the speed limit is 45 mph all the way along Highway 378 so you shouldn't feel under too much pressure to take the route faster than you feel comfortable.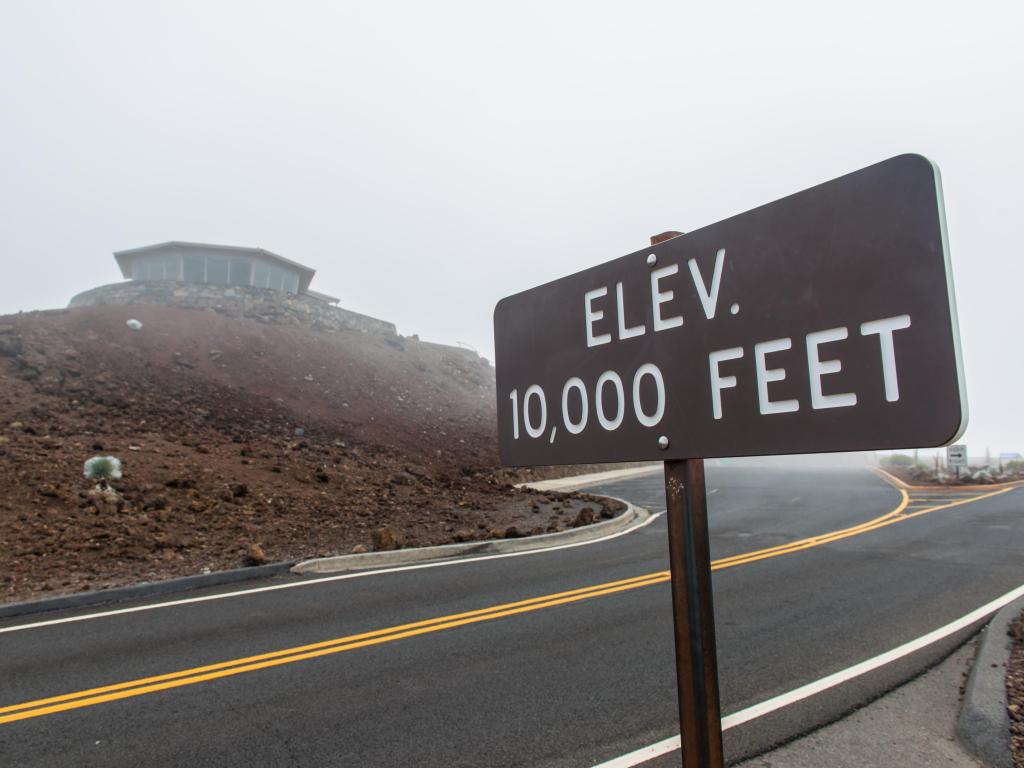 You're not likely to encounter queues and there are large parking lots near the summit, however be prepared for larger crowds if travelling in peak vacation periods or over holiday weekends. As this is an undivided 2 lane highway there are very few passing places if you get stuck behind a slower vehicle.
Wildlife can also hold you up, as cows and geese often stray onto the highway – another reason to take the drive cautiously.
There aren't many places to stop along the highway so refuel or stock up with anything else you need at Pukulani before starting the uphill drive. However, you will find a visitor center at the summit and one on the drive up, with information boards and a small gift shop.
Most of the route has good cell phone coverage for both 5G and voice calls, but if you hike when you reach the top you'll quickly lose signal.
One final consideration is to pay attention for cyclists. Downhill cycle trips are currently banned after a number of serious accidents, but if they are allowed to restart it becomes even more important to take the drive cautiously in case you meet a cyclist coming round a blind bend at speed.
Tips to drive to Haleakala in the safest way
There are several things you can do to help travel this route in the safest possible way.
The primary one is to take the road at a speed you feel comfortable with, especially as you approach the tight bends. If you feel self-conscious about holding up other vehicles, pull over and let them pass.
Do a "virtual drive" using Google Street view so that you can prepare yourself and "see" the route for yourself beforehand.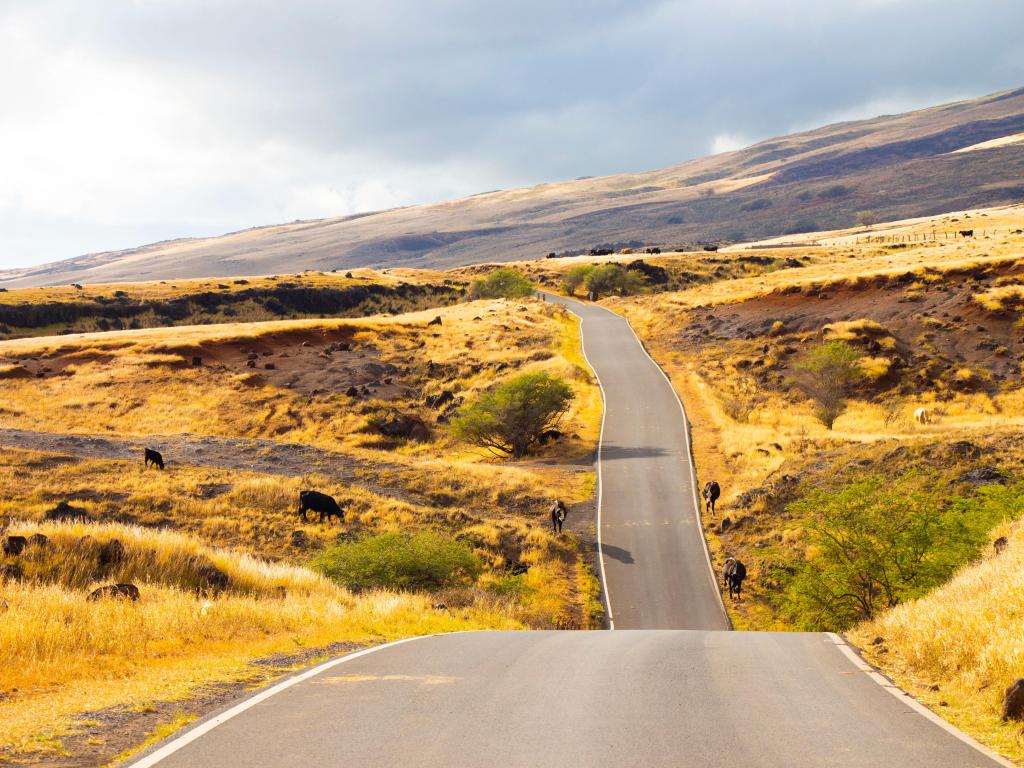 Some travellers prefer to make the drive in the dark to avoid having to look at the steep drops! However, in winter you might want to think about making the trip in the middle of the day so that any icy patches have had time to melt.
Make sure you have adequate fuel for your journey - fuel up at Pukalani or Makawao to avoid running low (this also applies to any food you want to take with you)
Be mindful of animals on the highway, and always leave plenty of time to brake especially when you're going round blind bends.
Finally, make sure your vehicle is in good condition – this isn't the place to test out the condition of your brakes!
Alternatives to driving yourself to Haleakala
If you've read this far and changed your mind about driving the Haleakala Highway yourself, the good news is that you have a few other options.
A number of minibus tours are available, depending on your time and budget. Not all of them take you to Pu'u'ula'ula but you can experience other parts of the national park instead. Expect to spend at least $200 per person.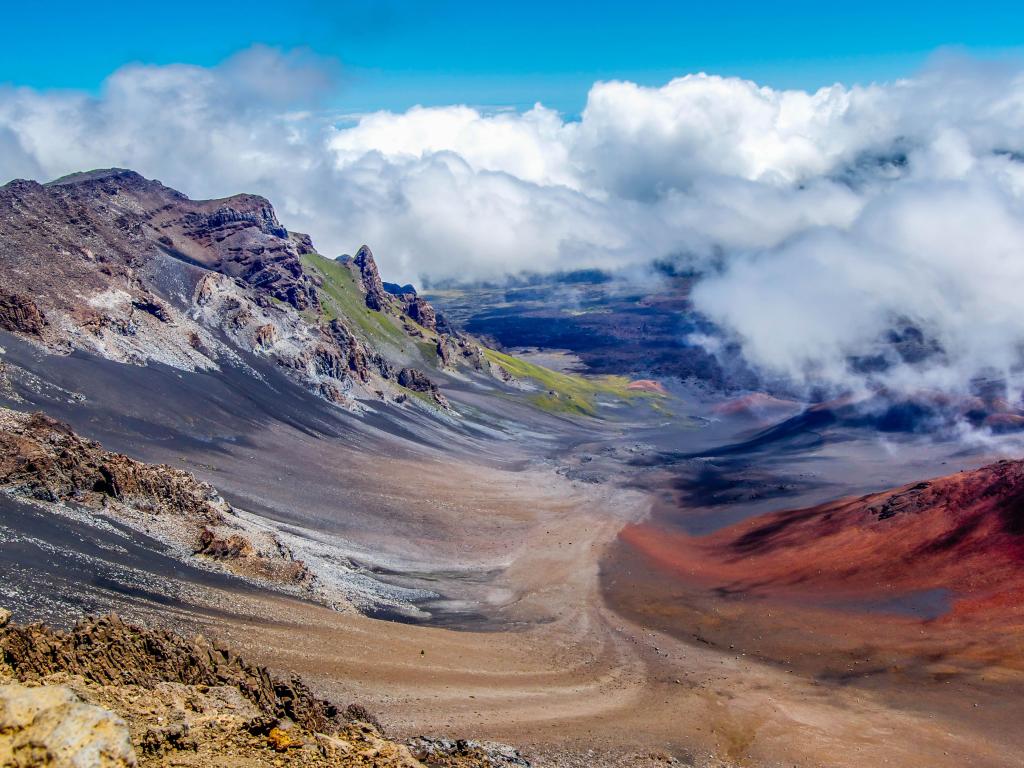 You can also hire an 11-seater van for a private tour to the summit. This will set you back at least $2,000 dollars, so it's probably best suited to groups travelling together.
Alternatively, for a shorter but unforgettable visit to Haleakala National Park, helicopter tours are available. Some just fly over the national park and let you admire the view from above, but for upwards of $300 per person you can take a 70-minute flight which includes some time on the ground.
*Prices calculated at the time of writing
Best time to drive to Haleakala
You can drive Highway 378 to Haleakala all year round, but you'll need to factor in the changing conditions even if you travel in summer. Occasionally the whole highway might be closed because of severe weather, including tropical storms, but this doesn't happen often.
Even in summer, average temperatures are only around 60 degrees Fahrenheit at the summit, which is a real contrast to Hawaii's normal sub-tropical climate. Take warm clothes as the 10,000-foot peak will always be cooler than your starting point at sea level.
Freezing conditions are possible in winter. Drive more cautiously and make the trip in the middle of the day to give the road time to warm up.
At any time of year, low clouds can roll over the peaks and reduce visibility, so if you encounter these conditions take the drive extra slowly and be alert to other vehicles.