Is there a ferry from California to Hawaii?
Hawaii is a group of isolated volcanic islands, standing alone in the heart of the Pacific Ocean. The islands are situated around 2,400 miles from the US coastline and you might be wondering whether this distance can be covered by a ferry from California.
There is no ferry from California to Hawaii, but a flight from San Francisco to Honolulu covers the 2,400-mile journey in around 5 hours and 15 minutes. Alternatively, you can fly from other airports on the East Coast, including Los Angeles and Seattle.
Famous for its shirts, its beaches, and its surfing culture, Hawaii is the perfect island escape. Keep on reading to discover how to get there, including the best airport to fly from, and some useful travel tips and itinerary planning..
Is there a ferry from California to Hawaii?
Sadly there isn't a ferry from California to Hawaii. At its closest point, mainland USA lies around 2,400 miles away and the distance is much more than a normal passenger ferry would cover across the vast depths of the Pacific Ocean.
Given its remoteness, Hawaii even has its own time zone, Hawaii Standard Time which is 3 hours behind the Pacific Time Zone used in the US west coastal areas.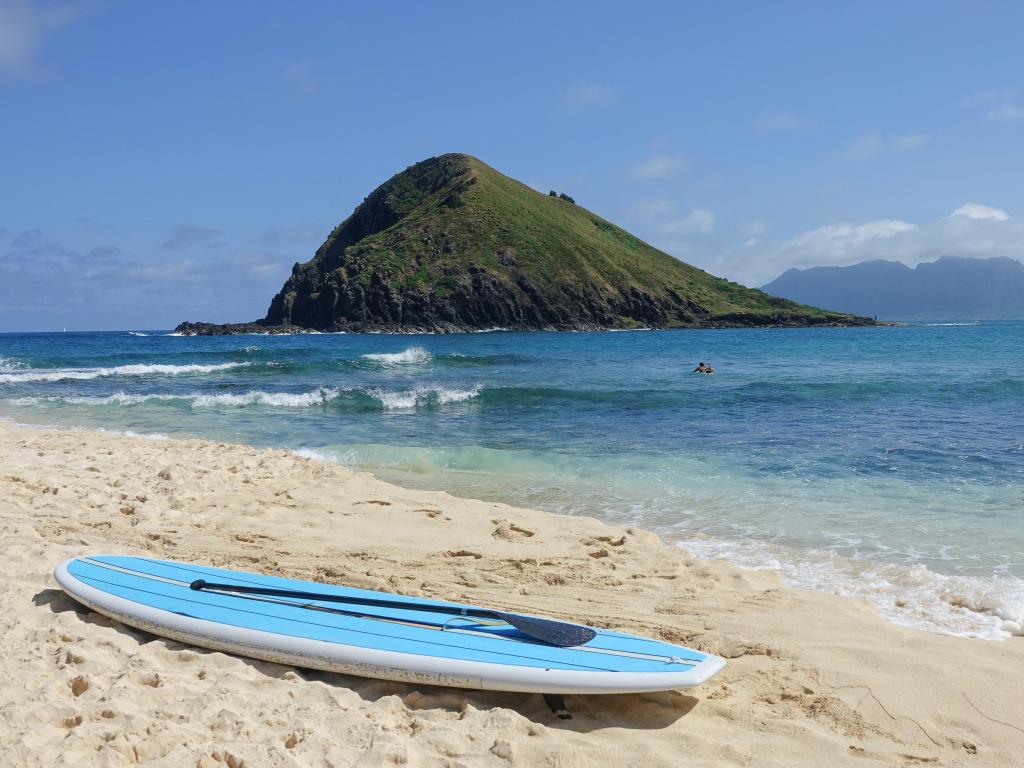 Given the frequency of flights to Hawaii, their regular availability does mean that demand for a ferry crossing is low. The considerable sailing distance would also mean ferries would struggle to compete with the relatively cheap cost of flights.
Infrastructure on the Hawaiian islands would also need considerable investment, as the current piers could not accommodate such large ferries needed to tackle the unpredictable Pacific crossing.
Driving is unlikely to ever be a viable option - currently, the longest bridge in the world spans a stunning 102 miles which is a mere stone's throw in comparison to the 2,400 miles between California and Hawaii
Reaching Hawaii from California
As there is no ferry to Hawaii from California, the only travel option available is to fly. San Francisco is the nearest major US city to the Hawaiian Islands and San Francisco International Airport offers regular flights.
The airport itself is situated around 12 miles from downtown San Francisco and takes around 15 minutes, depending on the traffic. At peak times, the journey time can double so it is advisable to head for the airport earlier if traveling during rush hour.
As we have already mentioned, you can fly to Hawaii from many US airports and your journey depends on where you wish to travel from and to. Flying from San Francisco or Los Angeles offers the cheapest deals, as they are the shortest flights available.
On arrival in Hawaii, hiring a car is the best way to explore, giving you the flexibility to make your way around whichever island you fancy at your own pace.
Several major airlines offer flights daily from the major US West Coast airports, so you will have plenty of choice available when selecting your departure point, and time.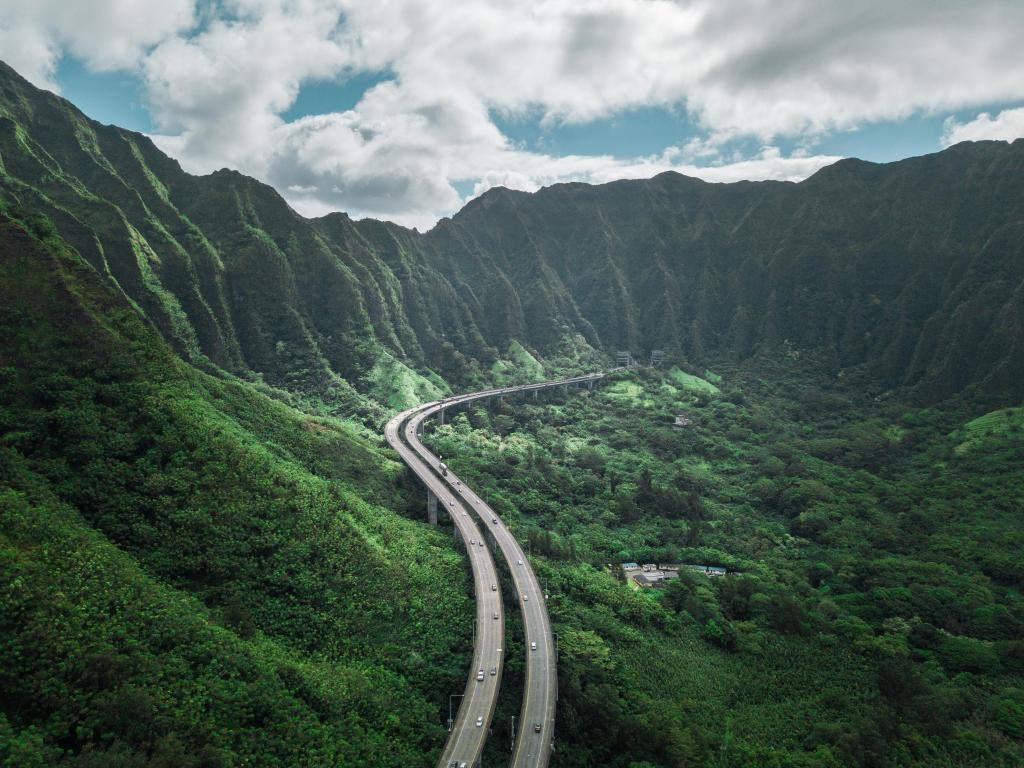 How long does it take to reach Hawaii from California?
Travel times to Hawaii from California will be dependent on the airport you decide to fly from. You could even fly from another part of the US, or have a road trip to California before jetting off to Hawaii.
Our table below highlights the flight times from the most popular airports on the West Coast of America. Certain airlines will be cheaper than others, but generally the shorter the flight, the cheaper it will be.
Travel times from popular US West Coast airports and Honolulu Airport

| Departure Airport | Travel TIme | Adult fare |
| --- | --- | --- |
| San Francisco (SFO) | 5 hours 15 minutes | $230-$1600 |
| Los Angeles (LAX) | 6 hours | $230-$1600 |
| Seattle (SEA) | 6 hours 20 minutes | $280-$1800 |
*Prices are calculated at the time of writing for round trips. Flight prices vary by the time of year and prices are based on Economy Class tickets.
Things you need to know about traveling from California to Hawaii
Traveling from California to Hawaii is a relatively straightforward affair as all flights will be direct to the island of your choice. That said, here are a few things to consider when planning your adventure to the Aloha State:
Book in advance, flights can be in high demand during peak season. Not only will you secure a seat, but you may also get cheaper prices.
Be prepared for varying weather conditions. Hawaii is unpredictable and although warm year-round rainfall occurs out of the blue.
Remember there may be luggage restrictions. Budget airlines often don't include checked baggage.
There is car hire available at Honolulu Airport if you plan to explore by road.
Hawaii follows a different time zone. HST is hours behind the USA.
Remember, Hawaii is a collection of islands. You can hop on inter-islands flights to discover a number of islands, and if Honolulu isn't to your fancy you can fly direct to another airport.
From Los Angeles and San Francisco, you can fly directly to Kahului Airport (OGG) on Maui
From Los Angeles, you can fly to Lihue Airport (LIH) on Kauai.
From Los Angeles and Seattle, you can fly to Ellison Onizuka Kona International Airport at Keahole (KOA).
You can also arrive in Honolulu from other US cities like Chicago, Dallas/Fort Worth, Denver, and Phoenix.
Best time to visit Hawaii
You can witness the magic of Hawaii at a time that suits you, with flights running all year round. Peak season on the Islands is from mid-December to mid-April and it is a particularly popular Christmas and New Year destination.
The weather remains consistent throughout peak season, with temperatures averaging 70-80 degrees Fahrenheit making it ideal for relaxing on the beach and enjoying the many outdoor activities and watersports available.
As temperatures plummet in mainland USA and Canada, it is easy to see why Hawaii is so popular with visitors looking to escape the winter cold and enjoy a relaxing sunny break.
Peak season is also the best time to spot humpback whales, particularly between January and March. Many local whale-watching tours are available, although you may be lucky enough to see them from the shore on the Islands of Maui and Oahu.
As peak season draws to a close towards the end of April, the weather is good, and it is a good time to grab a bargain deal to Hawaii. Similarly, mid-September to November when the summer crowds have faded, and before the holiday season kicks into full swing, is a time for searching out deals on more affordable flights.
Things to see once you reach Hawaii
With many islands to explore and discover, and each having its own individual appeal, a trip to Hawaii is a wonderful experience. Here are some of our favorite attractions to help you plan your trip.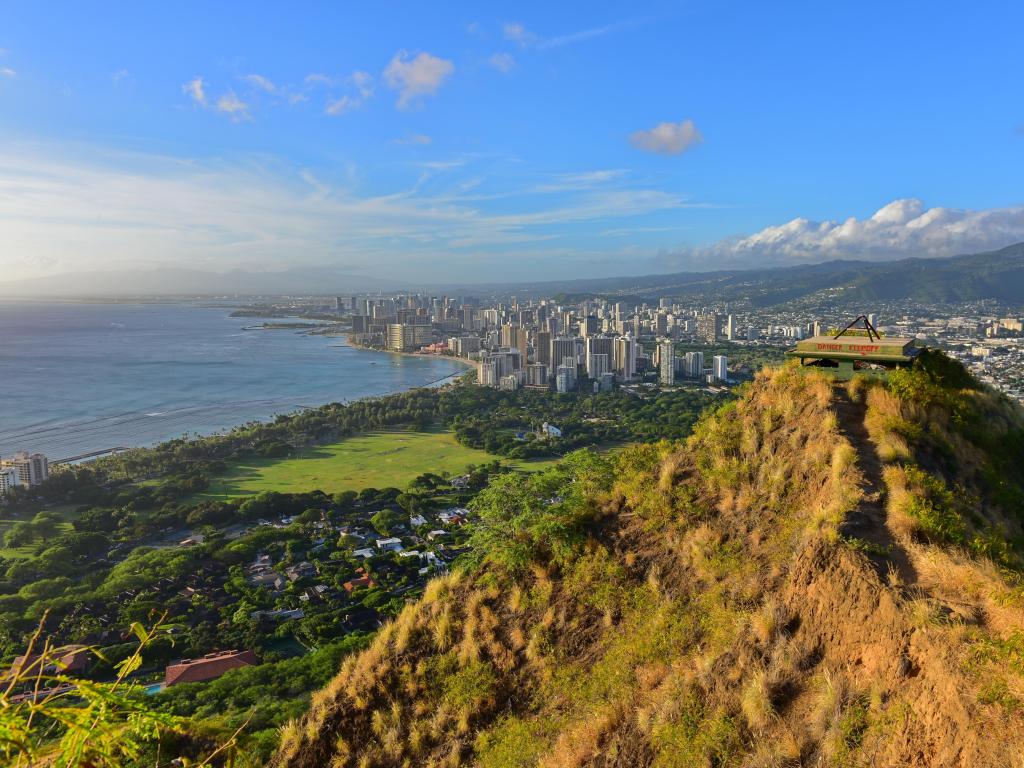 The Beaches - Hawaii is famed for its beaches, and their amazing colors, some with green, pink, white, and even black sand. The island of Oahu is home to the iconic Waikiki Beach where you can enjoy sunbathing, swimming, and surfing on the gentle waves, with breathtaking views of Diamond Head.
Pearl Harbor - Visit Pearl Harbor, the site of the historic 1941 WW2 attack. Here you can tour the USS Arizona Memorial, and the Visitor Center is a hive of information on this event of such significance in American history.
Diamond Head - You can hike to the top of Diamond Head. It's a volcanic tuff cone and at the top, you'll find vistas of the city and coastline.
Hanauma Bay - Visit the Hanauma Bay Nature Preserve for snorkeling or go whale watching on a catamaran. The marine sanctuary is rife with vibrant fish and coral, making it a must-visit for snorkeling lovers.
Lūʻau Experience - Absorb yourself in Hawaiian tradition by observing an authentic lūʻau. Experience Hawaiian music, hula dancing, and feast on local dishes, whilst enjoying this enthralling celebration of Hawaiian and Polynesian cultures.
Island Hopping - Don't restrict yourself. From Honolulu, you can access other Hawaiian islands by jumping on short inter-island flights. Maui, Kauai, and the Big Island are all fantastic destinations in their own right.
Hawaii packs a lot into its small collection of islands, being home to the highest sea cliff on earth, the tallest mountain in the world, albeit when measured from its undersea base, and the world's most active volcano. With its natural beauty, idyllic shorelines, and beautiful beaches, it all adds up to a magnificent adventure.