15 Best Lakes near Nashville
Filled with stories, songs, and more than a few shots of bourbon, Nashville is a vibrant capital city. It is also roughly in the middle of Tennessee, a state that has over 500,000 acres of lakes. So, a relaxing day by the water is always in the cards.
In this list of the 15 best lakes near Nashville, you will find sprawling reservoirs teeming with a variety of fish, quiet abodes for enjoying nature on the water or lakeside paths, lakes so large they resemble oceans, and lakes fit for a party weekend.
Read on to find out where you can go nearby to splash about for a sunny afternoon or even get some ideas for a long weekend getaway by the water. These lakes can have surprisingly different feels, so try to check out as many as you can.
1. Old Hickory Lake
40 minutes from Nashville (30 miles)
Why you should visit: This snake-like lake is a stone's throw from Nashville and formed from a reservoir retaining the waters of the Cumberland River.
Due to all its twists and turns there's a great variety of views, vibes, and activities on offer along its refreshing banks – not to mention some record-holding catches.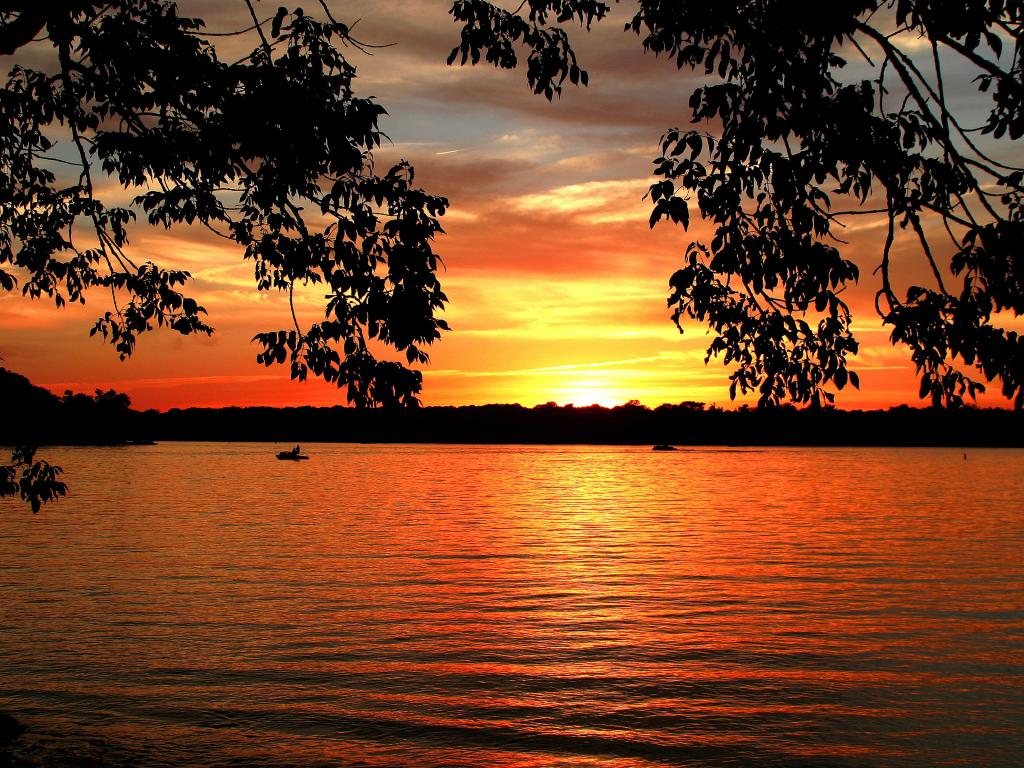 Main activities you can enjoy at this lake:
Fishing
Mountain biking
Hiking
Boating
How to get there: This route goes to an area of the lake near Gallatin. In case you're looking for the closest access point, head to the Tailwater Access Area or Rockland Recreation area about 17 miles from the center of Nashville.
From downtown Nashville, navigate to Interstate 65 North and hop on TN-386 N in Echo Meadows. Just as you reach Gallatin, keep an eye out for TN-109 and take it south to Lock 4 Road. This will pass the Gallatin Marina and take you to Lock 4 Park.
Our highlights: Either for lunch on the way out or to catch a spectacular sunset with a beverage in hand, we think the Gallatin Marina is worth a stop. It is one of the most popular marinas along the lake; you can rent a boat or simply walk the docks and admire the variety of vessels from the land.
For those seeking a bit of excitement, Lock 4 Park in the outer reaches of Gallatin has an extensive network of mountain biking trails through the forest.
There are also trails for walking at your own pace along the water; some lead to "the point", a particularly scenic part of the park surrounded the gentle currents of Old Hickory.
Lock 4 Park also has one of 8 public piers along the banks of Old Hickory. Here you can set up a folding chair, cast a line, and see if the bass are biting. In the upper end of the reservoir, people have caught largemouth bass over 50 pounds!
In addition to largemouth bass and striped bass, you might hook a crappie or channel catfish while fishing on Old Hickory Lake.
Bonus: Just in case an afternoon on a floating Tiki bar was on your bucket list, you're in luck. Cruisin' Tikis Nashville operates a fleet of hut-like crafts you can take out for a leisurely float and sip on Old Hickory Lake.
Opening hours: Lock 4 Park is open year-round from dawn to dusk. It changes significantly throughout the seasons, making it a great place to check out at different points in the year.
Other things to know: In case you're eager to fish, make sure you have a valid Tennessee fishing license. They have year-long licenses as well as one- and three-day licenses for residents and non-residents which you can buy online.
2. Cheatham Lake
45 minutes from Nashville (30 miles)
Why you should visit: Get that bait and tackle ready, at this lake it's all about going after the big ones; here you can even spot largemouth bass two feet long!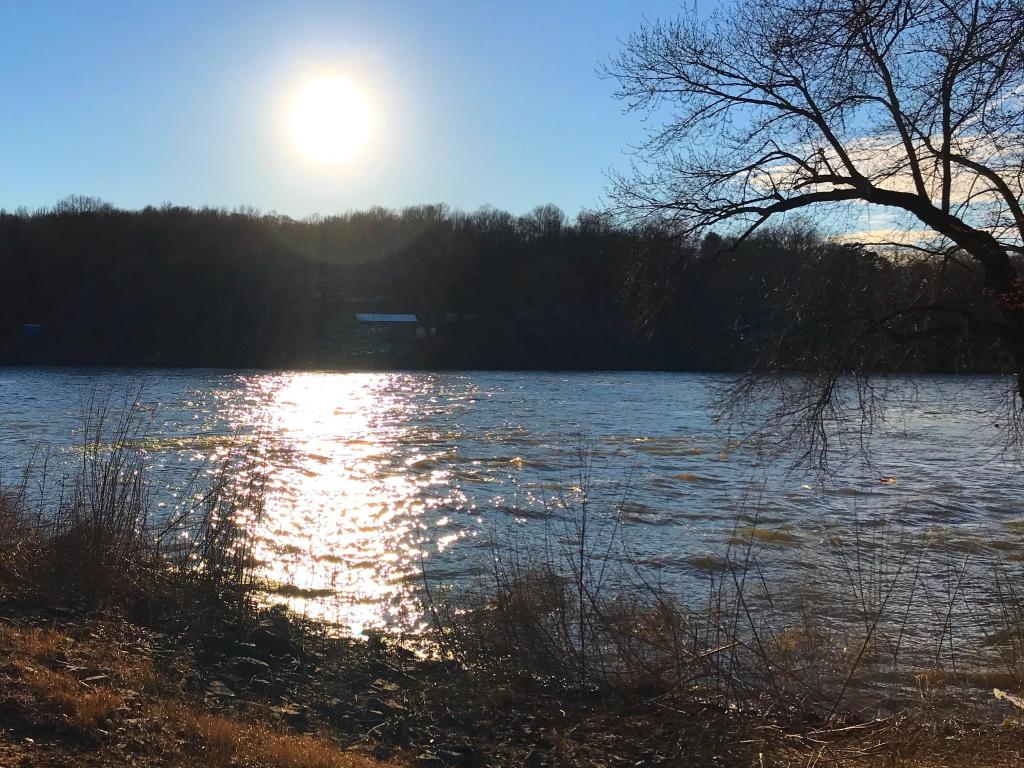 Main activities you can enjoy at this lake:
Fishing
Lounging on the beach
Boating
BBQ
Camping
How to get there: To get there, take Interstate 40 West out of Nashville, then head north on TN Routes 155 and 12 towards Ashland City.
From there, take TN-49 across the river and continue along this road until you get to the US Army Corps of Engineers, where you'll take a sharp right onto Dozier Boat Dock Rd. This will take you the rest of the way to Cheatham Lake.
Our highlights: This local fishing magnate is known for some phenomenal catches. The flathead catfish and largemouth bass can grow to some decent sizes and a catch you can boast about isn't a rarity in these parts.
At the Rock Harbor Marina, you can rent pontoons and other boats for fishing or even just cruising around the lake. Few things are finer on a warm morning or afternoon to get out on the inviting waters.
If you have your own boat or kayak in tow, then you can use one of Cheatham Lake's 16 boat access points that are free and open for the public to use.
In case fishing isn't your idea of a fun afternoon, there's a wonderfully developed beach area near Ashland. In addition to great powdery sand for relaxing while you catch some rays, there are dozens of picnic tables and even playgrounds in case you have some little ones to keep entertained.
In case you're so enchanted that you'd like to spend a bit more time here, there are developed campgrounds at the Harpeth River and Lock A Recreation Areas.
Opening hours: Cheatham Lake as well as the Lock at mile 148 along the Cumberland River is open year-round.
Other things to know: In case you want to come with friends and have a BBQ by the lake, they have these convenient covered picnic shelters with BBQ pits that you can rent for $25 a day.
3. Cordell Hull Lake
1 hour from Nashville (60 miles)
Why you should visit: This large lake, also on the Cumberland River, has some of the most gorgeous spots for camping with full amenities in the area around Nashville.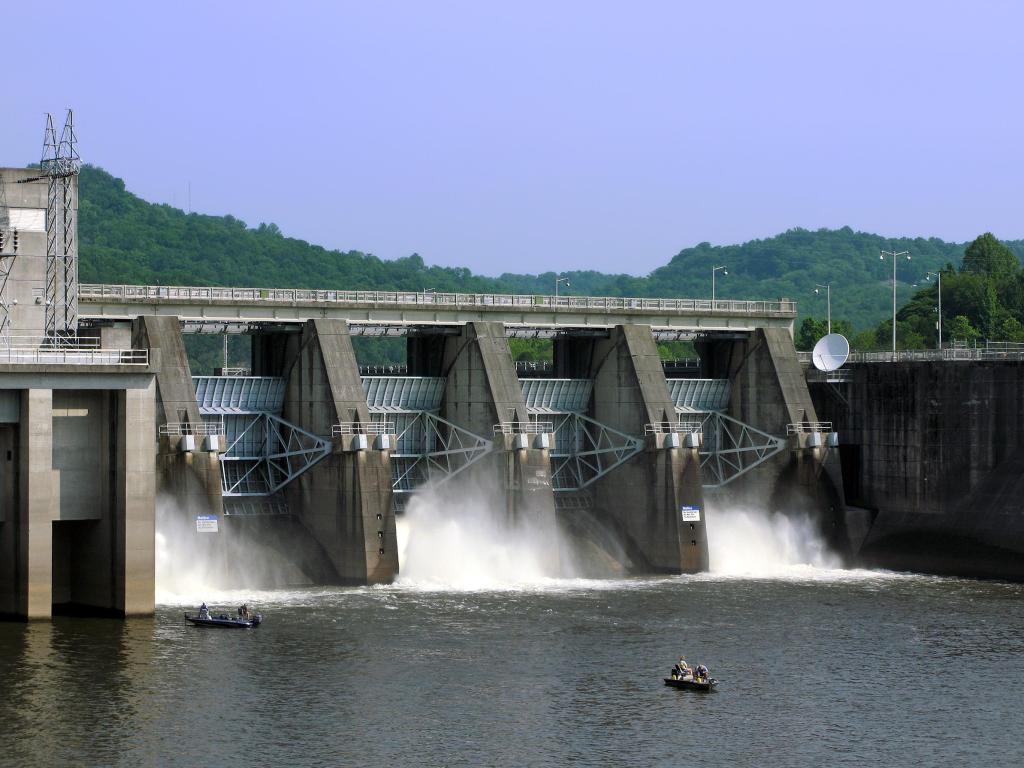 Main activities you can enjoy at this lake:
Hiking
Boating
Camping
Wildlife viewing
Fishing
How to get there: The route from Nashville is straightforward. Hop on Interstate 40 East, follow this to Gordonsville, where you'll take the Gordonsville Highway, then Carthage Blvd.
Finally, take a right onto Hartsville Pike/TN-263 and follow it to one of the many lake access parks and points.
Our highlights: Cordell Hull Lake was named after the longest-serving US Secretary of State, who served for 11 years under President F.D. Roosevelt.
Right next to TN-263 keep an eye out for the Bearwaller Gap Trail. This fantastic, shaded path is a few miles long and meanders alongside the river, leading to the Defeated Creek Day Use Area.
Right at the parking lot for the trailhead, you'll find a short path that leads to an impressive overlook where you can get a full sense of Cordell Hull's natural beauty.
If you hike or drive all the way to Defeated Creek, you'll find even more refreshing trails and idyllic picnic spots. The Defeated Creek Marina has places to rent kayaks and slips, as well as bait shops that know what will attract a bite.
The nearby campground is meticulously well-maintained and a perfect place to establish a new family tradition of spending a few days by Cordell Hull Lake each year. Many campsites are also close to the lake, making it extra convenient to take a dip on hot days.
For a slightly more rustic experience head further down TN-85 to Salt Lick. These campsites are spread throughout a picturesque park where the sunrises and sunsets are simply exquisite. Don't be surprised if you wake up to some peaceful deer grazing outside your tent.
Other things to know: The high season for camping is from April to early October and camping fees start at $16 for seniors and discounted sites. You can reserve a campsite online ahead of time, or try your luck with the limited number of first-come, first-serve slots.
4. Bedford and Normandy Lakes
1 hour 5 minutes from Nashville (60 miles)
Why you should visit: Bedford Lake along Doddy Creek is extra peaceful due to restrictions on motorized boats allowed on the lake.
Despite the lake's petit size, a local man made a 60-pound catch there a few years back, making it another fishing hotspot in the area around Nashville.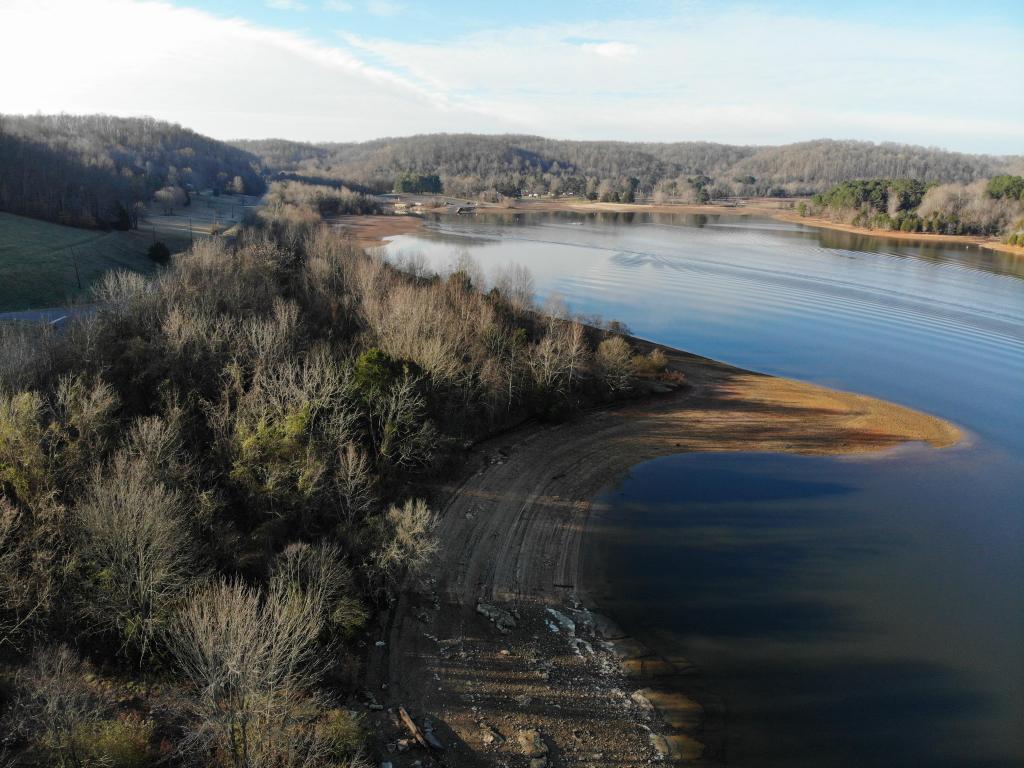 Main activities you can enjoy at this lake:
Fishing
Picnics
Kayaking or canoeing
How to get there: Take Interstate 24 East to TN-64 West in Beechgrove. From there, take TN-64 to Straightcreek Road, which will link up with Bedford Creek Road
Our highlights: Bedford Lake, also known as Coy Gaithers Bedford Lake, has a surface area of about 47 acres, making it a safe place to go for a little kayak or canoe trip without worrying about strong currents or an endlessly twisting and turning shoreline.
Here people commonly fish for largemouth bass, crappie, bluegill, and catfish. Largemouth bass is the most common catch here, followed by Channel catfish.
In addition to the pier, which is wheelchair accessible, there are many places along the lakeshore where an angler can cast a line and sit back.
There are some terrific places here for a romantic lakeside picnic with tables and BBQ pits dotted around the lake. Above all it is a place to relax and forget about the breakneck pace of modern life.
You can combine your visit to the quaint Bedford Lake with Normandy Lake nearby.
Opening hours: The lake is open for fishing from a half hour before sunrise to a half hour after sunset.
Other things to know: You need a permit to fish here in addition to a Tennessee fishing license, but these are easily available online and at tackle shops.
There's a pier as well as a boat launch point on the lake. Quiet, trolling motors are the only kind of boat motors allowed.
5. Center Hill Lake
1 hour 5 minutes from Nashville (70 miles)
Why you should visit: This large lake is a reservoir nestled in the hills of middle Tennessee. In addition to every mode of water recreation happening on the lake itself, the surrounding hills have their own treats in store for the avid hiker.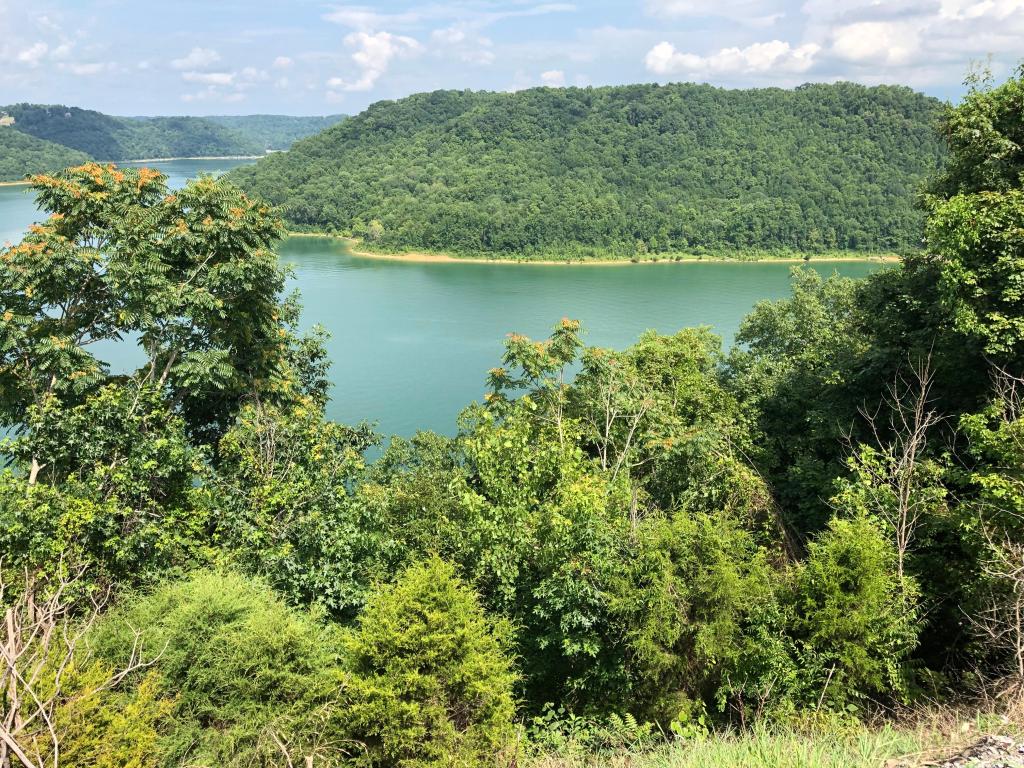 Main activities you can enjoy at this lake:
Boating
Waterskiing
Swimming
Fishing
Hiking
How to get there: This route mostly follows Interstate 40 from Nashville, which you can take east all the way to Silver Point. From here you can take TN-141 west to get to Edgar Evins State Park or TN-56 to get to Hurricane Marina.
Stay on I-40 heading towards Cookeville, then take TN-135 South to get to Burgess Falls State Park.
Our highlights: On a sultry day when time on the water is priority number one, head straight for the Hurricane Marina. This is one of the most popular places to launch boats, embark for a pontoon tour of the lake, or begin a jet ski adventure.
Edgar Evins State Park is another gorgeous place to get acquainted with Center Hill Lake. Trails weave in and out of the 6,300 acres of this park on the northeastern shore of the lake. For a hike with some elevation gain and stunning scenery, try the Merritt Ridge Trail.
There's also a small marina here in case you need a place to launch your boat as well as beaches and bathroom facilities, making it a convenient place to take a dip.
One of the most scenic clusters of attractions and activities can be found on the far eastern side of the lake. Burgess Falls State Park has a series of cascades on one of Center Hill's tributaries that includes a breathtaking 136-foot-tall waterfall.
The trails here are also unbelievably pretty, especially in the late spring or fall. If you just can't get enough of the hiking around here, head to the nearby Window Cliffs State Natural Area.
In this eastern part of the lake, you can find tons of kayak rental places, in case you don't have your own. Many people enjoy kayaking in this area near the waterfalls where Cane Creek empties into Center Hill Lake.
Another eye-catching and relaxing kayaking spot is along nearby sections of the Caney Fork River.
Opening hours: Most of the marinas, resorts, and state parks around this lake are open year-round.
Other things to know: As you can see there are many different areas of the lake which you can approach from both the north and from the south when coming from Nashville. This is a lake that deserves more than one visit.
6. Tims Ford Lake
1 hour 25 minutes from Nashville (90 miles)
Why you should visit: Of course, you expect some pretty scenery near a lake, but Tims Ford Lake is truly picturesque. With warm water temperatures in the summer, it is also a favorite place for a day of swimming and splashing in the lap of nature.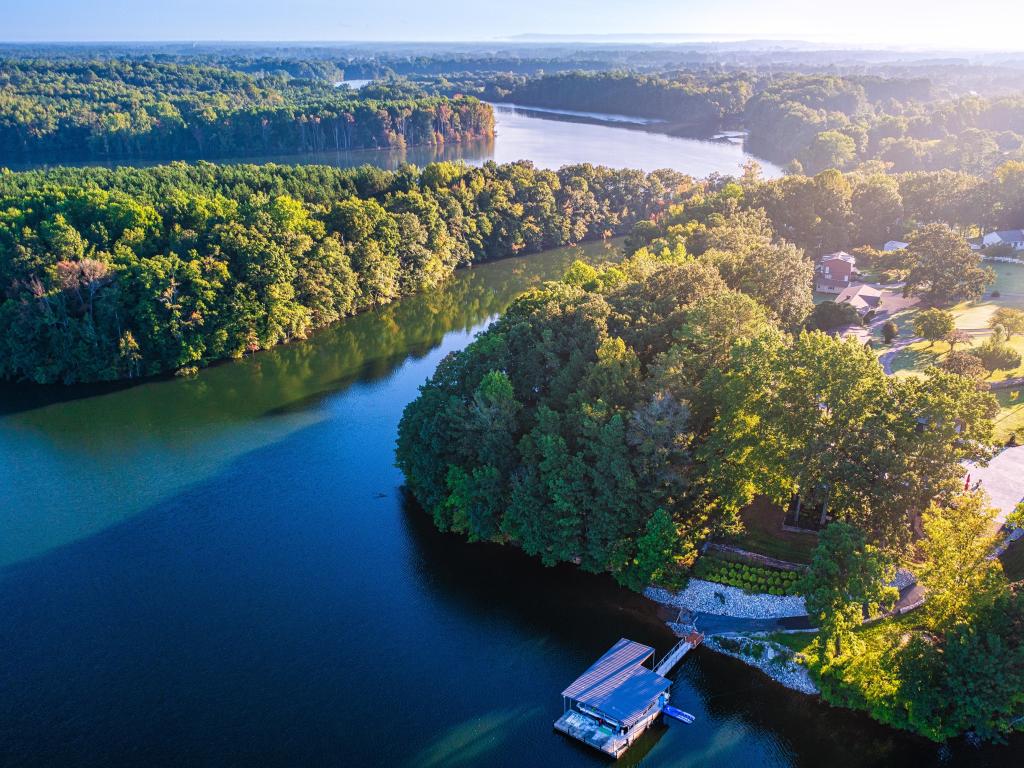 Main activities you can enjoy at this lake:
Fishing
Boating
Hiking
Golfing
Hunting
How to get there: From Nashville, follow Interstate 24 East to Manchester, where you'll hop on TN-55 West towards Tullahoma. Look out for TN-130 South, which will take you to Awalt Road and Tims Ford State Park
Our highlights: The anglers will be happy to hear that there's a thriving smallmouth bass population at Tims Ford and it is considered one of the best places to nab one of these tasty and underrated fish in middle Tennessee. There's even a Bass Club in Winchester.
While the bass prefers the cool waters of the spring and fall, most humans flock here for the warm, clean water in the hottest part of the year. One of the lesser-known, but ideal places to swim is Dry Creek Beach, near Winchester.
The sprawling lake is surrounded by state and regional parks, the most popular being Tims Ford State Park. In addition to having picnic areas, bathrooms, and a marina, there are also adorable wooden cabins you can rent here to fully absorb the verdant and peaceful surroundings.
There are innumerable coves and hollows along the western side of Tims Ford State Park which make it a particularly striking backdrop for a kayak or canoe trip. You can plan a trip from the marina to Pennington Cave. This is also a popular swimming spot.
Golfers of every variety also have something to look forwards to on the shores of Tims Ford. Within the state park, you can play a round of 18 at the Bear Trace Gold Course.
Over on the other side of the lake, in Winchester Park, Frisbee golfers can work on their fan grip at the disc golf course in the city park.
Bonus: Tims Ford Lake is right next to Lynchburg, the home of Jack Daniels. Just in case you've managed not to stop by this world-famous distillery, consider a tour or a tasting on your way back from the lake.
Opening hours: The trails of Tims Ford State Park are open year-round from sunrise to sunset.
Other things to know: Tims Ford Marina is open year-round. In addition to a lakeside restaurant and cabins, they also rent out pontoons.
Hunting and fishing in the state park require permits during the open season.
7. Pickwick Lake
2 hours 35 minutes from Nashville (140 miles)
Why you should visit: This is the first trip on the list which will take you over the state line into Alabama via the scenic Natchez Trace Parkway. The terrain around Pickwick Lake varies a lot, making it an exciting area to explore.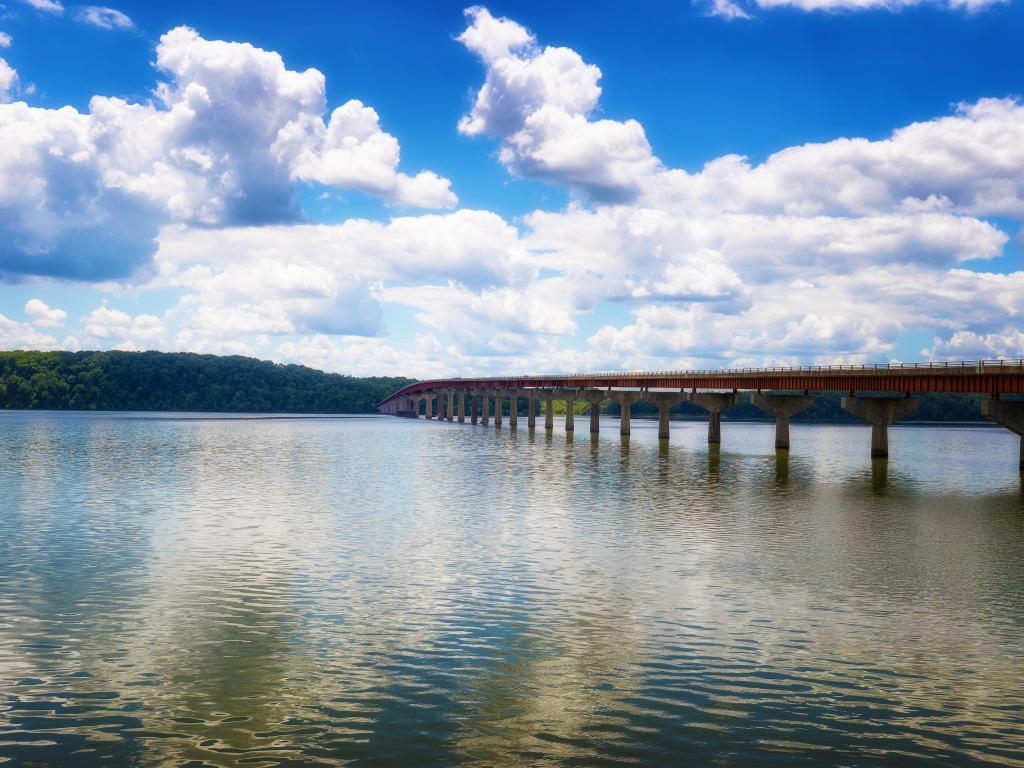 Main activities you can enjoy at this lake:
Waterfalls
Swimming
Fishing
Historical sites
Wildlife viewing
How to get there: Take Interstate 65 South towards Colombia, via US-31 and then take US-43 to Summertown. There, hop on TN-240 to link up with the Natchez Trace Parkway.
Follow that into Alabama and once you reach Rhodesville, take a left onto Lauderdale County 14 which will take you to Florence, AL where you can begin exploring the lake.
Our highlights: In Florence, you'll find the Wilson Dam, which forms the eastern boundary of Pickwick Lake, which is a reservoir built along the Tennessee River.
If you cross over the river from Florence, then you can go for a tranquil stroll along the TVA Rockpile Recreation Area to the surprisingly wild and majestic Wilson Dam Waterfall. A little further there are some truly magical trails through the TVA Complex on the edge of Muscle Shoals.
One of the most popular places to enjoy the lake in Florence is McFarland Park. Complete with boat ramps, a fishing pier, BBQ areas, and lakeside promenades, there are many ways to enjoy your time by the gently flowing water here.
This area near the colder, downstream waters of the Wilson Dam are known for great smallmouth bass fishing.
Lovers of birds, blossoms, and butterflies won't want to miss Key Cave National Wildlife Refuge, which sits along the edge of Pickwick Lake to the west of Florence. Though there are some restricted areas, the parts which are open are pristine and perfect for bird watching during the migration season.
Across the state line back in Tennessee, you can visit a key Civil War battle site at the Shiloh National Military Park and learn more about how the brutal war played out around the Western Theater.
Nearby you can enjoy more opportunities for hiking, fishing, boating, and camping at Pickwick Landing State Park.
Bonus: Just across from Florence you can visit Muscle Shoals, AL, the home of several famous recording studios where the likes of Aretha Franklin and the Rolling Stones recorded some of their most famous hits.
Opening hours: Most of the highlights on this trip are open year-round. The grounds of Shiloh National Military Park are open from sunrise to sunset every day, but the visitor center is closed during major national holidays.
8. Guntersville Lake
2 hours 45 minutes from Nashville (150 miles)
Why you should visit: This is another behemoth lake in Alabama which is officially the state's largest, its surface covering 69,100 acres. With countless options for daytime exploration and savoring the sunset, this is another lake that might be worth more than a day trip.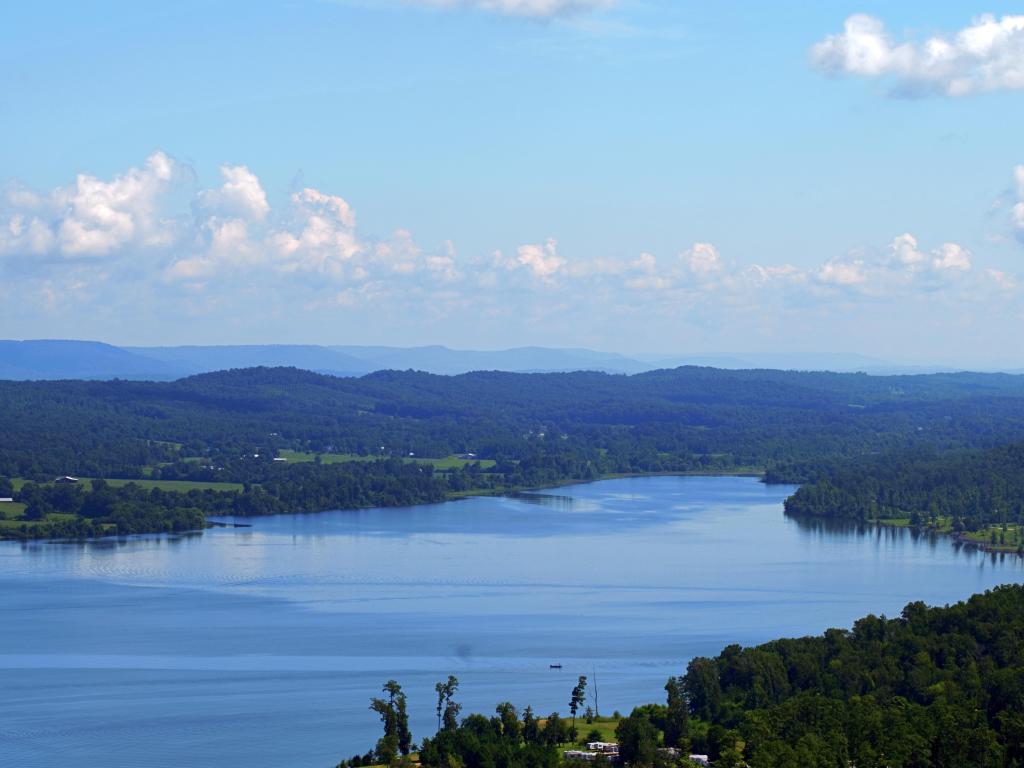 Main activities you can enjoy at this lake:
Beach day
Hiking
Fishing
Waterfalls
Boating
Golfing
Lakeside dining
How to get there: Follow Interstate 65 South from Nashville and switch onto AL-53 once you reach Ardmore, on the border between Tennessee and Alabama. Continue driving south towards Huntsville, AL and hop on US-431 all the way to Guntersville. Finally, take AL-227 to get to the state park.
Our highlights: Complete with a sandy beach, atmospheric restaurants, miles of trails, and even a golf course, Lake Guntersville State Park is a great way to experience Guntersville Lake, especially if you're in a larger group with various tastes to please.
They even have a zip line course if you'd like to get up close and personal with the forest's canopy.
Back in Guntersville itself, a must-see stop is the City Harbor. It is a beautifully developed public space, with well-maintained docks, the occasional historic vessel, lakeside fine dining, and boat rentals. You can even go on a guided cruise of the lake while you enjoy an exquisite lunch out on the water.
In case you brought your own boat, and the day is all about angling, then you can find boat launches in the state park as well as in Guntersville Municipal Park. Popular catches here include striped bass, black crappie, bluegill, and largemouth bass.
For a laidback and pretty experience of the lake head to Sunset Drive Walking Trail. As the name implies, dusk is the prime time to wander along this 3.2-mile-long mixed-use pedestrian and bike trail, but it is a lovely walk any time of the day.
Just a few miles east of Lake Guntersville State Park you'll find an unexpected gem in High Falls Park. Down the winding trails, nestled deep within a dense forest, lays a spectacular waterfall, spread out over a broad and steep outcrop.
At the base of the waterfall is a refreshing swimming hole and throughout the park, you'll be tempted to stop and enjoy a snack while basking in the natural splendor.
Bonus: The lake gets its name from the town of Guntersville, which was itself named after a German scientist who settled here in the 1950s as part of "Operation Paperclip" - an intriguing backstory if we ever heard one!
Opening hours: The parks are open from sunrise to sunset and fishing is permitted throughout the year, though the high seasons are late winter and early spring.
9. Lewis Smith Lake
2 hours 40 minutes from Nashville (170 miles)
Why you should visit: With a solid rock shoreline, you won't have to wade through any murky waters in this crystal-clear lake, which also happens to be the deepest lake in Alabama.
With over a dozen marinas on its banks, it is a convenient lake for renting jet skis and having a more exhilarating time on the water.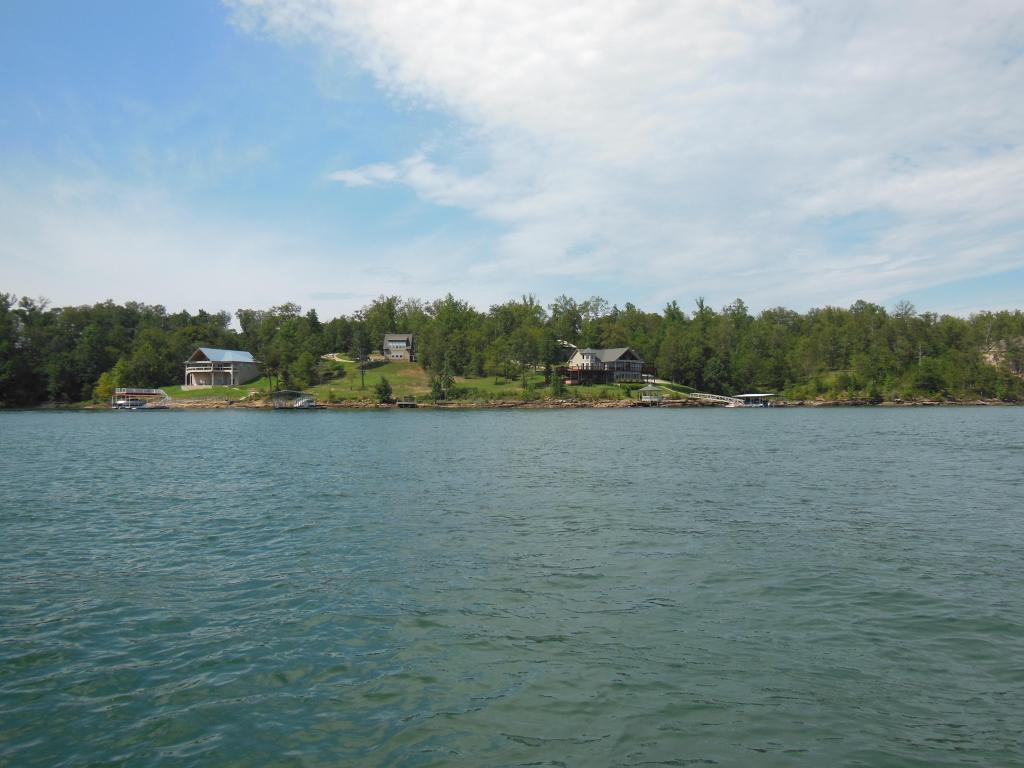 Main activities you can enjoy at this lake:
Watersports
Paddleboarding
Kayaking
Fishing
How to get there: For most of this route you'll follow Interstate 65 South into Alabama. In Dodge City, take AL-69 South through Wilburn until you reach Smith Lake Dam Road, where you'll take a right. This will take to towards the lake and Duskin Point Marina.
Our highlights: Just to help you get a sense of the massive size of Lewis Smith Lake, the shoreline stretches for 642 miles along all the coves
The lake's geography gives it innumerable coves and sloughs creating a rich shoreline perfect for cruising along via boat or kayak. At Duskin Point Marina you can find highly rated and dependable rental services and even guided fishing tours.
In addition to being a hotspot for watersports, people come from all over to fish on Smith Lake. Largemouth and spotted bass, as well as crappie are common catches here. A few times a year you can also participate in fishing tournaments here.
On your way to Duskin Point, stop by the historic Smith Lake Dam, built on the Sipsey Fork. There you can marvel at the dam's engineering and enjoy some of your first views of the lake for the day.
The Sipsey Fork itself is well-known as one of the most consistent places to catch rainbow trout in Alabama.
Another advantage of being on the eastern side of the lake is being close to the expansive and beautiful Bankhead National Forest. Dotted with coves and beaches, there are also hiking trails that lead to dozens of waterfalls and other awe-inspiring wild scenes.
It is one reason why you might want to make this an overnight trip.
Opening hours: Most of the parks, marinas, and attractions around the lake are open year-round. Fishing for bass is popular throughout the winter and peaks in April. Trails and areas of the forest are open year-round, but some campgrounds are only operational from March through October.
Other things to know: There's a sliding scale of fees to enter and camp in Bankhead National Forest depending on whether you are camping in a tent or require an RV hookup.
10. Patoka Lake
3 hours 15 minutes from Nashville (200 miles)
Why you should visit: Rarely at the top of anybody's travel list, southern Indiana has many surprising attractions, including the sprawling and gorgeous Patoka Lake. You'll be spoiled for choice once you get here: swimming or wine tasting? Fishing or caving?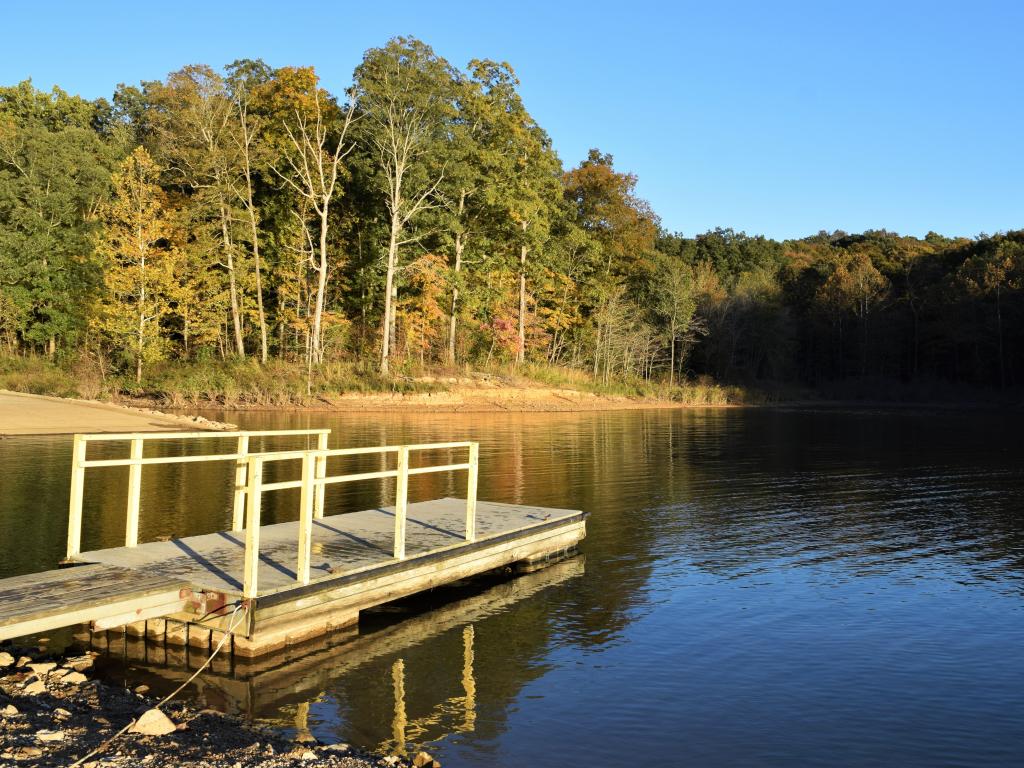 Main activities you can enjoy at this lake:
Swimming
Water sports
Cave exploration
Boating
Camping
Fishing
Winery
How to get there: Take Interstate 65 North to Interstate 165 which will continue north through Owensboro, KY. From here, take US-231 North to IN-37 North via Interstate 64 East. Once you reach Wickliffe, follow signs to Patoka Lake State Park and Patoka Lake Winery.
Our highlights: From the moment you arrive at the State Park Beach on Patoka Lake, you feel giddy with excitement at the prospect of a day of swimming and lounging on a sandy beach.
On warmer days it is a bit crowded, but it also has a jubilant vibe of a bunch of families having fun together. There's a large campground nearby as well as a disc golf course.
Being a state park, there are also some invigorating and well-maintained trails around the lake. The Main Trail is about 6.5 miles long and moderately challenging.
There are some rugged portions of this loop trail, as well as designated areas for birdwatching. Another fun and educational option is to sign up for a naturalist-guided walk.
The closest place to rent a boat or a slip for your own lake-worthy vessel is Patoka Lake Marina. They have pontoons, Sun Tracker Fishin' Barges, and even "Play-toons" equipped with waterslides and other amusing additions. Tubing is a popular water sport here.
Just a half an hour's drive from the southern shore of the lake, Marengo Cave is a U.S. National Landmark and a dazzling subterranean wonder. There are daily tours; our favorite was the Crystal Palace tour where you can wind your way between the delicate stalagmites and stalactites.
Another worthwhile attraction near the lake is the Patoka Lake Winery, less than a ten-minute drive from the shore in Birdseye. With a rustic, yet refined, ambiance, affordable wine tasting, and even spiked slushies you can get to-go, what's not to love about this place?
They even operate a hotel in case you wanted to splurge on this trip and make it a more romantic getaway.
Bonus: There is some incredible wildlife in the habitats in and around Patoka Lake. From a unique species of freshwater jellyfish to river otters and majestic bald eagles, bring some binoculars and see which critters cross your path as you explore.
Opening hours: The lake is open year-round for hiking, enjoying the beach, as well as camping, but some activities like boat rentals, hunting, and fishing have seasonal restrictions.
Other things to know: As you can imagine, this is an incredibly popular place on holidays and weekends. Especially if you're traveling without kids and have the flexibility, we recommend trying to make this a weekday trip.
In addition to fewer people, the hotel and rental prices are much cheaper mid-week.
11. Douglas Lake
3 hours 25 minutes from Nashville (215 miles)
Why you should visit: Douglas Lake is a large reservoir formed on the French Broad River. Its shores are formed by the foothills of the Great Smoky Mountains, giving this lake a rugged beauty that attracts millions of visitors every year.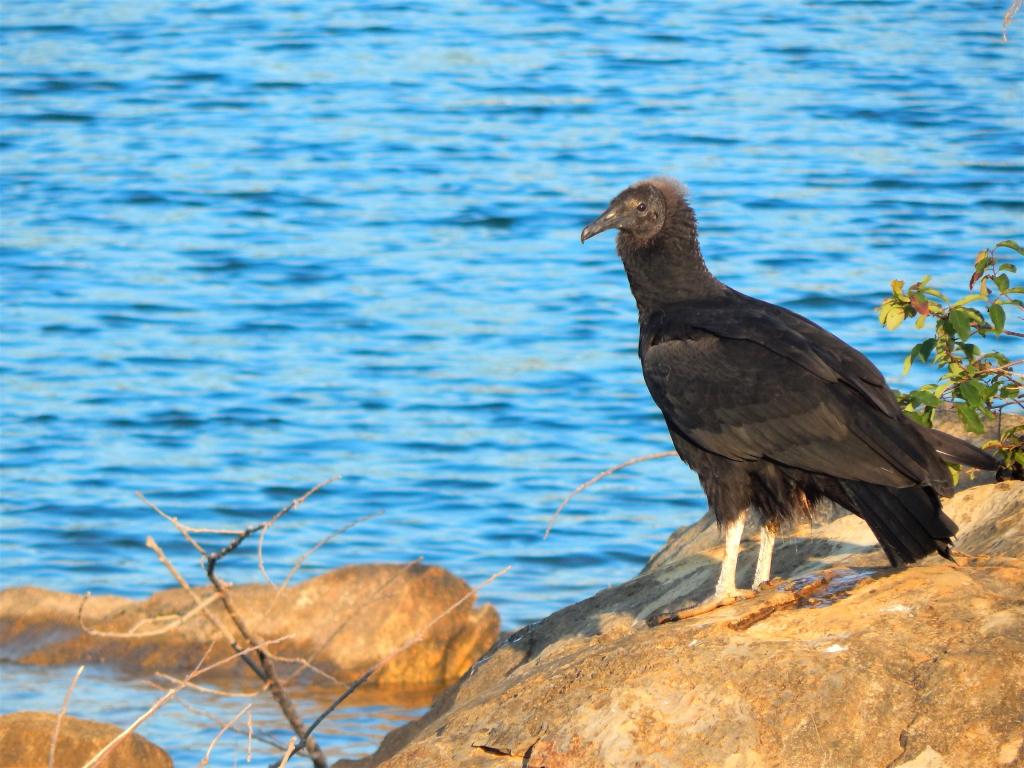 Main activities you can enjoy at this lake:
Fishing
Boating
Picnicking
Swimming
Bird watching
Caving
How to get there: This is a very straightforward drive east along Interstate 40 for the majority of the trip. You'll find exits for the lake in Dandridge.
In case you wanted to make an extended trip, Gatlinburg is about another hour's drive from Lake Douglas, through the rolling hills of the Cherokee National Forest.
Our highlights: Douglas Lake also has some fishing spots, and it is one of Tennessee's top five destinations for crappie and also a notable largemouth bass fishing lake.
You can find a delightful and quiet public access pier over at the Dandridge Dock, located at the edge of the municipal park which is entirely located on an island in the lake. The municipal park also has a boat launch point in case you bring a boat or kayak along.
This lake is a very popular place to escape the heat during the summer. In addition to some beaches and well-kept bathrooms at the Dandridge Municipal Park, there's a lively swimming hole close to the Dam.
It's a few miles from the Douglas Dam Bridge and Sevier County Park, both places to check out in their own right.
Rankin Bottoms is on the eastern side of the lake, beyond the resort town of Banbury. Birders flock here from all over eastern Tennessee from the late summer onward to catch a glimpse of double-crested cormorants, large numbers of great egrets, great blue herons, and black-crowned night-heron among other species.
On the southern side of the lake, near the small town of Chestnut Hill, there's a subterranean world to discover at the Forbidden Caverns.
In addition to being particularly pretty caves, they also contain an underground river, giving the whole experience a more dynamic feel than other cave tours we've been on. Tours take about an hour, so this is an easy activity to do on a spare morning or afternoon.
Two nearby places you'll want to make time for are Pigeon Forge, the home of Dollywood, and Gatlinburg, the gateway to the Great Smoky Mountains. Both are located southwest of the lake and offer even more opportunities for fun and adventure to make this a truly memorable tip.
Bonus: The Douglas Dam, which retains the waters of the reservoir, was built in a record time of just over a year between February 1942 and February 1943.
Opening hours: Most of the facilities around the lake are open year-round, though a lot of the activities themselves are seasonal.
Other things to know: Without a doubt, the most popular season here is the summer, which is also reflected in local hotel prices.
12. Arkabutla Lake
3 hours 45 minutes from Nashville (245 miles)
Why you should visit: Surrounded by campsites and forests, this is a remote lake that calls out to lovers of the great outdoors. Favorable winds also make it one of the best lakes in the region for sailing.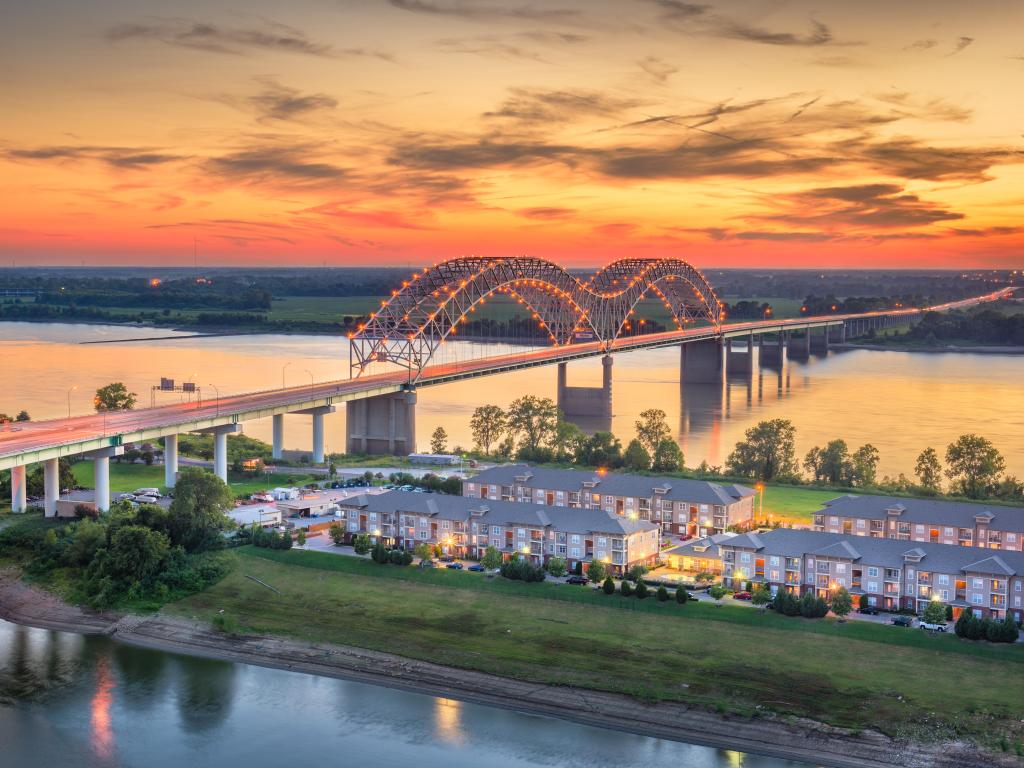 Main activities you can enjoy at this lake:
Sailing
Fishing
Camping
Swimming
Disc golf
Hiking
How to get there: For this trip, head west on Interstate 40 for the majority of the trip. Once you get to musical Memphis, consider a pit stop or navigate to Interstate 55 South. Just past Hernando, look out for US Route 51, which will take you to Hernando Point Public Use Area via Wheeler Road.
Our highlights: There are seven public day-use areas peppered around the lake where you can find trails, BBQ areas, piers, and campgrounds.
This route goes to Hernando Point Public Use Area where there are sandy beaches for swimming, a boat ramp, as well as a developed campground with beautiful lakeside camping spots.
Boating, watersports and sailing are some of the most popular activities on this lake, though you'll have to bring your own or rent one in Memphis since there aren't many rental places nearby.
On a clear day with fair winds, you can watch sailboats gracefully glide across the lake. Check out the Delta Sailing Association's calendar to see if any regattas or other sailing events are happening around the time of your visit.
Fishing is also popular here, especially around the creek mouths along the lake. Once again largemouth bass and crappie are the most sought-after catches here.
Since you've come all this way through western Tennessee, why not spend a night or two in the Home of the Blues on this trip? Memphis is only about a 45-minute drive north from the lake and this route passes through it in any case.
Even on your way to the lake, you could make a lunch stop in Memphis to munch on ever-so-succulent BBQ and check out Sun Studio where the King made some of his earliest recordings. Click here for our detailed guide on the road trip from Nashville to Memphis.
Opening hours: Most of the campgrounds along the lake operate seasonally from the spring through the fall. You can reserve a campsite ahead of time online.
Other things to know: Be aware that the beach and swimming areas are not pet-friendly and that drinking is not permitted in or around the lake.
You'll need a Mississippi fishing license to fish on the lake or any of its tributaries.
READ MORE - Road Trip from Nashville to Memphis
13. Lake Michigan
6 hours and 30 minutes to 9 hours from Nashville (440 miles)
Why you should visit: While only the third largest great lake, Lake Michigan is still a whole lotta lake with 1,638 miles of shoreline. On this trip, we will entice you to explore the mesmerizing dunes and adorable harbor towns of northern Indiana and southwestern Michigan.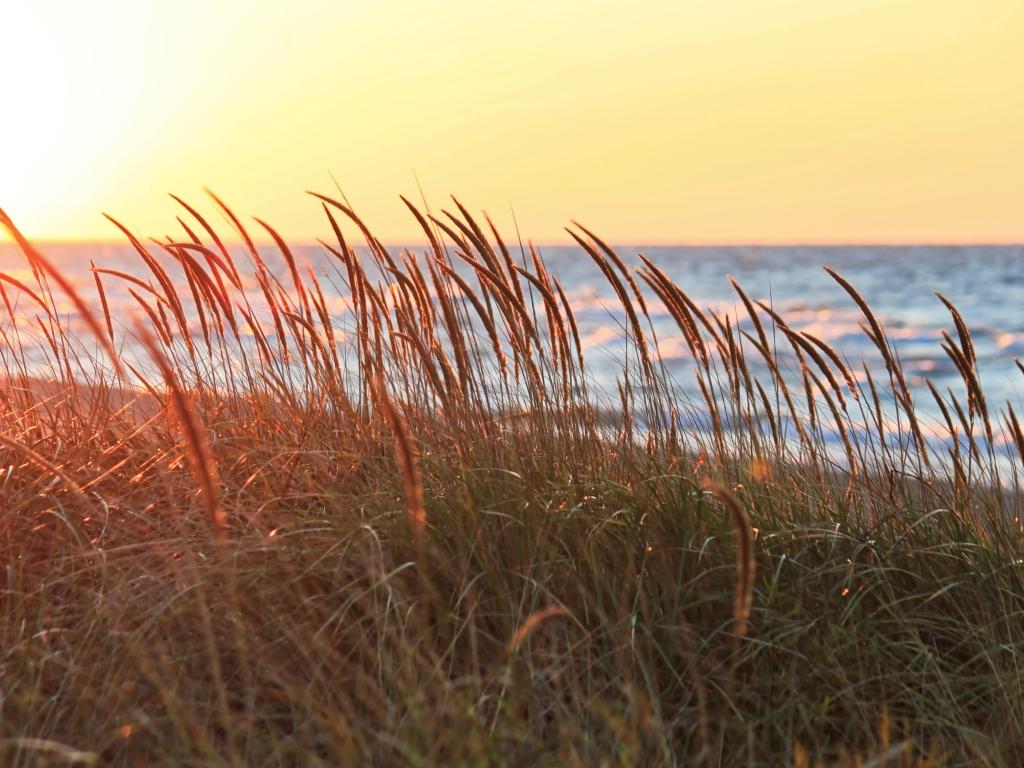 Main activities you can enjoy at this lake:
Boating
Hiking on sand dunes
Beach day
Swimming
Historic towns
How to get there: Take Interstate 65 North all the way through Louisville and Indianapolis to Gary, Indiana. This is the closest lakeside town to Nashville, and it should take just 6.5 hours to get here.
Near Gary, you will find Indiana Dunes National Park. To get to South Haven from here would be another hour and a half drive from here along Interstates 94 East and 196 North.
Our highlights: From Nashville, one of the closest places to enjoy some of the stunning natural scenery around Lake Michigan is Indiana Dunes National Park.
There are over 50 miles of trails throughout this enchanting landscape shaped by the winds coming off the lake. One of the most scenic beaches is Central Avenue Beach. You can swim here if you are a strong swimmer and feel confident, as there are no lifeguards on duty here.
A little further north along the coast in Michigan, you can also hike the trails of Warren Dunes State Park. Here you'll find broad, sandy beaches that are perfect for wading in the water and enjoying a picnic on the sand. It is also pet-friendly in case you brought a furry friend along for this trip.
If you wanted to rent or charter a boat tour or fishing trip on Lake Michigan, then Grand Haven would be an excellent place to start. Due to the popularity of boating, made possible by the area's geography, there are plenty of rental options, as well as rivers and bayous to explore heading inland from the town.
South Haven is another cute town to treat as your base for exploring Lake Michigan. A natural port with plenty of boating options of its own, here you'll also find some stellar beaches, like North Beach, and historical treasures including a 19th-century lighthouse and the Michigan Maritime Museum.
Bonus: A few more hours' drive north along the shore of Lake Michigan will bring you to Sleeping Bear Dunes National Lakeshore, which are the largest freshwater dunes in the whole world.
This superb lakeshore is worth every extra minute of driving if your soul is fed by spending time in the expansive wilderness.
Other things to know: Due to the freezing winter temperatures, this trip would be best in the late spring through early fall when you can catch a bit of colorful foliage on your drive up.
14. Lake of the Ozarks
7 hours 5 minutes from Nashville (470 miles)
Why you should visit: The Lake of the Ozarks is the most popular lake in Missouri for good reason. From the jubilation of "Party Cove" to quieter places along its 1,110 miles of shoreline, you can create any kind of lakeside getaway you can imagine here.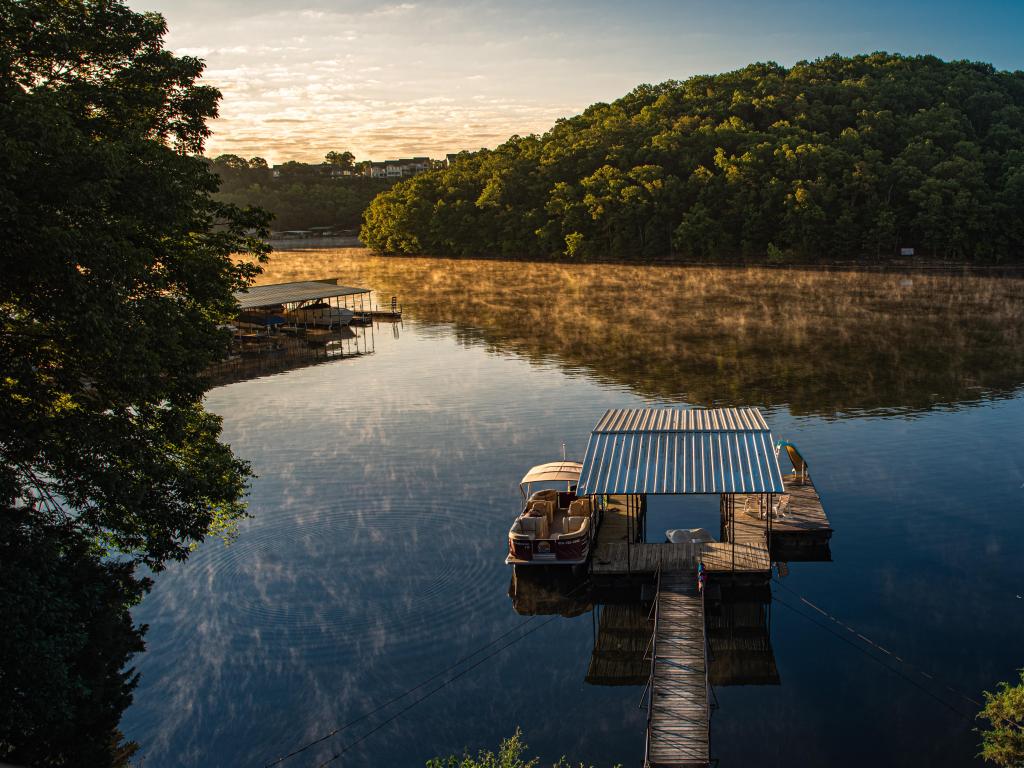 Main activities you can enjoy at this lake:
Watersports
Lake cruises
Fishing
Hiking
Caving
Camping
How to get there: From Nashville, head west on Interstate 24 for almost 180 miles then merge with Interstate 57 North. In Mt. Vernon, IL change on to Interstate 64 West towards St Louis, MO where you'll get on Interstate 44 towards St James, MO.
From there, take US-63 and MO Route 42 towards Osage Beach and Lake of the Ozarks State Park.
Our highlights: The outstanding Lake of the Ozarks State Park sits along 93 miles of the lake shore and attracts millions of visitors a year. In the height of the summer the two sandy beaches are filled with families, couples, and groups of friends all enjoying the water.
There are well-marked and gently shaded trails through the hills in case you wanted a little more solitude on this trip, the Woodland Trail is especially pleasant. The facilities here are great and they even have hot showers in case your definition of "roughing it in the woods" has some wiggle room.
Boat docks, fuel stations, and rental places are ubiquitous both within the state park and dotted all around the Lake of the Ozarks. At one point this was the largest artificial reservoir in America and on some of the sightseeing cruises, you can learn more about the lake's history and engineering that made it possible.
Due to the immense size of the lake and hundreds of coves, you could spend multiple days exploring them on your own in a small boat or kayak.
Fishing is another popular activity on the lake and the lake is home to multiple species of bass, crappie, and catfish, as well as walleye. It is often included in the top 100 lists for bass fishing in the US.
You can cast your line on either side of the spillway section of the Bagnell Dam or seek out a nook of the Grand Glaze Arm to see if today if Lady Luck is smiling on you today.
In case you were looking for the livelier side of the lake, aside from the "spring break" vibes of Party Cove, there are dozens of bars along the lake, some with pools so you can stay chilled along with your beverage of choice.
For excellent spirits as well as food, check out Ozark Distillery and Brewery, not far from the state park in Osage Beach.
Finally, there are thousands of caves in Missouri and you'll find a few close to the lake as well – these are great places to marvel at underground mysteries or simply stay out of the sun if your skin is feeling a bit well done.
There's a cavern in the state park and close to Camdenton you'll find the sparking and delicate Bridal Cave.
Bonus: The shoreline of Lake of the Ozarks is so huge that it's longer than the California coastline. If you are a fan of the TV series "Ozark" featuring Jason Bateman and Laura Linney, you might recognize the scenery of this lake!
Other things to know: Lake of the Ozarks State Park is open year-round and has a variety of overnight accommodations from traditional campsites and RV hookups to yurts.
Just be aware before you come that cell phone service is very spotty here, on the flip side, it could just be the perfect place for a digital detox. Dogs are allowed in the park but must be on a lead.
15. Lake Pontchartrain
7 hours 40 minutes from Nashville (540 miles)
Why you should visit: Many people coming to New Orleans overlooks the fact that it is sitting on the waters of Lake Pontchartrain, a vast estuary with its own quiet charms which perfectly complement a trip to the Big Easy.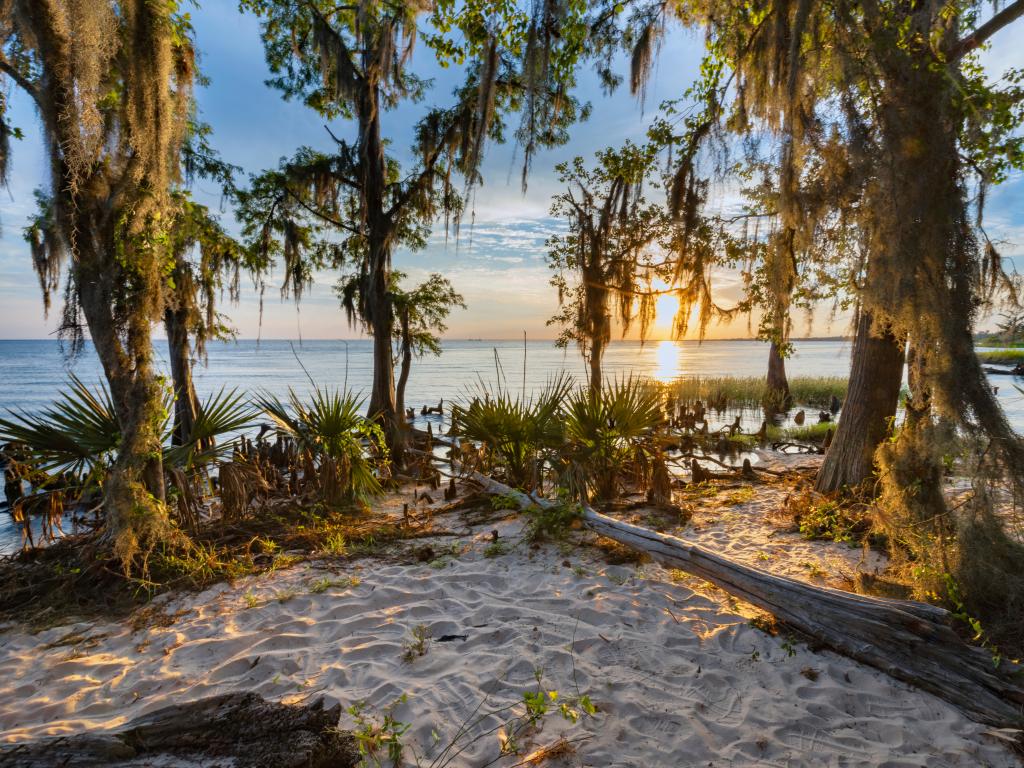 Main activities you can enjoy at this lake:
Drive over the longest continuous bridge in the world
Kayak
Fishing
Hiking
Boat tours
How to get there: Take Interstate 65 South through Birmingham, AL where you'll hop onto Interstate 20 West. Once you get to Meridian, LO take Interstate 59 South to get to Slidell on the north shore of Lake Pontchartrain.
Interstate 12 leads to the Causeway where you can check out the south shore of the lake, including New Orleans.
Our highlights: After so much driving, more driving might not be the first thing you want to do here, but we really think driving over the 24-mile-long Lake Pontchartrain Causeway is an experience in itself.
You'd have to make this drive, in any case, to get to New Orleans, but we recommend making the most of it by driving during sunrise or sunset accompanied by an otherworldly playlist to complement endless shimmering water.
As an estuary, Lake Pontchartrain is an important habitat for fish, fowl, and other water-loving species, including alligators. Big Branch Marsh National Wildlife Refuge near Slidell has some well-maintained wooden boardwalks through the bayou and marshlands as well as an informative visitor's center.
You can walk peacefully past lilies and reeds or paddle a canoe or kayak to feel even more immersed in this beautiful environment.
If you want to continue enjoying the lake from the north shore, head to Mandeville. In addition to being the northern terminus for the causeway, they have a wonderfully developed lakefront promenade complete with trails, playgrounds, picnic areas, and moss-covered trees.
For a more rugged experience of the lakeshore, nearby Fontainebleau Beach inside Fontainebleau State Park is a good option. The park also has miles of hiking and biking trails.
With a 630 square mile surface area, going on a boat tour is another fun option on Lake Pontchartrain. There are historical guided tours as well as leisure cruises on sailboats. You can also hop on a charter boat for a fishing trip.
Since the saline level changes in the estuary throughout the day and year, a wide variety of species can be caught here, like speckled trout, redfish, bass, sheepshead, and Atlantic croaker.
Finally, on the south shore, you can check out some of the less touristy parts of New Orleans before heading to the French Quarter. New Orleans City Park is just a few blocks from the lakeshore and has many different attractions, including a singing oak and the New Orleans Museum of Art.
Of course, there are also some great seafood restaurants near the water, but we understand if you're saving your appetite for the Cajun delights in the heart of NOLA.
Bonus: Lake Pontchartrain is now a thriving ecosystem with hundreds of species, but it was on the brink of destitution in the 70s due to pollution. Of all humble creatures, it was the bottom-feeding clams that helped human conservation efforts to bring the lake back to life.
So, take a moment of appreciation before diggin' into that bowl of gumbo.
Other things to know: Because it's connected to the Gulf of Mexico, Lake Pontchartrain can experience storm surges during the hurricane season from early June to late November.
You'll have to check the forecast ahead of your trip, but the storms usually peak in the sultry months of August and September.