22 Best Road Trips From Orlando
There is no place like Orlando, Florida, one of the most exciting cities in America. On top of all its theme parks, sunny weather, and outdoor activities is its proximity to other top American destinations.
You can reach some incredible destinations on a road trip from Orlando, like Ocala National Forest, St Augustine, Sarasota, Savannah, Key West, New Orleans, Nashville, New York, Niagara Falls, and beautiful Yellowstone National Park.
If you want an incredible day trip or are looking forward to a weekend escape or longer, then you should seriously consider a road trip from Orlando. Here are some for you to chew over.
22 Best Road Trips from Orlando
Orlando is famous for being America's theme park capital. From Walt Disney World to Universal Studios, there is plenty to see and do in the city.
Other famous attractions nearby include Lake Tohopekaliga and Ocala National Forest. You'll also get to check out downtown Olrando and its amazing restaurants, bars, and nightlife.
Once you've had your fill riding the roller coasters and living it up in the theme parks, you can hit the road to discover the incredible destinations outside the city. Read on to discover the best road trips, things to see, and routes so you can plan this road trip of a lifetime from Orlando.
Day trips from Orlando (under 3 hours each way)
Orlando is close to some of Florida's most famous landmarks including Cape Canaveral. Visit historical places and natural surroundings that seem to belong on postcards, all at under 3 hours away.
1. Kissimmee and Lake Tohopekaliga, FL
30 minutes from Orlando (20 miles)
Why you should visit: Even if Orlando is the major theme park destination, Kissimmee is its beautiful companion, offering several other interesting attractions and great dining options.
Kissimmee also offers better value for money than Orlando, since the big theme parks draw more crowds to nearby Orlando.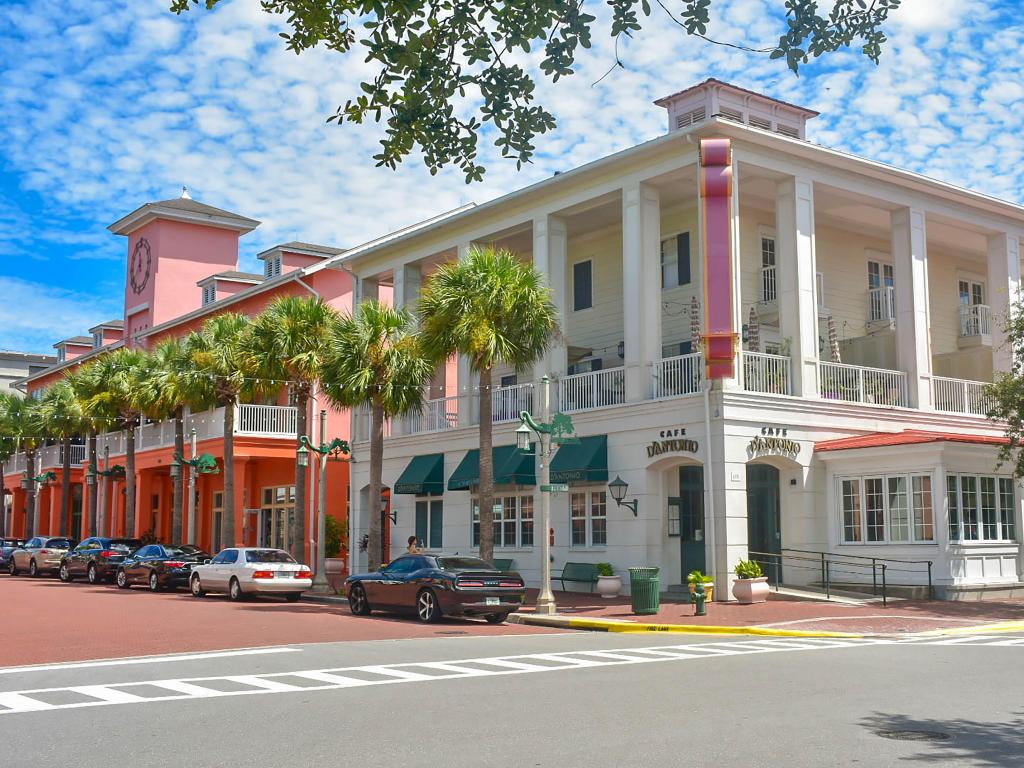 How to get there: Take the I-4. Then, get onto Florida's Turnpike and take exit 249. Take Michigan Ave to reach Kissimmee.
Our highlights: Visit the Monument of States. Erected as a tribute to the Pearl Harbor attacks, the building's embedded rocks come from across the states, sent particularly for its construction.
Another must see sight is the Museum of Military History. The museum covers and displays artifacts from most of America's major modern wars including Revolutionary War, WWI and WWII.
While you're in the area, check out Old Town. If you have an entire weekend to spend, then this modern shopping district filled with tourist attractions will be your stop
For natural scenery see Lake Tohopekaliga. A further 27 minutes' drive will take you to this famous fishing destination. The drive itself is thoroughly enjoyable for the lush surroundings and refreshing breeze.
Our travel tips: KissimmeeOld Town features car shows along with other well-lit events that you can enjoy at night..
2. Ocala National Forest, FL
1 hour 20 minutes from Orlando (70 miles)
Why you should visit: Ocala National Forest is a destination that will quench your thirst for exploration, with its immense number of enjoyable waterbodies.
Rare and exotic wildlife is coupled with exquisite natural beauty at this jewel of a national forest.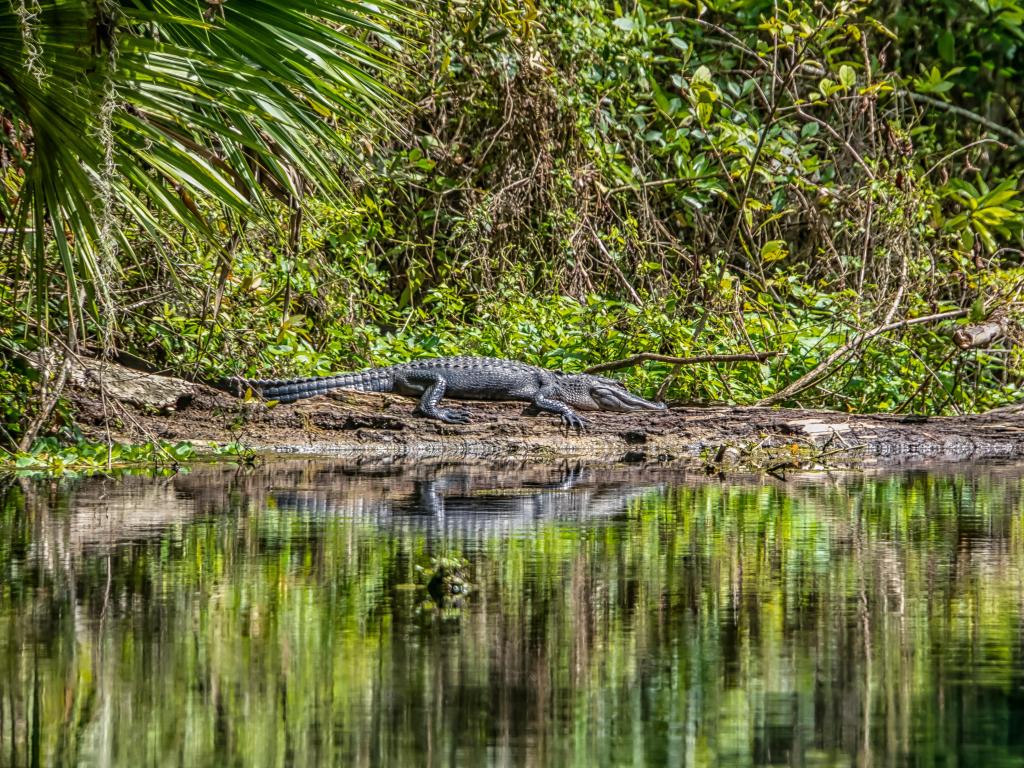 How to get there: Take the I-4, FL-46 W, and FL-453. Navigate via FL-44E to Fl-19N. Then take FR 97 to reach Ocala National Forest.
Our highlights: For some unbeatable time outdoors drive over to Juniper Springs. Camp within a palm and oak canopy at one of the east coast's oldest springs.
Another amazing outdoor paradise in Ocala National Forest is Alexander Springs. Here you can paddle, swim, or enjoy other water activities at the banks of the freshwater spring.
Take the Ocala Centennial OHV Trail. Ride a motorcycle, UTV, or ATV at this 47 mile loop trail system while also admiring the lush ecosystem.
Bonus: The Ocala OHV Trail is home to the "Big Scrub" – one of the world's largest pine scrubs.
Our travel tips: There is electricity supply and space for setting up tents and campfires at Juniper Springs, if you fancy camping!
3. Cape Canaveral, FL
50 minutes from Orlando (55 miles)
Why you should visit: There are very few locations that are more iconic and significant than NASA's historic Kennedy Space Center, which is easily accessible from Cape Canaveral. Many people lovingly call this area the "Space Coast."
NASA's famous launch site also provides some excellent opportunities for enjoying beautiful scenery in pleasant weather, while also having fun with activities.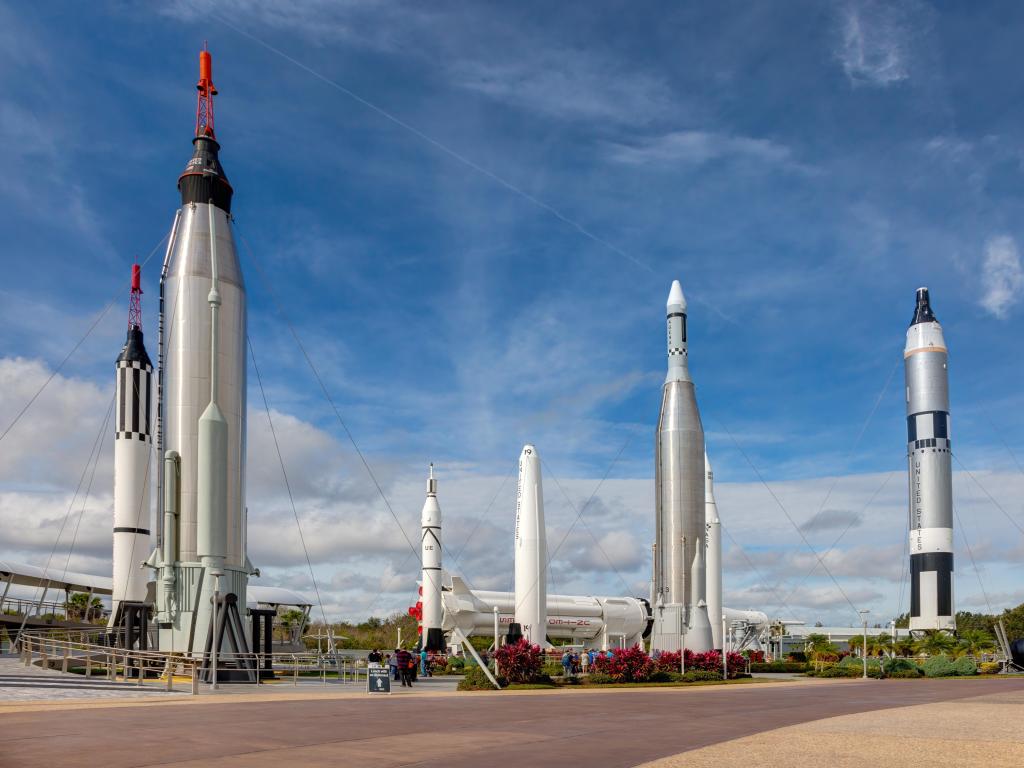 How to get there: Take the FL-408E. Then, take FL-528E. Head down Church Ln to reach Cape Canaveral.
Our highlights: The main attraction here is the Kennedy Space Center. This is one of NASA's most famous space centers where historical space events such as the Saturn-V launch occurred.
But if you fancy something a bit more down-to-earth, see the incredible Manatee Sanctuary Park. The beautiful, serene location is ideal for picnicking, kayaking, and fishing. If you're lucky, you might catch a glimpse of lazing manatees as well.
Visit the Dinosaur Store and Museum. The Cocoa Beach location has hanging dinosaur fossils on display along with several prehistoric cave paintings.
Nearby is the Cherie Down Park. The park may be small but it's one of the prettiest ones out there as it also doubles as a hidden beachfront.
You can also visit where Apollo 11 was famously launched on its journey to the moon at the Kennedy Space Center.
Our travel tips: During spring, you will find dryer weather and fewer crowds, making it an ideal time to visit.
4. Crystal River and Three Sisters Spring, FL
1 hour 30 minutes from Orlando (90 miles)
Why you should visit: Natural springs feed into the warm waters, providing a natural home for plenty of wildlife as well as a chance for outdoor activities for visitors.
The big highlight of this area are the manatees. These large and docile animals are a sight to behold.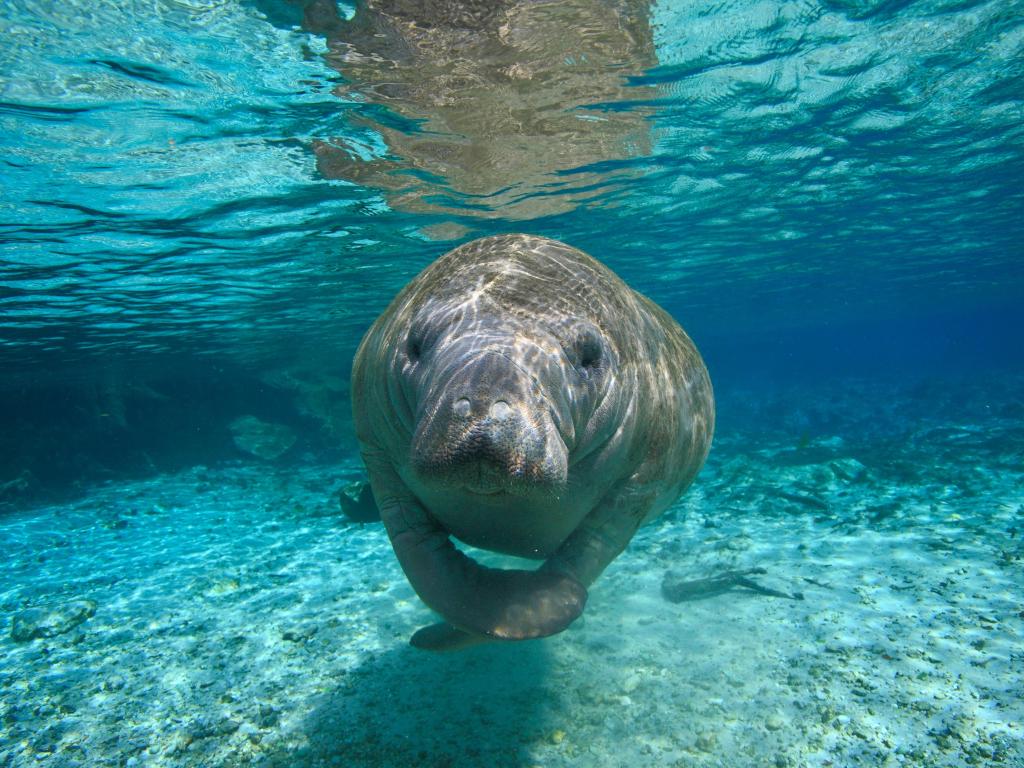 How to get there: Take the FL-408W. Then get on Florida's Turnpike and exit 307. Finally, head down FL-44W to reach Crystal River.
Our highlights: One of the most memorable things you could do in this area is to swim with manatees. Be sure to carry your diving/snorkeling gear because you'll have a chance to have manatees as swimming companions. According to some biologists, Crystal River is the country's most important manatee habitat.
Visit Three Sisters Springs. One of the manatees' most important winter retreat, there is a boardwalk, trails along the waterfront, and a center where you can take a dip.
See Fort Island Gulf Beach. About a 20 minutes' drive, the cute little sandy beach is ideal for family fun time and picnics.
If you love fishing and foraging, you'll love scalloping. A beloved Crystal River tradition is to ride out, dive, and catch your own scallops.
Bonus: The scallops you catch can be taken to a restaurant where they will cook and serve it to you.
5. St. Petersburg, FL
1 hour 40 minutes from Orlando (110 miles)
Why you should visit: The city offers a bit of everything from dining, culture, tropical weather, and more along with dazzling Florida beaches.
Often called a "sparkling gem" in the Floridian coast, the beachside destination offers sandy beaches, fun family attractions, and an amazing art scene.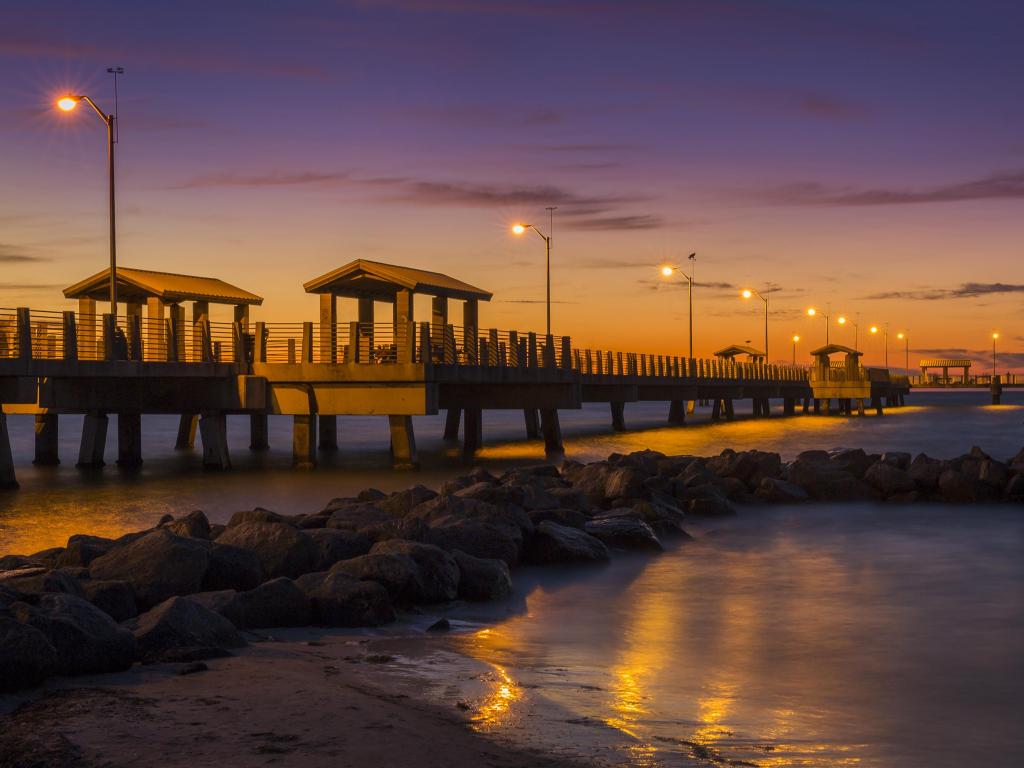 How to get there: Take the I-4W and I-275S. Then, take I-175E and 6th St S exit. You'll reach your destination via 5th St S.
Our highlights: Make a stop at the Pass-a-Grille Beach. The beach stands out, even among the excellent beaches of the city, because of its white sand and bluish-green waters.
Art lovers will love seeing the Salvador Dali Museum. Just as Dali's paintings are renowned for being a mixture of the fantastical and the rational, this dedicated structure follows the same principle in appearance.
Another must visit place for art lovers is the Morean Arts Center. One of the most community-oriented arts centers, the association exhibits national, international, and local artists' work on the same stage.
To get your fill of nature in a tranquil and historic setting, visit the Sunken Gardens. Almost a century old, this landmark garden is the home of more than 50,000 tropical plants and flowers. The Sunken Gardens is the oldest living museum in the city.
The Salvador Dali Museum is the largest Dali collection in the United States.The Morean Arts Center also houses the Chihuly collection, a permanent exhibit featuring works of Dale Chihuly.
Our travel tips: Try to visit between March and May. The weather is mild and pleasant and most events take place around this time.
6. St Augustine, FL
1 hour 40 minutes from Orlando (110 miles)
Why you should visit: St. Augustine is known for its preserved roots connecting it to the Spanish colonialist era.
Experience Spanish colonial architecture unlike in any other place, as you walk surrounded by the historic vibes of the city.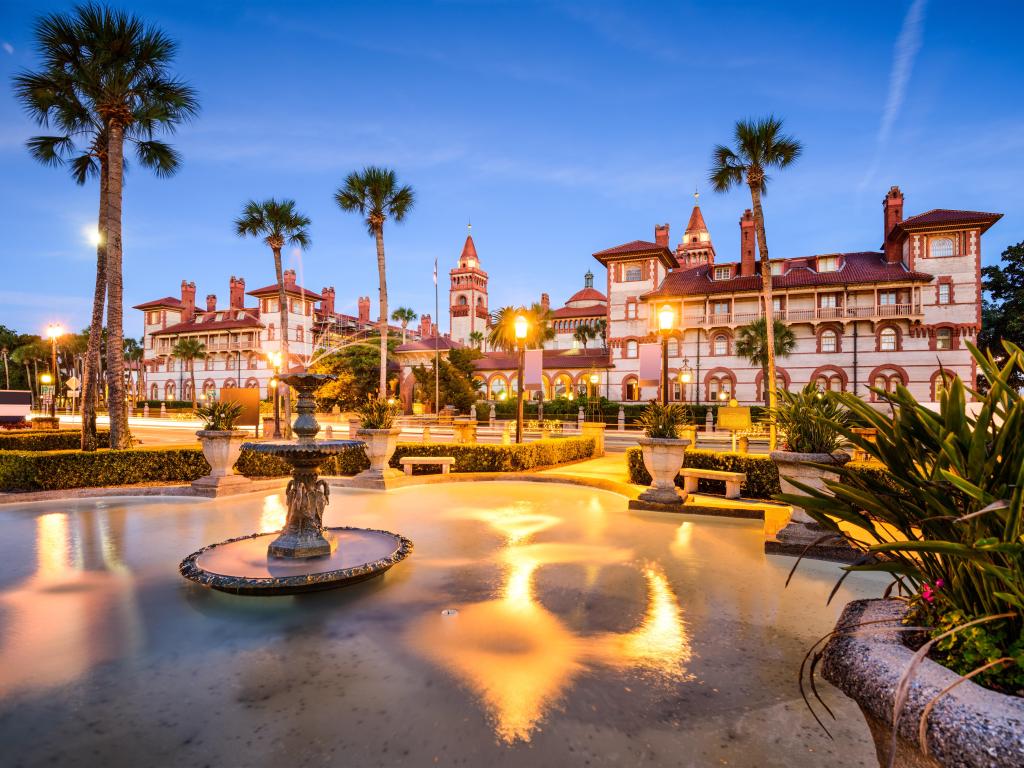 How to get there: Take I-4E and I-95N. Get off at exit 311 and get on I-95N. Follow FL-207N to reach St Augustine.
Our highlights: If you love beaches, Crescent Beach is a must. It is one of the quieter Florida beaches, which makes it a favorite among the locals.
Head over to the Lightner Museum. Hotel Alcazar (built in 1887) houses this beautiful and quirky museum complete with a fishpond, courtyard, and other enjoyable installations.
Visit the Castillo de San Marcos. According to history, the fort has remained unbroken since 1702. Its strength is attributed to its special coquina walls.
Head over to see the Colonial Quarter. The architecture from the Spanish colonial era remains well-preserved. This is an authentic highlight of the city's already fun vibe. St Augustine is the country's oldest continuously inhabited city.
Our travel tips: The best time to have a trip to St Augustine would be between March and May due to its pleasant weather that remains in the mid-70 degrees Fahrenheit.
7. Clearwater and Honeymoon and Caladesi Islands, FL
2 hours from Orlando (105 miles)
Why you should visit: Clearwater is not just another one of Florida's coastal cities as you can hardly get a better swim anywhere else.
Honeymoon Island has one of the country's best pet-friendly beaches, apart from hiking and nature trails. Nearby Caladesi's beaches remain untouched and make for a great place to relax surrounded by swaying palm trees.
Clearwater's beachside accommodations rank among the highest in the world. Check into one of them and enjoy the frolicking dolphins in the warm waters and white beaches.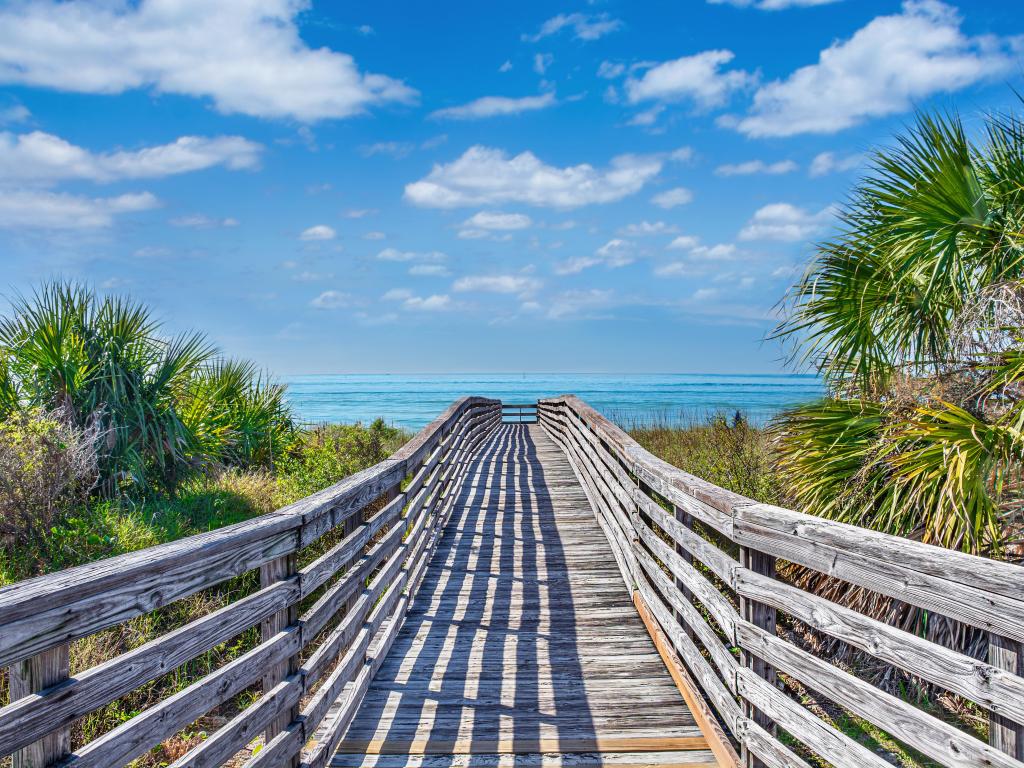 How to get there: Take I-4W and FL-60W. Take exit 2A on FL-60W. Follow N Fort Harrison Ave to reach Clearwater.
Our highlights: Take in the romantic setting at Caladesi Island. Coupled with Honeymoon Islands, this quiet beach island deserves nothing short of a full-day excursion.
Visit the Clearwater Marine Aquarium. Home to many fascinating creatures such as pelicans, eels, and sea turtles.
Head over to see the Calypso Queen. The famous cruise trip is a must for cruise lovers, because of the amazing sunset, buffet, and the night dance party.
Take a drive to the beautiful Sand Key Park. Just under a 10 minute drive from Pier 60, lies this 95-acre area consisting of two beaches that is perfect for surfing and more.
Check out famous Pier 60. Some believe it to be the best fishing spot in the entire State, and you can also enjoy fine dining and entertainment, along with a fine beach to walk along.
Bonus: Clearwater Beach's sand is very soft and white because it isn't mixed with coral, rocks, or shells. Kick off your shoes and stroll, worry free!
Our travel tips: The best time to visit is between October and December, when the humidity decreases and fewer visitors are on the beaches.
8. Sarasota, Bradenton and Anna Maria Island, FL
2 hours 15 minutes from Orlando (130 miles)
Why you should visit: If you are on a vacation, and you like beaches, then Sarasota is the destination for you. Anna Maria Island is easily reachable from Sarasota.
Enjoy cultural attractions in the pleasant weather, alongside beaches that are only a short walk from where you are staying.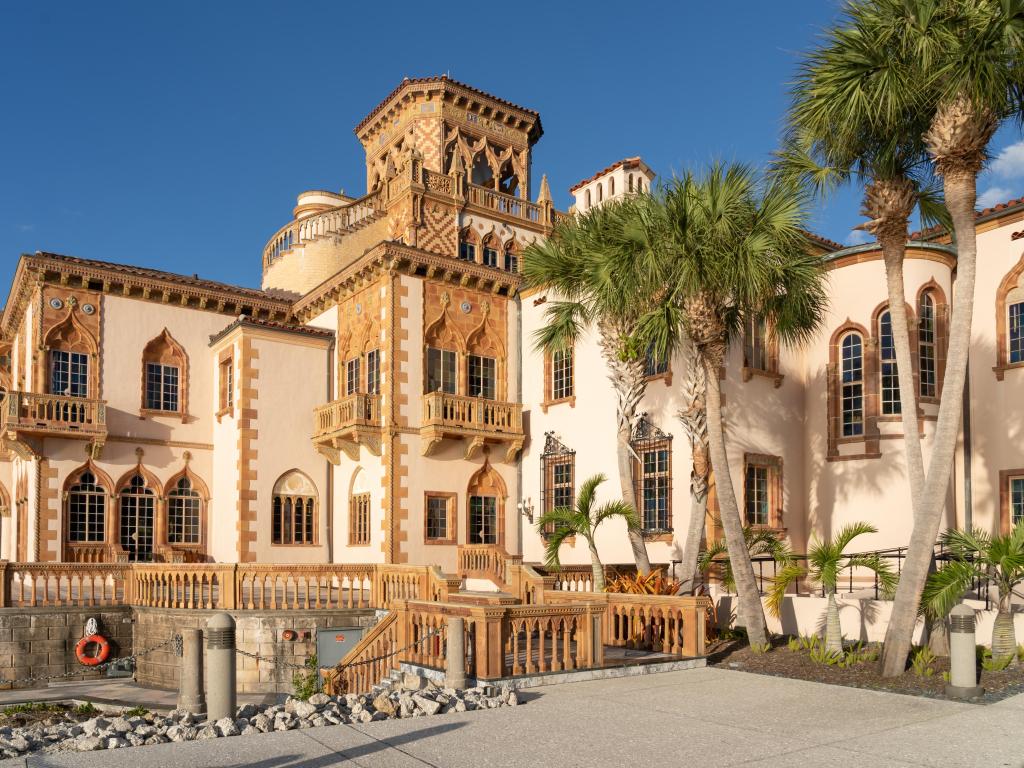 How to get there: Take the I-4W. Then you can hop on the I-75S. Follow FL-780W to reach Sarasota.
Our highlights: Take a drive to Bradenton. Sitting in between the vast Gulf of Mexico and the laid-back Manatee River, the city is known for its friendliness and scenic natural spots.
Head over to Anna Maria Island. The absolutely stunning wide sandy beaches are what draws visitors to this barrier island. Check out Manatee Beach and Bean Point Beach.
Visit the Mote Marine Laboratory and Aquarium. The estuary-specialized research center's aquarium houses over 100 marine creatures, with several international ones amongst locals. The Mote Marine Laboratory was originally Cape Haze Marine Laboratory. Its name was changed in 1967 to honor William Mote, Lenore R. Mote, and Betty Mote Rose.
If you want to see some incredible art, visit the John & Mable Ringling Museum of Art. Browse through classical art and architecture across several eras including the Renaissance, Roman, and Greek works.
John & Mable Ringling Museum of Art gets its name from the infamous Ringling Bros. & Barnum and Bailey Circus. There are 45-minute tours here that you can take.
You can walk through the treetops of a subtropical forest in Sarasota. Myakka Canopy Walkway is the only place where you can do this in the country!
9. Cedar Key and Waccasassa Bay Preserve State Park, FL
2 hours 50 minutes from Orlando (135 miles)
Why you should visit: One of the traditional and well-known vacation spots in Florida, the petite city's charm lies in its historical setting.
The best term to describe Cedar Key is "old-fashioned". However, it's laid-back setting means there will be hardly any traffic while you enjoy the beaches and greenery.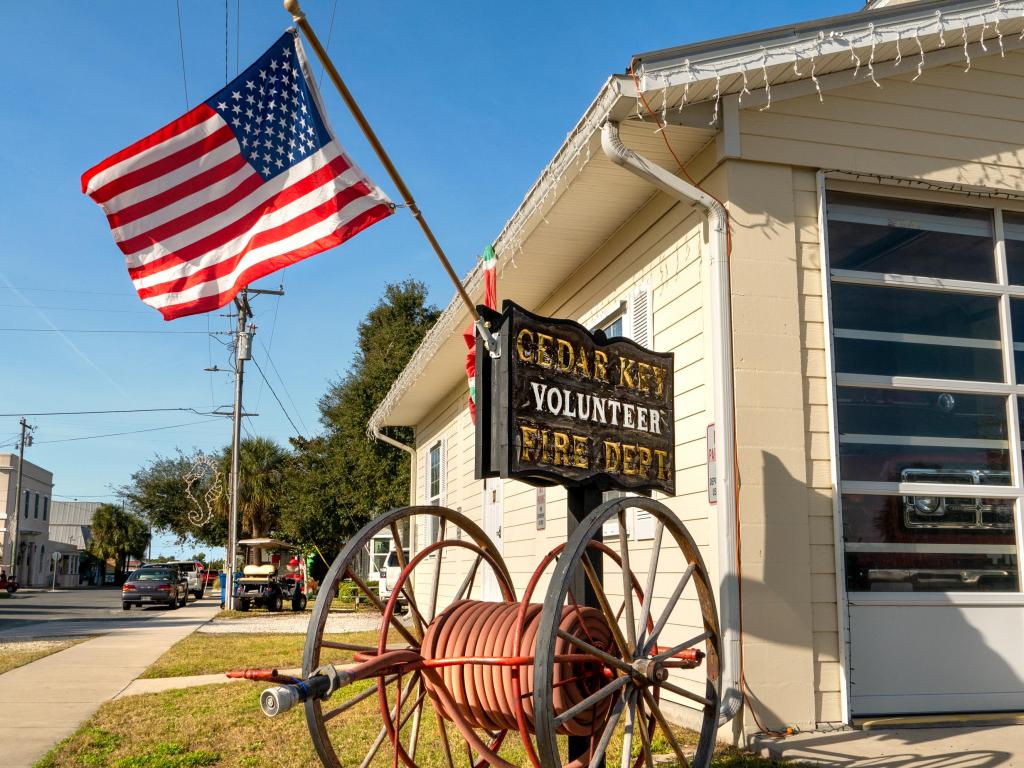 How to get there: Take the FL-408W. From here, take Florida's Turnpike and I-75N. Take exit 341 on the I-75N and drive along FL-24W to reach Cedar Key.
Our highlights: See the Cedar Key Historical Society Museum. This premier museum in the region has exhibits showcasing the history, prehistory, and present of the area.
Check out the Kayak Cedar Keys. The biggest full-service kayak livery in northern Florida has been central to forming Cedar Key's reputation as one of the Gulf Coast's best paddling destinations.
History lovers will love to visit the Cedar Key State Museum. Saint Clair Whitman's former home is preserved along with collections of indigenous artifacts and seashells.
Wind down and relax at the Waccasassa Bay Preserve State Park. Islands, salt marshes, and tidal creeks make it a scenic area for fishing and wildlife observation.
Our travel tips: Any time apart from the rainiest months of July and August are good enough for the trip.
10. Gasparilla Island State Park, FL
2 hours 50 minutes from Orlando (175 miles)
Why you should visit: This is a stunning island on the Gulf Coast, famous because of its sandy beaches and bluish green waters.
Enjoy a bunch of seaside activities such as seashell searching on the Gasparilla Island Beach.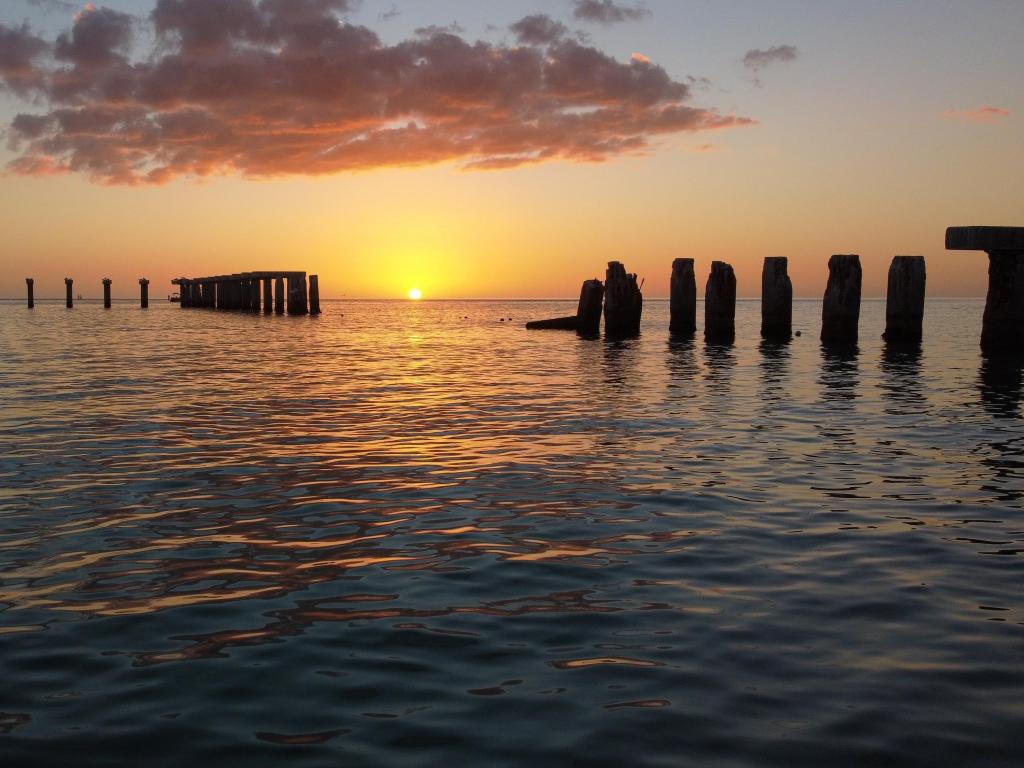 How to get there: Drive on the I-4W and I-75S. Take exit 191 on the I-75S. Follow State Route 777 to reach Gasparilla.
Our highlights: Take time to find sea shells and shark teeth. Spend your beach stroll doing something fun, searching for unique sea shells and, if you are lucky, the fossilized teeth of sharks.
Check out the Boca Grande Boutiques. Boca Grande village lies in Gasparilla's center, and has cute boutiques offering fishing apparel, beach cover-ups, and souvenirs.
Visit the Gasparilla Inn. Return to history in this inn constructed in 1913 that still maintains the décor of the era.
See Bradenton, Sarasota. You can choose to combine it with a trip via Bradenton and Sarasota. The detour, if you are not making stops, will add about 40 minutes to the drive time.
Bonus: Search hard enough and you will get perfectly formed shells in a myriad of colors.
Our travel tips: The best time to make this trip is November.
Click here to skip back to the top.
Weekend trips from Orlando (3-5 hours each way)
Why not spend a weekend driving outside of Orlando and discovering the amazing destinations. You'll get to see some of America's top cities, beaches, natural areas, and more, all within a 5 hour drive.
11. Miami and Fort Lauderdale, FL
3 hours 45 minutes from Orlando (225 miles)
Why you should visit: Famous worldwide as a beachside location, Miami needs little introduction. Enjoy amazing nightlife combined with beautiful beaches here on this amazing road trip from Orlando to Miami. You will also get a chance to visit Fort Lauderdale.
Along with the world-famous beaches of Miami, experience the unique culture, art, food, and outstanding nightlife at one of the world's premier vacation destinations.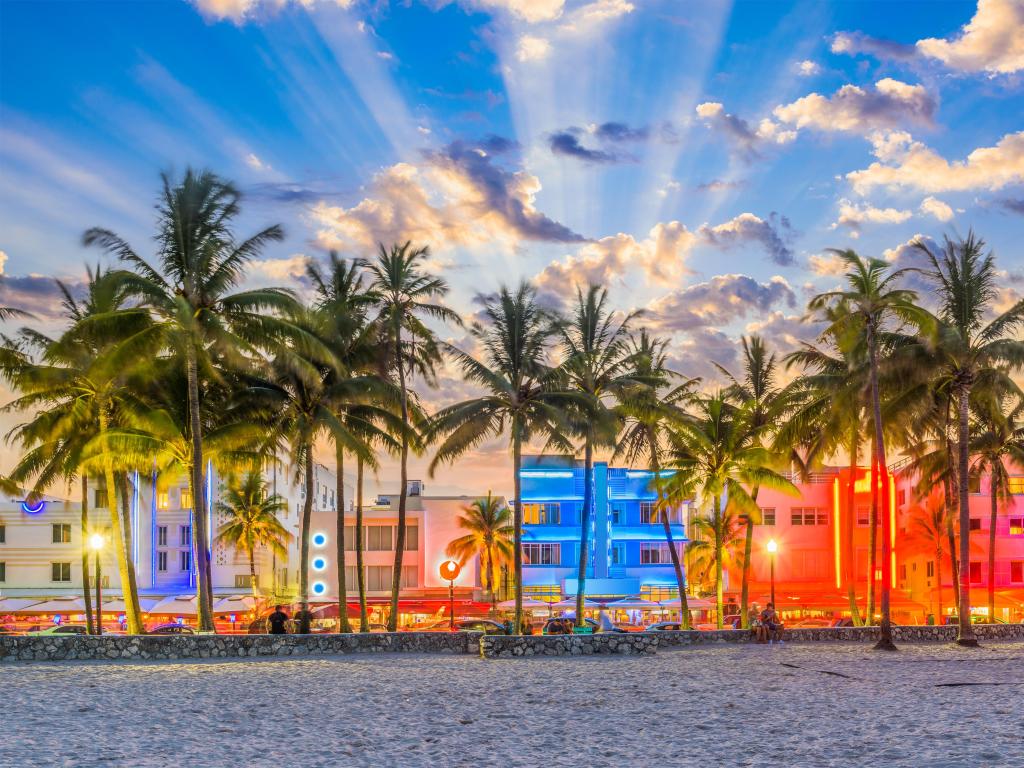 How to get there: Take the I-4 and get on Florida's Turnpike. Then, take I-95S and exit 2C.
Our highlights: Visit Miami Beach and soak in the sun. The iconic landmark of fun in the sun known worldwide is a must visit even if it is only for a moment.
Head down Las Olas Boulevard. Fort Lauderdale's central street has more than enough cultural and historical outlets to provide a complete overview of the city.
Stroll through nature at the Gumbo Limbo Nature Park. See stunning trees, flowers, and creatures like turtles, iguanas, and even sharks.
Check out the Vizcaya Museum and Gardens. The architecture is styled in Renaissance fashion. The insides, meanwhile, carry on the theme with real European art and furniture dating back to the 15th century.
Bonus: The Vizcaya Museum features European-style gardens which are the most elaborate of their kind in the entire US!
READ MORE - Road Trip from Orlando to Miami
12. Sanibel Island and Captiva Island, FL
3 hours 30 minutes from Orlando (185 miles)
Why you should visit: Sanibel and Captiva are two barrier islands that go hand-in-hand for their quaint and quieter settings.
If you want a less crowded beach vacation, then these might interest you. Sanibel is also famous for its shelling.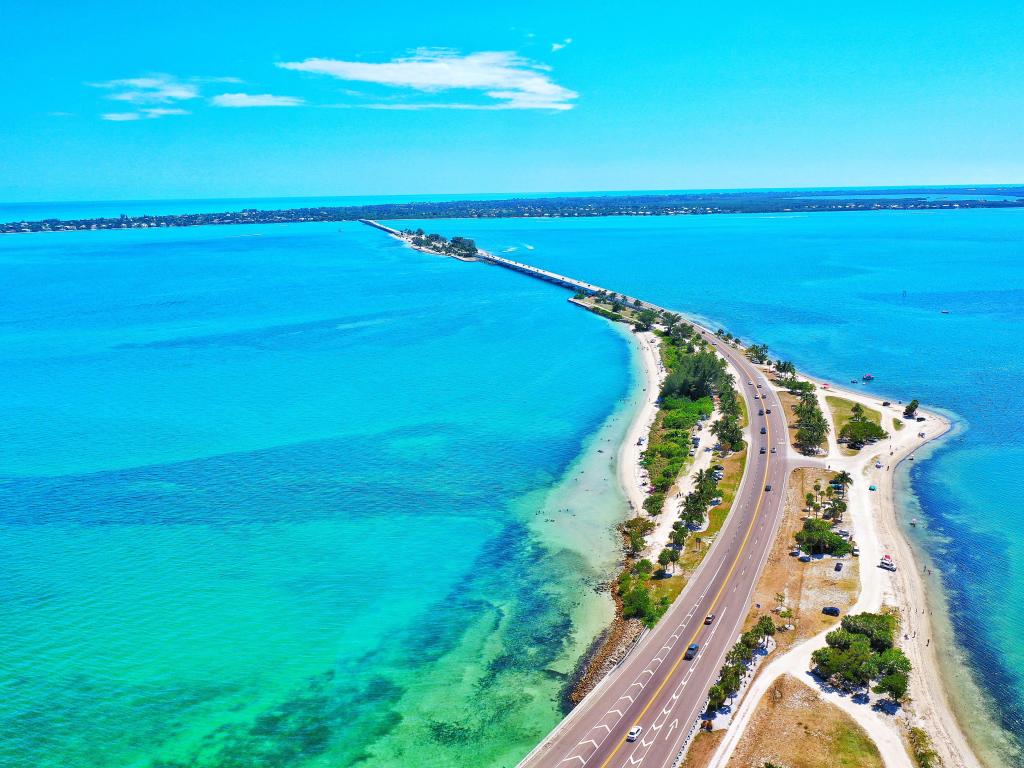 How to get there: Take the I-4, FL-570W, and FL-31S. Drive along I-75S and take exit 131. Continue along Daniels Parkway to reach Sanibel Islands.
Our highlights: See the incredible animals at the J. N. (Ding) Darling National Wildlife Refuge. Crocodiles are only one of the several hundred animals on display that call this complex mangrove system their home.
Visit the Baily-Mathews National Shell Museum. Since shell collecting is one of the highlights, spend some time learning about the different identities and details of the shells.
Explore the Sanibel Historical Museum and Village. The earliest Sanibel residents lived in seven houses covering the time from the Calusa People till Spanish colonizers settled. All the buildings have been moved and preserved as exquisite exhibits.
Check out the Captiva Islands. A further 20 minutes' drive away will take you to another fun family-vacation location with beaches, hiking, and dining.
Bonus: Sanibel has won awards for being the best beach for shelling in Florida. The J. N. Darling Refuge is the country's largest mangrove system.
Our travel tips: December to April is the best period for making this trip, although the temperatures are comparatively cooler all year round.
13. Everglades National Park, FL
3 hours 55 minutes from Orlando (210 miles)
Why you should visit: Home of a number of diverse and rare species, making it a recognized biodiverse space in the international community.
Volunteers and science workshops hold guided tours that can reveal to you the true significance of one of the world's most important green preserves.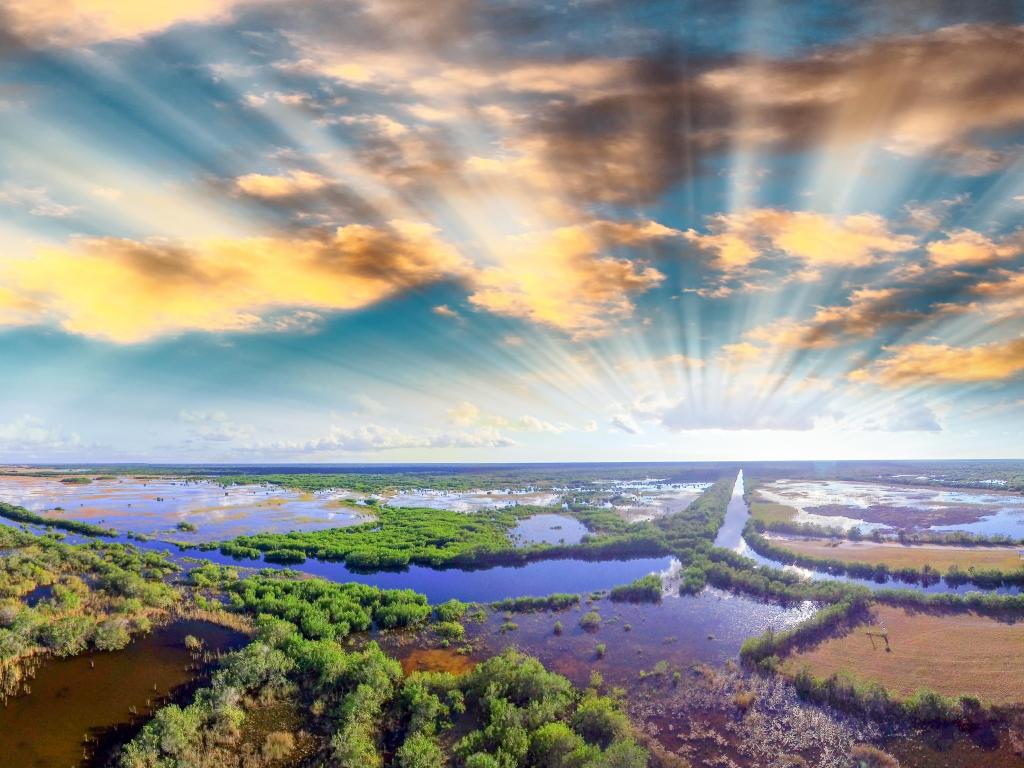 How to get there: Take the I-4 and get on US-27S and FL-29S. Drive along FL-29S to reach the Everglades.
Our highlights: Take a Kayak Eco Tour. The Everglades' kayak routes have something for everyone, so be sure not to miss out on this tour.
If you really want an adventure take an Airboat Tour. Most of us will have very few chances to ride the airboat, however it's one of the best vehicles to explore the swampy area.
Visit Shark Valley. The name may seem ominous but the trail is short and easy enough for beginners. It will take you to an observation deck where you can look out over the mangroves.
There's a more scenic detour via Fort Myers and Naples that will add about 1 hour to the total drive time.
Bonus: The Everglades are also a "Wetland of International Significance" and a biosphere reserve. It has the western hemisphere's largest mangrove ecosystem.
Our travel tips: Make the trip between November and April to get the "dry season" weather. There will be fewer mosquitos, lower temperatures, and more active wildlife around this time.
14. Savannah, GA
4 hours from Orlando (280 miles)
Why you should visit: The well-preserved history coupled with the amazing coastal scenery makes Savannah the ideal destination for history buffs looking for a beachside vacation.
Intriguing museums, relaxing trolley rides, and historical cemeteries are just some of the many activities on offer in the city.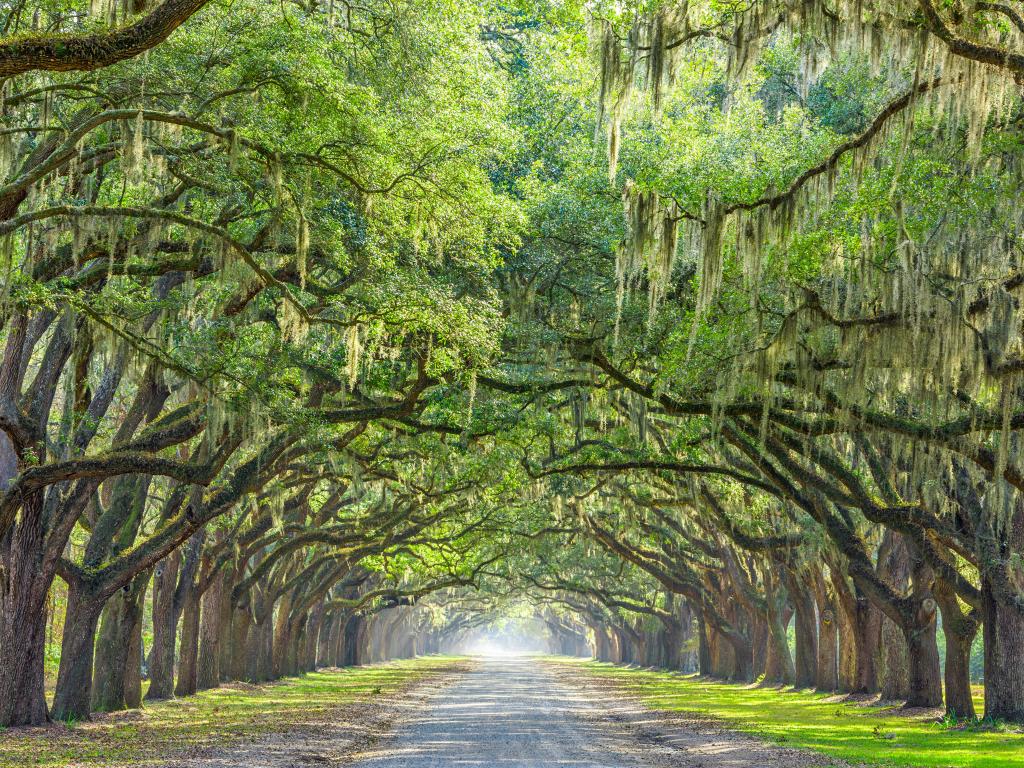 How to get there: Take the I-4E, I-95N, and I-295N. Drive on I-16E and exit 167B. Drive along Martin Luther King Jr Ave to reach Savannah.
Our highlights: Check out the Paris Market. This unique store for curios was built with the idea of incorporating the styles of bazaars from across the world.
Visit the Pirates' House. More than just a pub, experience Savannah's cultural link with the pirates at this themed restaurant.
No trip to this area is complete without seeing Hilton Head Island. A favorite spot for dolphins, you can go on tours in the hopes of sighting some of the majestic mammals.
See the Bonaventure Cemetery. Take a daytime tour to learn more about the uncanny connection that Savannah has with crime, mystery, and death.
Click here to skip back to the top.
Long weekend trips from Orlando (5-8 hours each way)
Within 5 to 8 hours from Orlando there are even more world class destinations. We've included two places within the great state of Florida that are sure to make a trip of a lifetime.
15. Destin, FL
6 hours 20 minutes from Orlando (420 miles)
Why you should visit: A part of Florida's famous glorious Emerald coast, enjoy the emerald waters with an assortment of activities at Destin.
From dolphin tours to fine dining to monthly firework shows, there will hardly be a form of entertainment you will fail to find in Destin, which is also known as "the world's luckiest fishing village."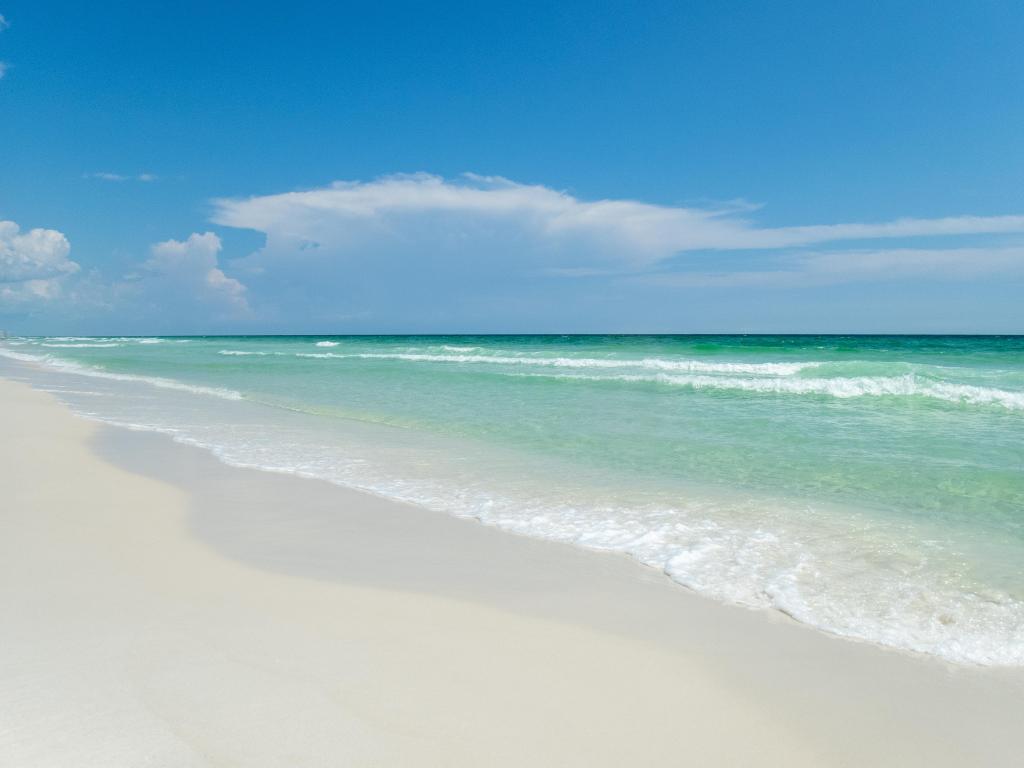 How to get there: Take the FL-408W and get on I-75N and I-10W, then take exit 70. Continue along FL-285S and FL-293 to reach Destin.
Our highlights: For a unique experience, visit the Isle of Crabs. A former island that has now eroded away, it is a mooring site for boats as the passengers enjoy and take in the unique scenery.
Go Deep-sea fishing. Destin hosts a number of fishing competitions adding to its reputation as a premier fishing spot. You too can experience a part of it by hitching an excursion on a fishing vessel.
Have an adventure at The Big Kahuna's. A water park for the family, enjoy over forty water-related activities, including slides and more.
Check out Gulfarium Marine Adventure Park. More than just a home for aquatic creatures, you can actually interact with some of them, including dolphins.
Our travel tips: A summer vacation will place you in the thick of the crowd and at the highest cost. Traffic is also a notorious problem in the city so drive patiently.
Destin is at its finest between April and May when the weather is pleasant, the sun is out, and the water is warm.
16. Key West, FL
6 hours 30 minutes from Orlando (390 miles)
Why you should visit: The country's southernmost point is also a fabulous destination for tourists because of its vibrant nightlife alongside its pristine beaches. Did you know that Key West is closer to Cuba than Miami?
The laid-back vibes are perfect for taking your time going through the coral reefs. There are also a ton of literary festivals, museums, and galleries to explore.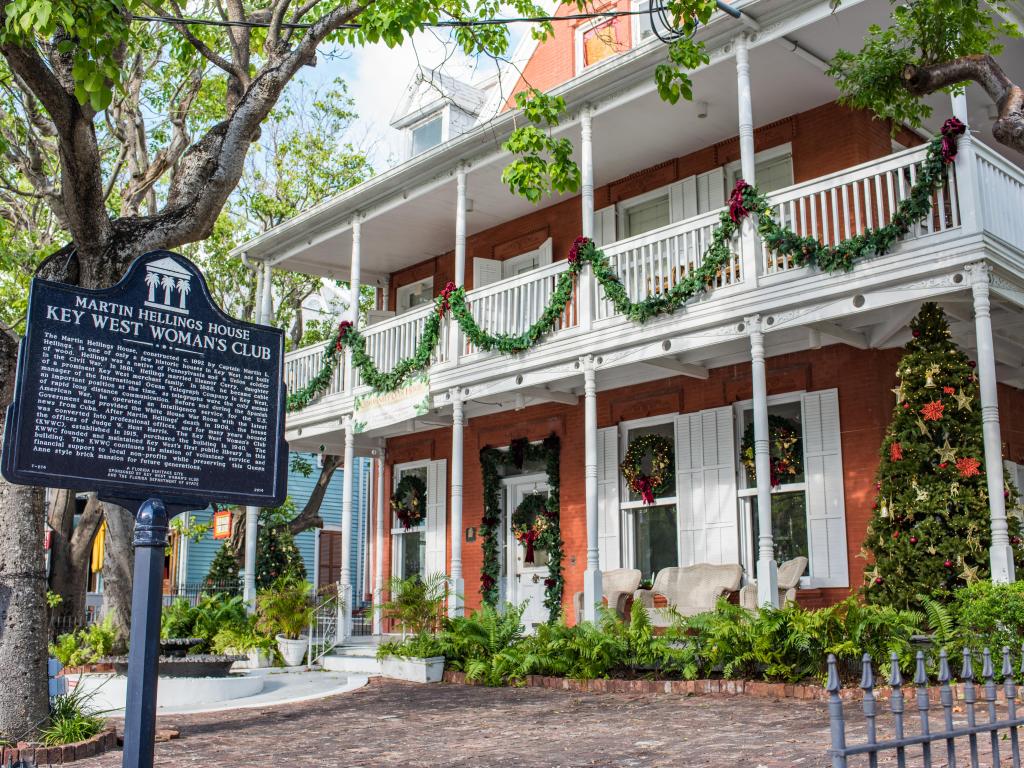 How to get there: Take the I-4, drive along Florida's Turnpike. Continue along US-1S to reach Key West.
You can also take a 3-hour ferry ride from Marco Island to Key West.
Our highlights: Visit the Ernest Hemingway Home and Museum. Built in 1851, this former home of famous author Ernest Hemingway is an exquisite example of Spanish colonial architecture.
Walk down Mallory Square. Take part in the popular "Sunset Celebration" from this square looking westward at the Gulf of Mexico.
Learn about the incredible history of the region at the Audubon House. The stunning home of Captain John Huling Geiger and his family stands as a window back to the 1840s.
See the Key West Cemetery. One of the liveliest parts of the city is where you least expect it to be – the tombstones are famous for having quirky last words.
Our travel tips: In Key West, lodging and food may be expensive. The ideal time of year to visit Key West is during the shoulder season. It can be difficult and expensive to find parking near Duval Street.
READ MORE - Road Trip from Orlando to Key West
Click here to skip back to the top.
Longer trips from Orlando (Over 8 hours each way)
Take a longer trip outside of Orlando and Florida to experience some of the most incredible cities, landmarks, and open spaces in the US. We've listed a few of our favorite destinations that are easily accessible from Orlando if you've got the vacation days to spare.
17. New Orleans, LA
via Pensacola Beach, FL
9 hours 42 minutes from Orlando (670 miles)
Why you should visit: New Orleans has worldwide acclaim as a city closely related to music, food, and Creole culture so you are guaranteed to have an amazing time on this road trip from Orlando to New Orleans.
Even if you can't time your trip with the extravagant New Orleans Mardi Gras, you'll still experience the world-famous Cajun cuisine and limitless sounds of jazz and other styles of music.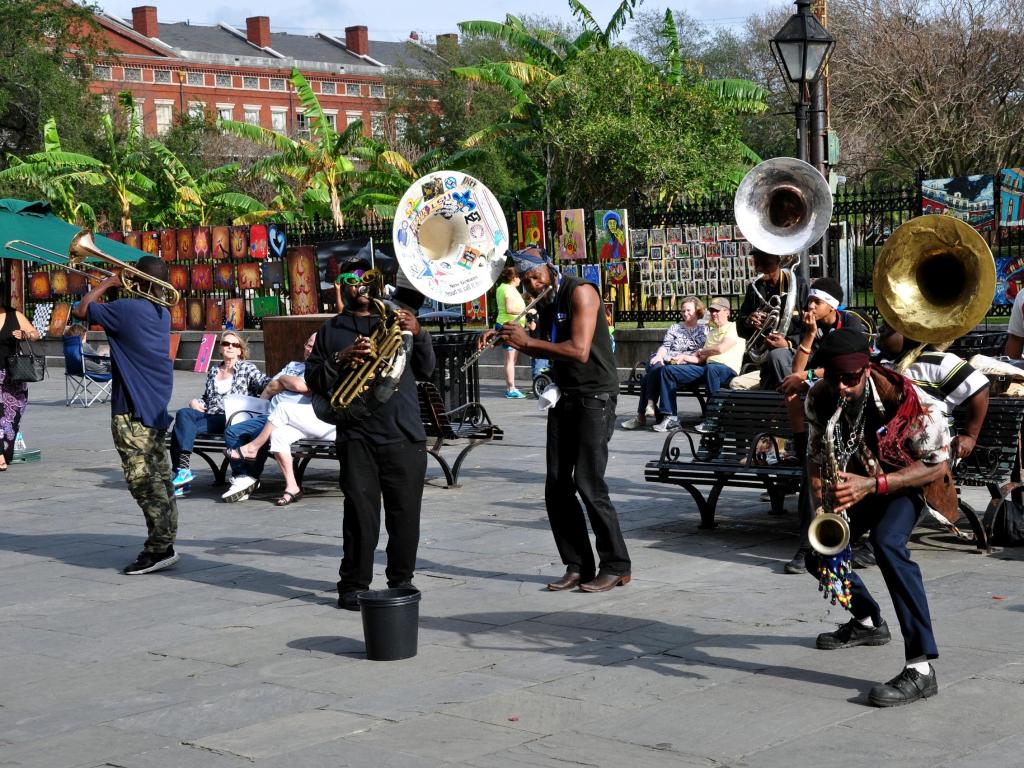 How to get there: Take the FL-408W, I-75N, I-10W, and I-110S. Get on US-98E and FL-399S to reach Pensacola Beach. Remerge with I-110N and drive along I-10W to reach New Orleans.
Our highlights: Check out the famous French Quarter. If you are interested in Creole culture and music, you have to take a stroll through the iconic streets of The French Quarter.
Stroll through nearby Frenchmen Street. Get a taste of the New Orleans Jazz at Marigny, right beside the French Quarter.
Visit the National WWII Museum. An award-winning facility filled with exhibits recounting the tales of soldiers and civilians at the forefront and at home during those devastating years.
Drive over to the beautiful coast of Navarre. You can take a minor detour worth about 20 minutes to witness the clearest emerald waters you will see anywhere at the Navarre beachside.
Our travel tips: A lot of places in New Orleans only accept cash so be sure to bring it with you.
READ MORE - Road Trip from Orlando to New Orleans
18. Nashville, TN
via Atlanta, GA
10 hours from Orlando (690 miles)
Why you should visit: The world's music capital also has other events to enjoy like delicious food and historical sites.
A type of must-do if you are a lover of country music. Even if you are not, the city's association and love for music will enthrall you.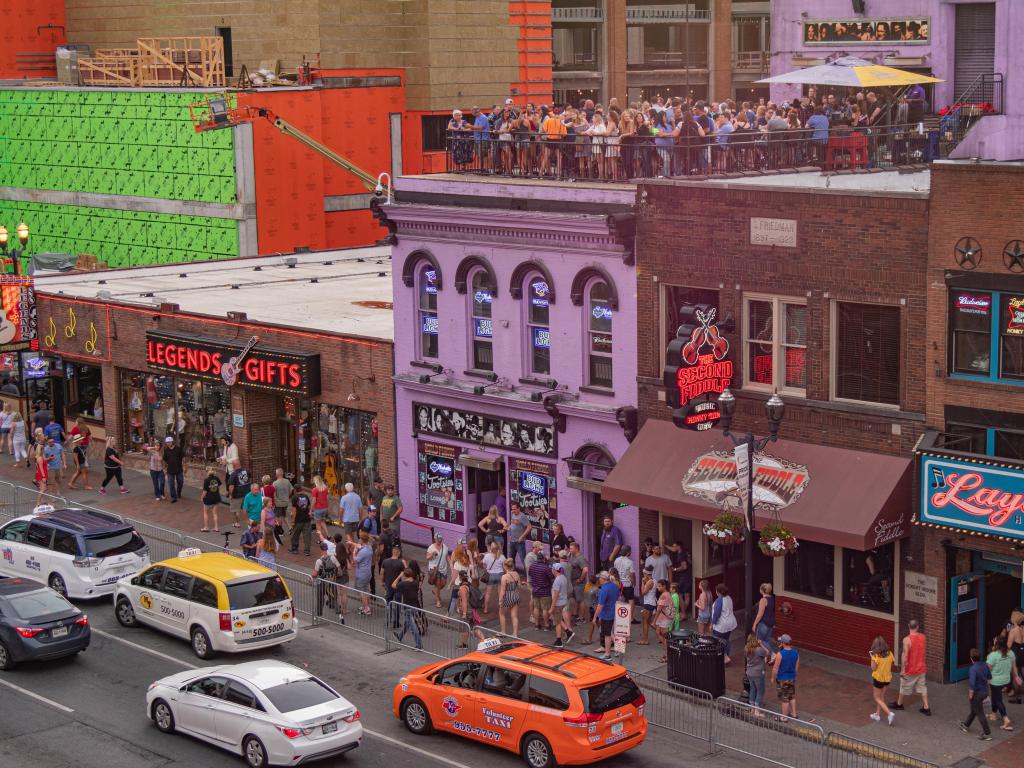 How to get there: Take the FL-408W and I-75N. Take exit 246 to reach Atlanta and re-merge with I-75N and take I-24W, I-40W. Take exit 209 on I-40W to reach Nashville.
Our highlights: Visit the Grand Ole Opry. This place is considered as the original progenitor of country music and the best place to experience it.
Head down Broadway. This is the beating heart of the city where you can eat, drink, dance, and sing, or, for the more energetic, ride a mechanical bull.
See the famous Parthenon replica. The city was once the most integral center for education for the State, and as such, builders took the opportunity to build a complete replica of the famed Greek monument.
Stop in beautiful and fast-paced Atlanta on your way. Do not miss out on Georgia's Capital City and, particularly, its amazing museums like the High Museum of Art. Click here to read more about the road trip from Orlando to Atlanta.
READ MORE - Road Trip from Orlando to Atlanta
19. Washington, DC
12 hours 15 minutes from Orlando (850 miles)
Why you should visit: The capital of the country is also the best place to witness the greatest historical moments in the United States' existence. This epic road trip from Orlando to Washington DC will provide the opportunity to learning about the building blocks of the nation.
The museums, monuments, attractions, and memorials are among the most famous and iconic structures not just in the country, but in the world.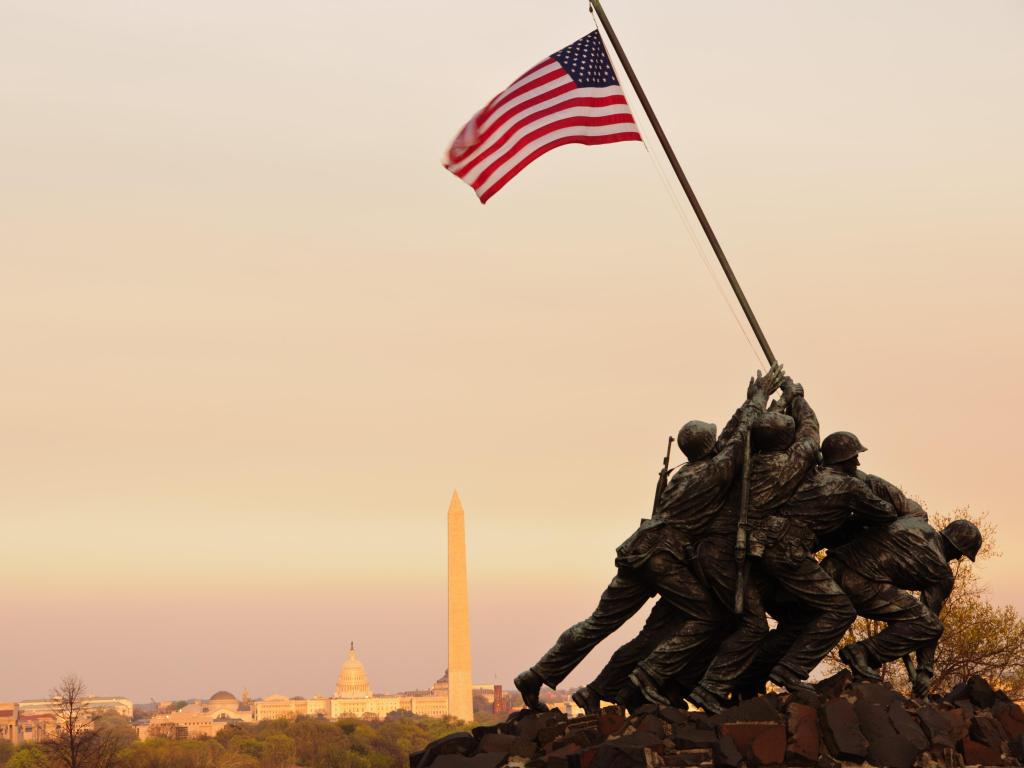 How to get there: Take the I-95N. Then, get on US-1N and exit on I-95N. Continue along 14th St SW Drive Cir to reach Washington, DC.
Our highlights: Take time strolling along the National Mall. Probably the most recognizable place in the city, it is also where you will find the majority of the most famous monuments of Washington DC including the Lincoln Memorial.
See the Library of Congress. Housing more than 167 million items, suffice to say, simply witnessing the scale would be mesmerizing.
Go shopping in the Eastern Market. Among the oldest markets in the city, there are plenty of products that can catch your interest from jewelry to fruits.
You can also visit beautiful Charleston as part of this road trip. You can take an hours' detour on the way to visit the "Holy City." It is said that history runs through the city's veins.
In the National Mall, the tallest structure is the Washington Memorial while the largest is the Smithsonian Museum.
Our travel tips: Admission to the Library of Congress (the world's second biggest library) is free, so be sure not to miss it.
Also, consider touring the city's monuments at night time - they take on a whole new ambience!
READ MORE - Road Trip from Orlando to Washington DC
20. New York, NY
15 hours 40 minutes from Orlando (1,070 miles)
Why you should visit: If you can, don't miss out on a chance to visit one of the biggest modern metropolises. New York is considered by many to be the world's most global cities.
True to its metropolis nature, the city has an immense number of sights and events on offer, from landmarks to a bustling night scene.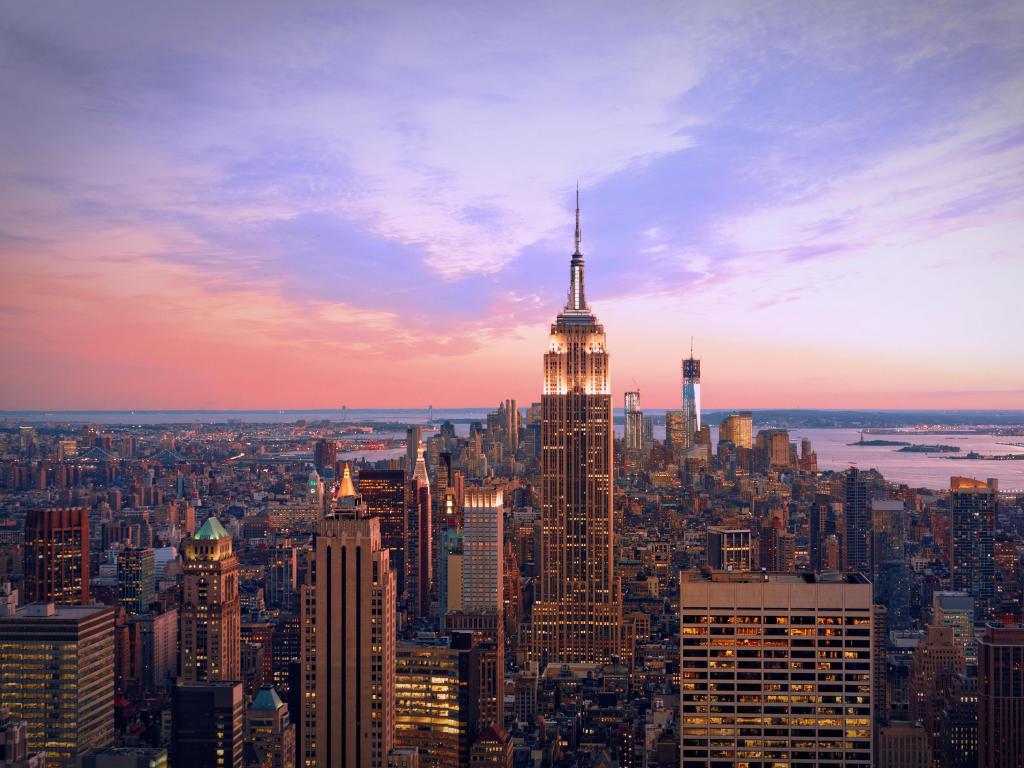 How to get there: Take the I-4E and I-95N. Get on the NJ Turnpike. Drive along Holland Tunnel and Varick St to reach New York.
Our highlights: See world famous Central Park. The 693-acre greenspace sitting in the heart of the bustling city will feel like a world away. You'll see some of the most iconic views in the world.
Visit the famous Yankee Stadium. Catching any event at the New York Yankees' home is nothing short of having an experience of a lifetime.
Take some time seeing the Morgan Library & Museum. The multi-millionaire's personal collection houses artifacts, books, and paintings that date back to 4,000 B.C.
Check out the American Art Museum at Whitney. When The Whitney moved to its considerably enlarged Meatpacking headquarters in 2015 from its Upper East Side headquarters, it received a significant renovation.
New York City is the largest city in the United States. Here, you can find almost every language on earth spoken in the same city. You can also find the most diverse range of restaurants on earth - so be sure to venture out of your culinary comfort zone!
Our travel tips: There's much more to New York than Manhattan, so make an effort to escape to the boroughs. Public transportation is, by far, the best way to get about in the city.
21. Niagara Falls, NY
17 hours 50 minutes from Orlando (1,200 miles)
Why you should visit: Perhaps, the most famous waterfall in the Northern Hemisphere, the majesty of Niagara Falls is a once in a lifetime sight.
The Falls' popularity stems from the amount of water that moves through it, not because of its height. This causes an enormous amount of mist and spray creating a breathtakingly powerful sight.
How to get there: Get on the I-4E, I-95N, I-26W, and I-77N. Then drive on I-79N, I-90E, and I-190N. Take exit 22 on I-190N and US-62N to reach Niagara Falls.
Our highlights: Visit Prospect Point Observation Tower. All 3 Niagara Falls are visible from this tower which is located on the ground.
Experience the thrilling Maid of the Mist. The oldest boat tour of the Falls' is the most atmospheric way to get up close and personal to the enormous falls.
See Goat Island's Cave of Winds. Get your heart pumping by walking to a wooden platform merely 20 feet above the Bridal Veils Fall.
Visit Old Fort Niagara. One of the more historical aspects of the area will let you experience the past while enjoying scenic views of the Falls.
Niagara Falls is a collection of three waterfalls: the American Falls, the Bridal Veil Falls, and the Horseshoe Falls (the widest). Niagara Falls State Park is the oldest state park in New York, open to the public since 1885.
Bonus: As you'll be in the area, combine your trip with a visit to Niagara-on-the-Lake. And while you're there, make sure to sample their famous icewine.
Our travel tips: While visiting Niagara Falls, please be sure to leave behind anything that can be damaged by water. No matter how much protection you have, the volume of water can leave you soaked if you take a close-up tour.
22. Yellowstone National Park, WY
35 hours from Orlando (2,325 miles)
Why you should visit: A historical national park in more ways than one, the park is known for its fabulous hiking trails and beautiful views.
Yellowstone is the home of iconic geysers such as the Old Faithful, along with exquisite natural scenery in the form of trails and wildlife. The park has the highest number of geysers and hot springs in the world.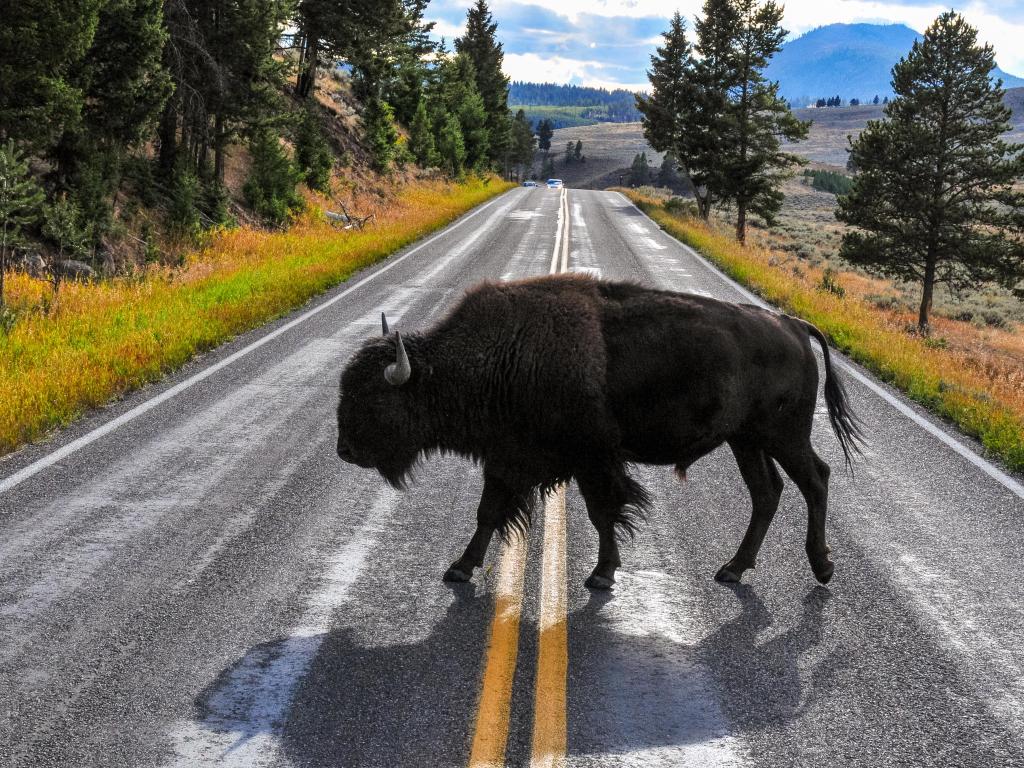 How to get there: Hop on FL-408W. Then make your way onto I-75 N, I-24 W, I-57 N, I-64 W, and I-80 W. Take exit 215 on I-80W and follow US-287N and US-20E to reach Yellowstone National Park.
Our highlights: See the unforgettable Upper Geyser Basin. Yellowstone's most popular destination is also the park's largest and the home of Old Faithful and 150 other geysers.
Take in the sights of the Lamar Valley. The best location in the park for viewing wildlife, you will get to see huge buffalo herds and sometimes, even wolves.
Check out Midway Geyser Basin. One of the smaller basins in the park features the Grand Prismatic Hot Spring, whose vivid coloring has long been the poster feature of the park.
Don't miss the Mammoth Hot Springs. Witness steaming water flow naturally over travertine terraces, a unique phenomenon that will leave you mesmerized.
Our travel tips: April, September, and October make up the "off-season" as well as the best times to visit this location because of thinner crowds and more wildlife.