Road Trip From Orlando To Miami
Florida is famous for its magnificent beaches, fantastic theme parks, world class cities and incredible wetlands. One of the best ways to see them is on a road trip from Orlando to Miami. There are two ways you can do a trip like this: via the east coast or the west coast of the state -both of which offer fantastic experiences you will love!
The 390-mile road trip from Orlando to Miami takes around 3 hours and 30 minutes to drive. Stop offs can include the Kennedy Space Center at Cape Canaveral, St Petersburg, West Palm Beach, Fort Lauderdale and the Everglades.
These are just a handful of the many awesome places you can head to on this fabulous journey. So please keep on reading until the end to find out more about where else you can visit.
How far is Miami from Orlando and how long will the road trip take?
Comparison of road trip routes between Orlando and Miami

| Route | Distance | Driving Time |
| --- | --- | --- |
| The East Coast Route | 235 miles | 3 hours 30 minutes |
| The West Coast Route | 335 miles | 5 hours |
There are two main ways you can drive from Orlando to Miami.
Staying on the east coast, you can take the US-1 all the way down to the 'Magic City'. If you choose to travel on the west coast of Florida, you will have to take the Interstate-75.
The former will take about 3 hours and 30 minutes of non-stop driving to cover a distance of 235 miles. While the latter incorporates 100 more miles and will take about 90 minutes longer to complete.
Both of these routes display the stunning natural beauty of Florida's coastline. In addition to taking you to a number of exciting towns and cities, you will also get to hit up a great selection of beaches too.
So be sure to bring along your kayaks, jet skis, paddleboards or canoes if you have them, as you will find plenty of opportunities to do these activities along the way.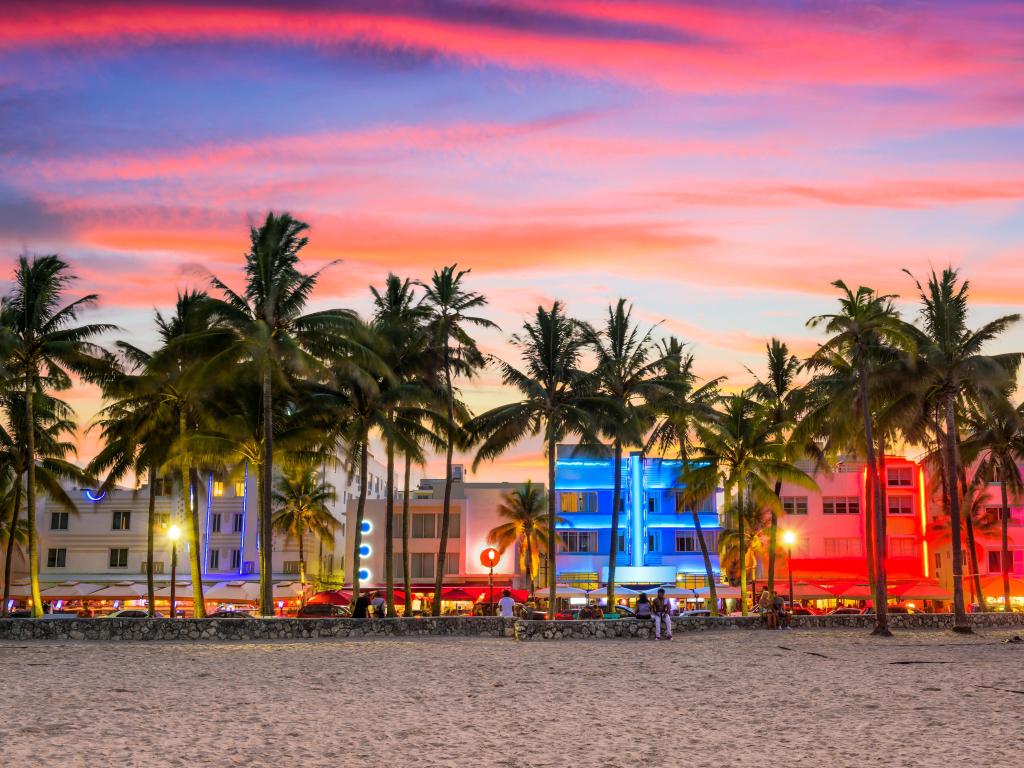 Best road trip route from Orlando to Miami
The great thing about driving around Florida is that the roads are very easy to traverse.
They are also well signed posted too, so whichever route you decide to take, you shouldn't experience too many difficulties in getting around.
Unlike road trips in other parts of America, you will encounter frequent services and amenities. So there will be plenty of places for you to grab some food, fill up your gas, or take a restroom break, as and when its needed.
If you plan on heading back to Orlando, after spending a few days in Miami. Something you may consider doing is completing the journey in a loop.
Taking the US-1 down from Orlando to Miami, and the interstate-75 back up, will enable you to see a lot more of Florida's coastline than you otherwise would, if you stuck to just one highway.
How to drive from Orlando to Miami
The map above shows our suggestions for the best road trip routes between Orlando and Miami. Keep reading for detailed descriptions of both routes, where to stay on either, and the best things to do on the way.
The East Coast Route
Driving from Orlando, the US-1 will guide you all along the east coast of the state.
To get there you should consider heading first to the Kennedy Space Center. Located about an hour's drive away on Merritt Island, NASA has been using this base as the primary launch area for all their human-powered flights since 1968.
It has a fascinating visitor center that is definitely worth exploring. Not least because it exhibits a fabulous collection of space vessels that have flown into orbit, as well as debris which was collected from space.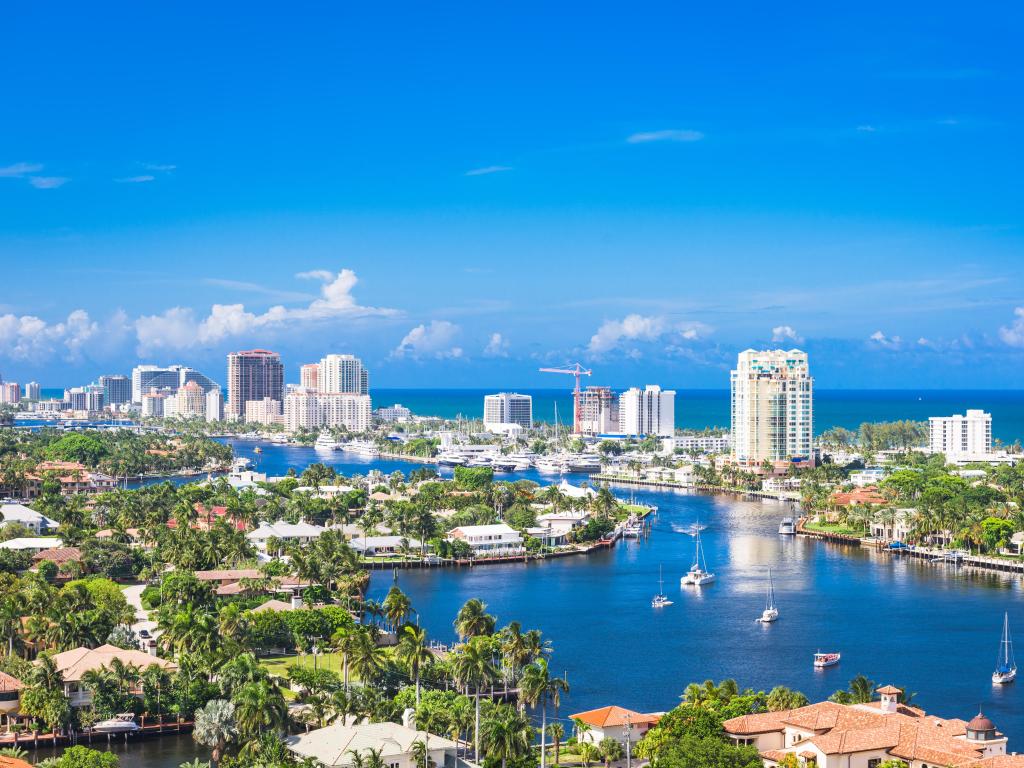 Leaving the Kennedy Space Center, the US-1 will take you down to the lovely city of Fort Pierce. Nicknamed 'Sunrise City', Fort Pierce is a charming place to visit with a scenic state park, an attractive beach and the delightful Heathcote Botanical Gardens, each of which is worth a visit to stretch your legs.
From Fort Pierce the road will carry on to Jupiter Island, which is a prestigious barrier island with an historic lighthouse. This exclusive area also accommodates the impressive mansions of a number of major celebrities like Tiger Woods, Michael Jordan, Kid Rock and Olivia Newton-John.
It will also usher you to West Palm Beach. A very under-rated city, this is home to some amazing street art, magnificent gastronomic tours and an eclectic range of shops, eateries and entertainment venues.
Finally, before arriving in Miami, you will reach Fort Lauderdale. Which has a number of outstanding shops, restaurants, museums, galleries, bars and nightclubs around its East Las Olas Boulevard.
The West Coast Route
Heading on the Interstate-75 towards the west coast of Florida, Tampa will be the first place of interest you should stop at.
A lively, spirited city with one of the state's best dining, entertainment and nightlife scenes, this is a great place to spend some time at its excellent galleries and museums. As well as the eminent Busch Gardens, which is uniquely both an amusement park and zoo.
If you love food, then you should be excited about heading to St Petersburg next. While here, the local delicacies on offer - including smoked mullet, oysters with mezcal pearls, Cuban sandwich and Southern fried chicken - will have your tastebuds in raptures.
With great fishing, outstanding beaches and a terrific range of shops, Fort Myers is the next place you will want to stop at. Further along the Gulf of Mexico, you will reach Naples, with its upscale boutiques, sophisticated restaurants and world-class golf courses.
Finally, making your way inland towards the east coast, the road will pass both the Big Cypress National Park and Everglades National Park, before connecting with the US-1 around Palm Springs North, en route to Miami.
Best places to stop between Orlando to Miami
Though you can drive between Orlando and Miami in the space of a few hours, you would be well advised to break the journey up over the course of a few days to really turn the trip into an adventure.
If you do, then here are some great options for overnight stays.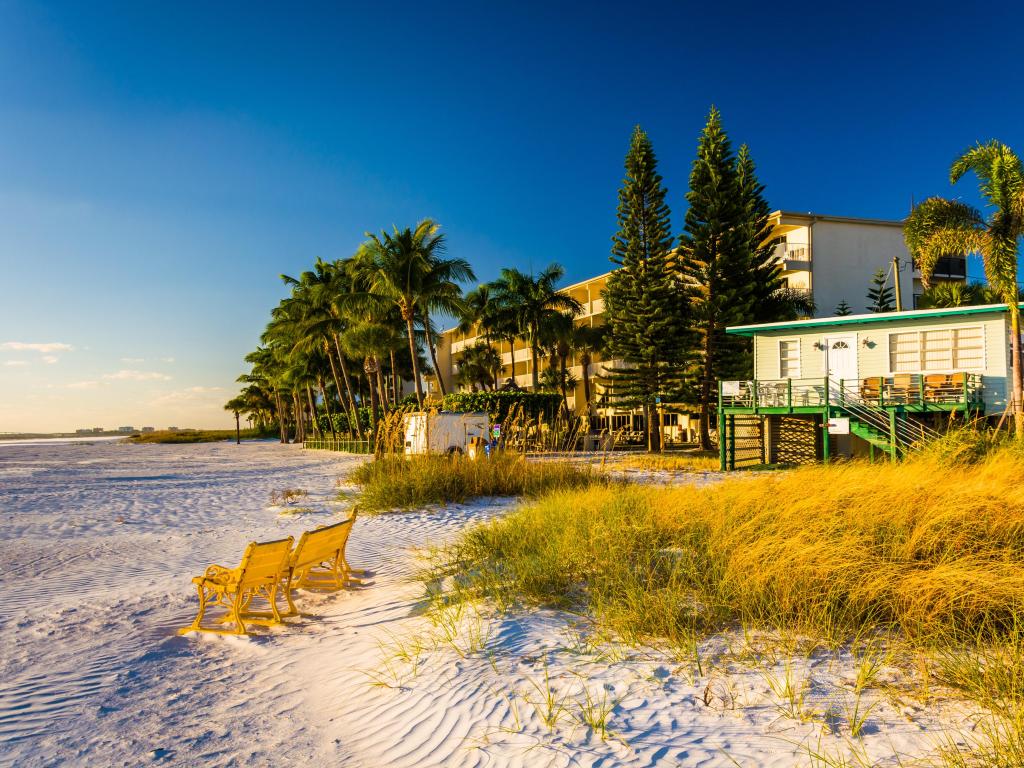 Feel the vibe of Fort Myers
Should you undertake the west coast route, Fort Myers provides a very good option for a stopover.
Despite being known as the 'City of Palms', it is actually an aquatic paradise for those who like to jet-ski, kayak, paddleboard or wakeboard. With plenty of freshwater and saltwater bodies around to partake in these activities.
As well as an historic downtown area with plenty of wonderful boutique shops, restaurants and bars, there is fantastic beach here you where you can recharge your batteries after a long day of driving.
The Luminary Hotel is a great place to stay here, with a picture-perfect view of the marina. Boasting beautifully designed and very comfortable rooms for you to chill out, the hotel also operates a 24-hour front desk., which is especially helpful for those who need a late check-in.
As an added bonus, the hotel is situated directly in the downtown area, meaning it is close to all the nightlife action, too.
Marvel at the delights of Miami
Miami is the pinnacle of this particular road trip, so we'd suggest you splash out and really make the most of your stay here. For an unforgettable stay, the Four Seasons Hotel is a fabulous option.
Situated directly opposite Biscayne Bay, this deluxe 5-star rated, art deco hotel operates a full-service spa which you will definitely want to take advantage of. It also has two impressive outdoor pool areas with cabanas that are perfect places to unwind. While on-site the hotel also boasts one of the most celebrated restaurants in the city.
Offering top quality rooms that showcase either bay or city views, they come furnished with huge flat-screen TVs, which are perfect for watching films or sports, as well as very comfy beds, that will go a long way to helping you get a great night's sleep.
If you want to venture out, places like South Beach, Riverside Park, the Brickell City Center and the Bayside Market Place, are all easy to get to by car or public transport.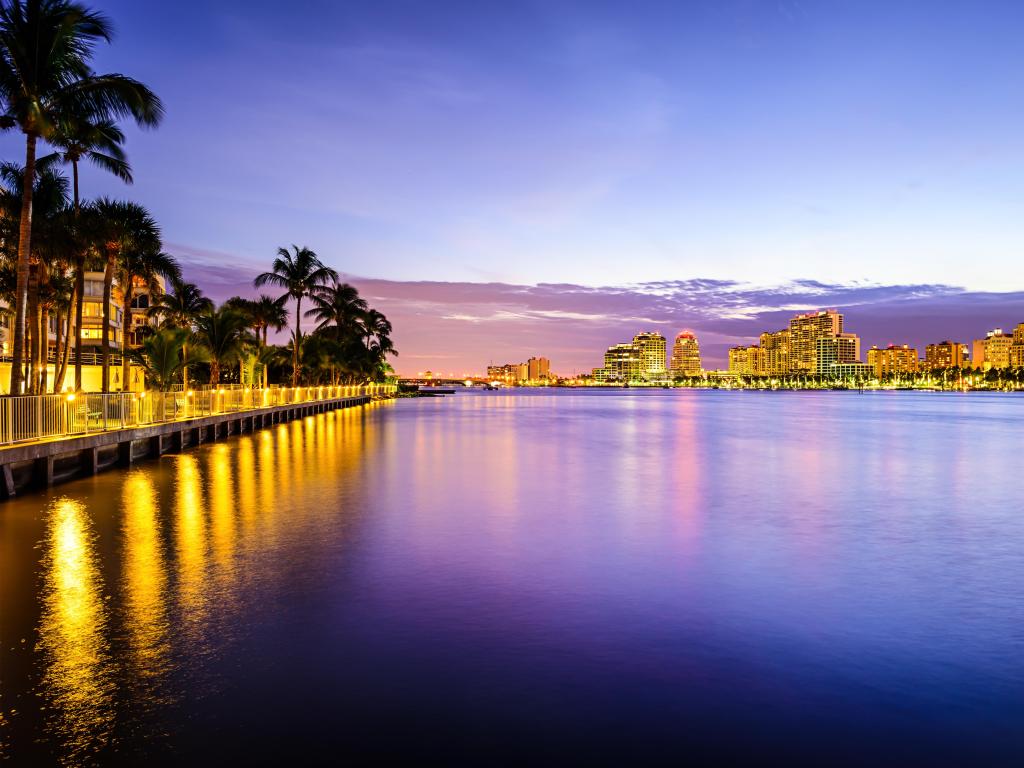 Things to see on a road trip from Orlando to Miami
You are spoilt for choice when it comes to things to see and do on a road trip from Orlando to Miami.
To make it easy for your planning, we have compiled this list of the main places to go across both routes.
East Coast Route
Kennedy Space Center - Learn all about the wonders of space at NASA's awe-inspiring visitor center.
Fort Pierce - Known as 'Sunrise City', take some time to enjoy its beautiful beach, state park and botanical gardens.
Jupiter Island - Marvel at the plush celebrity mansions and famous lighthouse that dominates this picturesque barrier island.
West Palm Beach - A trendy city with incredible street art, sensational gastronomic tours and a wonderful range of restaurants, shops and entertainment venues.
Fort Lauderdale - Explore the shops, galleries, museums, restaurants and bars of the pulsating East Las Olas Boulevard.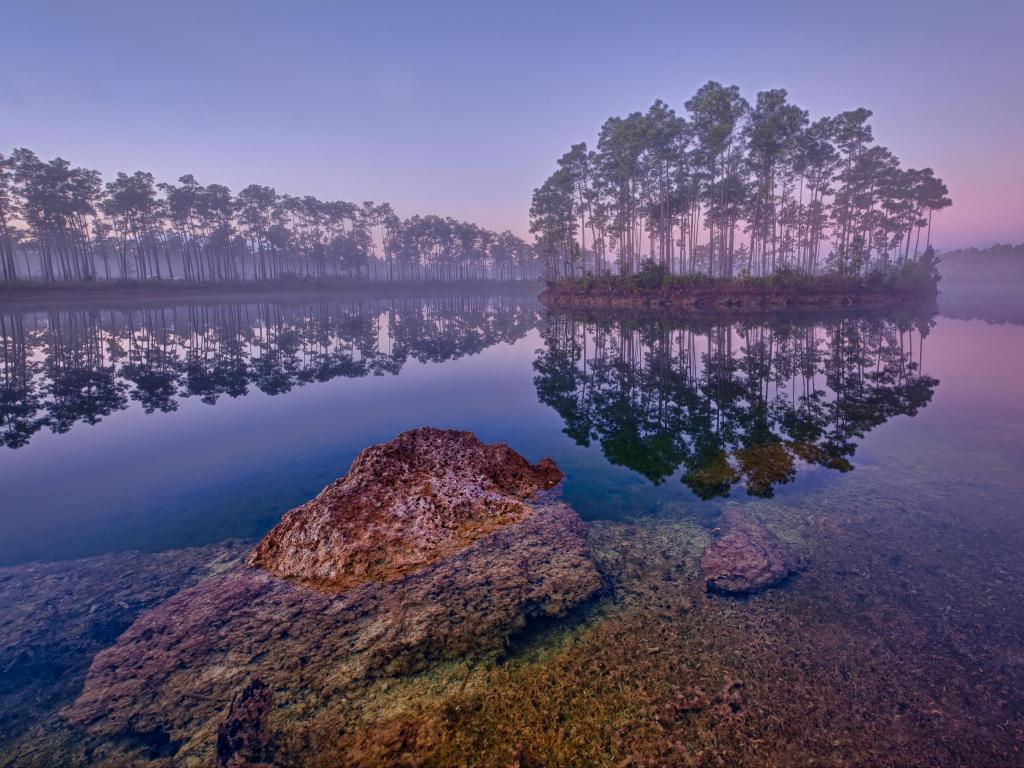 West Coast Route
Tampa - Bustling city known for its terrific galleries and museums, up-and-coming dining scene and the famous tourist attraction of Busch Gardens.
St Petersburg - Awesome foodie city where you can feast on gastronomic delights like Southern fried chicken, smoked mullet, Cuban sandwich and oysters with mezcal pearls.
Fort Myers - Chill out on its wonderful beach, enjoy a spot for fishing and check out the latest trends at its fabulous collection of shops.
Naples - Chic area with upscale shops, world-class museums and galleries, and a very sophisticated gourmet dining scene.
Big Cypress National Park - Discover the rich history and culture of this stunning 700,000 acre swamp.
The Everglades - Explore this astonishing 1.5-million-acre wetland that is home to alligators, crocodiles, the West Indian manatee and Florida panther.
Best time to go on a road trip from Orlando to Miami
You can do a road trip from Orlando to Miami all year round: Florida's mild, pleasant climate makes it is genuine year-round destination.
If you are thinking of doing it in the summer be aware that it can get very hot. So ensure your air conditioning is fully operational before you go. Temperatures will regularly hit highs of 90 degrees Fahrenheit in July and August.
It might be prudent to avoid undertaking this drive during holidays, given that the price of hotels will be at peak season rates. Likewise, traffic volumes will be much higher, and there will be longer queues at major tourist attractions like the Kennedy Space Center and the Everglades.
Between August and September you should be mindful of the potential for hurricanes, which are at their most prevalent and dangerous at this time of year.
Aside from that you can set off whenever it pleases you. After all, you'll have a massive part of Florida to discover!