Road Trip from Orlando to Key West
A road trip from Orlando to Key West is a fantastic way to explore Florida's epic coastline. There are two areas to check out - the east coast and the west coast - both of which convey some of the most spectacular natural scenery, as well as taking you to vibrant cities and fascinating landmarks.
The 400-mile road trip from Orlando to Key West takes at least 9 hours and 30 minutes to drive. Highlights along the way include the Kennedy Space Center, Fort Pierce, Jupiter Island, West Palm Beach, Boca Raton, Fort Lauderdale, Miami and Key Largo.
This is just a small sample of the many amazing places you can visit on this amazing trip to Key West. Keep reading until the end to learn more about where to go, what to see and where to stay.
How far is Key West from Orlando and how long will the road trip take?
Comparison of road trip routes between Orlando and Key West

| Route | Distance | Driving Time |
| --- | --- | --- |
| The East Coast Route | 400 miles | 9 hours 30 minutes |
| The West Coast Route | 519 miles | 8 hours 30 minutes |
You can follow two different routes to get to Key West from Orlando: driving along either US-1 on Florida's east coast, or Interstate-75 on its west coast.
The US-1 will take you all the way down to Key West on a run that covers a 400-mile distance and takes about 9 hours and 30 minutes to complete.
Even though this route covers less mileage than the alternative, you will be driving through the bright lights of bustling cities, which can often mean traffic congestion and ultimately a longer driving time.
The Interstate-75 will take you to the western coastline of Florida, and across through both the Big Cypress National Preserve and the Everglades National Park before joining up with the US-1 around Palm Springs North.
At around 500 miles, this route is a bit longer and will take about 8 hours of driving, not accounting for any stops or detours you might wish to take.
Both of these routes showcase the magnificence of Florida's coastline and provide plenty of opportunities to visit some excellent towns, cities and beaches. Make sure to bring along your paddleboards, kayaks, or jet skis to really make the most of your time on either route!
Best road trip route from Orlando to Key West
Irrespective of which route you take you are in for a pleasant drive. You will be driving on the main highways, so the roads are well signposted, easy to drive on, and feature some incredible scenery in certain sections.
Along the way, you will also find plenty of places to stop for gas, get something to eat or marvel at the landmarks and attractions these routes generously offer.
Since both routes feature different but equally amazing adventures, you might consider doing this journey in a loop not to miss out on any of these incredible opportunities to make new memories.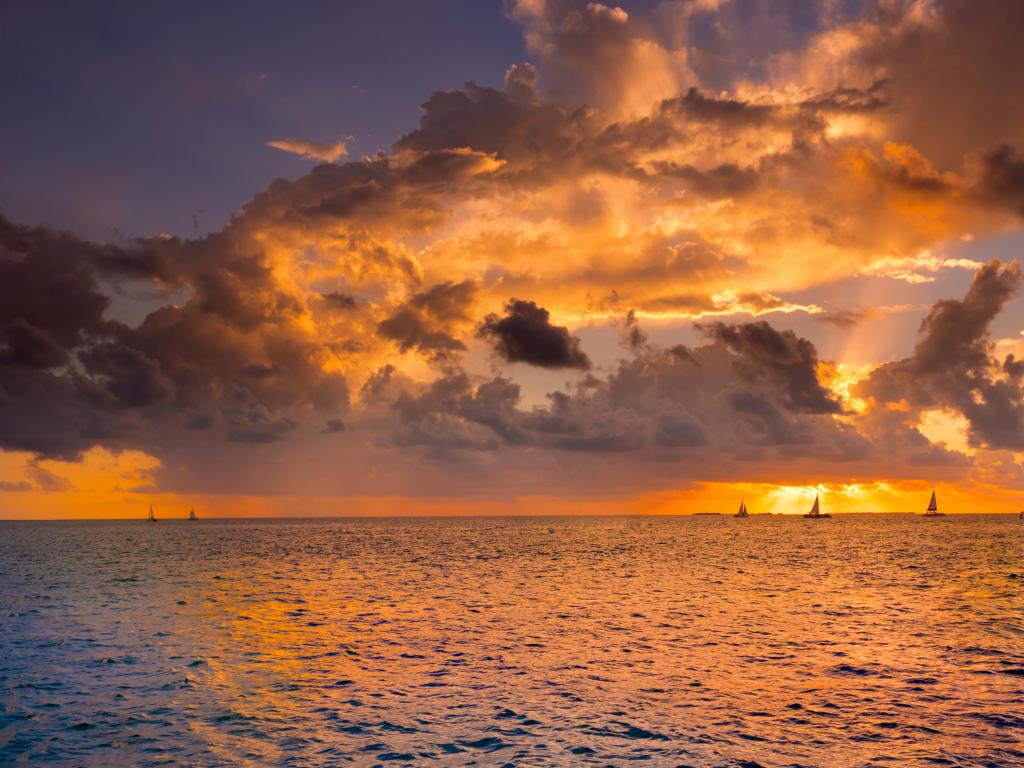 How to drive from Orlando to Key West
The map above shows our suggestions for the best road trip routes between Orlando and Key West. Keep reading for detailed descriptions of both routes, where to stay on either, and the best things to do on the way.
The East Coast Route
From Orlando, follow FL-408 and take Exit 18 for Orlando International Airport. Merge onto FL-417 and take Exit 26 towards Cocoa to merge onto FL-528 E.
If you are visiting the Kennedy Space Center on Merritt Island, take Exit 37 onto FL-407. Otherwise, taking Exit 46 will take you out of the city and onto US-1 on the eastern coastline.
You will drive through Fort Pierce, deservingly nicknamed 'Sunrise City' on the US-1. If you wish to head onto Jupiter Island, turn left onto SE Oleander Street and then right onto Florida A1A. Take the bridge onto the island. Otherwise, keep driving south on US-1.
Pass through West Palm Beach and turn right onto E Gateway Boulevard to briefly merge onto I-95. On this expressway, you will drive through Boca Raton, Pompano Beach, and Fort Lauderdale.
Continue driving towards Miami and keep right to stay on I-95 S and merge back onto US-1. Drive past Homestead.
This highway will take you all the way down to Manatee Bay and onto Key Largo. Passing through the islands of Florida Keys, you will reach your sunny destination, Key West.
The West Coast Route
Follow I-4 as you leave Orlando to reach Tampa on the western coastline of Florida. Take Exit 8 towards FL-60 to enter the city.
From Tampa, following I-275 S will take you to the foodie paradise of St. Petersburg. Drive on the Sunshine Skyway Bridge and take the exit on the left onto I-75.
Follow this interstate into Fort Myers and Naples with magnificent views of the Gulf of Mexico on your right. I-75 will then take you through the Big Cypress National Park and the Everglades National Park.
If you wish to visit Miami, take Exit 19 for I-595 upon passing through the Everglades. Follow the same route as the East Coast Route when exiting Miami to reach Key West.
Bypassing Miami is an option to avoid traffic if you have seen this city before. If you choose to do so, continue following I-75 and use the left lane to take the exit towards Florida's Turnpike and merge onto Ronald Reagan Turnpike past Silverlakes.
This turnpike will take you out of the urban areas and onto US-1 past Homestead. Follow the same directions as the East Coast Route after this point to reach Key West.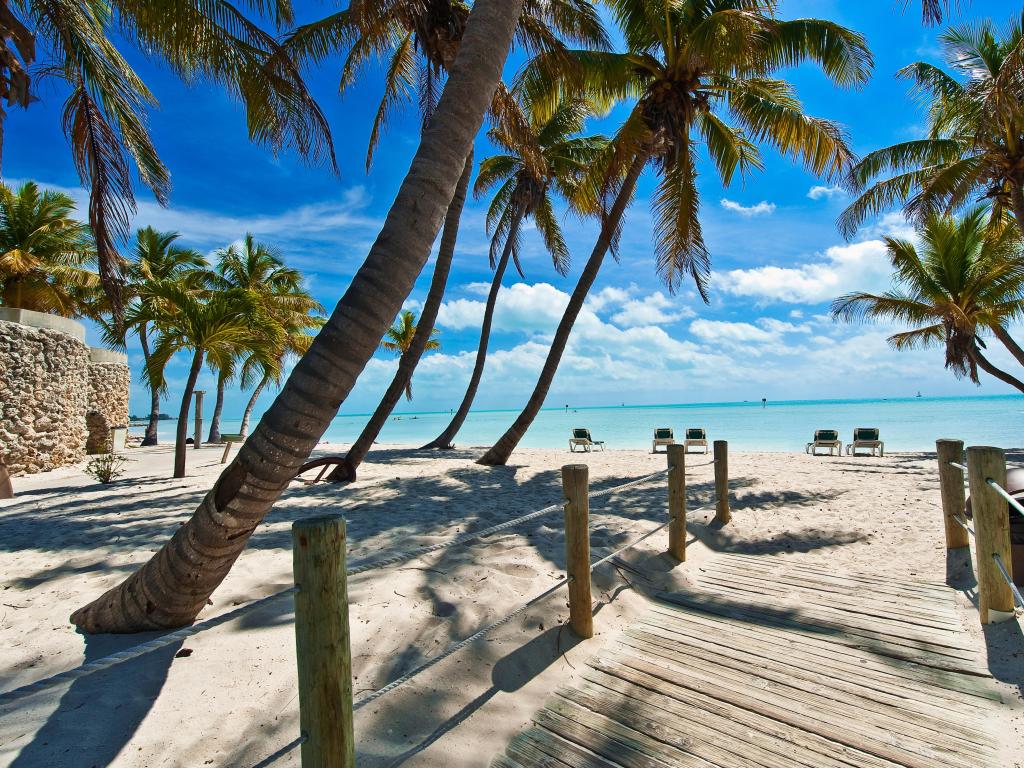 Best places to stop between Orlando to Key West
While you can easily drive between Orlando and Key West in a day, it's worth breaking up the journey over at least two or three days to ensure you make the most of your trip.
Here are some of our suggestions for fantastic overnight stops on the way.
Enjoy the Magic of Miami
Miami is a world-class city that you will pass through on the East Coast Route. Just as fabulous as the city itself, Four Seasons Hotel Miami is the perfect place to base yourself during your time in the Magic City.
This luxurious 5-star hotel features Art Deco-style rooms and exceptional views of Biscayne Bay. Famous South Beach is only 15 minutes away from the hotel and is a must-visit for its glitz and nightlife that often extends to the morning hours.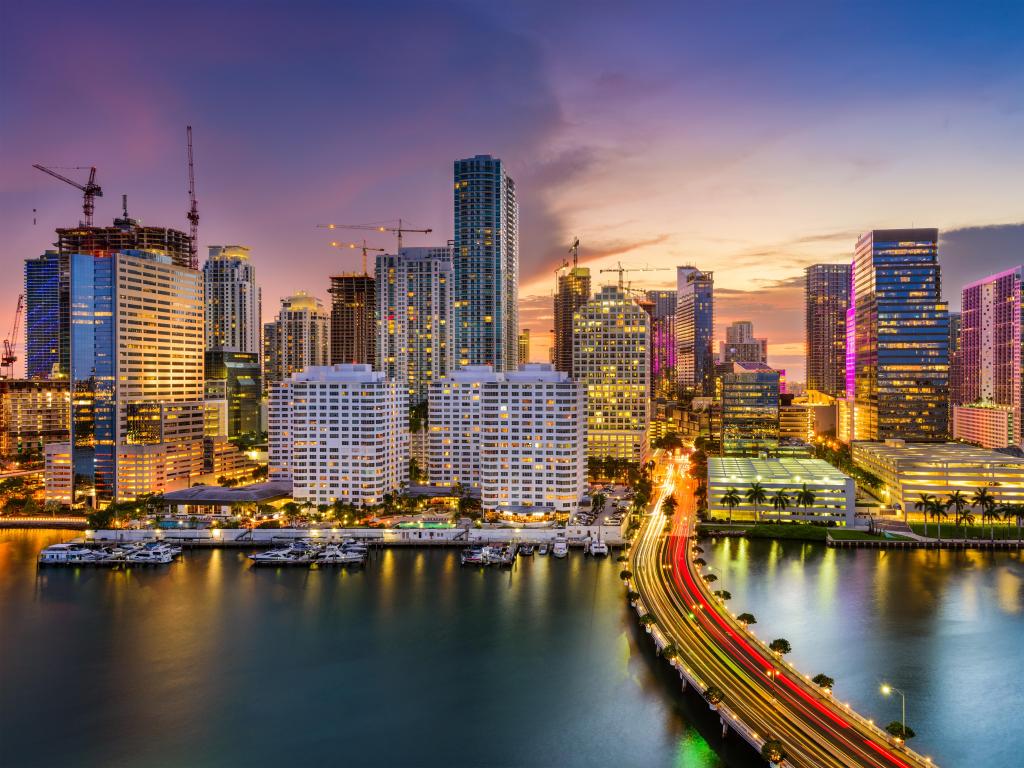 You can visit Skyviews Miami Observation Wheel to take in the panoramic views of this vibrant city from a height. The observation wheel is located right next door to Bayfront Park and is only minutes away from the hotel.
The famous Bayside Marketplace is also in the vicinity and offers fabulous eateries and upscale boutiques for a day out. However, if you wish to call it a day, the hotel also offers a popular restaurant that offers contemporary American cuisine on site.
After all the sightseeing you will be doing, you can unwind and enjoy one of the two outdoor pools of the accommodation with fantastic outdoor cabanas to enjoy a cocktail or a light meal in. You will also be able to enjoy some pampering at the hotel's spa.
Discover Fabulous Fort Myers
Known for its gorgeous beaches, fishing and shopping opportunities, Fort Myers is a terrific place to spend a night or two if you take the West Coast Route.
While you're here, the Luminary Hotel is a great base to stay, located right on the banks of the beautiful Caloosahatchee River. It is right in the heart of the downtown area and offers stylish rooms and a fantastic outdoor pool to take a dip in.
Known as the 'City of Palms', Fort Myers is a water lovers paradise that offers both saltwater and freshwater activities like kayaking, paddle boarding, jet-skiing, and wakeboarding.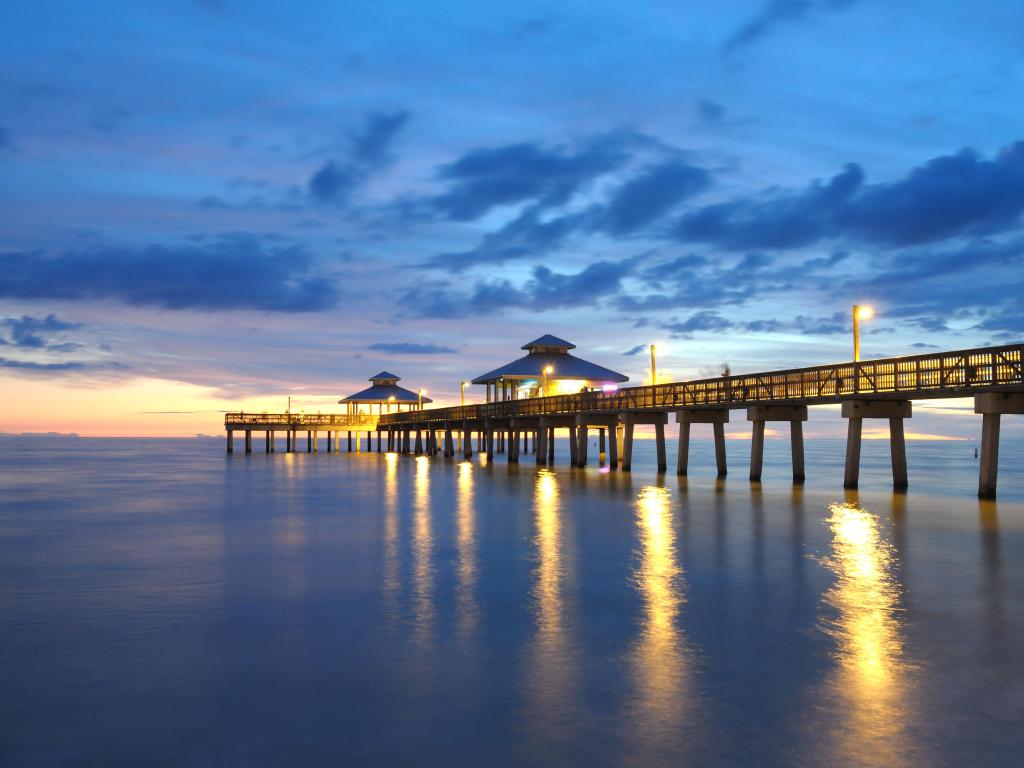 If you would prefer to stay on drier land though, it also has a sensational beach and a historic downtown area with lots of chic boutiques, restaurants, cafes, and bars, just a walking distance away from the hotel.
Located only a couple of blocks from the hotel, Centennial Park is a popular point of interest in the city and here you can enjoy a gorgeous sunset on the riverside. The park also houses art installations to marvel at.
Don't miss out on visiting the nearby Edison & Ford Estates, which were initially owned by Thomas Edison and then purchased by his good friend Henry Ford. The estates feature a museum, botanical gardens, and a research laboratory.
Take a dip in the ocean in Key West
Key West will dazzle you with its blue waters and white beaches. For your stay on this gorgeous island, it is hard to beat the excellent location and chic atmosphere of Andrews Inn & Garden Cottages, situated in the heart of the real Key West.
If you are a fan of literature or interesting historical figures, you must pay a visit to Ernest Hemingway Home and Museum, which is less than 5 minutes' walk from the hotel.
After enjoying the gorgeous beaches nearby, you can witness the most beautiful sunset of your life in Mallory Square before heading to your accommodation to enjoy a complimentary poolside happy hour.
Don't forget to take a look at the famous Key West Lighthouse nearby before heading to one of the many fabulous eateries in the area for a meal, where you will be spoiled for choice.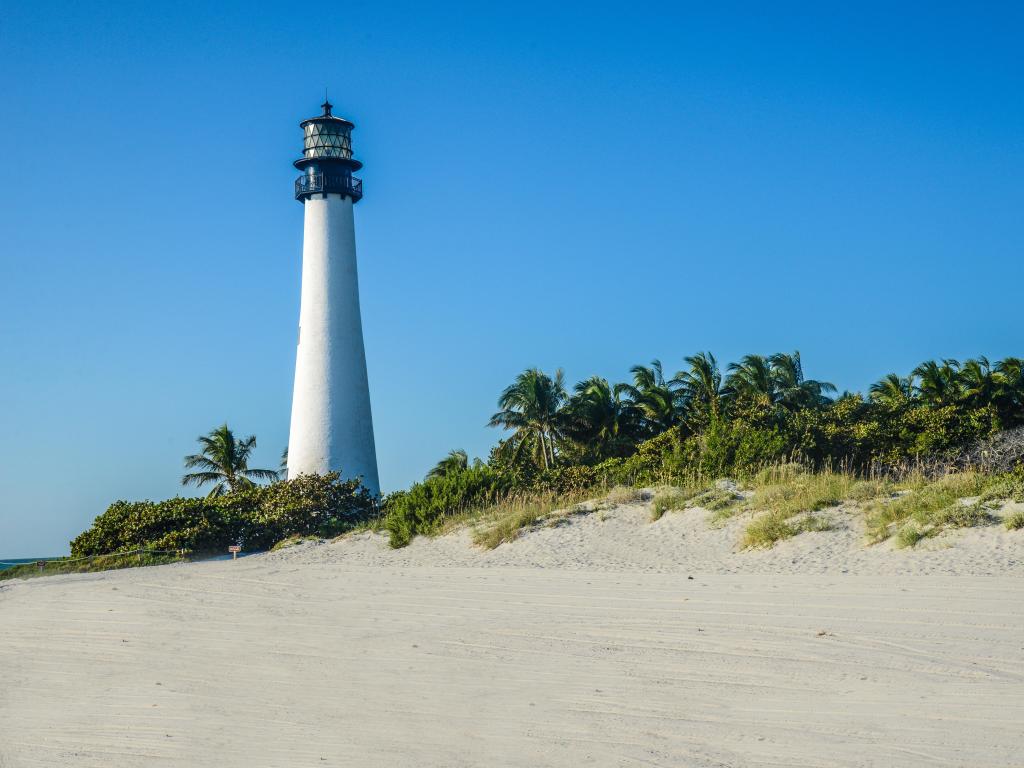 Things to see on a road trip from Orlando to Key West
There are so many things to see on a road trip from Orlando to Key West that it can be difficult to know where to start.
To help you, we have created a list of the major highlights you can enjoy on each route - and also those situated beyond the point where the two routes join, just past Homestead.
The East Coast Route
Kennedy Space Center, Merritt Island - Explore the magic of space at NASA's fantastic visitor center.
Heathcote Botanical Gardens, Fort Pierce - Home to the largest public bonsai collection, these five-acre subtropical gardens are a resource of horticultural, botanical, and ecological knowledge.
Fort Pierce Inlet State Park, Fort Pierce - Featuring a breathtakingly beautiful half-mile beach, this park offers opportunities for swimming, snorkeling, surfing, scuba diving, picnicking or just relaxing.
Jupiter Inlet Lighthouse & Museum, Jupiter Island - Iconic lighthouse that also features a museum.
West Palm Beach, Florida - Hip city with sensational street art, the most wonderful food tours and a fabulous collection of shops, eateries and nightlife venues.
East Las Olas Boulevard, Fort Lauderdale - Fort Lauderdale's main destination for shopping, culture, entertainment, dining, and events.
Bayfront Park, Miami - This iconic park is a perfect place to relax with open lawn spaces, winding walkways, a sandy beach area, a stunning fountain and a tropical rock garden.
Skyviews Miami Observation Wheel, Miami - Offers stunning panoramic views of the skyline almost 200 feet above the famous Bayside Marketplace.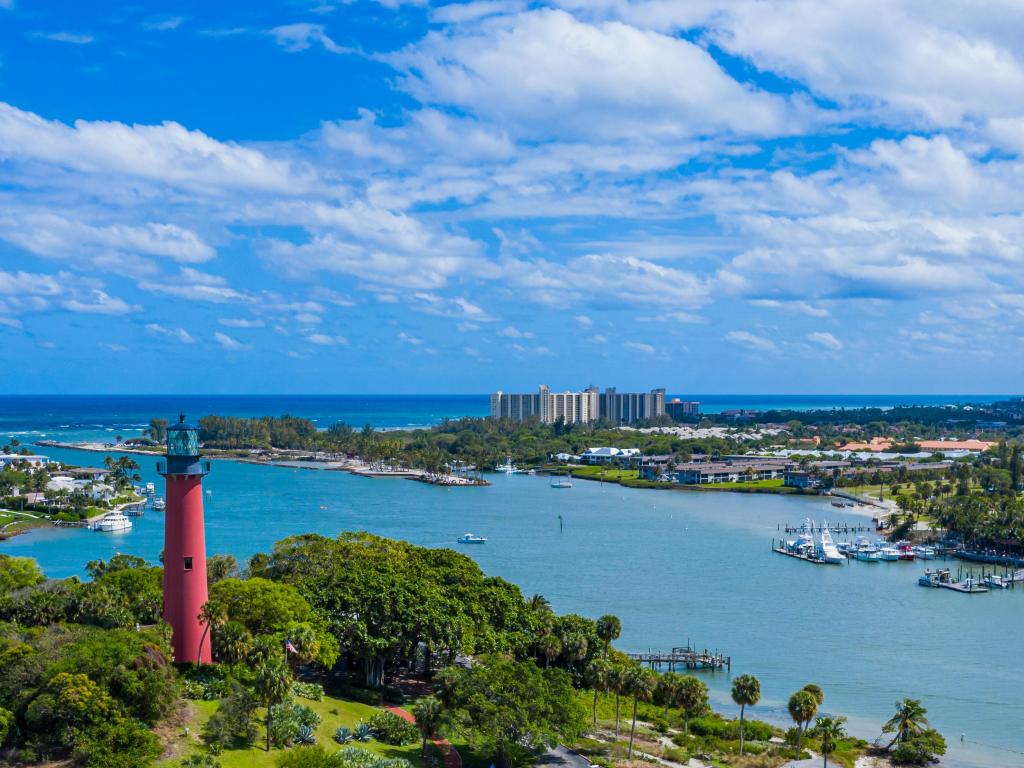 The West Coast Route
Busch Gardens, Tampa - This African-centered animal theme park offers fun and adventure for guests of all ages with its exciting rides and rollercoasters.
ZooTampa at Lowry Park, Tampa - Famous for its stunning tropical zoological settings, this zoo is home to more than 1,300 animals.
Sawgrass Lake Park, St. Petersburg - You can take a stroll through one of the largest maple swamps on the Gulf Coast of Florida.
Sunshine Skyway Bridge, St. Petersburg - An iconic bridge of the Tampa Bay, famous for being a popular photography spot.
Terra Ceia Aquatic Preserve, Florida - The park encompasses mangrove forests, freshwater and saltwater wetlands as well as opportunities for kayaking, fishing and hiking.
Edison & Ford Winter Estates, Fort Myers - Famous estates owned by Thomas Edison, then Henry Ford, the highlights here include a museum, botanical gardens, and a research laboratory.
Centennial Park, Fort Myers - A popular riverside park offering opportunities to stroll and enjoy the surroundings.
Big Cypress National Park, Florida - Discover the rich culture and history of this breathtaking 7 00,000-acre swamp in South Florida.
The Everglades, Florida - Explore this extraordinary 1.5-million-acre wetland of coastal mangroves, sawgrass marshes and pine flatwoods that house hundreds of animal species.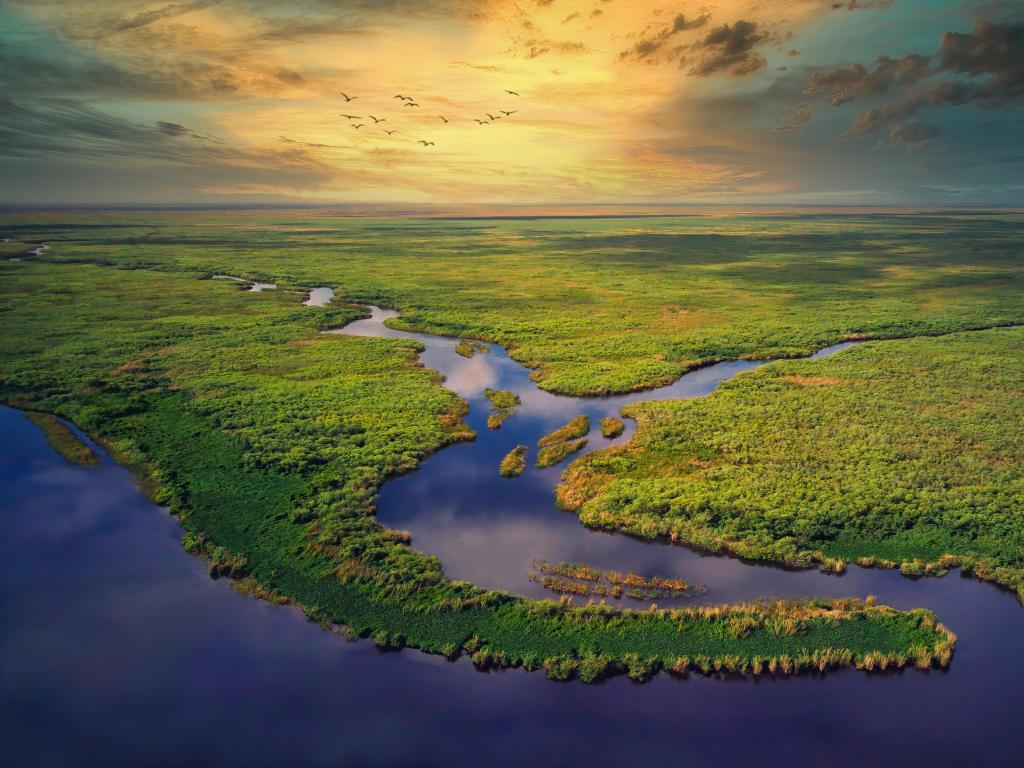 Both Routes
Homestead-Miami Speedway, Homestead - A famous speedway that is the home of NASCAR in South Florida.
John Pennekamp Coral Reef State Park, Key Largo - Renowned for being the first undersea park in the US, this park features a glass-bottom boat tour, scuba diving, snorkeling, canoeing, kayaking and fishing.
Laura Quinn Wild Bird Sanctuary, Tavernier - A serene bird sanctuary in the Florida Keys that houses more than 90 non-releasable birds.
Theater of the Sea, Islamorada - Swim with the dolphins in this park that features lagoons and tropical gardens that are home to their famous dolphins, sea lions, sea turtles, fish, sharks, stingrays, alligators, and birds.
Dolphin Research Center, Grassy Key - Learn about and interact with fascinating dolphins in this educational center.
Seven Mile Bridge, Florida Keys - Iconic bridge that connects the islands of the Florida Keys.
Bahia Honda State Park, Big Pine Key - Features breath-taking Florida Keys scenery and sandy beaches, you can also enjoy kayaking and snorkeling in this park.
Mallory Square, Key West - Home to the most beautiful sunset in the entirety of Florida Keys
Ernest Hemingway Home and Museum, Key West - Home of the famous author, which is now turned into a museum.
Key West Lighthouse, Key West - Iconic and very photogenic lighthouse that houses a museum.
Best time to go on a road trip from Orlando to Key West
A road trip from Orlando to Key West can be done all year round. The temperature in summer doesn't go higher than 90 degrees Fahrenheit and lower than 65 degrees Fahrenheit in winter, making the weather suitable for traveling for most of the year.
You'll want to be mindful of hurricane season between August and September which has the potential to severely disrupt your trip.
As this is a popular route, keep in mind that the attractions will be crowded, and the price of the hotels will be higher in the peak season in summer and during holidays.
If you are not put off by crowds and are visiting Key West in July, then you will be just in time for The Key Lime Festival, dedicated to America's favorite citrus.
Traveling in the cooler months is a great option as well, and you will be able to enjoy Epcom International Festival of the Arts in Orlando between January and February before you set off on your trip.
It all comes down to your preferences and expectations when it comes to choosing when to explore the wonders of the Florida coastline!